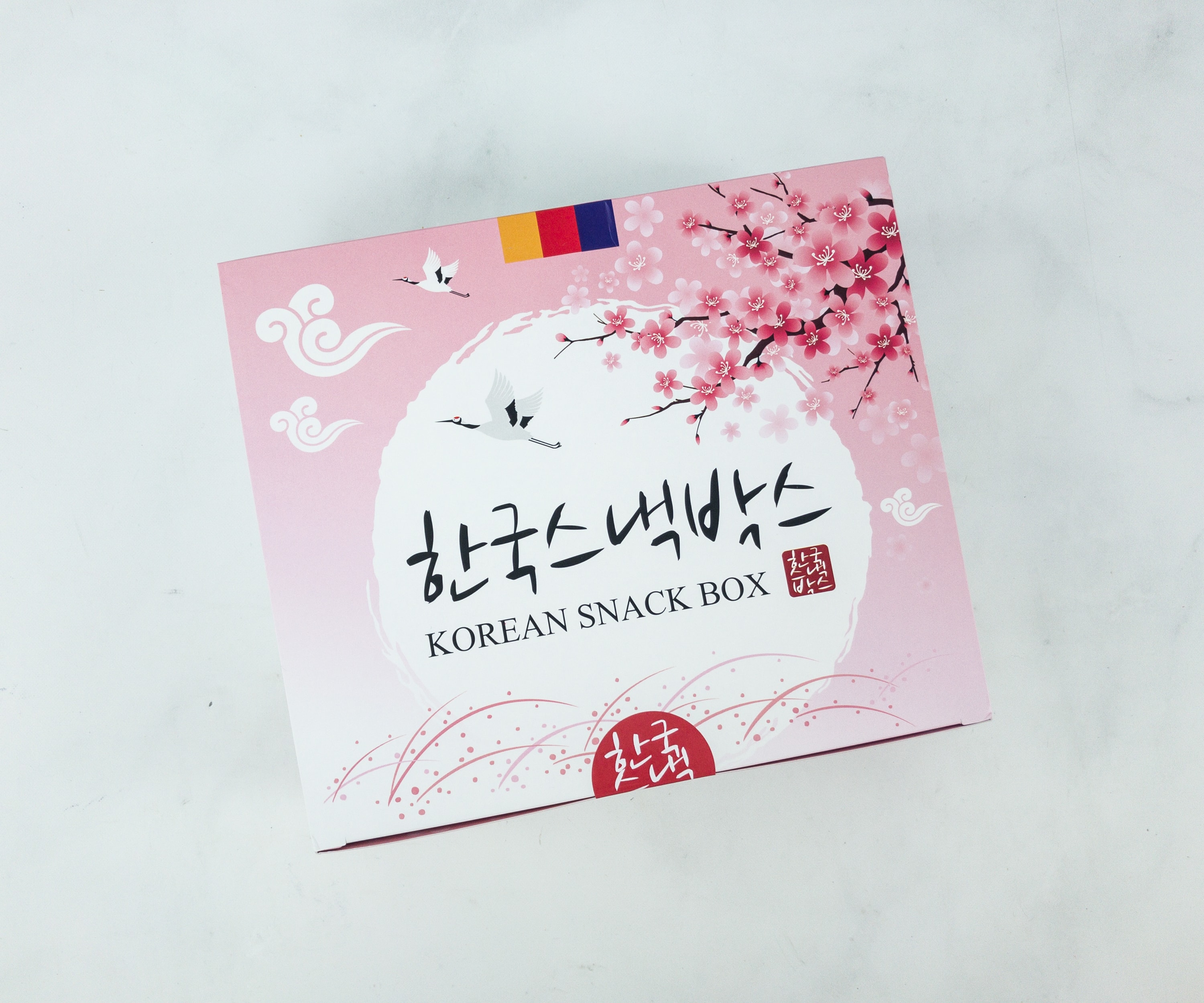 The Korean Snack Box is a monthly subscription box dedicated to premium Korean snacks. The subscription starts at $14.95 each month (Medium and Large boxes available), with free worldwide shipping. Each box comes in a beautiful Bokjumeoni (traditional Korean silk bag) with 5-10 or 10-15 items and tasters. You can now find the previous month box and earlier month's boxes in the Korean Snack box shop.
This is a review of the large $24.95 per month Korean Snack Box.
DEAL: Get $2 off your first subscription box with coupon code HELLOKOREA.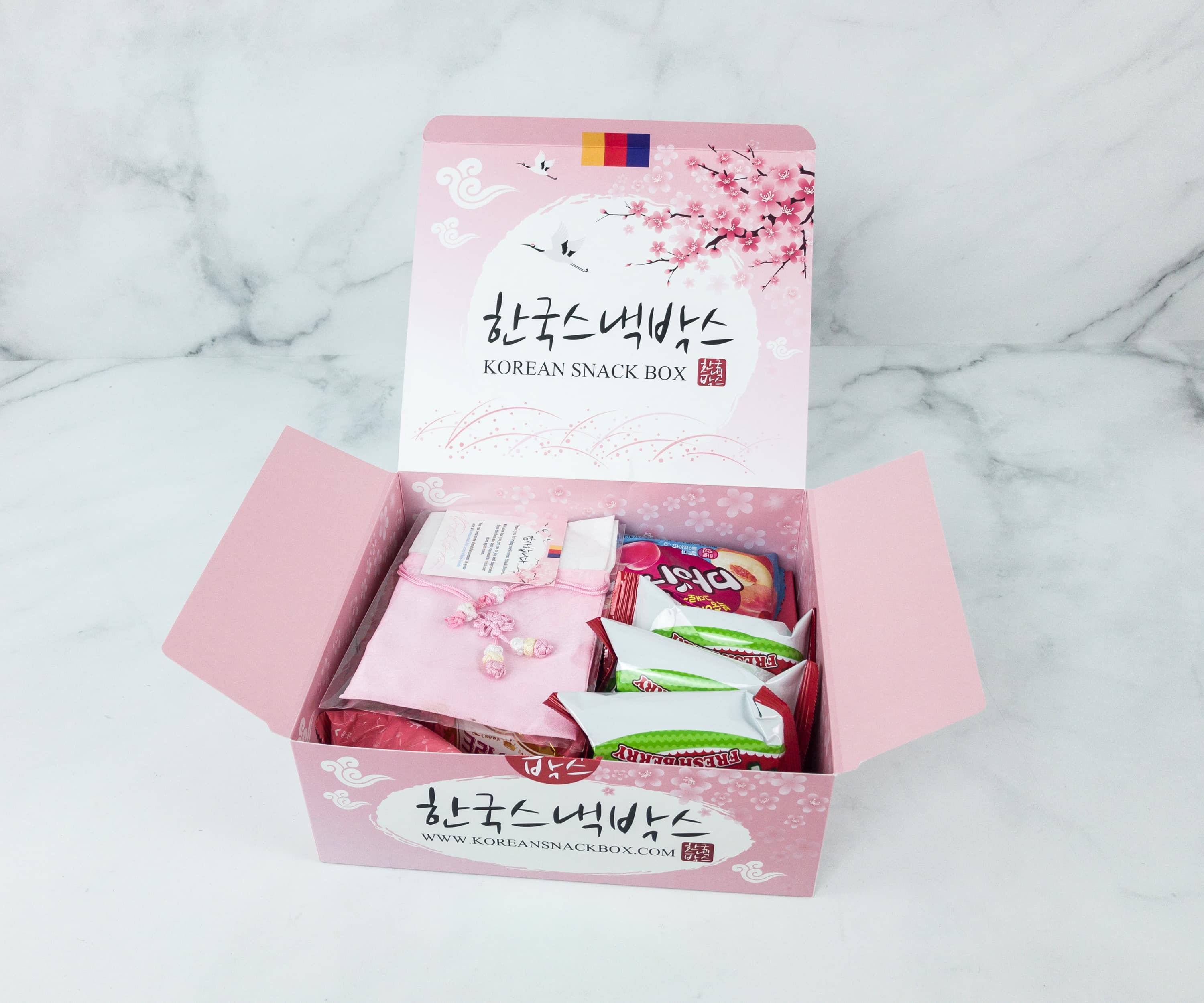 The box has improved. Instead of the usual plain box, this month it's in pink and cherry blossoms-inspired.
There's also a note from the curators. The theme this month is CHERRY BLOSSOM!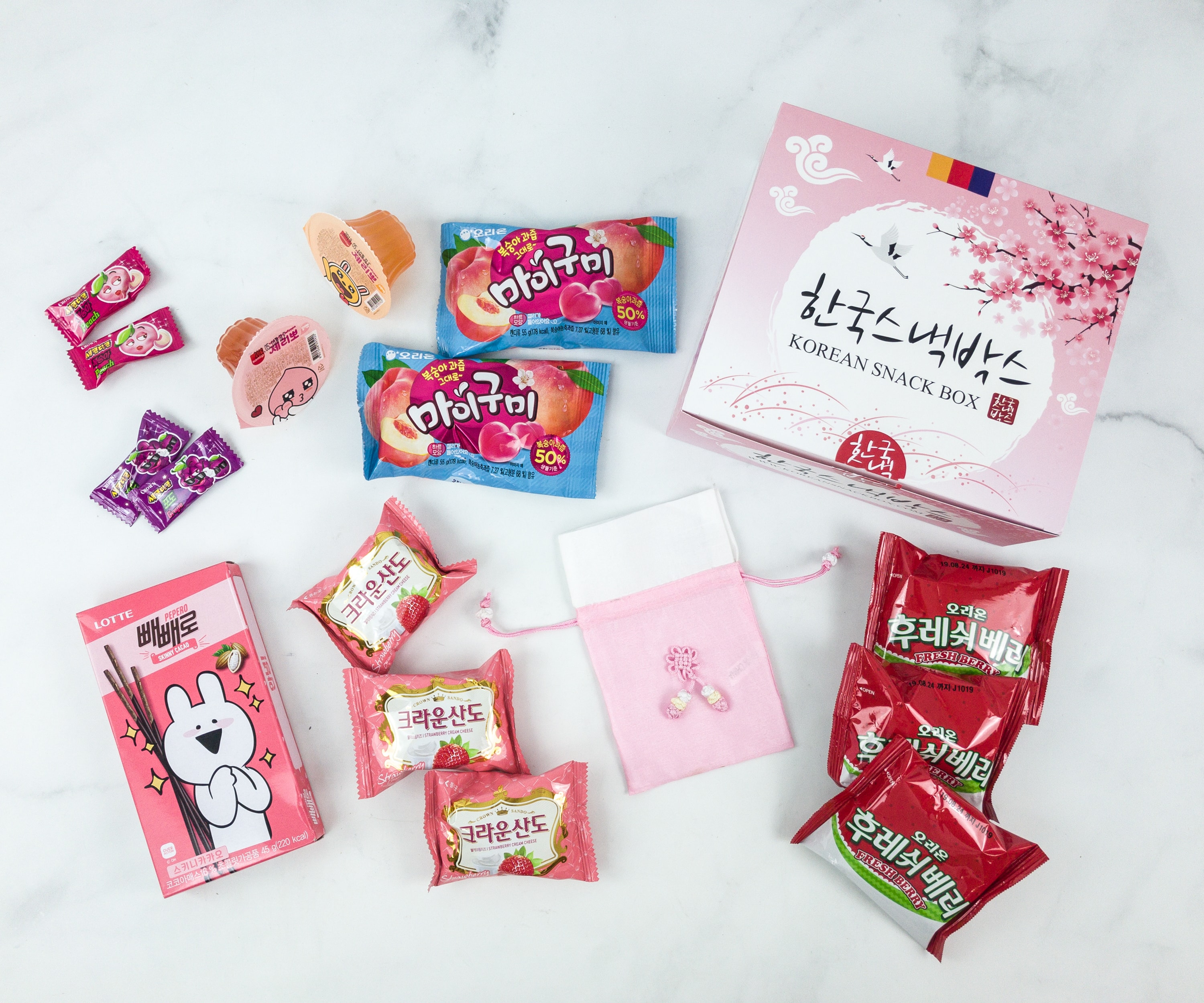 Everything in my box!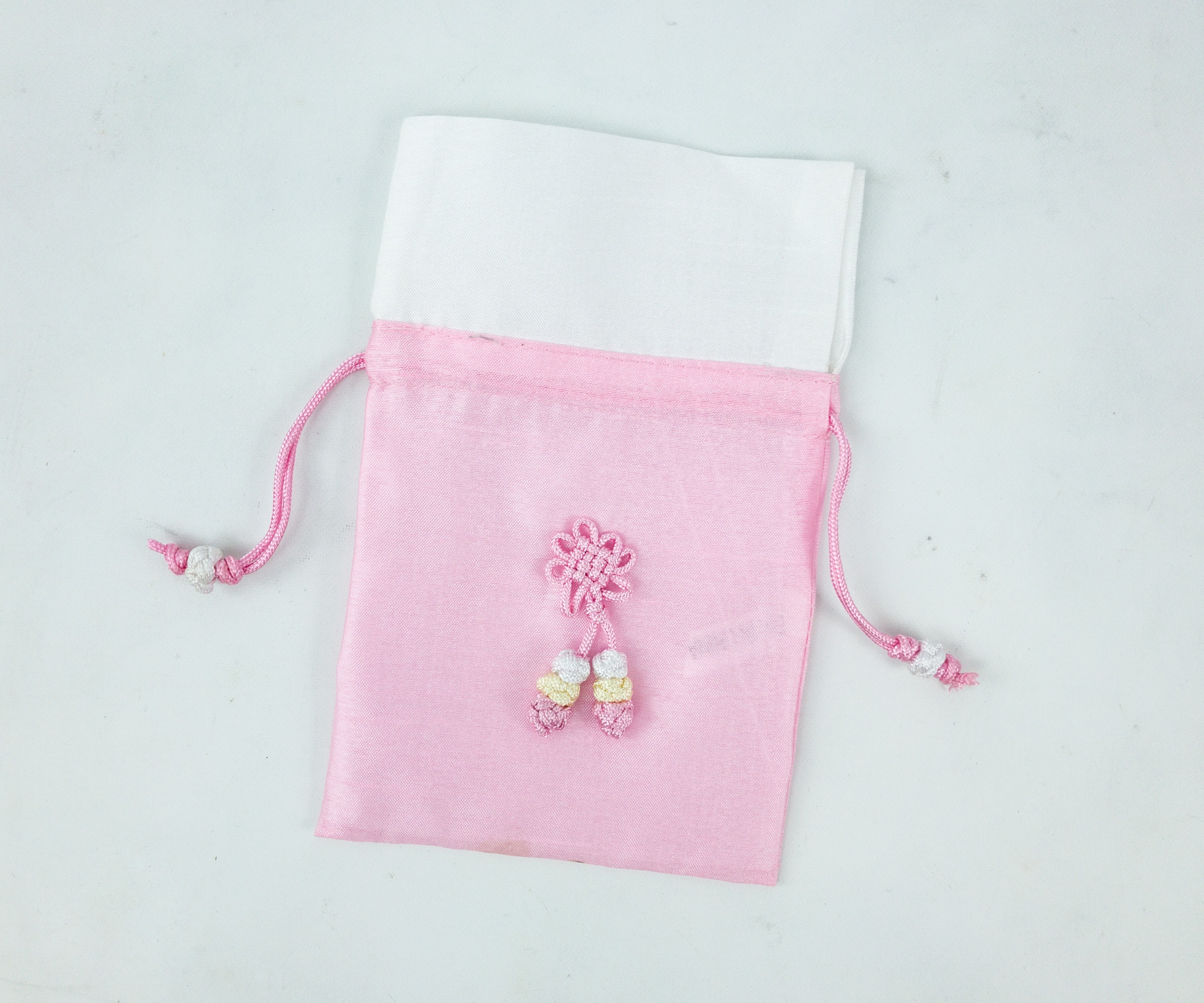 Still in line with the theme, this month's box includes a pink Bokjumeoni. It is reusable as a purse, pouch, or even as a makeup bag!
Fresh berry / 후레쉬 베리. This snack is made with a creamy, berry-flavored filling sandwiched between two soft and spongy bread. There are three packs of them in our box!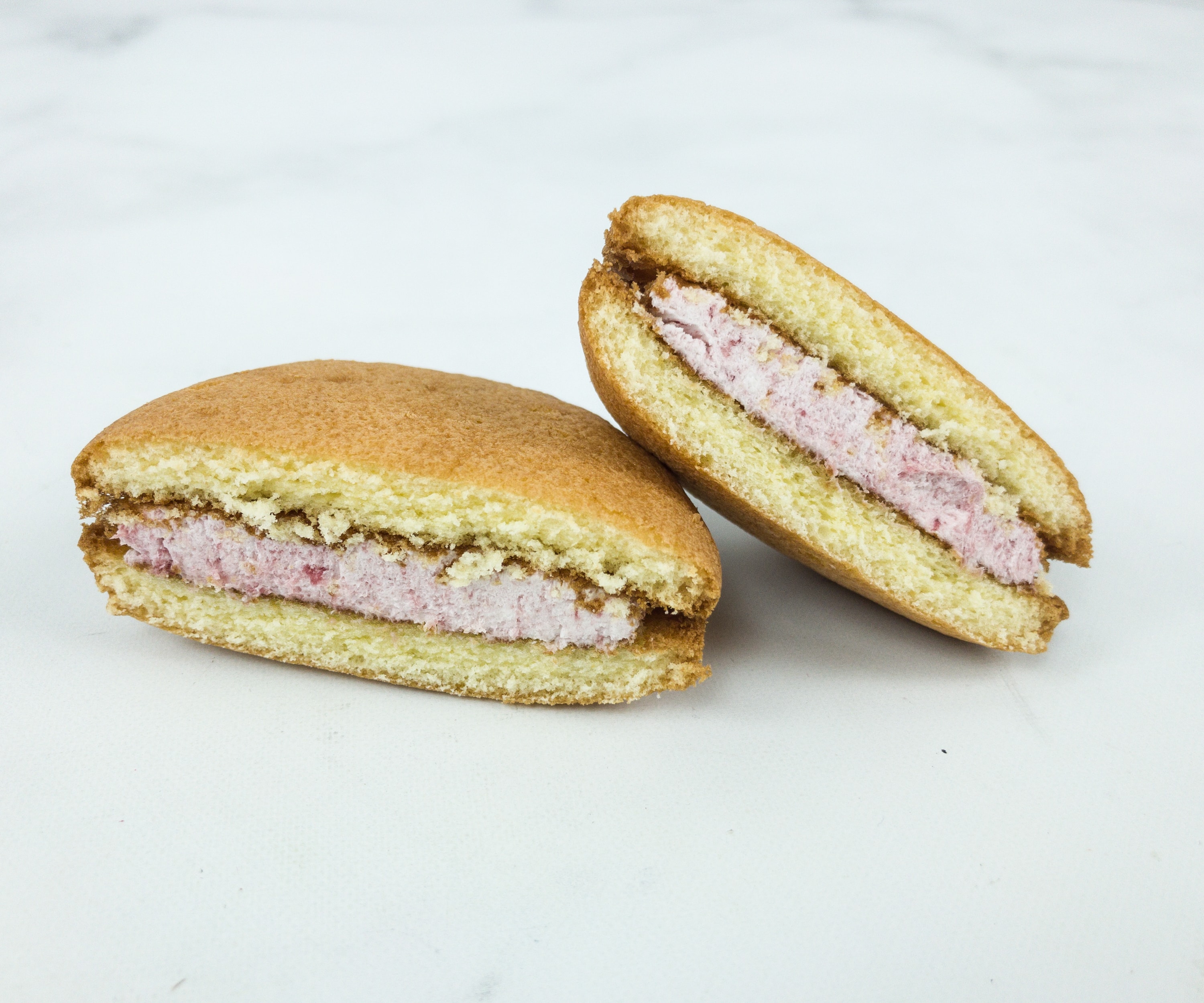 The filling is thick and fruity. We enjoyed them fresh out of the pack, but they can be warmed too before serving.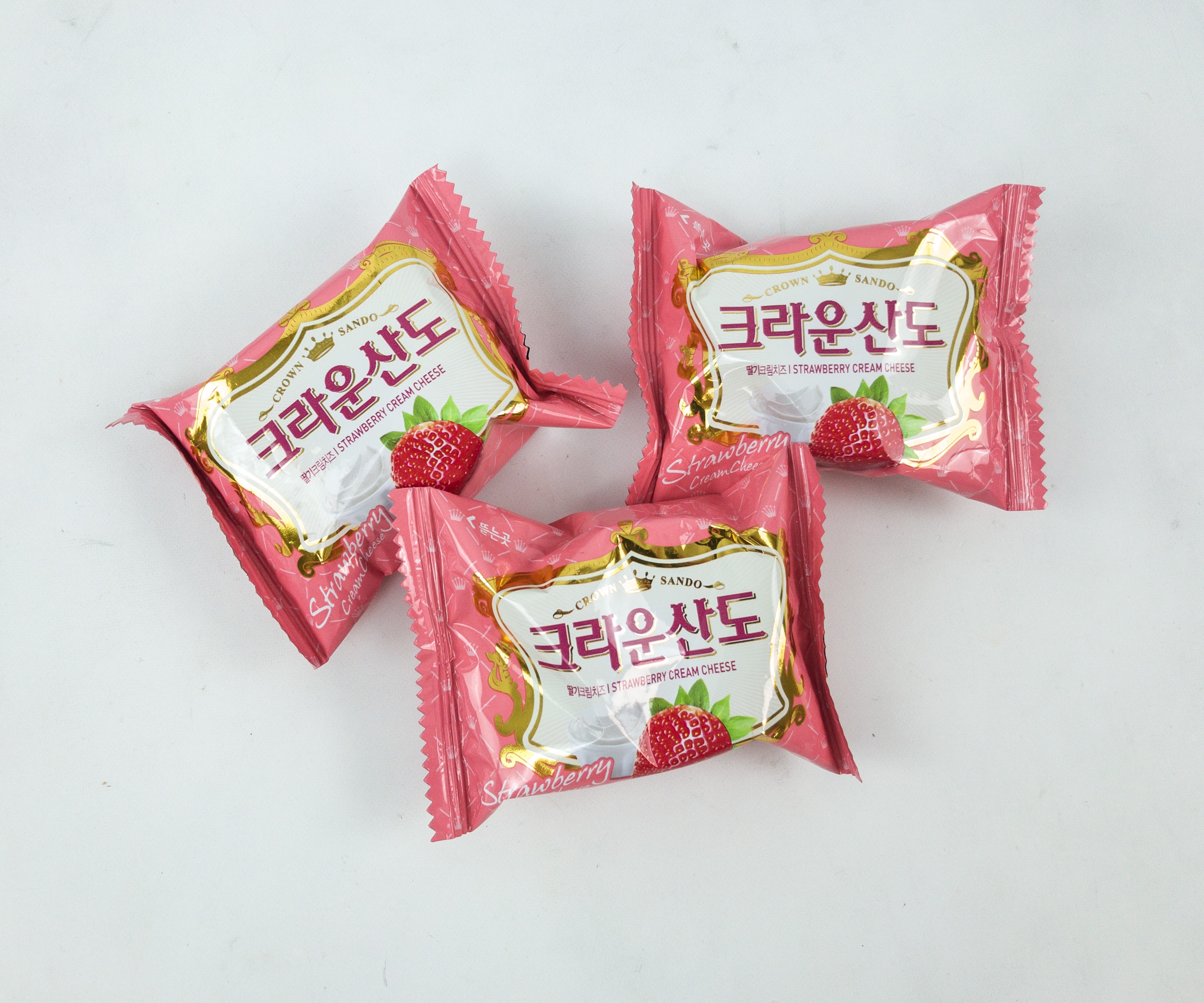 Crown Sando / 크라운산도. More fruity treats! This time, it's a crispy cookie sandwich with a luscious strawberry cream cheese filling. Like the first snack, we got three packs of them in the box too.
The biscuits are crunchy and a bit buttery. The filling did taste like strawberry, which is a bit tart and a bit sweet.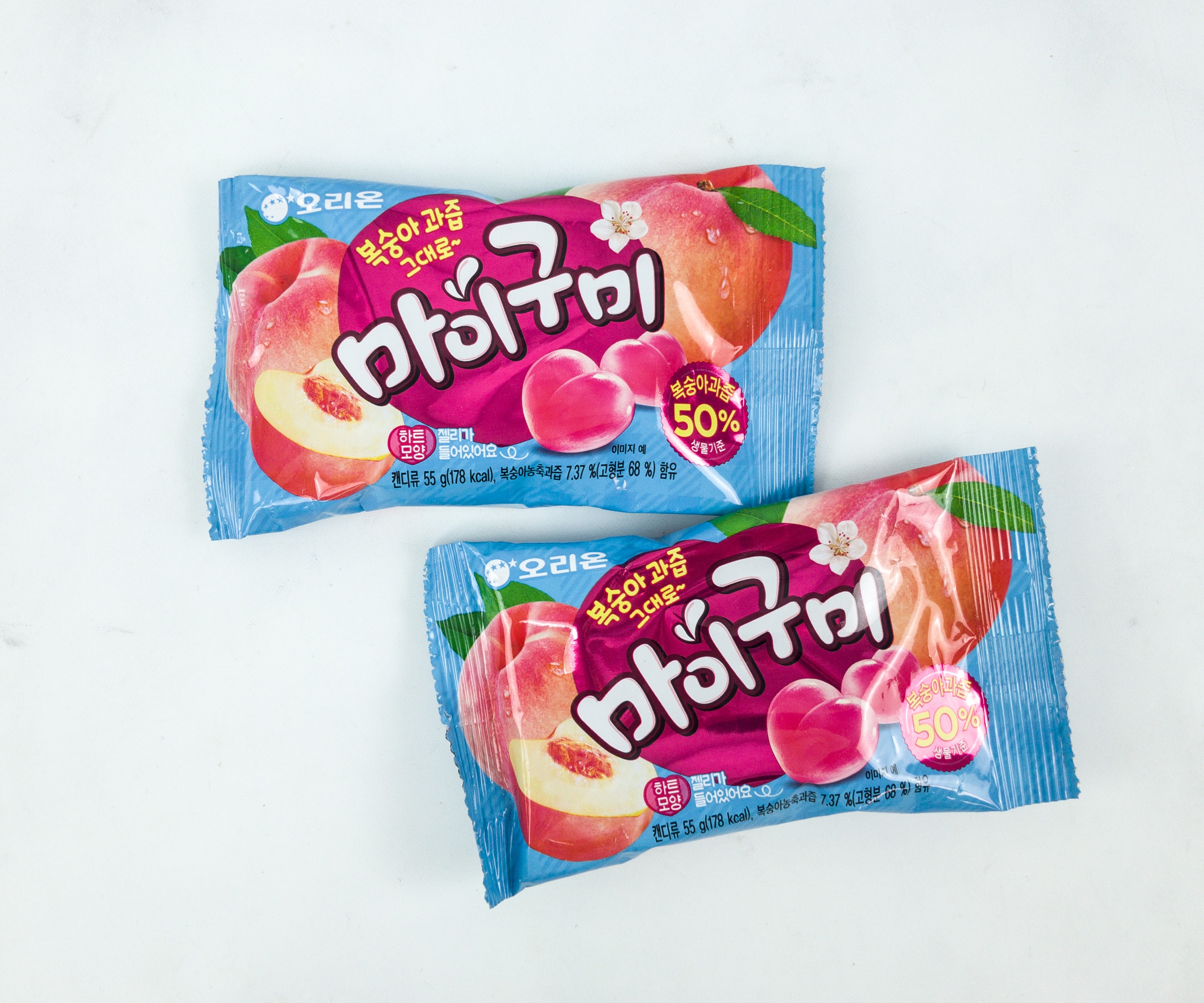 Maigumi Peach / 마이구미 복숭아. For us who are big fans of gummies, Maigumi Peach is a win. These peach-flavored gummy candies are juicy and refreshing. We even got two packs of them, so we can share the fruity treats!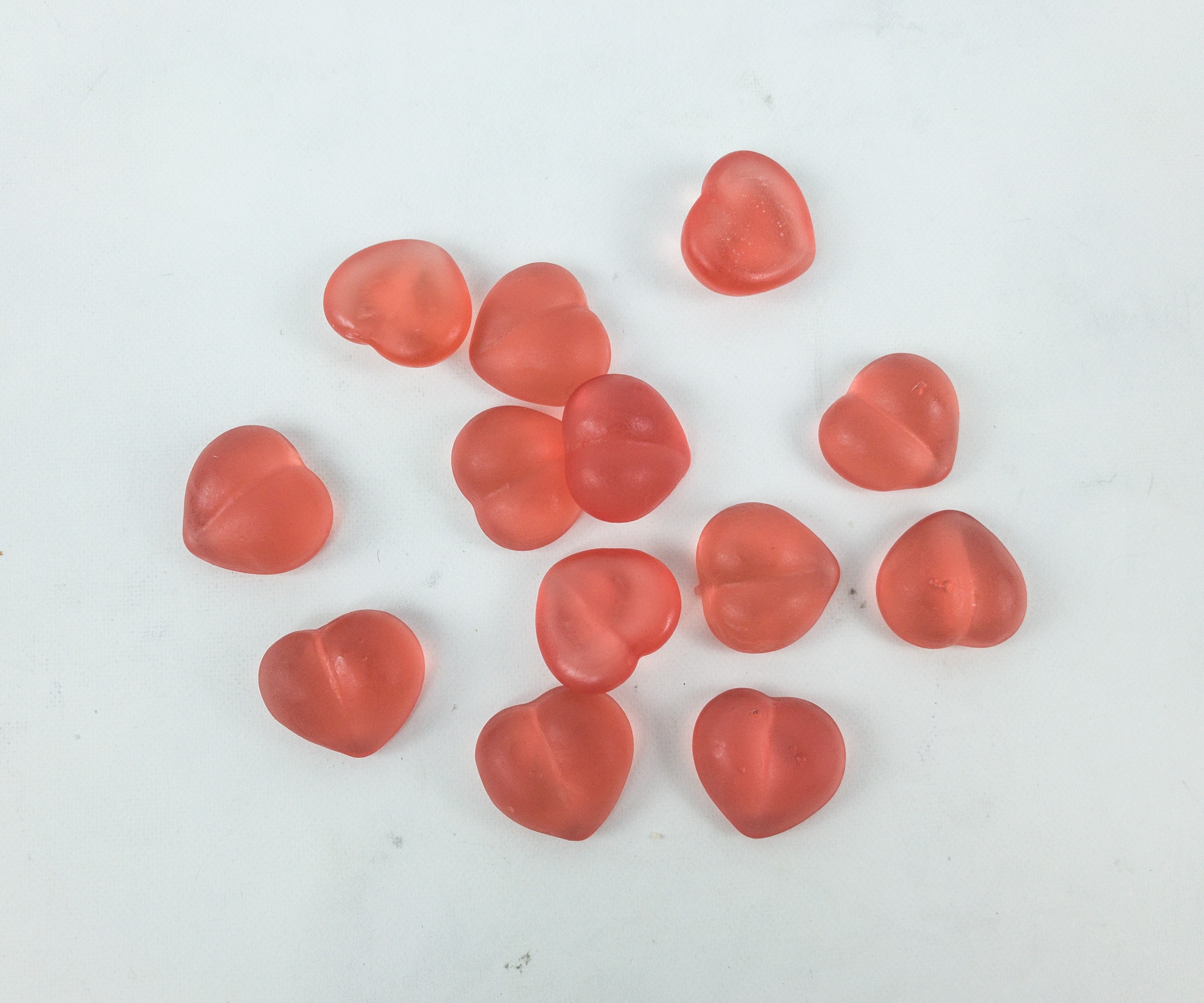 Each piece is not just peach-flavored but peach-shaped too. How cute!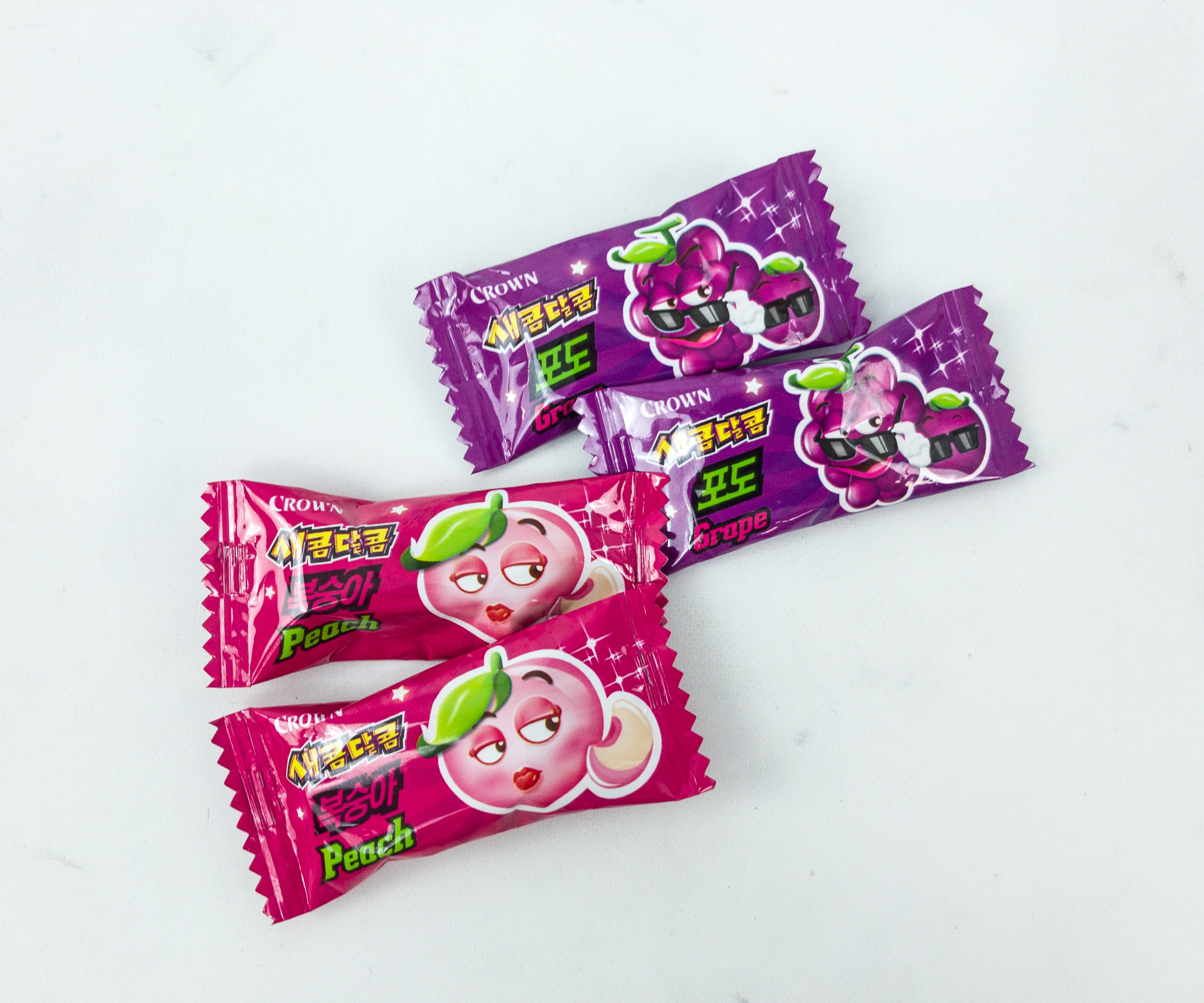 Saekomdalkom mini / 새콤달콤. These are individually wrapped candies bursting with sweet and sour fruity flavors. We got two of them in peach flavor and two of them in grape flavor. They are super chewy and delicious!
Kakao Talk Jelly Bbo 카카오톡 제리뽀. Kakao Talk characters are so popular in Korea that you can see them everywhere, even in snack packagings. We got two fruity jellies in the box, one featuring Apeach and the other featuring Muzi.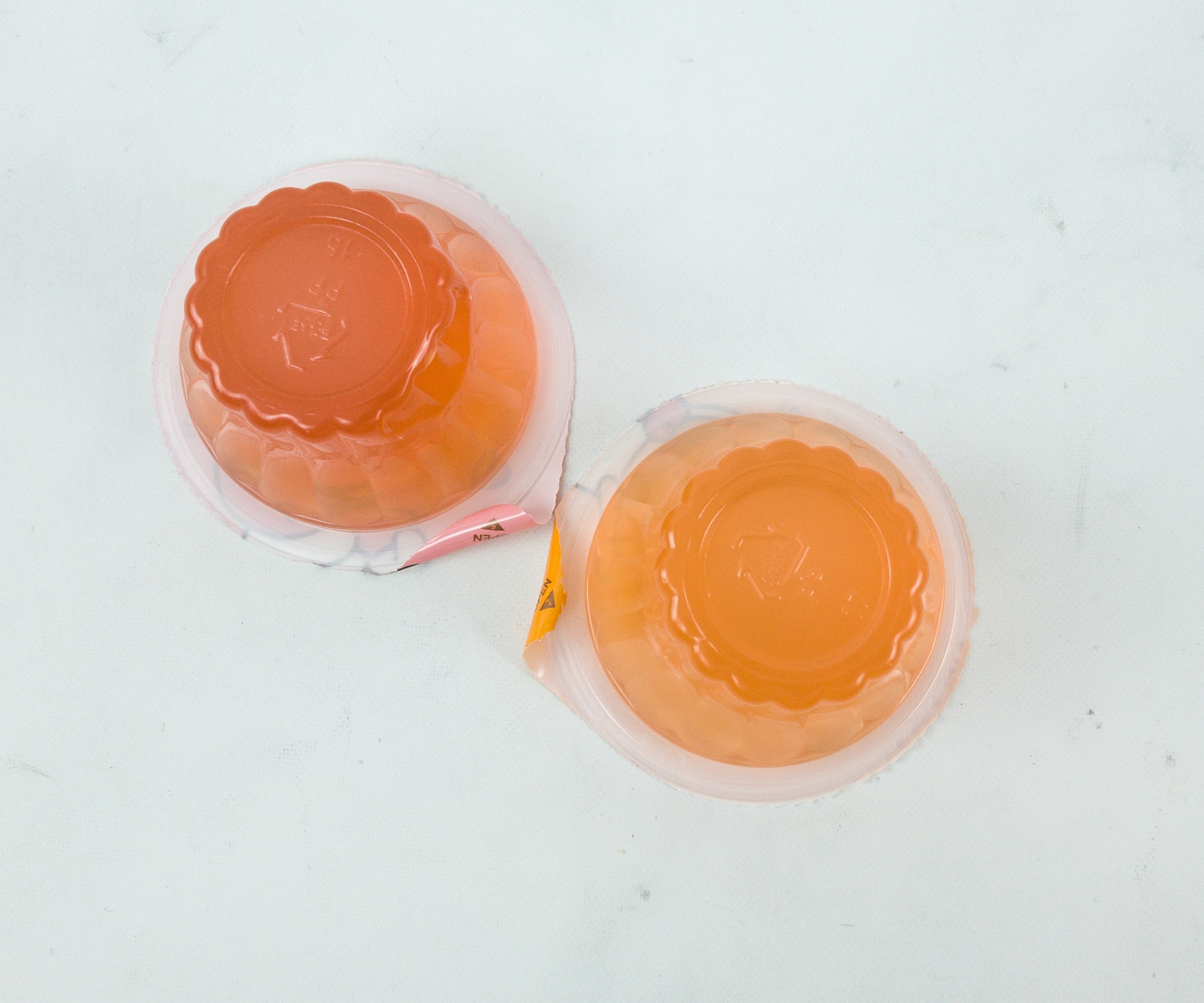 These orange flavored jellies are tasty. They're a hit with the kids!
Pepero Skinny Cacao / 빼빼로 스키니카카오. Pepero is already a staple in Korean snack boxes. This month's featured Pepero sticks are a bit different because it uses cacao sticks instead of the usual cookie sticks. Making it even tastier is the chocolate coating. It's indeed a chocolate overload! If anyone has been in a Zoom meeting lately with me, they've been seeing me snack on them. Irresistible!
This month's Korean Snack Box is fantastic! We appreciate the selection of fruity snacks, from the cakes and cookies to the candies and jellies. This box is meant to be shared as they gave us two to four pieces of each. The improvement of the box itself is worth noting too. Seeing the pink, cherry-blossom inspired box made us even more excited to try out the delicious treats inside!
What do you think of Korean Snack Box?