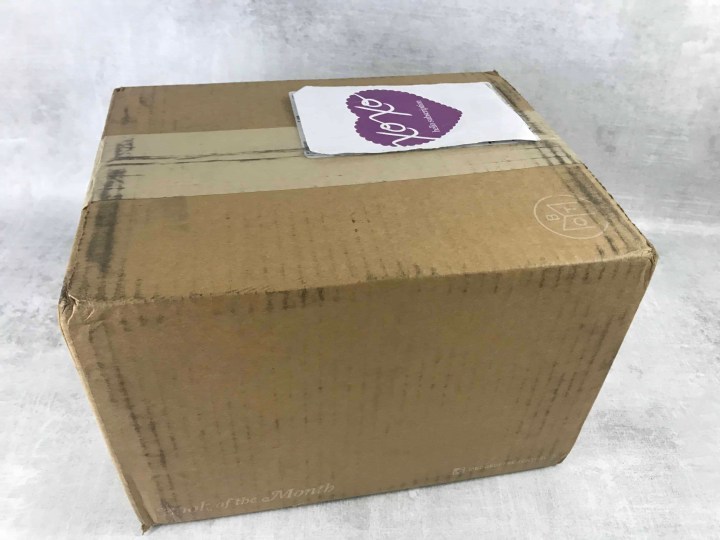 Book of the Month Club is a monthly book subscription box. Each month, their panel of judges selects 5 books, which they announce on the first of the month, and members have six days to decide which book (or books) they would like to receive. One book per month is included in the membership fee, and members can purchase up to two additional books each month for $9.99 per title. The subscription price is $14.99 per month.
DEAL:  Book of the Month has a new coupon code to get a FREE book credit when you use code SPRINGFLING at checkout!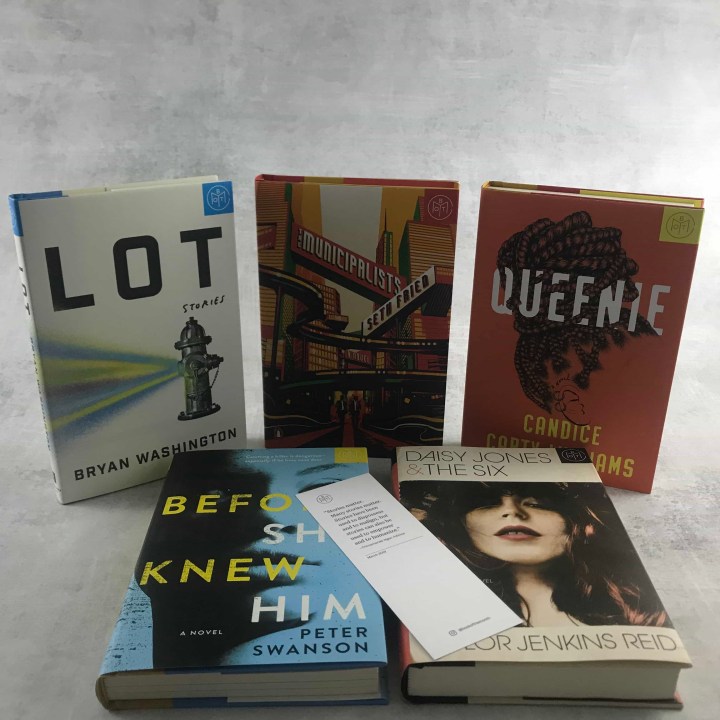 The Book of the Month subscription includes one book per month – we were sent all five to examine. You can add on extra titles for $9.99 per book!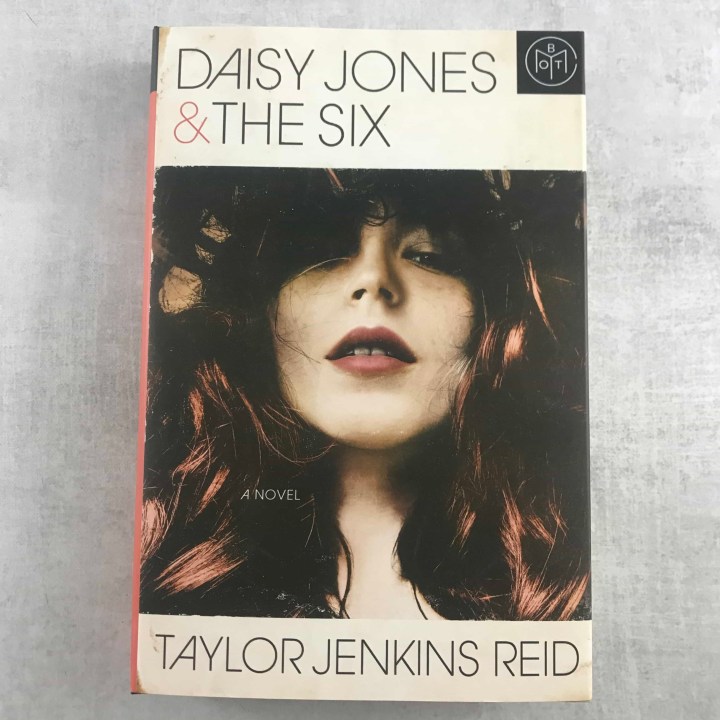 Daisy Jones & the Six: A Novel by Taylor Jenkins Reid
A gripping novel about the whirlwind rise of an iconic 1970s rock group and their beautiful lead singer, revealing the mystery behind their infamous breakup.

Daisy is a girl coming of age in LA in the late '60s, sneaking into clubs on the Sunset Strip, sleeping with rock stars, and dreaming of singing at the Whisky a Go Go. The sex and drugs are thrilling, but it's the rock 'n' roll she loves most. By the time she's 20, her voice is getting noticed, and she has the kind of heedless beauty that makes people do crazy things. Also getting noticed is The Six, a band led by the brooding Billy Dunne. On the eve of their first tour, his girlfriend Camila finds out she's pregnant, and with the pressure of impending fatherhood and fame, Billy goes a little wild on the road. Daisy and Billy cross paths when a producer realizes that the key to supercharged success is to put the two together. What happens next will become the stuff of legend.

The making of that legend is chronicled in this riveting and unforgettable novel, written as an oral history of one of the biggest bands of the '70s. Taylor Jenkins Reid is a talented writer who takes her work to a new level with Daisy Jones & The Six, brilliantly capturing a place and time in an utterly distinctive voice.
The Municipalists: A Novel by Seth Fried
In Metropolis, the gleaming city of tomorrow, the dream of the great American city has been achieved. But all that is about to change, unless a neurotic, rule-following bureaucrat and an irreverent, freewheeling artificial intelligence can save the city from a mysterious terrorist plot that threatens its very existence.

Henry Thompson has dedicated his life to improving America's infrastructure as a proud employee of the United States Municipal Survey. So when the agency comes under attack, he dutifully accepts his unexpected mission to visit Metropolis looking for answers. But his plans to investigate quietly, quickly, and carefully are interrupted by his new partner: a day-drinking know-it-all named OWEN, who also turns out to be the projected embodiment of the agency's supercomputer. Soon, Henry and OWEN are fighting to save not only their own lives and those of the city's millions of inhabitants, but also the soul of Metropolis. The Municipalists is a thrilling, funny, and touching adventure story, a tour-de-force of imagination that trenchantly explores our relationships to the cities around us and the technologies guiding us into the future.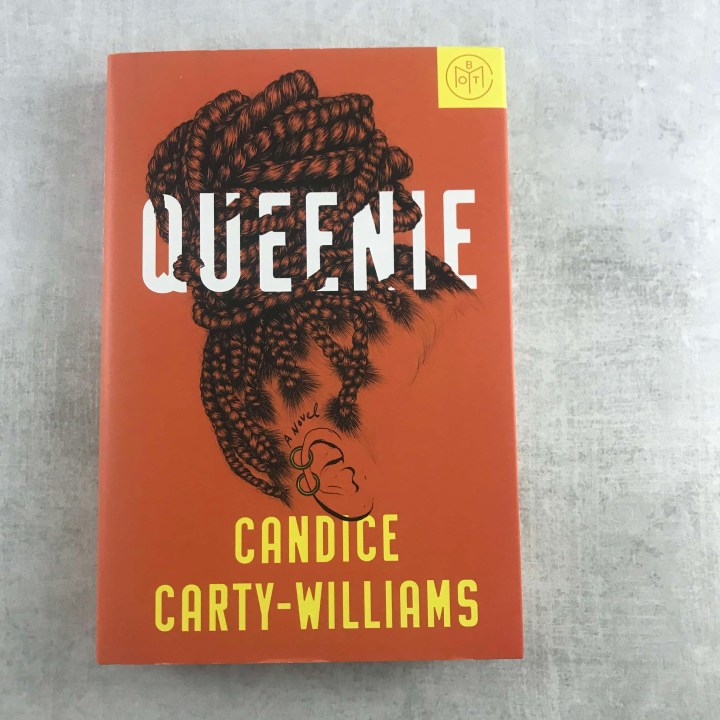 Queenie: A Novel by Candice Carty-Williams  
Bridget Jones's Diary meets Americanah in this disarmingly honest, boldly political, and truly inclusive novel that will speak to anyone who has gone looking for love and found something very different in its place.

Queenie Jenkins is a 25-year-old Jamaican British woman living in London, straddling two cultures and slotting neatly into neither. She works at a national newspaper, where she's constantly forced to compare herself to her white middle class peers. After a messy break up from her long-term white boyfriend, Queenie seeks comfort in all the wrong places…including several hazardous men who do a good job of occupying brain space and a bad job of affirming self-worth.

As Queenie careens from one questionable decision to another, she finds herself wondering, "What are you doing? Why are you doing it? Who do you want to be?"—all of the questions today's woman must face in a world trying to answer them for her.

With "fresh and honest" (Jojo Moyes) prose, Queenie is a remarkably relatable exploration of what it means to be a modern woman searching for meaning in today's world.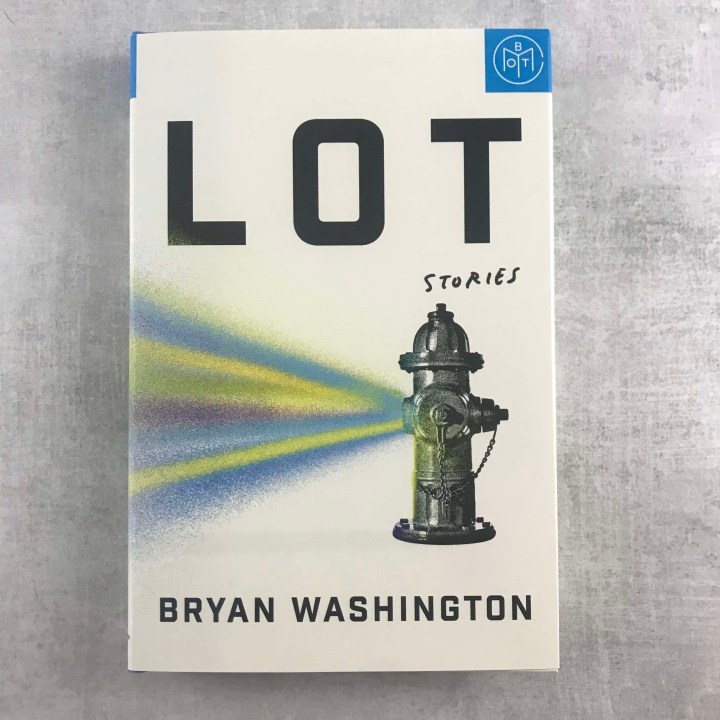 Lot: Stories by Bryan Washington 
In the city of Houston – a sprawling, diverse microcosm of America – the son of a black mother and a Latino father is coming of age. He's working at his family's restaurant, weathering his brother's blows, resenting his older sister's absence. And discovering he likes boys.

Around him, others live and thrive and die in Houston's myriad neighborhoods: a young woman whose affair detonates across an apartment complex, a ragtag baseball team, a group of young hustlers, hurricane survivors, a local drug dealer who takes a Guatemalan teen under his wing, a reluctant chupacabra.

Bryan Washington's brilliant, viscerally drawn world vibrates with energy, wit, and the infinite longing of people searching for home. With soulful insight into what makes a community, a family, and a life, Lotexplores trust and love in all its unsparing and unsteady forms.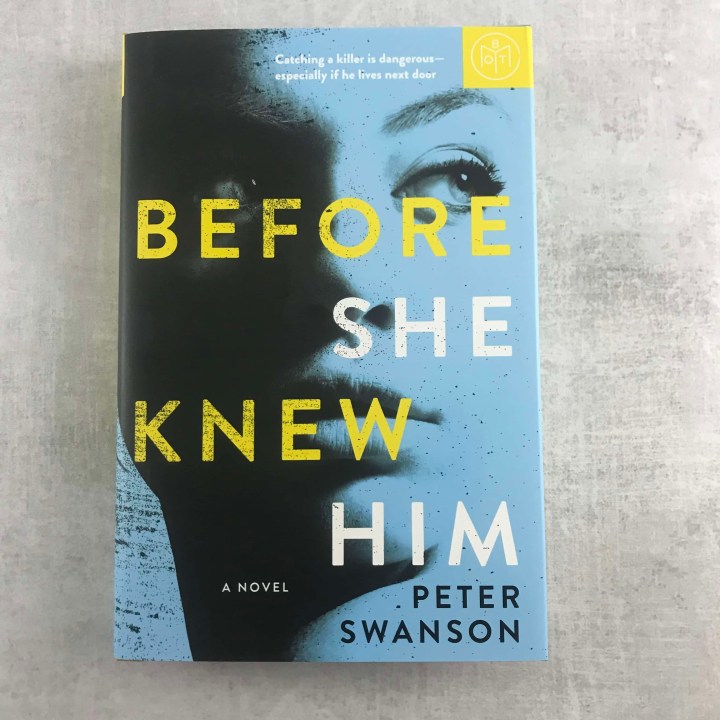 Before She Knew Him: A Novel by Peter Swanson
From the hugely talented author of The Kind Worth Killing comes an exquisitely chilling tale of a young suburban wife with a history of psychological instability whose fears about her new neighbor could lead them both to murder . . .

Hen and her husband Lloyd have settled into a quiet life in a new house outside of Boston, Massachusetts. Hen (short for Henrietta) is an illustrator and works out of a studio nearby, and has found the right meds to control her bipolar disorder. Finally, she's found some stability and peace.

But when they meet the neighbors next door, that calm begins to erode as she spots a familiar object displayed on the husband's office shelf. The sports trophy looks exactly like one that went missing from the home of a young man who was killed two years ago. Hen knows because she's long had a fascination with this unsolved murder—an obsession she doesn't talk about anymore, but can't fully shake either.

Could her neighbor, Matthew, be a killer? Or is this the beginning of another psychotic episode like the one she suffered back in college, when she became so consumed with proving a fellow student guilty that she ended up hurting a classmate?

The more Hen observes Matthew, the more she suspects he's planning something truly terrifying. Yet no one will believe her. Then one night, when she comes face to face with Matthew in a dark parking lot, she realizes that he knows she's been watching him, that she's really on to him. And that this is the beginning of a horrifying nightmare she may not live to escape.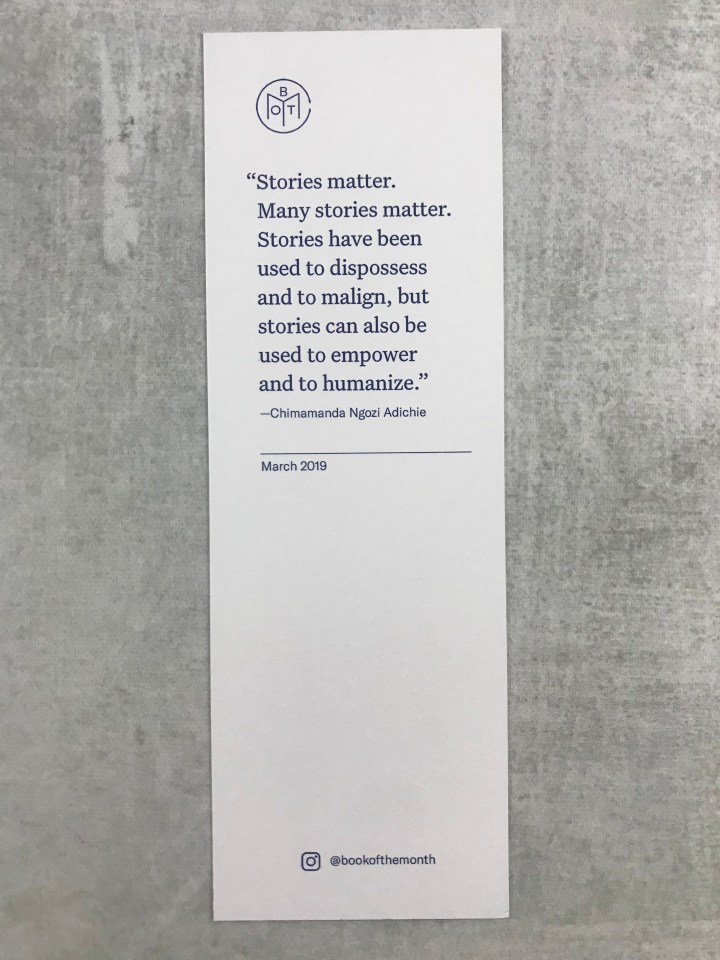 And a bookmark, this subscription wouldn't be complete without one of these!
BOTM is amazing – bringing a splash of so many different genres to my door in one very heavy box (the add-ons are a must if you read a lot!). I love that each book is hard-covered and how each jacket is made just for BOTM. BOTM keeps me up to date with new authors and new books. I love this subscription! It's amazing to hear the binding crack for the first time and I feel like royalty when I get a book that hasn't been released yet. BOTM gets better with every month and I can't wait to see what is next.
What do you think of this month's book selections?