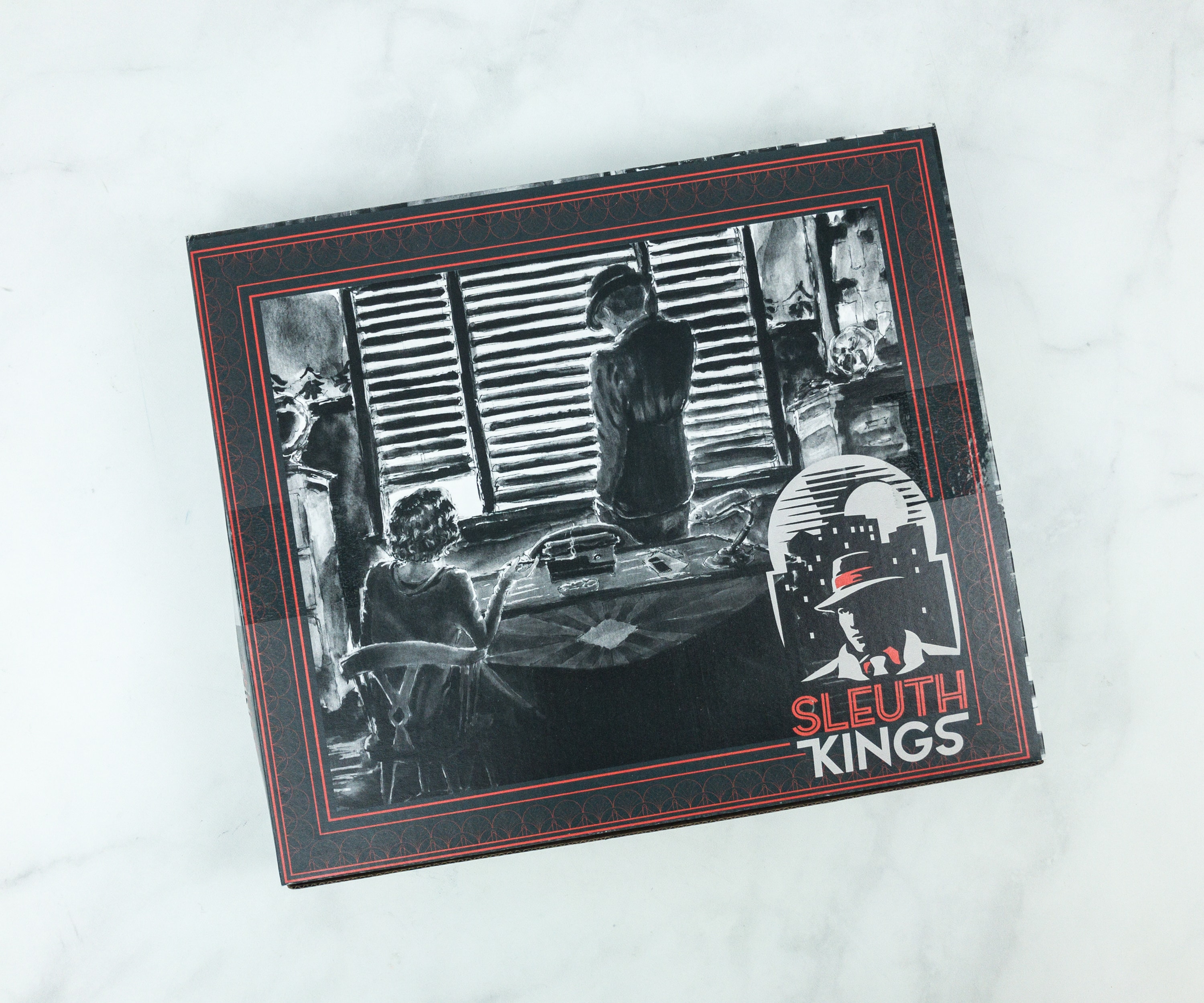 Sleuth Kings is an interactive monthly mystery box. Every month, a physical case file full of evidence, puzzles, ciphers, and more. Plans start at $29.95 per month and they also have 3-month and 6-months prepay options. You will work hand-in-hand with Sullivan King, the lead detective, via email as you solve the case.
Each month's case is a new, stand-alone mystery that takes approximately 2-3 hours to complete. After each case that you solve, you'll also receive a follow-up letter from the client as well as a small gift. For every 4 cases you solve, you'll be rewarded with a FREE bonus case that revolves around the hunt for Sullivan's father.
DEALS:
Get $8 off first purchase Use coupon code HELLOSK .
Get 10% off of your order! Use coupon code HELLO10.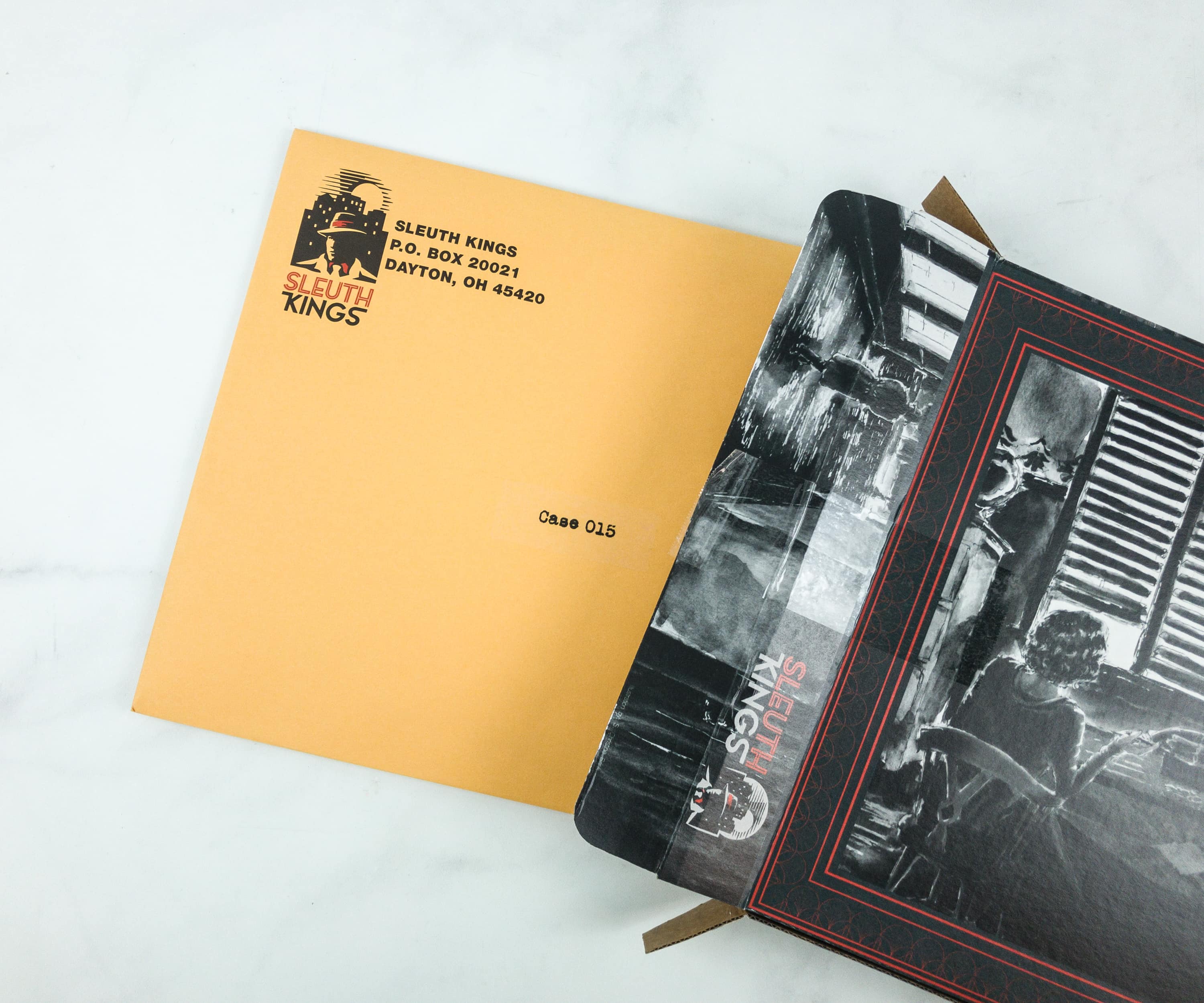 This the review of Mystery Box Case 015!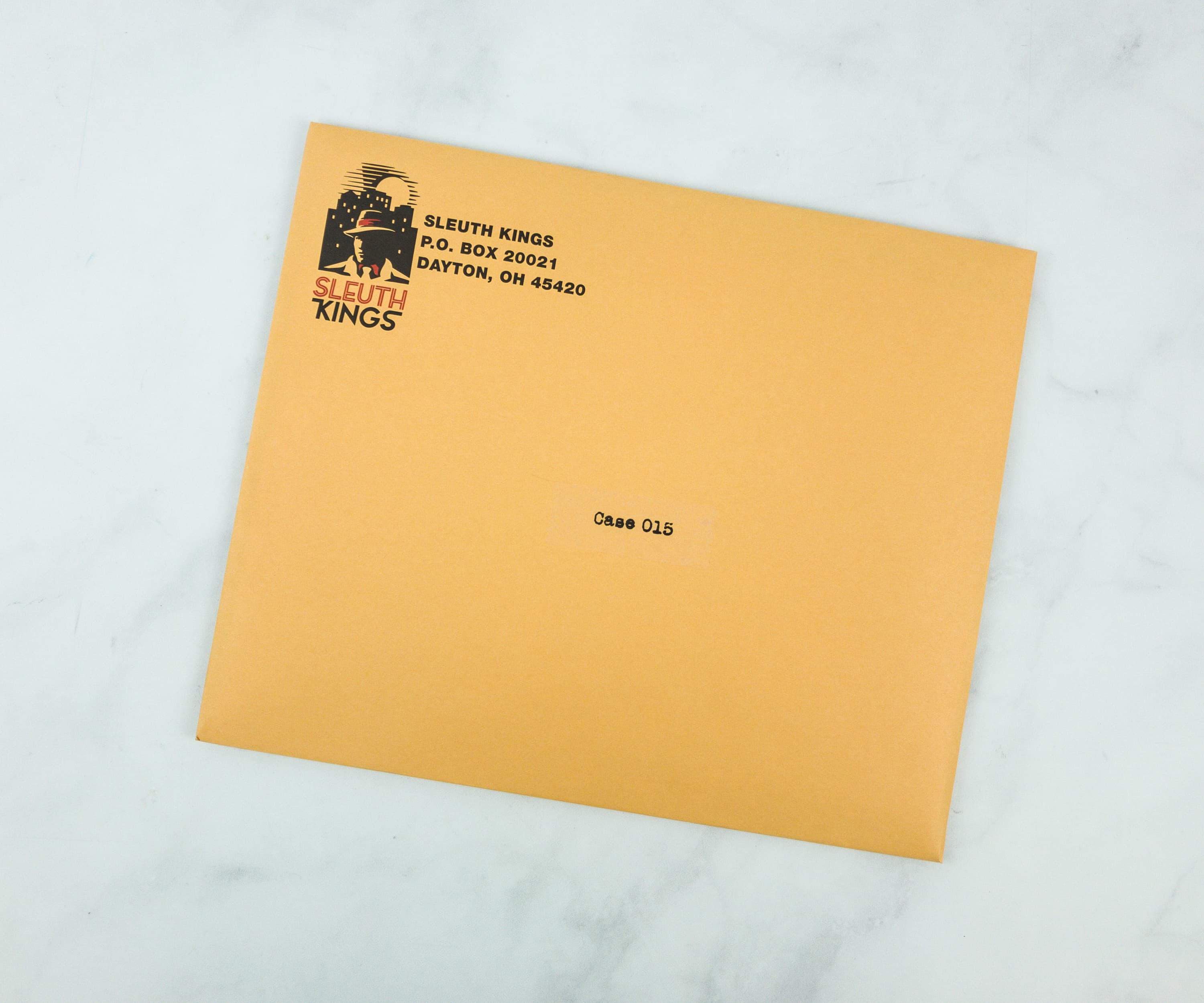 The mystery comes in a manila-colored envelope. The only things written on it are the Sleuth Kings P.O. box address, and the case that you will be working on.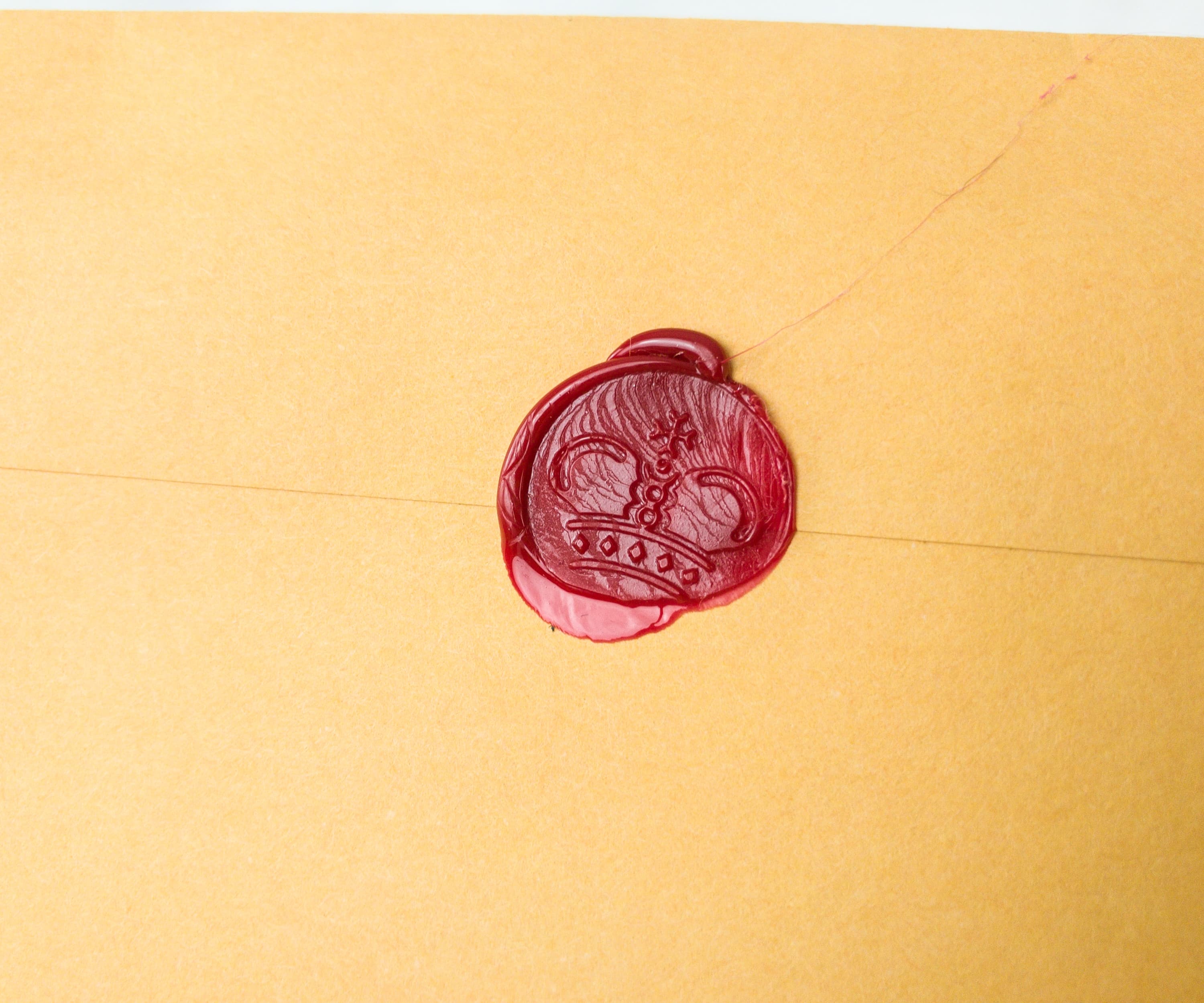 The envelope is also wax sealed with a crown pattern.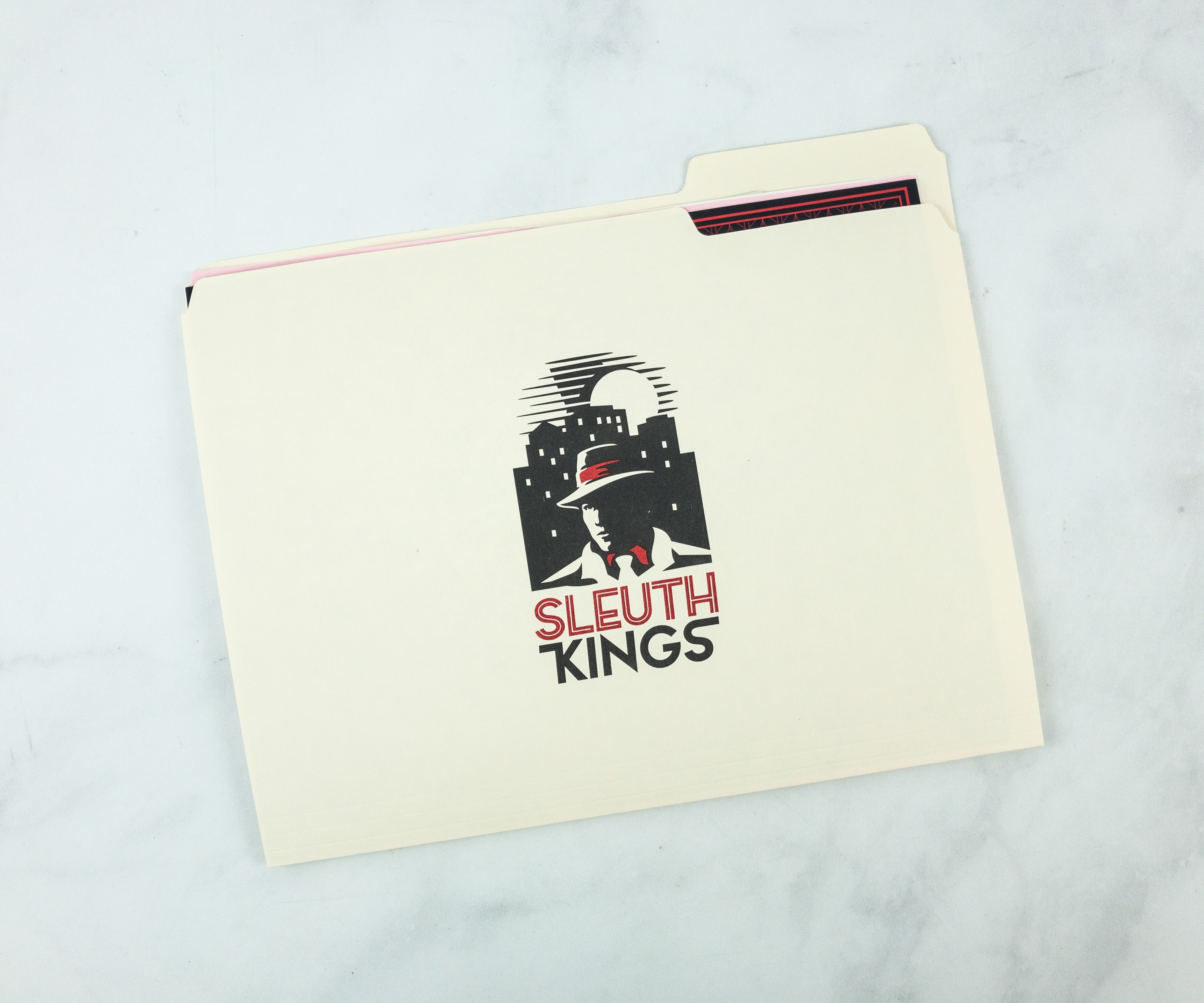 The files are neatly arranged in a white folder, with Sleuth Kings branding in front.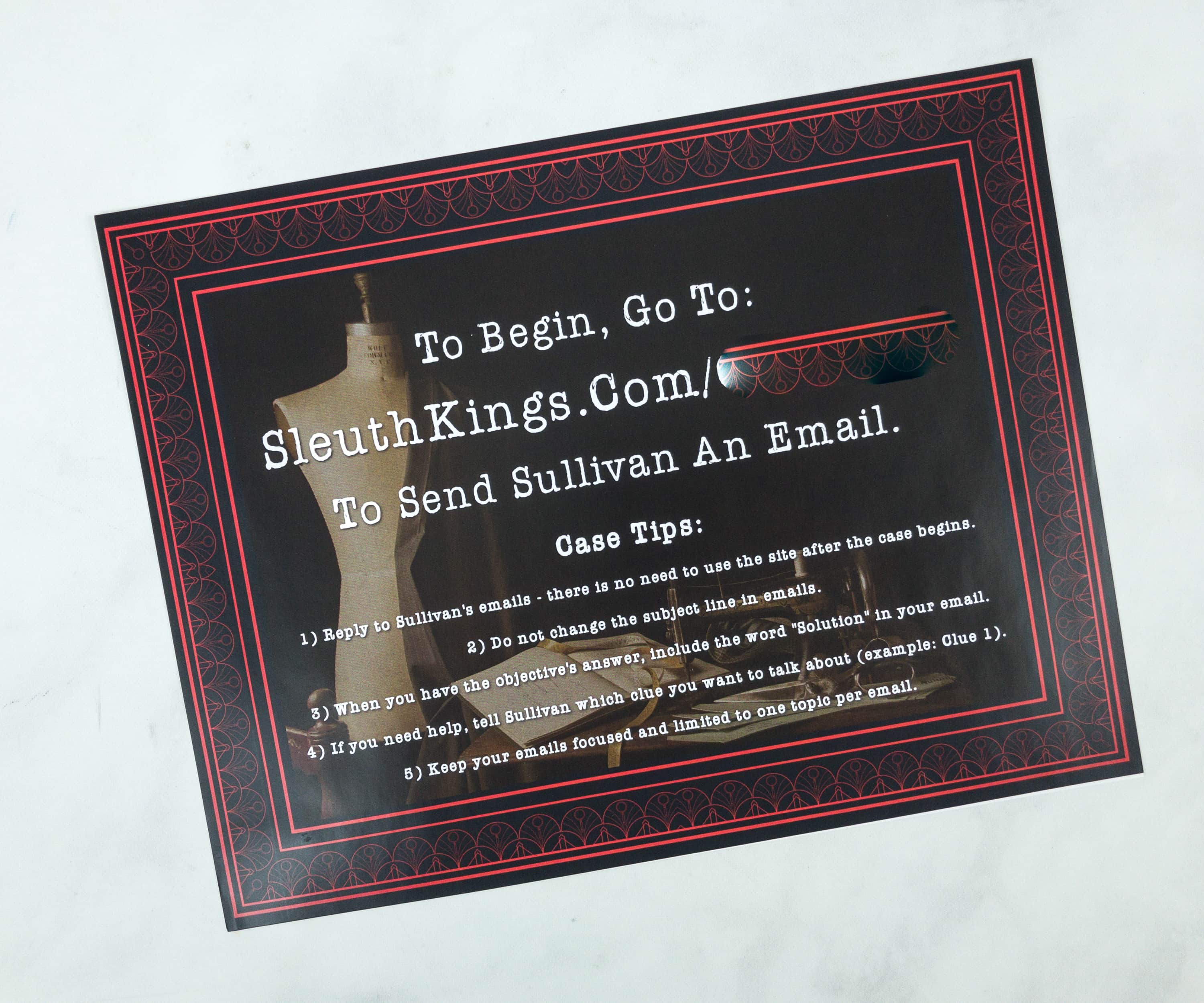 To begin with your adventure, you need to login to their website and send Sullivan an email.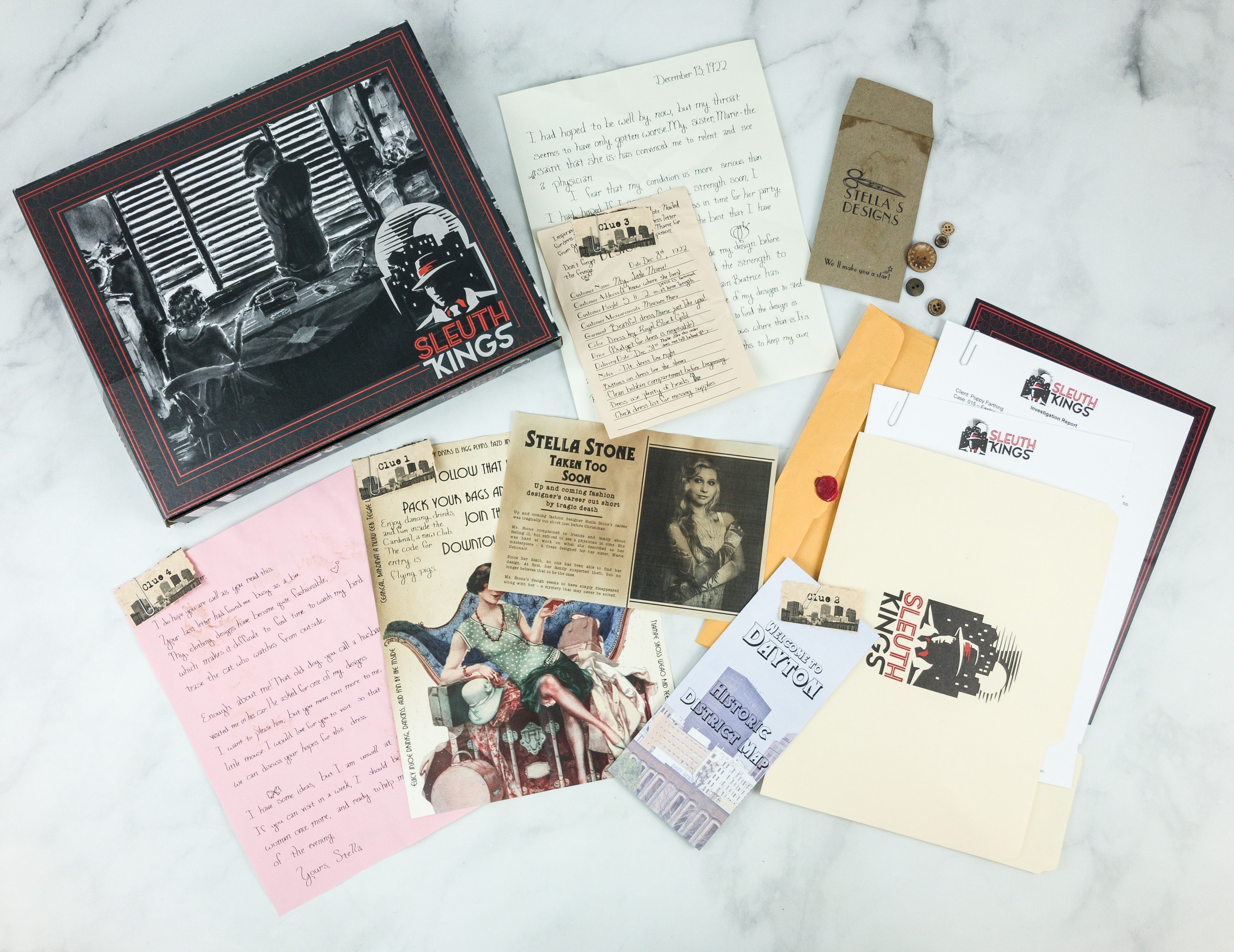 Everything in my box!
The case objective is written in a card, and we will be working on finding Stella's designs.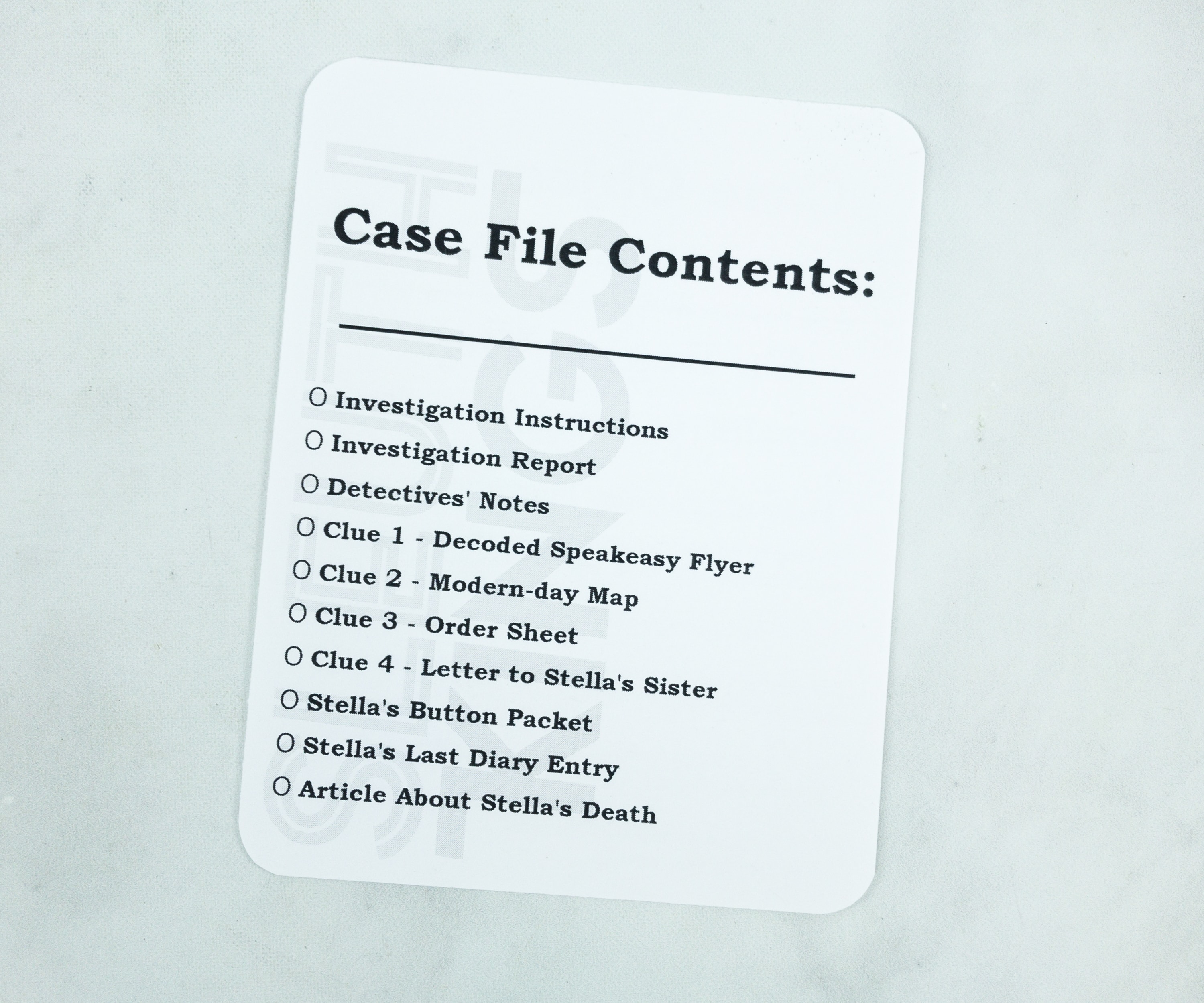 It also lists the contents of the case file: investigation instructions, investigation report, detectives' notes, clues, and more.
The investigation instruction sheet names the client, the case you will be working on, and the whole situation. I suggest you read them thoroughly to fully understand the case, and also, know where to start the whole investigation.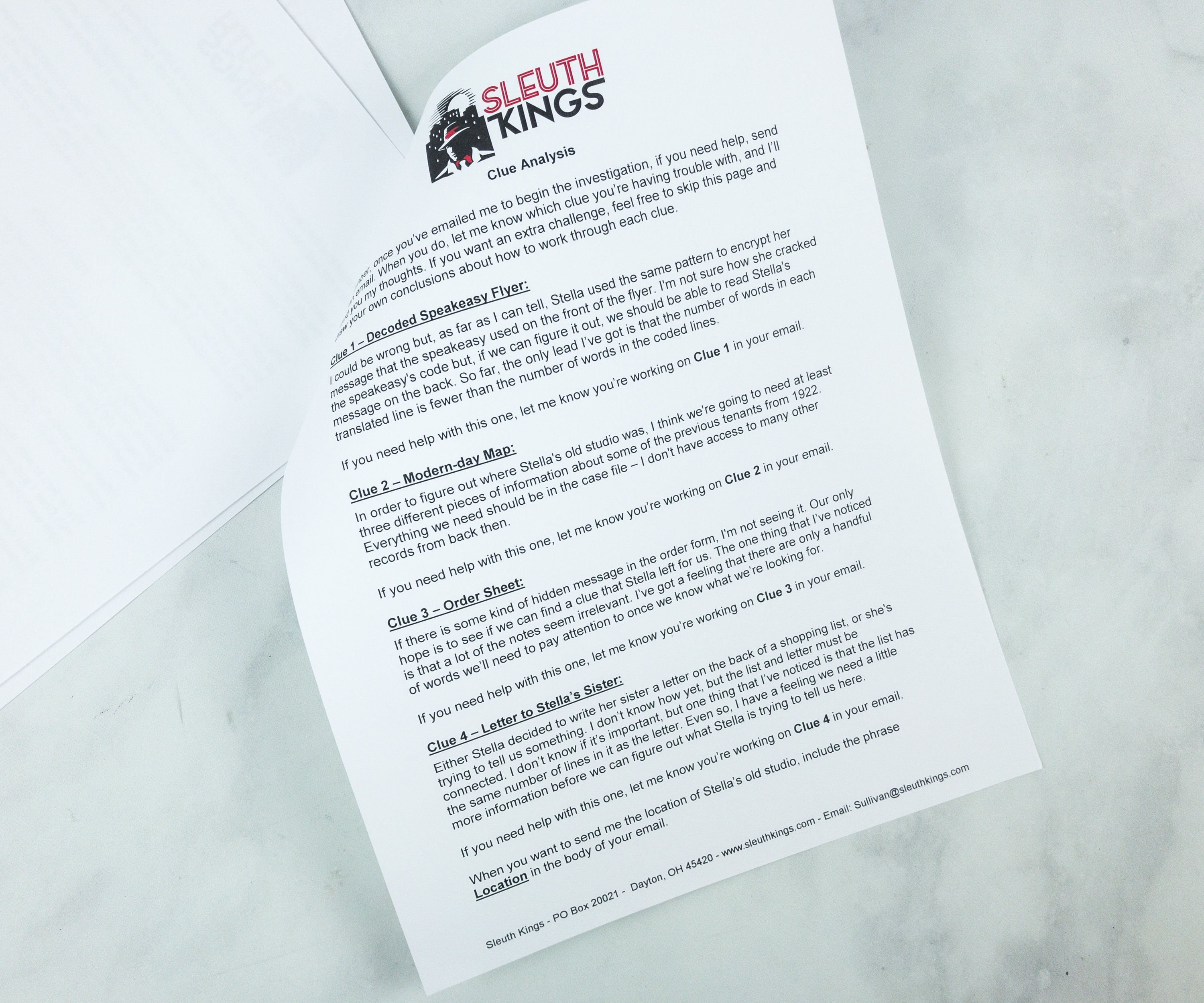 There are also clue analysis, where each clue item's use is being hinted or explained.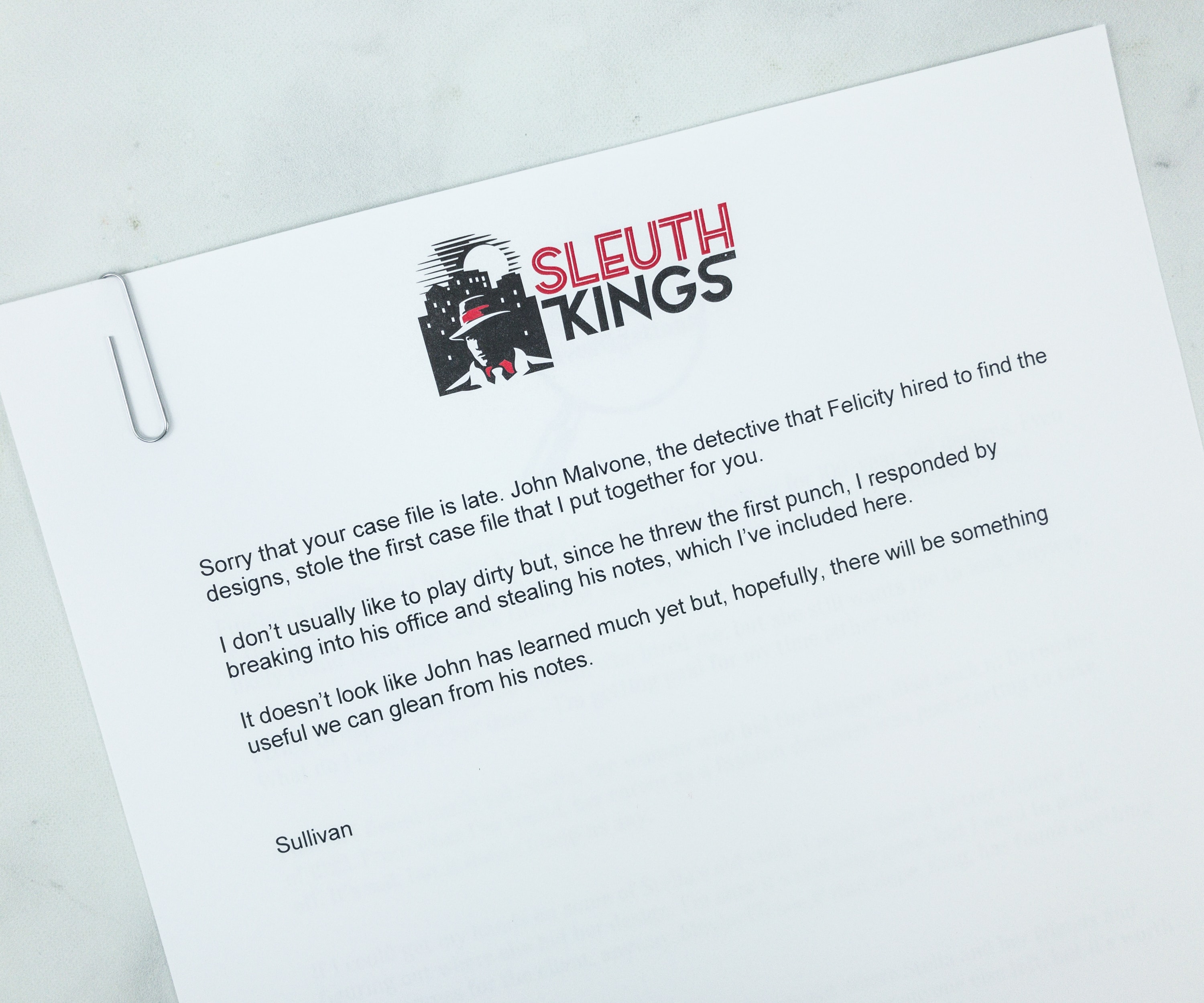 There's also a letter from Sullivan apologizing for the late case file. To make up for it, he included Malvone's notes in this case to also aid us in the investigation.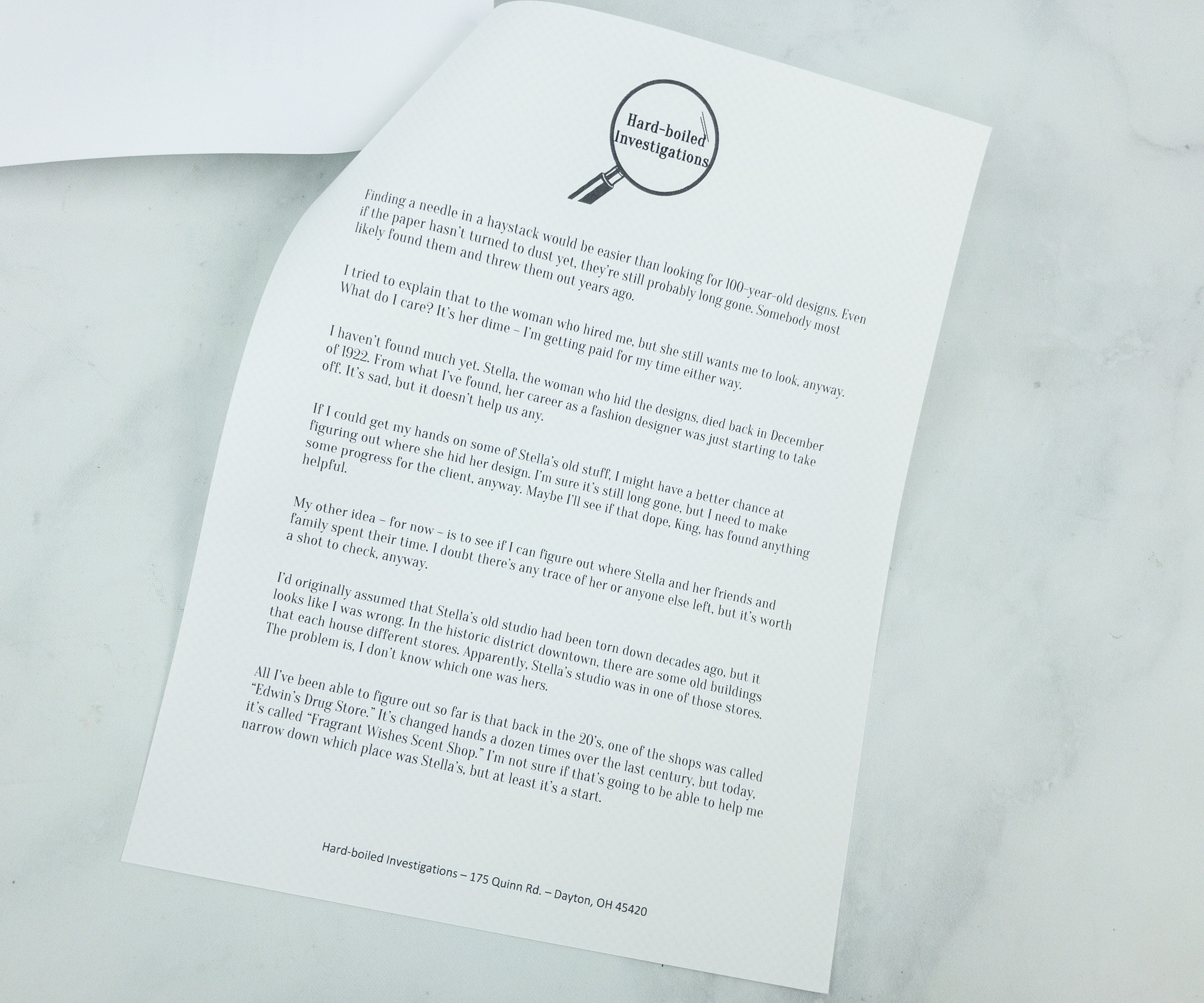 The case is explained further on this page. I hope this helps us in finding Stella's old designs.

If you need help with the clues, you can email them at Sleuth Kings and use the word "solution" in the email so they know what you need.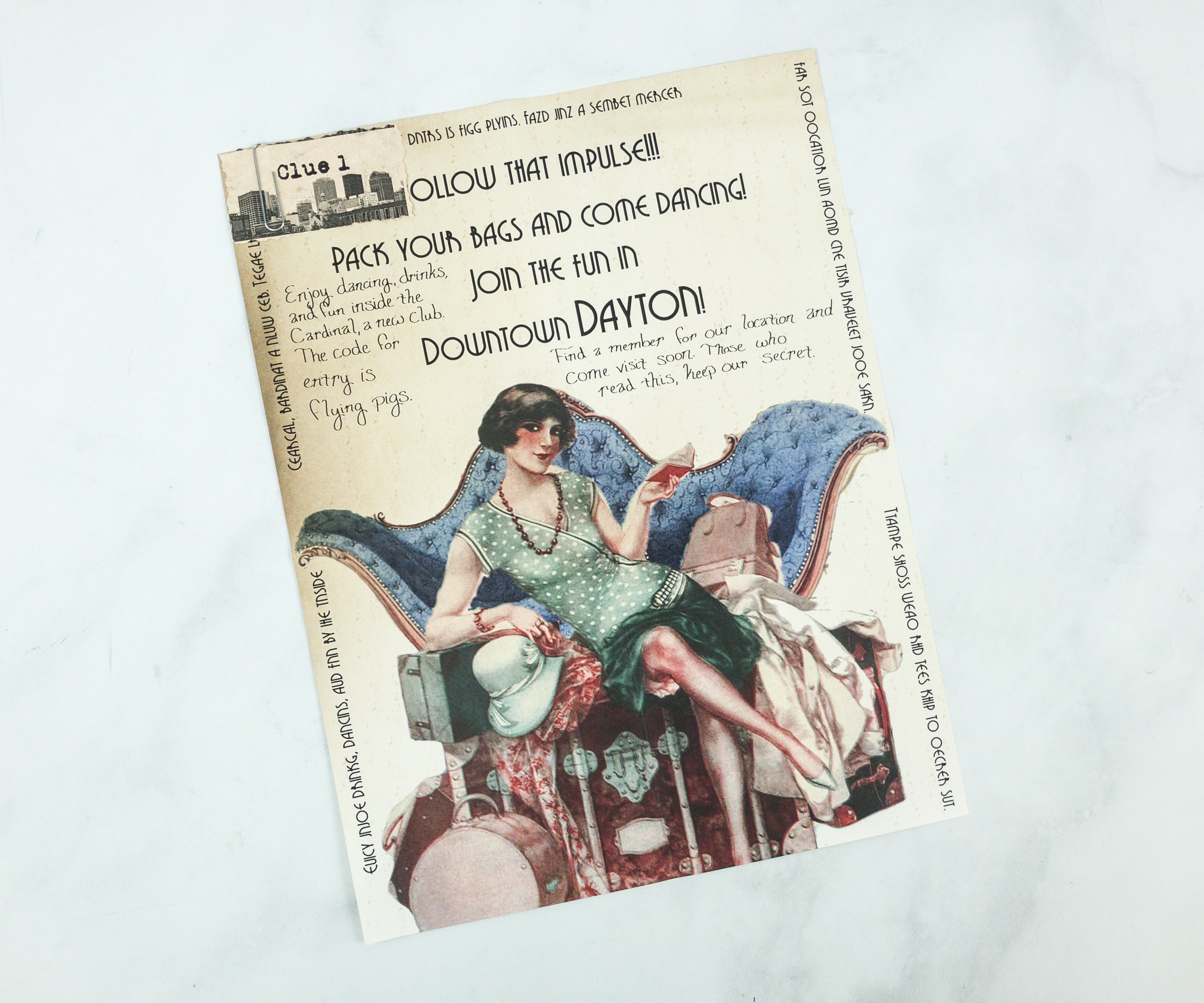 Clue 1 is a decoded speakeasy flyer. According to the analysis, this piece will help us know Stella's message.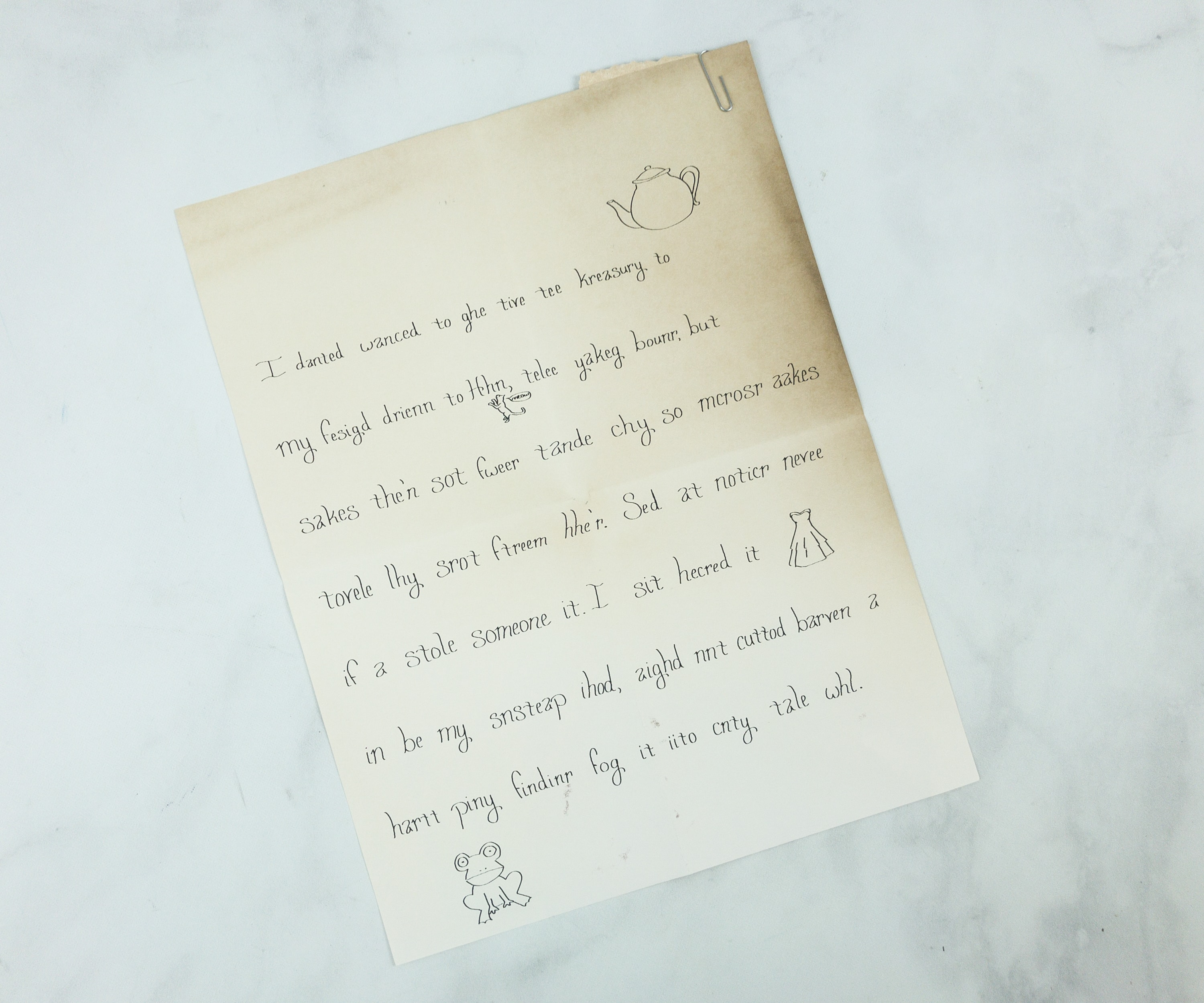 Still, the message isn't clear. We need to delve deeper into it, and if it seems impossible to solve, we can email Sleuth Kings to ask for help.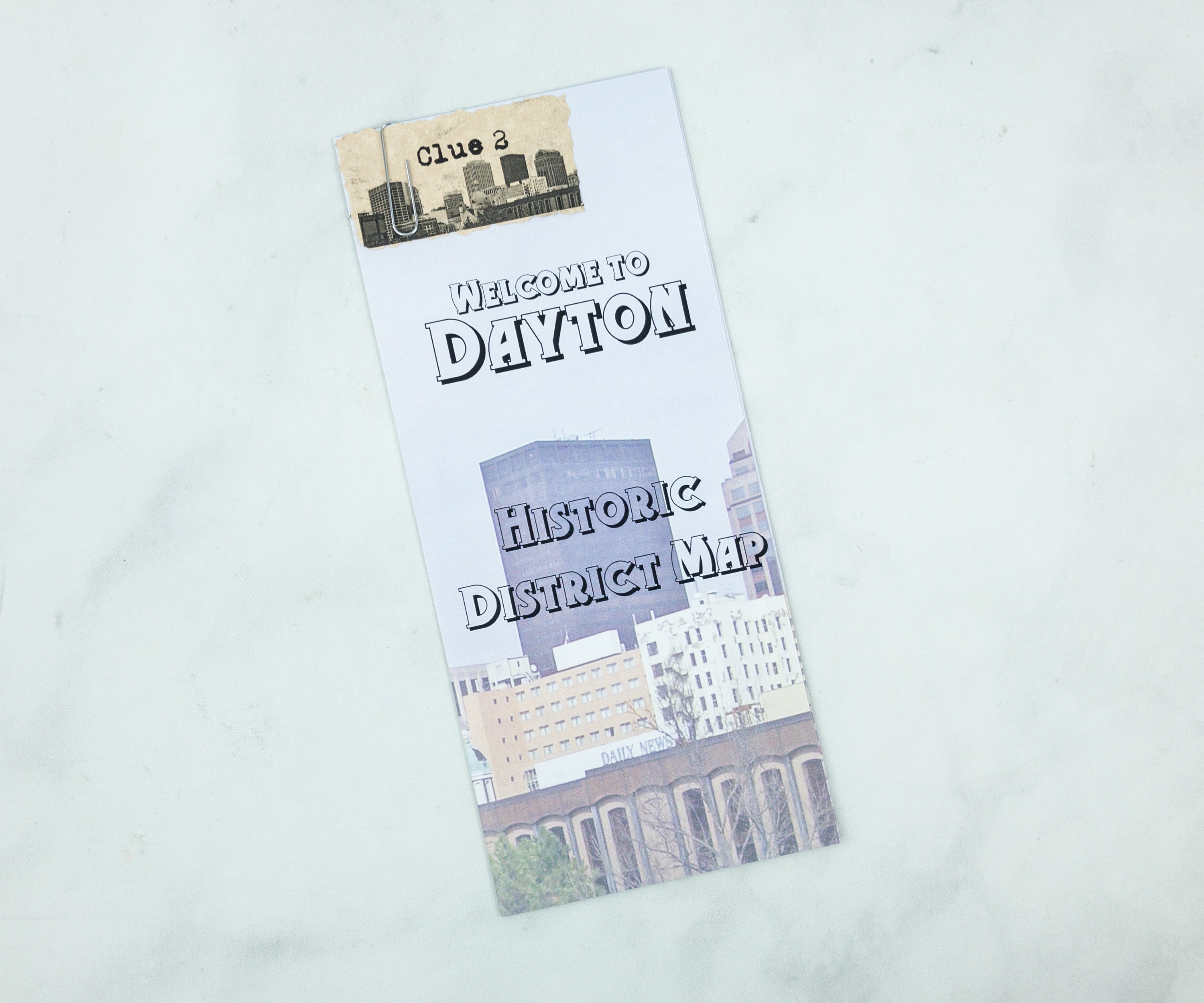 The second clue is the Historic District Map. And according to the analysis, this will help us locate Stella's old studio location.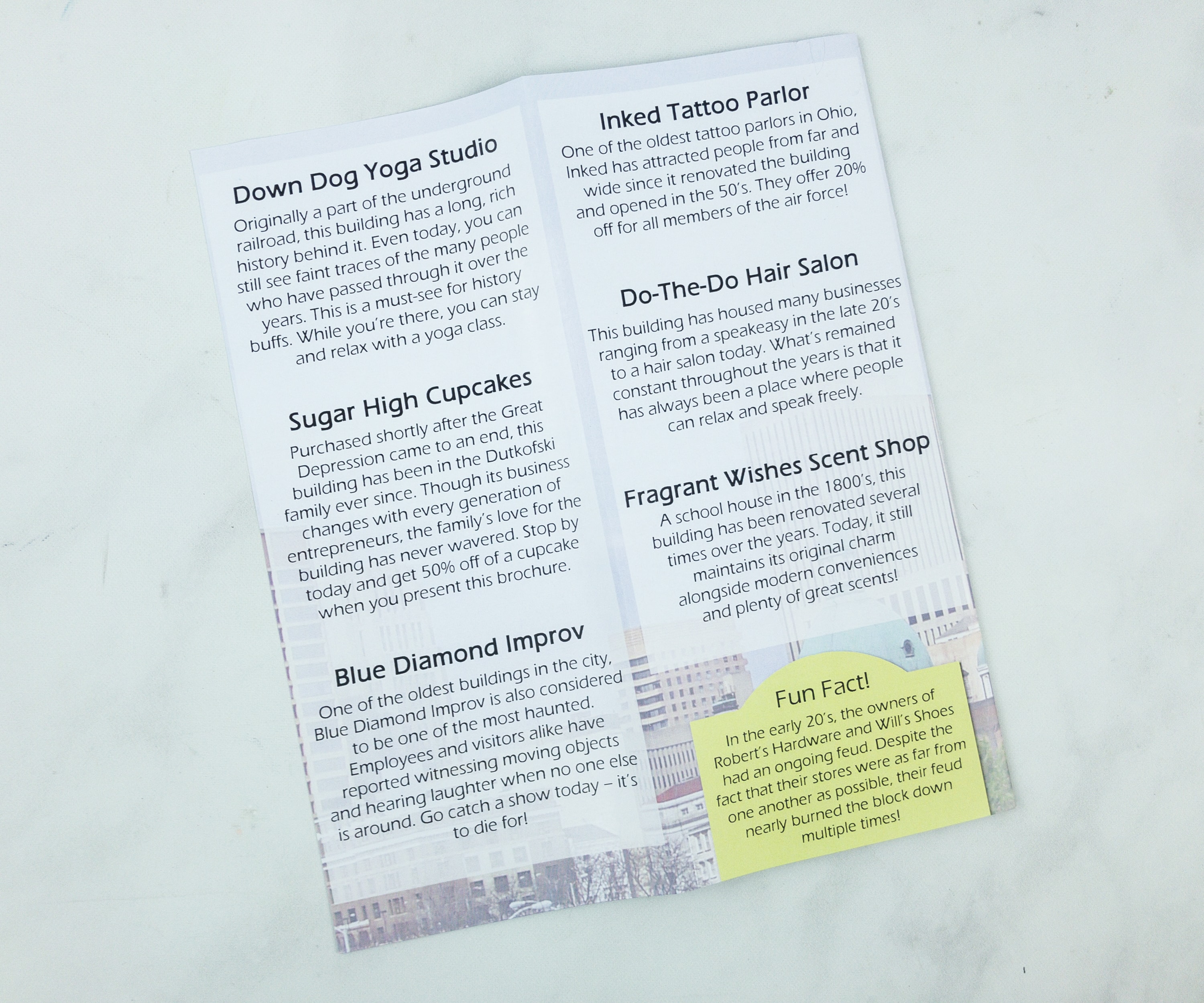 The map also lists the establishments on the area, along with some information.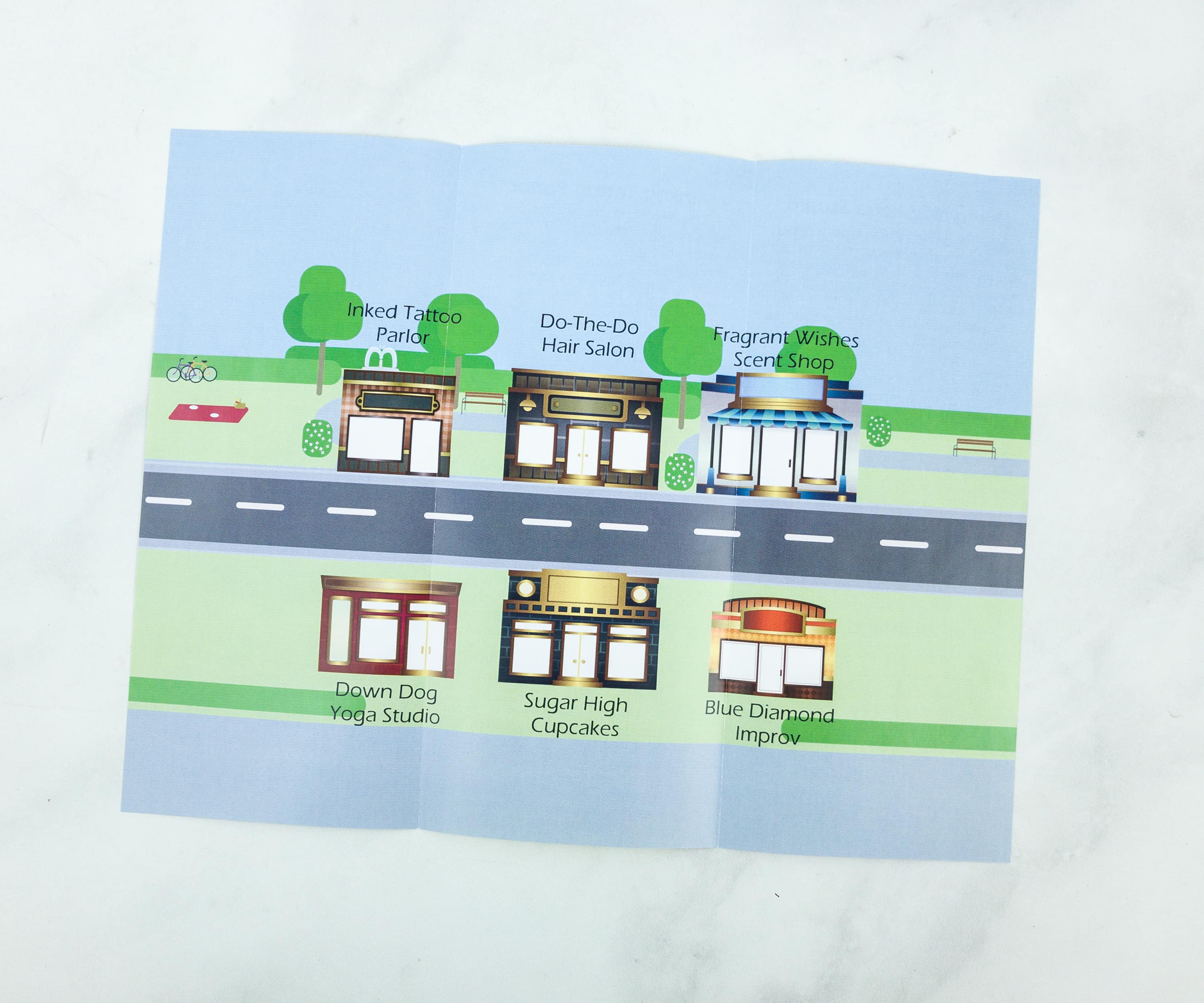 We can see on the map where exactly the establishments were located.
To go on with the investigation, we need to email Sullivan with the right location of Stella's old studio.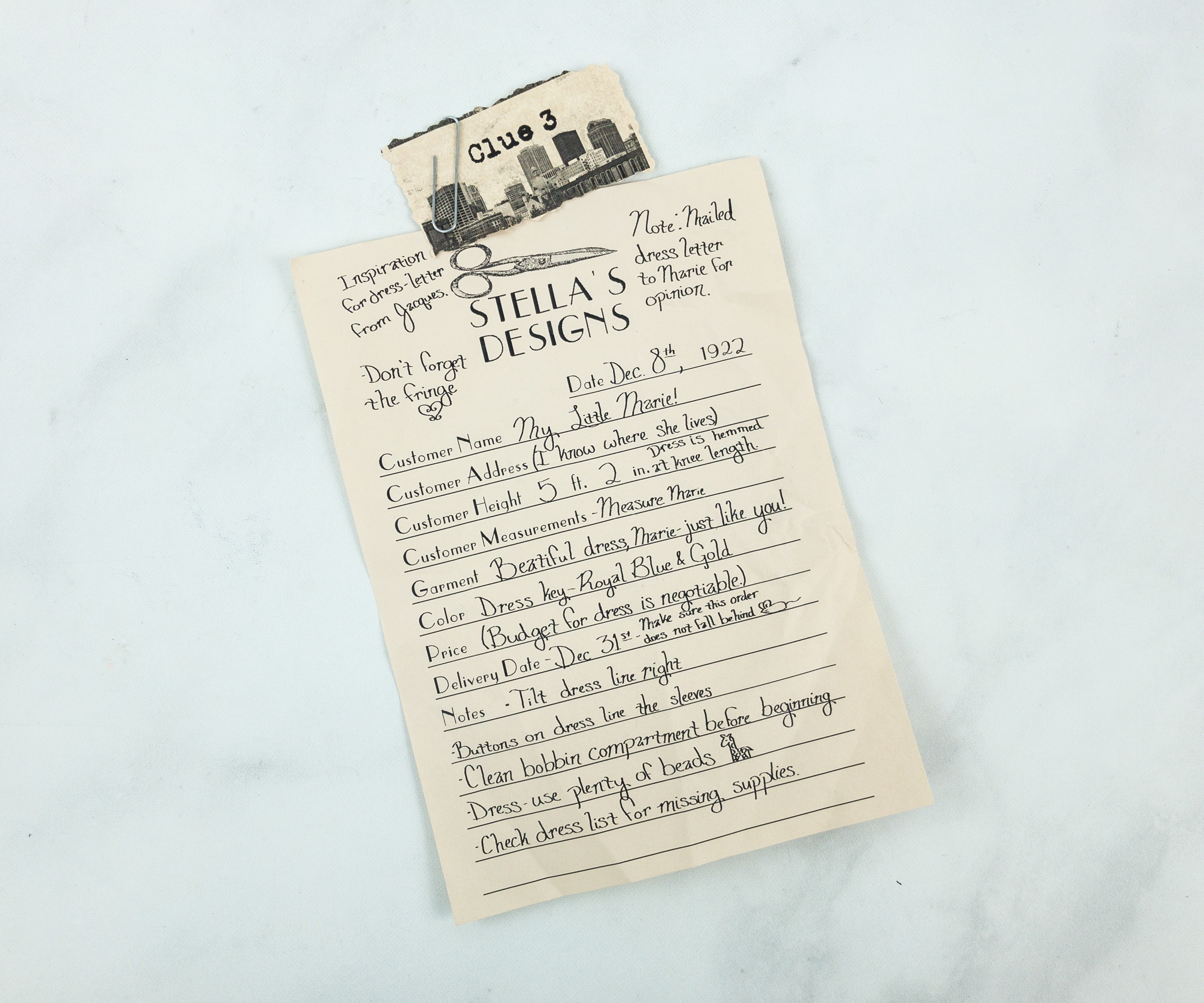 The third clue is an order sheet. We can see how old it is, which is dated way back in 1922!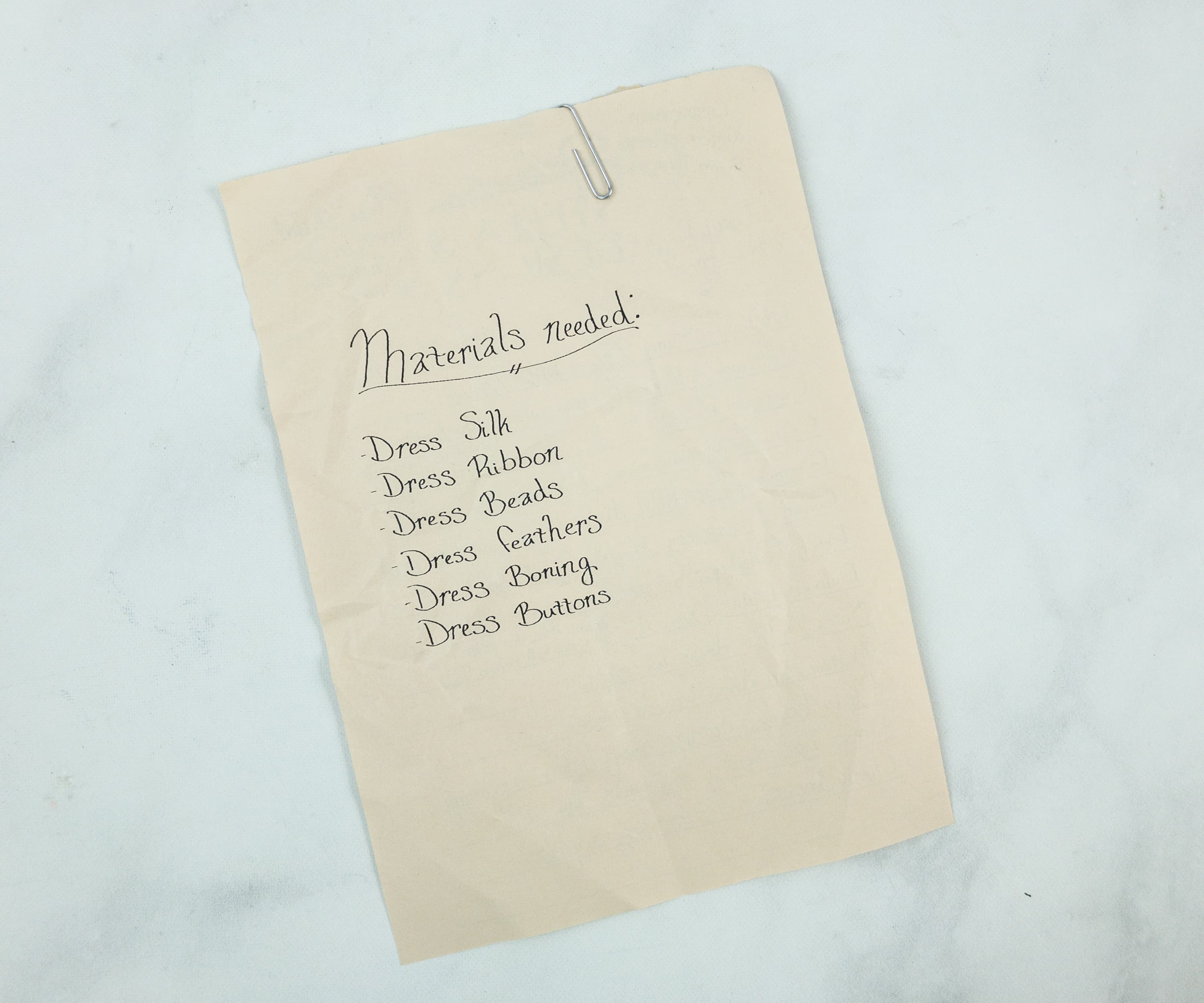 The order sheet also listed the materials needed at the back, I think to make a piece of garment.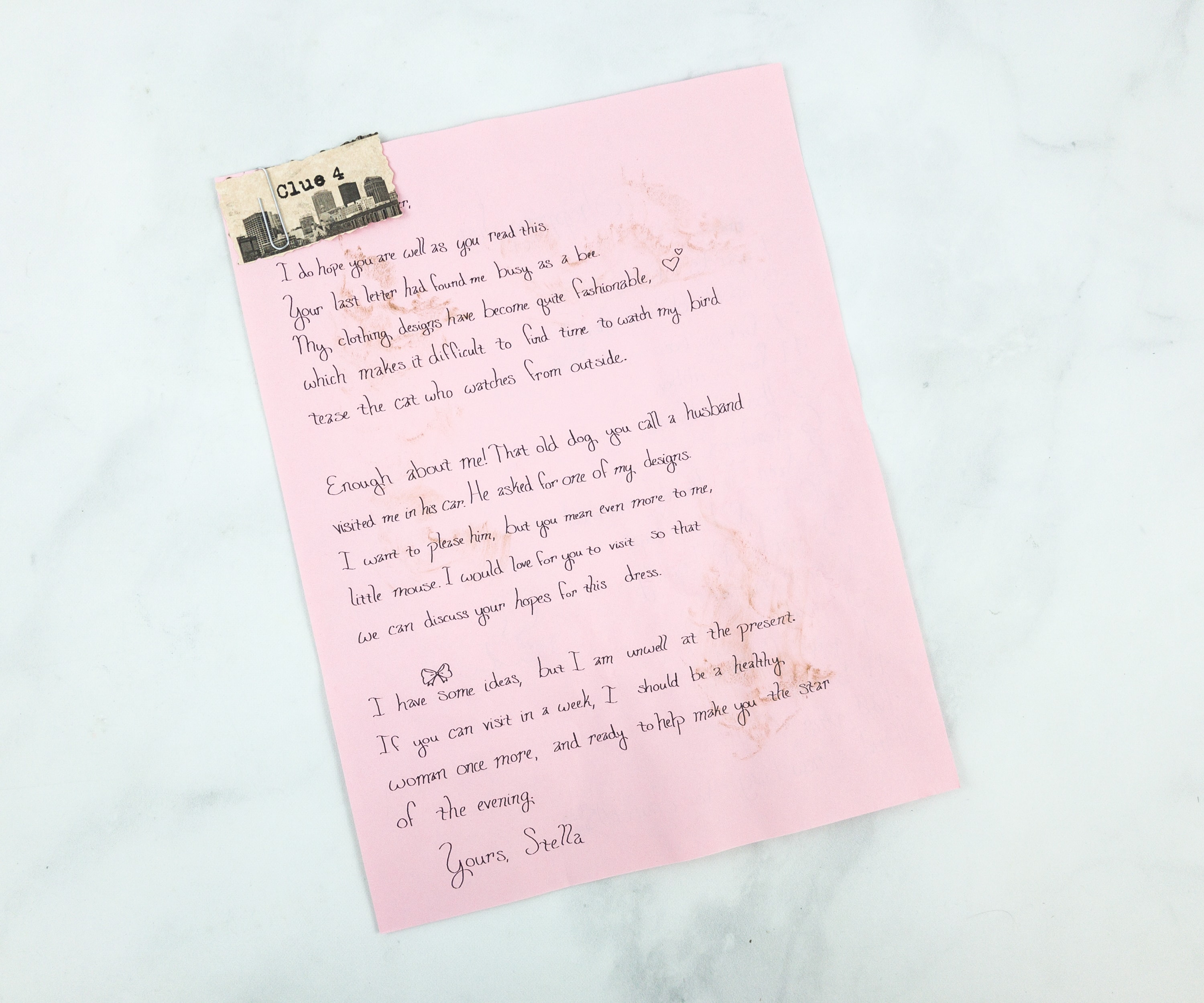 The last clue is Stella's letter to her sister.
The letter is written at the back of a shopping list. Maybe it is telling us about something too.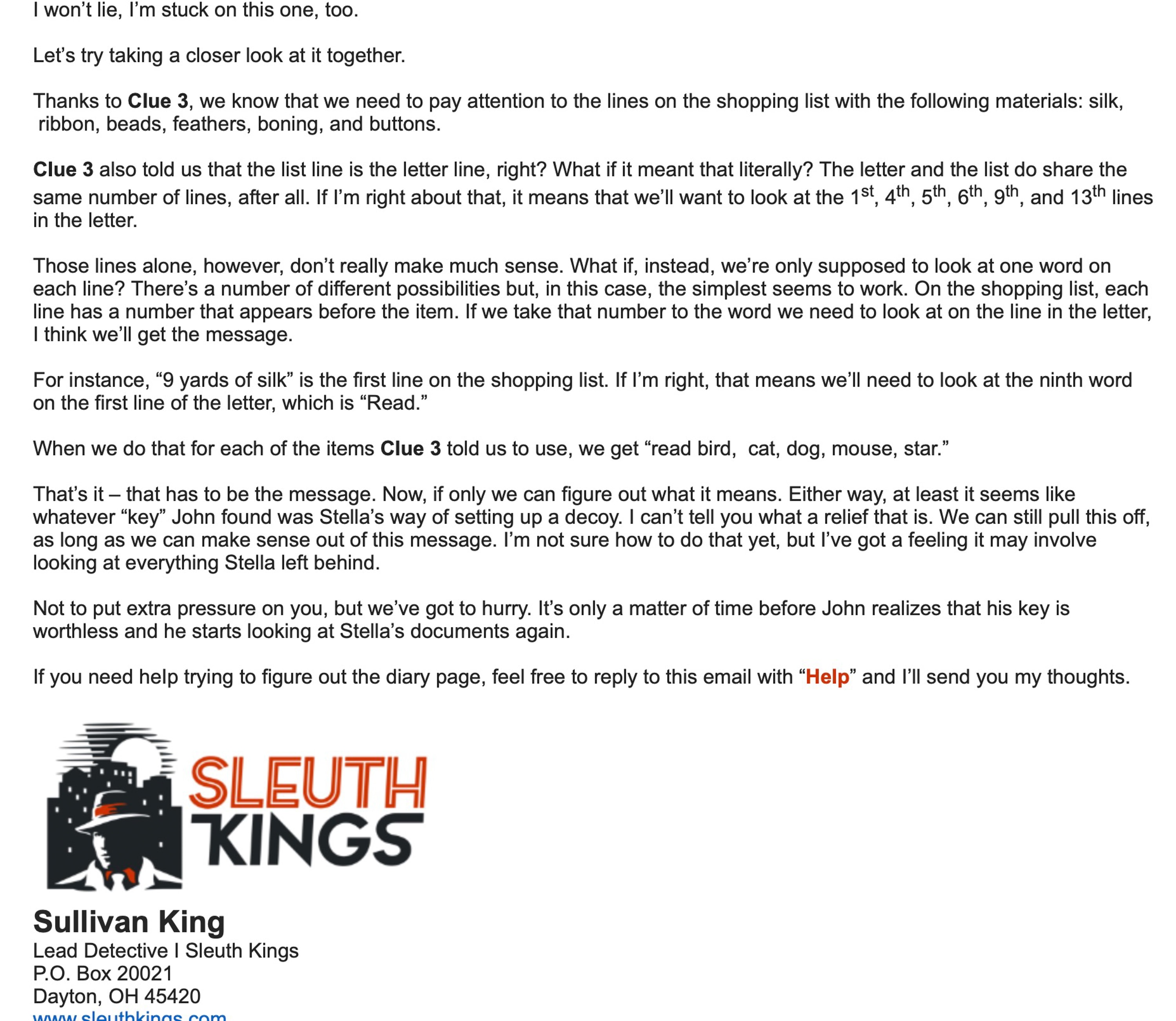 Here's another email from Sullivan which is explaining the 3rd clue.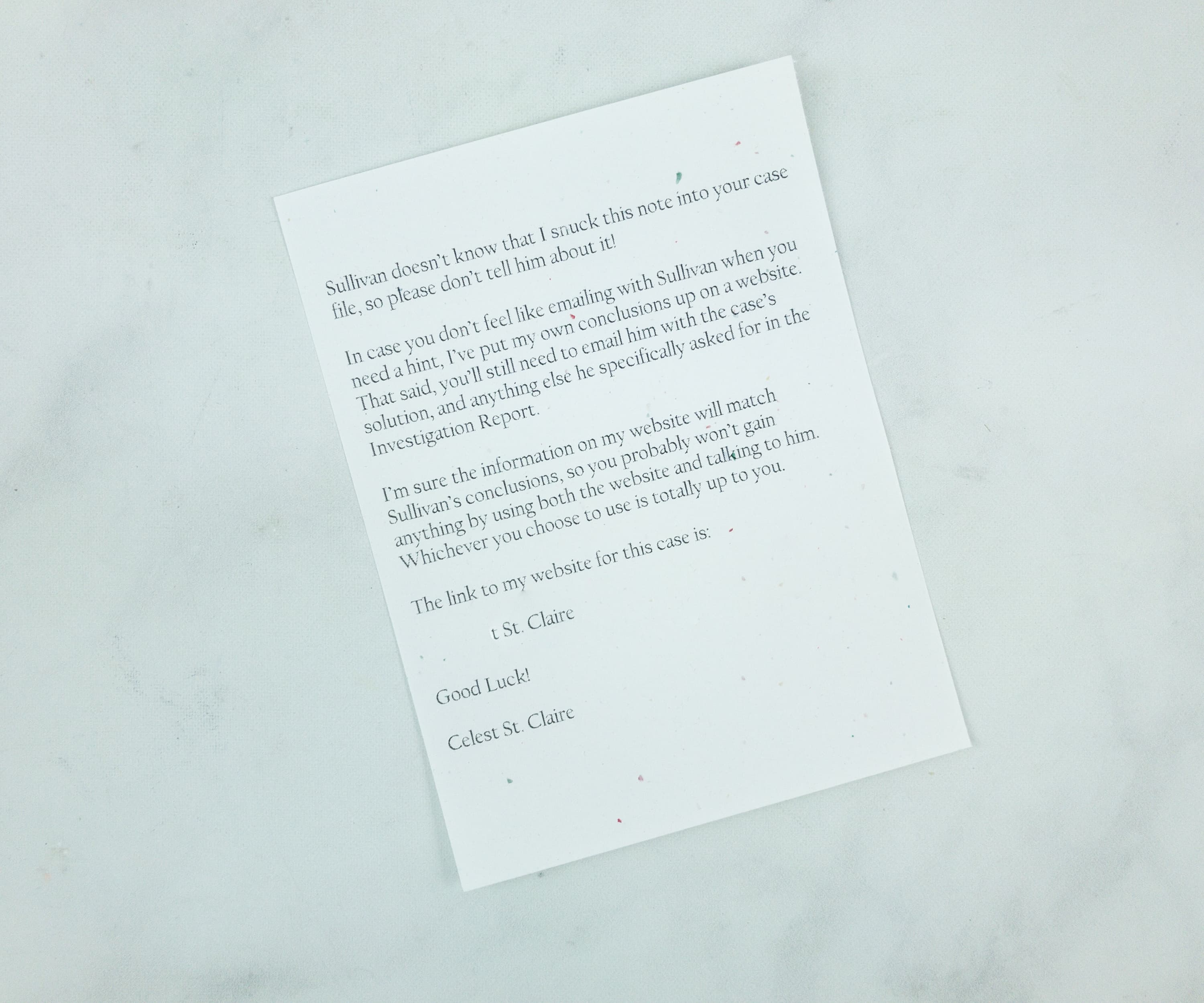 We also got a snuck out letter from Celest St. Claire, telling us that we can also use her help.
There's also an old article about Stella's tragic death.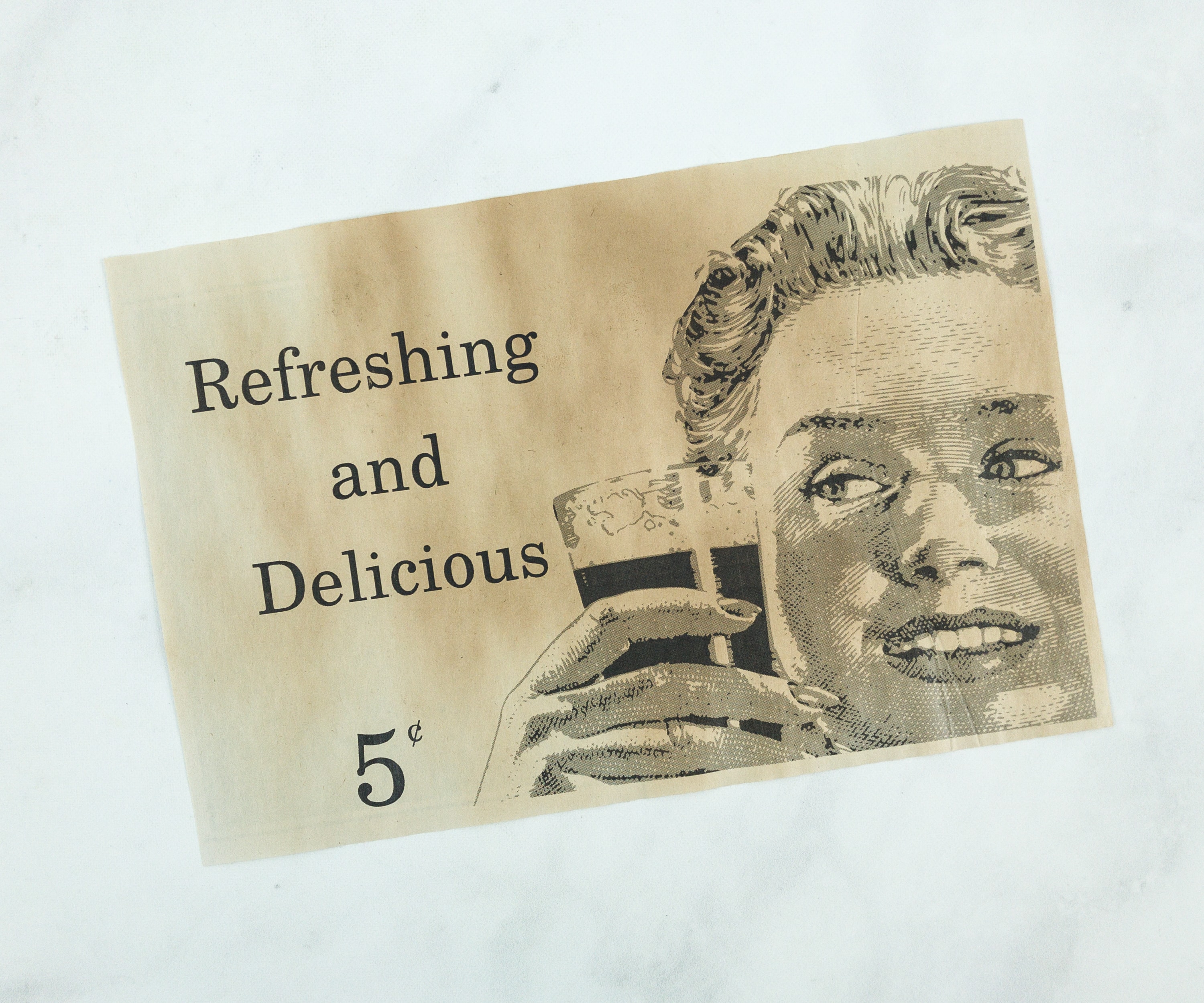 There's even a vintage promo coupon for a certain drink.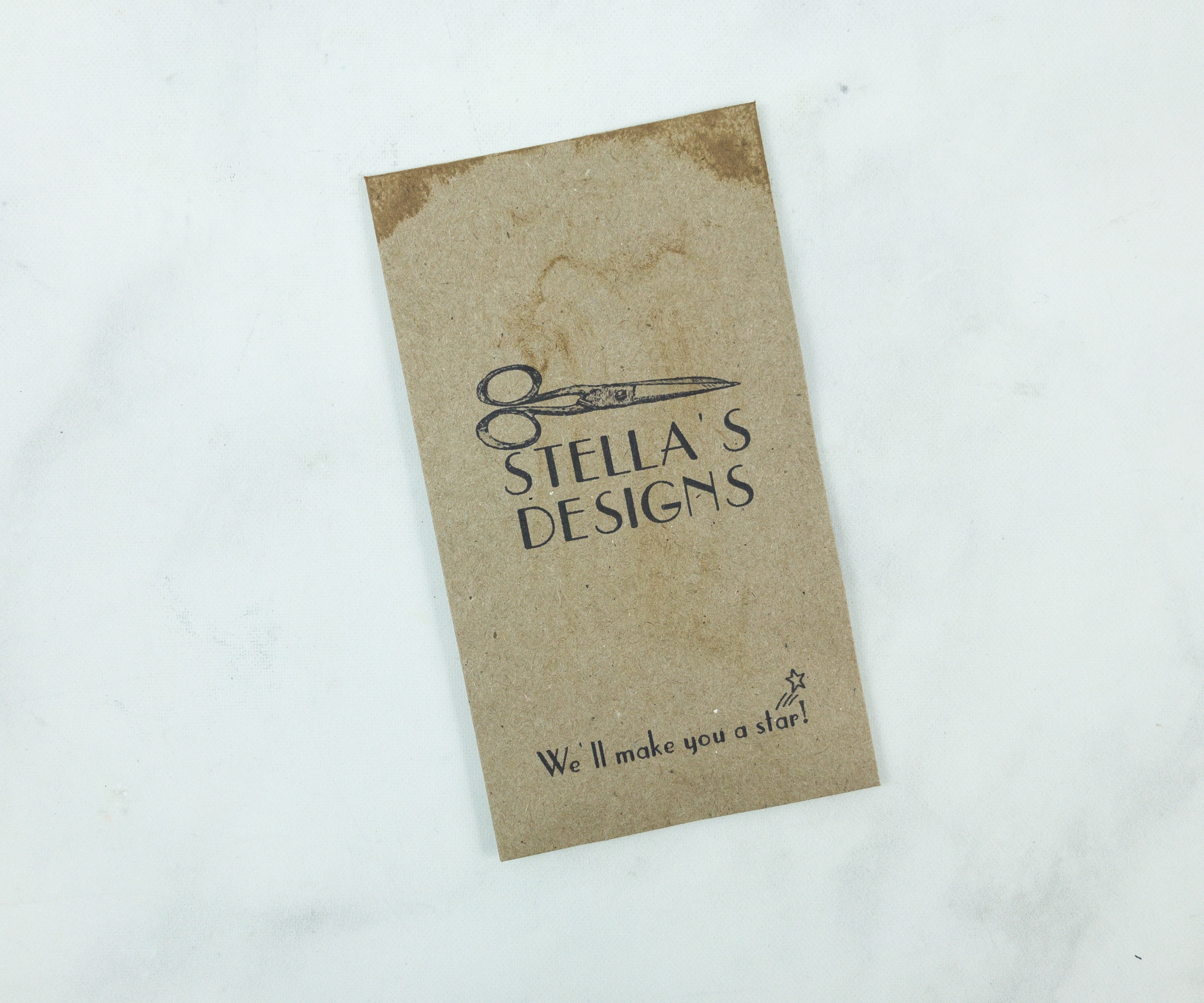 Here's a pamphlet about Stella's Designs, and the catchphrase "We'll make you a star!"
The case file also included 5 different sized buttons.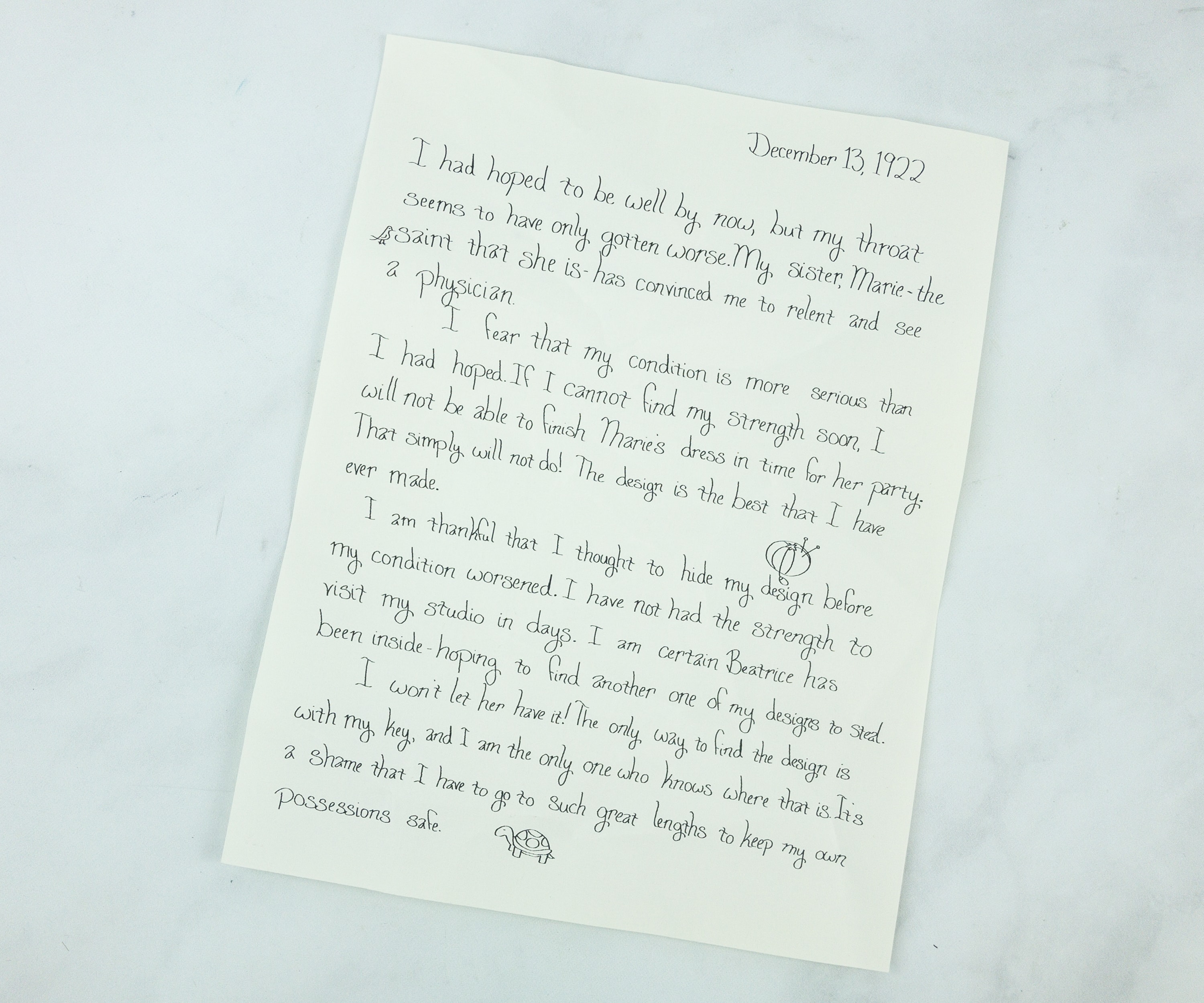 There's another letter from Stella, which talks about her worsening condition and hiding the designs from a certain Beatrice who wants to steal them.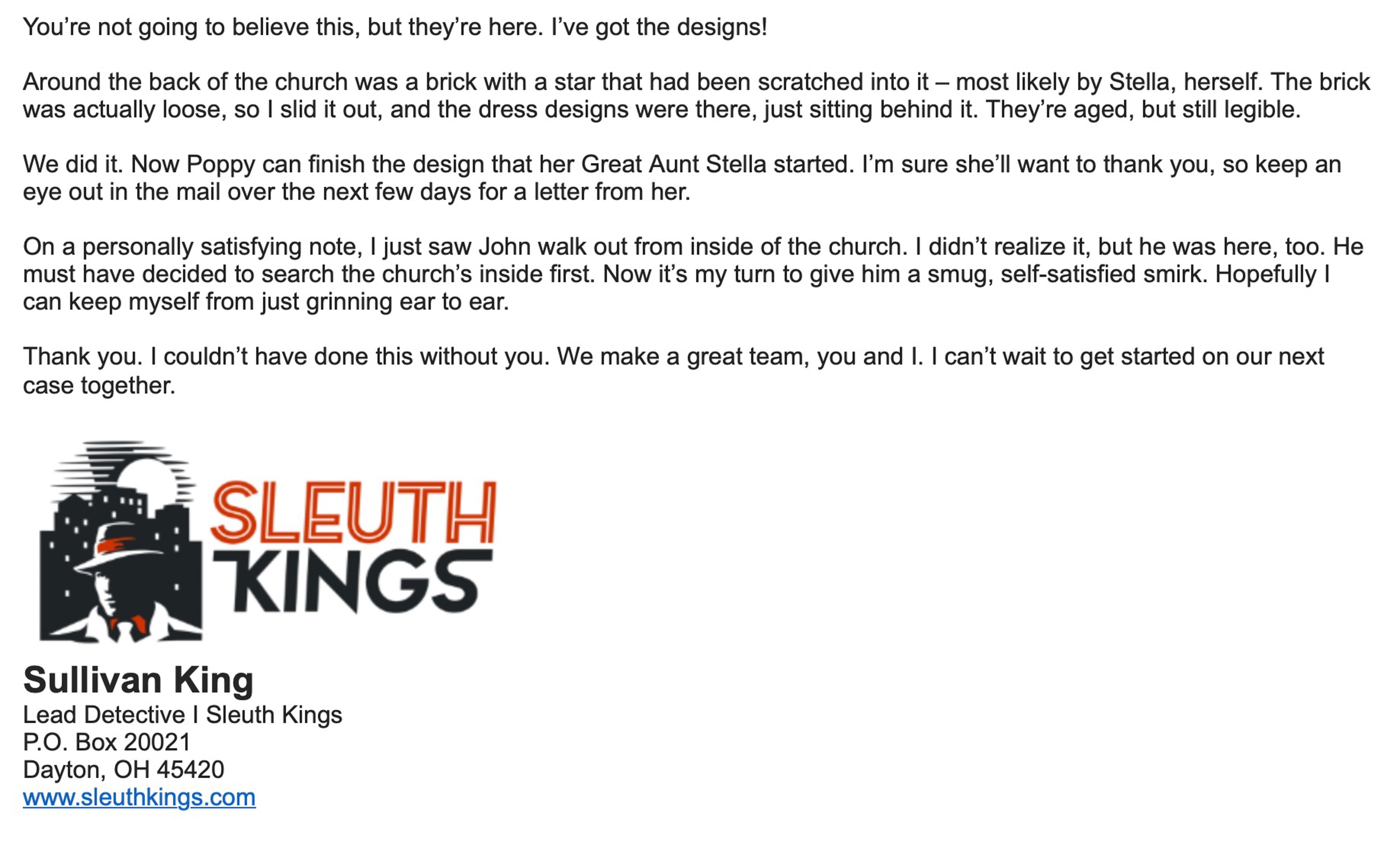 The last email we got from Sullivan is about finding the designs behind the church. We are really glad that we're able to solve this mystery!
This is really an interesting and thrilling box. At first, the clues aren't clear, and we need to email Sullivan for more information. Comparing to other mystery boxes, the email from the lead is good as it really helps us to solve some of the mysteries before moving into the next one. We love good mysteries to solve, so I guess this box did its job well! We are excited for more mysteries from this box, we're looking forward to the other cases we will try to work out and solve soon!
What do you think of the Sleuth Kings box?