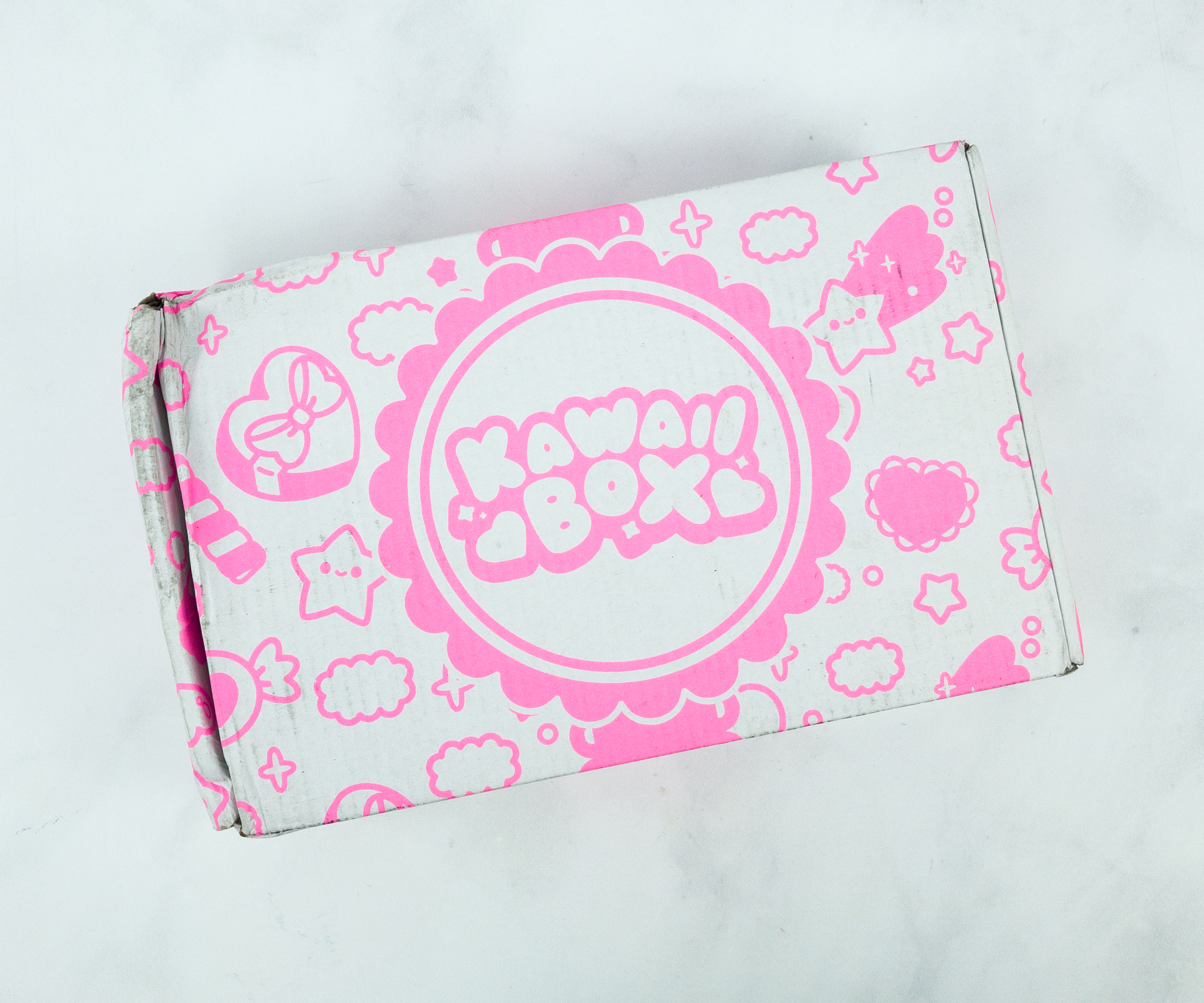 Kawaii Box, from the same company who runs Japan Candy Box, is a monthly subscription featuring cute items ranging from plushies to stationery and everything in between. Each box has 8-10 kawaii items, with featured brands including Sanrio, SanX, Popin Cookin', Rilakkuma, Totoro, AlPacasso, HiChew, Pocky, and more. They offer a monthly plan, a 6-month plan, and a 12-month plan. Shipping is free worldwide.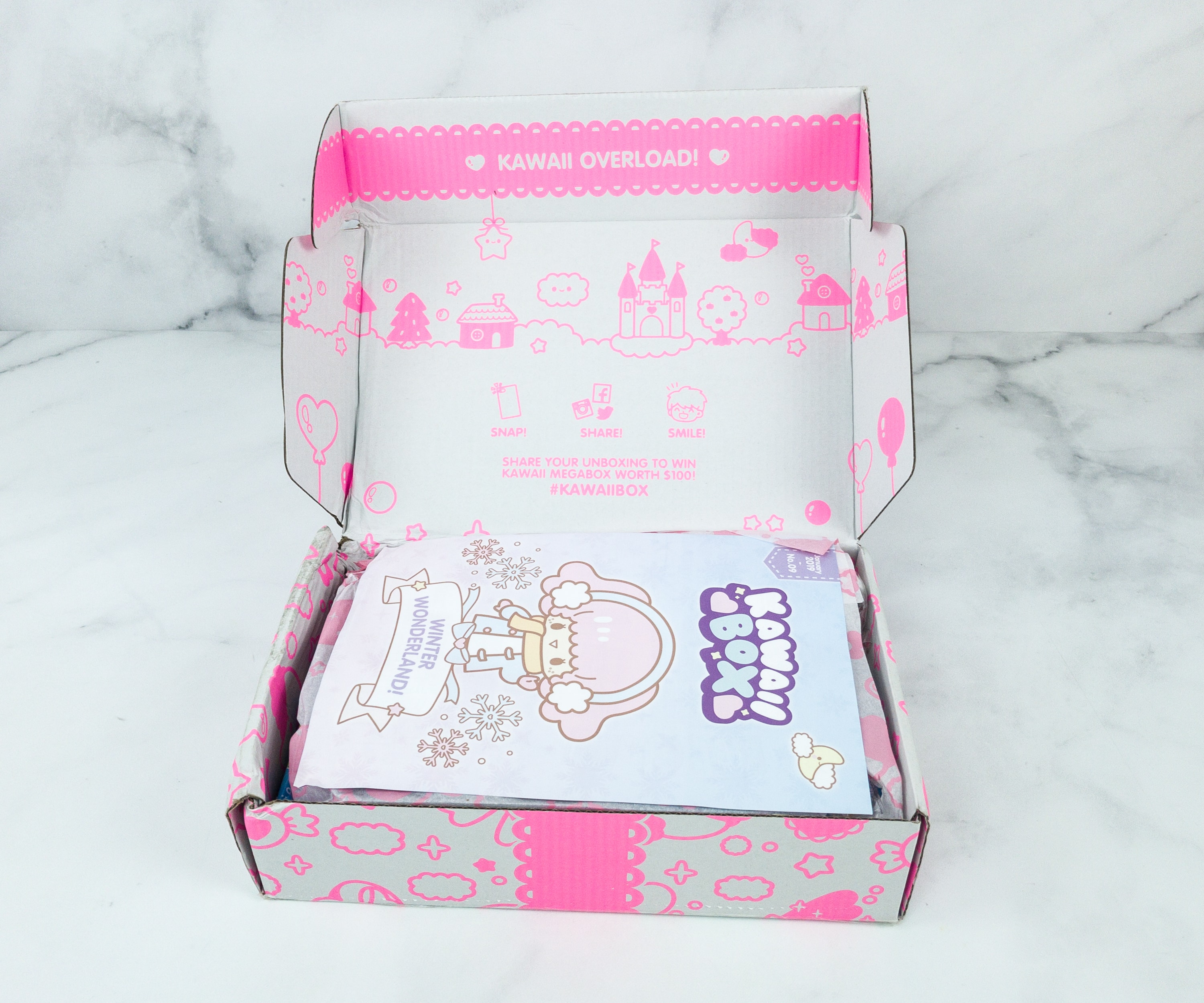 The box interiors are filled with doodles as well.
We're excited to dig in, the box is full of kawaii-ness!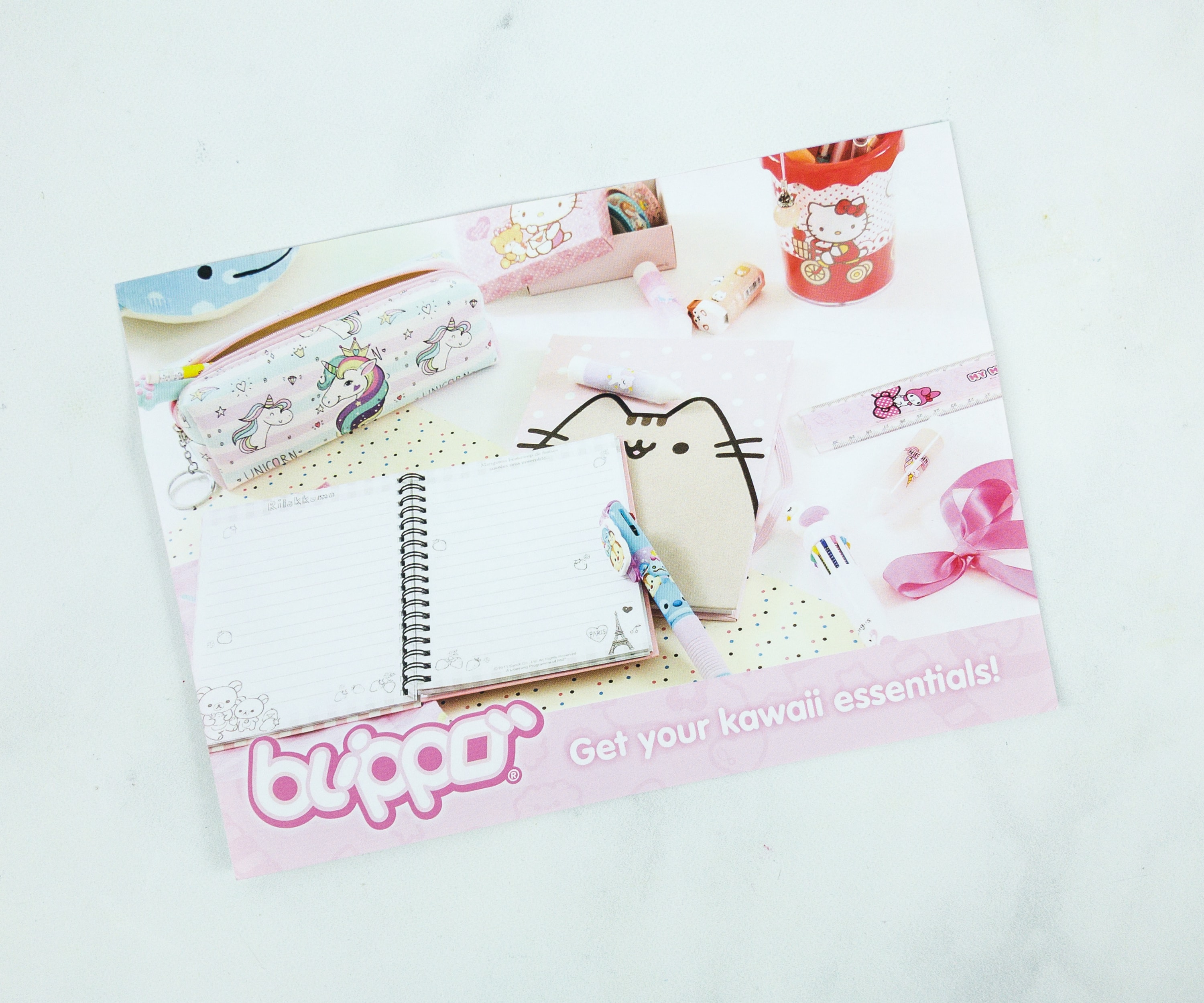 Here's a promotional card from Blippo.
They gave us a free gift code!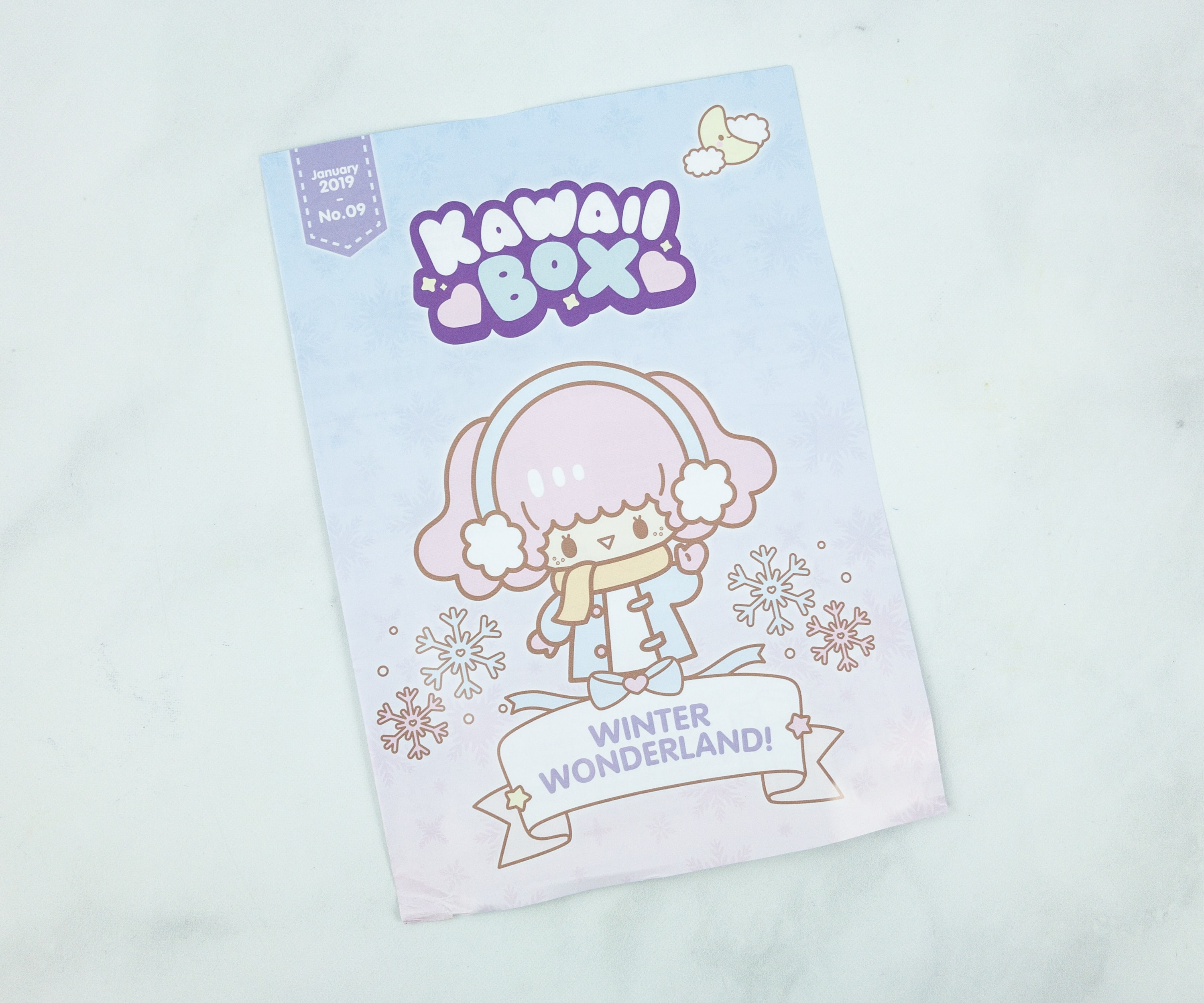 The theme is WINTER WONDERLAND. Here is the information card that was included in the box – even the card is super cute!
Kawaii Box always includes 10-12 fun and totally adorable goodies.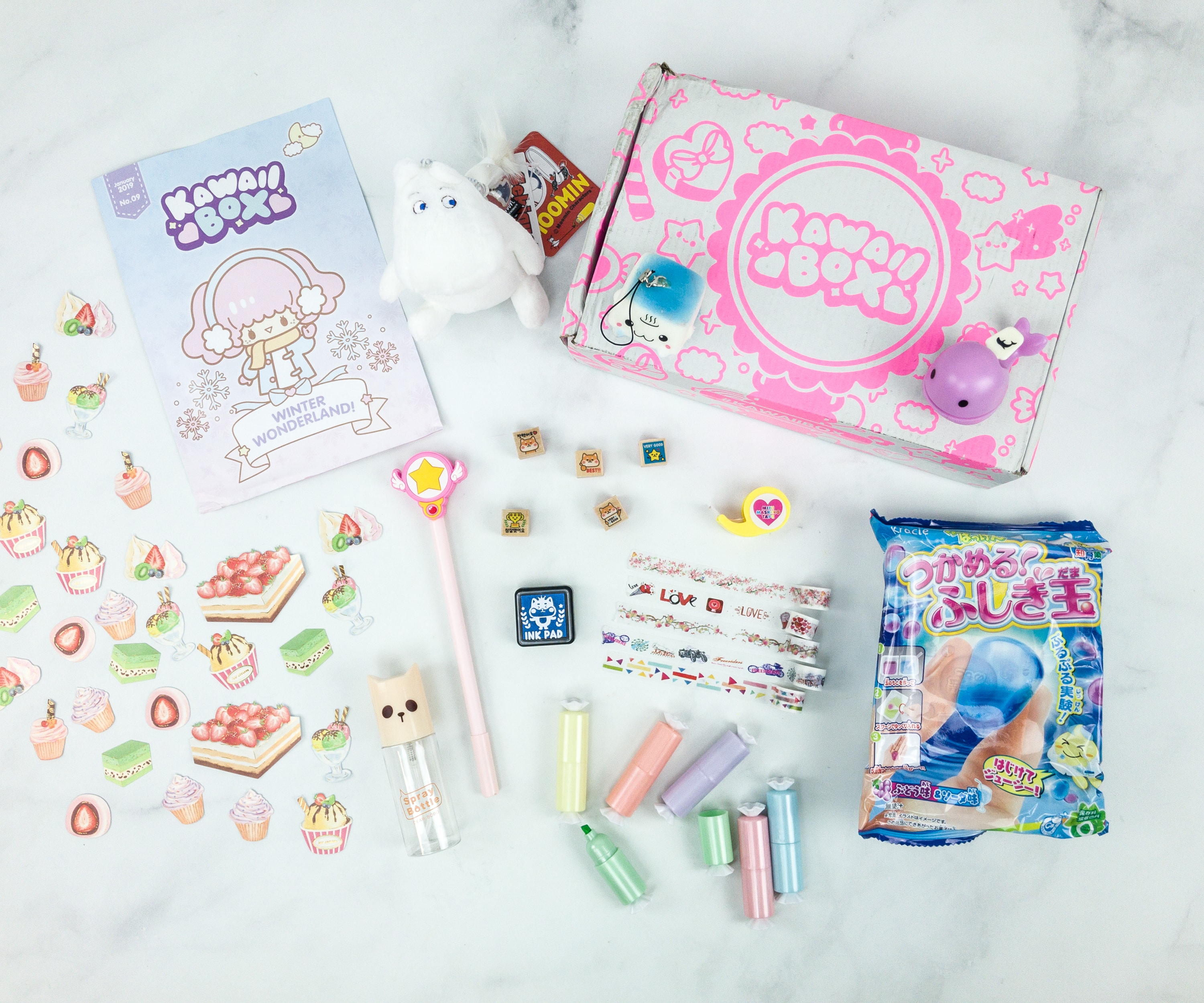 Everything in the box!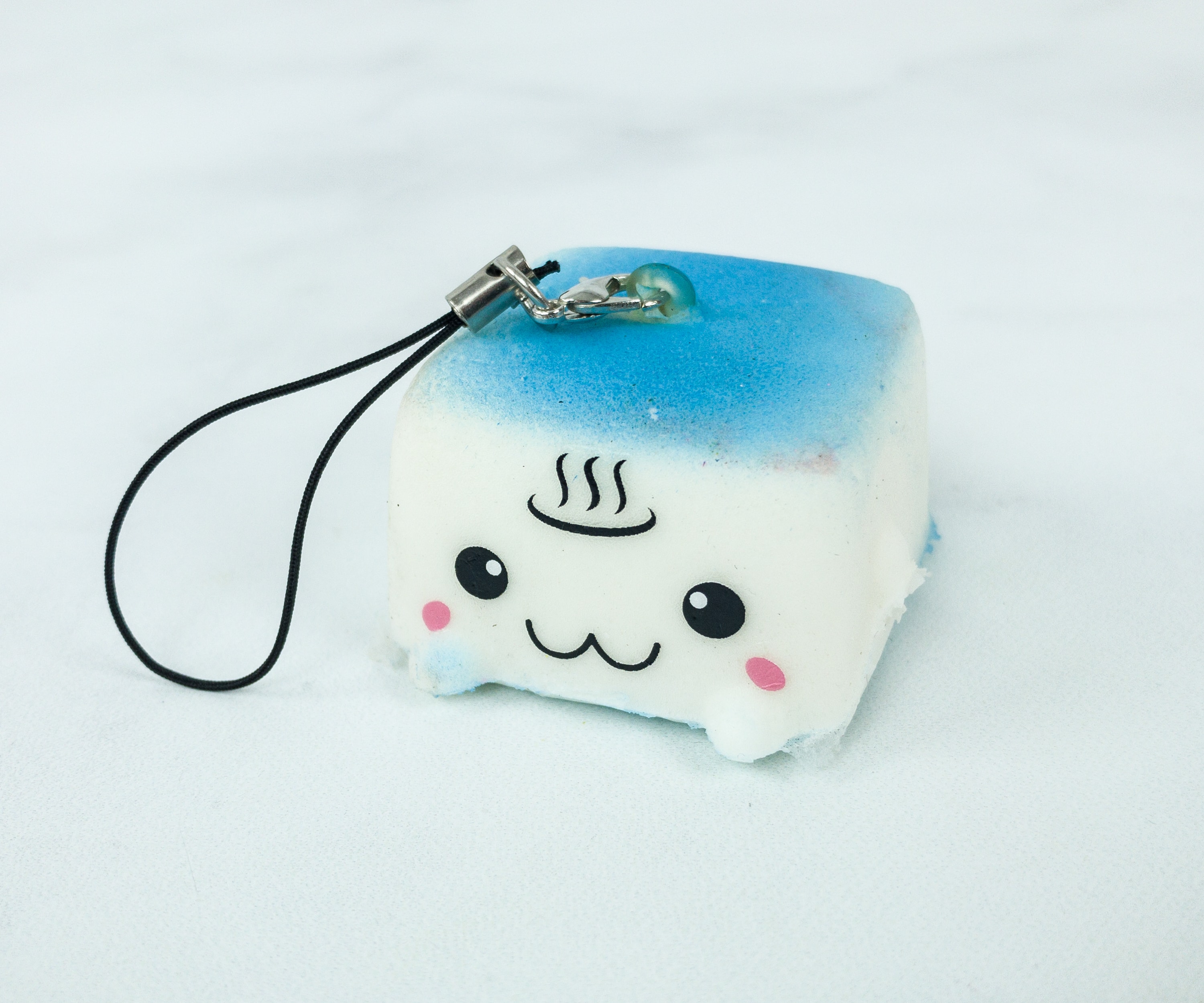 Squishy Tofy Charm. I love squishy toys and since this one comes with a loop, I can easily hang it on my bag so that I can bring it anywhere I go.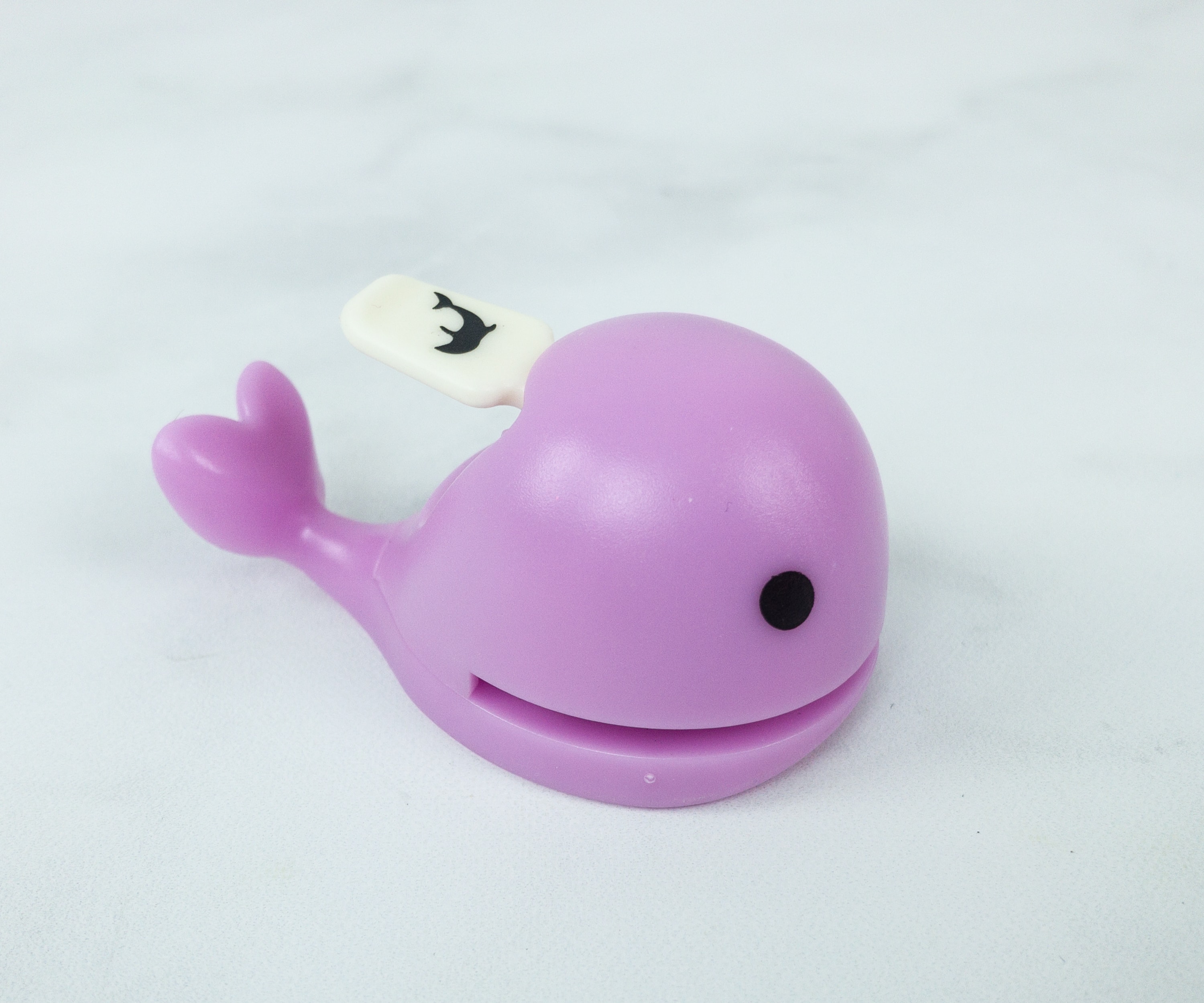 Hungry Whale Paper Punch. This cute paper punch can be used when you need to turn plain paper into a cool one or add decorations to a project or scrapbook!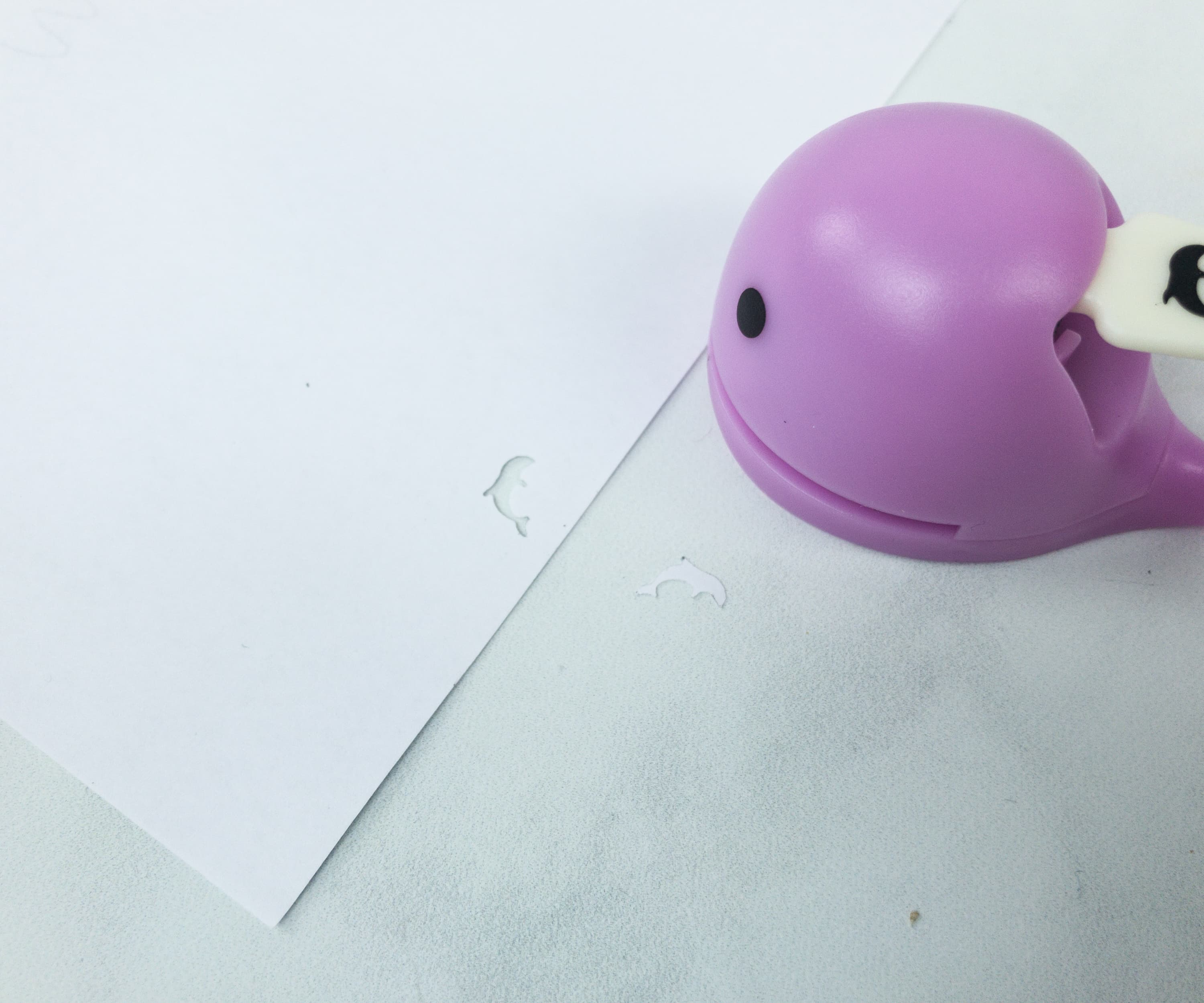 Just feed the hungry whale with paper, press the handle, and it's done! ?
Kawaii Animal Spray Bottle. You can fill this spray bottle with your favorite perfume, toner, or other liquids, so you can easily bring it when you travel or when you just need an extra container.
Moomin Plushie. Moomins are a carefree and adventurous family that lives in Moominvalley. We got one of them in a form of a plush toy!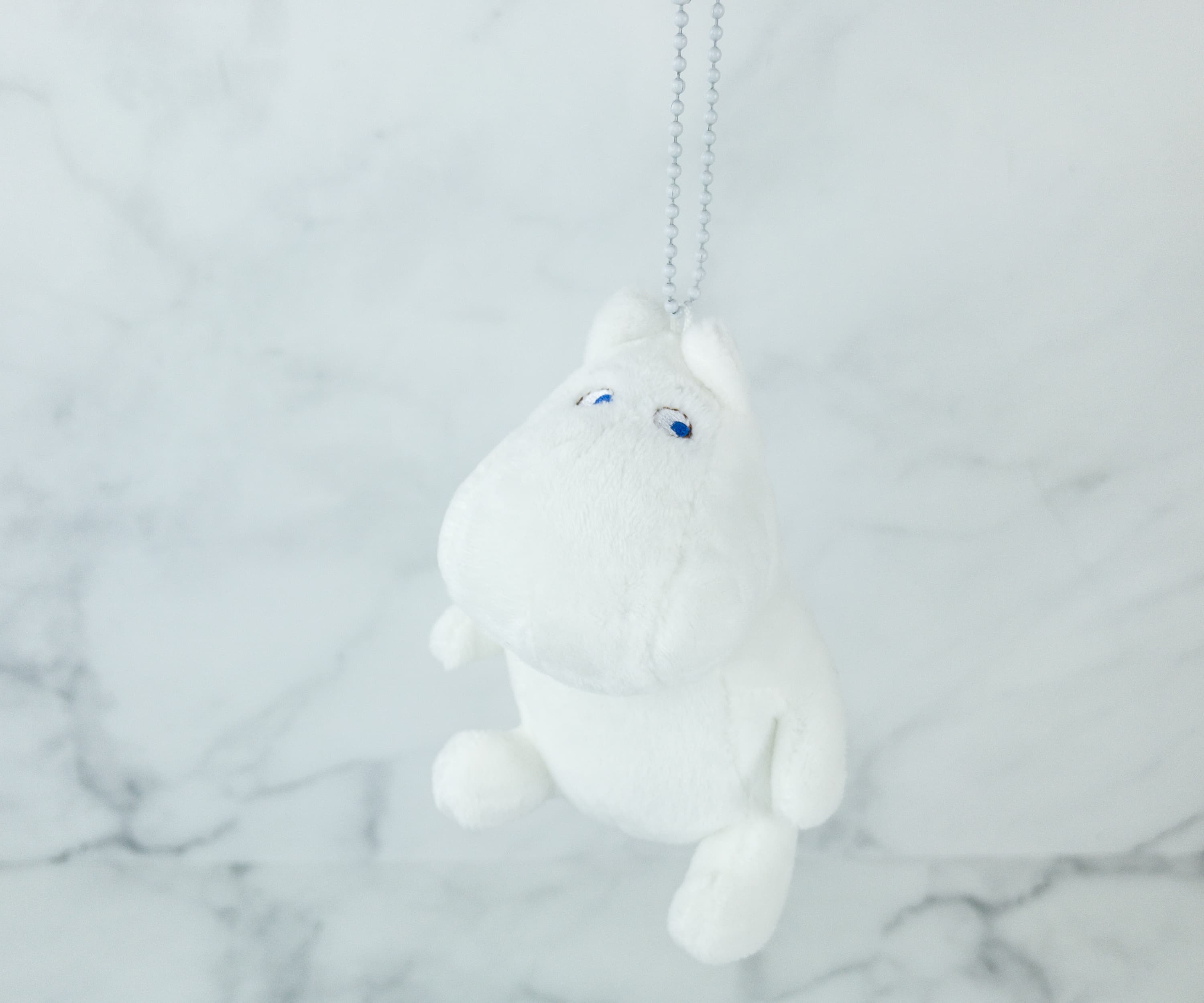 The Moomins are white fairytale characters that resemble hippopotamuses. I believe what I got here is Moomintroll, who is the little boy of the family. He's interested in and excited about everything he sees and finds, while always trying to be good and sometimes getting into trouble while doing so. He is also very brave and always finds a way to make his family and friends happy.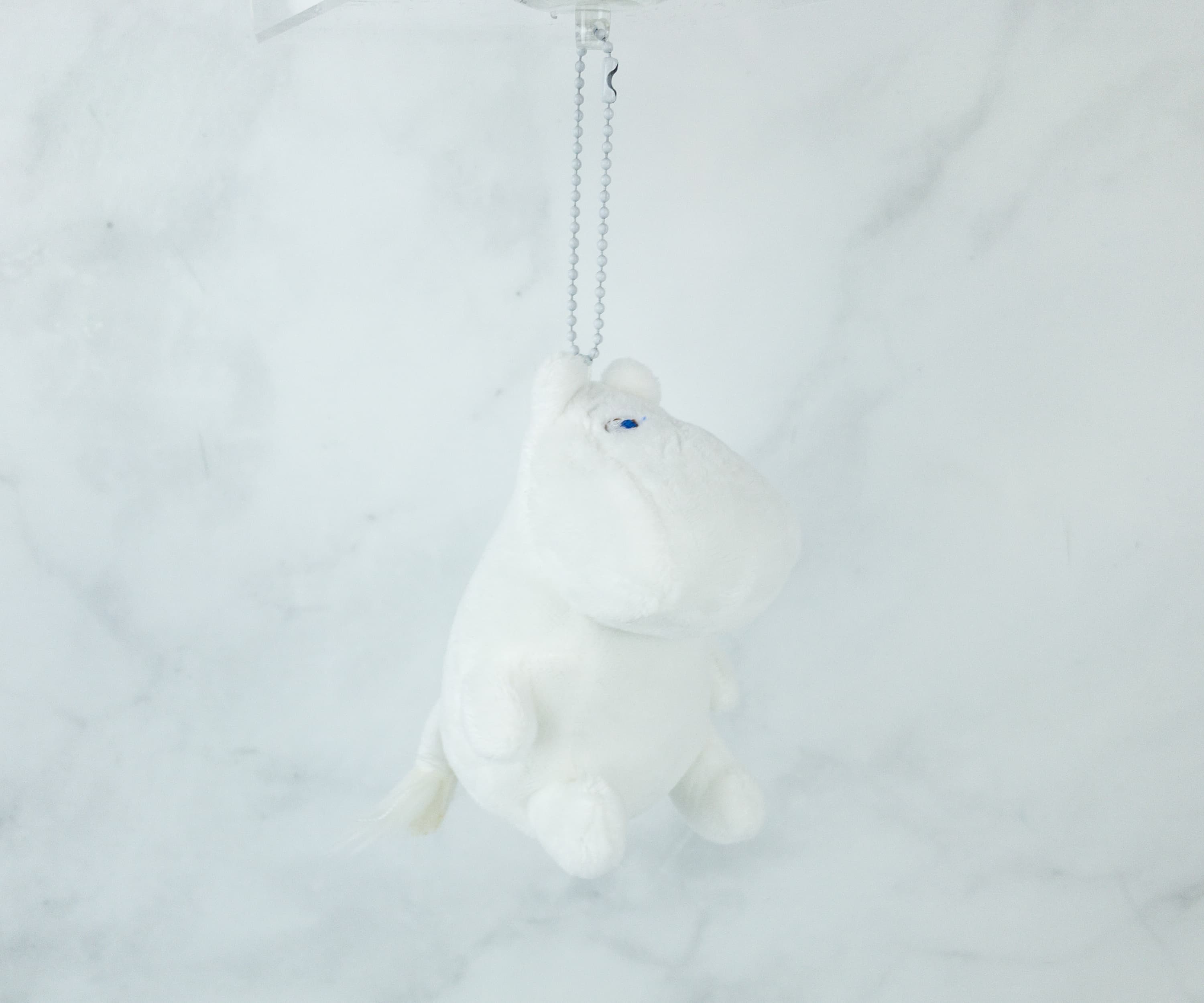 It has a suction cup so you can attach it into a glass surface and it holds up really well.
It's soft and squishy that I might also place it along with the tofu charm!
Cardcaptor Sakura Star Wand Pen. This is really nostalgic, as the pen resembles Card Captor Sakura's Star Wand that turns the Clow Cards into Sakura Cards!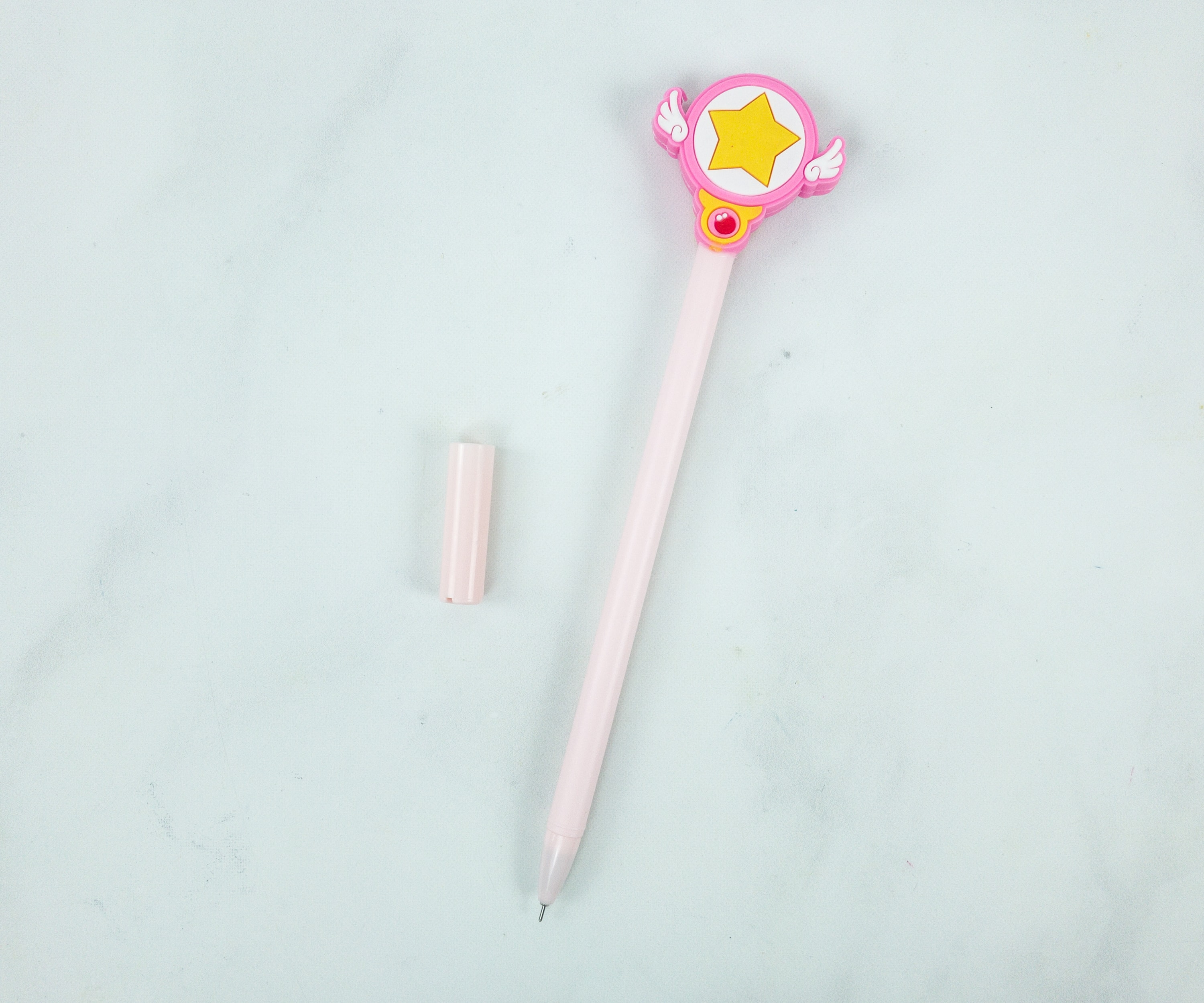 It's so kawaii! The pink pen has the head of the Star Wand as the pen topper, which has a five-pointed yellow star inside a circle, with tiny feathered wings on both sides.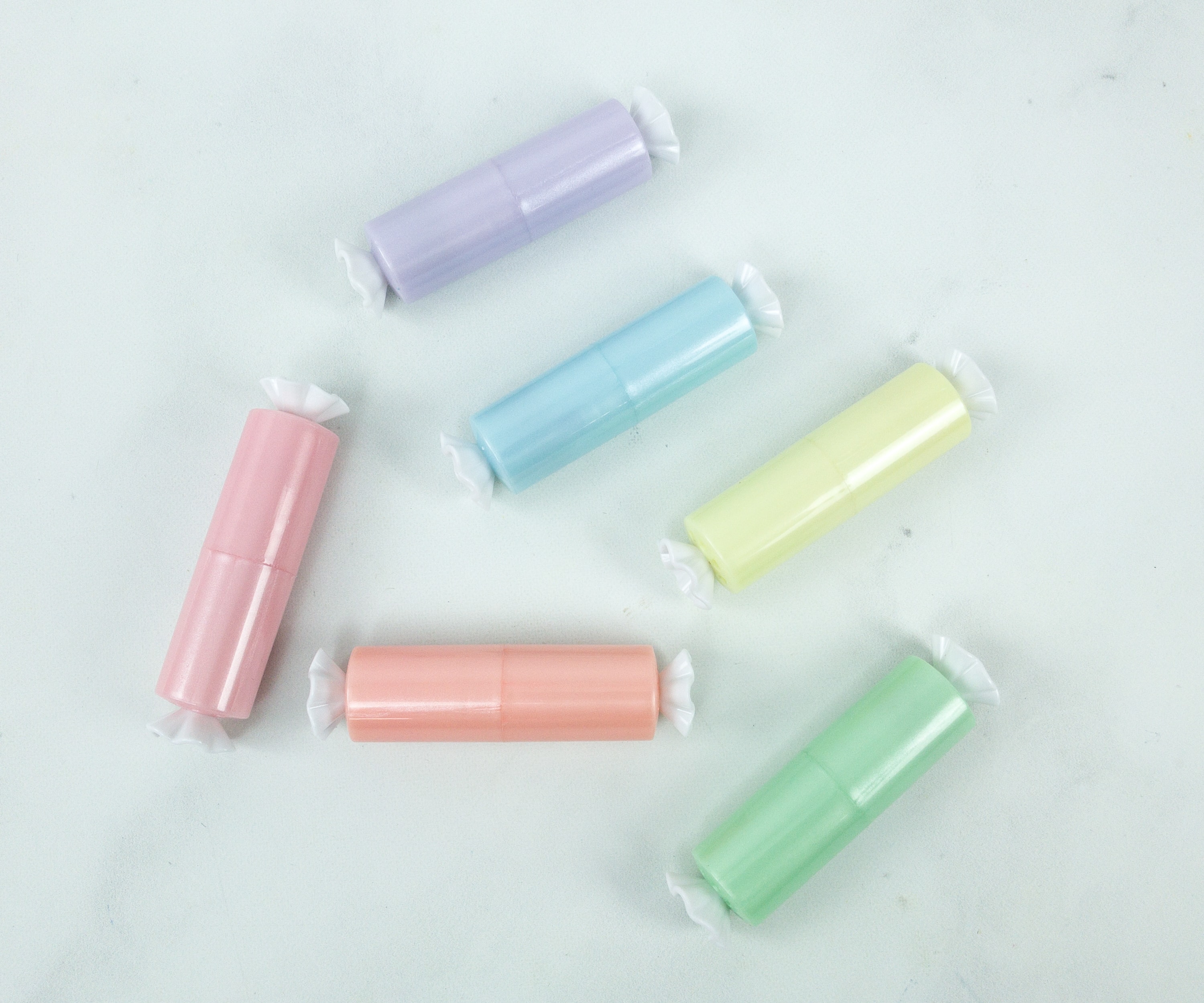 Candy Shaped Mini Highlighters. At first glance, they looked like colorfully wrapped sweets but they're actually highlighters!
The highlighters are in pastel colors. They're so small, I can fit them all in a pencil case.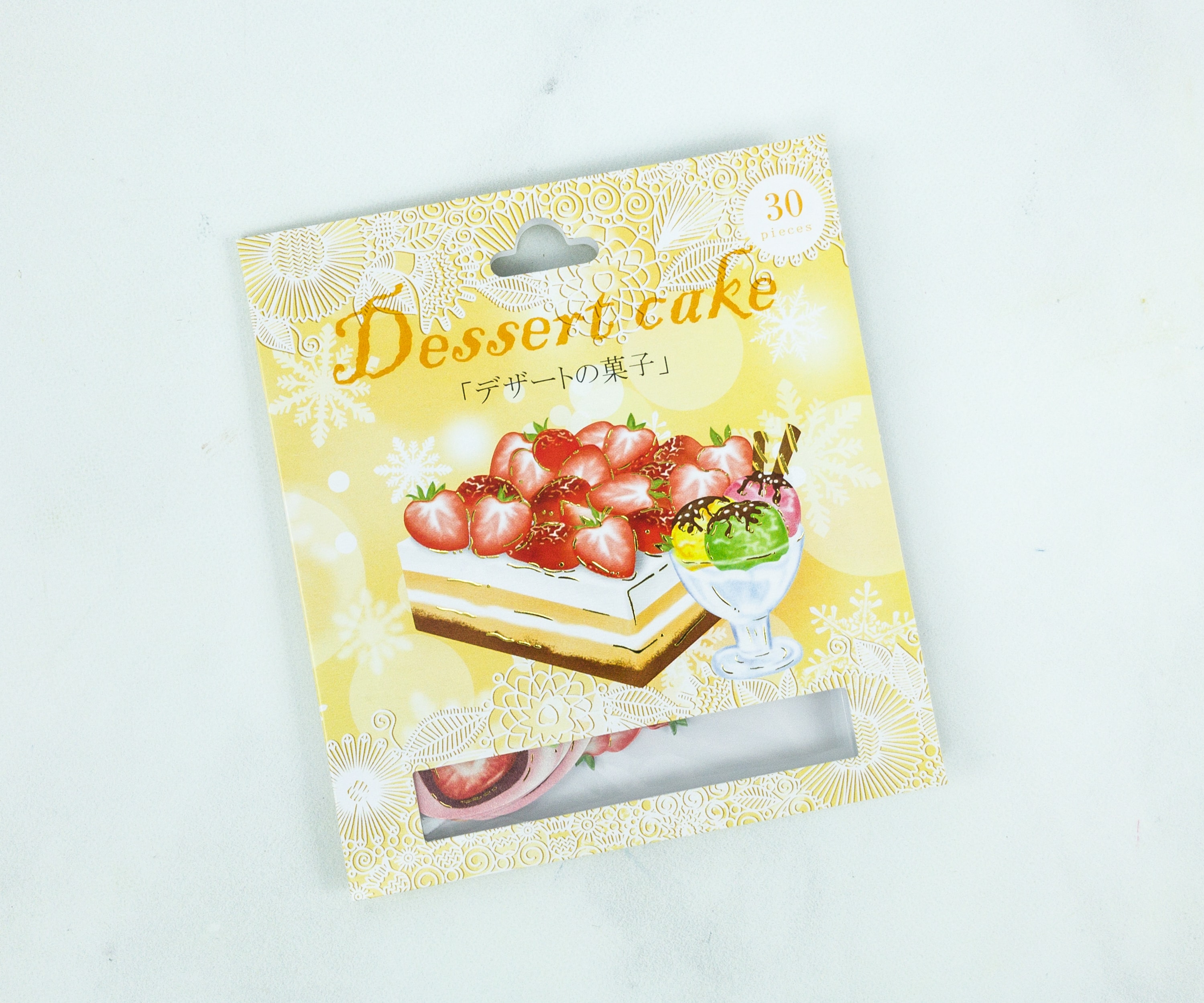 Dessert Cake Sticker Set. Japanese desserts are not only delicious but presentation-wise, they all look awesome, and I got them as stickers!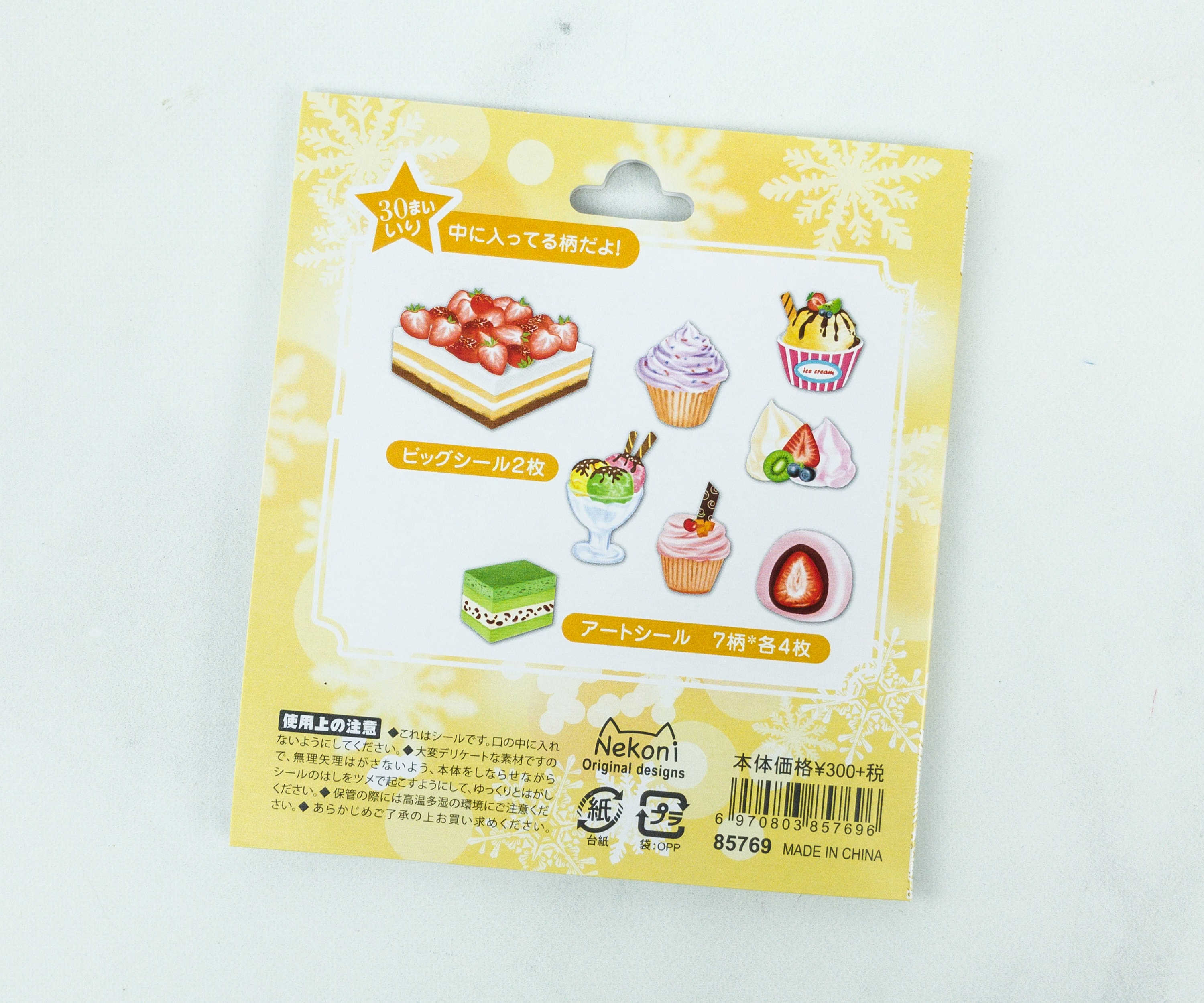 Here we have a strawberry cake, I think I am seeing a matcha ice cream sandwich, ice cream sundae, cupcakes, mochi, and more!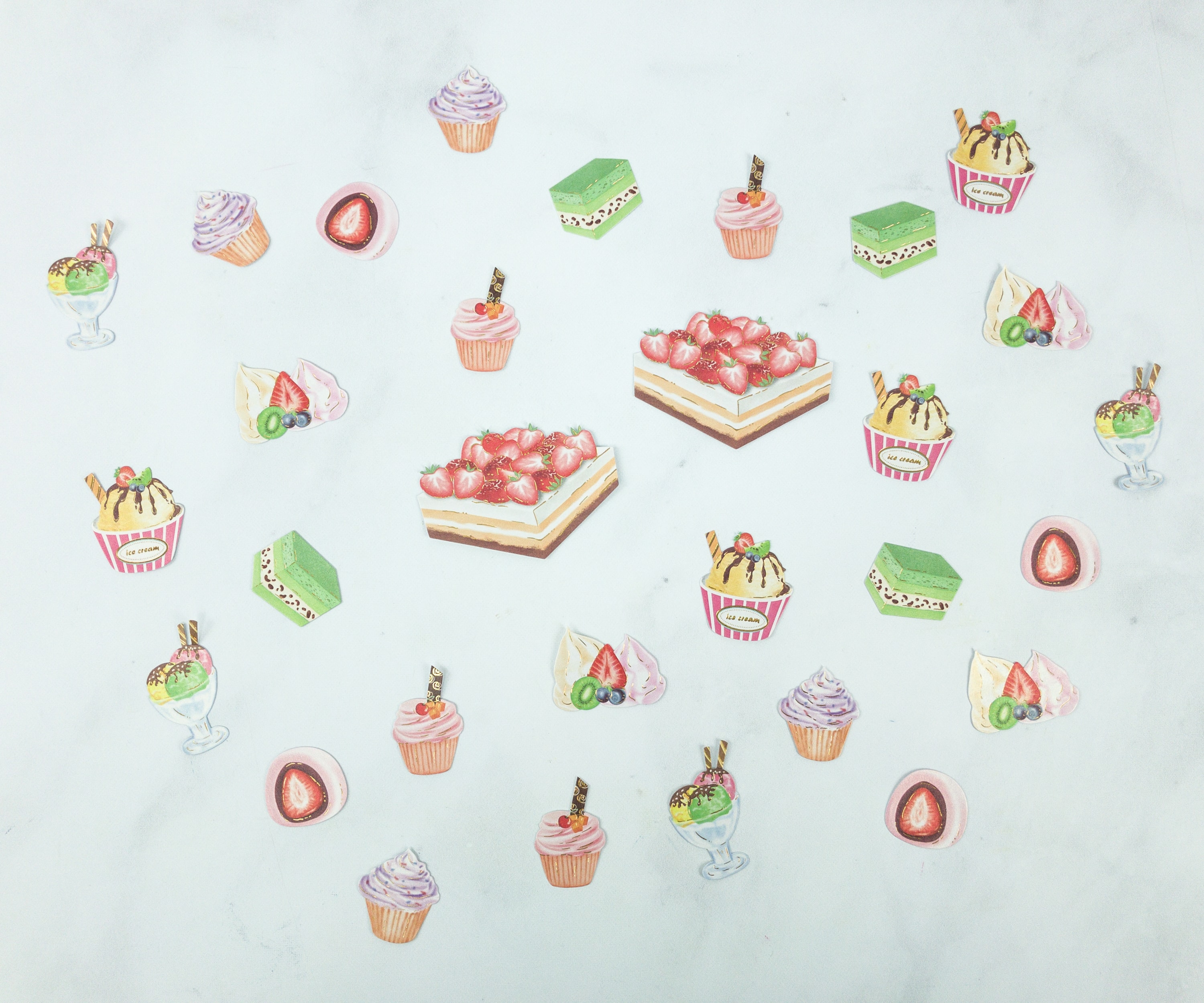 The cute individually-cut stickers can be added to your notebooks, personal items, scrapbooks, planners, diaries, or even gifts!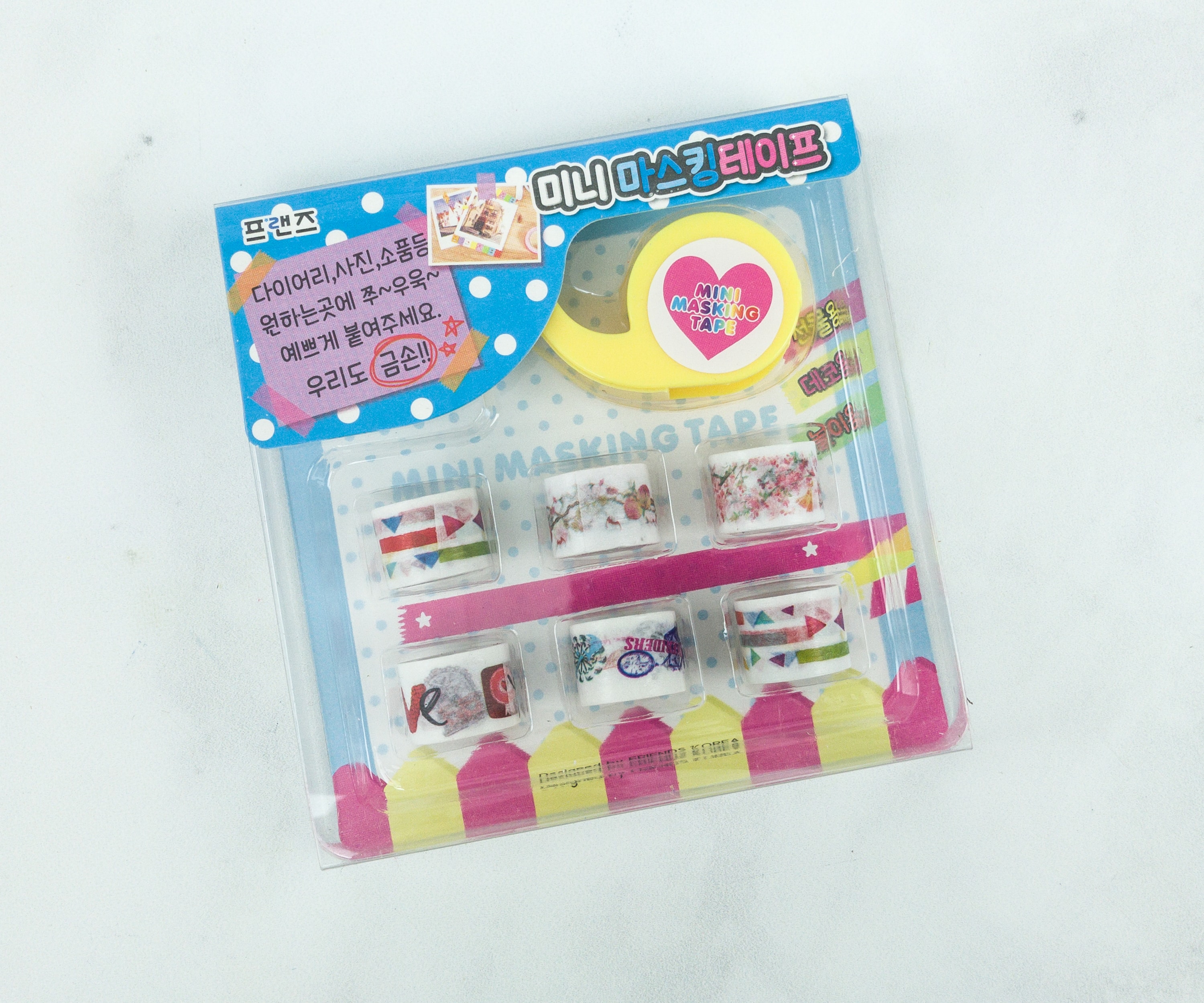 Korean Mini Masking Tape Set. Another cute decor for journals, planners, and other craft projects is this set of Korean washi tapes!
They also came with a mini tape dispenser so you can easily cut them out and stick them to your stuff. All the designs are pretty as well!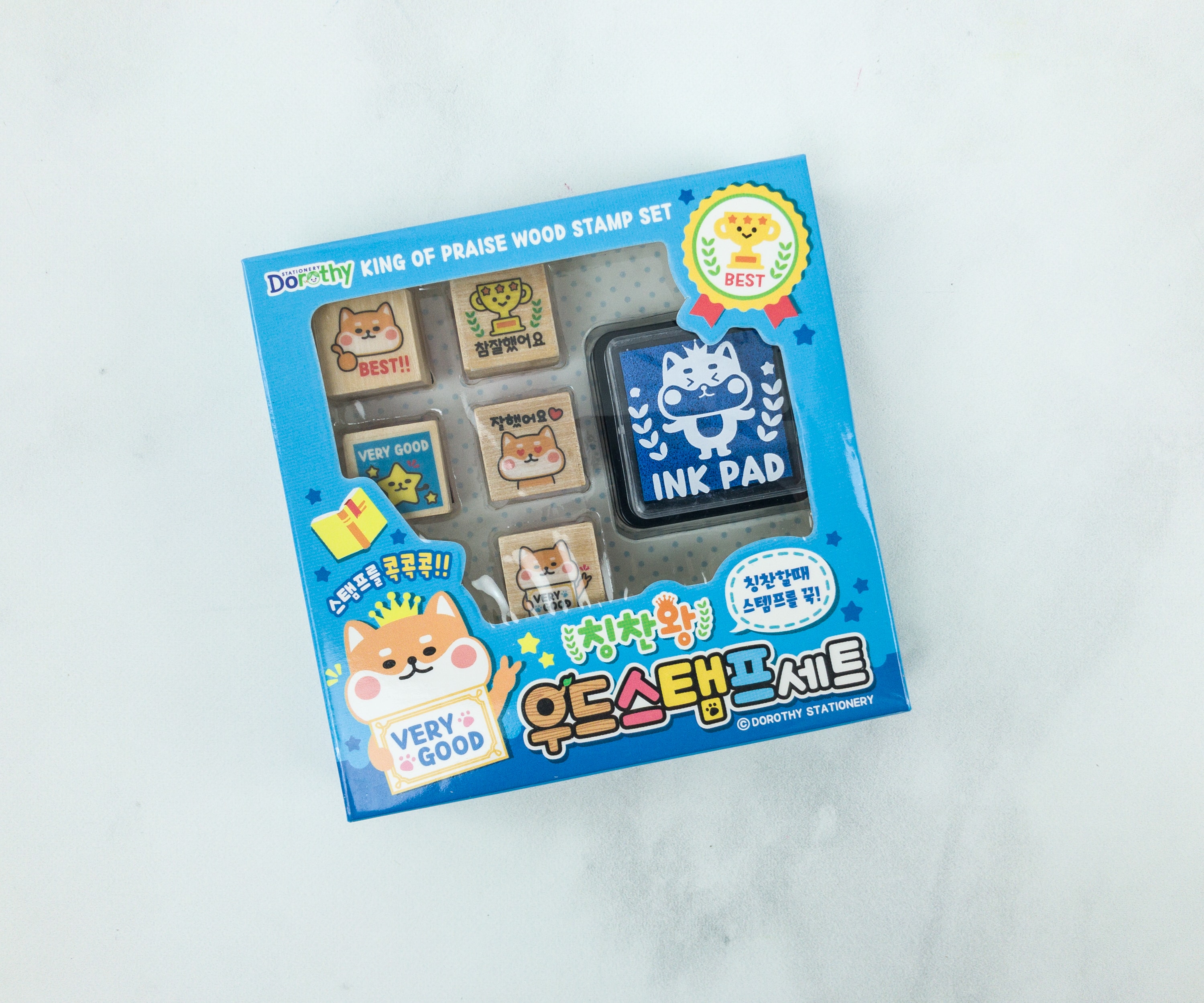 Kawaii Praise Stamp Set. Giving praises and compliments to the kids for a job well done? Well, stamp it!
The stamps have 5 designs that will definitely make the receivers feel good about themselves!
The stamps also came with an ink pad! Each stamp has a wooden handle, and the stamper is made of rubber.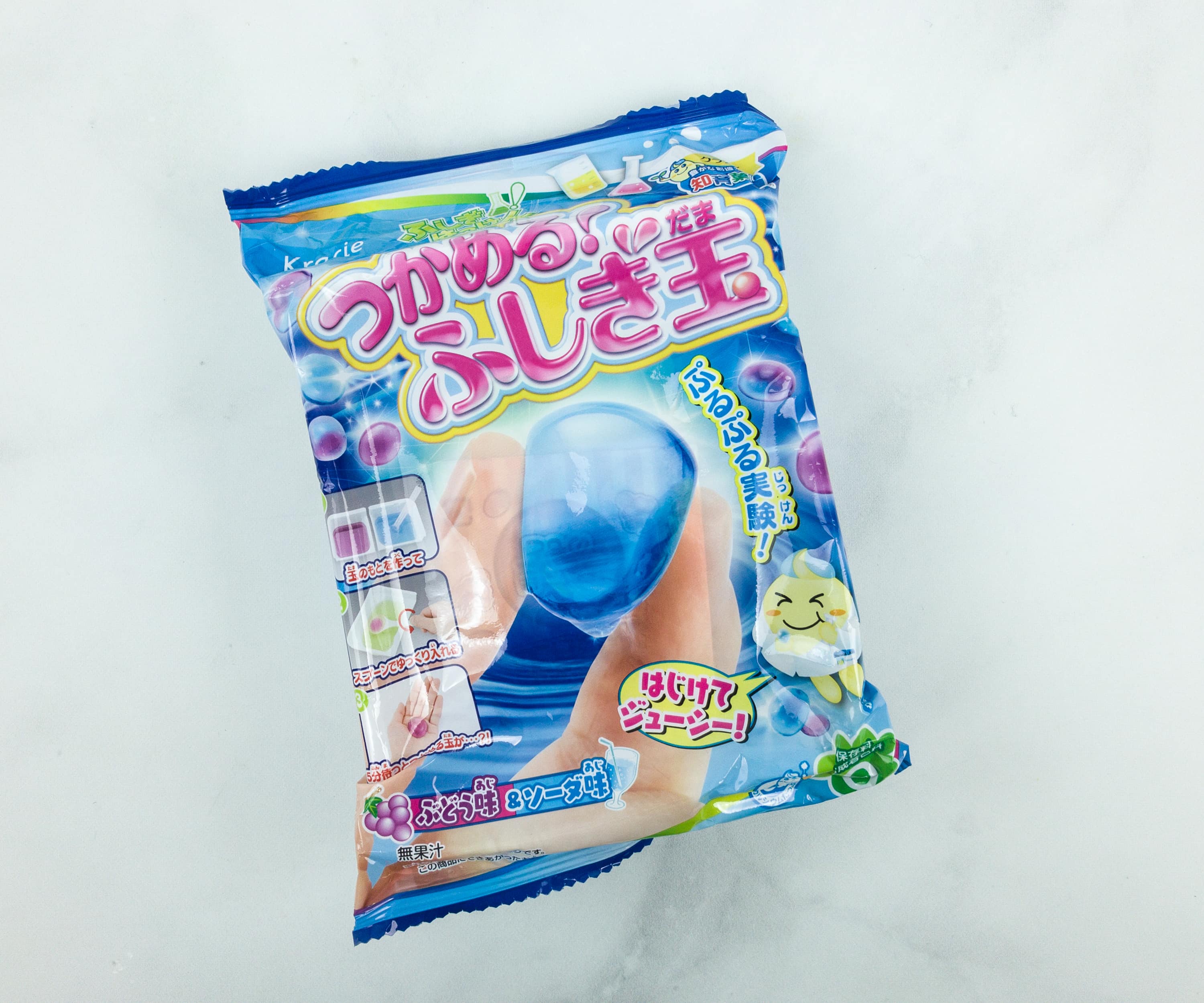 Kracie Fushigi Hakken Mystery Ball DIY Candy. DIY candy kits are fun! For this box, we got a mystery ball DIY candy.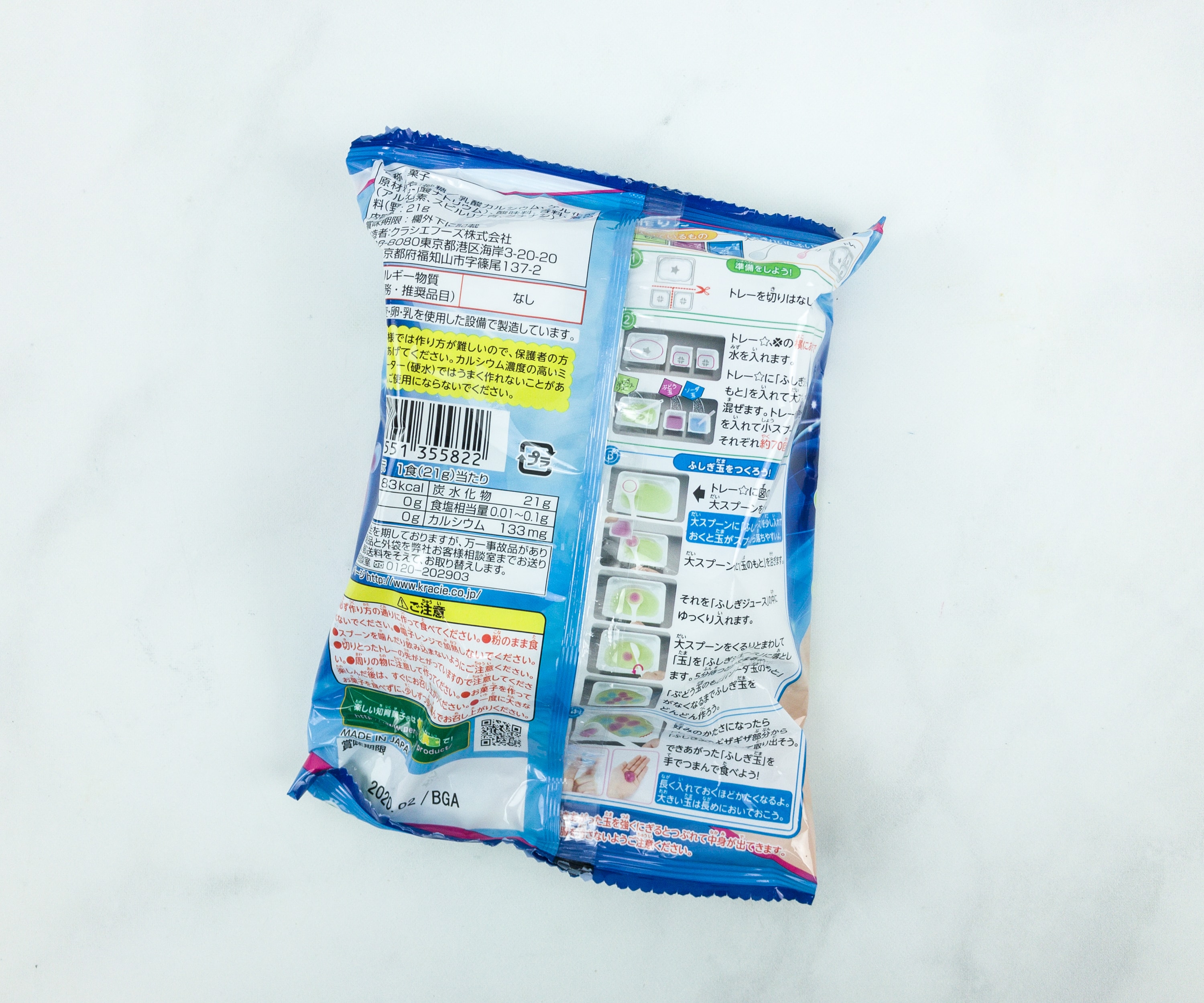 The instructions at the back of the packaging are in Japanese, but there are illustrations where you can base each step to make the candy. Also, there's a tutorial about this Candy DIY on the Kawaii Box website!
It came with everything that you need to make this little experiment, like candy powders and liquid mixtures, prepping tray, and spoons.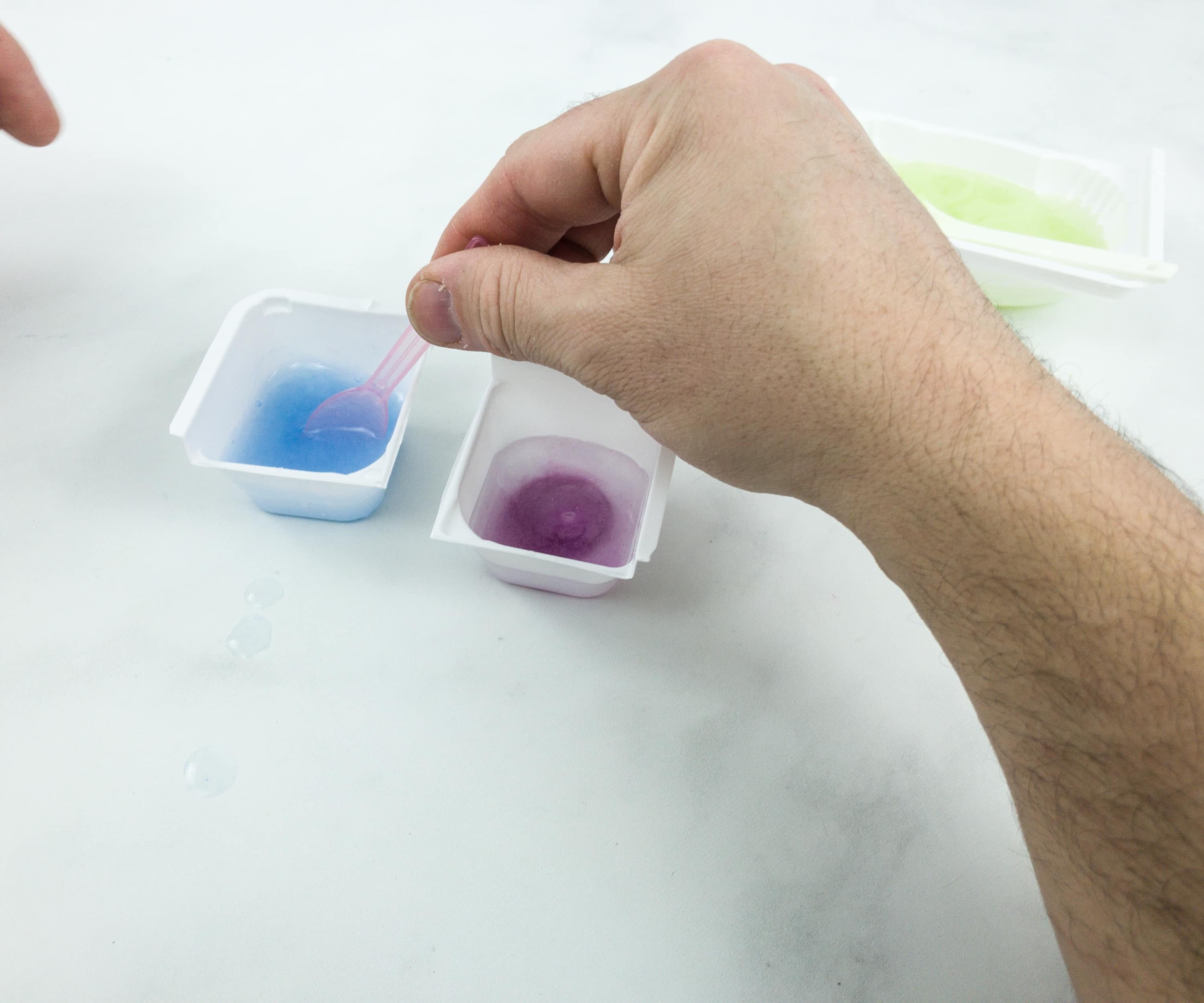 First, my husband prepared the grape and soda flavored liquids.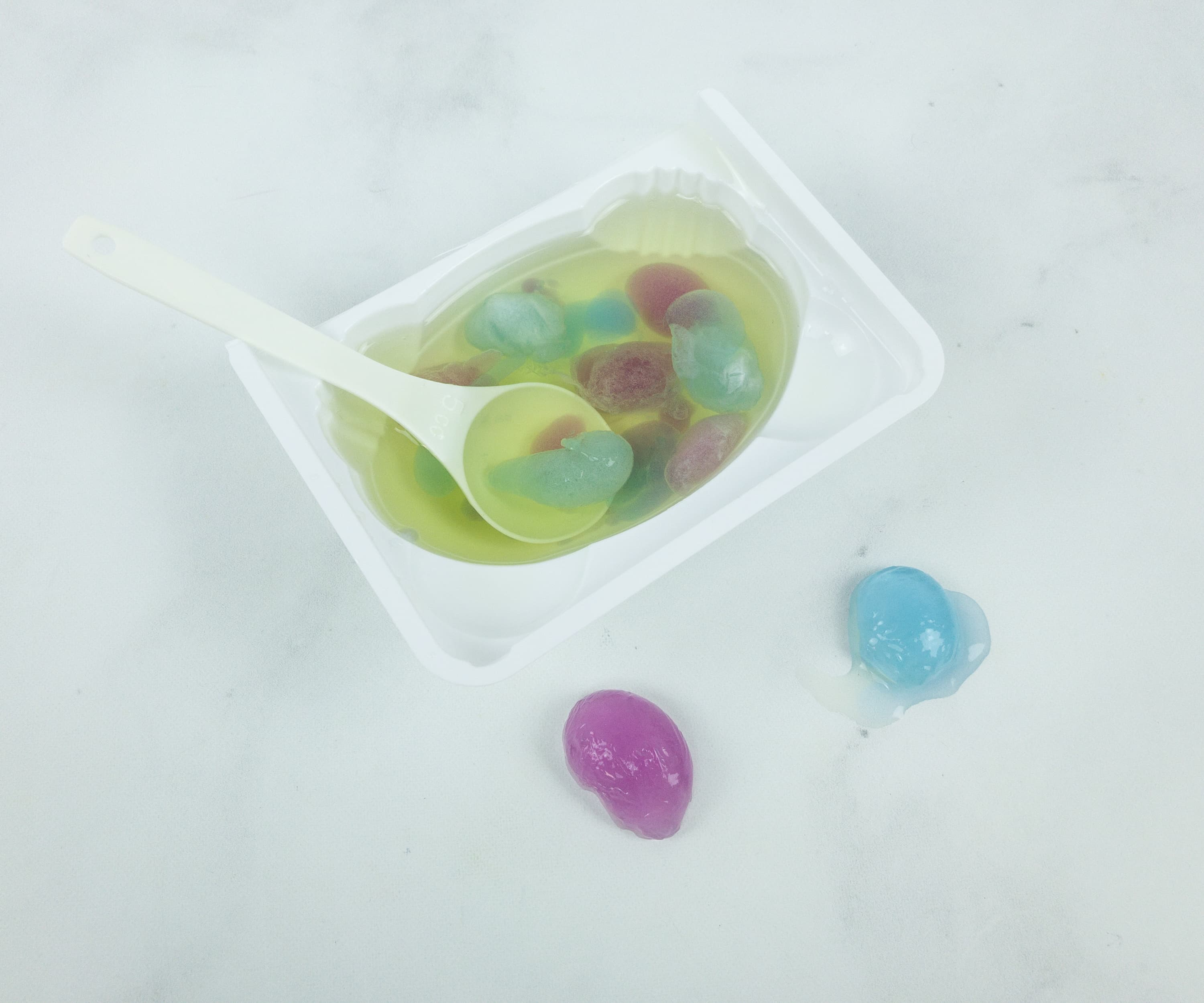 Then, we combined the liquids and grasp the mystery (jello) balls. When you taste the candies, they're chewy at first, then there's the juicy pop after!
Kawaii stuff always put big smiles on our faces, that's why we're always looking forward to receiving them. We're glad that Kawaii Box gives us our monthly dose of cuteness, and every inclusion is not only cute but really useful too! This month, one of our favorites is the DIY candy! The burst of juicy-ness after you chew the candy is fantastic. Also, we love the scrapbooking items like the paper punch, stickers, washi tapes, and the cute candy markers! It's really a magical box, and it's like Christmas again when we opened the box!
What did you think of this month's Kawaii Box?