Graze is a weekly snack box (you can opt to get it bi-weekly, too, or every month) with 8 individual servings of prepackaged fresh and healthy snacks. With over 100 snacks available, you can rate the snacks you receive online to help customize your box.
DEAL: You can get an individually sized (4 count) box free for your first box in a Graze subscription ($1 shipping). After you get your free box, pick up more free and almost free subscription boxes here!
We got a Variety Box!
There's an extra carton packaging to keep the snacks in place.
Previously, Graze had 8-11 different varieties of snack boxes. Those have been compressed into 3 varieties, letting you focus on protein-rich or lighter choices, or you can get a variety. I liked being able to subscribe to that many particularly treat types, and I kinda miss the old system. You can still filter their online shop by all the categories, though.
Every box has a little cover sheet with coupons to share and a short article on Graze innovations.
The other side of the info sheet has the nutrition stats for each of our selections. There's lots of healthy ingredients and no weird stuff. The expiration dates for the snacks are printed on this sheet, too. Many of the snacks have relatively short expiration dates – these aren't for stockpiling!
Everything is packed in neatly, and all the snacks are perfectly portable. Our family splits them up for emergency breakfasts, special snacks, and desk snacks, depending on the family member!
Cranberry & Hazelnut Toasts With A Rich Cocoa Dip. For a delectable snack minus the guilt, they combined sweet cranberries, black quinoa, and roasted hazelnuts in bite-sized toasts which you can dip in dark cocoa.
Snickerdoodle Dip With Cinnamon Pretzel Sticks. These cinnamon pretzel sticks are one of our favorites. They crunchy and perfect with the creamy mixture of caramel and peanut butter dip.
Both feature a dip that enhances the taste of the snacks, resulting in a delicious and satisfying snacking experience. I just ate the cinna stix for breakfast yesterday, the cranberry toasts are on tap right now. Yum!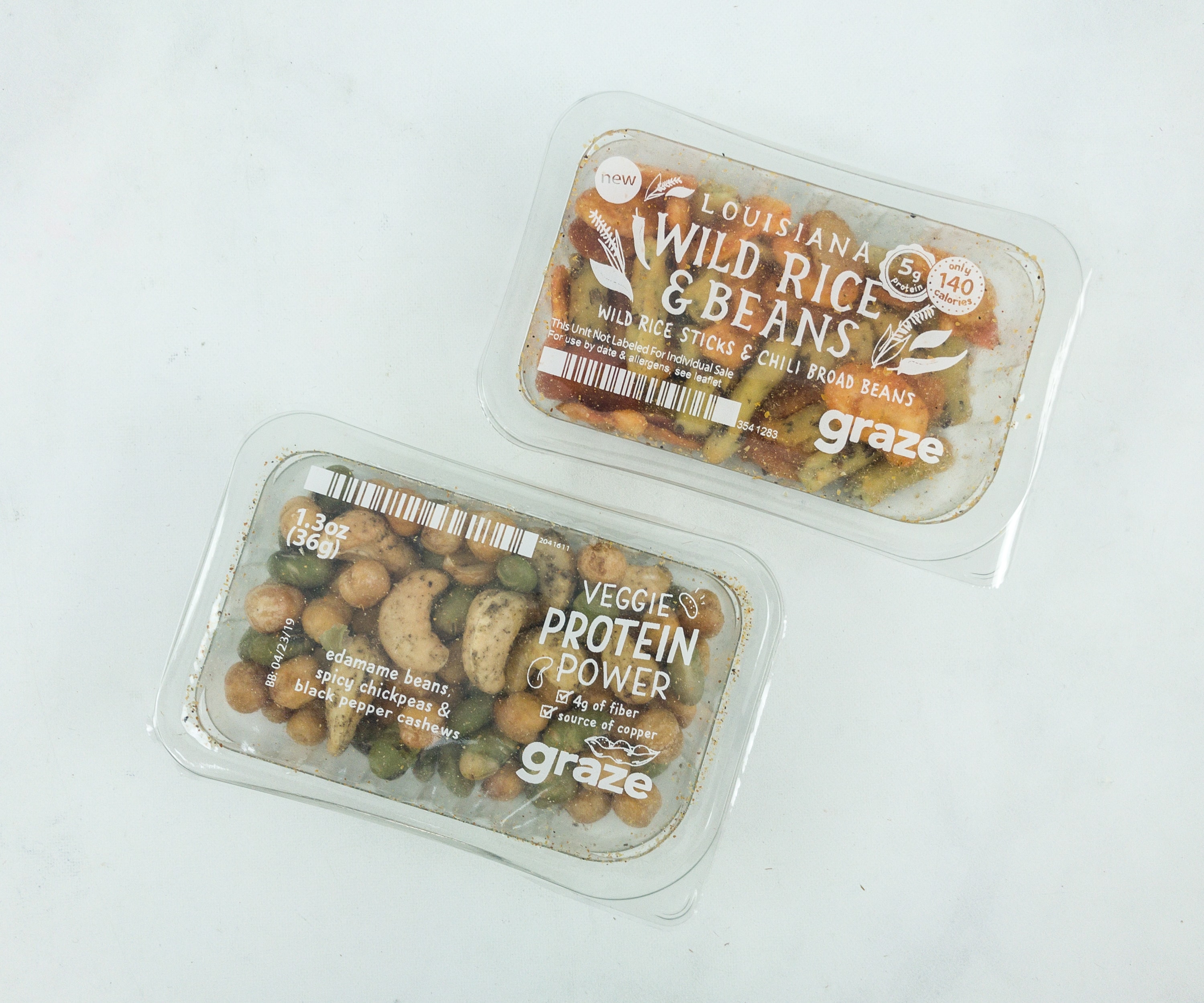 Louisiana Wild Rice & Beans Wild Rice Sticks & Chili Broad Beans. If you love spicy treats, this snack is for you. It's a classic Southern snack made with scrumptious wild rice sticks and chili fava beans.
Veggie Protein Power. Who said vegetarian snacks aren't tasty? This treat features a mix of edamame beans to go along with black pepper cashews and spicy chickpea. It's a low-calorie snack with a deep strong flavor coming from cashew and beans.
The second pair of snacks are both crunchy, and also a great source of protein and fiber. These are definitely the perfect afternoon snacks to keep you awake and going, especially the kick of spiciness from Louisiana Wild Rice & Beans.
Peanut Butter & Jelly. This snack mix is composed of raspberry strings, baked salted peanuts, and sweet vanilla fudge. The salty taste coming from peanut is neutralized by the sweet taste of vanilla fudge.
Chinese Style Honey Sesame. A great source of natural plant protein, this snack mix is a combination of sesame chia peanuts, edamame beans, black pepper almonds, and wild rice sticks.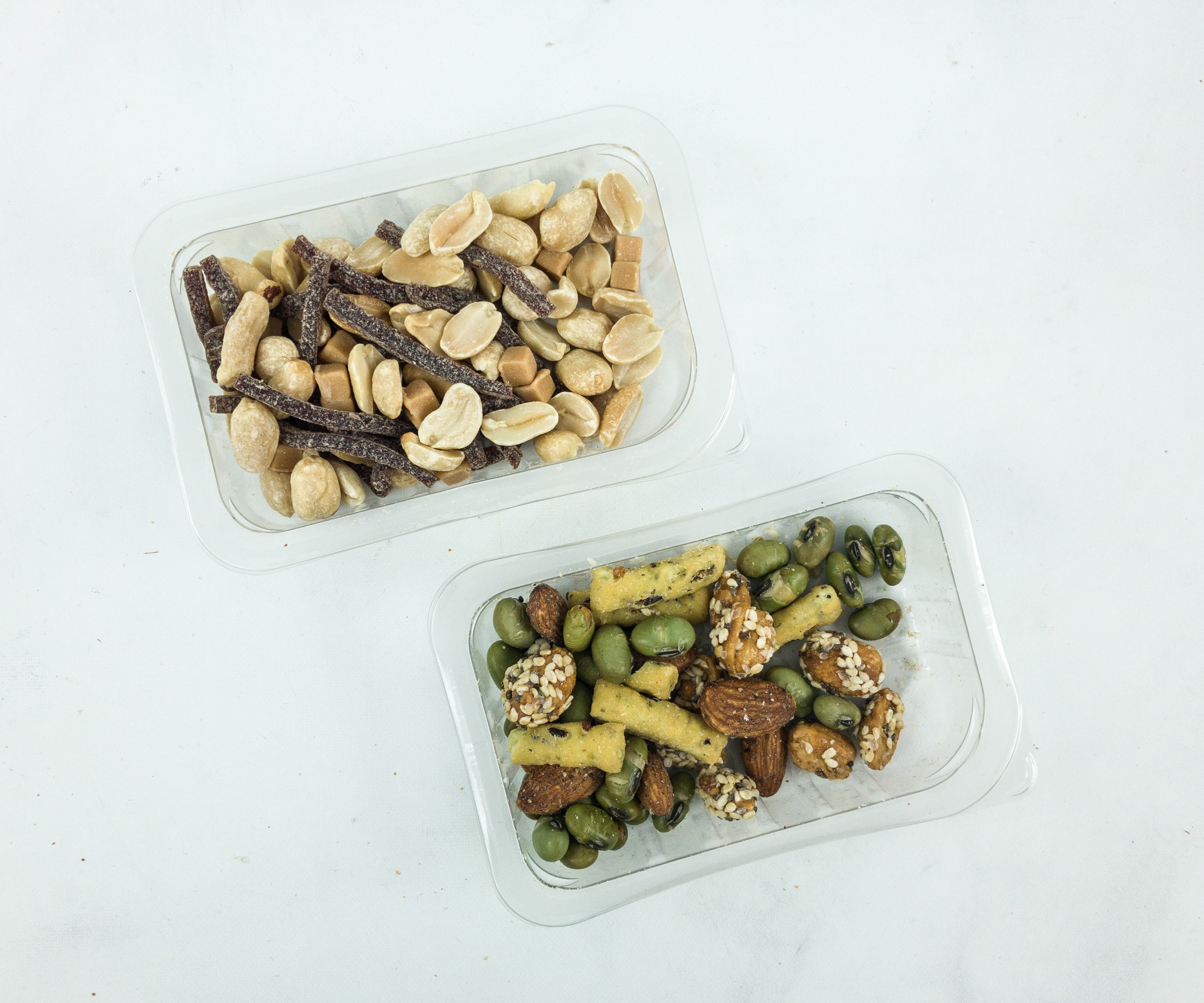 These snacks are great as lunchbox snacks. Both are crunchy, savory, flavorful, and quite filling too!
Berry Oat Squares With Superfoods. Graze's flapjacks are simply the best! This classic snack features unique flapjacks infused with juicy cranberries, raspberry, and strawberry. It's a healthy source of fiber, vitamin A, and manganese.
Cookies & Cream. These are mini cocoa cookies with white chocolate buttons. The addition of sunflower seeds to the mix provides extra crunch.
These snacks are not just tasty, they also contain a lot of fiber and protein which are very much needed for our daily grind. Both are ideal for a grab-and-go breakfast snack!
Graze Variety Box is all about healthy and delicious snacks. The Variety Box is a great choice if you're sharing the box with family members, or simply when you want to have something on hand to fulfill your every craving whether that's sweet, spicy, or savory. We loved all the snacks we received in this month's box, especially because it contains many of our Graze favorites. As usual, the snacks were in portion-controlled containers, which makes them easier to bring on the go. All in all, our stomachs were satisfied! 'Til the next snack-filled box!
What's your favorite snack from Graze?
Visit Graze.com to subscribe or find out more and grab your free trial!