Candy Club is a premium candy subscription box. They bring the old-fashioned candy store (with candies both old and new) to your front door. They promise that their boxes will have an amazing variety of different candies for your snacking enjoyment.
Candy Club recently updated their box – now each box contains 6 containers of candy in smaller twist-lid jars, all with weights and printed nutritional info right on the jar.
The Candy Club Subscription Box is now $29.99 + $9.99 shipping per month. The Party Box size is also available for $49.99 per month + shipping.
DEAL: Save $12 on your first box! No coupon code required, just use this link!
Inside the box, our candies are securely packaged in round plastic containers.
The containers are set inside a cardboard stand with holes cut out to hold them in place. It really makes for a nice display when you open the box. Also, the lids of the containers now have a solid aqua blue color, plus they're reusable.
The Candy Club had a revamp!
They included an information card that tells us about the changes in the new and improved Candy Club sub. Also, the box donates 2% of its proceeds to the Birthday Party Project — a community-focused nonprofit that throws parties for underserved kids across the US.
You can also choose your taste profile, if you love mostly sweets or sours inside your box! You can no longer select your candies though.
Everything in this month's box!
I am loving the changes with these candies' packaging!  You'll receive six separate 6-ounce or 13-ounce (volume measurement) candy cups, but the weight is printed on the packaging.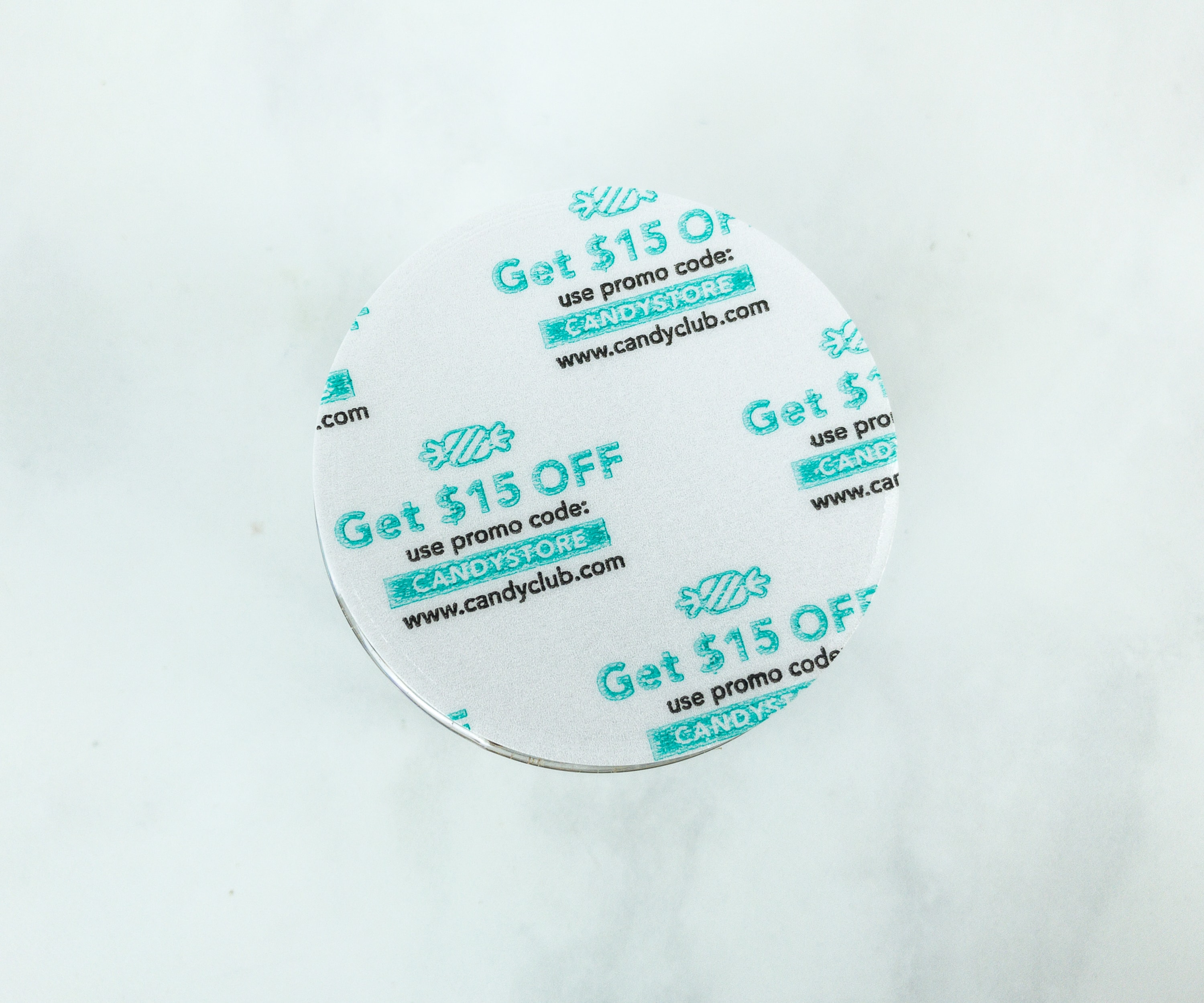 You can also get $15 off when you use the provided promo code!
Toffee Nut Graham Clusters. They're milk chocolate graham clusters combined with toasted peanuts and toffee bits. Each cluster is delightful, and I also want to try to top these beauties on a bowl of ice cream to give it a nicer and crunchier texture!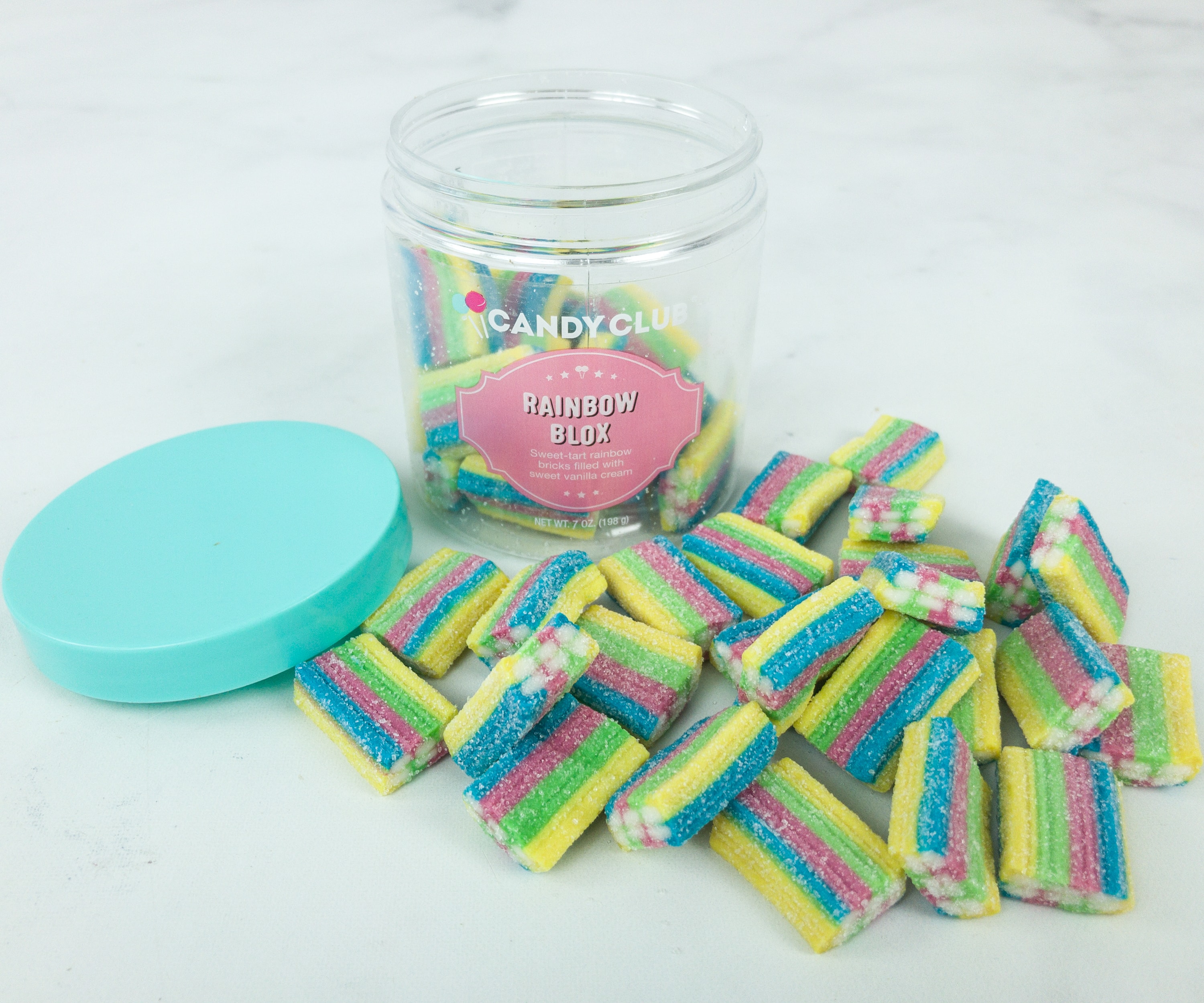 Rainbow Blox. The colorful and tart bricks are filled with vanilla cream, and the candy is dusted with sugar. It's a good balance between sweet and sour, and we love it!
Fruit Salad. Fruity candies are the best, and this mix is absolutely perfect. My kids definitely enjoyed guessing which fruit is which just by tasting them. They can easily tell as the candies are filled with a juicy center.
Churro Bites. These cinnamon-sugar dough bites are doused in white frosting, and they're really delectable. We like churros so this jar is also a hit!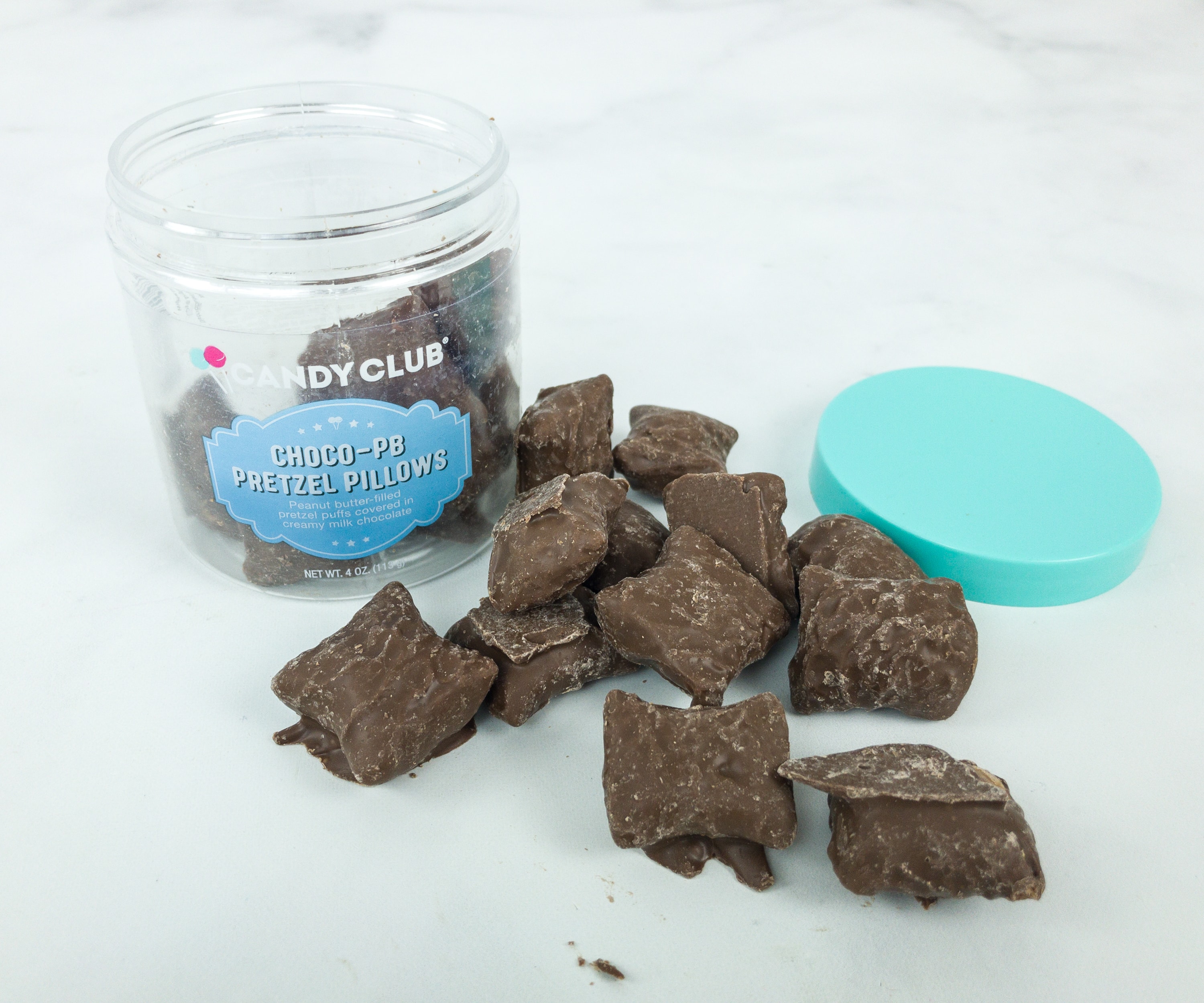 Choco-PB Pretzel Pillows. Chocolate and peanut butter is the perfect combination, and they're combined with this pretzel puffs? It's a chocolate candy heaven for us! The pretzel pillows are filled with creamy peanut butter then covered with creamy milk chocolate, and we can't keep our hands of this jar!
The nutrition facts and Ingredients list can now be found at the back of the candy containers.
Also, the bottom of the jar printed the best by date and the candies' batch number.
Chocolatey Caramel Corn. Another sweet treat is this Chocolatey caramel corn. We already love the sweetness of caramel corns, then they sprinkled it with chocolate! It's like a chocolate and caramel lovers' dream come true! Yum! However, this wasn't the best bang for the buck as far as candy is concerned!
It's a beautiful candy buffet when you put them all together!
The new and improved look of Candy Club gets our approval!
This pack has mostly sweets, and we love everything that we got in this month's Candy Club. Also, each packaging already has the candy's name and description so you know what goes into your treats. They're all hard to resist! My kids enjoyed the fruit salad and the chocolate PB pretzels. I'd go for the churro bites and the chocolatey caramelcorns, but everything is a hit, so now we're only left with 6 empty jars!
Have you tried Candy Club? Are you thinking about trying the new version?