Bombay & Cedar, a wellness lifestyle subscription that's vegan & cruelty-free, has launched the Winter 2018 Limited Edition Men's Box! This box comes with 10+ items, worth $225+. It's $129 per box, now on sale for $114.
Our Men's Limited Edition box is here! This perfect holiday gift is packed full with surprises and goodies to enjoy and share with the guy in your life. Includes 10+ items with a retail value of over $225.
DEAL: Save 10% off for the life of your regular subscription! Use coupon code HELLOSUB10.
The simple black box is sealed with the Bombay and Cedar logo sticker.
They packaged it neatly with black tissue paper sealed with a sticker.
There are a lot of items inside with black squiggles – it's a very large box!
Everything in my box!
Our essential oils are inside this recyclable and reusable drawstring pouch.
Bombay & Cedar Patchouli Essential Oil. Essential oils generally help the well being of a person by having health benefits depending on the aroma. For this one, the Patchouli Essential Oil fights depression by enhancing the mood and boosts the immune system by fighting infection.
It can serve as a natural deodorant because it stops fungal growth. It also reduces inflammation. The product goes with a card that indicates what you can blend it with and its precautions.
Bombay & Cedar Vitality Essential Oil Blend. Next is an essential oil perfect for invigorating and revitalizing the mind and body. It can be a great energy booster.
To maintain the potency of the oil, store it tightly and in a dark place or room.
Candle Warmers Etc. Airome Ultrasonic Essential Oil Diffuser ($32.99) The diffuser is effectively and securely packaged.  It is used to diffuse essential oils for aromatherapeutic effects in health and enhance natural fragrance that uplifts the whole mood of the room.
You can add up to 5 drops to a 100ml of water. Just replace the decorative sleeve, switch it on and enjoy a spa-like experience of aromatherapy in the comforts of your home without breaking the bank.
It features a neutral, taupe sleeve with embossed dots design and two mist modes that can be used for up to 6 hours. It has 7 LED colors, 100ml capacity and an auto shut-off feature for your convenience of use.
The complete kit includes a diffuser, ceramic sleeve, measuring cup and an electrical cord that diffuses 100% pure therapeutic grade essential oils plus it fits any home decor aesthetic.
Grand Trunk The Weekender Compact Toiletry Bag ($39.99) Well, this compact bag is just what every man needs especially when you travel a lot! I love that it has combined water-repellant and waterproof parts so you don't have to worry about its placement and its contents.
Its lightweight and packable design can be very convenient for the minimalist and limited space. It has waterproof zippers and interior with durable water-repellant exterior and superior protection against spills.
The multiple compartments make way for the protection of your every grooming essential of any size and shape. It's basically impossible to see but it has a fantastic sealed zipper just like the one shown below.
It looks stylish too!
With a nylon exterior, toiletry holders, and collapsible frame that lays flat when empty, this is the ultimate travel companion.
Beanfields White Bean With Sea Salt ($1.25) Certified non-GMO and gluten-free, these bean chips with sea salt offers a light and crispy full-flavored snack perfect for de-stressing needs or house parties!
The Legend Of Me by Alexis Lampley ($11.72)
Cast yourself as a legend of epic proportions in your own autobiography—just follow the prompts and questions of The Legend of Me.

While your life story feels like a mythic saga for you, it can easily sound mundane to everyone else. Geek culture expert Alexis Lampley provides you with the prompts and questions you need to frame your everyday life as a valiant quest full of adventure, mystery, romance, and suspense. Big promotion? More like treasure won in glorious battle! Slovenly roommate? You mean a troll you were forced to trick and defeat.

Wrapped in stylized binding, this tome of your courage and brilliance is the perfect gift for your loved ones and children. Become the hero you know you can be!
It's like living a double life! This unique journal allows us to make an alter-ego character and have a completely different adventure.
It's interesting. The journal lets your imagination run wild while you make your own character and embark on a different adventure every day.
You can build your own profile! It can be a perfect gift for anyone especially for creative people.
If you want to de-stress and just transfer to a whole other world, this can be a good distraction.
The pages are high-quality and there are fill-in-the-blanks activities too. We were excited to see this journal from Nerdy Post creator Alexis Lampley!
MS Mad Style Mad Metal Stress Cube – SIMILAR ($24) These transforming cubes are great for de-stressing. It comes in a nice giftable box.
It is made of aluminum and easily compactable so it is easy to store.
This is available in 3 different styles. It can form rectangular shapes, compact it vertically or into a cube. You can use both hands or one hand only.
Gentlemen Of The North Socks ($10.23) It's a pair of socks that combines comfort, style, and altruism. A purchase of a pair can help underprivileged youth to be sent to summer camp.
It is made of 80% cotton, 15% polyester, 3% spandex and 2% nylon.
The striped socks have a nice length. They're soft and they keep my feet warm.
Doc Spartan Man Scrub ($14.99) I love its straight to the point and simple packaging. The scrub contains coconut oil, salt and propriety blend of essential oils to moisturize.
This aids in exfoliation and scrubs off the dead skin while applying a layer of coconut oil that makes the skin smooth. It's scrubbing and applying lotion in one step.
To use, just get a small amount and scrub all over your body and rinse off. It's easy to use and there's no residue – just rinse it well.
Kelvin.17 Everyday Multitool ($19.94) It's the handiest tool as it's a snap action screwdriver with 13 hardened Alloy, Torx and Allen Key bits that you can interchange.
This battery operated 17 multi-tool in one also has 3ft/1m measuring tape, integrated liquid level and LED flashlight.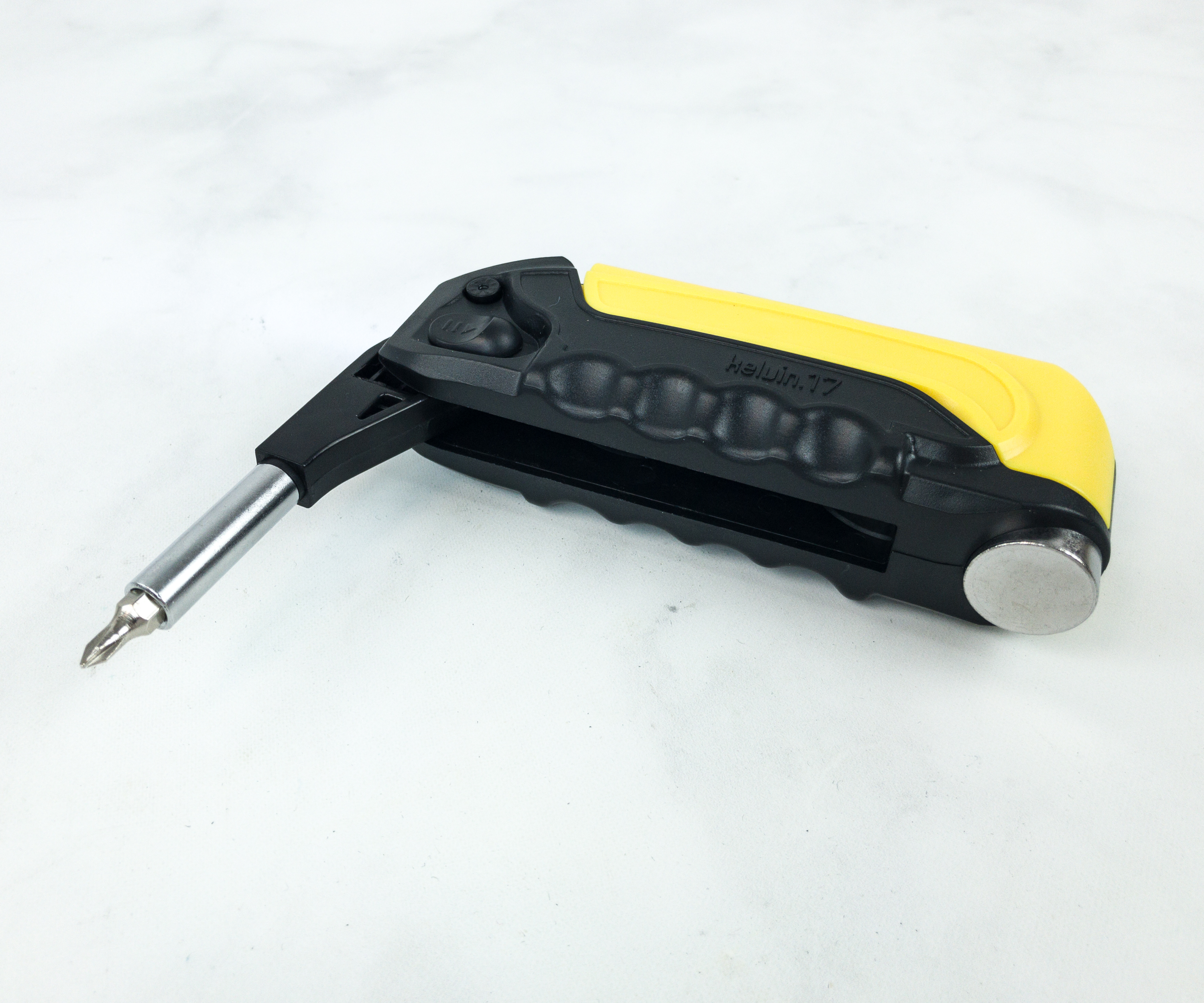 There are no problems reaching hard to reach areas as it also locks at 90 degrees for extra torque.
It opens at the push of a button and folds inside when closed. It has storage in the handle itself so you won't have problems in packing, losing them or taking up space. This went right into my desk drawer for an easy to grab screwdriver (and more!). Love it.
Full Circle The Brumi Pour Over Hot/Cold Brew Bottle  ($36.99)  The coffee-lover in me is truly happy! This is the ultimate travel bottle for hot or cold brewed coffee.
It brews 10 oz and holds 12 oz which is exactly one cup of coffee. You can use it at home or traveling. It sure is created for everybody's satisfaction and convenience. You can control the taste perfectly.
It has an intentional design to make it safe, earth-friendly and to make way for sustainable choice and responsible living.
It has a removable cork grip useful for anti-slip. It has a double-walled borosilicate glass that keeps the temperature of coffee hot and not your hands. You don't have to think about spillage either because the lid is leak proof.
It also has a double filter that produces a well-balanced cup of coffee with more flavor.
We got essential oils that have different benefits on each end of the spectrum. The patchouli can enhance the mood and by working as a sedative, plus the health benefits and the vitality essential oil, on the other hand, is an energy booster and made to revitalize the mind and body. They even sent a diffuser for the essential oils. My favorites are the 17 multi-tool screwdriver in one and the travel-friendly brewing bottle. They're very useful, practical and made for our convenience. The chips, innovative journal, man scrub, socks, and stress cube are really nice additions. They sent a LOT of items that can contribute to our holistic needs, and it's a perfect way to start off 2019!