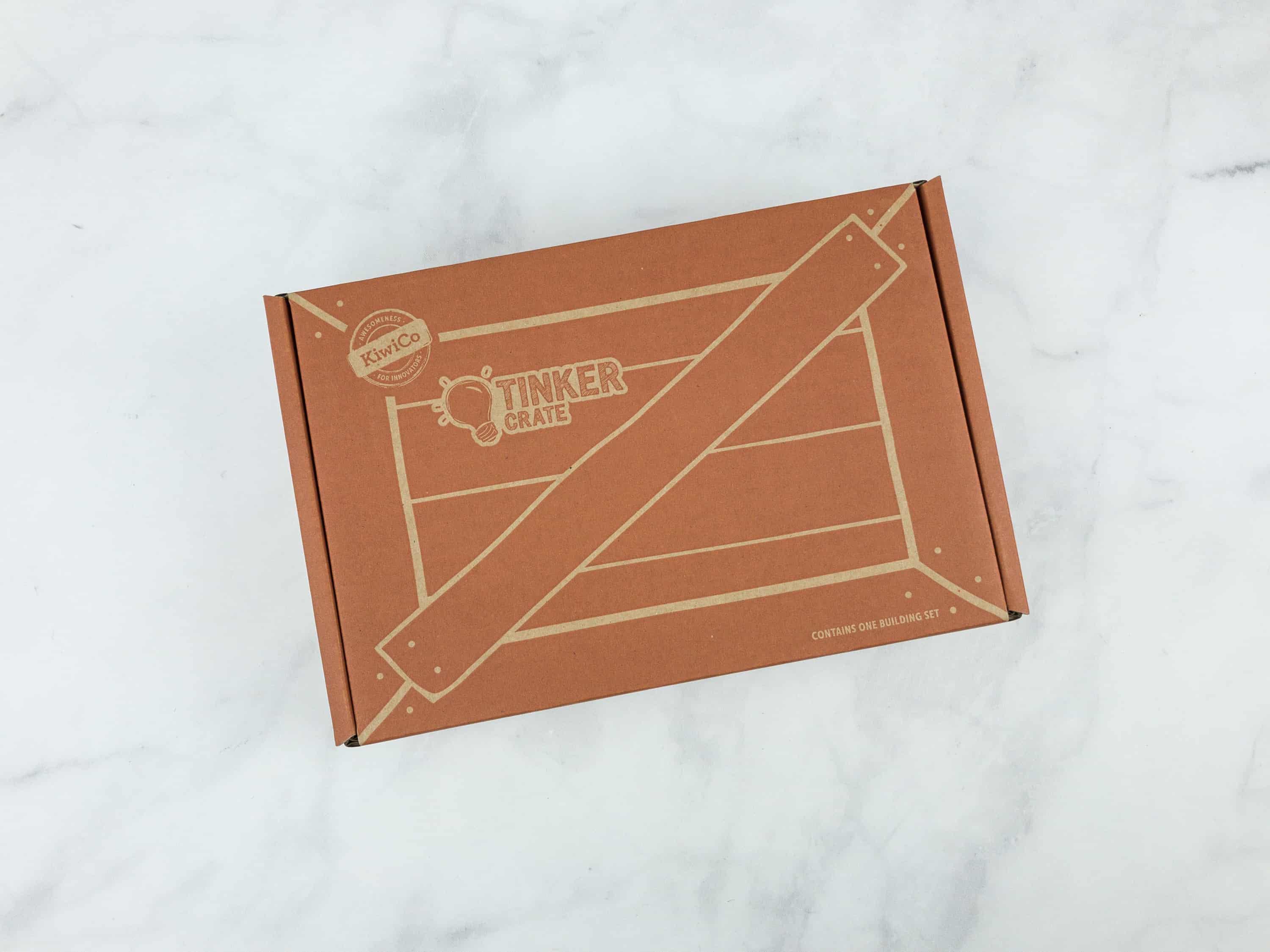 Tinker Crate is a subscription box that inspires kids to learn about science, engineering, and technology, all while having lots of fun. Each month, the box explores a field of study within a STEM (Science, Technology, Engineering, and Math) discipline. Kids practice their problem-solving skills and learn how to engage in both structured and open-ended exploration and investigation. Most boxes walk the tinkerers through the construction of fairly complex mechanical devices. 
LIMITED TIME HOLIDAY DEAL: save 60% off your first box! Just use coupon code CHEER60 when you sign up at KiwiCo!! Your first box will be $7.95 or $11.95 for Eureka Crate.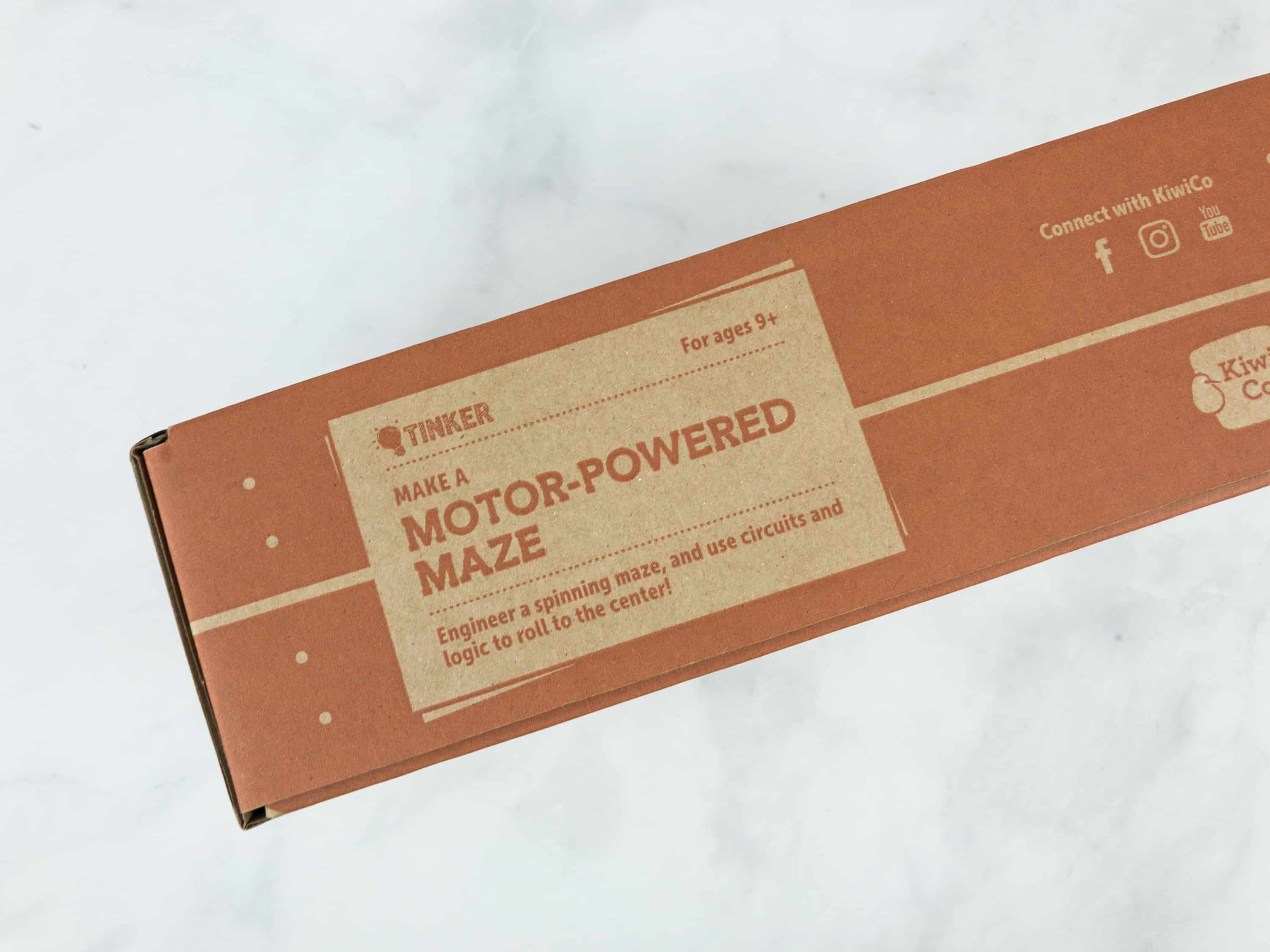 This month, we are building a MOTOR POWERED MAZE.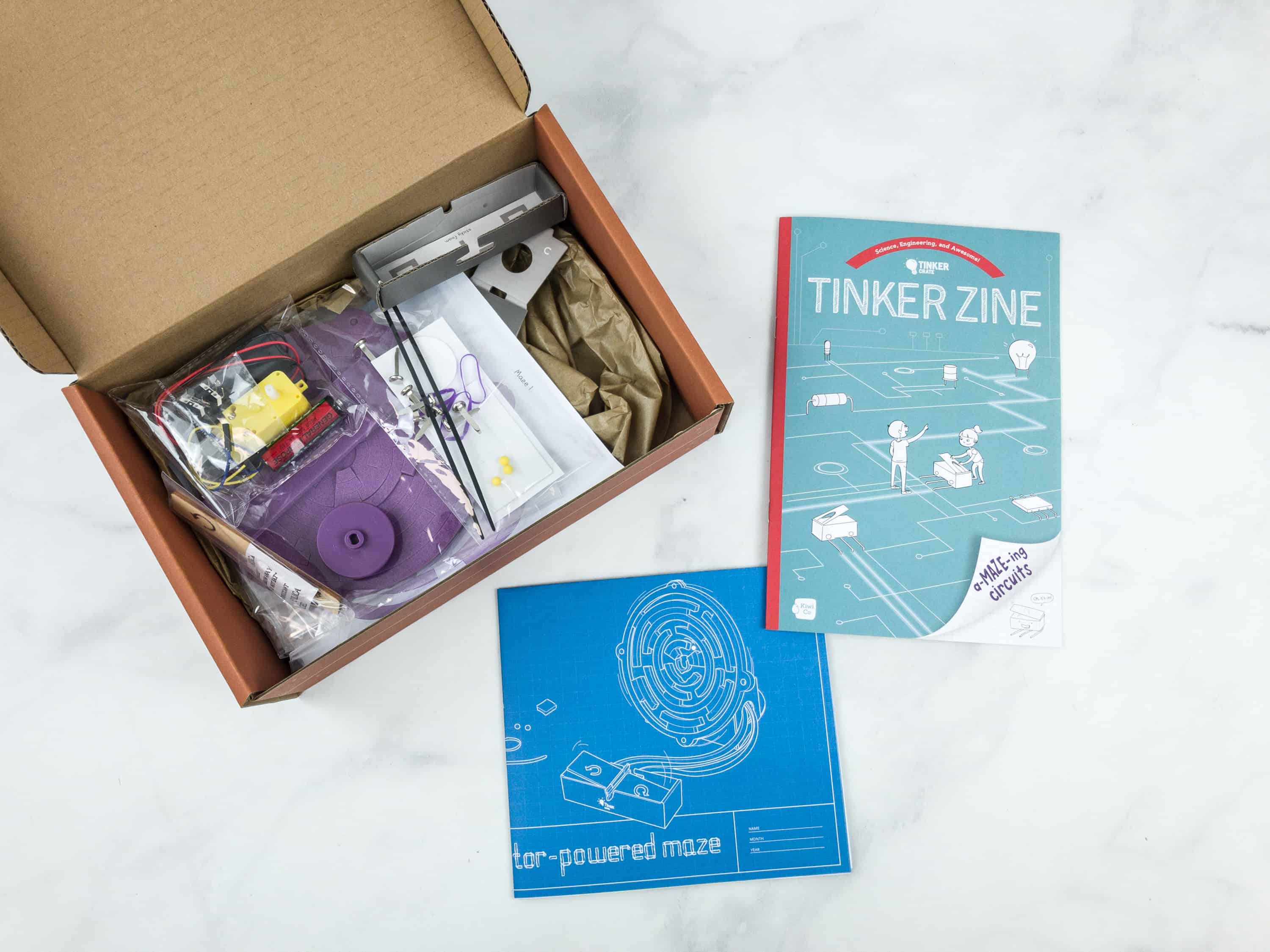 Everything arrives together in a single Tinker Crate – the supplies, a fold-out instruction sheet, and the Tinker Zine.
DEAL: Use this link to save 40% on your first box of Tinker Crate! (or Kiwi Crate and the KiwiCo family subscriptions Koala Crate, Tadpole Crate, Atlas Crate, and Doodle Crate).
Tinker Zine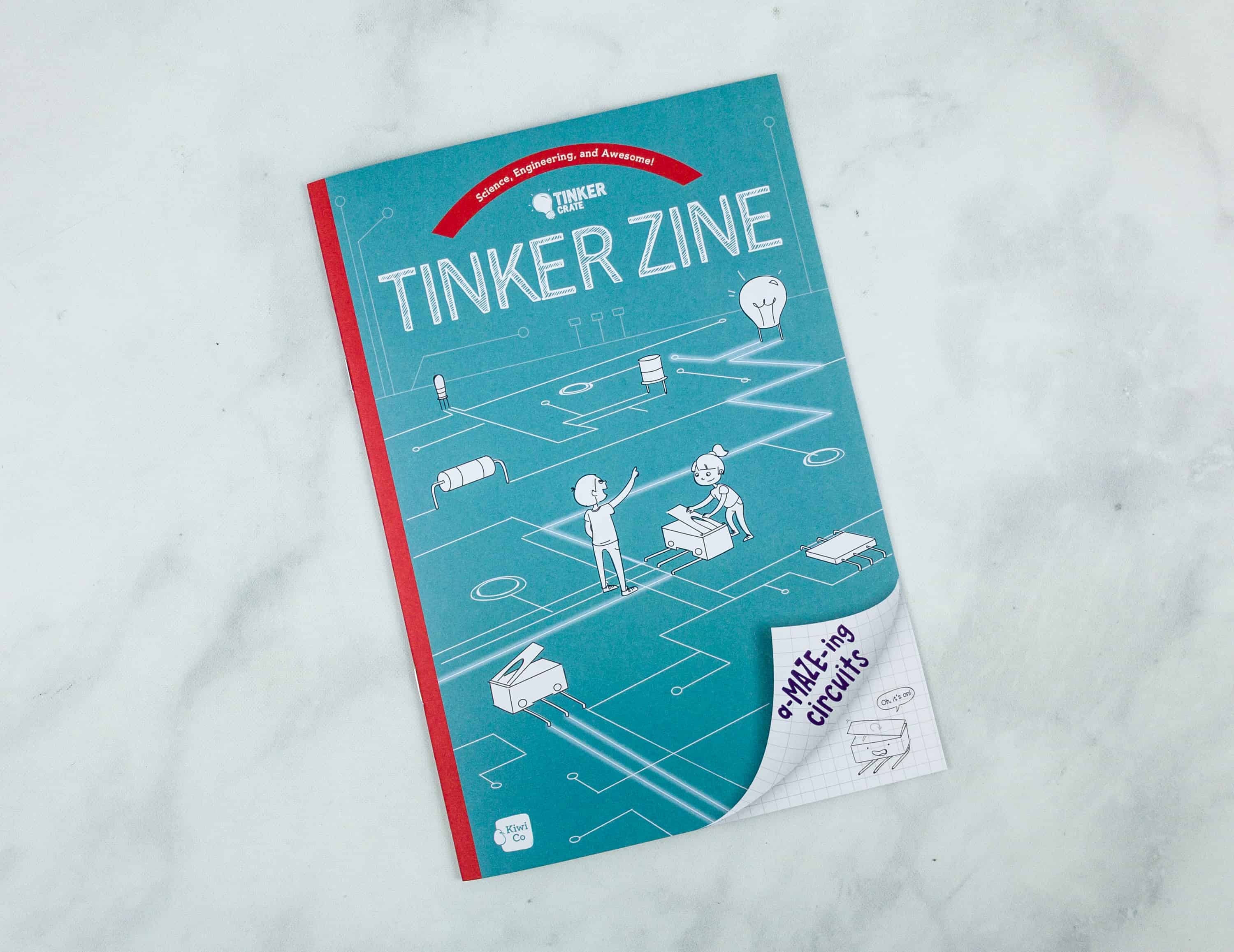 The main project is always a great hands-on activity and a great demonstration of the scientific principles featured in the box, but the Tinker Zine is full of well-written, historically and scientifically accurate background and explanatory materials. This where the lessons really take shape!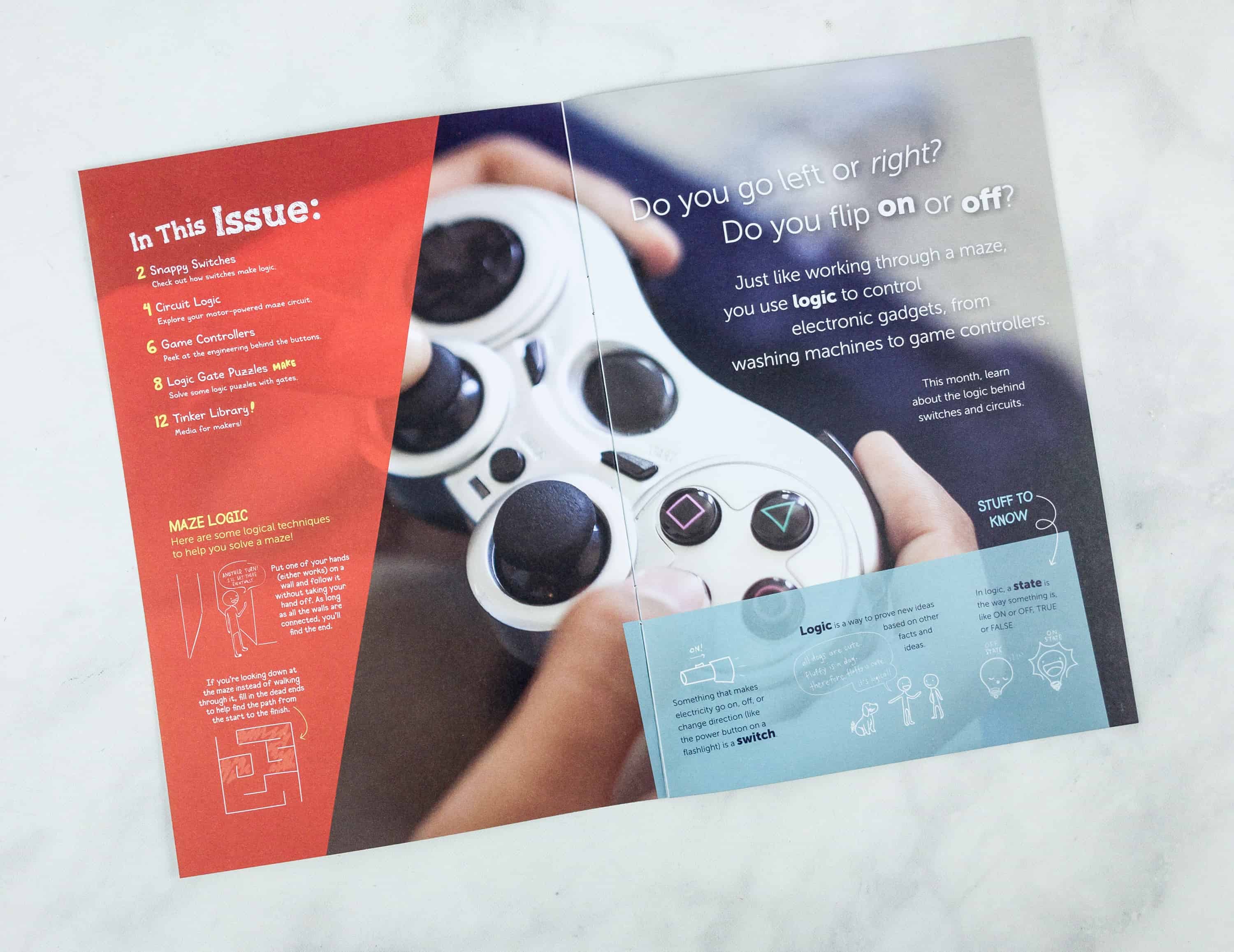 This month's Tinker Zine discusses circuit logic, snappy switches, game controllers, and more!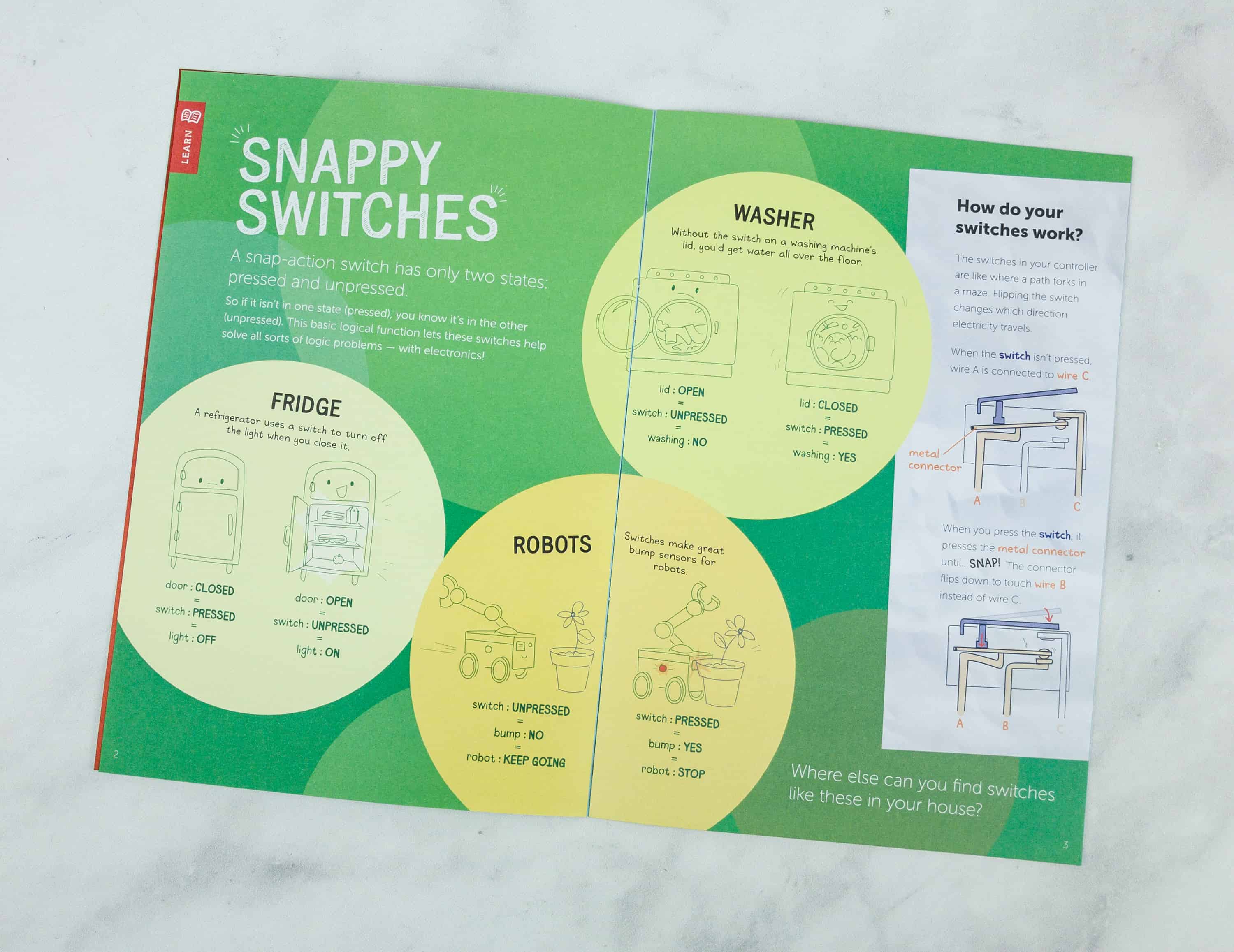 The Tinker Zine is a superb resource for clearly articulated explanations of mechanical and electronic concepts. They always incorporate diagrams and several real-life examples to illustrate the lessons.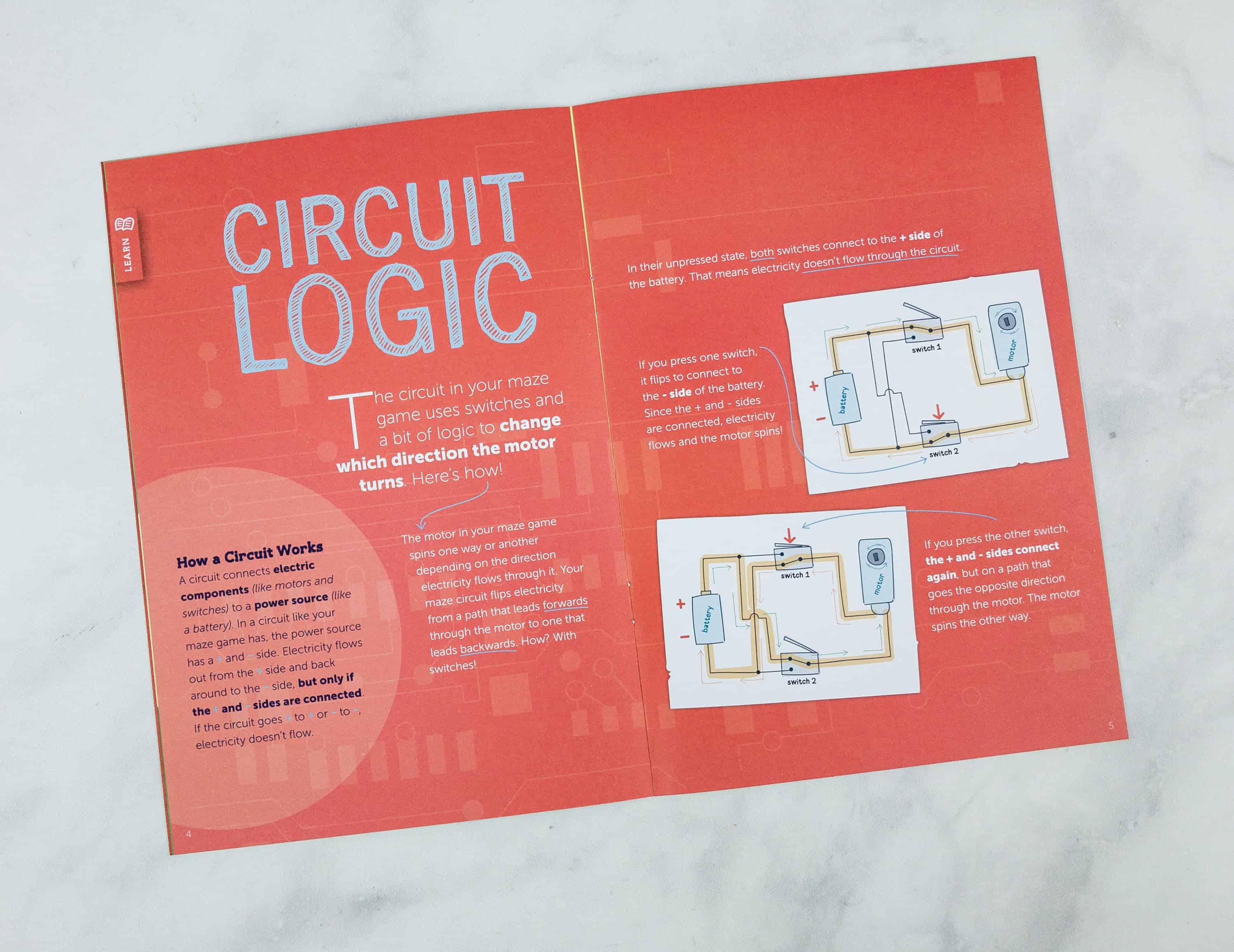 Circuit logic has an entire mechanism supporting the function of a certain switch. Circuits like the one above are used in many multi-functional pieces of equipment, allowing a single button press to produce one of many actions.
The Zine also discussed how game controllers use switches and other components like potentiometers to register your movements and control the game.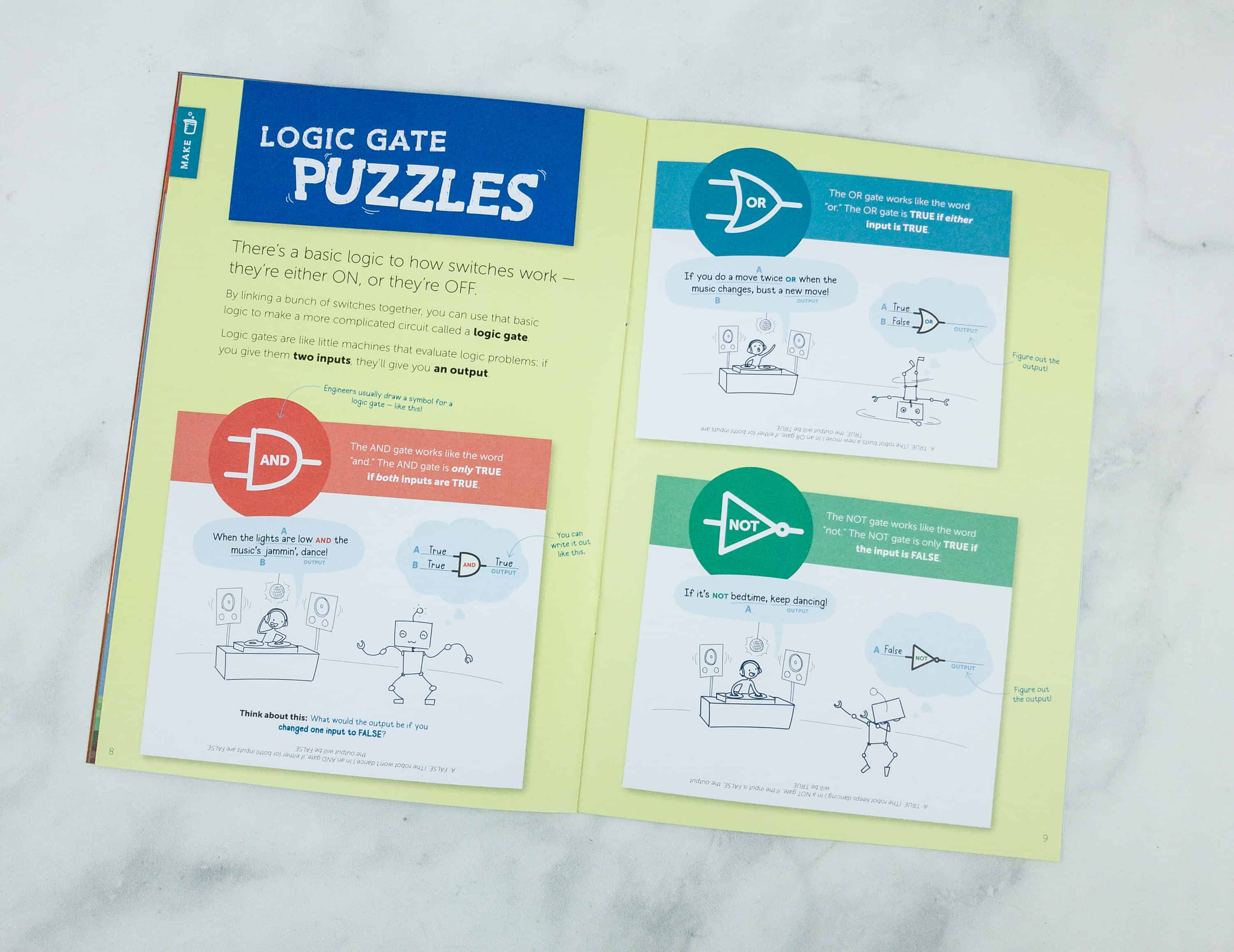 The relation of logic gate inputs and outputs are explained via text, diagrams, and fun illustrations.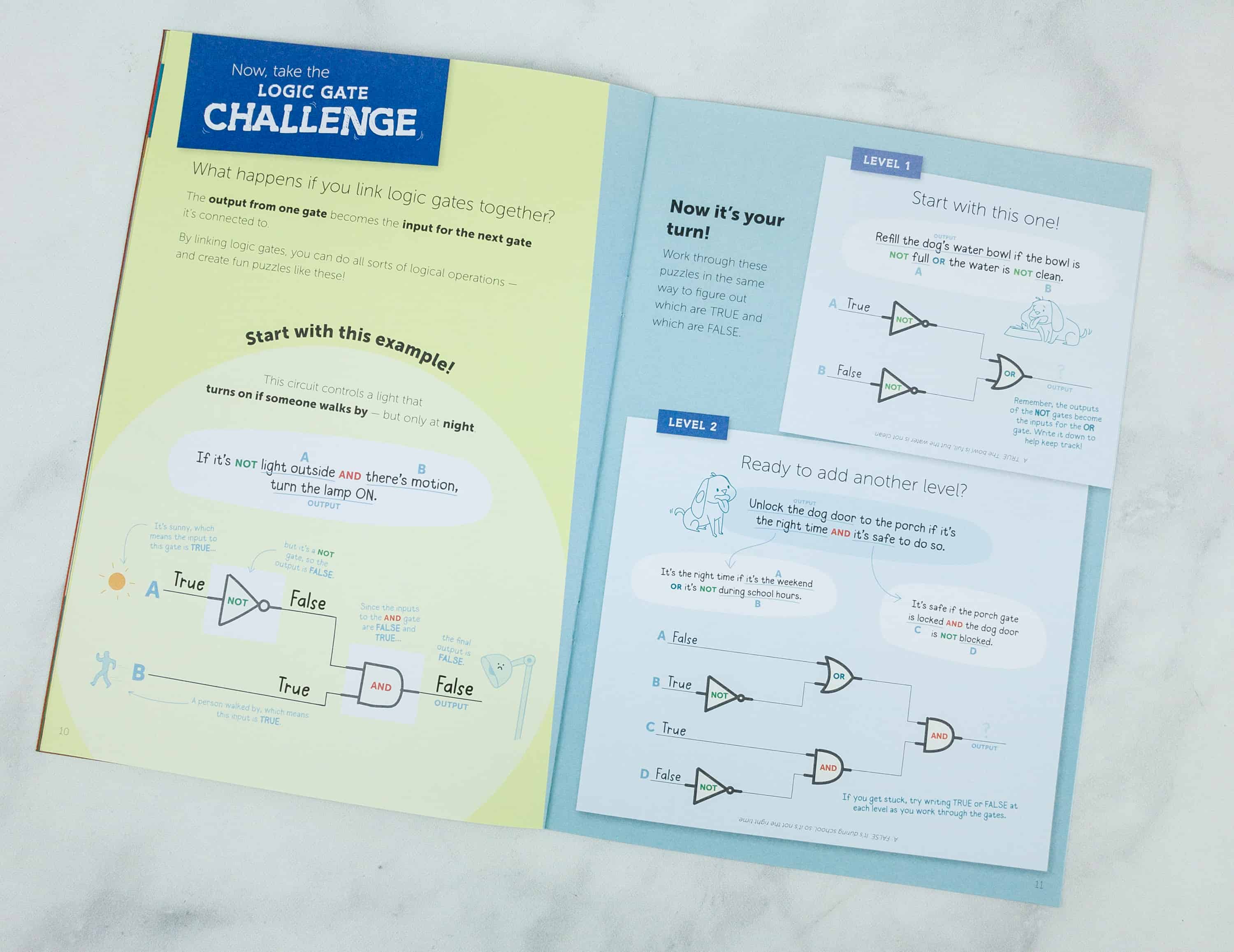 After a quick primer, we have to apply our new knowledge to some logic gate puzzles. These logic gate activities are challenging!
Tinker Crate Blueprint + Materials
The instructions and other essential project information are printed on a faux blueprint fold-out sheet.
It has a lot of explanatory notes, and they highlight or bold important and technical areas.
It has illustrations of all the materials needed for each portion of assembly. For more complex builds, this is really handy for getting out just what you need for the current step.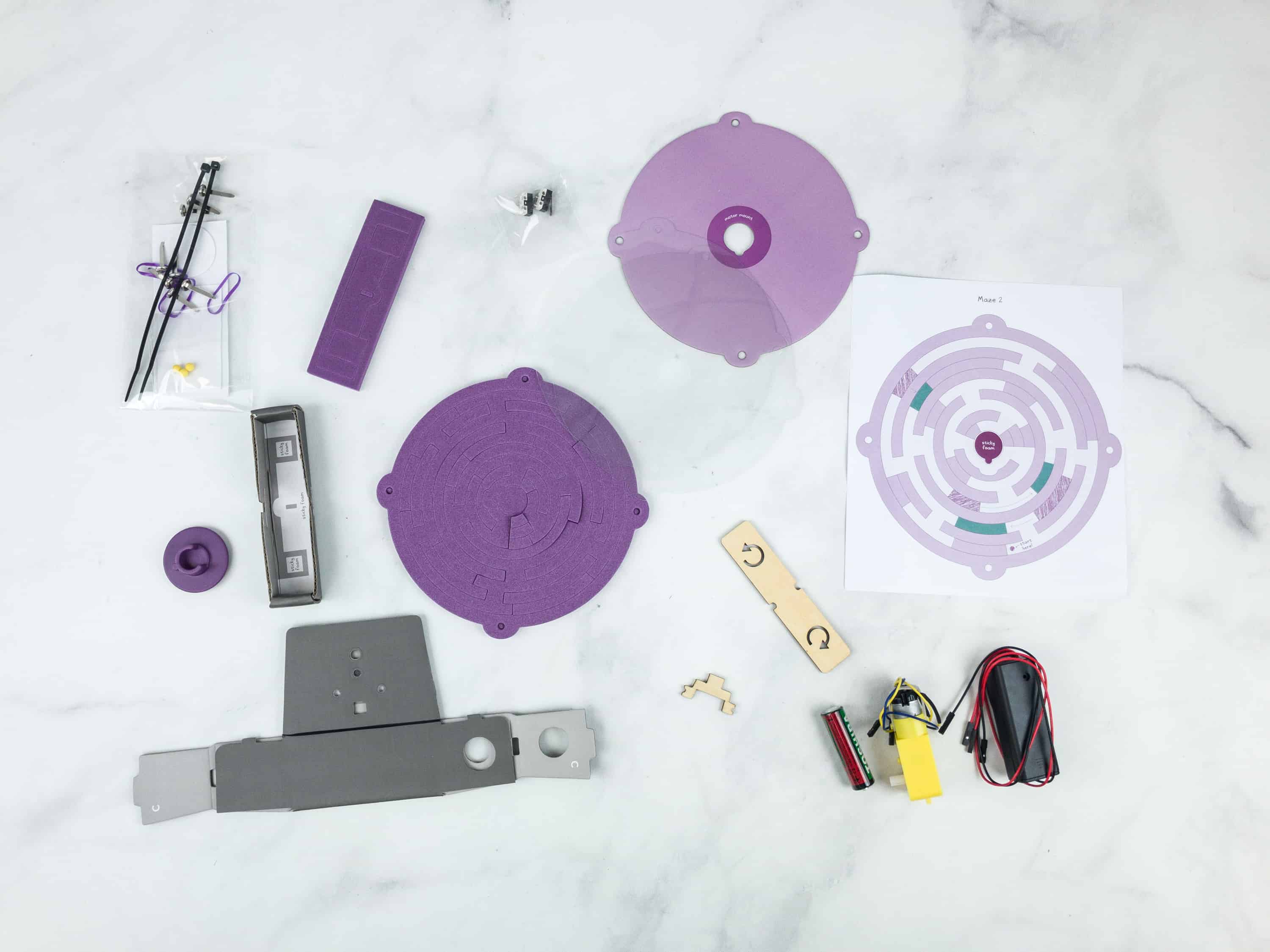 Here's all of the parts in the Crate. We have parts to construct our maze, a stand on which to mount it, a motor with battery, various fasteners, and, of course, parts to make our switch.
At various points in the instructions, there are "Stop & Test" or "Stop & Check" warnings so you can detect whether you are doing great or needed some tweaks in the project.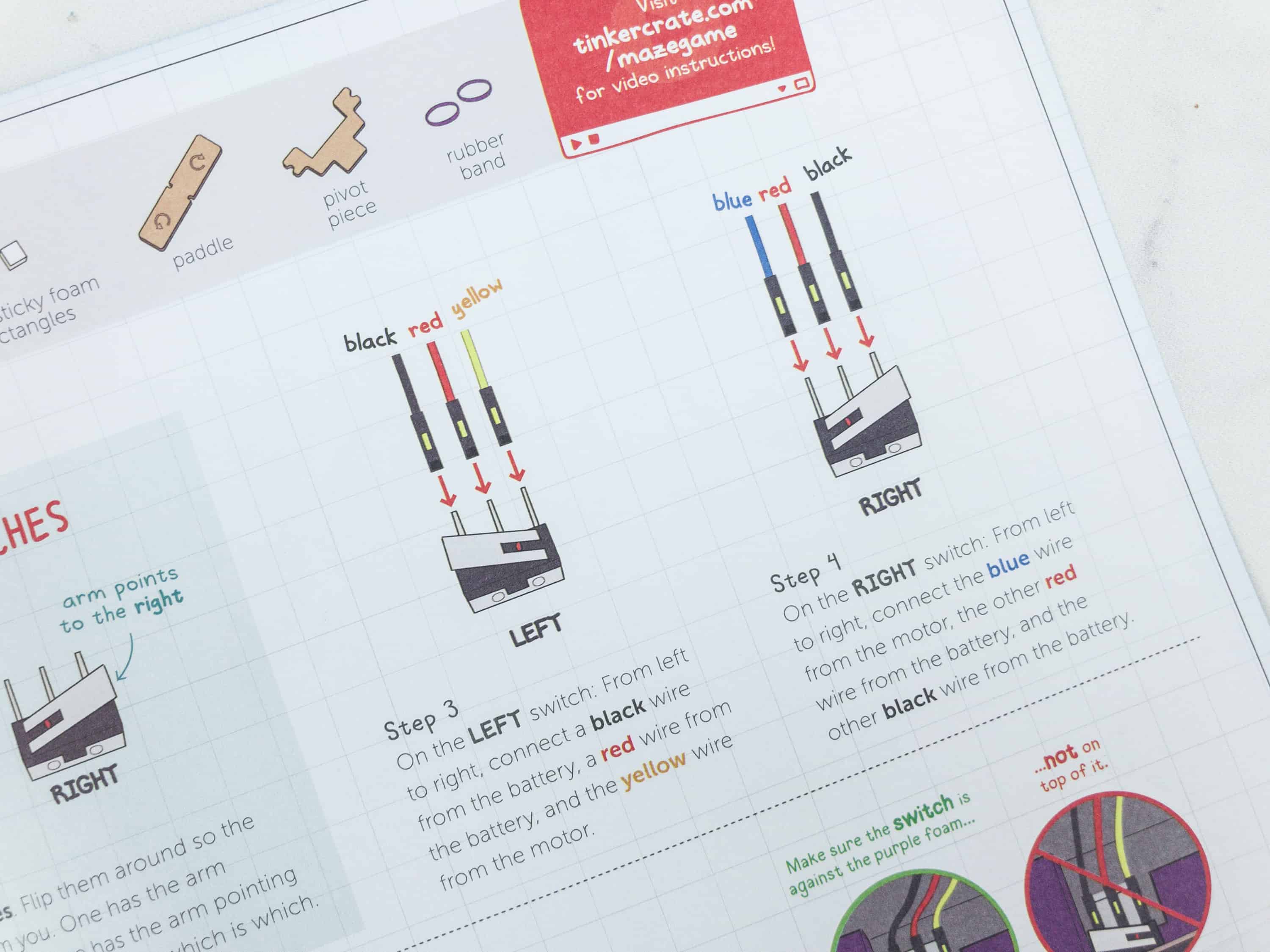 The activity is obviously technical, and every last detail is important, down to the color of wire. The pamphlet covers everything with detailed instructions and illustrations with cautions against common mistakes. It has suggestions on do's and don'ts, as well as a link to online video instructions.
Tinker Crate Activities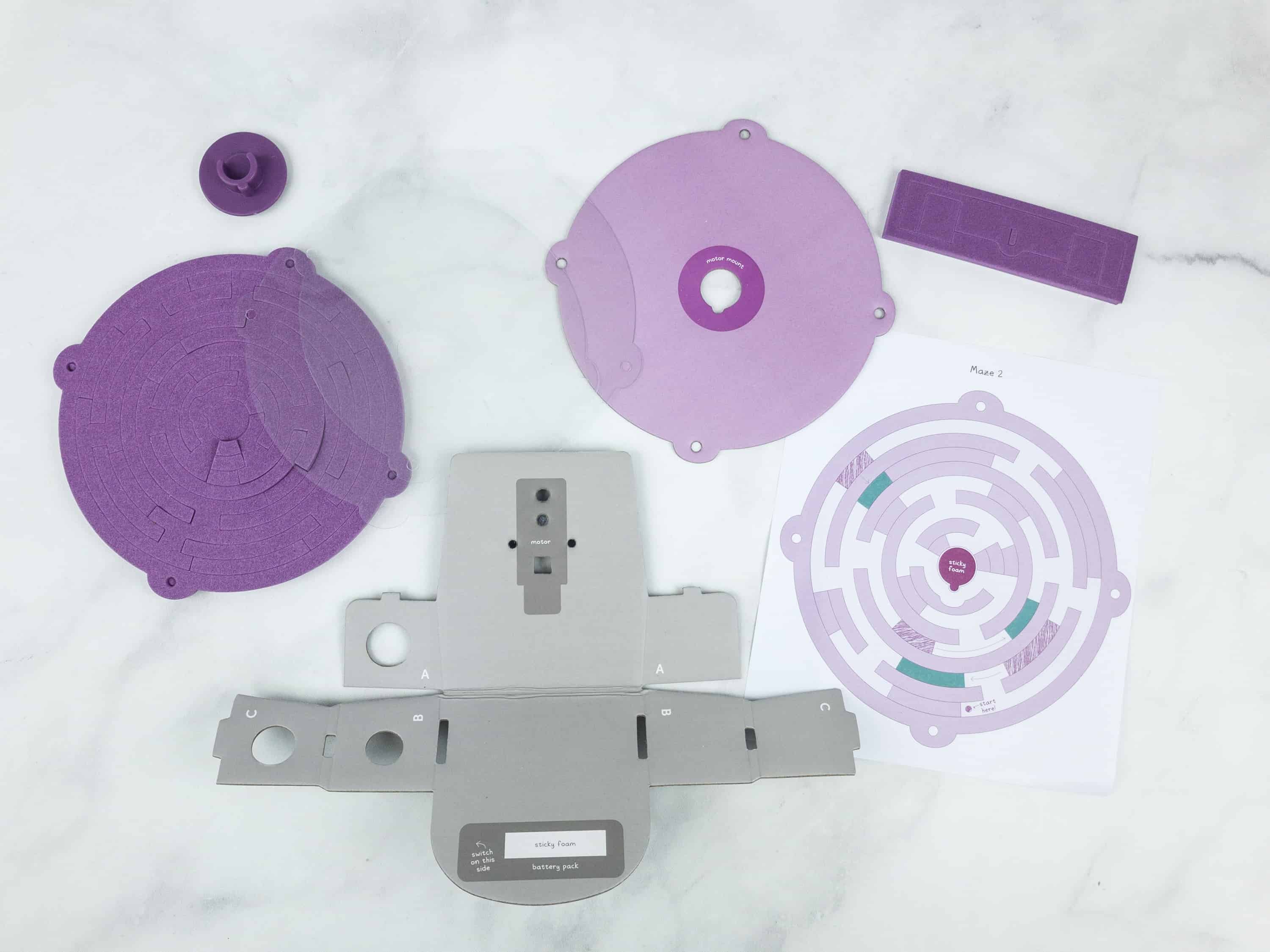 These are the materials for the main part of the maze itself, as well as the base to hold it.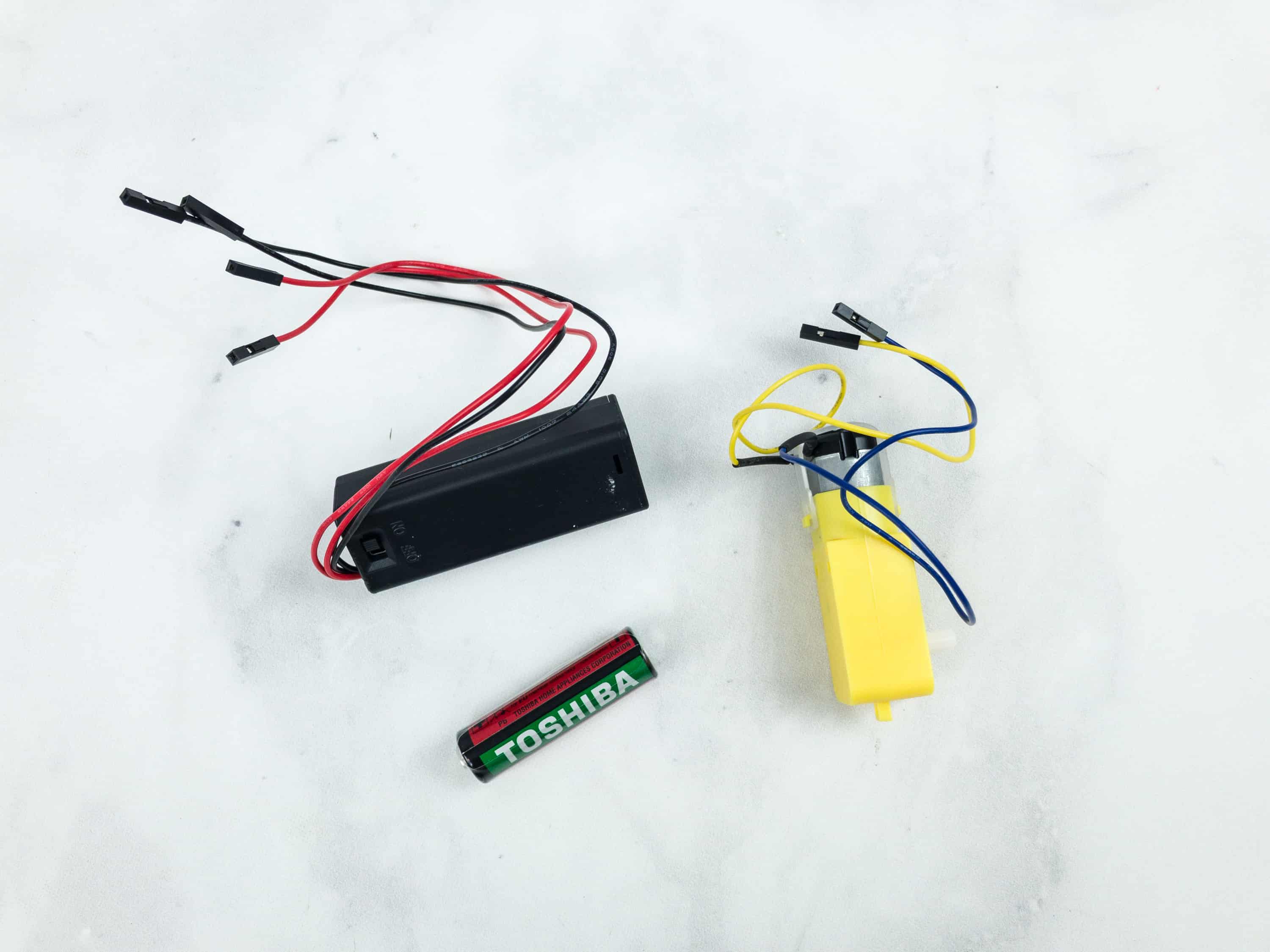 They provided a battery pack and AA battery, plus the motor to rotate our maze.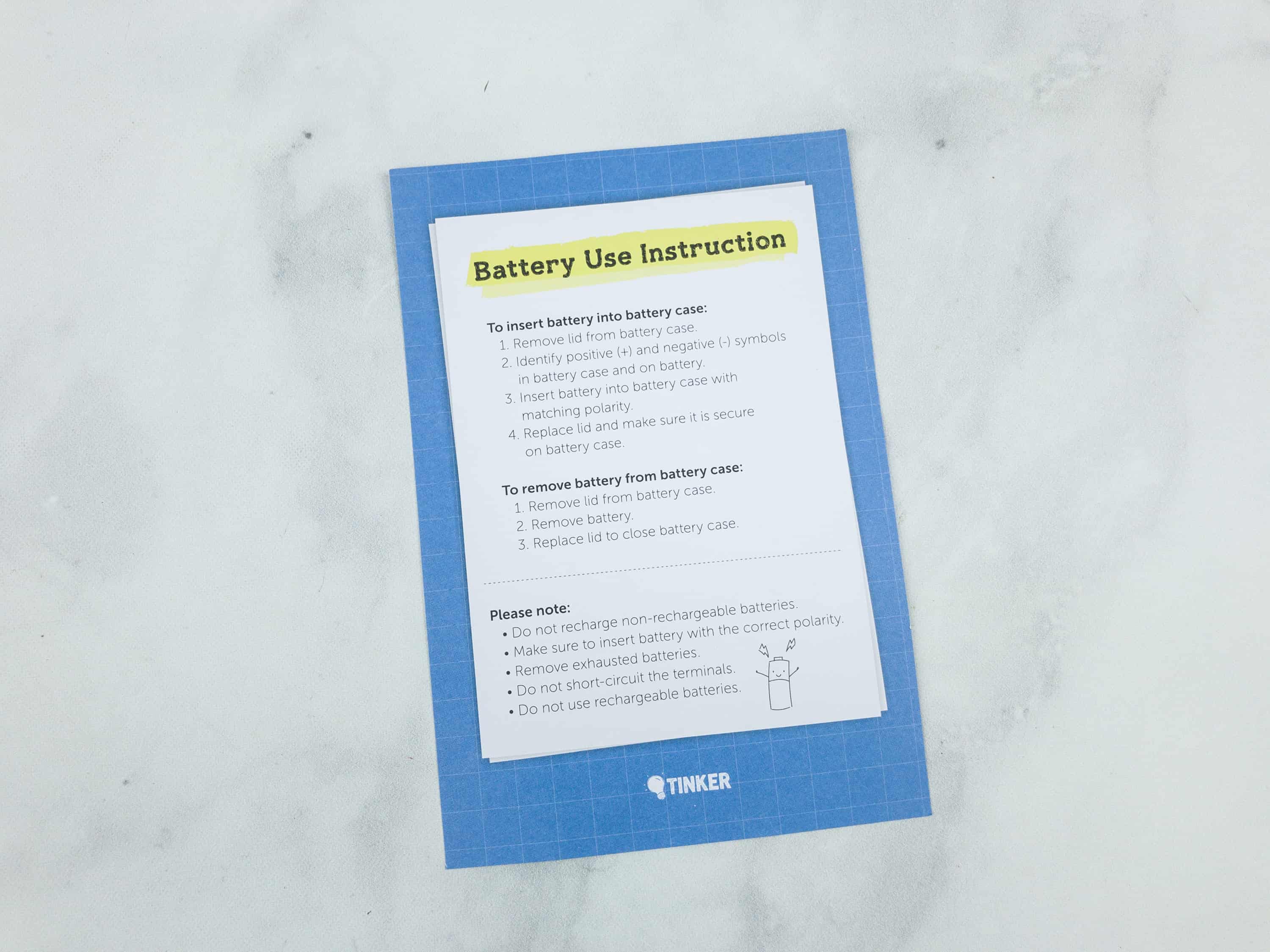 They included some  Battery Use Instructions for our safety. Batteries can be hazardous if used improperly.
My daughter did a great job following the detailed instructions. Here, she is working on connecting the battery pack to the motor.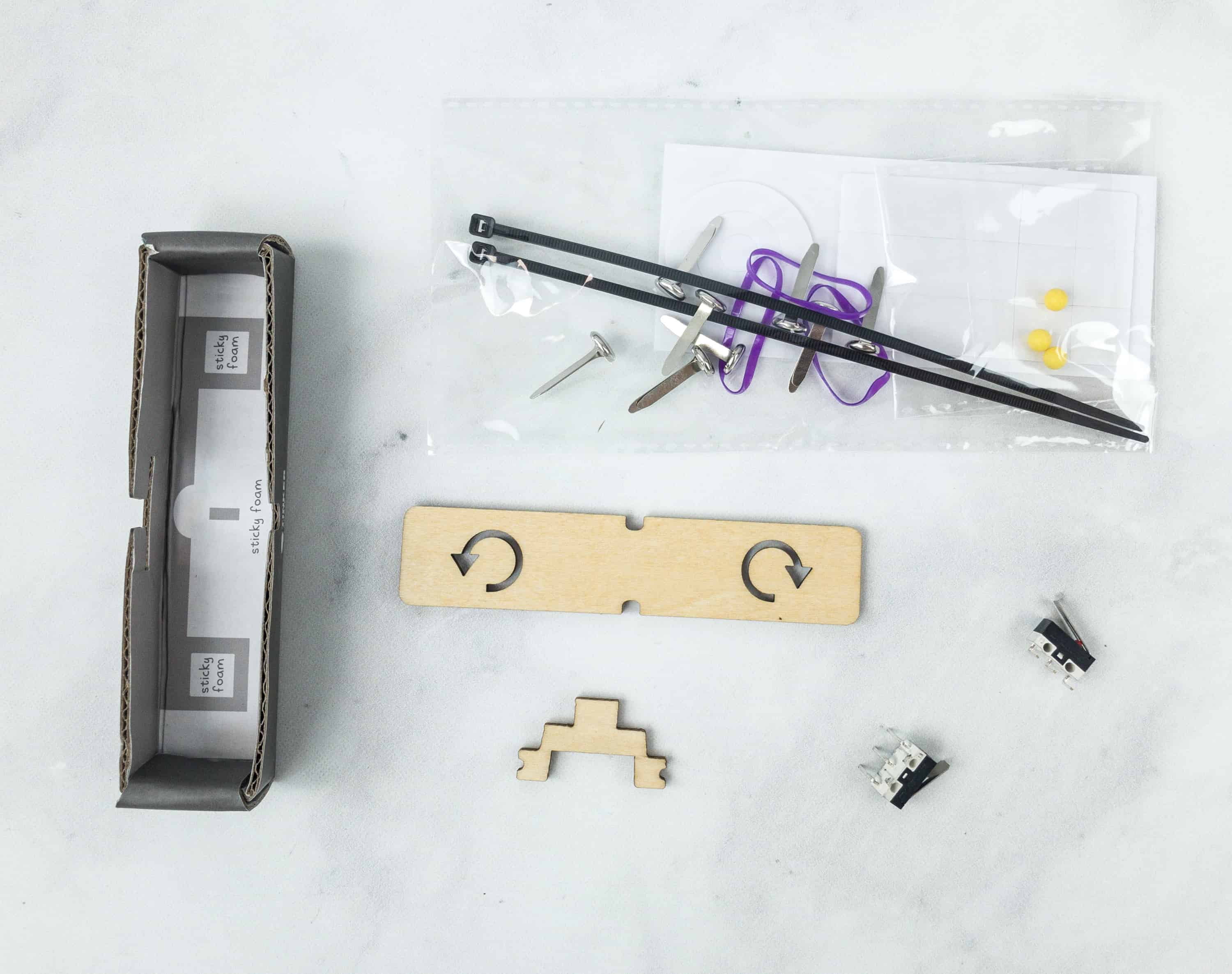 These are the materials needed to make the switch. This will serve as a game controller, allowing us to rotate the maze clockwise or counter-clockwise.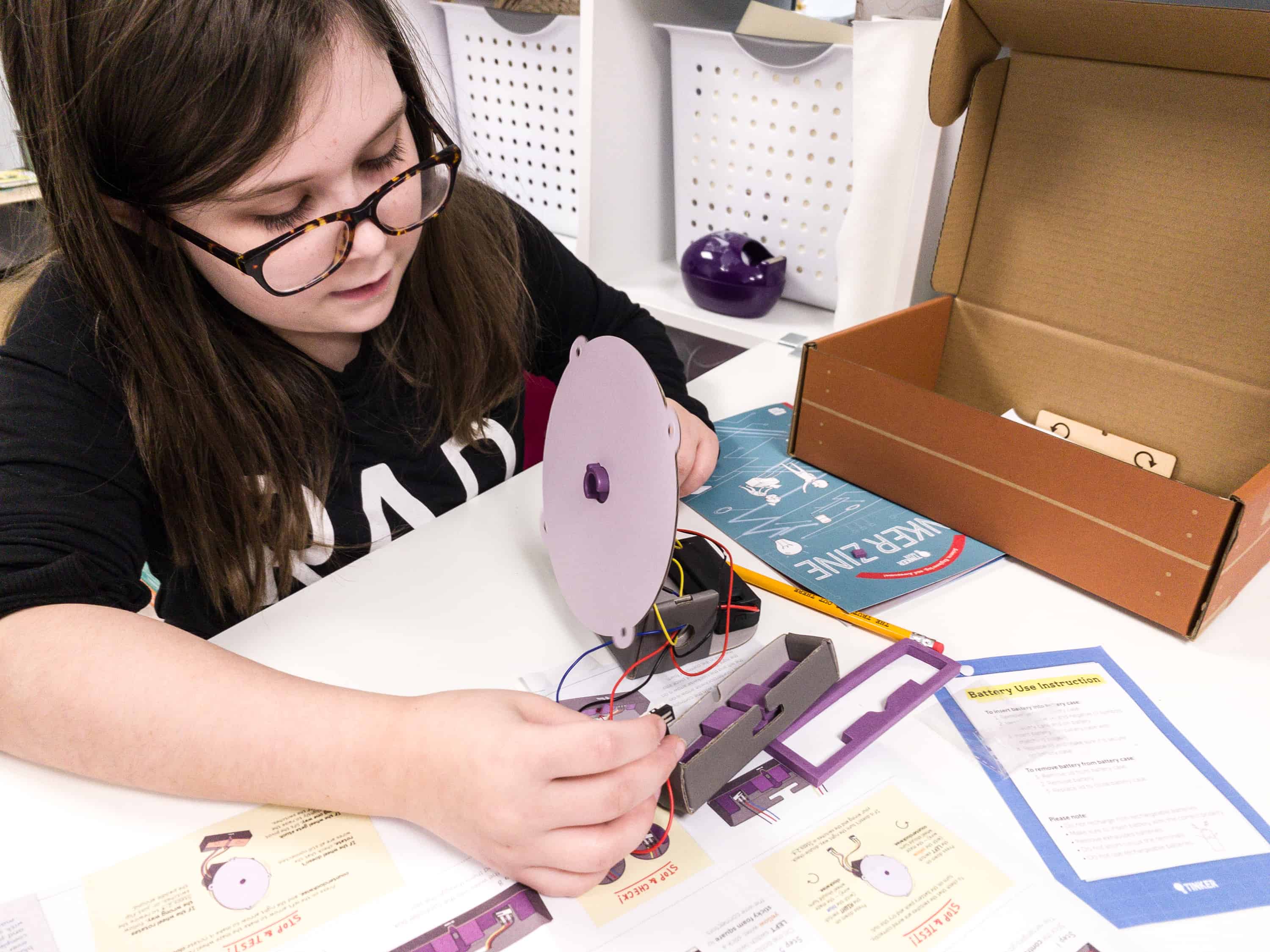 Here she's connecting the battery pack to the switch.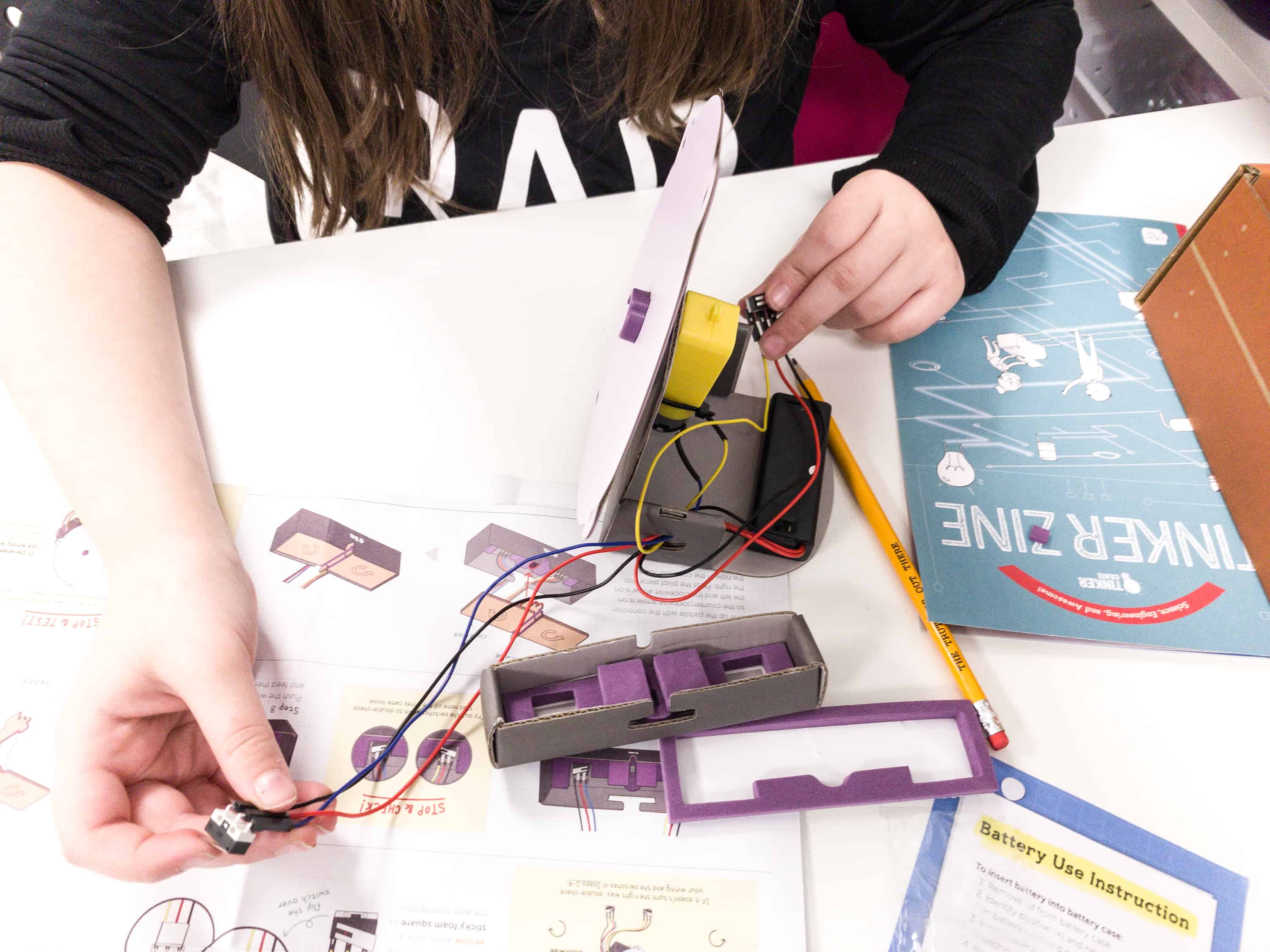 She's testing it out if the rotating motions to the left and right are working.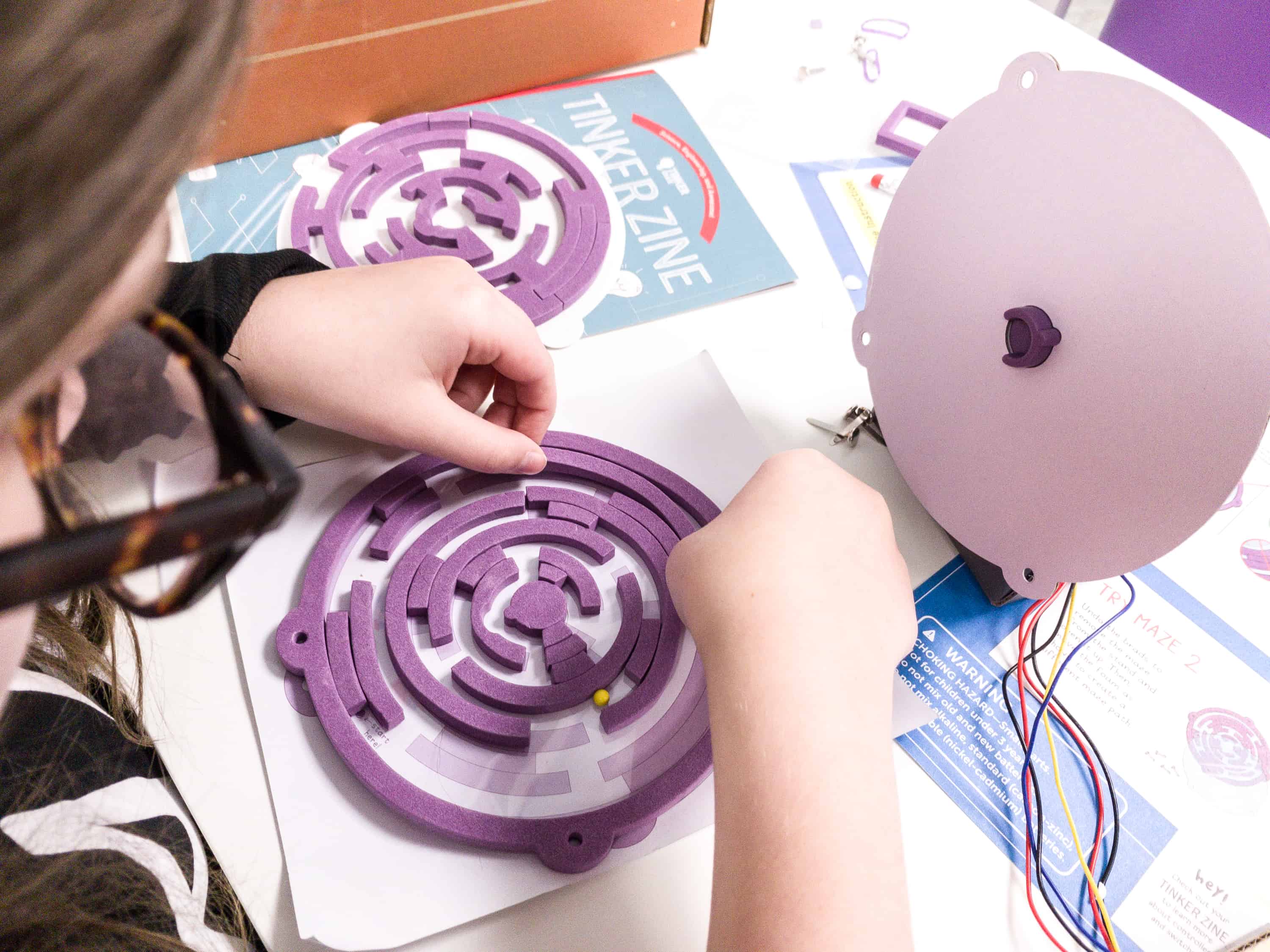 The maze pattern being prepared. The kit came with a couple pre-designed mazes to construct using sticky foam pieces. We could also design our own!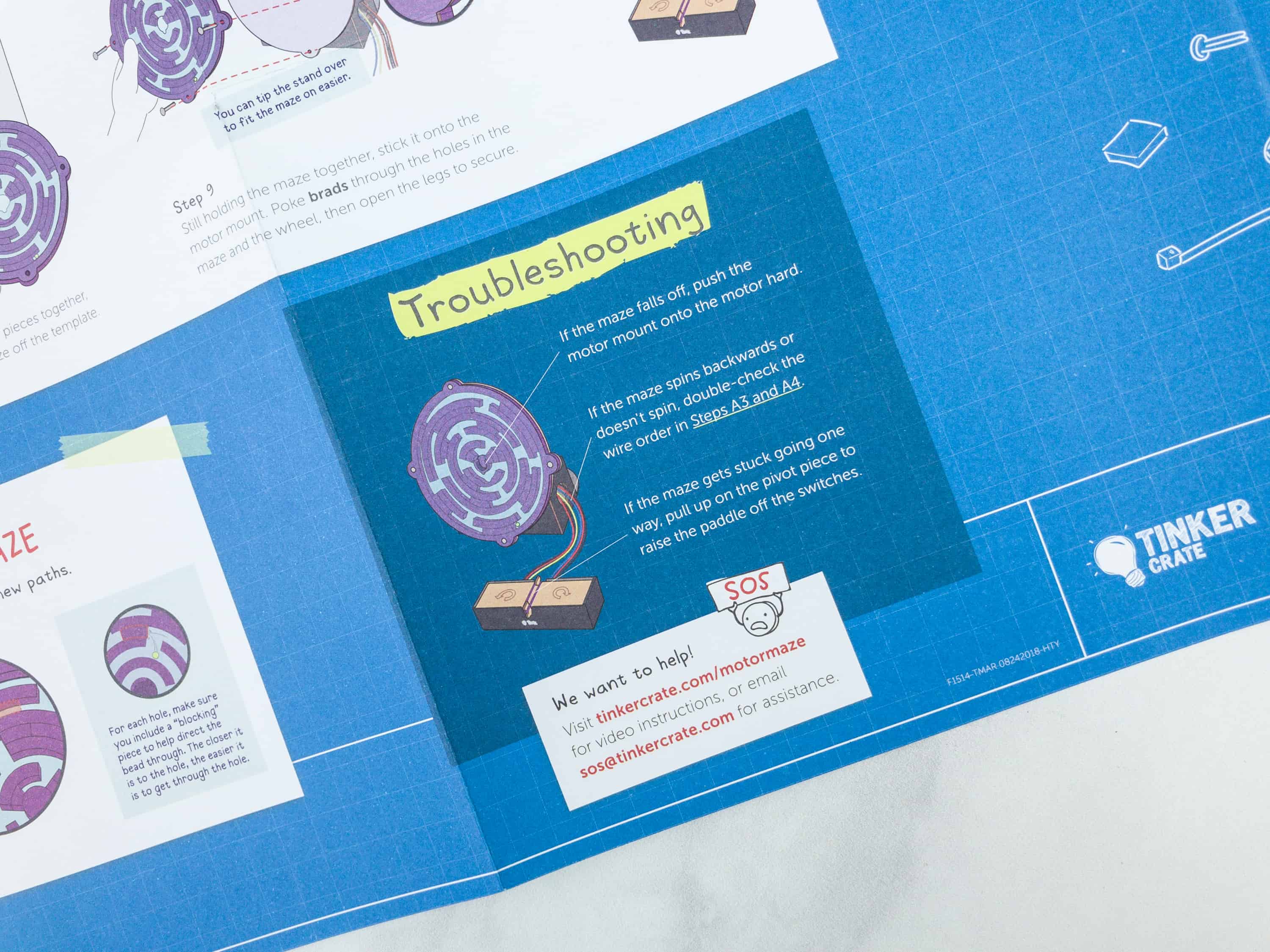 If it gets confusing, there's nothing an SOS email can't sort out and a little video can't help you with. There are a lot of troubleshooting tips, too.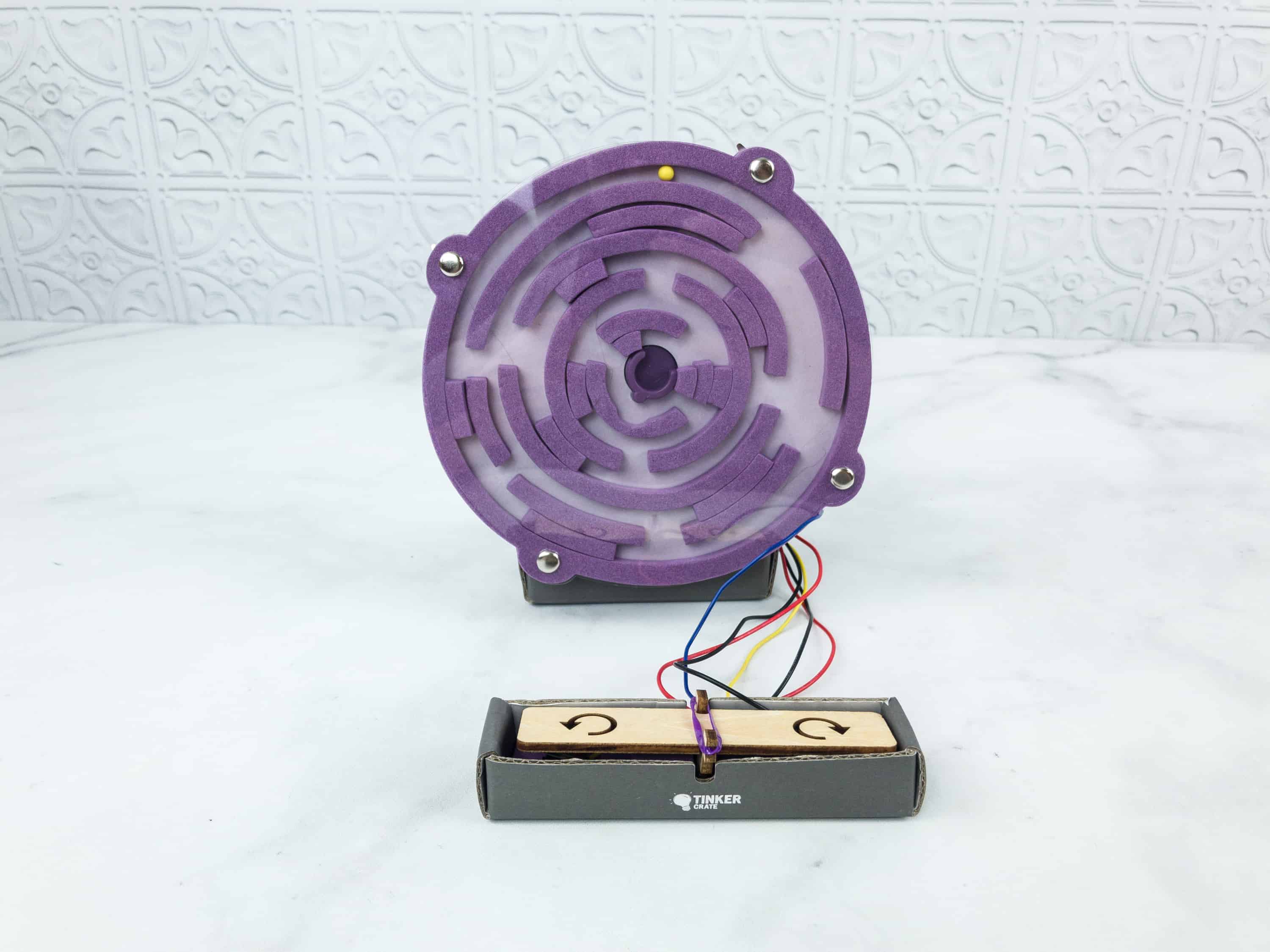 Behold! The Motor Powered Maze Challenge! The goal is to make that small yellow ball roll through the maze until it gets to the middle circle using the switches that rotate the maze left and right.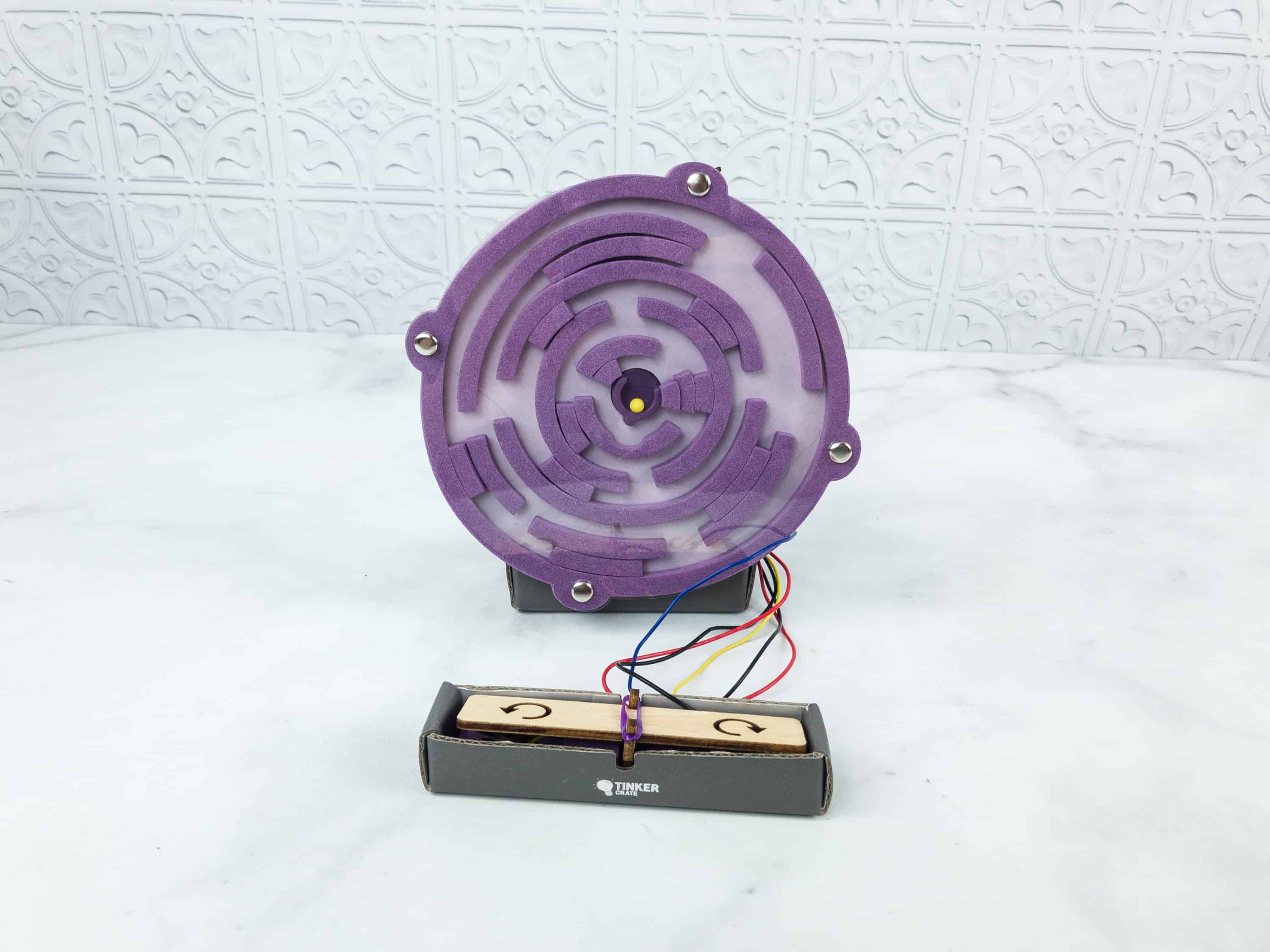 See! She already solved it!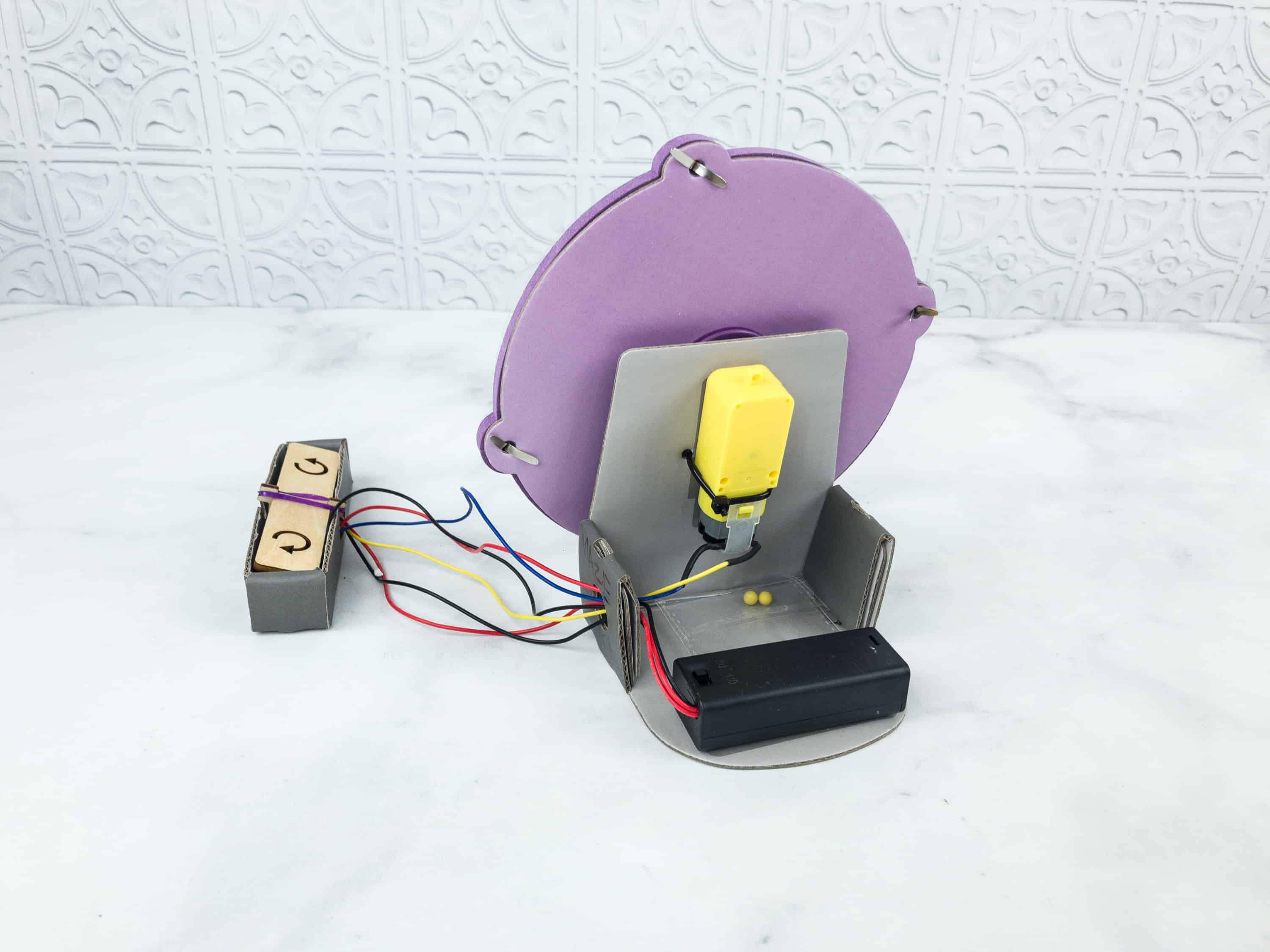 The maze is secured at the back with posts. It's not permanent, so you can change the maze and alter some patterns to make it exciting!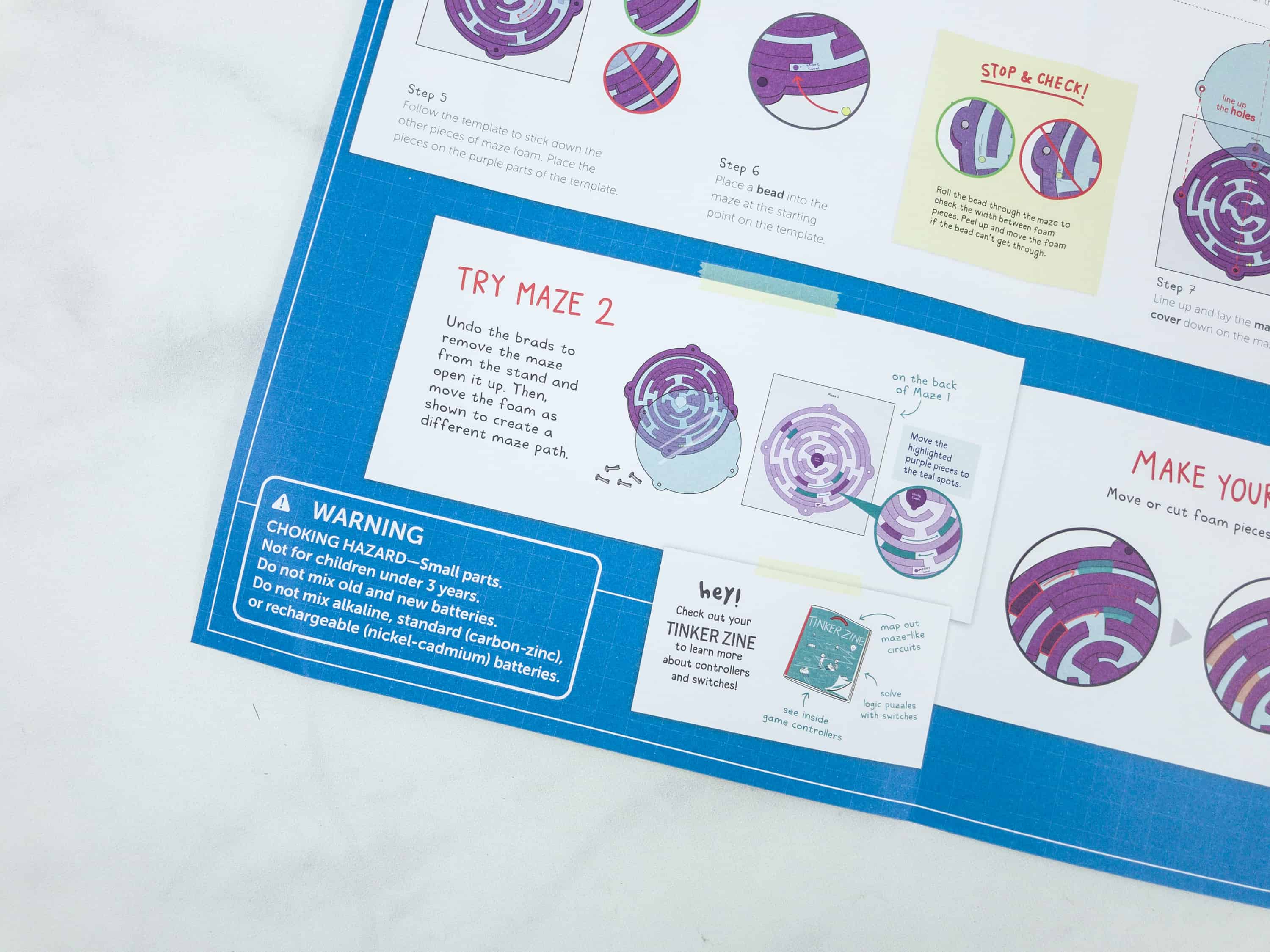 They gave us some ideas for the second maze if we decide to alter it and make it more challenging.
Tinker Crate Extensions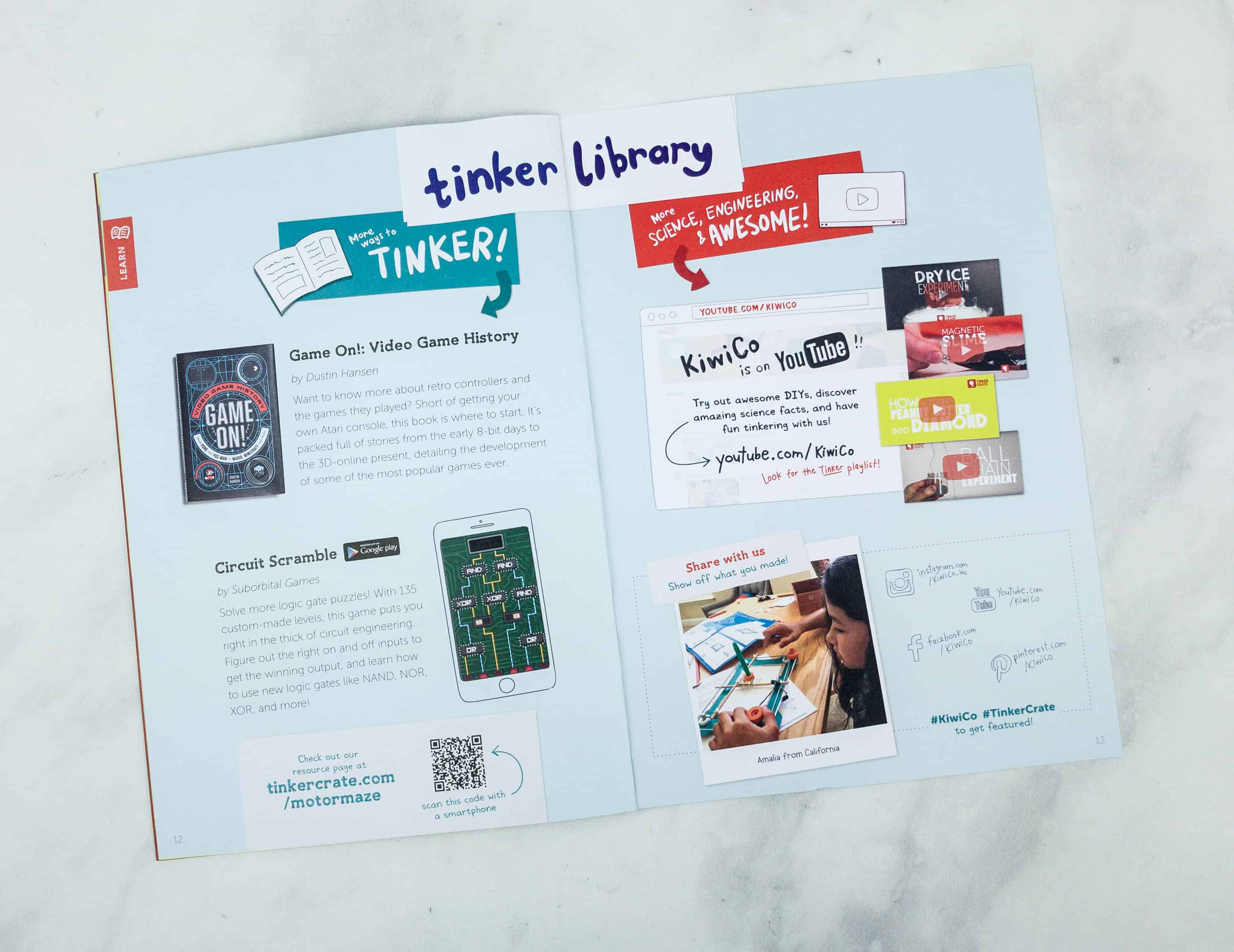 At the back of the booklet, they suggest some applications and books to try, as well as new activities for our kids to enjoy! This month's suggested book is Game On!: Video Game History.
Tinker Crate did a great job at making this motor-powered maze a challenge, but enjoyable and fun to play! You can switch the game up by making different maze patterns, experiment and explore the logic of how it works. The illustrations are always detailed, and the instructions are easy to understand. My daughter was able to follow through without any problems. The materials in the kit were complete, and all the information, tips, suggestions and troubleshooting were all provided. It's cool my daughter was able to make a home-made game controller, but it is even cooler that she learned all about the logic behind it and now has a better understanding of switches and circuits in general. She gets to build, play, and learn all in one Crate! I look forward to many more exciting games like this!
Have you tried Tinker Crate yet with your kids?