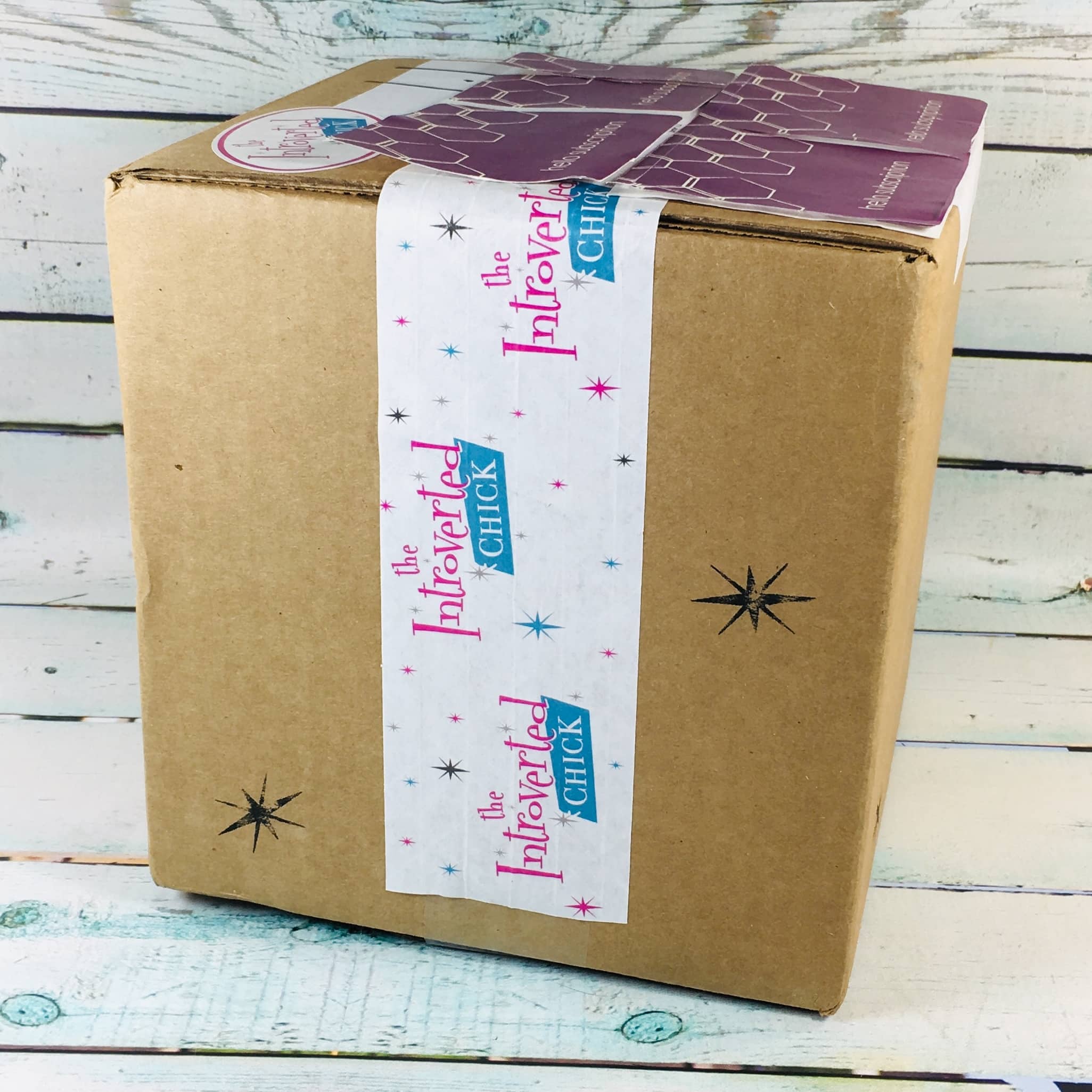 The Introverted Chick is a monthly subscription box for those of us who may be a little more inclined to stay home and keep cozy rather than go out and interact with others. Items sent will include fun and practical items to make Introverted Women smile and may offer some attitude too. The Introverted Chick is $39.99 a month and a portion of proceeds are donated to charitable causes.
Fun gifts and neat finds…accessories, home goods, jewelry, treats, tech tools, stationery supplies, and MORE!
Each box includes 5-7 cool, interesting, usable items.
Beautifully and thoughtfully created – makes the perfect gift!
DEAL: Save 10% on your first purchase with coupon code HELLO10.
I found a thank you note inside the lid!
I found a couple of inserts. Turns out this is the very first box!
There was a list of products inside the box.
The back included some tips to get through the holidays.
A few of the makers were introduced.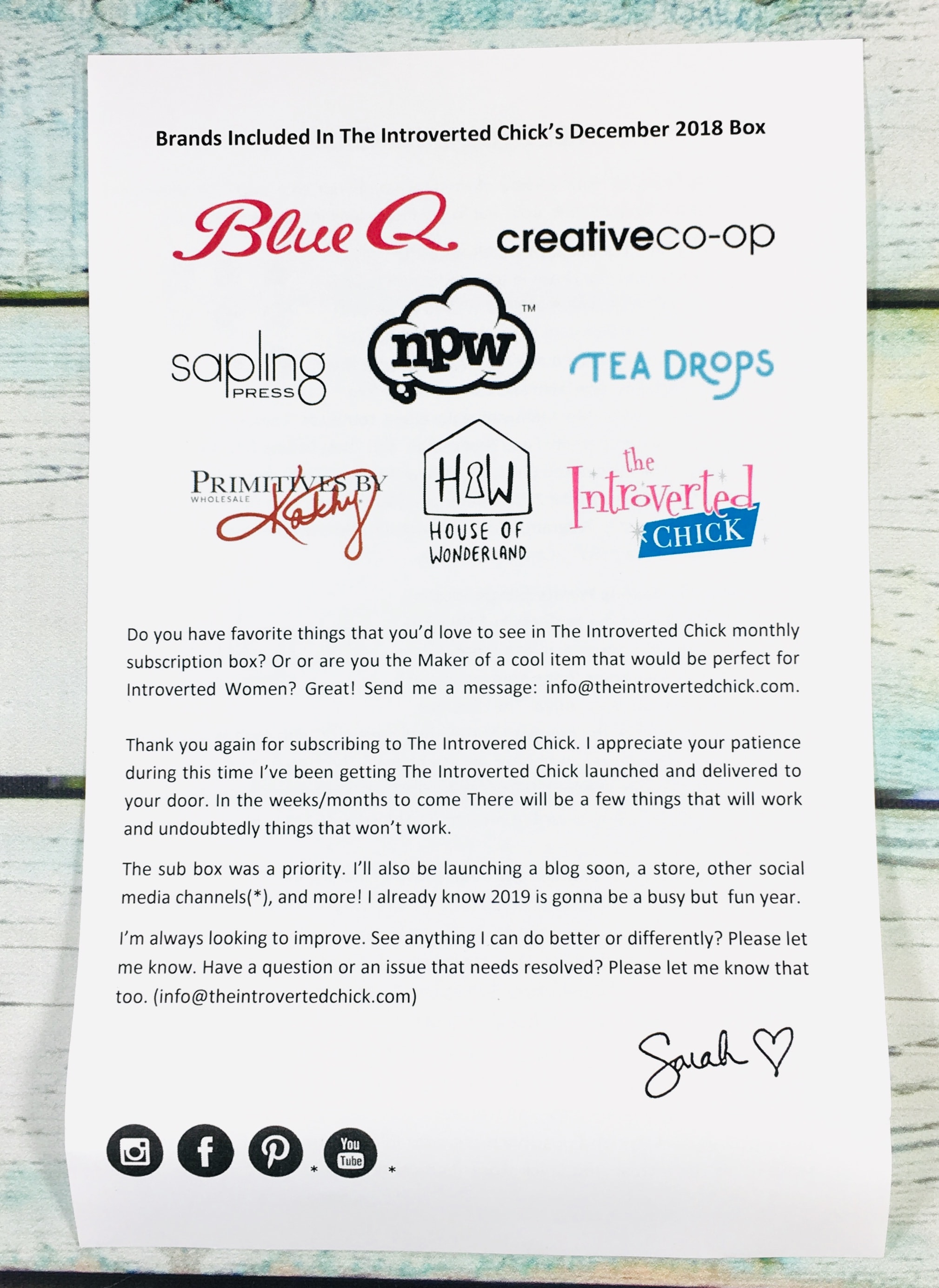 All of this month's makers were on the back.
Some of the items were wrapped separately, which makes it feel a little like opening a gift. I even found items tucked into other items!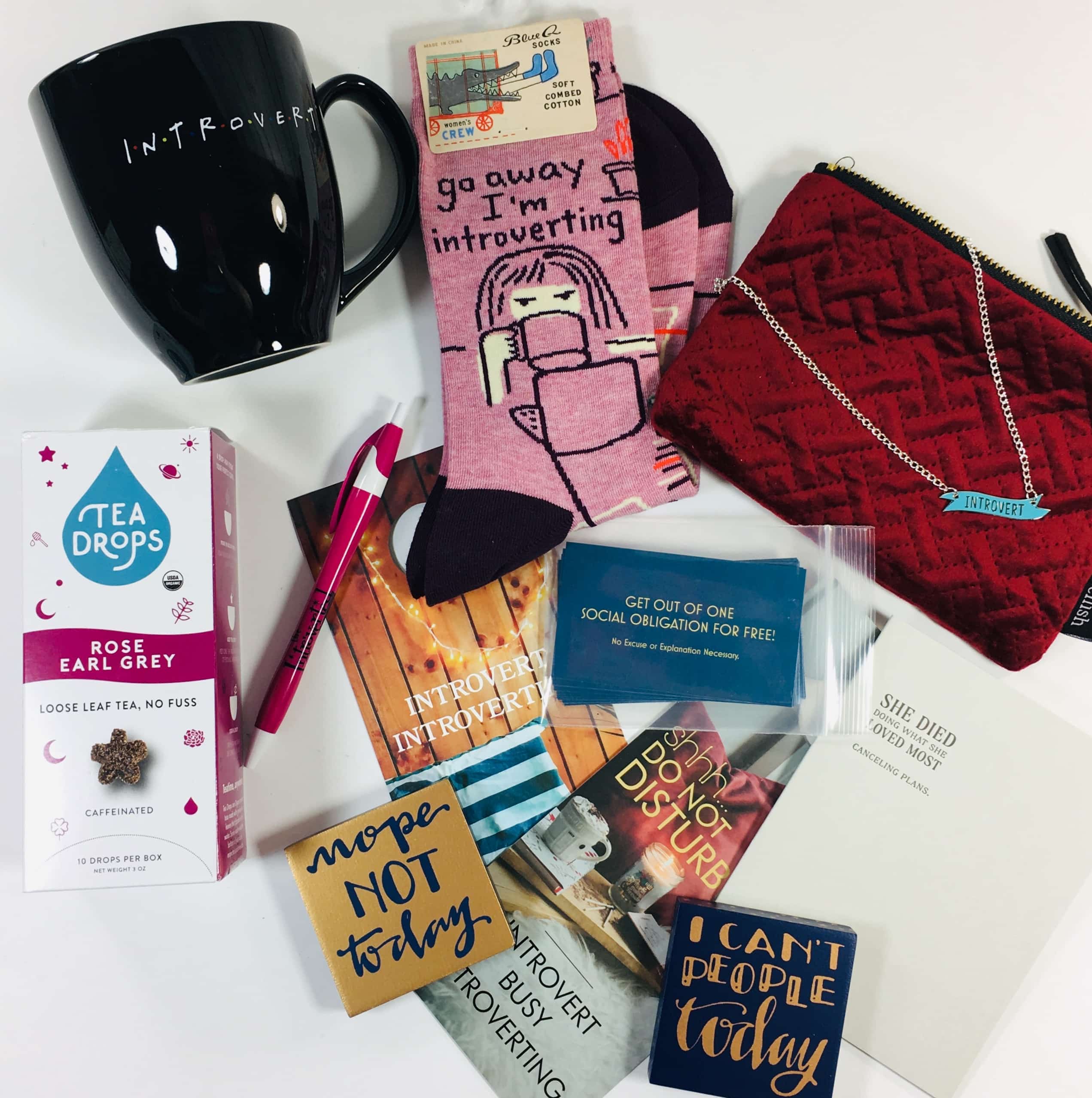 Everything in the box, although for some reason I forgot the banner kit in this picture and the final one at the end of this post, sorry!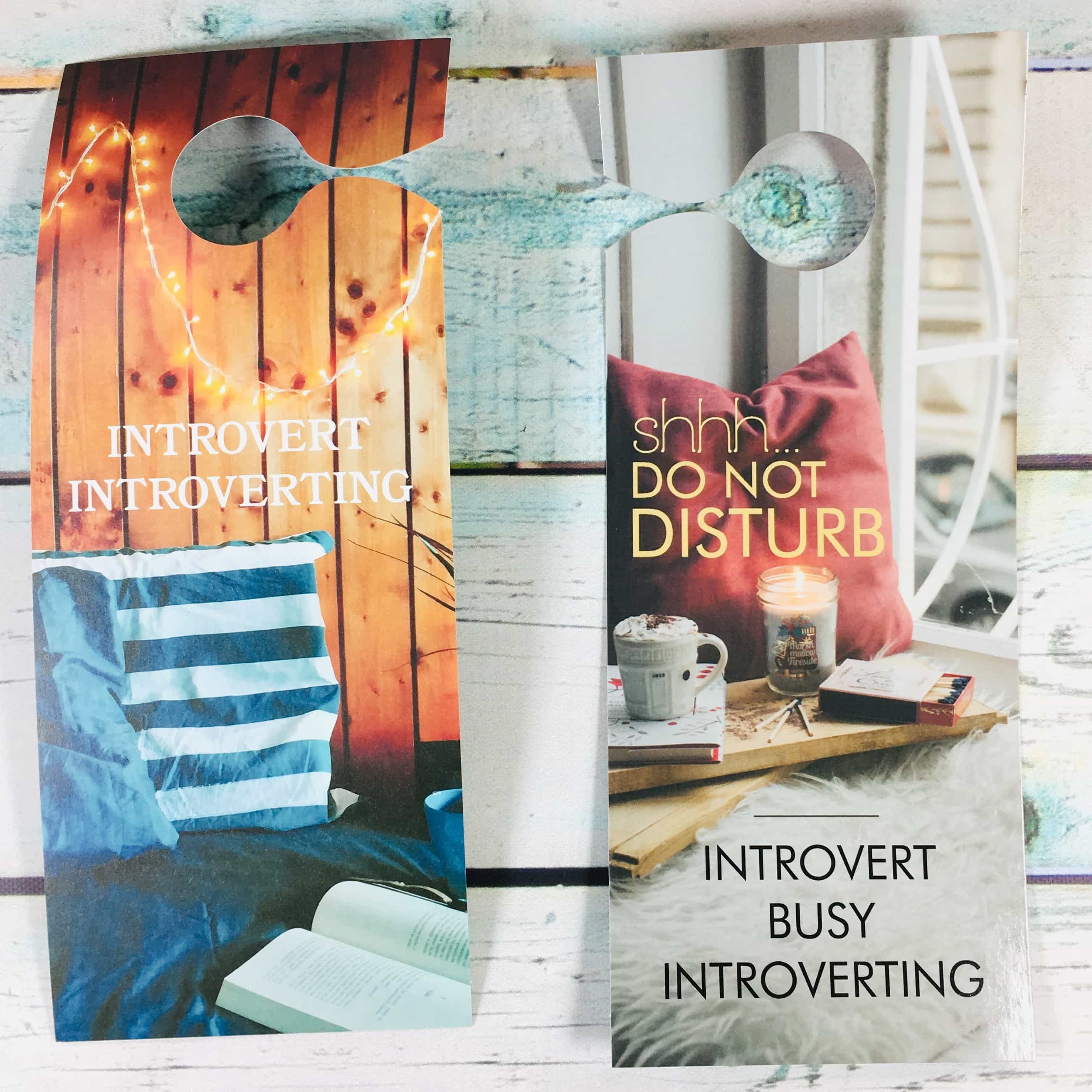 Introverting Door Hanger Some of the items were made especially for this box by the founder. I found two identical door hangers, so I placed them side by side so you can see both sides. Sadly they were a bit bent.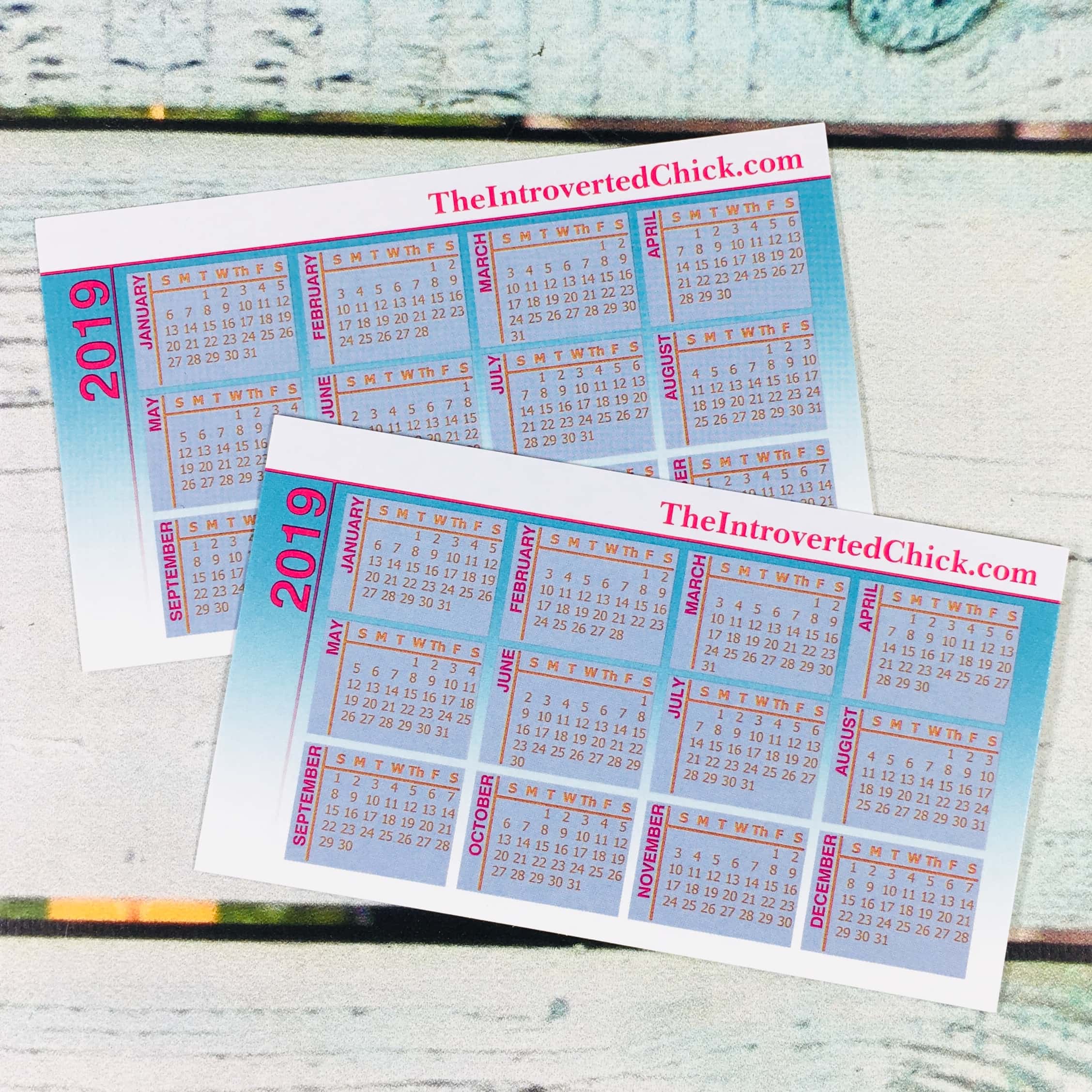 2019 Calendar I'm not sure why I received duplicates of a couple of items, but here are two 2019 calendars.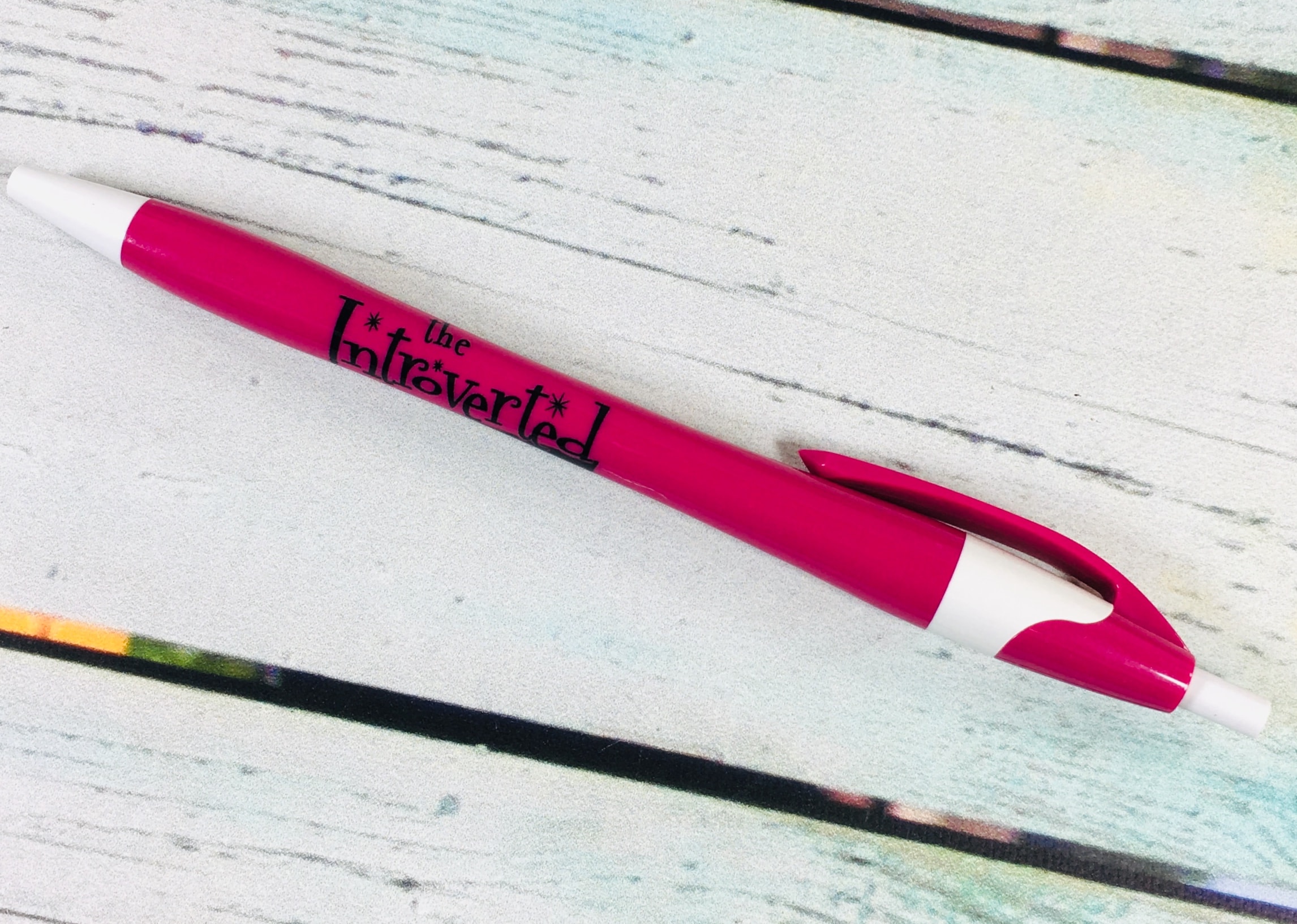 This pen is cute!
Creative Co-Op Velvet Pouch ($10) Subscribers received one of 4 colors of this pouch. I like the pattern of the fabric.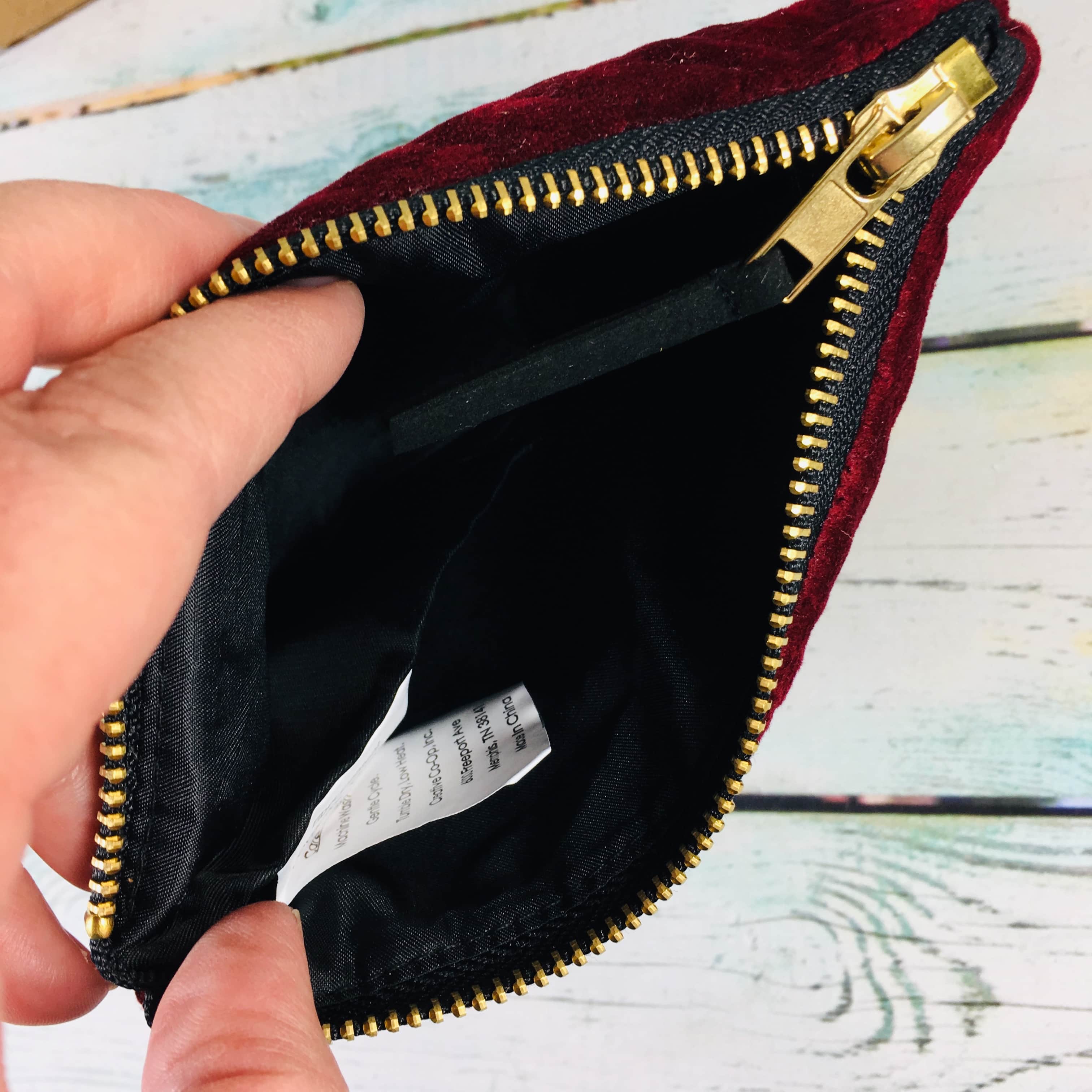 It has a zip closure and is lined with black fabric on the inside. Cute! It is about 6.6″ x 5″.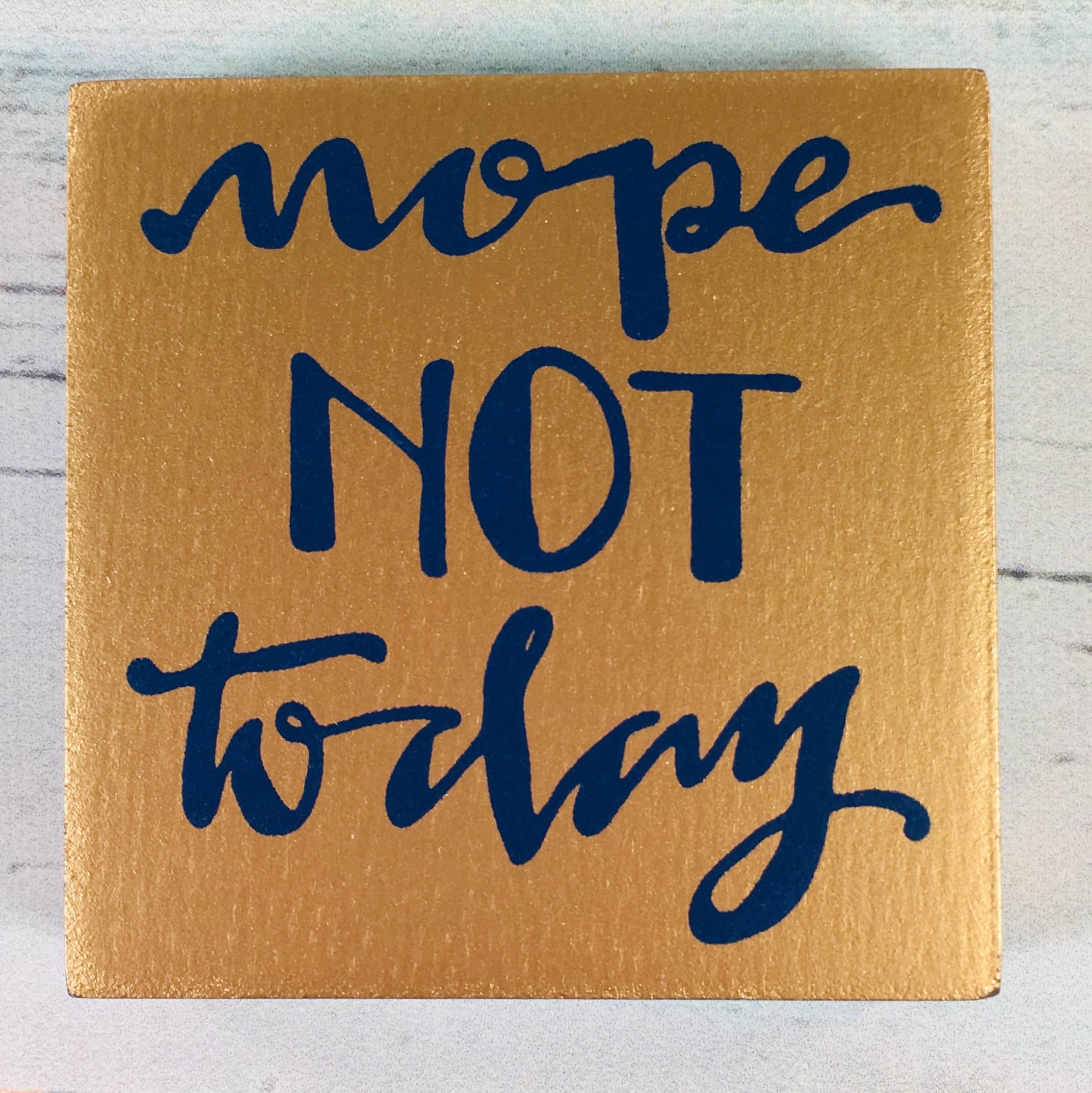 Primitives by Kathy Magnet (similar, $7.29) was tucked into the pouch. It has gold metallic paint with navy blue lettering. Three of the sides have golden arrows. 2.5″ x 2.5″. Has a magnet on the back but is also free standing.
Blue Q Socks ($10.99) I love funky socks and these fit the bill!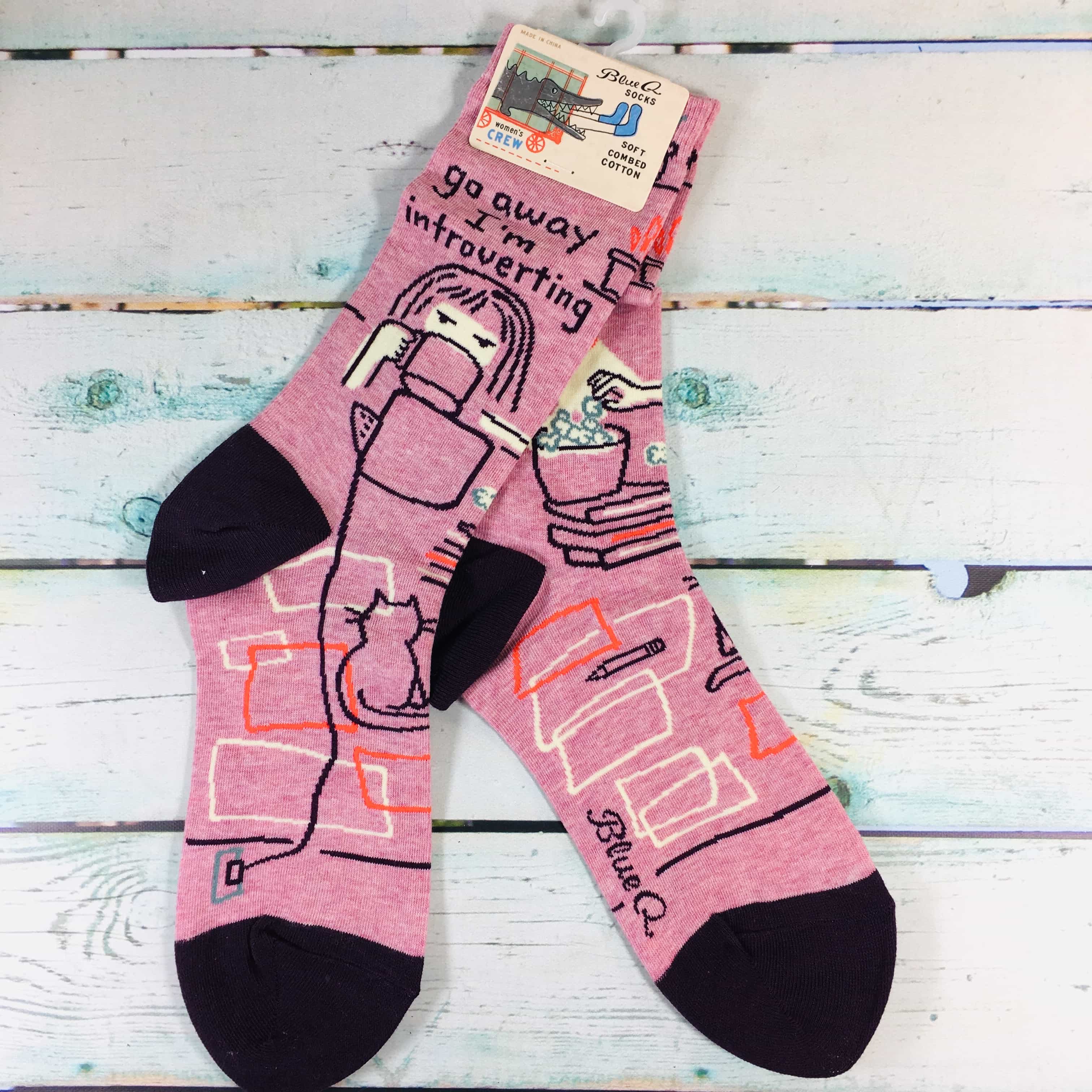 They say "Go away, I'm introverting" and feature a girl, a hot drink, and a cat. This is definitely me! Fits women's shoe sizes 5-10 and are made of cotton/nylon/spandex.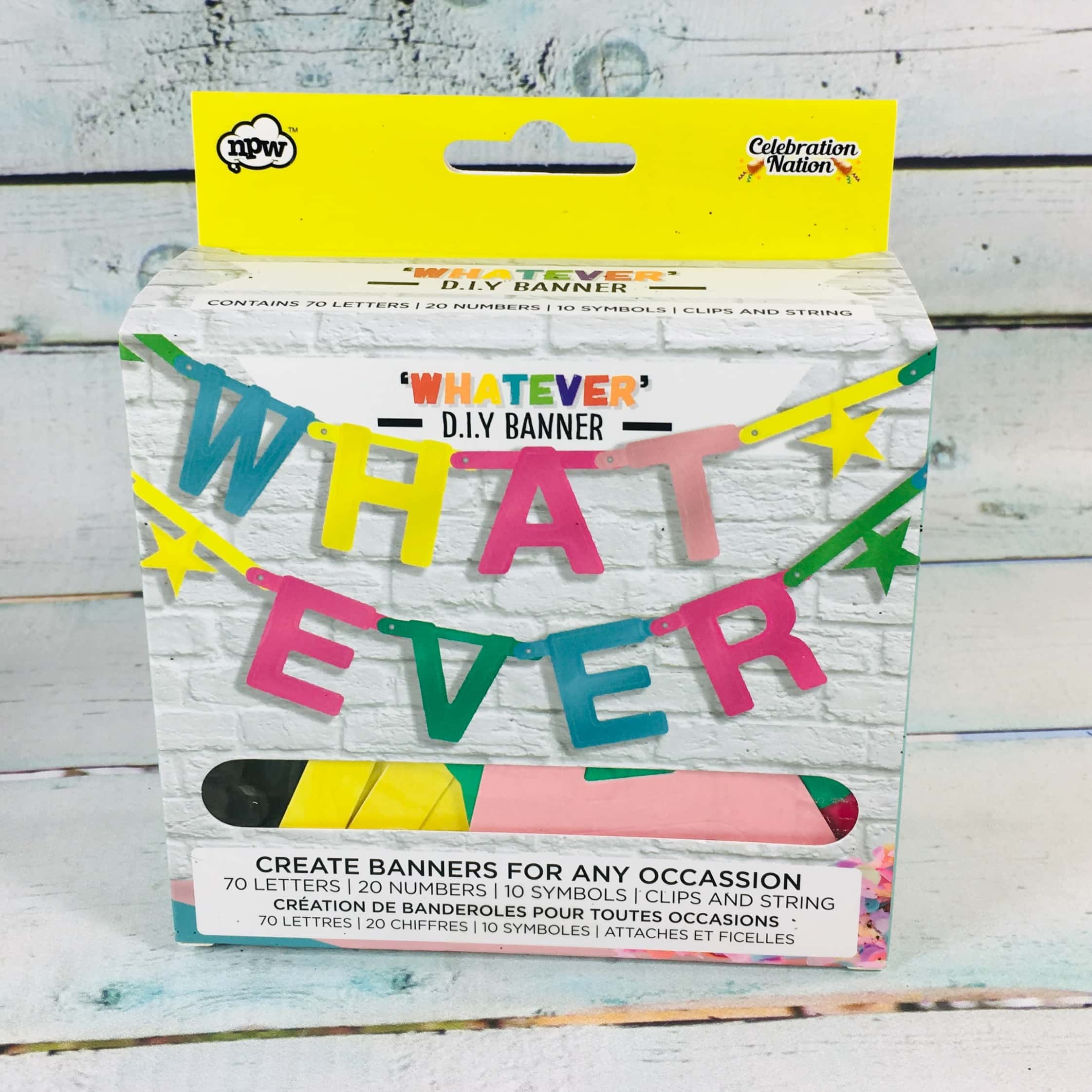 NPW "Whatever" DIY Banner (similar, $8.31) has letters, numbers, symbols, plus clips and string so you can make your own banner.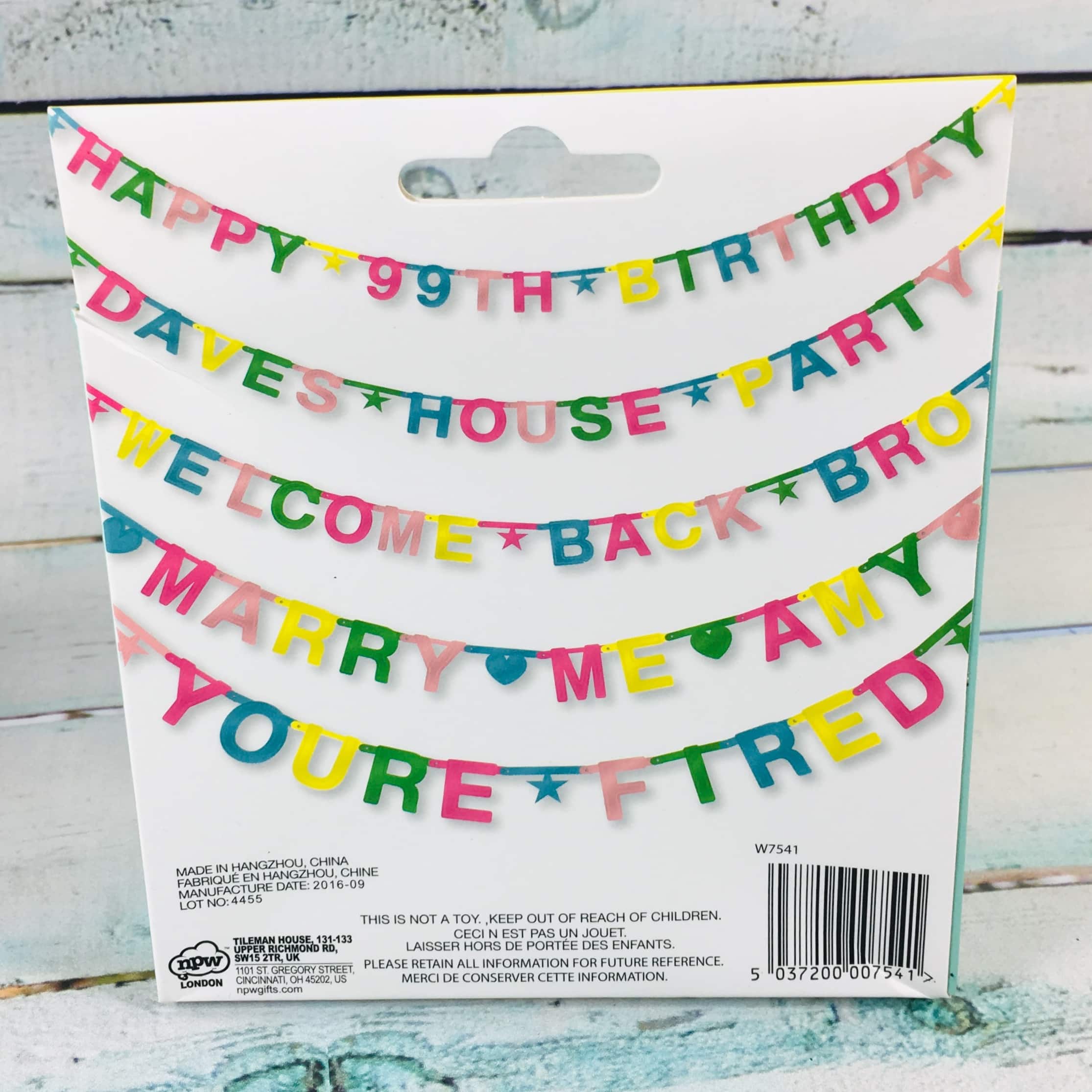 Lots of ideas are on the back, and the colors look pretty bright. I think I will give this to my daughter and see what she does with it.
Tea Drops in Rose Earl Grey ($10.44) goes well with an item shown later in this post!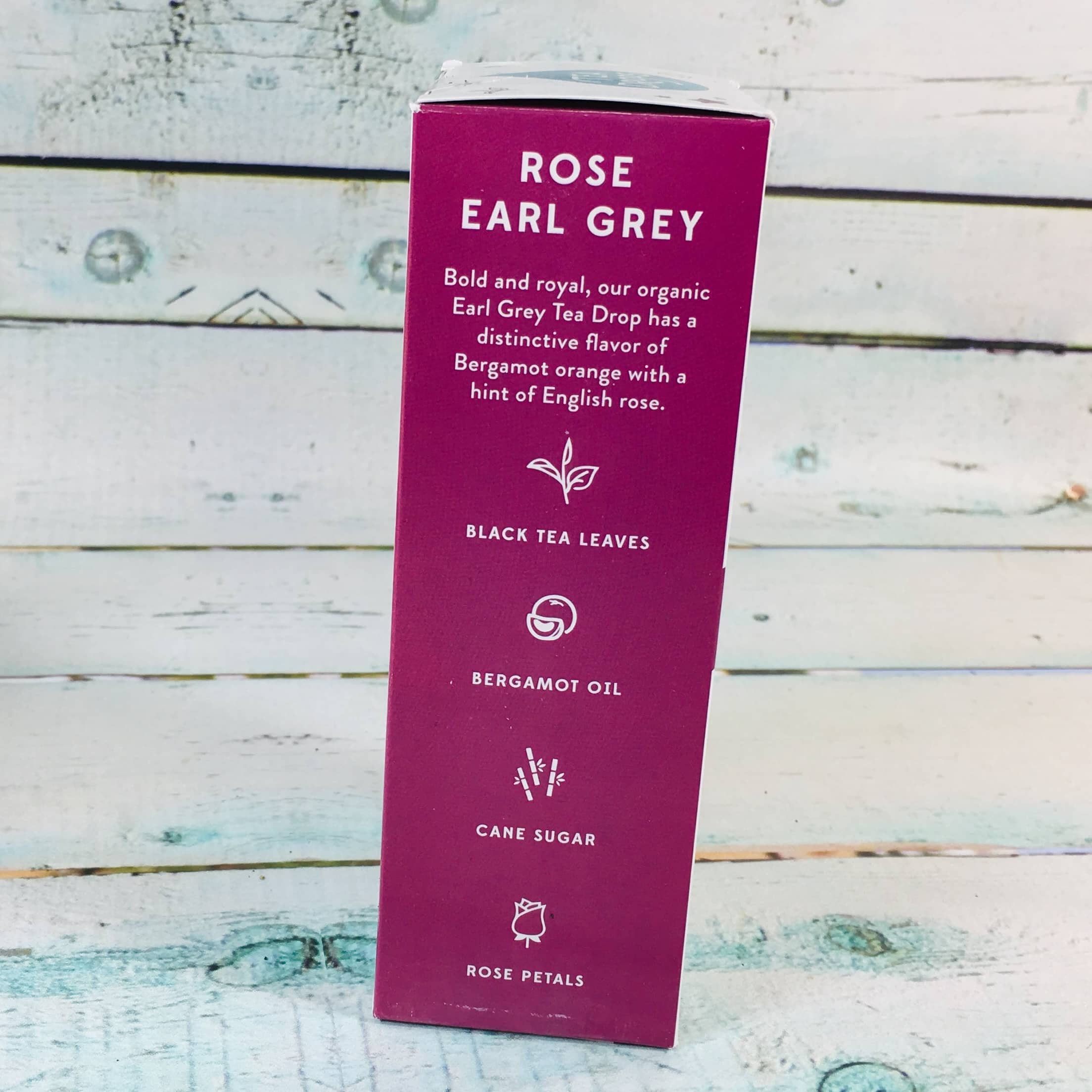 It's black tea, sugar, and natural flavors pressed into a tea drop that you mix with hot water. They say it "dissolves" but let's face it, the tea leaves are not going to magically disappear, so you can either stop drinking before you get to the end of the cup, or keep a strainer handy.
Each drop is individually wrapped so you can take them with you on the go. My box was leaking product and I discovered two of the bags were open so I tossed them in the trash and kept the rest. I liked the flavor and these taste so much better than traditional "instant" tea.
Sapling Press RIP Card ($5?) I couldn't find this exact card but the others on this site run $5. It's blank on the inside and has a "brown bag" envelope. The card itself is sturdy light gray cardstock with letterpress printing.
"Get Out Of One Social Obligation For Free" Cards There are 12 cards that you can hand to others to skip going out for drinks or to meet for coffee or whatever. Use at your own discretion and maybe don't hand one to your boss.
Exclusive Introvert Mug ($15?) I gave this mug a value based on similar items from Etsy. It's a huge mug and has wording similar to the wording for the TV show "Friends". I don't know that Ross, Rachel, and the rest were introverts but I still love this mug! Maybe they would sell these at Central Perk!
Hand wash your mug to keep it looking great for years to come. I think it's microwave safe (nothing looks metallic) but haven't tried it out yet.
NOTE: The following items were premiums for certain early access subscribers.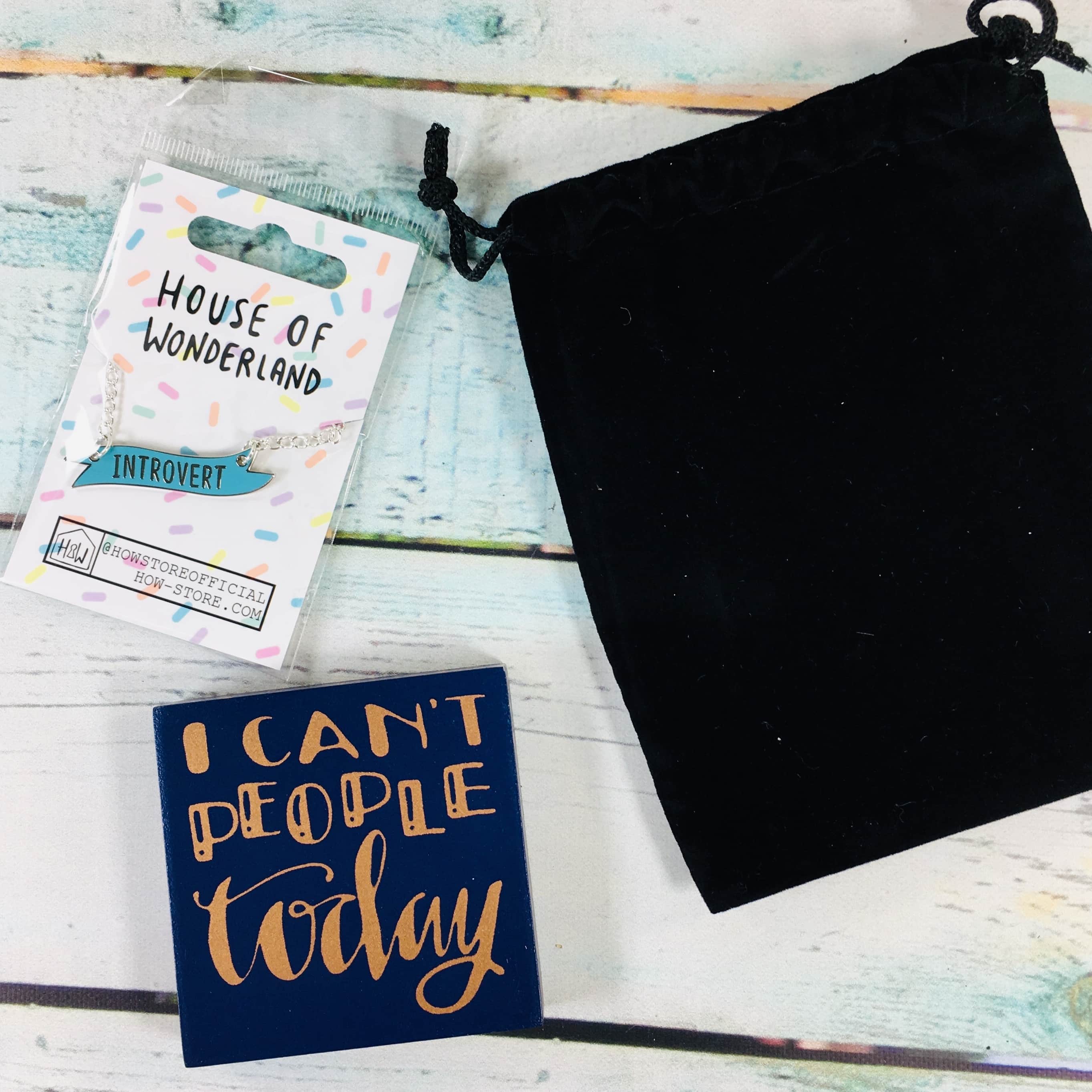 I found two items in a black velvet pouch.
Primitives by Kathy Magnet ($8.70) is similar to the one shown earlier but is navy blue with metallic gold lettering. It has gold stars on three sides and a magnet on the back plus it is free standing.
House of Wonderland Introvert Necklace (£15, about $19.08 USD) is cute and features a bright blue banner on a silver-colored chain.
It is nickel-free and about 20″ long from one clasp to the other.
The banner is fixed in place.
For the most part, I was extremely happy with the items in the very first The Introverted Chick box! The mug was pretty awesome and the tea, pouch, and socks were items I can put to use. The magnets are now on my fridge. I was less excited about the banner kit and the paper items didn't really add value to the experience. I'm not sure I would wear the necklace as it seems kind of "young" for me but that's just my personal taste, I'm sure others out there will love it. My products had a value of around $67.03, and the bonus items added about $27.78 extra. That's well above the price paid for the box, although a few of those items felt more like filler in a box that probably didn't need padding out. I think the owner recognized that all items may not be a fit for all subscribers as she included a pink plastic bag so items could be shared with others.
What do you think of The Introverted Chick box?