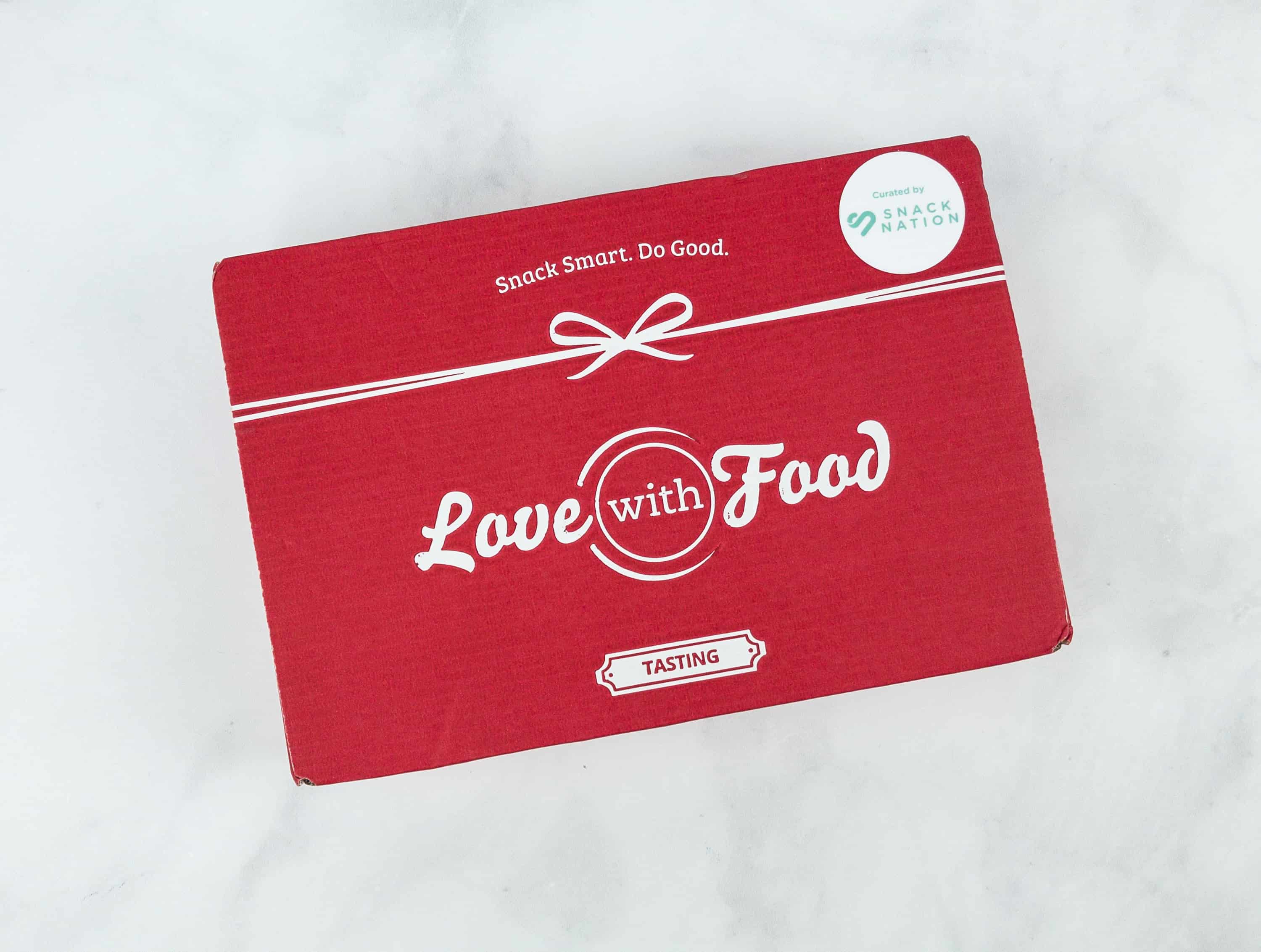 Love with Food is a popular snack subscription! It is a fun snack discovery subscription available in three versions: classic tasting box, deluxe/family size, and gluten-free. This is the Tasting Box, but you can see our reviews of the other versions too.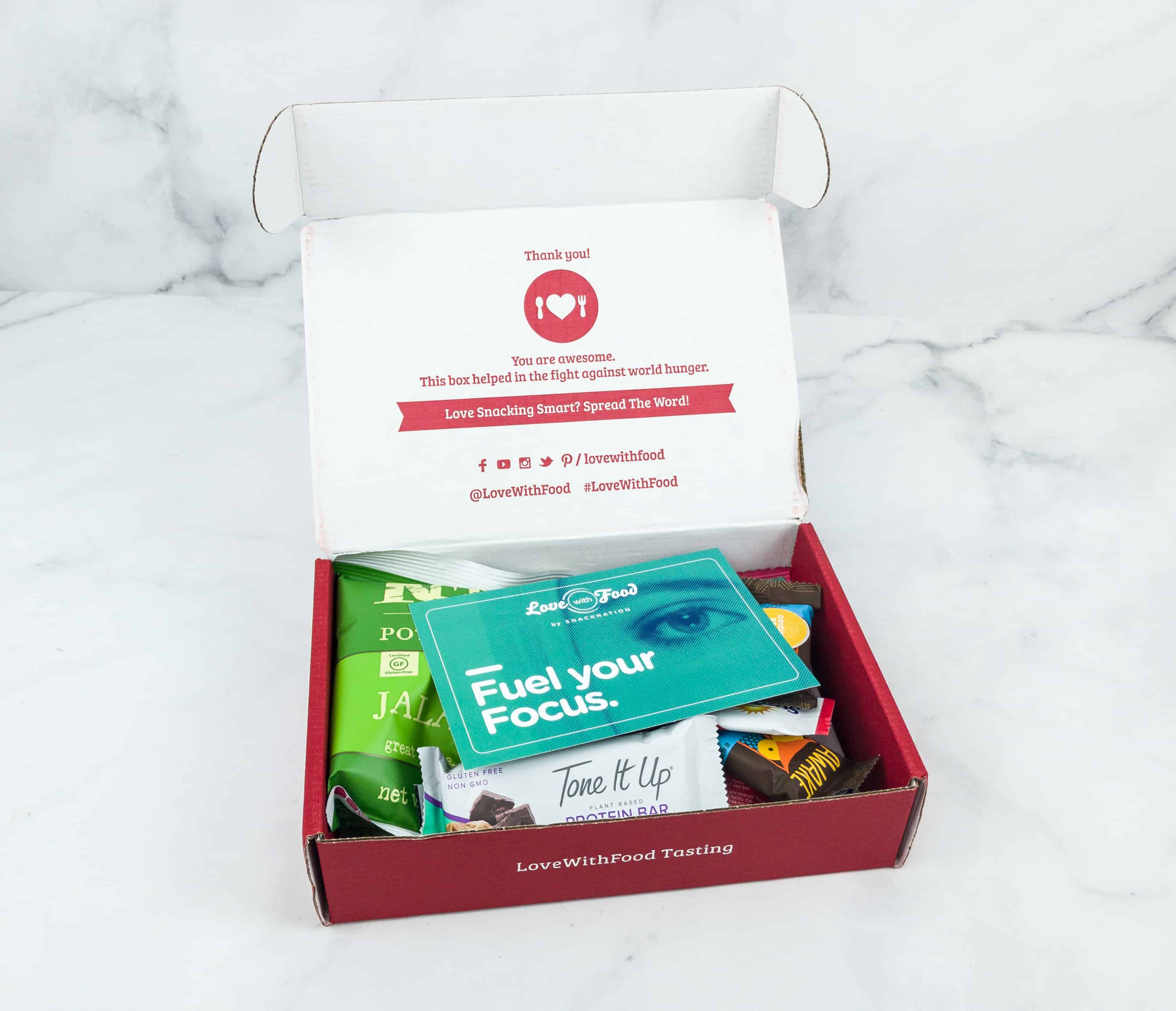 DEAL: Get $10 off on all 6- and 12- month subscription plans, plus get a FREE Box – $25 value. Use coupon code JOLLY10! Ends 12/31!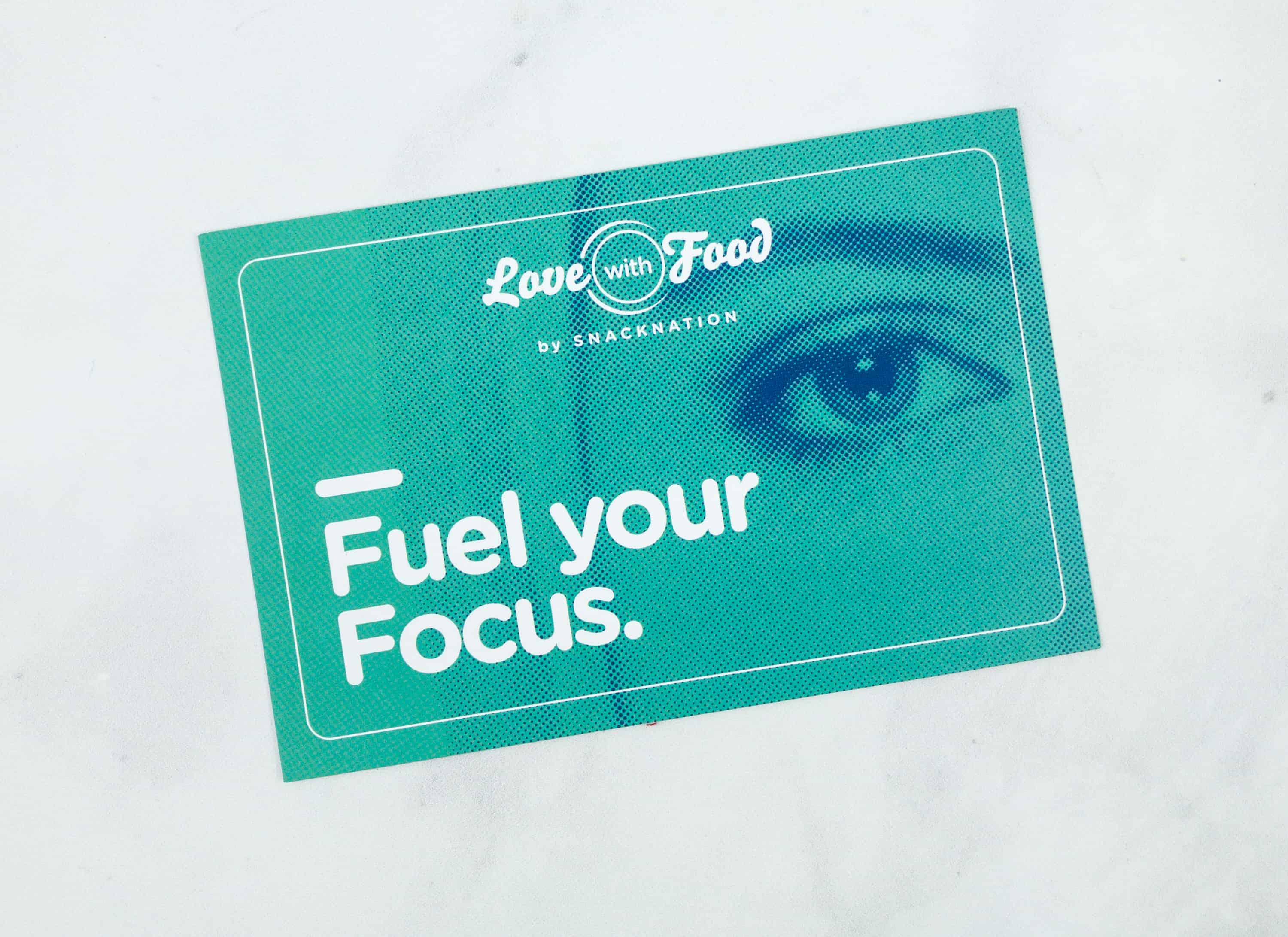 This month's theme for Love with Food is FUEL YOUR FOCUS.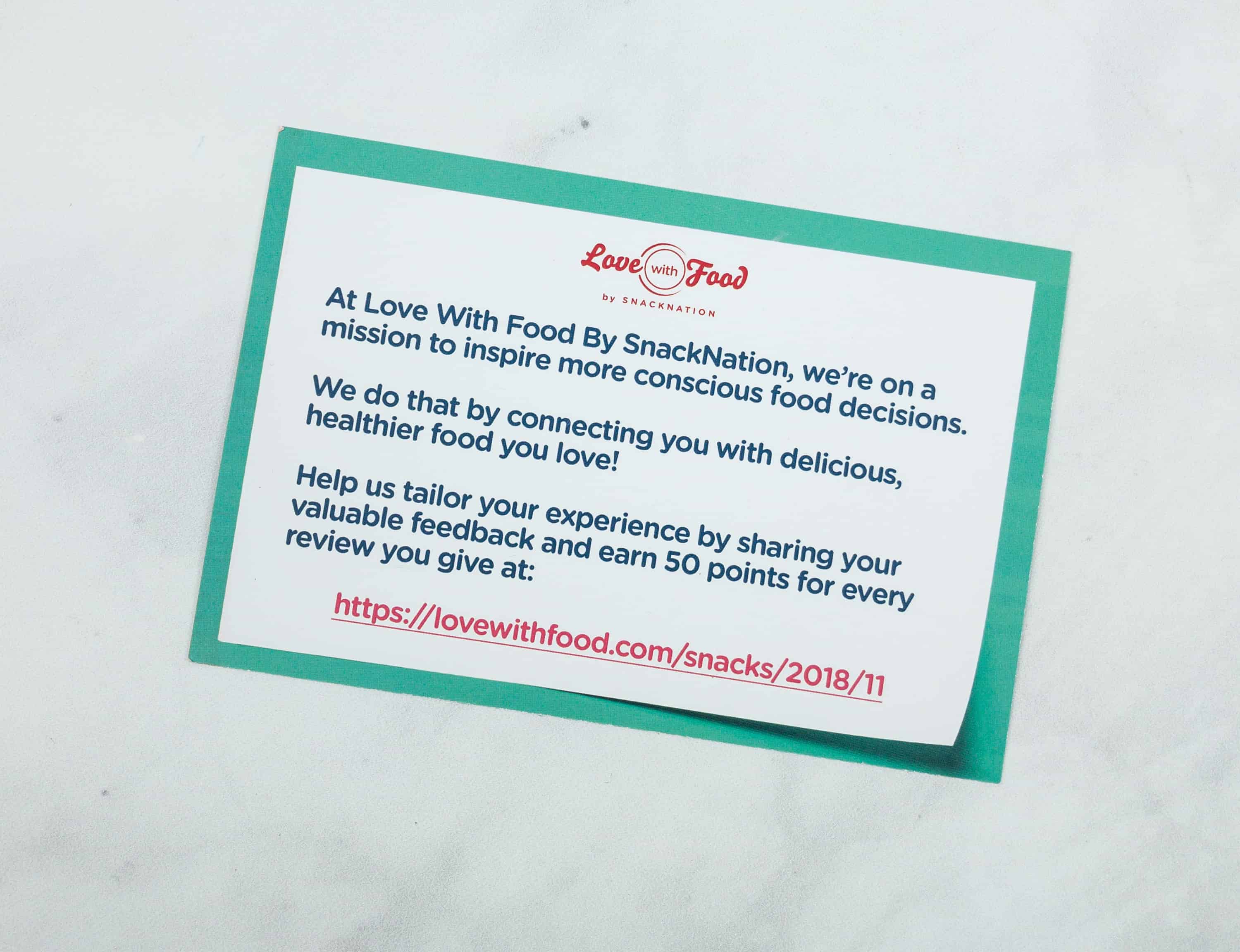 They are encouraging subscribers to leave a valuable review and they will give you points in return.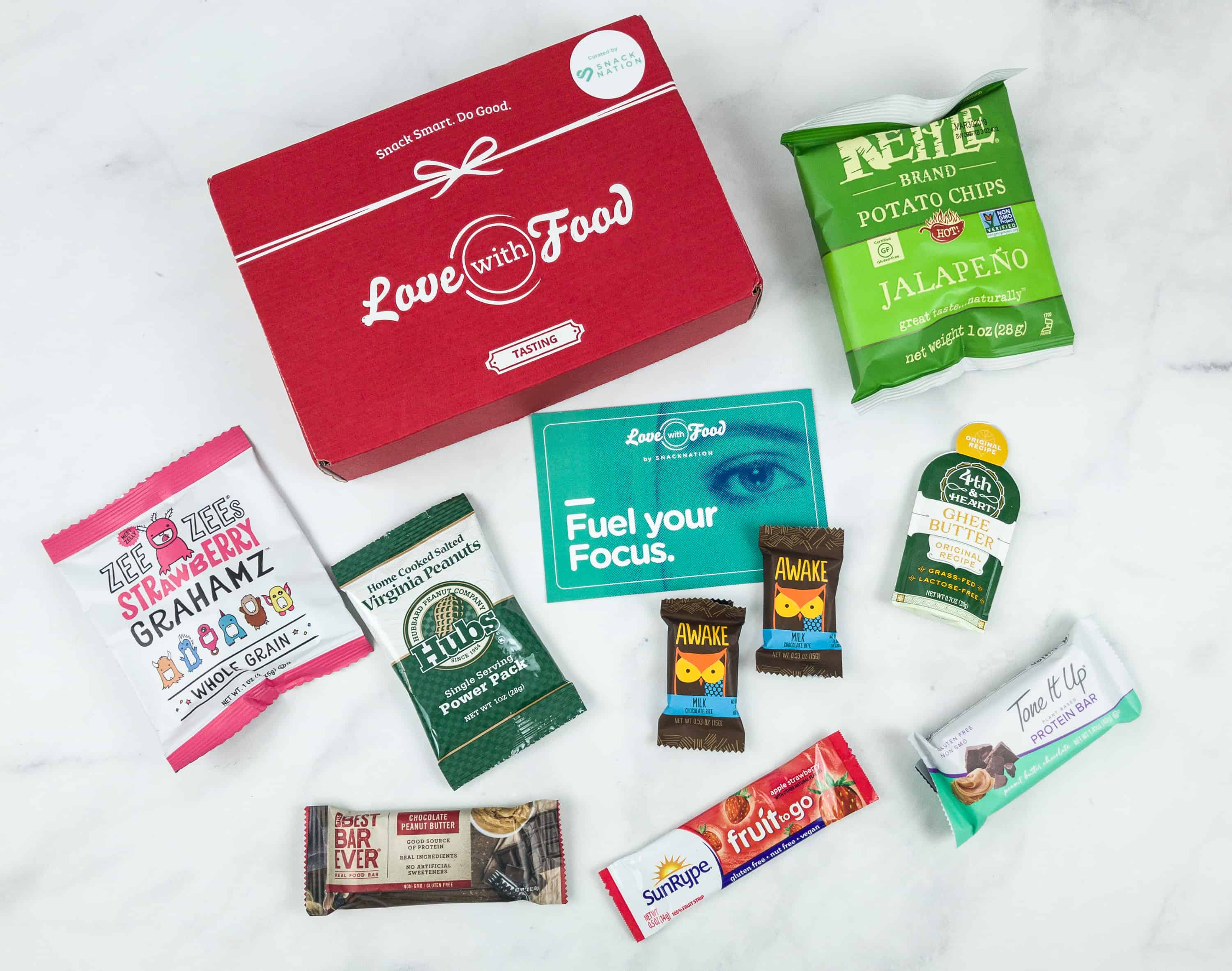 Everything in my box!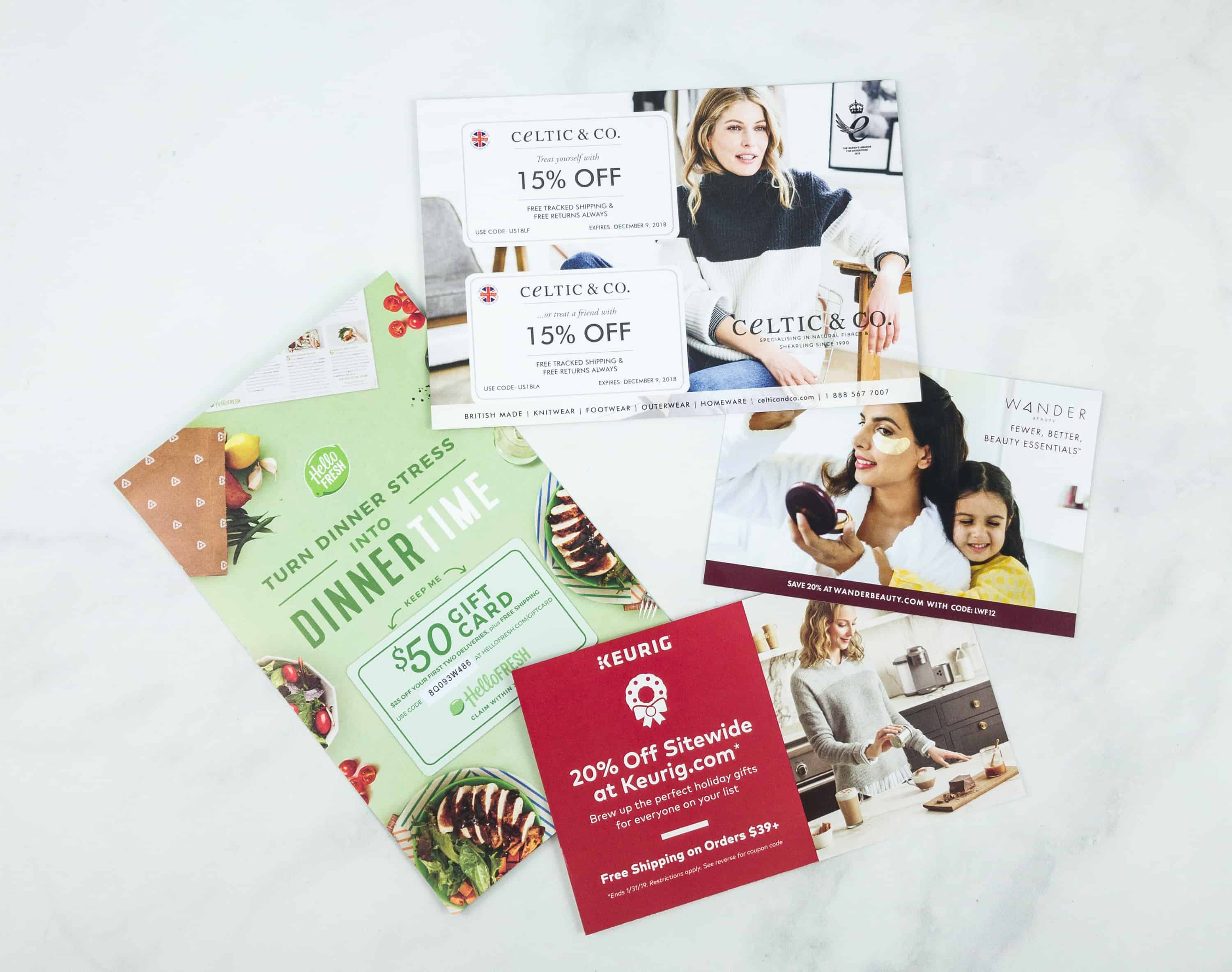 Also included are gift cards from various brands!
Kettle Brand Jalapeño Potato Chips ($0.65) It's a pack of all-natural, non-GMO potato chips that features a perfect balance between fresh, well-rounded flavor and the clean, spicy bite of Jalapeno peppers. This snack is best paired with ice cold beverages!
Zee Zee's Strawbery Grahams Whole Grain ($0.83) Fun & crispy, these whole grain graham bites are flavored with strawberry. Each piece features a deep sea monster, making it really interesting for the kids. It's an ideal lunchbox snack, plus it has no artificial colors, nuts, or dairy.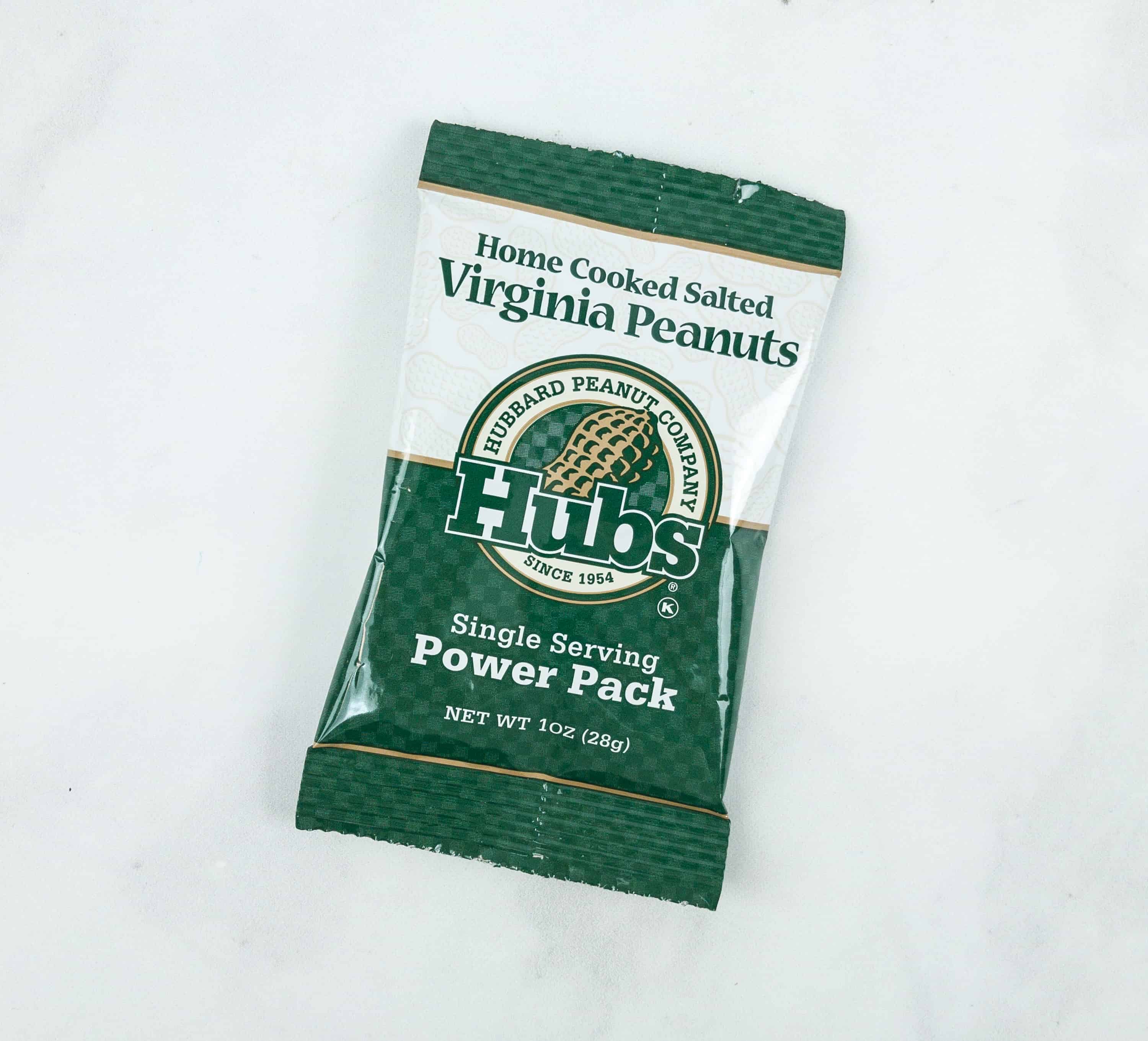 Hubs Salted Virginia Peanuts Power Pack ($0.62) Virginia peanuts are just so good! This pack contains ones that are fresh, huge, and roasted. They're not greasy and there's enough saltiness. The small pack is so convenient to bring on the go!
Tone It Up Peanut Butter Chocolate Protein Bar ($4.08) This plant-based snack bar is made from simple, clean, non-GMO, and gluten-free ingredients. Protein and nutrient-rich, it's perfect for post-workout recovery. The bar is also chewy and flavorful!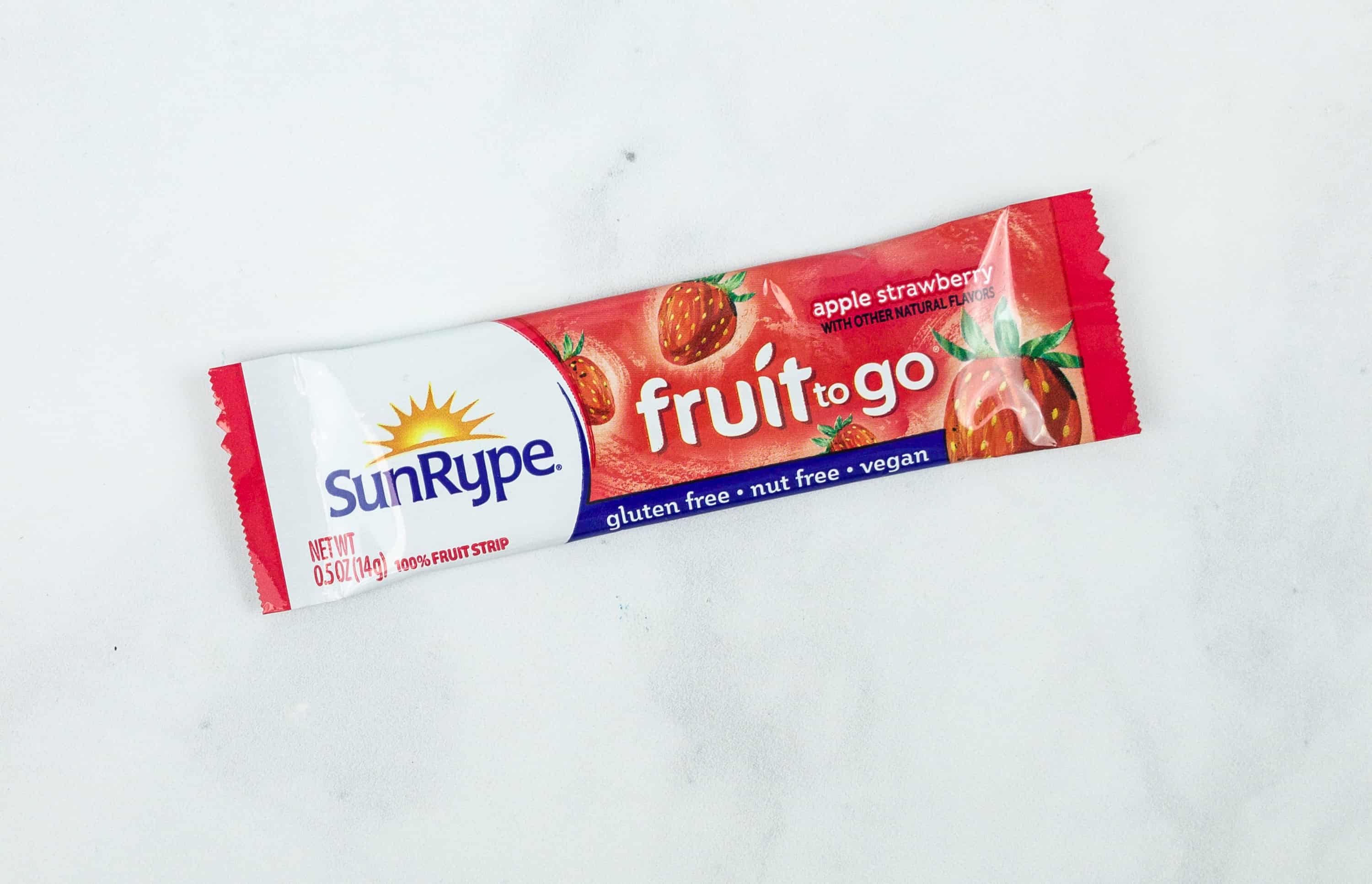 SunRype Fruit To Go Apple Strawberry Fruit Strip Snack ($0.35) This gluten-free, nut-free, vegan fruit strip is ideal either as a snack or dessert. It's made with apple, strawberry and other natural flavors, producing a delicious sweet and tangy combination.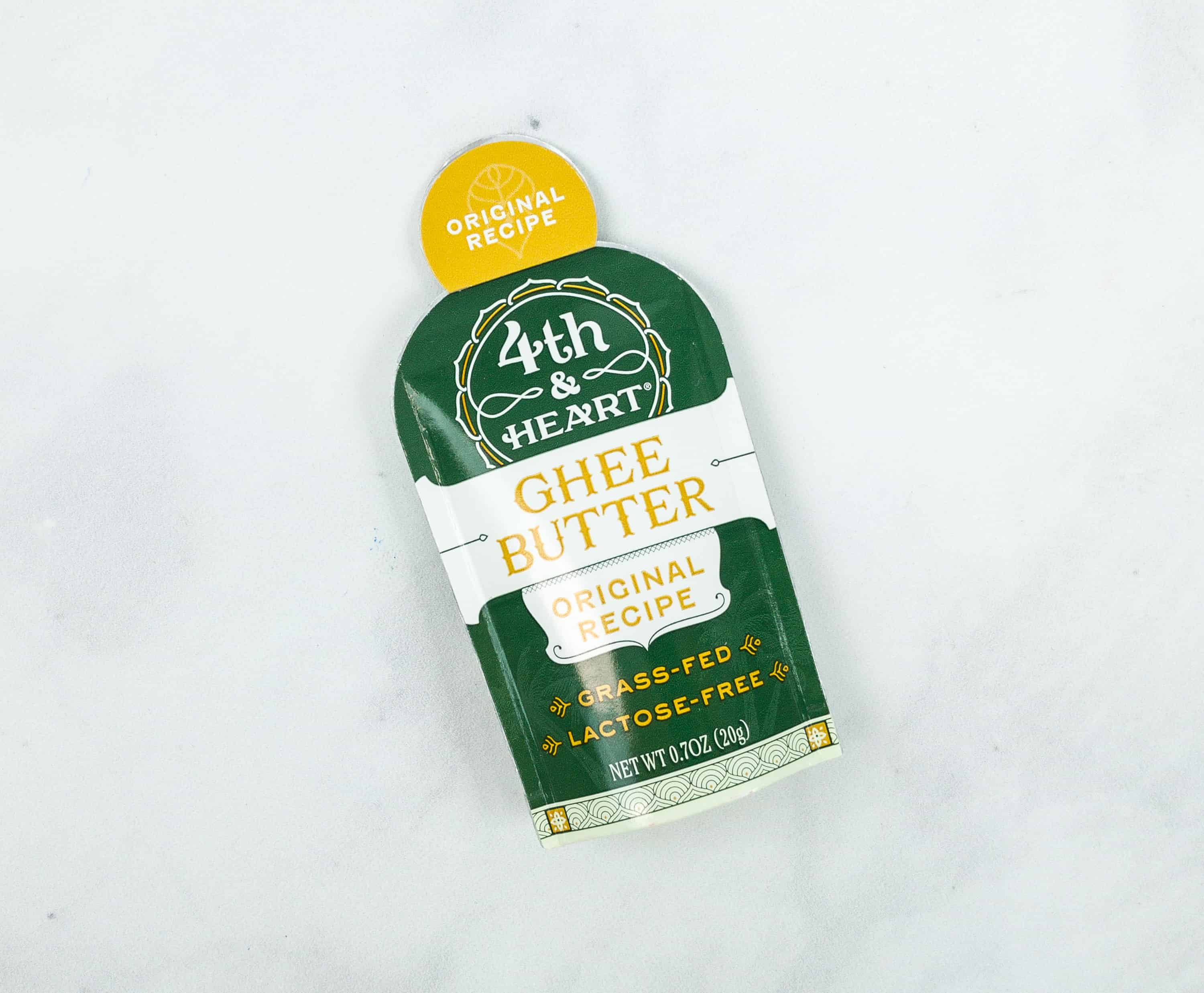 4th & Heart Ghee Butter ($0.90) If you're looking for an alternative to regular butter, this ghee butter is it. It's just as smooth, creamy, and spreadable, but it's made from the milk of grass-fed, pasture raised New Zealand cows so it's healthier. It's also naturally rich in vitamins A, E, and K, and Omega 3 that is really good in the heart.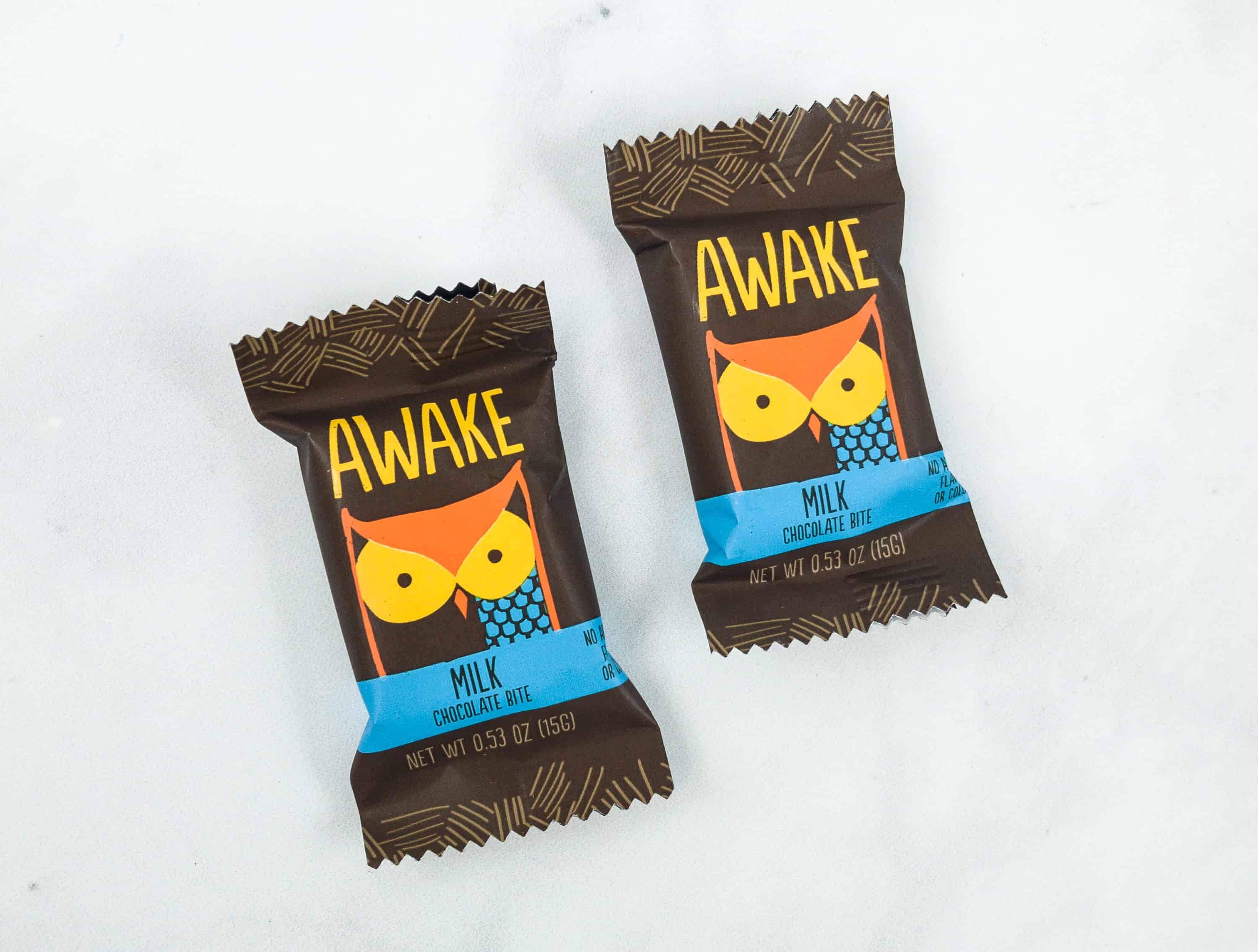 Awake Milk Chocolate Bite ($3.78) We got two of this milk chocolate bar that claims to contain as much caffeine as half a cup of coffee minus the bitter taste. It's for those who are looking for an instant energy-boost. The snack also comes in a handy packaging that fits easily into your desk drawer, gym bag, or purse.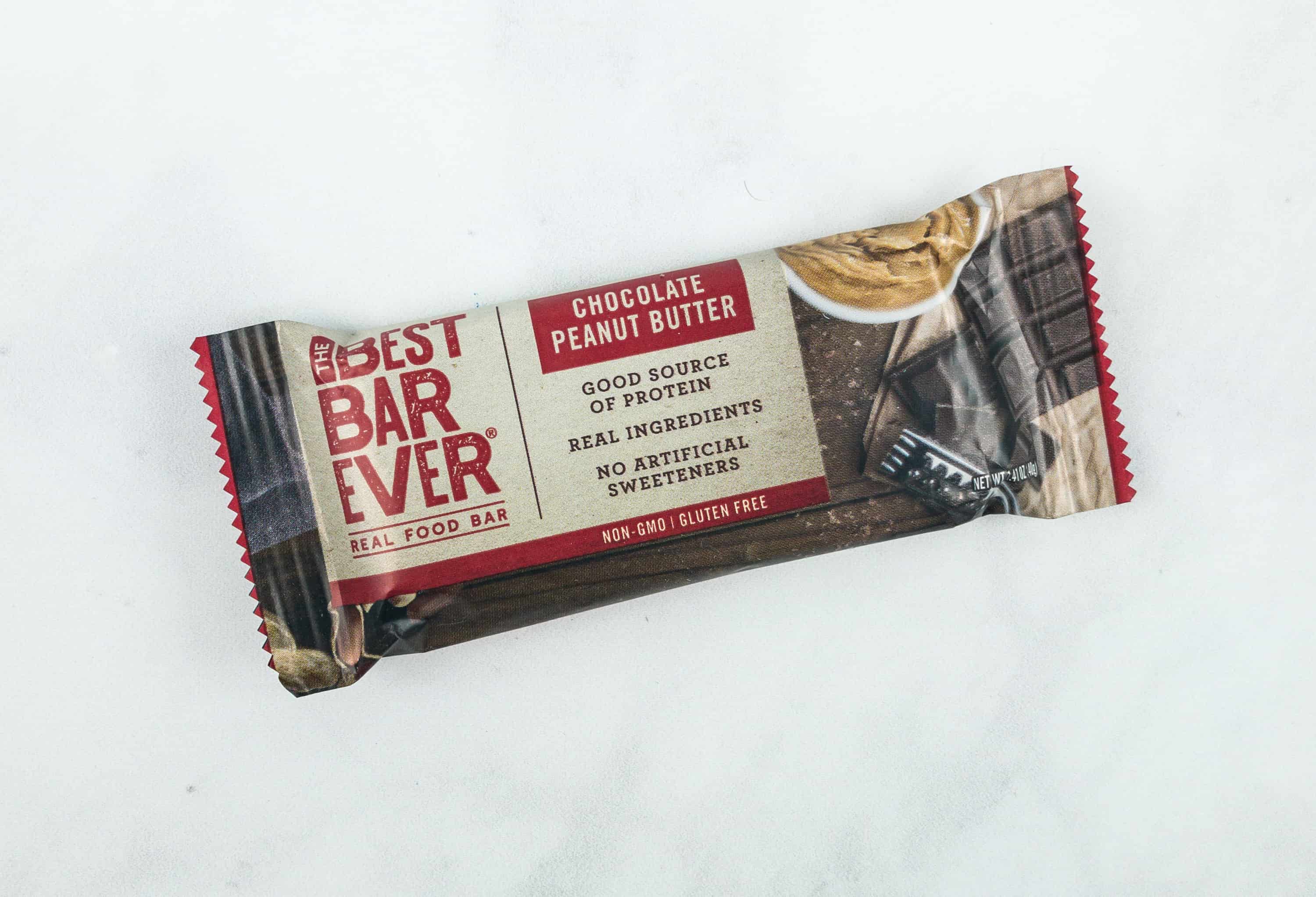 The Best Bar Ever In Chocolate Peanut Butter ($1.02) The name says it all, it's simply the best bar ever! This delicious chocolate peanut butter bar is handcrafted and chef-inspired. Also, it doesn't contain artificial flavors and sweeteners. It's ideal whether for pre- or post-workout, meal replacements, or even when you just want a sweet tooth satisfaction minus the guilt!
Love with Food is really an amazing way to find new snacking treats. This month's box features a variety of textures like creamy, chewy, and crunchy. It also contains a lot of snacks perfect for those with an active lifestyle. This subscription makes it fun to switch from unhealthy options to healthier ones without losing any flavor. I'm looking forward to seeing what comes next!
What's your favorite snack this month?