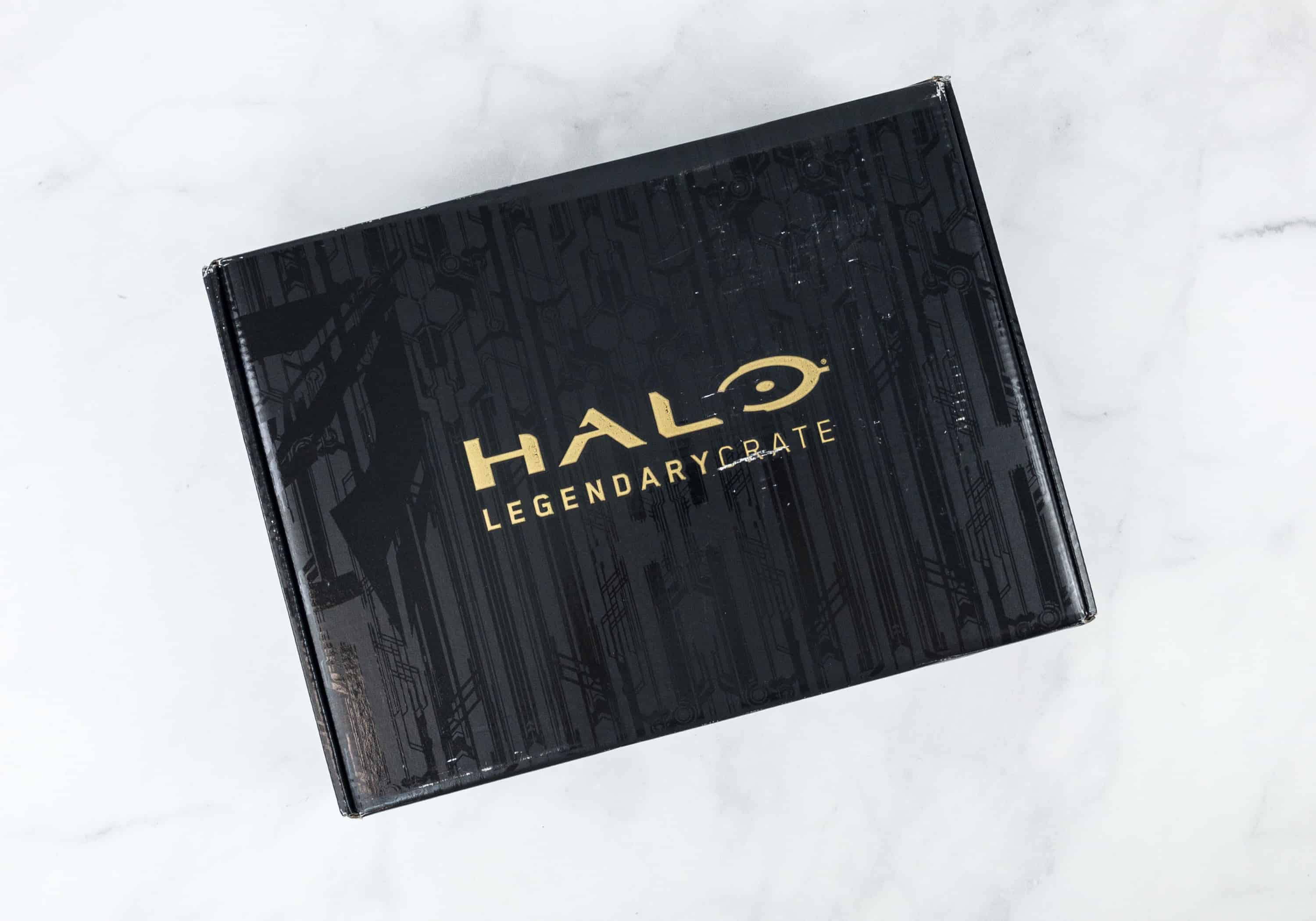 Halo Legendary Crate is the subscription box for the biggest Halo fans in the world. Every other month, you'll get UNSC-approved loot like exclusive figurines, collectibles, in-game items, apparel, and more, for $34.99 + shipping bi-monthly.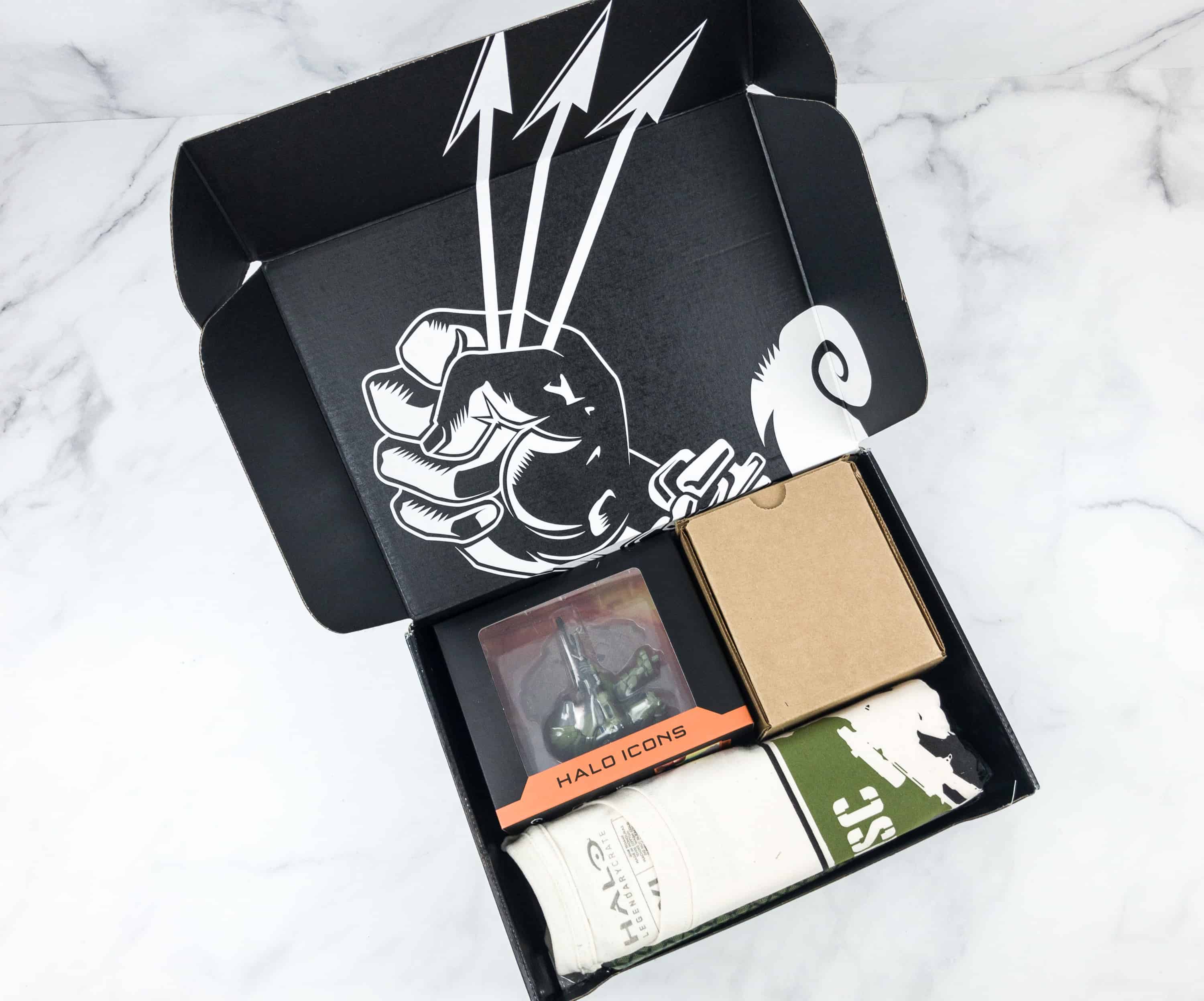 Halo Legendary Crate is made to create the ultimate experience for Spartan super-soldiers.
DEAL: Save 15% on any Loot Crate subscription when you use this link and coupon code HELLOSUBSCRIPTION15.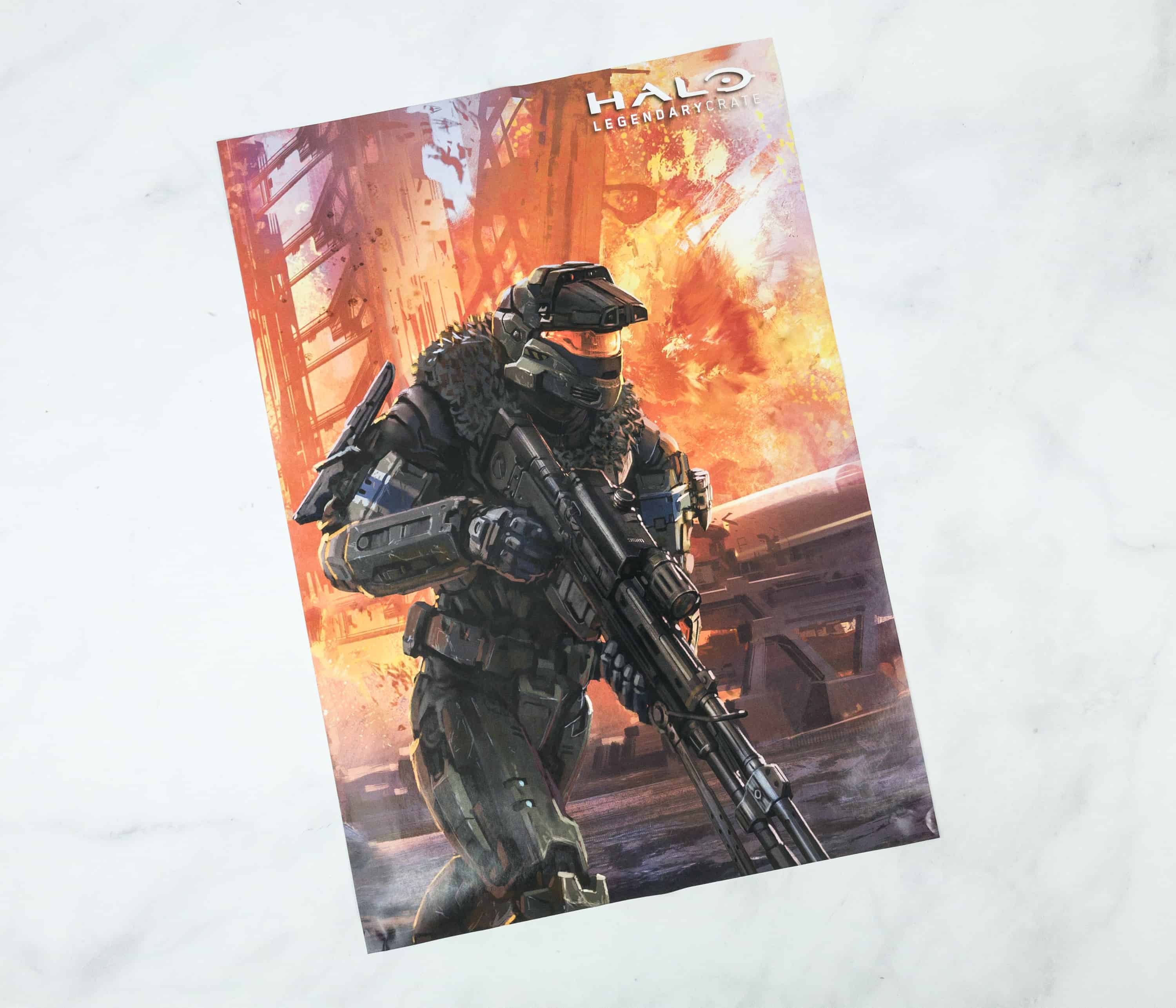 The theme is SCOUT! I love the high-quality Halo artwork. The poster measures 17×11.

The back of the poster lists all the items included in the crate, fleshes out the theme, and has a digital content code for Halo!
Bonus! Halo Championship Series Premium Req Pack. This gives you access to digital content to enhance your Halo multiplayer experience.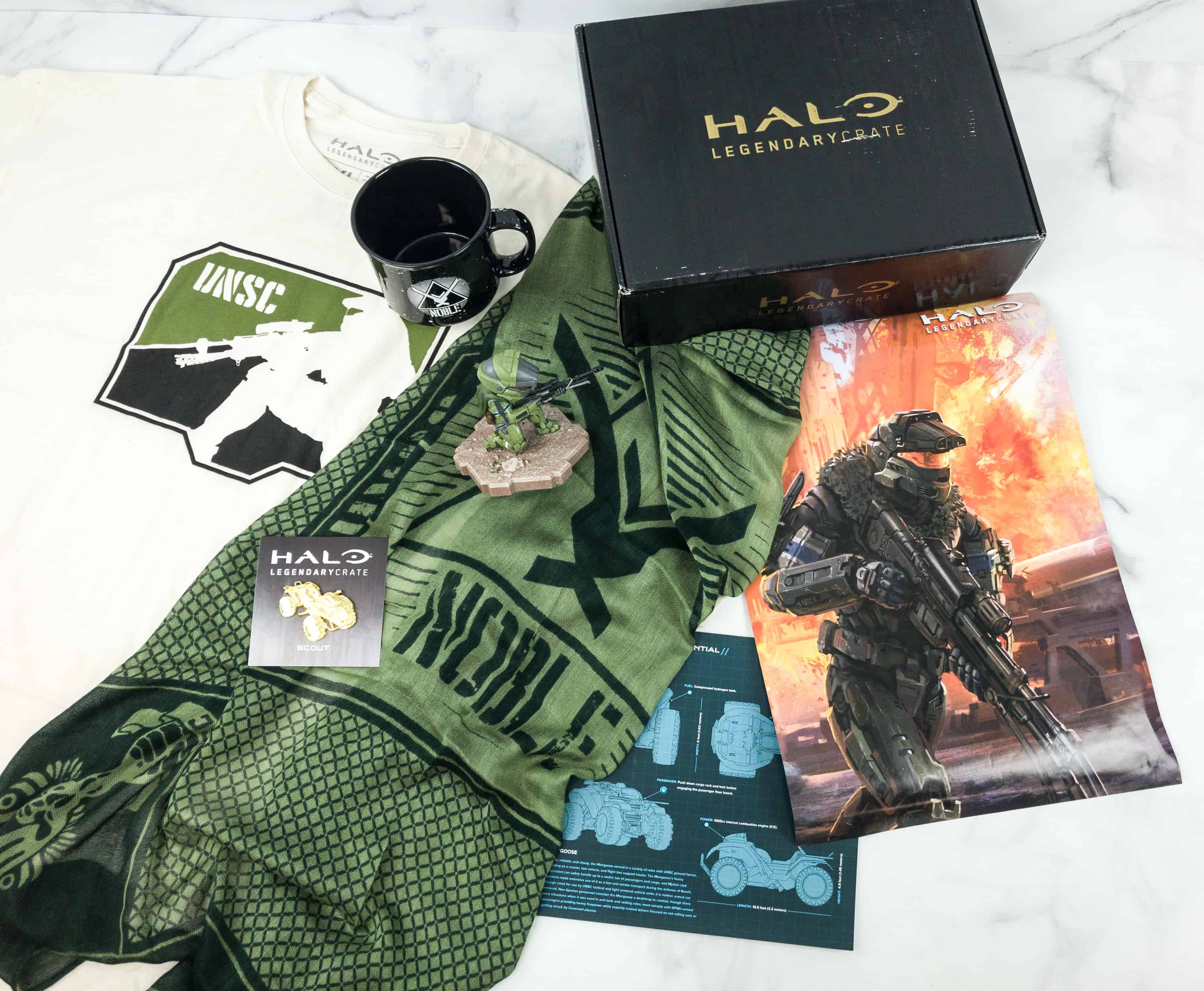 As usual, everything in this box is exclusive.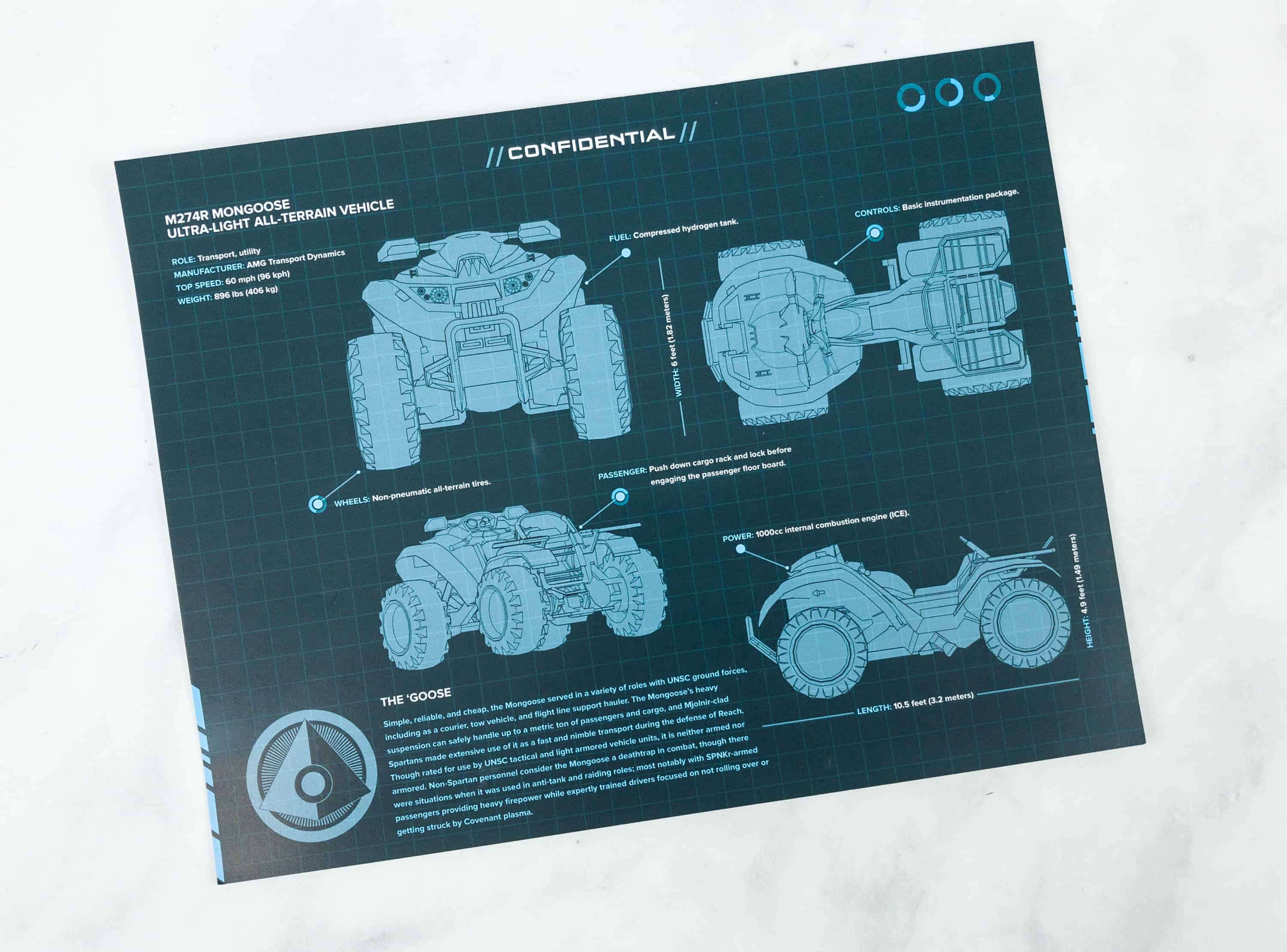 Data Drop Files. The box came with a top secret data drop. These are documents that might aid you in your intense investigation. For your eyes only! Unlike in previous boxes, this didn't come in an envelope and it was just the one sheet. Since this is cheap to produce and adds to the experience of the box it was missed, but at least they brought it back this month!
Mongoose Pin. The M274 Ultra-Light All-Terrain Vehicle is a United Nations Space Command light ground reconnaissance vehicle designed by AMG Transport Dynamics, and one of the most maneuverable ground vehicles.
Subscribers can get a silver or a limited edition gold variant of this pin. I feel so lucky because I got the gold one, yaaaas!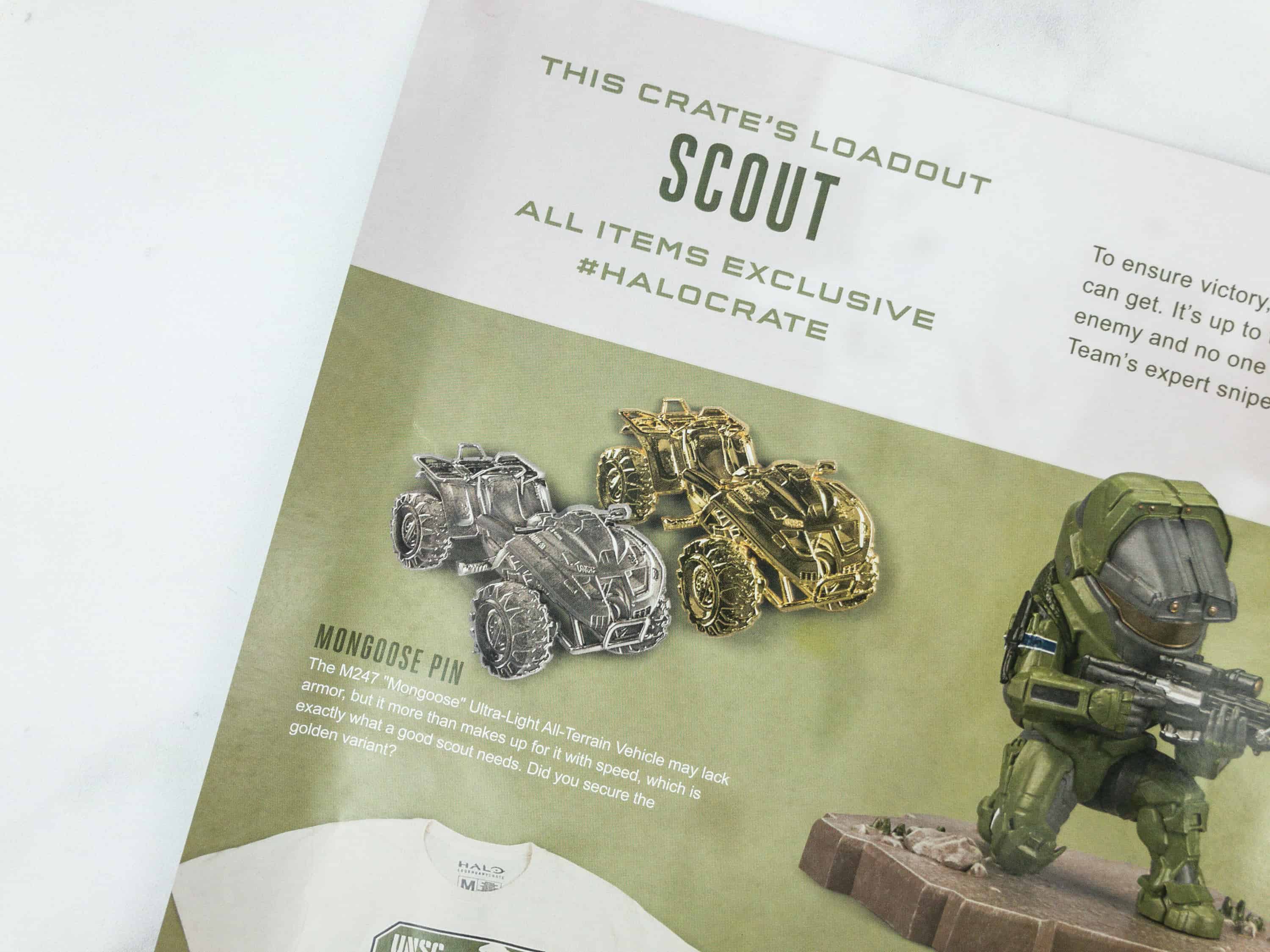 The Mongoose can carry a driver and a passenger, but the vehicle lacks weapons so it'll depend its offensive ability to the riders. The passenger who'll fire the weapons, however, won't be able to zoom in.

Noble Team Mug. Sipping a hot beverage in a mug while relaxing is a great fall activity. This one is perfect for that!

I love the white noble emblem printed on it as it goes really well with its total black color. Plus, it's a jumbo size mug. My wife was picking up a few items and asked "Kitchen?" She knows me so well – I love drinking my coffee out of giant mugs like this one!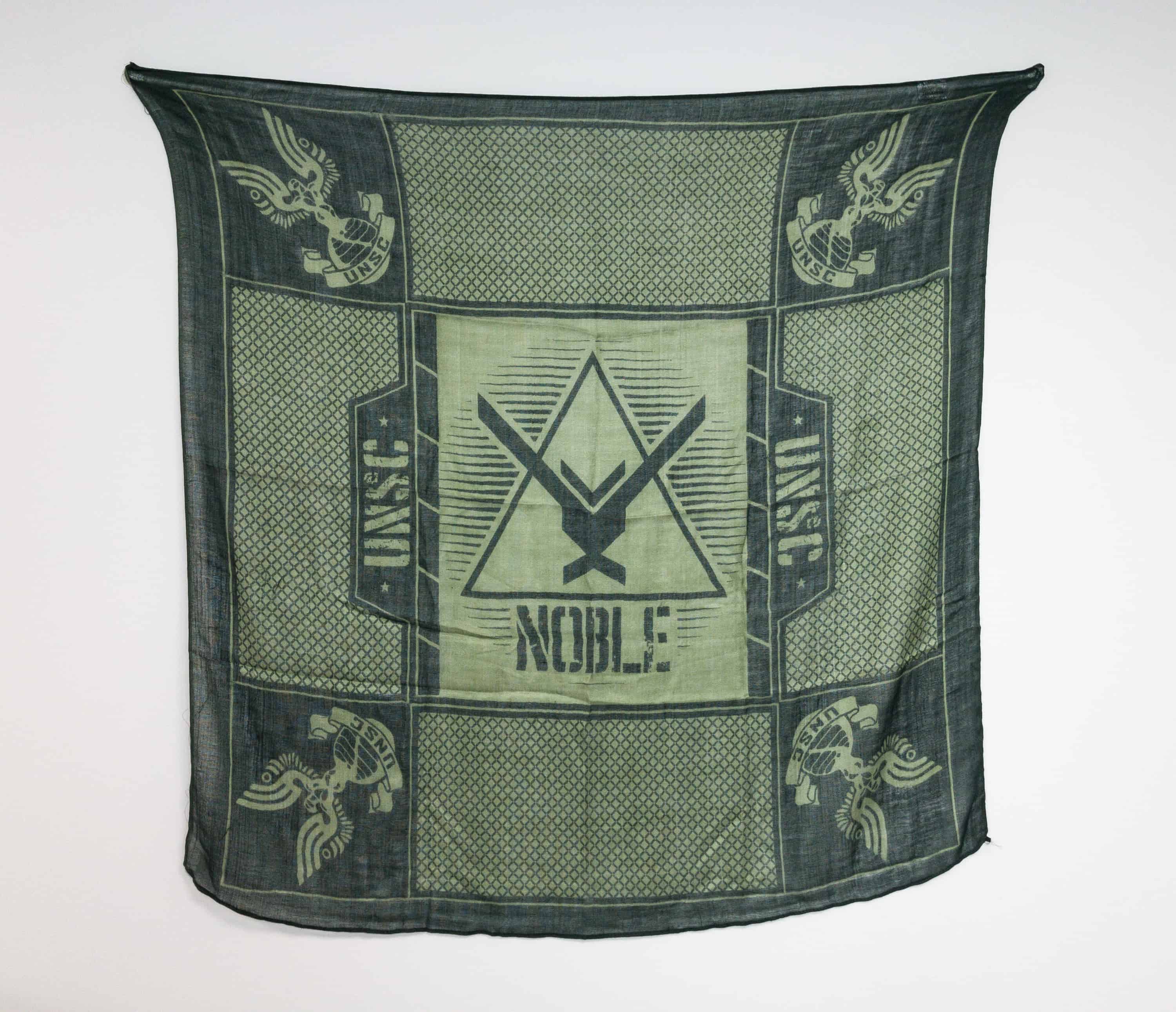 Noble Team Battle Scarf. The Noble Team once again showcased its cool emblem on this useful piece, and I love how classic the scarf looked because of its color!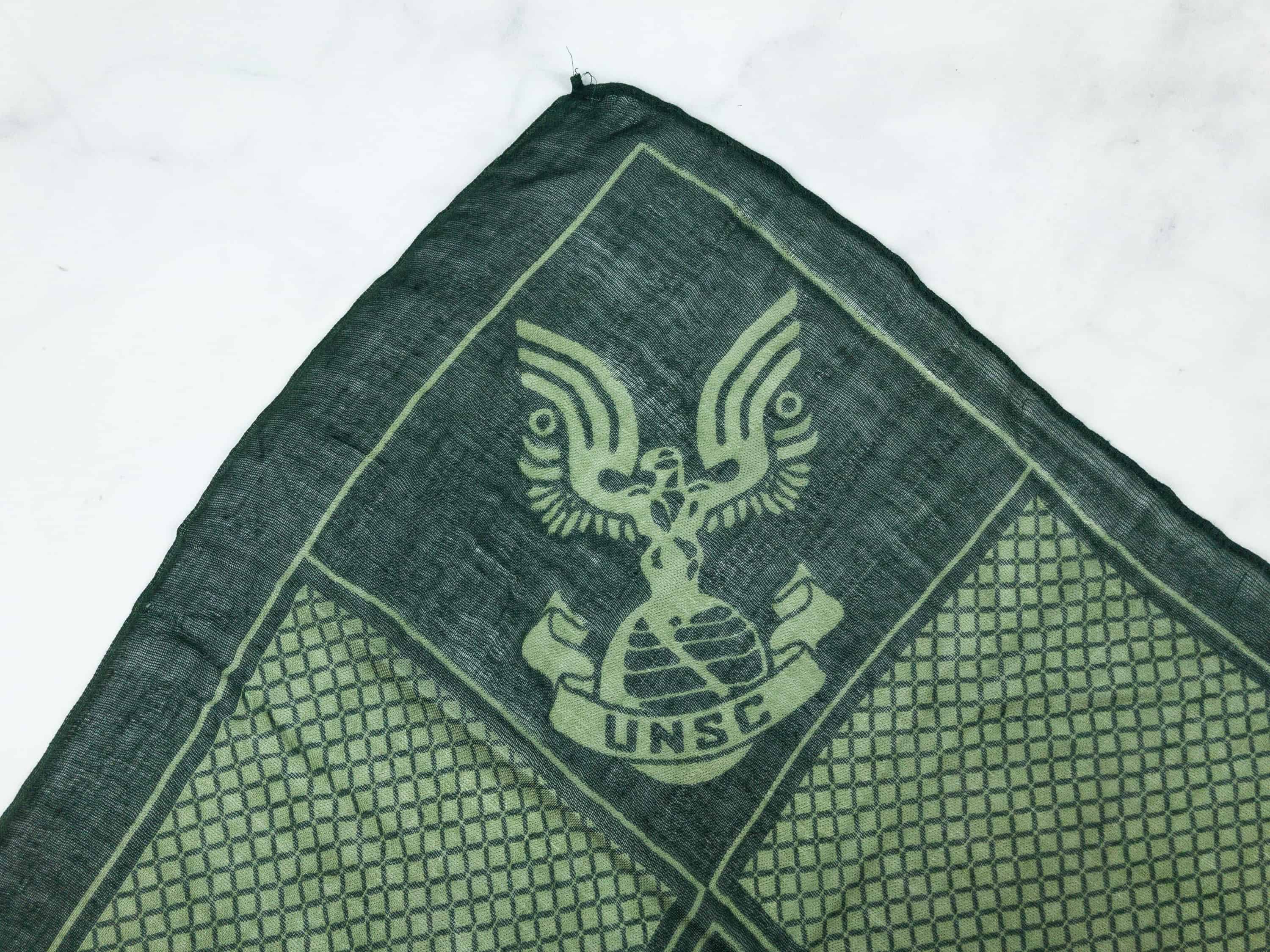 Each of the four corners also has the UNSC symbol printed on them.
The print looks like they're fading but it actually added appeal to this totally awesome piece!
It's the perfect accessory when you're out and about, especially to combat the chills the colder months are bringing! Plus, we liked the unisex design – it can be feminine, or you can use it as a scarf underneath a black wool coat and look masculine. It worked for both of us.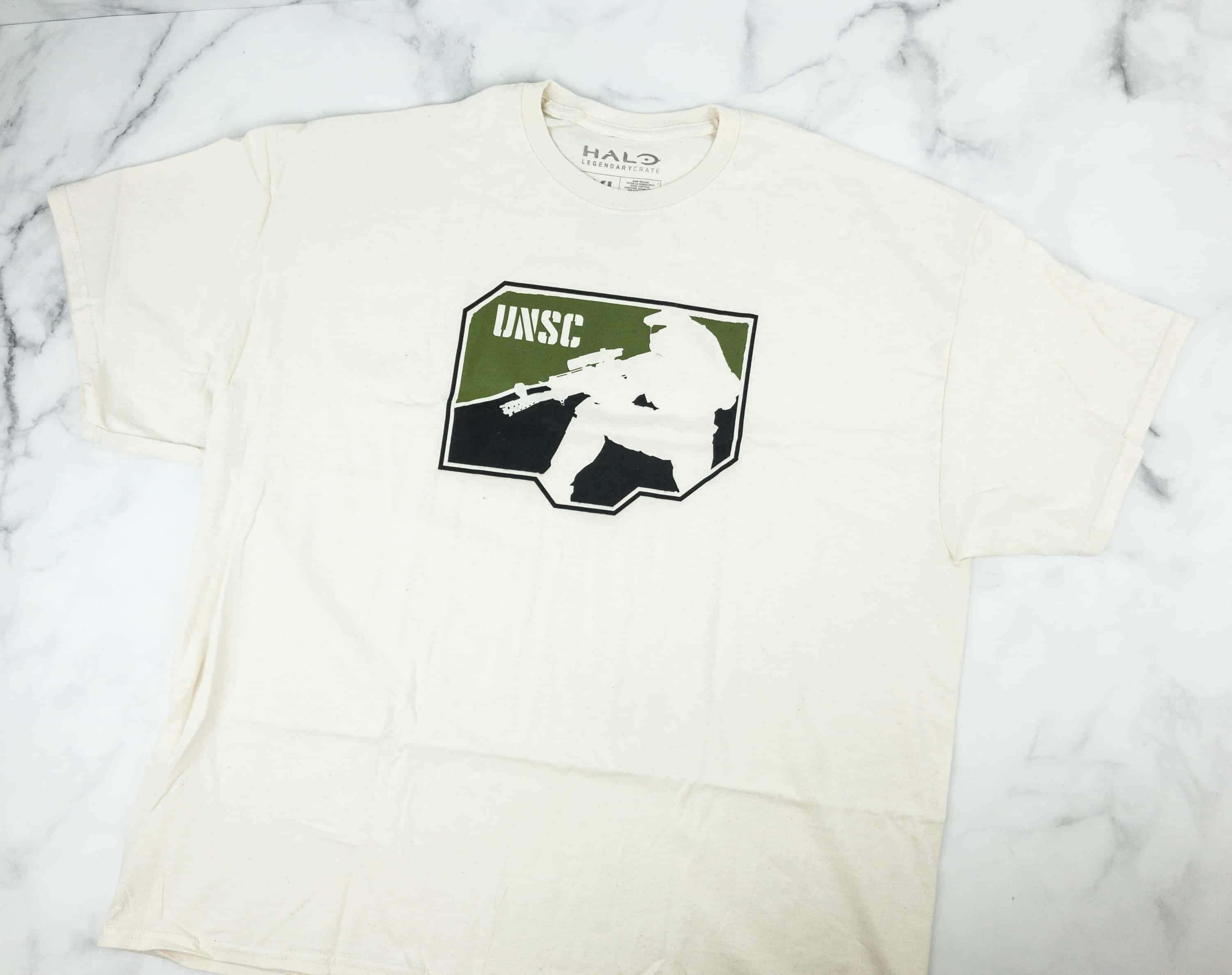 UNSC Scout T-Shirt. The UNSC knows how to rock when it comes to shirt designs. This comfy ivory shirt looks really cool.

I love the minimalist yet groovy print, as Jun-A266 looks ready to aim and fire on this shirt! I am ready to become a Spartan!

Halo Icons Jun-A266. Speaking of Jun-A266, this month's figure features the Spartan-III Commando and founder of the Spartan-IV Program!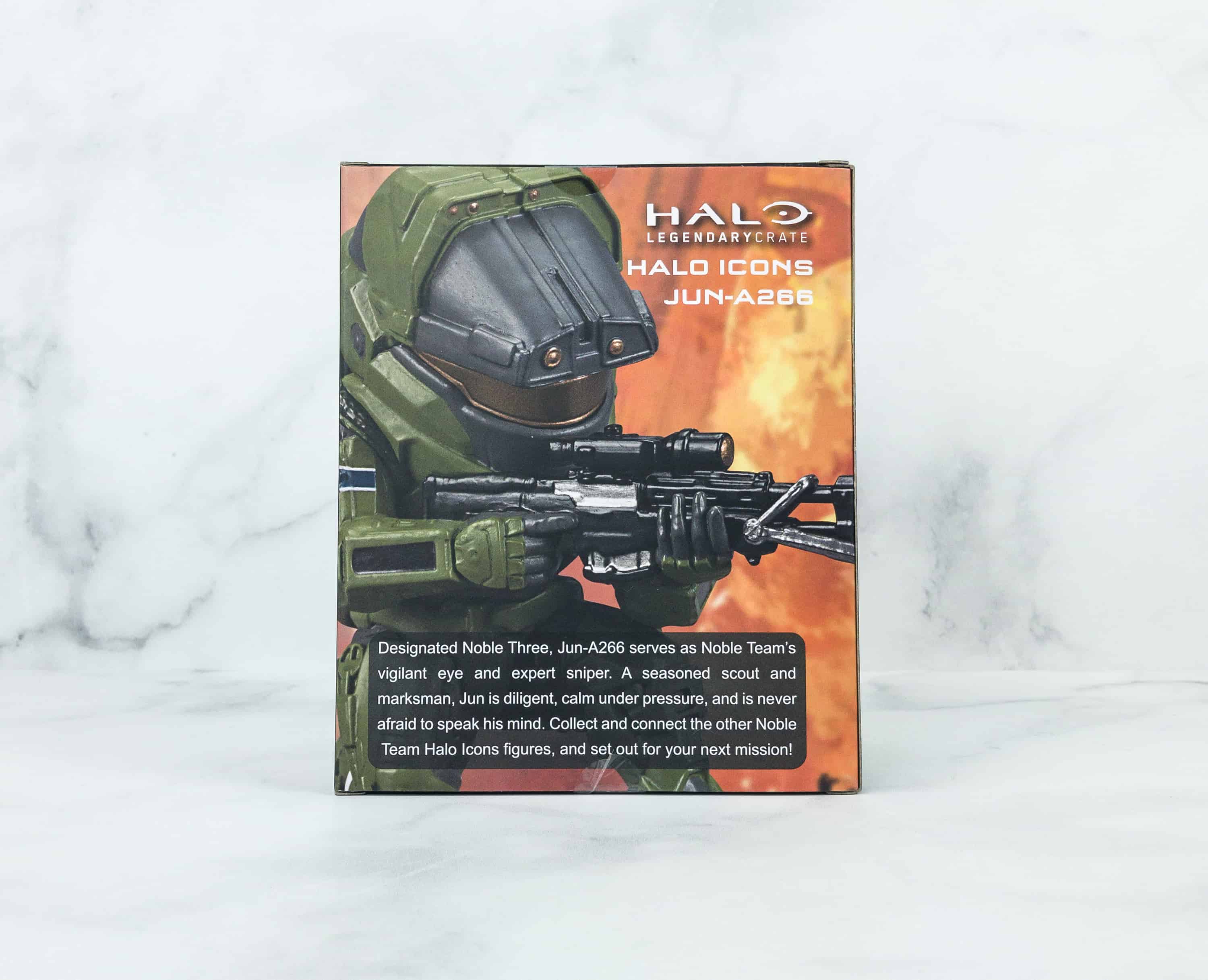 Jun-A266 (pronounced "June") is a SPARTAN-III commando of the UNSC Naval Special Warfare Command, attached to Special Warfare Group Three. He fought as a part of Noble Team during the Fall of Reach in 2552. Jun was also one of the two founders of the SPARTAN-IV Program.
The figure comes in two attachable pieces: the base and the figure itself.
Jun is wearing a scout helmet with an HU/RS upgrade and dons a Tactical/Patrol chest piece.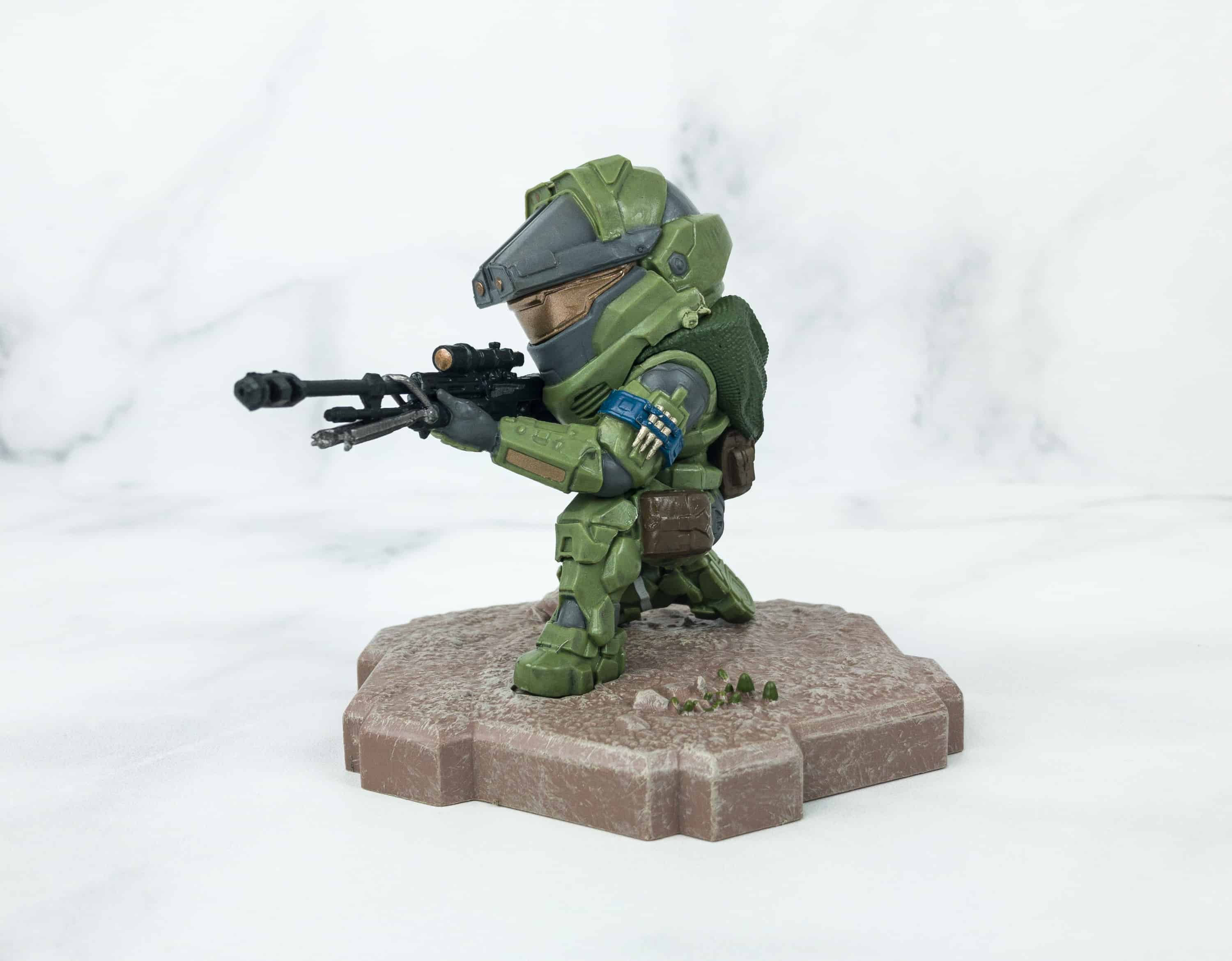 He also uses the Sniper shoulders along with his combat knife on his right, and a spare sniper rifle rounds on his left.
He also has a Tactical UGPS located on his left forearm, while his leg has several attachments: a Softcase on his left thigh, and FJ/PARA knee guards.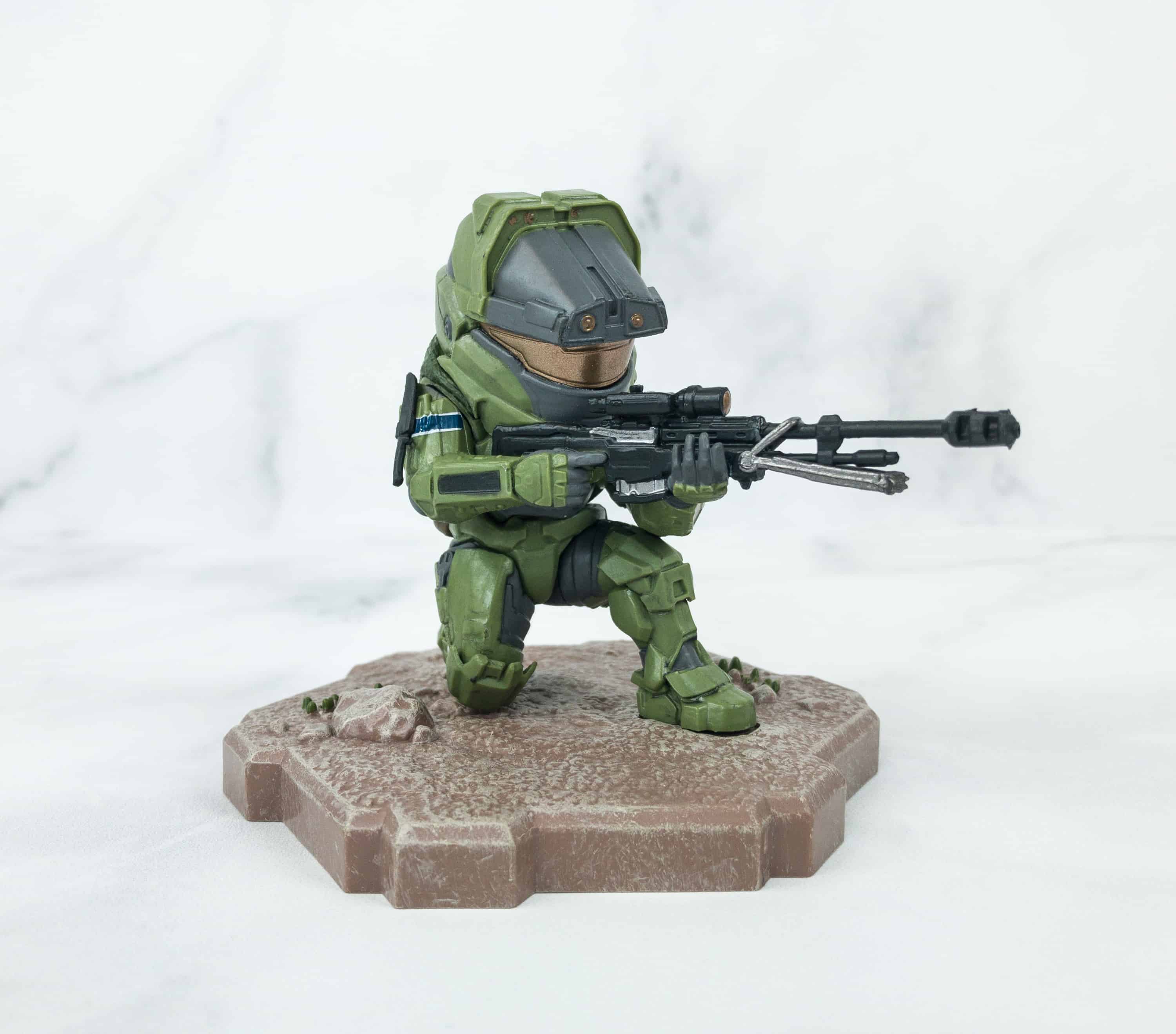 When it comes to armament, his weapons of choice are the Sniper Rifle System 99 Anti-Matériel and the M392 Designated Marksman Rifle.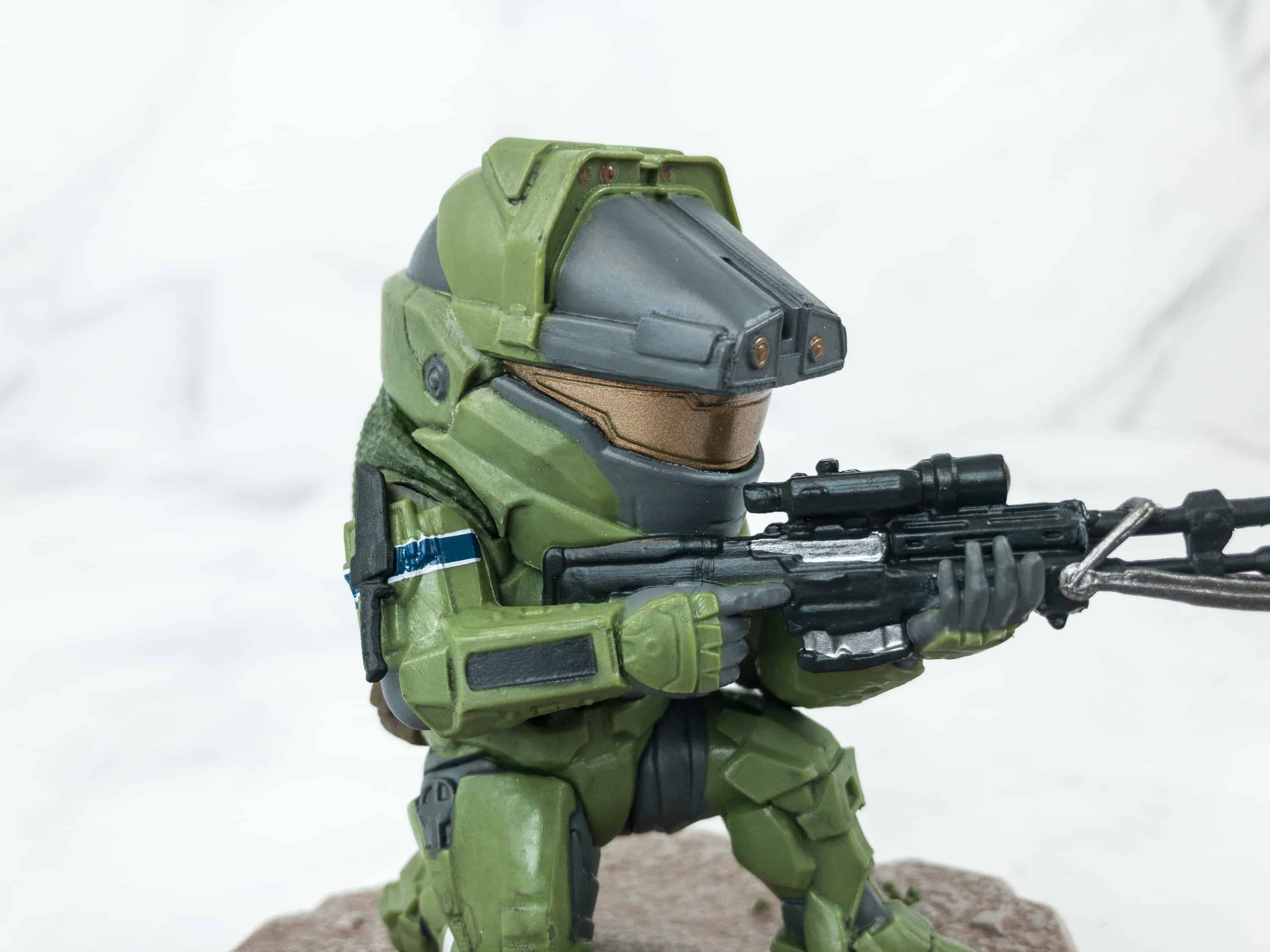 We can't really see it on this figure but Jun has a tattoo of a hand grasping three arrows next to his left ear, and it is suspected to be the Bungie Coat of Arms.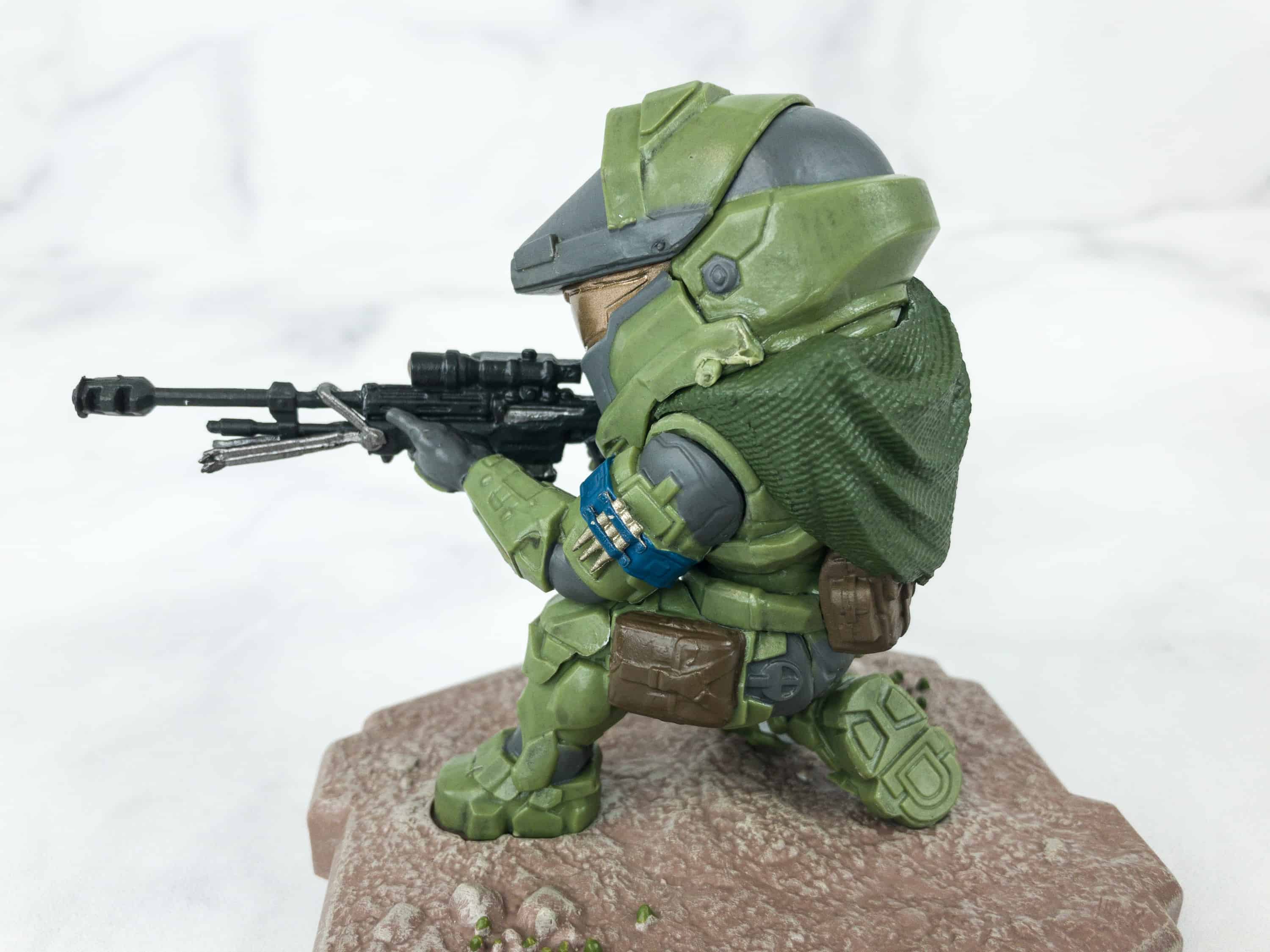 Unlike Carter-A259's blue armor, Jun has a green one.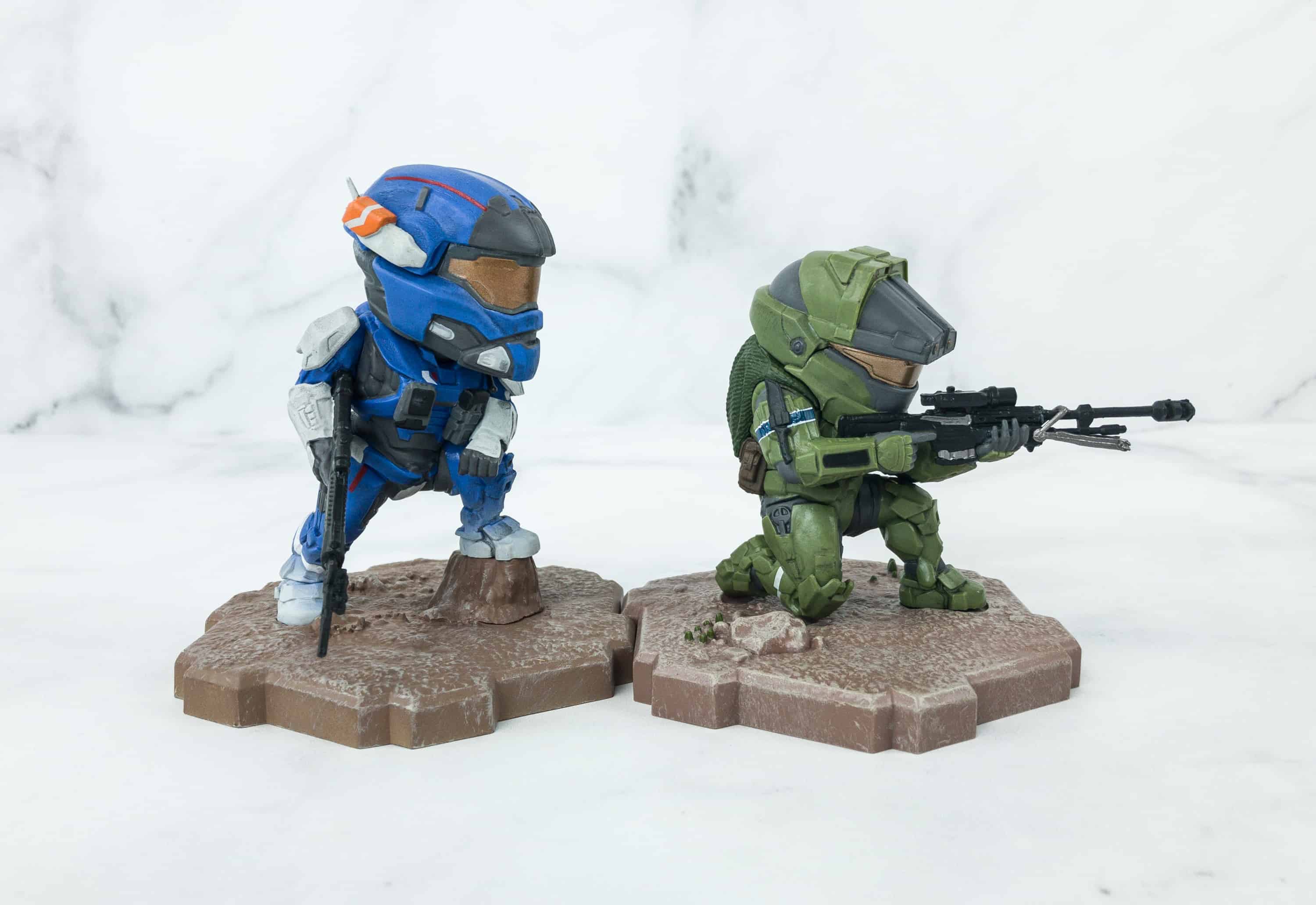 The figures, like the first set of ICONS we had, can be connected to each other too!
That's two great leaders, and we're very excited to add more to this new line of ICONS figures!
Most of the items in this box are fun and useful, they're not just geeky but practical for the cold months as well. What made me even happier is seeing my Noble ICONS starting to line up! I already got two and I'm looking forward to seeing the others in the collection! Another thing I like is the Vehicle pin, and I even got the rare variation this month. I just hope that they send the boxes in time and that they add more "wow" items in the line-up!
What do you think of this month's box?