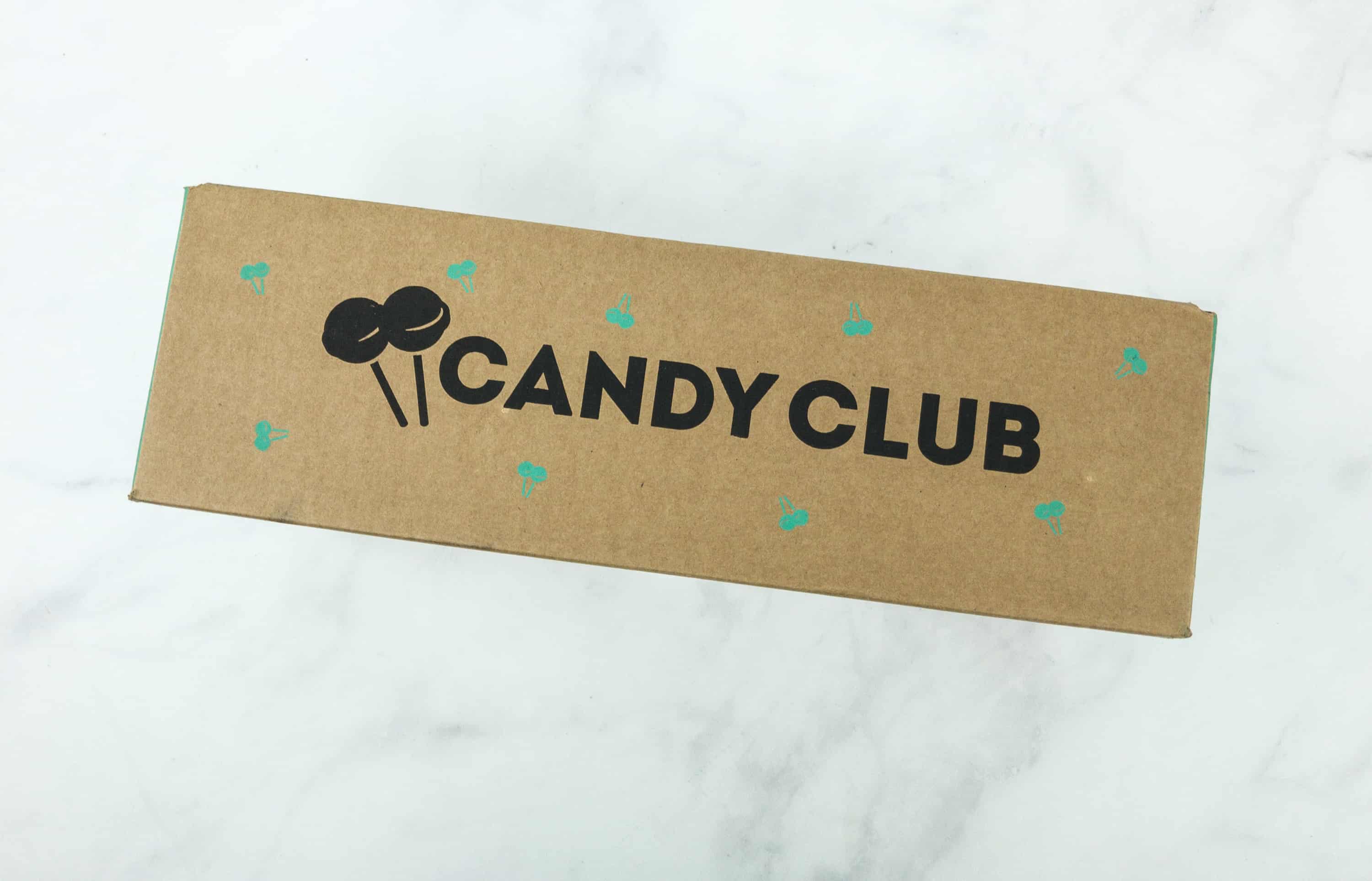 Candy Club is a premium candy subscription box. They bring the old-fashioned candy store (with candies both old and new) to your front door. They promise that their boxes will have an amazing variety of different candies for your snacking enjoyment.
Each Candy Club Subscription Box contains up to 3 lbs of candy, including three signature containers and a splash of wrapped candies. If you are giving a gift, the candies are curated for you. If you are subscribing, you can pick or let Candy Club decide. As for me, I usually pick what candies I want to receive!
DEAL: Save $12 on your first box! No coupon code required, just use this link!
The Candy Club Subscription Box is $39.99 if you pay month to month. The price drops to $34.99 a month if you prepay for 6 months and to $29.99 a month if you prepay for a year. And, if you need more candy, you can choose to add up to three more candies to your monthly order! Shipping is $6.99 for all boxes.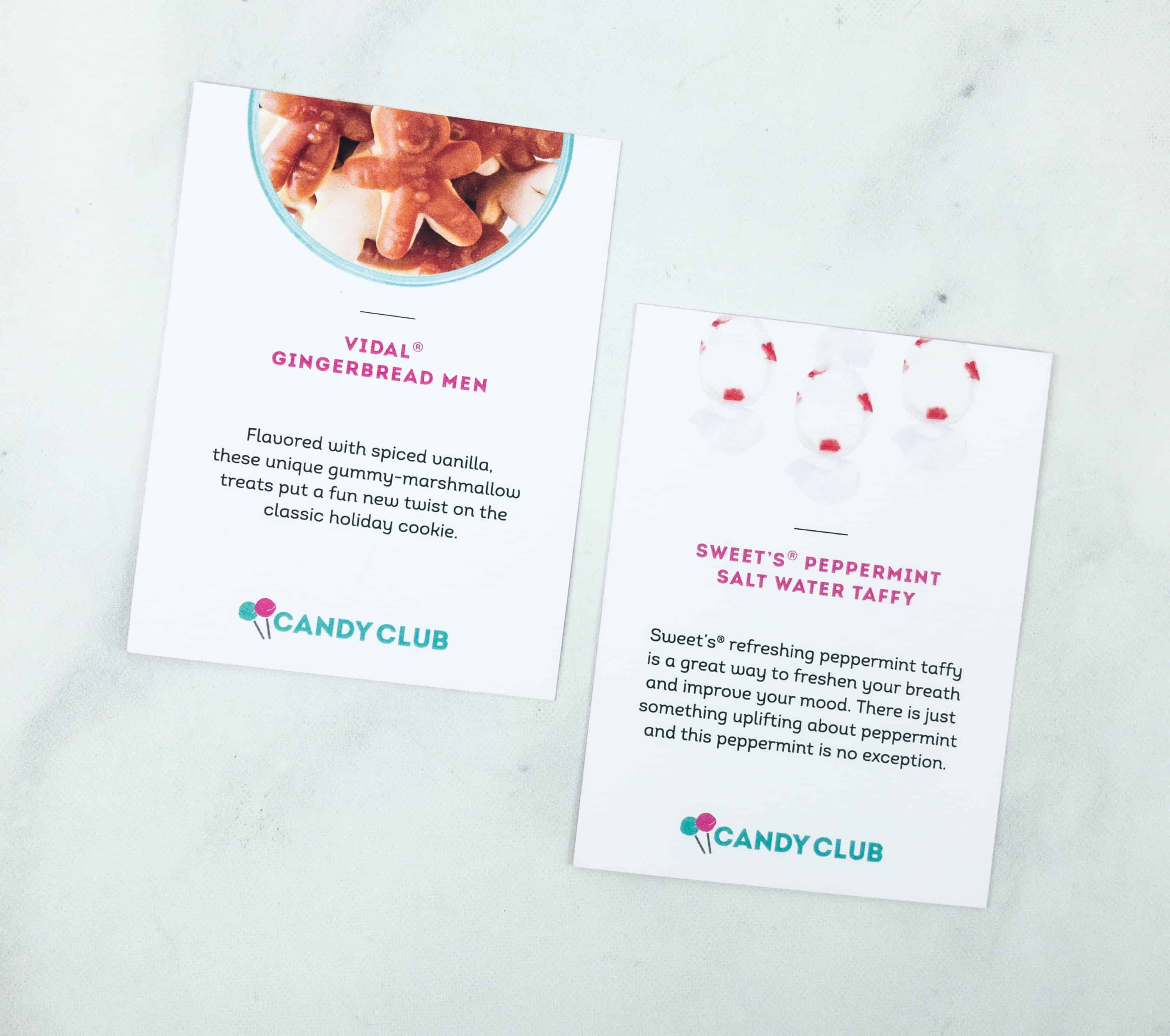 They include information cards with a short description of each candy. Usually we get a card for three of the four candies that come in the box.
Just in case you want to know, the nutrition facts can be found at the back of each info card.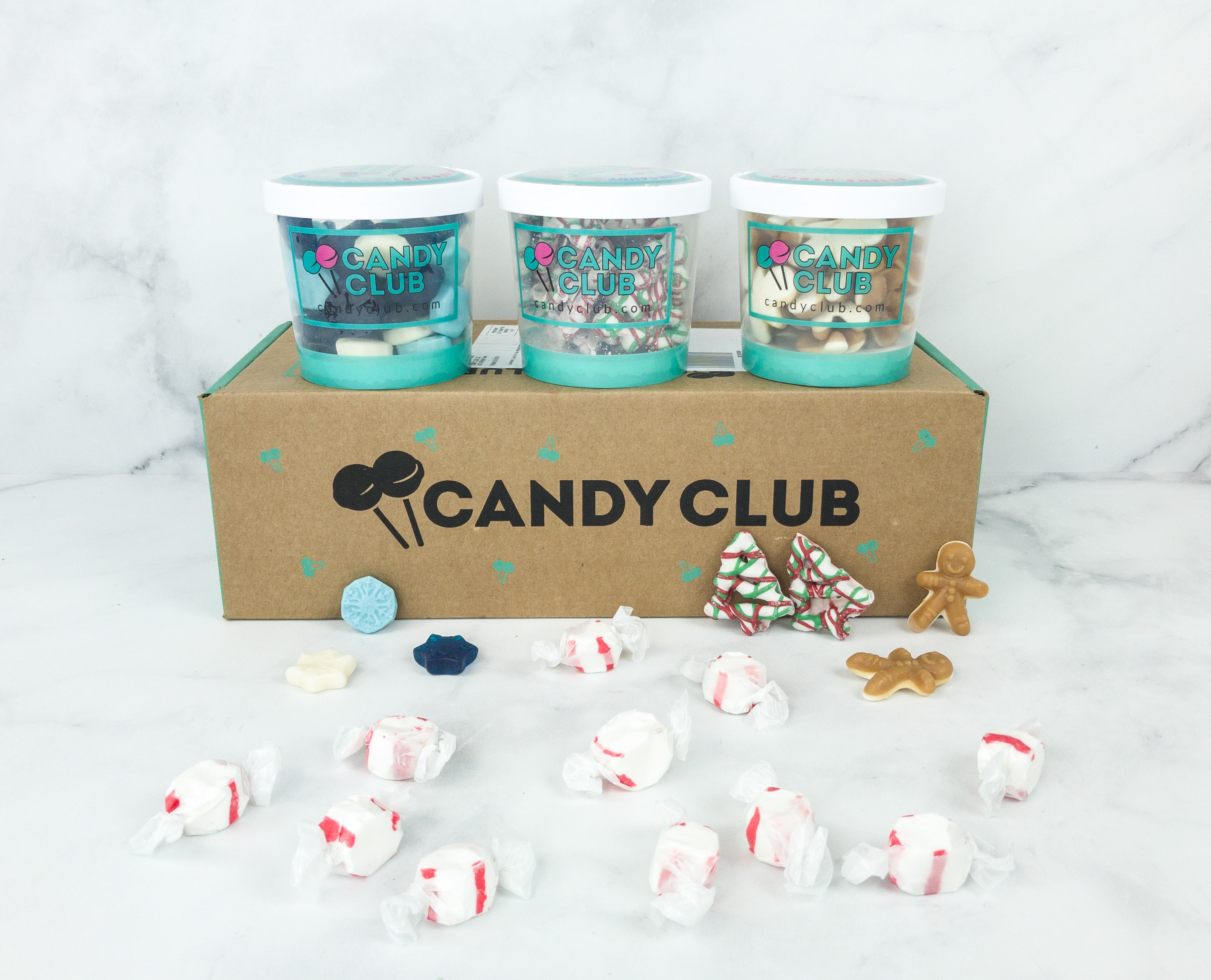 Everything in this month's box! This is a three-candy selection, but they always through a splash of a fourth candy into the box just for fun!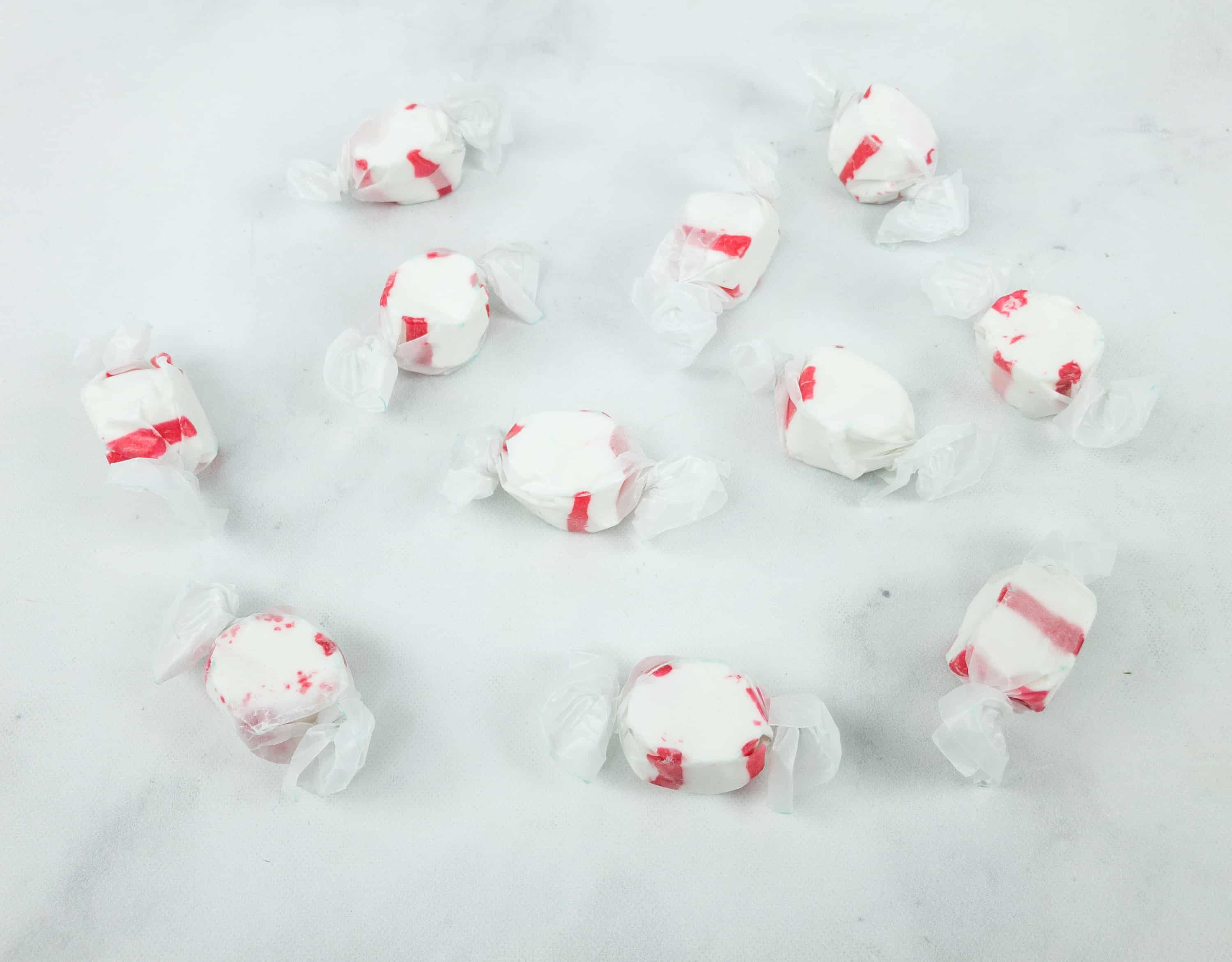 Sweets Peppermint Salt Water Taffy. These individually wrapped taffies taste really great. The peppermint is really bright, and they have a very classic saltwater taffy chew to them. They're so fluffy!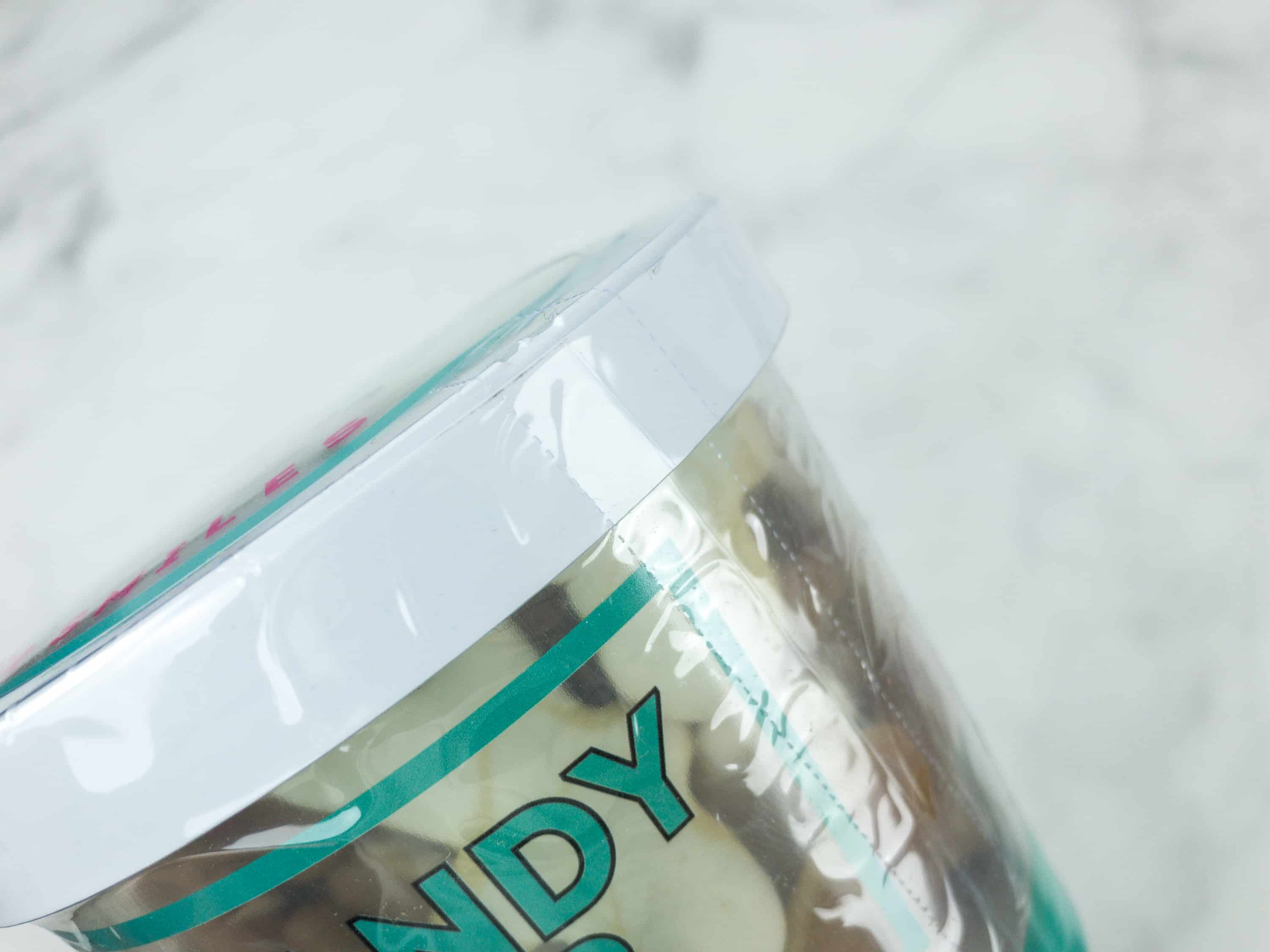 Each container is fully sealed to make sure that the quality of the candies is retained.
Arway® Christmas Tree Pretzel. Christmas is on its way, and there's no perfect treat to munch on during this season than these Christmas-themed pretzels!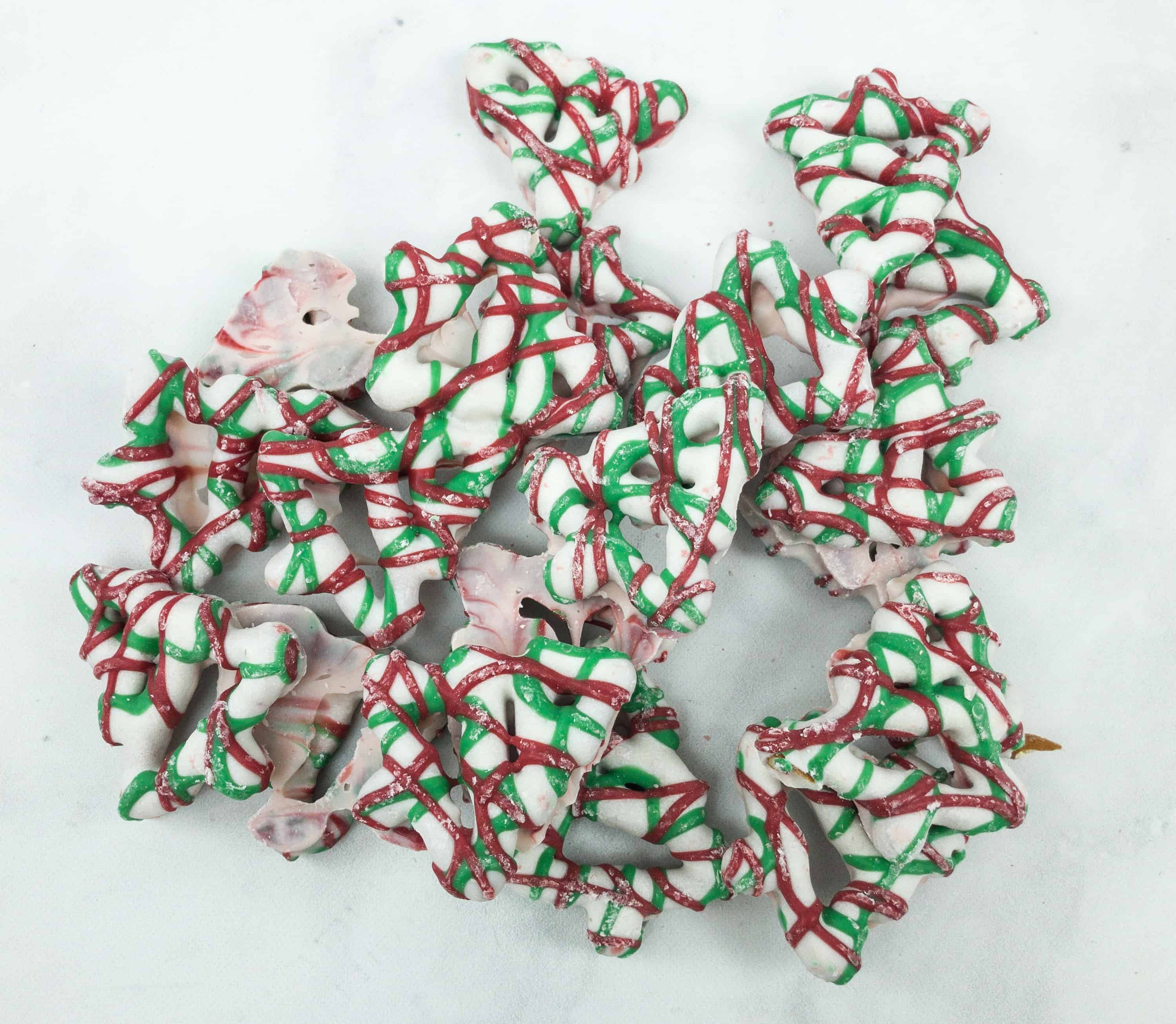 These Christmas tree-shaped pretzels are coated with silky white chocolate and drizzled with red and green frosting.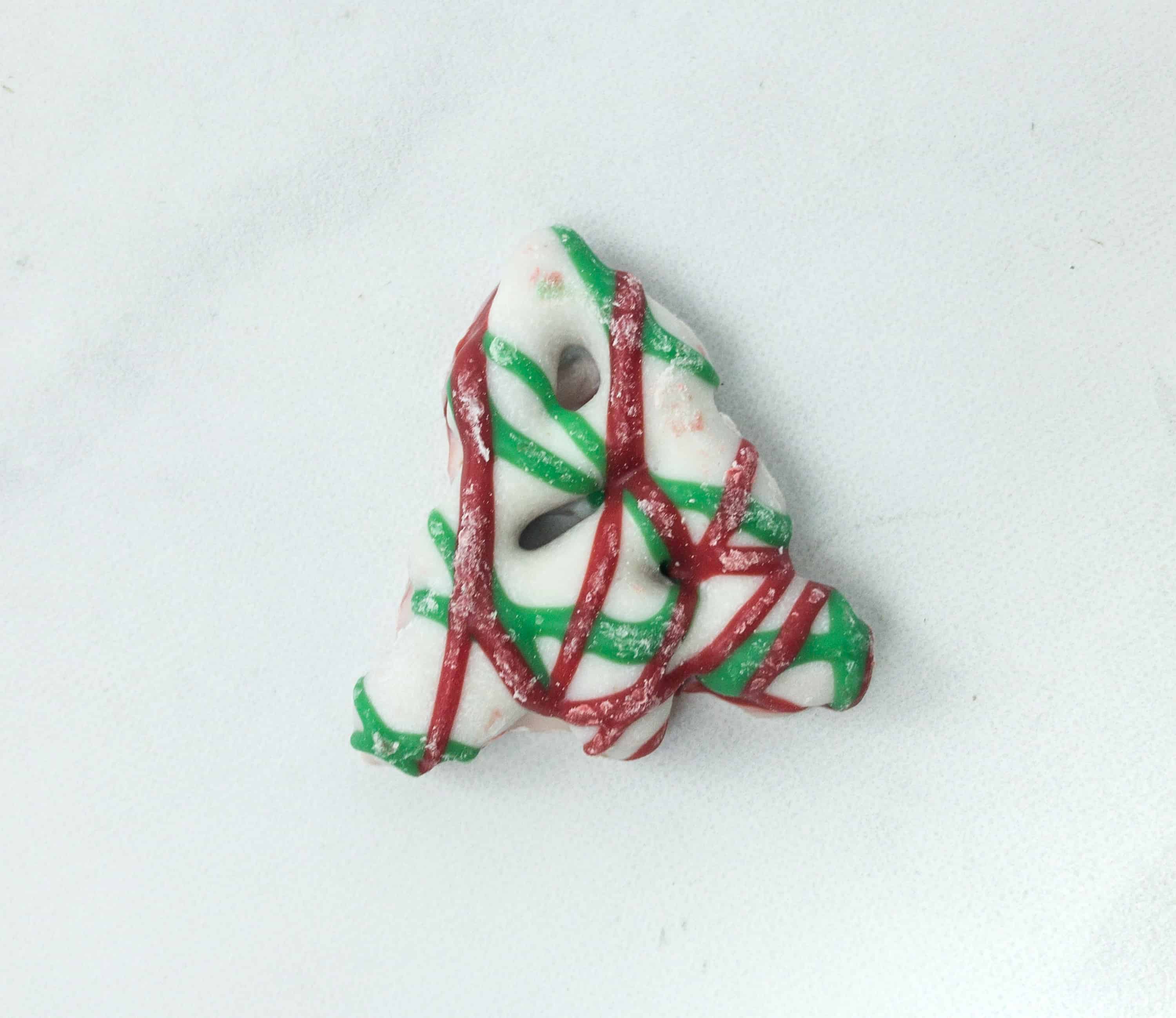 The pretzel is crunchy, while the coating is creamy and sweet. I'm afraid these won't last until Christmas, because they're too good!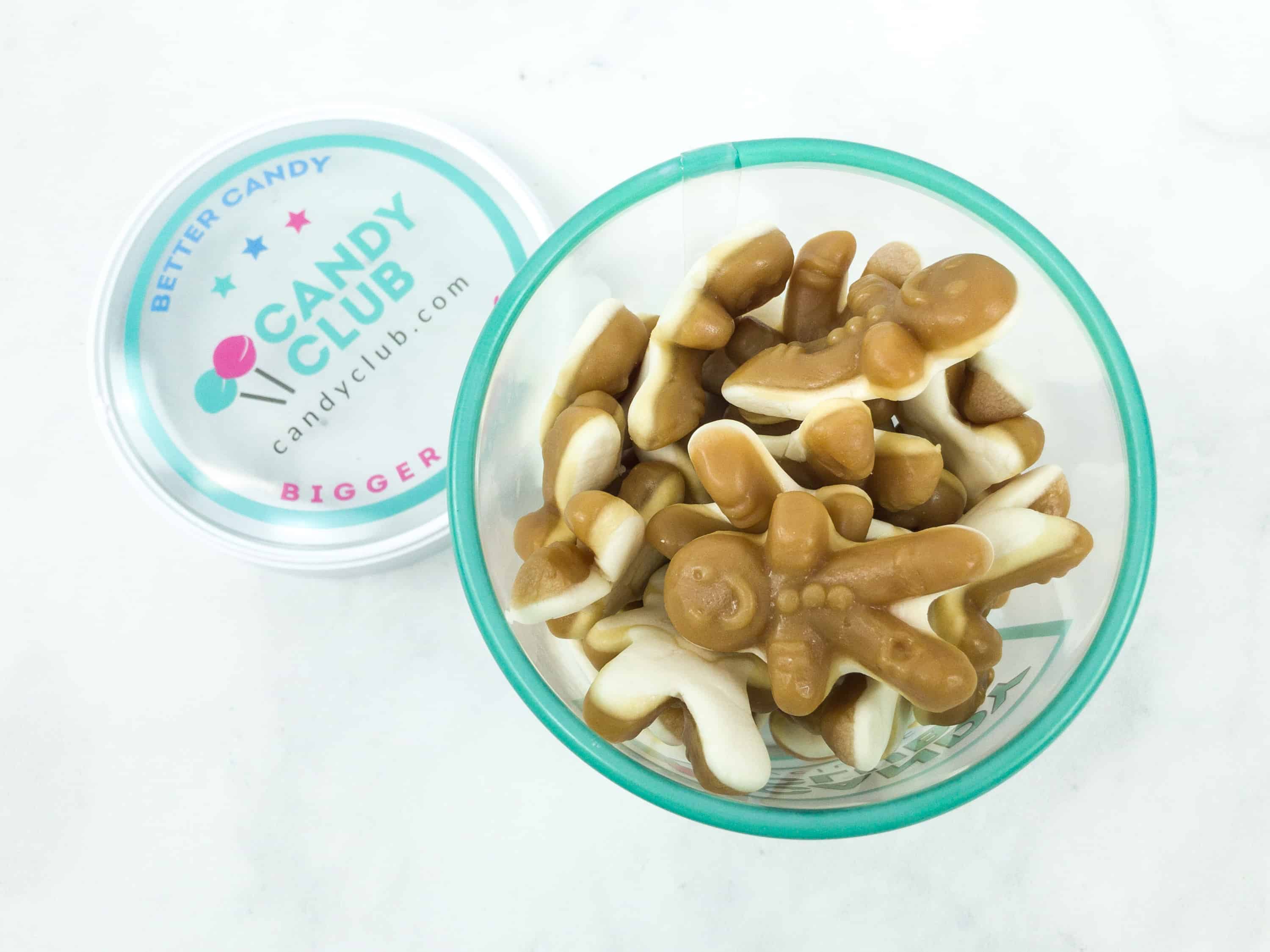 Vidal Gingerbread Men. It's not your typical gingerbread men! These are gummy candies with a cookies and cream flavor. The brown part has a texture close to a traditional gummy, though it is perhaps a bit creamier. The bottom layer is what makes these quite unique. It is much like the foamy texture of circus peanuts, and its an interesting complement to the gummy layer.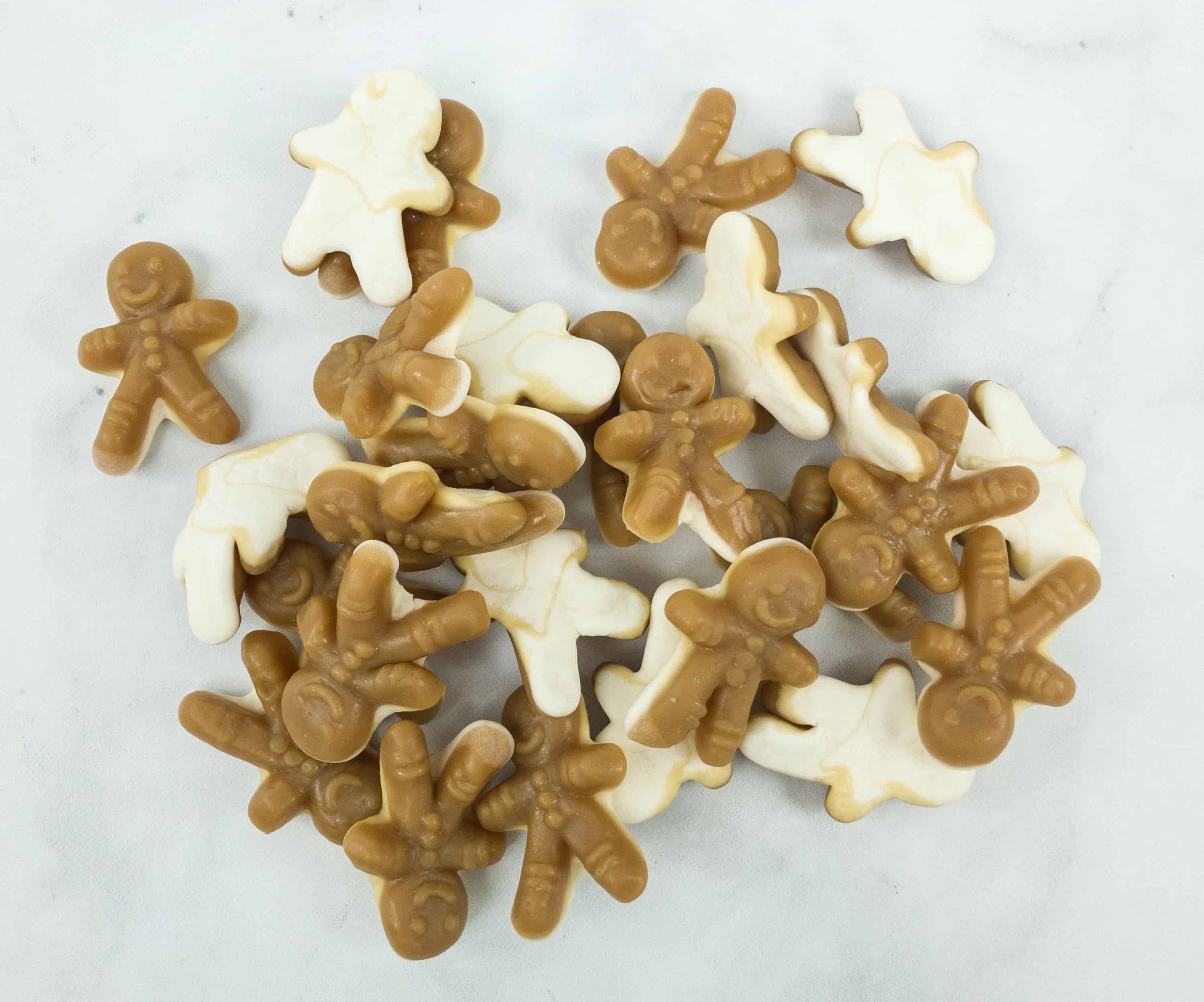 They're bigger than regular gummy candies, but still nice to chew on — half the fun of eating gingerbread men is in the dismemberment, anyway. Whether you want to decorate a gingerbread house or you just want something yummy, this is a great choice!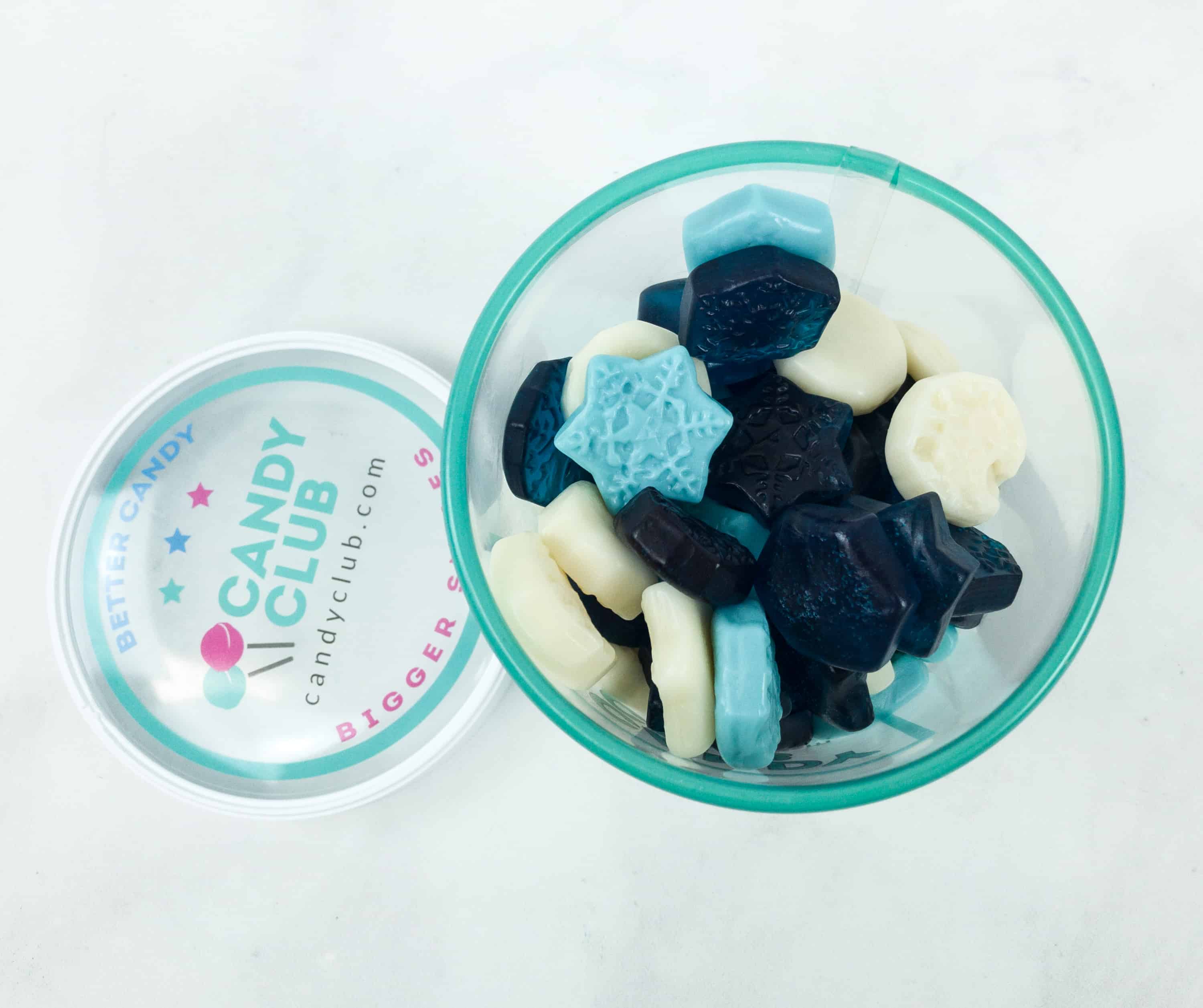 Albanese® Gummi Snow Flurries. These gummy candies come in a variety of snowflake patterns. There are three colors, each with its own flavor.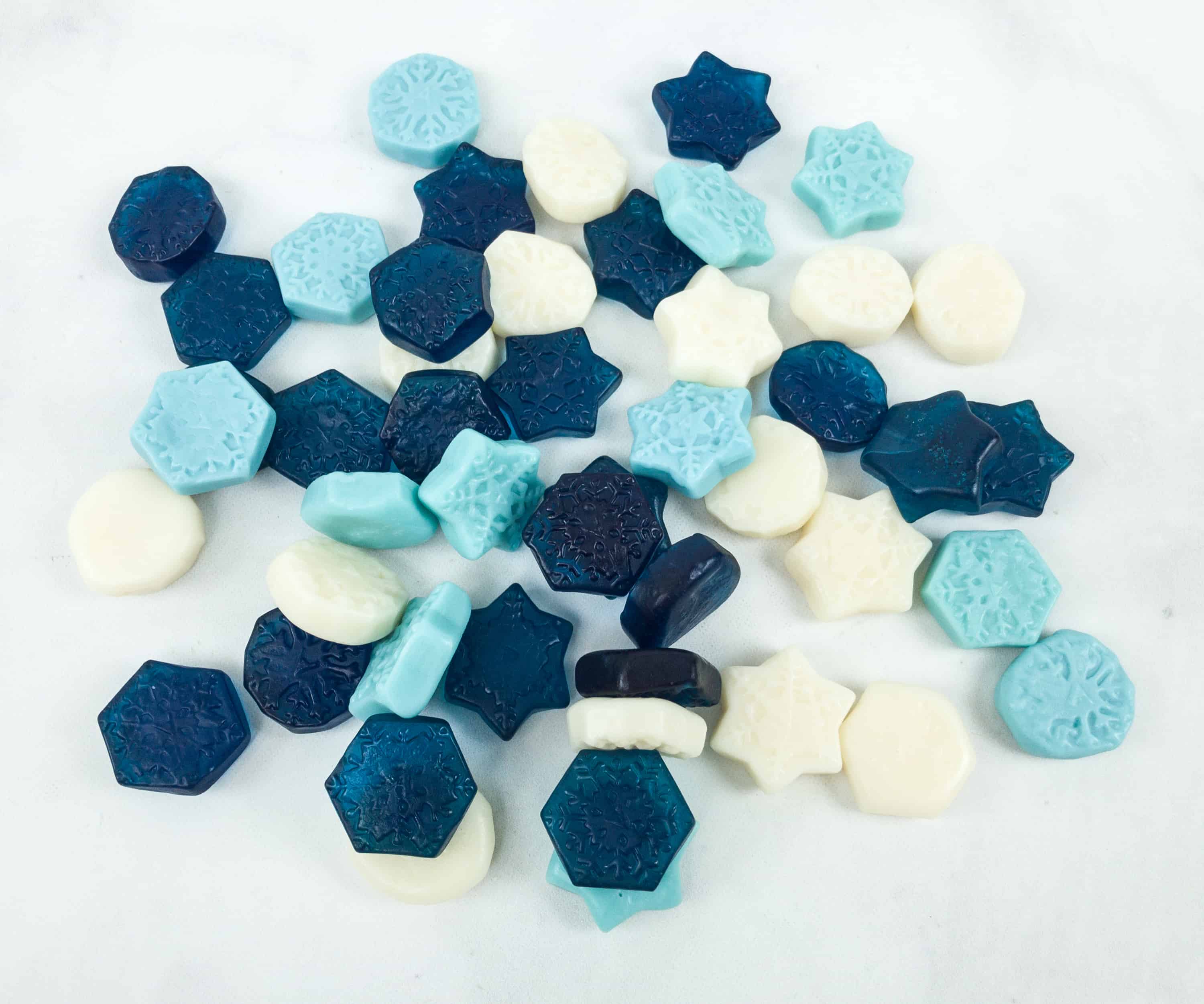 Flavors include watermelon, blue raspberry, and pineapple. I thought the flavor combo was pretty funny for a wintery collection. They are very flavorful, and the texture is more in line with what you'd expect from a classic gummy.
It already looks like Christmas in here!
We always look forward to Candy Club boxes because the stuff they send is always fresh and top notch. Opening this month's box felt like Christmas morning, especially because of the holiday-themed treats. We like that you can select your candies, so you can be adventurous, create your own themed box, or just get your familiar favorites. We put this collection together for my son who LOVES Christmas. The pretzels are great to pack as quick snacks, and both the gummy candy varieties we received are flavorful and fun to chew on any time of the day. As always, the taffies are awesome extras. If you love candies, too, and you want a regular supply every month for your personal stash or to enjoy with your family and friends, this subscription is definitely for you!
Have you tried Candy Club? What has been your favorite candy?