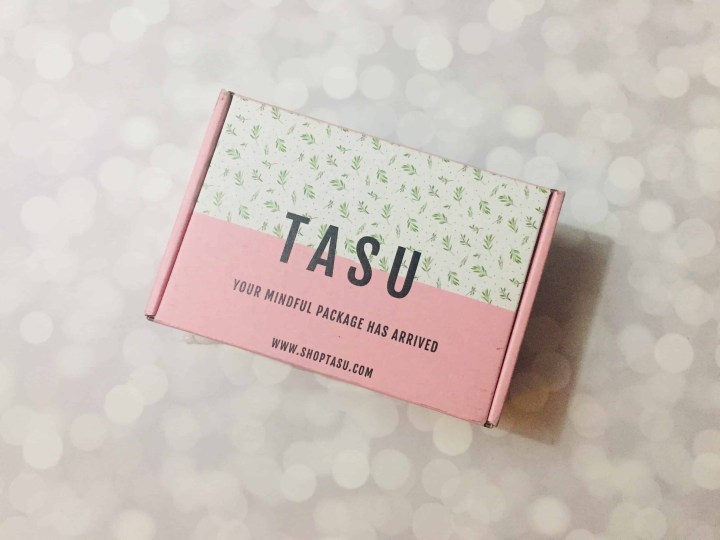 Tasu is a new Canadian yoga wellness subscription box. Every month, you will receive 4-6 products handmade and curated by Tasu. These products will range from clean and non-toxic skin care, aromatherapy, tea, yoga jewelry, healthy snacks, books, essential oils to yoga accessories to support and enhance your wellness lifestyle. The box is CAD $36 with CAD$8 Shipping for both Canada and the US.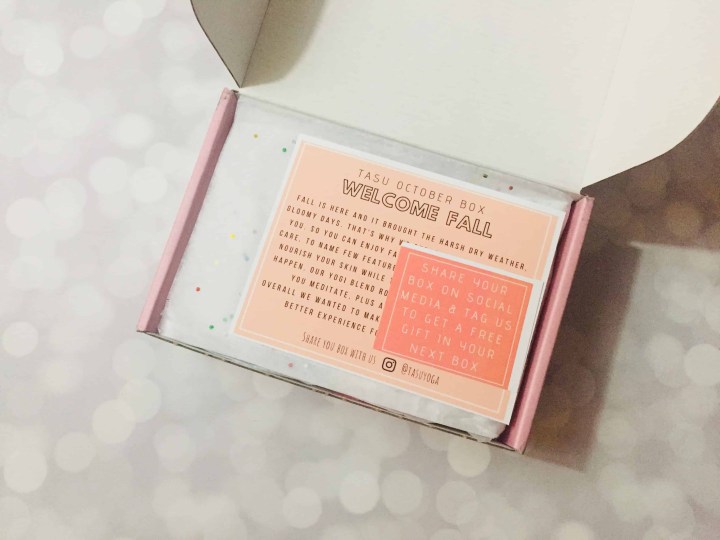 DEAL: Get 10% off your first box! Use coupon code HSB10.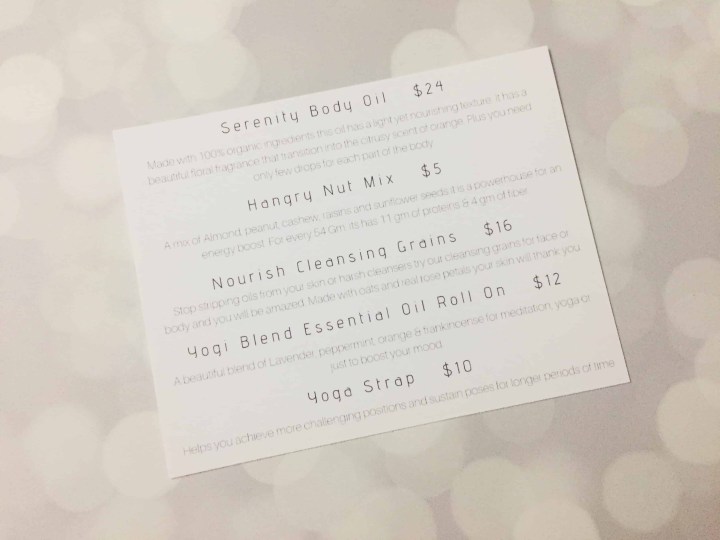 The reverse of the info card has information about the items included. The theme is WELCOME FALL! Five items are included, along with their retail prices. Tasu creates their own products to include, from skincare to aromatherapy experiences!
First peek! I love the sparkly tissue paper and the bright pink crinkles!
Tasu Yogi Blend Roll-on — A lovely blend of lavender, peppermint, orange, and frankincense. I'm not a huge lavender fan but I find that the mint and orange added some spiciness to it that really appealed to me! I applied it to my wrists at my pulse points and got a nice whiff throughout the morning, but it didn't linger for very long. Great to toss into a bag and keep reapplying as you need. It's an awesome way to have a bit of aromatherapy while out and about, which I really like. Work was super busy this weekend and I gave my wrists a subtle sniff more than once just to take a moment to inhale and enjoy!
Tasu Hangry Nut Mix — LOL I love the name. A trail mix full of almonds, peanuts, cashews, raisins, sunflower seeds, and pumpkin seeds. These were a lifesaver at work on Saturday when I felt a bit hangry and needed something to keep me going. I appreciate that there isn't any salt included in this mix, as I'm trying (emphasis on TRYING…) to cut back on my sodium and so many mixed nuts blends are loaded with salt.
Tasu Nourish Cleansing Grains — I've never tried a product like this before so I'm very interested in how it works! It's a simple mix of ground oats and rose petals. Add just enough water to make a paste and then apply to face and body. This gentle way of cleansing doesn't strip the oils from your skin. The smell is a very mild earthy sort of scent, with just a hint of the rose petals. If you're sensitive to fragrance I think this would be a good option. This is a big bottle and you don't need too much of the powder so I think it will last me quite a while!
Tasu Serenity Body Oil — A blend of rosemary, orange, grapefruit, and geranium makes this a perfect combination of floral, herbal, and citrus. It smells amazing! With winter weather around the corner, this is great to slather on all over to seal in moisture. Ohhhh, now I want Tasu to do a bath oil! Please? 🙂 Again, this is a generously sized bottle!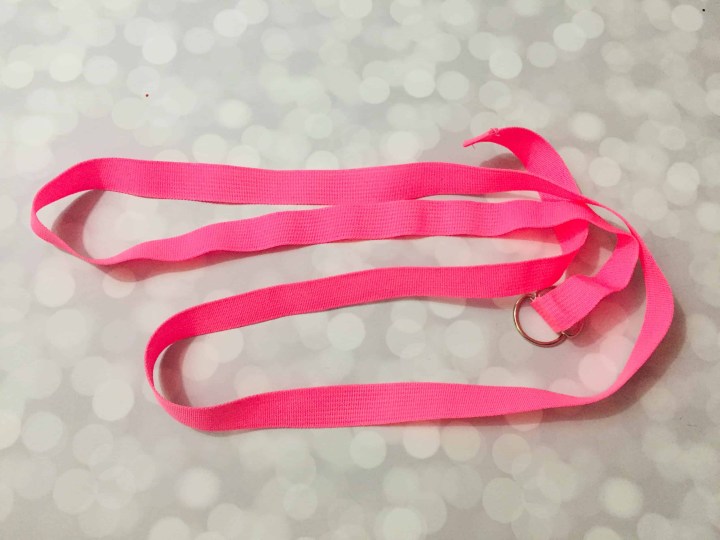 A cheerful pink yoga strap is great to help you deepen your stretch or hold a pose more comfortably. I have short arms and definitely find a strap helps me a lot during class. The small size of the strap when it's rolled up means it's easy to stash in your bag without taking up too much room!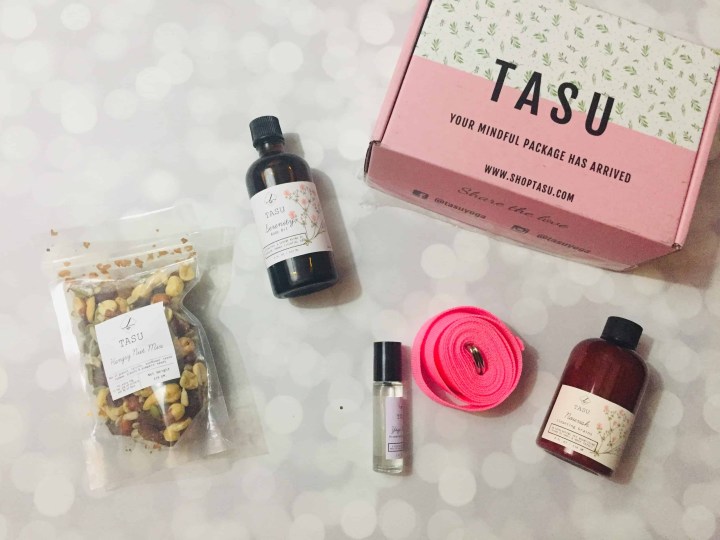 My first Tasu box was an absolute delight to open. Their products are all made in-house, and everything is vegan and cruelty-free as well as free from any nasties. Even if you're a beginner yogi like me, this is a fantastic wellness box full of healthy and natural products made right here in Canada! Be sure to have a poke around their shop — they sell certain items from past and future boxes in addition to the subscription so if you have some FOMO there's still a chance!
What did you think of the October Tasu box?