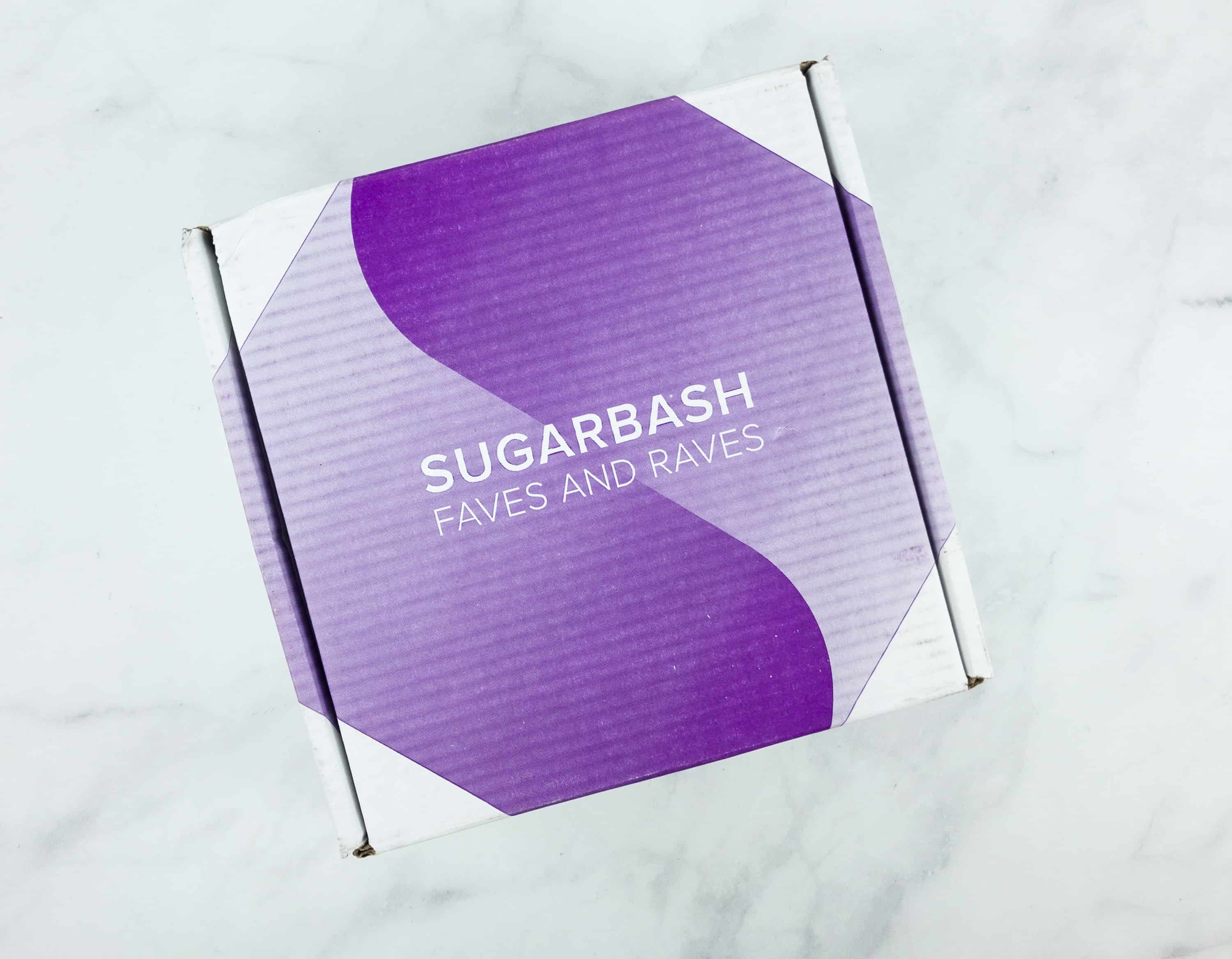 Sugarbash is a quarterly lifestyle subscription box for women that features full-size products. The box is $75 per quarter. They had previously said they weren't accepting new subscribers, but the boxes have been available after teh fact at a discount.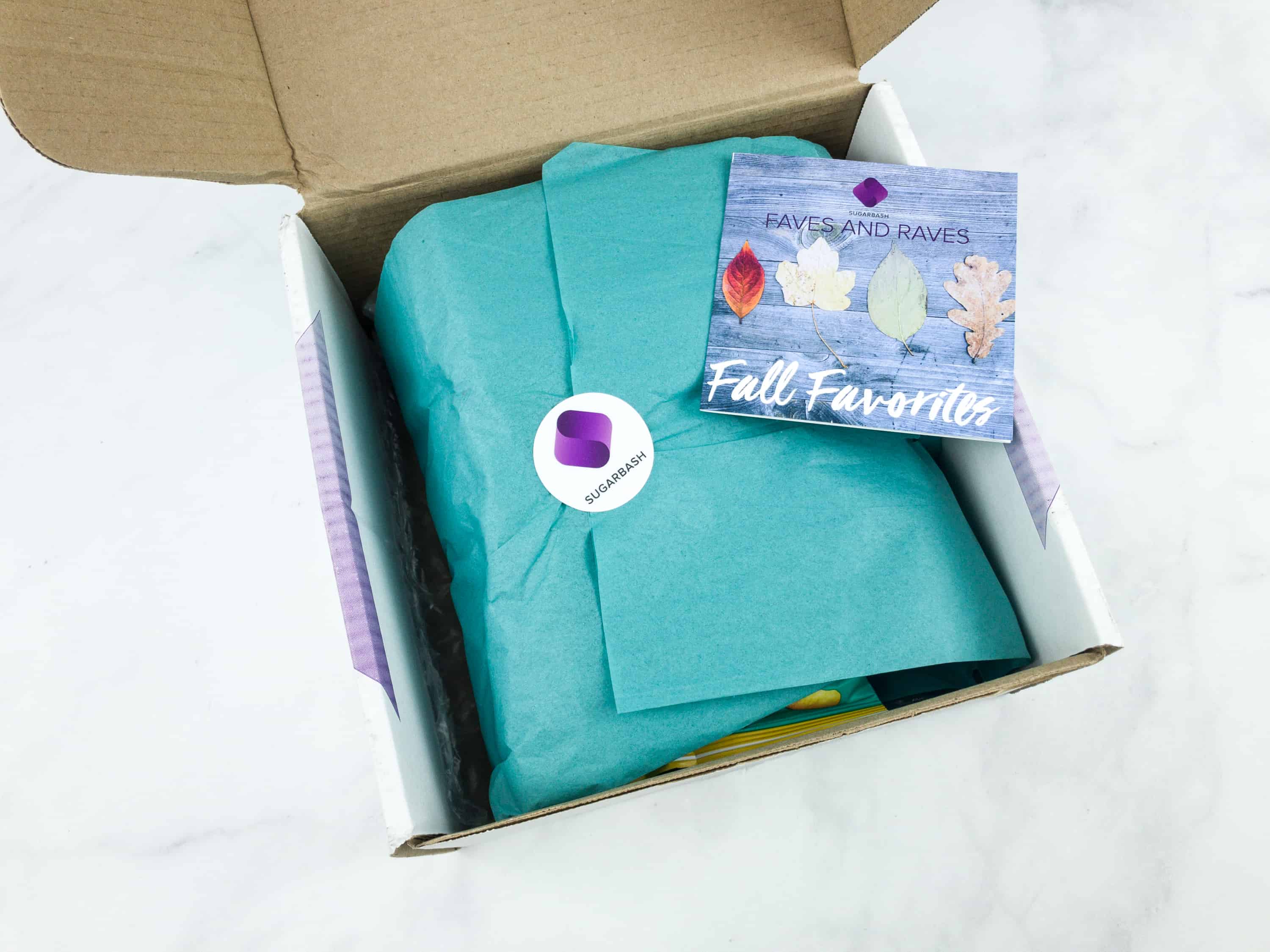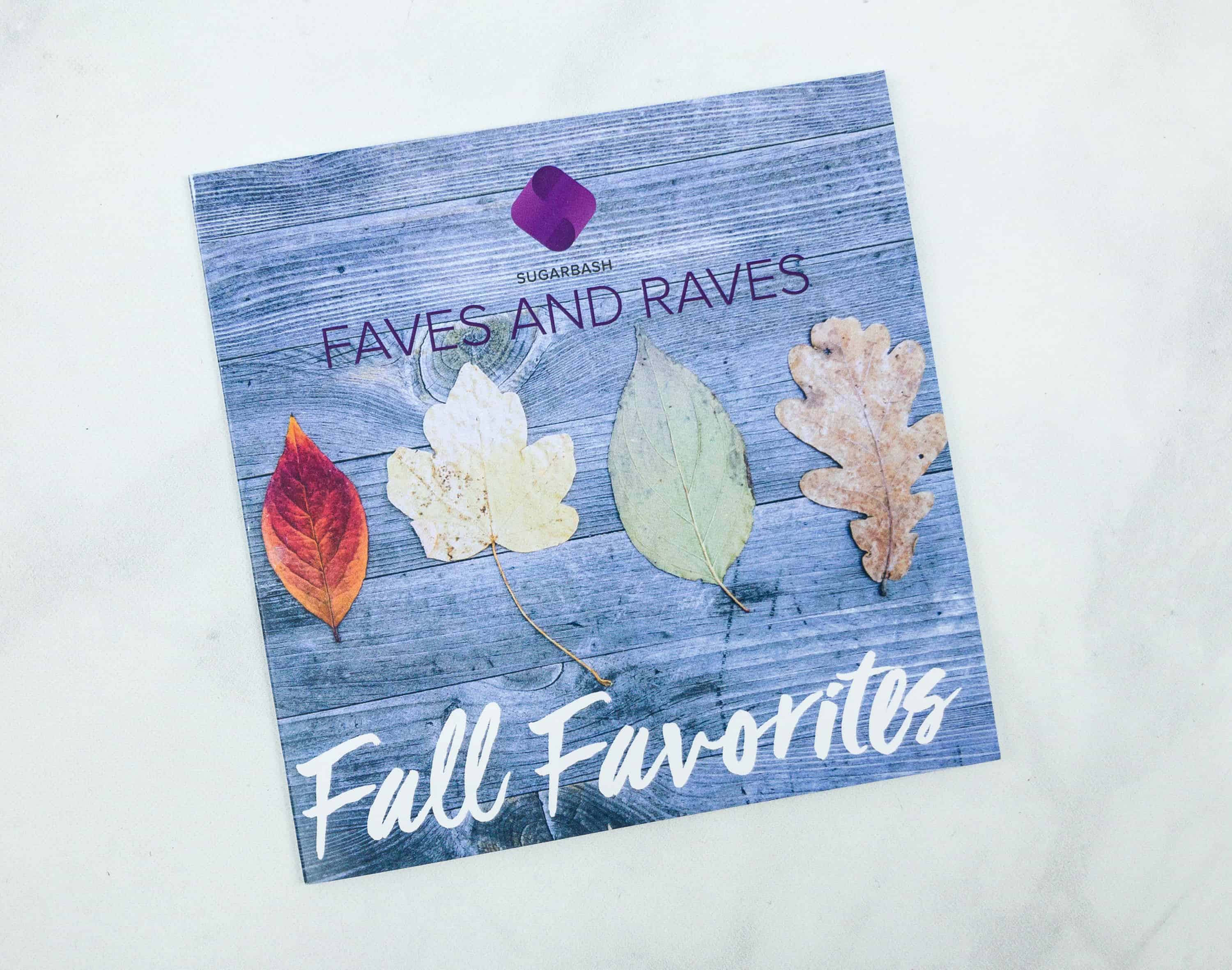 The Fall 2018 theme is Fall Favorites.
Included in the box is a tri-fold leaflet filled with photos…
…and item descriptions with retail prices.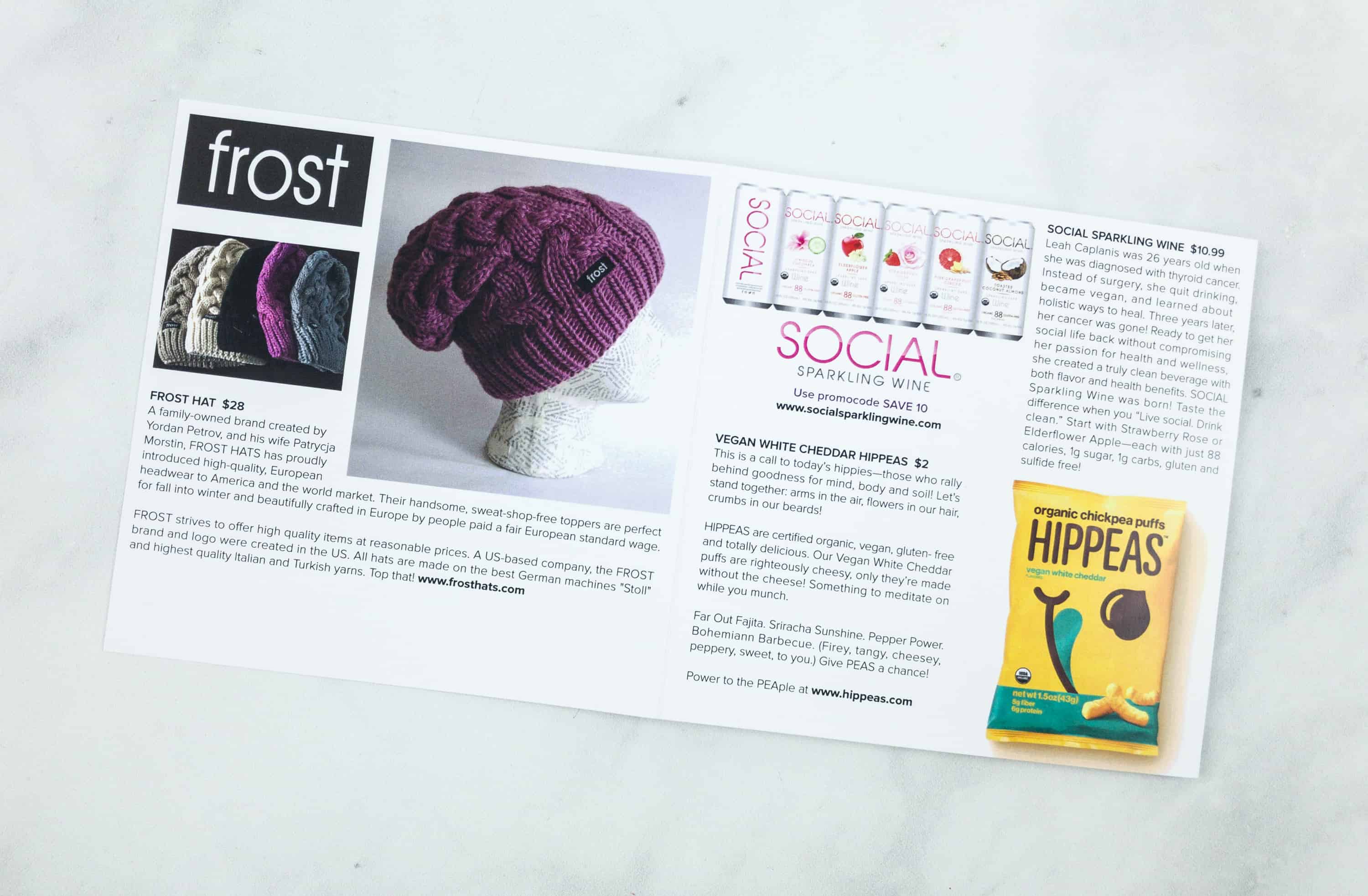 The Fall box is quite full! I am so excited!
Everything in my Fall box!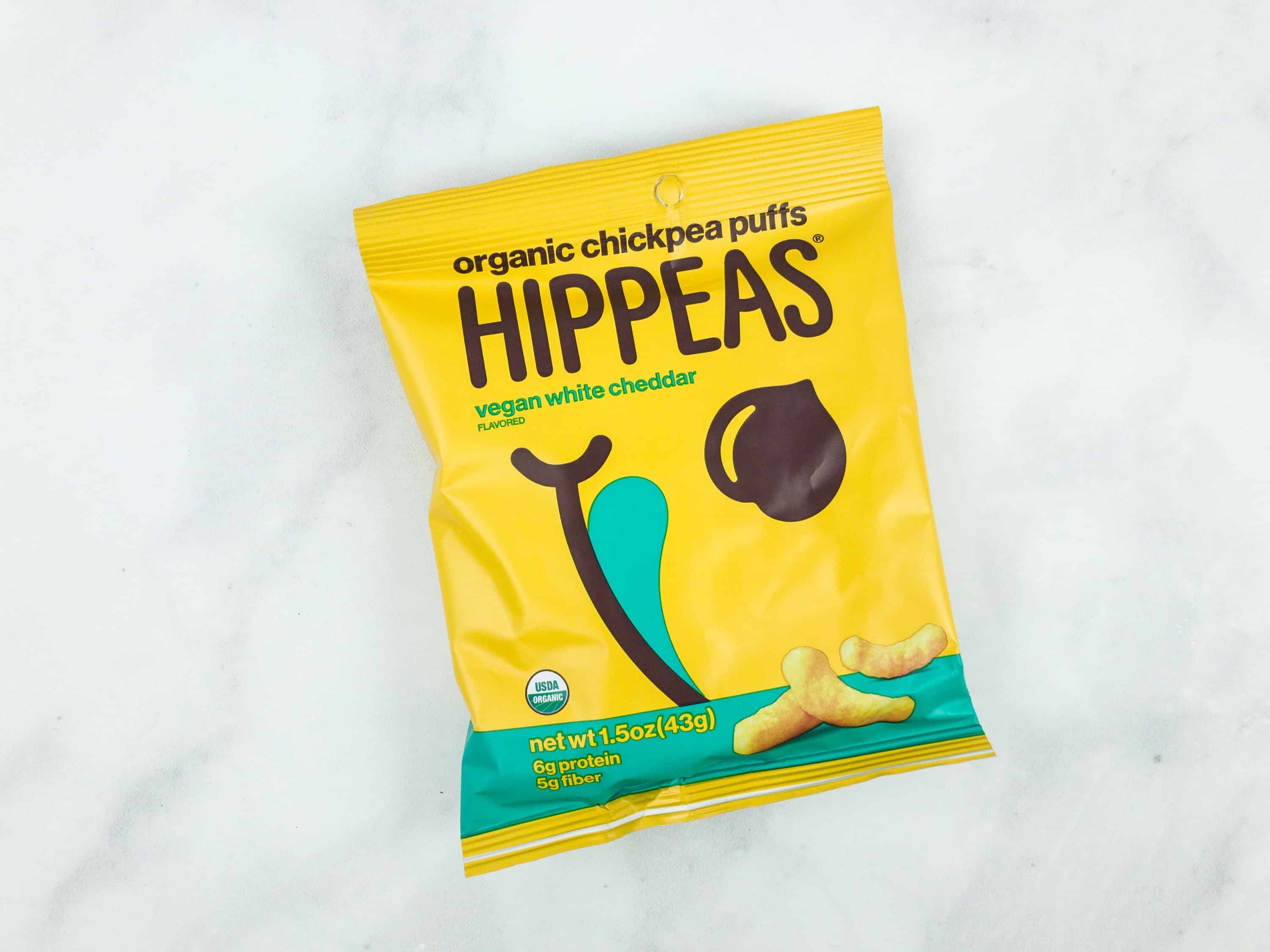 Hippeas Organic Chickpea Puffs In Vegan White Cheddar ($1.54) This organic chickpea snack reminds me of Cheetos, but it's definitely the healthier version. It's vegan, gluten-free, and non-GMO. It also doesn't contain nuts and soy. I am already a fan so it's nice that they included this fun snack in the Fall box.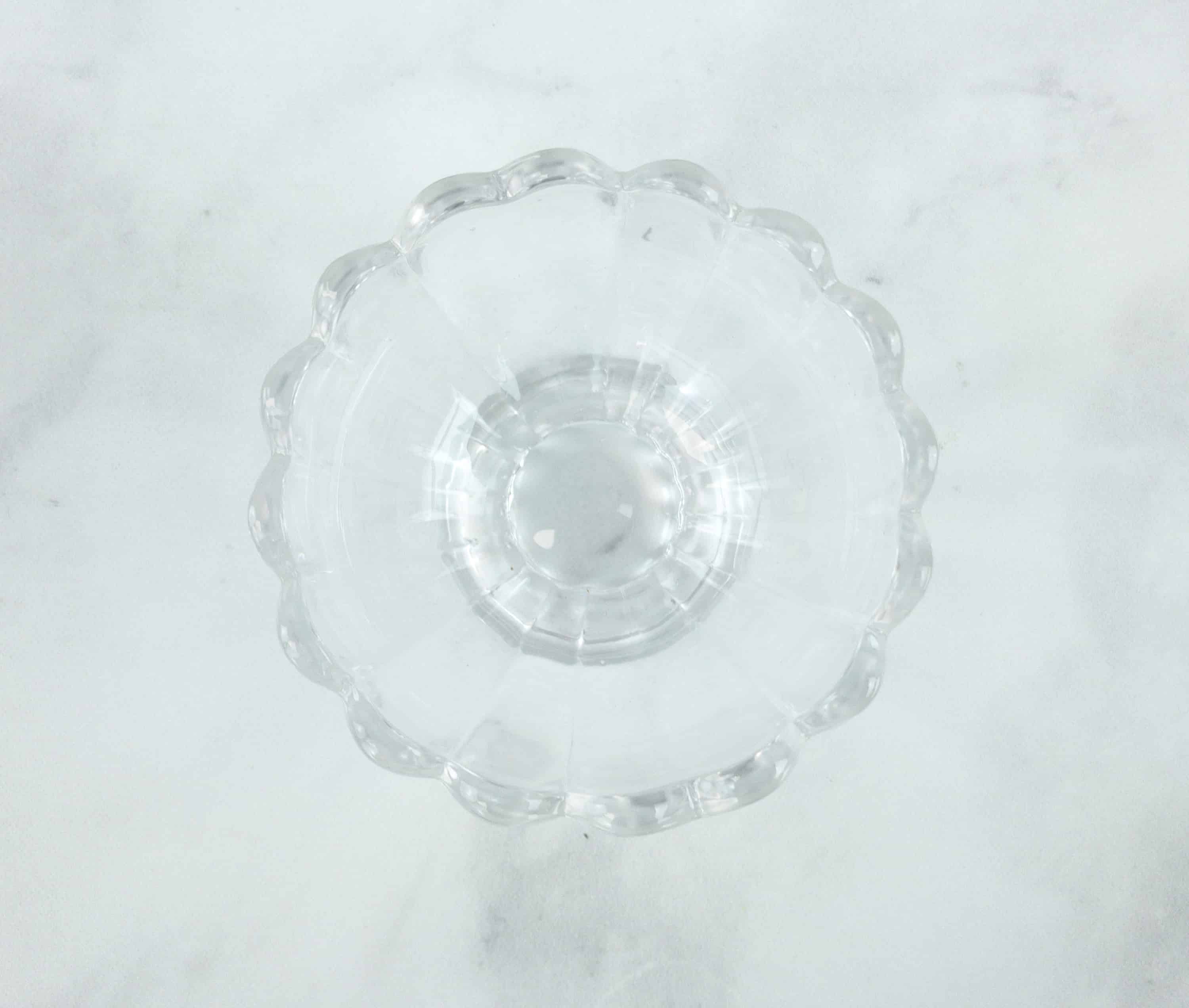 Crate & Barrel Tulip Ice Cream Dish ($1.95) This mini bowl is the right container for my Hippeas, and other snacks, sweets, or treats!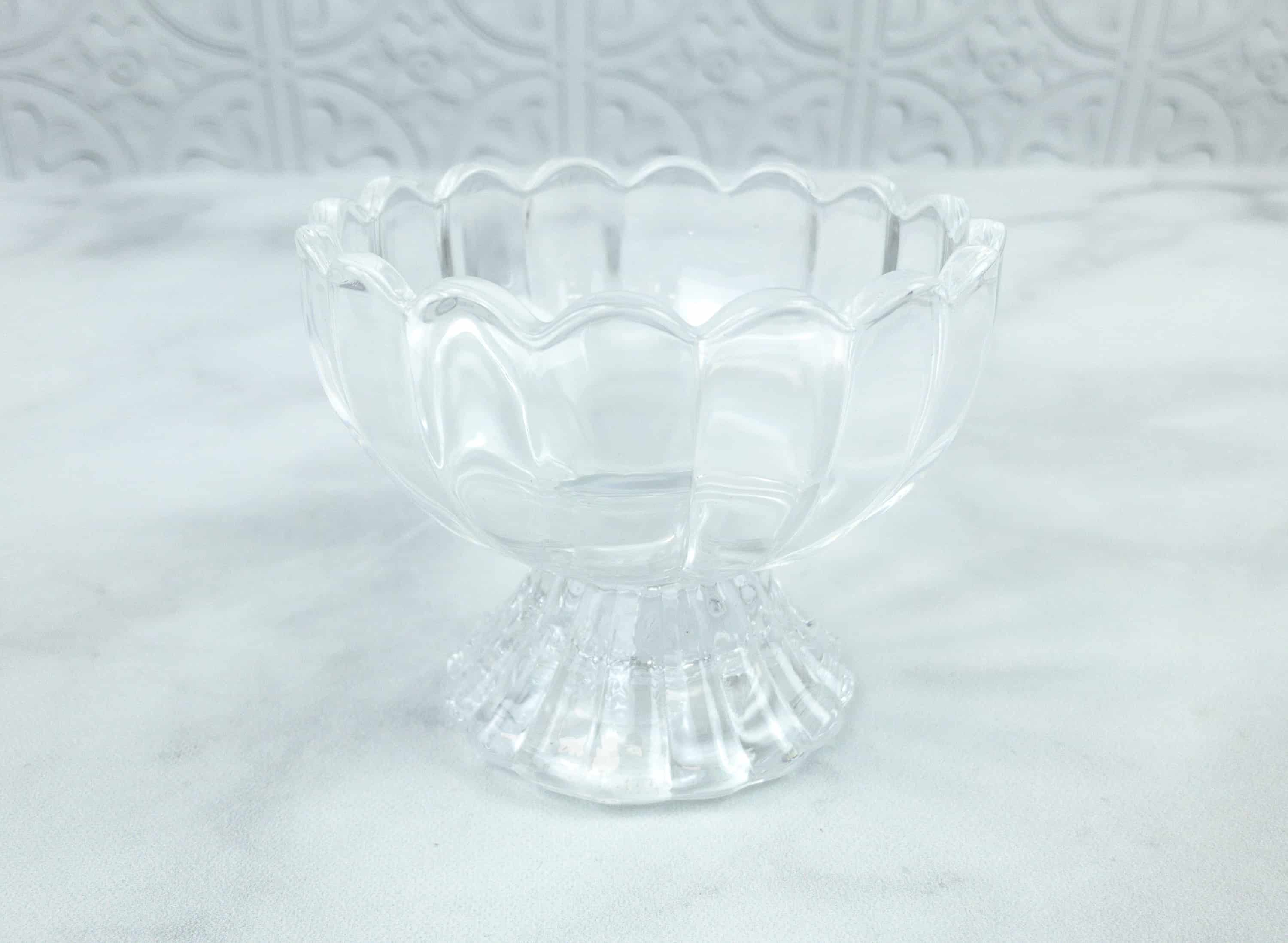 Aside from putting treats in this bowl, I think this will also look good on a center table, or on side cabinets where I can stash some tiny important stuff like pieces of jewelry.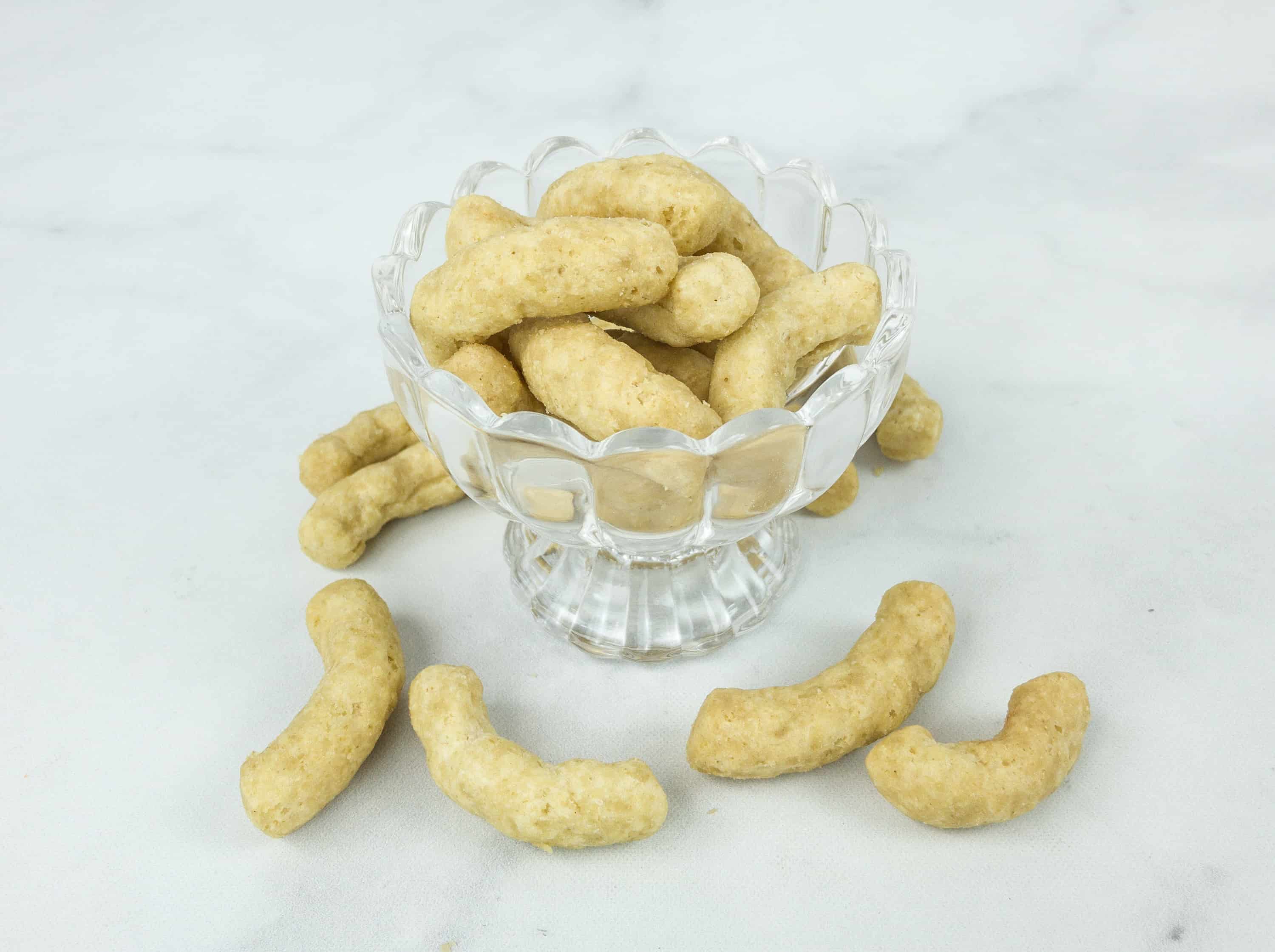 Though it didn't accommodate all the contents of the Hippeas pack, it sure makes them look sumptuous in a glass container!
The info card didn't list this item – I know what it is only from other subscribers' boxes (theirs had stickers).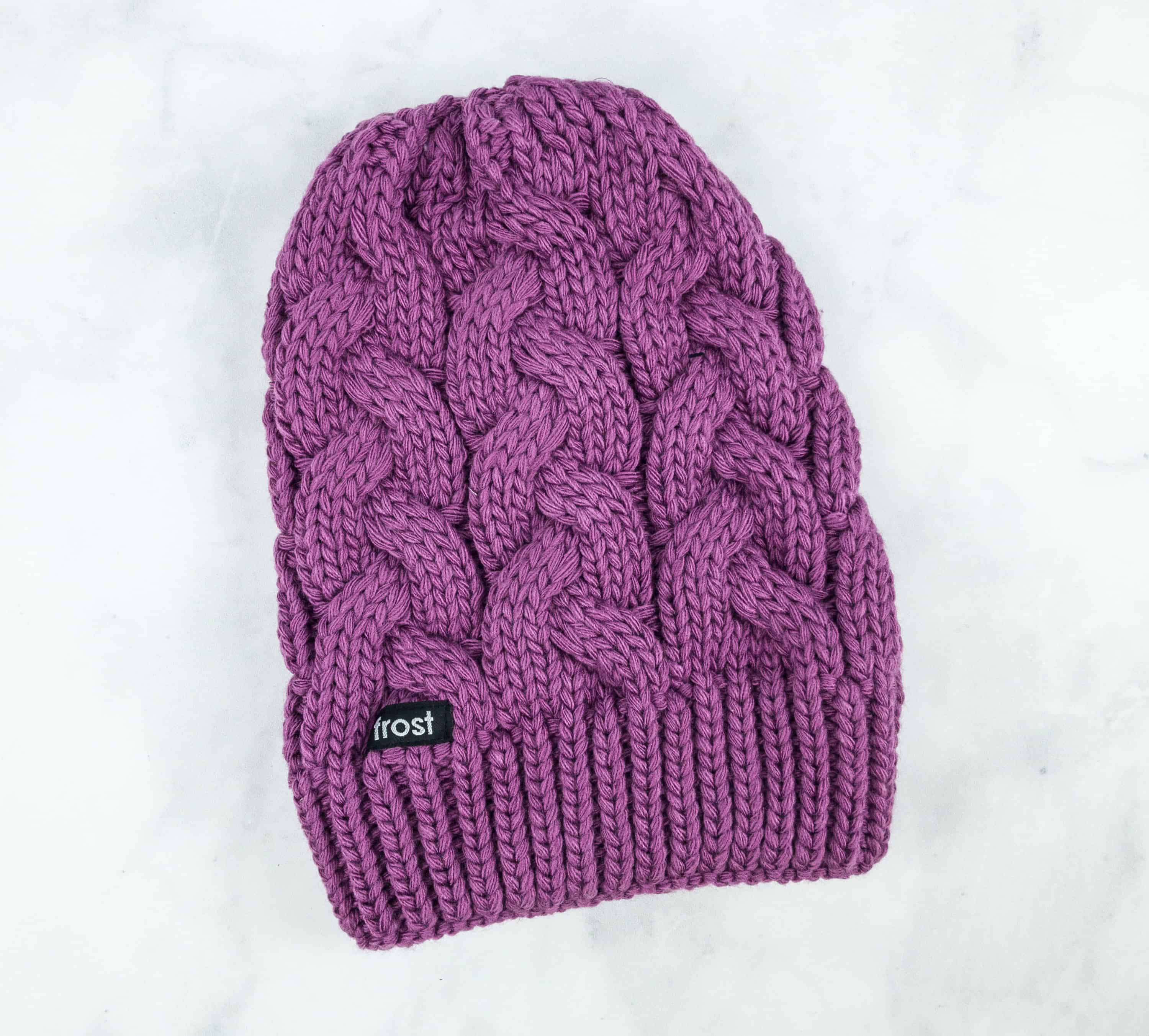 Frost Hat ($19.99; $28 on the card) Made from Italian and Turkish yarns, this Frost Hat is just the right headgear for fall and winter. I love its color, and the warmth and fuzziness it brings.
Kevia Vie Boheme Bracelet ($61) I also got this elegantly beautiful gemstone bracelet that features a 1″ purple jade medallion with a pearl accent.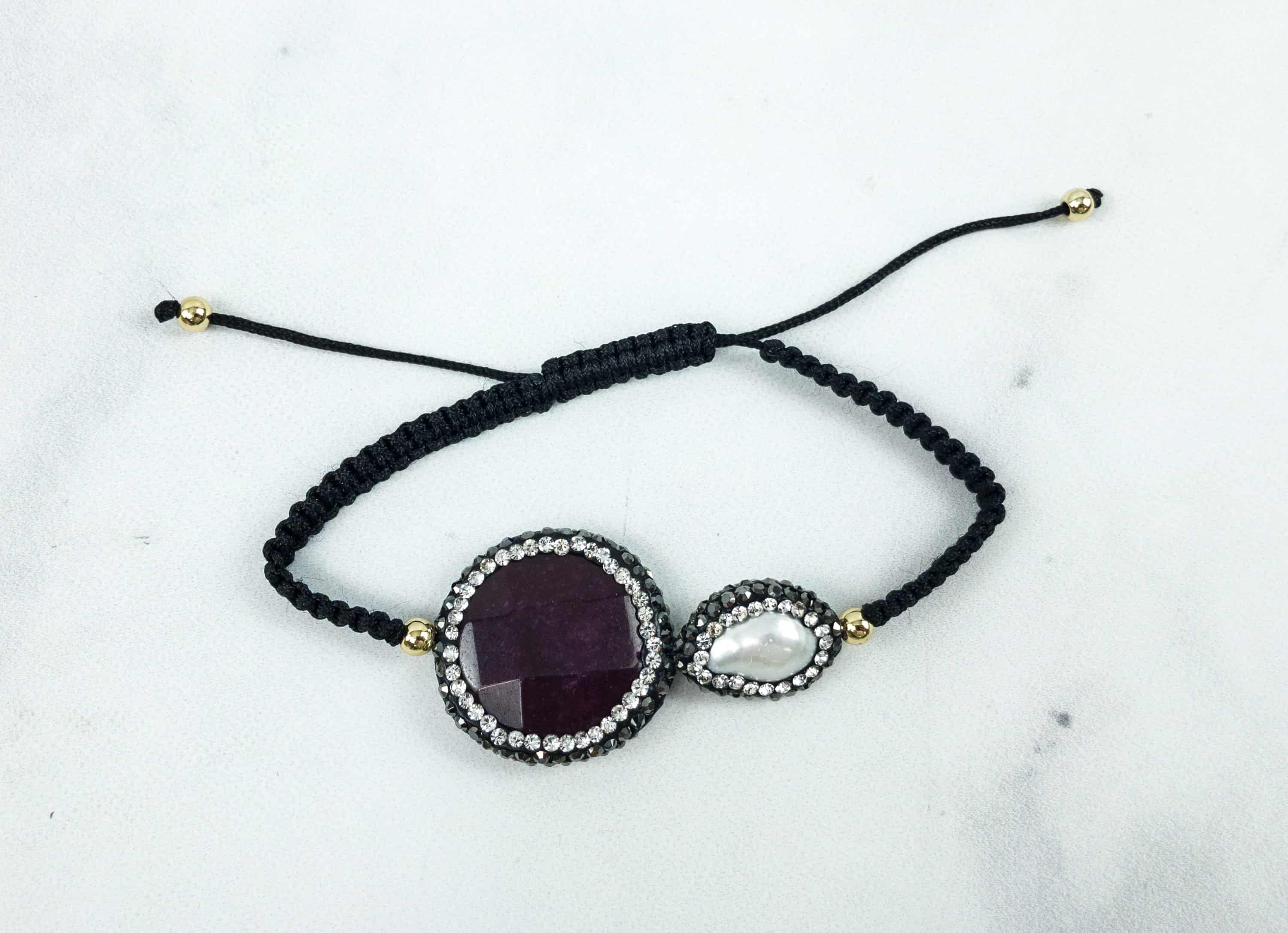 The bracelet comes in a black macramé cord with sliding clasps, so it can be adjusted easily to fit perfectly.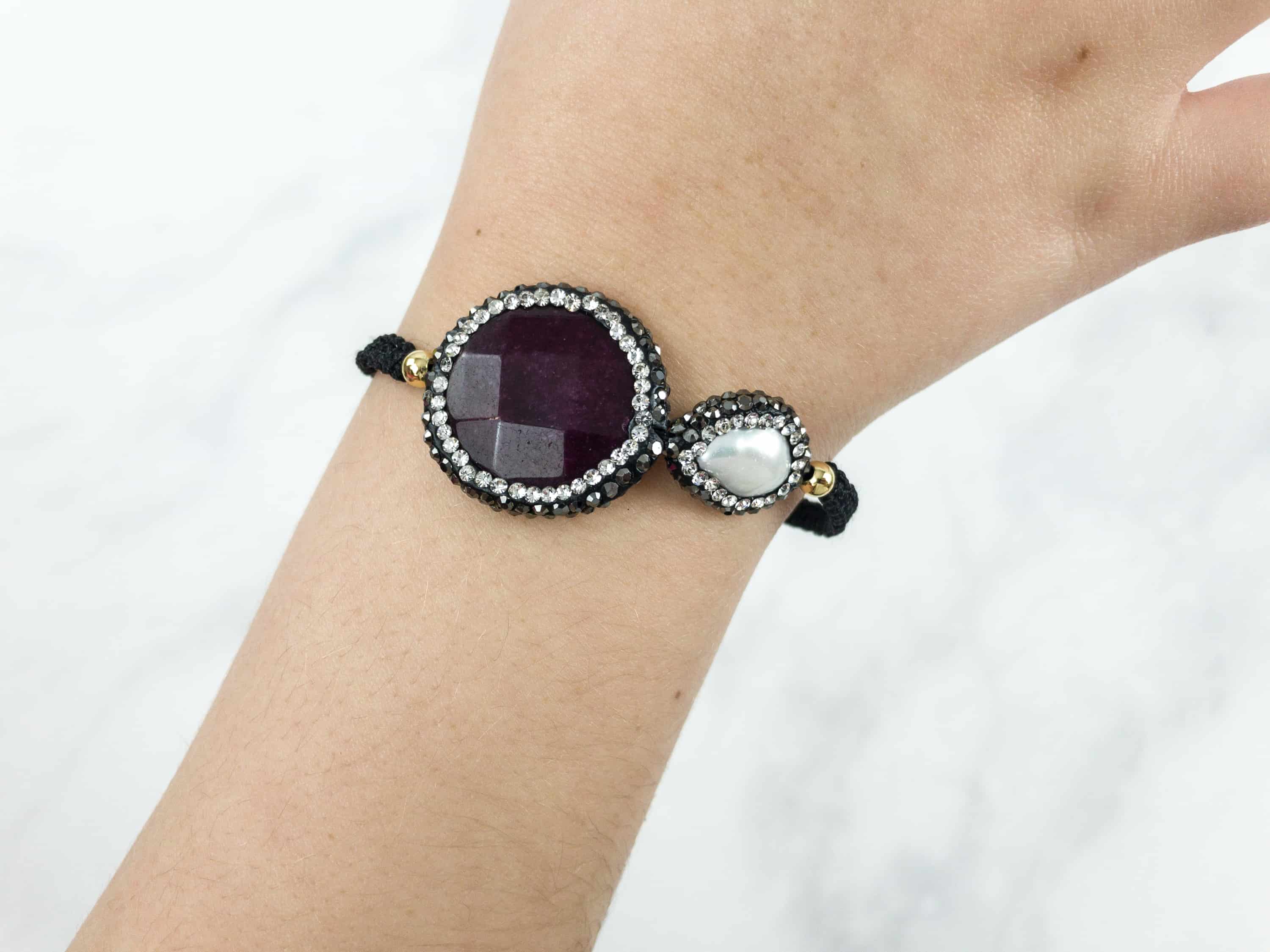 The bracelet is made of 18K gold plate, and is also nickel-free. Aside from the purple jade, you can also get the beautiful piece with other gems: turquoise, tiger's eye, green onyx, and pearl. It's the perfect boho accessory!
If you're wondering, the color choices on the hat and the bracelet were subscribers' choices, and I selected purple for both – my favorite color!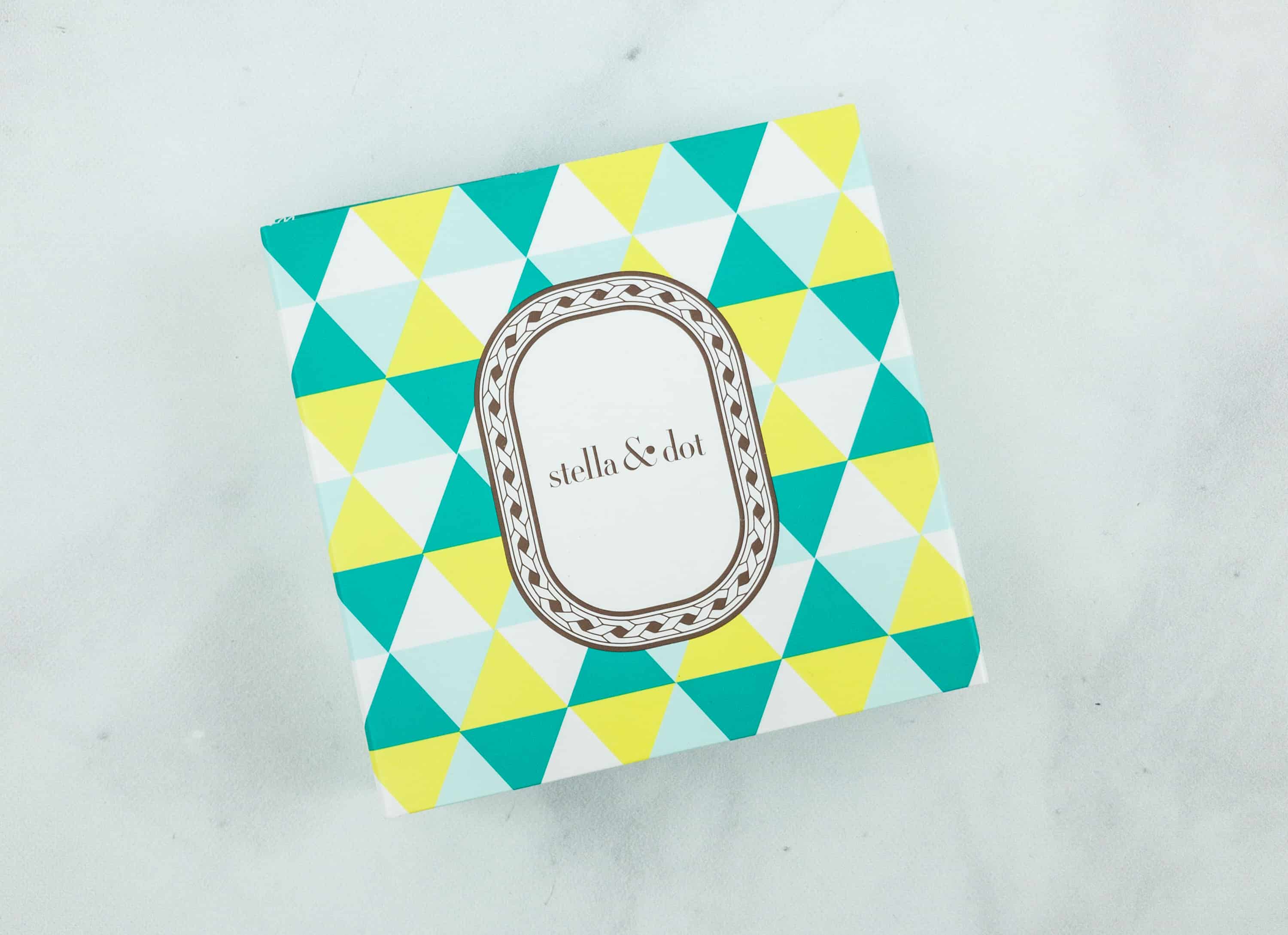 Stella & Dot Wisten Cuff Bracelet ($23.99) Here's another accessory, and this time it comes with a beautiful box!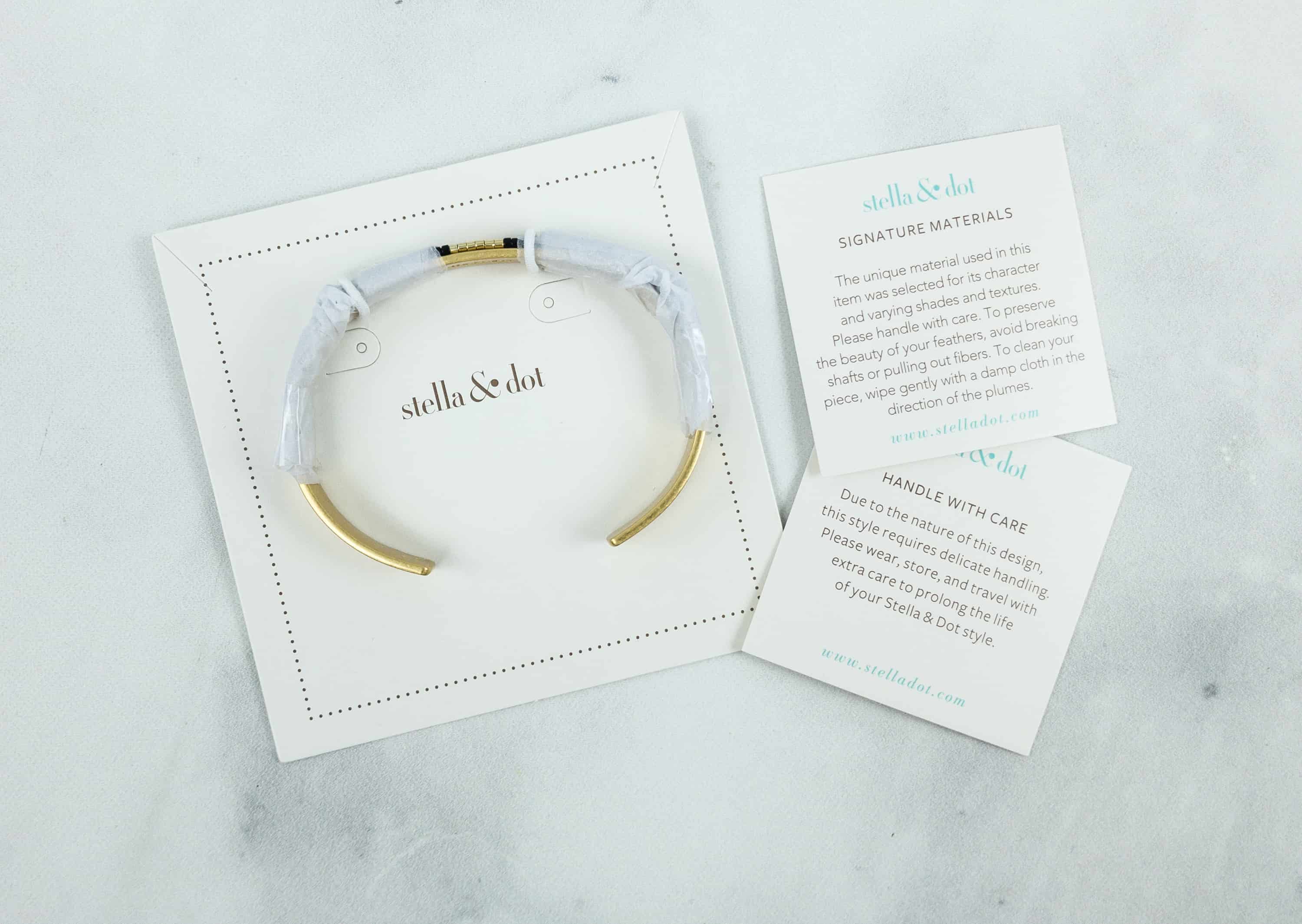 It's an alluring cuff bracelet from Stella & Dot. It also included care instructions and material sheets.
The beads complement the feathers so well. To preserve the beauty of the feathers, avoid pulling the fibers out or breaking the shafts.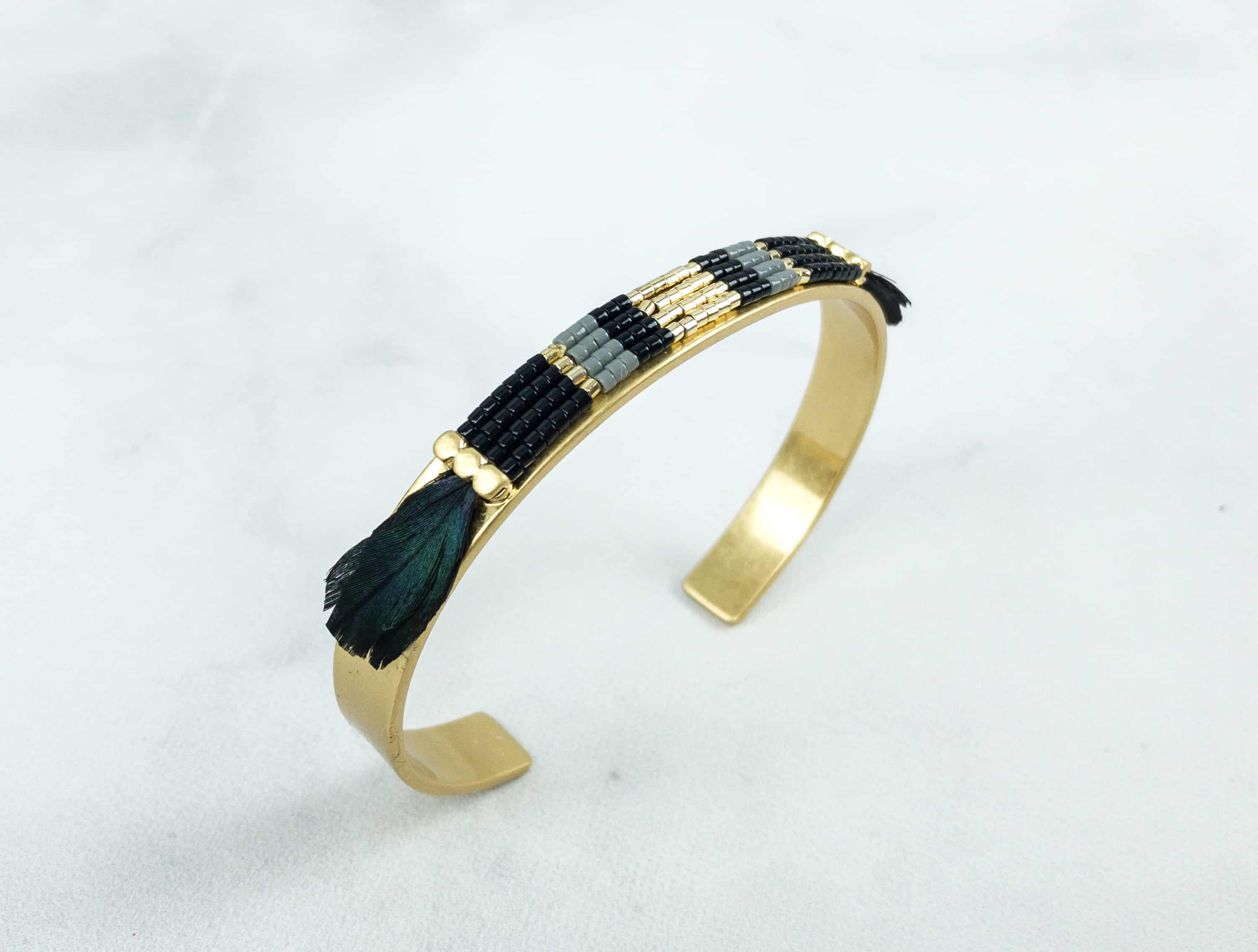 The bracelet also has open ends, so it can fit most sizes.
This will actually go well with most jewelry or accessories I have in my box, and the perfect accent for most of my outfits.
Crown All Eyes On You Brush Set ($39.99) The brush set has 6 pieces of brushes designed to make application of eye makeup easier. The brushes are luxuriously silky and deliver optimum and even coverage for a perfect finish.
The first one is the deluxe blending crease brush which is used to diffuse eyeshadow in the crease of the eye and can also be used to blend multiple shades of eyeshadow together.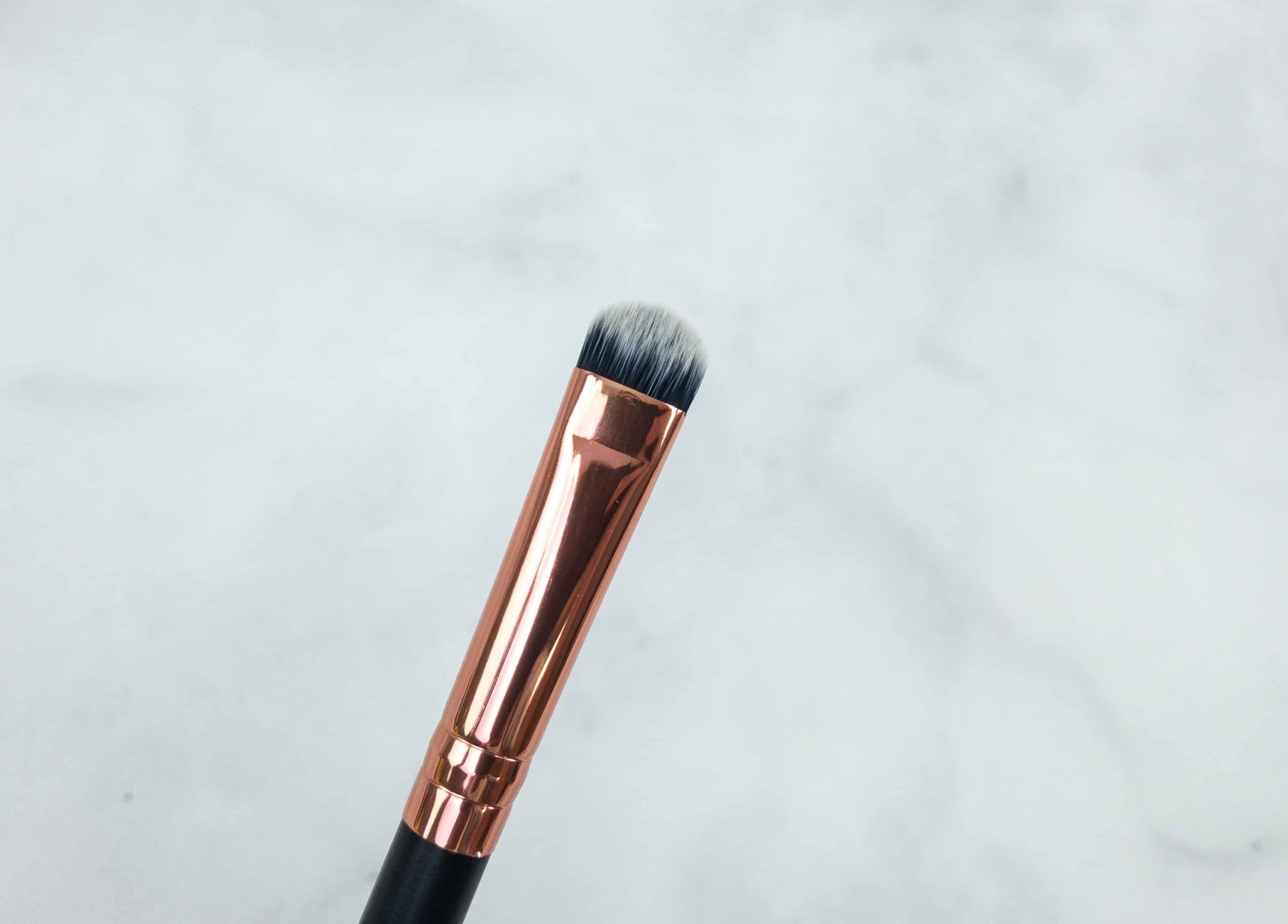 The deluxe chisel shader is used for a detailed work and precise placement of color.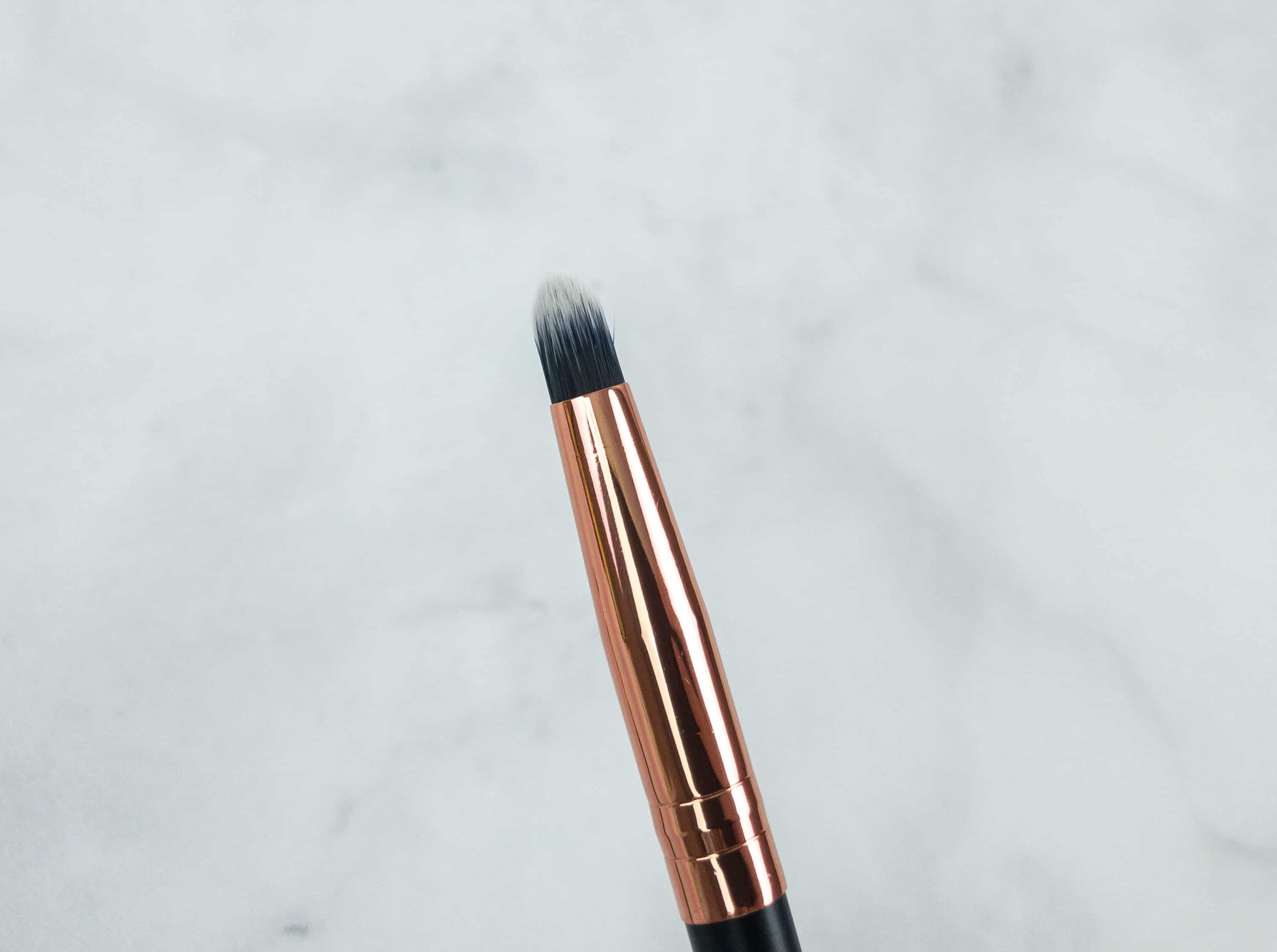 The deluxe precision smudger brush is used to soften eyeliner, for a smoky and sultry look.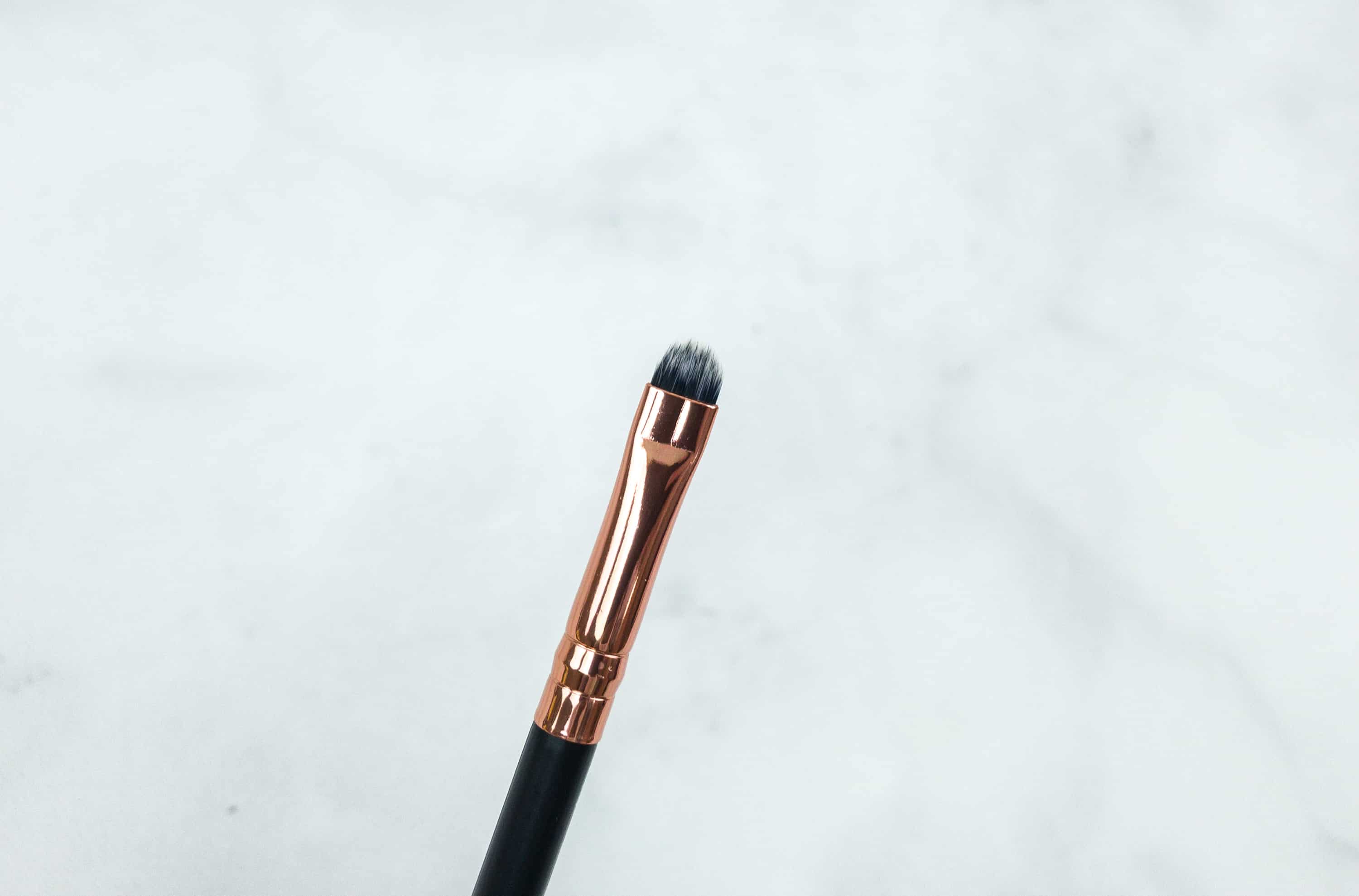 The deluxe precision detail brush is used on the outer corner of the lid to create intensity and extra depth to smokey eye looks.
The last one is the deluxe jumbo shadow brush which is used to evenly apply powder and cream shadows.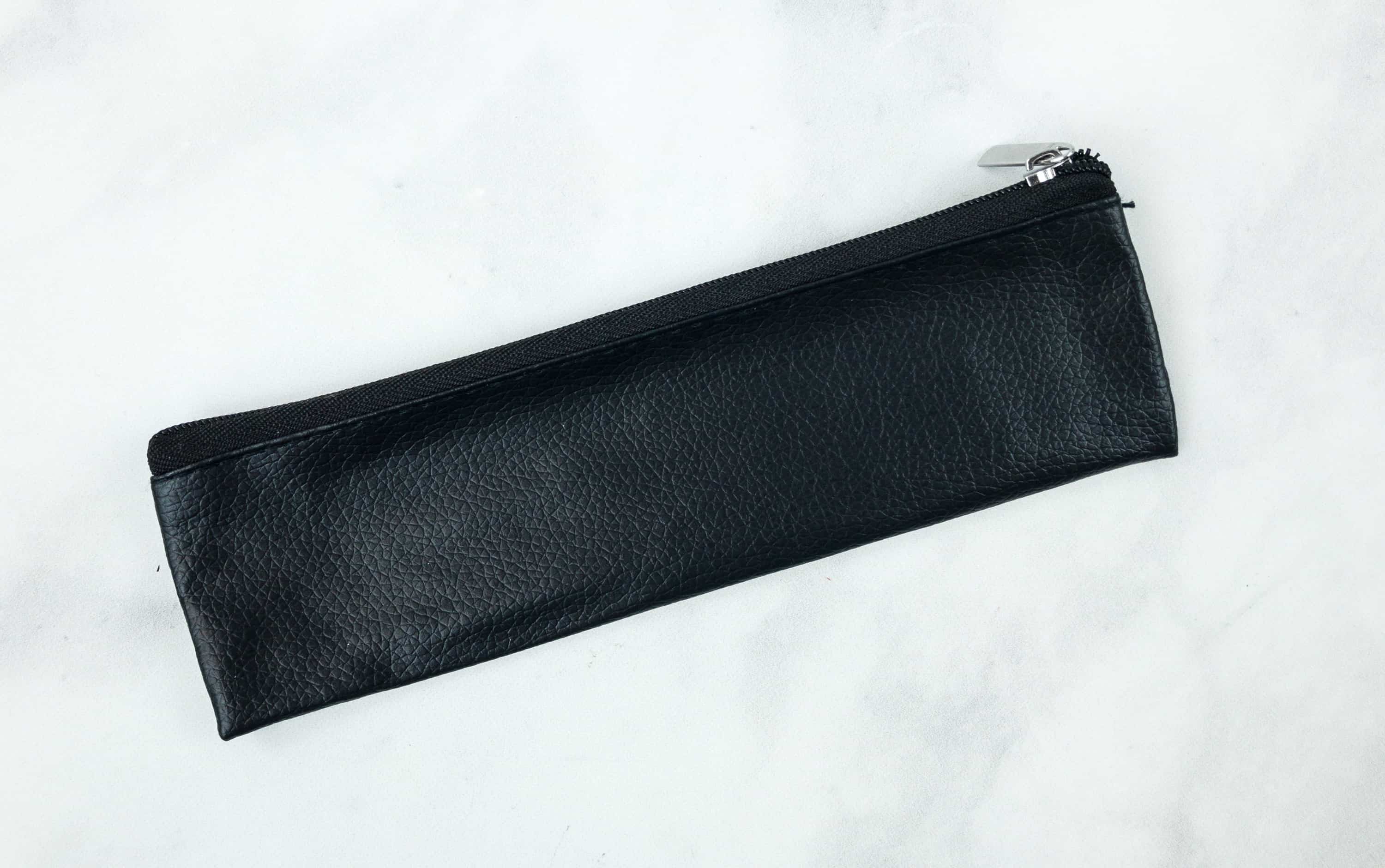 To keep the brushes organized, they also included a zipper clutch case.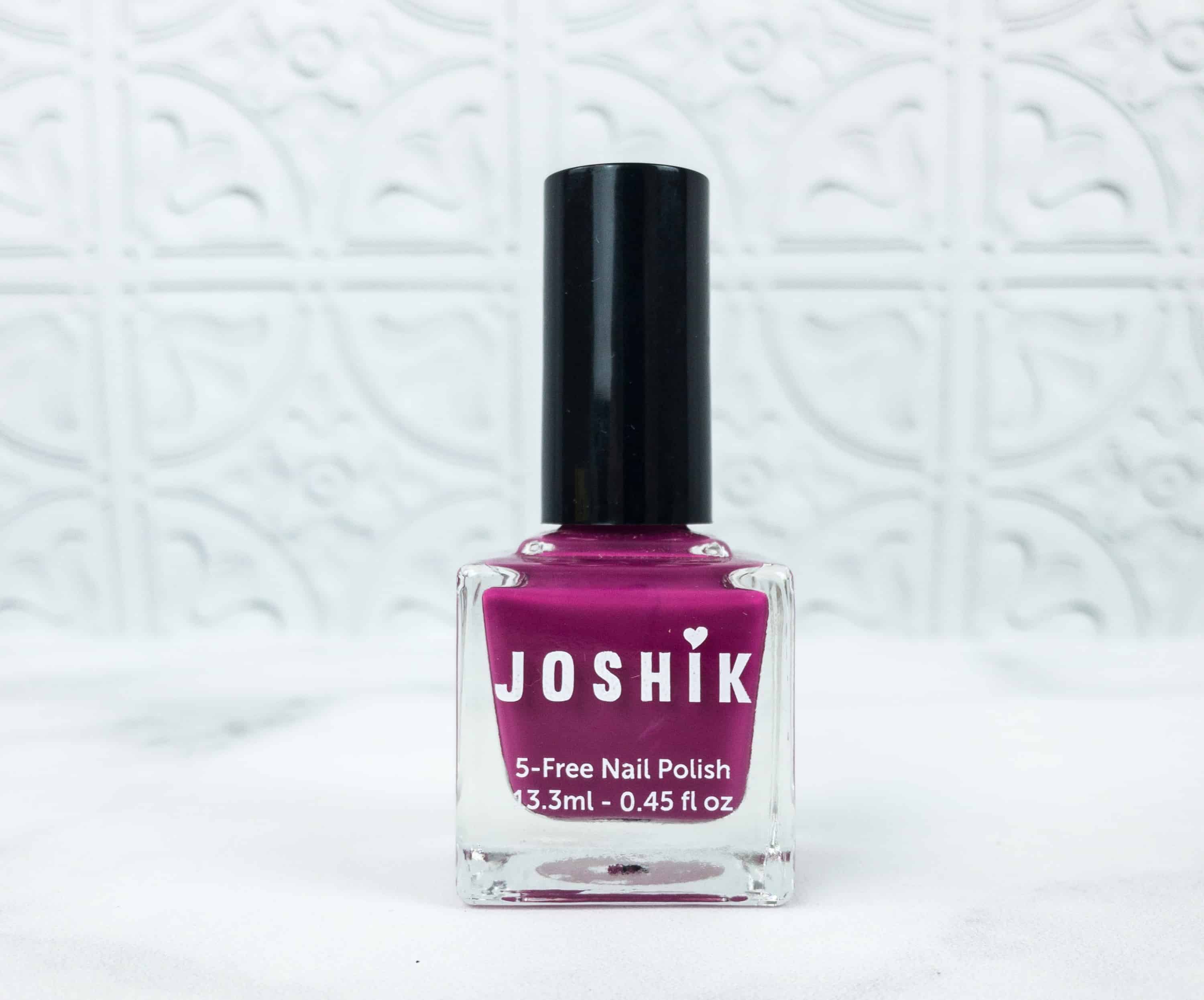 JoShik Cosmo Pink Creme Nail Polish. They also included a non-toxic, fast-drying, chip-resistant, and luxurious nail polish creme that comes in a very beautiful cosmo pink. It's so chic, and I love that it's also vegan too! The application is very easy too because it's so smooth, and the shine is just perfect.
Social Sparkling Wine ($2.74) I got some snacks, so it's just right that they included a delicious sparkling drink! This wine is sweet, as it is a combination of juicy and crisp apple flavor blended with a really fresh elderflower bouquet. It's organic, gluten-free, sulfite-free, and vegan too.
Bellapierre Precious Exfoliating Facial Peel ($179) This facial peel helps gently take off dead skin cells and impurities that clog your pores.
It's all natural as it contains ultra-fine 24 karat gold powder and crushed cranberry seeds. They're perfect for exfoliation without being too abrasive. It leaves the skin smooth, bright and beautiful after every use.
Aside from the exquisite ingredients, the container is sophisticated too. It's quite an expensive beauty product, but you can see that the results are there.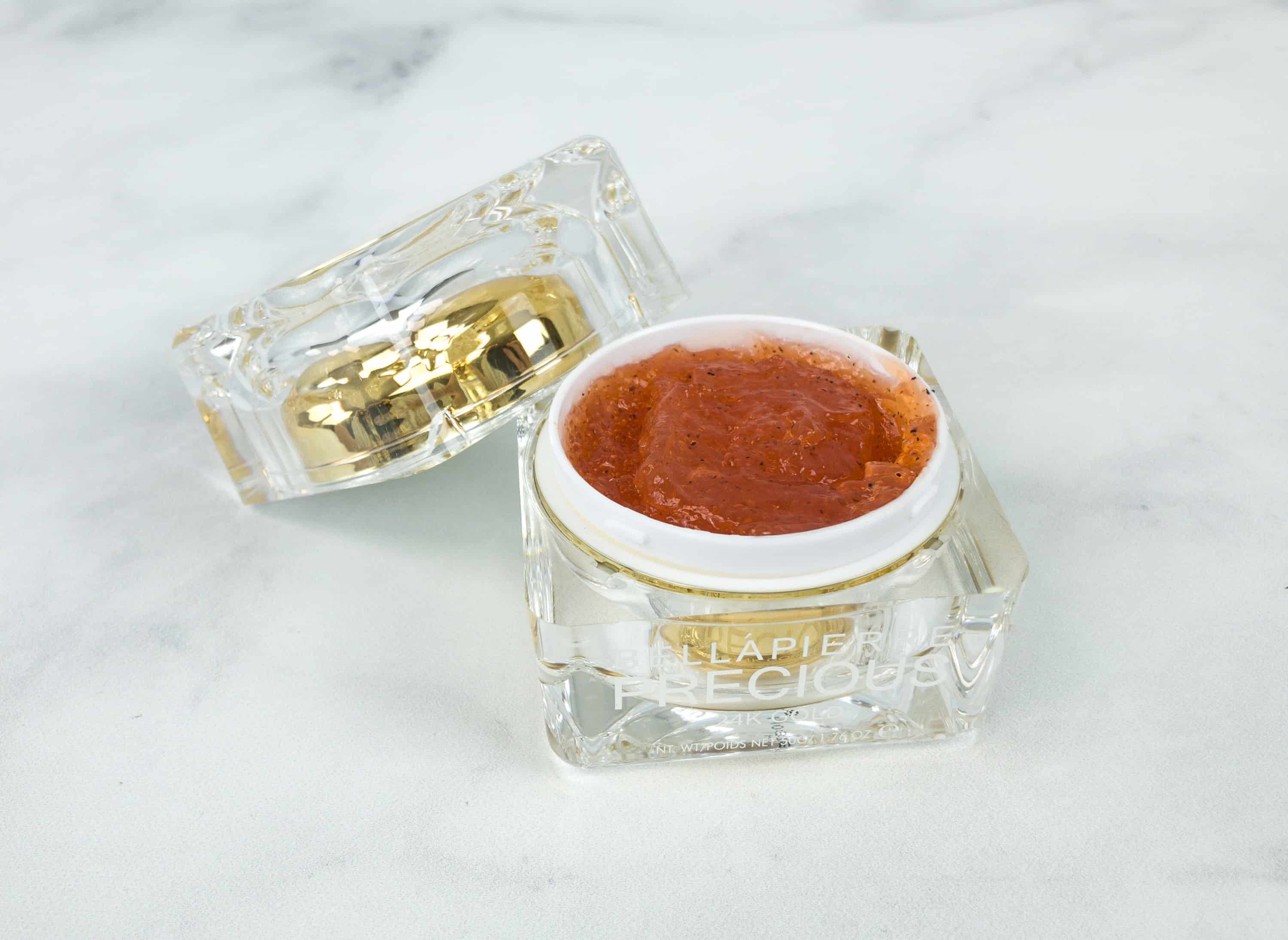 To use, massage a generous amount over clean face and neck, in upward and circular motions, then rinse well with warm water. You can use it weekly for best results.
The whole box is worth approximately $336, and there are even items that the prices aren't included. The variety of products in this box is great as well. I love the headgear and the bracelets, they're all gorgeous. I also love that they included one of our favorite snacks, the Hippeas, plus a sparkling drink! What I am most thrilled about is the exquisite Bellapierre facial peel. Imagine using gold to clear your skin… What an elegant experience! The curation is really fantastic, and I love how well they put all these things together that really adheres to the theme. For the coming chilly months, I can say I'm ready!
However, it's disappointing that they are making the boxes available at such a cut rate after the fact – I feel I could have just waited and purchased the box. Plus, there was a scarf that was supposed to be in the box that was replaced last minute. Value is here, but the total experience is a bit lacking.
What do you think of this quarter's box?