Green Chef is a meal kit subscription focusing on healthy meals for a variety of eaters and dietary preferences. Each delivery comes with the recipes and ingredients for three well-balanced meals. Some of the ingredients are pre-prepared, so that you can cook dinner in 20 – 30 minutes using the easy-to-follow directions. There are vegetarian, omnivore, carnivore, gluten-free and paleo meal options. All ingredients are fresh and sustainably sourced. The only things you need at home are olive oil, salt, and pepper.
This week, we received an omnivore box. Green Chef typically includes roughly twice as many veggies, legumes and/or grains as some of their competitors. And they're all organic! This makes for delicious, healthy, well-balanced meals.
Each week's package arrives well-insulated, with the meat at the bottom with some ice packs. Previously, the remaining ingredients were all individually packed and jumbled together in a big pile, each with a label color-coded by recipe for sorting. This week, they've started bundling each recipe in it's own bag, making for a much neater unboxing experience. Hurray!
DEAL: 4 free meals on your first order (about $56) USE THIS LINK to get the deal.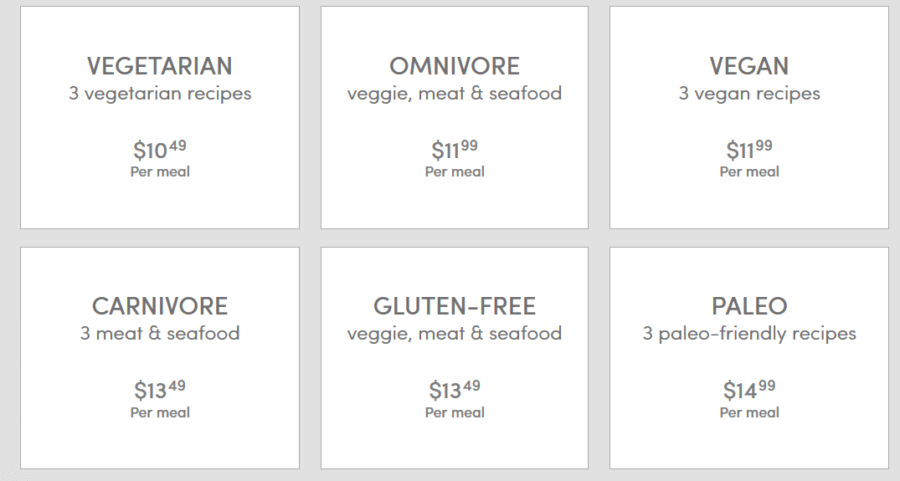 Green Chef has new recipes each week, so there is some variety in what you receive. You may choose either the vegetarian, vegan, carnivore, omnivore, gluten-free or paleo box, each with a fixed set of 3 meals. There is some overlap between the menus, but, unlike services like Home Chef, you can't mix and match at will. Each two-serving box of three entrees ships for $9 in addition to the costs per serving listed above, bringing the total box costs to $71.94 (vegetarian), $80.94 (omnivore or vegan), $89.94 (carnivore or gluten-free) and $98.94 (paleo).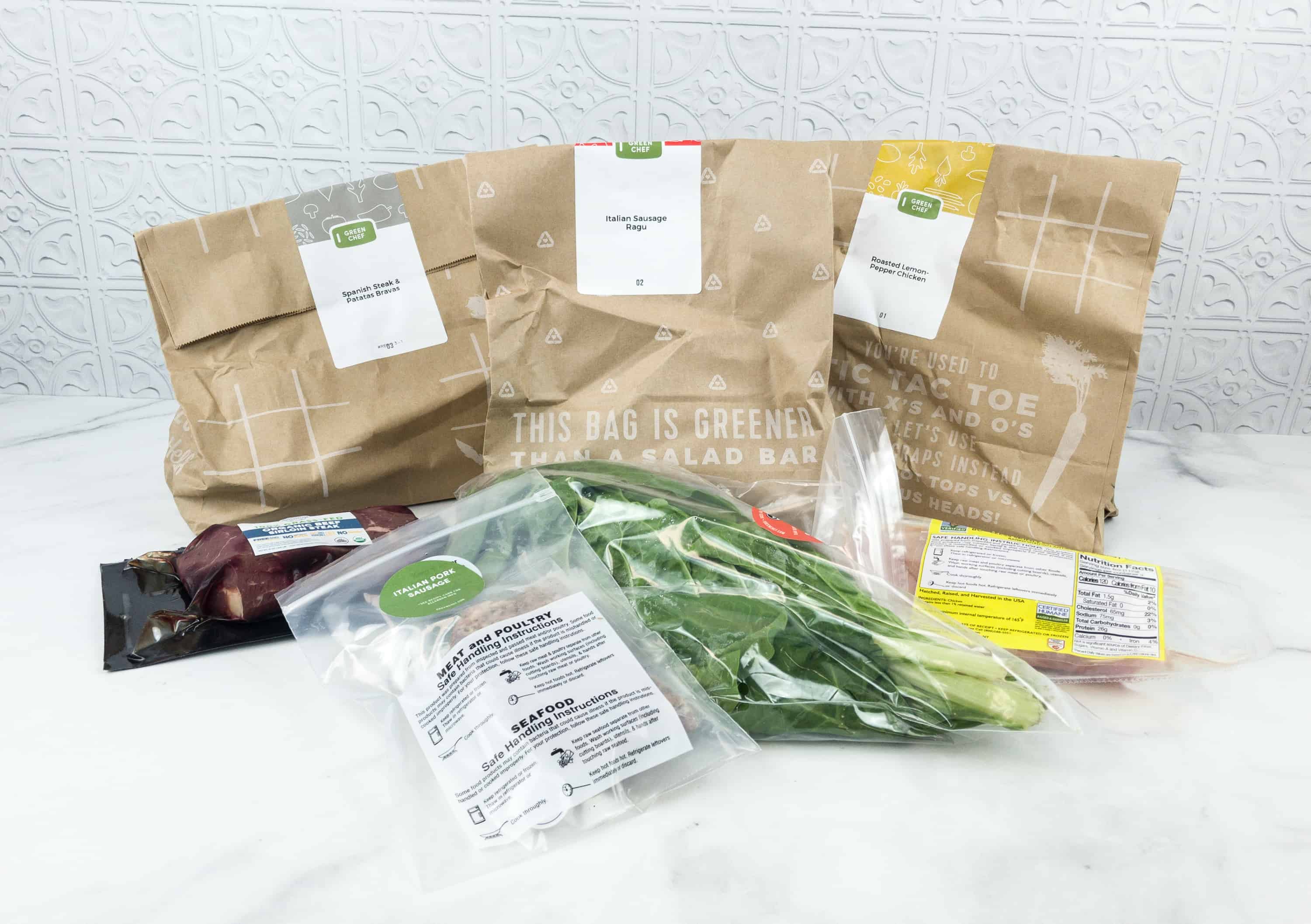 Each recipe comes in its own bag, numbered and color-coded to match the recipe sheets for the week.

They included a $60 off coupon to share with friends.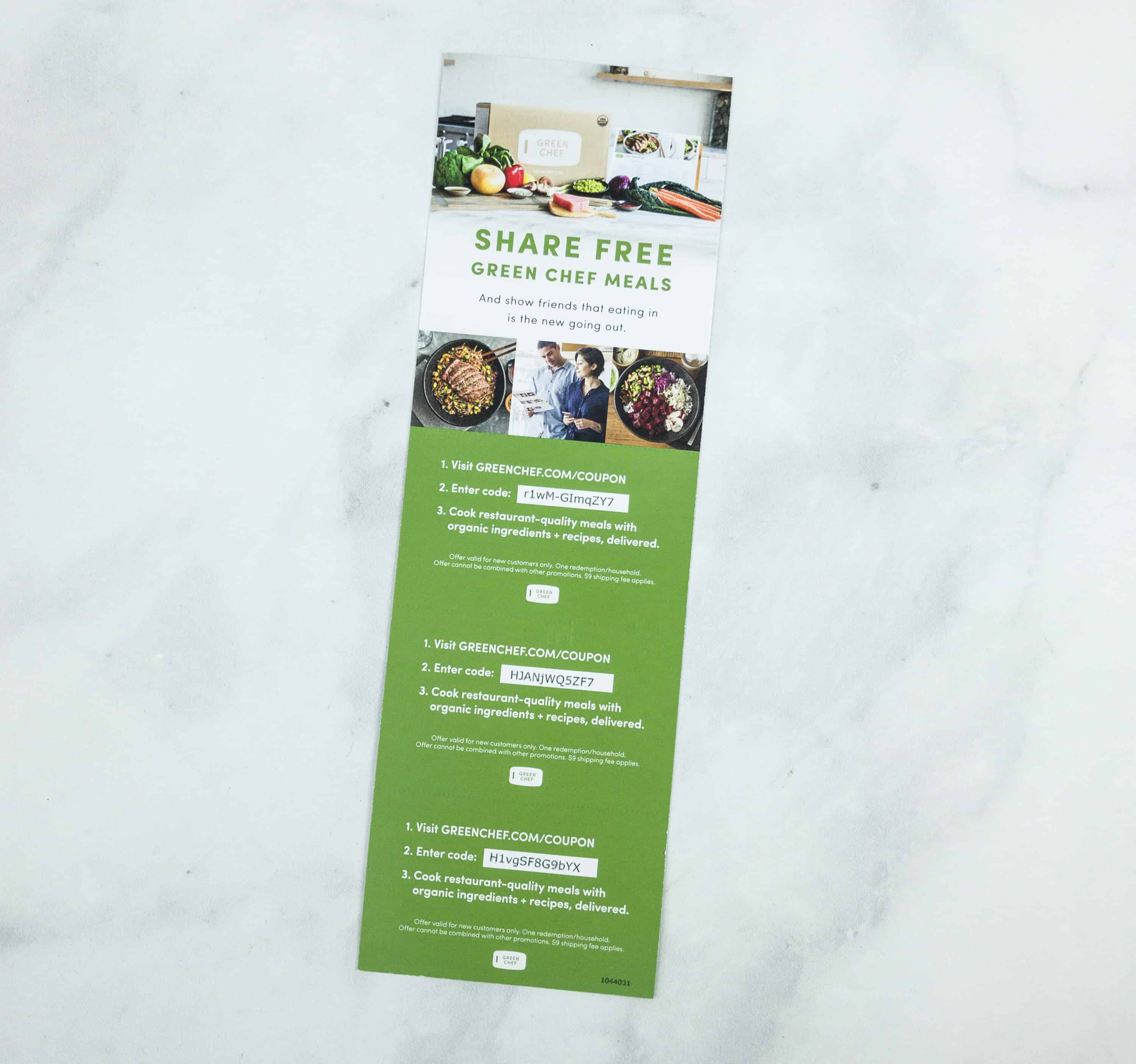 Each one has an individual discount code to use on a new order.

The recipe cards show all the necessary ingredients needed and a brief description of the meal. It also notes the cooking time, servings, and calories per serving. They give you a heads up as to any supplies from home you will need, and they even give you the measurements of each ingredient and allergen info, just in case you need to keep track or swap anything out. The colored band and numbering along the bottom makes it easy to match up with the right bag of ingredients — even the individual ingredients have color-coded labelling.

The back of the card shows a step-by-step procedure with amazing illustrations to keep you on track. The format is quite lovely, the steps are bulleted for ease of reading, and ingredients are bolded to stand out.

Everything in my October 2018 box!

Italian Sausage Ragu – 35 minutes, 550 calories per serving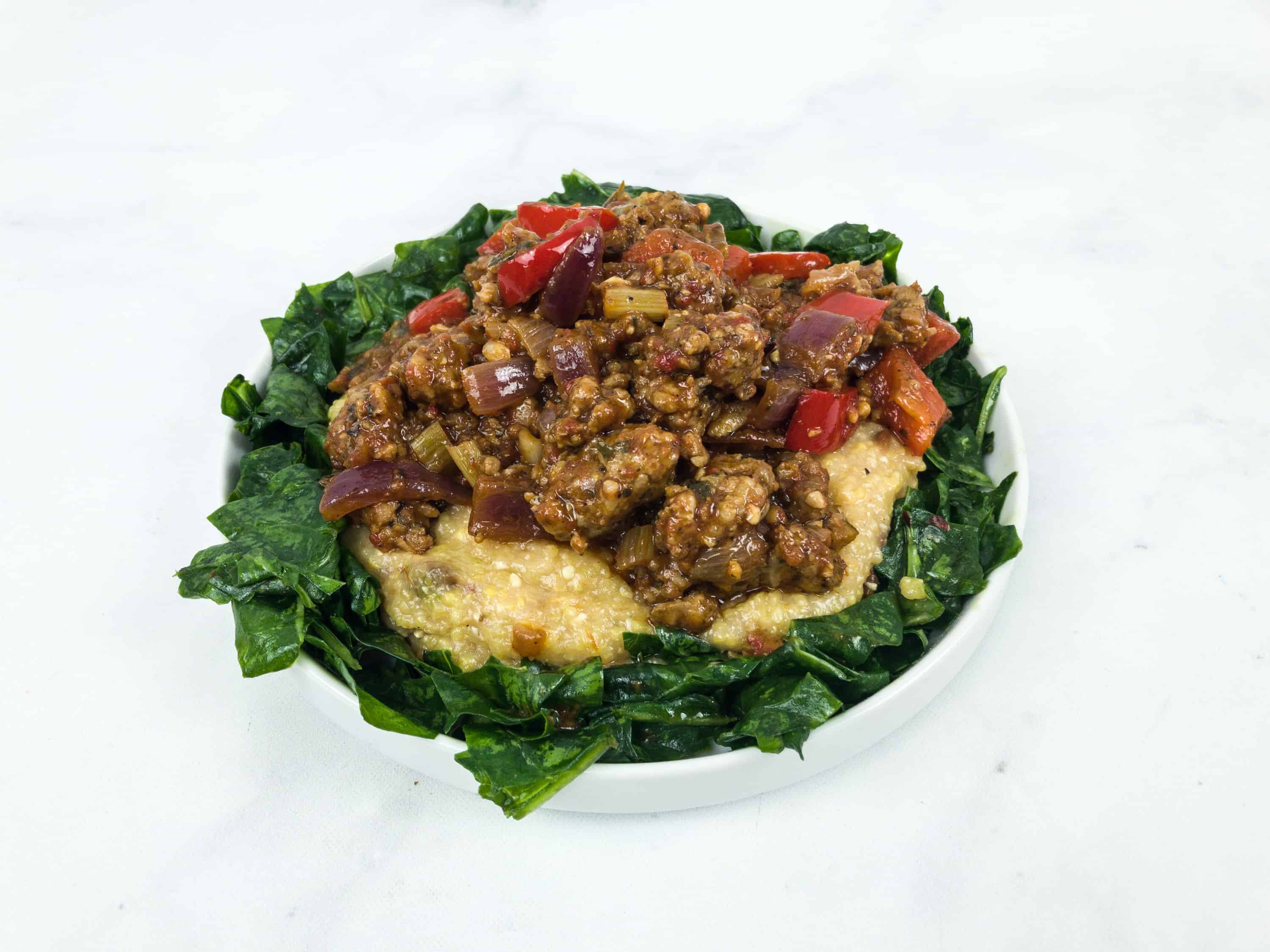 The first dish is made from stew-like ragu served with a creamy polenta made with mozzarella cheese and sun-dried tomato. The ragu is made of Italian pork sausage simmered with roasted red pepper sauce, garlic, red bell peppers, and onions. A bit of tender young chard provides a nice counterpoint to the creamy and spicy elements of the dish. It's a classic comfort food perfect for cold nights. It was very easy to prepare, and I thought the polenta's texture turned out surprisingly nice.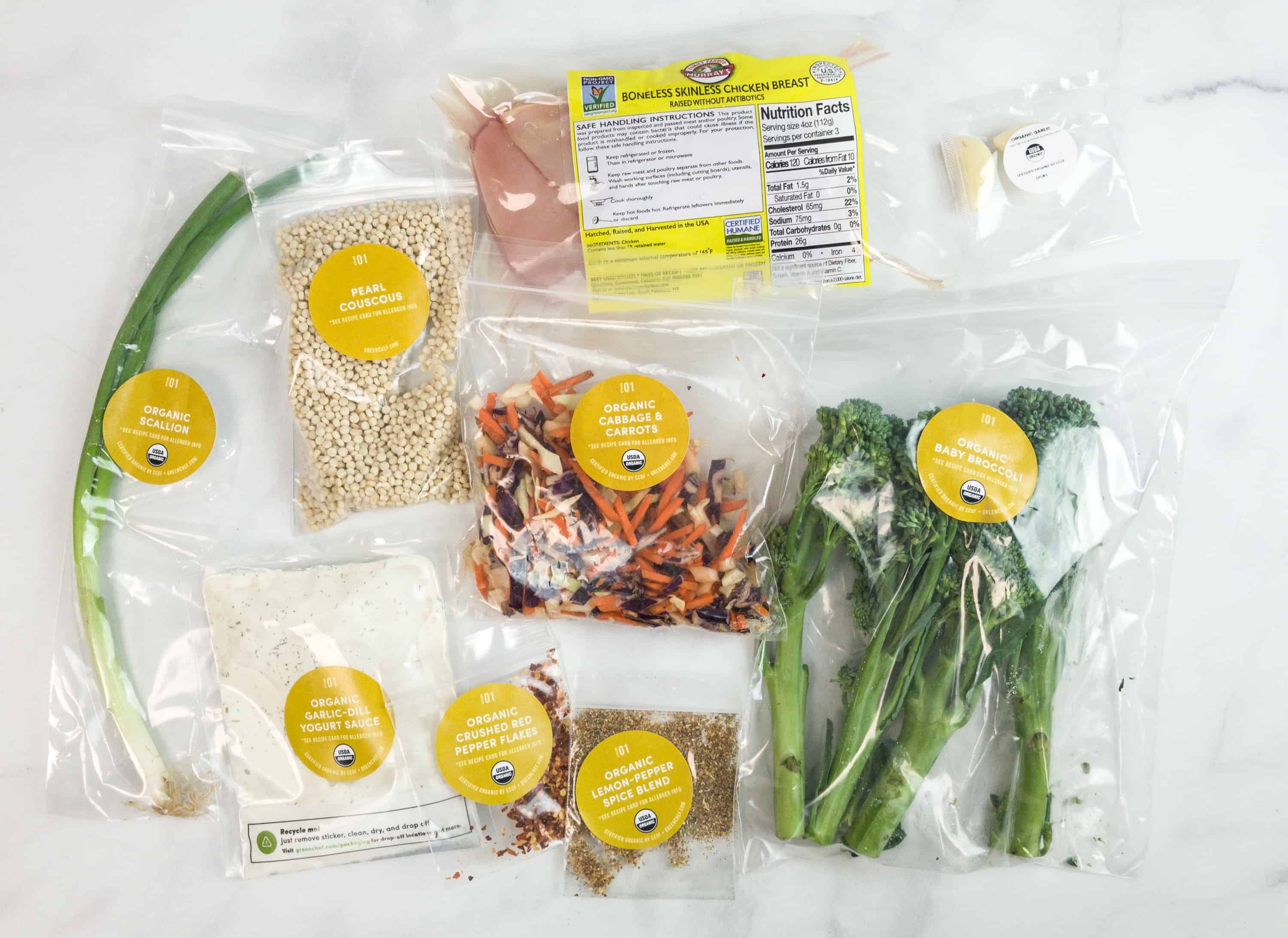 Roasted Lemon Pepper Chicken – 30 minutes 440 calories per serving
These chicken breasts were seasoned with lemon-pepper spice blend, pan-seared, and roasted for a tender finish. It's served alongside flavored baby broccoli and couscous salad mixed with cabbage, carrots, scallion, and garlic-dill yogurt. I loved the garlic broccoli, and the chicken was very tender. I thought the couscous would be a bit slimy, but the yogurt sauce transformed that part of the dish into a very welcome complement to the crunchy and spicy elements. The use of pre-chopped veggies in the couscous went a long way in speeding preparation.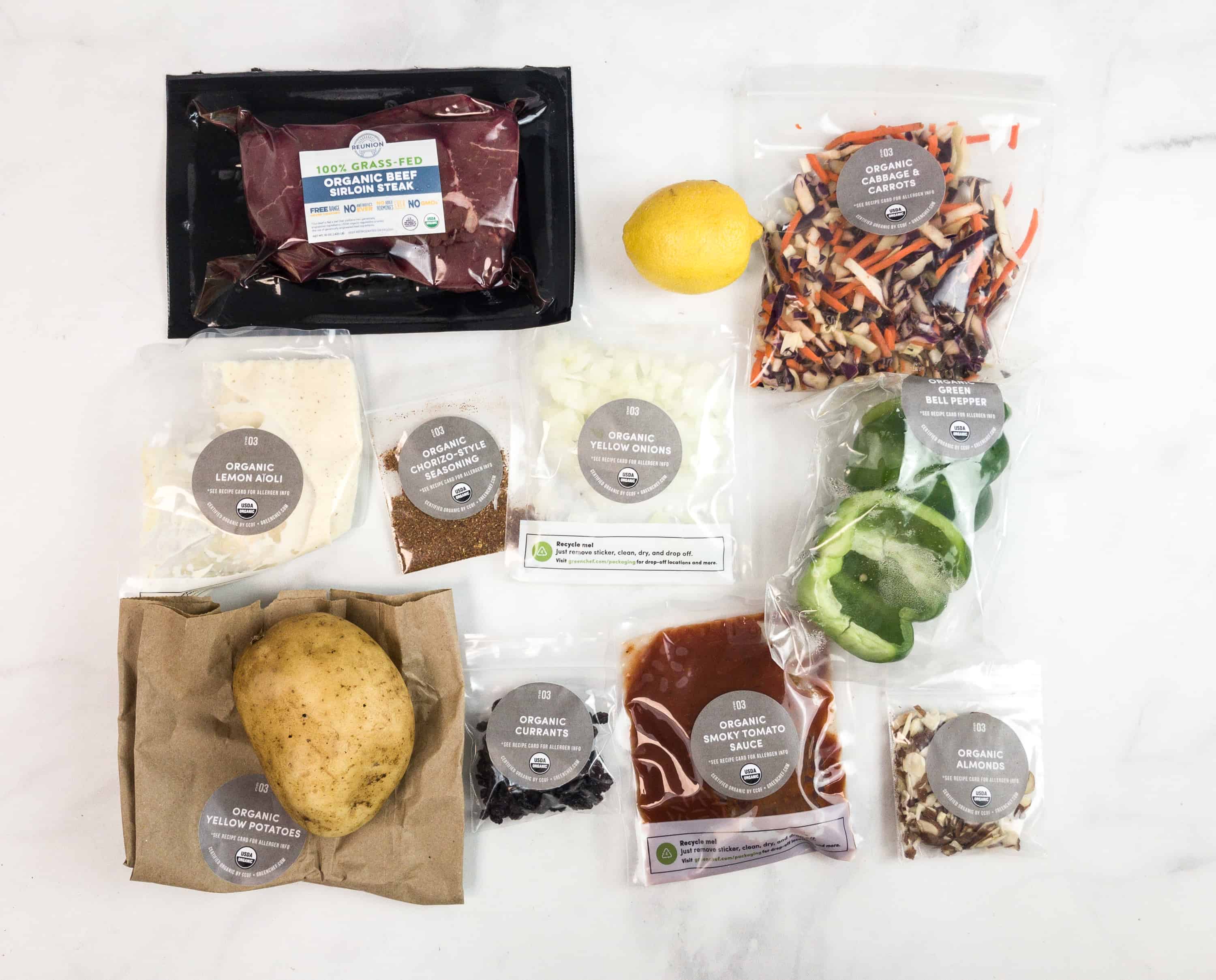 Spanish Steak & Patatas Bravas – 30 minutes, 550 calories per serving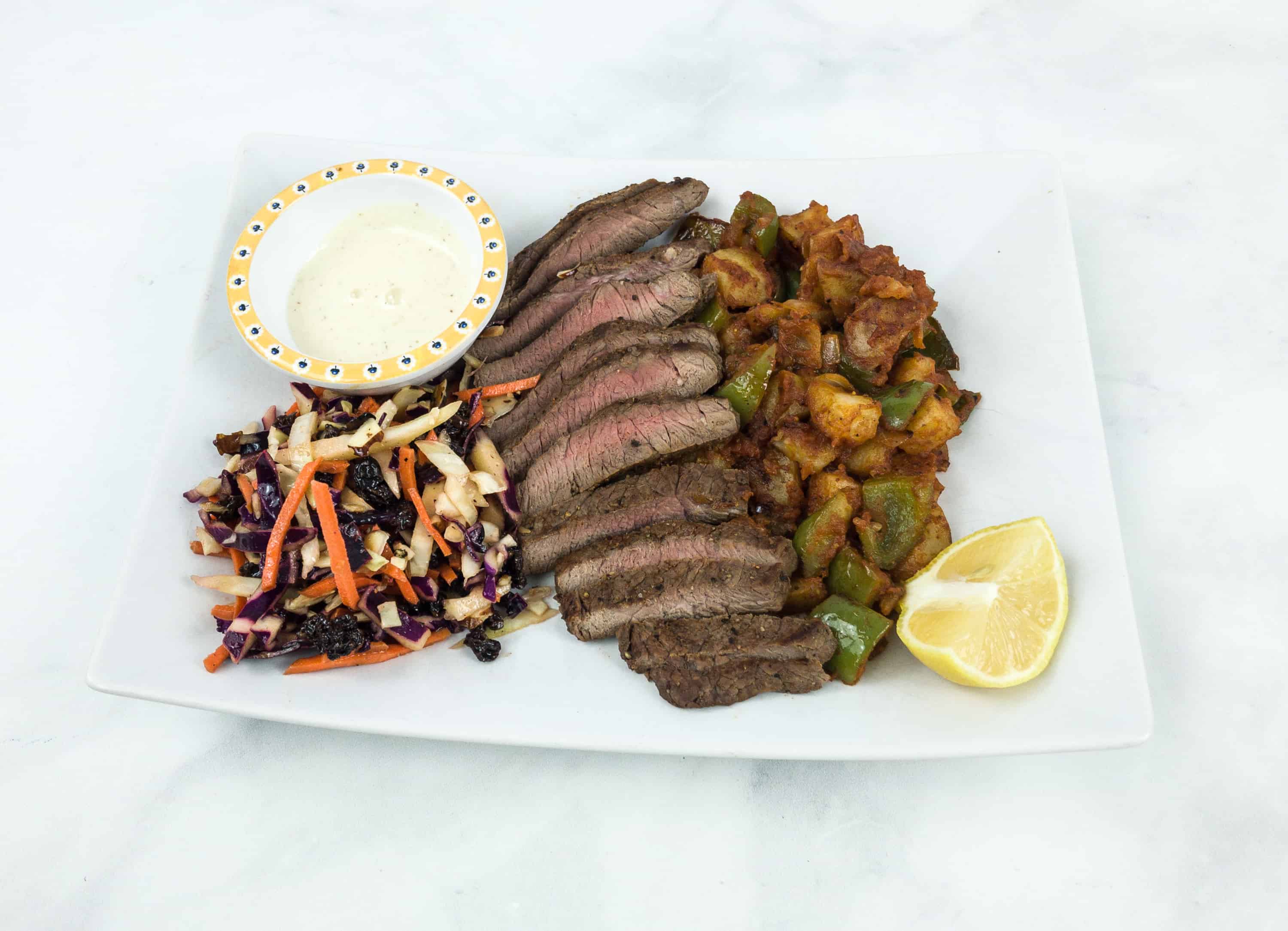 Patatas Bravas is a native Spanish dish made from fried potatoes sautéed in a smoky tomato sauce with green bell pepper. It tastes great with pan-seared sirloin steak spiced with a chorizo-style seasoning. A crisp slaw with currants and toasted almonds provided a sweet and crunchy contrast to the other parts of the meal. Prep was pretty simple, particularly for the slaw, though the two-step process for the potatoes took some time.
Green Chef's ingredients are always super-fresh, organic, and acquired from sustainable sources. The dishes are easy to prepare and cook, and the recipes aren't overly complicated — they have several steps, but minimal zesting! They provide generous serving sizes, plus all the ingredients. I am always impressed by the quality and great condition of the ingredients. I also loved the instruction card, it's so detailed and easy to follow. It makes cooking way much easier, and I'm looking forward to many more weeks of cooking with this amazing subscription!
Are you getting the GreenChef Box?