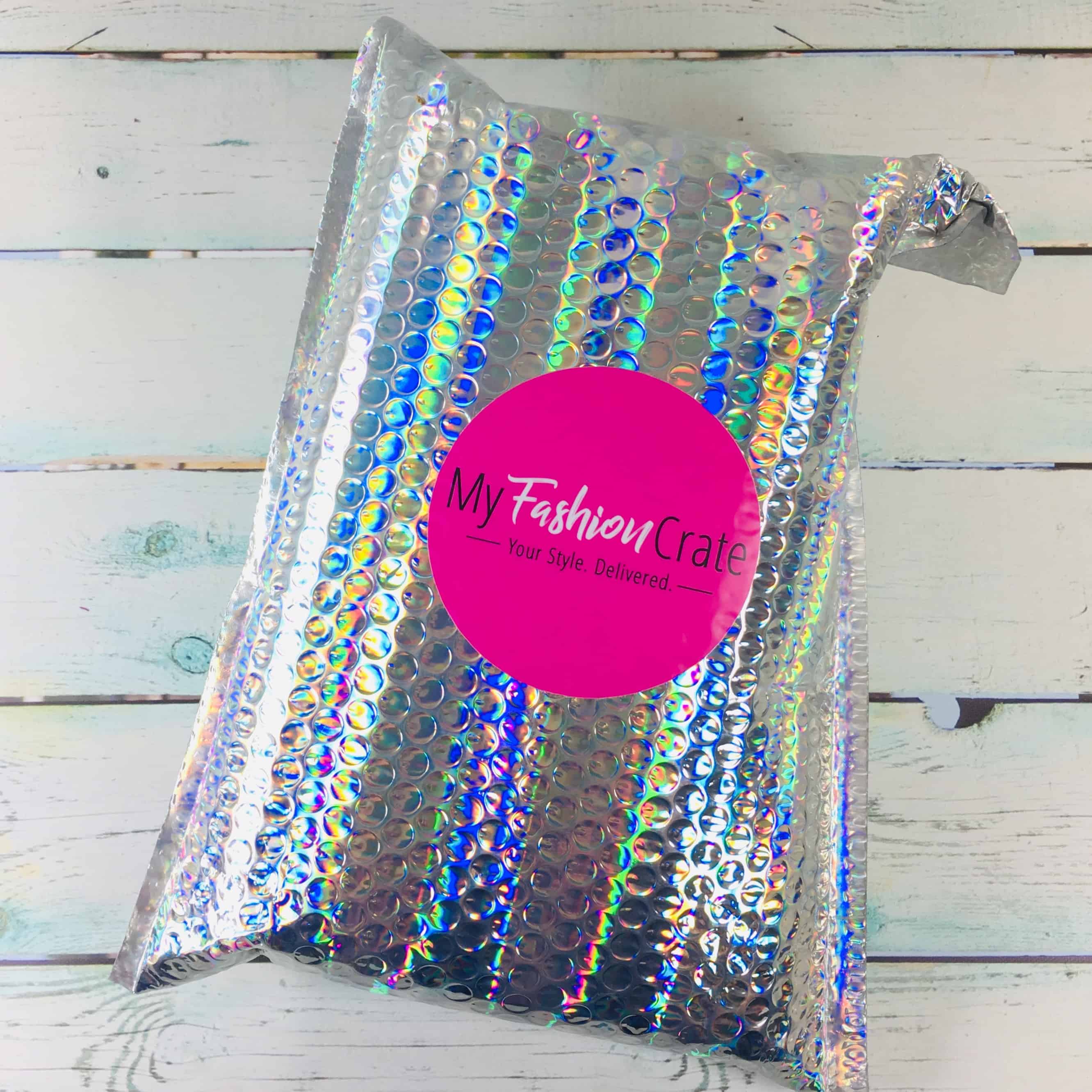 My Fashion Crate is a monthly subscription box for Fashionistas that sends a curated package of stylish clothing, accessories, beauty items, & gift cards delivered to your mailbox! What can you expect to find in here?
Every month, enjoy premium, curated products exclusively for stylish and fabulous women.

-Clothing including shirts, sweaters, dresses, skirts or outerwear
-Fun and trendy fashion accessories
-Coupons up to 70% for exclusive brands so you can shop online yourself
-Gift Cards from top brands and other surprises!
My Fashion Crate ships all over the world and comes in three levels:
The Premium Box is $49.95 plus shipping and will be packed with 5-8 items including shirts, dresses, separates, shoes, jewelry, accessories or gift cards (Value up to $300). The Essential Box is $35 plus shipping and will be packed with 3-4 items including shirts, dresses, separates, shoes, jewelry, accessories or gift cards (Value up to $200). Newly added is the Accessories Box, which is $20 and has 2-3 items. I am reviewing The Premium Box!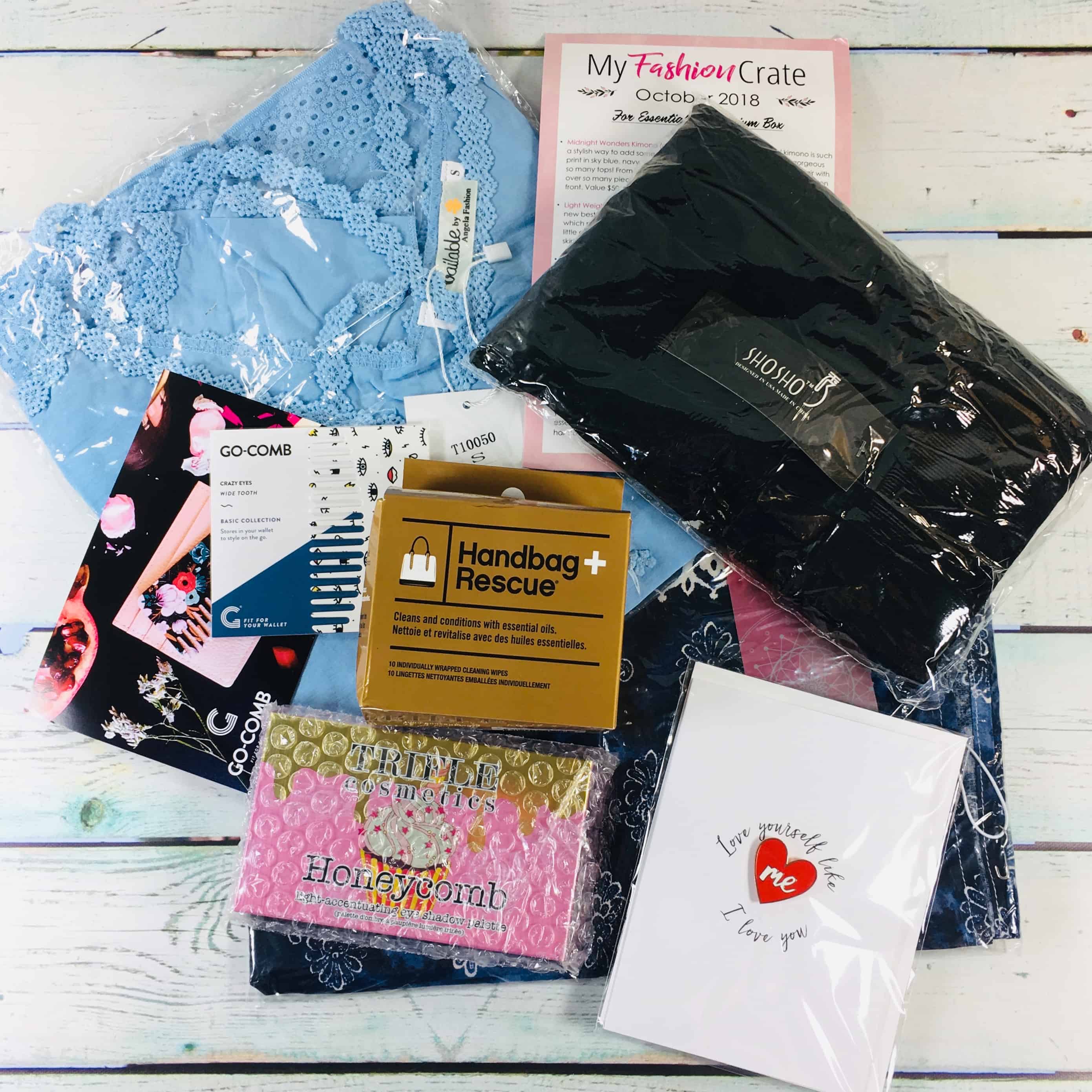 Here's a look at everything in my Premium Box! All of the items are brand new and still in their bags. My Fashion Crate has now added a wider variety of sizes to choose from. When you sign up you can choose from tops and dresses in sizes small to 3XL, bottoms in sizes small to 3XL, and you can enter your shoe size.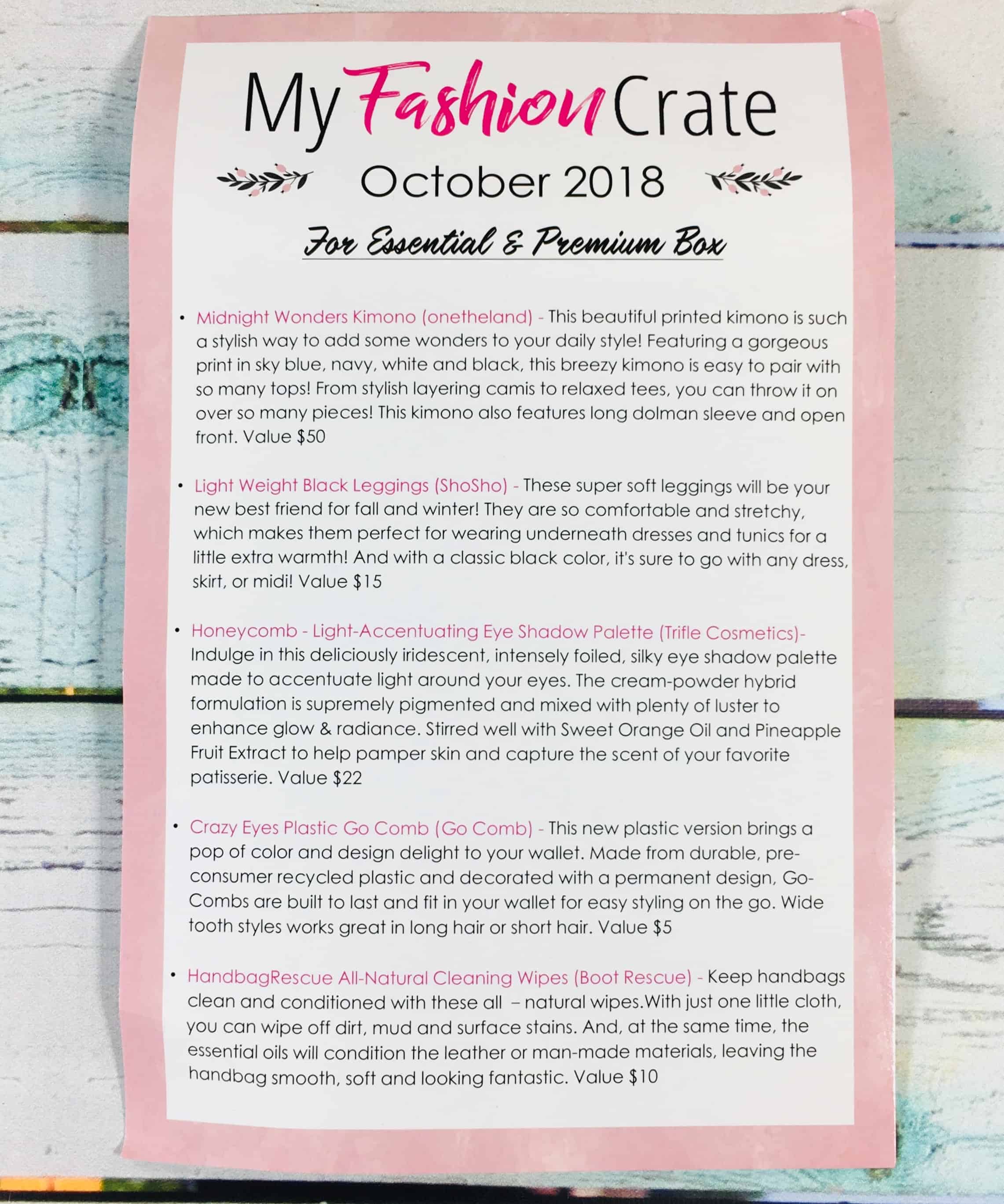 I received a product info card with details on all the items in both the Essential and Premium box and suggested retail price.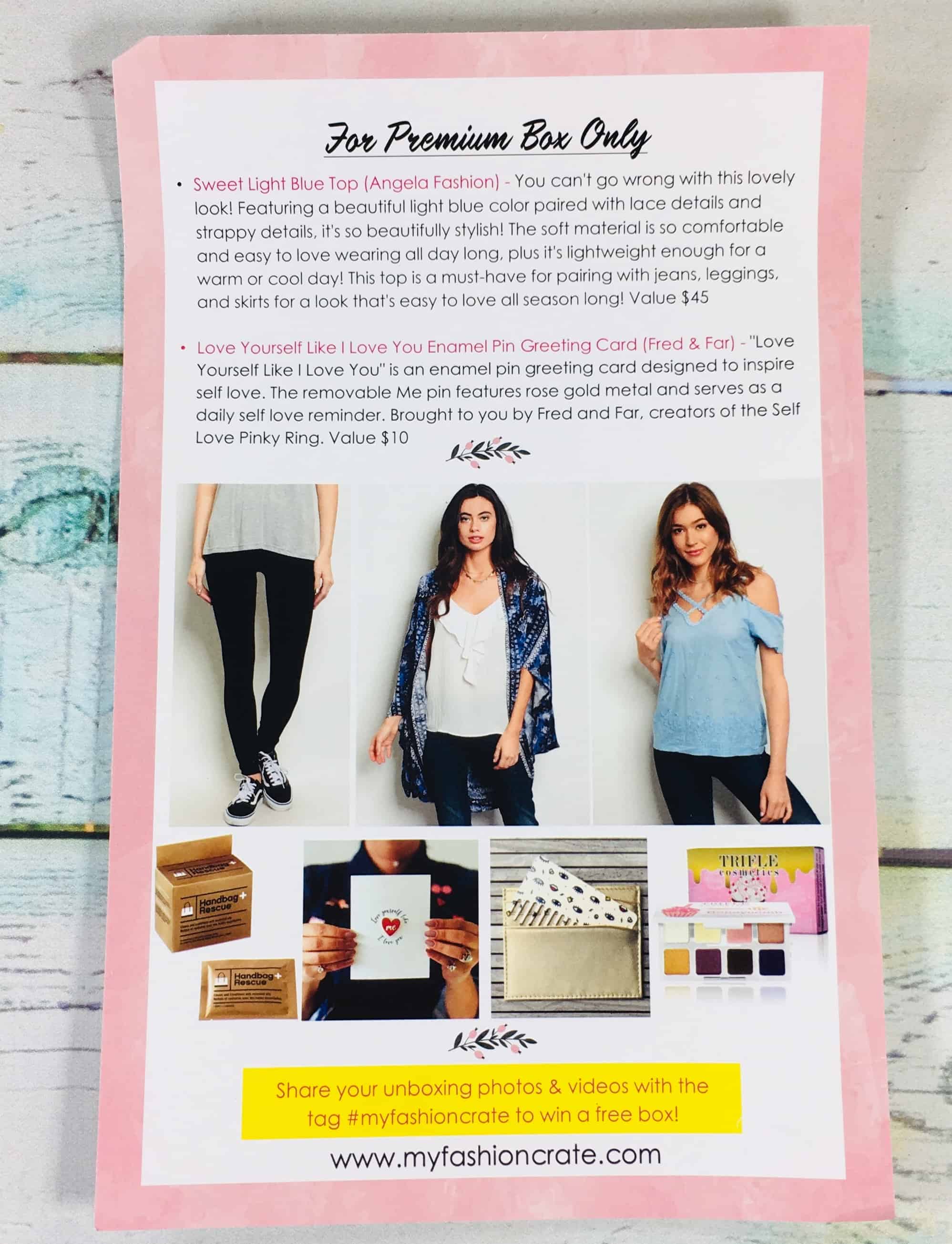 The back features the additional items that come in the Premium Box. There was also info on how to share your box on social media.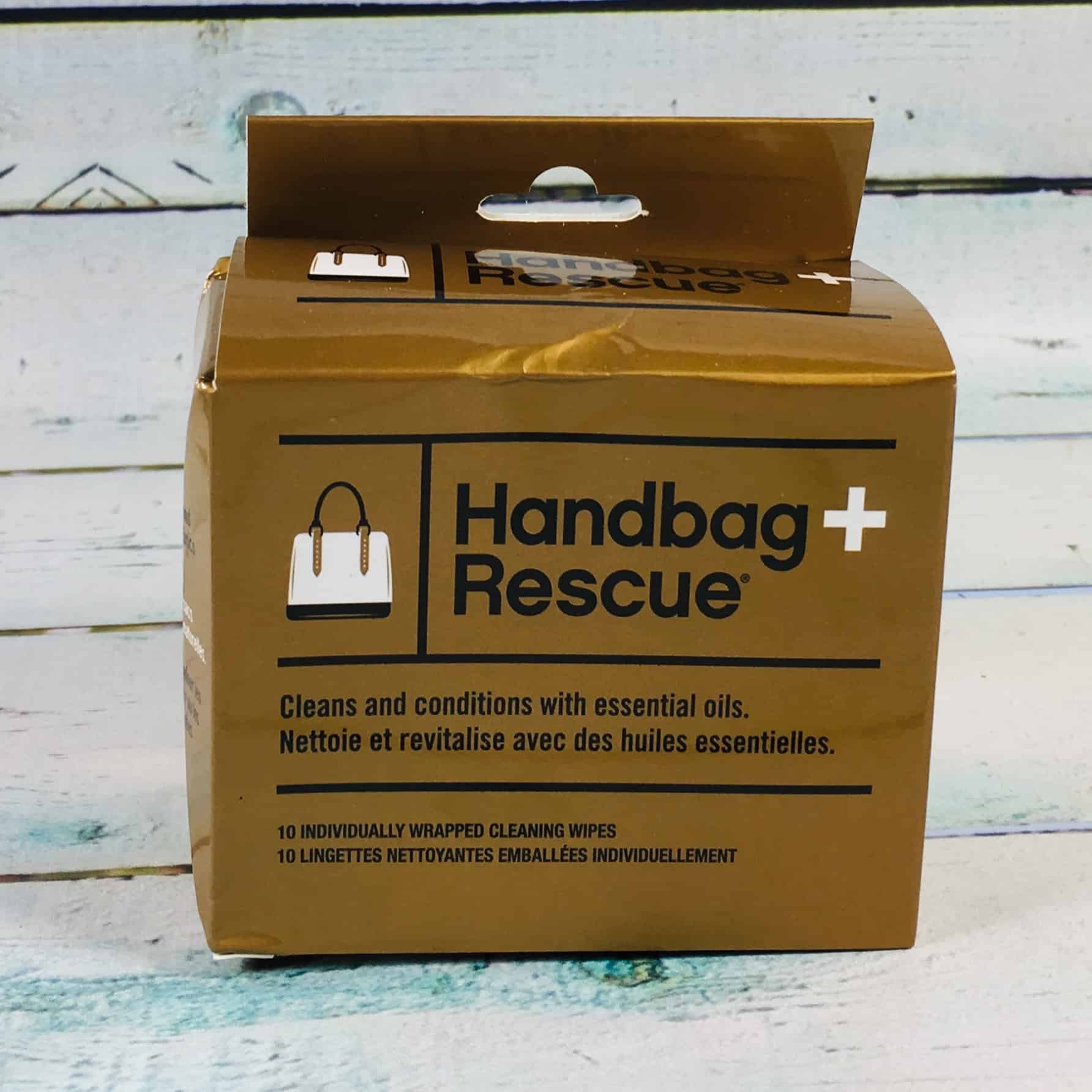 HandBagRescue All-Natural Cleaning Wipes ($9.99) are wipes that you can use to clean leather purses, boots, or even jackets.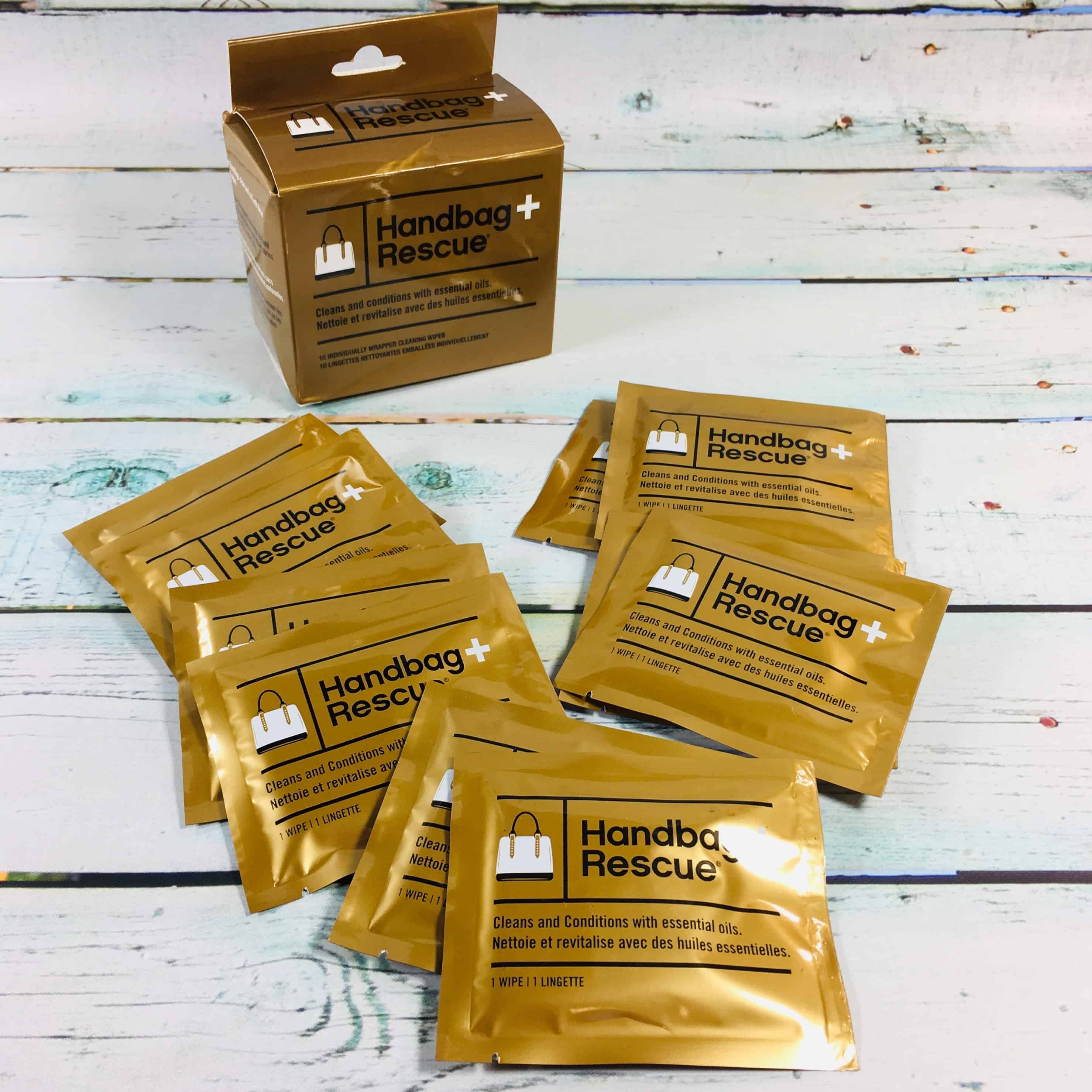 There were 10 of them in the bag so they should last for a while.
They have essential oils that help condition natural leather and the individual packets are handy for carrying around in a purse. I don't own any actual leather items that I can think of but it can be used on man-made, vegan-friendly "leather" too. Keep in mind that these are not for use on suede.
Go Comb Crazy Eyes Plastic Go Comb ($4.99) is a comb that is small enough to fit in your wallet! It came with a coupon code to save 20% when purchasing more combs online.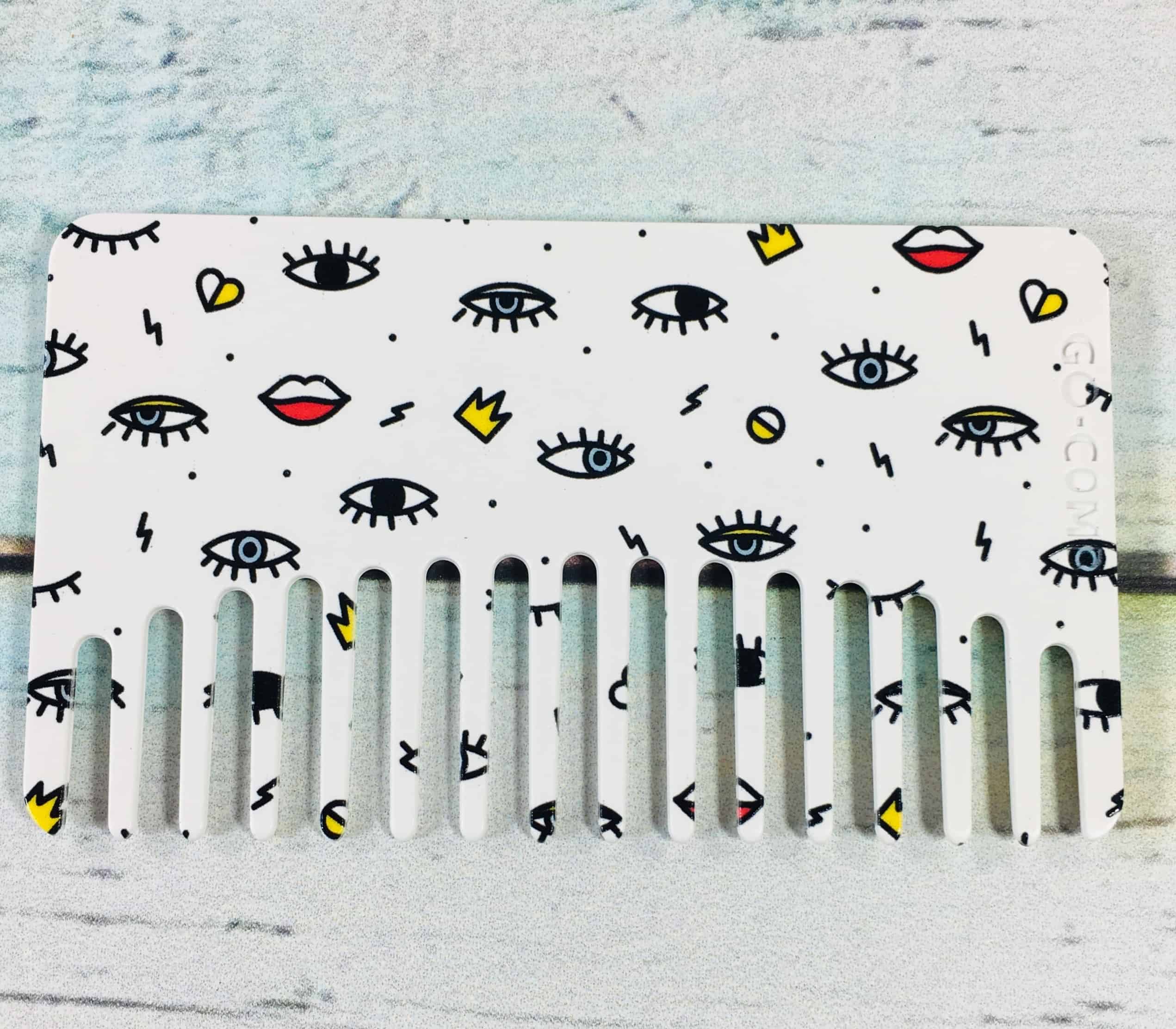 It is literally the same size as a credit card!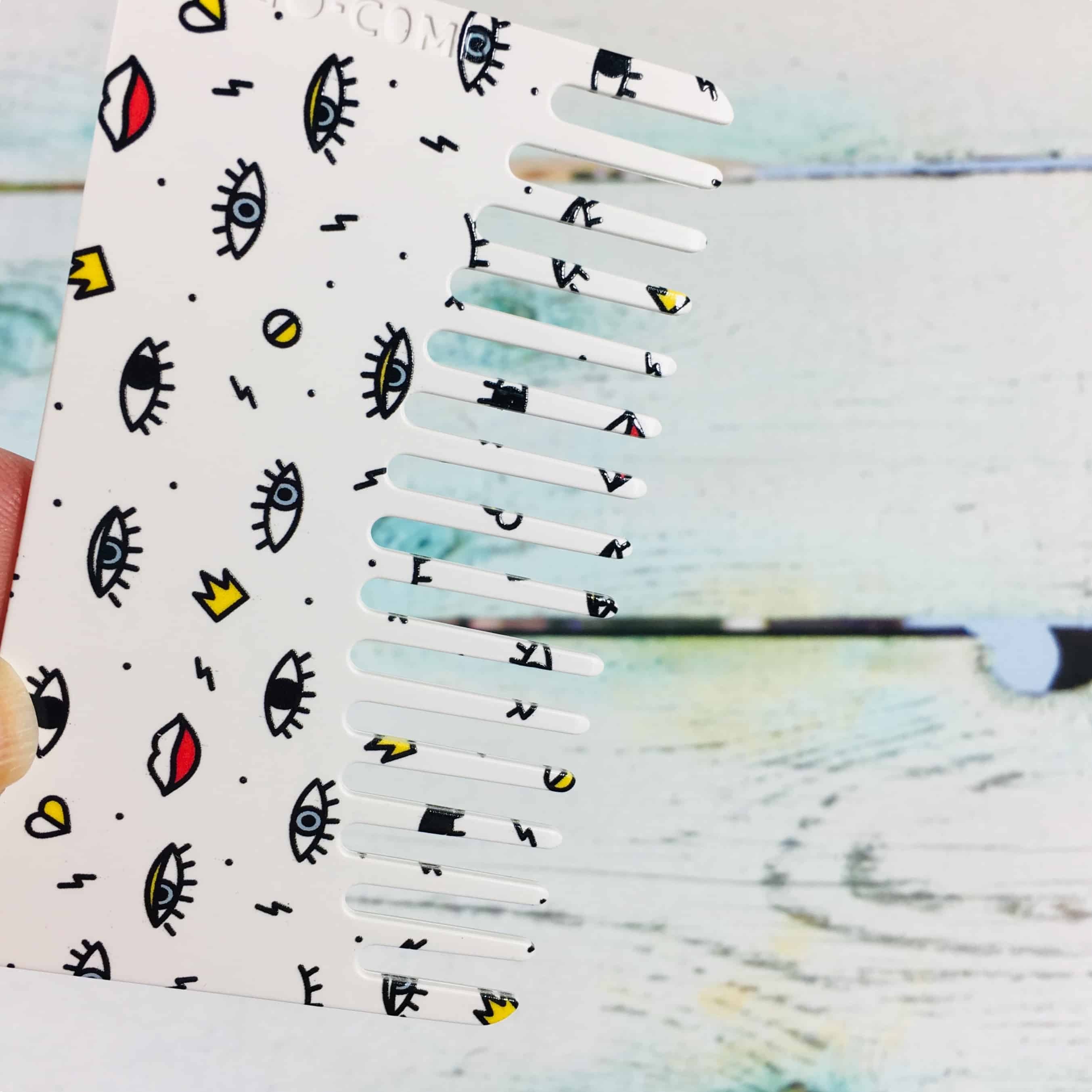 It has crazy eye designs all over and you just stow and go. It may come in handy in a pinch.
Trifle Cosmetics Honeycomb Light Accentuating Eyeshadow Palette ($22) I was excited at first for this palette, I love the colors inside!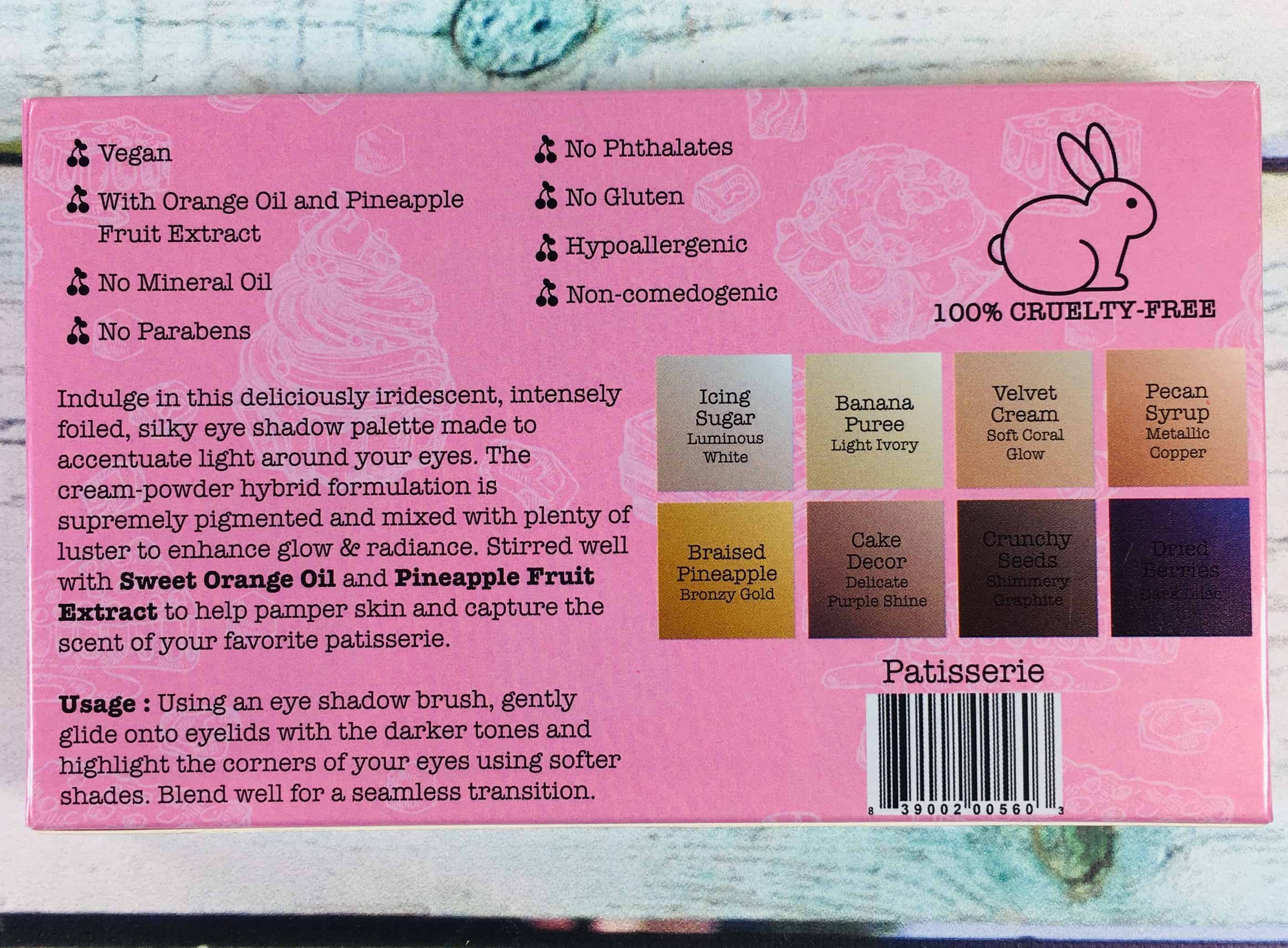 The eye shadows are vegan and cruelty-free and also are free of other unhealthy ingredients such as parabans. I was a little wary though when I saw that this has orange oil in it – I'm not sure I want that on my eyes. Also, it is one of the oils that can cause photosensitivity, meaning your eyelids could get sunburned.
The palette was cute.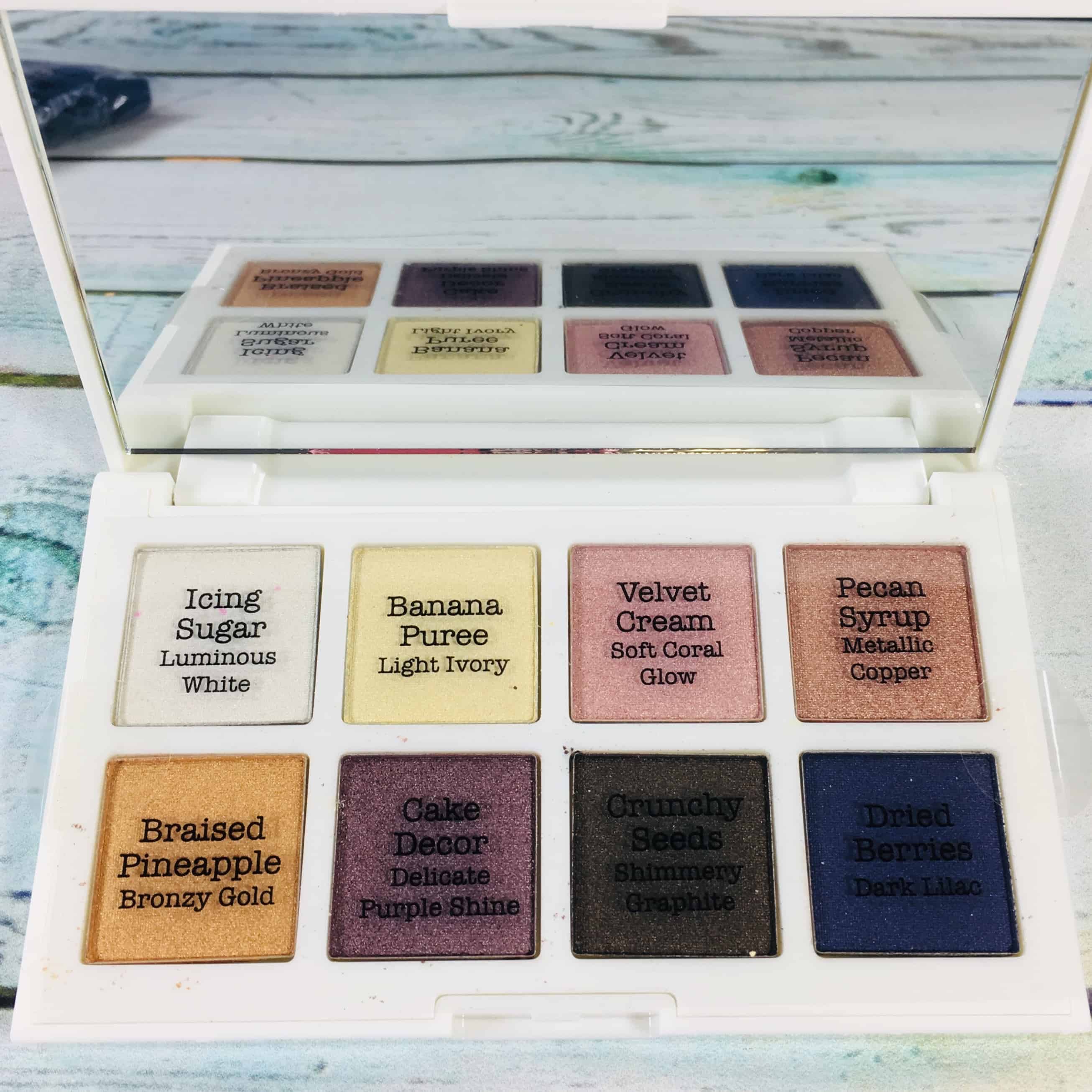 The shades are very pretty and shimmery. I noticed they had a scent to them and fragrance is one of the ingredients.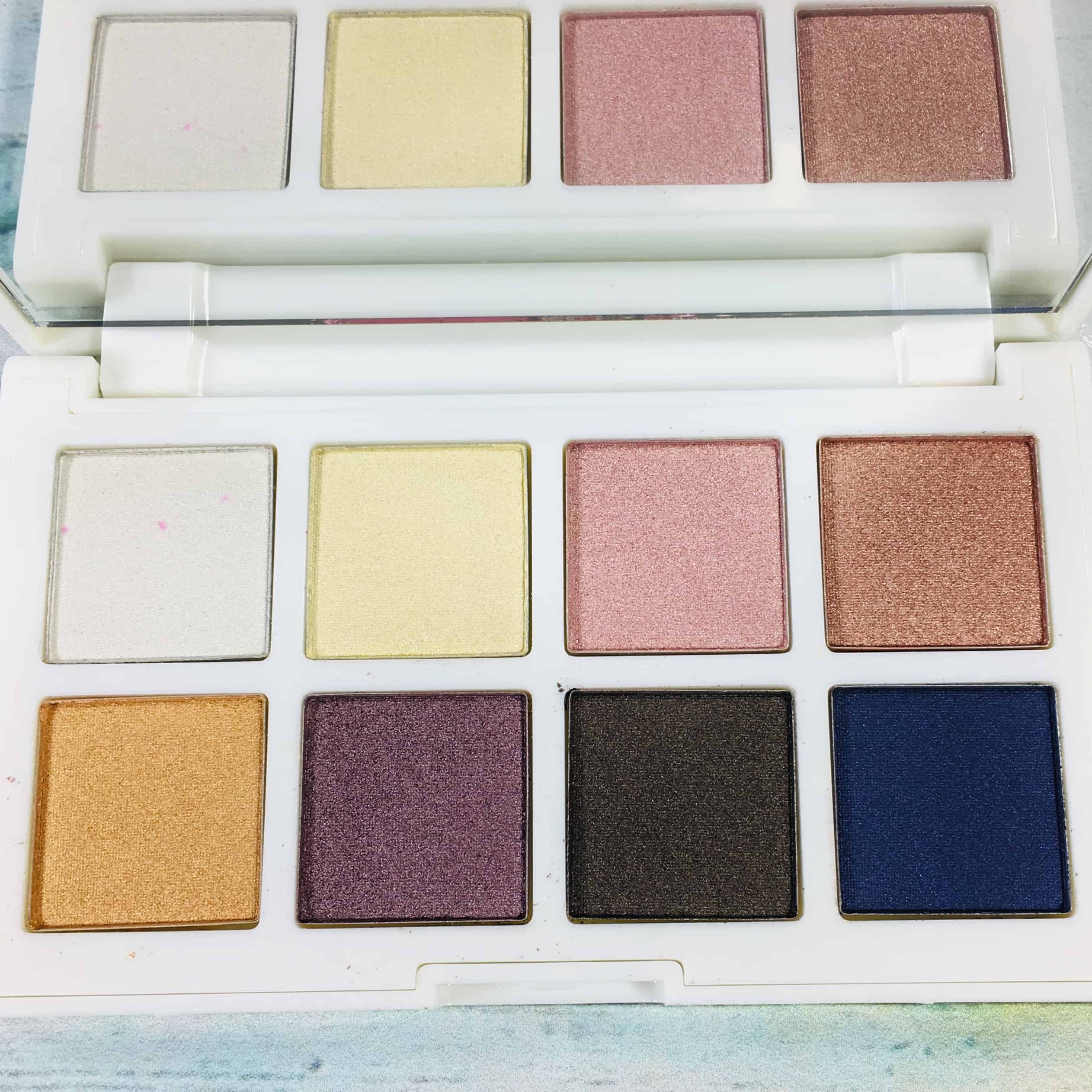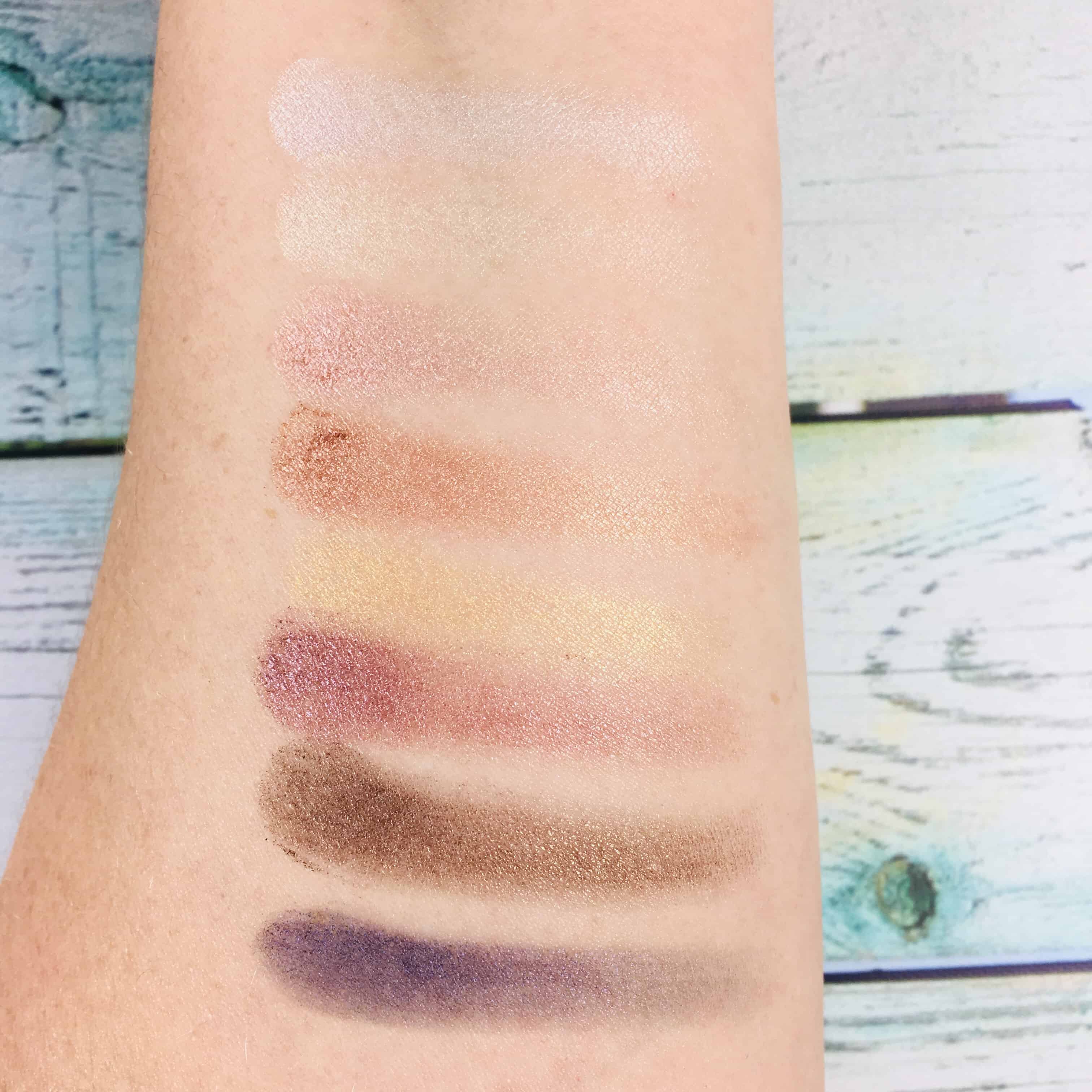 Here they are swatched. I used a primer on one of my eyes and was bare lidded on the other and the outcome was the same. I thought it lasted all day and I had a bit of fallout but it was wiped away easily. I'm not a fan of the scent but the shadow was just fine and I think it's probably somewhat similar to the Too Faced Peachy scented palettes, which also contain perfume.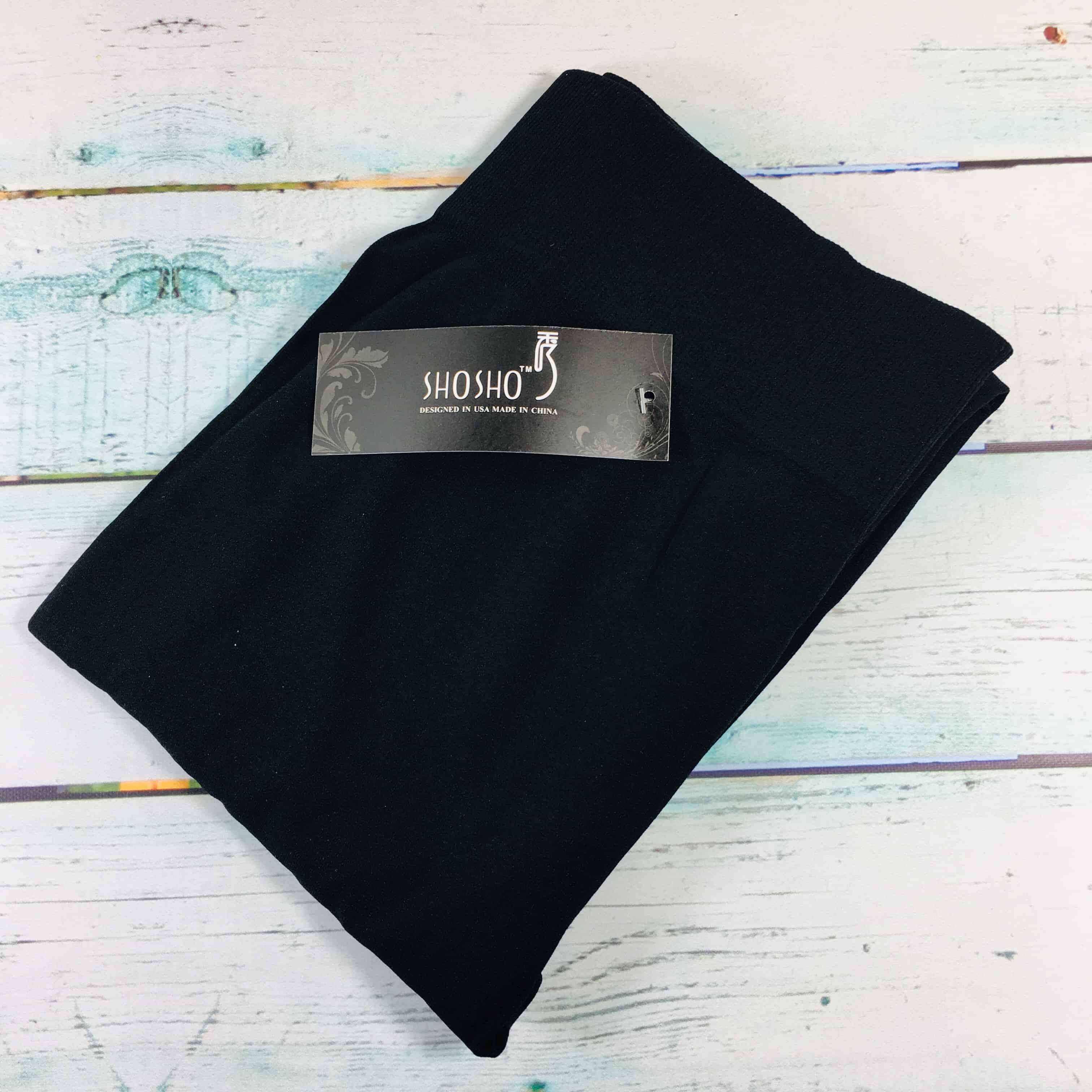 ShoSho Light Weight Black Leggings – SIMILAR ($11.99) Leggings are a nice basic item and a good choice to send in a fall box.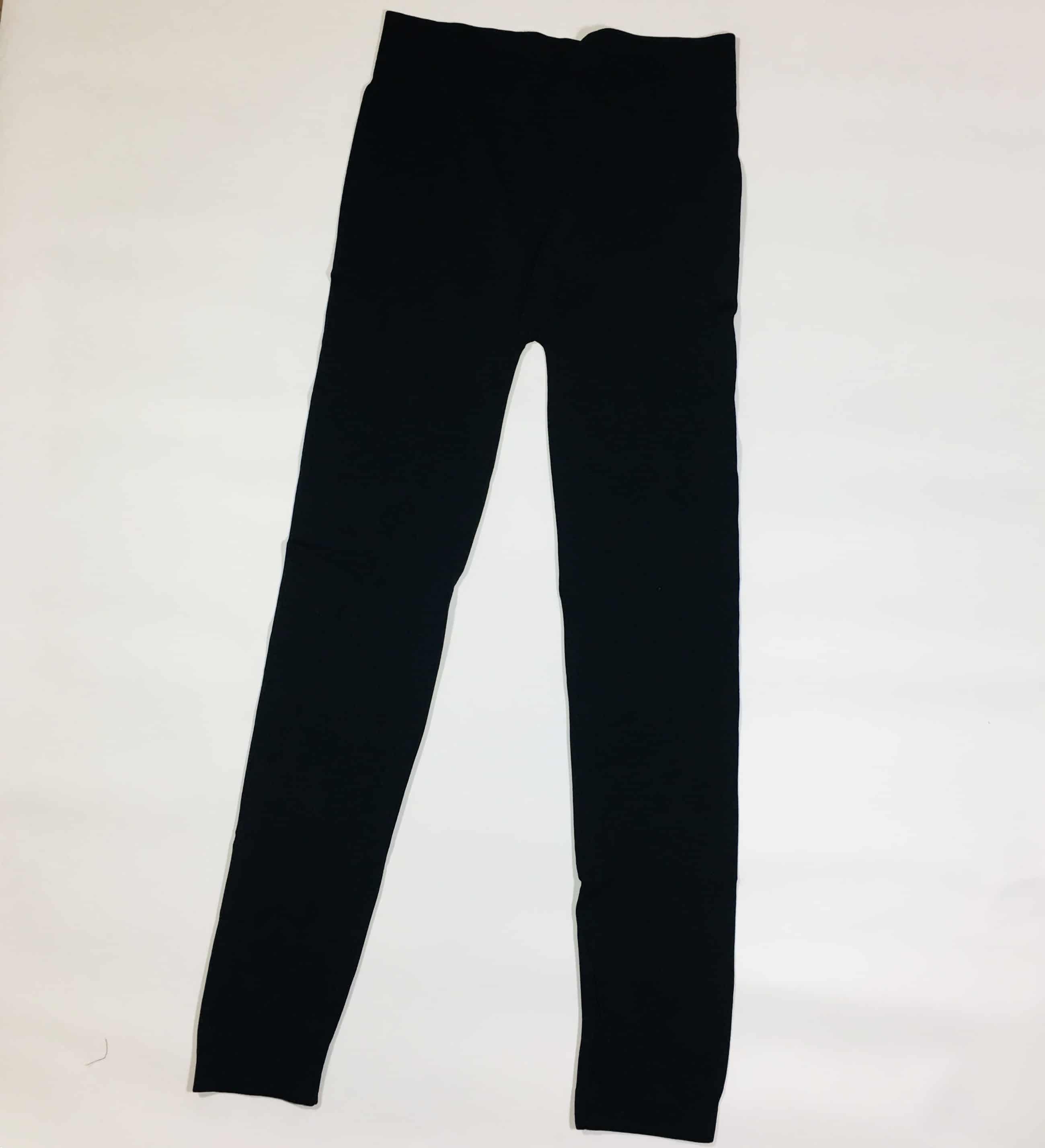 The tag says these are made with a blend of 80% polyester and 10% spandex. It doesn't say what the other 10% is made of.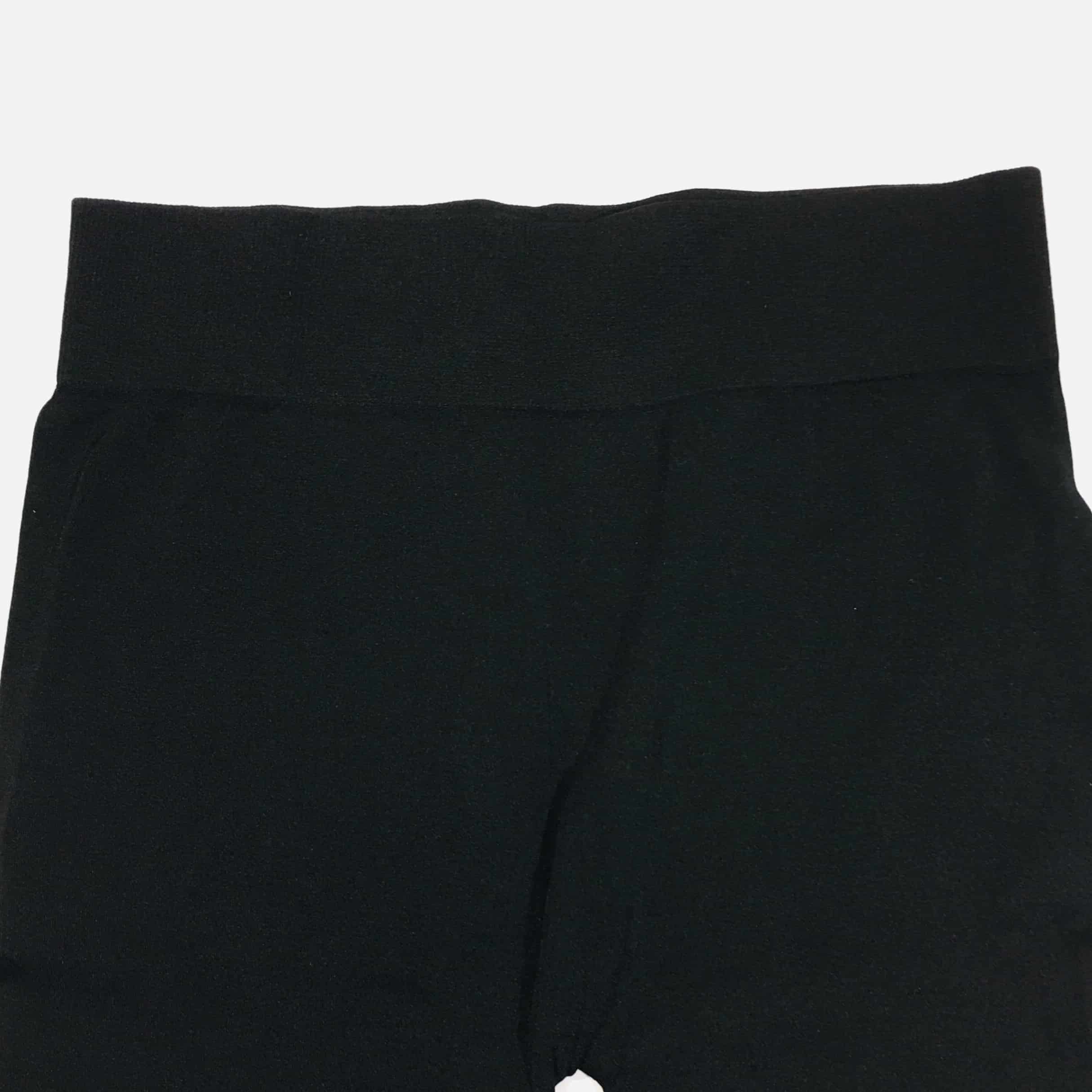 The waistband is pretty good sized. These are lightweight and suggested to go with a long tunic or dress. My daughter is 5'2″ and they are too long on her but they are fine for wearing around the house.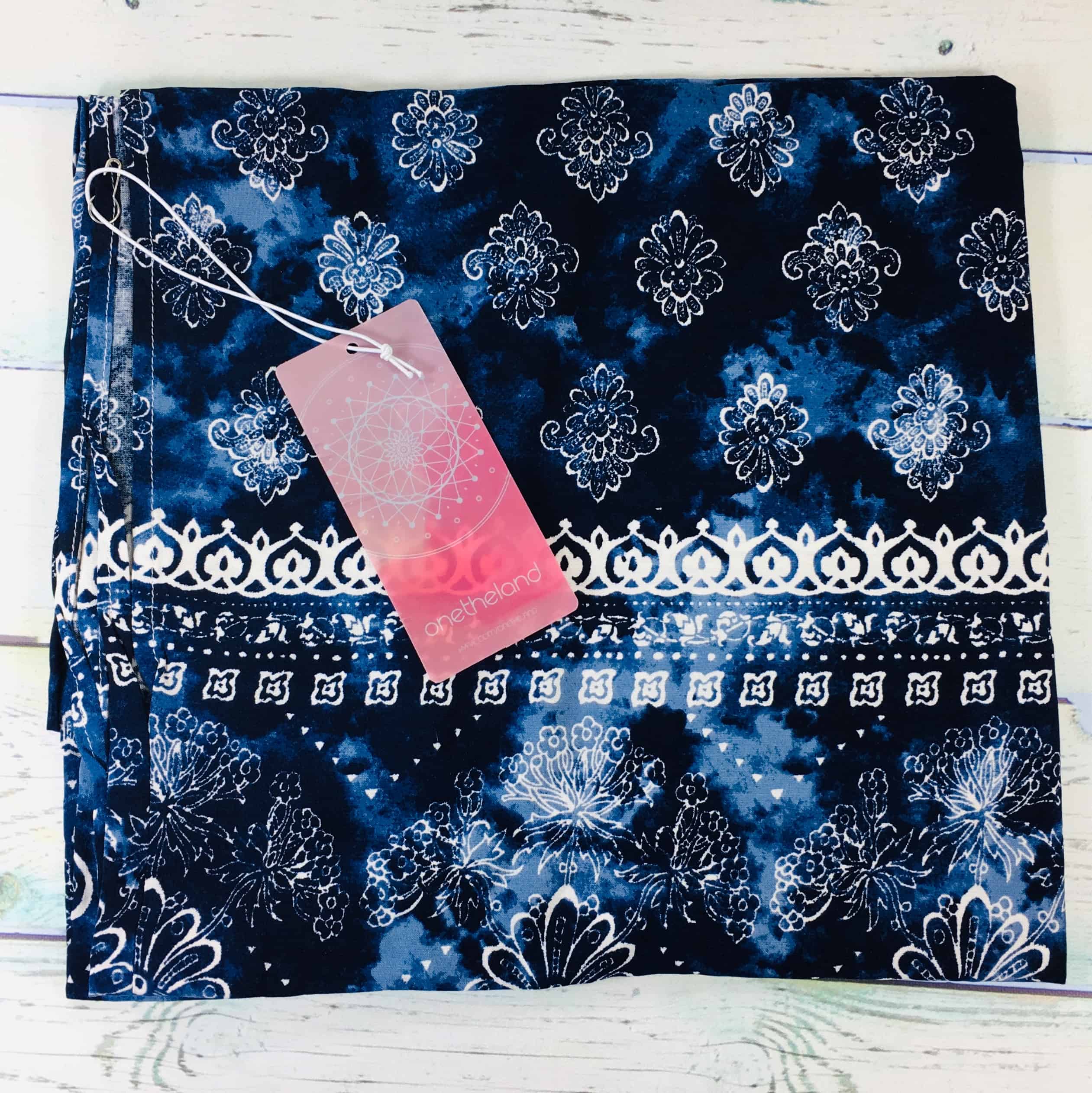 OneTheLand Midnight Wonders Kimono ($50) My Fashion Crate sends clothing items that look like things you might buy at a boutique and they are always cute.
It took me a while to figure out how this kimono should go on but I got there eventually.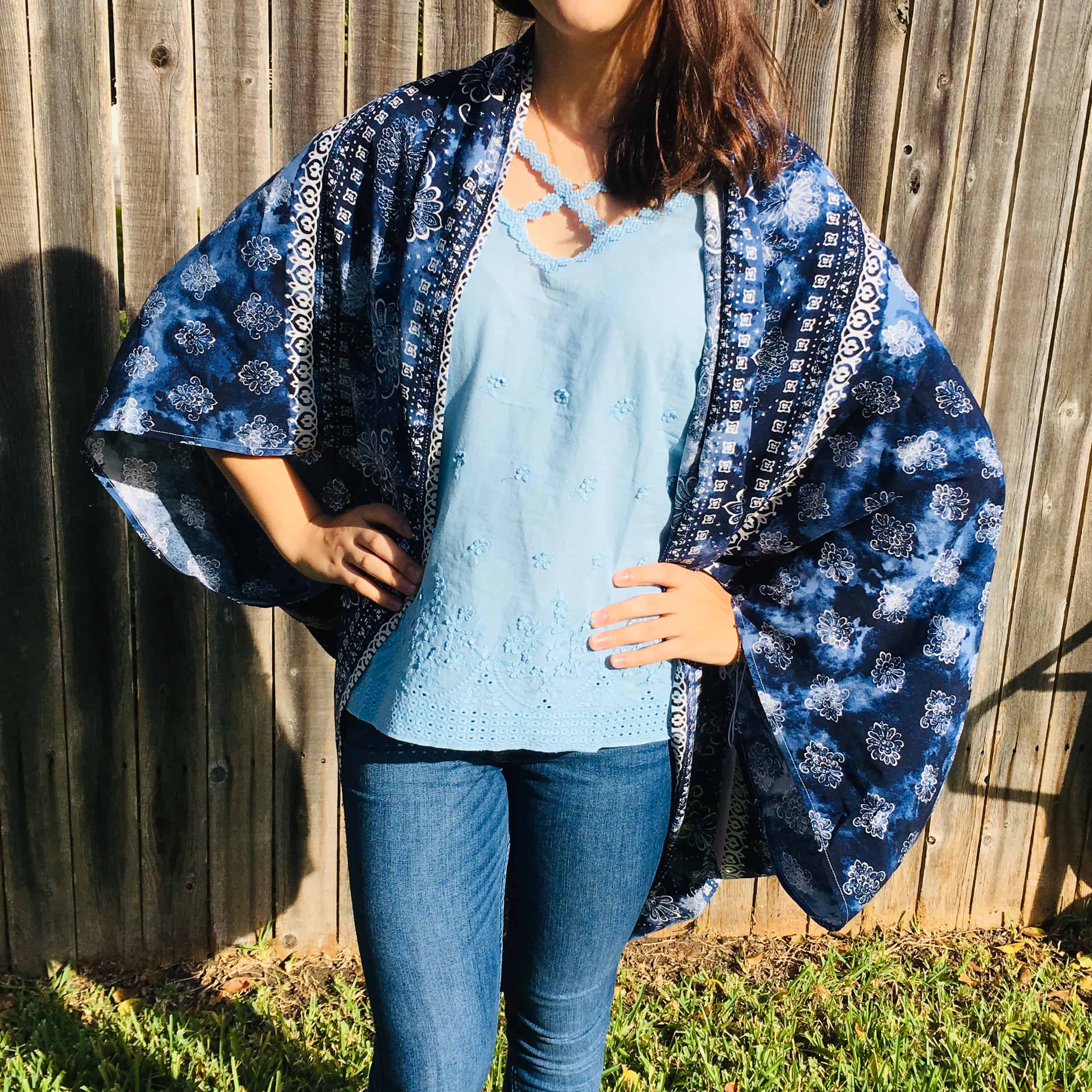 Here is Karina modeling the kimono.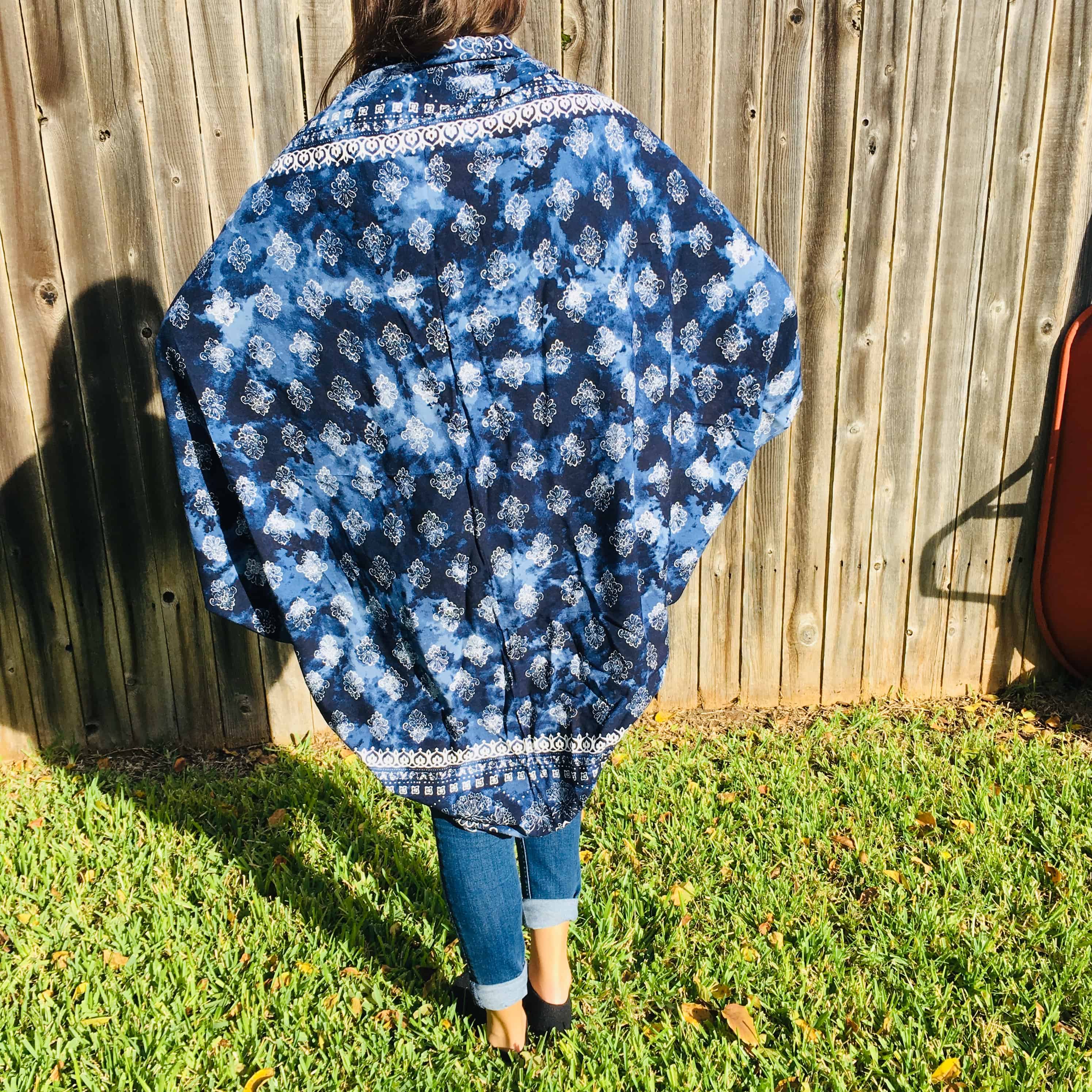 The kimono is size small but it overwhelmed my petite daughter. The quality is nice, it is well-made.
The next two items were sent in the Premium Box.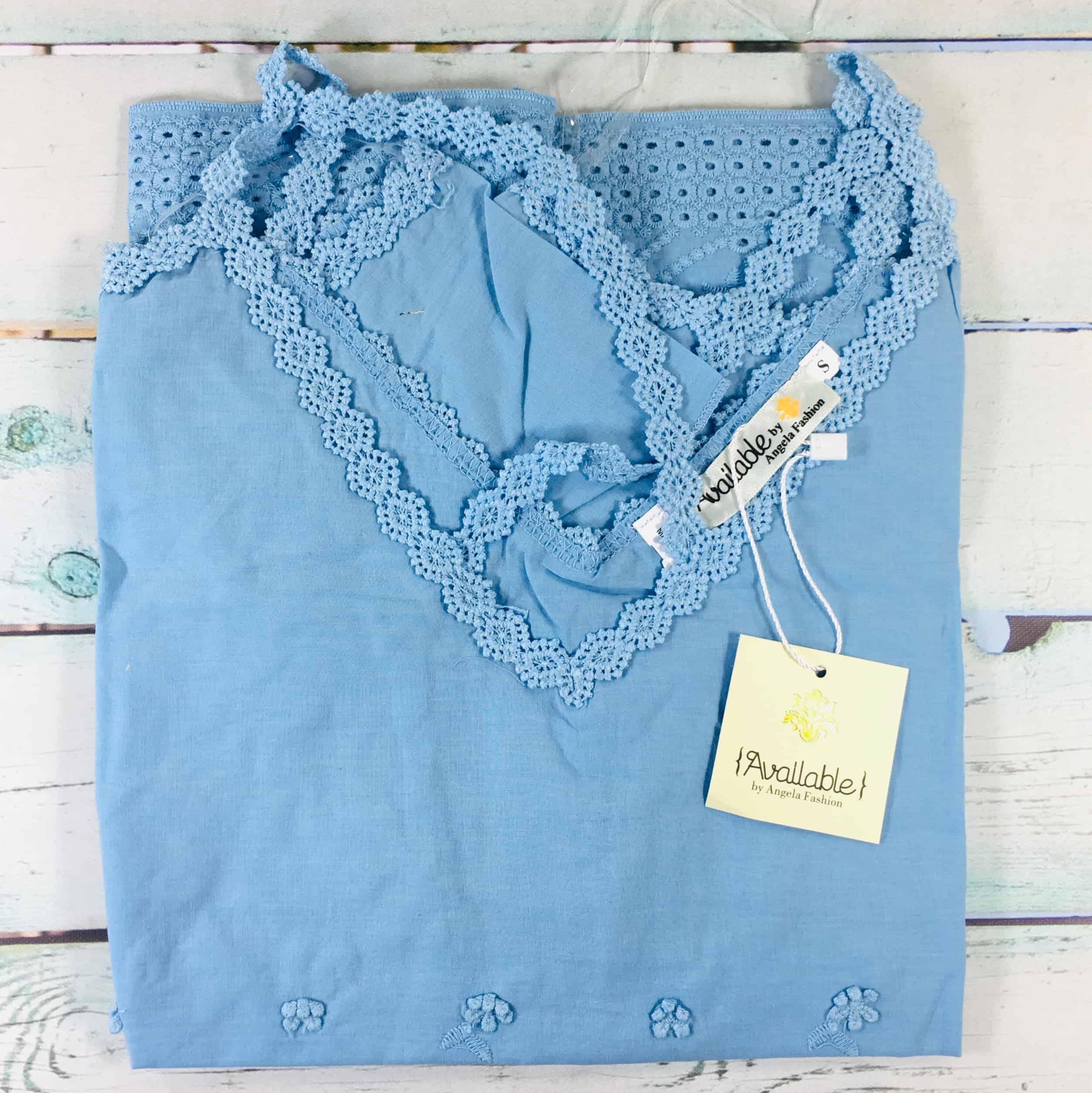 Angela Fashion Sweet Light Blue Top ($45) The clothing items are always brand new in bag with tags.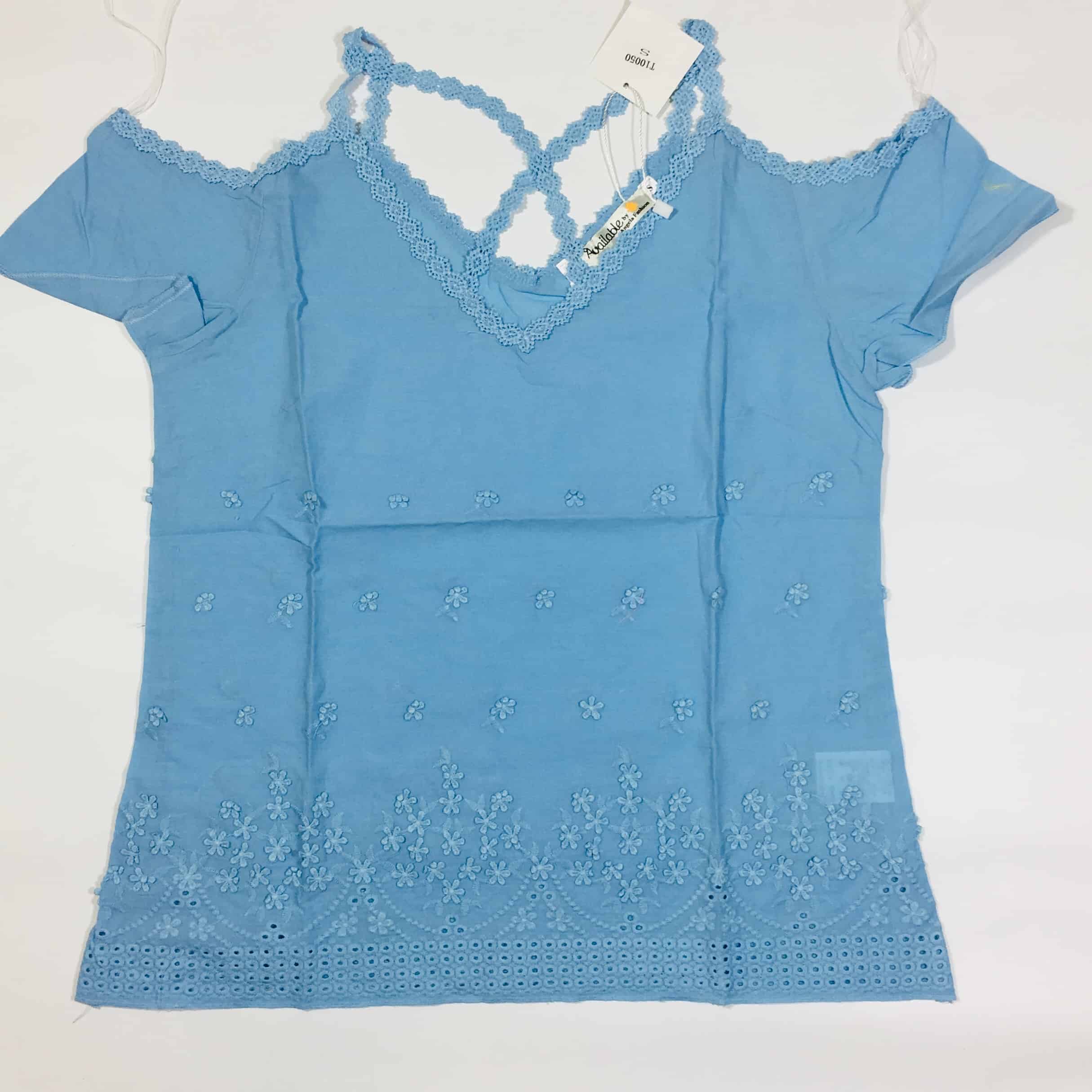 This cotton top looks good for warmer fall days or for layering when the weather turns cooler.
There are lots of cute touches on this blouse!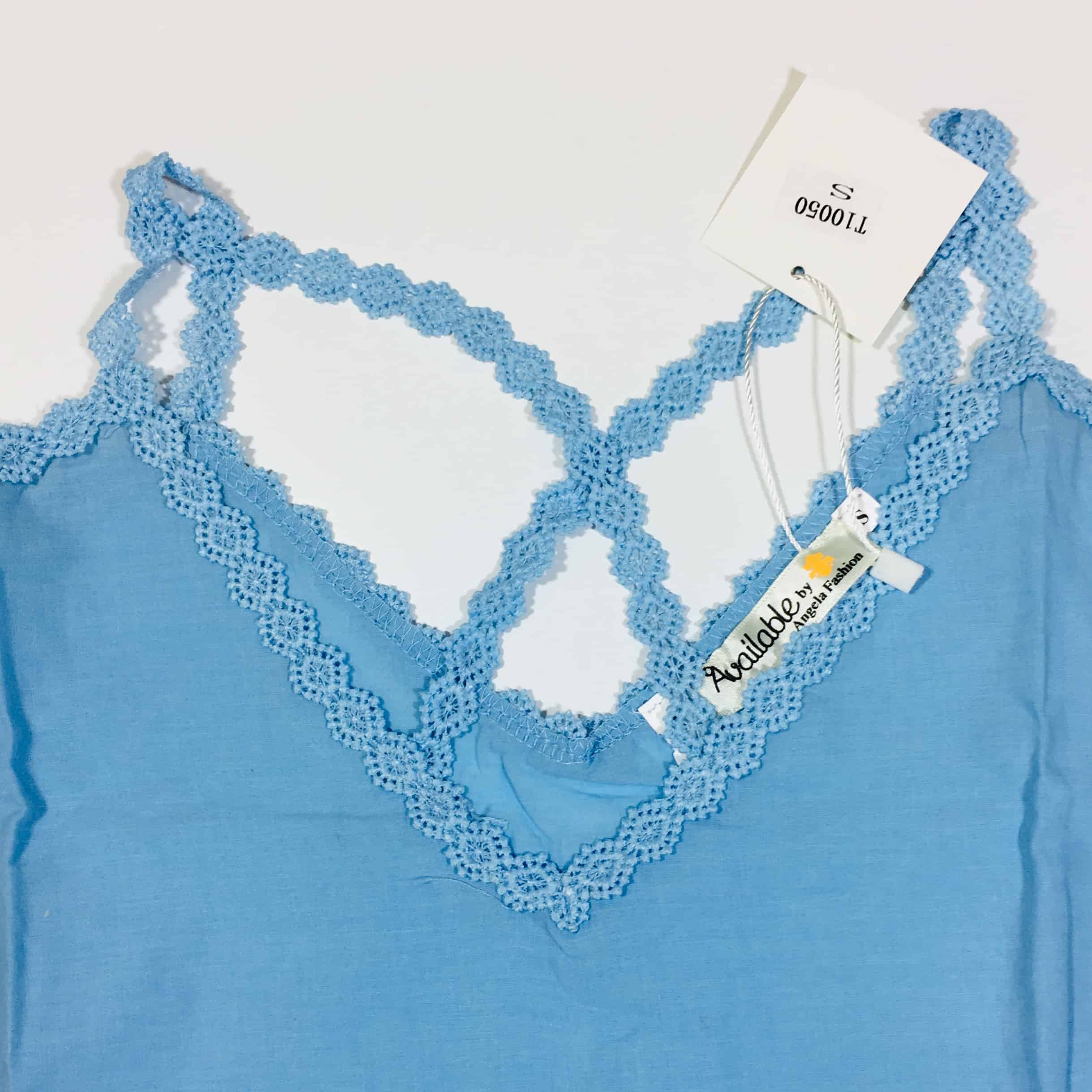 The neckline is adorable!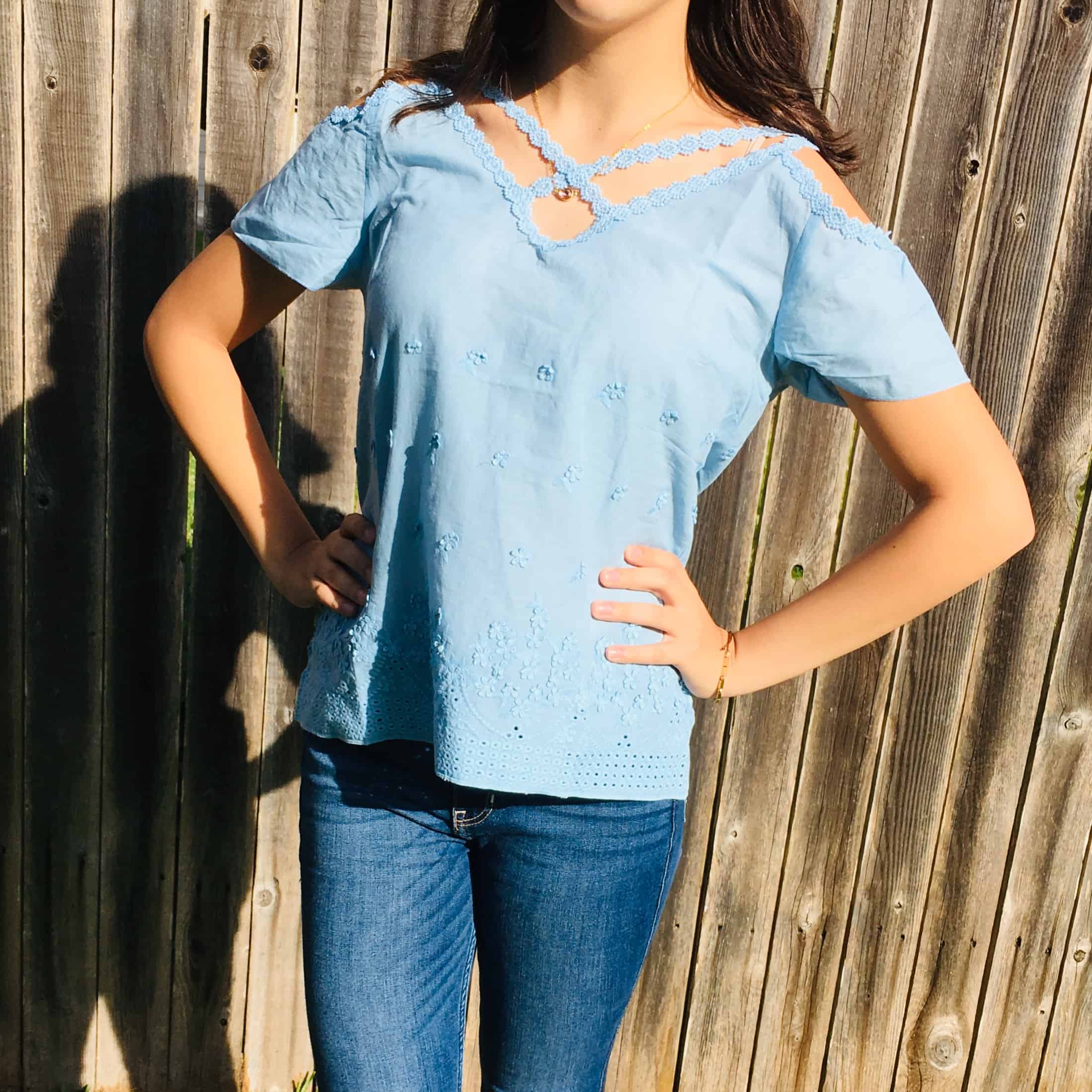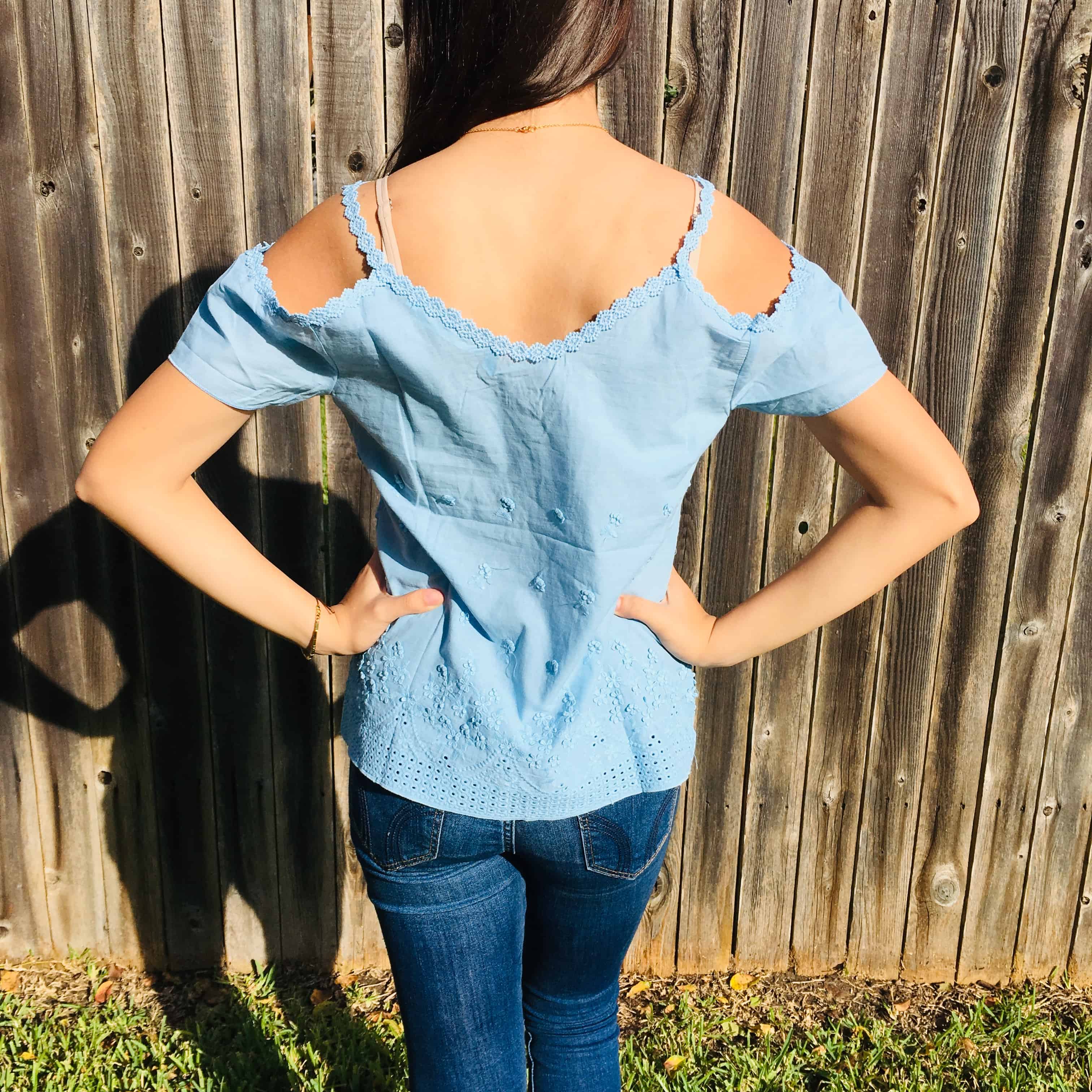 Oh, it's a cold shoulder top! Too cute!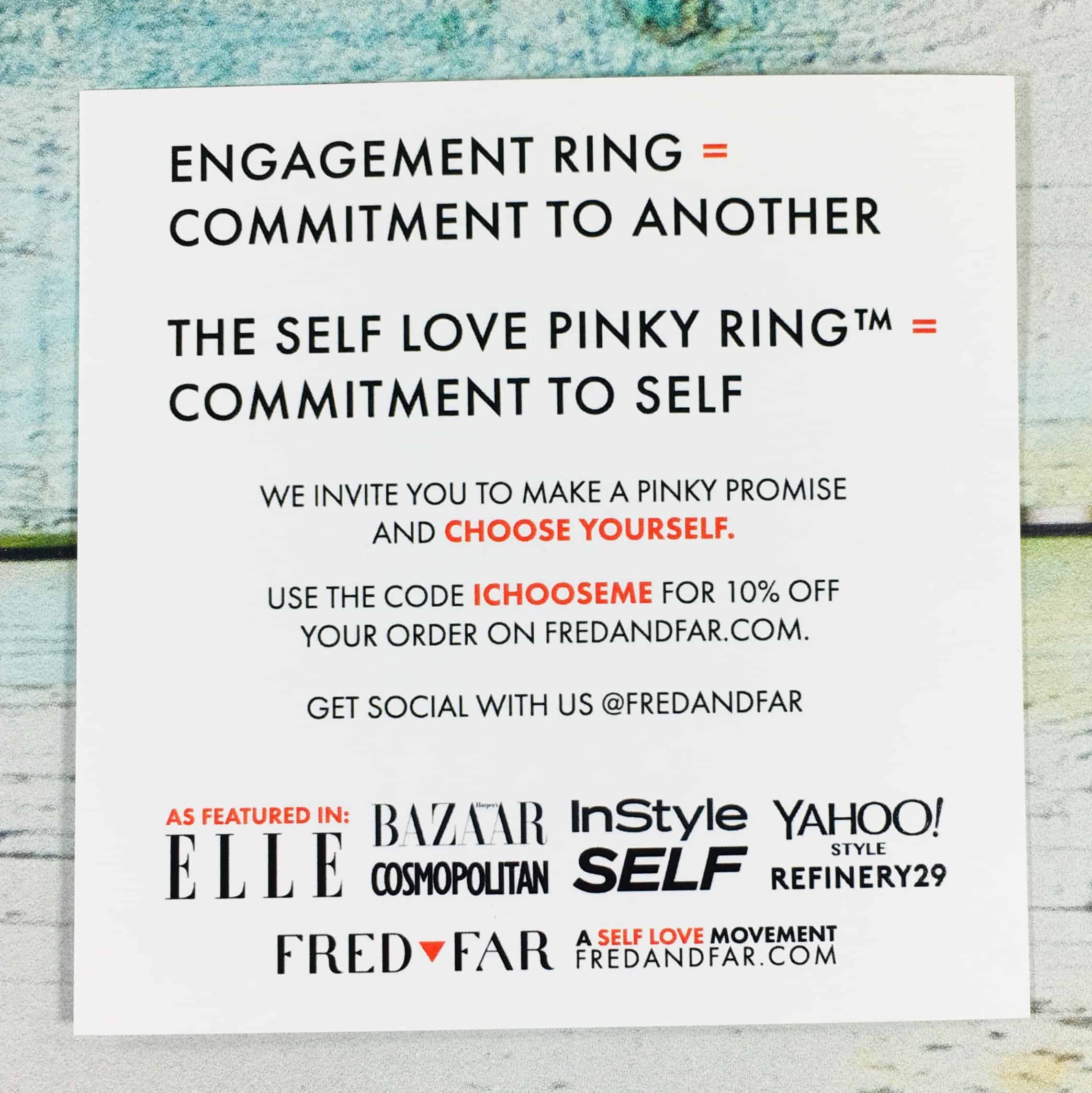 The next item came with a card came with a discount code for the website Fred and Far. This site promotes self esteem and self love.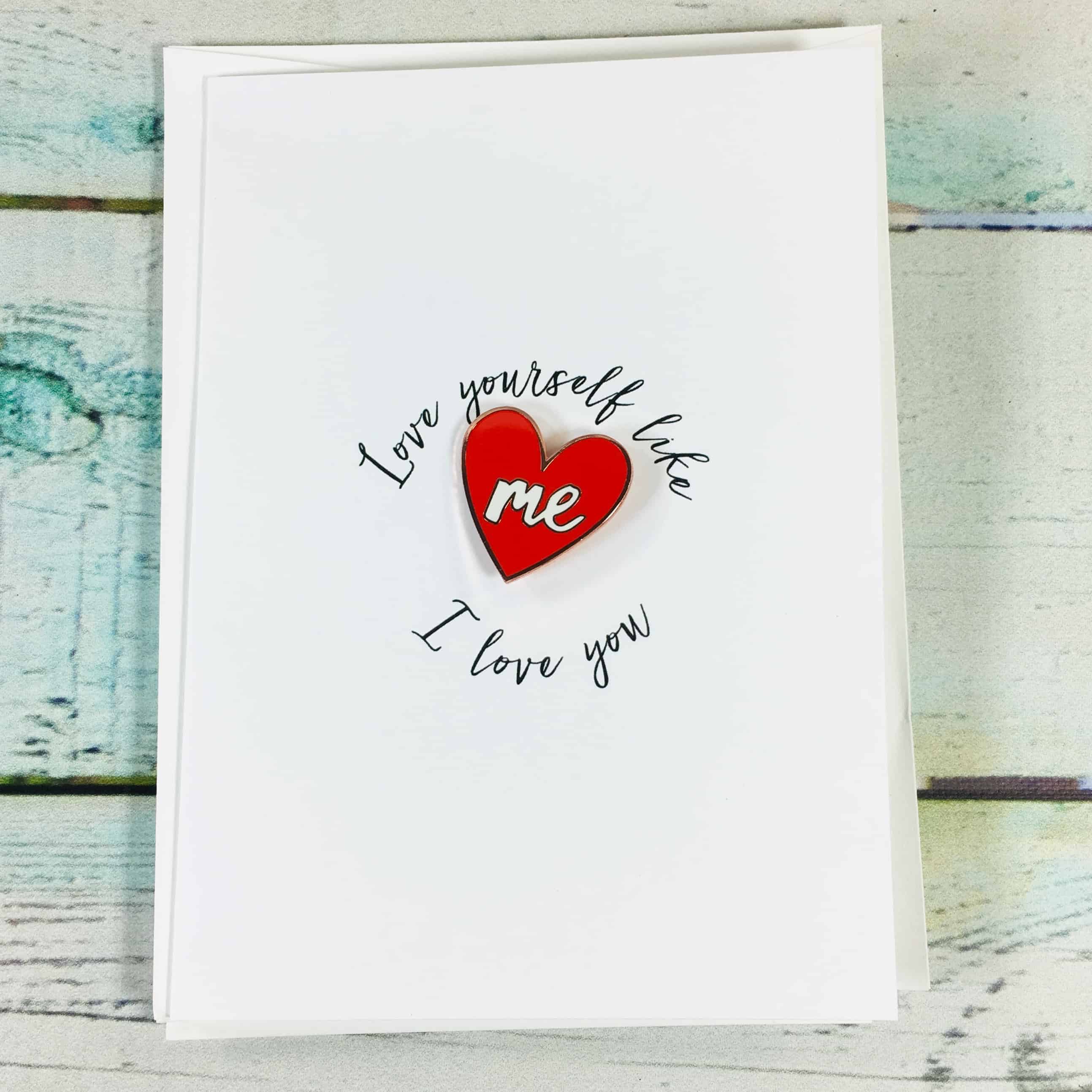 Fred & Far Love Yourself Like I Love You Enamel Pin Greeting Card ($10) You can send this greeting card to someone who needs a positive message to treat themselves well.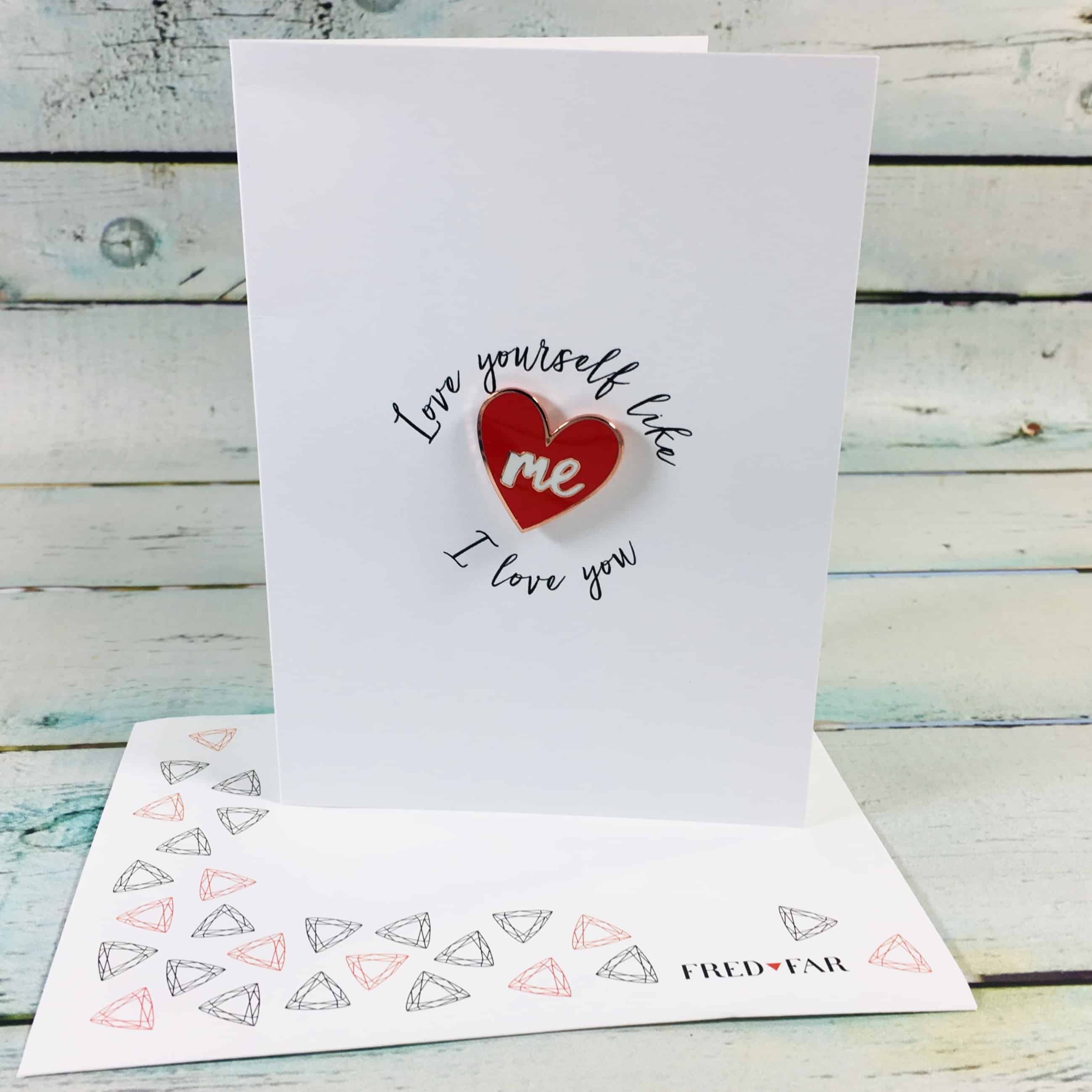 It comes with an enamel pin and matching envelope.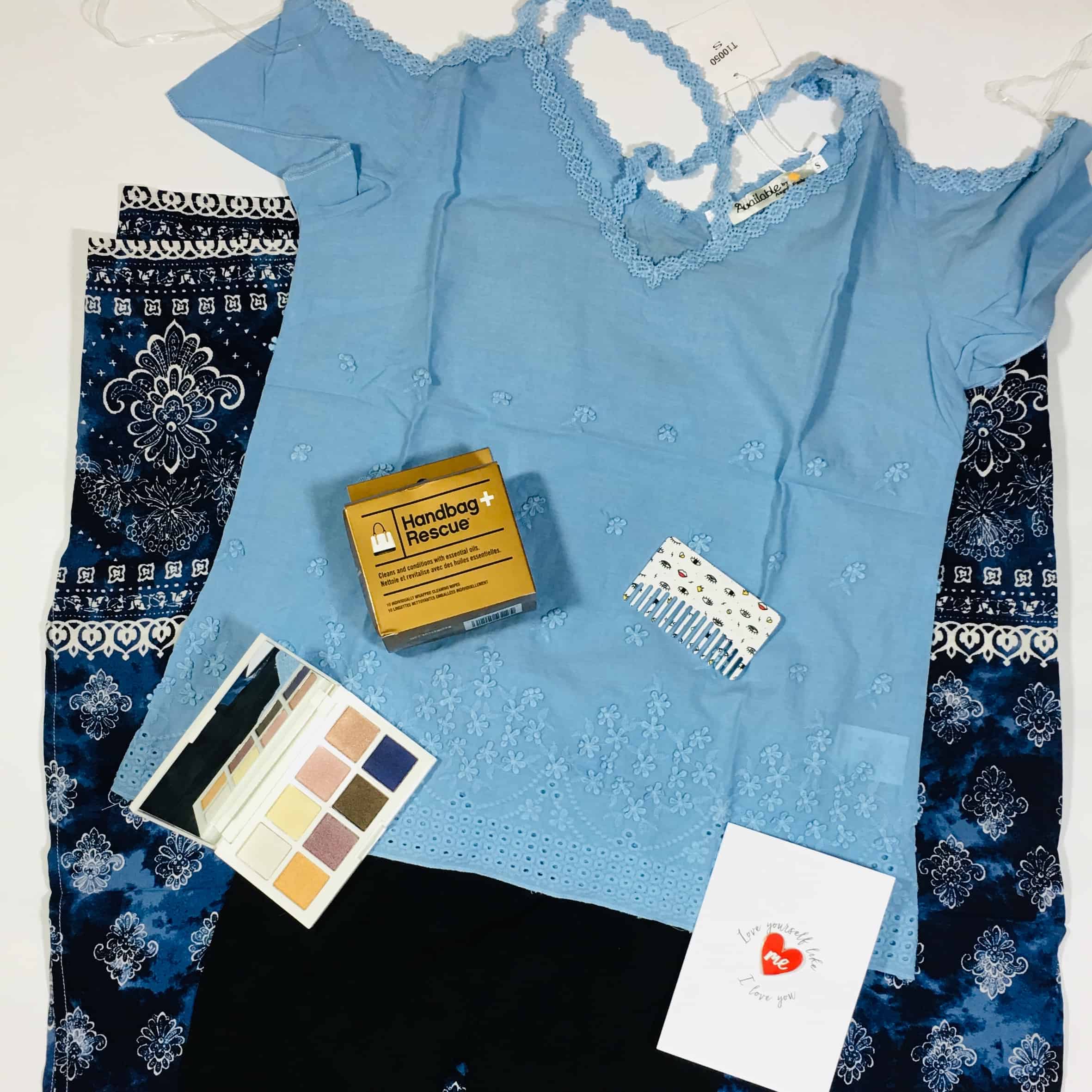 My Fashion Crate always sends cute clothing and accessories each month. This is a subscription that is perfect for someone who is young and likes trendy items. I split the items up between my two daughters (ages 20 and 15) and they always enjoy whatever is in the box. The value was a little lower this month, around $98.97 for the Essential Box and $153.97 for the Premium Box, however, the quality of the items was really nice and I would prefer this to a box full of cheap filler items.
What do you think of My Fashion Crate? I would love to hear your thoughts!