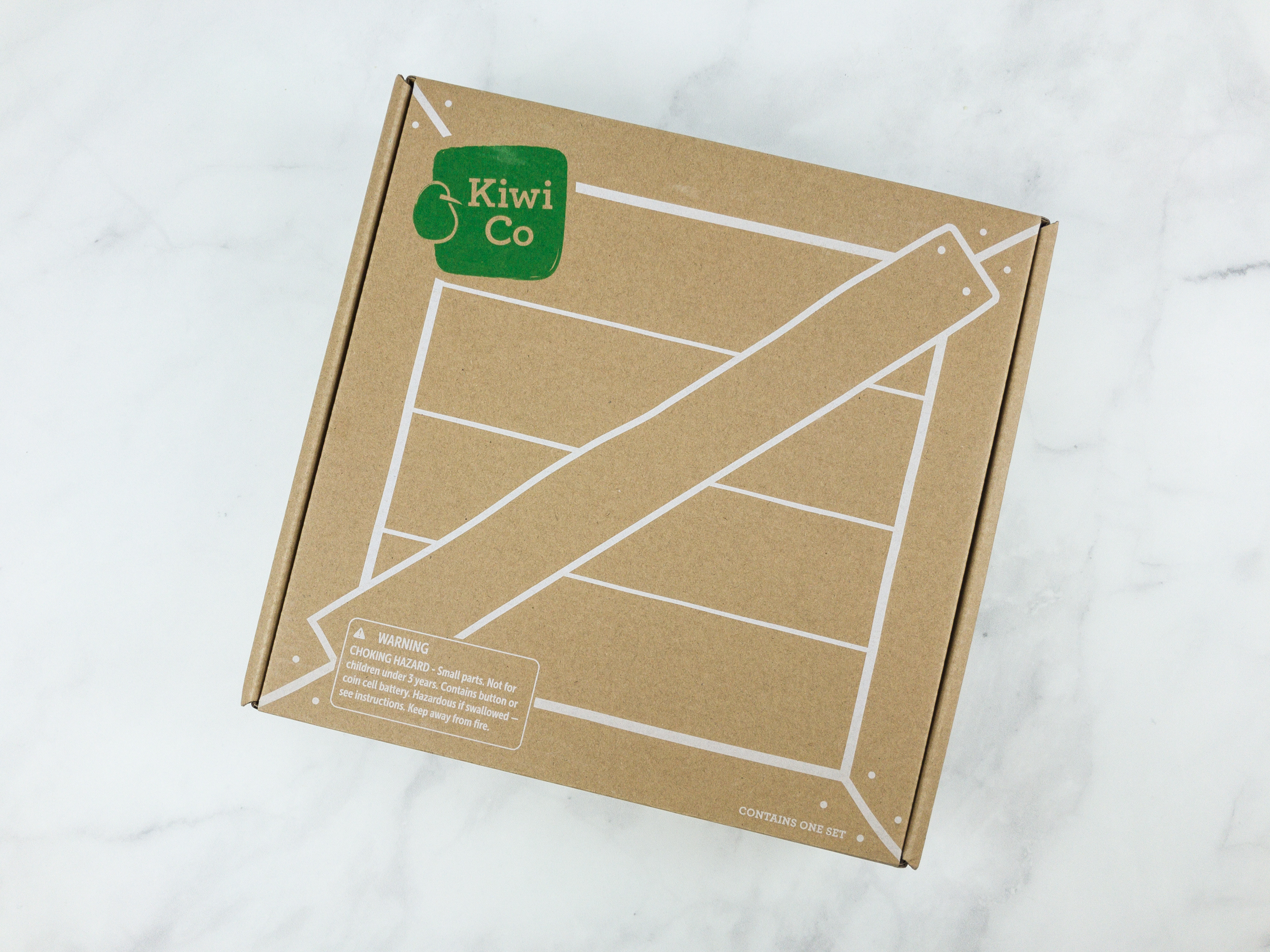 KiwiCo Family is currently offering Halloween crates, featuring creative Halloween-themed projects that fuse science and art! These KiwiCo projects are ideal for kids ages 5 and above. All the materials are included, as well as easy-to-follow, step-by-step instructions plus clear illustrations. They even provide a series of explanations to illuminate how everything works.
This is the review of LIGHT-UP ALIEN SPACESHIP, one of the new KiwiCo Halloween Costumes available. It costs $29.95. The other costumes are Chomping Mechanical Dinosaur, Light Up Wings, Glowing Horn Unicorn, and Glowing Wand and Crown.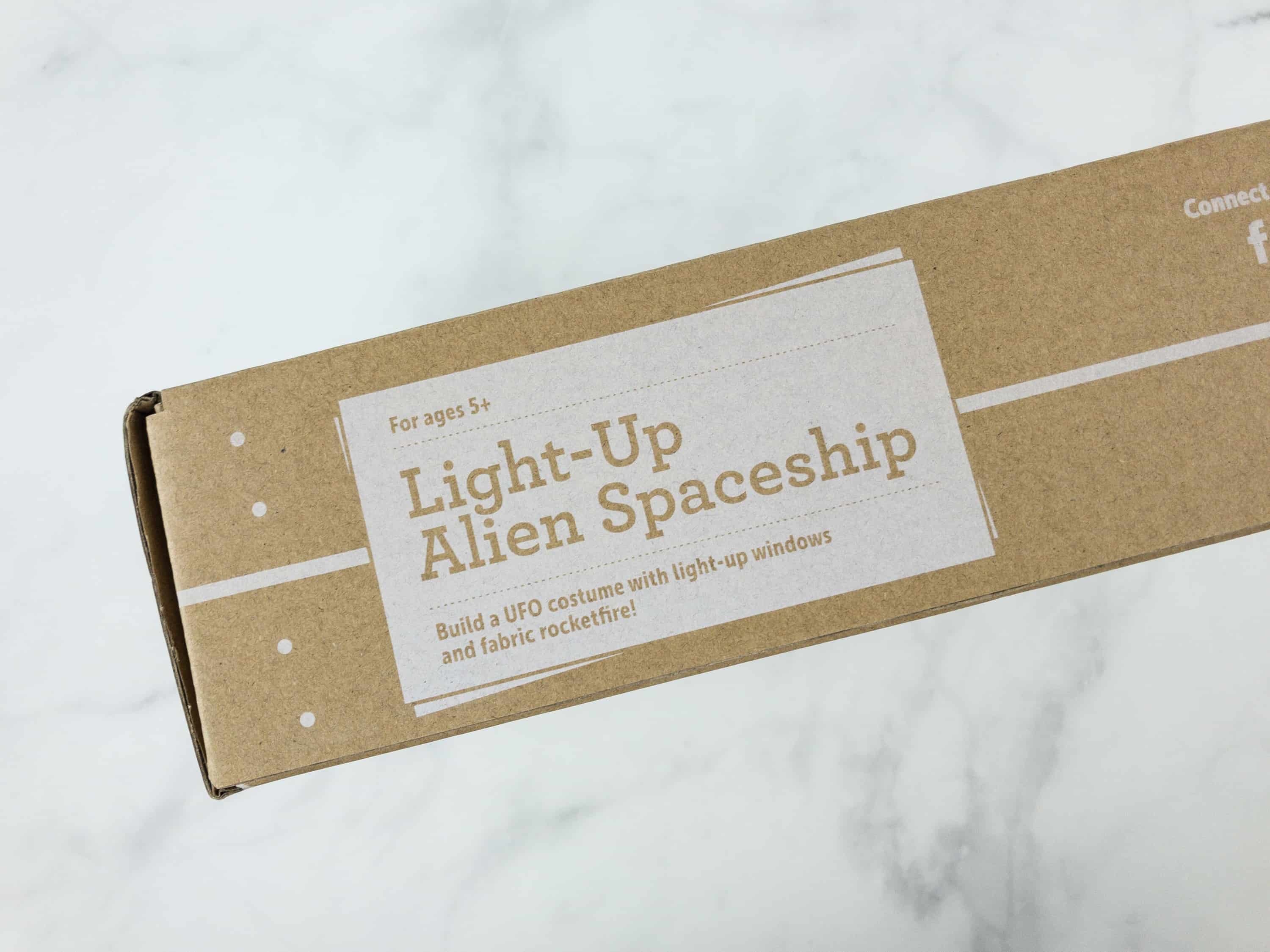 Build a light-up UFO costume that you can wear, complete with a fun pair of alien glasses. This costume craft kit contains everything you need to craft a windshield, glowing windows, and cloth rocketfire — all while learning about rocket launches and scientists' search for alien life. Get ready for blast-off!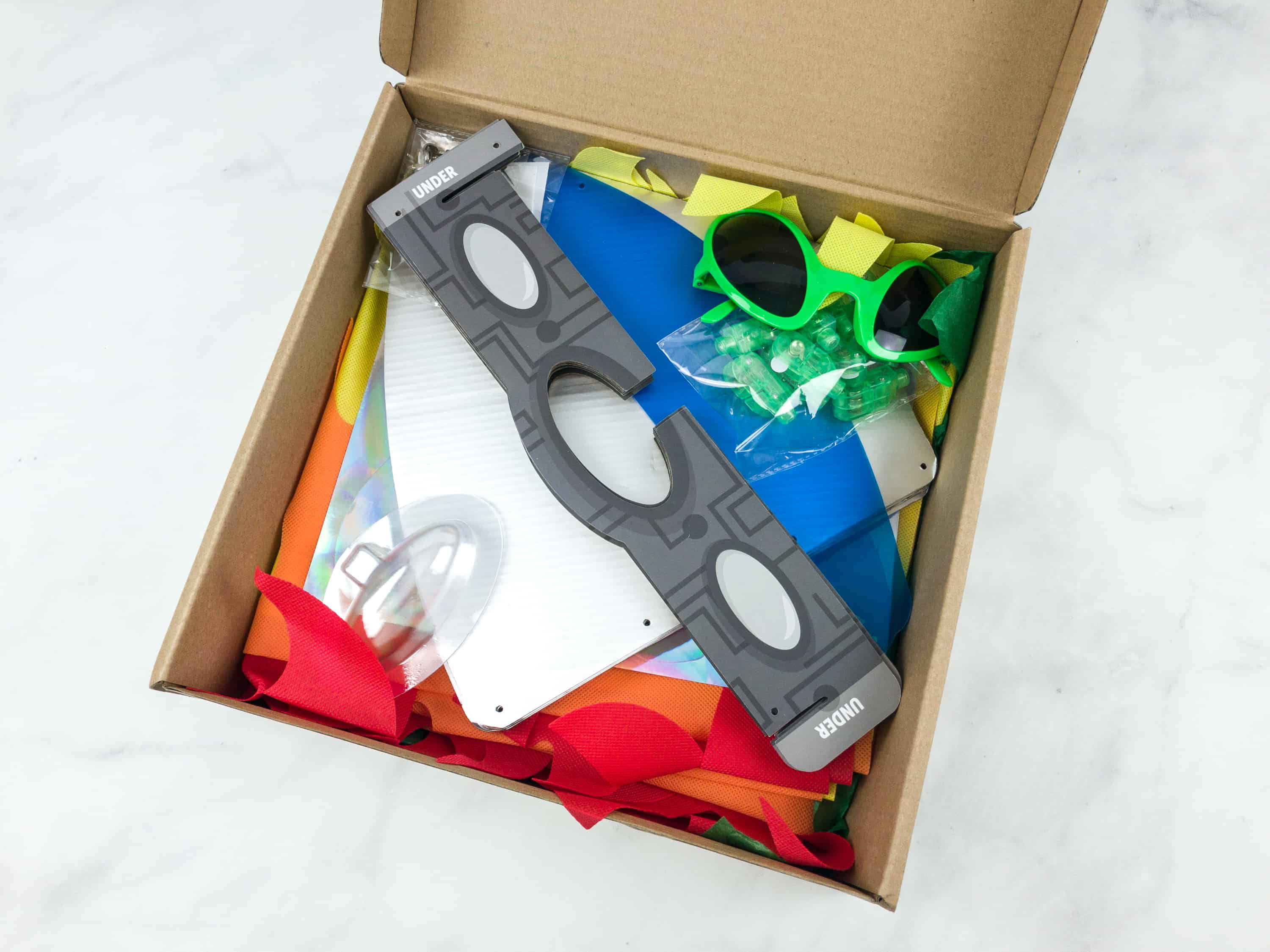 All of the craft supplies from the Crate. You really need very little from home to do the crafts.
Everything in my box!
The booklet is the actual instruction booklet for the project.
The first page of the booklet lists all the materials included in this crate: brads, LED lights, shiny stickers, shiny panels, rectangle panels, windows, sticky foam squares, sticky foam curves, visor, flame cloth, and alien glasses. Only a pair of scissors is not included in the crate, but often the pieces are pre-cut, scored, or otherwise prepared for you already.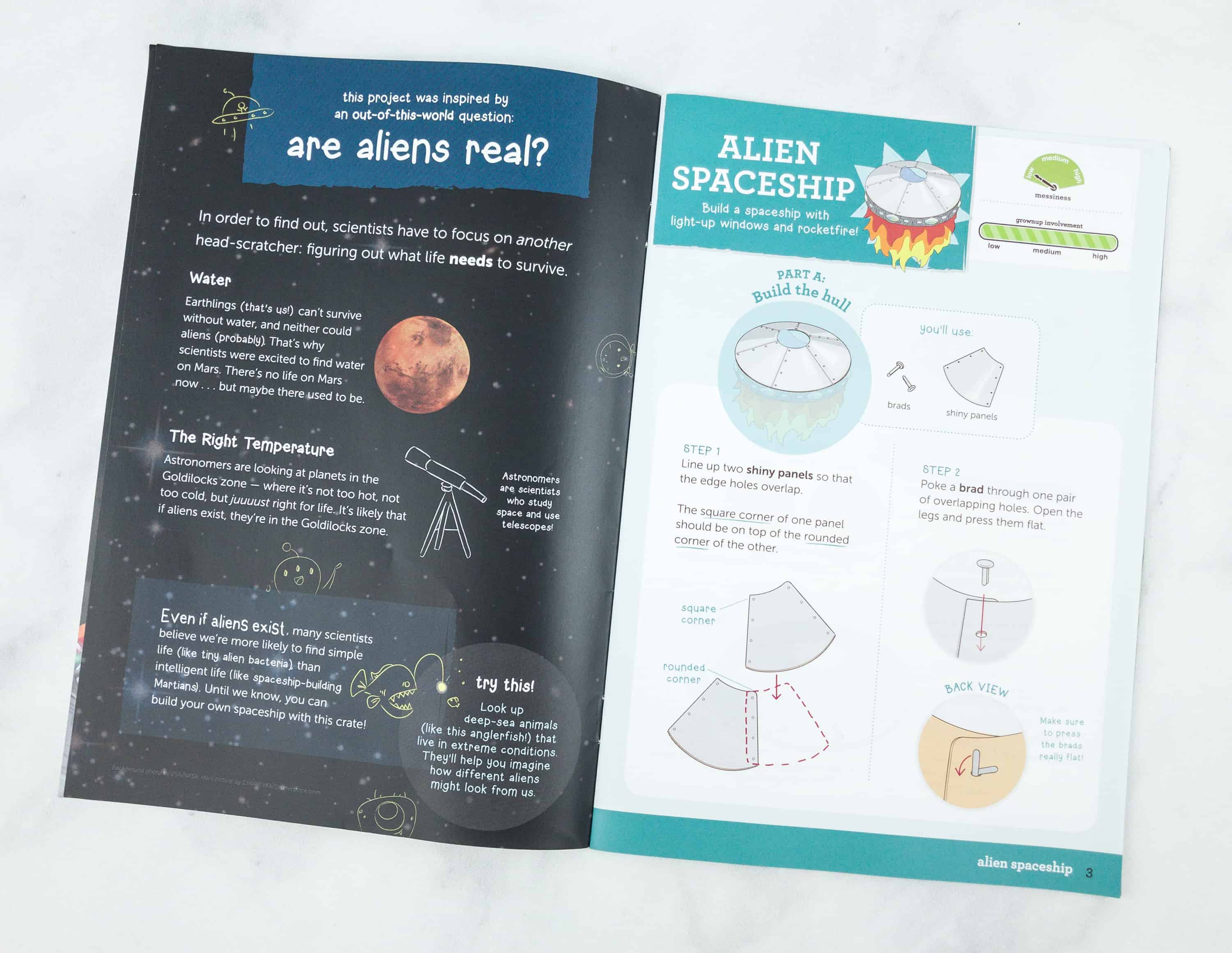 Are aliens real? This is the question that inspires this exciting project.
To build a hull, you'll need these brads and shiny panels.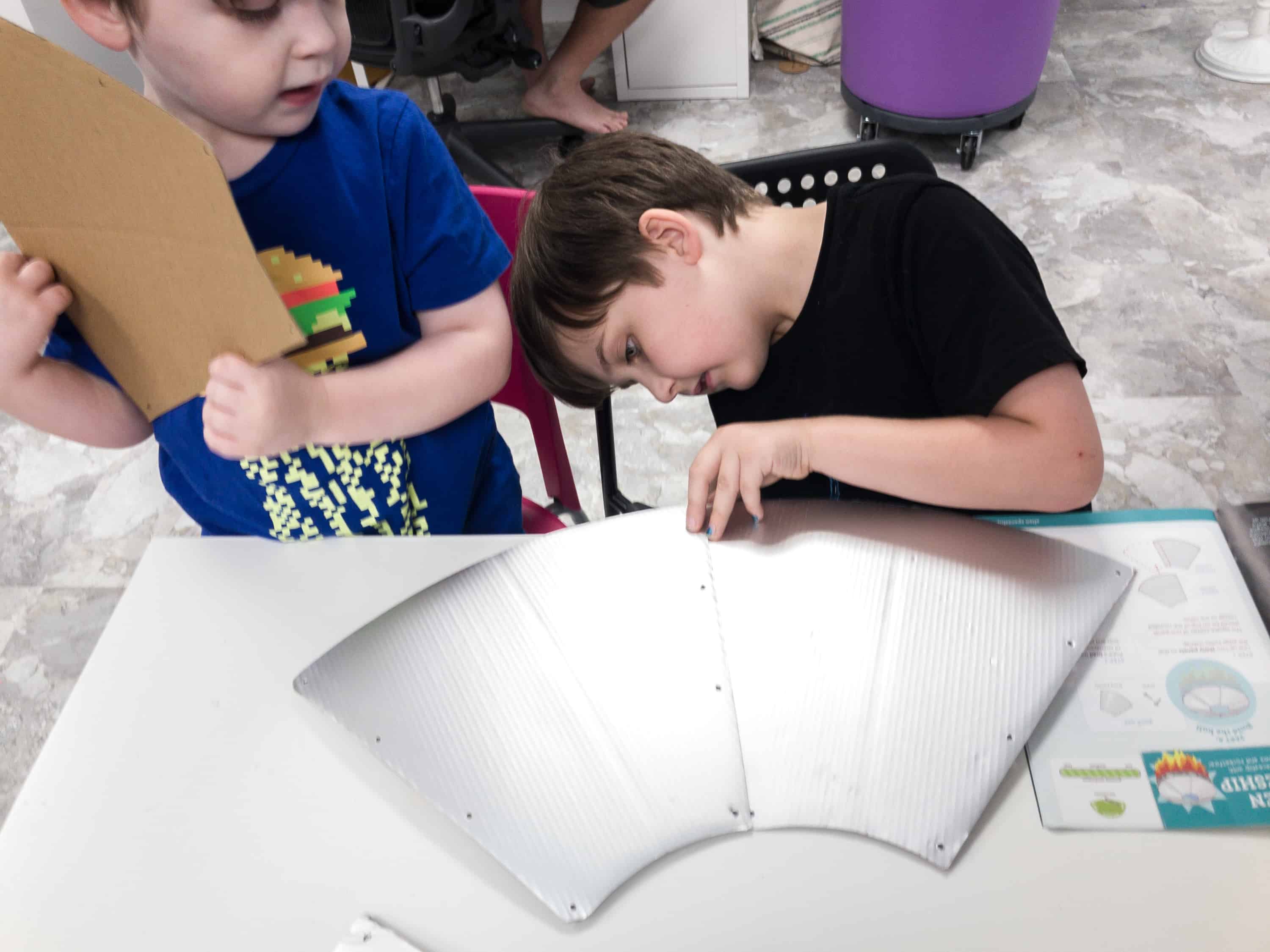 The first thing to do is to line-up all the shiny panels with edge overlapping each other. Poke a brad on each hole, open the legs and press them flat. Make sure to press the brads really flat!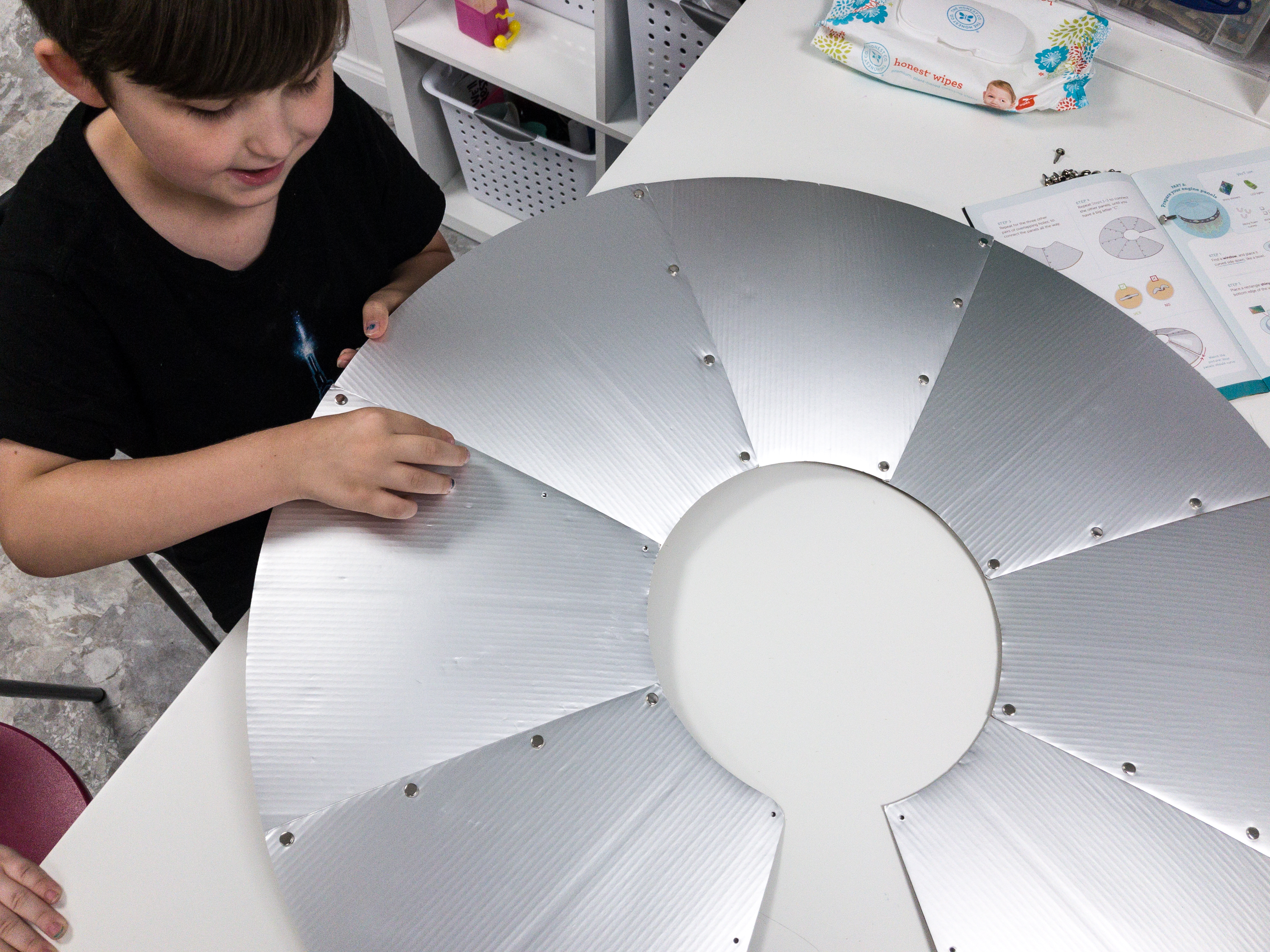 Repeat the procedure until you form a big letter C. Once all is done, pull down the end of each panel to form a cone shape and connect the last panels with brads.
The guide features an easy-to-follow, illustrated instructions that the kids can just copy. It also has a Stop and Check segment to see if you've done the instructions properly.
Alien spaceship won't work without engine. Here are all the items you need for your Engine Panel: rectangle panel, shiny stickers, LED lights, windows, and sticky foam squares and curves.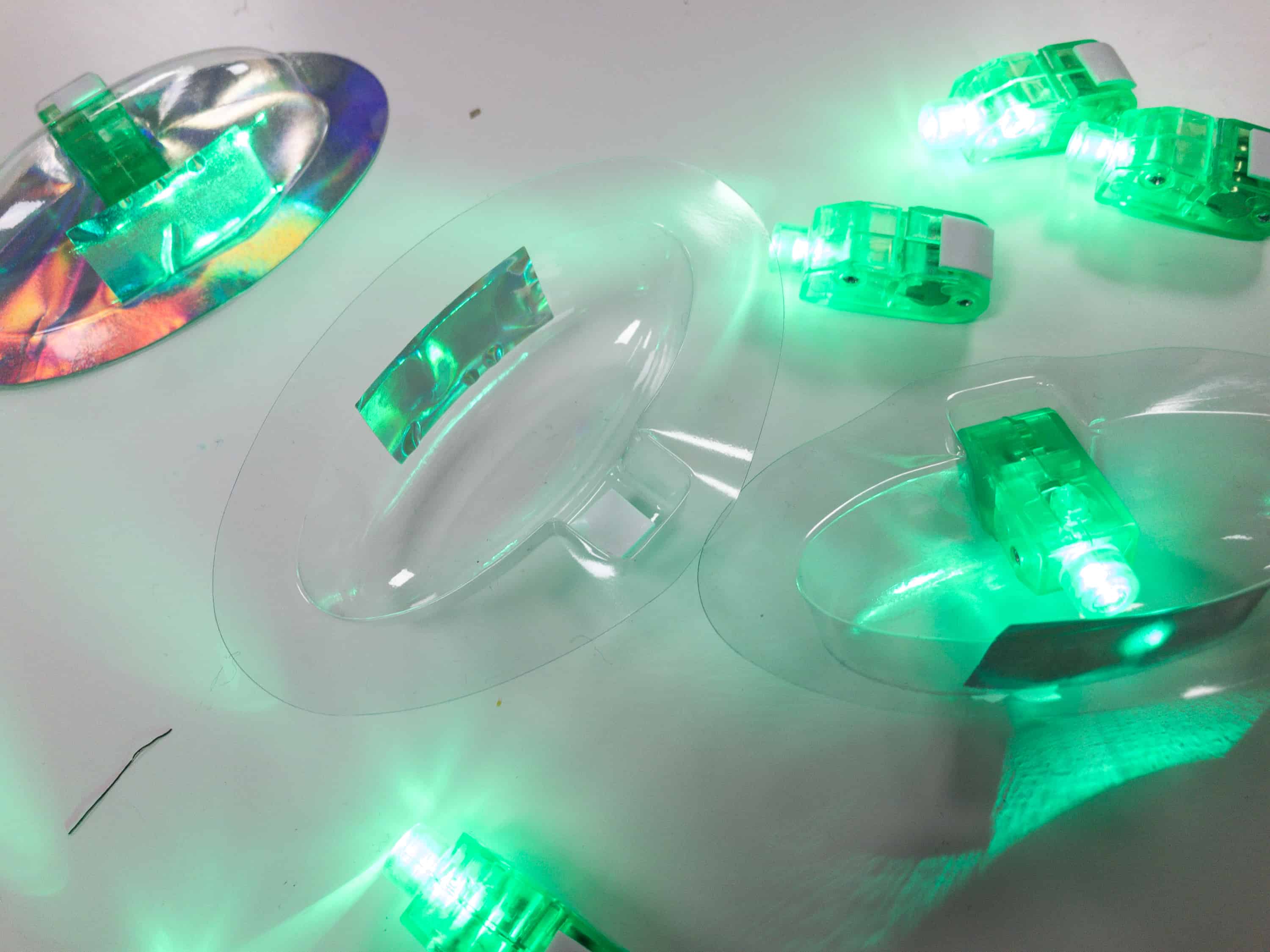 Stick a sticky foam square into the gap on the window and put the LED lights in, then stick the shiny sticker at the bottom edge of the window in front of the LED lights.
Here's how it should look after attaching the shiny sticker and LED lights on the window. The next thing to do is to put 2 pieces of sticky foam curves on each side of the window.
Peel-off the sticky curve and attached it to the rectangular panels.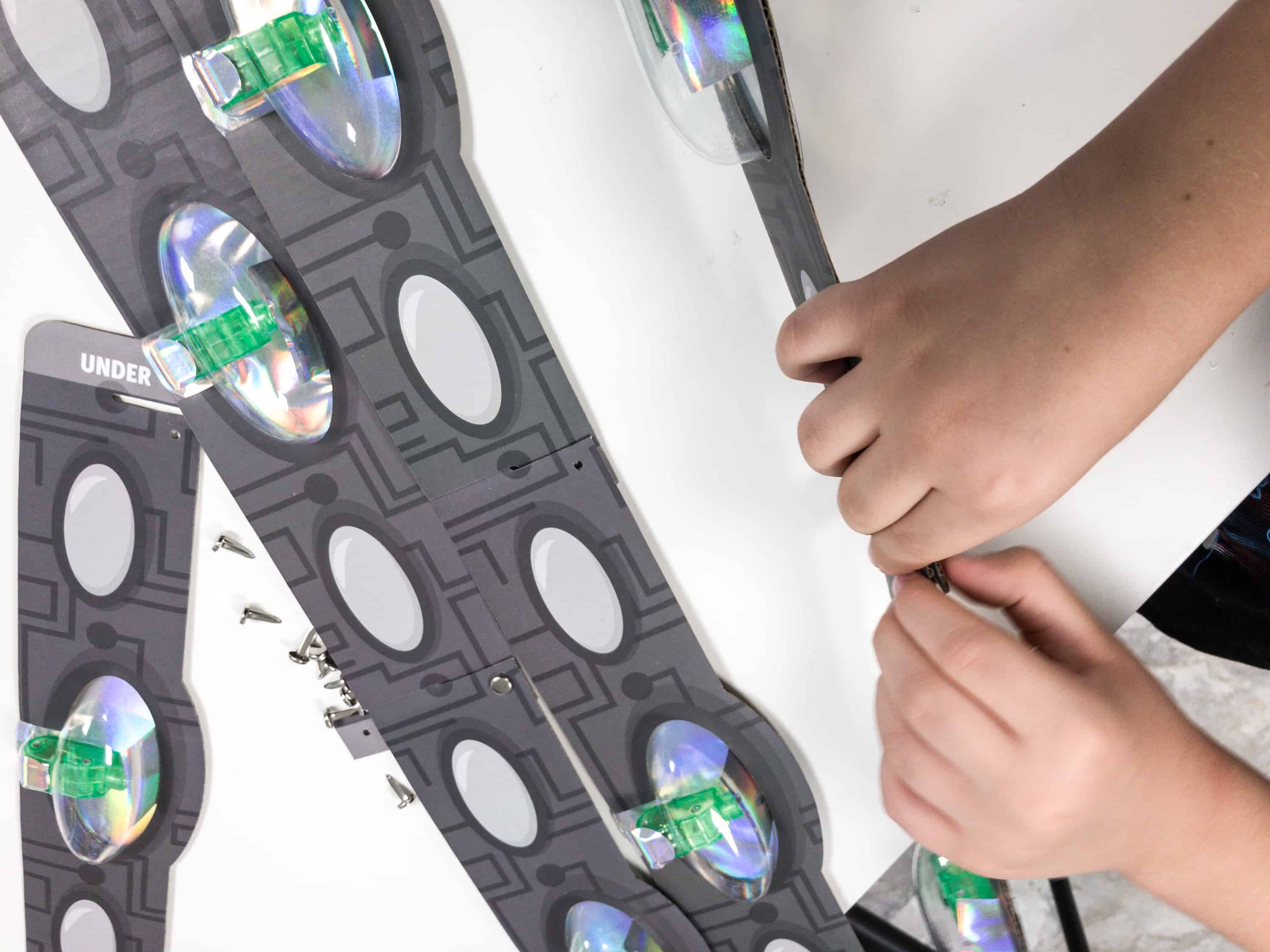 Combine all the rectangular panel using brads, again make sure that the brad's legs are perfectly flattened to ensure it won't break easily.
According to the booklet, the U.S. built their first alien spaceship look-a-like in 1950's and named it the Avrocar. Unfortunately, it didn't float more than 3 feet on the ground and recorded no space travel at all.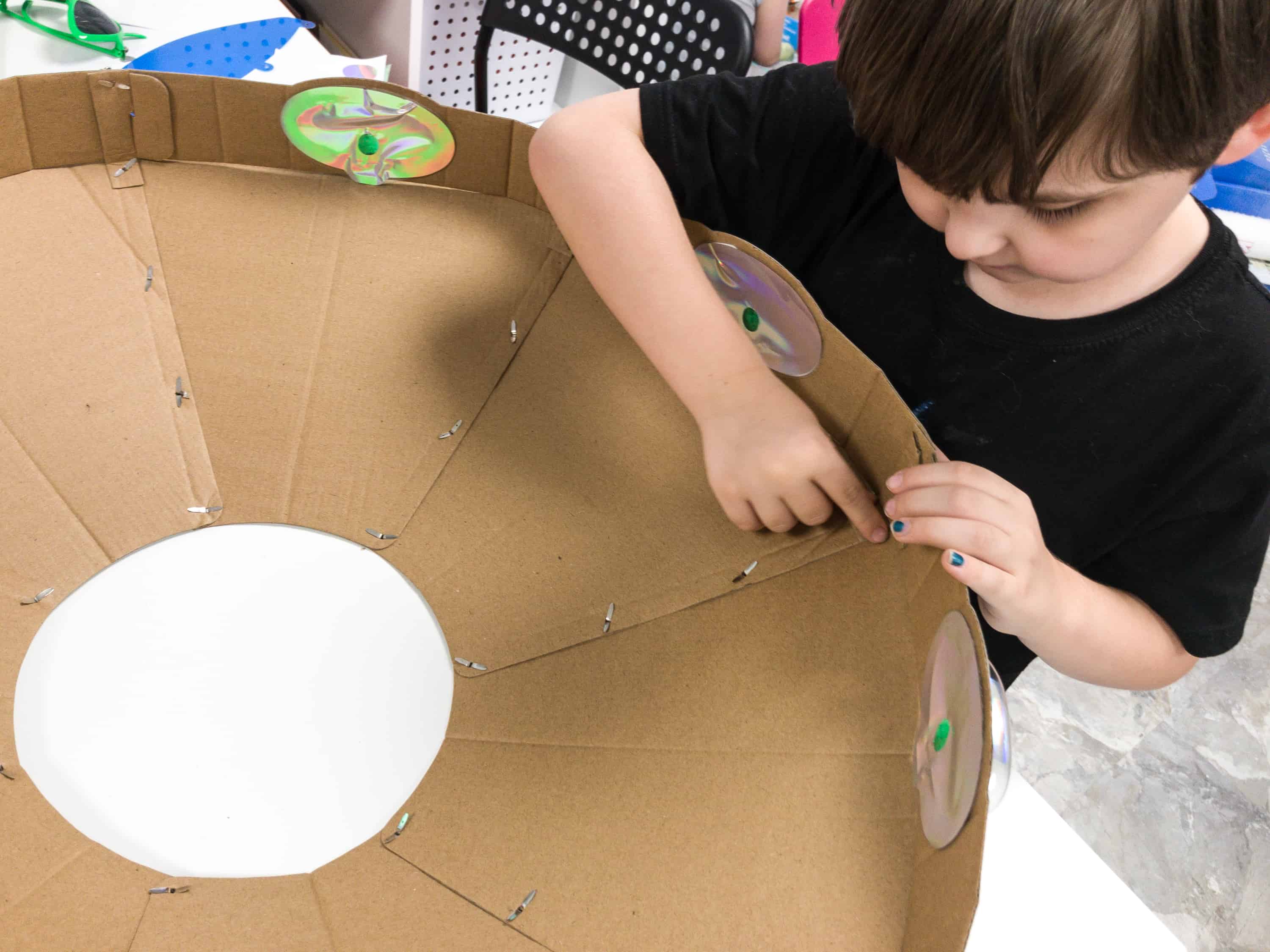 My son made sure that all the brads were flattened correctly. It's always a good practice to double check if the pointers are followed, to avoid unwanted results. The reminders are super helpful!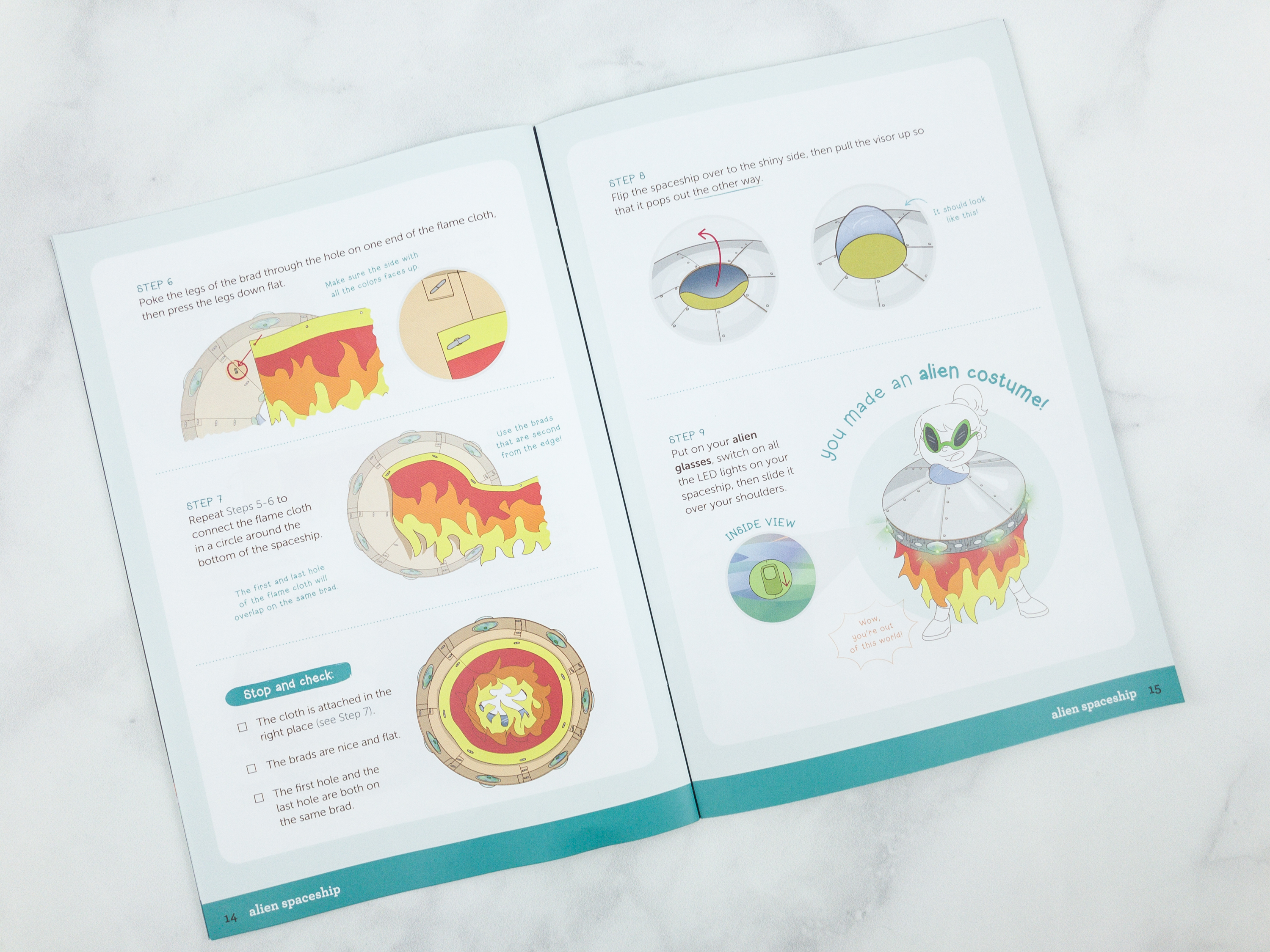 Now that we're done with the spaceship itself, it's time to add colorful accessories that would definitely capture everyone's attention.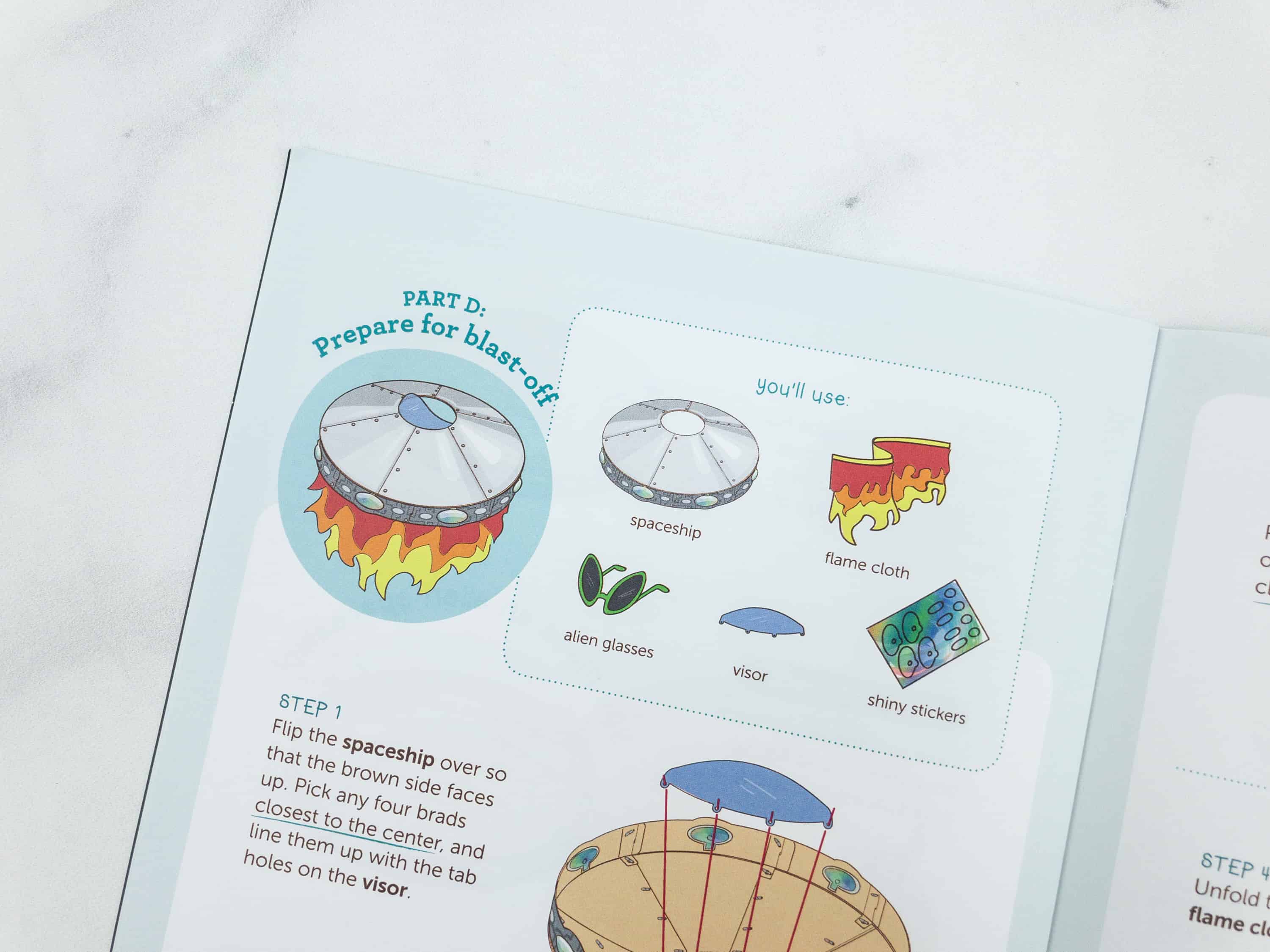 In preparation for blast-off, you'll need the spaceship, flame cloth, alien glasses, visor, and shiny stickers.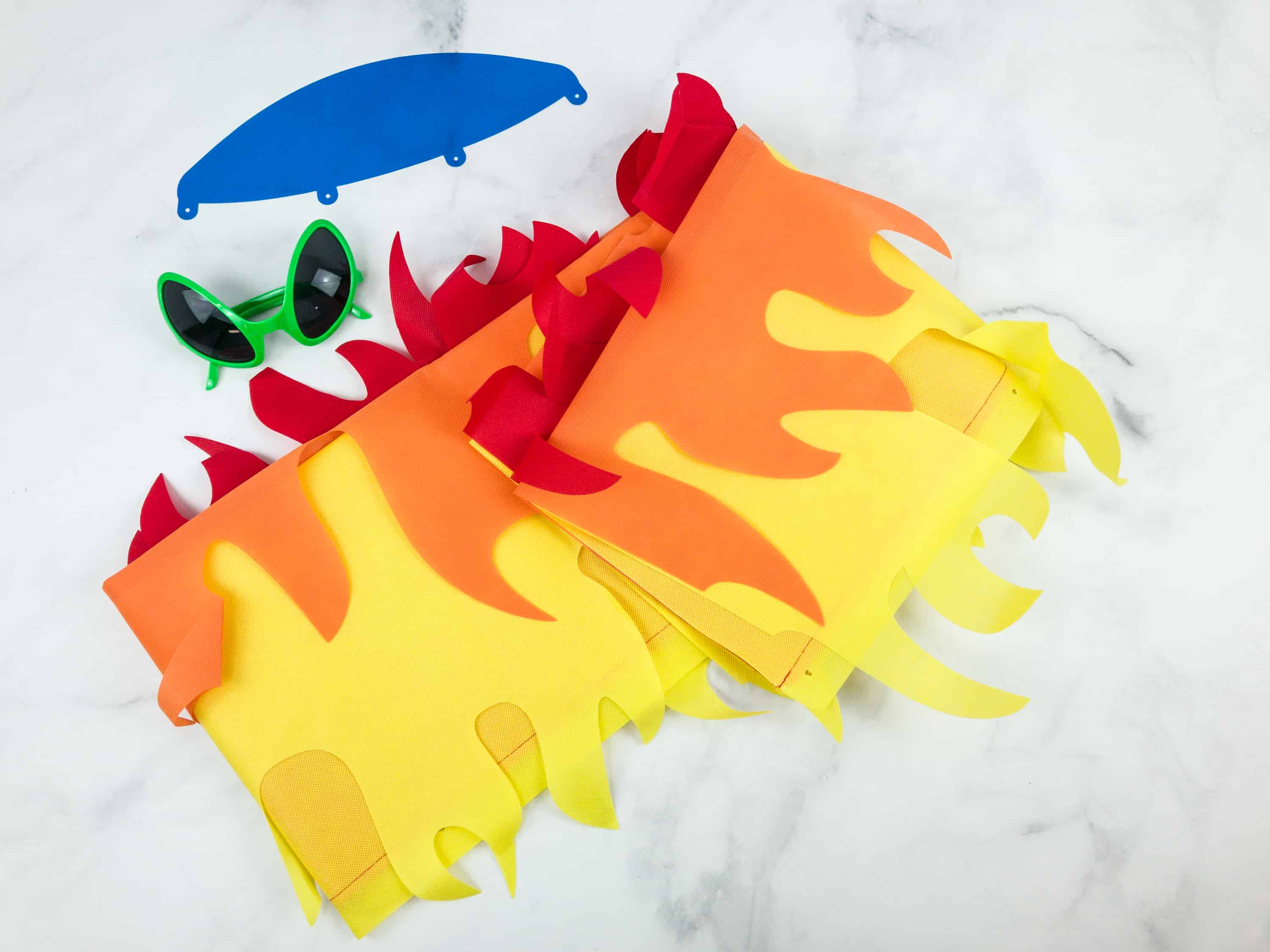 I love the color of all the accessories, they're so bright and eye-catching!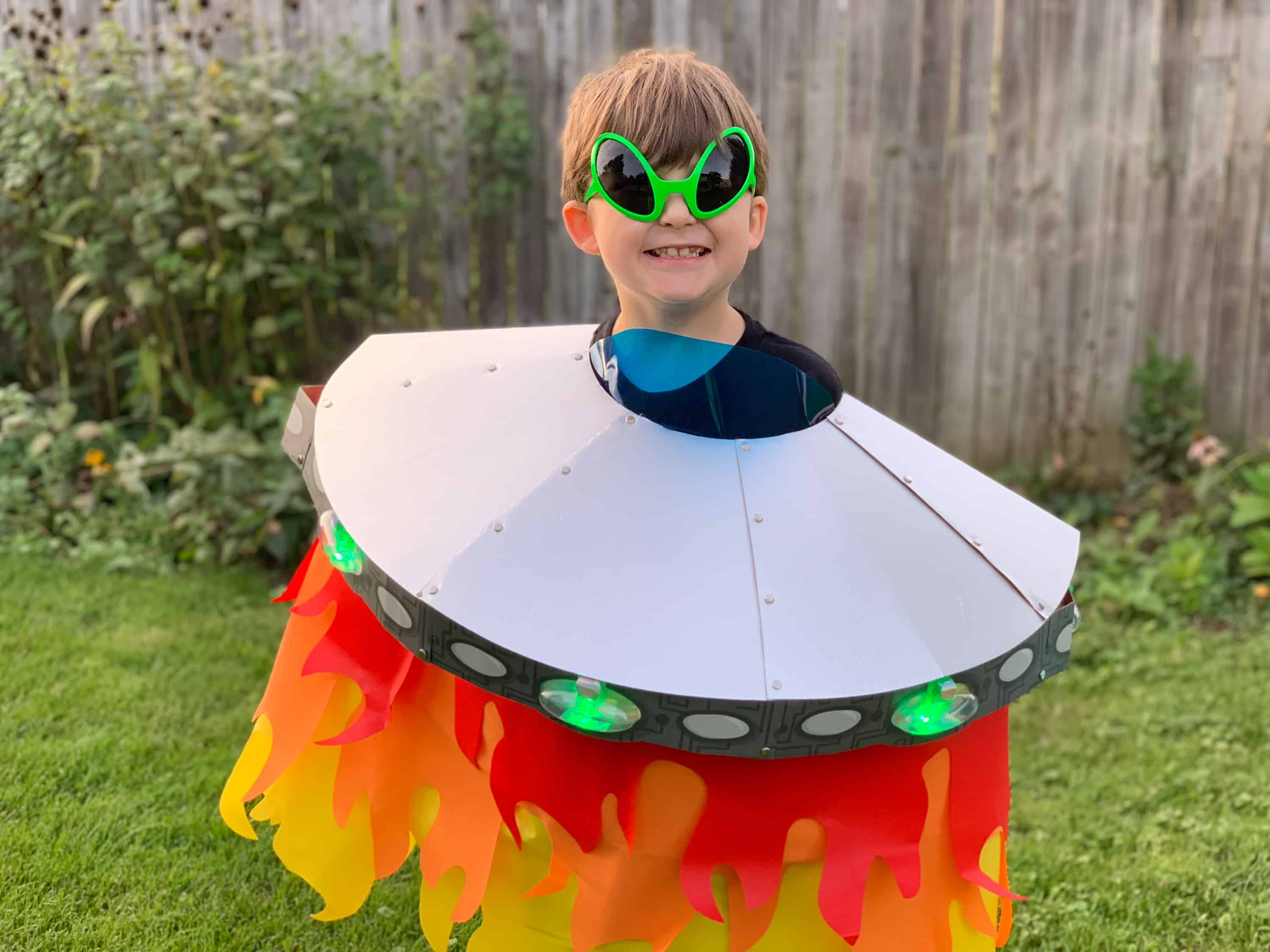 This cute little alien is ready to blast off!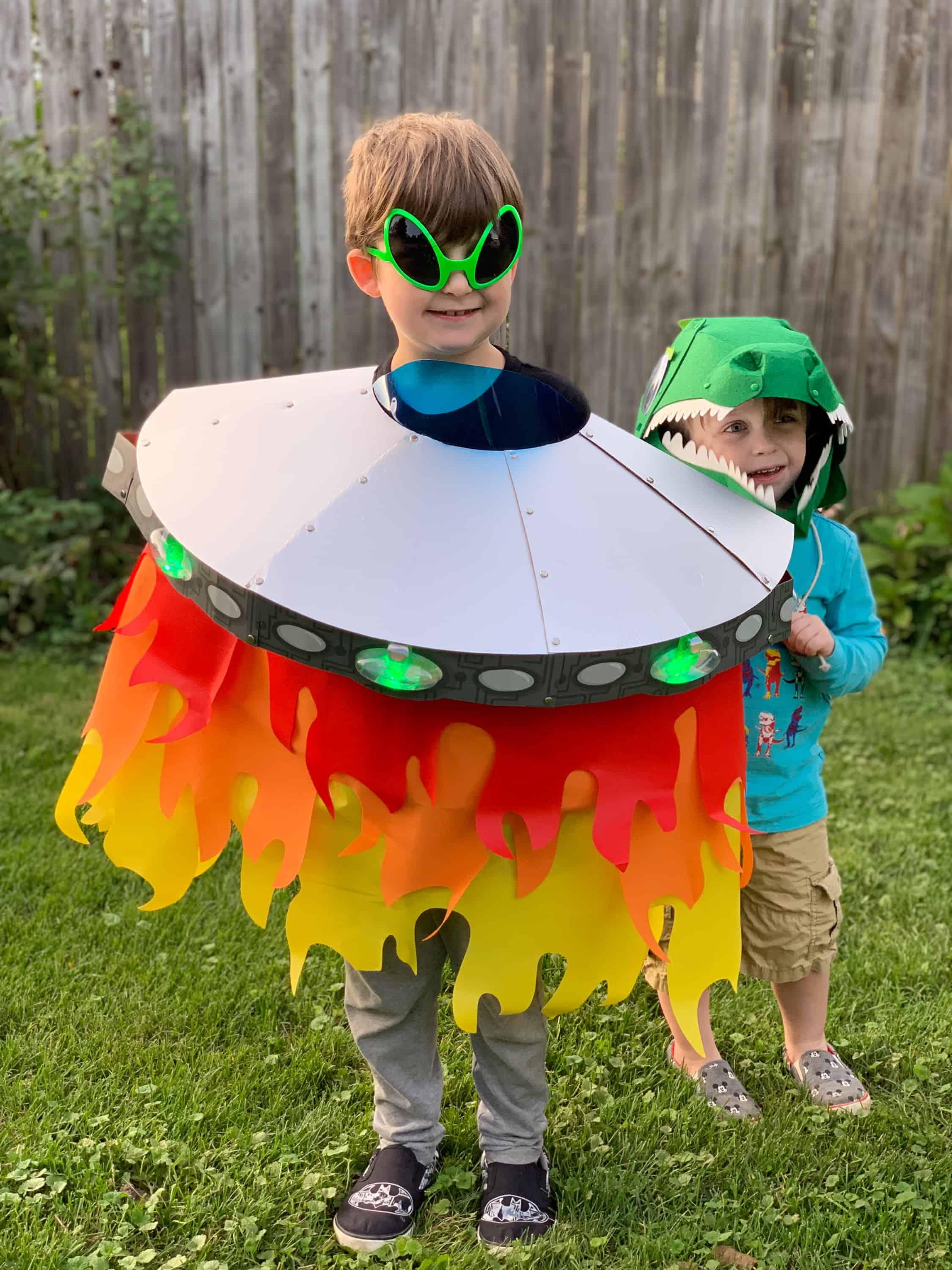 The alien has a company, it's the Chomping Mechanical Dinosaur which is also available from KiwiCo Halloween Crate!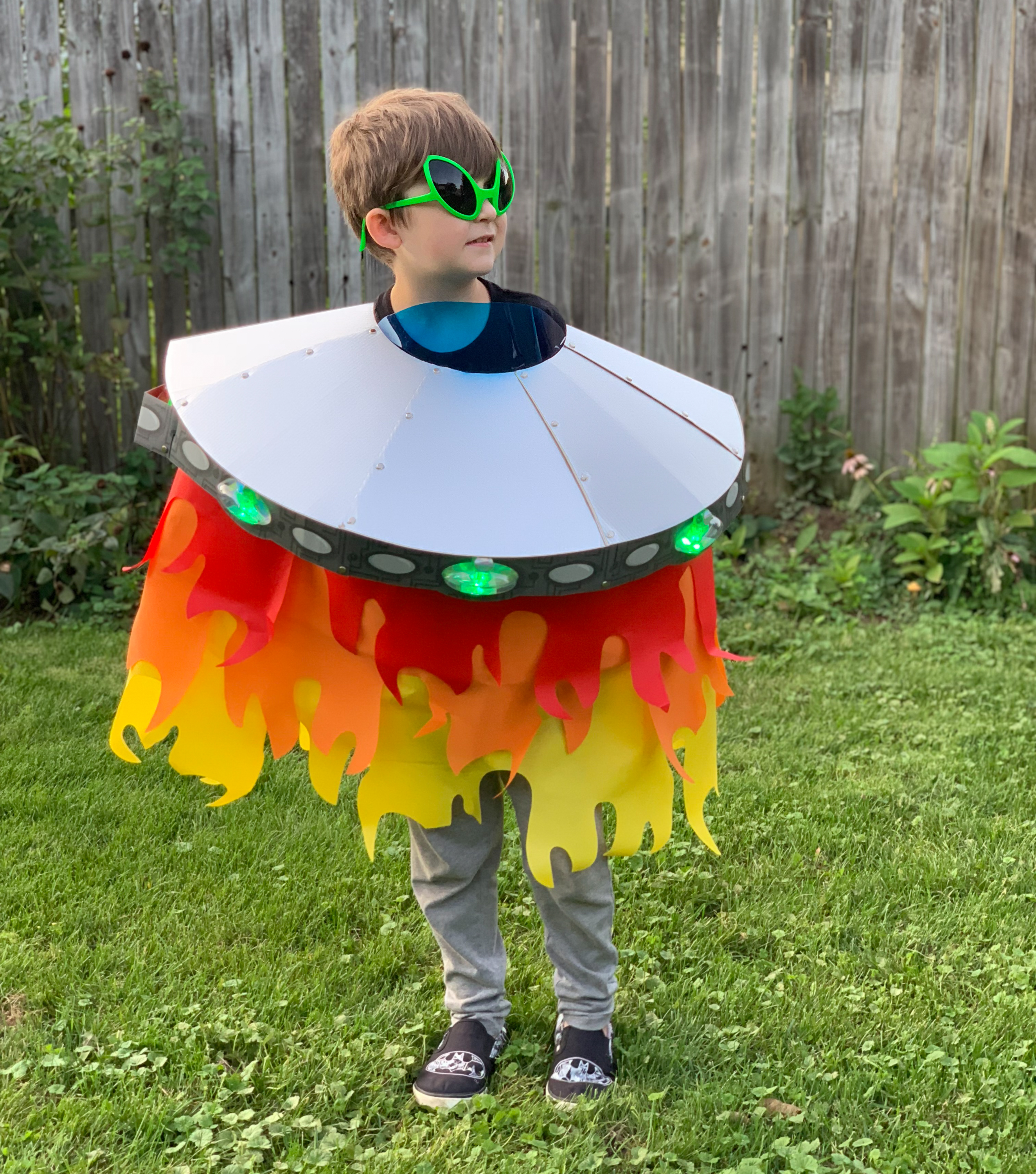 It's a cool costume for the upcoming Halloween!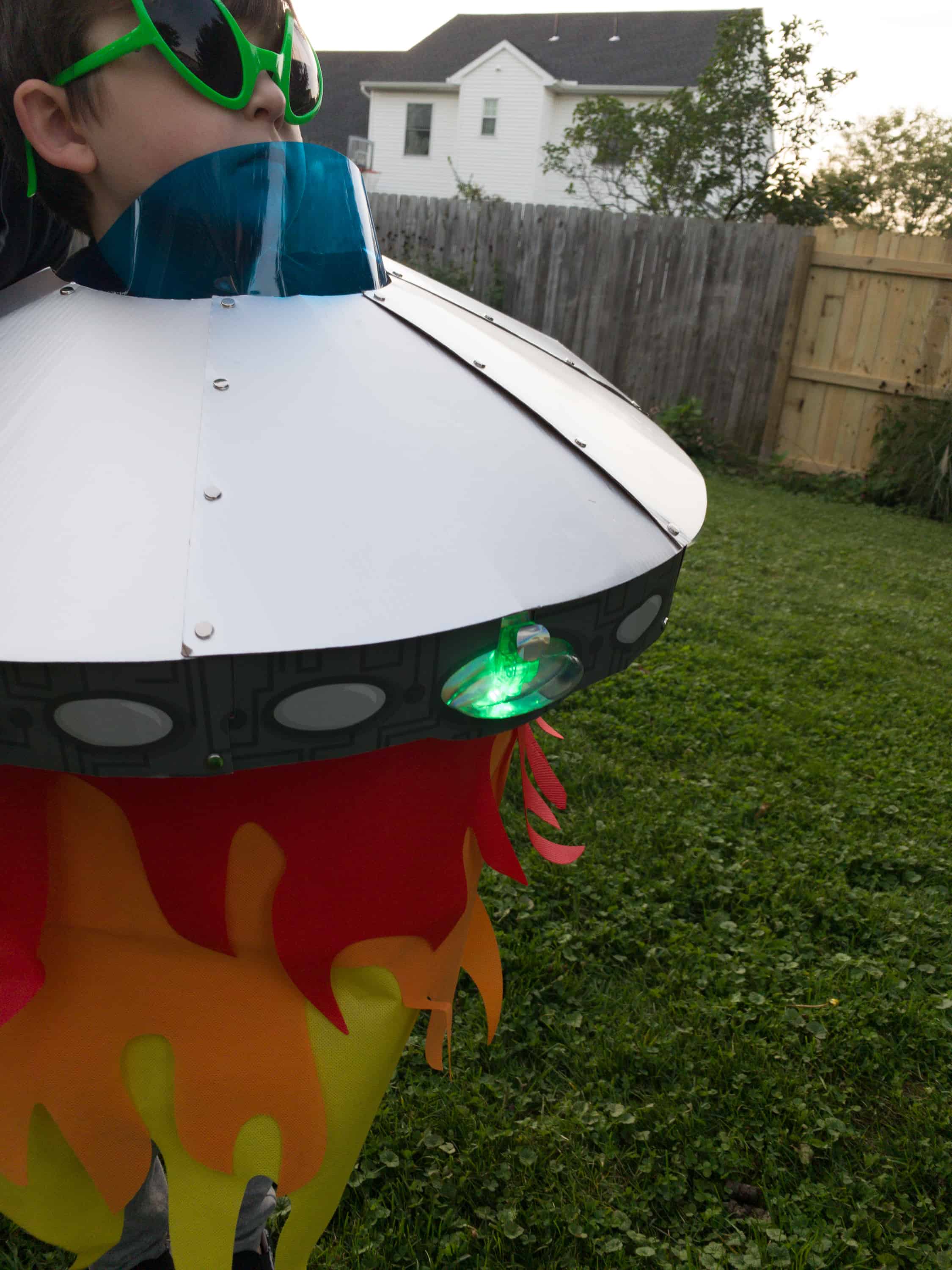 My son is definitely enjoying it!
Science and art in one crate is always a great idea!
KiwiCo Halloween costumes are a hit with my kids, including this Light Up Alien Spaceship! It was fun and easy to make, and all the materials are all provided. This crate even gives trivia and facts about the subject, so that kids can fully understand the concept of the project easily. If you would like to do some arts and crafts this Halloween, this is worth a try! You won't just get a Halloween costume, but new science lessons for the kids as well! My son is SO excited about his costume – #1 he made it himself, and #2, he's an alien spaceship! We couldn't be more excited about this fun crafty costume!
What do you think of the KiwiCo Halloween Crate? You can pick up this project here. If you want more, use this link to save 30% on your first box of any KiwiCo family box!