The Bouqs is an online flower shop that also offers floral subscriptions. Whether by subscription or one-off orders, you can choose a bouquet of flowers, which are grown in rich South American soil, and get beautiful flowers delivered to your doorstep. Ordering is simple and hassle-free. If you're interested in a subscription, that will knock 20% off your ongoing deliveries.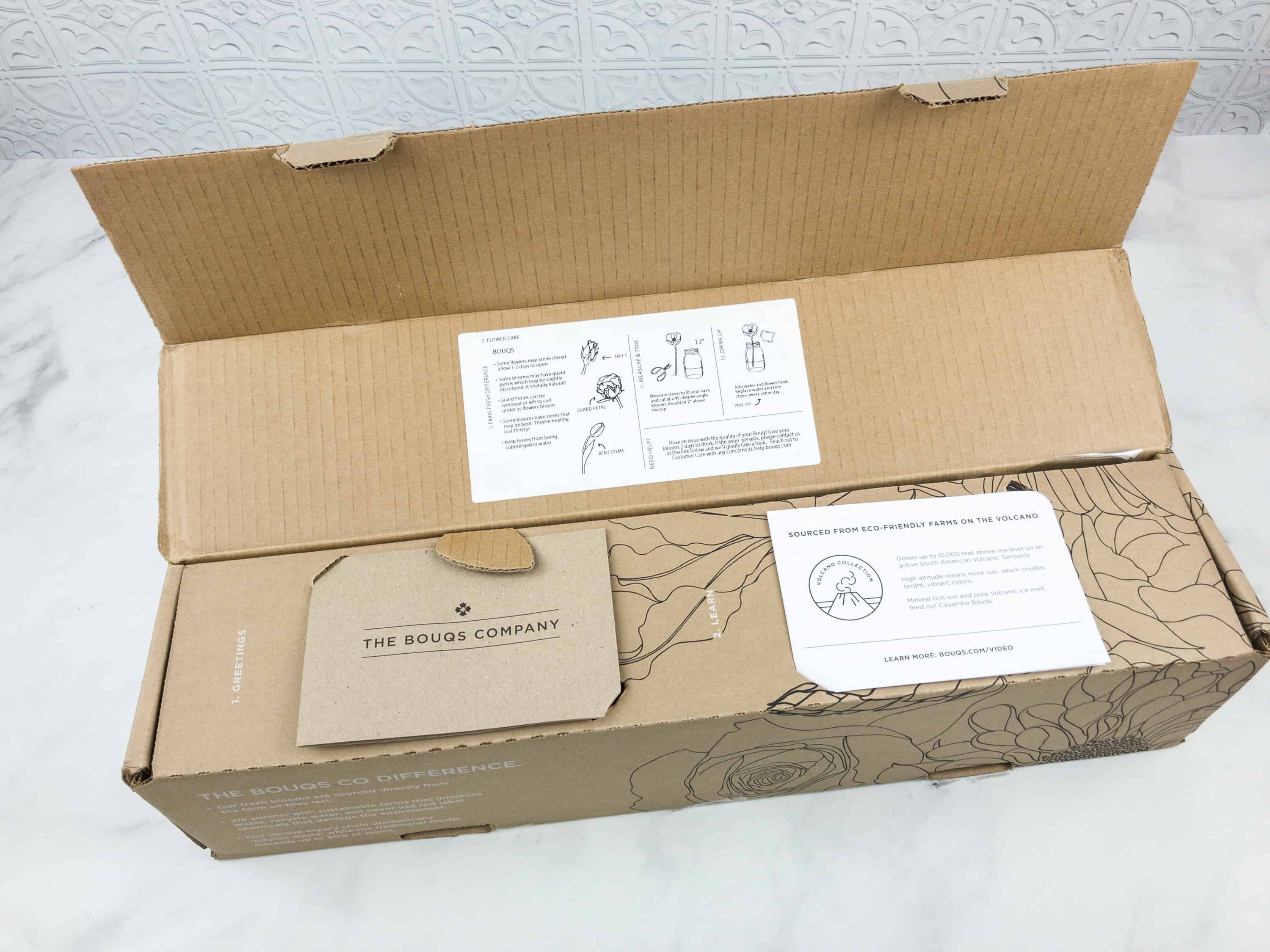 DEAL: You can try code NEWB15 (all caps required!) to get 15% off or WELCOME10 for a 10% discount on your first delivery.
If you prefer a subscription, you can easily set your deliveries for every week, every 2 weeks, every month, or every 2 months. When you subscribe you select a Bouqs aesthetic (Farmer's Market, The Classics, Volcano Roses, or Simply the Best) and the size of bouquet you prefer – Original, Deluxe, or Grand ($32, $44, $56). Instead of a subscription, you can also pre-schedule deliveries for important occasions.
This is a review of the Farmer's Market subscription. For September, we received the "Honor Roll" Bouq.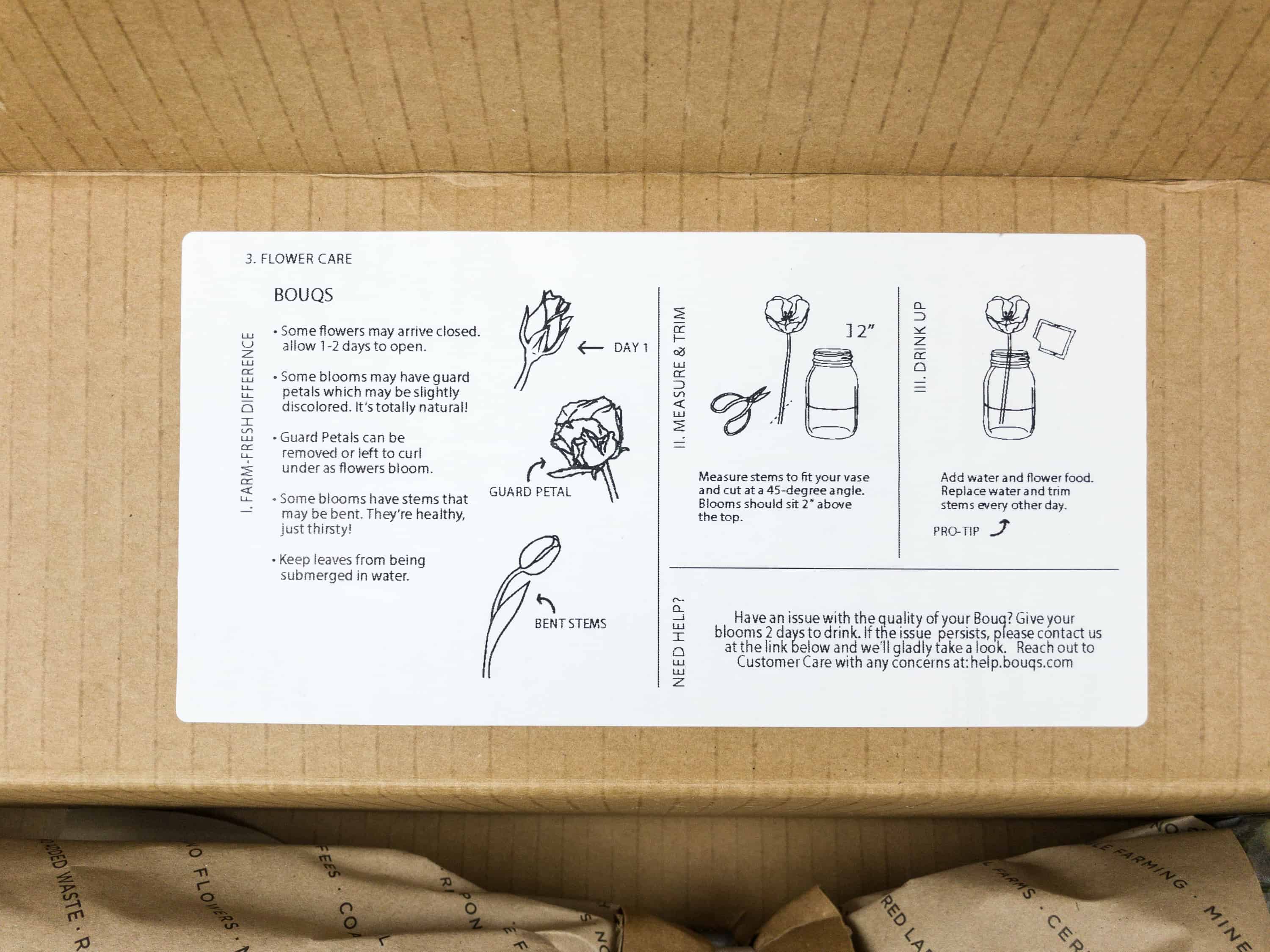 The packaging is simple and straightforward.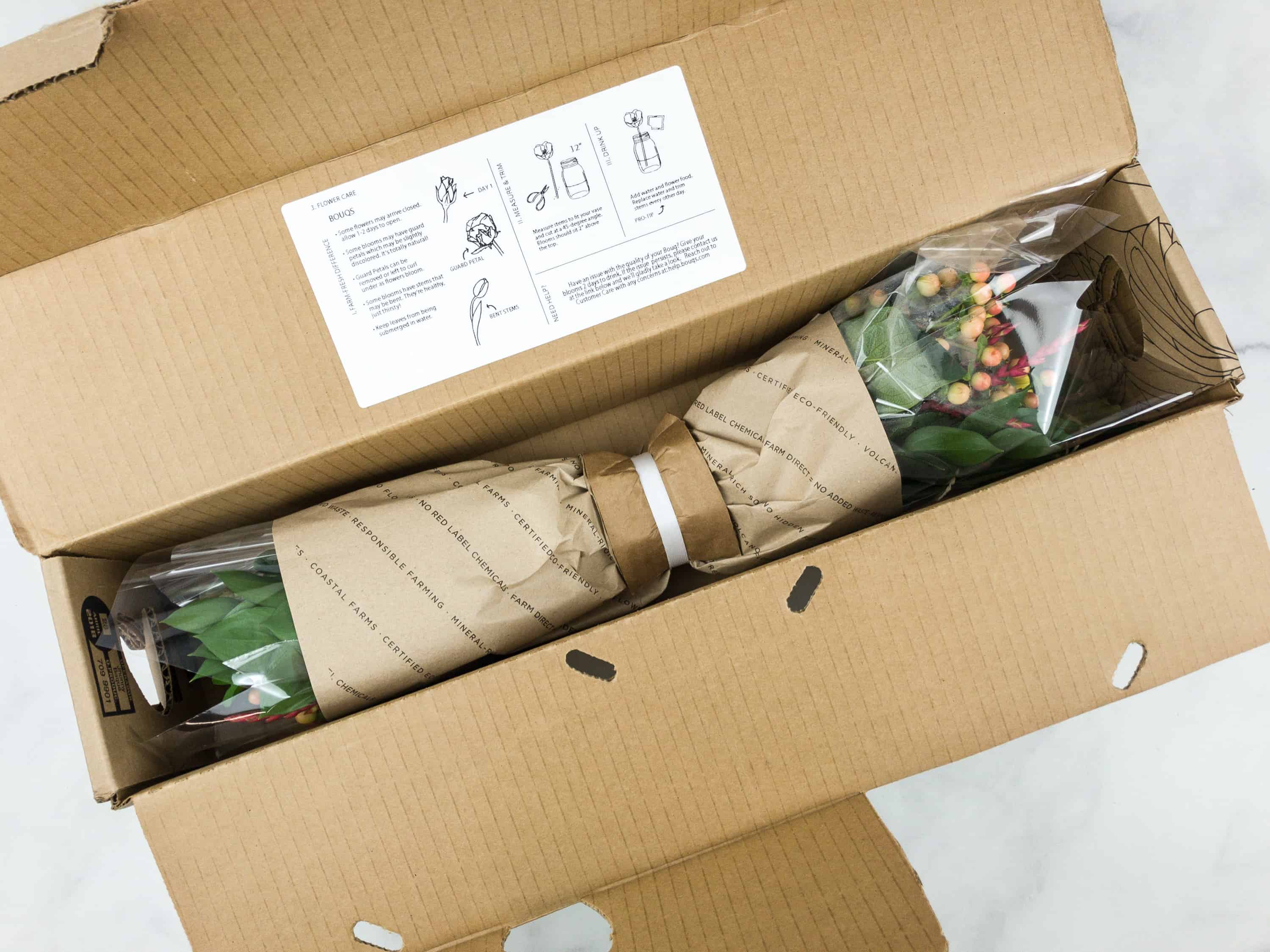 The flower care instructions are included with the packaging. I strongly suggest trimming stems and putting them into the water straight away. This collection of flowers didn't appear to require flower food, as none was included (though it has been provided in the past when we've gotten roses and other arrangements).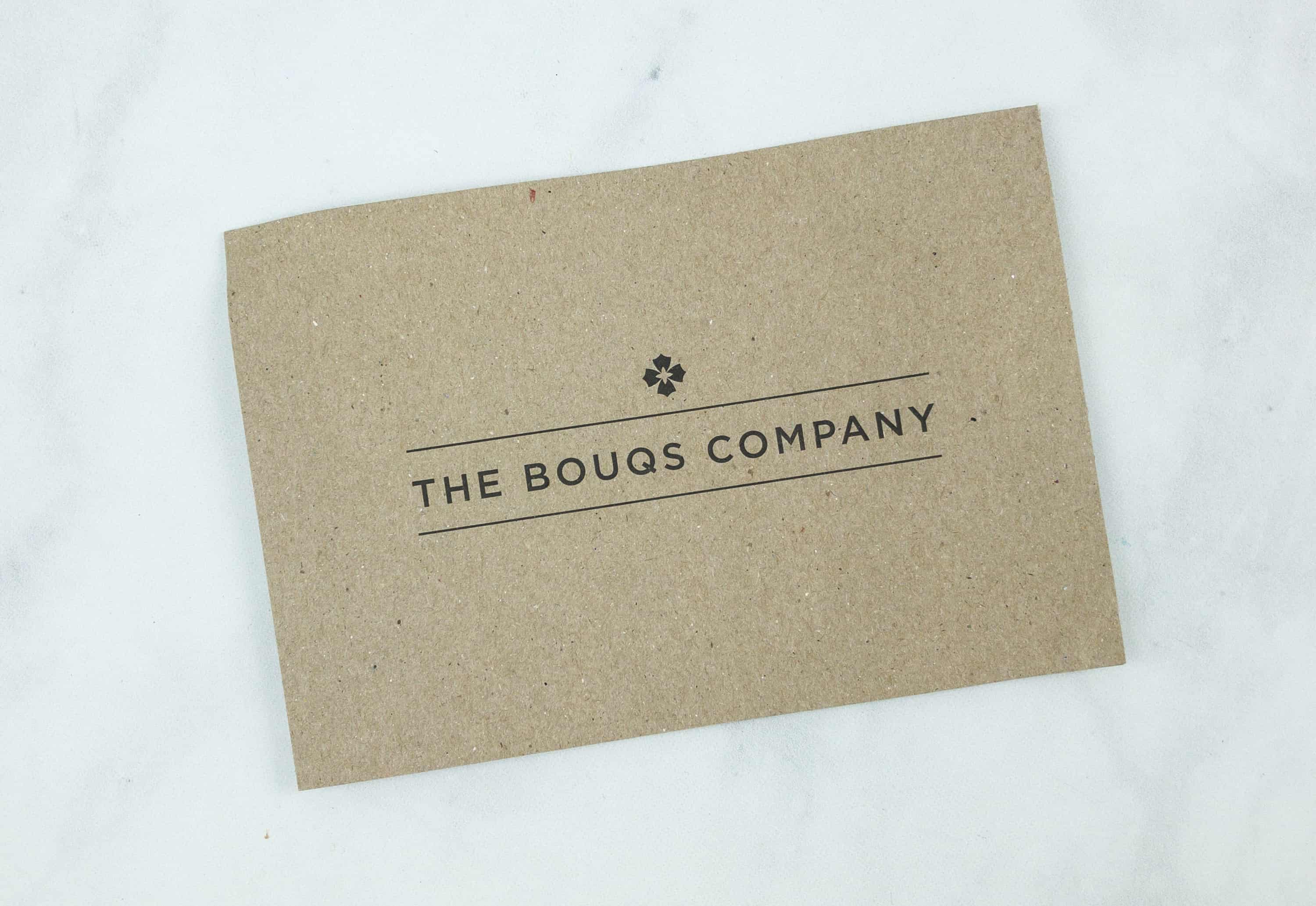 The box comes with its own gift card in case you will be giving it as a gift to someone.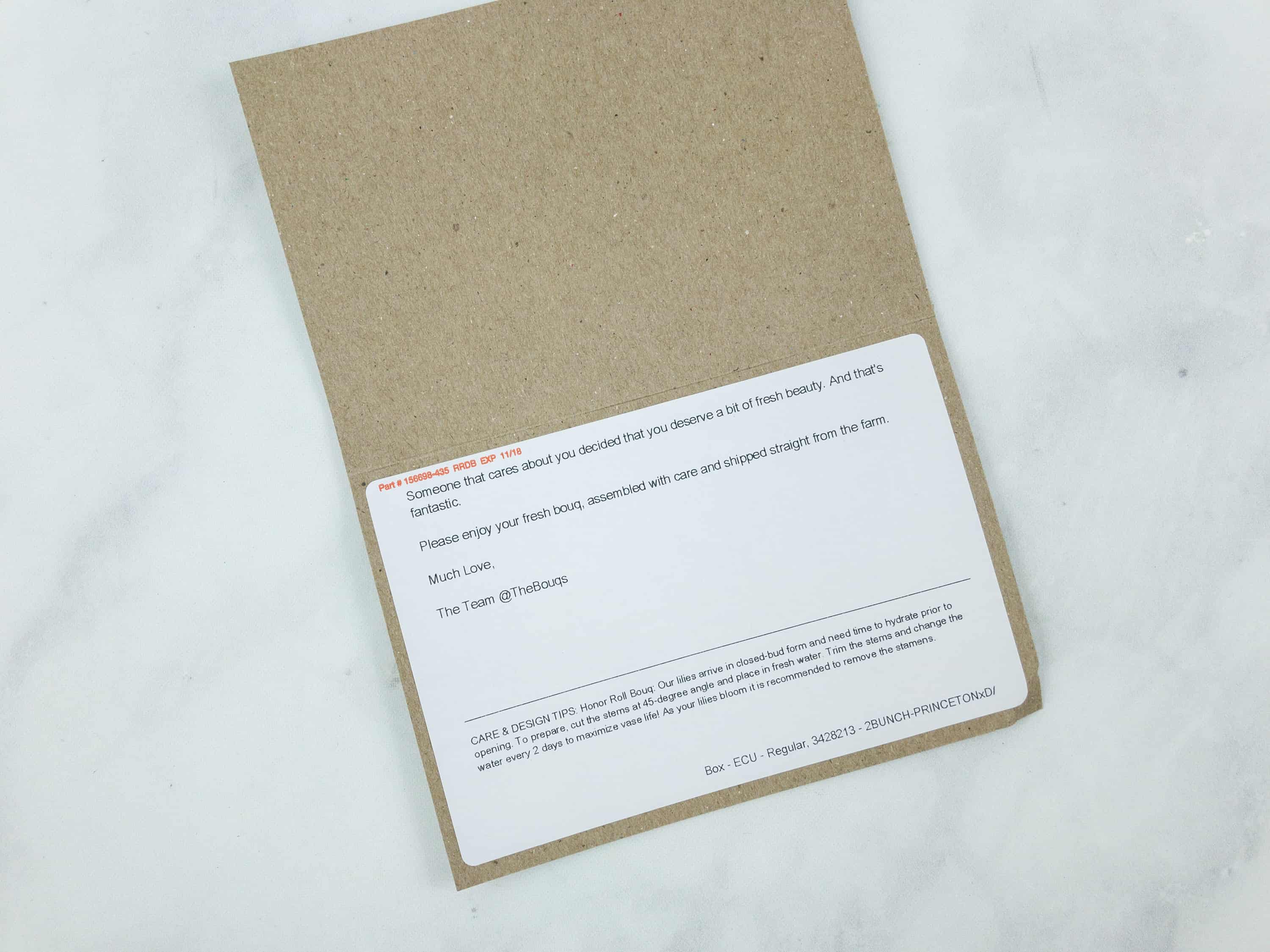 Inside the gift card is your note as well as care & design instructions.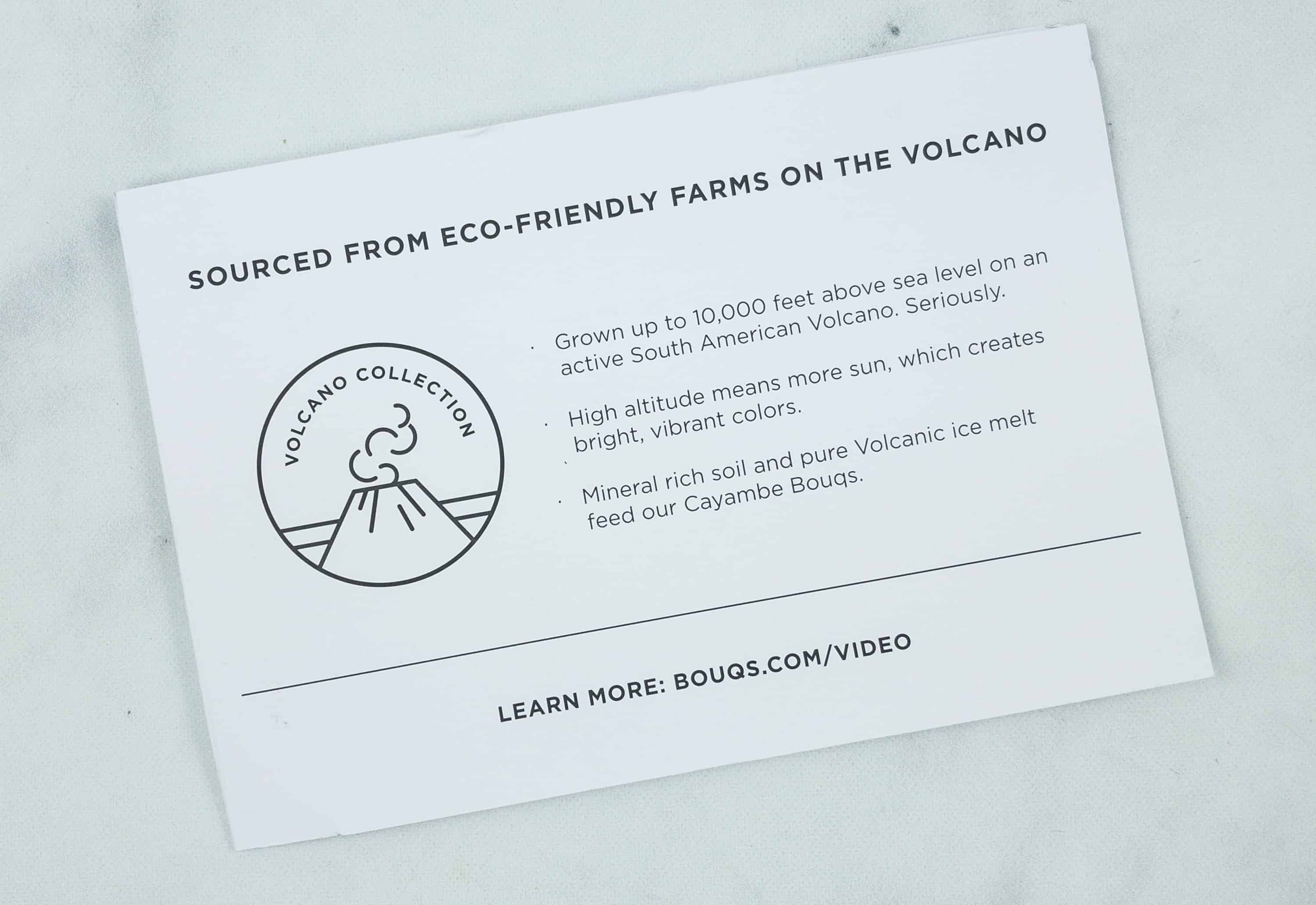 These flowers were sourced from eco-friendly farms on the Cayambe volcano in Ecuador. It's good to know that these blooms are sustainably farmed.
A 15% off coupon is also included.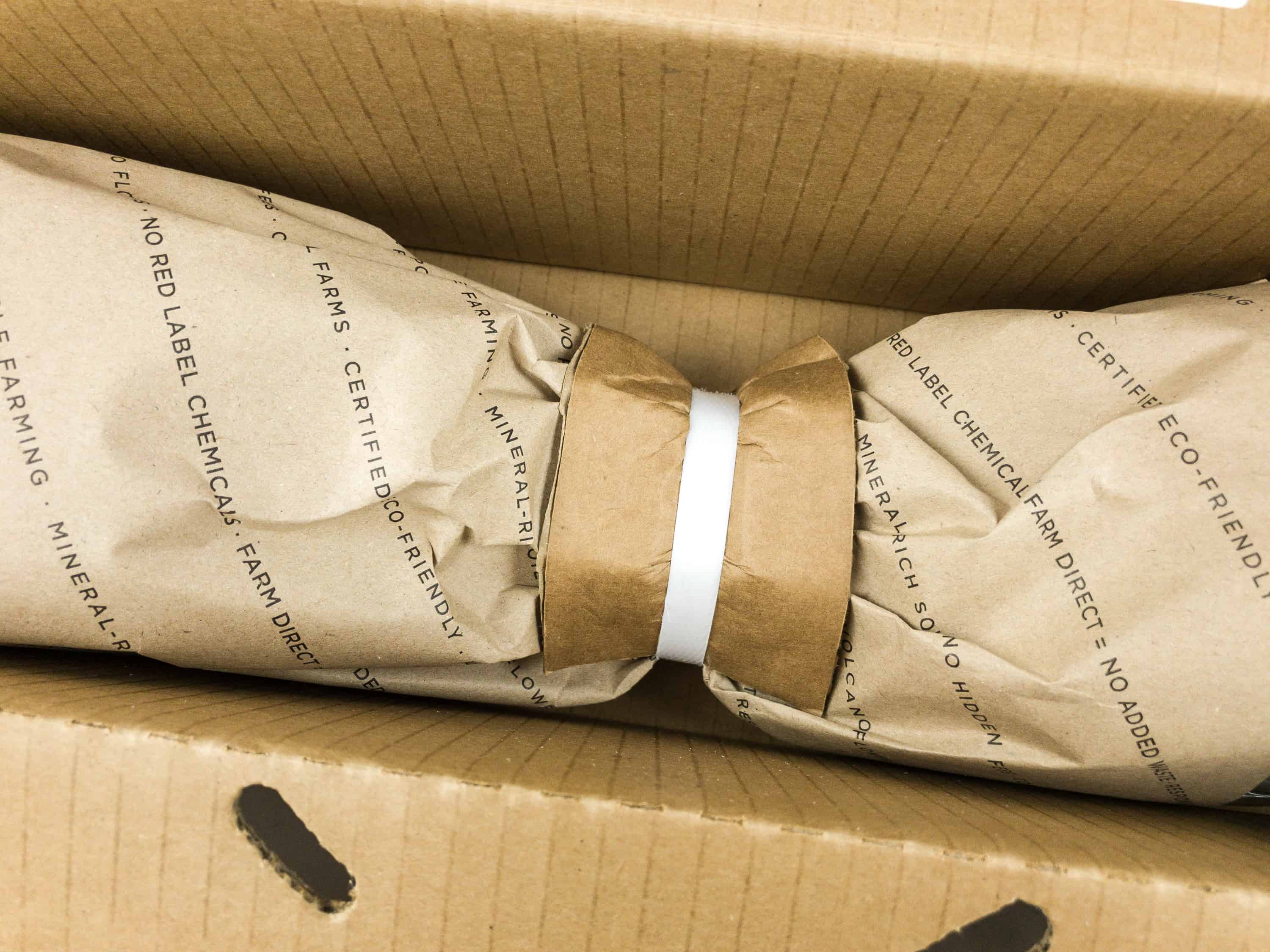 The bouquet of flowers has been carefully packed and tied together at the stems so it is still fresh when you open them. This system keeps the flowers away from the walls of the box, so they don't get beat up when jostled in transit.
I love how these bouquets arrive fresh at our door!
Our sub is for a Deluxe order, so it has two 12-stem mixed bunches. You can get an Original (12 stem) or Grande (36 stem).
They're all looking good, can't wait for them to bloom beautifully!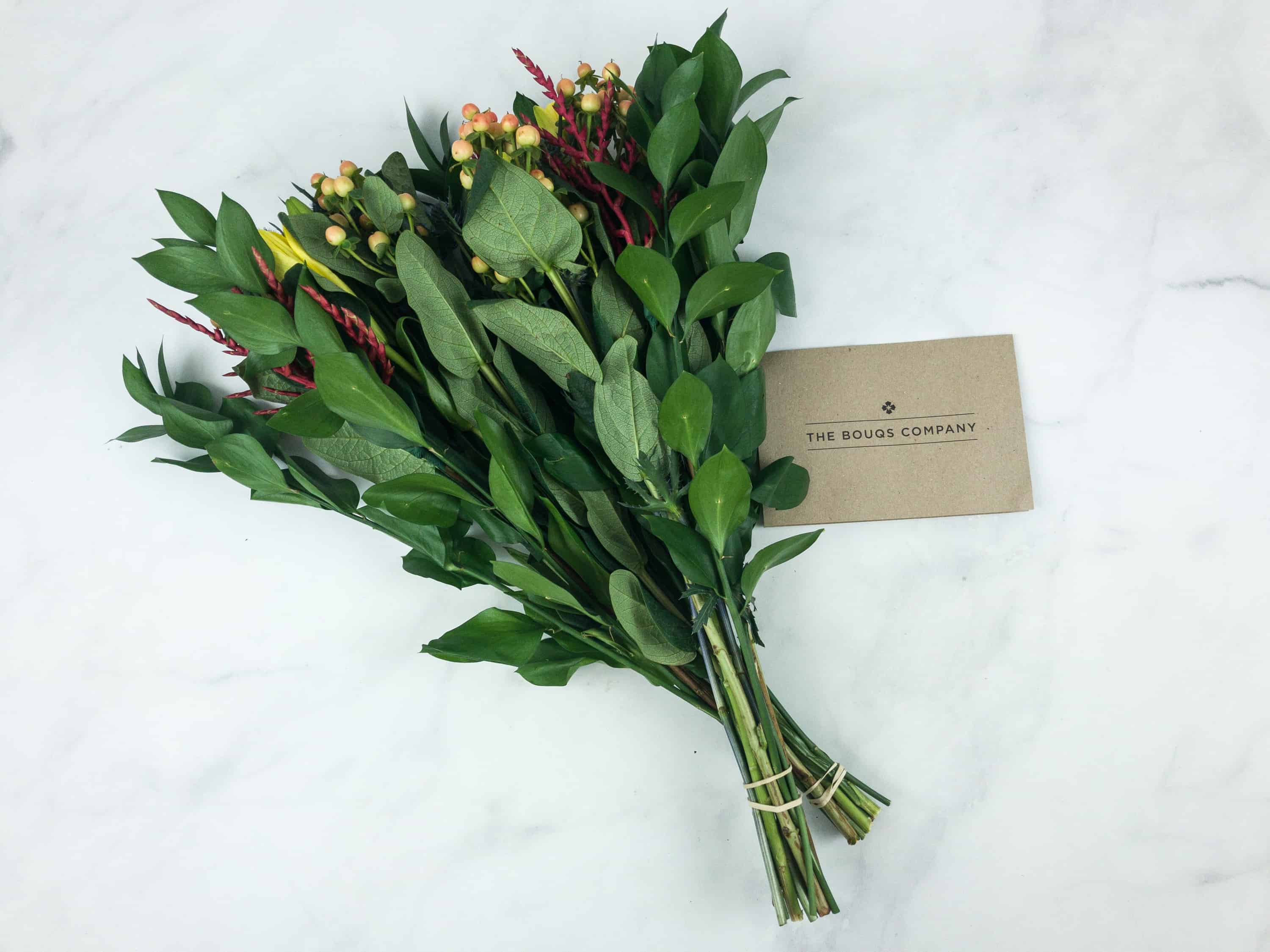 They arrive with very long stems, so you can trim them to fit your vase of choice.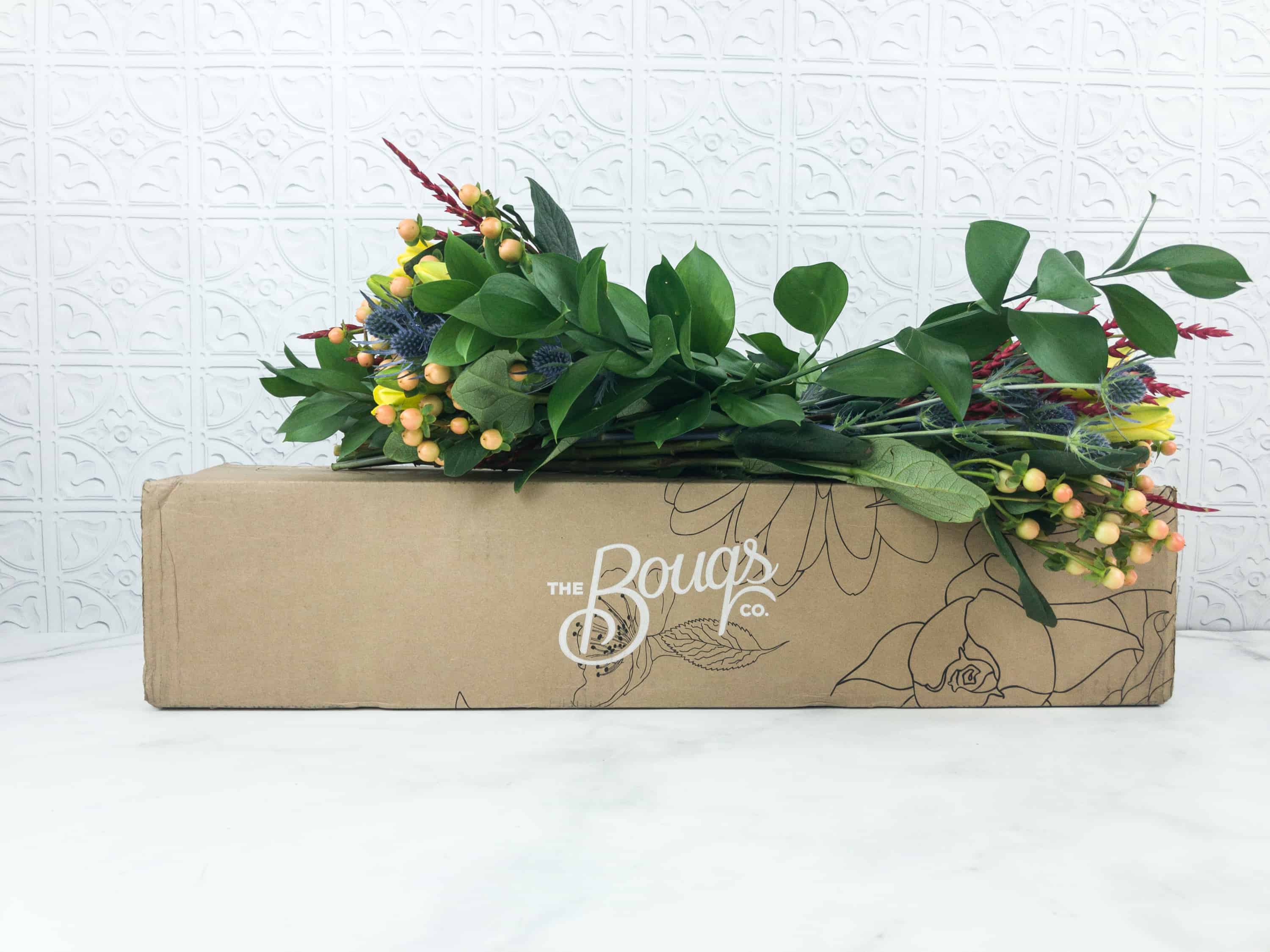 Everything in my box!
This is one beautiful filler! Bouqs goes beyond the typical single-flower and baby's breath for their mixed arrangements.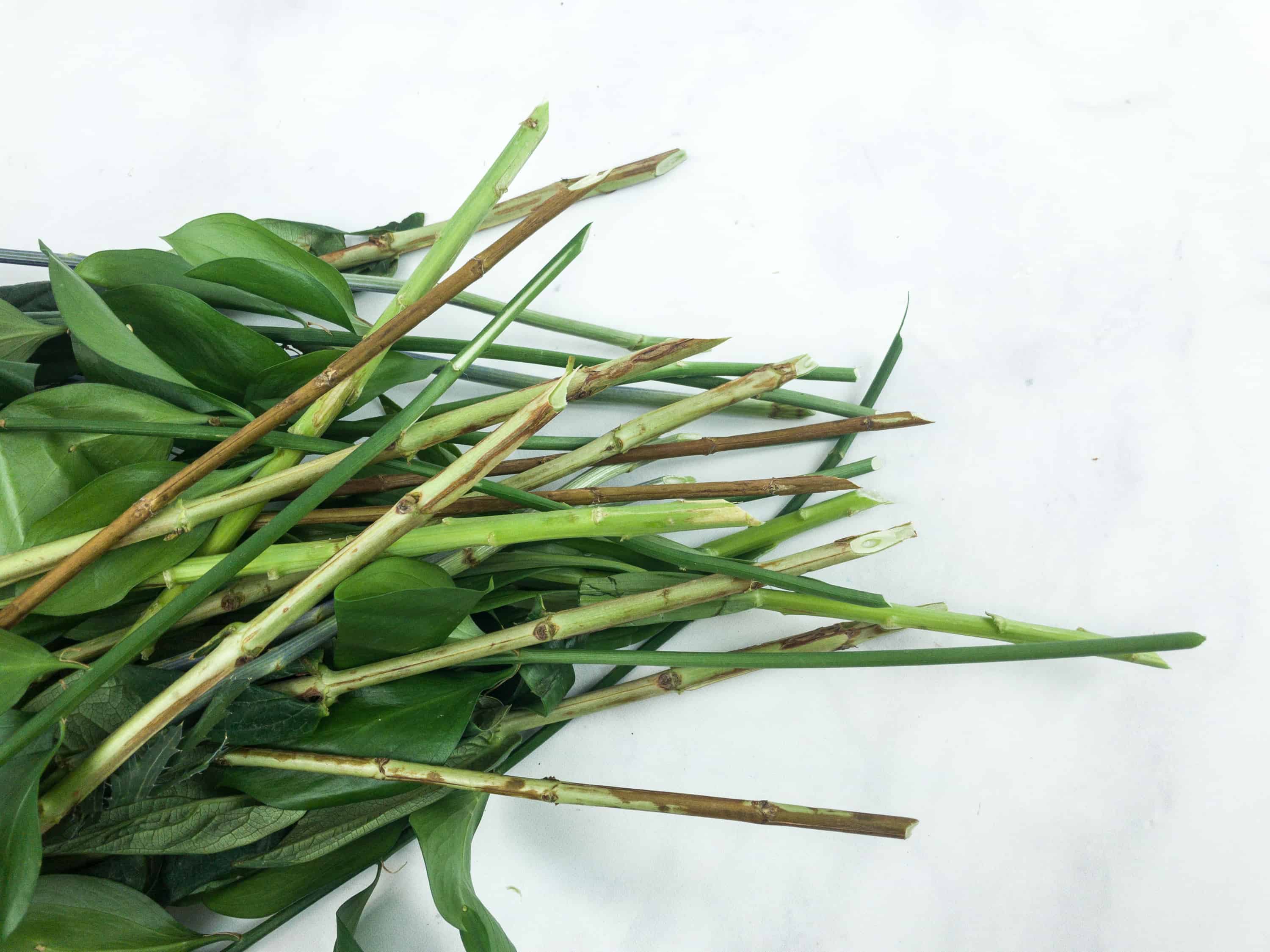 I trimmed all the stems at an angle to get some healthy vascular action and extend the life of the blooms.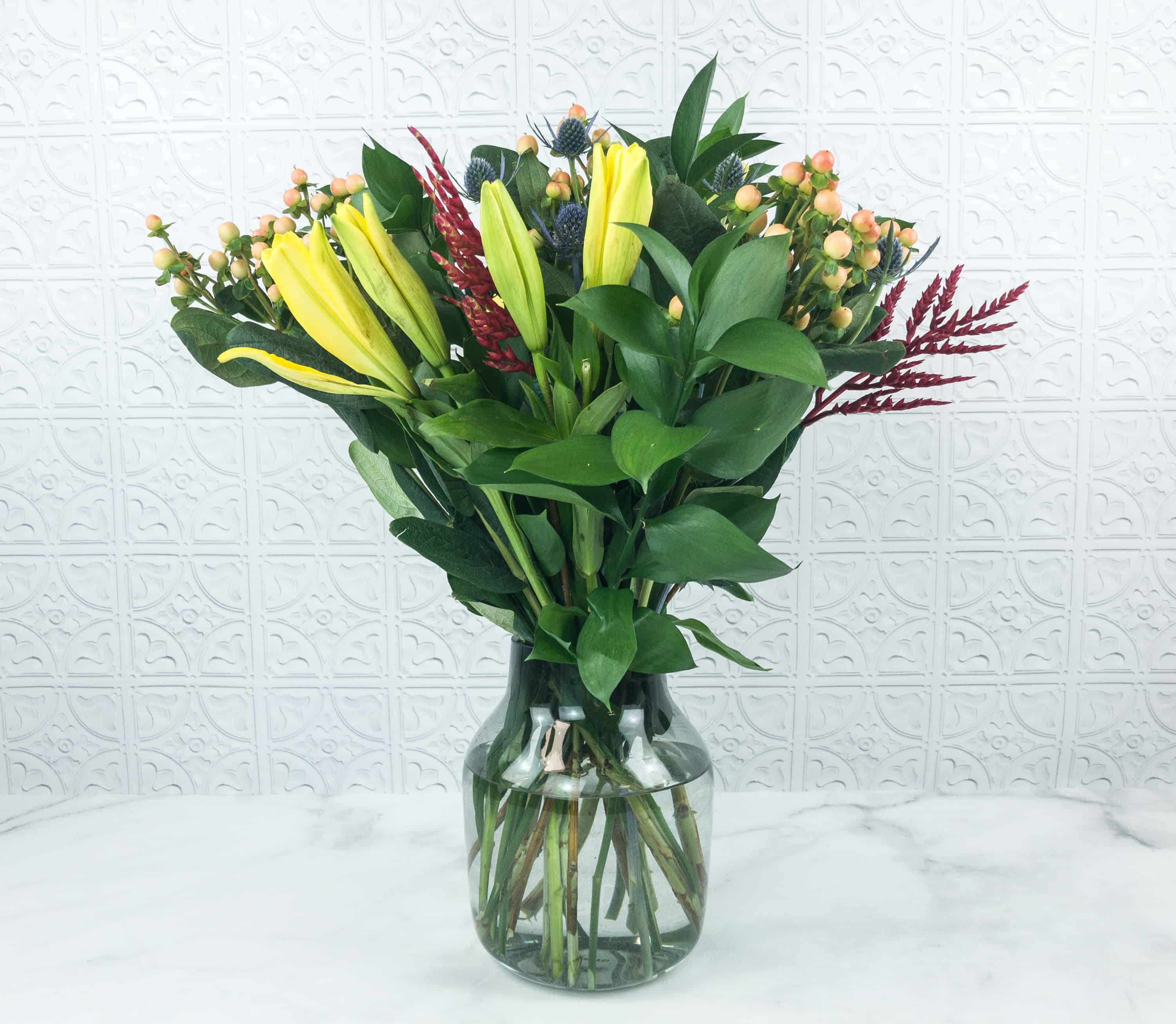 They can be easily arranged. All I need to do is give them a day or two to fully bloom!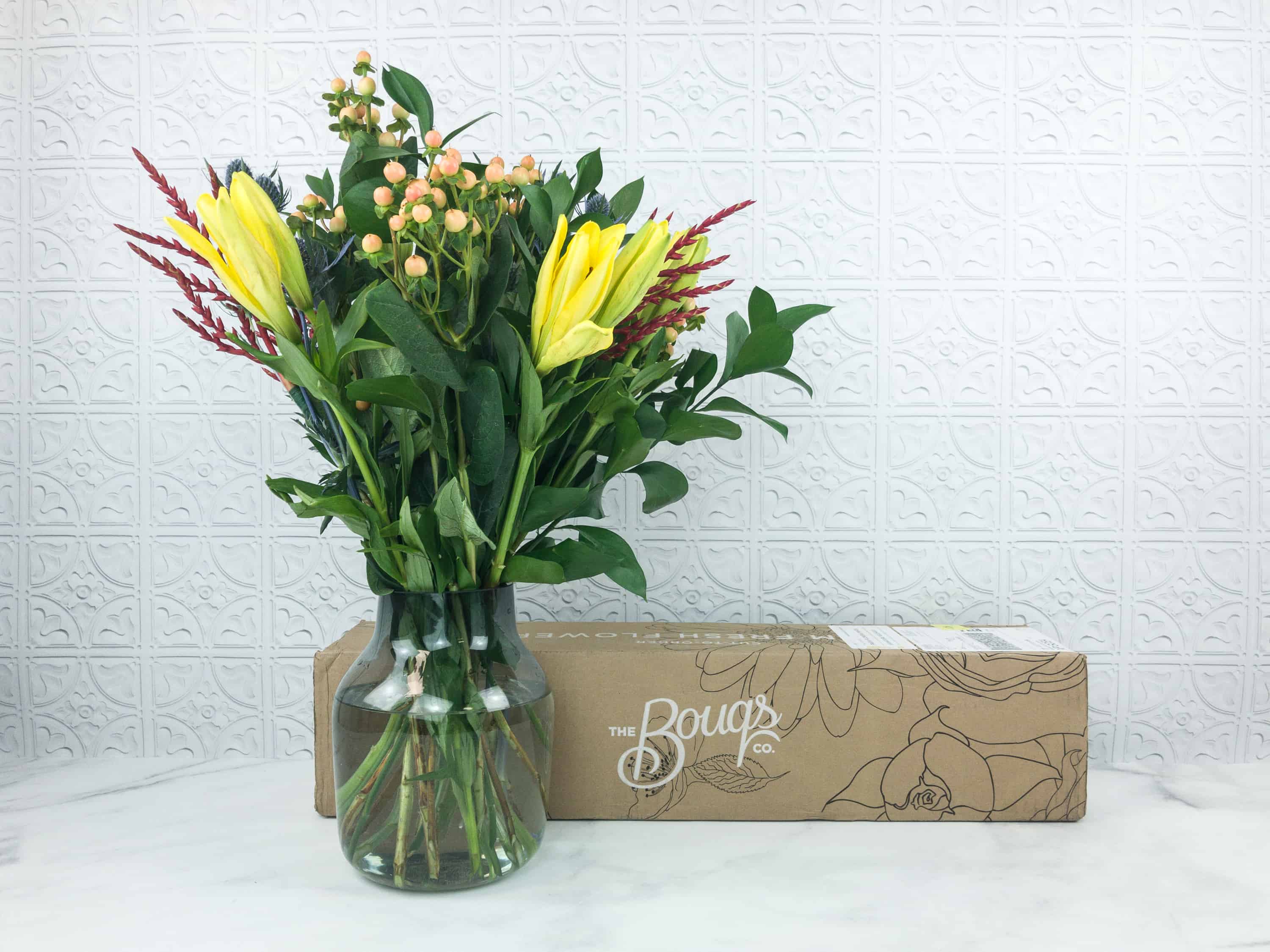 The Honor Roll bouquet consists of lilies and hypericum, blue eryngium, green ruscus accents, and more.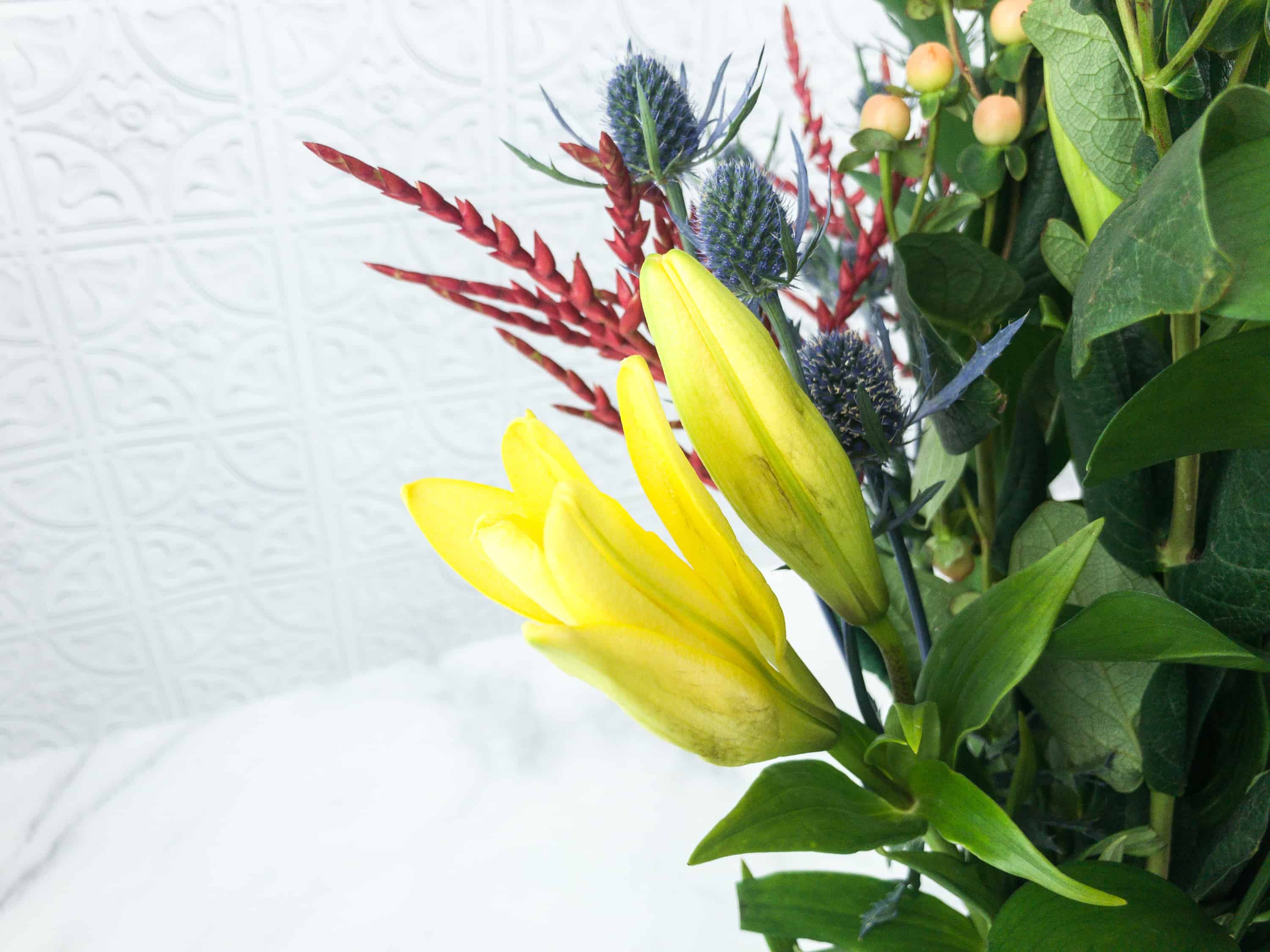 The lilies are still in bud form! This is a great way to ship these flowers, as I doubt the lilies would hold up nearly as well if they were shipped in full bloom.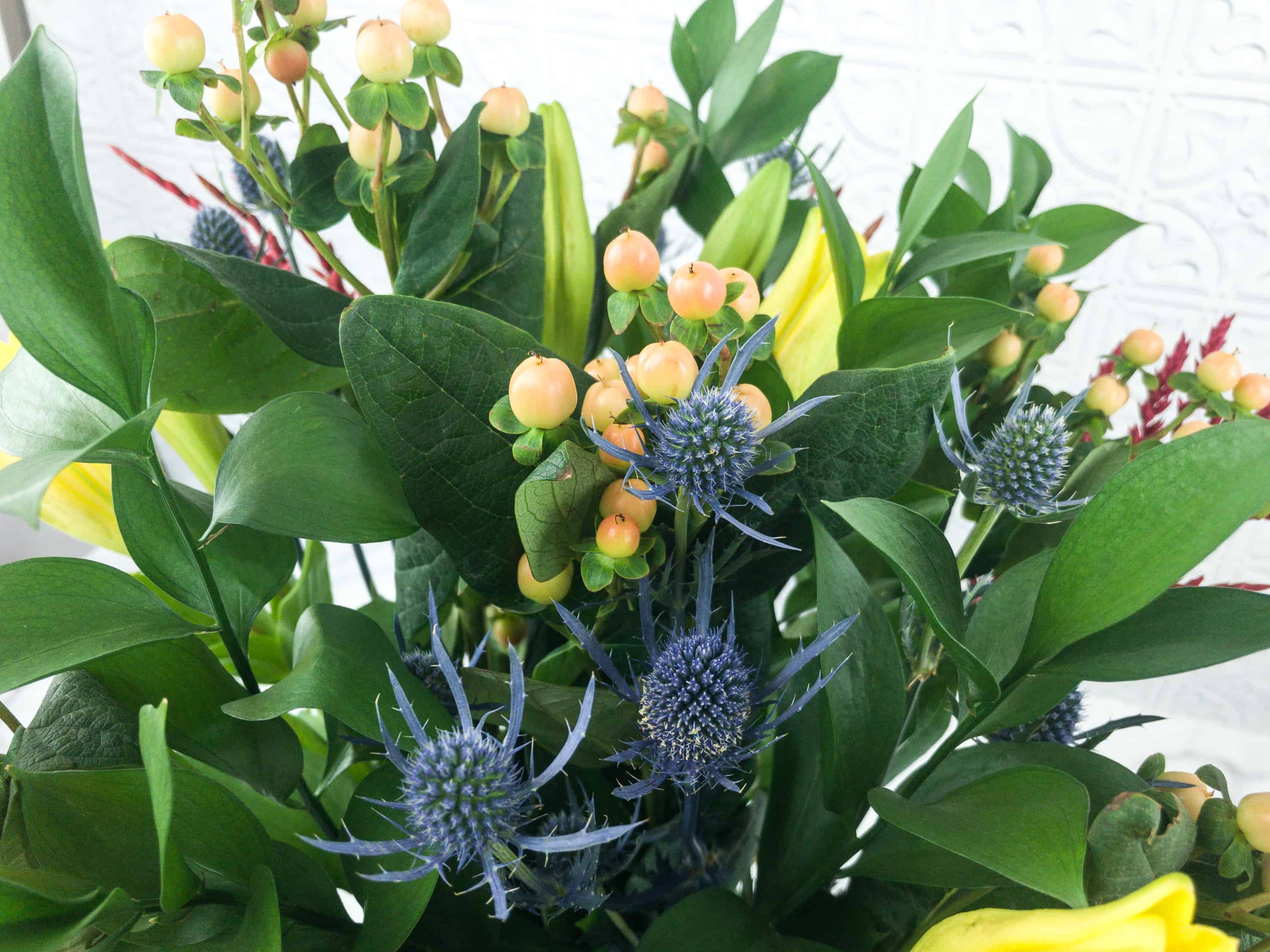 The eryngiums have an intense blue color that is a perfect complement to the lilies.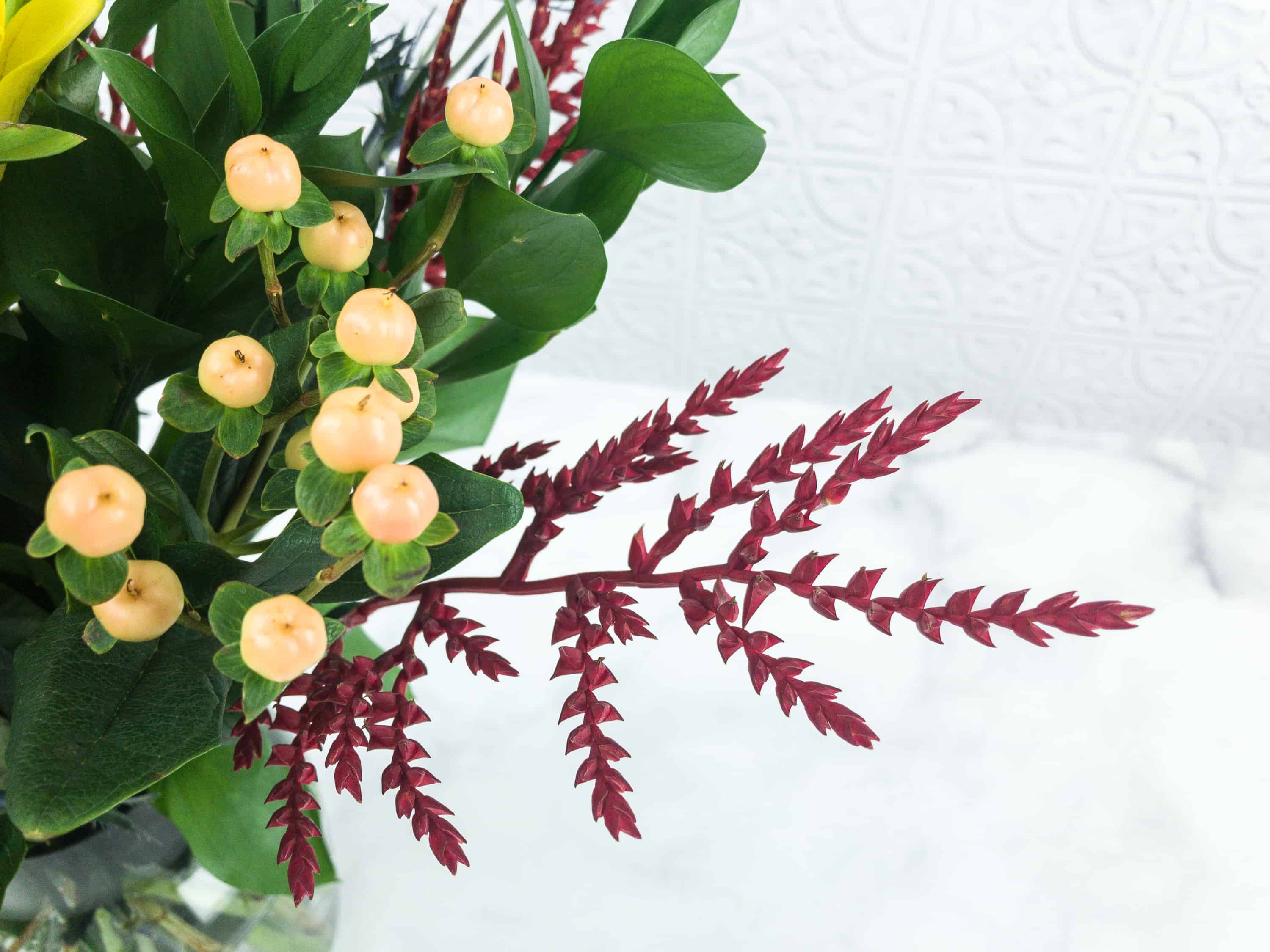 The hypericum berries haven't reached their beautiful ripe color yet.
The combination of shapes and colors is really fabulous.  This is one of the more visually diverse bouquets as far as shape of "flower".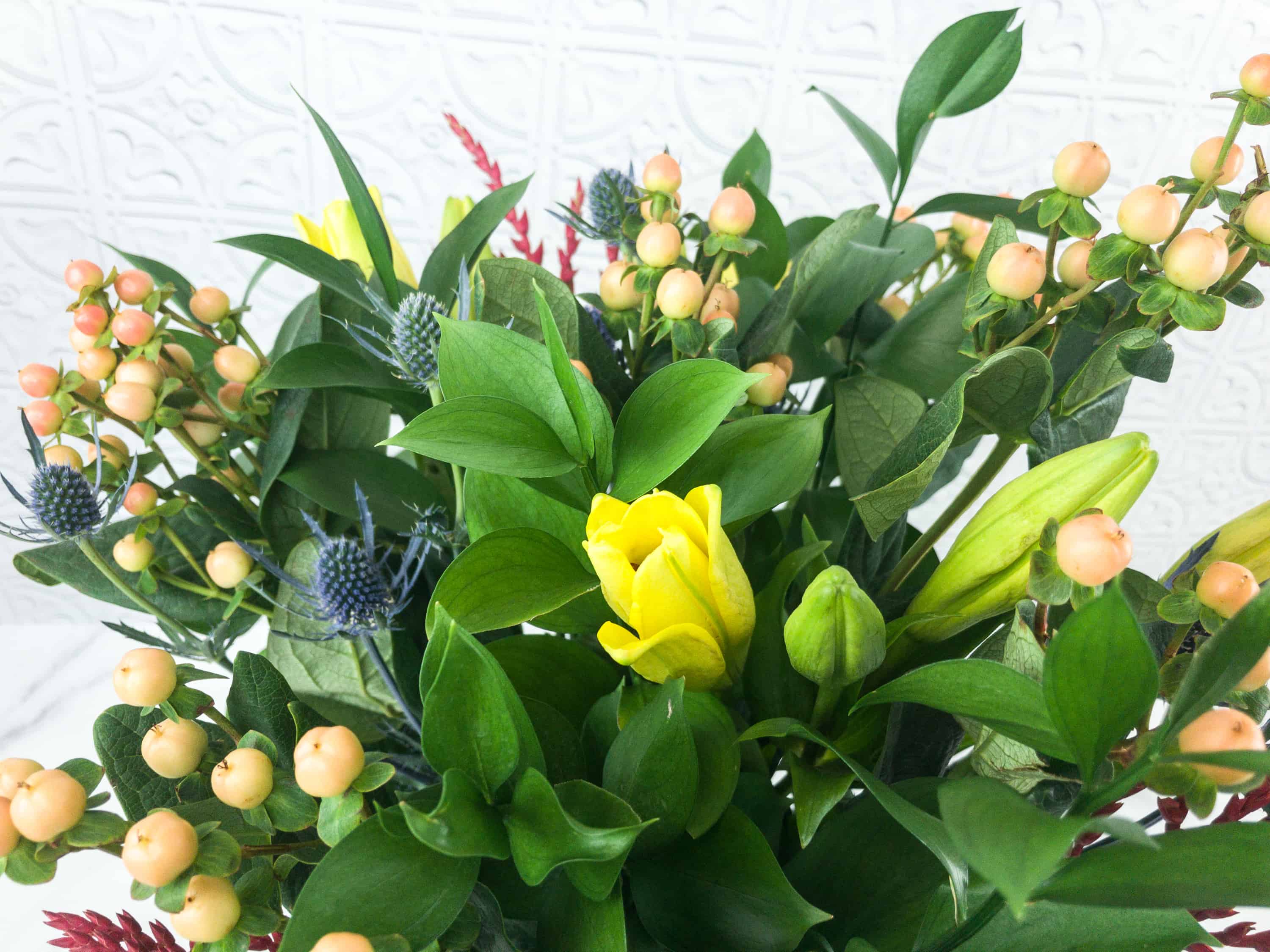 I arranged them in such a way that the lilies have some space to bloom. Now we wait.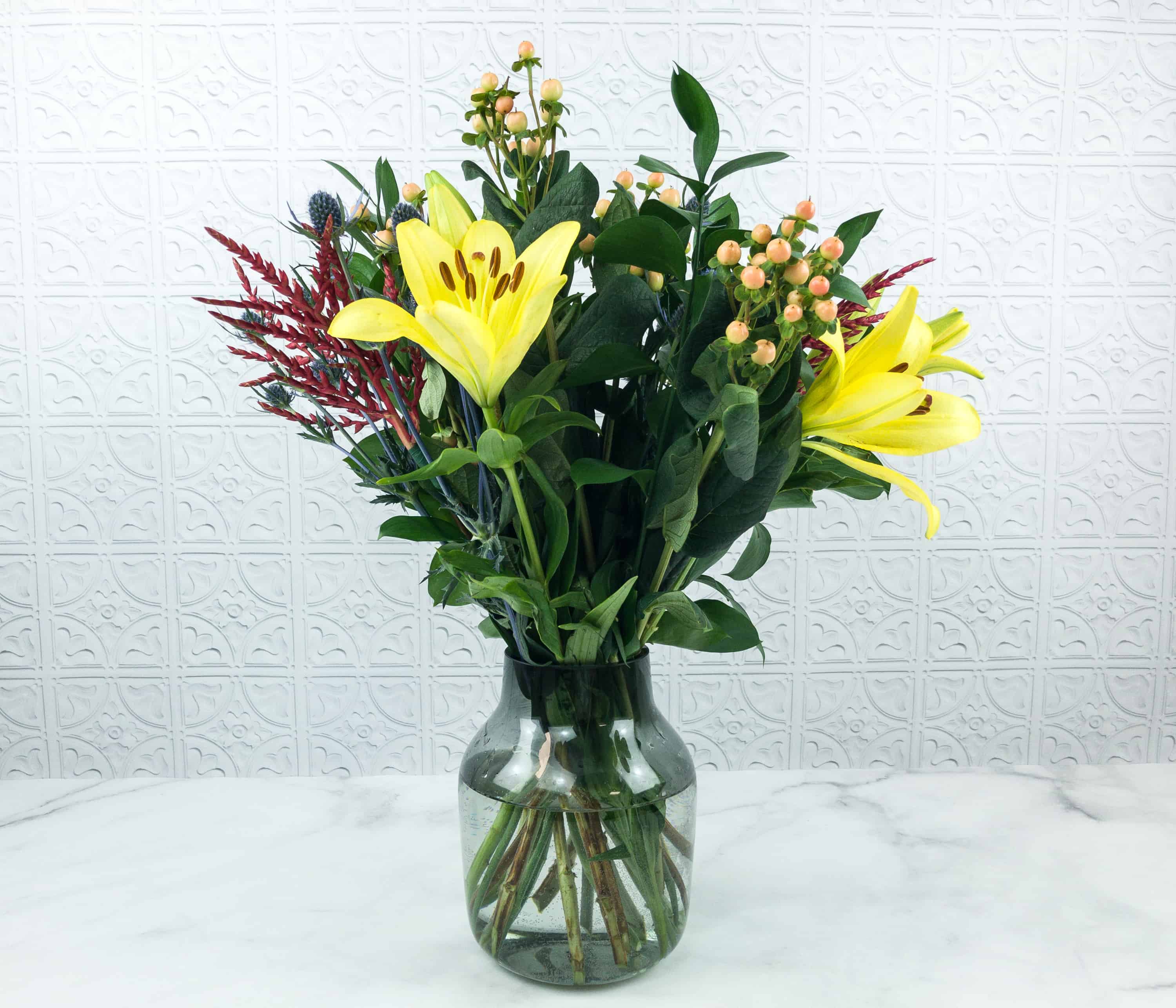 It didn't even take a whole day to see a difference. Within a few hours, the lilies had started to open. Here's the bouquet less than 12 hours after it was delivered.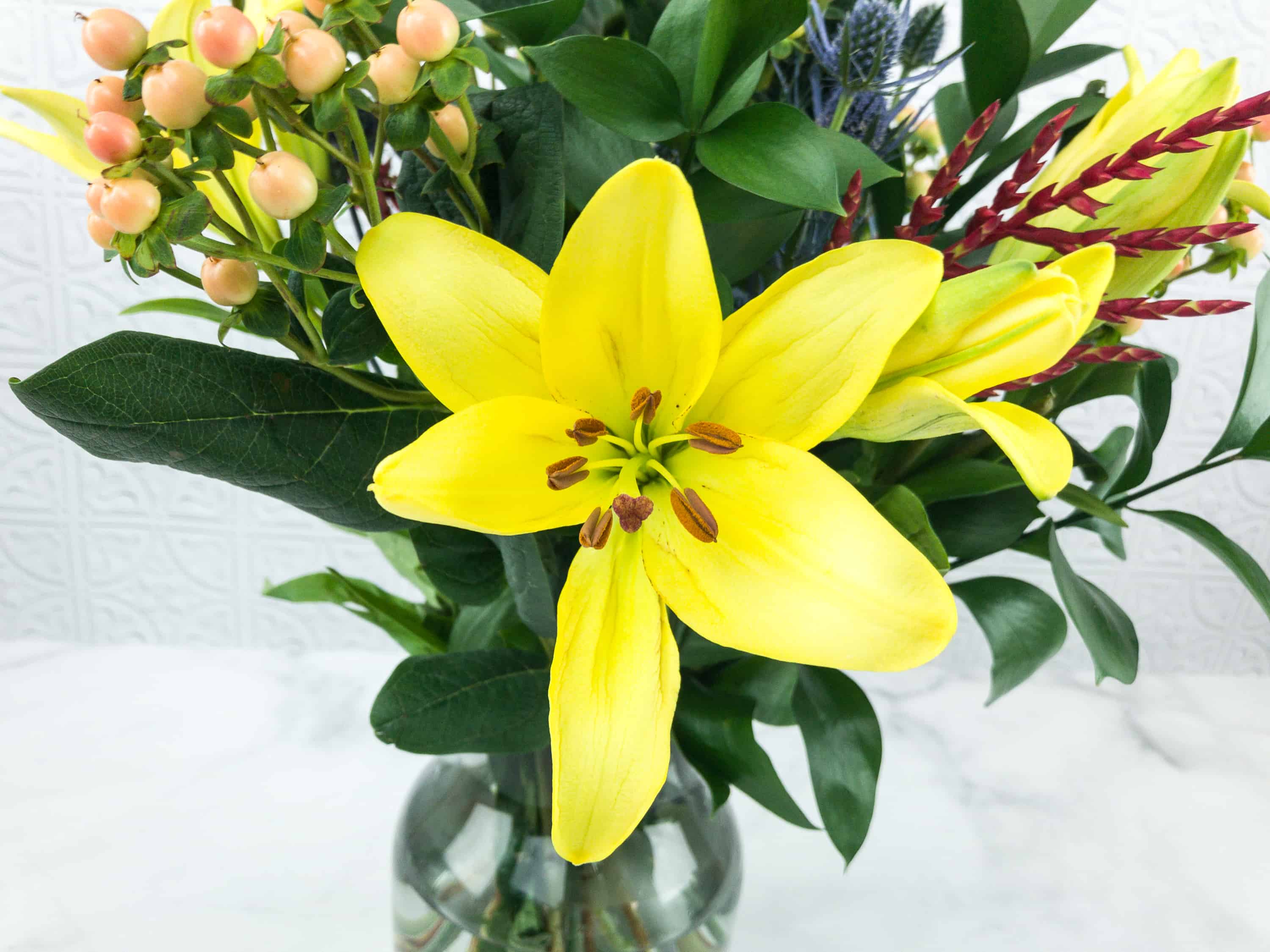 The lilies are very lovely fully bloomed! I love how sunny and bright they look!
The giant blooms really change the dynamic of the bouquet, and it looks much more balanced.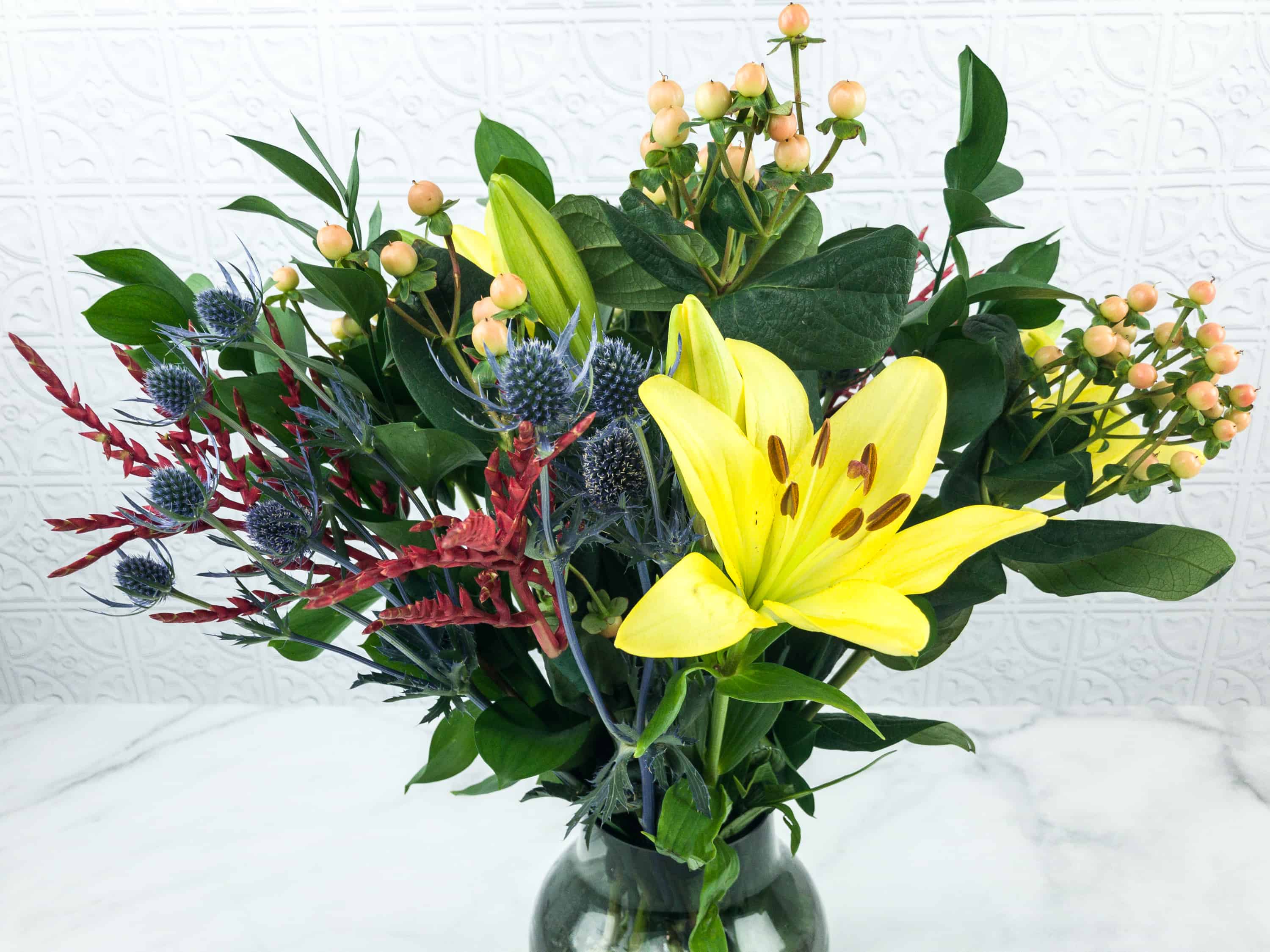 The flowers stayed fresh and beautiful for quite a while. The smell is really fantastic too! That's the reason why I love keeping fresh ones inside our home as they don't just beautify it, they also add color and wonderful fragrance too!
The flowers from the Bouqs are always wonderful. They came in beautiful, and just as you thought that things can't get any better, after a day or two, they show their full glory! I am so happy to have these at home. If you want to share the joy and beauty of having fresh flowers around, as a gift or just reminding someone that you remember them and wish them well, Bouqs is a great way to go! You can actually see how the flowers bloom, and it's just so heartwarming to see as if you're really the one who grow them into your own little garden. The flowers even last for a long time, provided you keep them watered. My lilies were in good shape for nearly two weeks. The petals have now left, but the hypericum have begun to blush, and all of the greens, eryngium, and other accents are still quite lovely. Two weeks is actually a long time for freshly cut flowers to show their beauty, I can say that these sustainably grown beauties are definitely worth a try!
What do you think of 
The Bouqs?