Every month, Swimfluence ships a box containing 6 to 8  pieces of gear and products curated for competitive swimmers. The subscription aims to foster healthy habits while introducing swimmers to helpful products they never knew existed.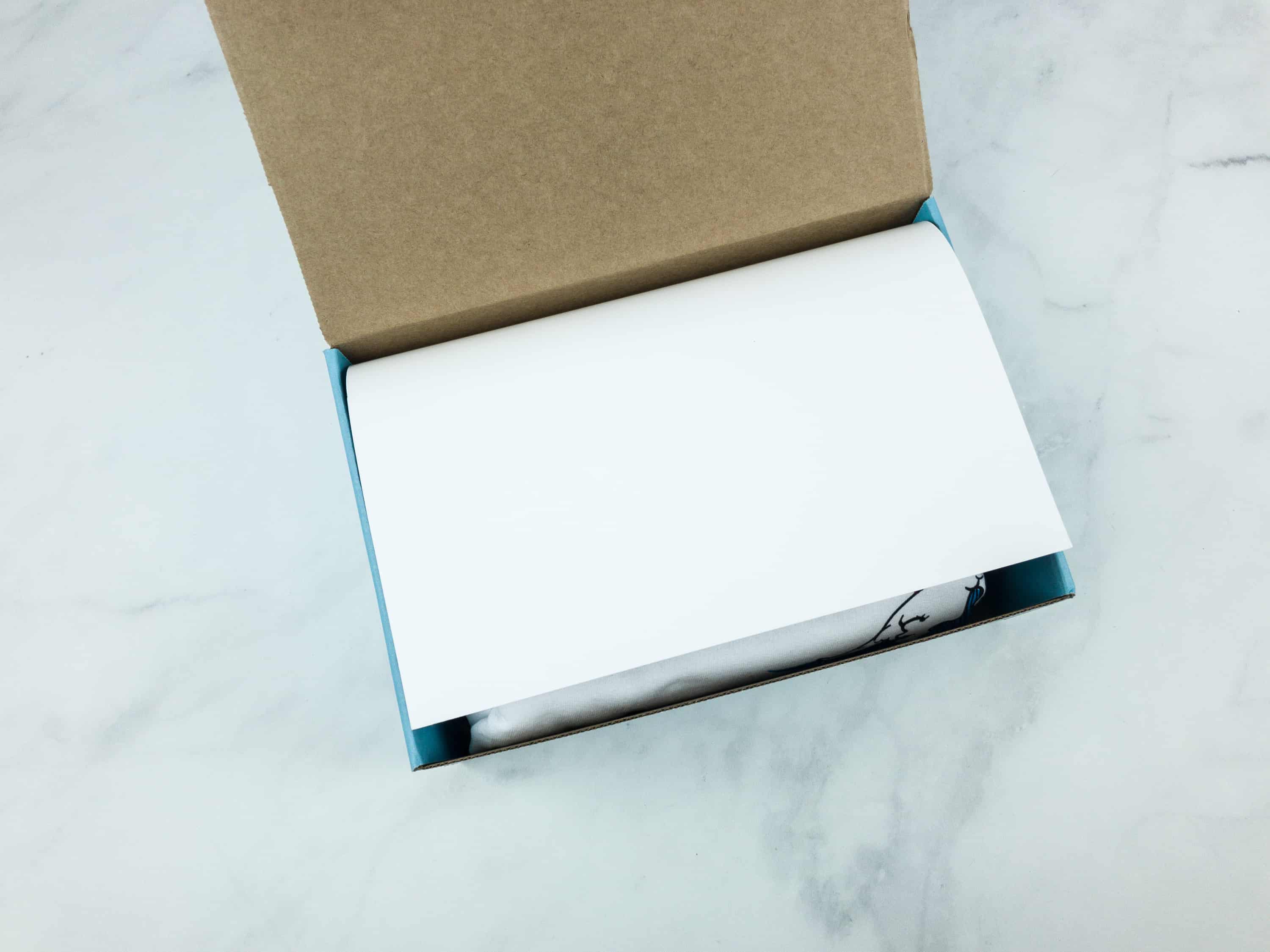 The back of the poster kept all the items hidden from view upon opening.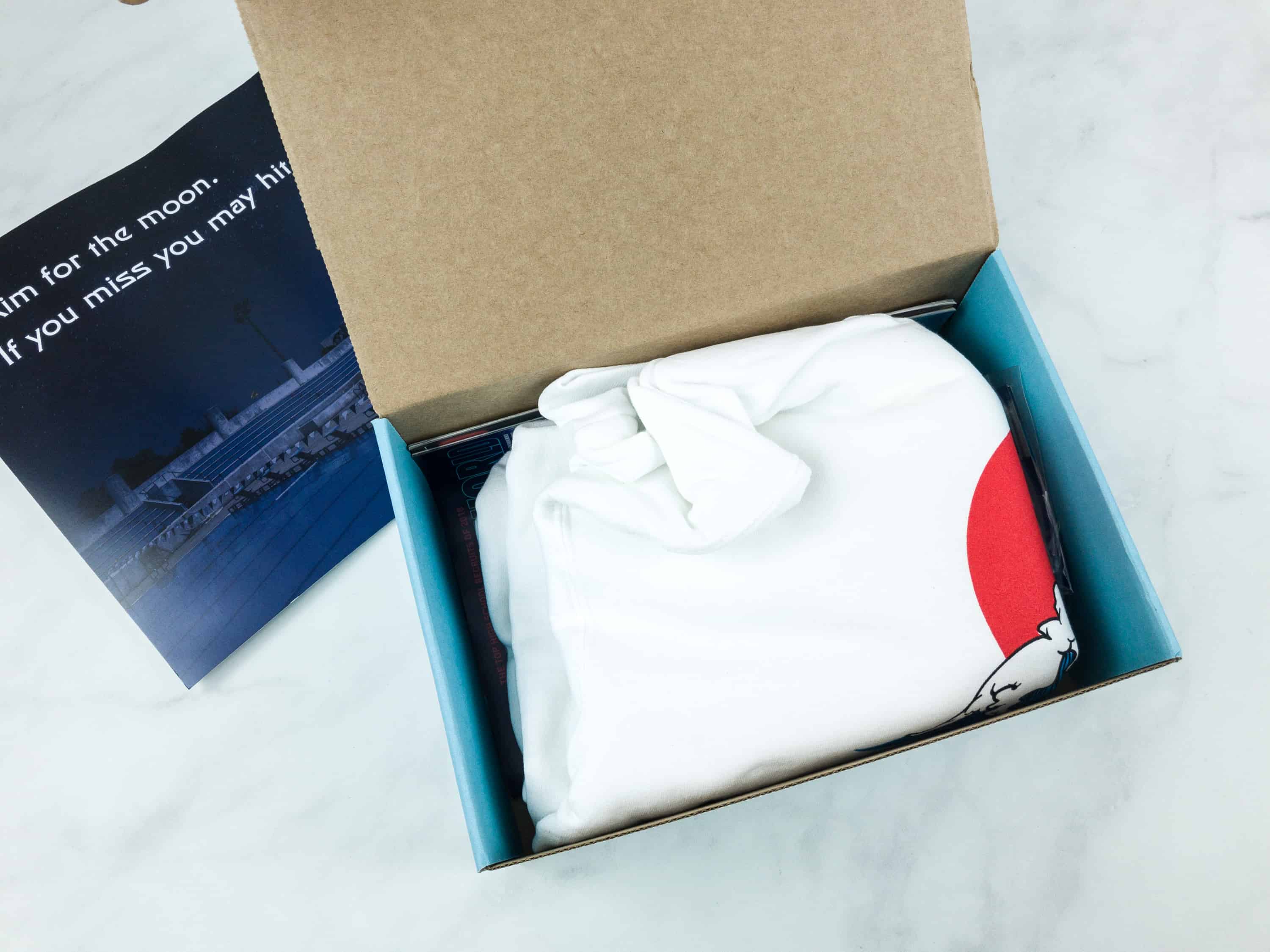 Once the poster is removed, we could see that our gear included a garment and some magazines.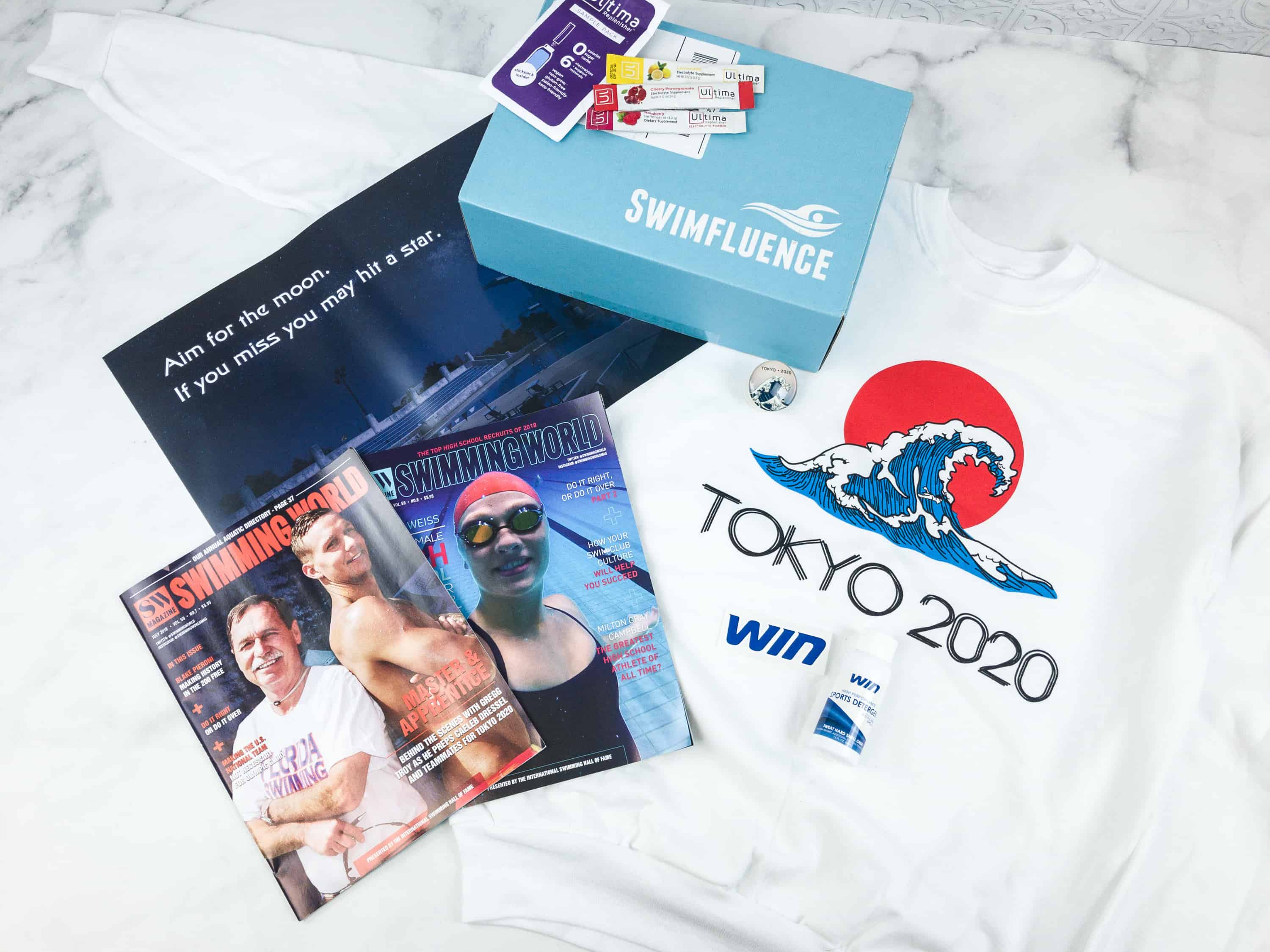 Everything in this month's box!
Swimfluence Poster. Every month, Swimfluence includes a poster with an inspirational message.
Aim for the moon. If you miss you may hit a star.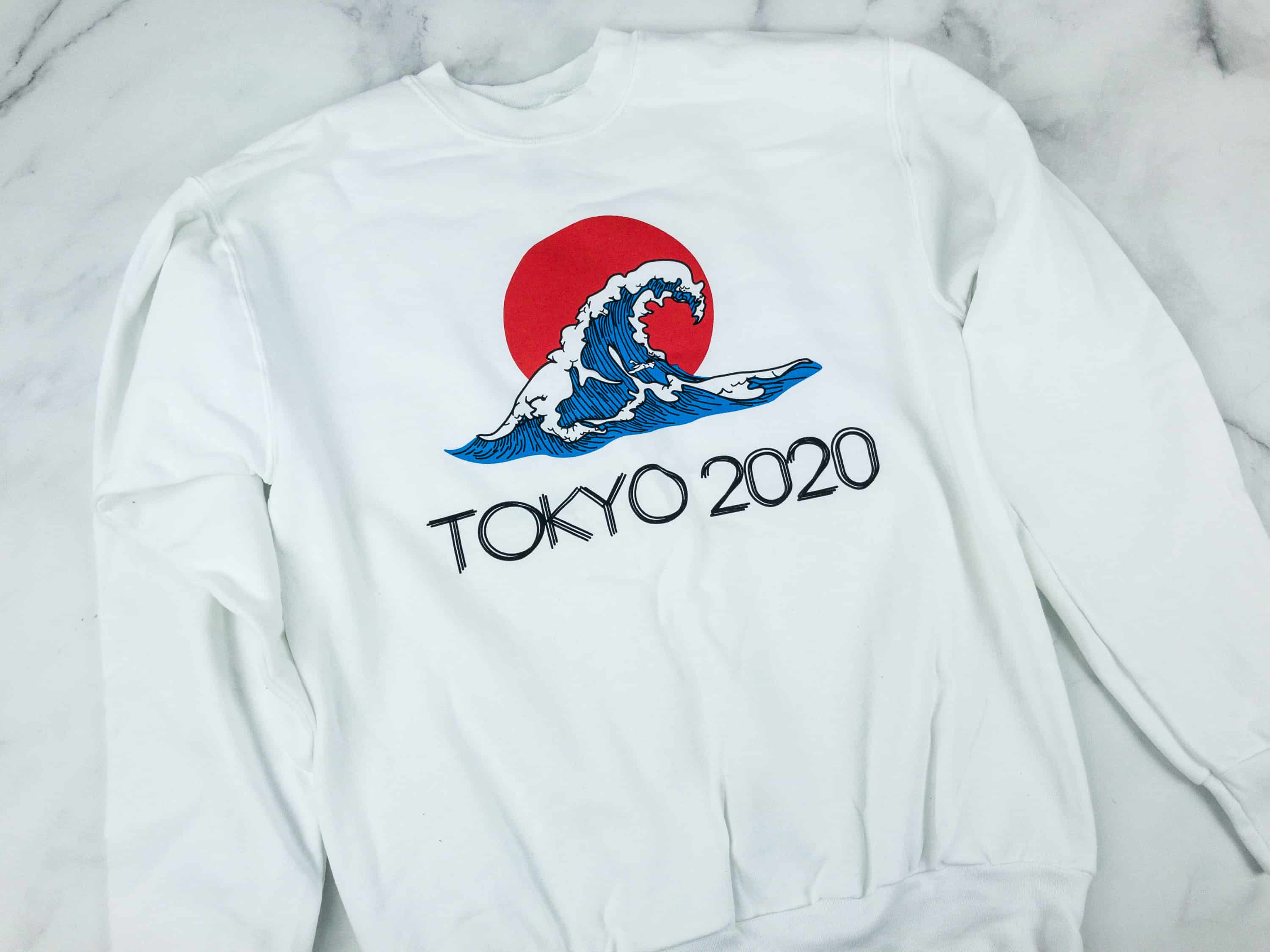 Tokyo 2020 Sweater. The Summer Olympics will be held at Tokyo in 2020. What better way to celebrate it than a super soft and comfy sweater!
It's a simple white sweater that features a huge wave with a crimson-red disc at the back, embodying the rising sun of Japan's flag. The style of the wave evokes thoughts of Katsushika Hokusai's The Great Wave off Kanagawa. There is a swimmer in the middle of the wave!
Tokyo 2020 Pop Socket. Aside from the sweater, we also got a cute Tokyo 2020 pop socket! The design is similar to that of the sweatshirt, but the swimmer on this one stands out a bit more.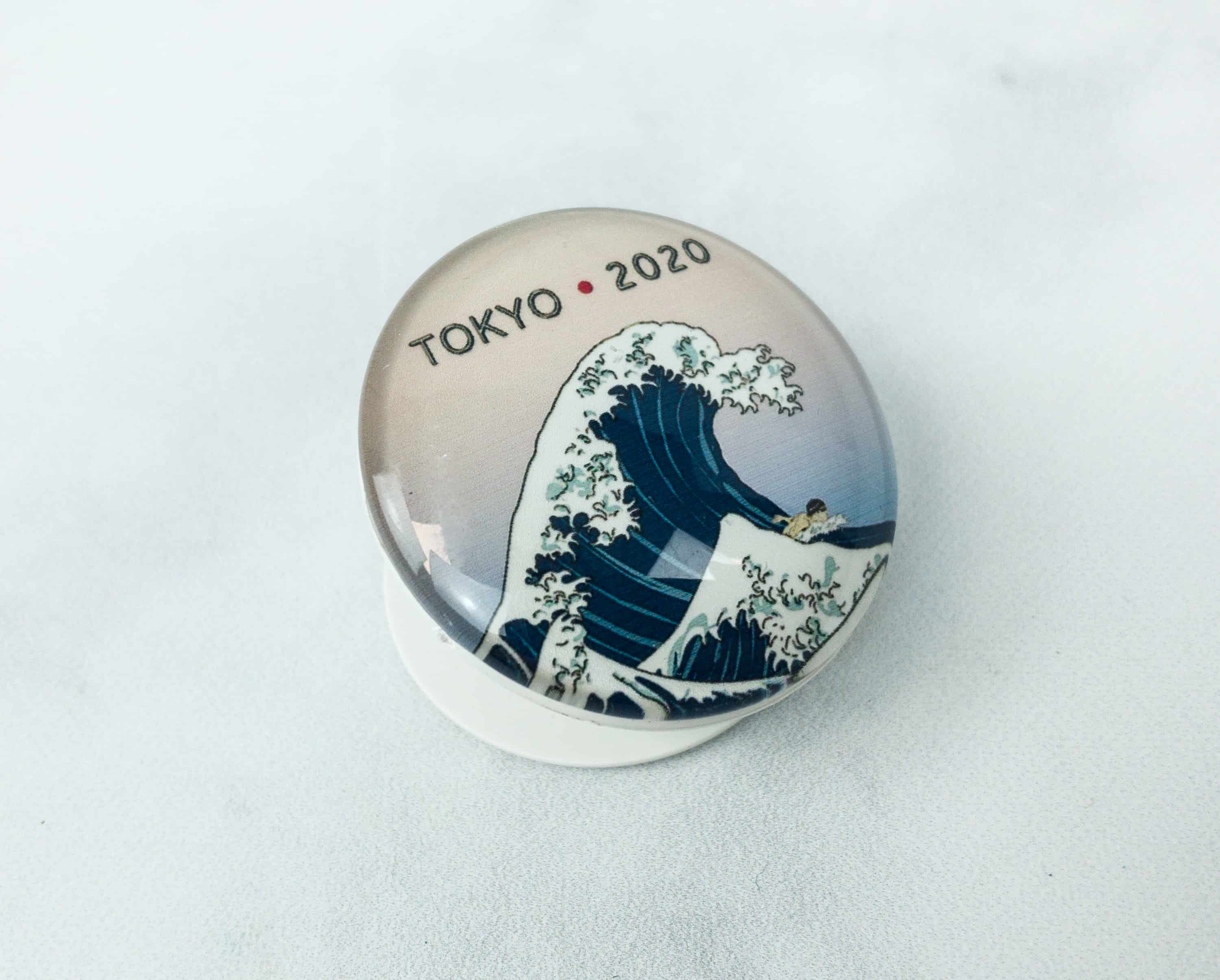 It's an adjustable, telescoping button that attaches to your smartphone to give you a better grip or act as a stand.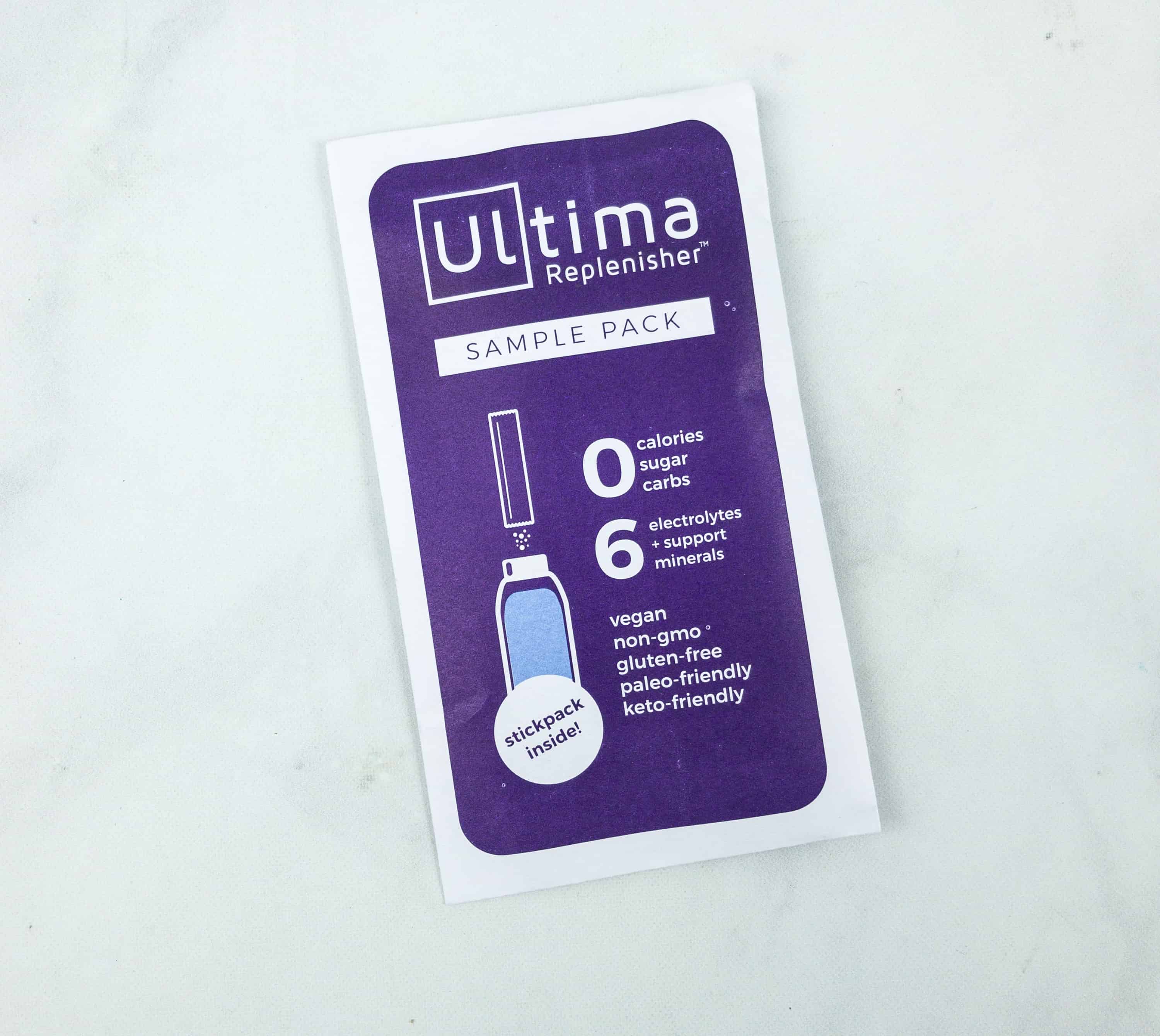 Ultima Replenisher Sample Pack ($2.64) Made with 6 electrolytes, plus support minerals, this definitely sounds like it might be one of the ultimate sports hydration drinks ever formulated!
It also includes real fruit flavors, plant-based colors, and sweetened with organic stevia leaf but without sugar, carbs or calories.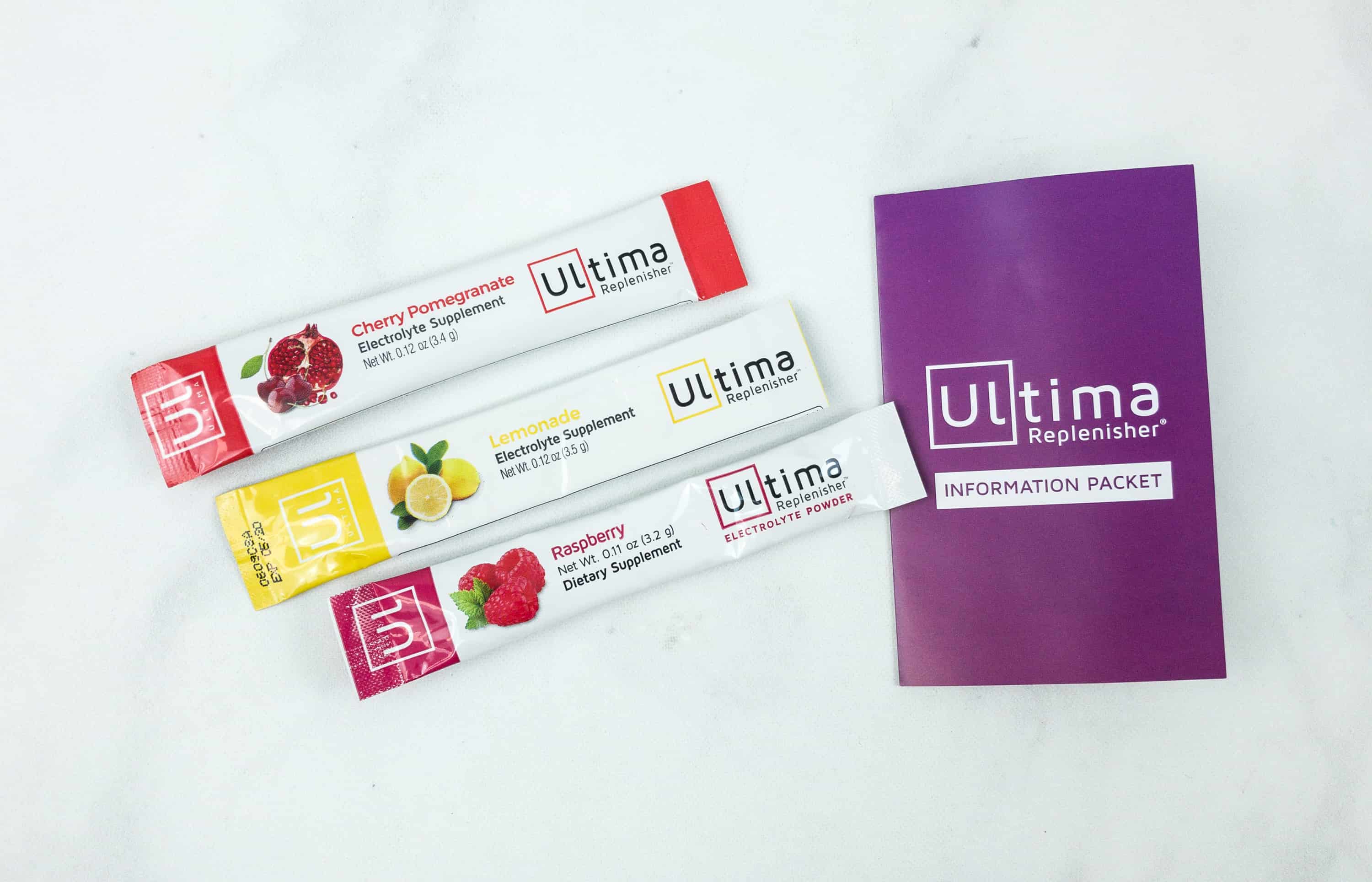 Included in the sample pack are three sticks of Ultima Replenisher pack with Raspberry, Lemonade, and Cherry Pomegranate flavors.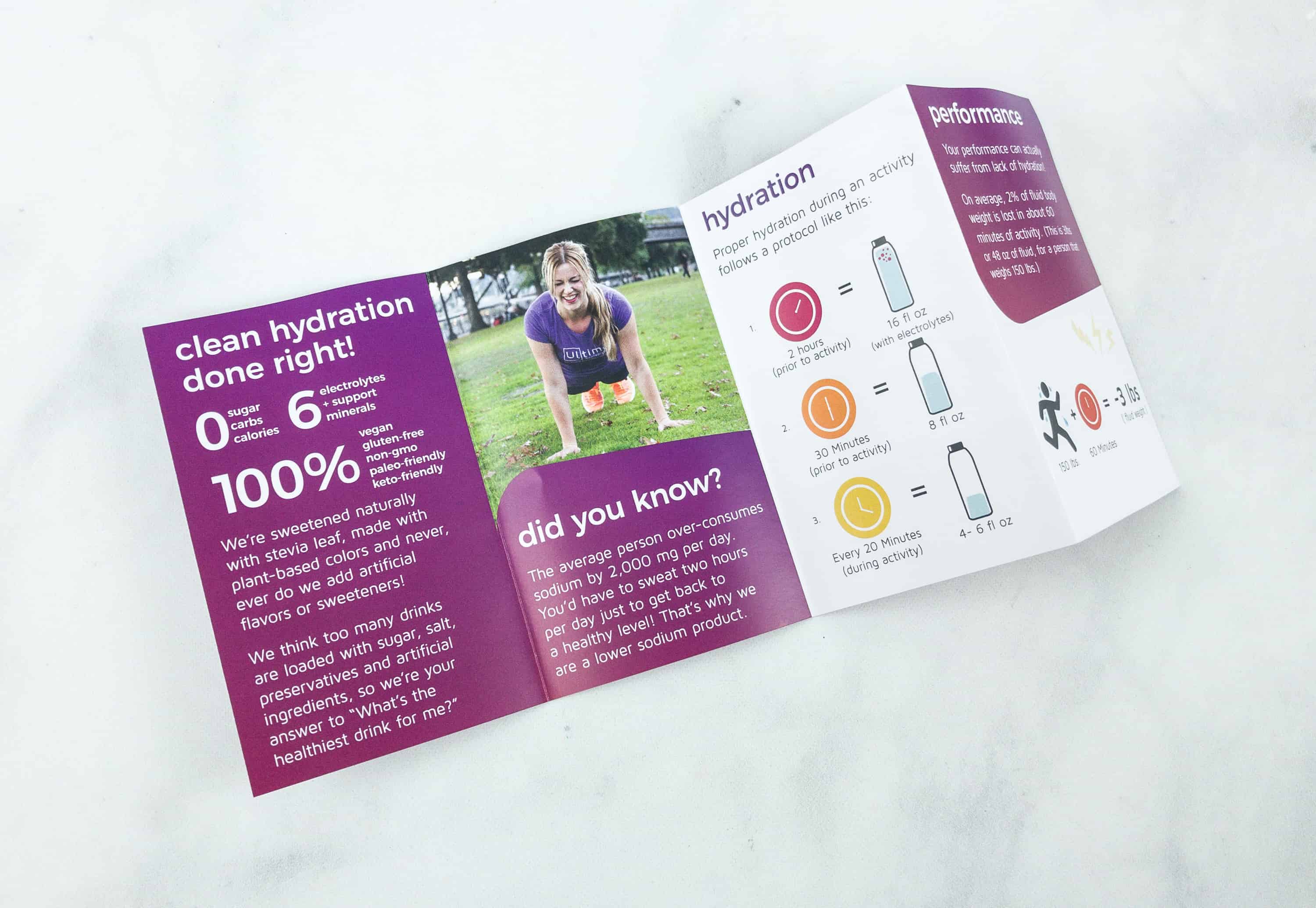 The sample pack also contains a four-folded brochure that lists the benefits of hydration and a recommended hydration plan for intense workouts.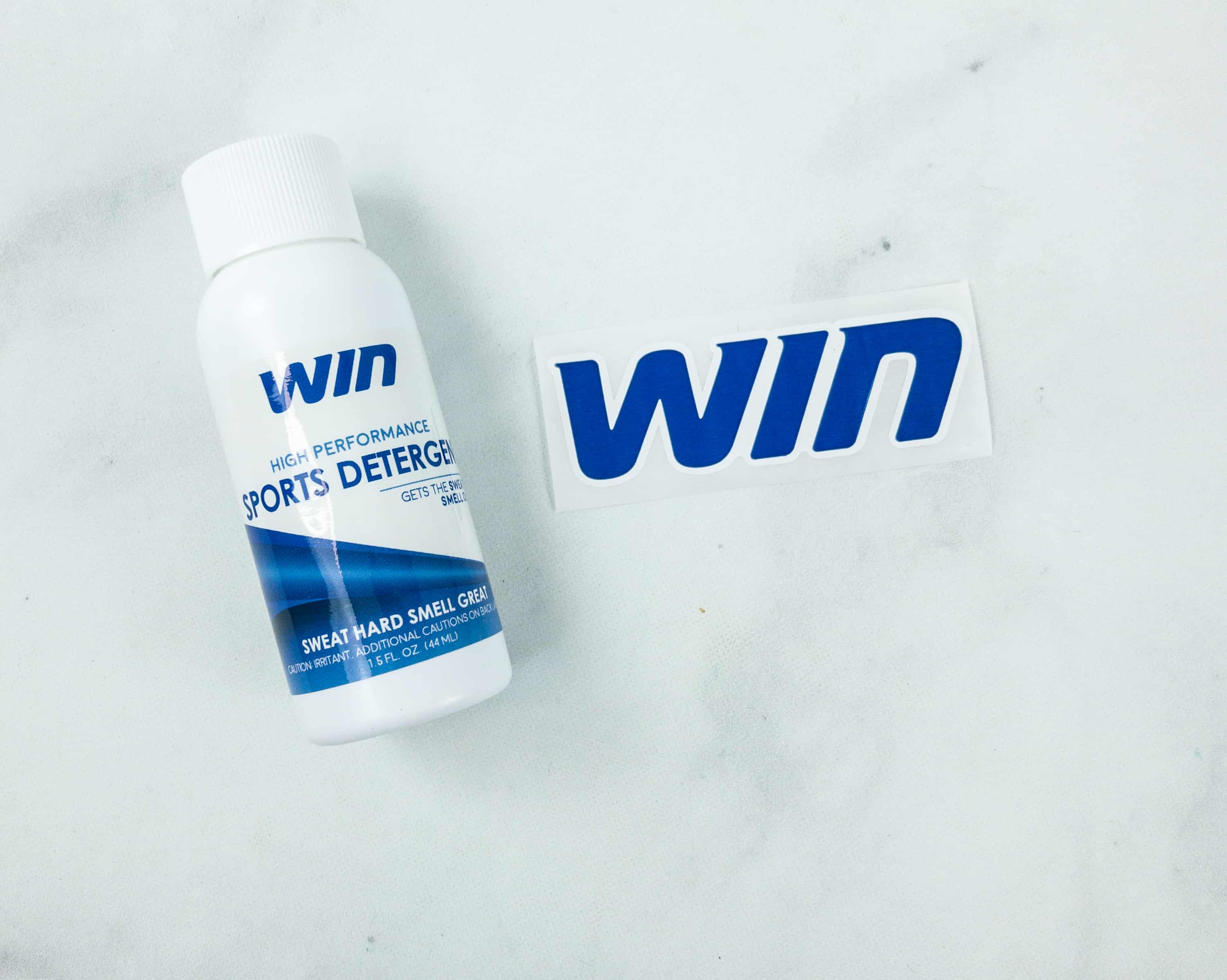 Win Performance Sports Detergent ($0.46) Gym gear is notoriously tough to get smelling fresh. Win is a specially formulated detergent that doesn't just cover up the smells using perfumes, but totally exterminates the oils that adhere to sporting gear leaving them clean inside out!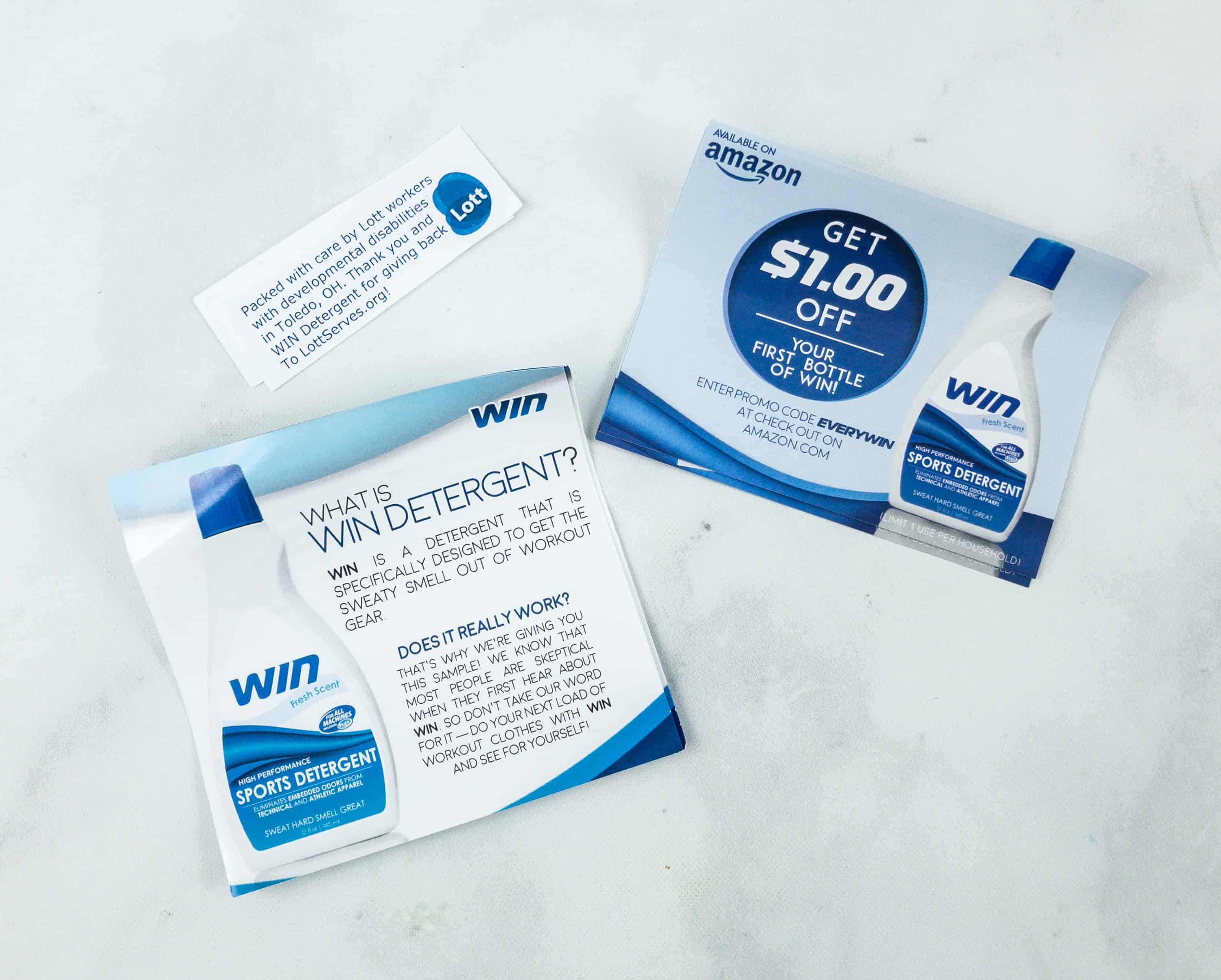 Aside from the detergent wash, there's also a $1 discount coupon.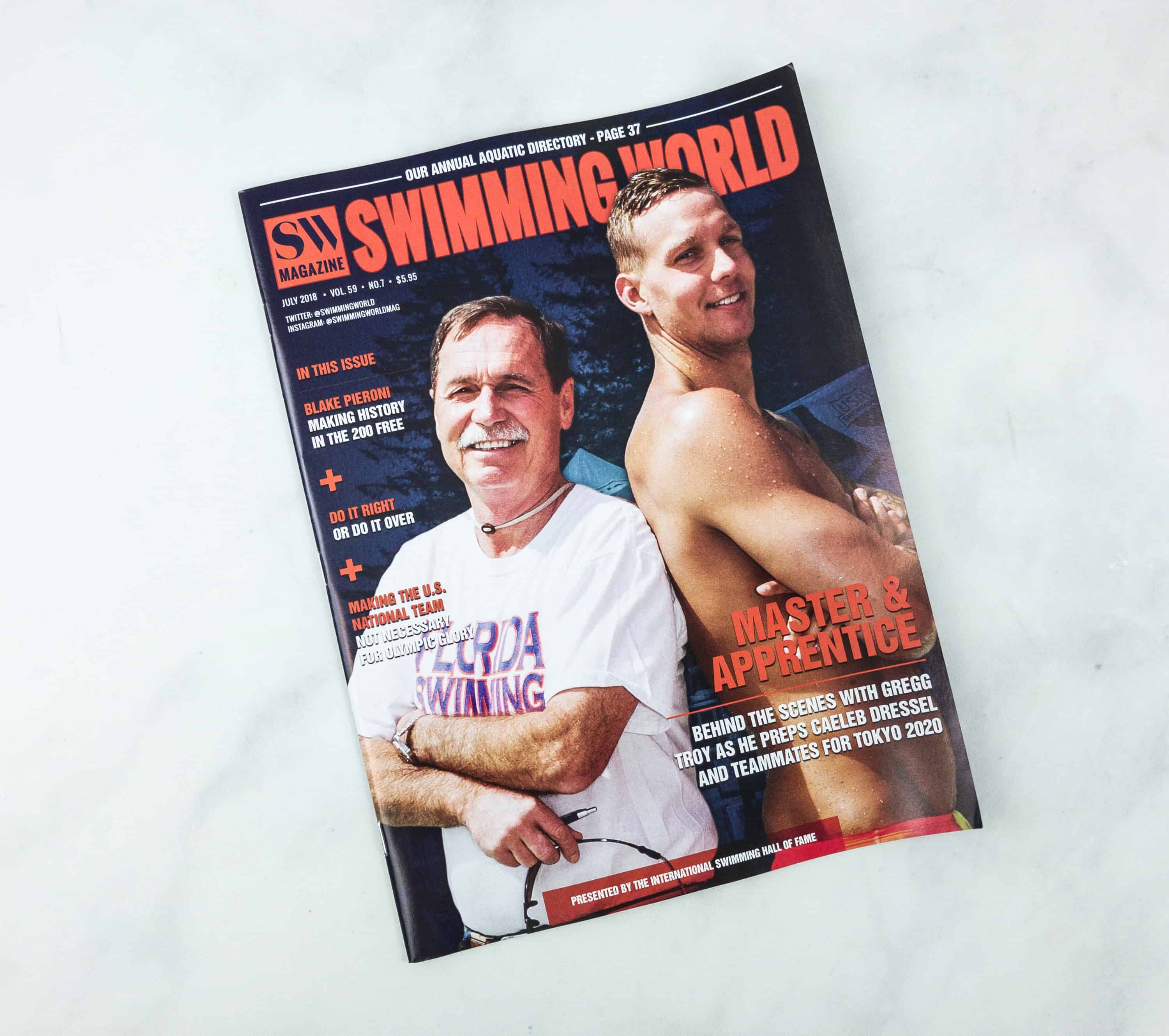 Swimming World Magazine July 2018 Issue ($4.94) It's a magazine made specifically for swimming enthusiasts!
The magazine is filled with all manner of swimming-related content. One of the many features in this issue focused on The Art of Swimming, recalling some early 20th century depictions of watersports.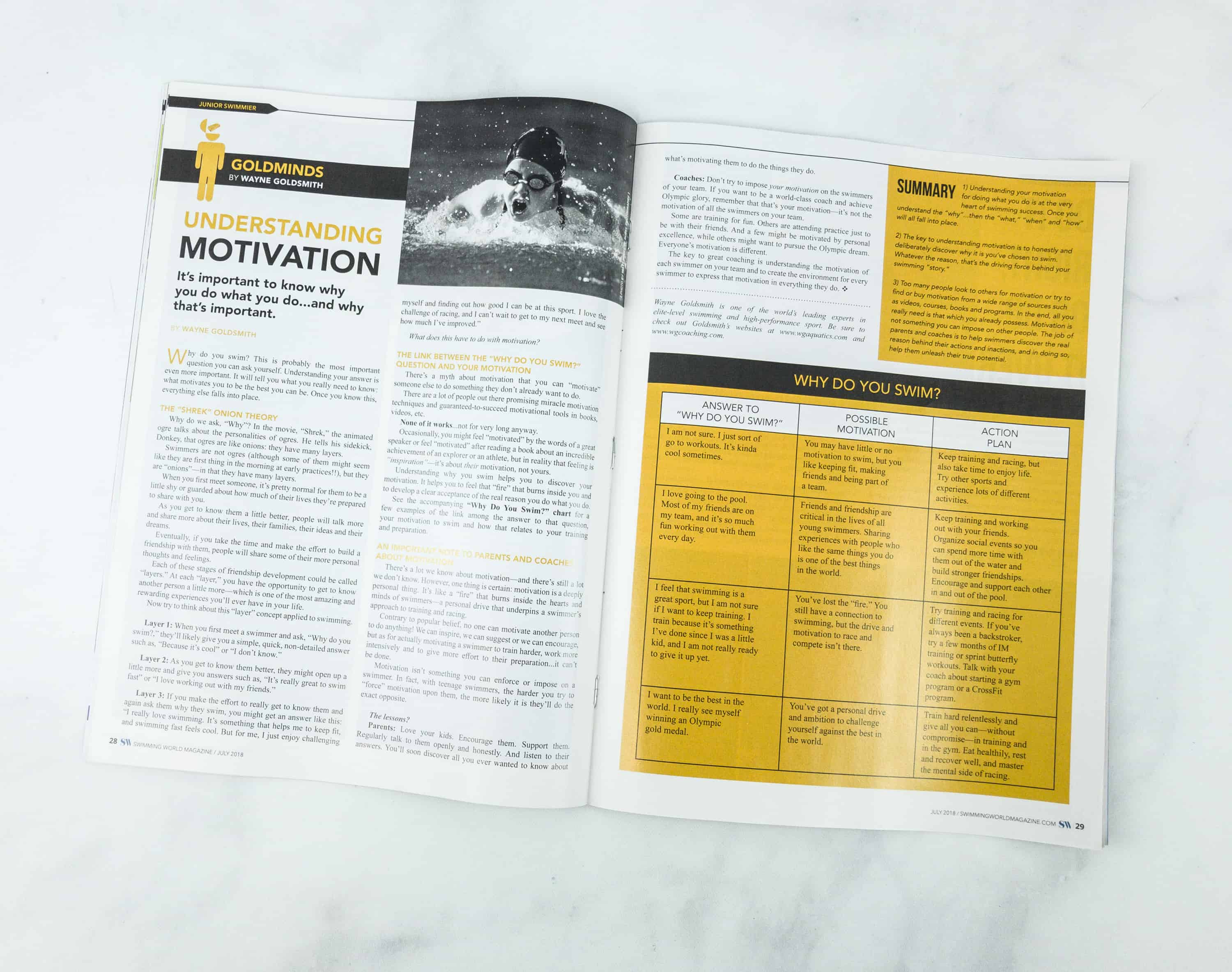 There's also tons of content on training and competition. This one focuses on cultivating motivation. It's written by one of the most influential and creative minds in the sports world, Wayne Goldsmith!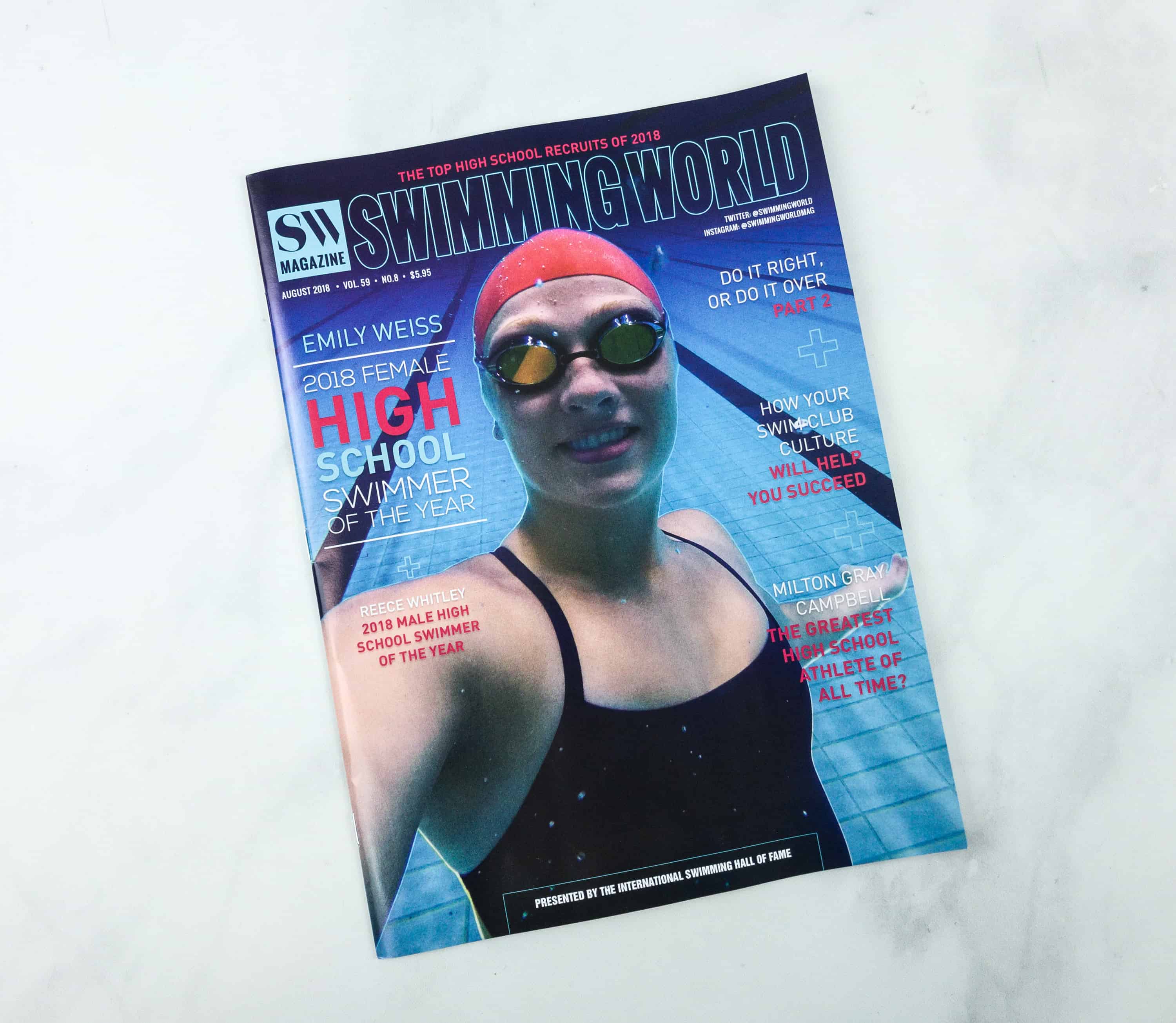 Swimming World Magazine August 2018 Issue ($4.94) We also got the magazine's August issue. Receiving two swimming magazines in one box is really great!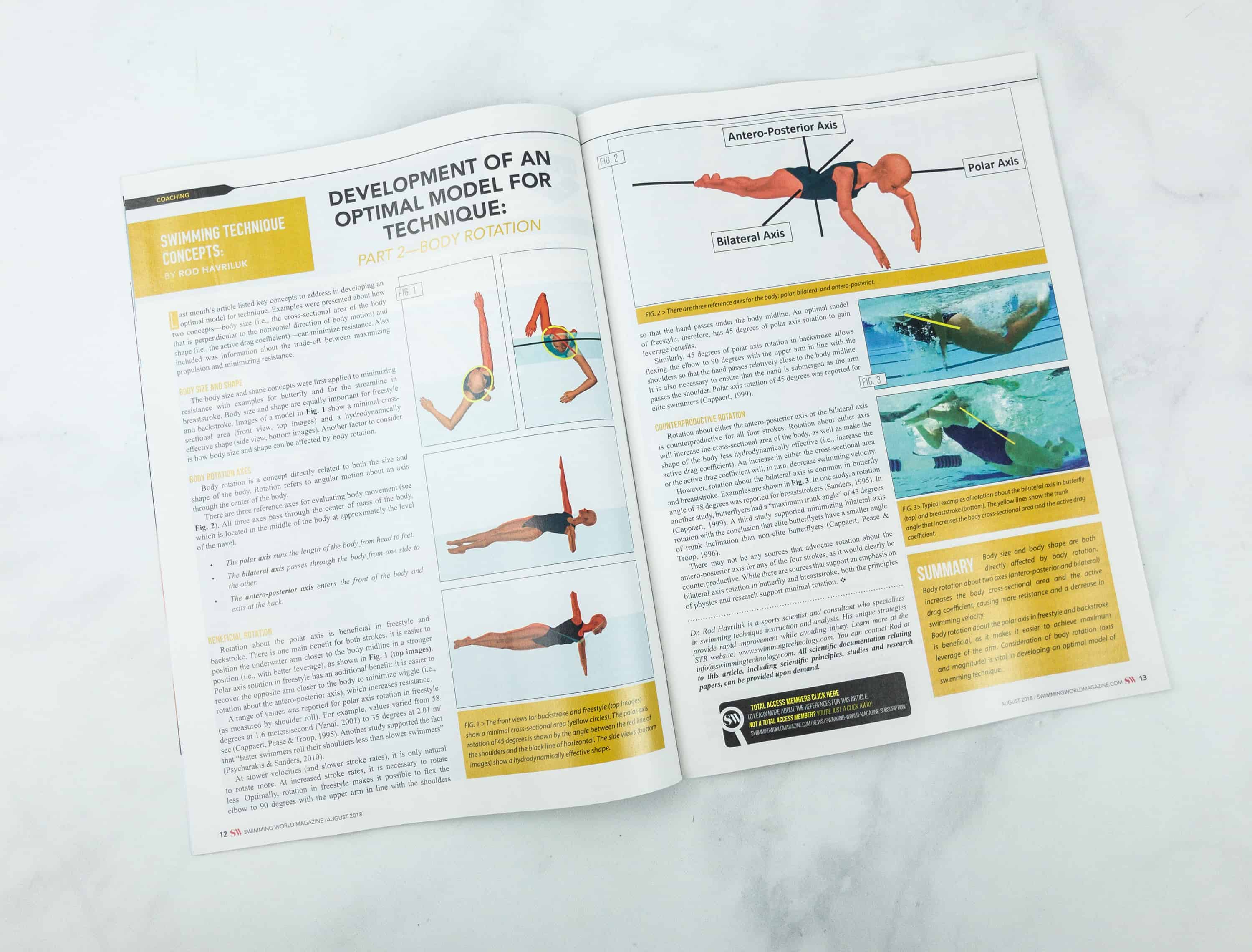 The magazines always have content that can be put to use in the training pool. Having the right form and proper posture makes swimming a lot more efficient, and therefor faster. This article discusses optimal swimming technique and concepts that professional swimmers used to execute high-level performance.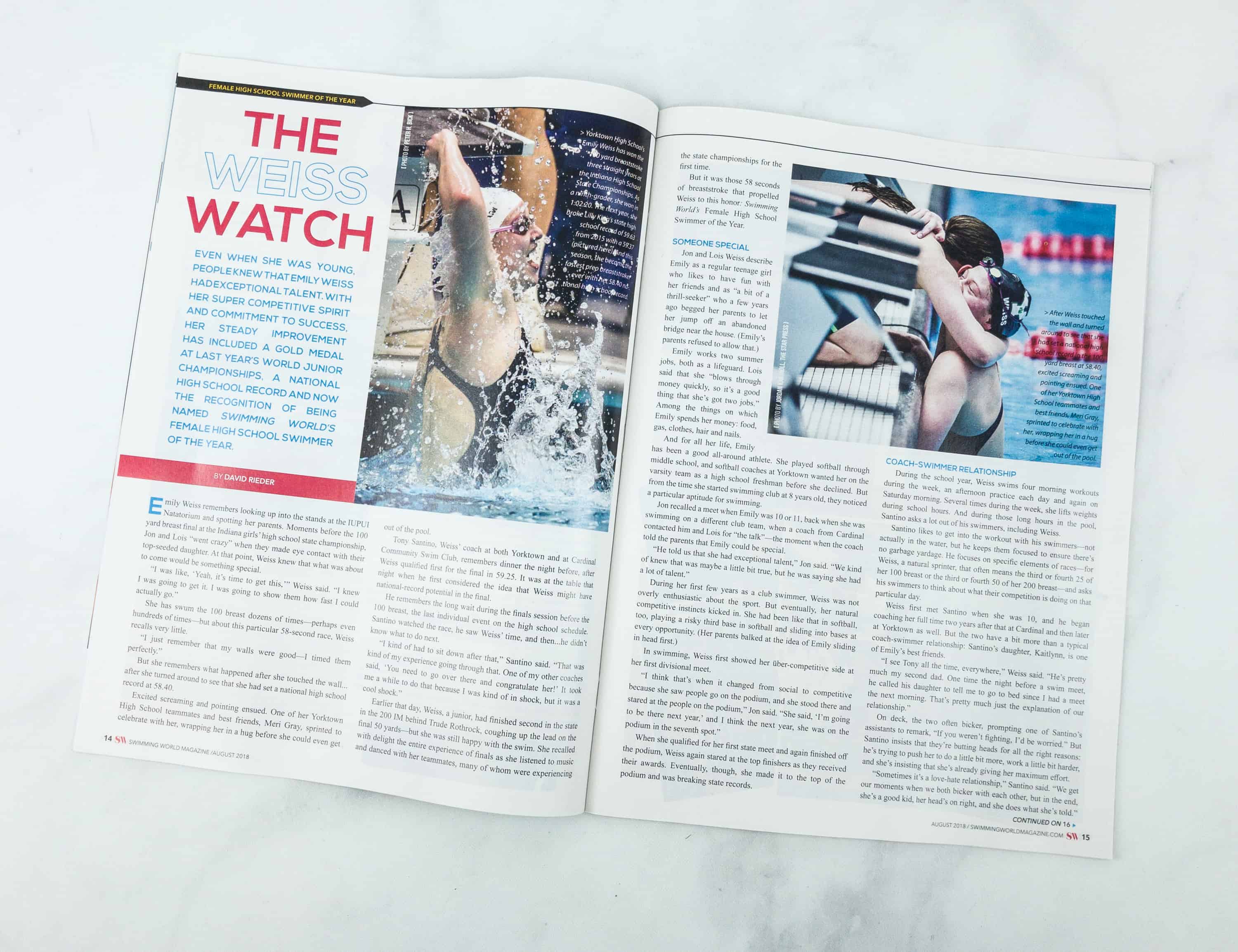 Meet this month's featured swimmer, Emily Weiss! She's a female high school swimmer with superb talent and competitive spirit. She is last year's gold medalist on the World Junior Championships, a national high school record holder, and current holder of Female High School Swimmer of the Year!
This month's Swimfluence Box included some handy swimming goods and gear and a dose of inspiration, as well. The magazines also add some good training advice and help subscribers remember that they are part of a larger swimming community. The Tokyo 2020 sweater looks really awesome! It makes us look forward to the Summer Olympics! This is a subscription that any swimmer or swimming enthusiast would find useful and enjoyable, and it is targeted toward grade school to collegiate age swimmers.
Any thoughts about the Swimfluence box?