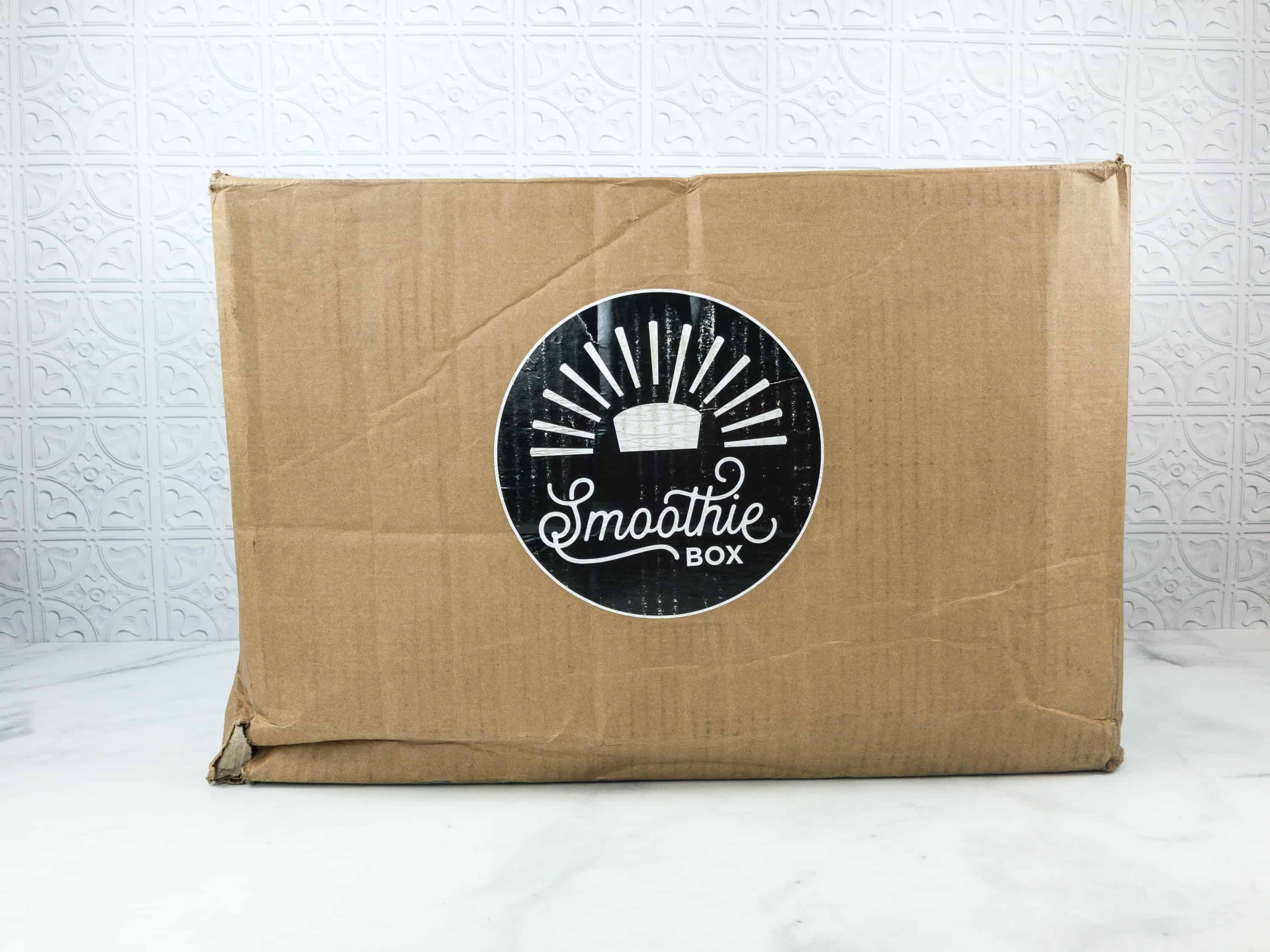 SmoothieBox delivers ready-to-blend smoothie mixes directly to your door. The box costs $119 and contains 20 frozen smoothie pouches and 20 packets of collagen protein. Each smoothie has a balance of complex carbohydrates from organic fruits and vegetables, healthy fats from seeds, and clean protein from grass-fed collagen, with no added sugar or fillers. You can choose your selection and frequency of your box from 30 to 60 days, change it easily, pause, or cancel any time. Shipping is free.
DEAL: Save $15 off your first box when you use this link and coupon code SAS15!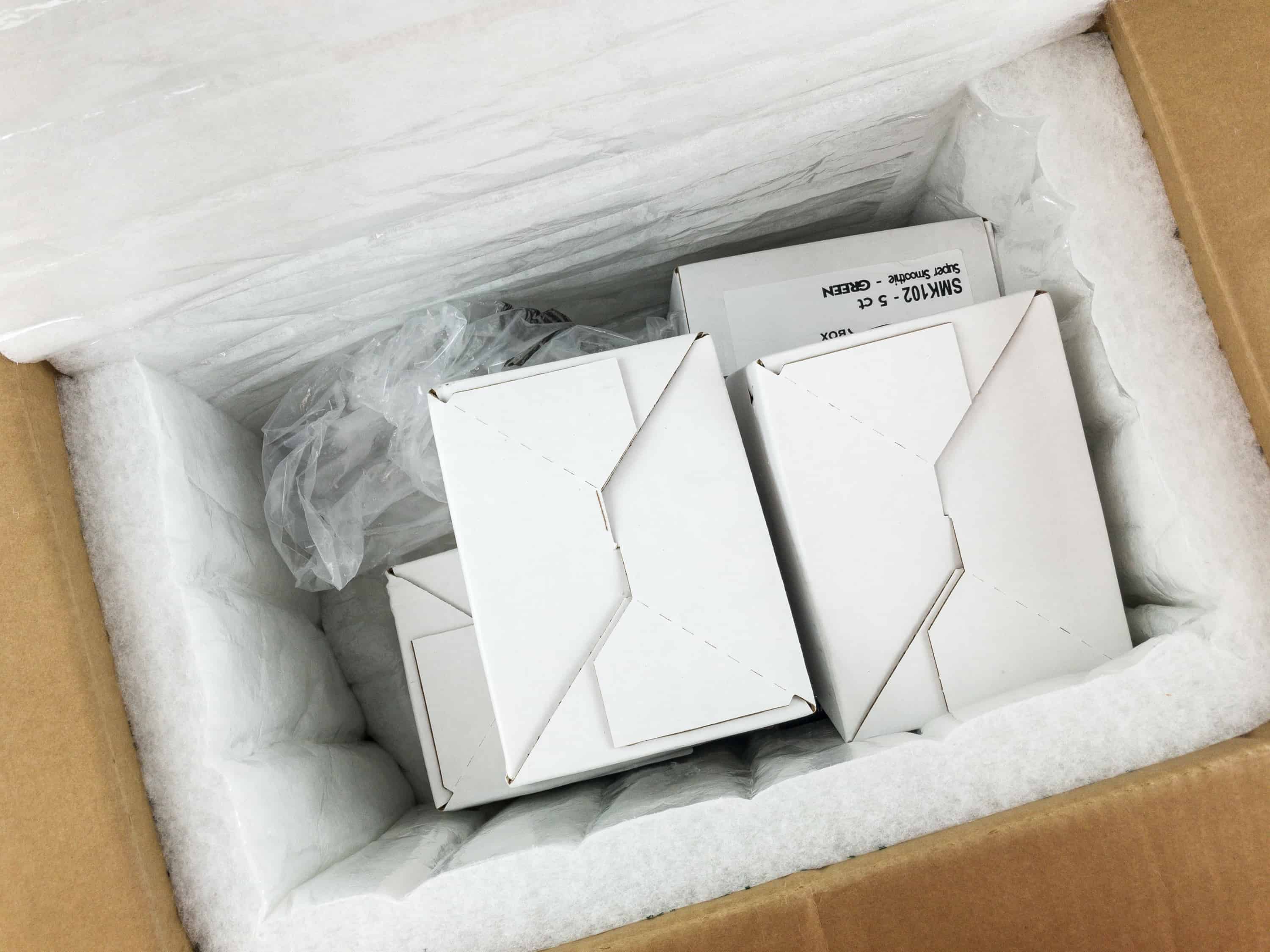 The contents are kept frozen inside the box with dry ice.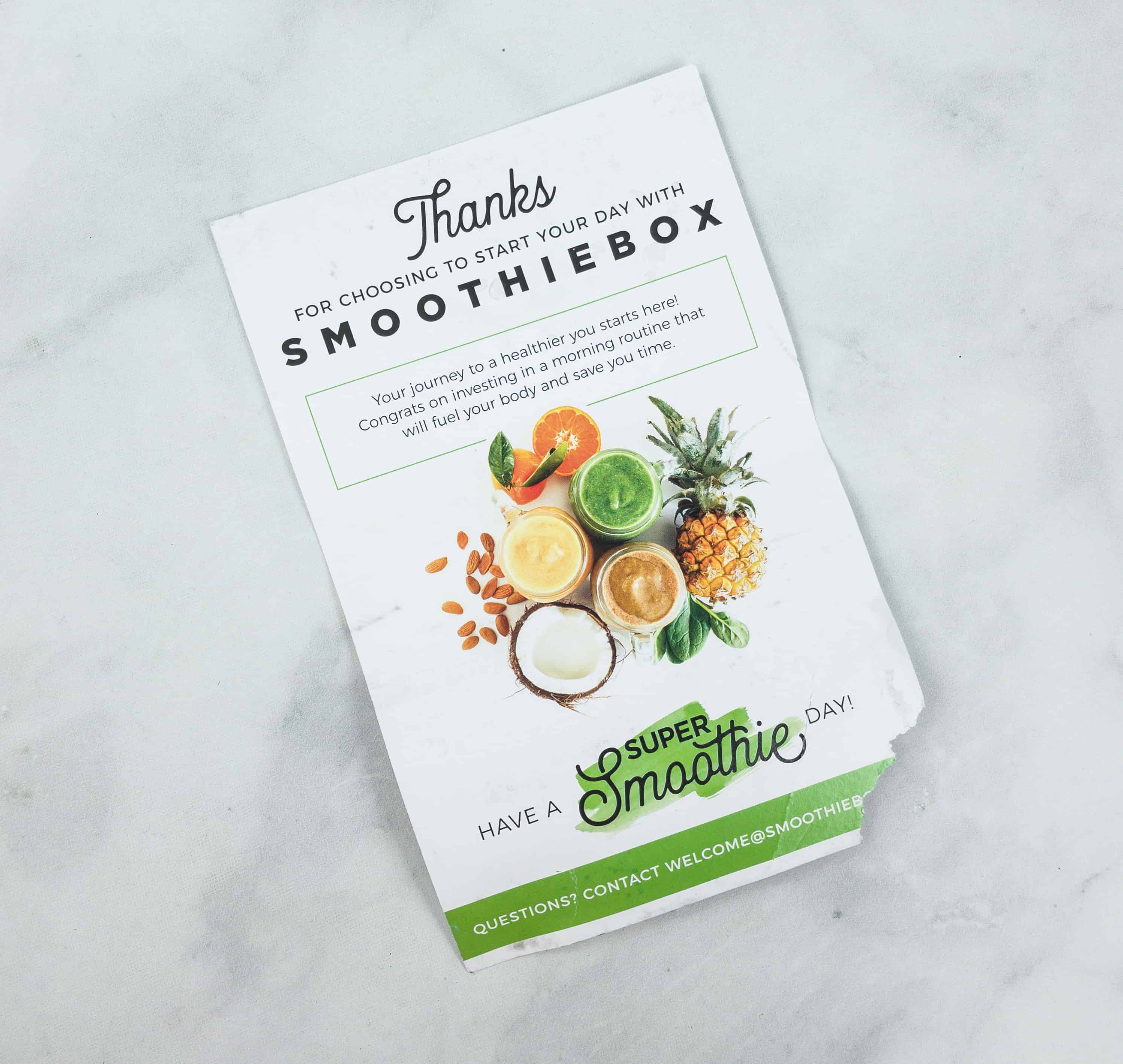 There are three refreshing flavors to choose from: Banana Cacao, Citrus Green, and Ginger Clementine.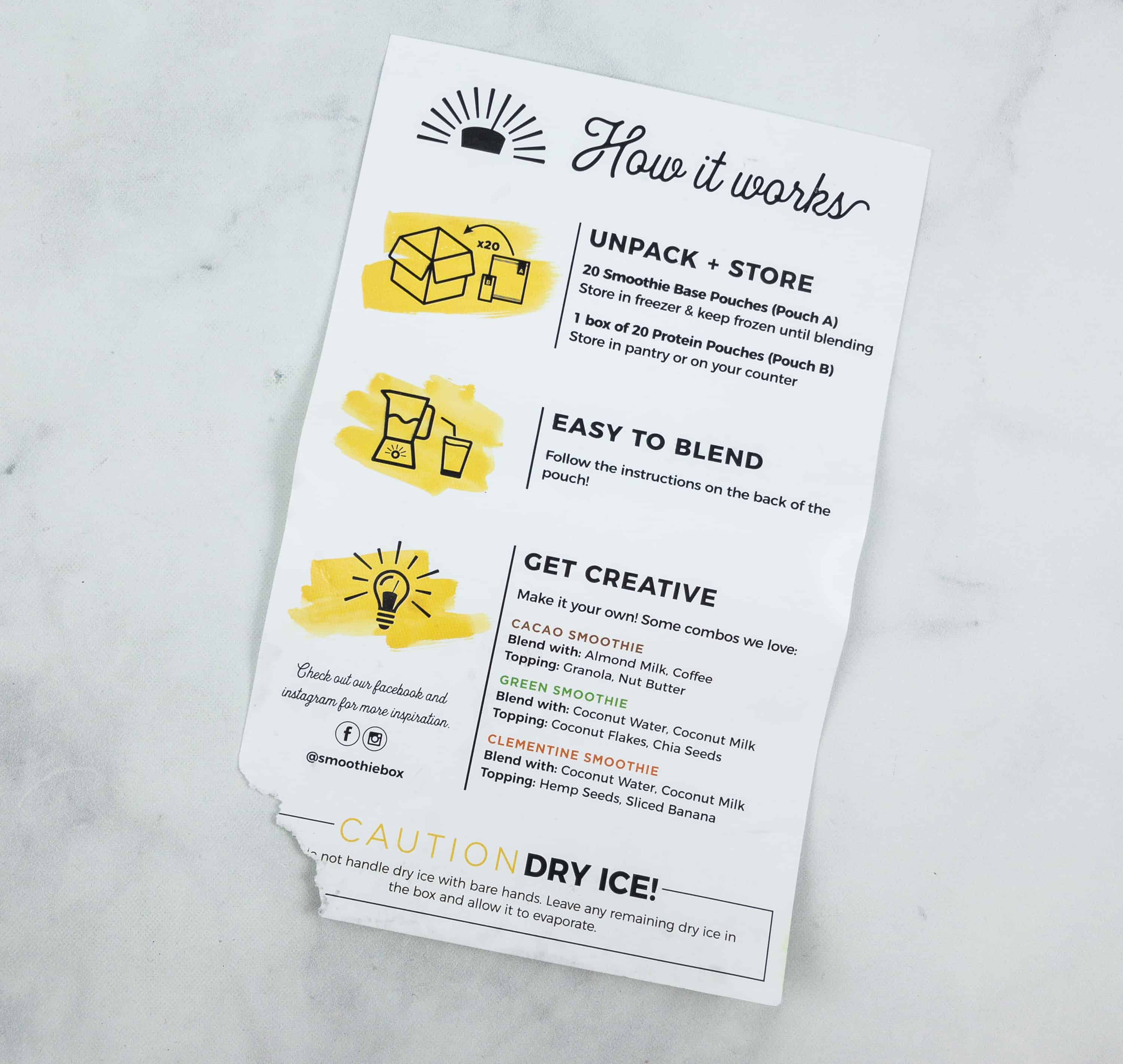 The smoothie mixes can be blended with water or your favorite milk in under 3 minutes.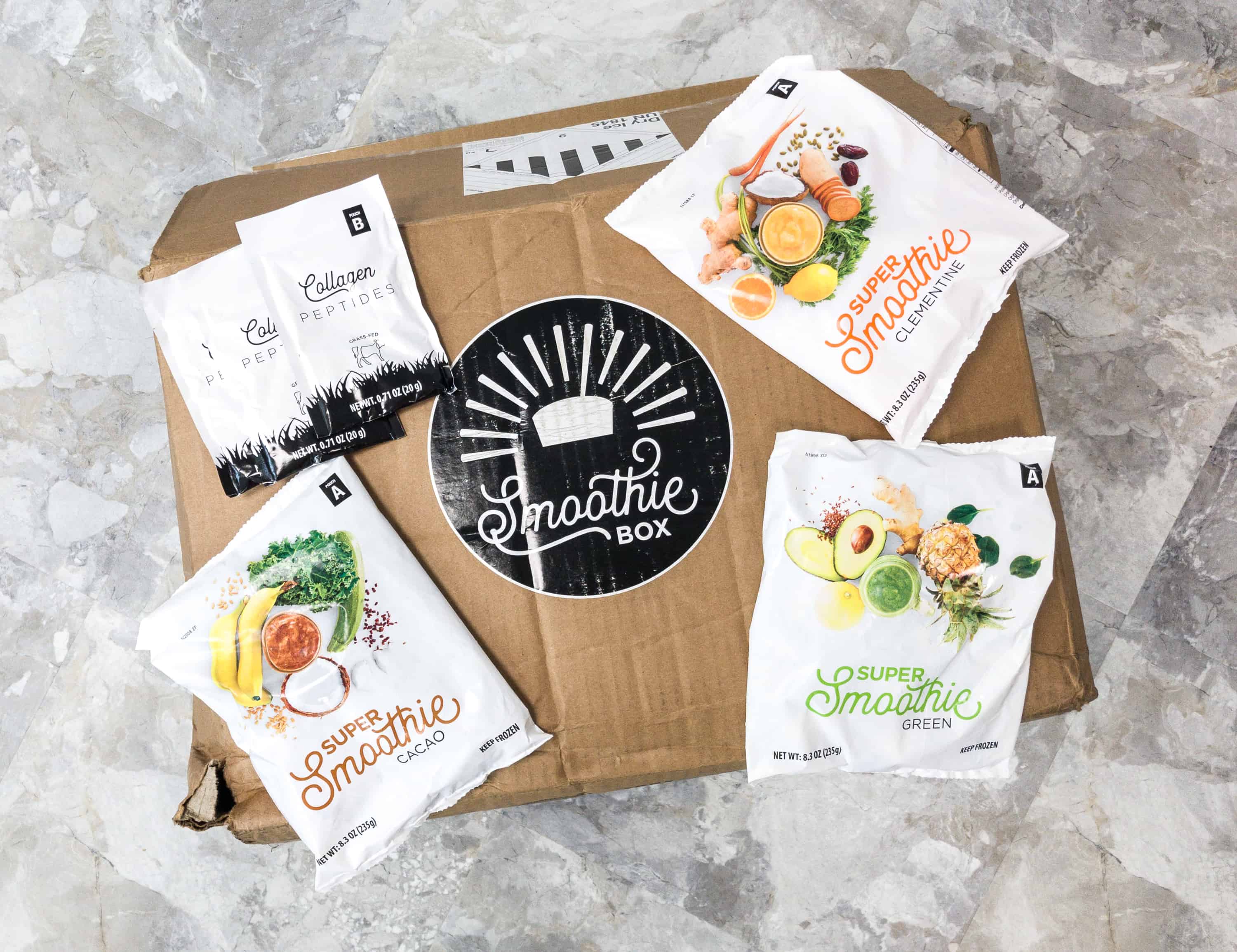 We're ready to try them out!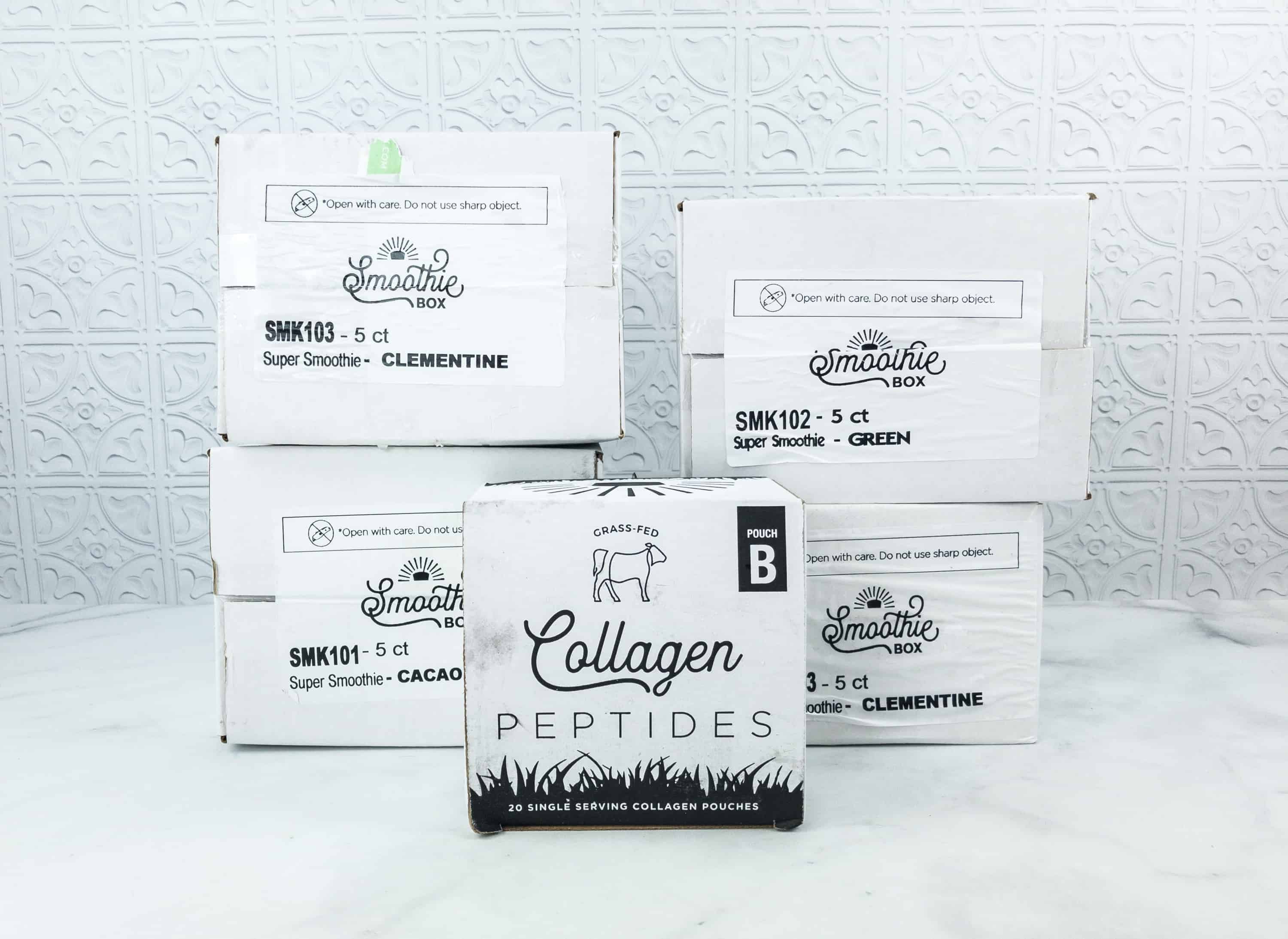 Everything in the box!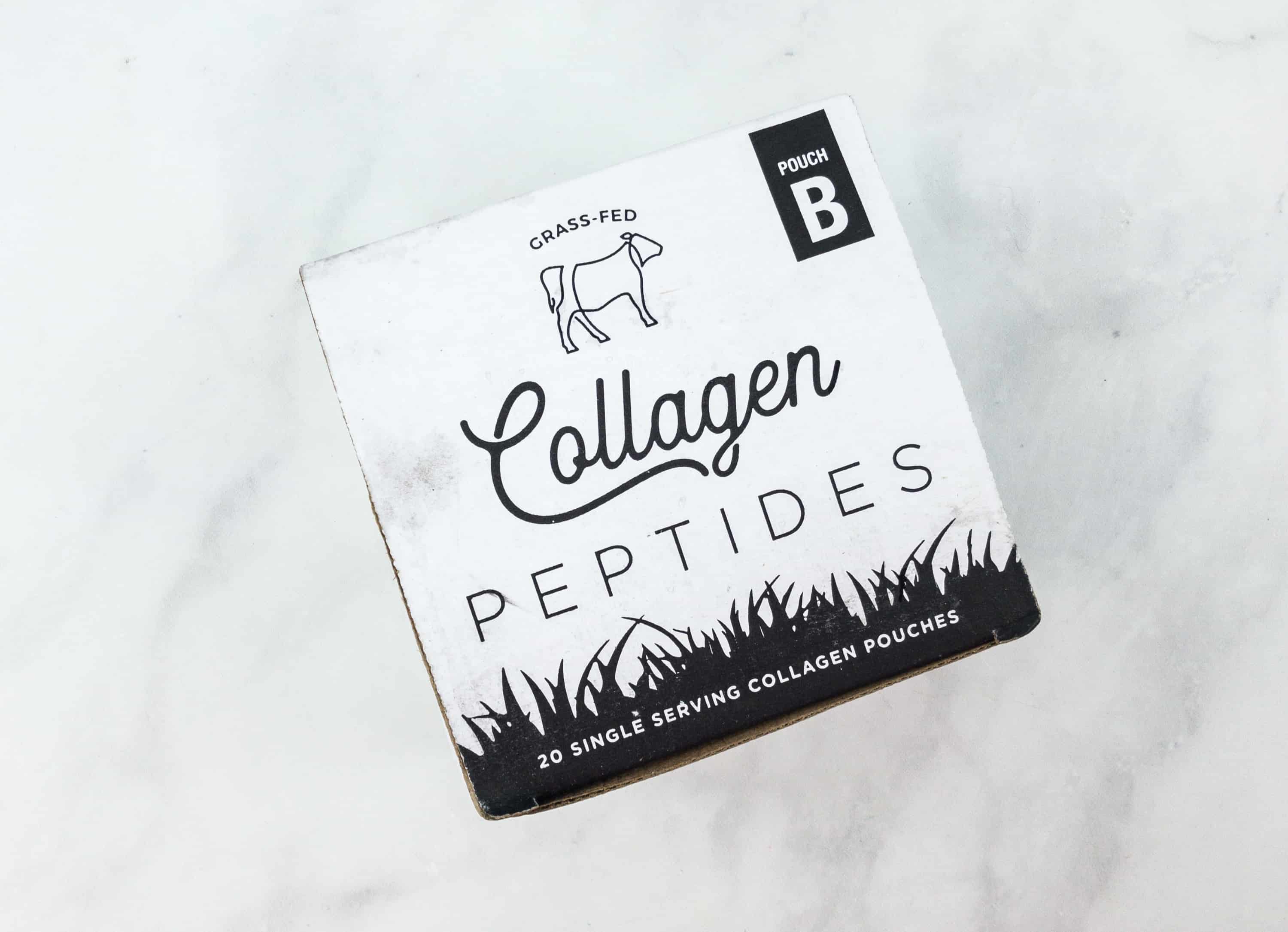 There's a box that contains 20 single serving collagen pouches. The same pouches are used with the different smoothie flavors and can be stored in your pantry.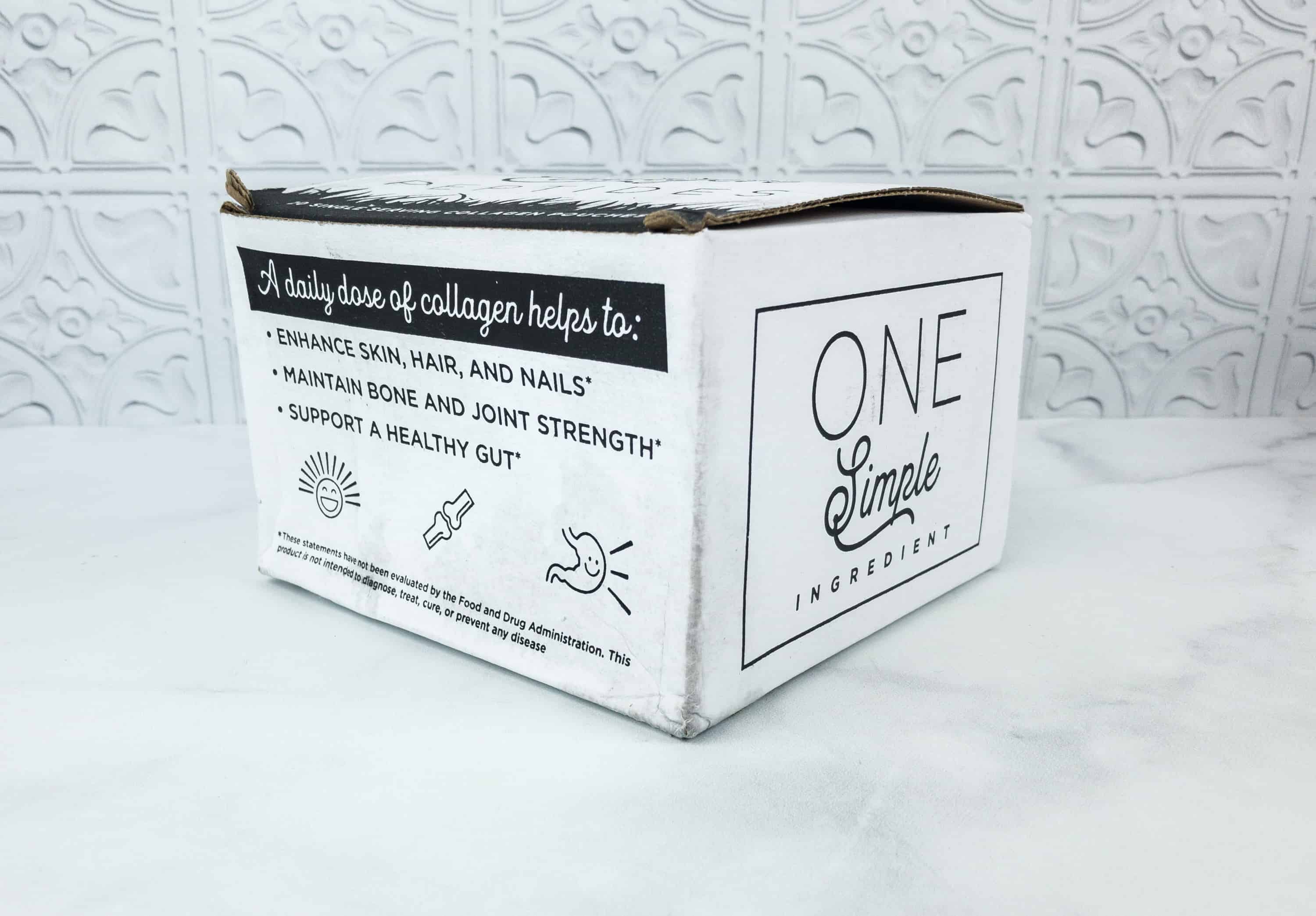 A daily dose of collagen helps enhance skin, hair, and nails. They also suggests it maintains bone and joint strength and supports a healthy gut.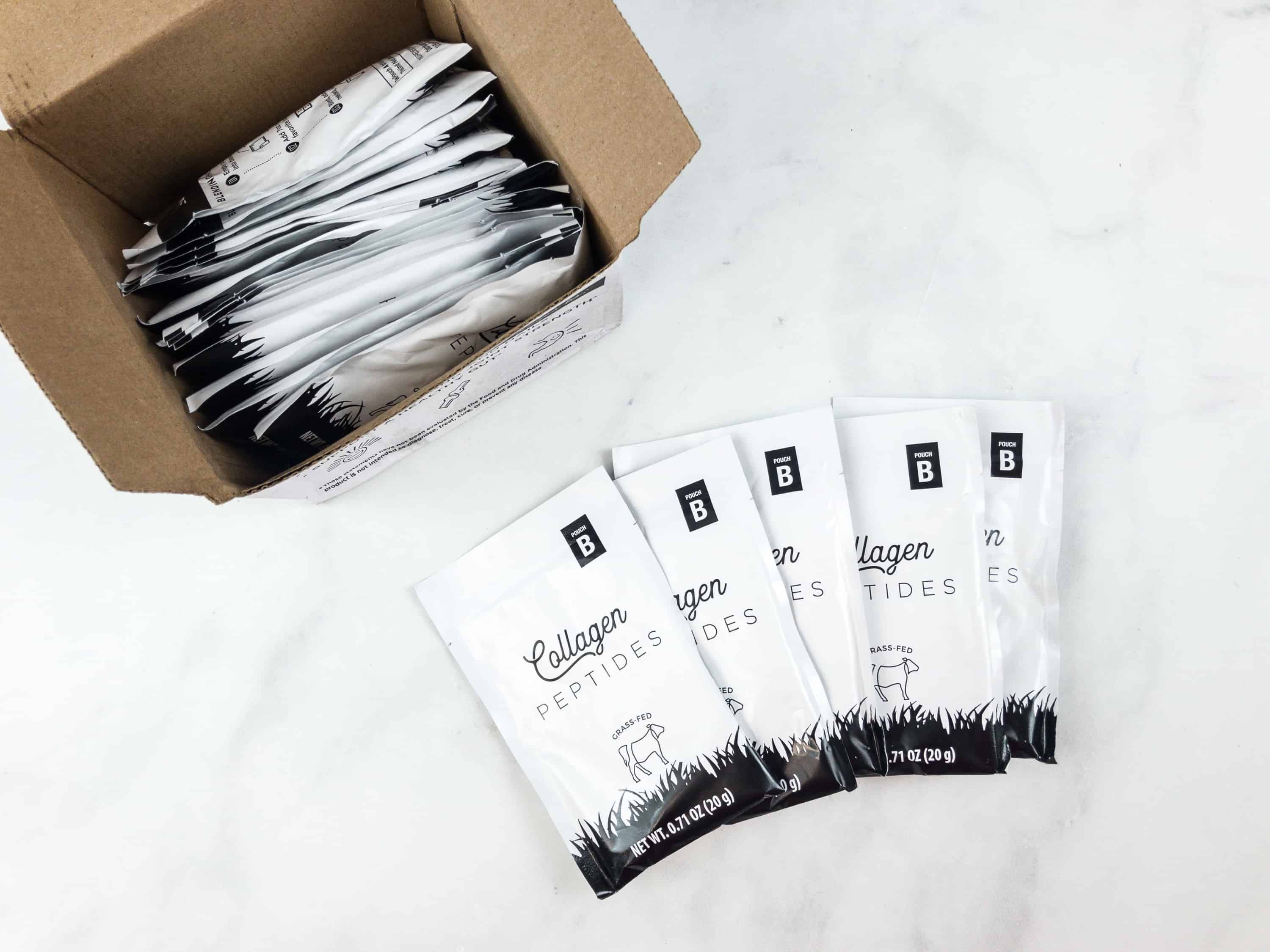 The collagen peptide packs are labeled as the B packets, while the smoothies are the A packets.
Each packet also illustrates the easy to follow blending instructions. You can add the liquid of your choice. You can use pretty much anything that seems like it would go well with the smoothie flavor — water, milk, almond milk, coconut water — I could even see adding cooled coffee to the cocoa flavor on a lark.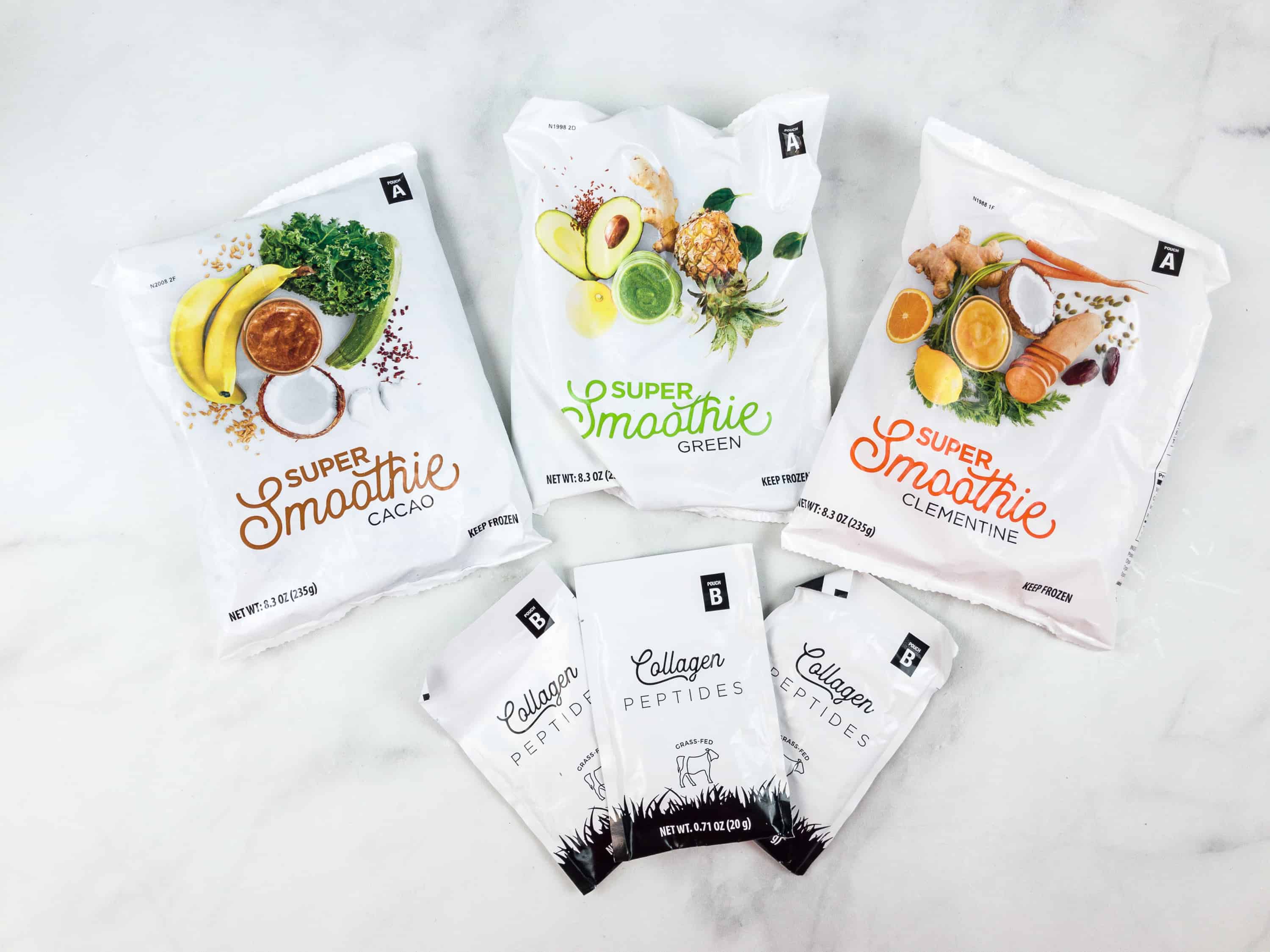 We got collagen peptide packs for each smoothie pack, and we're ready to blend away! We went with almond milk as our mixer for all our drinks.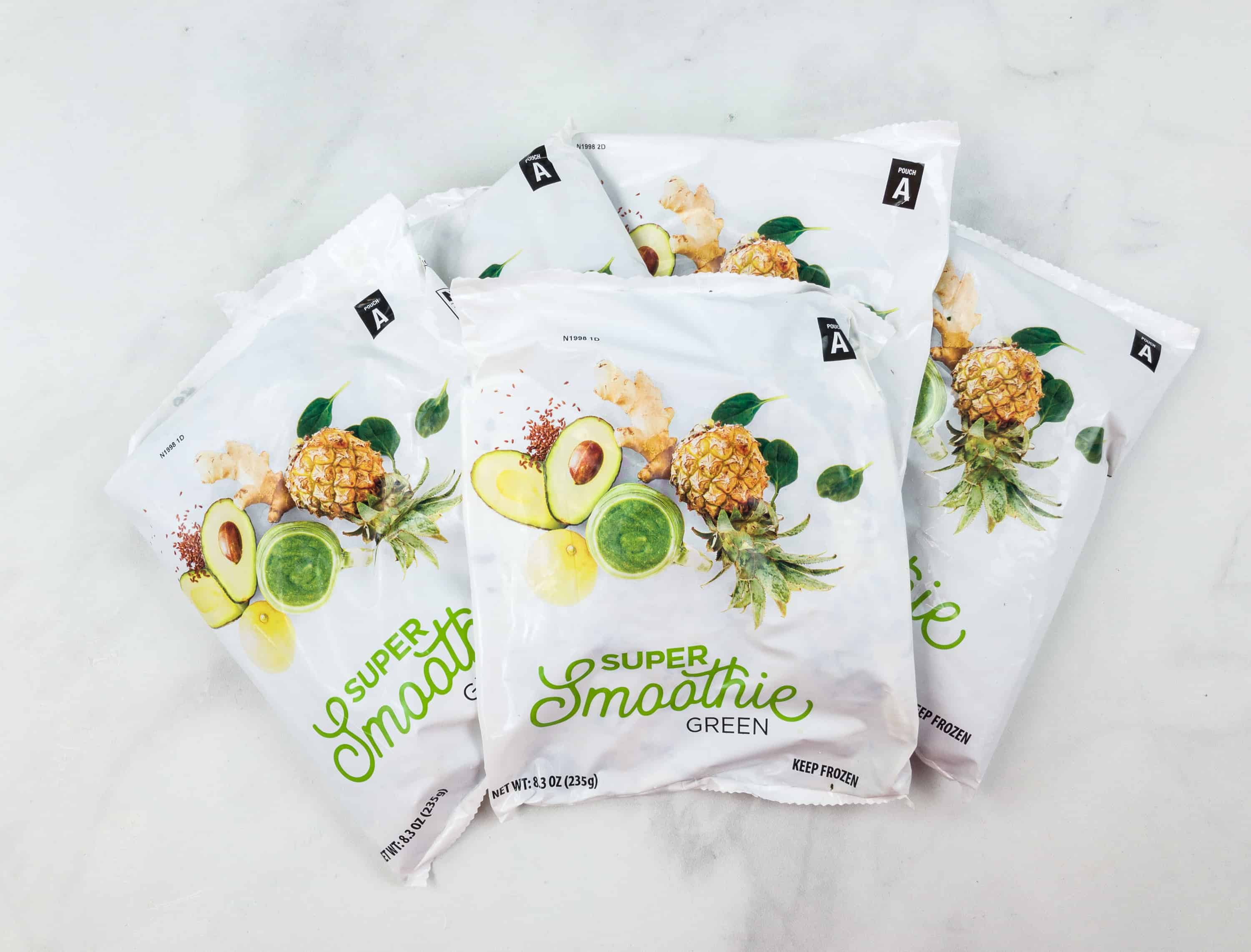 Super Smoothie Green. Fresh, clean and green, this smoothie features a powerhouse of a fiber-rich and healthy mix of organic ingredients.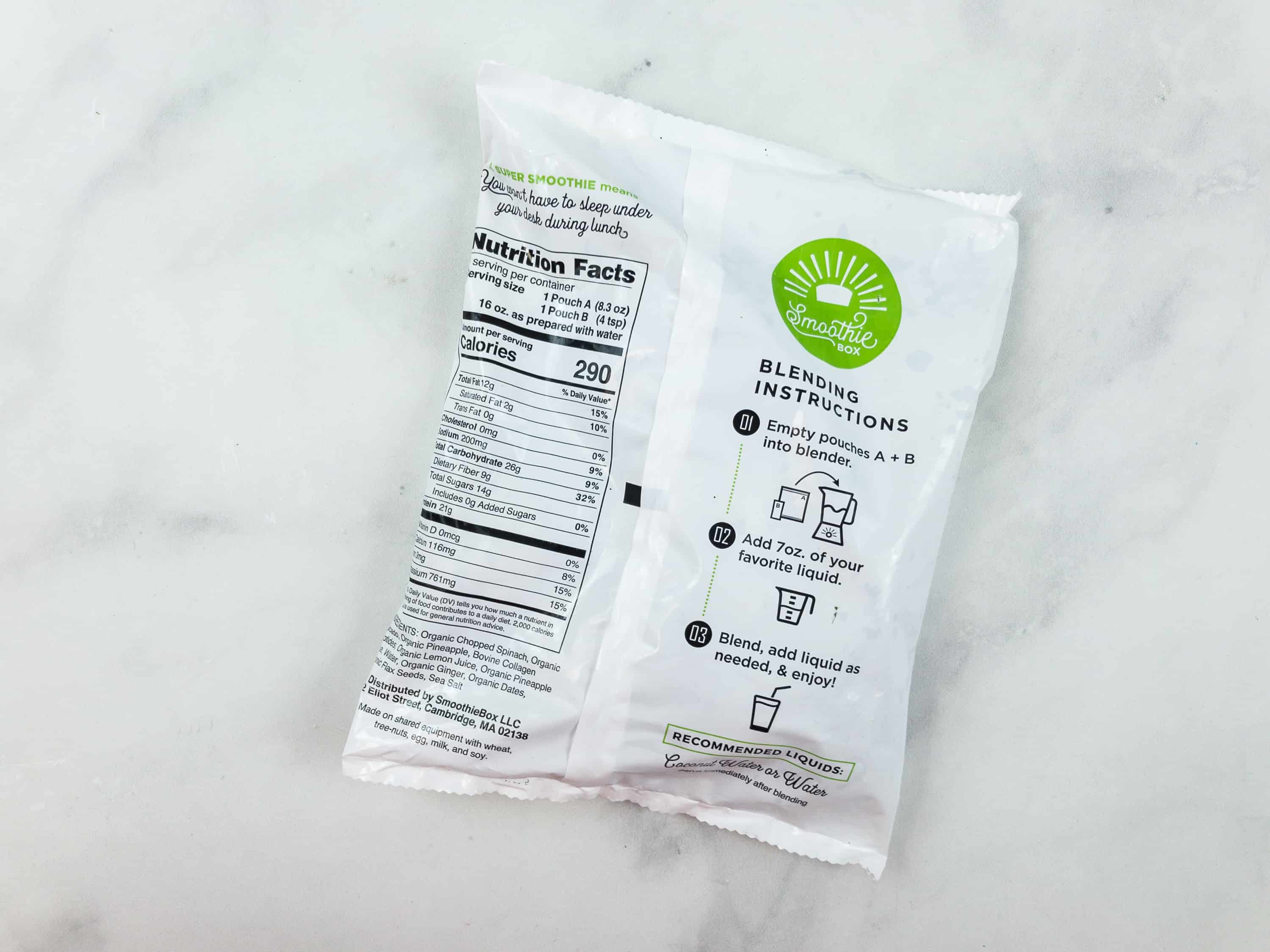 Ingredients: chopped spinach, avocado, pineapple, grass-fed collagen protein, lemon juice, pineapple juice, water, ginger, dates, flax seed, sea salt. Coconut water or water are recommended as mixing liquids.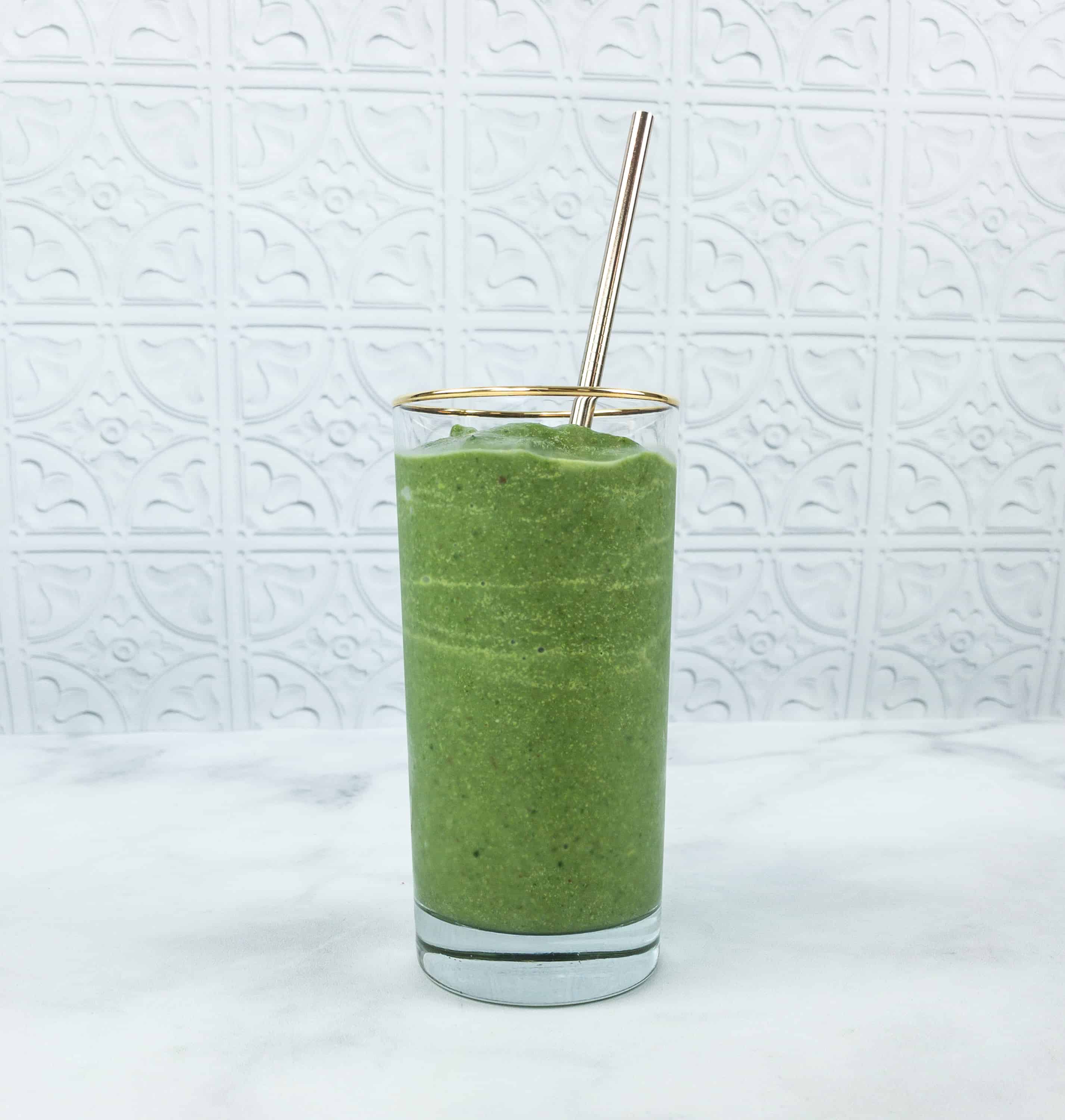 It's so green and looks so healthy!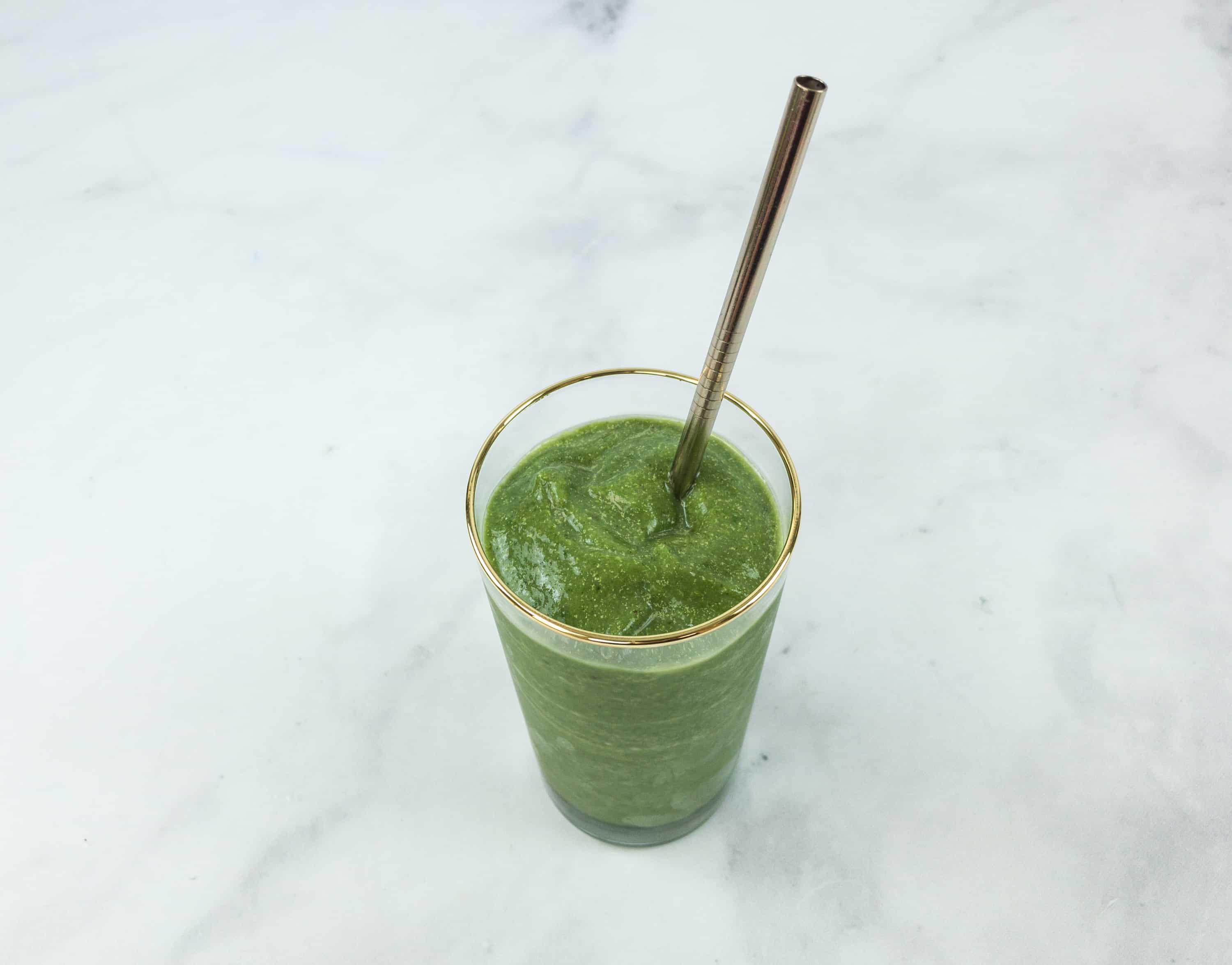 The taste is refreshingly clean, like a garden of fresh greens. It is very light and creamy, and they did a very good job of not overdoing the leafy greens, so it doesn't taste bitter. The pineapple and ginger come through really well, giving it a lively and sweet edge.
Super Smoothie Cacao. Among the three flavors, this one might be the variant the kids would like.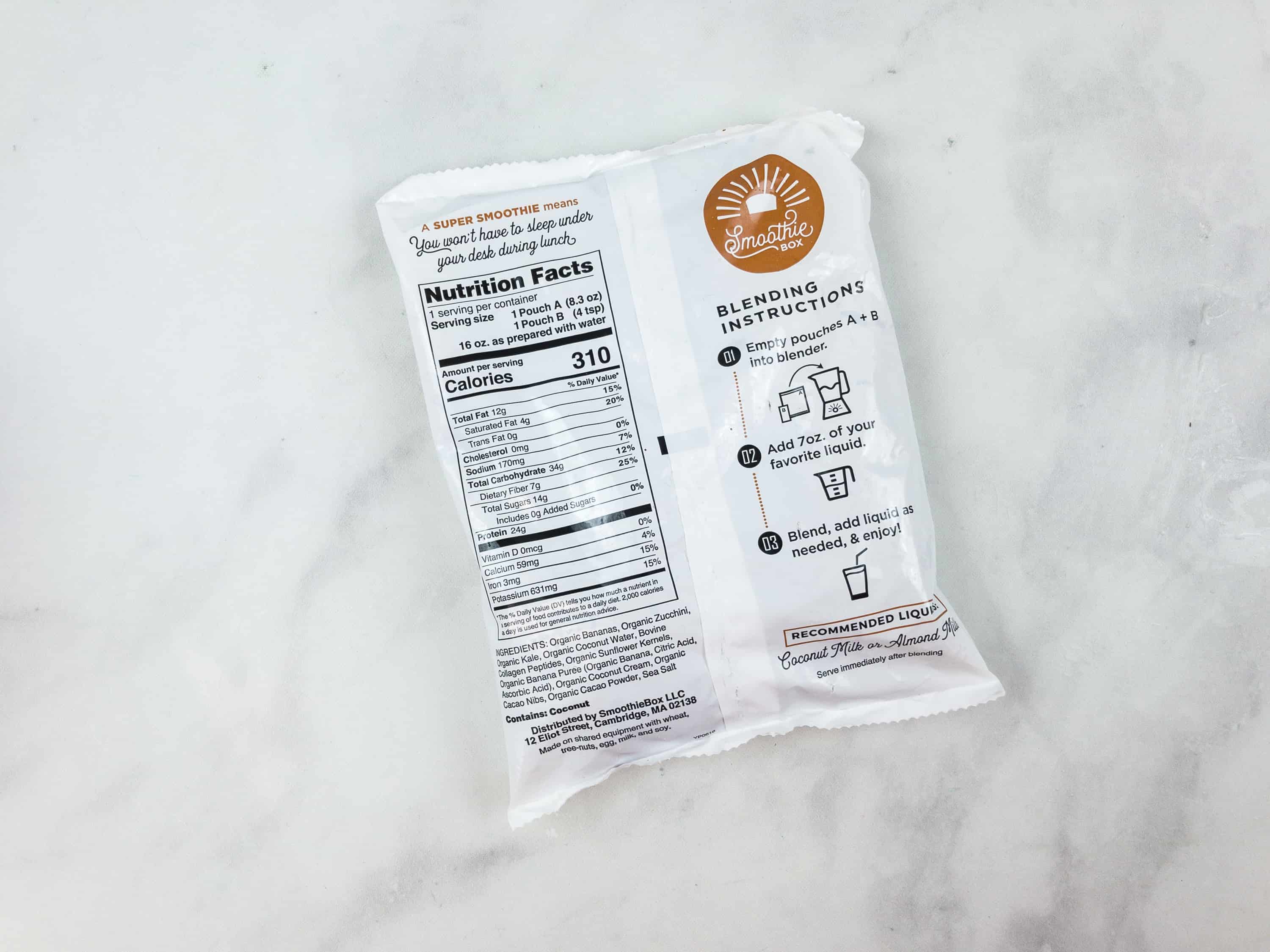 Ingredients: banana, zucchini, kale, coconut water, grass-fed collagen protein, sunflower seeds, banana puree (banana, citric acid, ascorbic acid), coconut cream, cacao nibs, cacao powder, sea salt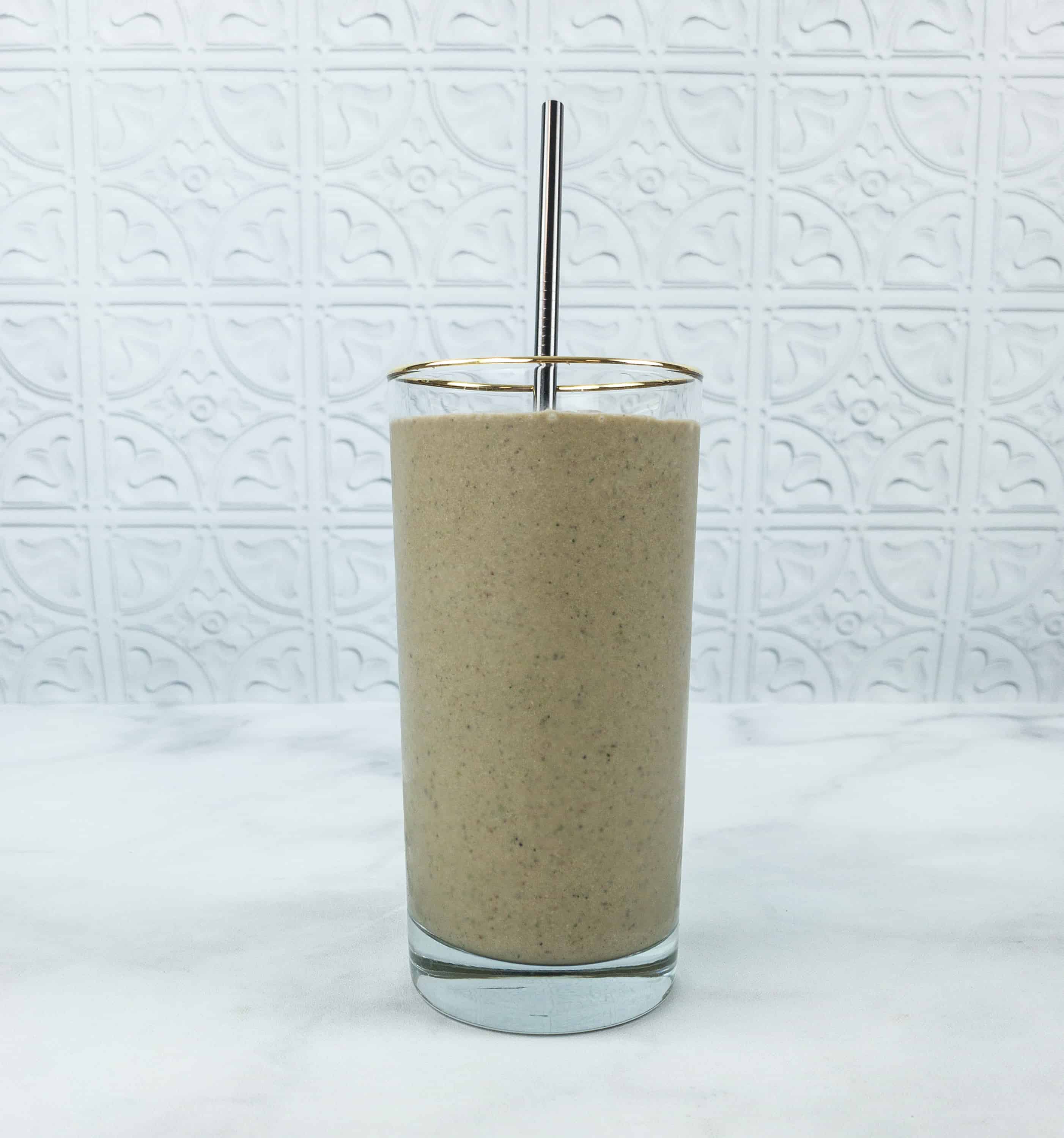 The smoothie looks like cookies and cream shake, which adds to the overall appeal of it, and makes you want to take a sip.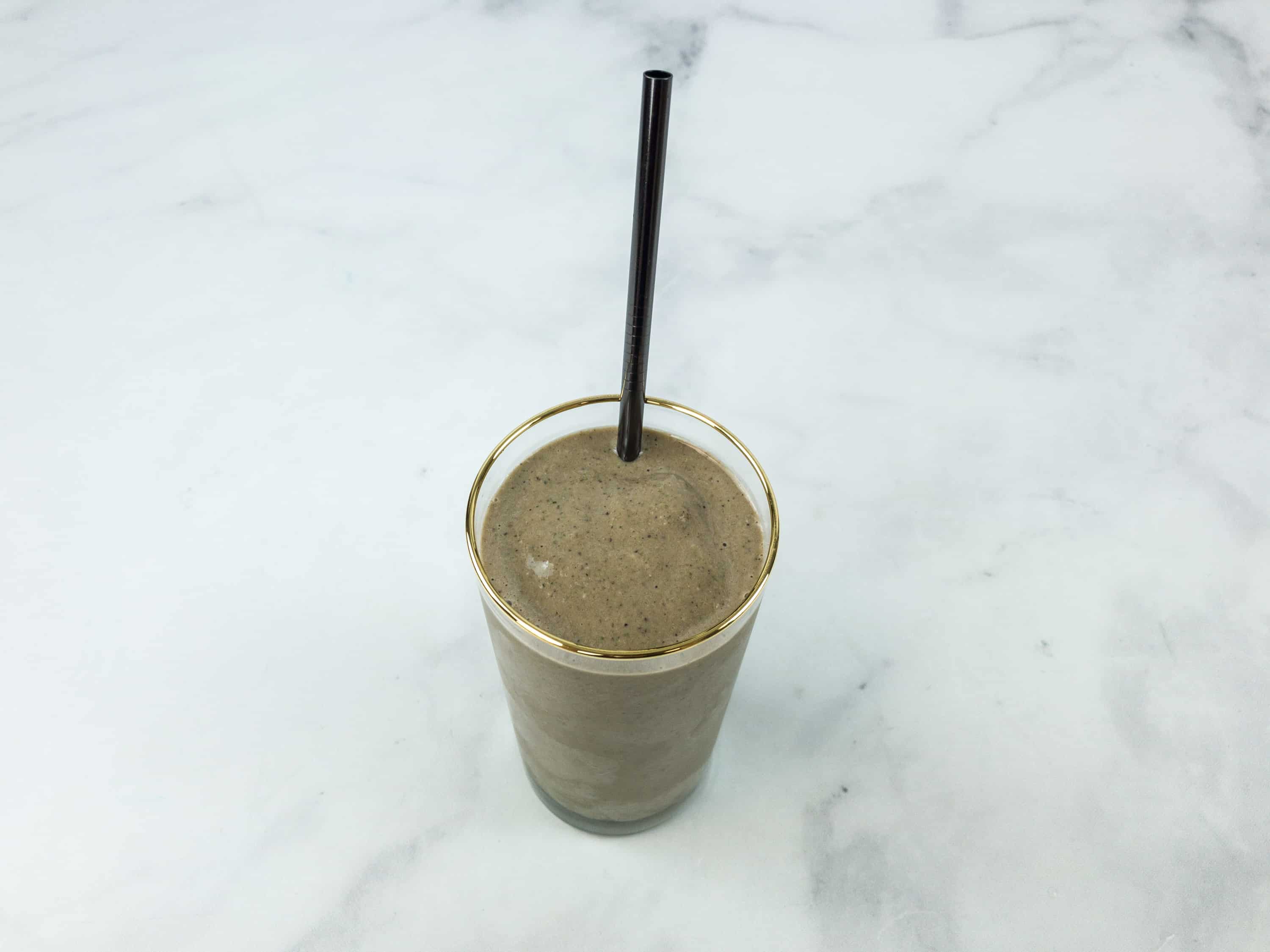 It actually tastes like chocolate pudding, and the texture is good as it has a bit of crunch. The cocoa flavor is very deep, and the banana is pretty potent. This smoothie was the best at accommodating the flavor of the collagen.
Super Smoothie Clementine. This mix is a powerhouse of energy-giving nutrients!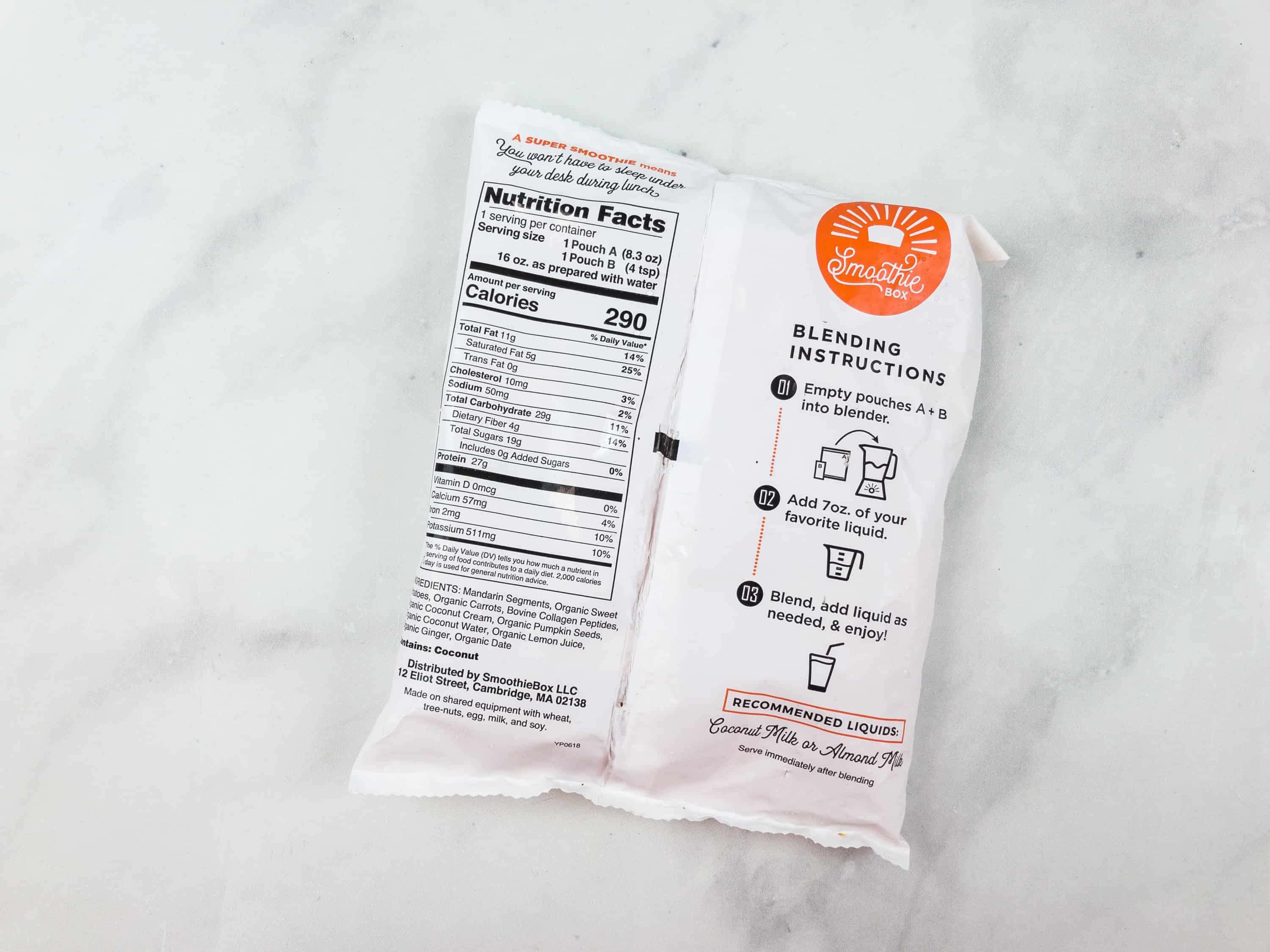 Ingredients: mandarin, sweet potato, carrots, ginger, grass-fed collagen protein, coconut cream, lemon juice, pumpkin seeds, coconut water, dates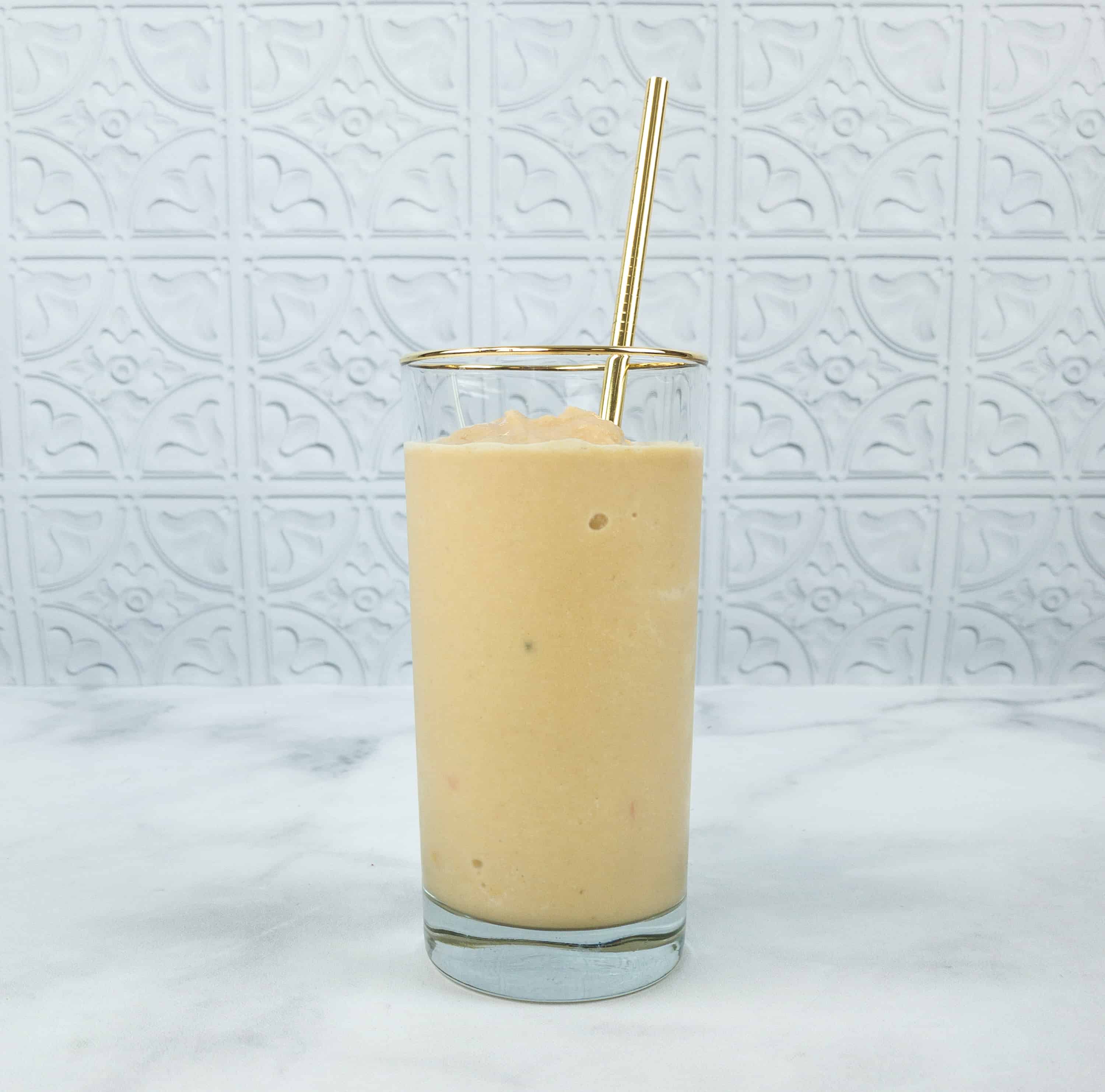 This smoothie has a light orange to peach color, you would think its citrus flavored.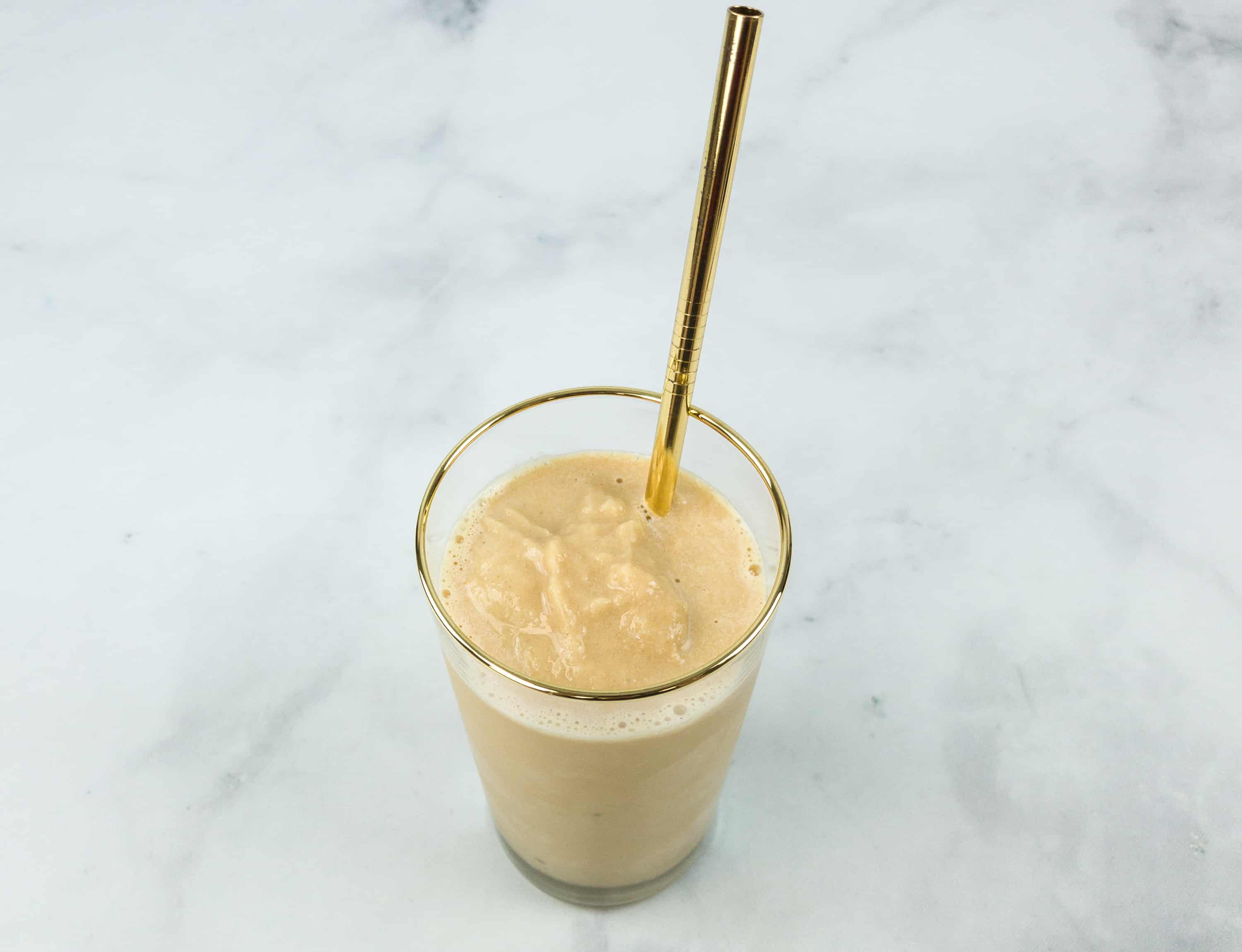 It's creamy and tastes like carrot cake with a little tang. It's refreshingly good! Surprisingly, of the three flavors, we like this one the most. I think it is the contribution of the sweet potato that makes it work, balancing the tart flavors and adding a creaminess to the texture.
SmoothieBox provides a great alternative to freshly blended fruits that you can just keep in the freezer and prepare anytime. The flavors are really tasty and well-balanced. It was the addition of the collagen that made the drinks good instead awesome tasting for us, as collagen-enhanced food is an acquired taste. If you're willing to try it or already like it, we think you'll truly enjoy this box. We think the base blends would be knock-your-socks-off good tasting if made with a simple vanilla protein powder in place of the collagen, but they were still pretty good made as directed. One of the cons for this type of subscription is that you'll need a bit of freezer space to keep your pouches frozen until needed. You can also choose the frequency to manage this, and you can customize the contents to get the flavor/s you really like. These are perfect when you want to whip up some smoothies without preparing the ingredients, just combine the packets' contents, add your liquid, and blend away!
Are you getting the SmoothieBox too?