Olfactif is a monthly fragrance sampler subscription box that sends hard-to-find niche perfumes. Every month you'll receive 3 samples, each of which contains 2.5ml and gives around 40 applications of an independently designed perfume. Olfactif is $20 a month, or sign up for a longer subscription for a discount – prepay for a year and the price drops to $15 a box!
In addition to receiving a curated collection of 3 premium fragrances from around the world, members also receive: 20% off full bottles of every featured scent, 10% off all other full bottles, 10% off all à la carte samples, and earn free stuff with rewards points.
There was a card with a little info on the subscription.
The back told how you could win some free fragrance.
Olfactif sends their scents in a black box with a magnetic closure. Very classy. It's like the little black dress of the fragrance world.
Olfactif focuses on niche fragrances – unique scents produced with higher quality and harder-to-find ingredients than you would encounter in a department store. When you subscribe you can choose from the Women's or Men's box. You can check out our reviews of Olfactif Men here.
Opening my Olfactif box is like opening a special present: the presentation is simple and elegant. Members save 20% off of a full-sized monthly featured fragrance, 10% off all other full-sized fragrances, and 10% off all samples. Olfactif has also introduced a rewards program so you can earn points when you review your scents, refer a friend, or make a purchase.
Olfactif now offers atomizers with samples, similar to other to-go fragrance subscriptions out there, but with a limited selection of niche fragrances, most of which are not available in other subscriptions. Prices vary depending on the scent chosen and you can choose from two colors of case – either Rosé or Stone. Each of those samples are 5ml.
I received four cards in a black envelope.
Something new is that Olfactif no longer sends test strips – instead, you test your scents directly on the back of each scent's card. There's even space to write notes on what you thought of the fragrance.
The theme for September's box is Equinox. One of the cards described what Olfactif had in mind when choosing this month's scents. Not quite summer, not quite autumn.
Figue Eau De Parfum Molinard ($65 for 75ml) Fig is my favorite fruit and I would eat them straight from the tree that grew in my backyard as a child. This scent is a floral fruity but it is also green and citrusy. I don't smell actual figs, but this is supposed to have notes of the whole tree – fruit, stem, and leaf. I adore the scent and love that it has that green leaf note.
Tardes Carner Barcelona ($117 for 50ml) is a floral woody musk scent for women that features notes of almond, Bulgarian rose, and tonka bean. I know what almond smells like but not sure about tonka bean. I don't really detect rose or almond, however, it comes across as sweet (more like honey than burnt sugar) and is elegant and earthy at the same time. Very nice scent overall.
Eau Monumentale Thirdman ($75 for 1.7oz) is a unisex scent that goes on sweet and then mellows as time progresses. It is considered a citrus aromatic, which simply means citrus blended with herbs. The citrus in this case is lime, grapefruit, and bergamot. I'm not sure about the herbs, but mimosa and neroli are also listed. I think it smells light, clean, mellow, and refreshing. Longevity is kind of short but I could smell it for a couple of hours if I really tried.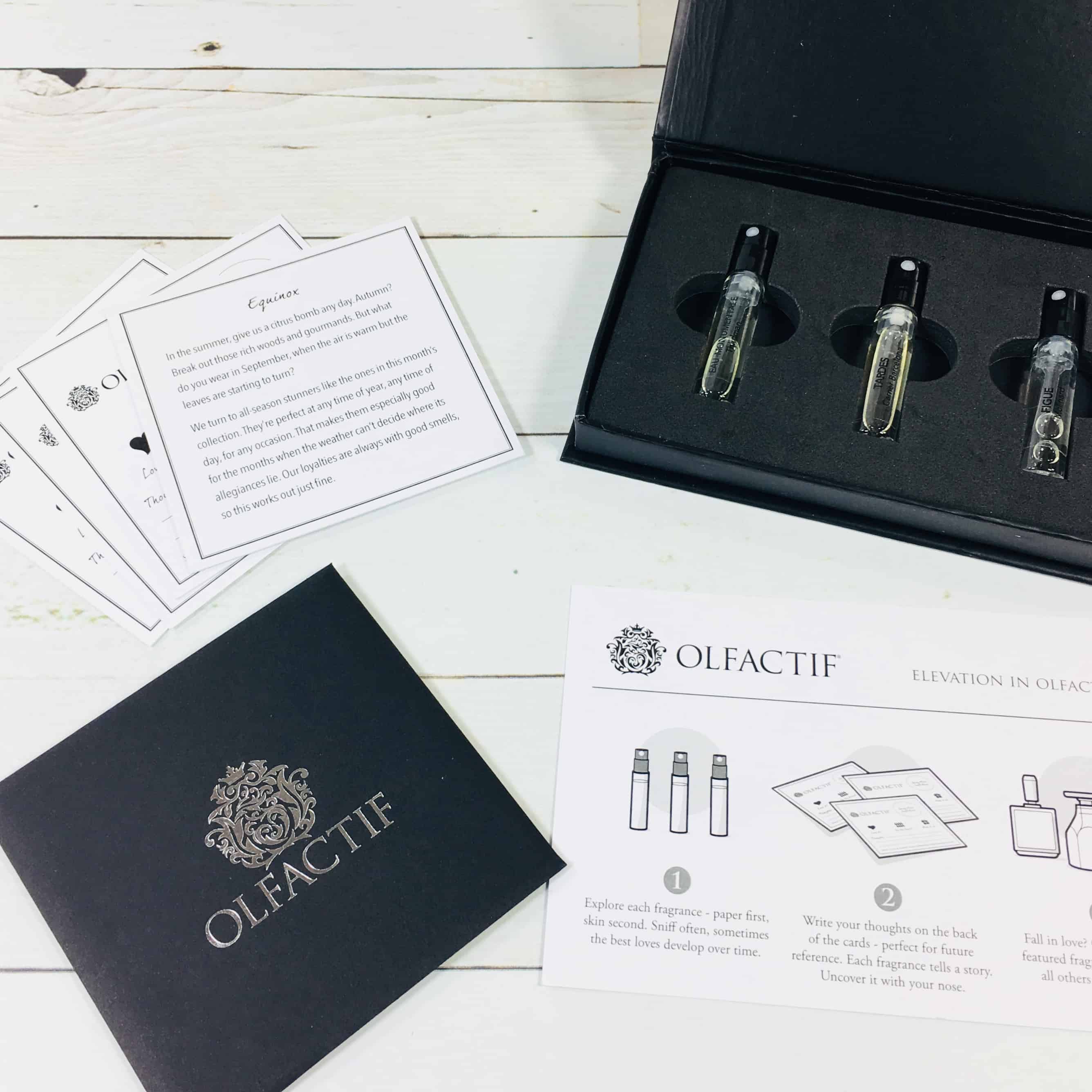 Olfactif sends the best selection of scents from wonderful niche fragrance houses. I love that they curate the scents to go with a theme. I tend to not like the scents found in department stores so this is a great way to discover hidden gems. The fragrances sent tend to be dynamic and change as the day (or night) progresses. What it smelled like when I first sprayed it on and what it smelled like two hours later might be completely different, and I love that!
Have you tried Olfactif? Let me know what you think of this subscription in the comments!