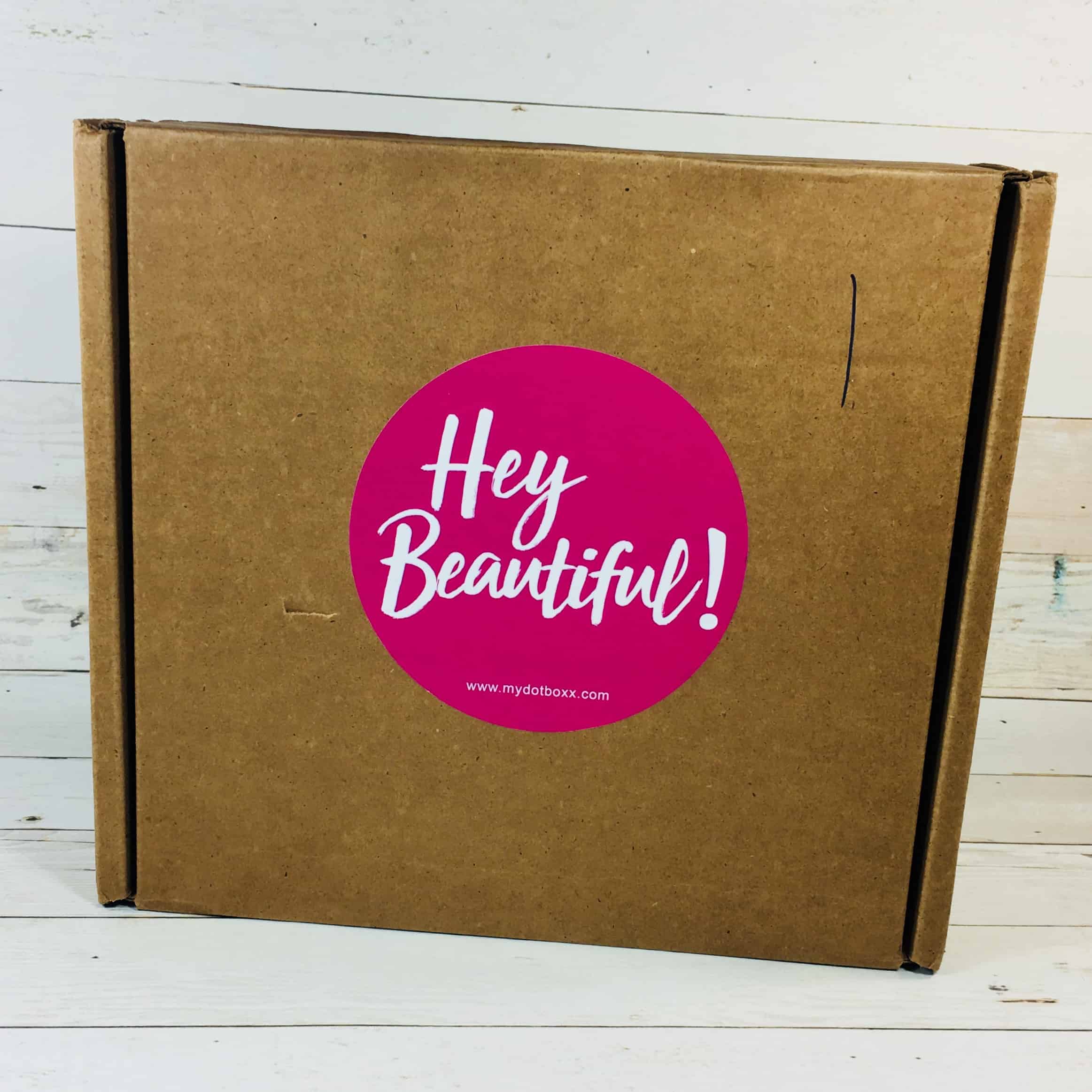 Dot Boxx is a monthly period subscription box to help you get through that time-of-the-month on a happy note. They deliver period essentials to spoil yourself or a female you love. You can choose from the Adult or Teen Basic Bag (1 personal care item, a mini snack pack, period essentials and optional extras such as hormonal tea, liners and pain relievers for $19.99) or go all out for the Adult or Teen Dot Boxx (a variety of 5 items, a snack pack, period essentials, and optional extras such as hormonal tea, fun tea flavor of the month, disposable heat pad, liners and pain relievers for $39.99). The additional products might include beauty, skincare, treats, and fun, trending accessories. Shipping is $5 to the east coast, $7 to the west coast and can be shipped internationally for an additional cost. I am reviewing the Adult Dot Boxx.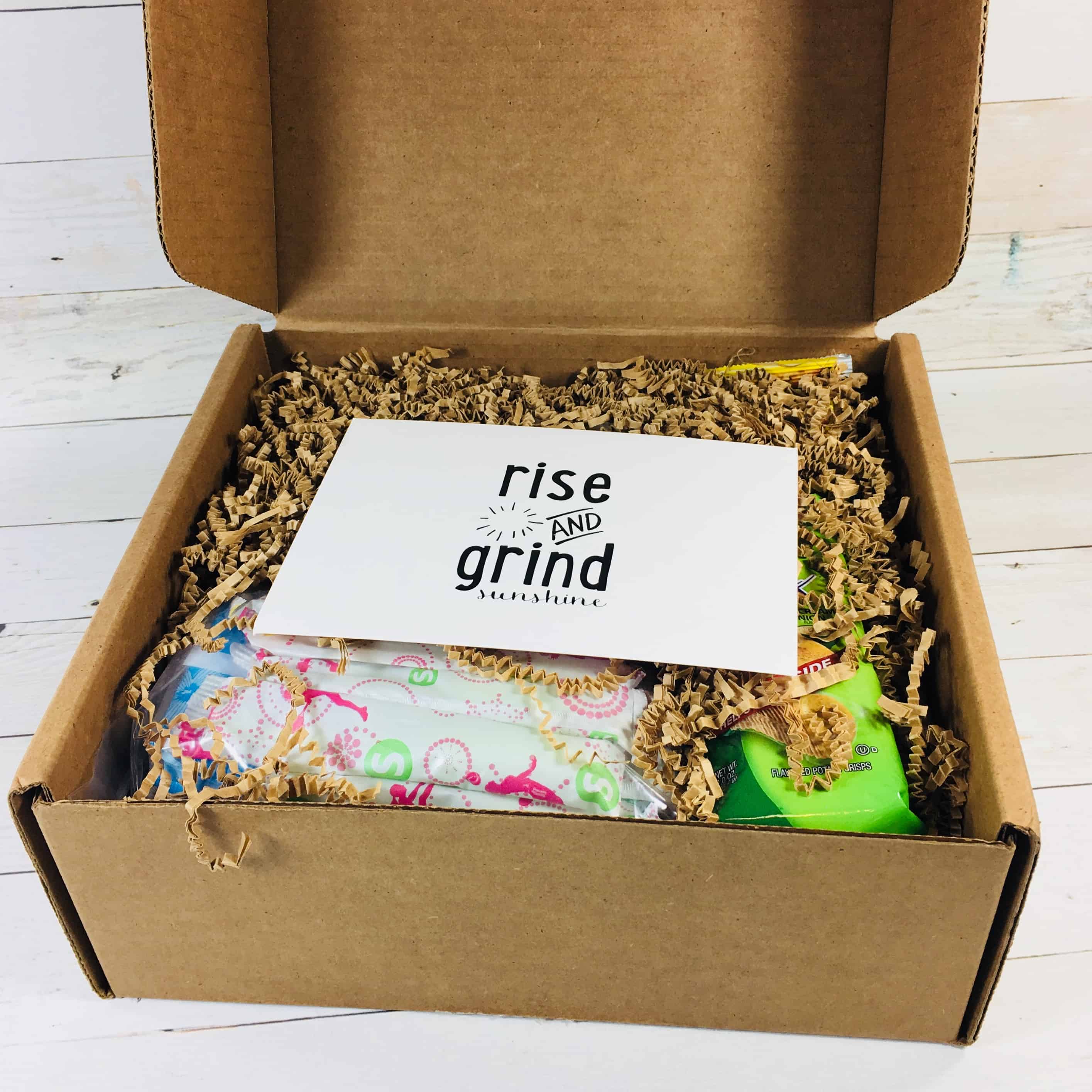 Dot Boxx also offers a College Care Package and a First Period Boxx as extras, or you can even order previous boxes from their online store.
DEAL: Save 20% off your first box! Use coupon code HELLOSUB.
My items were nestled in shredded paper squiggles for their journey.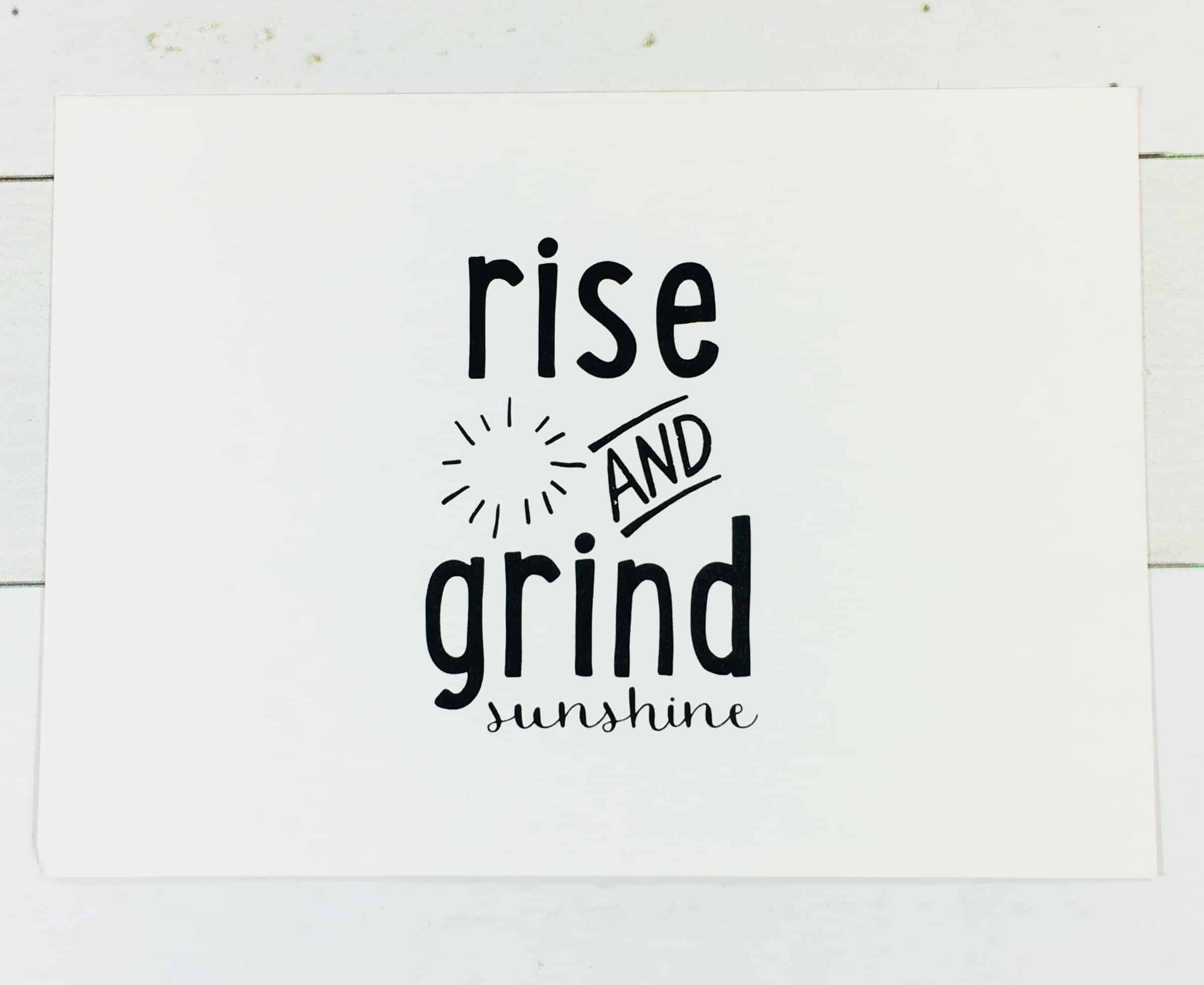 I found a card on top.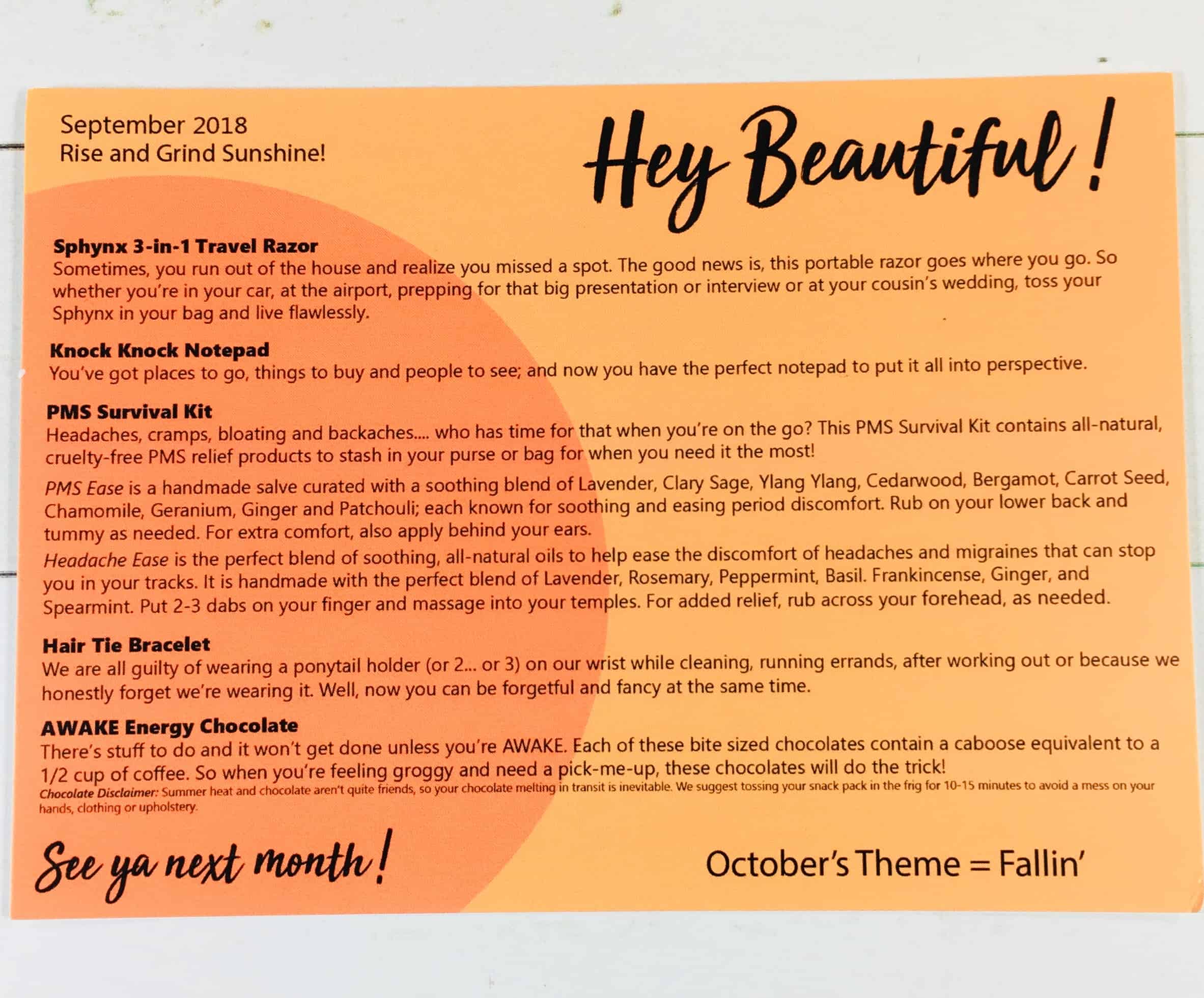 The theme for September was Rise and Grind Sunshine! Some of the items in the box were listed and they even listed next month's theme!
Everything in my box!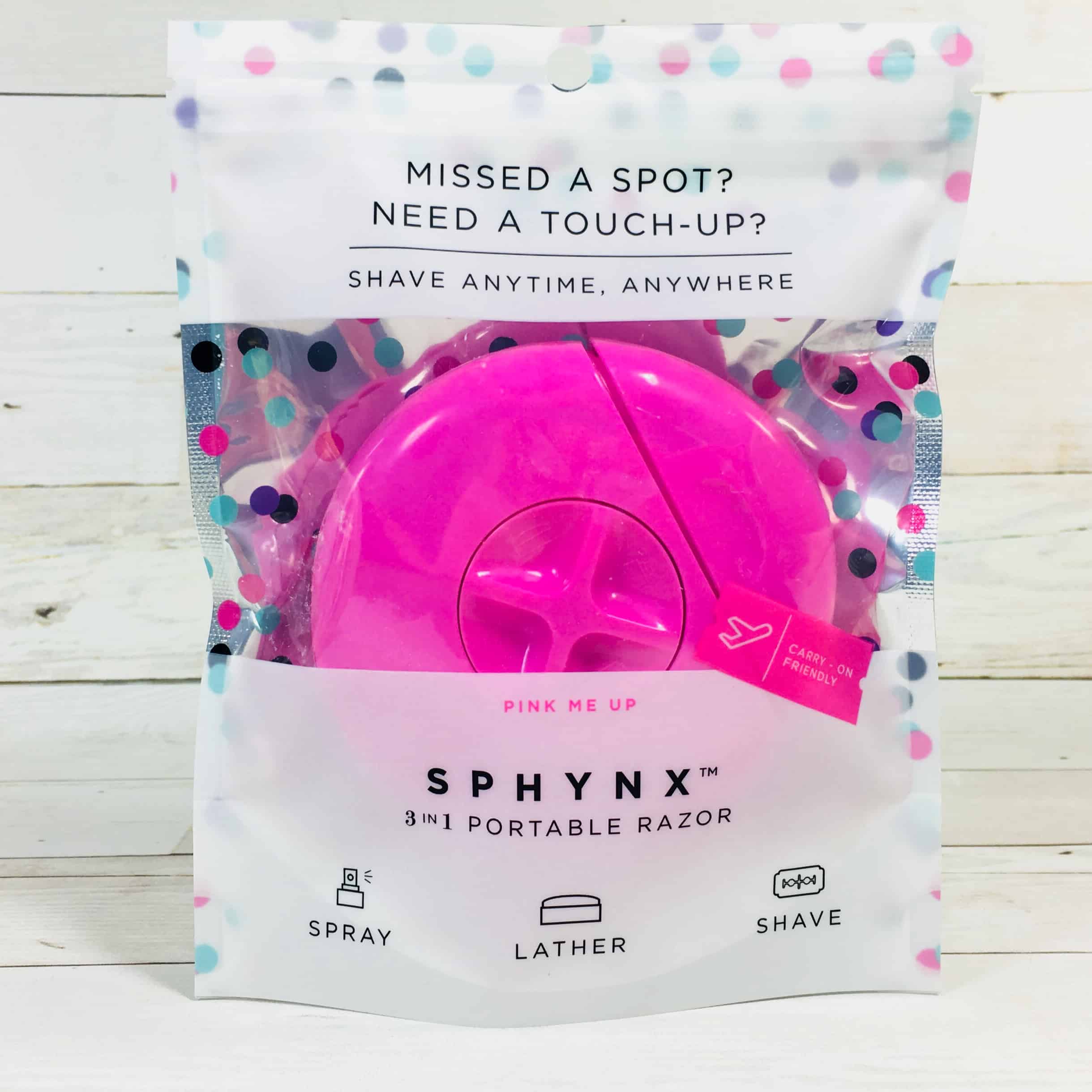 Sphynx 3-in-1 Travel Razor ($17.99) Full disclosure – most of these products are going to my 15 year-old daughter and so she looked over my shoulder as I opened the box. She was super excited about this razor!
It's a portable razor! Karina is on the dance team and occasionally she wishes she had a razor handy for touch-ups and this is perfect for her needs!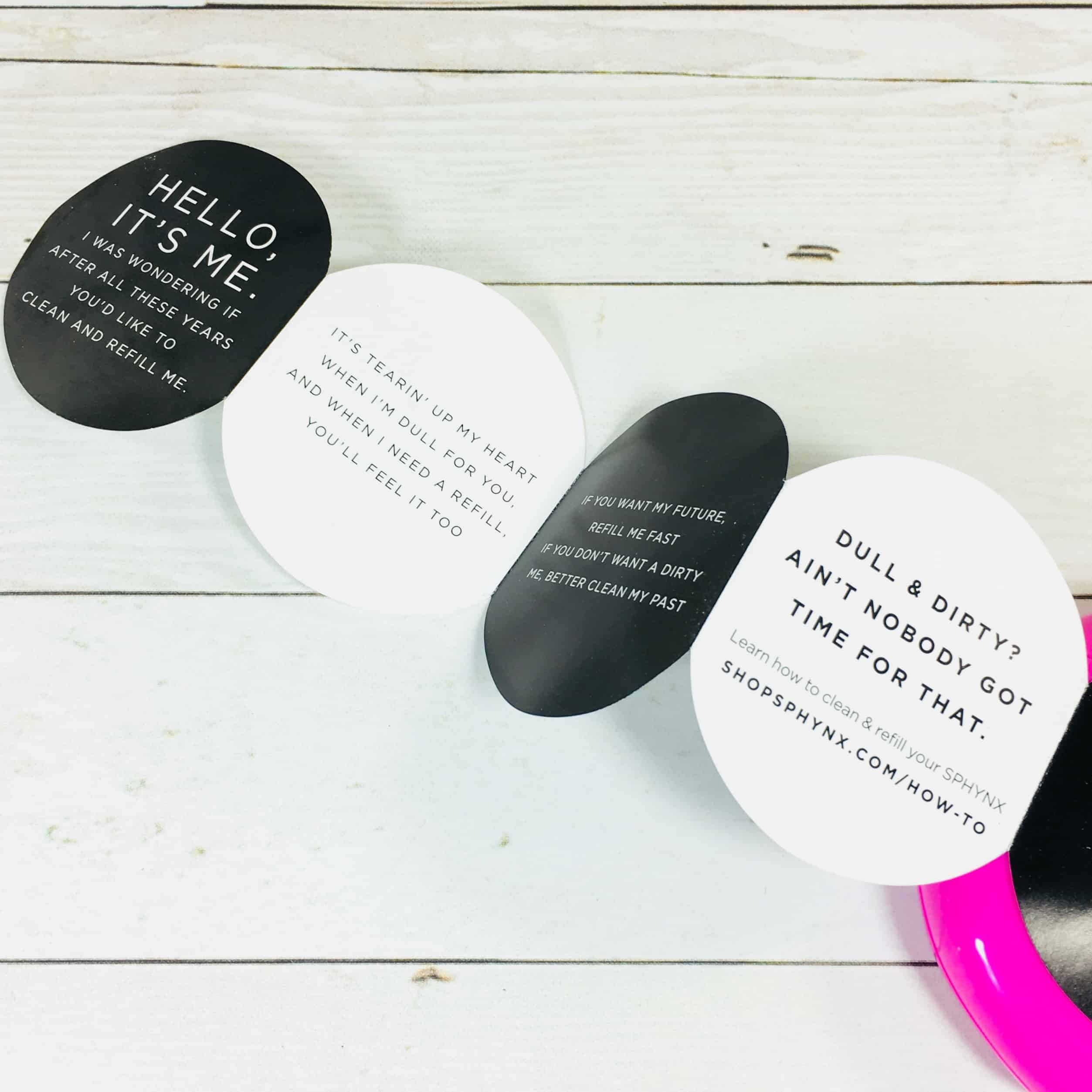 There were instructions on how to get refills.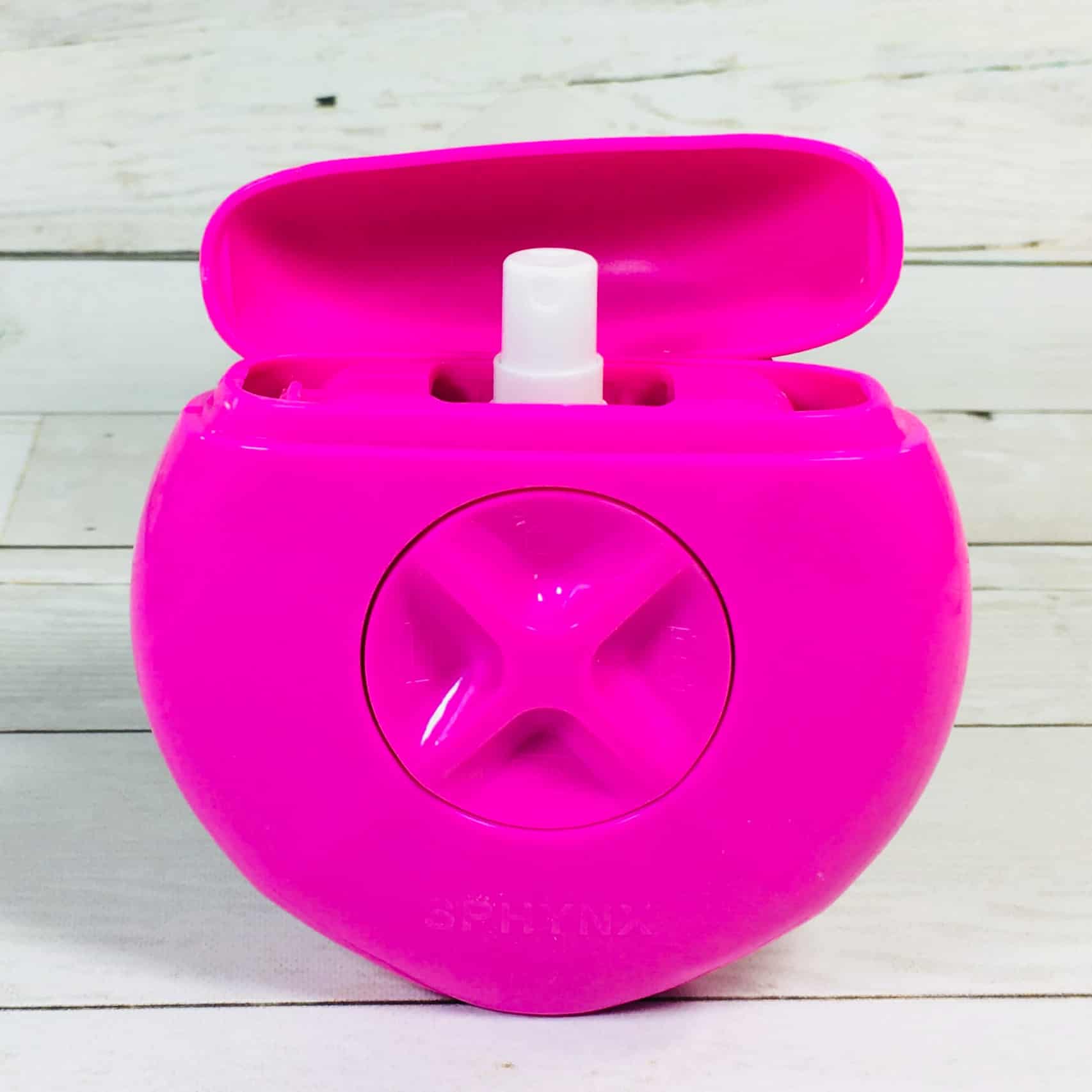 First of all, it opens up to reveal a mini-sprayer. You remove this from the container to fill with water and then spritz the area you plan to shave.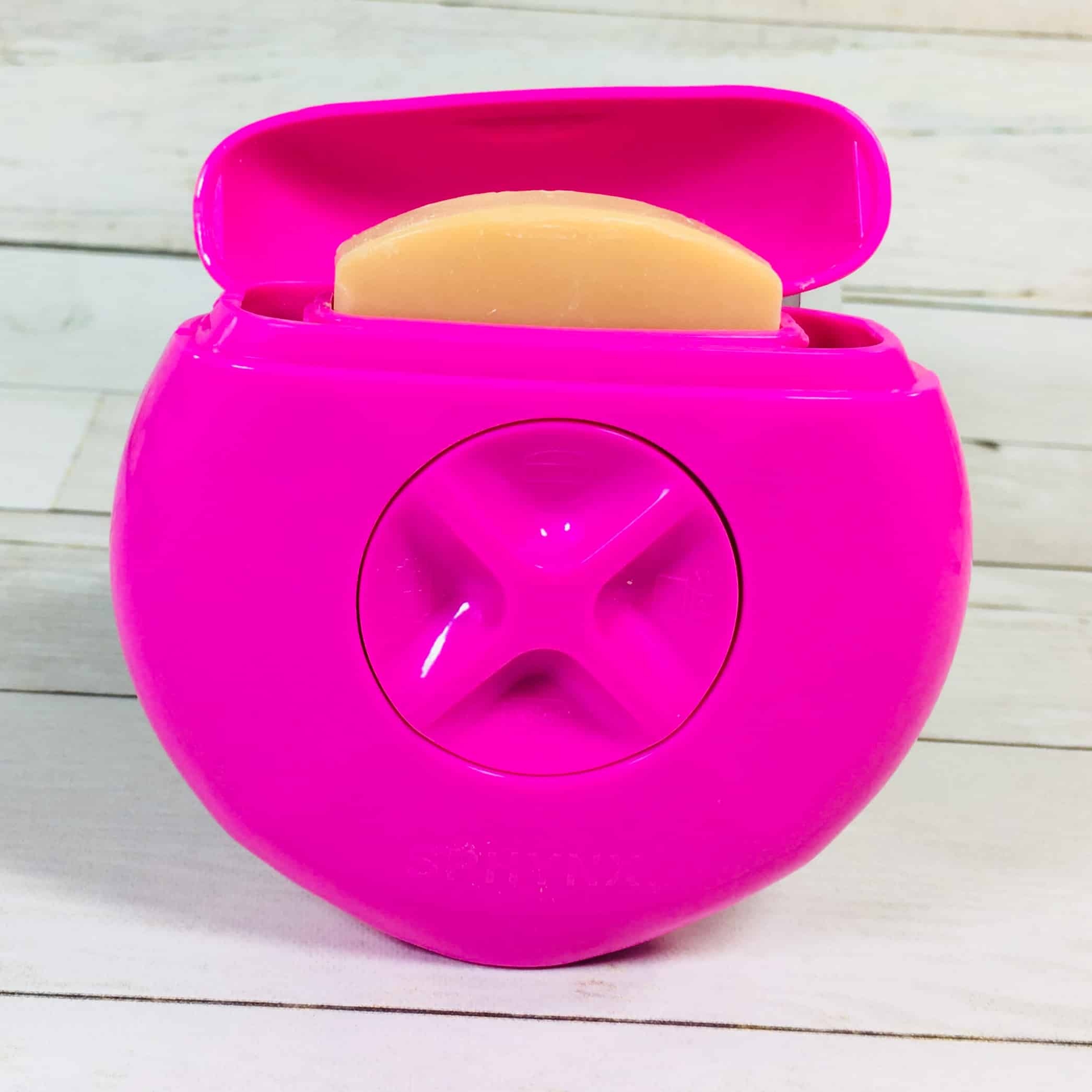 Next, rub the soap bar over the water to get a little lather going.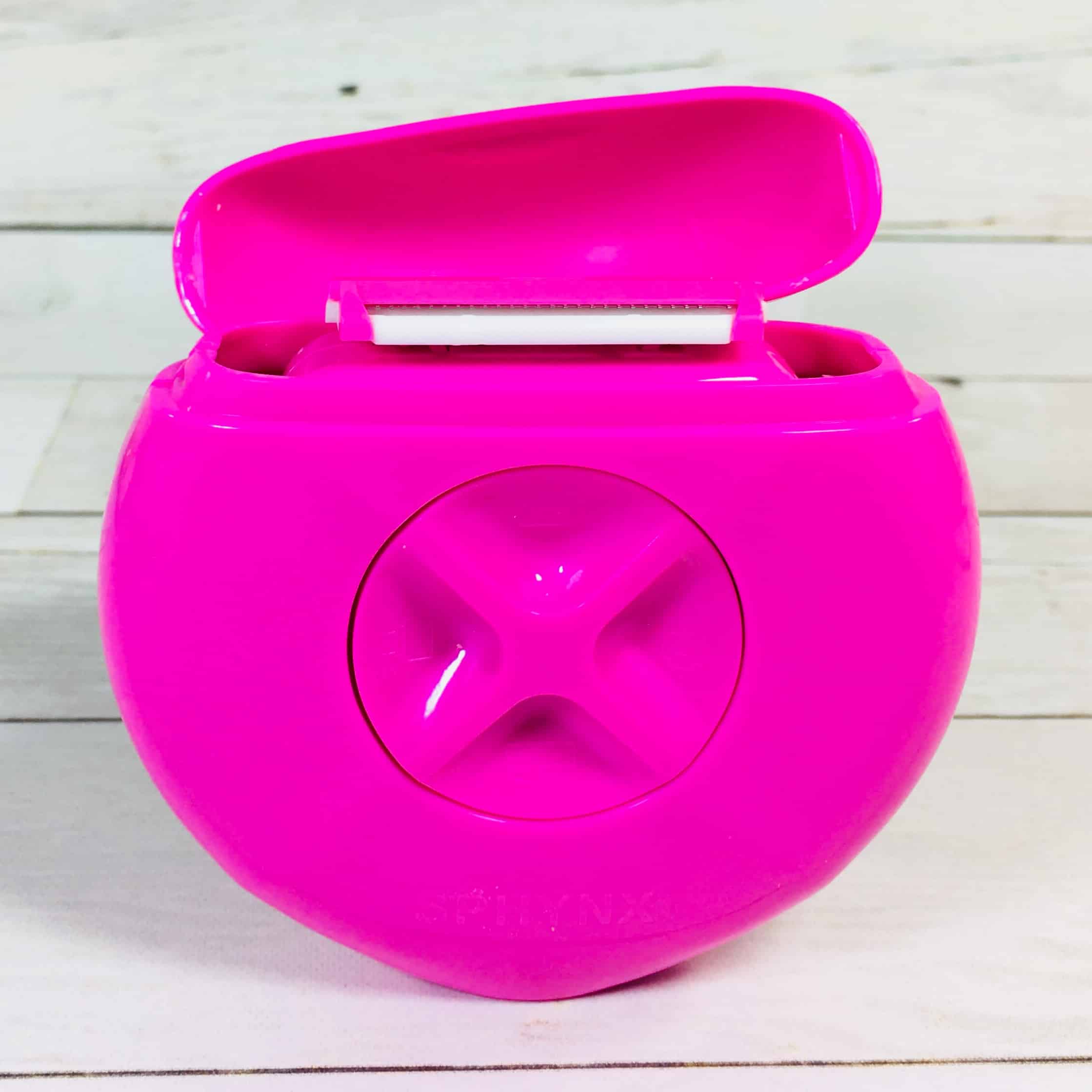 Finally, use the razor to remove unwanted hair! It's a single blade so I don't think this would replace regular hair removal but in a pinch it will do. It has two razors in this gadget so when one goes dull, just keep turning the dial.
Knock Knock Notepad ($7) Here's a realistic to-do pad. I will write the stuff I know I need to do at the top, the stuff I hope to do in the middle, and the stuff that I hope to do in this lifetime at the bottom.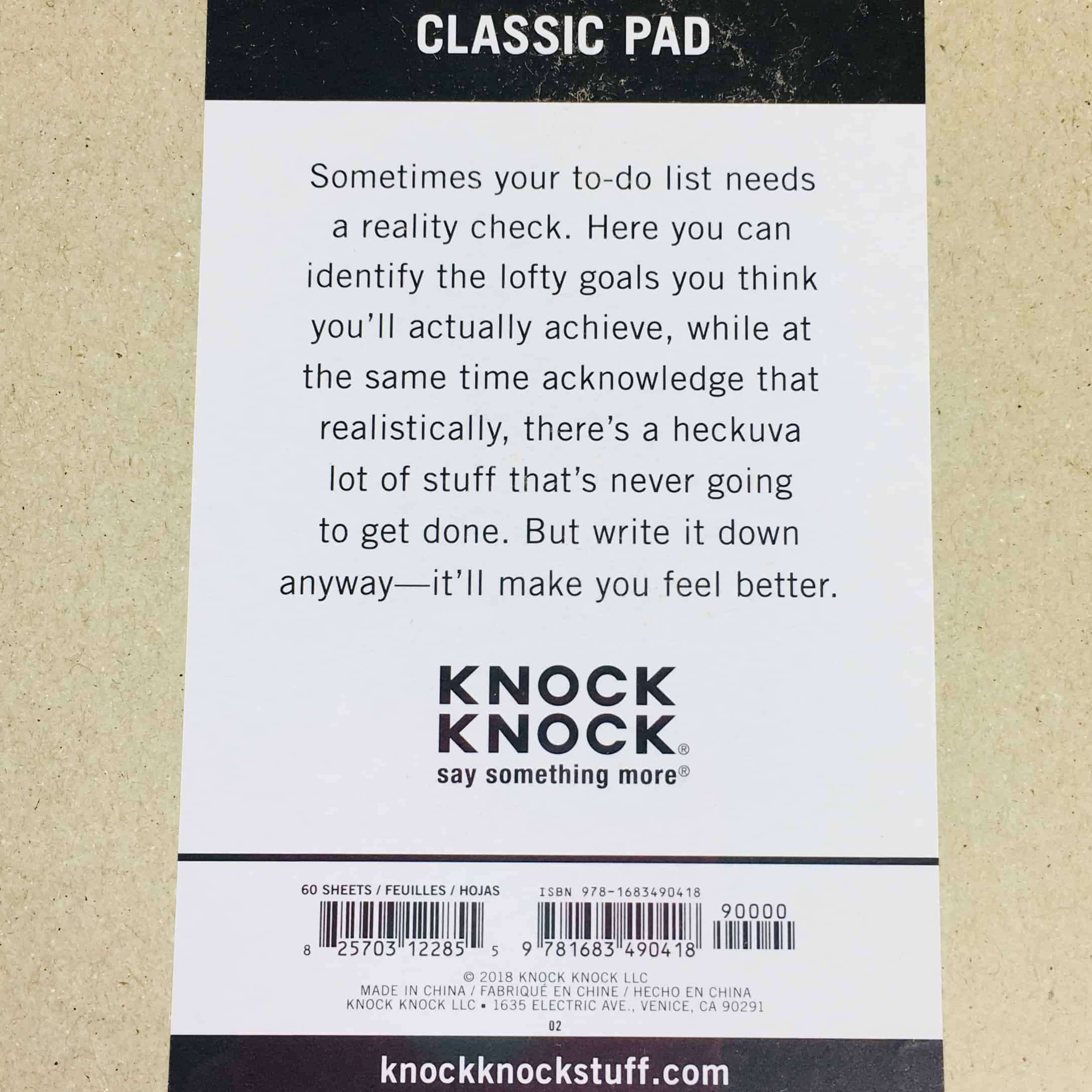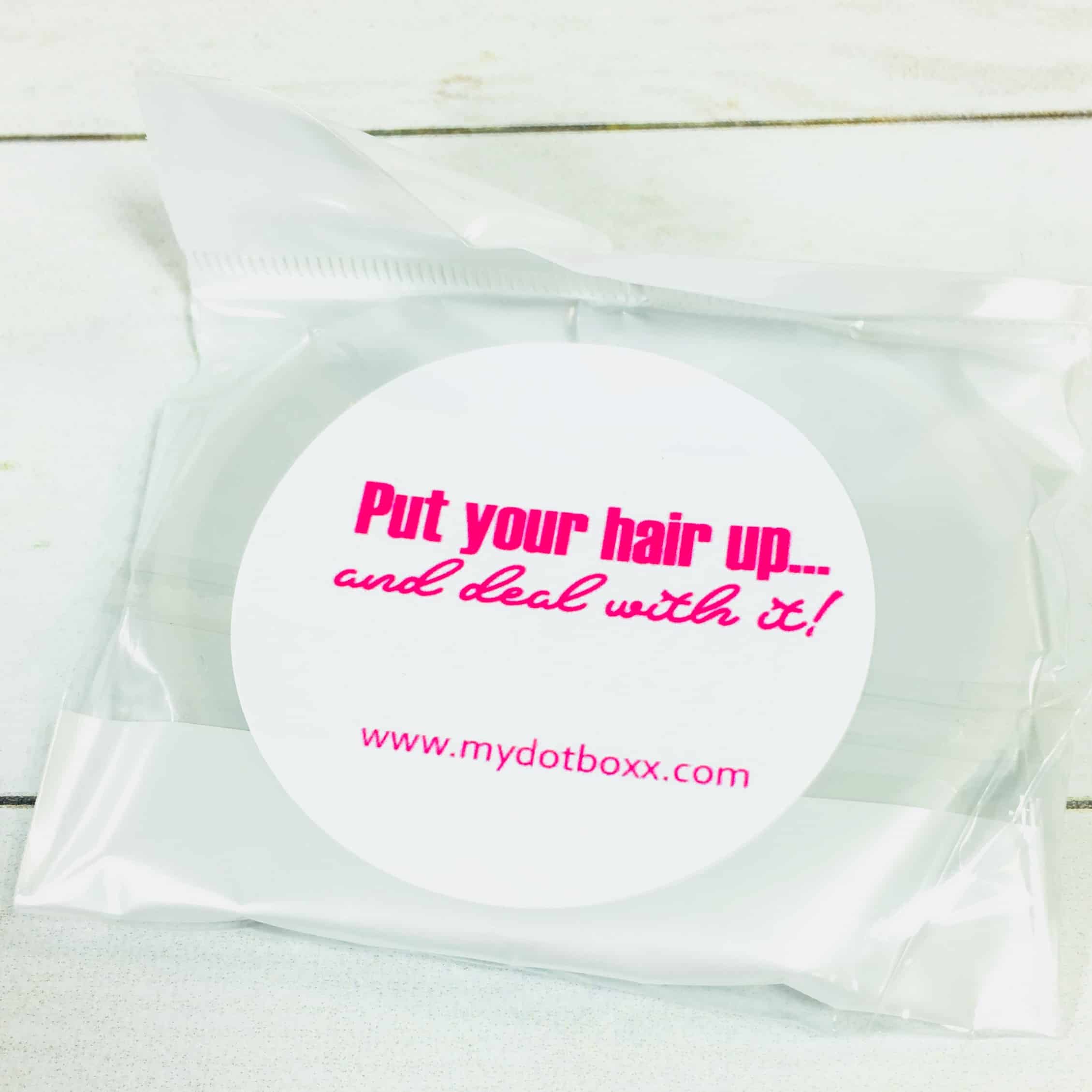 My Dot Boxx Hair Tie Bracelet (find similar item here, $8.99) is a simple bracelet that also doubles as a hair tie holder.
It came with one hair tie but you can use any large hair tie that you choose.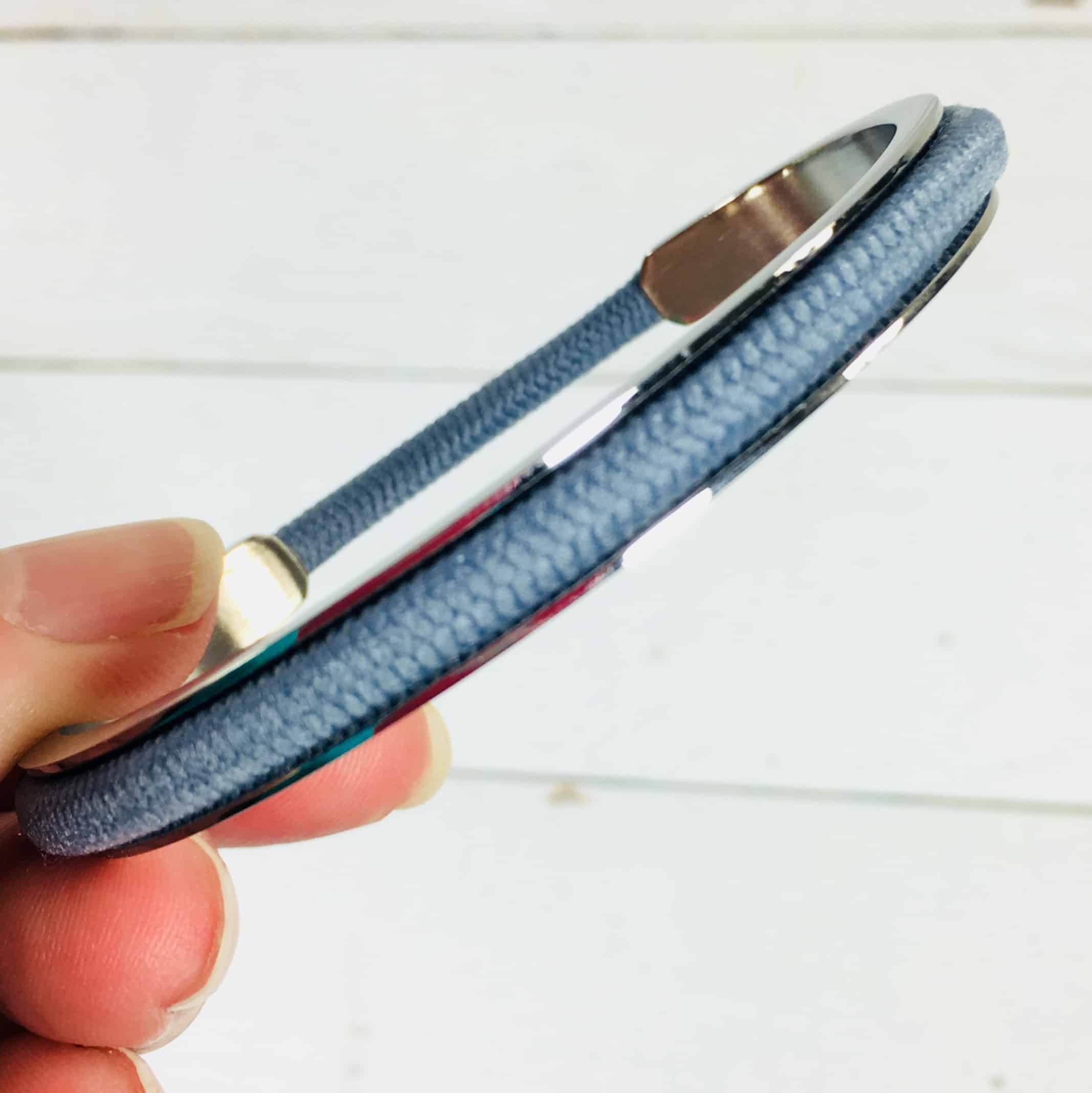 You place the bangle over your arm and then place the hair tie into the groove. This keeps the hair tie from cutting off circulation to your wrist. Then, when you need to put your hair up, just remove the tie and put it up in a pony tail.
Belvita Snack Packs in Blueberry  Some snacks were in the box and are always appreciated. Karina grabbed these blueberry bites to eat in the car on the way to school and then asked me to buy some more. I just realized that I bought the bigger crackers instead of the bites so I guess I need to order some from Amazon.
Lay's Stax in Sour Cream & Onion Sour cream and onion chips, a classic. I don't think any other info is needed, just happy snacking.
I found a PMS Survival Kit.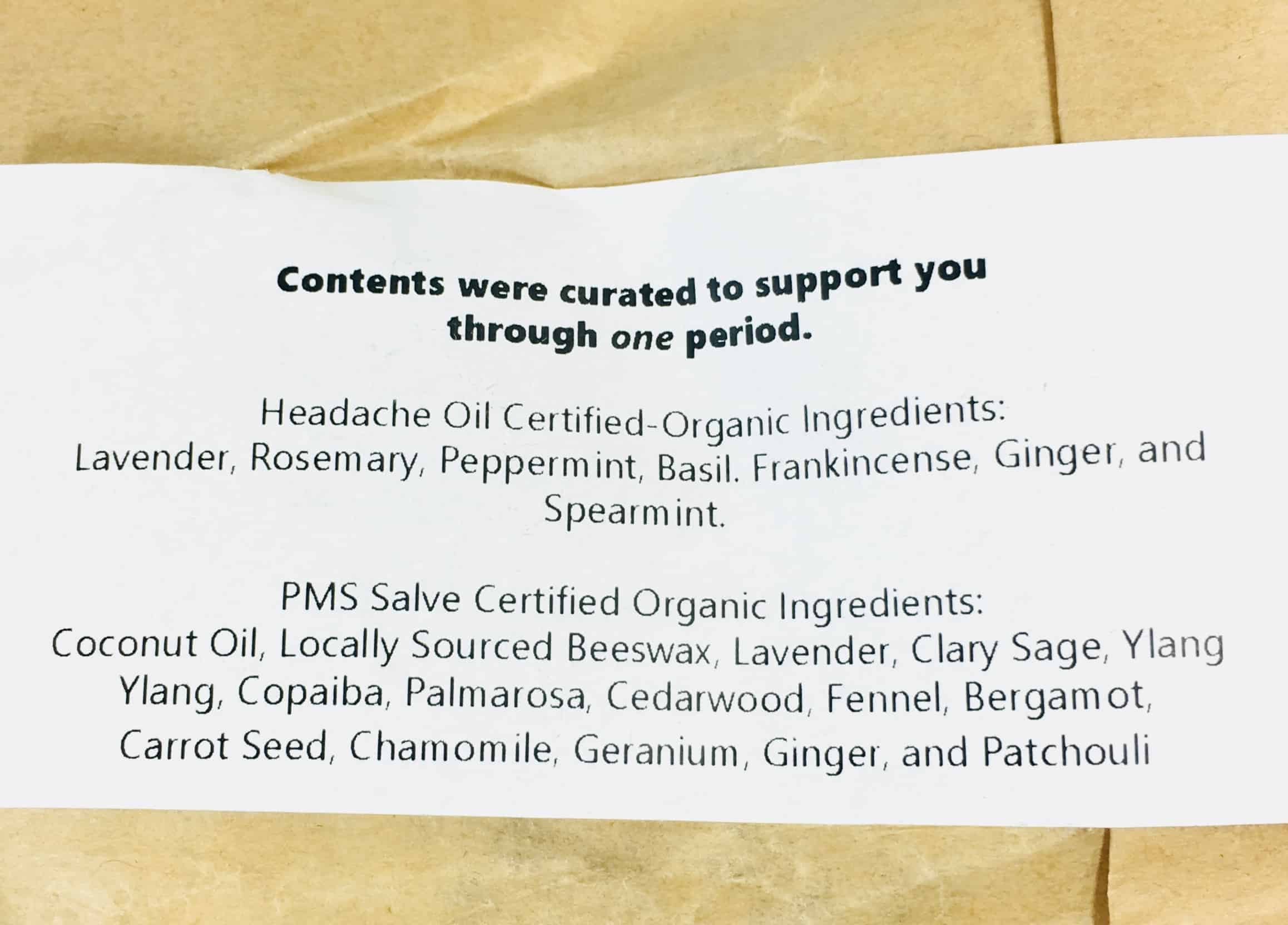 Two items were inside, enough to get through one menstrual cycle. I was very happy to see the ingredients listed.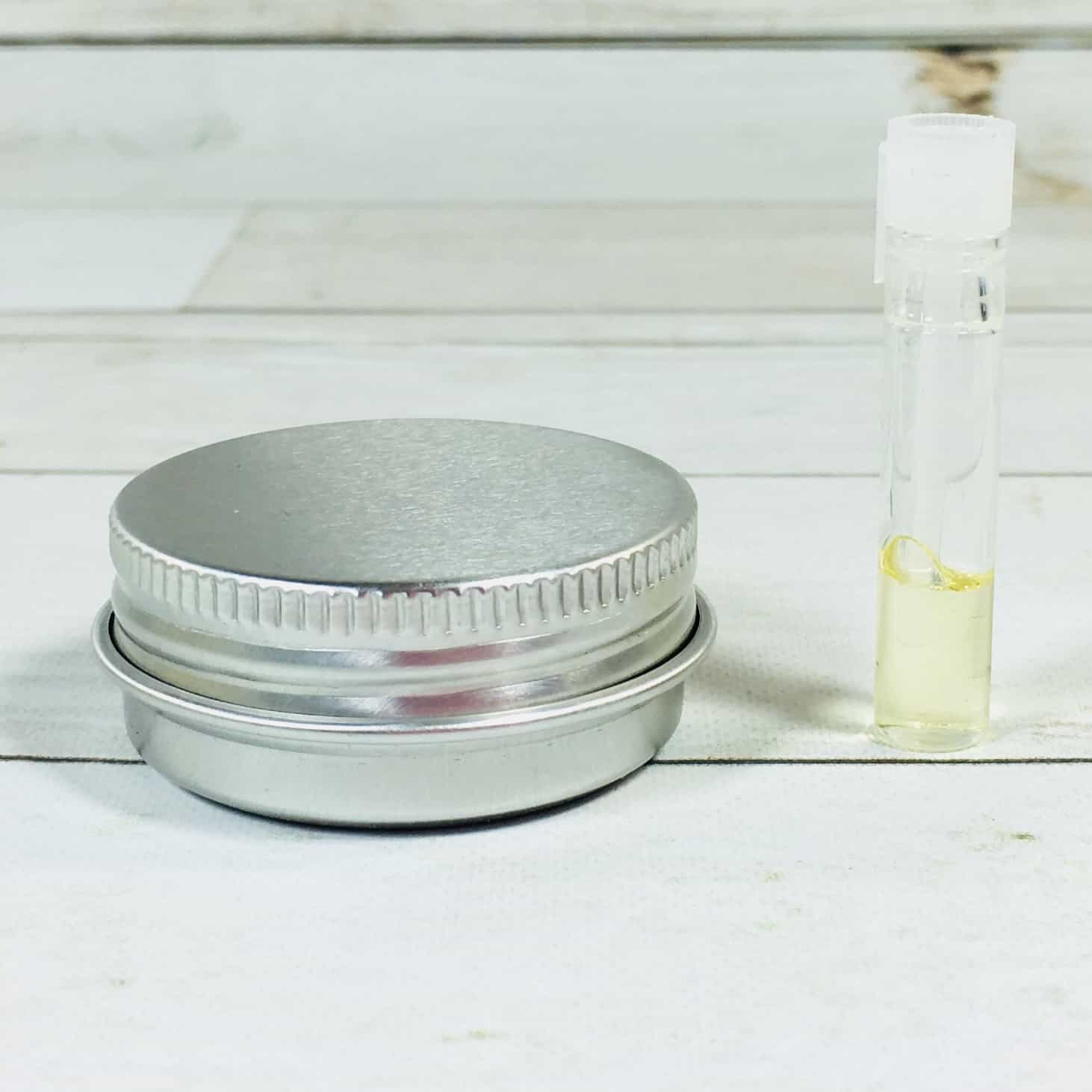 No other info on the containers so keep that bag handy or snap a picture of the ingredients if you think you may need them later.
The salve has a variety of herbal essential oils in a base of coconut oil and beeswax. You can rub it over your belly or lower back when cramps hit. It has a light, pleasing herbal scent.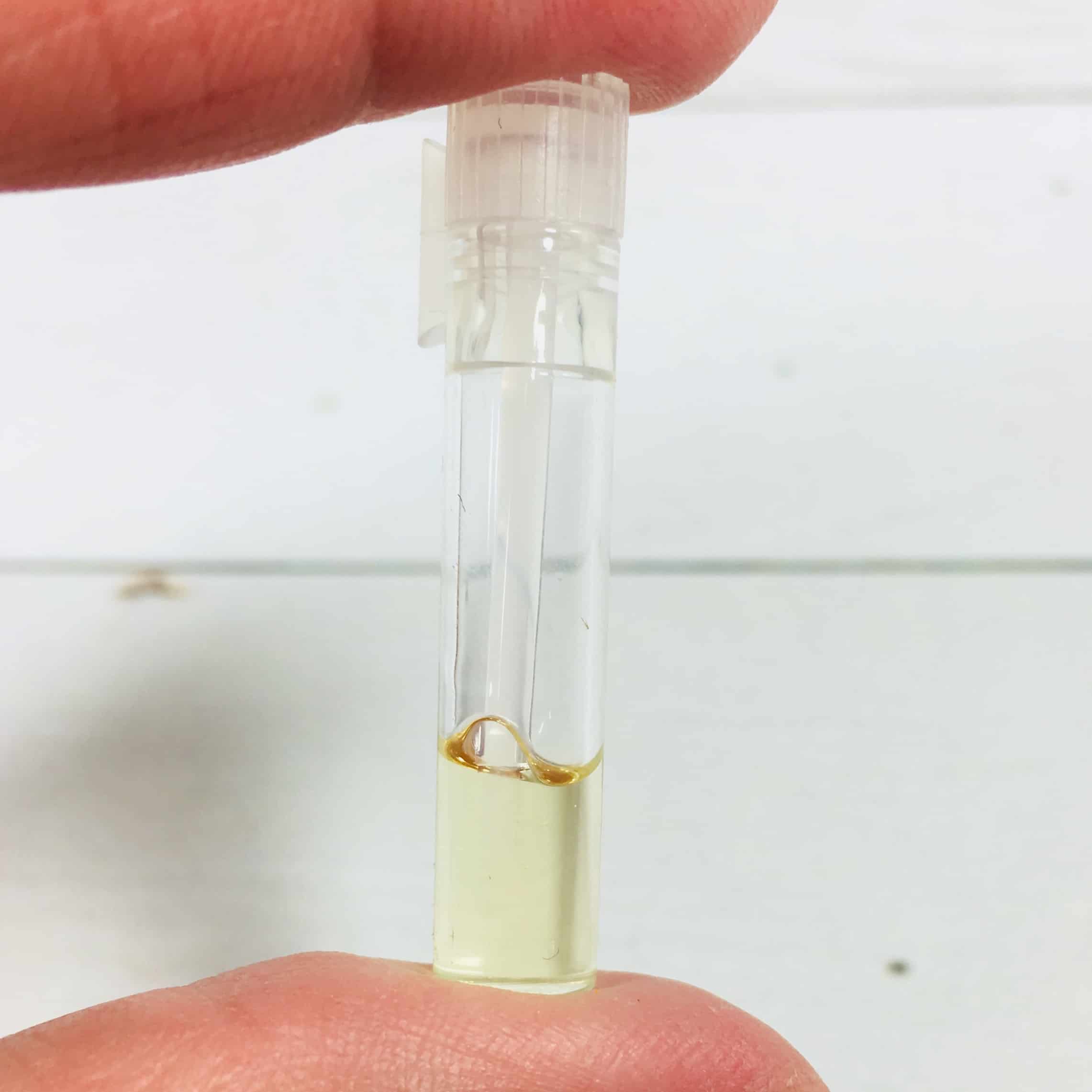 I used to get headaches just before my period (they stopped at some point). This uplifting oil smells wonderful, with peppermint being the leading scent. Rub into temples or heck, place on pulse points as an invigorating fragrance!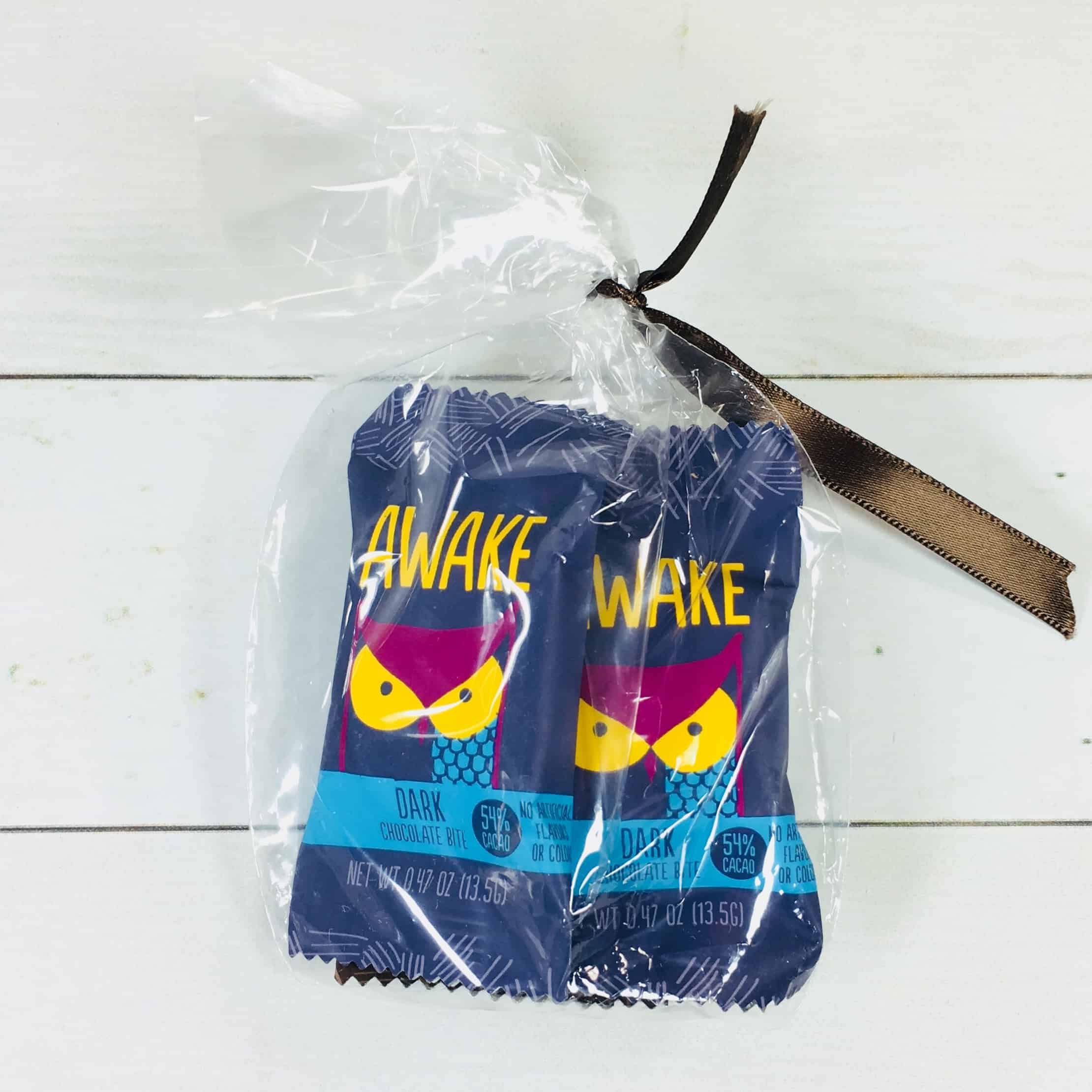 Awake Energy Chocolate Bars – Assorted ($1.79) There were several bagged items in the box, which made it feel like opening several packages instead of just one box.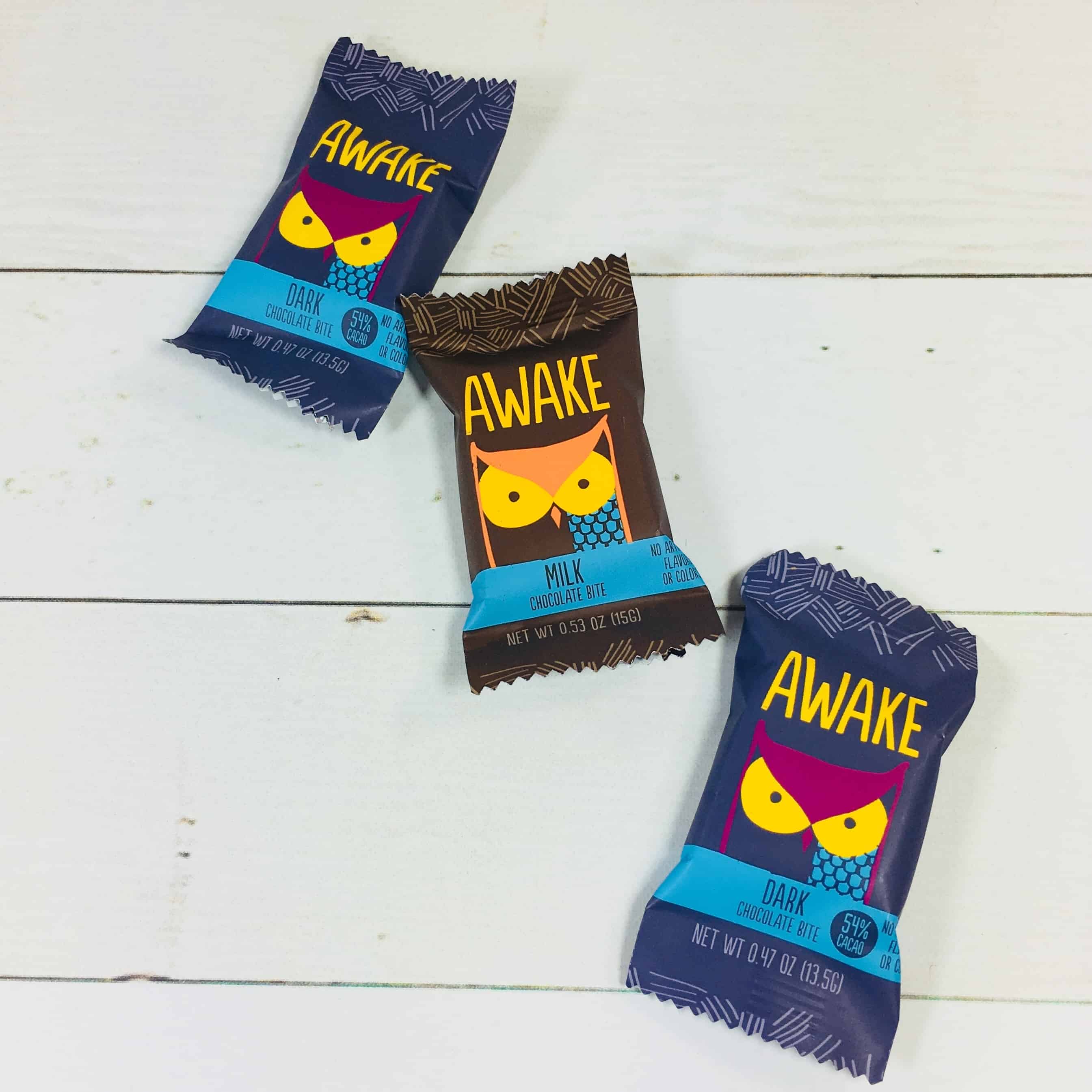 There were two dark chocolate mini-bars and one milk chocolate.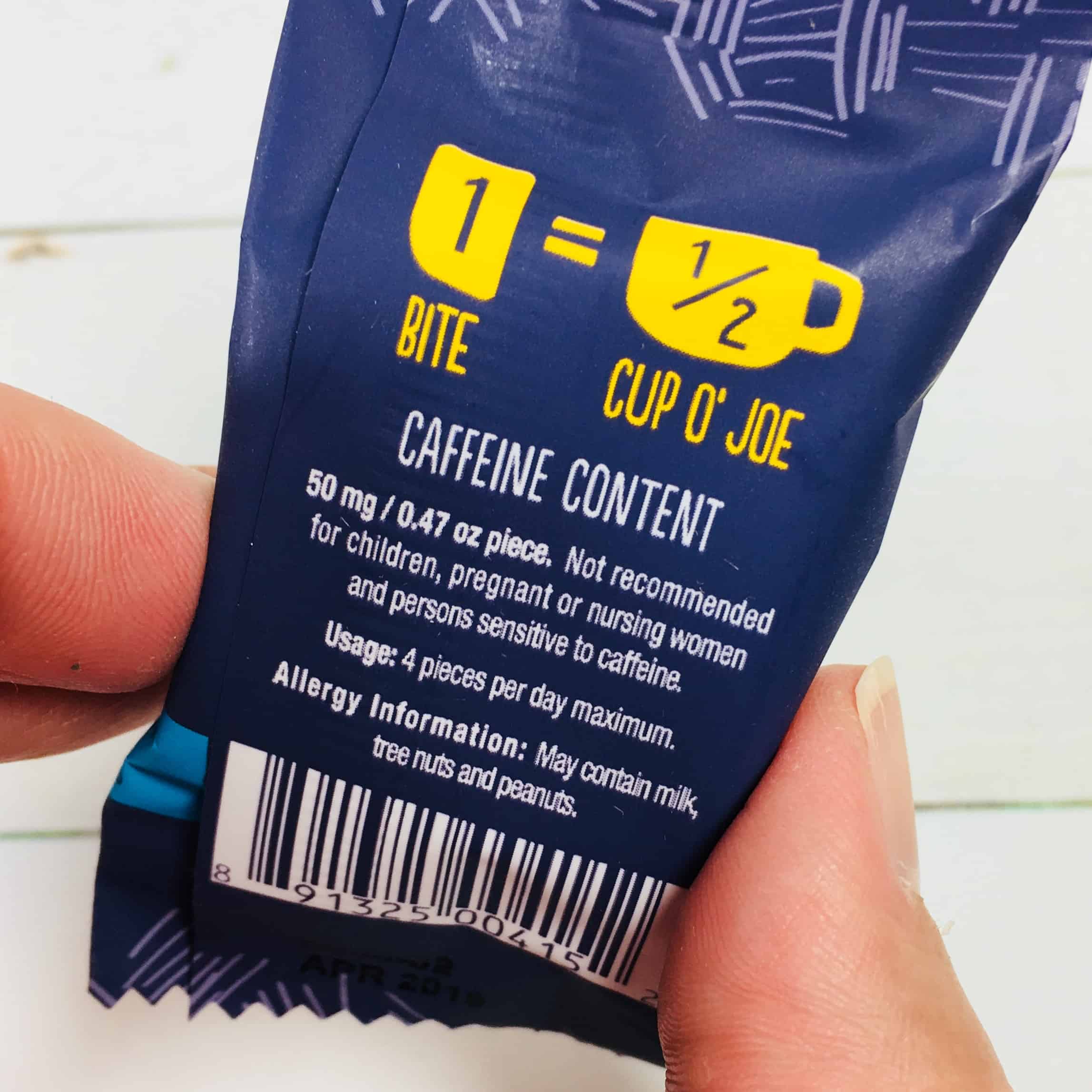 It was very tasty chocolate. Each bar has the caffeine equivalent of a cup of coffee.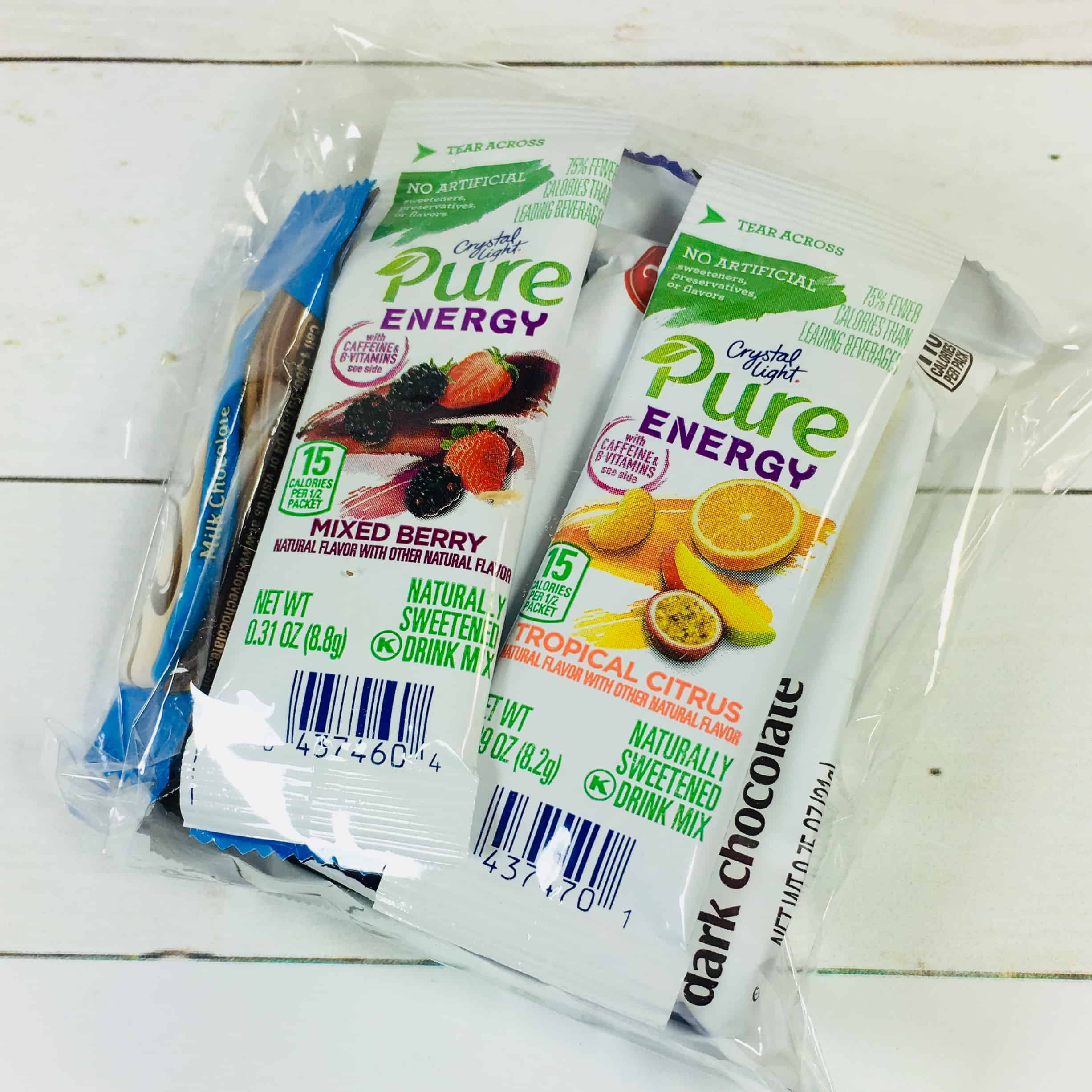 The next baggie had drinks and treats.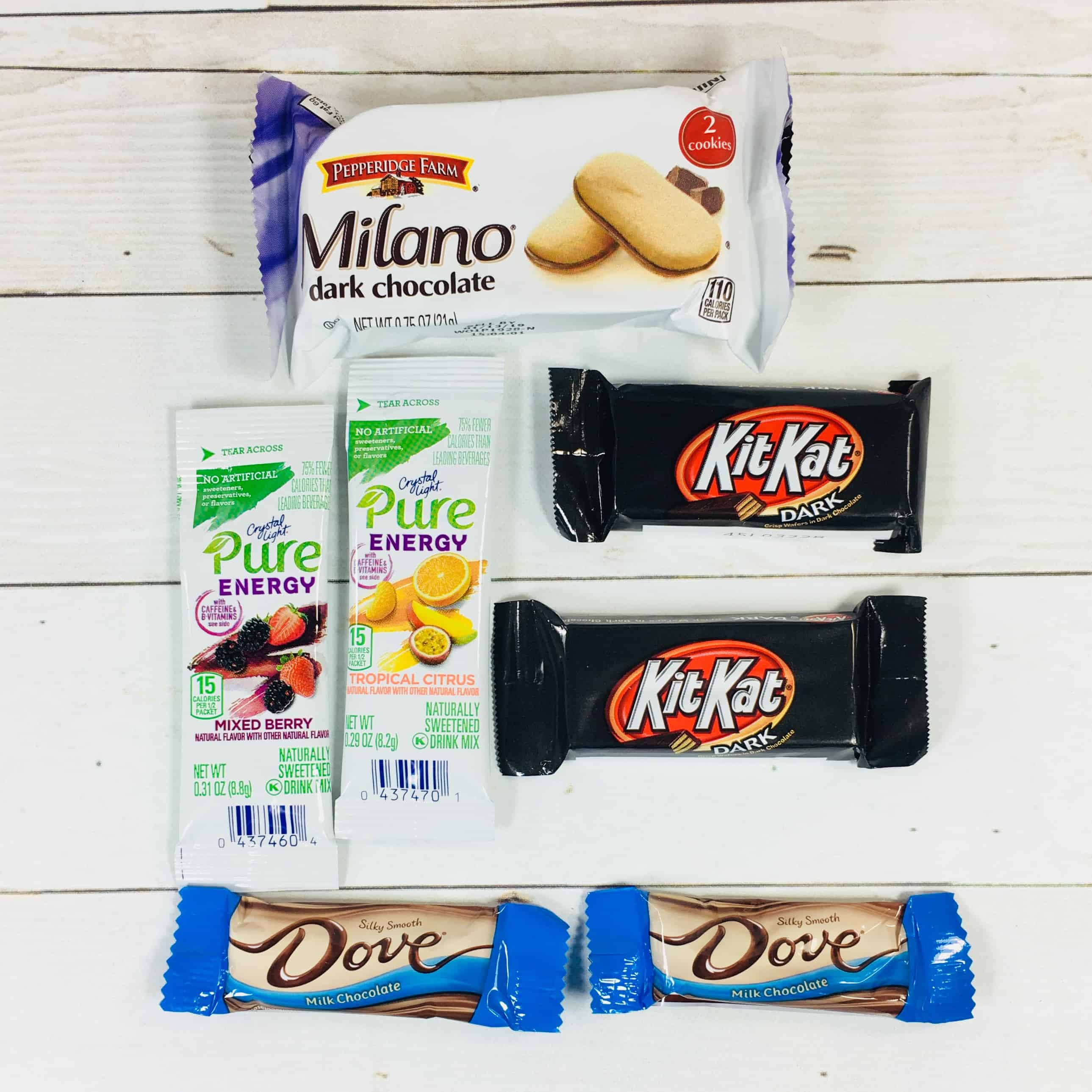 Pepperidge Farm Milano Dark Chocolate ($0.62), Crystal Light Pure Energy ($1.42), Kit Kat Dark Chocolate ($1.22), and Dove Milk Chocolate ($0.96) all make tasty treats and let's face it, you might want to keep a chocolate stash around just in case. The Crystal Light packs have a dose of caffeine and you can just pour it into a bottle of water when you feel worn out.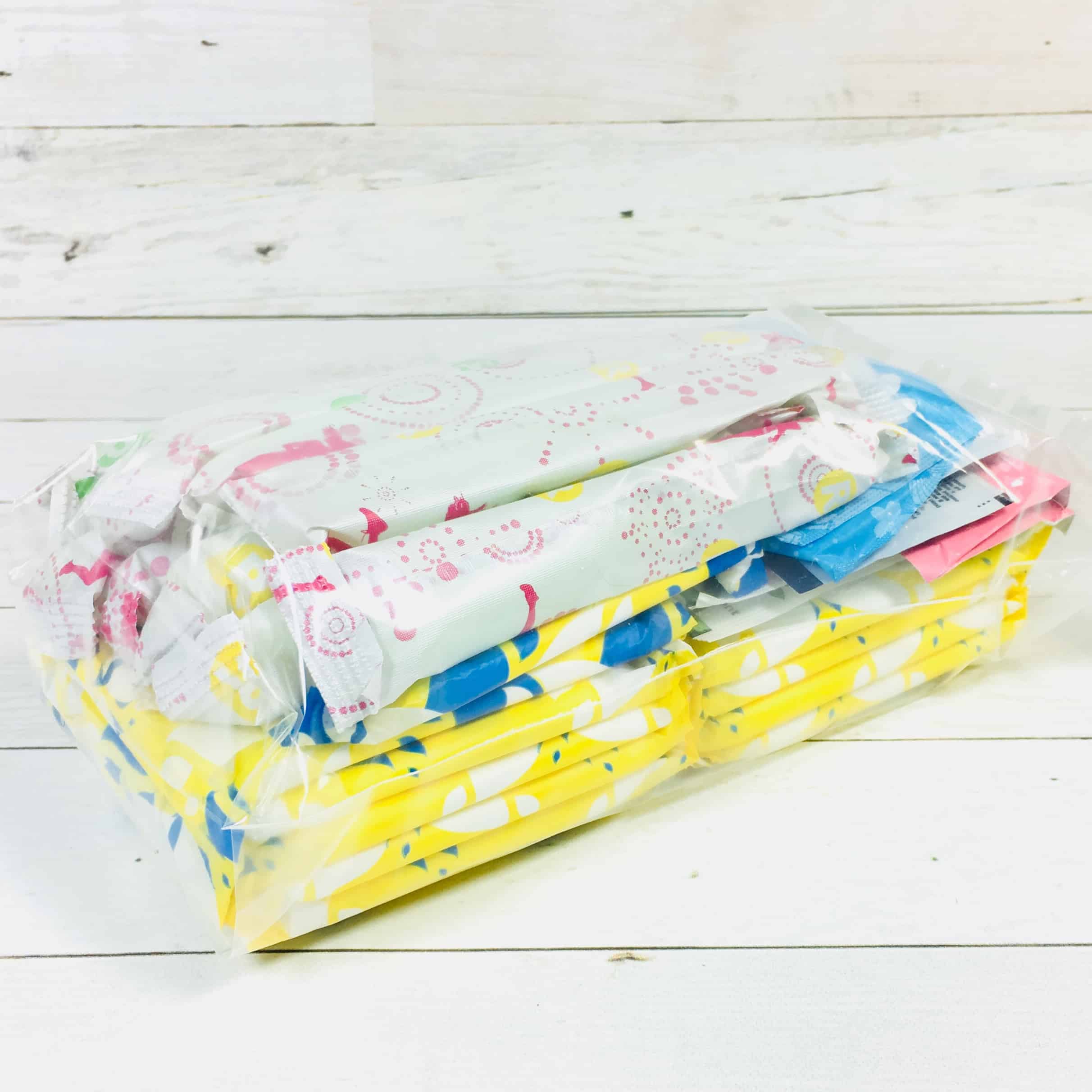 Period products were in the next bag.
Summer's Eve Sheer Floral Cleansing Cloth ($0.46) Karina picked these up, read the ingredients, saw that they have fragrance, and decided to pass. We both have sensitive skin and avoid using perfumed products (such as bubble bath, scented soaps, etc.) in delicate areas. If you've felt the burn then you know our pain. Advil Tablets ($0.24) are a must-have for those times when headaches or cramps start. I generally use Advil for headaches and Aleve for cramps, but the only product I carry with me at all times is Advil so this is handy.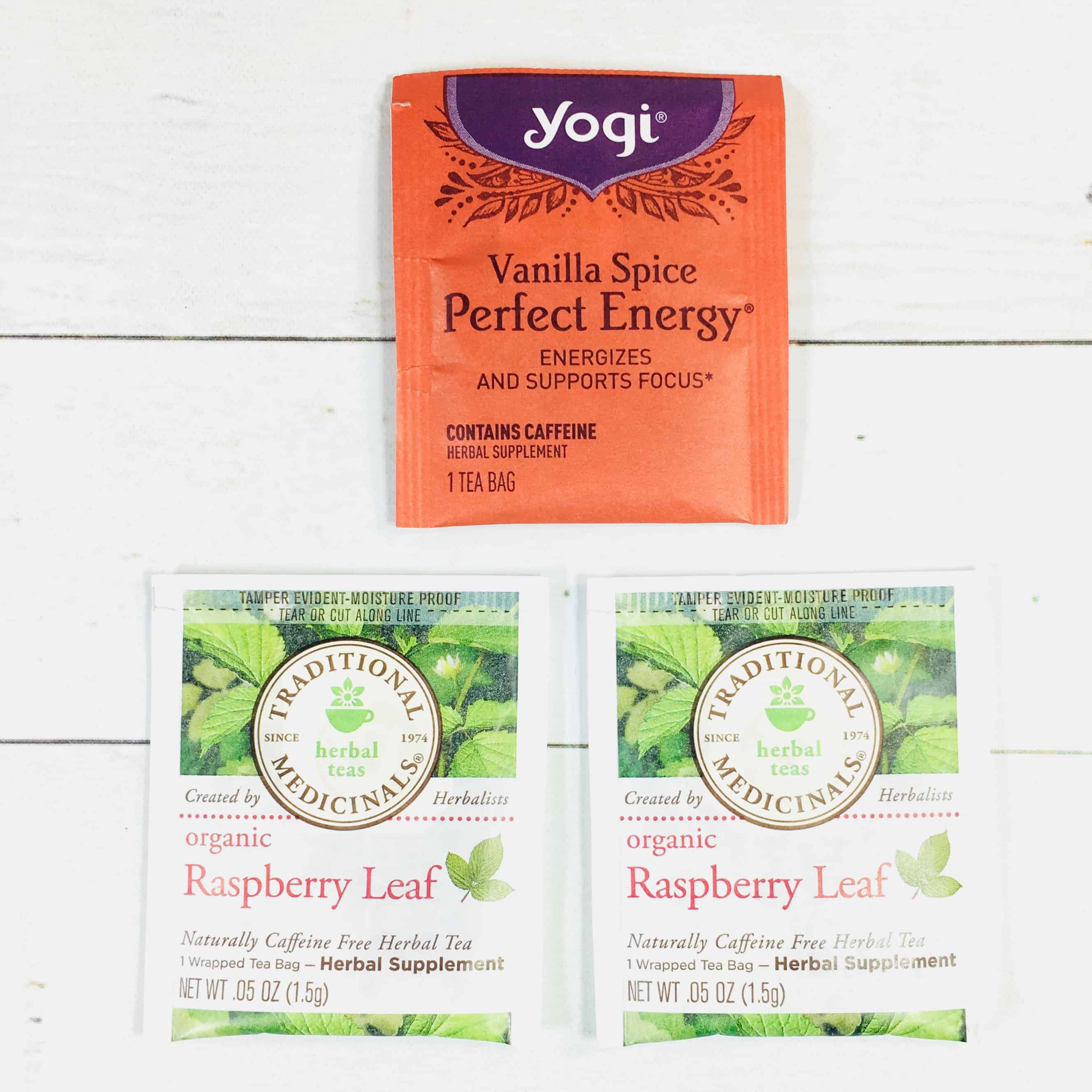 Yogi Vanilla Spice Perfect Energy Tea ($0.24) is made with both green and black teas and should give a burst of energy thanks to caffeine. Herbal Teas Organic Raspberry Leaf ($0.39) is made of raspberry leaf, which may help kick cramps to the curb. It is supposed to taste like black tea, but without the caffeine. I may have to try one of these for myself.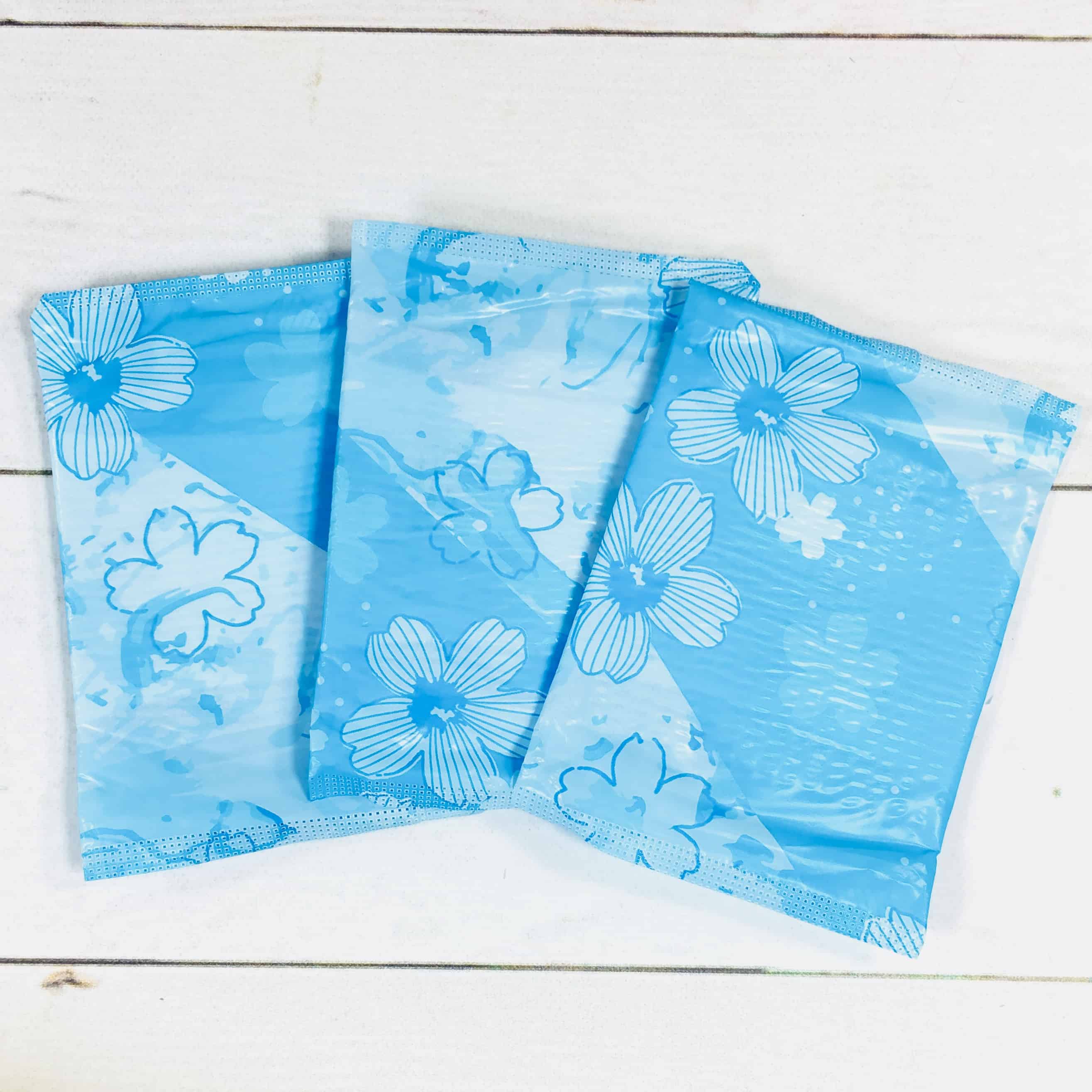 There were three panty liners, good to pair with tampons or just because. FYI: When you start your subscription, you will get to mix and match from 74+ period essentials including organic products and of course from the major brands. You will receive a confirmation link via email to customize your box your way.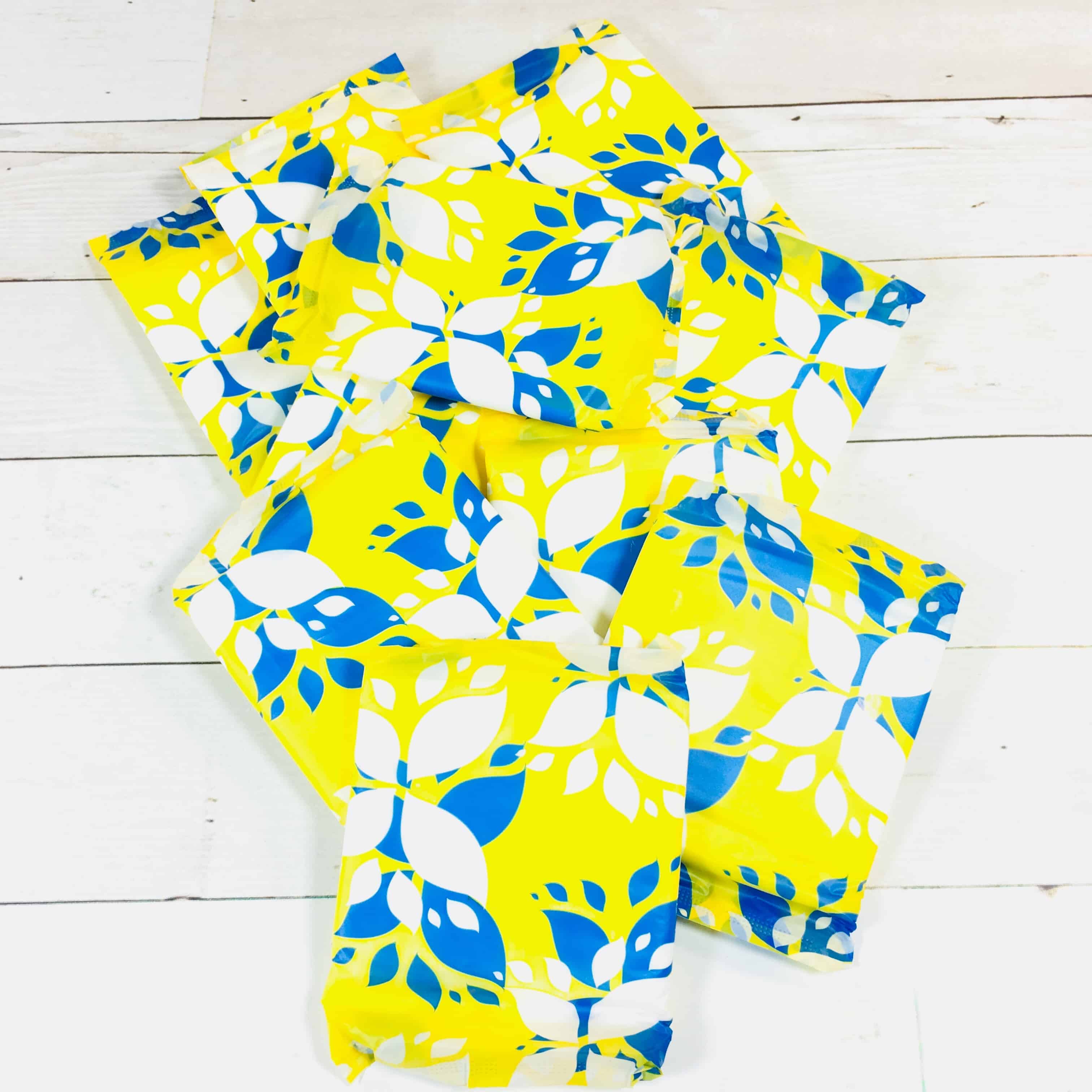 There were nine pads. I'm not sure what size they were which is funny because Karina has a whole drawer full of these since this is exactly what I buy for her at the store. (I'm pretty sure they are Stayfree Ultra Thin Pads with Wings.)
There were 6 Playtex Sport Regular Tampons and 4 Playtex Sport Super Tampons.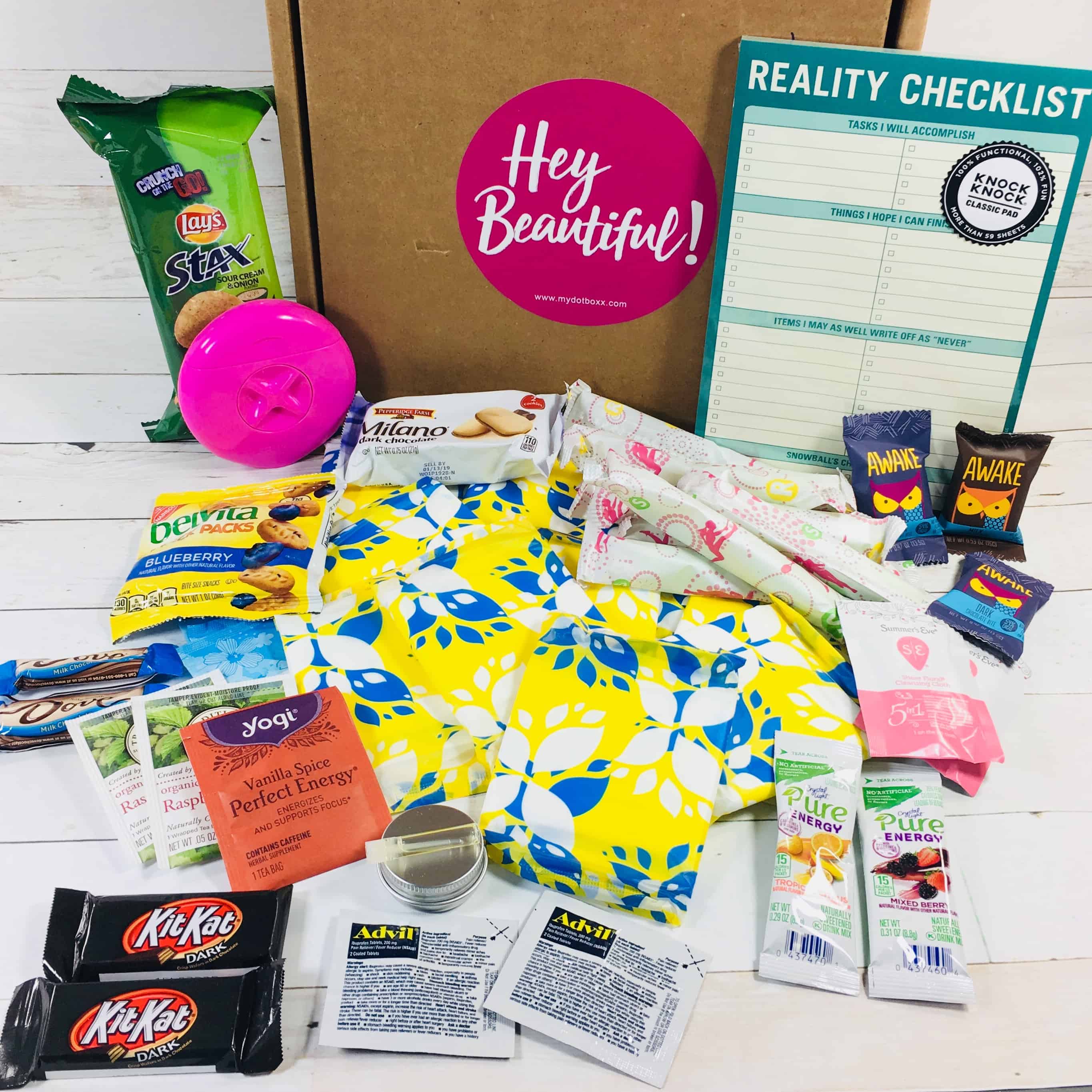 I thought Dot Boxx did a great job of sending a cohesive box full of essentials and treats for that time of the month. Snacks, pads, tampons, pain reliever, tea, and of course CHOCOLATE were all in here and it was like receiving a care package from a friend or family member. I thought putting items in baggies helped keep the box from looking messy and also kept it from seeming overwhelming (it's a lot of stuff!). I just passed everything (well, maybe not all of the chocolates!) to my daughter and it made a stressful time less so.
What do you think of this month's Dot Boxx? Let us know in the comments!