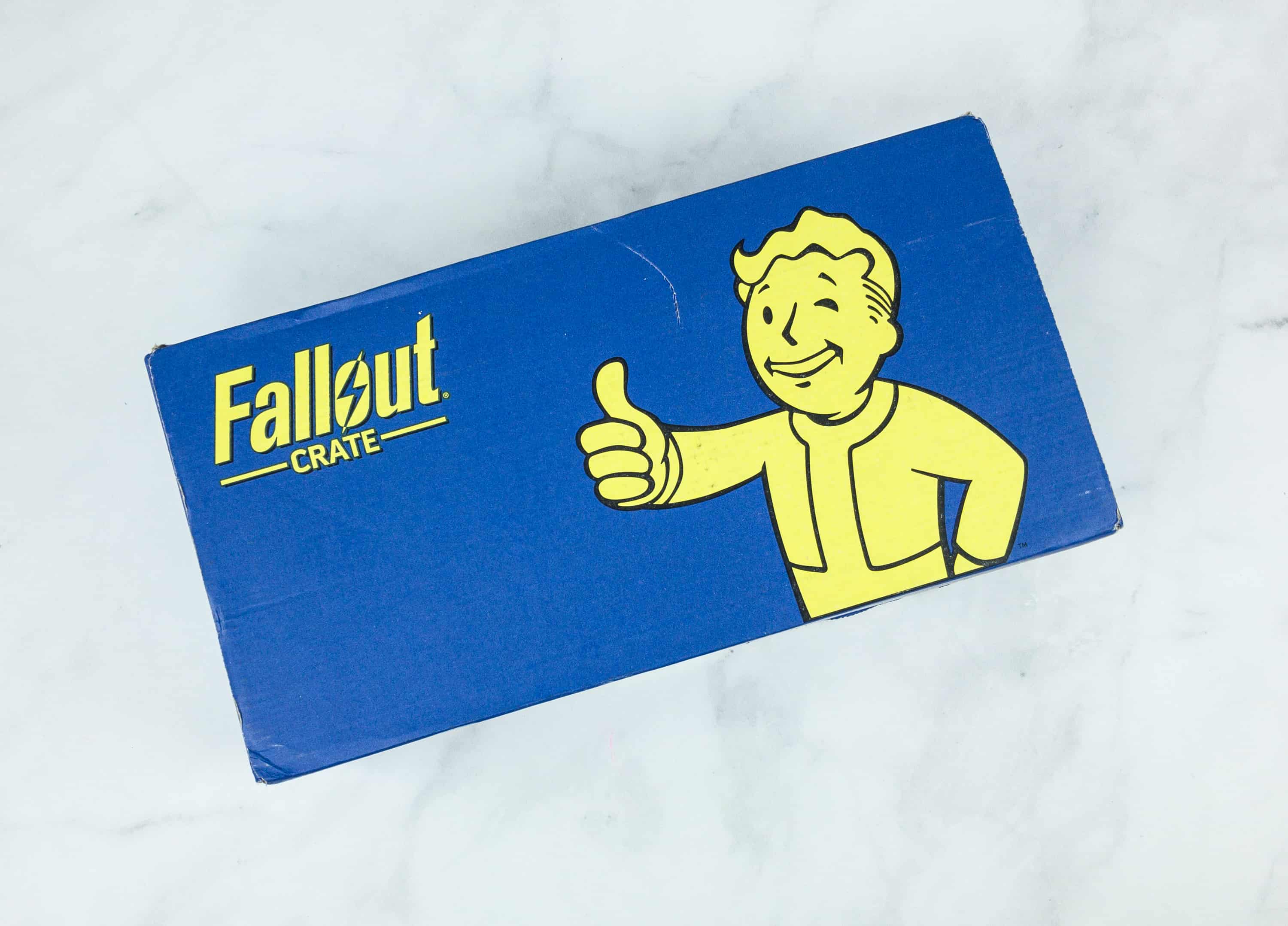 Fallout Crate is a new bimonthly subscription box from Loot Crate that includes 4-6 items – each comes with an exclusive figure in every box plus a piece to a build-a-figure, along with other Fallout gear and collectibles. The subscription costs $34.95 + shipping bimonthly, or $49.99 international.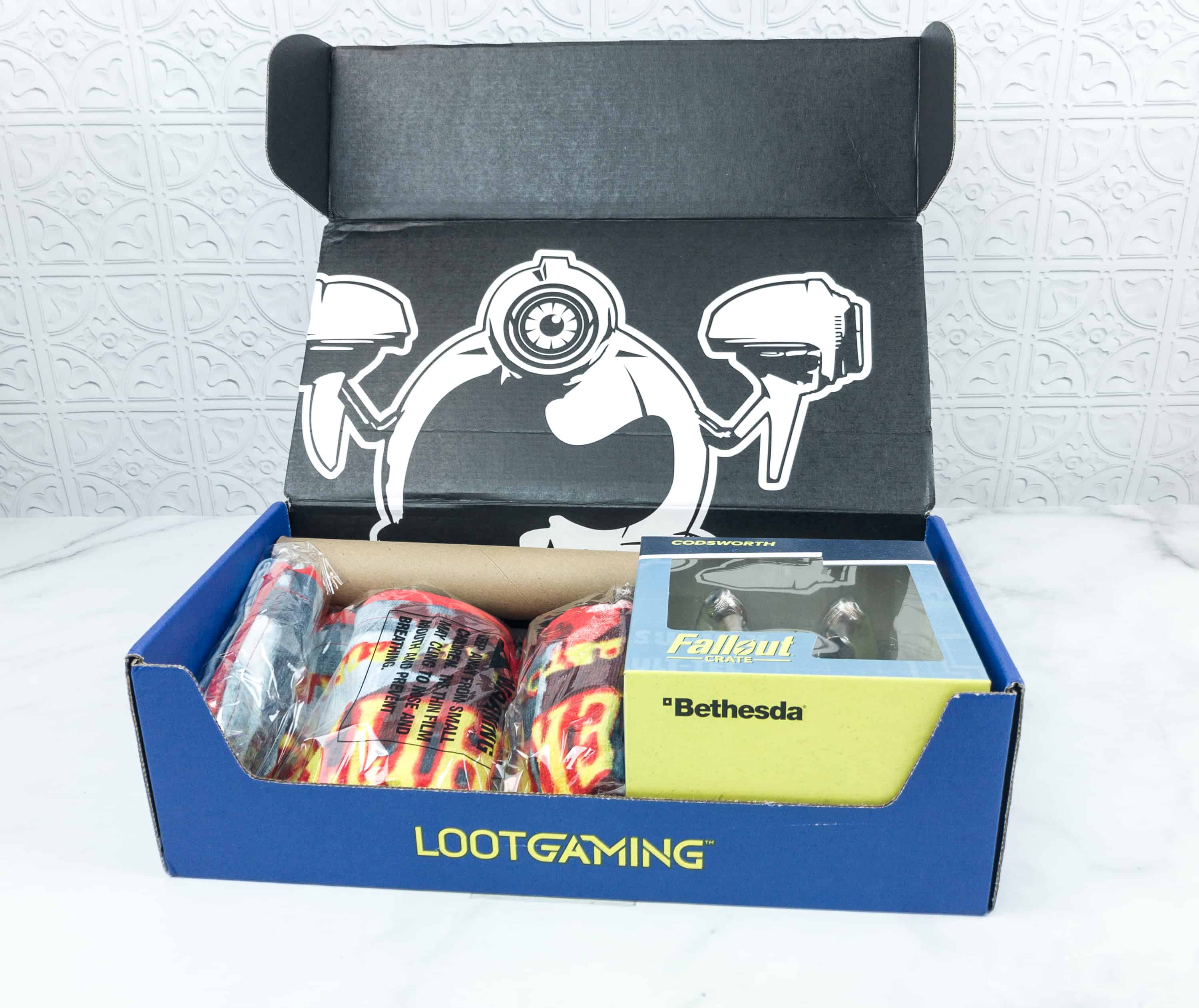 DEAL: Save 15% on any subscription when you use this link and coupon code HELLOSUBSCRIPTION15.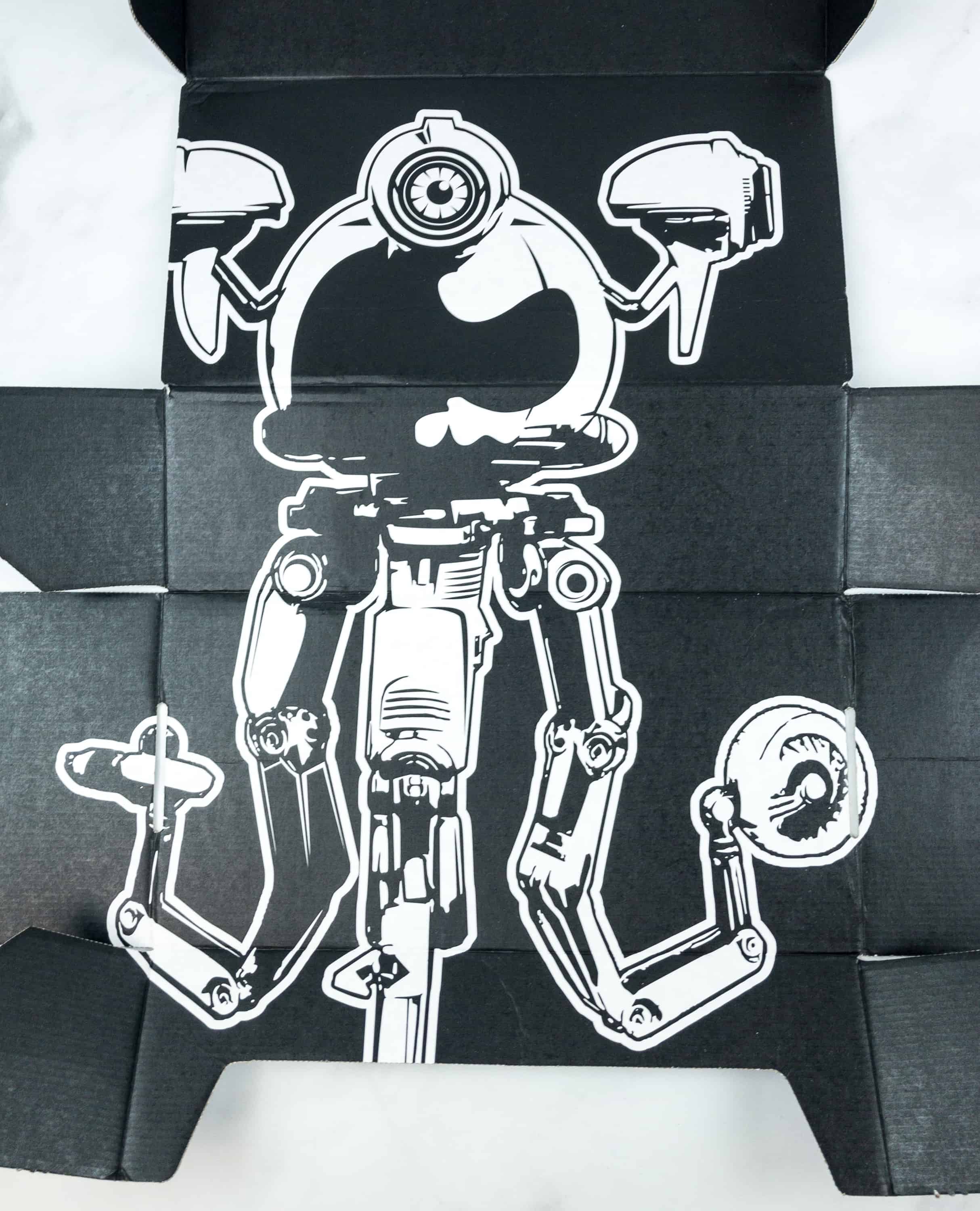 When you flatten out the box, you'll see Codsworth!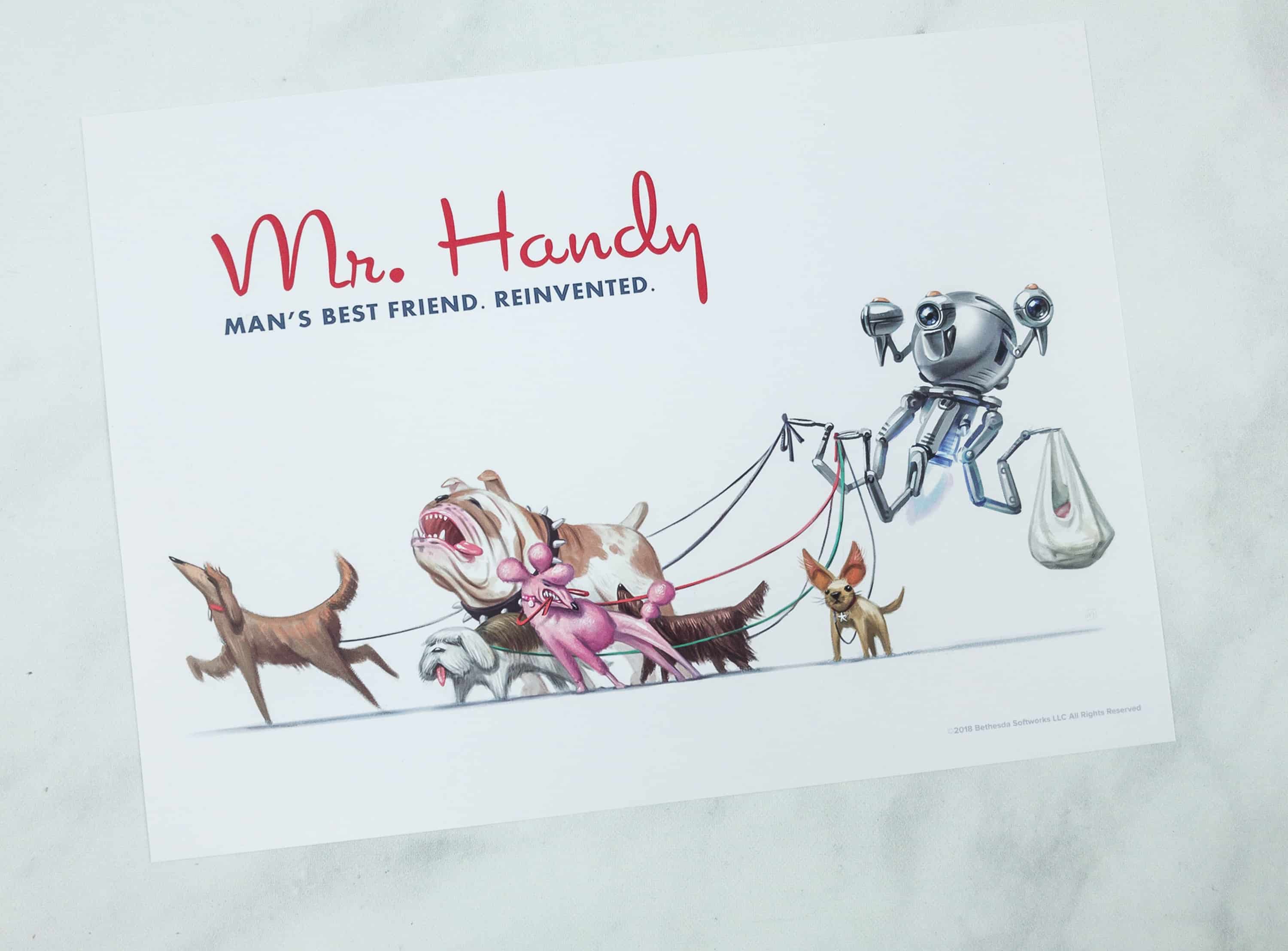 An art print is also included on the back of the info card.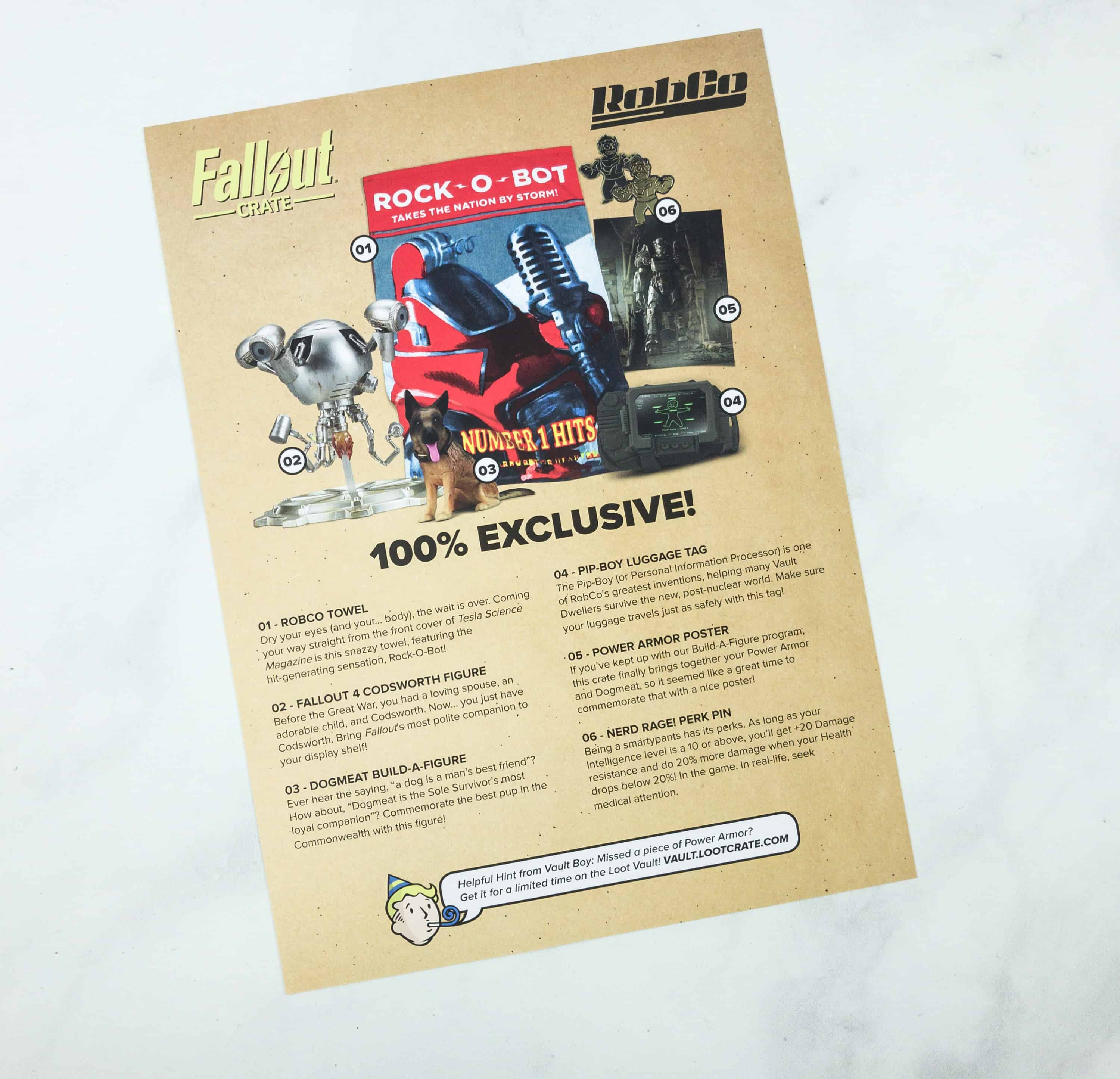 There's a card that lists all the items included in the box. This month's theme is Mr. Handy!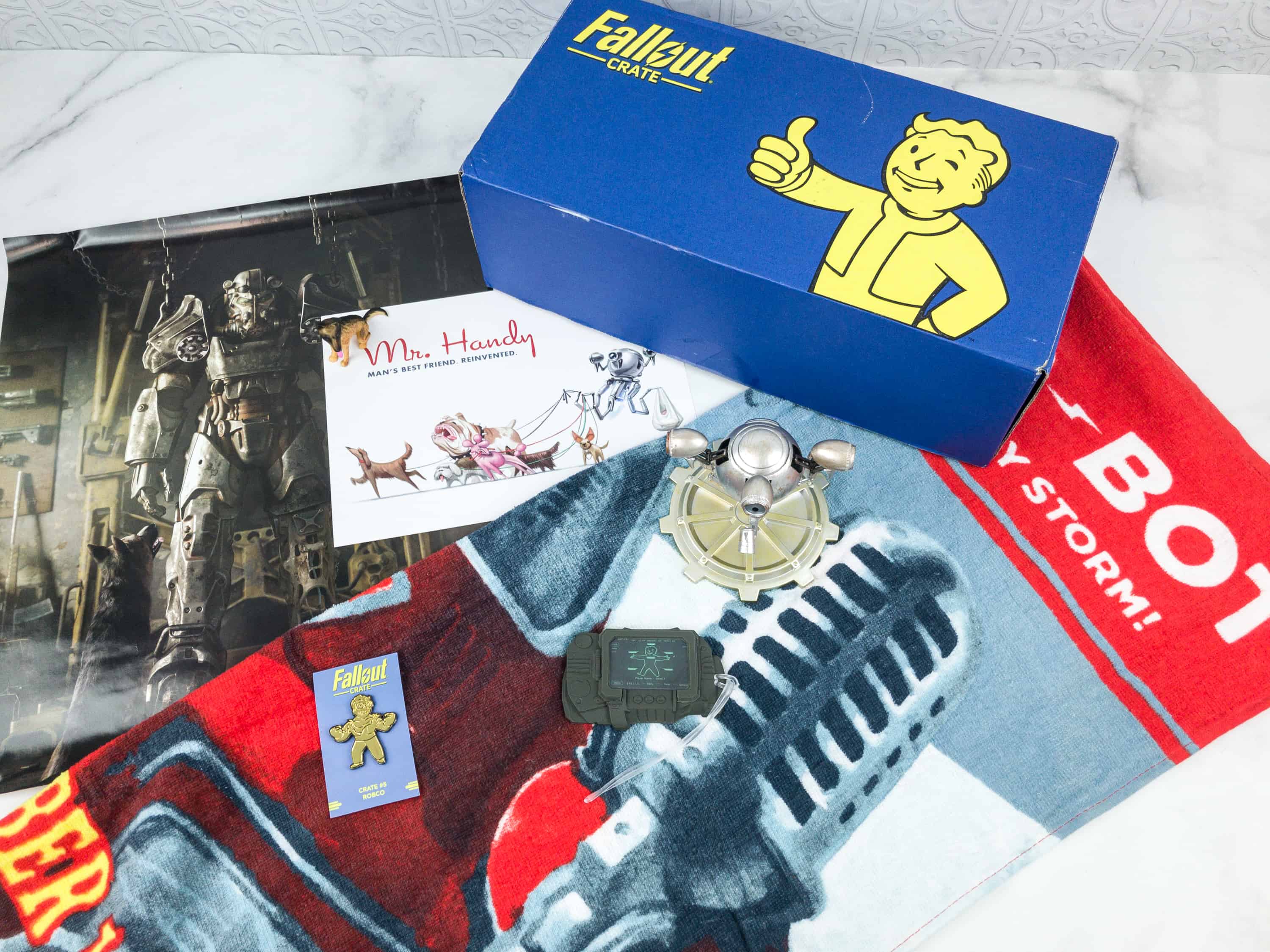 Everything in the August Fallout Crate!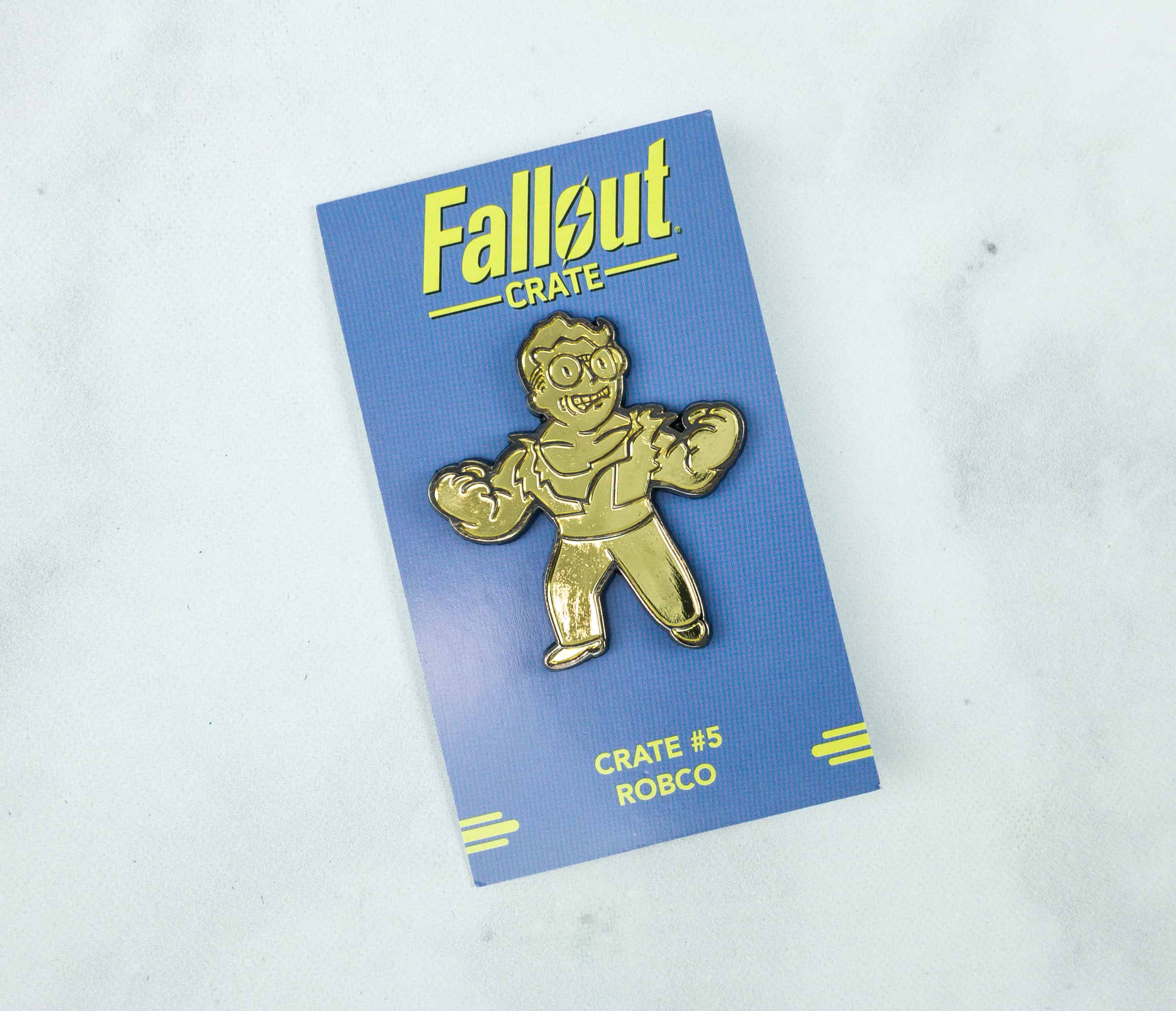 Nerd Rage! Perk Pin. The perk pin for this month's crate is the Nerd Rage! perk pin. And like most of the perk pins from this box, you can get either a pure gold or a rare black with gold. I didn't get the rare one but it's all good!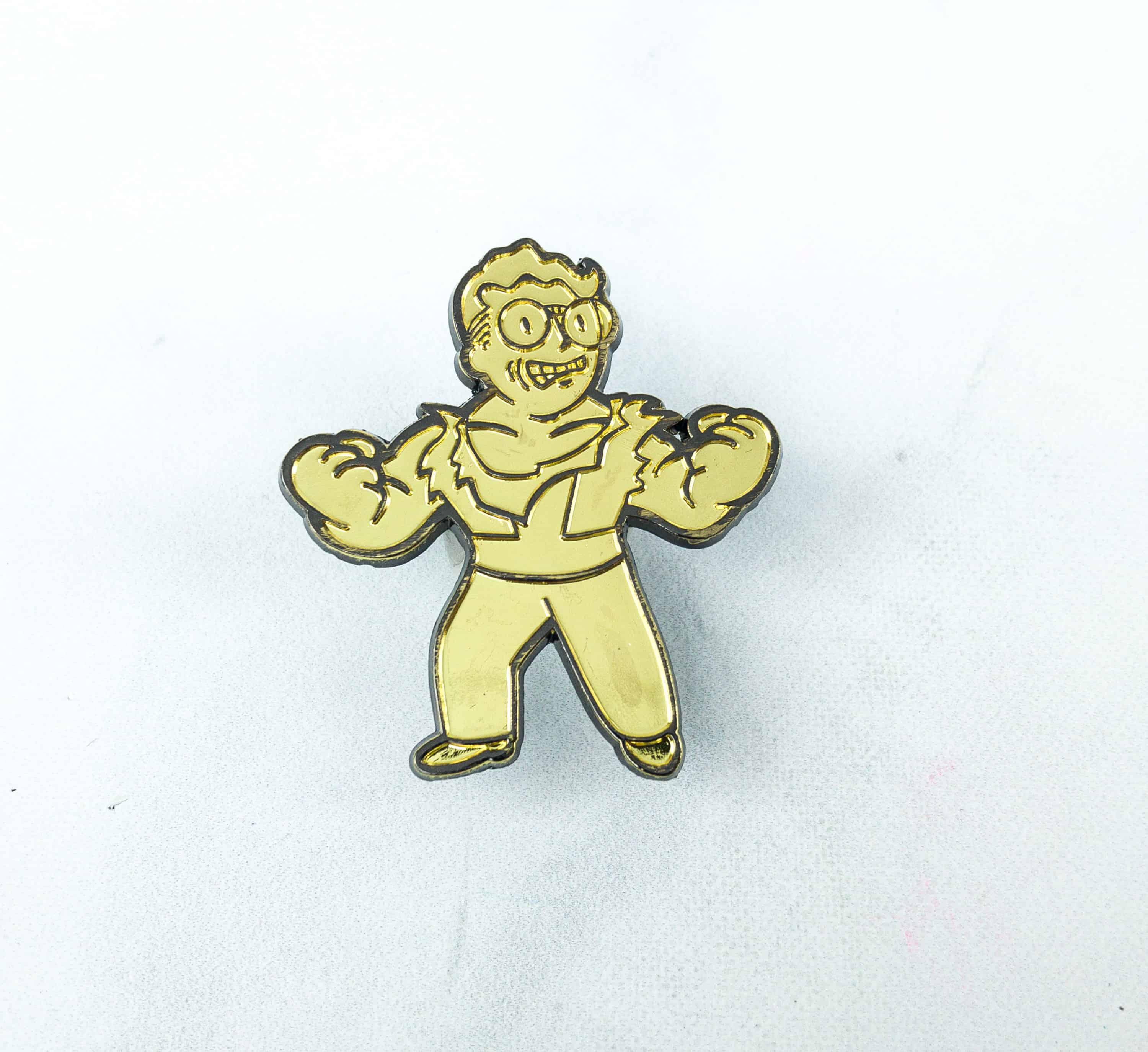 Here are the effects of this perk: if your intelligence level is at 10 or above, you'll get +20 damage resistance, and you can do 20% more damage when your health drops below 20%.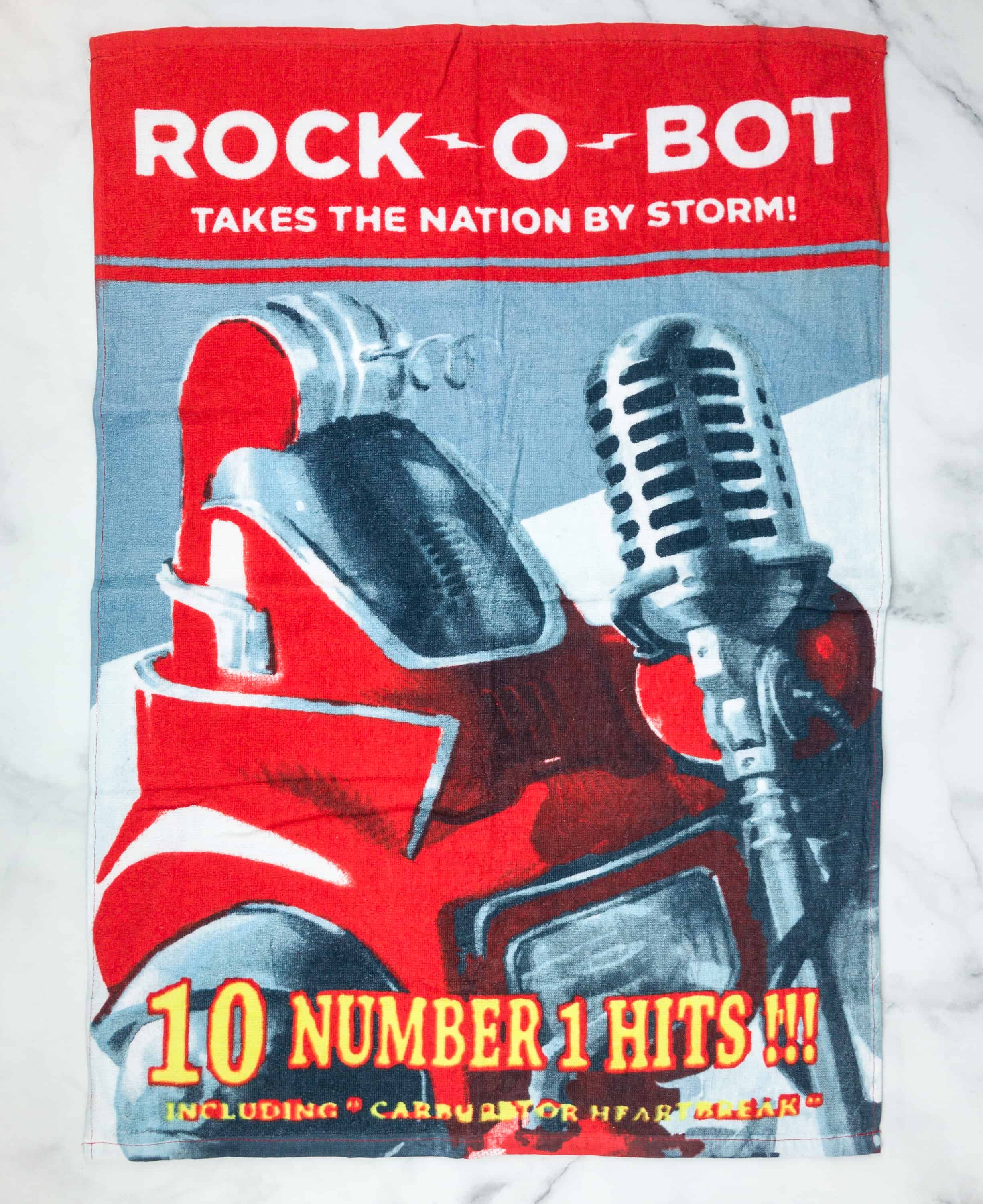 RobCo Towel. The towel features the front cover of the Tesla Science Magazine starring Rock-O-Bot! This is going to be handy as a supersized handtowel towel. It's also absorbent!
Pip-Boy Luggage Tag. PIP stands for Personal Information Processor, which is one of RobCo's greatest inventions that helps many Vault Dwellers survive the post-nuclear world.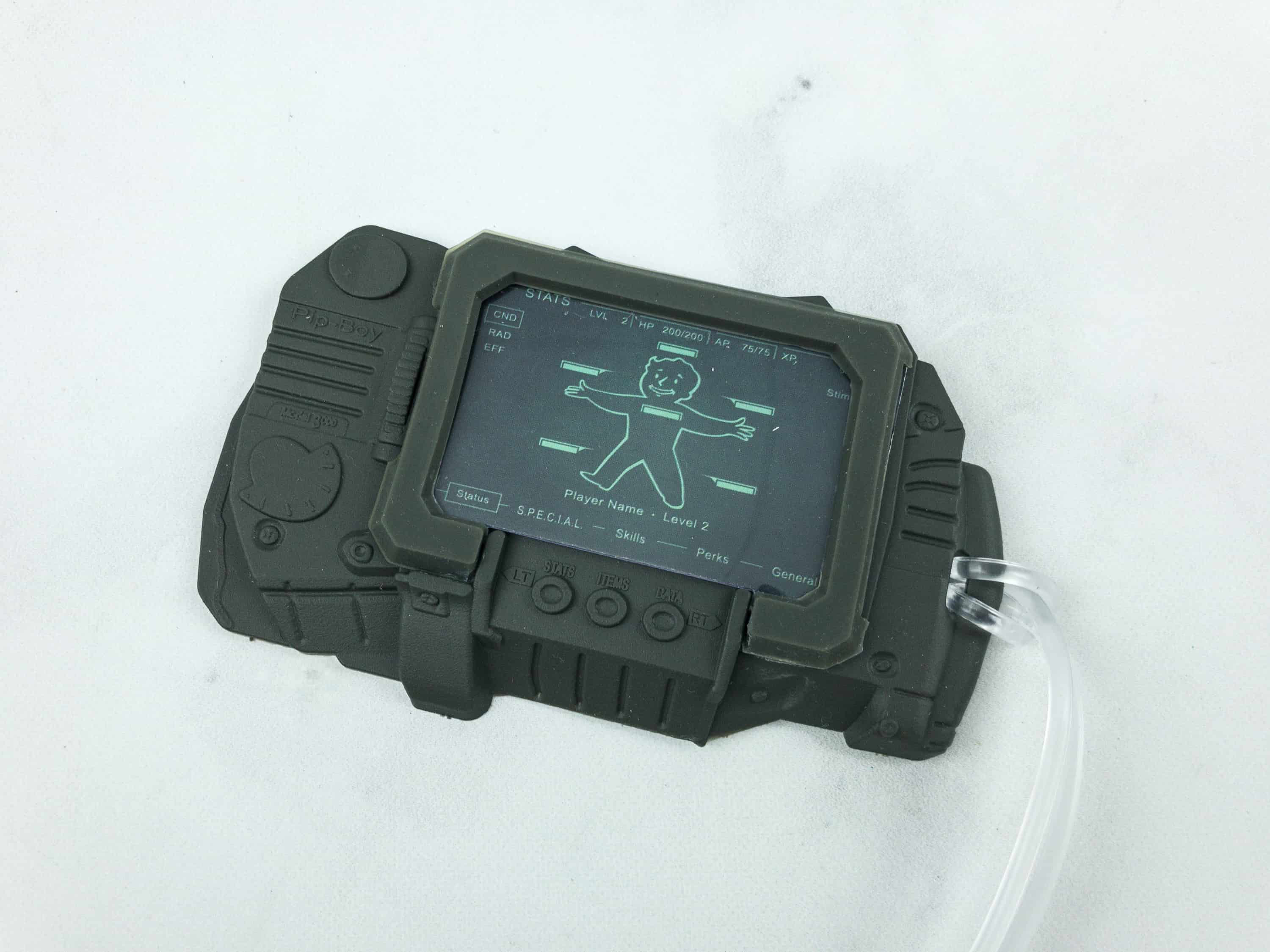 Since it has personal information, it's just right to make it a luggage tag to secure and ensure the safety of your things by providing some contact info.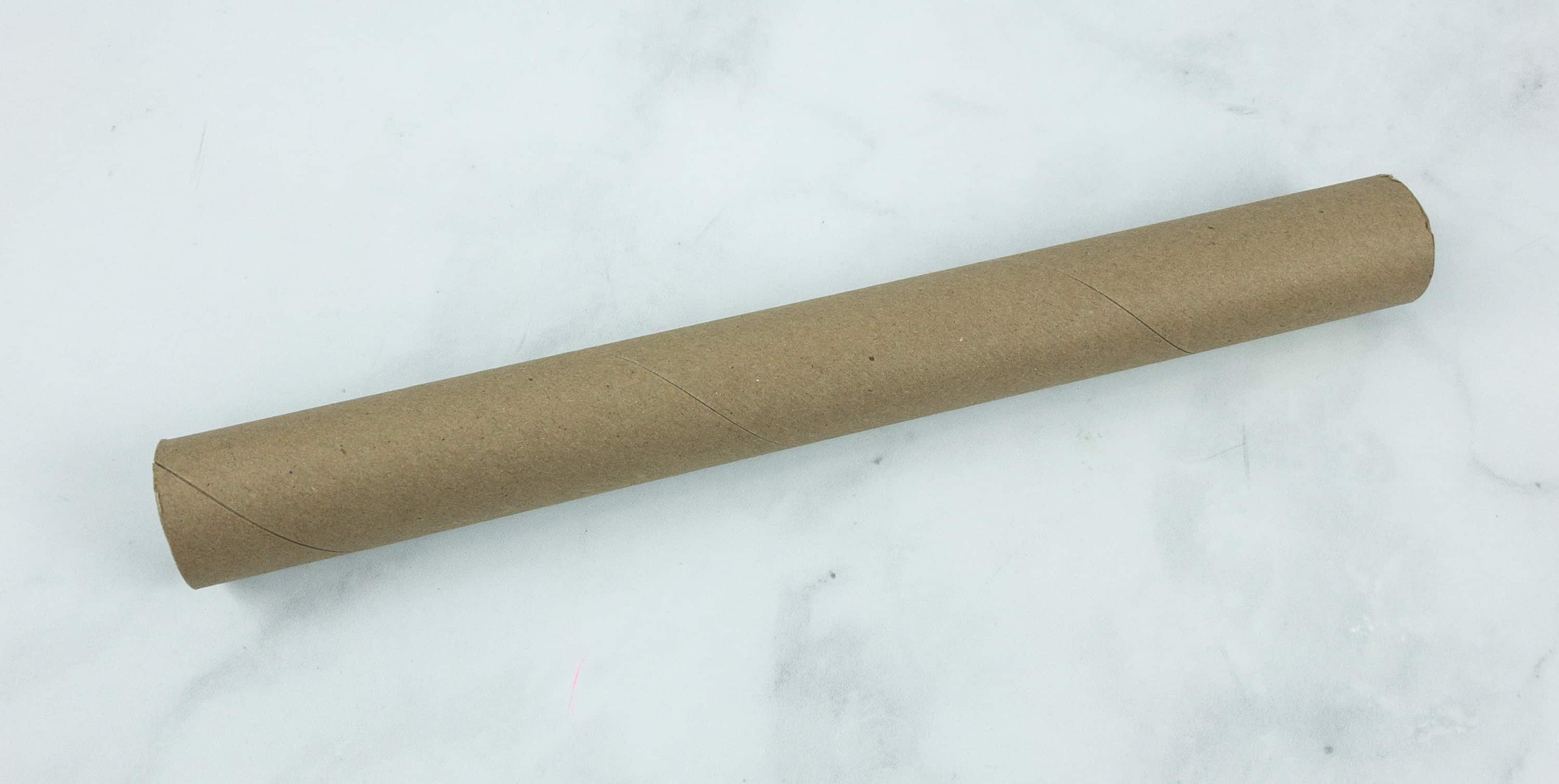 The poster is fully protected, and I can't wait to unveil it!
Power Armor Poster. Yes, it's the complete Power Armor, along with Dogmeat! I wonder if this actually looks like the Build-A-Figure that's also in this box!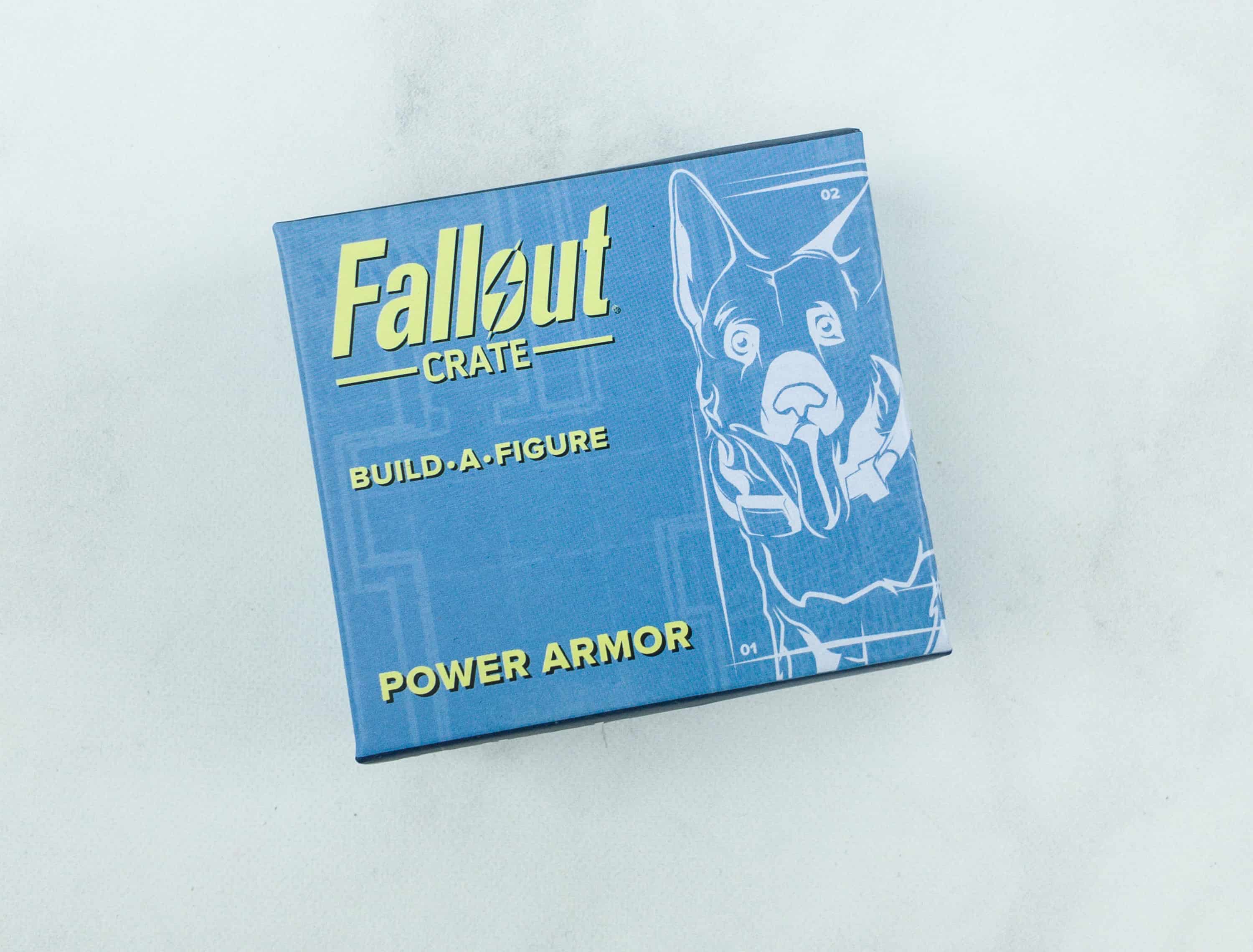 Dogmeat Build-A-Figure. Every Fallout Crate contains a part of the Build-A-Figure until it gets completed, however, I don't think this is still a part of the armor, rather, it's a companion!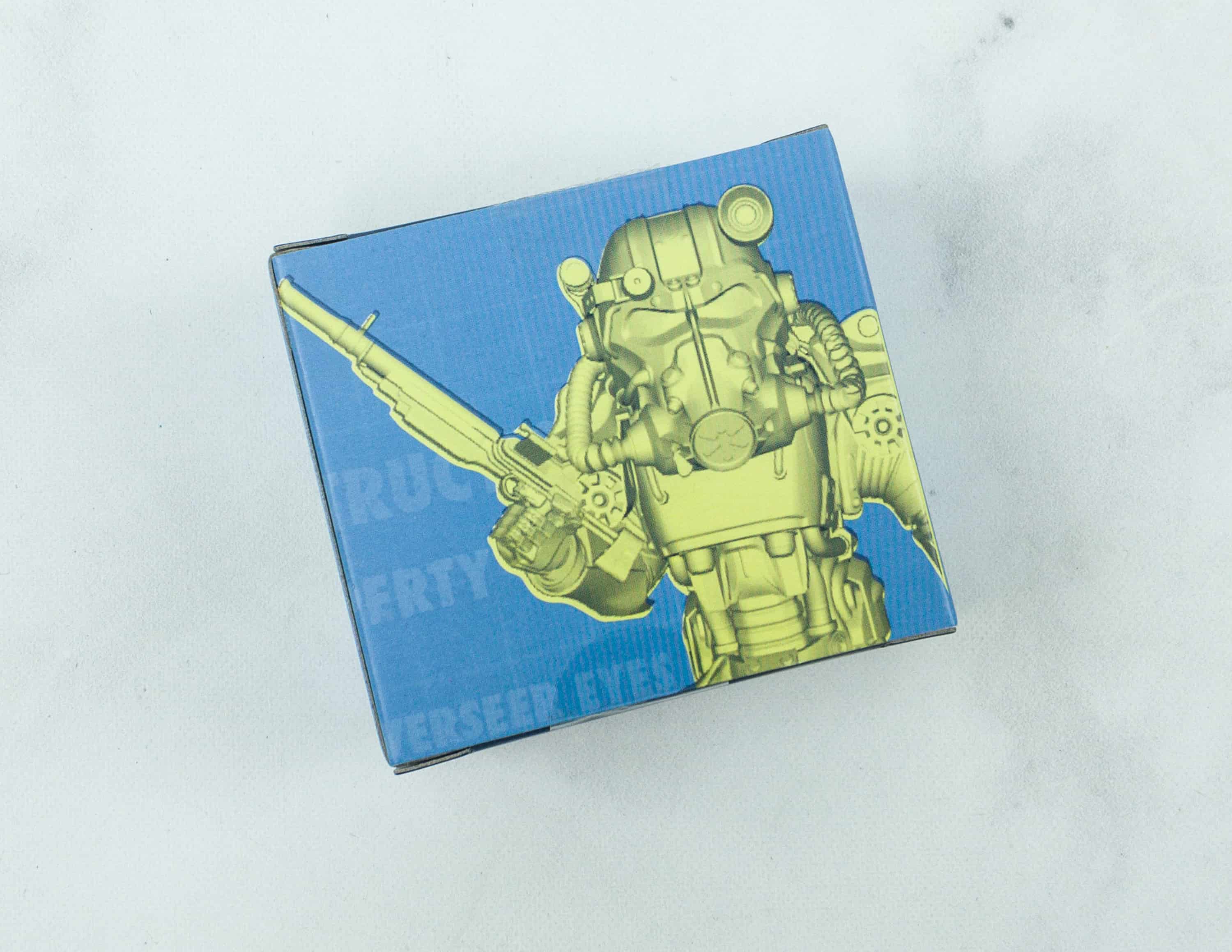 The Armor says hi from the outside of the presentable box.
It's the Sole Survivor's most loyal buddy, Dogmeat!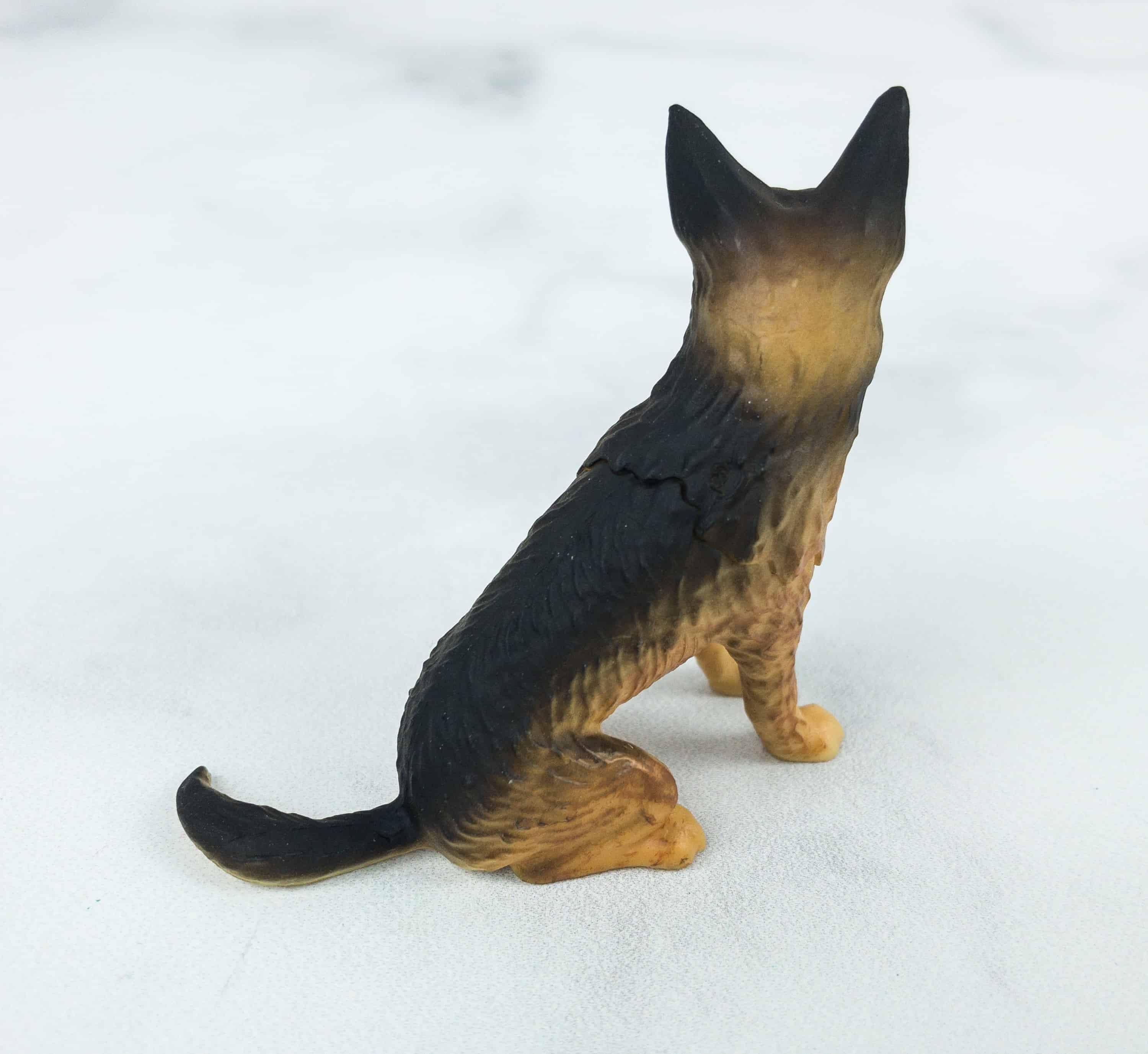 Dogmeat is a non-player character (NPC) and is considered as one of the most successful NPCs in the game and one of the most iconic characters too.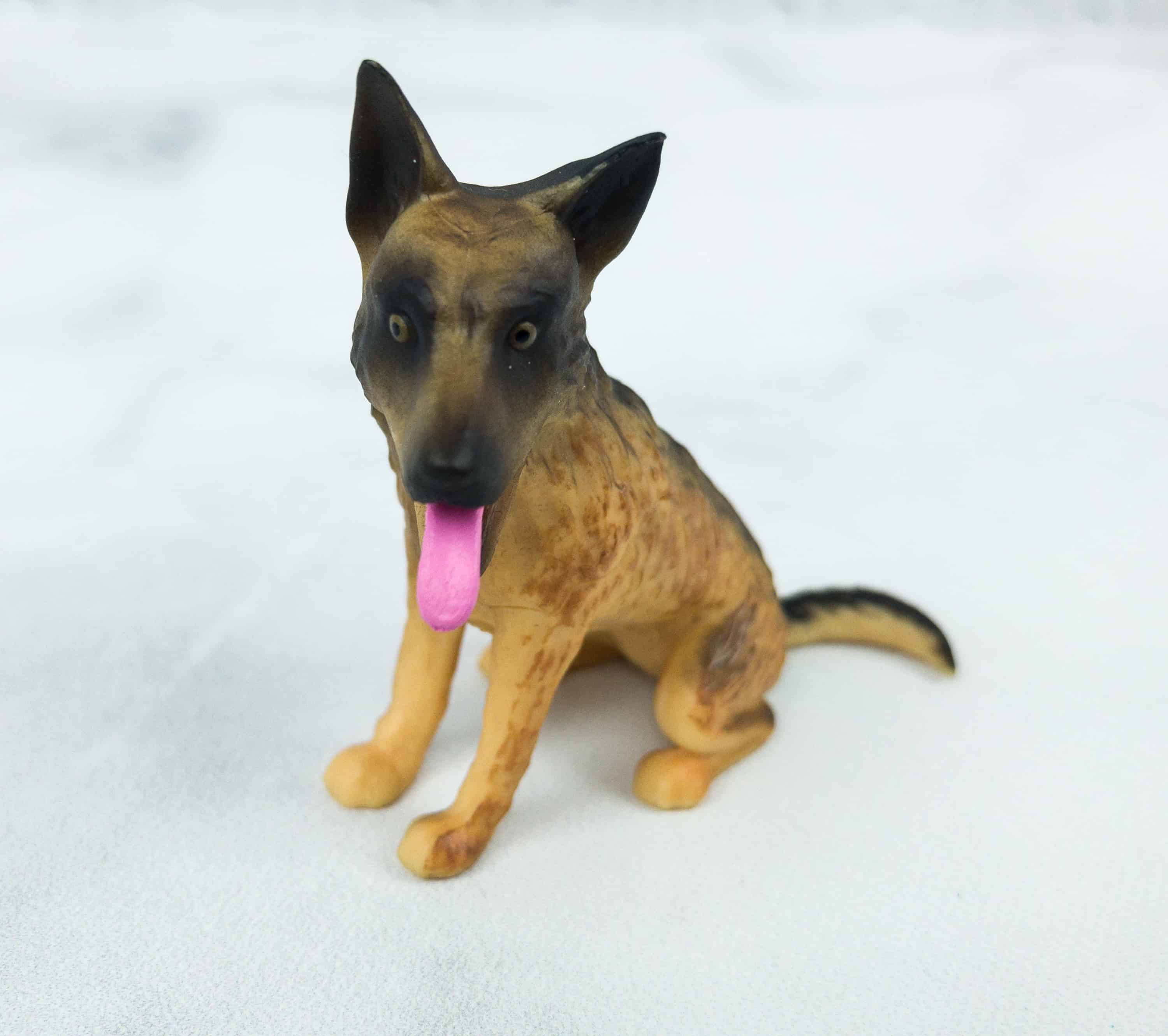 Inspired by the dog from Mad Max, Dogmeat is modeled to be a Blue Heeler breed. He's too adorable that even if the sidekick's companion in the game was meant for a horrible end, it's surprising that most players do all they can to keep him until the end!
Fallout 4 Codsworth Figure. This month featured figure is someone from Fallout 4… It's Codsworth! However, our figure was broken and we just puttied the broken parts.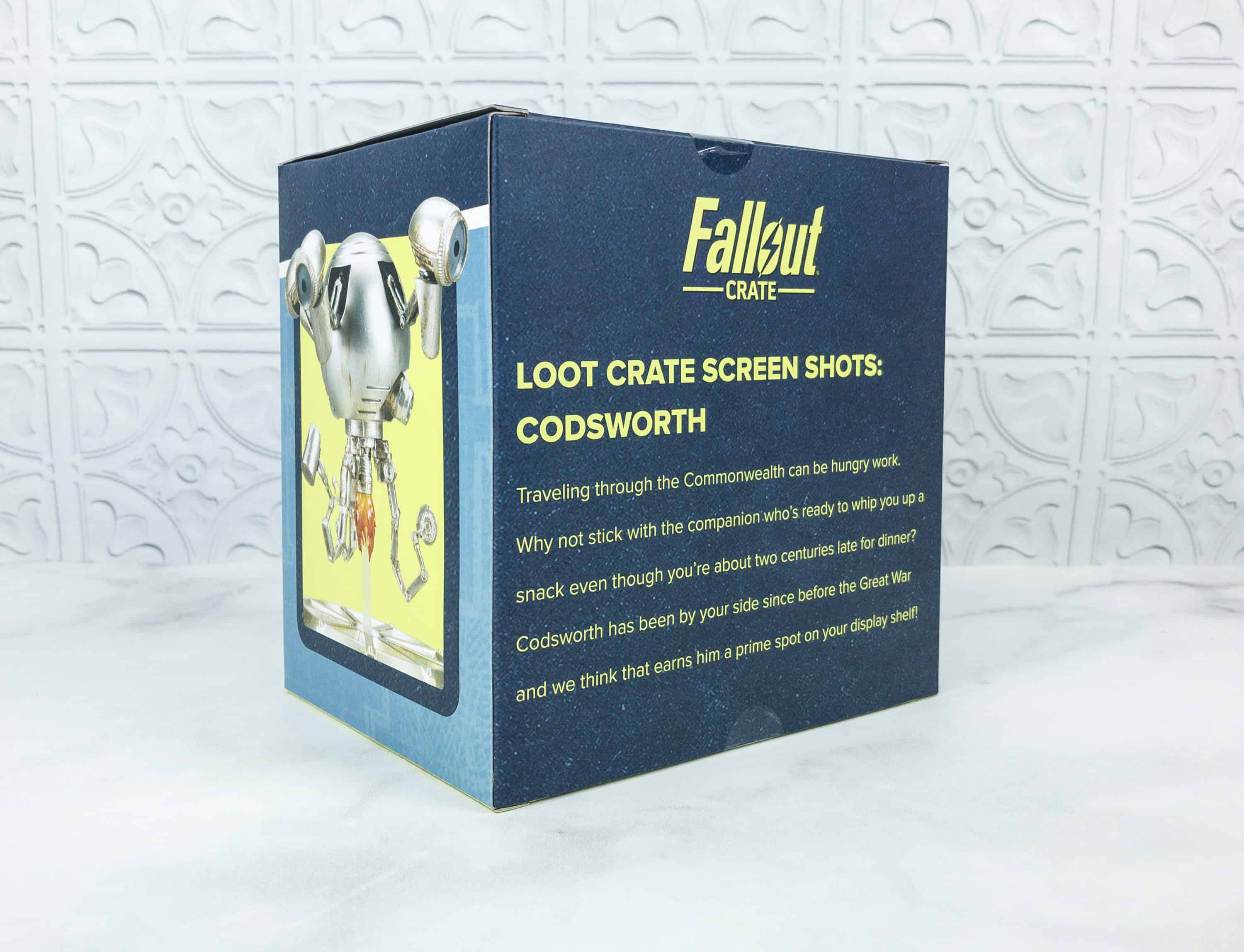 Codsworth is one of the most loyal companions in Fallout 4. It's indicated at the back of the figure's box!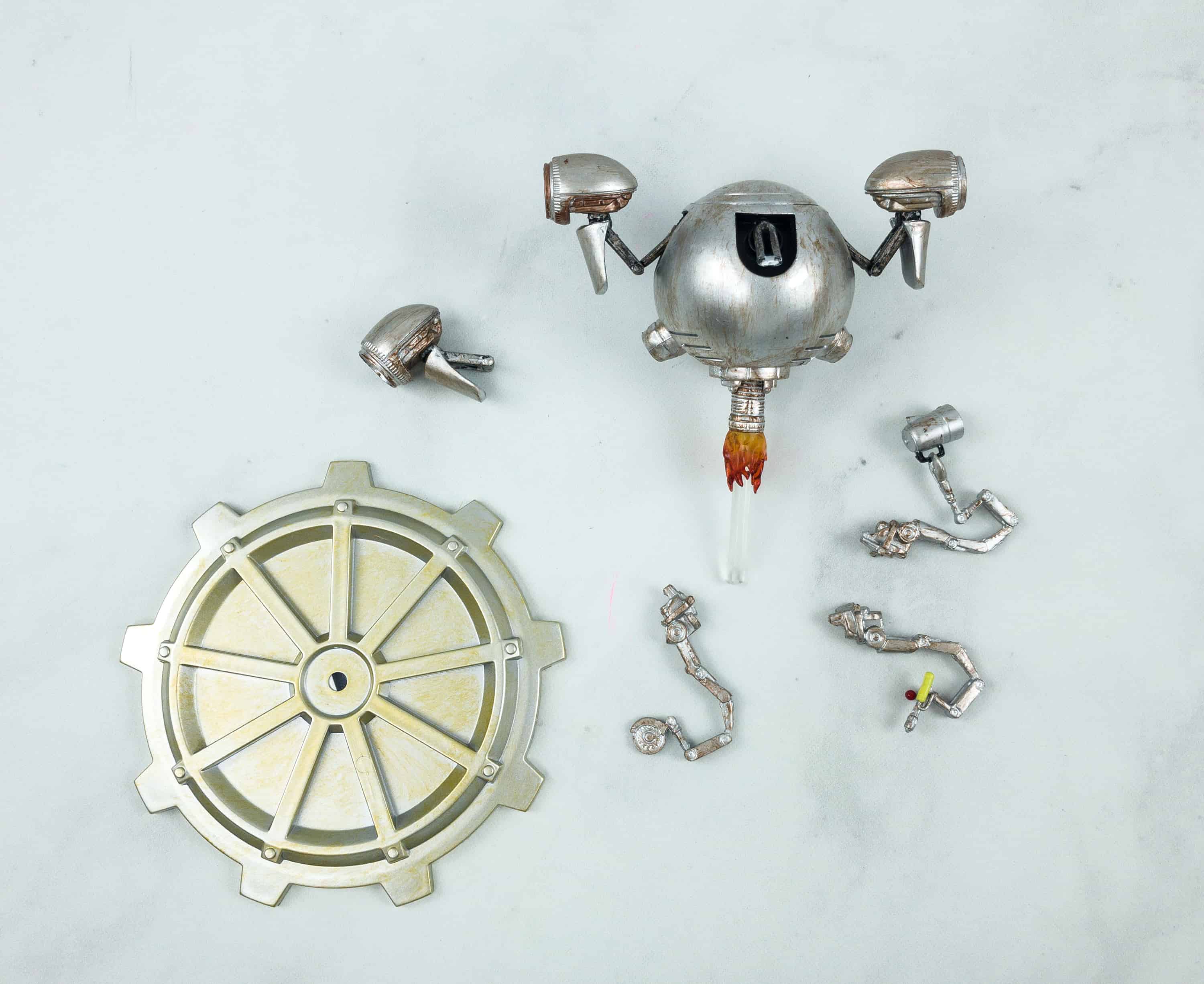 It has several assemblable parts.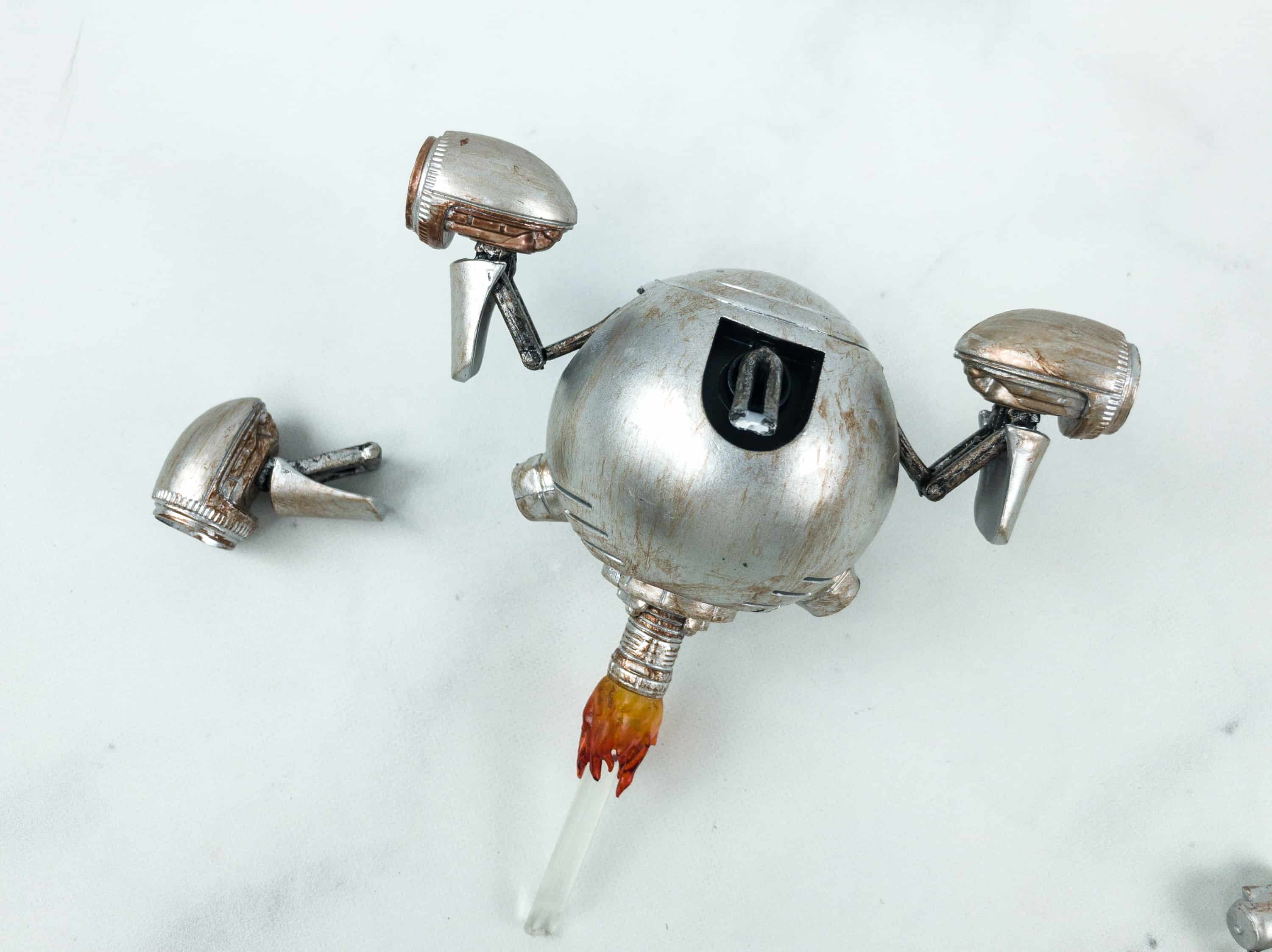 Here's Codsworth without the long arms. Actually, these arms cause him trouble in fitting through some doorways and gates.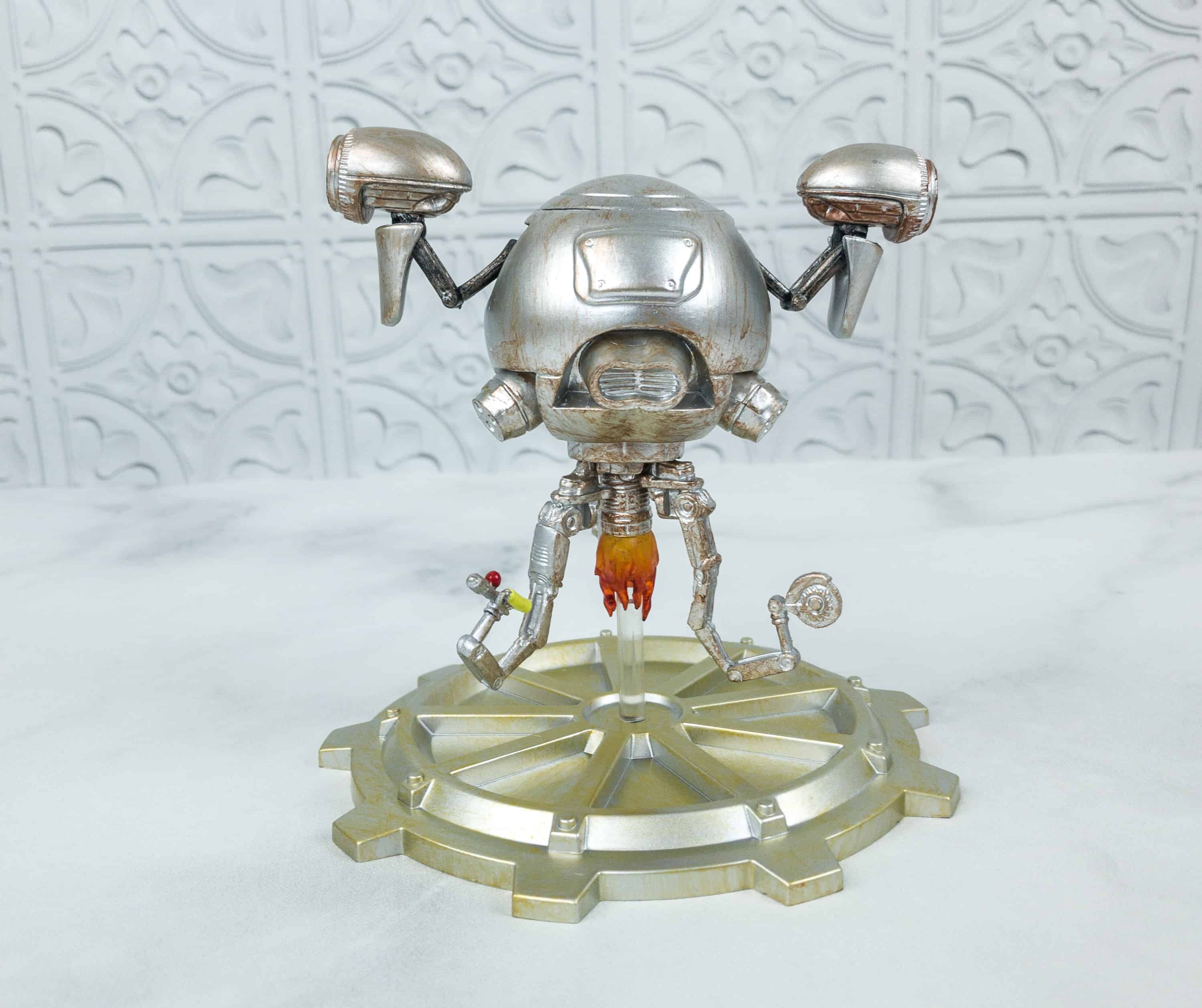 Codsworth is the reinvented version of Dogmeat… He's as loyal as a dog! Who wouldn't want a companion just like that?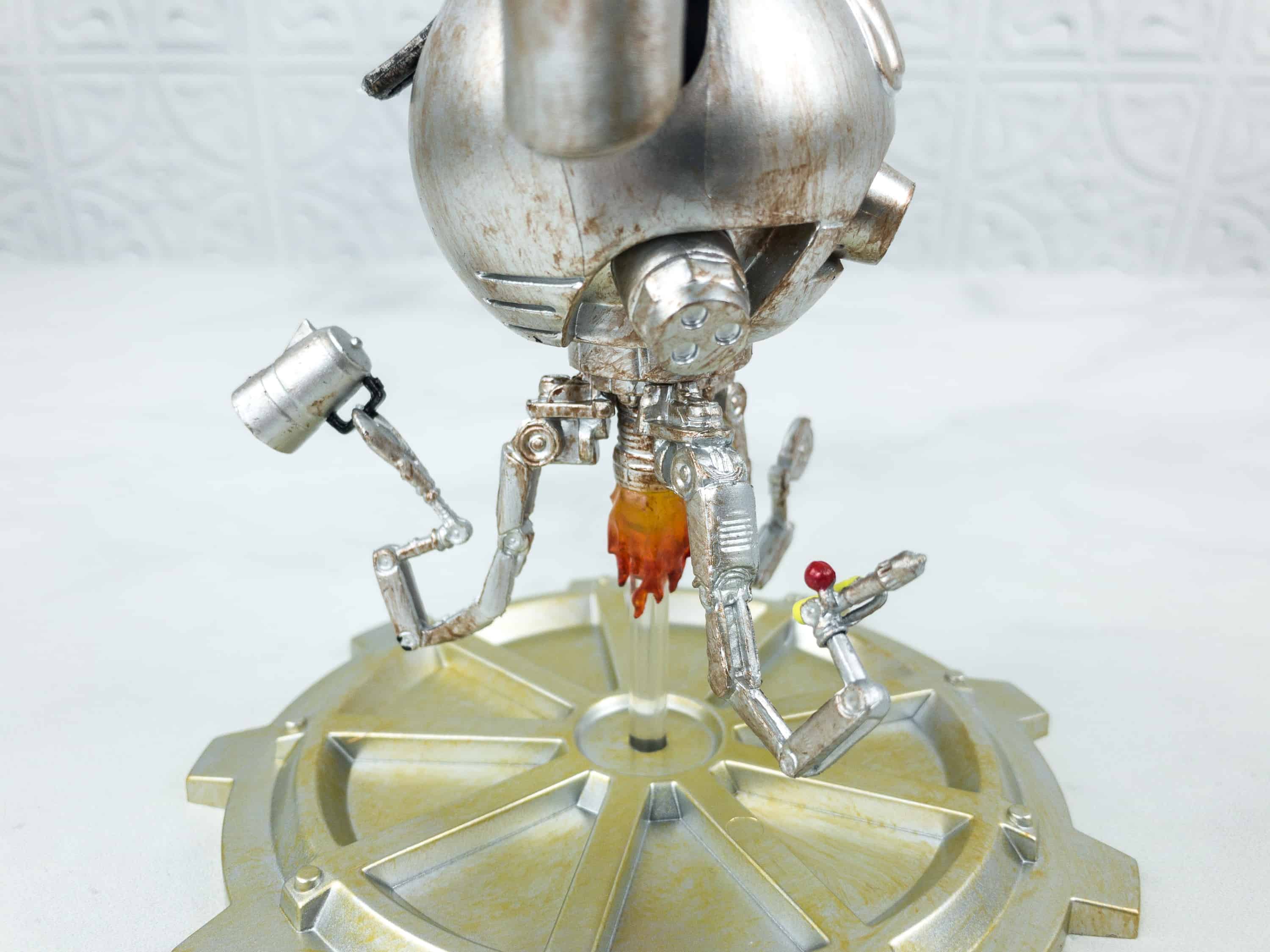 I really love how they made the paint job for this figure, it looks like a steel that was tested by time!
Unlike Dogmeat, who is a non-talking companion, you can have a conversation with Codsworth in the game.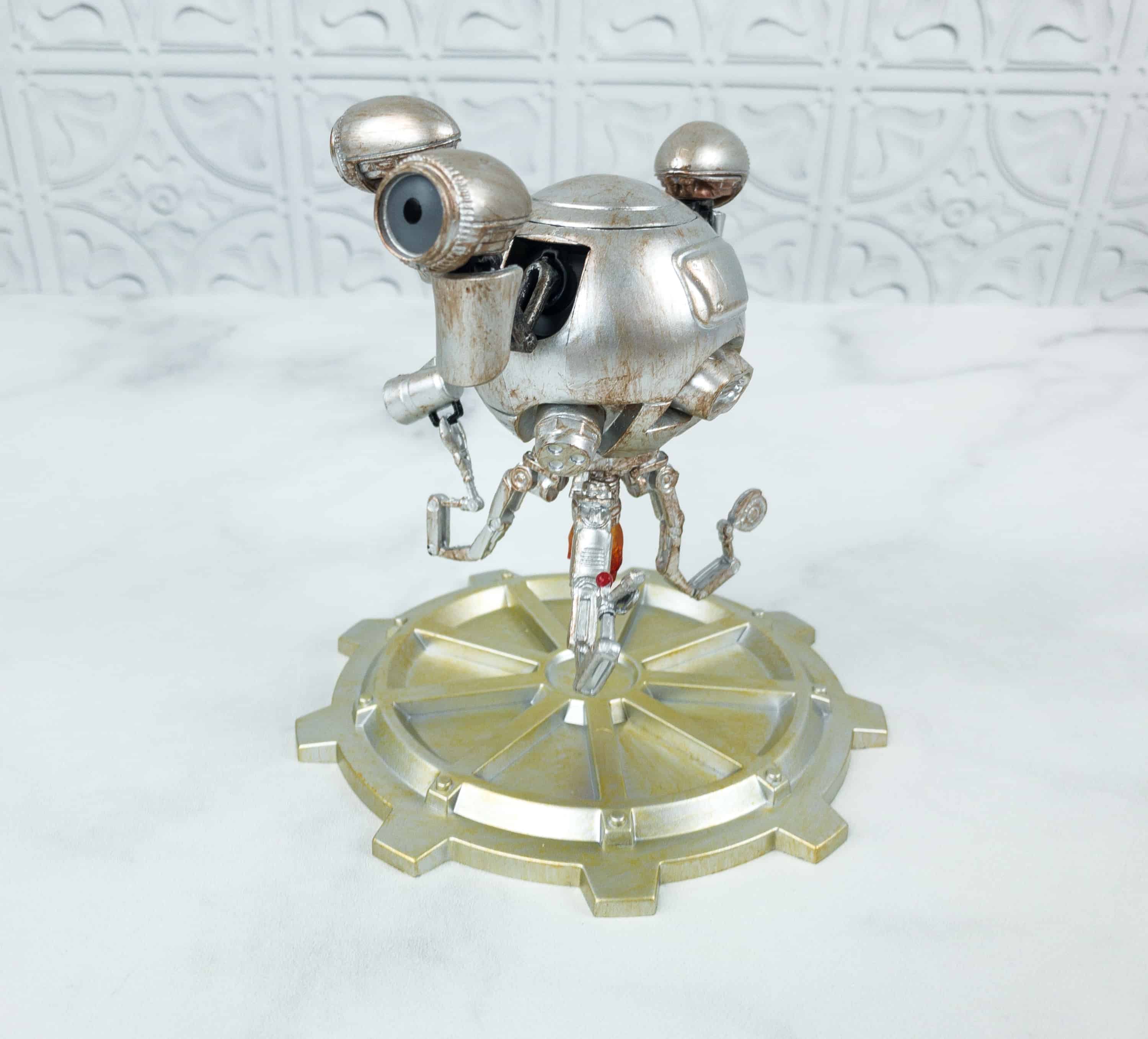 The detailing is well done!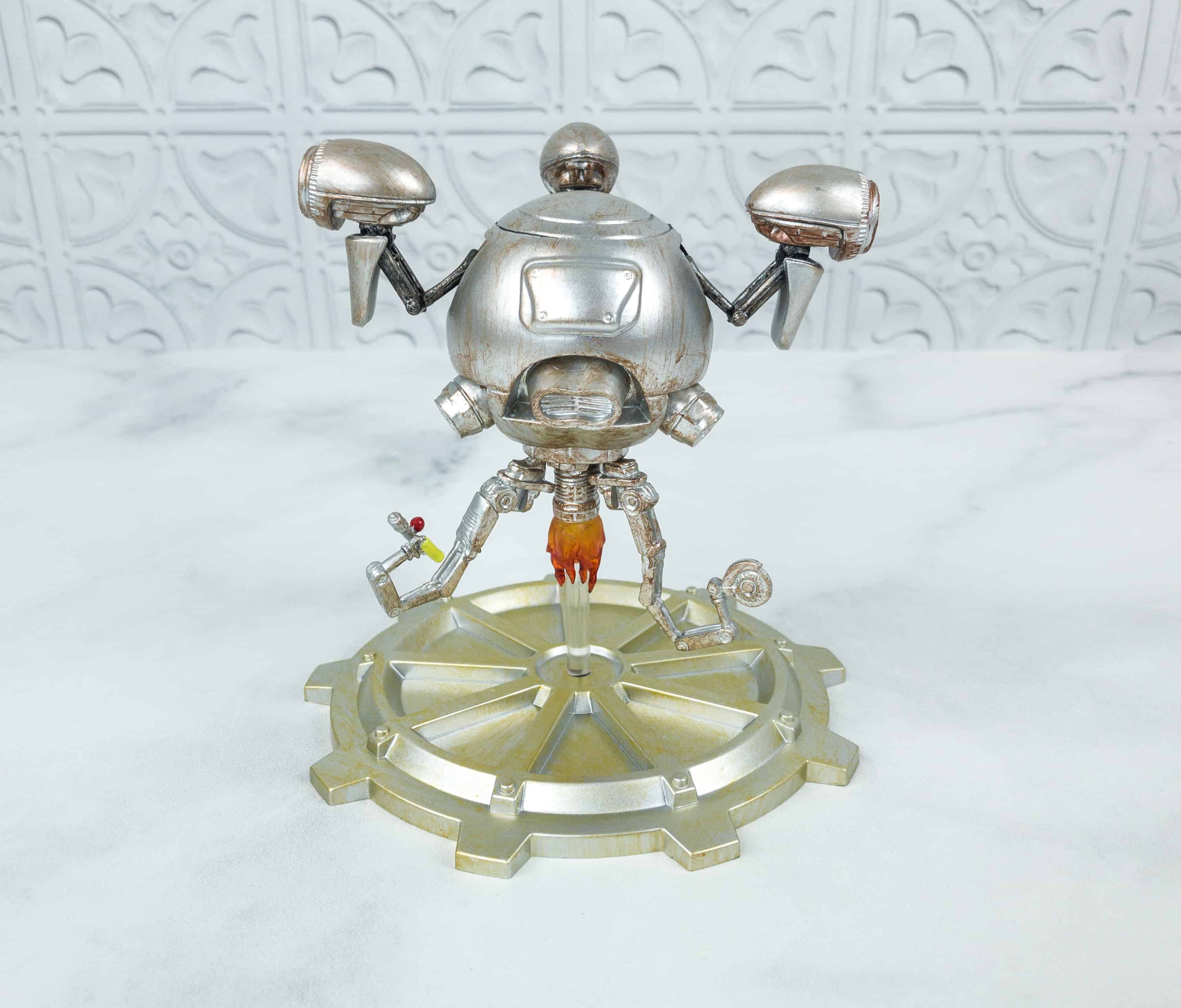 He usually appears on the ending slides of the game.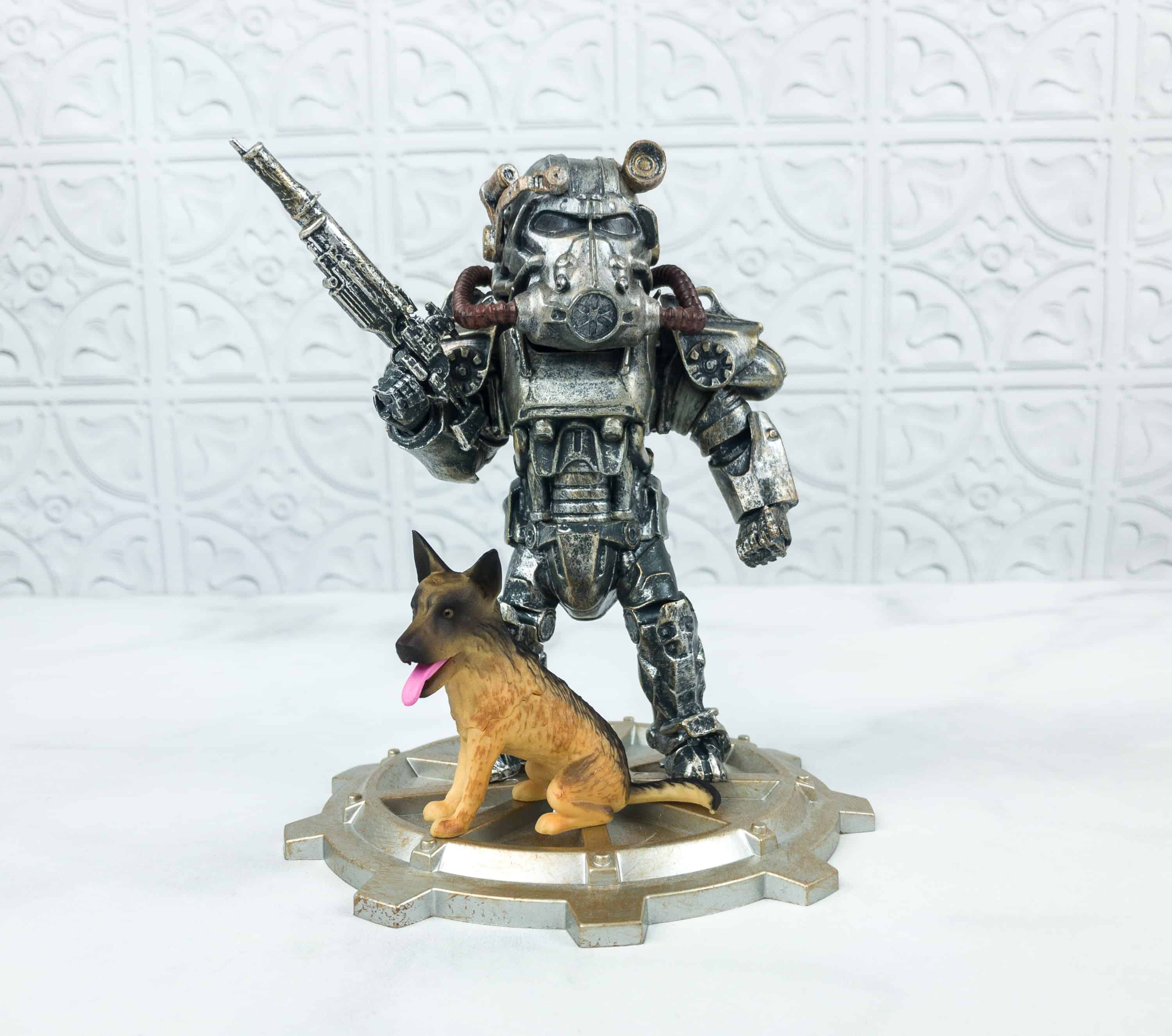 And the buddies are finally reunited!
This box is actually starting to go from great to just good. There are still no-wow items, save for Dogmeat who is too adorable as an addition to the Power Armor build. I still wish that they include some awesome items for the next box and don't just settle being an okay box. Also, I am disappointed with the broken Codsworth figure but Loot Crate promises the replacement is on its way.
What do you think of this edition of Fallout Crate?