Bargain Bead Box is a monthly bead subscription service. Each month, you'll receive over $40 worth of top-quality jewelry supplies. It can be a mix of loose beads, bead strings, findings, and pendants. You can share your creation on their social media for a chance to win a $25 gift certificate for their sister store Bead Box Bargain. Boxes are $15.95 per month. Shipping is free in the US and $7.50 to Canada. Even if it's technically a subscription box, it comes in a mailer, which is less expensive than a box so they can send more beads! And more beads is more fun!
All the beads are packed in well-labeled plastic bags and tucked inside an organza bag. On the reverse of the introduction letter, we get a description of all the items in this month's box!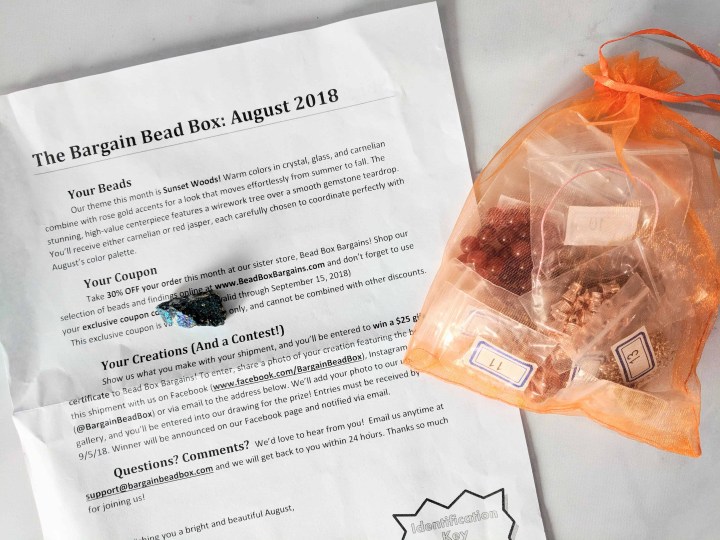 Each month is curated around a different theme and all the beads and findings are coordinated. This month's theme is Sunset Woods with rose gold findings and charms.
We also have a Shipment Identification Key.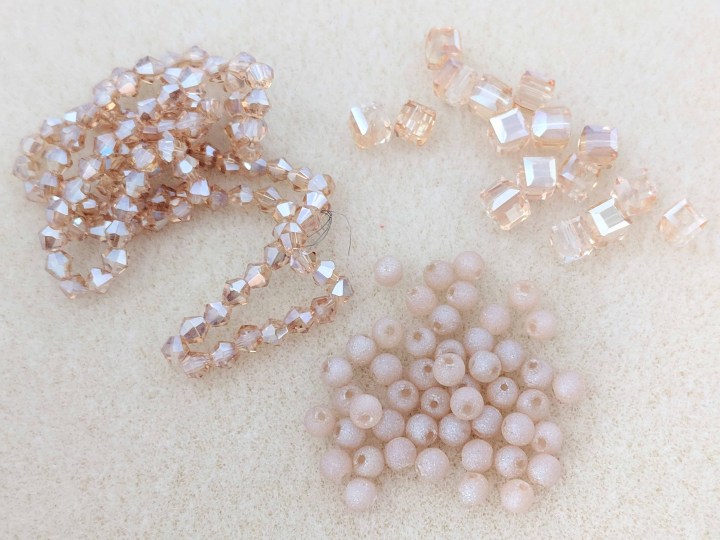 4mm Chinese crystal bicone in light topaz AB. Crystal bicones are a staple in this box as we always receive at least one or two different colors, fitting the month's theme and findings. The AB coating adds a nice spark to them.
4mm textured frosted glass beads, silk AB. I love frosted beads, especially for winter-inspired design. These are small enough to work well with the bicones and heavier looking beads.
6mm Chinese crystal cube beads, pale topaz. I like using cubic beads for earrings.
22mm leaf cutout drop. I like the simplicity of these charms, they would look amazing as a charm on a beaded bracelet, or on earrings.
36x23mm looped leaf chandelier component. They can be used by themselves for earrings, or they can be used as a link component on a necklace (or bracelet).
Toggle clasps. Every month, this box provides us with findings staples such as clasps to put the finishing touch to our design without having to run to the store if it's in a metal we don't work often with. I sometimes use them to make an interchangeable focal component to a necklace.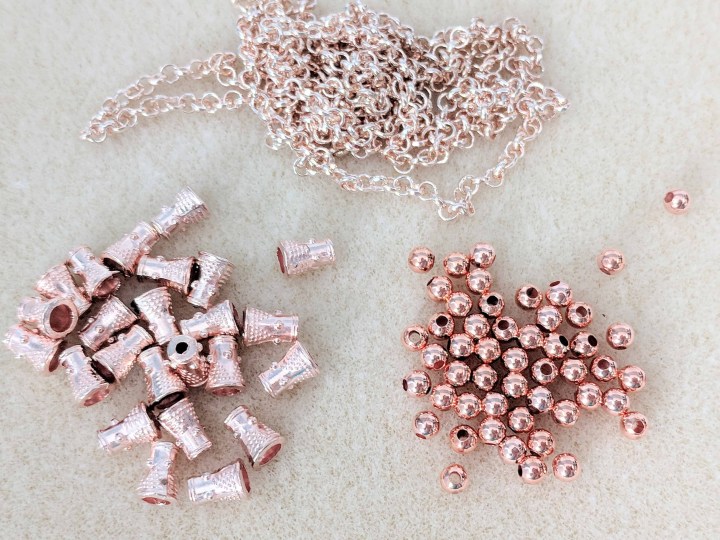 1 meter 3mm steel rolojewelry chain. We usually receive a length of chain every month, and this month's has a very delicate design. I really like to use them for tassel, but I've noticed that the color is lighter than all the other findings.
8mm dotted cone bead caps. Another staple is the bead caps. These are great for when you want a feel of length to your design, like long earrings, or multiple chains design. Just add nice small beads and you'll have a great look!
4mm brass spacer beads. Spacer beads are great to add metal accent without overwhelming a design.
4 pc 14x15mm Chinese Crystal hexagon beads, magma AB. I really love the colors with some orange, yellow and pink hues. I was thinking of making a wrapped bracelet and using one of them as the button.
6mm red agate round gemstone beads AB finish. They look more purple than red, but they are lovely frosted looking beads. I'll probably use them for a stretch bracelet.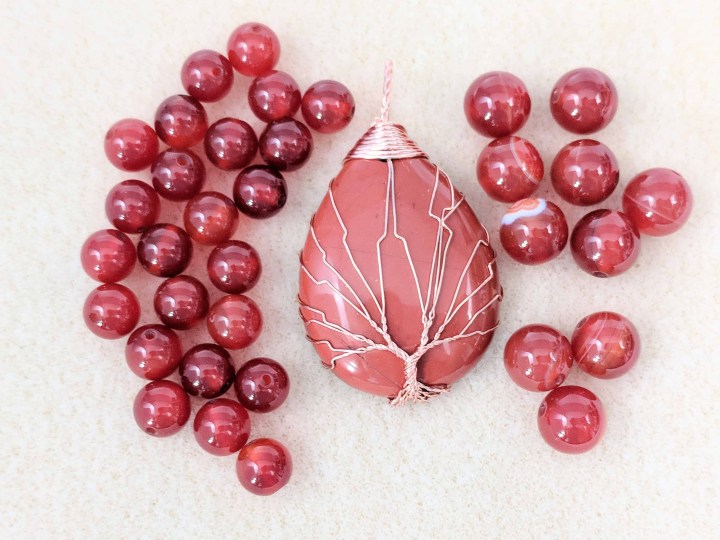 10pc 10mm carnelian round gemstone beads and 24pc 8mm carnelian round gemstone beads. I like when we get gemstone beads in a bead box, and I'm happy to see that we get them almost every month! This month, we received two sizes of the same gemstone. Both together would make a lovely simple pair of earrings with a bead caps on top of the 10mm, and maybe a spacer bead on top of the 8mm one.
50x30mm teardrop gemstone pendant with rose-gold finished brass tree overlay. Subscriber would receive either carnelian or red jasper. I received the Red jasper. If you are not sure, the carnelian one will be translucent, like the carnelian beads we received in the box. The red jasper is totally opaque and not as red as the beads.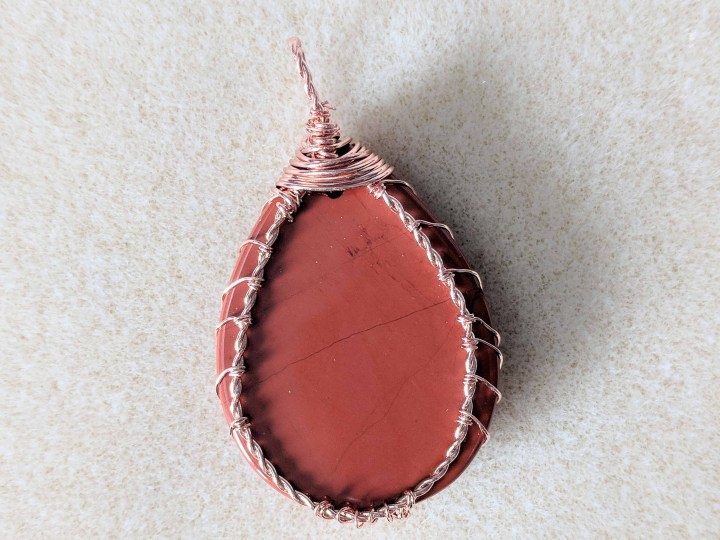 The back is well made with no weird wire poking at weird places! I like this pendant on a simple chain or leather cord, the longer the better, to wear with a sweater (fall is sweater season after all!!!)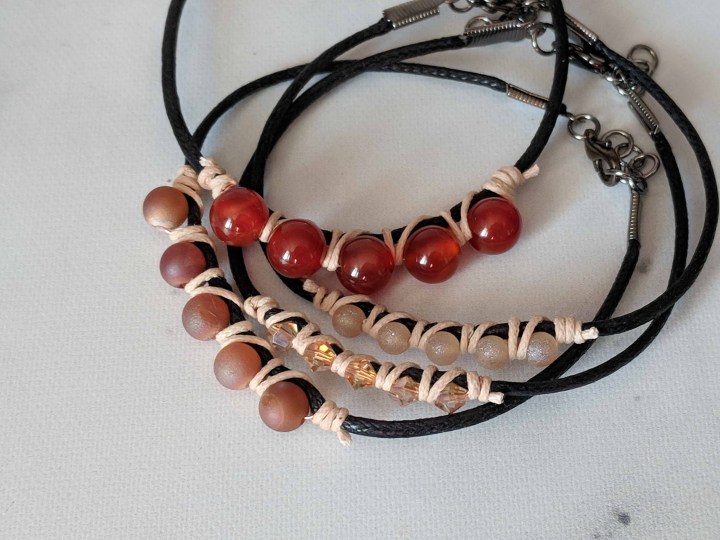 This month, I wanted to make a wrapped bracelet with the lovely hexagon beads, but it didn't turn out how I wanted, so I made simple individual waxed cord bracelet with some of the beads.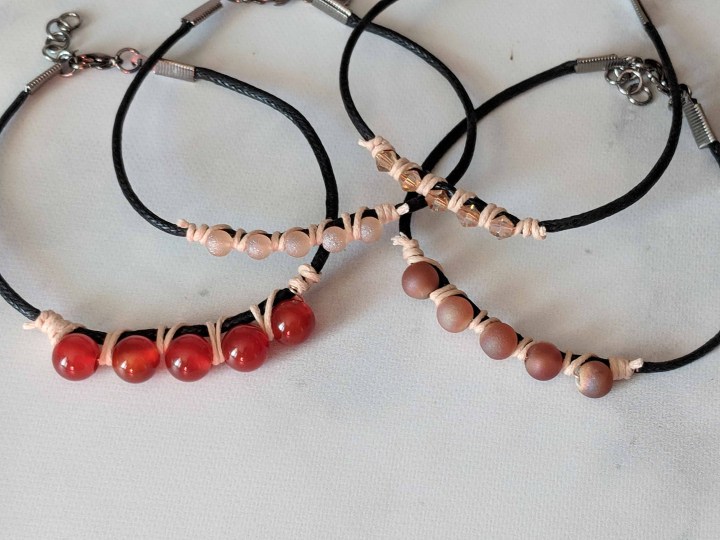 I wish I would have used a brown cord, but I ran out of it. So here it is!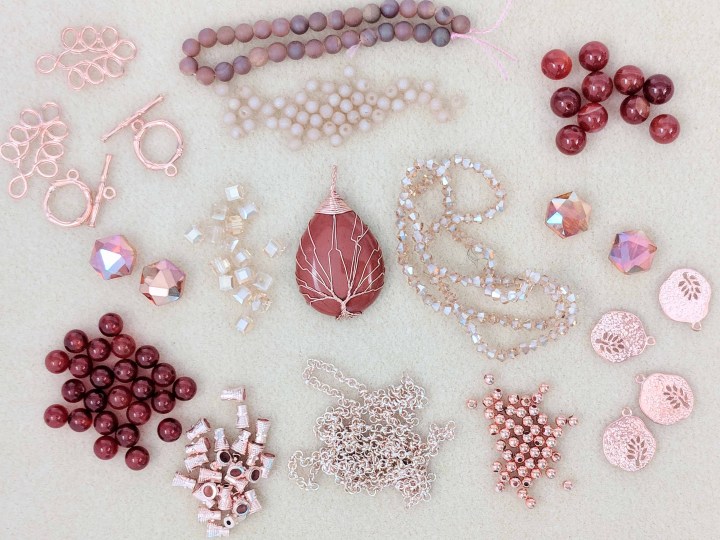 This month gave us another lovely variety of beads that work well together. I love the Tree Pendant, and I always love when we get gemstones. I like that even when we don't like a certain type of beads, there is enough variety to make it worth it. And knowing that my stash of findings in the monthly color will be refilled is a nice bonus!
What did you think of this month's Bargain Bead Box?