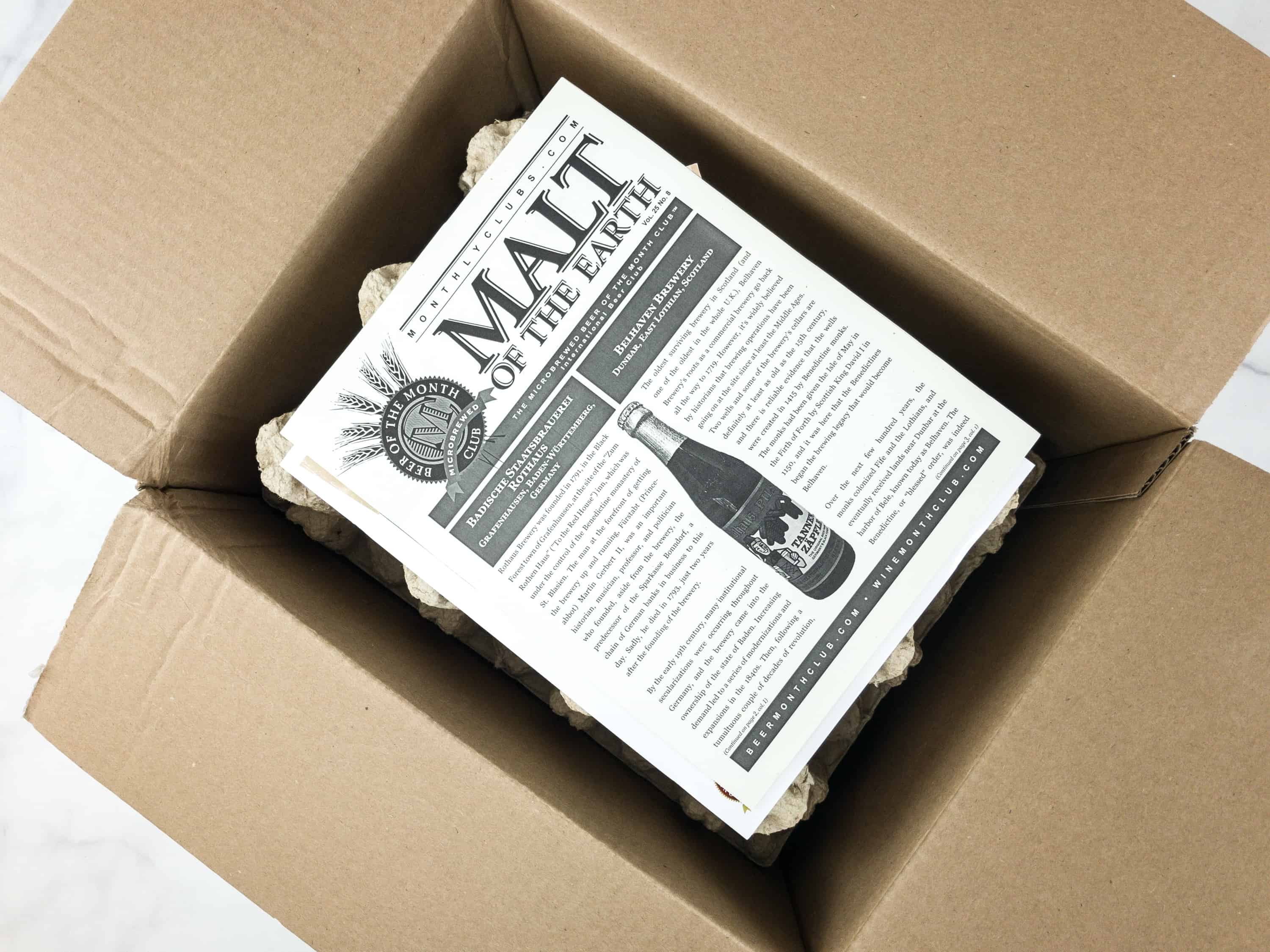 For those most interested in exploring international beers crafted abroad, members of The Microbrewed Beer of the Month Club's International Beer Club get twelve 12-oz. beers imported from two different international breweries. Each shipment includes two different beer styles, six bottles or cans of each style, and a monthly newsletter, Malt of the Earth.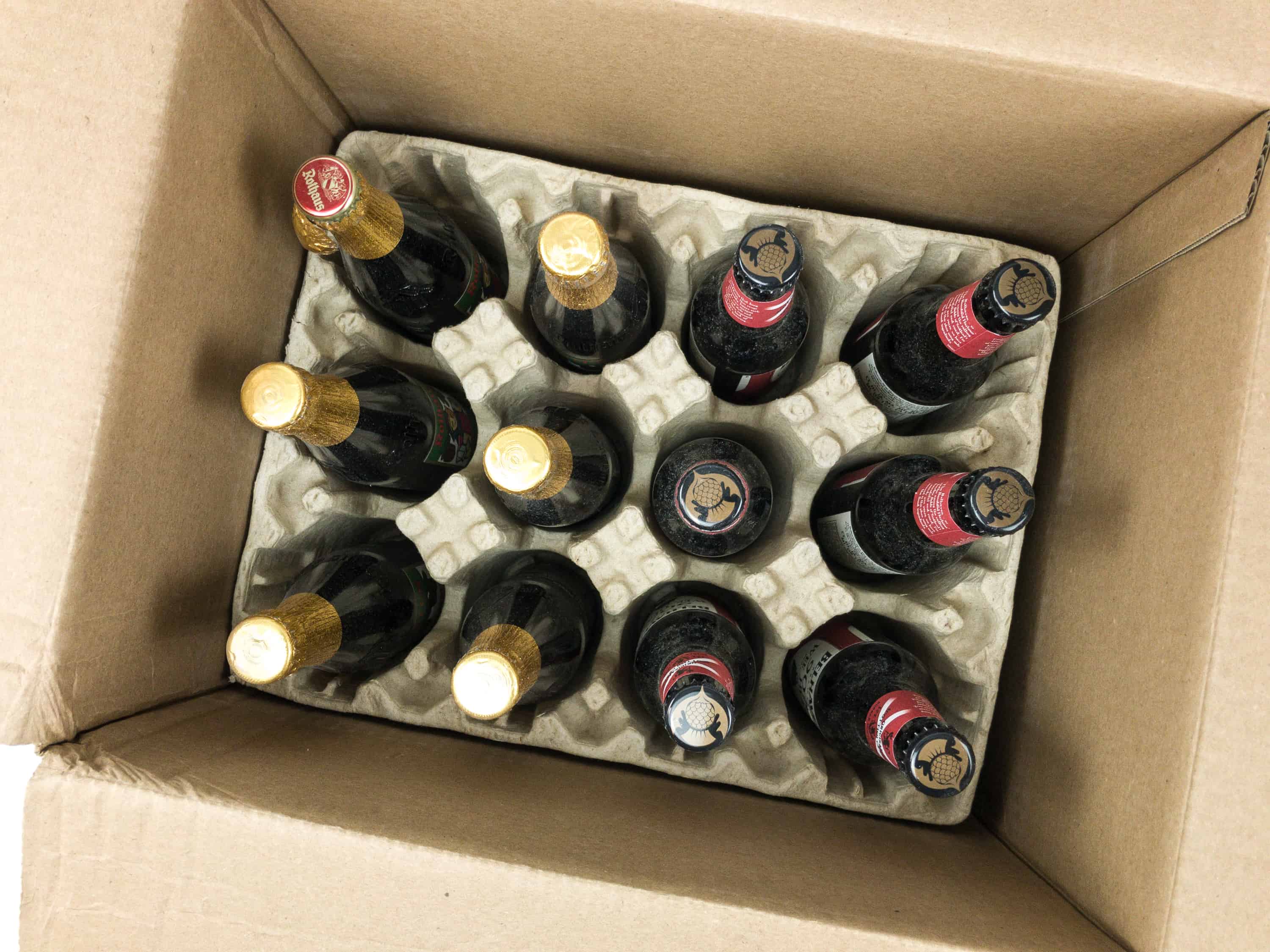 All 12 bottles are safely packed in a box with a molded insert to protect them on their journey to you.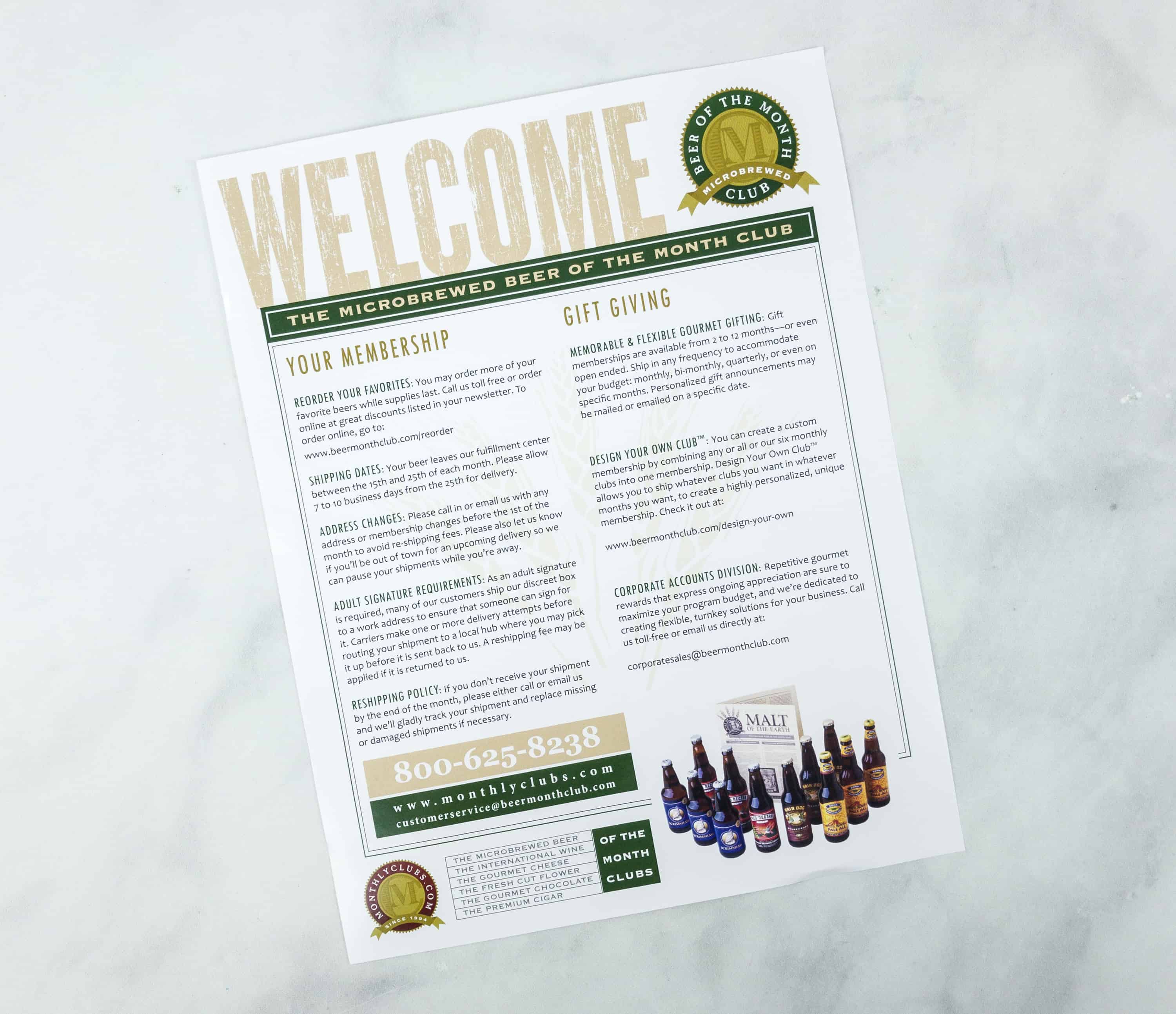 The box includes a welcoming card containing some logistical information about your Beer of The Month Club membership. Some jurisdictions have restrictions on shipping alcohol. They note that you may want to receive the box at work to ensure an adult is around to sign for it.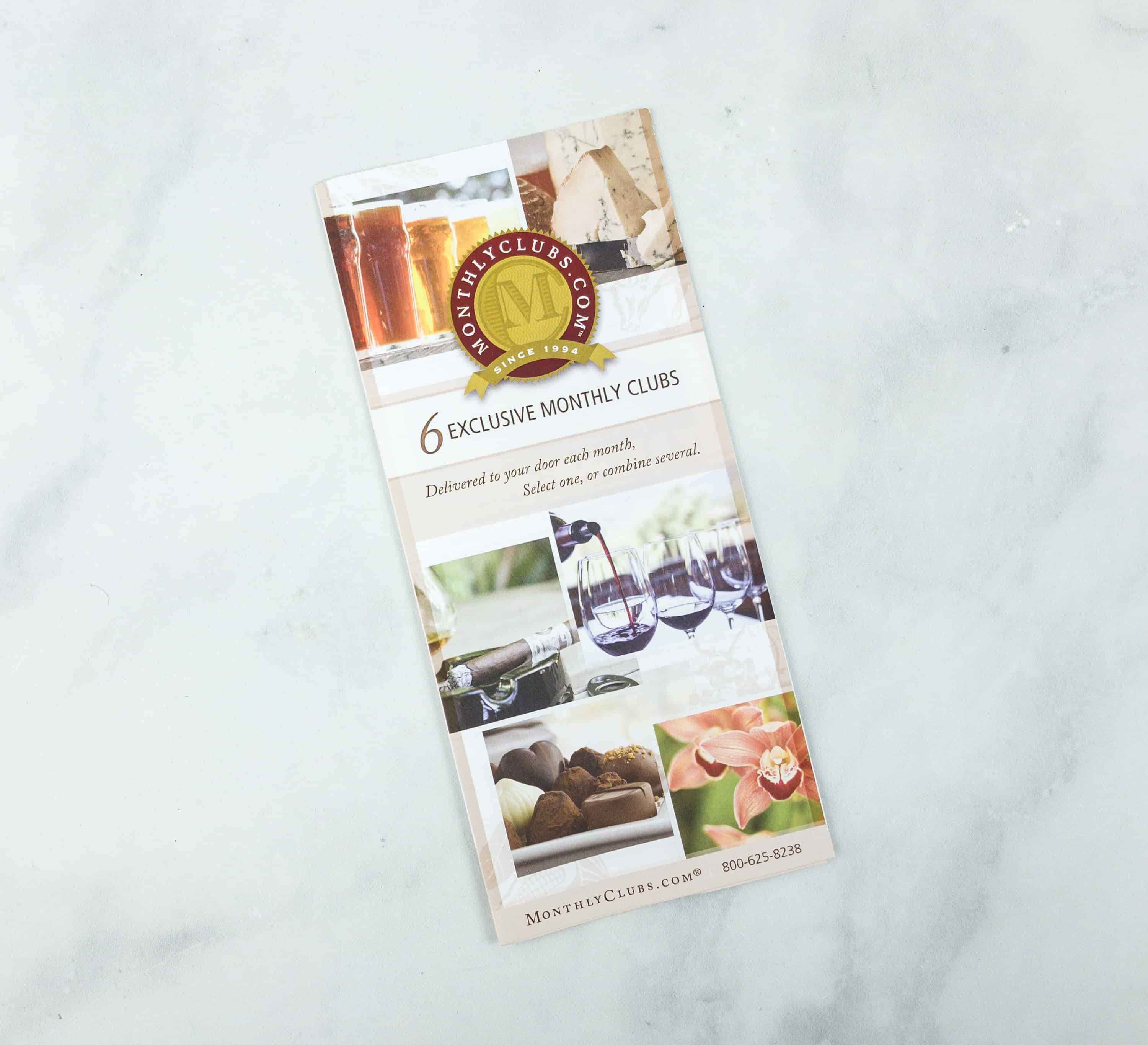 There was also a brochure for the Monthly Clubs family of boxes. Their subscriptions include beer, wine, cheese, flowers, chocolates, and even cigars.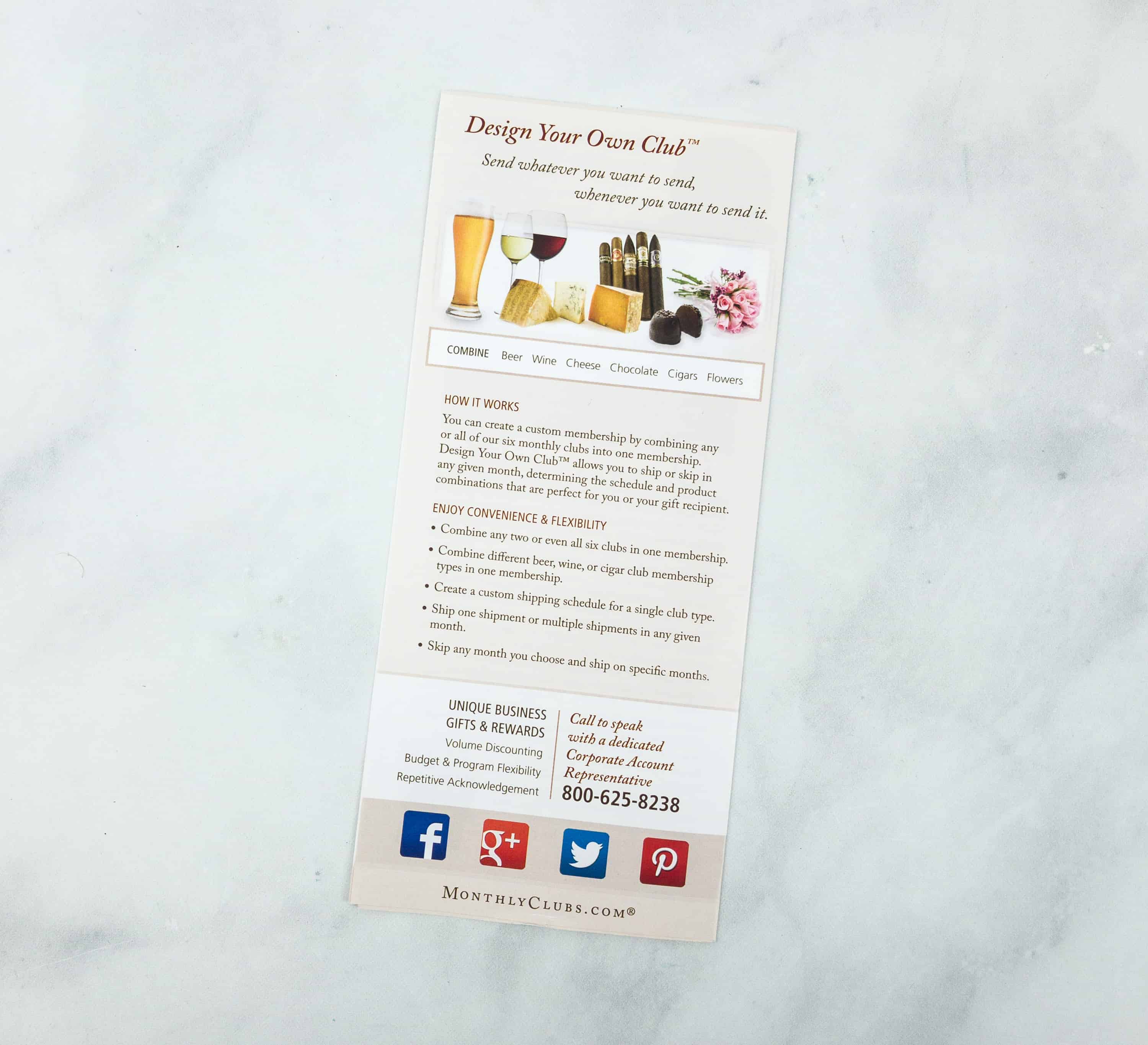 You can also mix the clubs to make a combo subscription for the ultimate indulgence!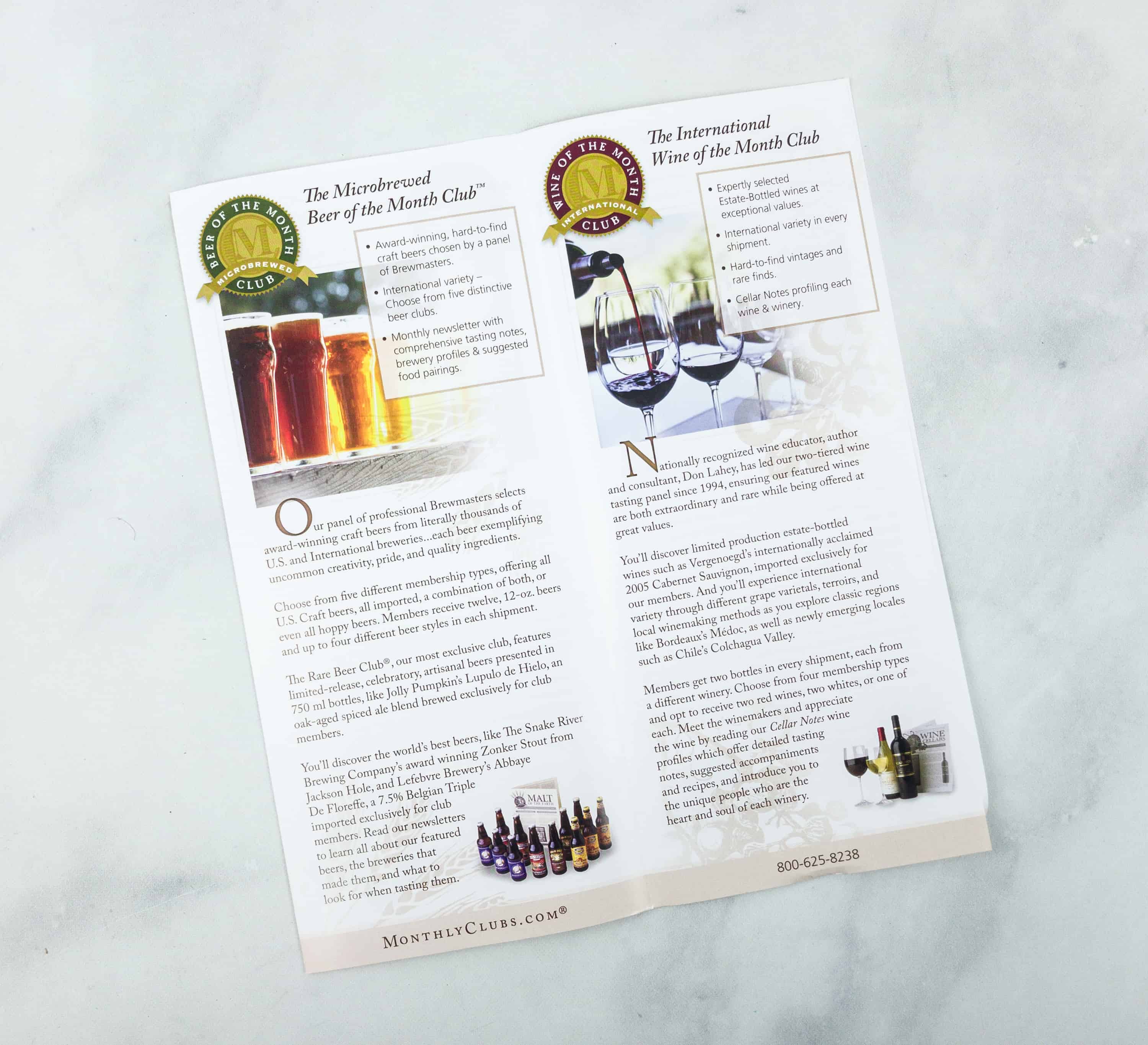 If you're into wine rather than beers, they also have a International Wine of the Month Club. You can choose Premier Series, Masters Series or Collectors Series subscriptions within that club.
They really have something for everyone!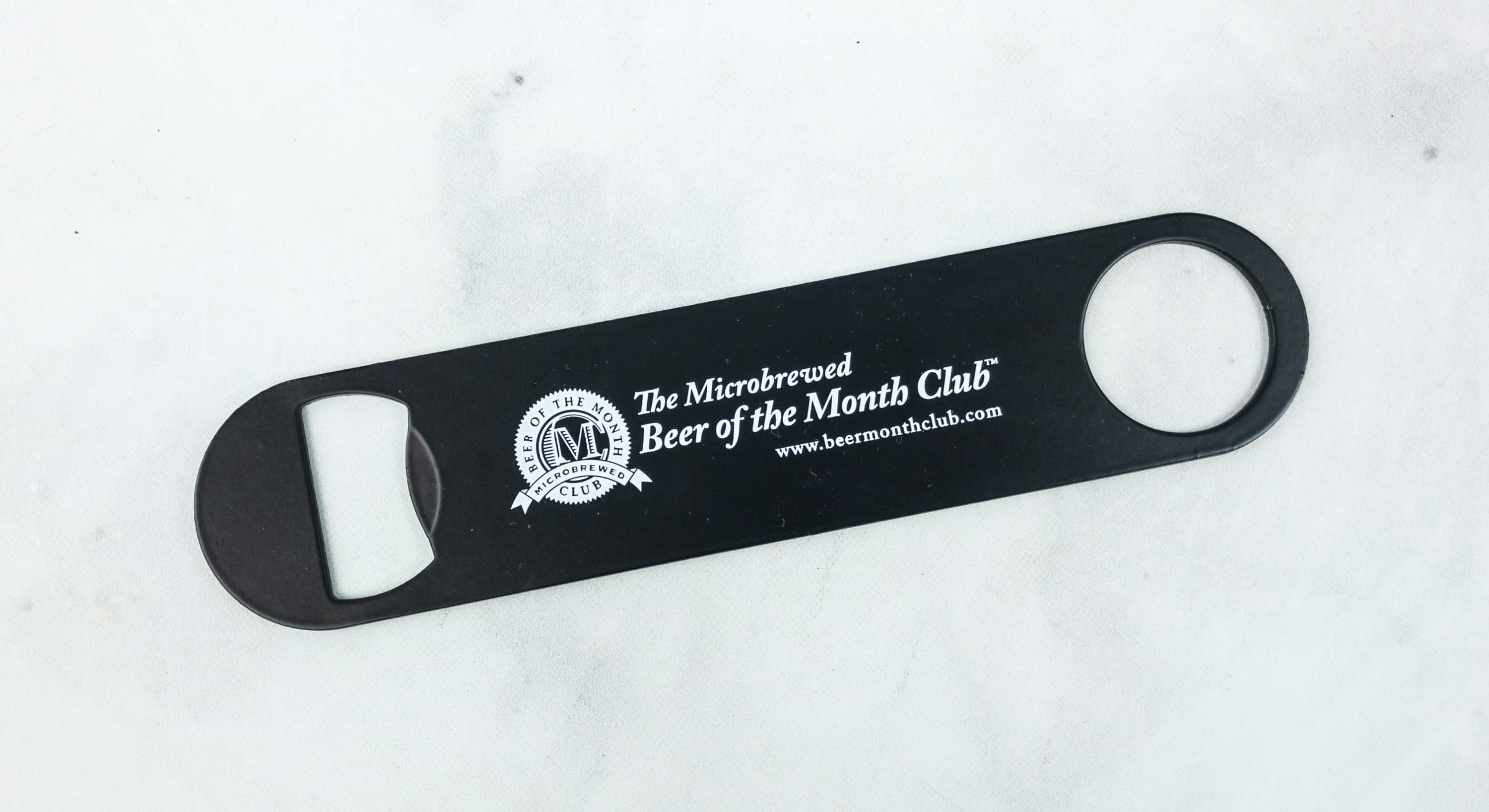 The inaugural box in a subscription term includes a Microbrewed Beer of The Month Club bottle opener!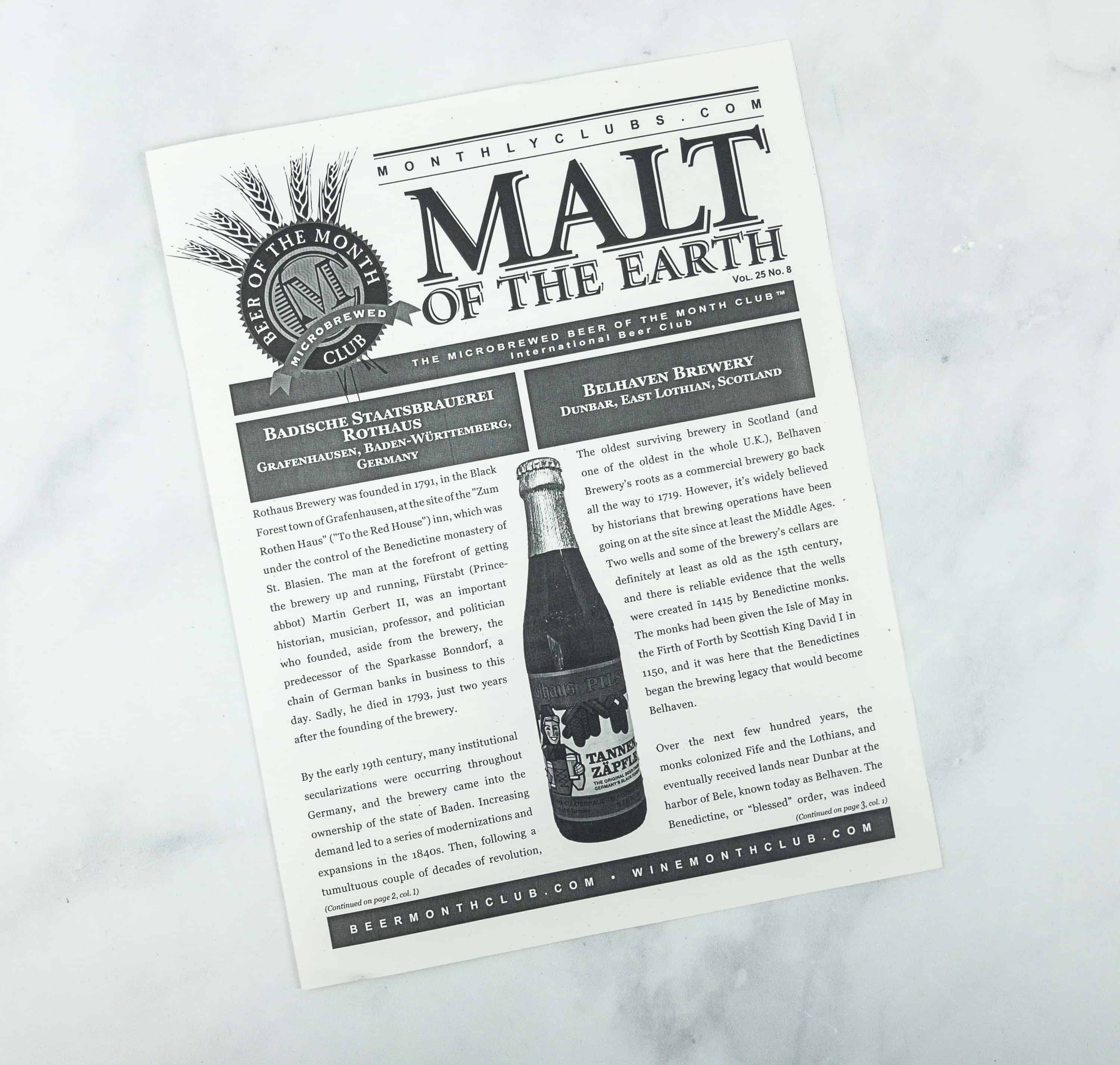 The Malt of the Earth is updated monthly to reflect the different beers featured in that month's box. It always has a fascinating section at the beginning discussing the history of each brewery behind the month's beer selections.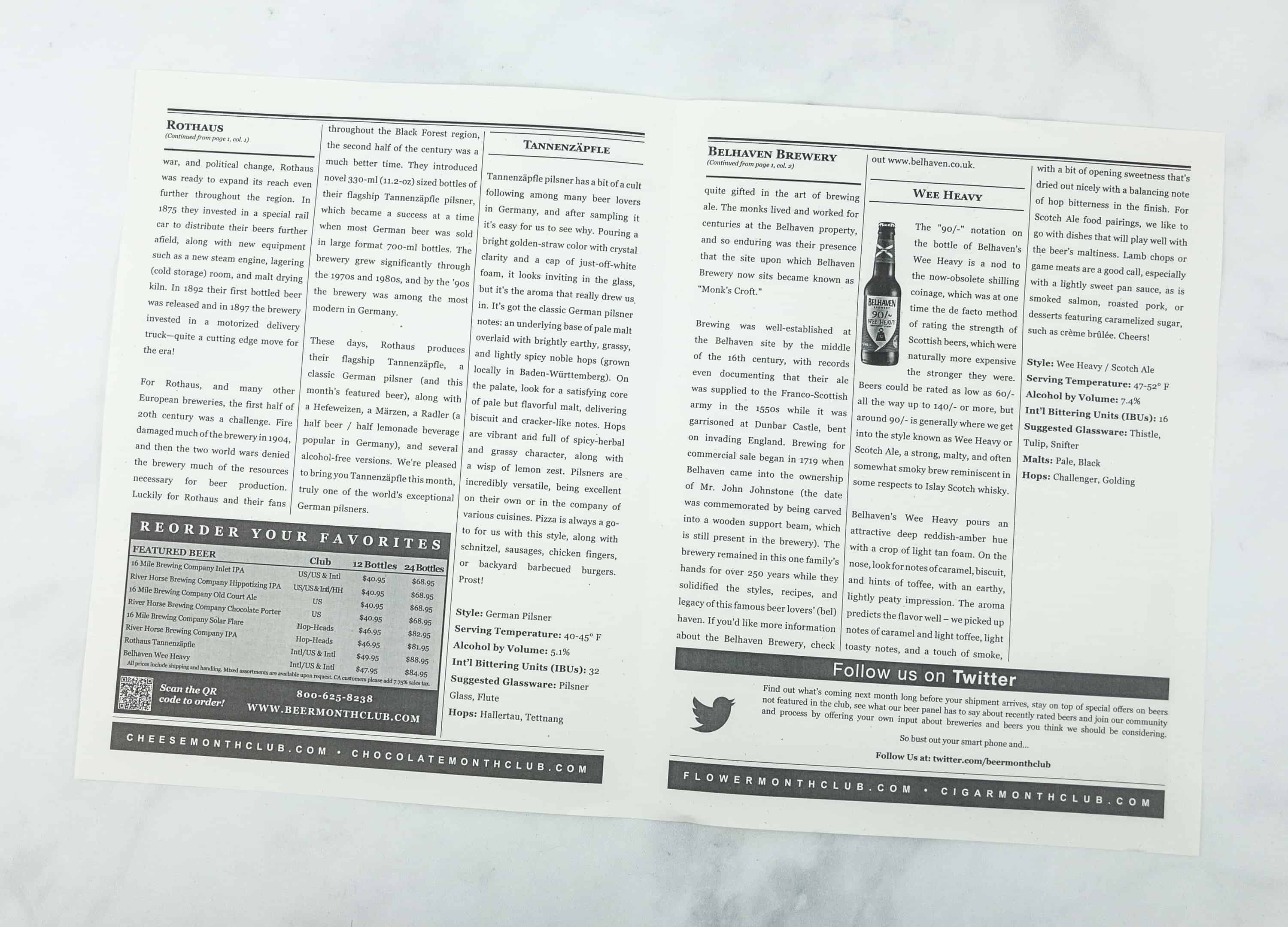 The sheet also provides a thorough description of each beer in the box, including notes on its characteristics and proper serving temp and vessel. The stats box includes the ABV and IBU for each brew, and it even identifies the varieties of malt and hops used.
This part of the sheet also provides the latest thing about the other clubs' products.
Everything in my box! Don't worry, there are actually twelve beers there.
This month's Microbrewed Beer of the Month Club International Beer Club box features a German Pilsner and a Scottish Ale!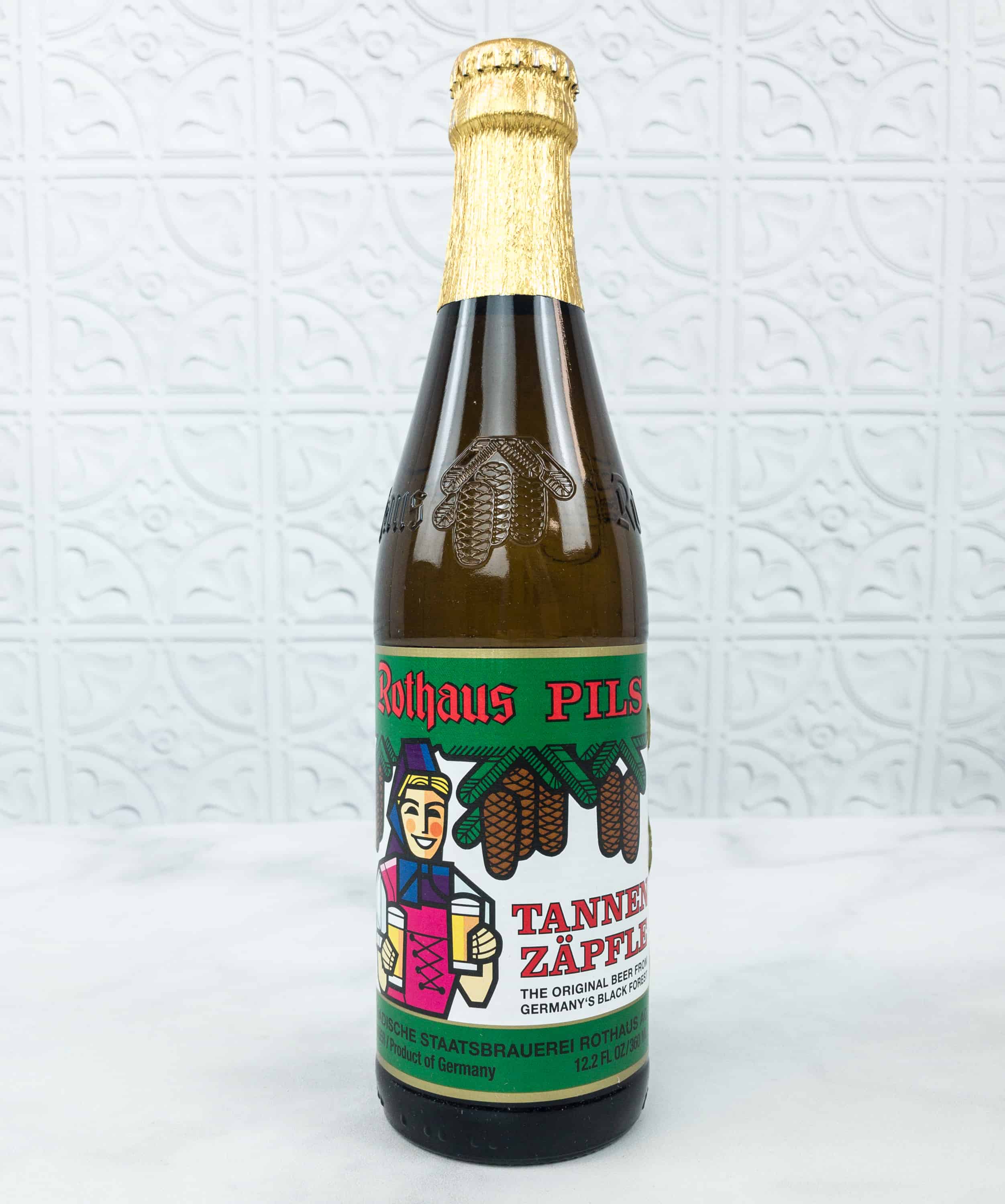 Badische Staatsbrauerei Rothaus. This classic German Pilsner has an underlying base of pale malt covered with brightly earthy, grassy, and slightly spicy noble hops from Baden-Wurttemberg. It has notes of biscuit and cracker, with a hint of lemon.
It is, of course, brewed in accordance with the Reinheitsgebot of 1516.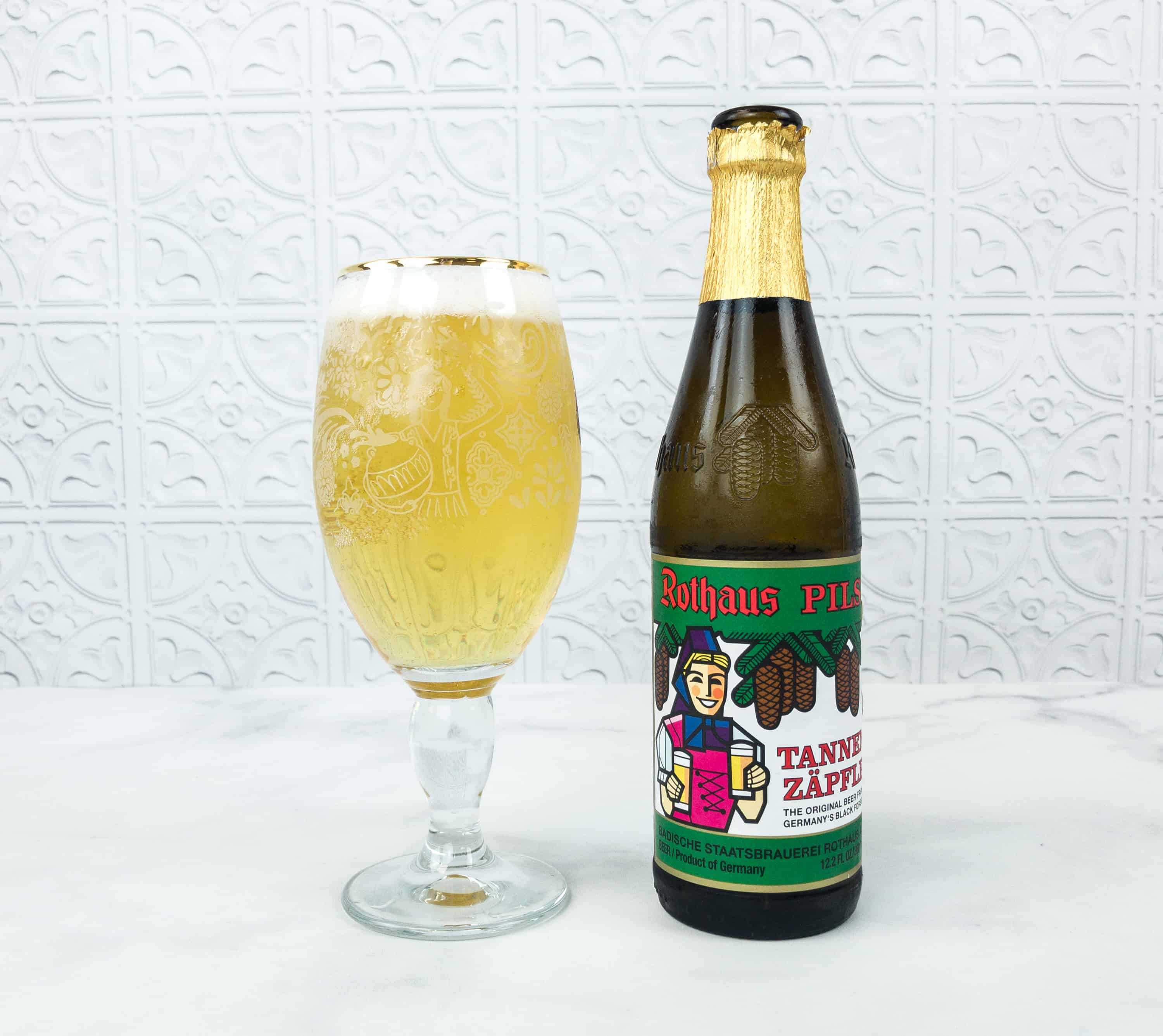 When poured in a glass, it produces a lovely bright golden-straw color with crystal clarity and a nice cap of thick white foam!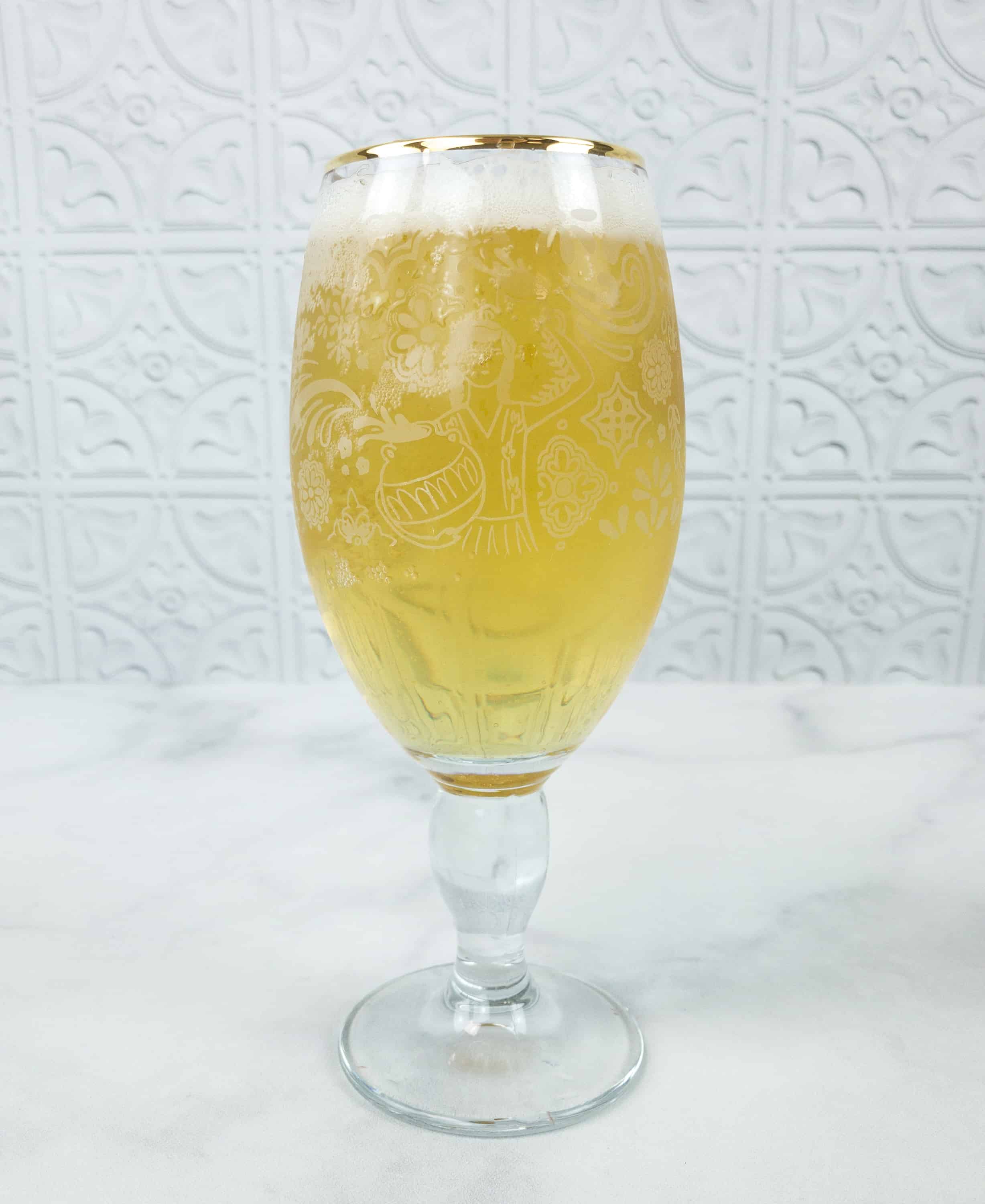 This beer is best served chilled. I found it to be light and refreshing, with all the fullness and brightness of flavor you just don't get in big brewery American "Pilsner." This is the best pilsner I can remember having in a 12 oz bottle — it maintains the lightness of the style but feels very vibrant and full-bodied, and it doesn't have any sour or skunky notes.  It'll go  great with pizza, schnitzel, sausages, chicken fingers, or barbecue!
Belhaven Brewery Rich Scottish Ale. This beer takes its name from the old method of categorizing beer by cost in shillings. Beers normally ranged from 60/~ up to 140/~ or more, depending on the strength and amount of malt. Belhaven Brewery has a total rating of 90/~ generally known as Wee Heavy or Scotch Ale. It is strong, malty, and often somewhat smoky brew. The notes compare it to Islay Scotch whisky.
This beer is slightly sweet, with a nice hops finish. It has notes of caramel, biscuit, and toffee.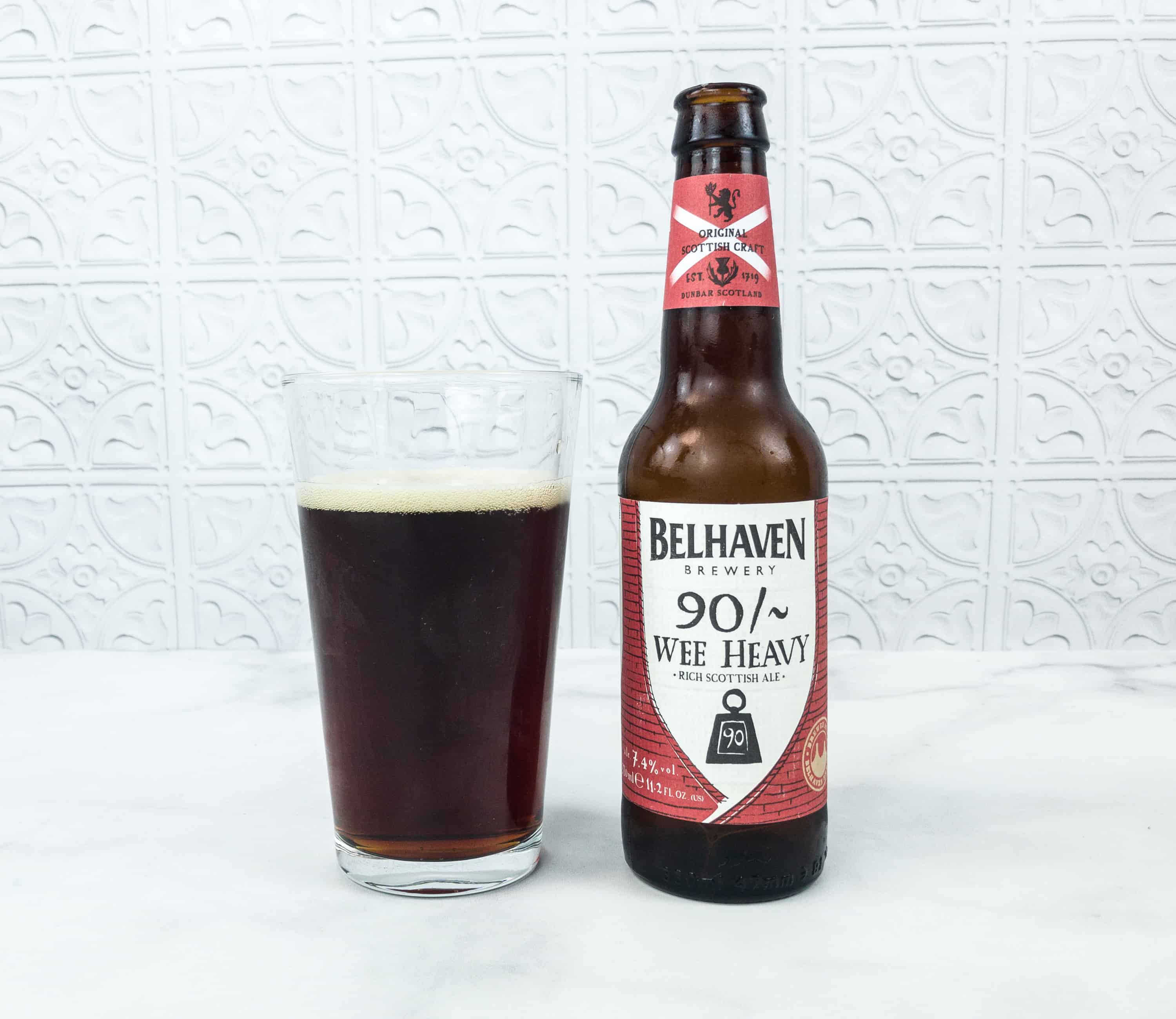 This delicious beer pours a striking deep reddish-amber hue with a crop of light tan foam! I surprised at the depth of color. The bottle is one ounce smaller than that used for the Pilsner!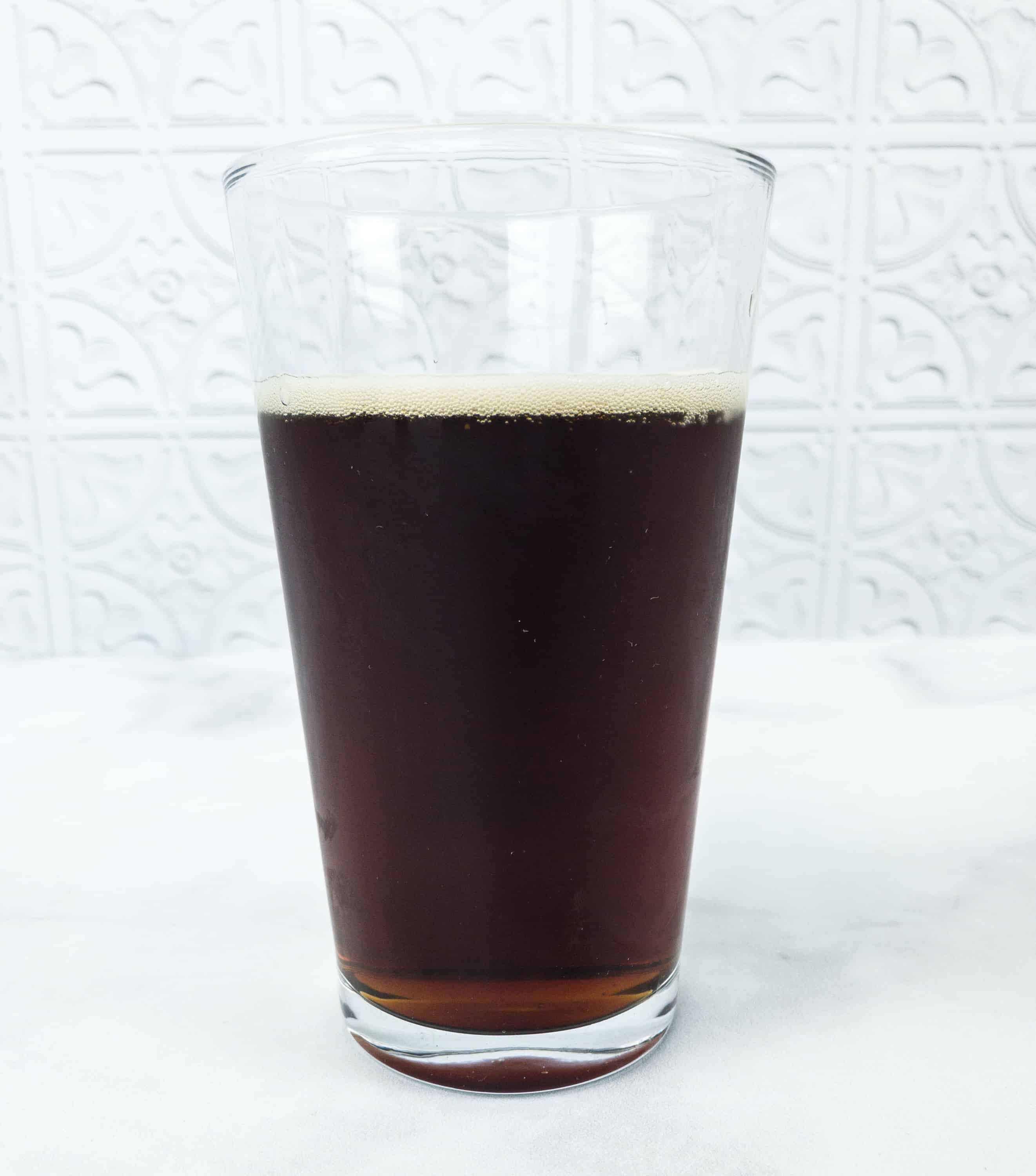 Lamb chops, smoked salmon, or roasted pork are the suggested dishes to be paired with this malty beer. I thought it was quite delightful. It felt fairly crisp on the palate, despite its strength and gentle peaty character. I also found the sweetness of the malt, the alcohol level, and the hops to be well-balanced.
This subscription is really great for anyone who wants to try a variety of beer made from celebrated breweries around the world. Microbrewed Beer of the Month Club really know their beers, and I'm so pleased with their selections. Most beers come from Europe and are treasured as sources of local pride, but I would not be surprised to see some selections from elsewhere as well. I loved this month's selections — not crazy dark or super hoppy. The only difficult part of this subscription will be making it last until the next box arrives!
What do you think of this month's box?
Visit Microbrewed Beer of the Month International Beer Club to subscribe or find out more!