Dinnerly is a dinner meal kit subscription that is meant to be simpler to make and more affordable than rival kits. They do this in part by using digital recipe cards instead of printed, and they avoid hassle and confusion by using fewer ingredients per dish. Dinnerly allows subscribers to pick the delivery day and their preferred recipes. Subscribers can also skip any week that doesn't work for them and change the number of portions they'd like to receive. Boxes start at $30 per week + $8.99 shipping. You can also get a family plan for $60, and switch out your recipes between 3 meat-based recipes and 3 vegetarian recipes.
DEAL: Free shipping on your first box! Use coupon code AW18DINFREE or use DLRJUL10N to save $10!
The cushioned insert both insulates and protects the food from external damage, but you have to hope your delivery person keeps the box upright, or your bread may get flattened. That is one of the few downsides we've found with this box — everything arrives jumbled together instead of being bagged or sorted by recipe, so you have to sift through your box carefully to make sure you've gotten everything out. Meats are kept on ice at the bottom. No ice pack explosions this month!
Recipe cards don't ship with the box, but you can check out PDFs on the website and print them out.
It includes a picture of the dish, preparation time, and the number of servings per recipe.
The instructions are easy to follow, regardless of your cooking skill level. Its step-by-step procedure is very detailed with some of the words printed in bold letters for an easier recognition. They even provide suggestions on leveling up your meal if you want to add some extra touches from your pantry.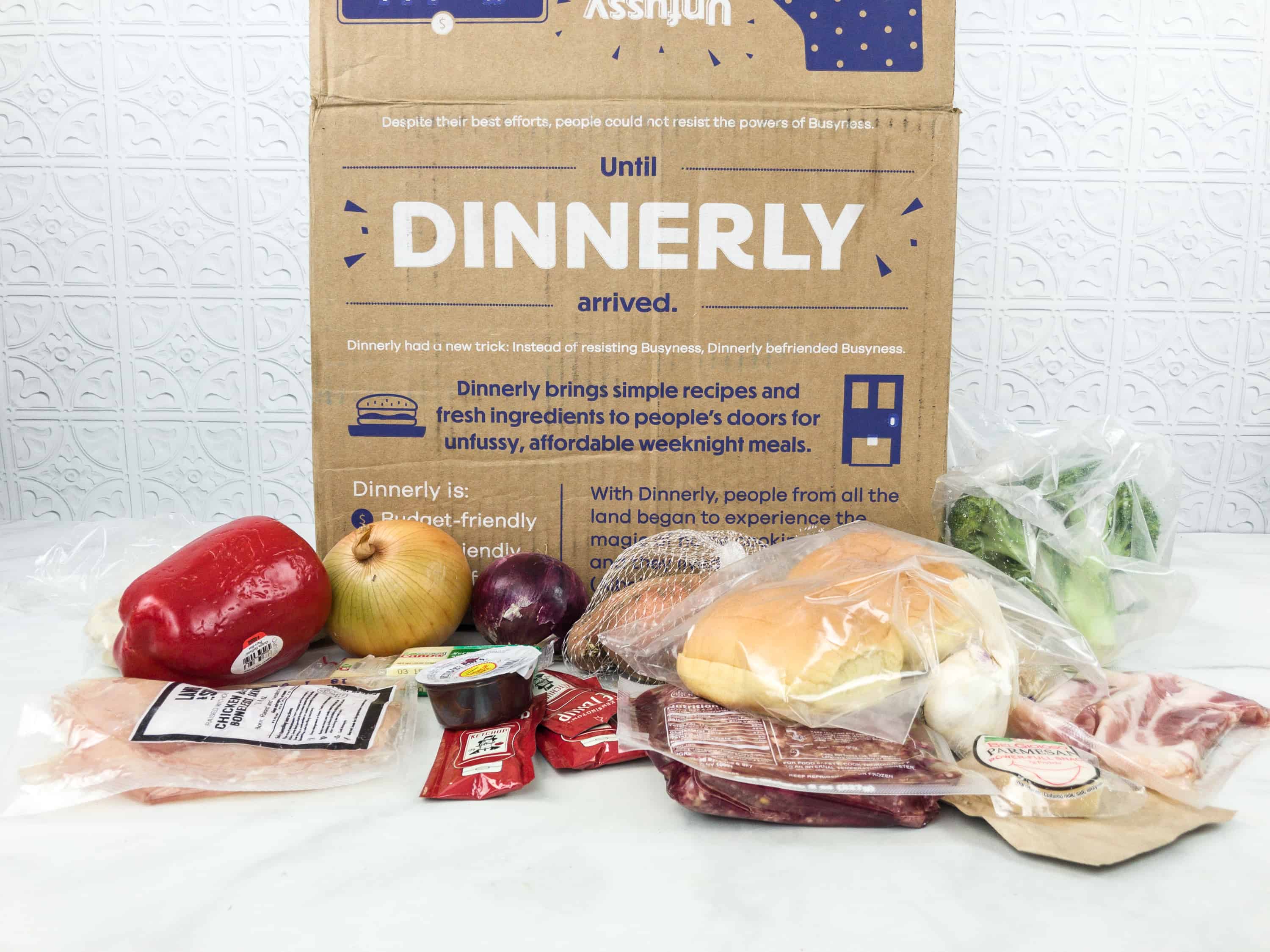 Everything in my box!
All the ingredients are individually wrapped, but they are not separated into individual meals. You'll definitely want to look up the information cards to print out or view on your phone, so you'll know what to grab when it's time to cook. On the upside, the limited number of ingredients makes that task pretty easy.
BBQ Chicken Skillet Pizza – 30 minutes, Easy, 795 calories per serving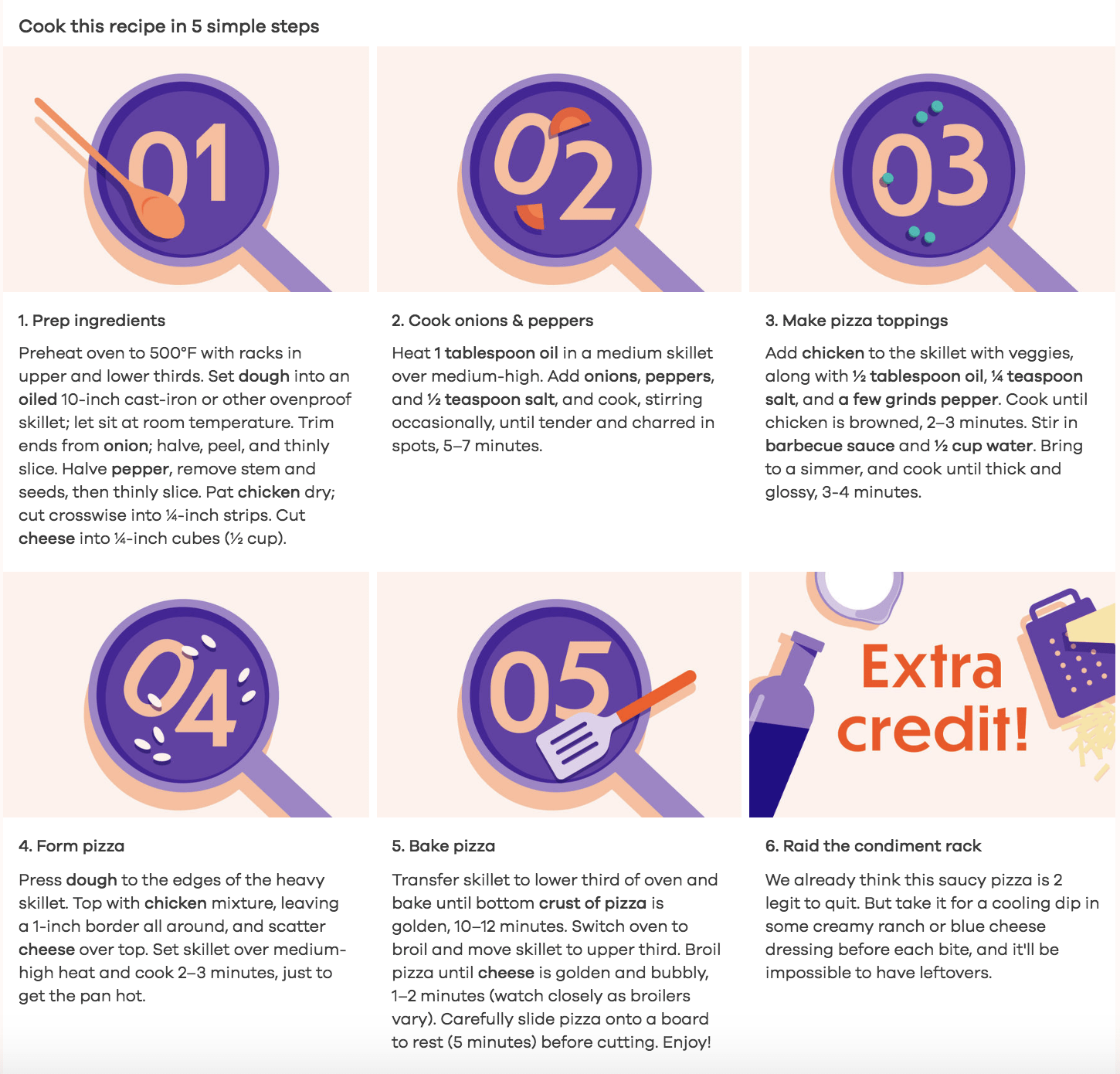 It's pretty easy to make! The dough is already provided, so you all you really have to do is put it in an oiled skillet, form pizza, and bake! Dinnerly suggests serving the pizza with some creamy ranch or blue cheese dressing.
You never go wrong with pizza. This chicken skillet pizza is so saucy and very meaty. We cooked it in a non-stick pan — this tray was only for cutting and serving. I was amazed at how well the pan worked (I'm more accustomed to NY style than Chicago and other deep-dish preparations).
The dough turned out great too. It's a bit crunchy on the outside but is very soft and tender inside.
The chicken was so juicy, and the addition of barbecue sauce compliments well with all other ingredients. I would've enjoyed an extra tub of sauce to make it a little more BBQ flavored. The melted cheddar cheese? Pure heaven! A little Cheddar went a long way. Because there was so much chicken and veg compared to the cheese, this was a surprisingly healthy way to make a pizza.
I was psyched that it cooked through without burning the bottom. I can't believe that I just made such a mouthwatering pizza in a frying pan! My kids love it so much!
Grass-Fed Beef Sloppy Joes – 40 minutes, Easy, 610 calories per serving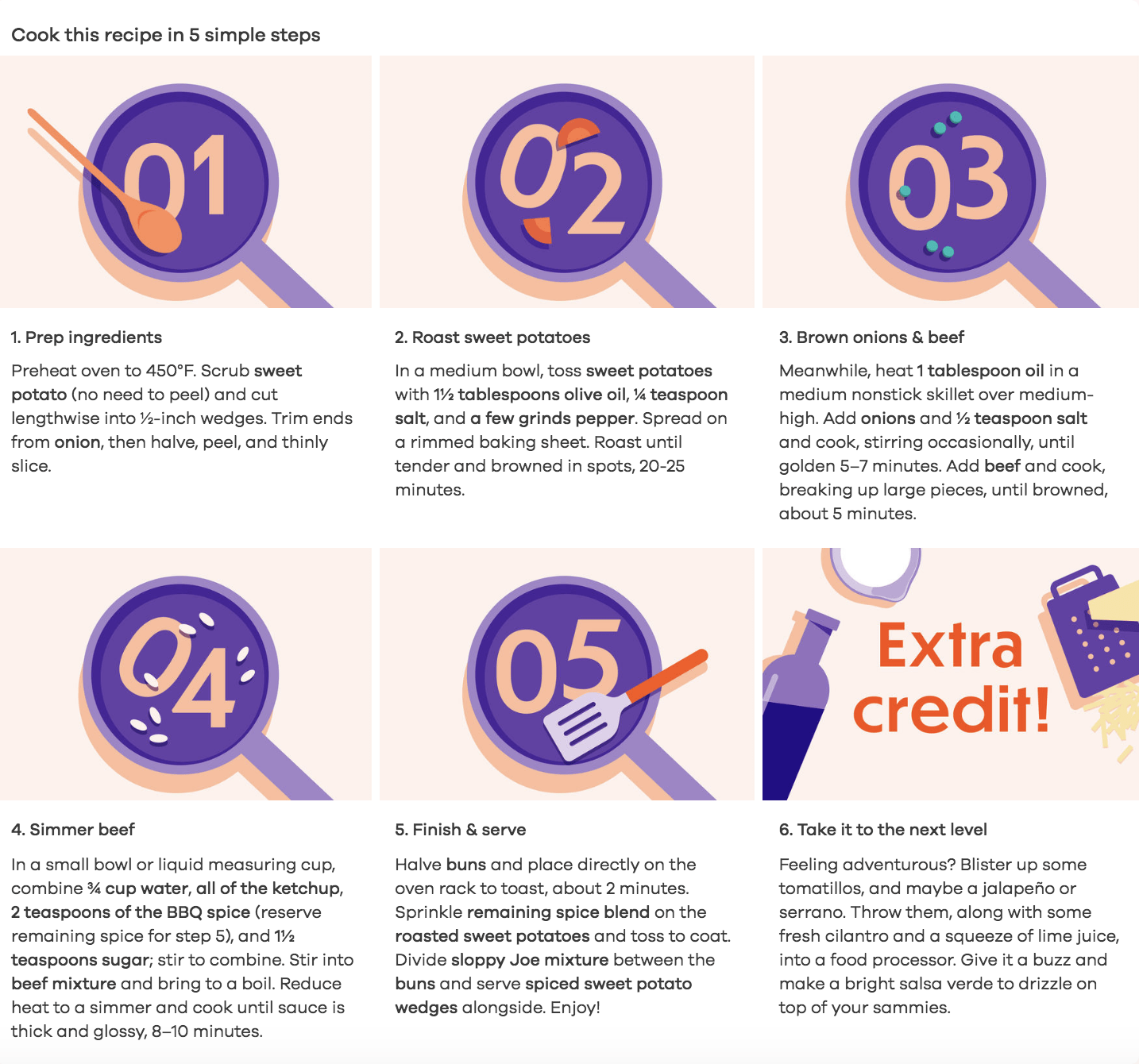 According to Dinnerly, you can take this luscious dish to a new level by blistering it with tomatillos, jalapeño, or serrano and putting in some fresh cilantro and a squeeze of lime juice.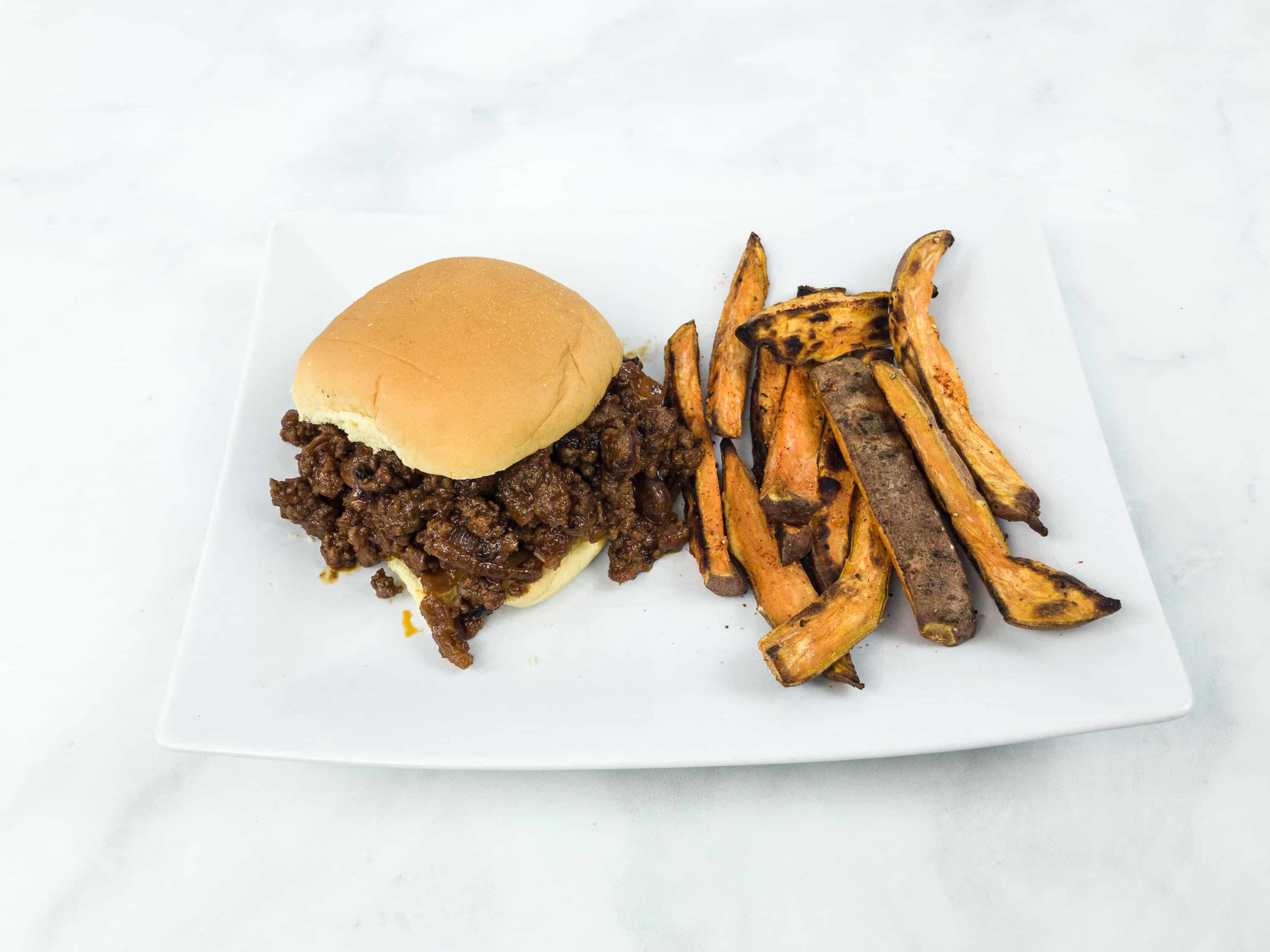 Dinnerly's version of Sloppy Joe classes up the classic meal with grass-fed beef. The barbecue spices blend well with the juicy beef, while the sweet potato makes a great complement. I can easily say that this is one of my favorite meals from this box, it's so flavorful and truly satisfying!
Pasta Carbonara – 30 minutes, Easy, 906 calories per serving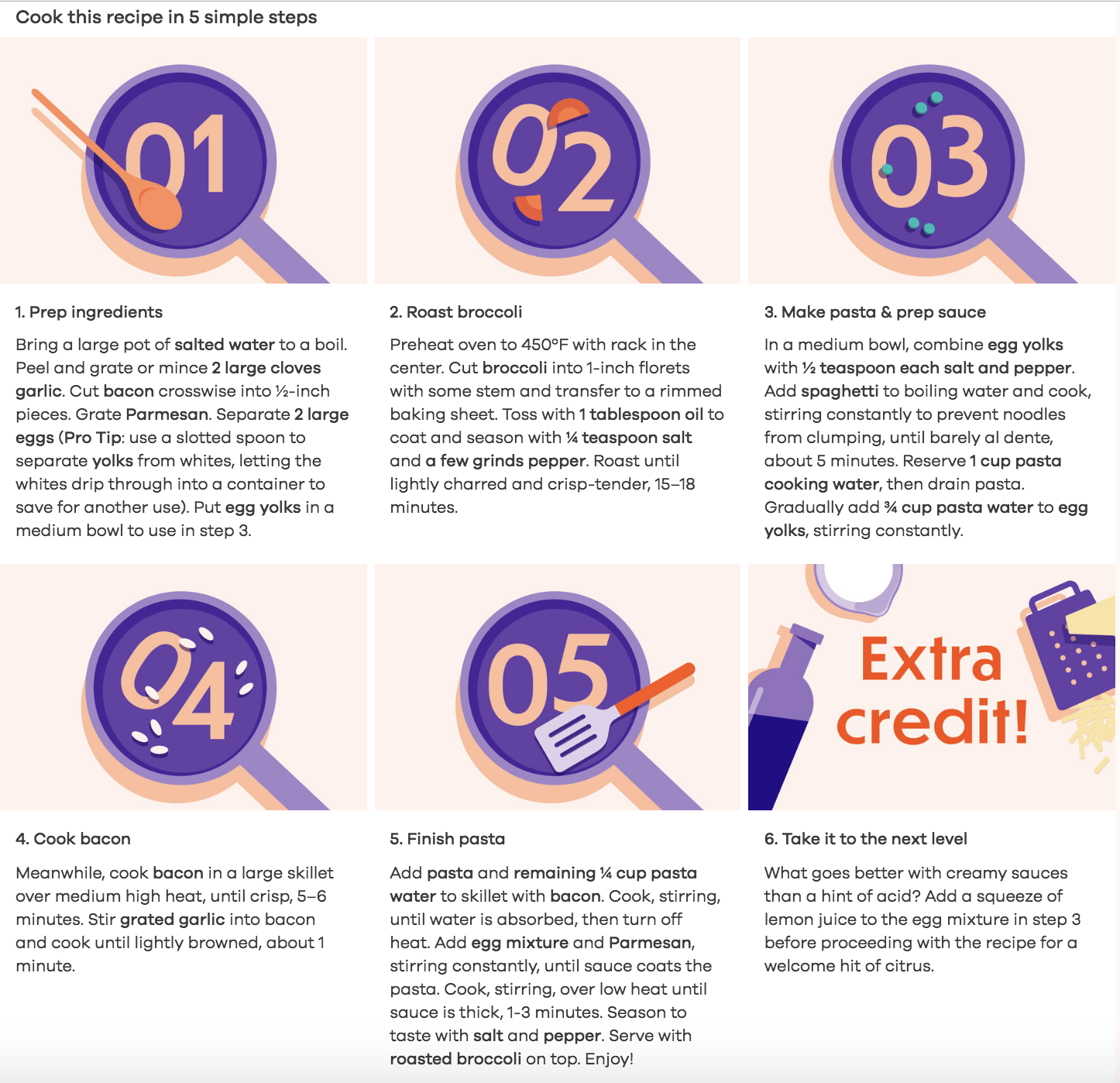 Dinnerly suggests to add a squeeze of lemon juice to the egg mixture for a hint of citrus.
This last dish we got is a perfect meal for sharing with the kids, it's an easy to prepare carbonara meal served with delicate sauce made from egg mixture and Parmesan cheese stirred constantly over low heat until sauce is thick. It had a really rich flavor and was a cool way to get a luxurious sauce without cream. It was a little fussier than expected for a pasta dish, due to separating eggs and preparing everything separately before re-combining, but it is good to know they are thinking creatively with recipe options.
This week's Dinnerly recipes are so easy to prepare and cook. All the featured dishes were very filling and tasted really great — the pizza and sloppy joes were out of this world! They also provide some useful tips to make cooking way easier. I love how this subscription allows us to explore various tastes and cuisines with their offerings, all made easy with fresh ingredients and easy-to-follow recipes. Dinnerly is indeed a great meal kit subscription for anyone who loves cooking but doesn't have a ton of time or money to waste!
What do you think of Dinnerly?