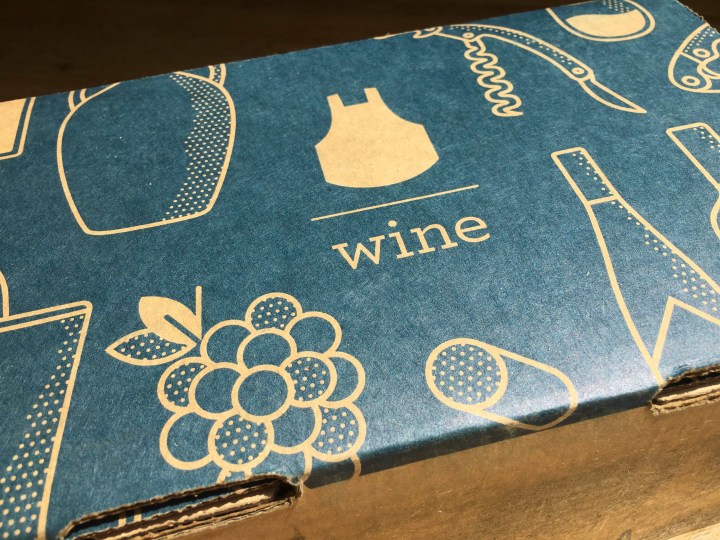 Blue Apron Wine is a subscription for people who love trying new wines as much as they love great food. You may be familiar with the Blue Apron Meal Delivery Kit subscription, which sends boxes of fresh ingredients to make exciting meals at home. The wine subscription is separate from the meal subscription, but it's designed to complement it.
Here's how it works: every month, for about $11 per bottle ($65.99/month, including shipping and tax), Blue Apron sends you 6 bottles of wine, plus tasting notes and pairing recommendations. The wines are selected to pair perfectly with the meals in the Blue Apron kits. The bottles are 500 ml, or 2/3 the size of a standard bottle, which, in addition to being adorable, means that you and your dining partner can enjoy your entire bottle with your meal without regretting that additional glass needed to finish a standard-sized bottle.
Blue Apron pairs with wineries around the world to bring a wide range of new and interesting wines to you each month. I love wine, and I love food, and I love everything about the idea of this subscription.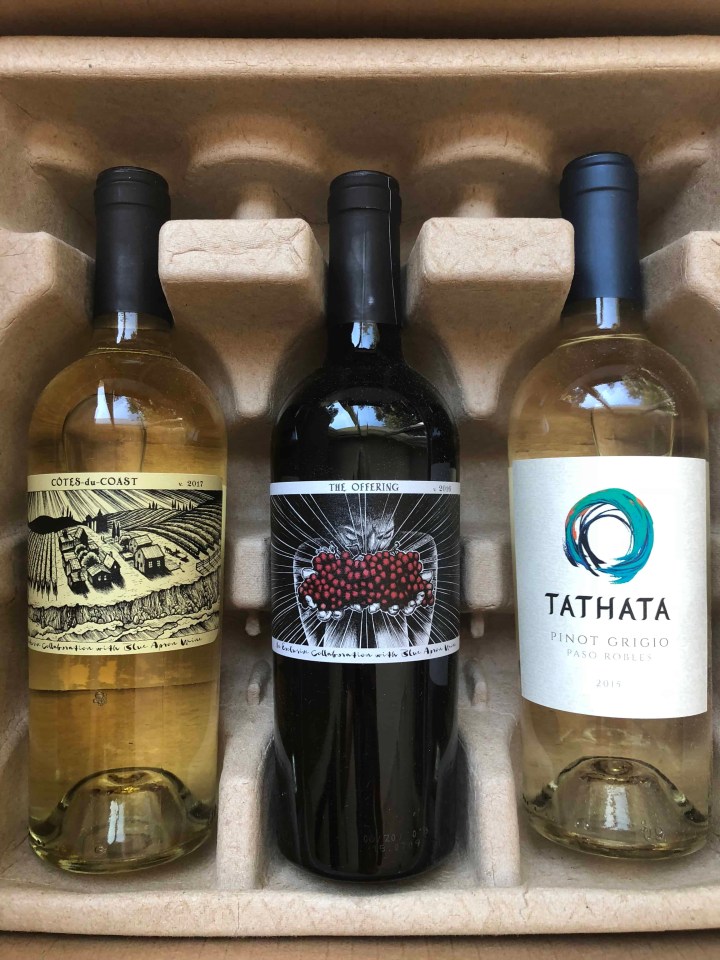 The new packaging is great and keeps everything snug and secure. Keep in mind that someone 21+ will need to sign for it. Everything is in great shape when it arrives, and the packaging remains, happily, recyclable cardboard.
Blue Apron Wine allows you to select your wines–you can go all white, red, or mix it up. There are lots of choices, and it's easy to change it up.
DEAL: You can try out your first box of Blue Apron dinners for $30 off with this link.
If you're wondering what a 2/3-sized bottle looks like, here is one of the bottles with a standard-sized bottle next to it. You'll get about 3 1/2 standard glasses in a bottle, or a generous pour plus a top-off each if you're with a partner.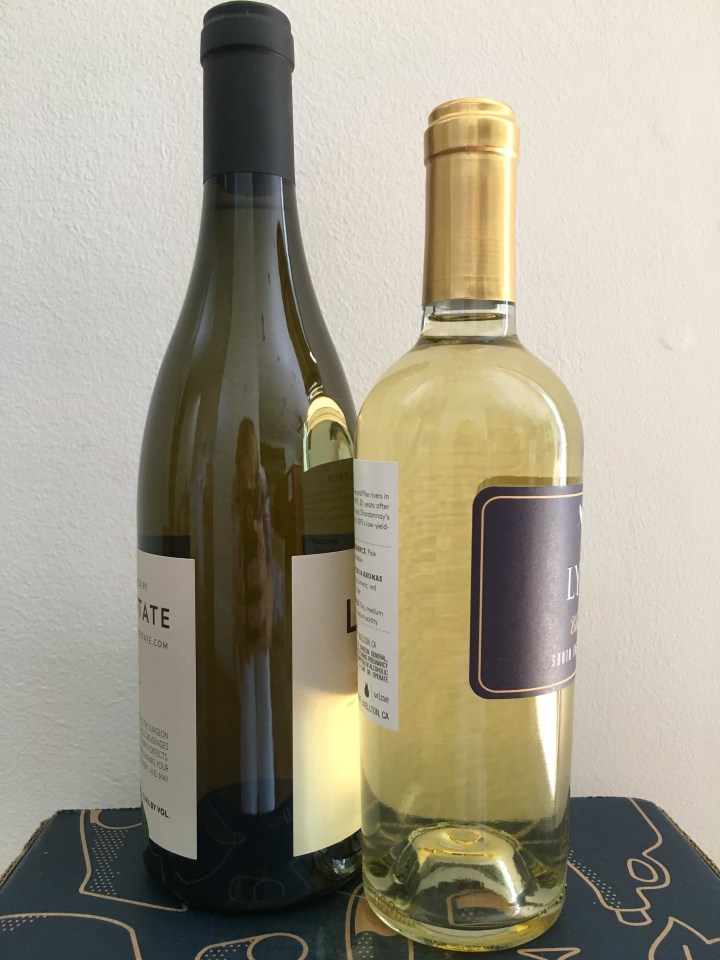 Each box comes with a great collection of tasting notes. Blue Apron tells you a little bit about the winery and how the bottle was made, plus the region at large. Because come on, you didn't REALLY know where the Central Coast was, did you? The info details the color, body, and structure of the wine, and also gives some thoughtful food pairings for each bottle. The info is terrific – wine is not scary, and tasting it should be fun and informative. Data is your friend.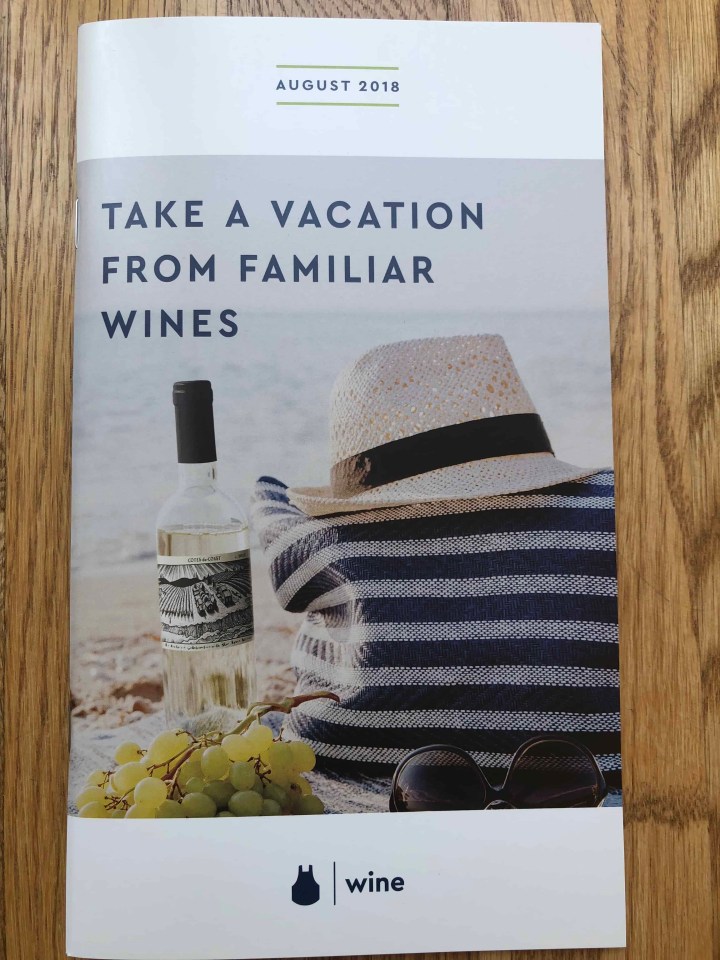 It's August! Large swaths of the country and world are on vacation; here in the South, it's time to start back at school. We'll pretend that it's still vacation time with some warm-weather friendly wines this month. Three reds, two whites, and a rose. What, you think the French don't drink red wine in the summer??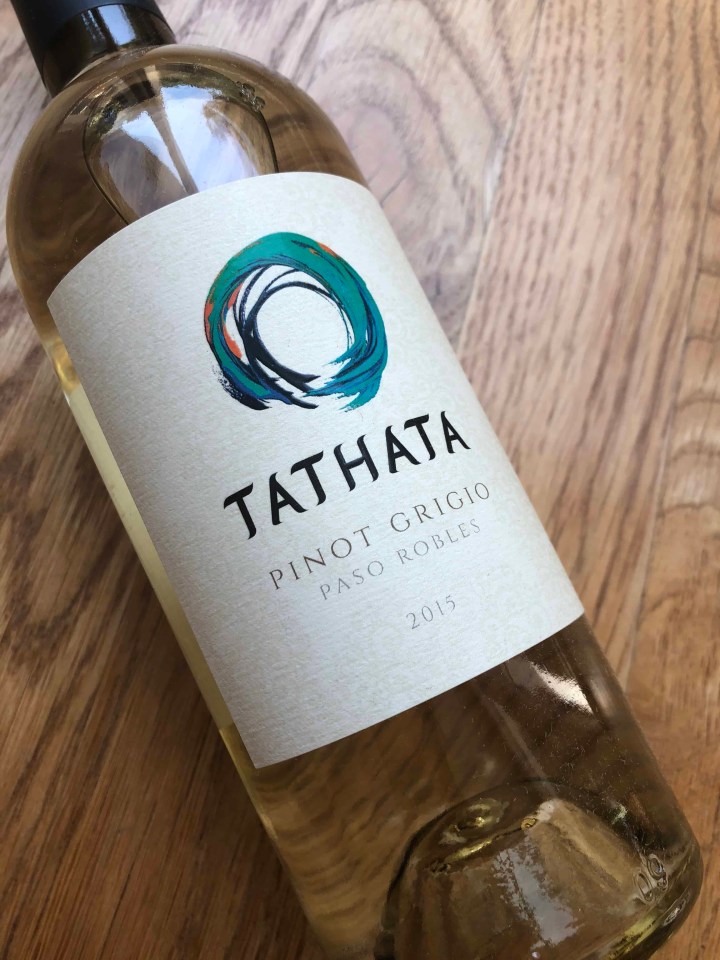 First up is the 2015 Tahata Pinot Grigio. I feel like Pinot Grigio is ready to become the next "it" wine when everyone gets tired of sauvignon blanc. Like Sauvignon blanc, it can be fruit-forward or more minerally. This one, from Paso Robles, is of the fruitier variety. It's a great summer white because it's light and refreshing without coming off sweet.
The Tahata is very pale yellow in the glass, with a strong nose of melon and peach. It has a light body–contrast this with a Rhine wine like a Riesling, which has a similar color but a much heavier body. The flavor of this wine is very fruit-forward, almost pushing the bounds of what I like in a Pinot Grigio. There's a ton of melon and peachy-apricot, but it does finish crisply, with a good bit of citrus on the end. This is a pretty nicely-balanced wine, and it will complement anything you'd serve in the summer–grilled chicken, light fish, or salad. It would also pair well with a box of fried rice if that's what you like to do on Sunday nights. Drink it chilled but not frigid.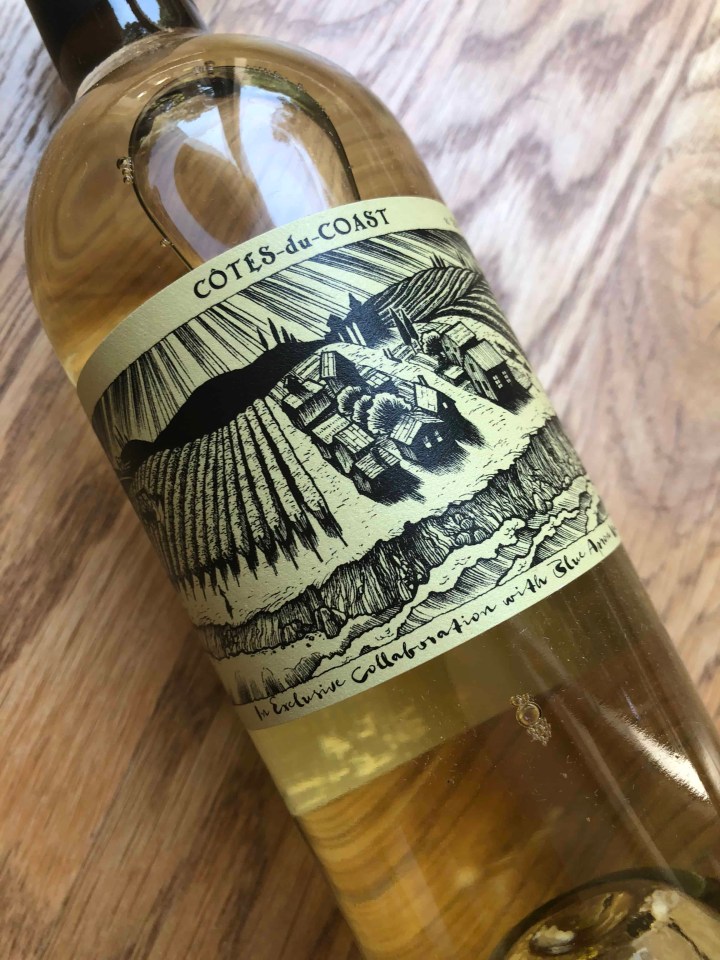 Our next white is also from California, a "Rhone Style White", the 2017 Sans Liege Cotes du Coast. Sans Liege is a respected winery putting out respected wines in the mid-$20 range. I'm never quite sure how these "exclusive collaborations" work–the 2017 bottling of Cotes du Coast isn't out yet, so I'm not sure if this is a preview or a special bottling. The varietal mix in this blend (mostly Viognier and Grenache, with a bit of Roussanne and Marsanne in there for balance) is slightly different than prior bottlings, but that's doesn't necessarily signify anything. Who knows–let's just drink it.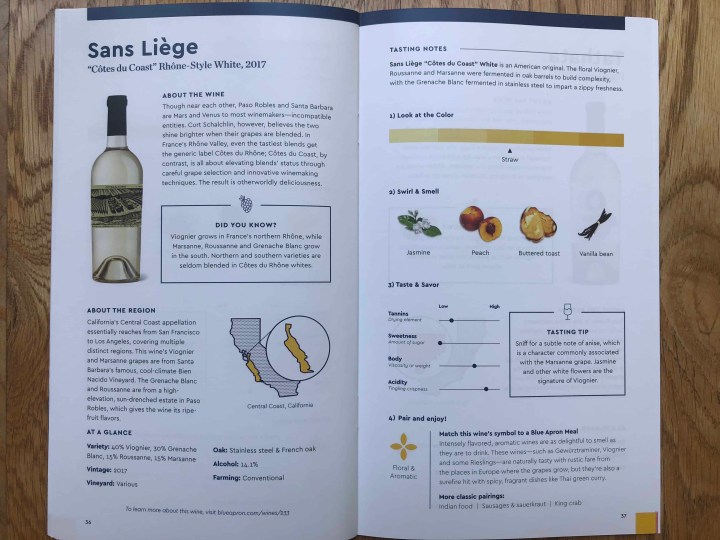 The Cotes du Coast is a mid-straw yellow, with a medium body and a light nose of caramelized fruit. The tasting notes say you can detect some anise in there, but I didn't. The flavor of the wine is fruity-floral, with a bit of oiliness in the mouth from the Viognier and Marsanne. It has a long finish of toasty fruit.  Imagine a delicious grilled peach and ricotta toast, minus the sweetness, and you are pretty close to the flavors here. It's unique. I split it with a friend while we cooked dinner and we were divided on how much we liked it. If you're a California Chard fan, give the Cotes du Coast a try. Just barely off-chill for this.
So… yes, I drank and reviewed this rosé last month, the 2017 Domaine Vetriccie. Something has happened to me over the summer, and I find myself preferring the just-barely-sweet rosés instead of the austerely dry Cotes de Provence ones. Have I lost my sharply-honed, refined-wine-drinker edge? I don't know. I think it's more that rosés are fun to drink really cold outside at the pool, and the sweeter ones make more of an impact in that setting. Regardless, I enjoyed this one last month and so I got it again before it rotates out of the inventory.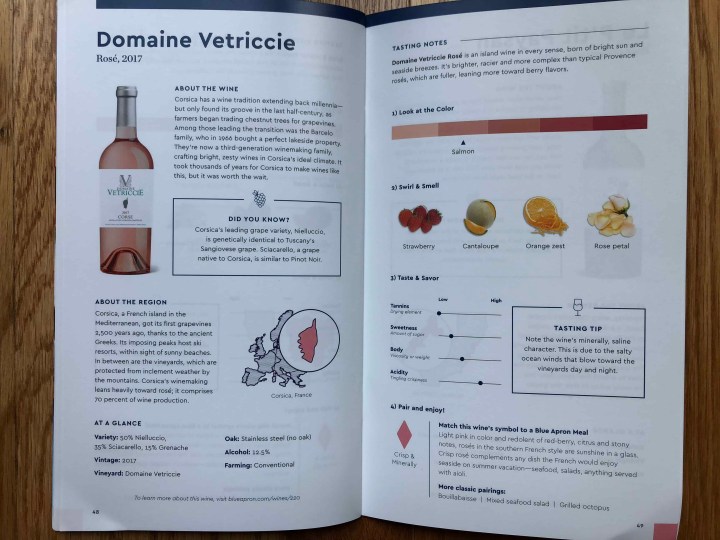 As I said last month, this is a smooth, just-barely-sweet rosé that will play nicely with lots of summer foods. This month, we had it with Moroccan chicken and rice, and the sweetness complimented the spicy chicken.  It's a lovely watermelon color in the glass, with a light body and a bright berry nose. The flavor is fleeting and melony, with a bit of citrus at the back to balance the sweetness. We served this pretty cold to mute the sweetness a bit, but the flavor will be more developed if you let it sit for a few in the glass.
All of our reds this month are "GSMs"–a blend of Grenache, Syrah, and Mourvedre that is a classic Rhone-style blend.  (Two of them also have Carignan for… fill, maybe). There's no fill in our second bottle from Sans Liege, the 2016 "The Offering" Rhone-Style Red. This is a California wine, so everything is "bigger" than it would be in France–it has more body, more flavor, and more alcohol.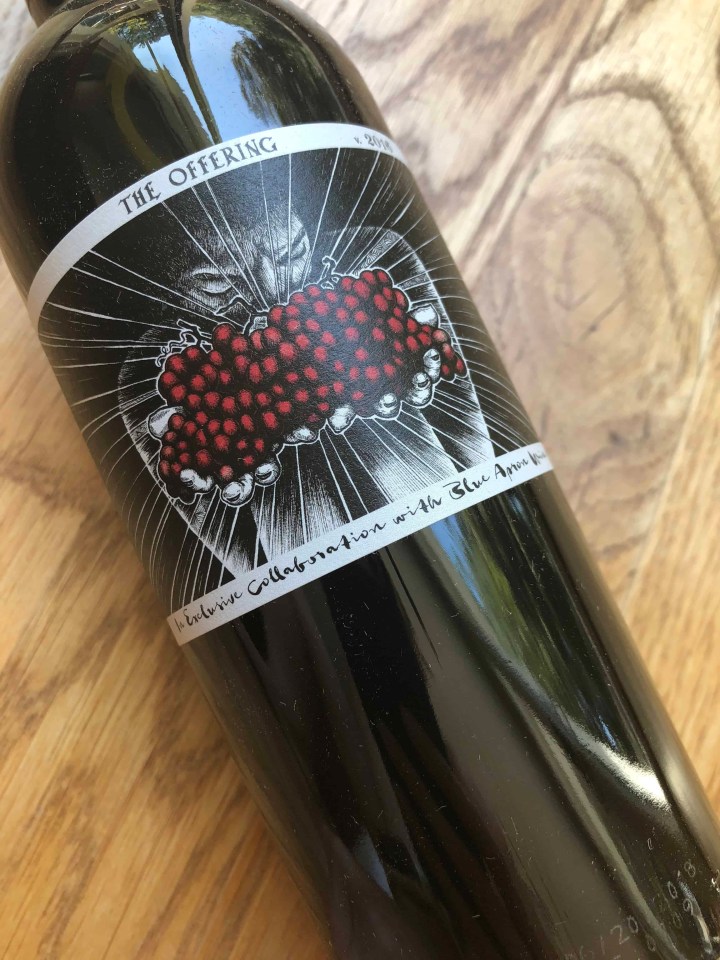 The Offering (the name is fun to write) is dark red-violet with a big nose of red fruit and spice. It has a fairly high body and a smooth mouthfeel–it's not quite as light as a French Rhone-style wine would be. The fruitiness on the nose is just a tease–this is a spice bomb of grassy funk that tapers out to a short finish of anise. The wine starts fairly tight and tannic but it opens up as you let it sit in the glass. This is a tasty wine, like the hulking American cousin to a French Rhone. Because we are Americans, we drank it with a cheeseburger. Awesome.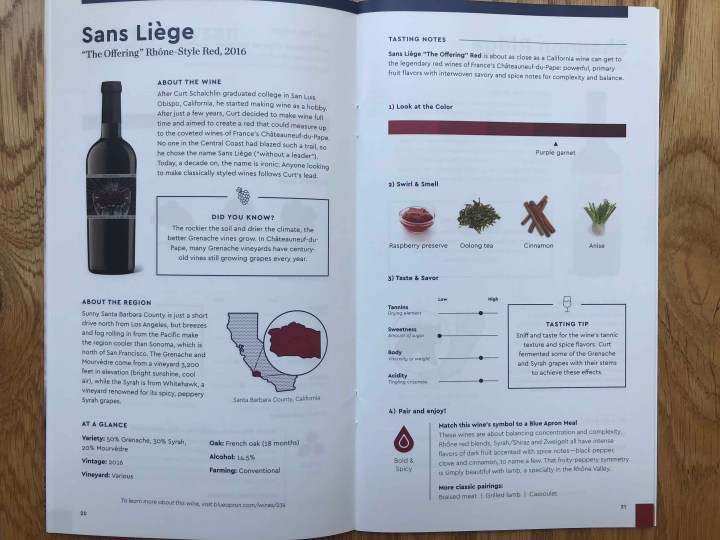 Our next red is actually French, from the Roussillion region, the 2016 Domaine du Maridet. Blends from this region tend to include Carignan, which grows well in the area.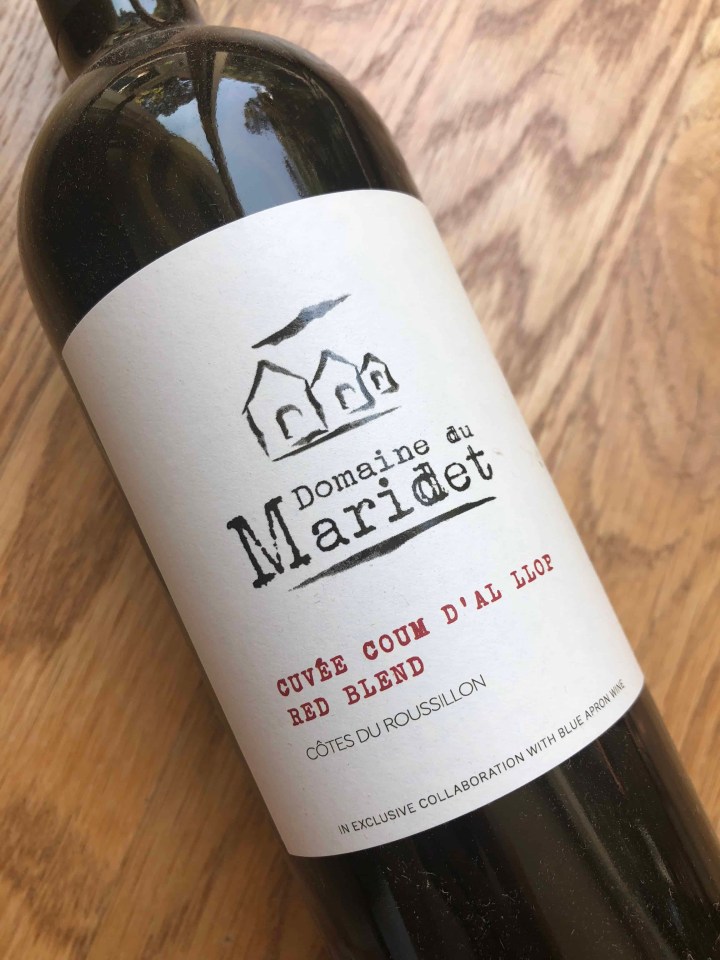 The Maridet is a shade lighter red-violet in the glass than the Offering was, with a similar body but a much less pronounced nose. There is definitely a hint of that Rhone mintiness to the Maridet. There's no mint in the flavor, though, which is dominated by dark fruit and chocolate. The finish is fuzzy and with an alcoholic heat reflecting the 15% ABV.  This was a little unbalanced to us. We drank it at cool room temperature with pan-seared salmon, and it overpowered the food.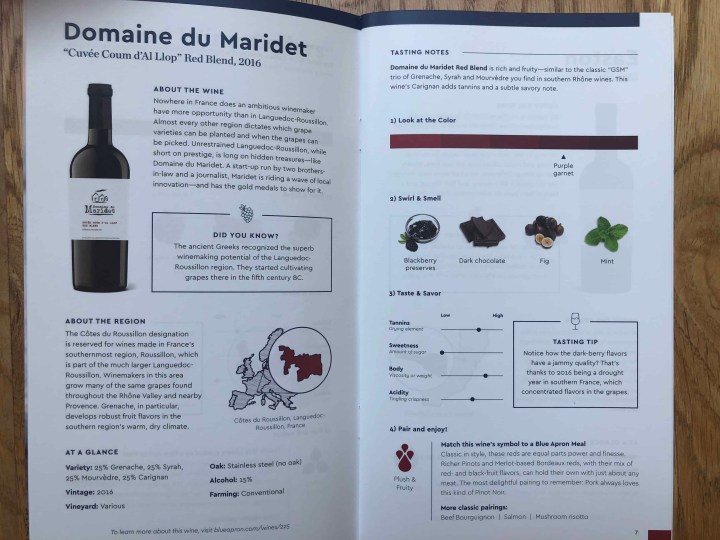 Last up is another Southern French red, the 2014 Fabre Fitou. This wine uses almost the same varietals as the Maridet, but to very different effect.
This wine is a deep red in the glass, with a big body but a much lower ABV than the Maridet–a food-friendly 12.9%. The subtle nose is dark fruit and herbs. That herbiness definitely comes through in the flavor, with a piney spice and, yes, a hint of smoked meat. (No oak used in the fermenting, though). The finish is clean and sharp with a huge wallop of tannins that is balanced by a nice acidity. This is a tasty, food-friendly wine. We had it at cool room temperature with grilled flank steak, but it would also be great with barbecue. Ribs, mmm.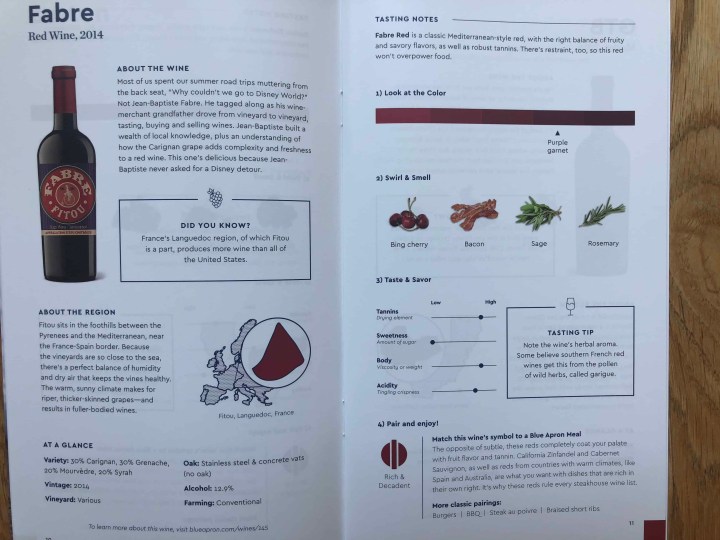 And that's August!  With the exception of one, we had some tasty, fun blends. It's a great way to celebrate the end of summer.  Next month, the wine stores will stop pushing rosé and there will be too much pumpkin spice everywhere, so enjoy the heat and pink wine now. See you in September!
By the way, Blue Apron has an easy system for pairing its wines and its food subscriptions, somewhat like you might have seen in nicer grocery stores — the wines are categorized by type (crisp & minerally, plush & fruity, etc.) and then that symbol shows up on the food recipes. Pair any wine of the recommended type to the food, and voila — you have a great meal!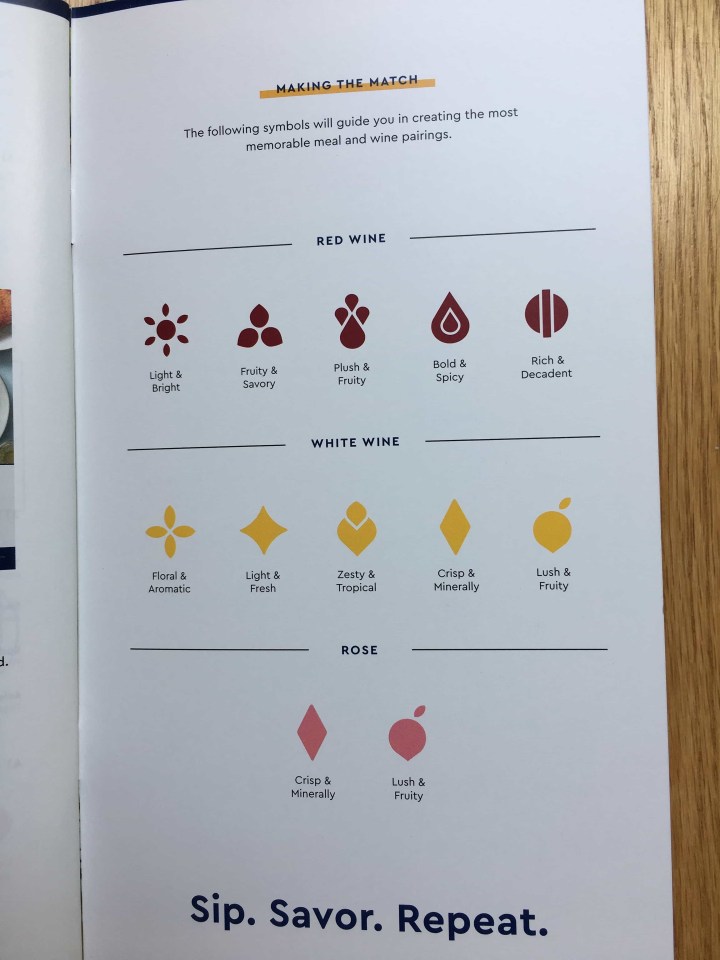 Have you tried Blue Apron Wine? What's your favorite backyard wine? Tell us in the comments below!