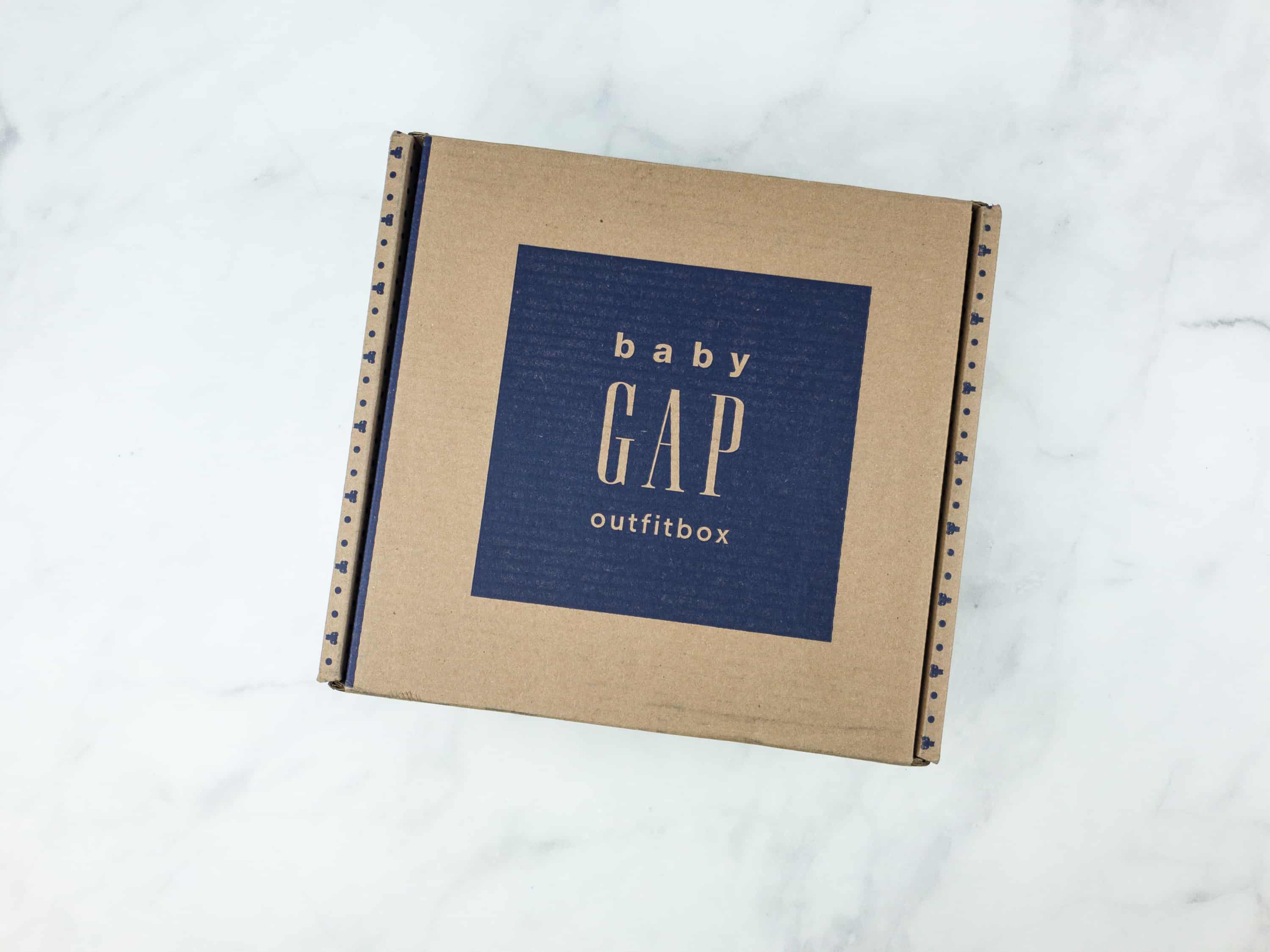 babyGap OutfitBox is a quarterly subscription from babyGap that delivers mix and match pieces for your baby's OOTD! Each babyGap OutfitBox is $70 (with over $100 value) and contains 6 adorable apparel items for baby.
NOTE: Baby Gap is shutting down the Baby Gap BedtimeBox & Outfit Box. If you are a current subscriber, check your mail for cards. The summer box is the final delivery for both services. You can find similar subscriptions in the Kids Clothes & Accessories section of the directory.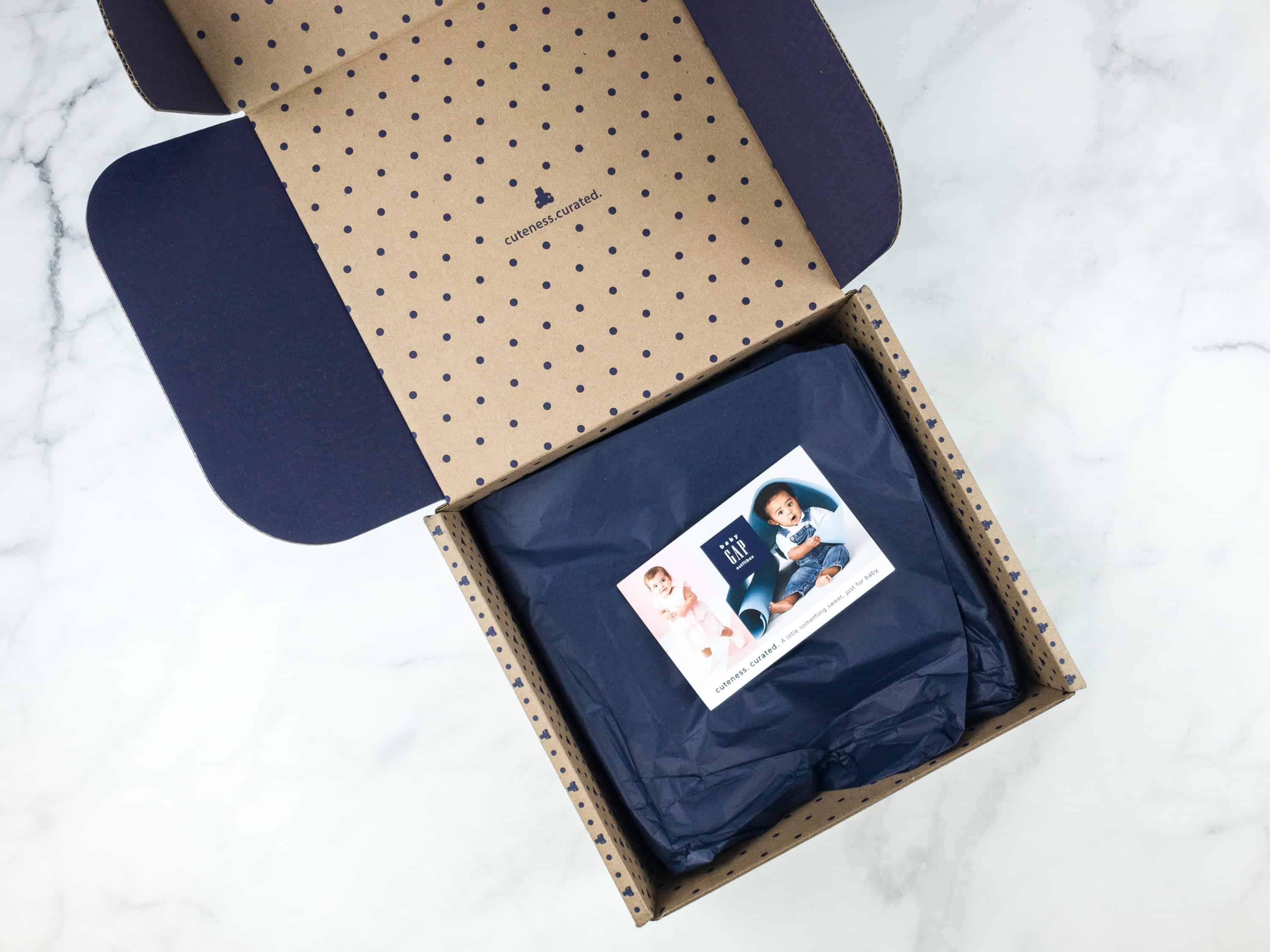 Everything looks cute from here!
When you sign up you'll be able to select size, birthday, and gender. This box is for a 6-12 months baby girl. If you select a size larger than 0-3 months, you'll also have a style profile choice.
They also included a $10 shop card.
The box comes with a list of your baby's outfit for this quarter, plus the retail and discounted value. You can return anything for free and obtain a refund of the discounted price, within 21 days.
So exciting!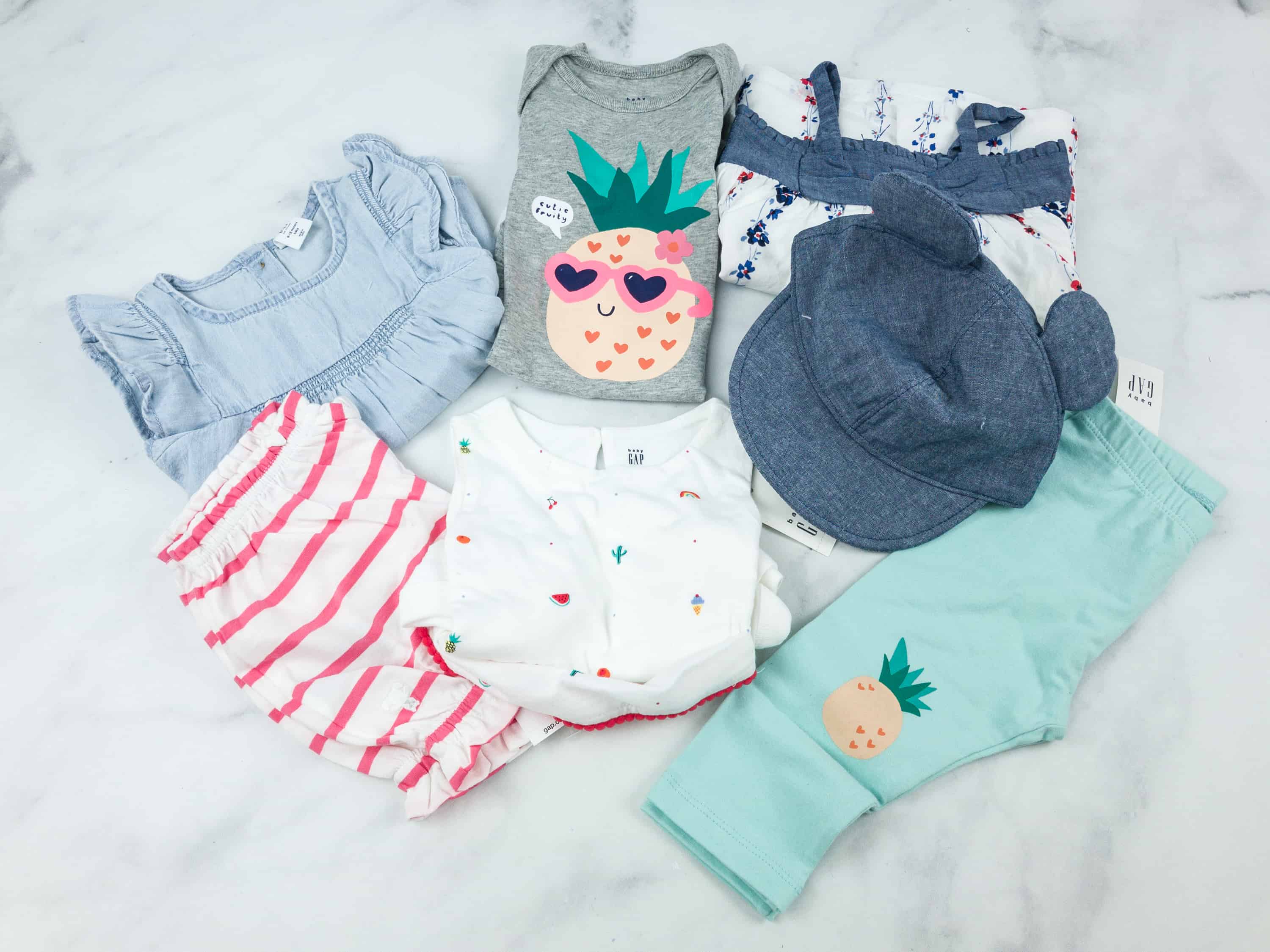 Everything in my babyGap box! It's super cute – I picked the FUN outfit style.
We also received a gift from babyGap and it was packed in a drawstring pouch.
FREE: GapKids Disney Mickey Mouse Baseball Hat. It's a Mickey Mouse Baseball Hat!
The cute hat included the iconic ears, of course!
This would be a perfect addition to my baby's OOTD and will serve as protection from the heat!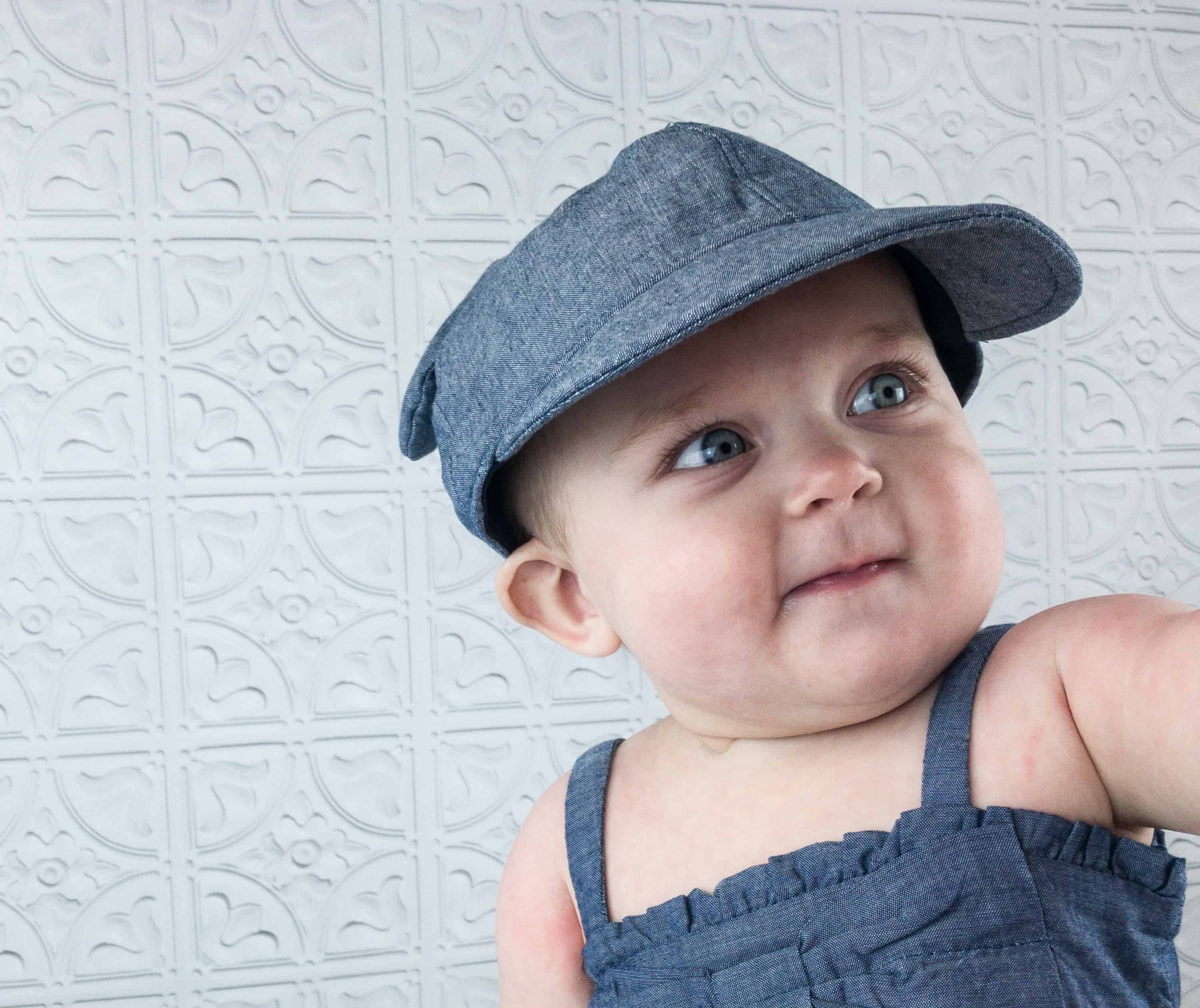 She is rocking the hat! So cute!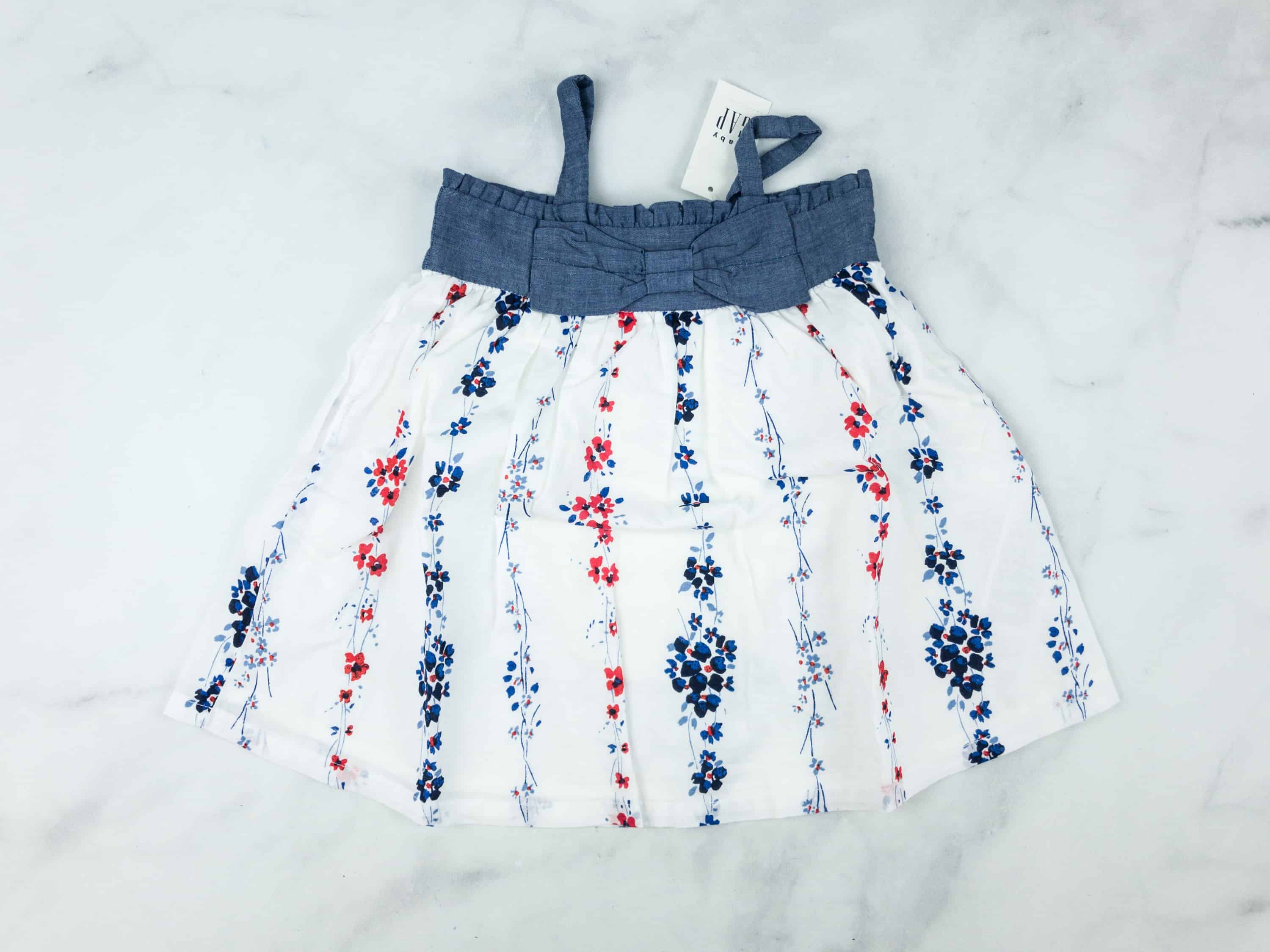 Baby Gap Chambray Floral Dress ($34.95) First up is this really adorable Chambray Floral dress. Light and breezy, it's the perfect get up for the season!
It has a Chambray upper with tank straps, and the square neckline goes with a ruffle trim. The front has some button details that serve as both an opening and design, while it also has a smooth weave skirt.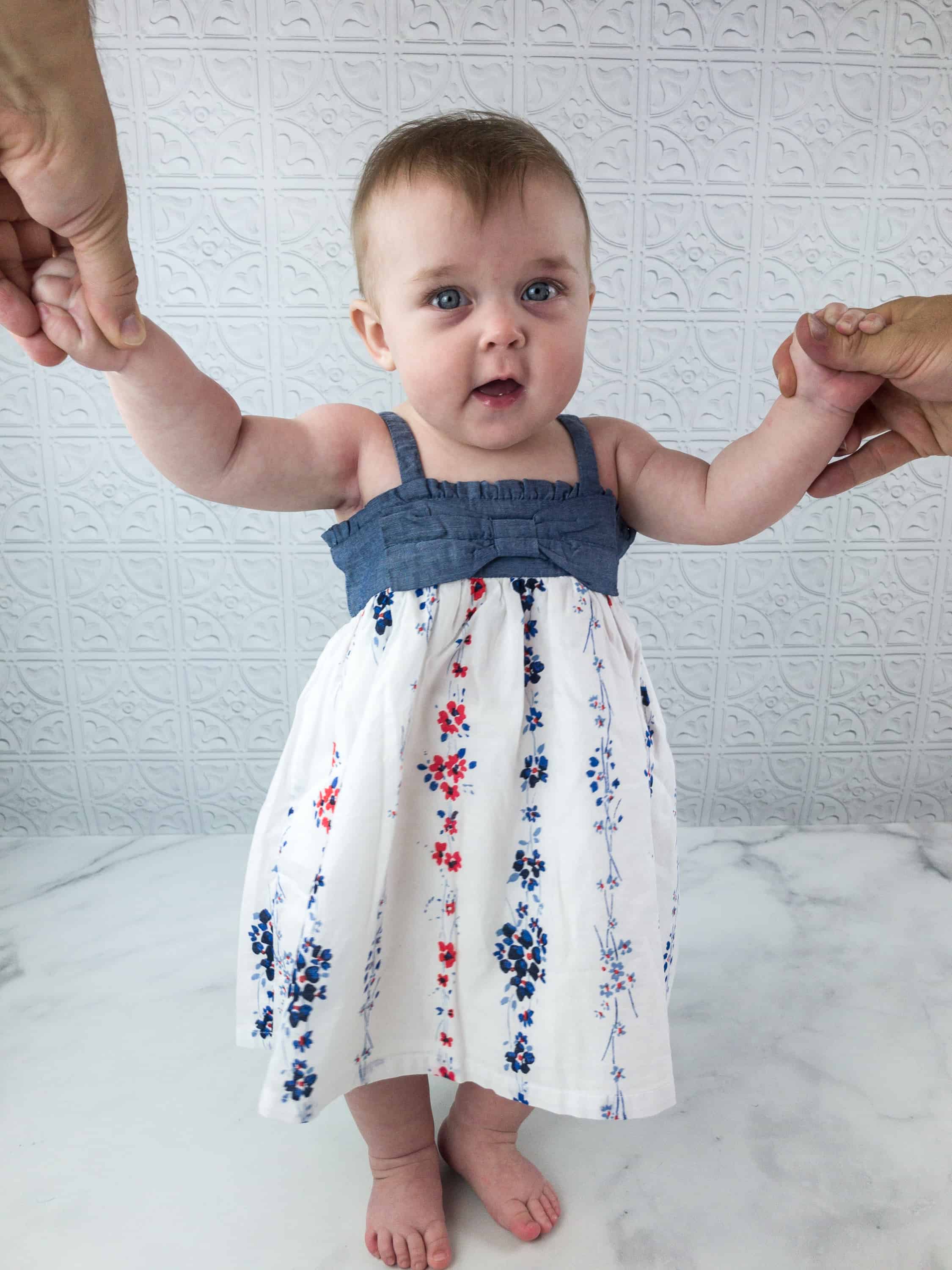 It has an adorable overall floral print design that's also in different colors, so it looks good to wear on a sunny day. A diaper cover is also included.
Baby Gap Graphic Flutter Bodysuit ($14.95) The flutter bodysuit is really a comfy choice for a hot summer day. This piece is really adorable as it comes with snaps in three panels, and it has cute short flutter-sleeves. The pineapple image that wears sunglasses and with little hearts is really a lovely addition to it!
Baby Gap Graphic Crop Leggings ($14.95) To match with the bodysuit is this stretchable legging with an elasticized waist that my baby can easily wear. It has some cute summer-themed prints on each leg too!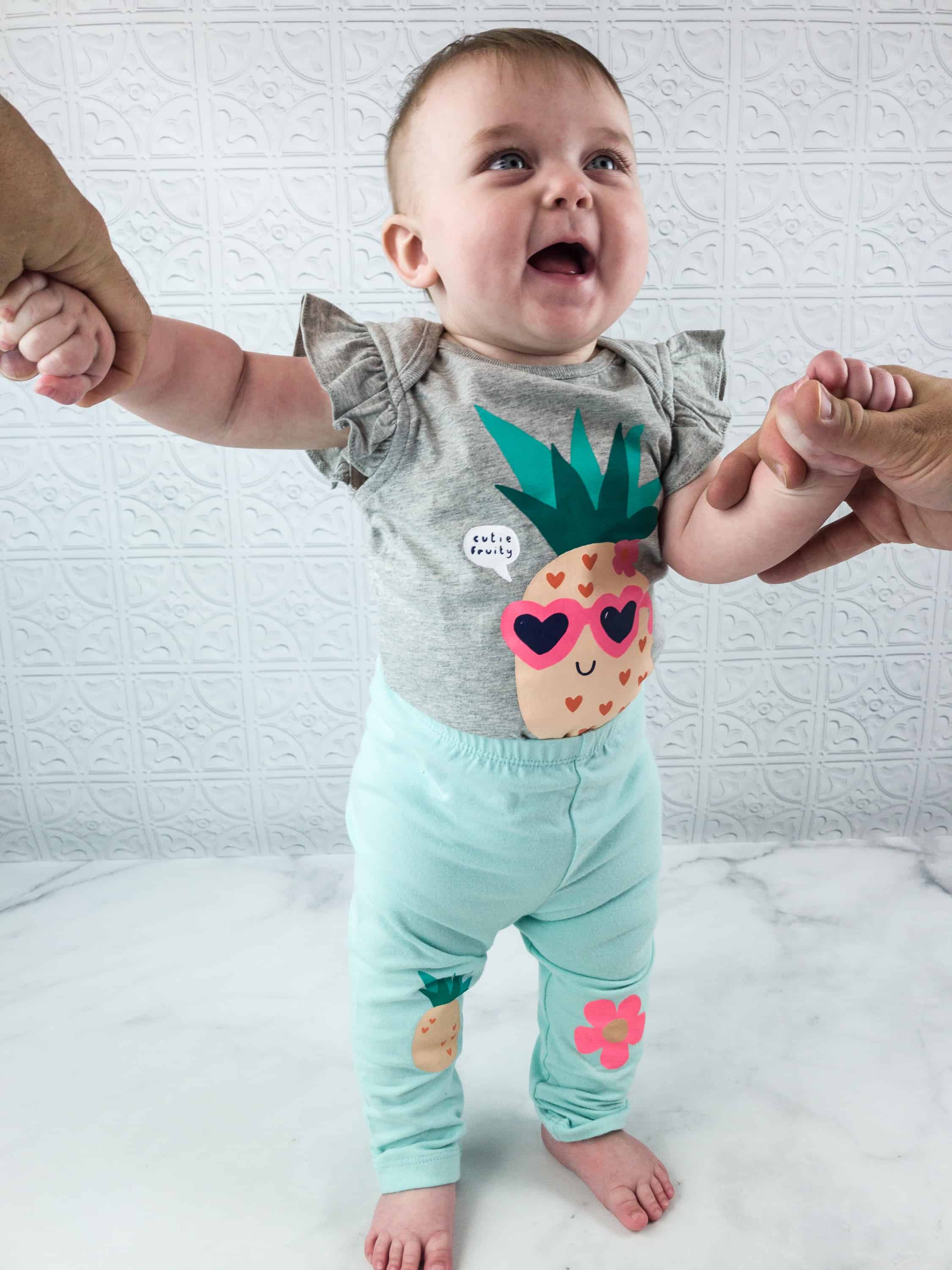 My baby pineapple is super sweet and ready for summertime fun!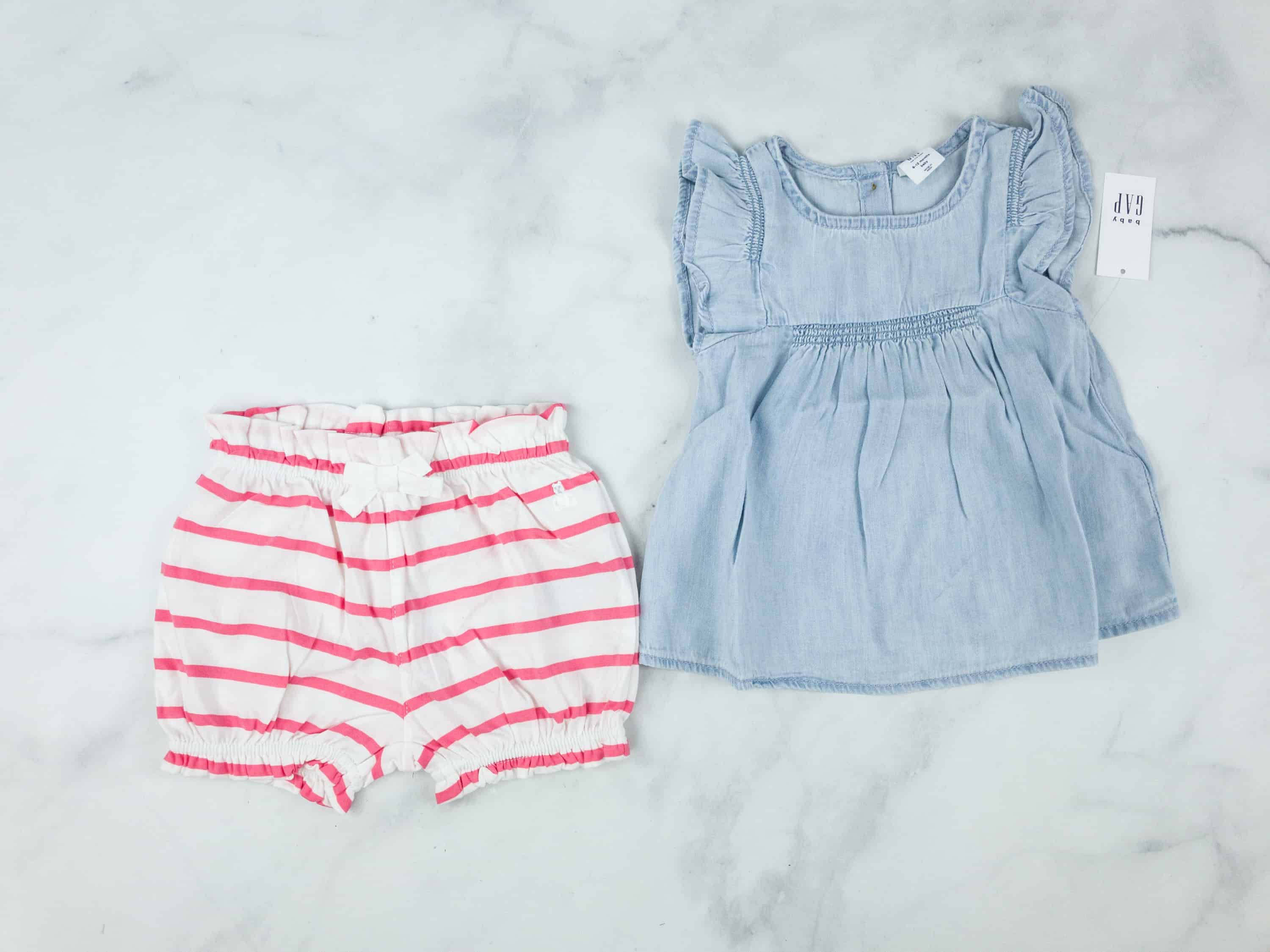 Baby Gap Stripes Bubble Shorts ($14.95) This cute allover striped shorts is a soft knit one with bow detailing at elasticized paper bag waist and cuffs. When you look closely, you can see the embroidered bear design at the hip.
Baby Gap Wearlight Denim Flutter Top ($29.95) This light indigo wash top is made with GAP's incredibly comfy fabric, the premium 1969 denim, that has a lighter feel so it's all-year-round cool. It also has cute flutter sleeves and buttons at the back so you can easily put it on your baby. The cute smocking and shirring at the empire waist give it a cool shape too, especially when worn.
Another cute and comfy pair that I'll definitely let my child wear!
She looks really cute in this pair! I love how relaxed she looks in them.
Baby Gap Rainbow Print Sleeveless Body Double ($19.95) This last wearable has a look of a shirt with the fit and function of a bodysuit.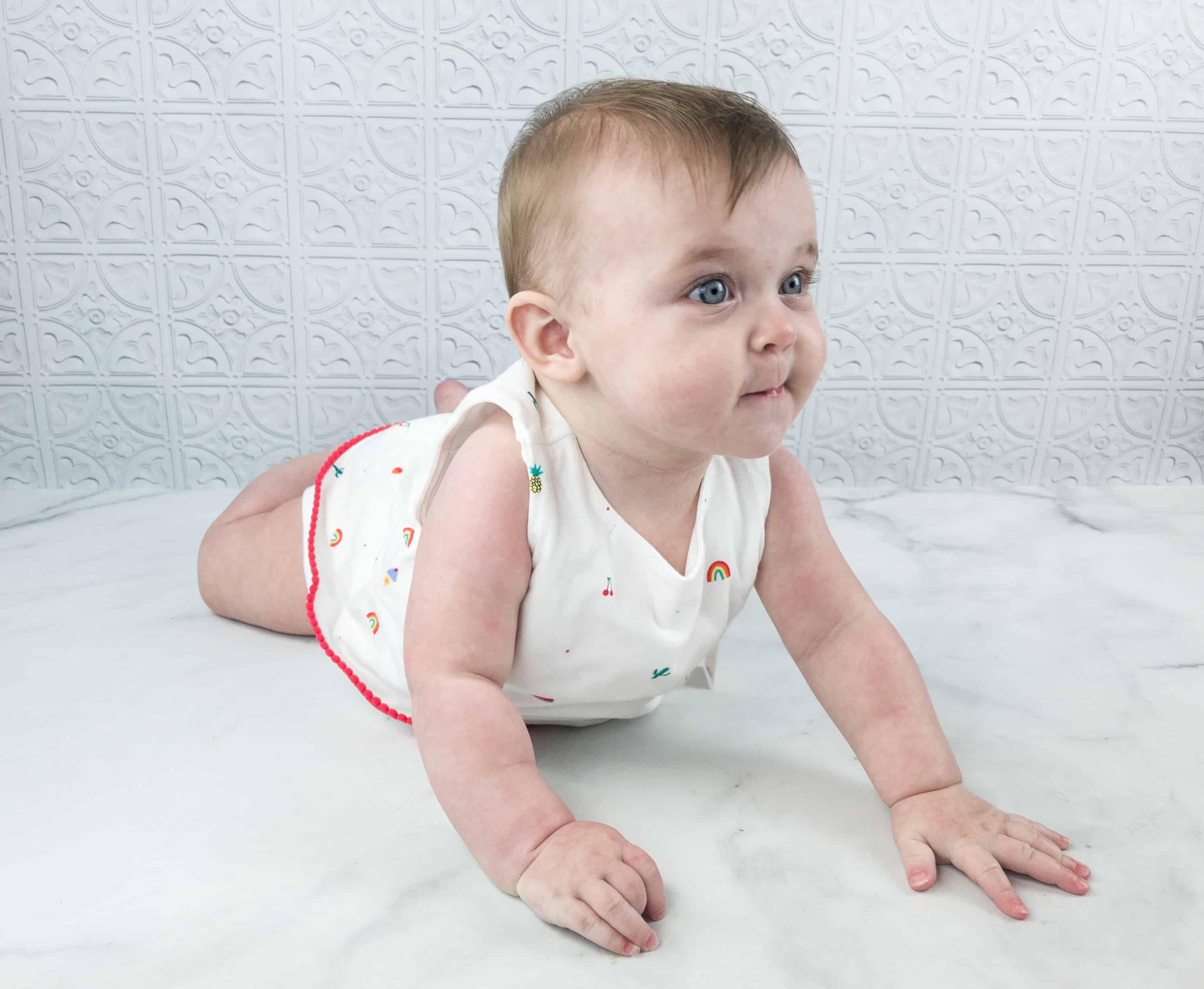 It sure is one of the best choices for the season as it is soft knit, sleeveless, has elasticized leg openings and snaps at inseam for easy dressing, and diapering. The colorful allover print looks fun too!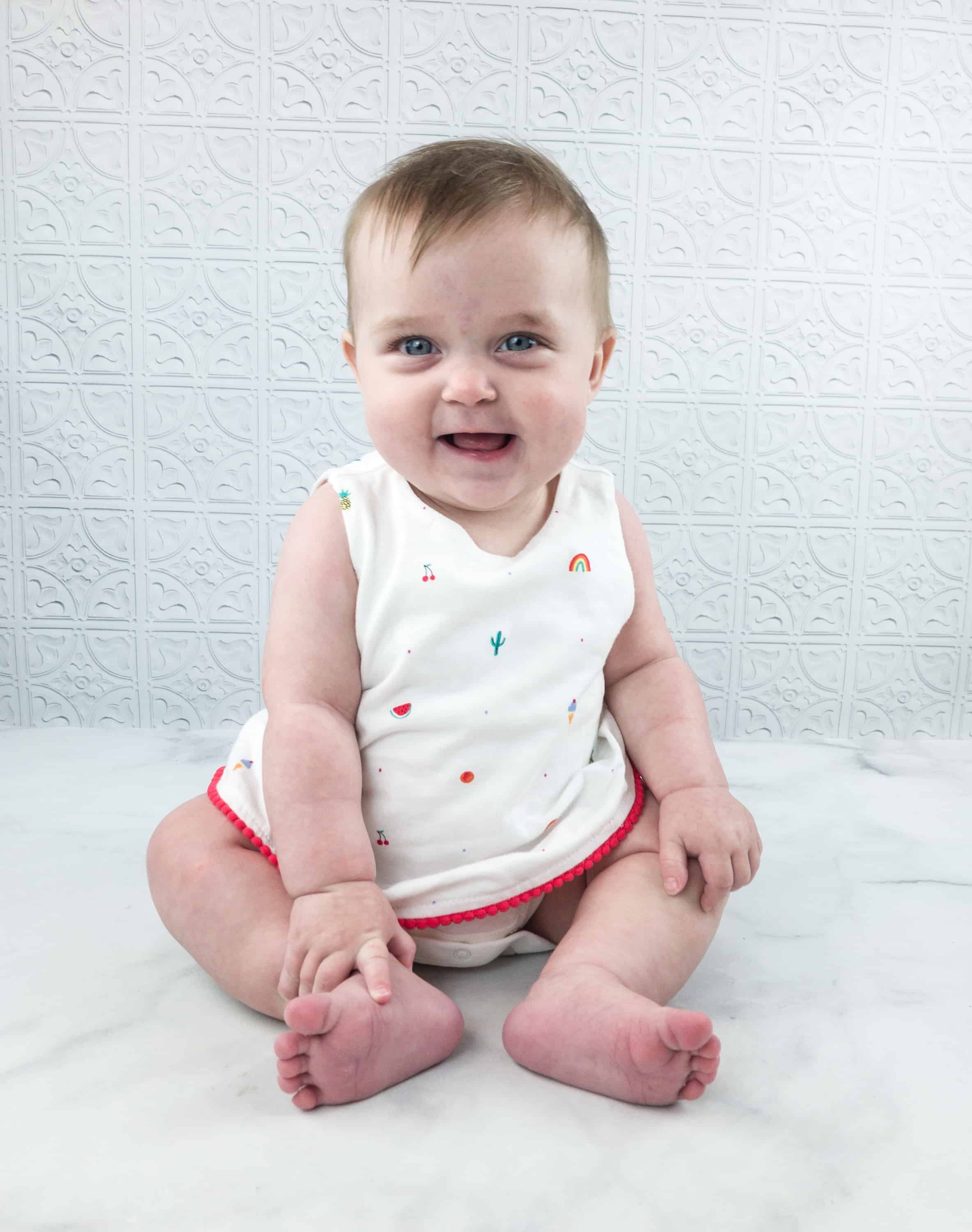 She looks so happy and relaxed in this outfit, we love it so much!
This quarter's box is definitely one of our favorites as they included fun and comfy summer-friendly clothes for my baby! Babies get easily irritated because of the heat, and I'm happy that babyGap really took that into consideration with all the outfit choices. Most of the clothes are easy to wear, aside from the pair of leggings which is not an easy choice when diapering. I can keep those that came with snaps as I can easily dress the baby with them. The tops and dress are good choices too. This box is really cute, and as you can see, my baby girl is very happy with all her new clothes. Sadly, this is the final box, so we're really gonna miss the cute clothes from this subscription.
What do you think of babyGap OutfitBox?