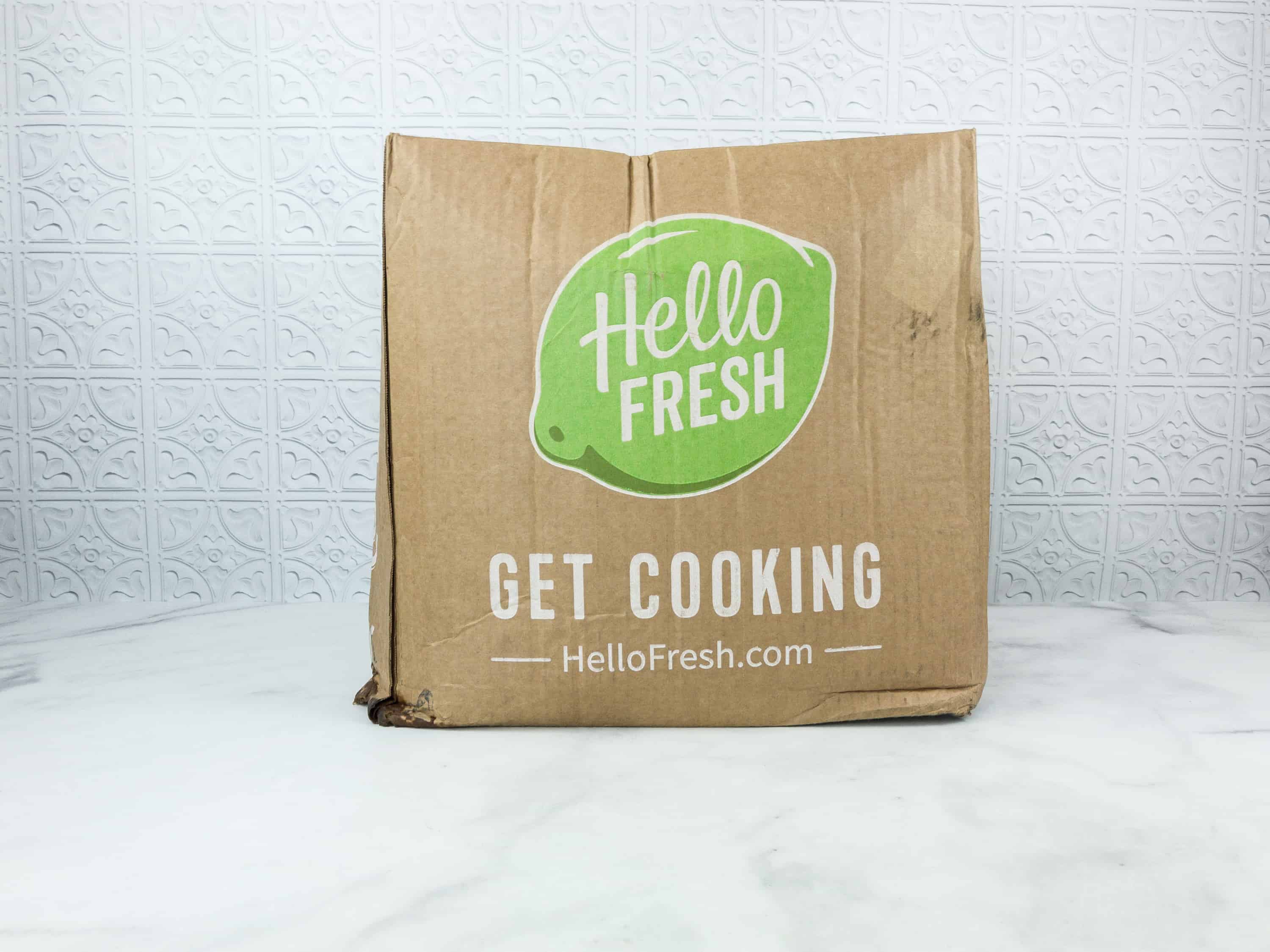 Hello Fresh is a weekly meal kit subscription box with complete recipes and high-quality ingredients to make your own fresh, healthy, gourmet meals at home.
They offer three different subscription options — Classic (choose 3, 4, or 5 meals for 2 people or 3 meals for 4 people from 6 weekly options/$9.99 per serving for the basic plan, $11.50 per meal for unlimited meal choice), Vegetarian (receive 3 HF-selected meals for 2 or 4 people/$9.99 per serving ), and Family (receive 3 HF-selected meals for 2 kids and 2 adults/$8.74 per serving). You can always pause the subscription to skip a week if you need to – this is super handy for vacations!
This is a review of the Hello Fresh Classic Box!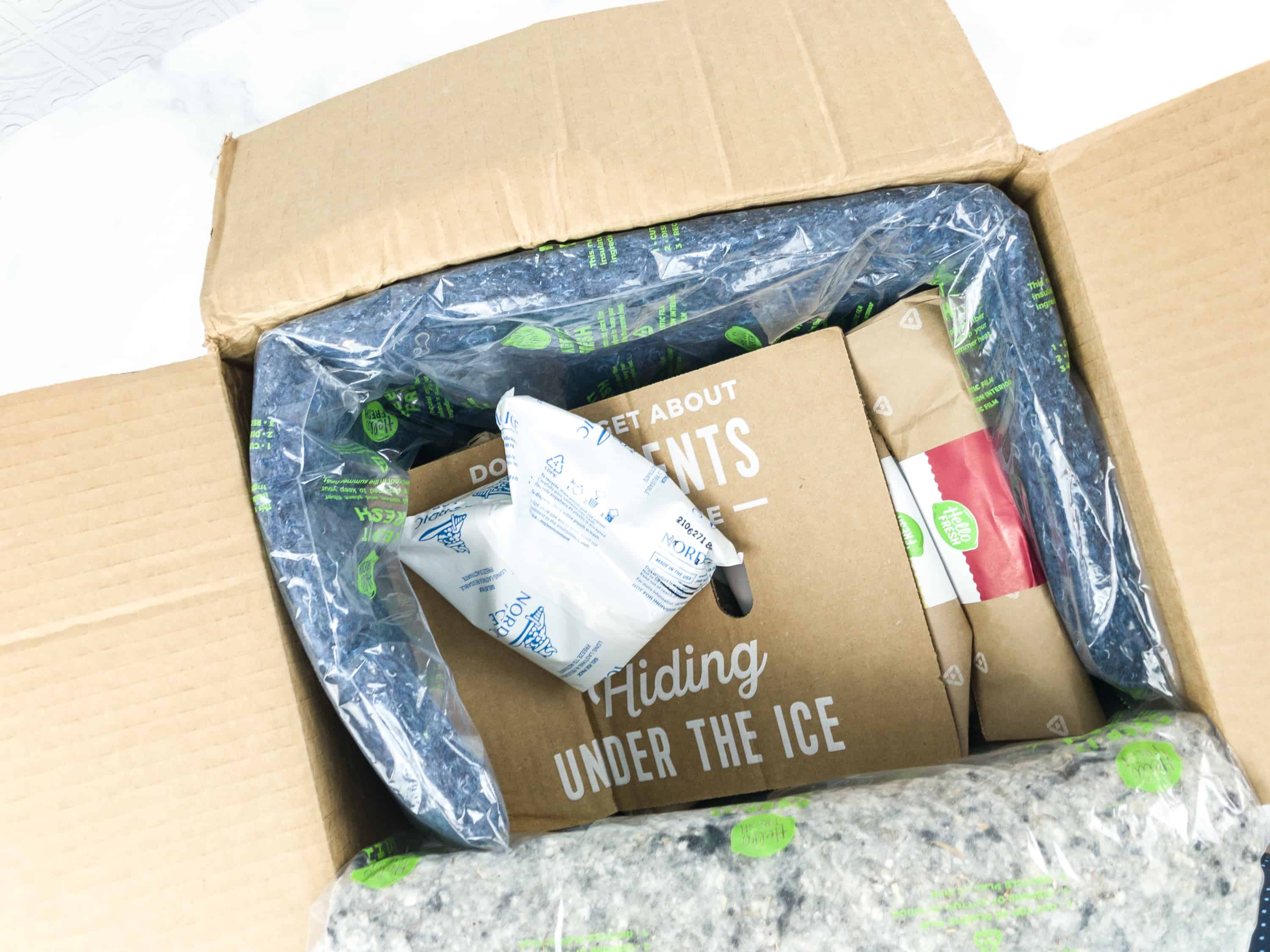 The ingredients for each meal are packed in a separate bag within a larger, insulated box. The rigid inserts both insulate and protect the food from any damage to the external box. Several ice packs keep everything cold, and the food bags are separated from the icepacks by a divider. Meat is packed at the bottom, sandwiched amongst the ice.
Here our our three meal kits for this week!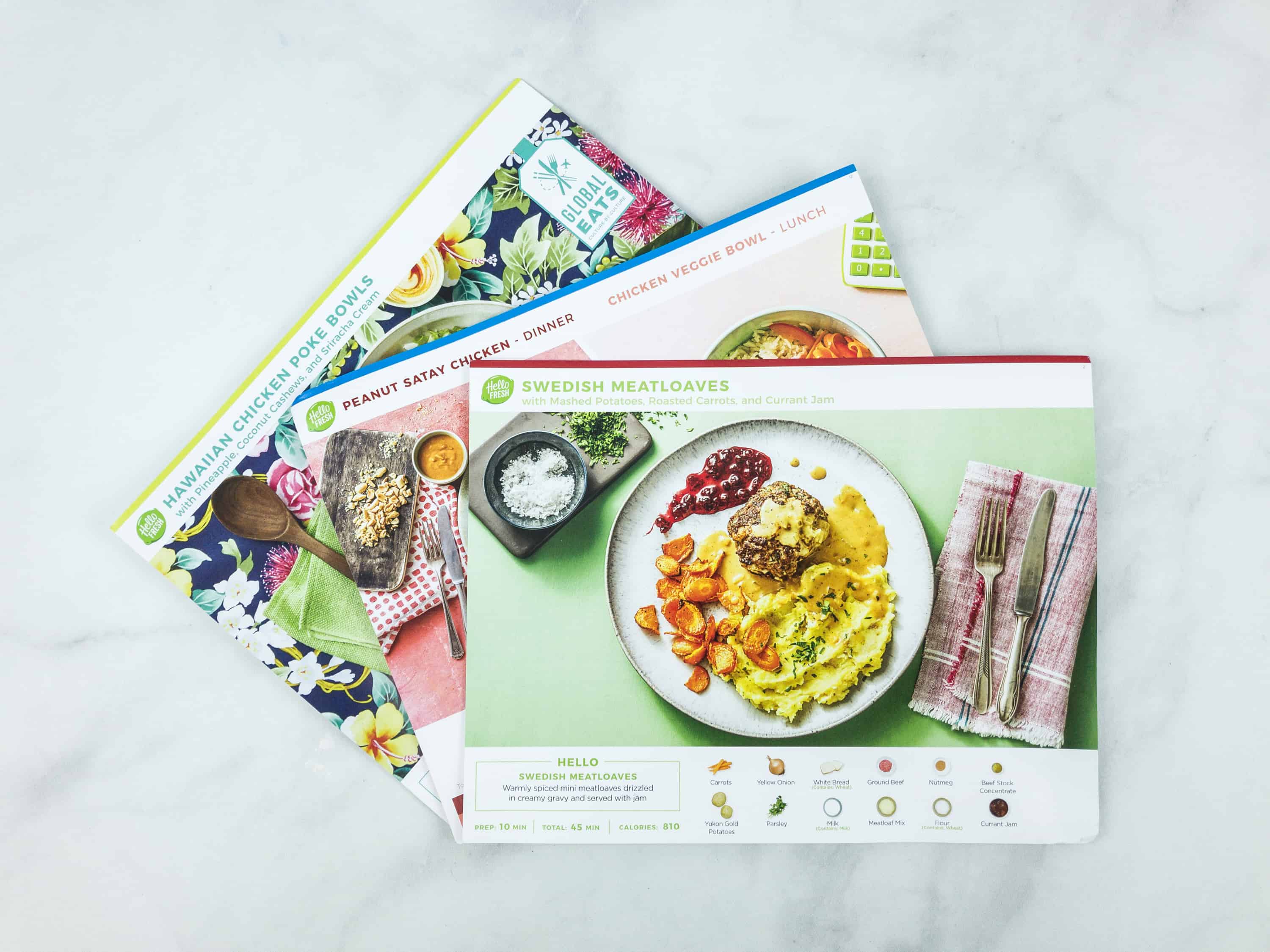 Each Hello Fresh recipe has its own lovely card with a picture of the plated dish, prep time and total time to the table, calorie count, and a visual inventory of the included ingredients.
The instructions are easy to follow, regardless of your skill level. Usually, you start by washing and prepping all the ingredients before cooking. Within the detailed, step-by-step instructions, ingredients are set in bold type for ease of recognition. They even use a red font to point out spicy ingredients, so you can adjust accordingly. I really like that they call out when they've sent more of an ingredient that is used in the recipe — when they don't mention it (which is most of the time), the items are pre-portioned and can be tossed right in without measuring. Info panes in the sidebar list anything you'll need from home (pans, cooking oil, etc), as well as the quantity of each provided ingredient needed for 2 and 4 person versions of the recipe.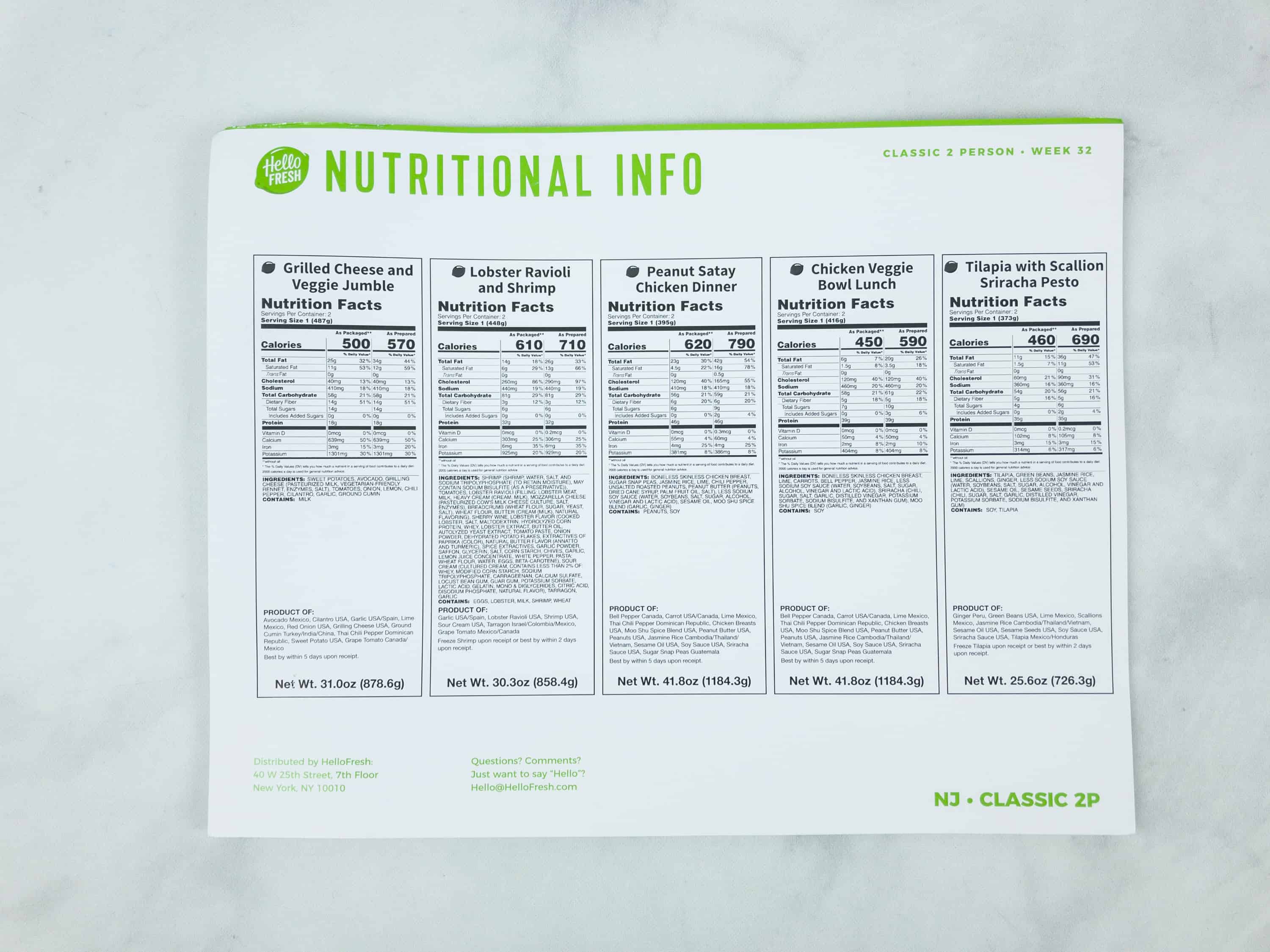 The box also comes with complete nutrition information for each recipe, including a list of all ingredients, their country of origin, and a "best used by" timeframe.
DEAL: Save $40 off your first two boxes – no coupon code required, just use this link for the deal!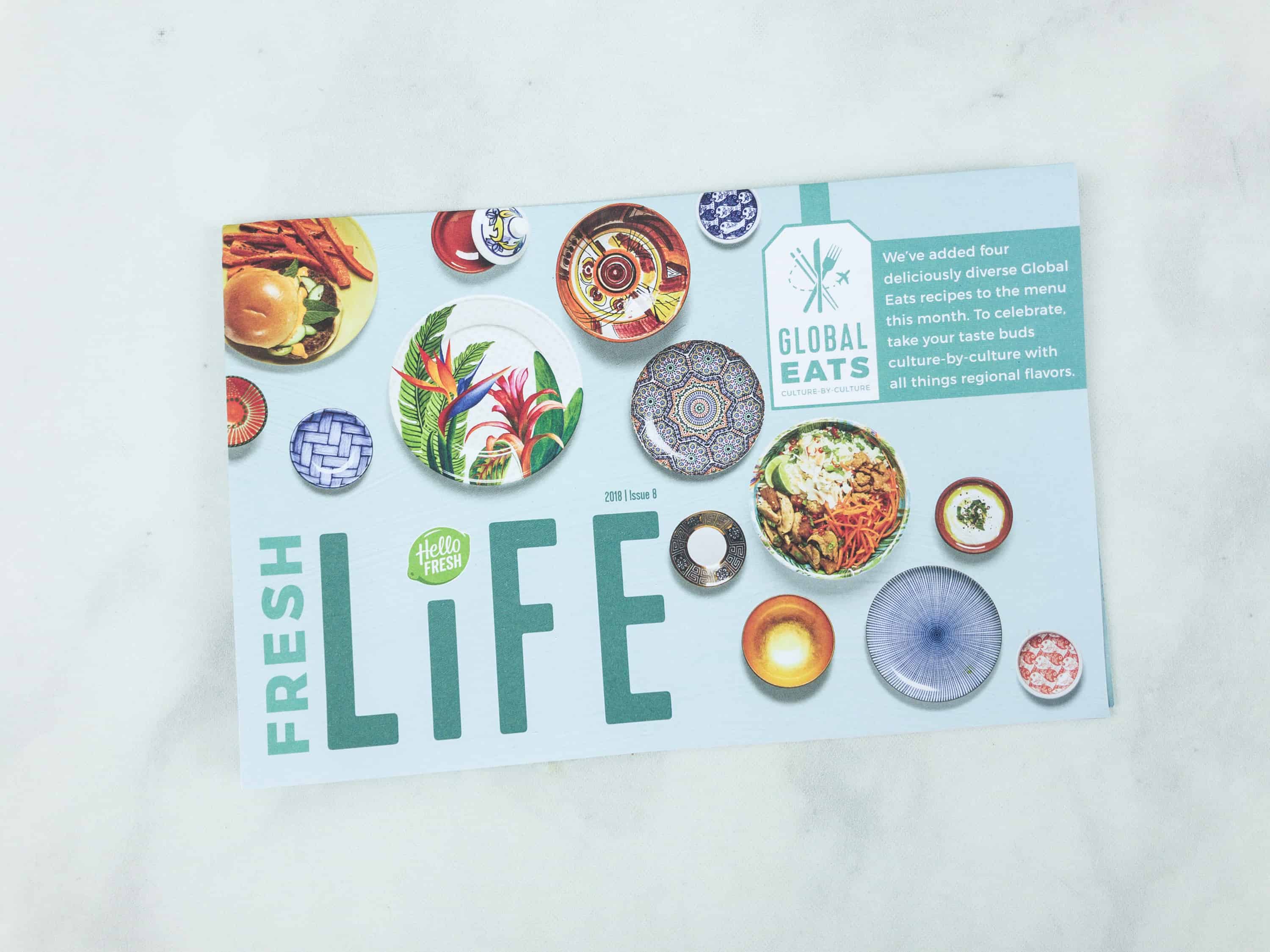 The 8th issue of Fresh Life is also included inside the box. It's a mini-magazine from Hello Fresh that features Global Eats.
They've also been including this cumulative build-a-recipe card. Every month, they add an additional ingredient, coming up with a completely different dish than the month before. For August, it's Grilled Avocado Boats with Chicken and Blueberry Salsa!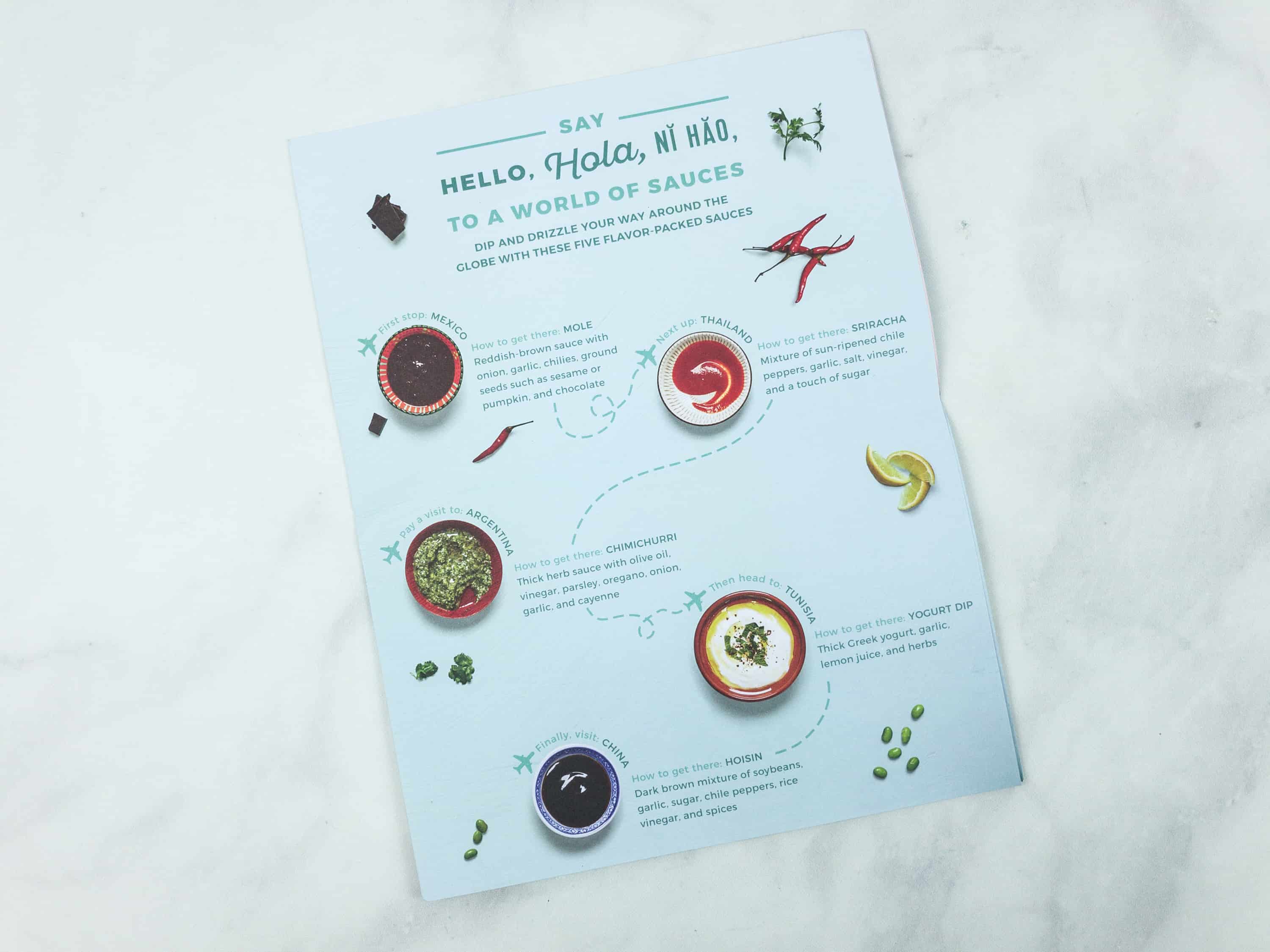 They even featured five flavor-packed sauces from different parts of the world!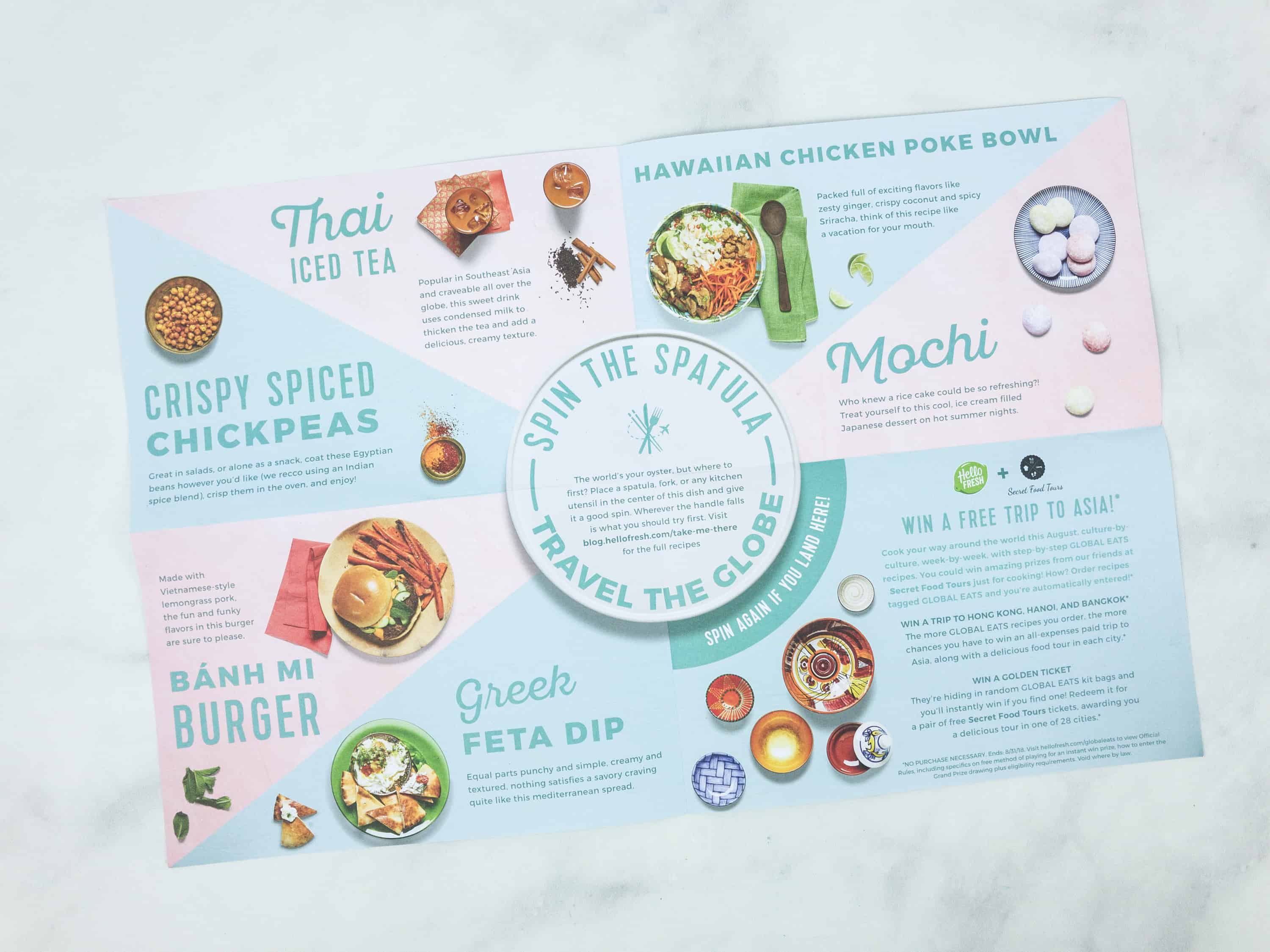 Recipes for more international snacks and meals like mochi from Japan and banh mi burger from Vietnam are available online — we are invited to try one by playing a game of "Spin the Spatula."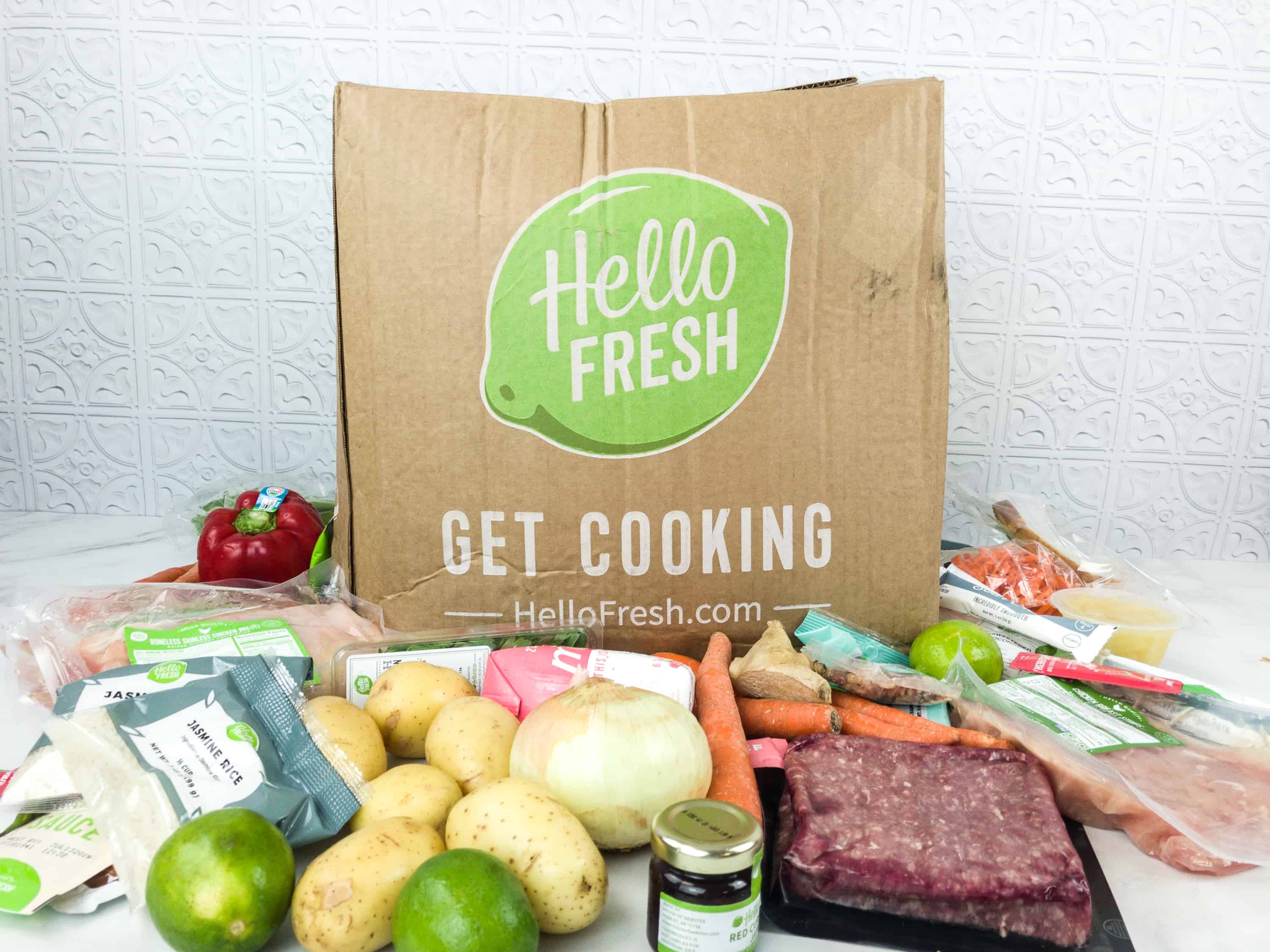 Everything in my box!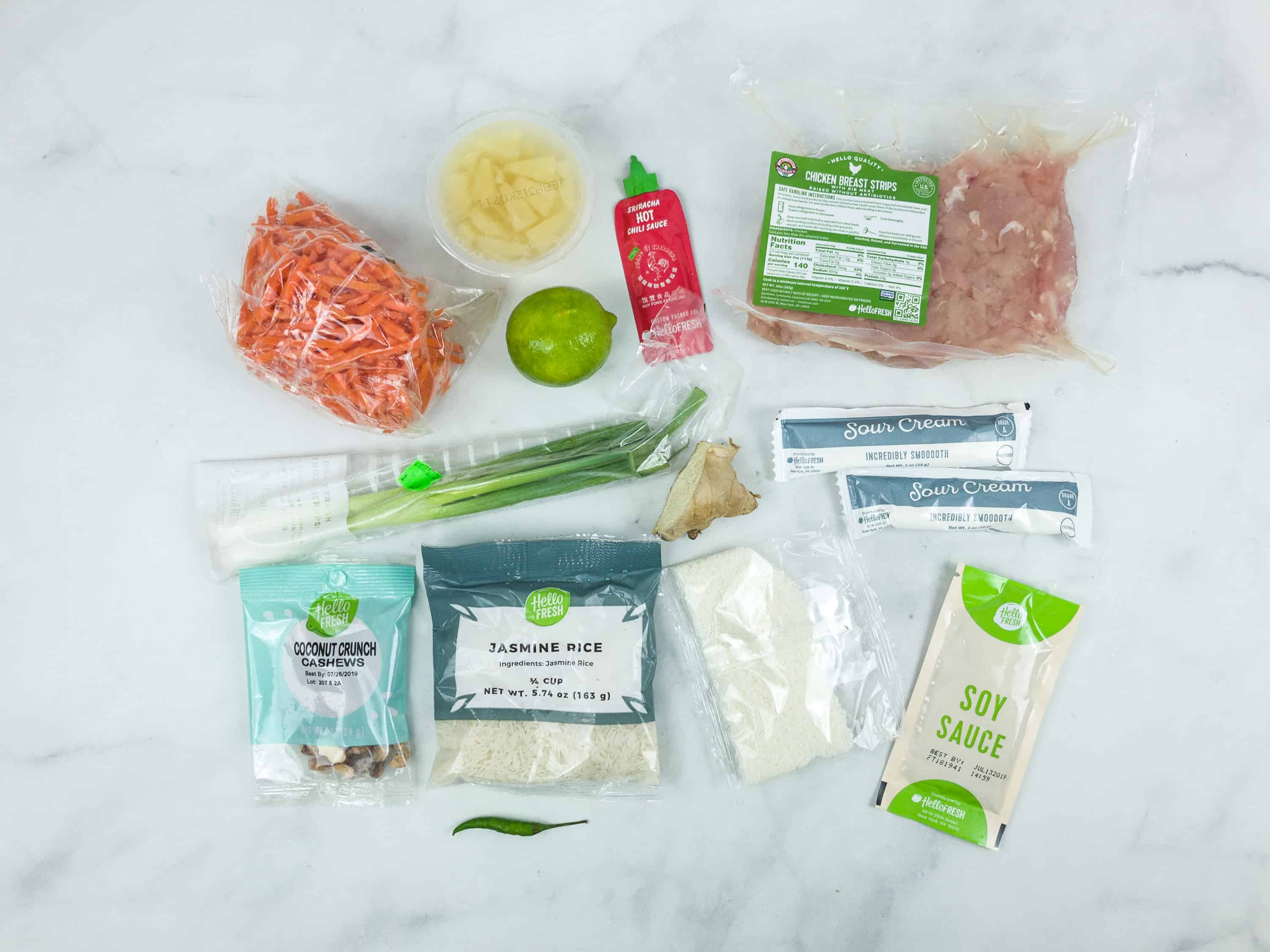 Hawaiian Chicken Poke Bowls – 30 minutes, Level 1, 890 calories per serving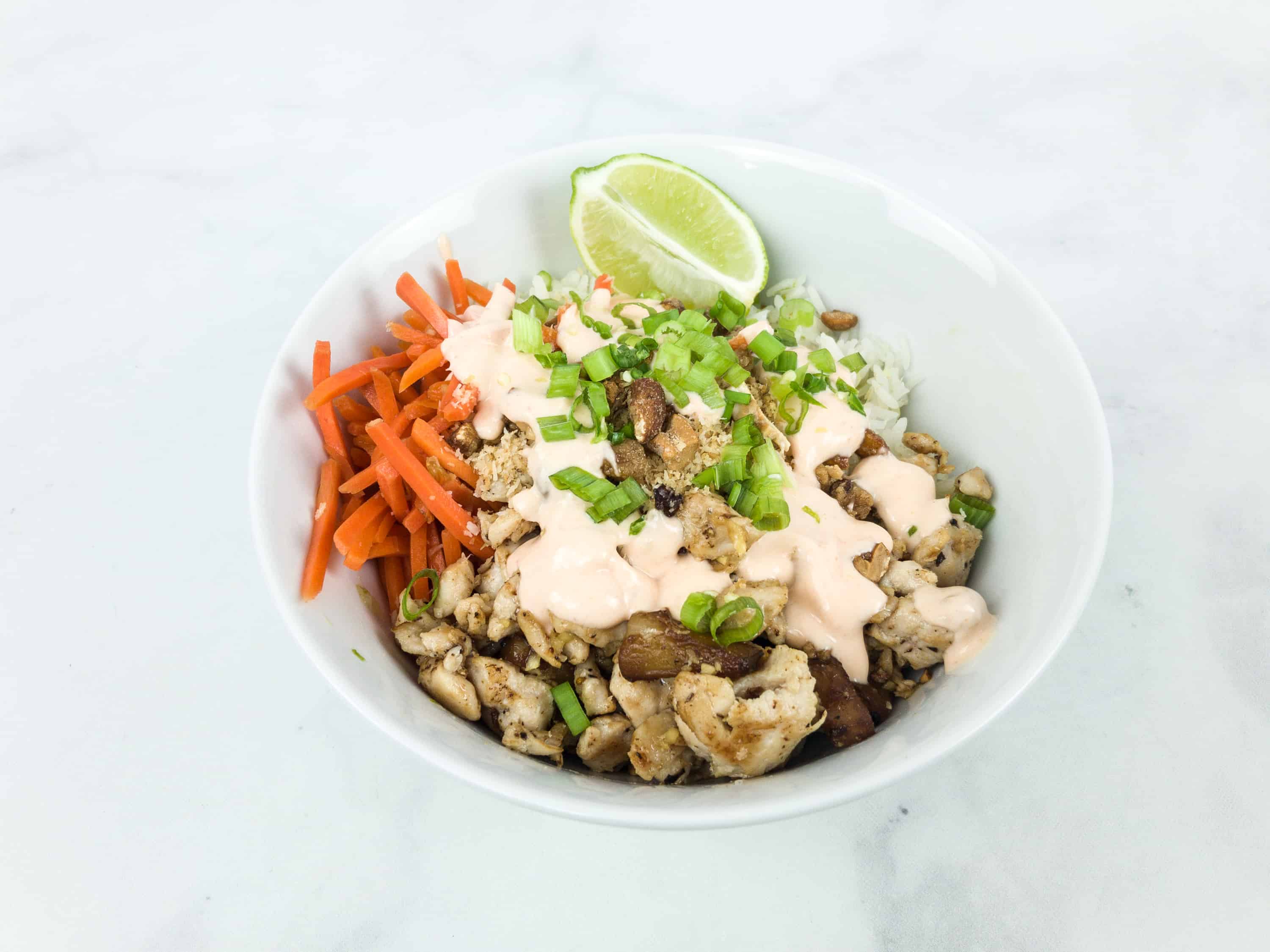 Aloha! This Hawaiian-themed chicken dish is refreshing, such a perfect dish to have in summer. Everything started with the jasmine rice topped with pieces of chicken sweetened with pineapple, coconut bits, and crunchy candied cashews. A big portion of raw carrot strips added lots of fresh crunch and lightened the dish up with some fiber. It was drizzled with sriracha cream and finished with scallion greens, chili, and lime for an added punch of flavor. One bowl is really filling! We loved this dish, as it managed to be filling, comforting, light, and fresh at the same time — it felt like a cross between good Asian take-out and a chef salad. It took awhile to prepare, as it had multiple sauces and required cooking of the rice and chicken before assembly, but it was definitely worth it!
Swedish Meatloaves – 45 minutes, Level 1, 790 calories per serving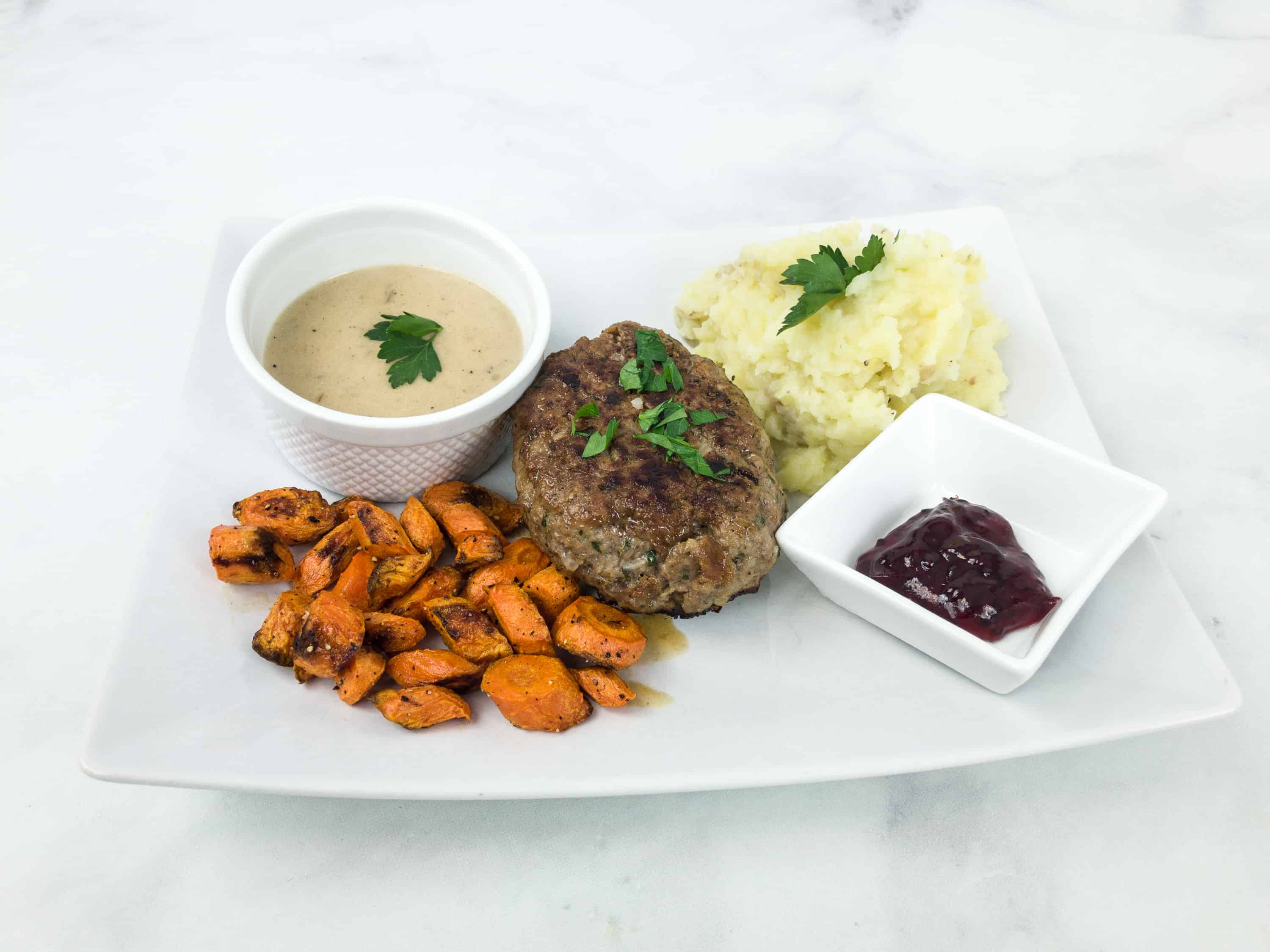 From Hawaii, we move on to Sweden with this juicy spiced beef meatloaf dish. It's served with rich creamy gravy, mashed potato, roasted carrots, and the sweet taste of currant jam. I just love how it contains soft, crunchy, and creamy texture all in one plate. The meatloaf is thick but is so tender and juicy, it compliments well with the creaminess and unique taste of the gravy. The combination of carrots and jam works well too! This was a fairly simple dish to make, and it only took awhile because of the roasting of the carrots. It was also a good dish for getting kids to try some interesting flavor combos, because it wasn't jumbled together and intimidating for them.
Peanut Satay Chicken for Dinner with a Chicken Veggie Bowl for Lunch – 35 minutes, Level 1, 790 calories per serving. This recipe is for two people, but they doubled the chicken portion so we'd have plenty for the lunch portion of the recipe.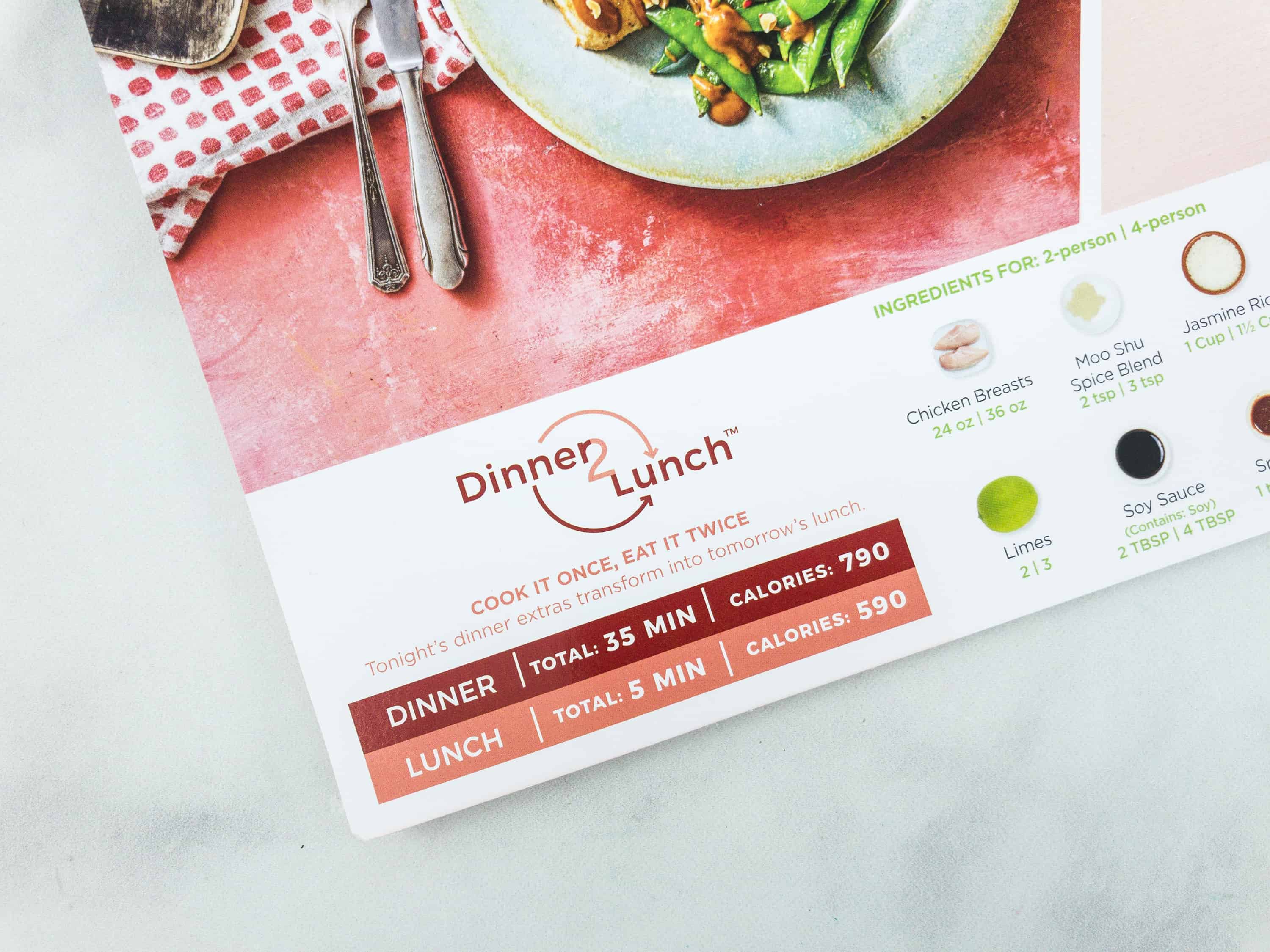 Hello Fresh now features a Dinner2Lunch recipe, available only in premium selection. This means that some elements prepared for the dinner recipe can be set aside to use in another quick recipe for lunch. With one or two additions, tonight's dinner extras will be transformed into tomorrow's lunch!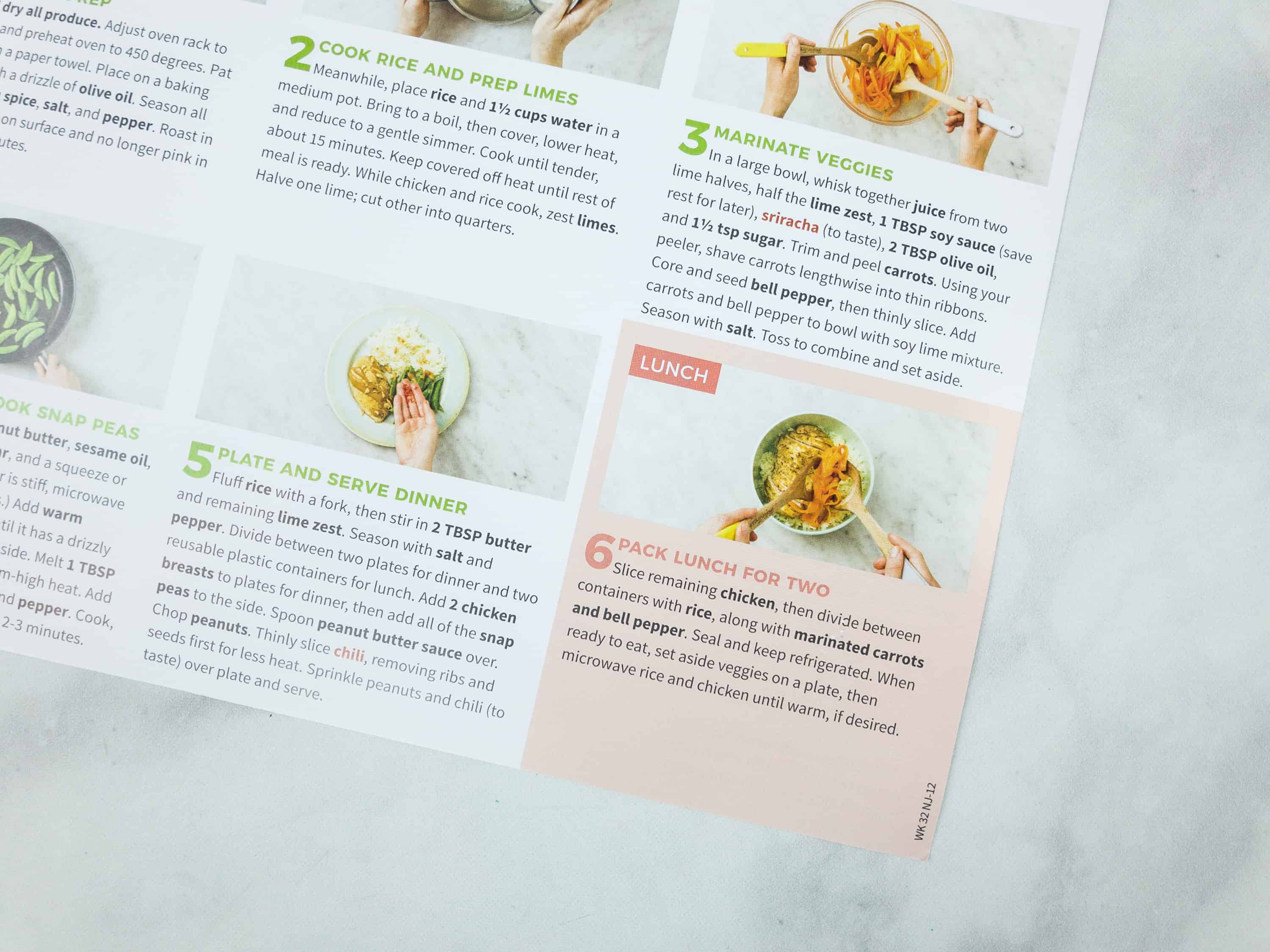 The recipe card has a box dedicated to preparing the lunch dish, but it incorporates items prepared while making the main dinner recipe, so make sure to make the main recipe first!

Peanut Satay Chicken originated in Indonesia and also became famous in Southeast Asia. It is usually served in a variety of ways, but this recipe we got is  chicken with a peanut and soy based sauce partnered with jasmine rice and crunchy sugar snap peas.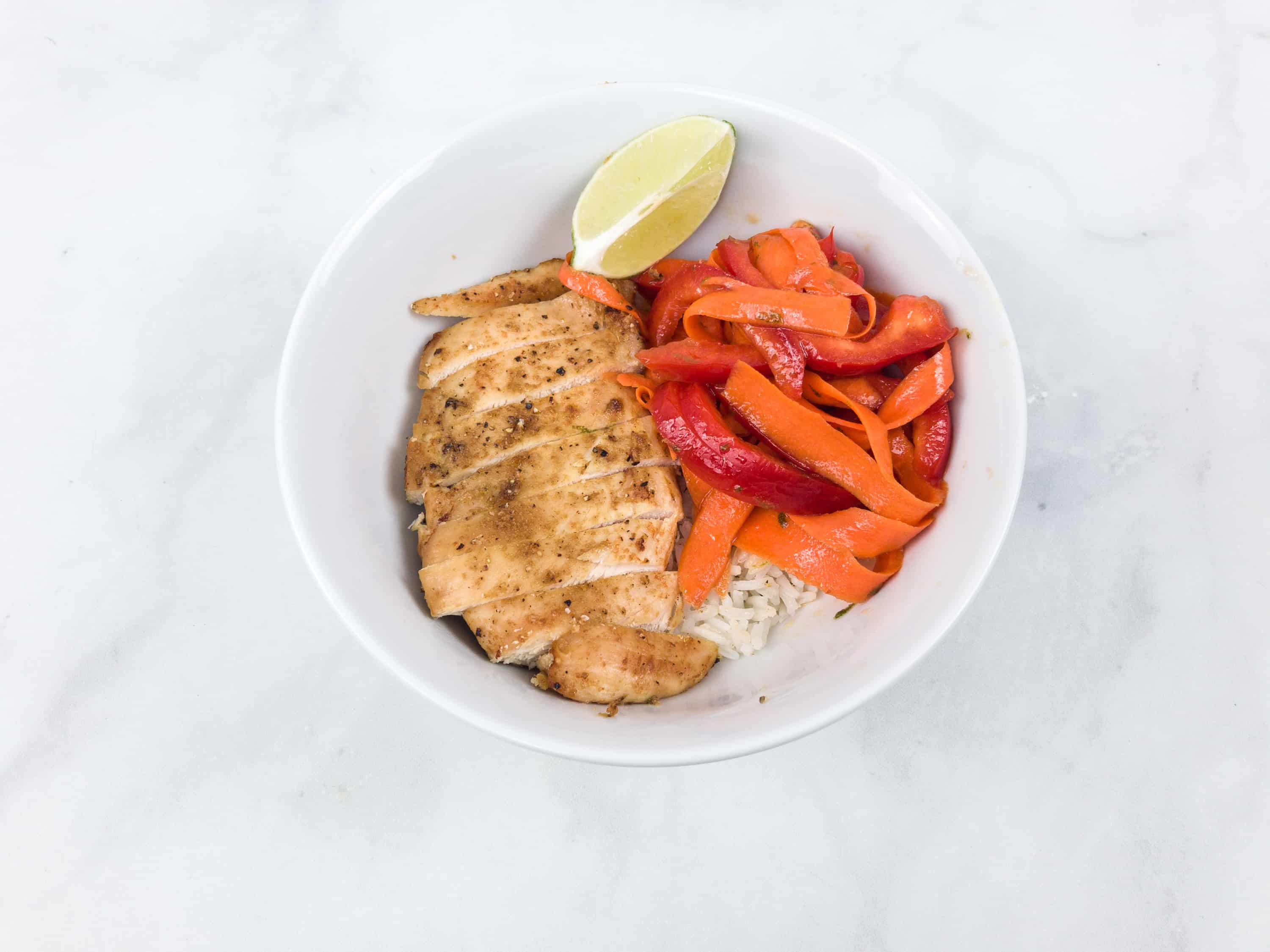 For the lunch meal, we got to make a chicken and veggies bowl. It is very simple to make — we sliced our remaining cooked chicken, setting it and the marinated carrots and bell pepper that we made alongside our dinner prep atop the remaining java rice. It's quite tasty too!
This month's dishes from Hello Fresh are easy to prepare and to cook. The fact that they feature various cuisines from around the world is awesome and helps keep things interesting. This meal kit subscription always makes sure that the ingredients come in good condition by keeping them at the right temperature during shipping. The instruction cards for each recipe are very thorough, and even inexperienced cooks can follow along without any trouble. Their Dinner2Lunch meal is also amazing — it saves me time, because I don't have to think what to cook for lunch the next day, and it's also fun seeing a dish transform and not having to settle for straight up leftovers! Whether you're cooking just for yourself or for the family, this subscription is worth trying for the great recipes and convenience they bring to the table!
Have you tried Hello Fresh?