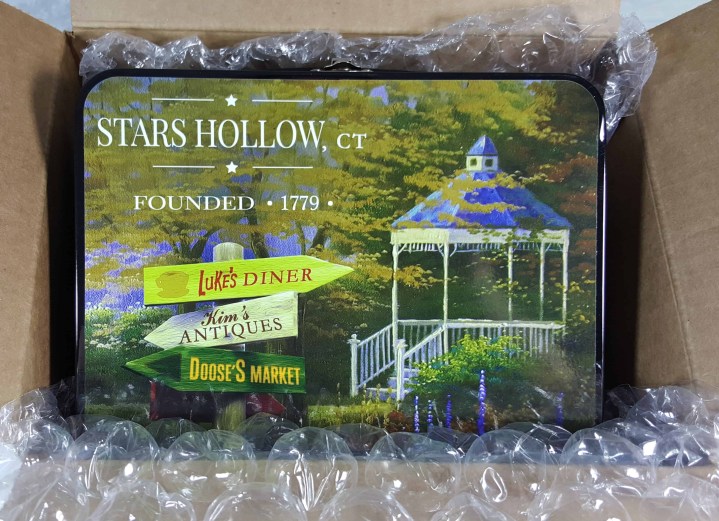 Stars Hollow Monthly features 3-5 products which are inspired by the Gilmore Girls and the fictional town of Stars Hollow. (Inspired by, meaning items that relate to, are inspired by, or are artistic renderings of the show and its inhabitants/characters.) For $34.90, you can expect anything from tee shirts (on occasion), home decor, fashion accessories, bath & body items, and much much more.
The goal for the Stars Hollow Monthly Box is to send subscribers items they will adore as fellow Gilmore enthusiasts, but also items anyone would enjoy – high-quality items that won't gather dust in a drawer somewhere.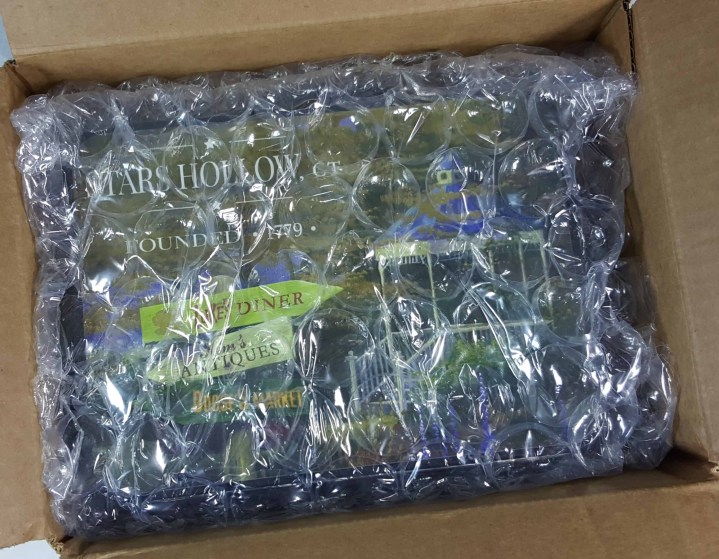 Even through the bubble wrapping, I could see a lunch box.  Now to find out what's inside…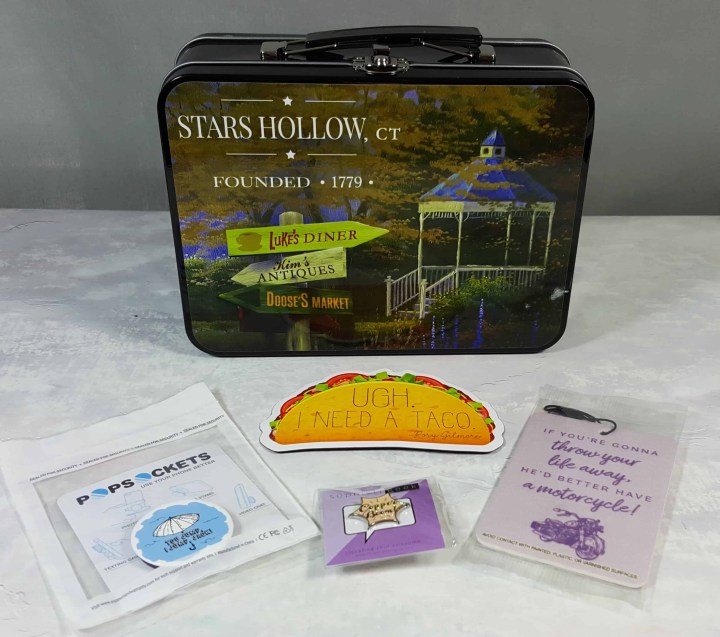 April's Stars Hollow Monthly Box full reveal!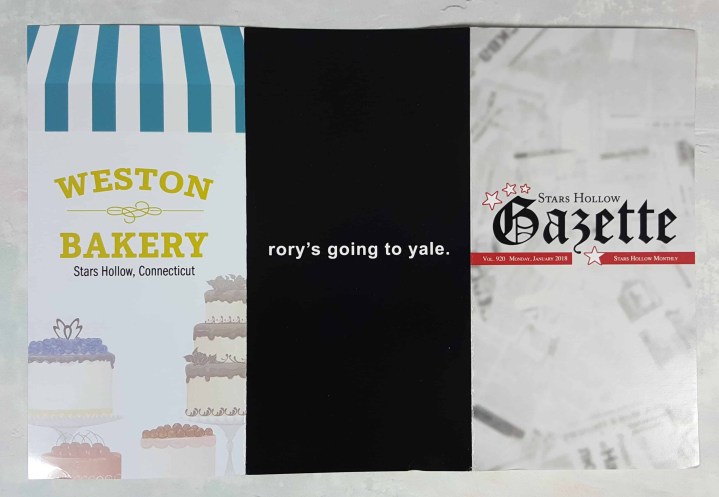 The information brochure has changed from the iconic Luke's menu to the Stars Hollow Gazette. Like every good newspaper, there is a classified section. This one features an ad for Weston Bakery and a Kirk shirt notice that "rory's going to yale."
The inside of the Gazette contains a list of the box contents with pricing, as well as details related to the subscription. Last month, a launched a new book club that uses Rory's reading list as the guide and subscription – Stars Hollow Book Club. If you'd like to read along, the April title is The Perks of Being a Wallflower by Stephen Chobsky.
Be sure to check the new website, www.shopsophistigeek.com, for more Gilmore Girls related merchandise and items from other Nerddoms.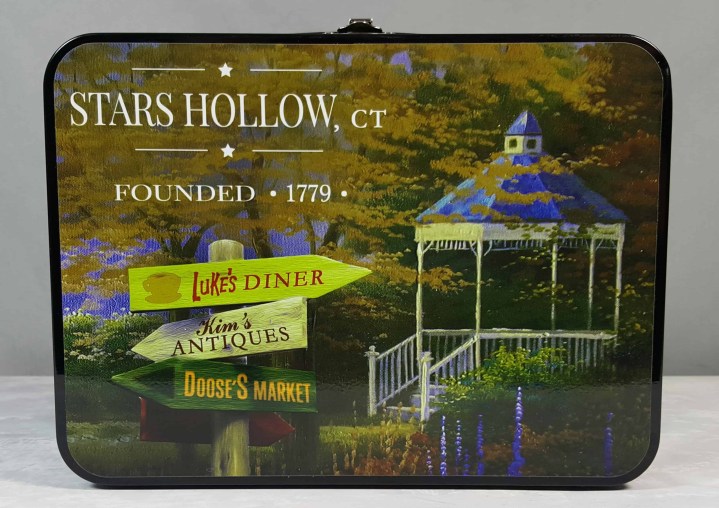 EXCLUSIVE Collectible Stars Hollow Lunch Box ($24.99): This metal lunch box features the famed Stars Hollow gazebo and a directional sign to some of your favorite local venues. Metal lunch boxes always take me back to my childhood and packed lunches. As an adult, I still take my lunch to work and fun carrier is sure to start up some conversations with the other Gilmore Girls fans in the office. This will pair well with the Al's Pancake World container and water bottle from February's box. Although, at $24.99, I do feel that this is somewhat overpriced when compared with other fan fave lunch boxes.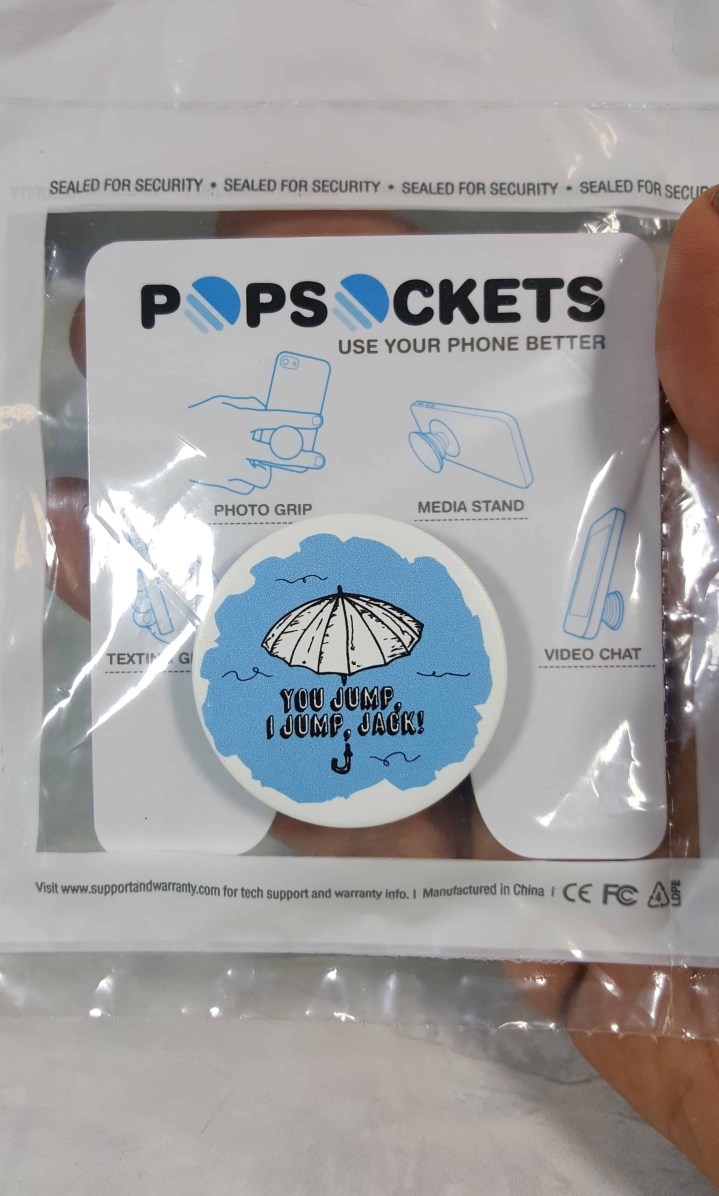 EXCLUSIVE POP Sockets | Phone Gripper ($14.99): I currently have a POP Sockets gripper on my phone and LOVE it! So, I was excited to see this Gilmore Girls exclusive with the phrase "I jump, you jump, Jack!" It's a stylish and functional reminder of the Life & Death Brigade. Now to swap my old one for this design. The gripper works as a stand, frees up your fingers for easier texting or selfies, and generally makes gripping your phone easier.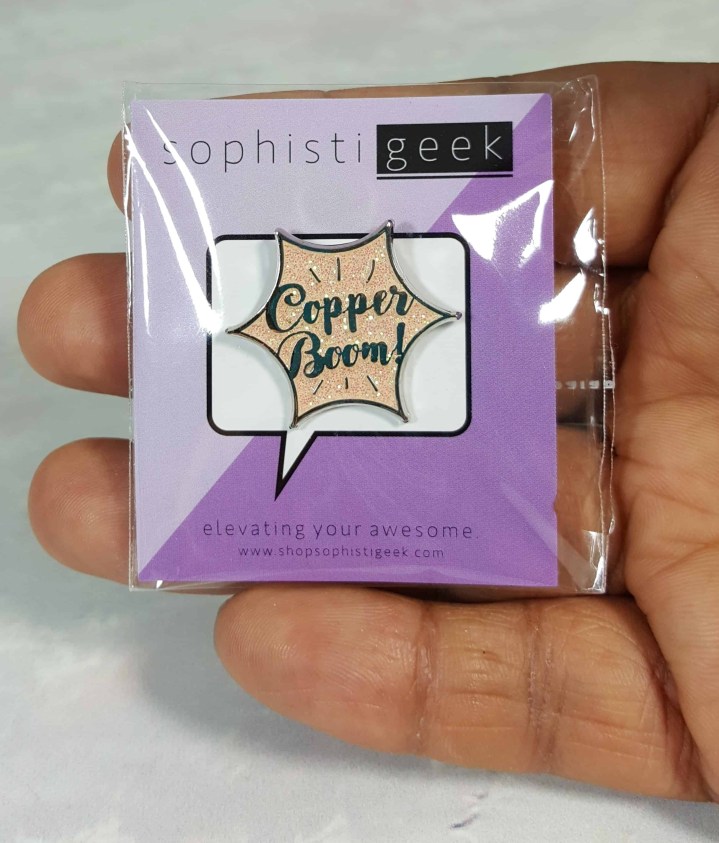 EXCLUSIVE sophistigeek | Copper BOOM Enamel Pin ($9.99): "When did I become one of those girls with dozens of beauty products, none of which are expendable? It used to be a touch of mascara, dab of Coppertone, zip, bam, boom, out the door." Somehow, out of all that, Lorelai only heard Copper Boom, and now we have a catchphrase and better way to say hurry up. This little pin is perfect for your bag or lapel.
EXCLUSIVE Black Raspberry Vanilla Scented Car Freshener ($2.50): "He Better Have a Motorcycle." If only Lorelai had known that Dean wasn't the motorcycle riding rebel that was going to steal Rory's heart. I still have hope that Rory will end up with Jess. This sweet smelling air freshener takes us back to season 1 and has me wishing for my own motorcycle Romeo.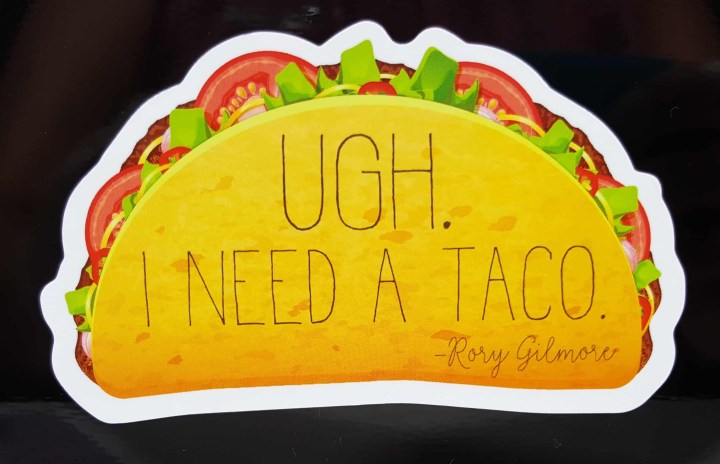 EXCLUSIVE Magnet ($2.50): "Ugh. I need a taco." – Rory Gilmore. I feel you, girl, and needed this magnet in my life. Tacos are a staple of the Gilmore Girls diet and a possible hangover cure. I know they sure make me feel better after I have one, regardless of the situation at hand.
Our April Stars Hollow Monthly Box had a listed value of $55. While I liked the lunch box, I think it was valued about $10 too high. I'm noticing that since the value of the magnet and car freshener has been included in the box total, the total value of the other items has gone down slightly. The overall box still contains a value that is more than the monthly cost of the subscription.
Starting next month (May), Stars Hollow Monthly Box will be doing themed boxes!  May's theme is "A Visit at the Dragonfly Inn". I'm excited to see what we'll get from Lorelai and Sooki's little bed and breakfast. I hope Michel makes an appearance. I love his dry sarcasm.
What was your favorite item this month? Leave a comment below and share your thoughts.