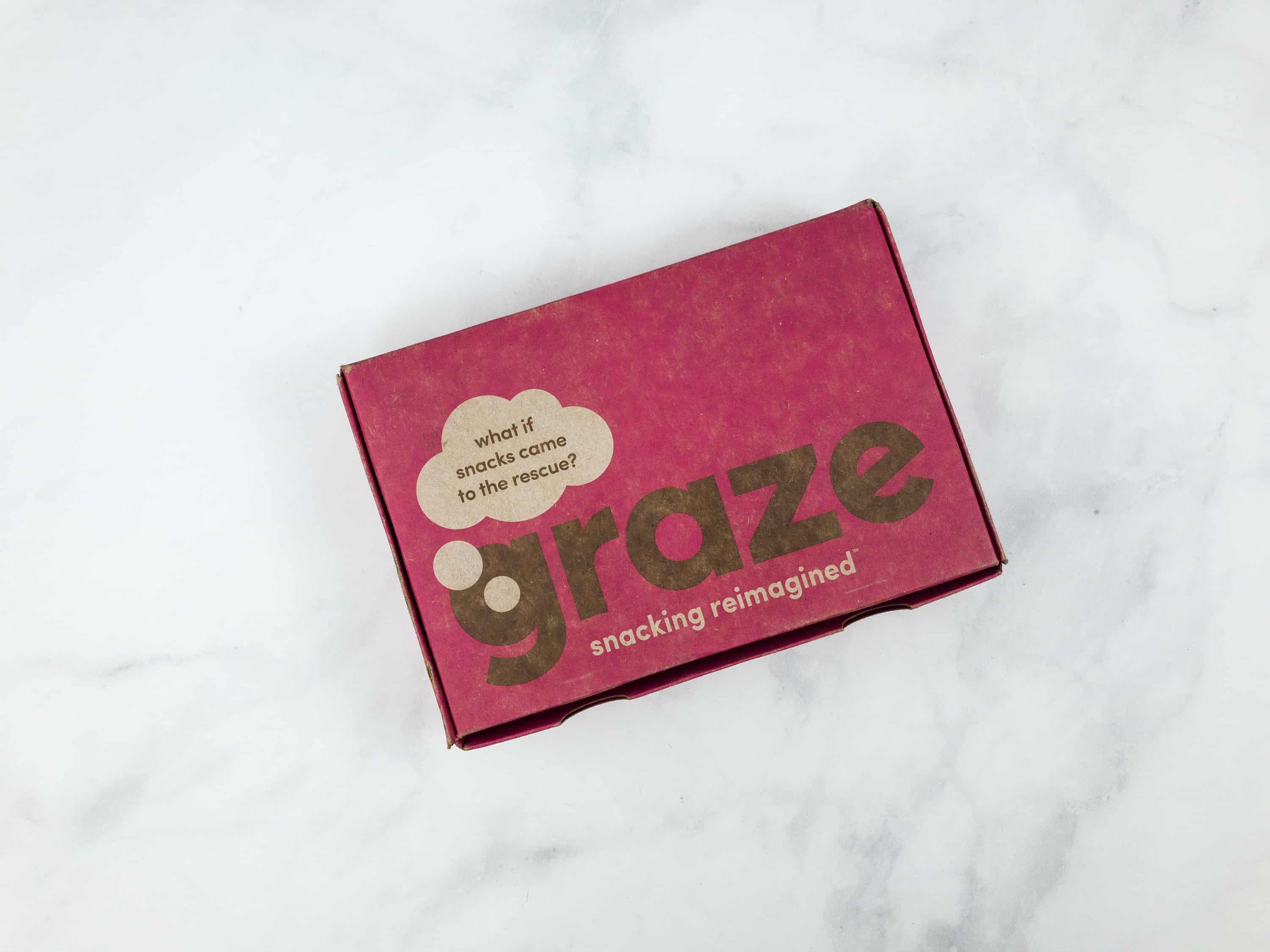 Graze is a weekly snack box (you can opt to get it bi-weekly too or every month) with 8 individual servings of prepackaged fresh and healthy snacks. With over 100 snacks available, you can rate the snacks you receive online to help customize your box.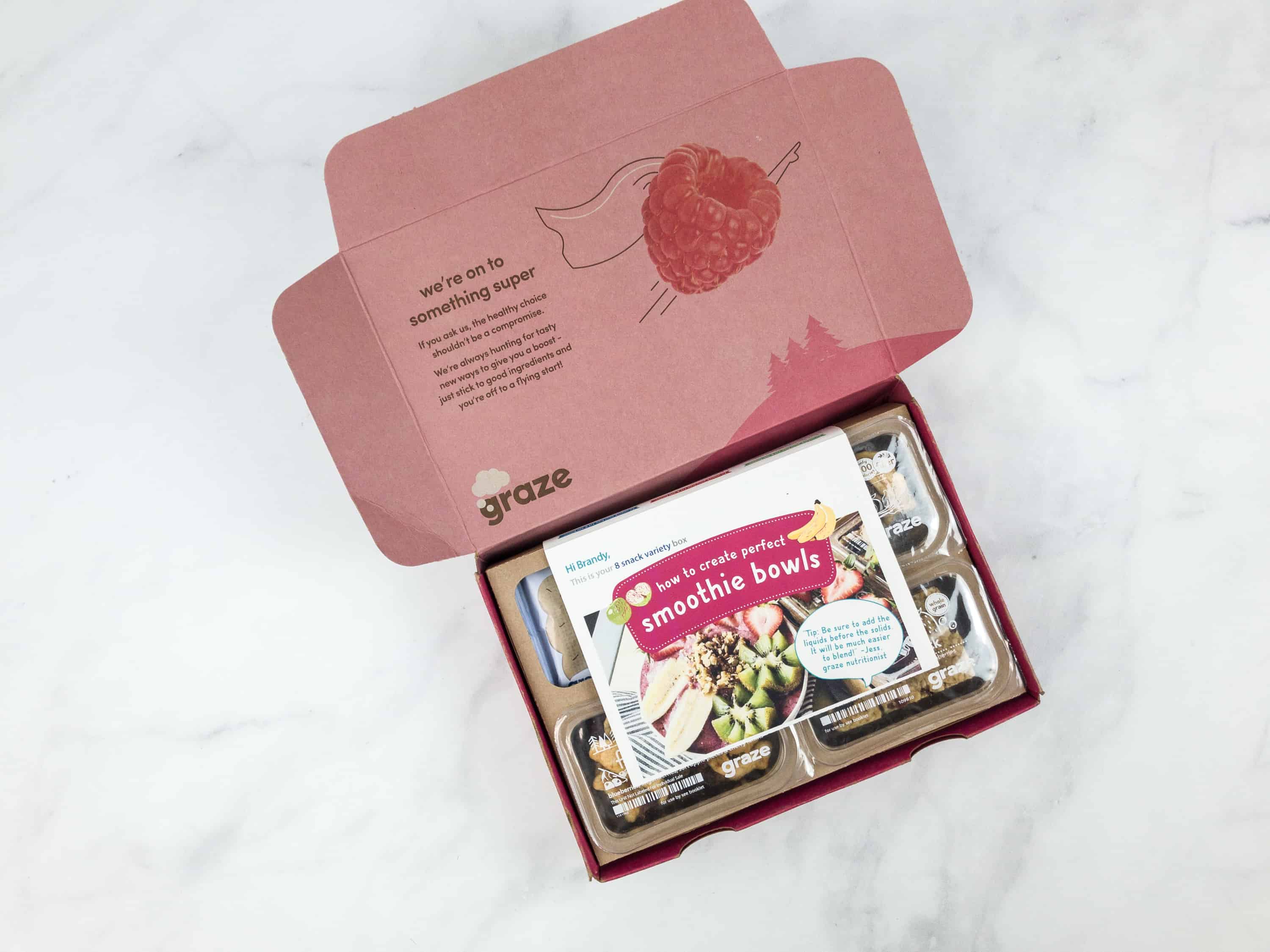 We got a Variety Box!
DEAL: You can get an individually sized (4 count) box free for your first box in a Graze subscription ($1 shipping). After you get your free box, pick up more free and almost free subscription boxes here!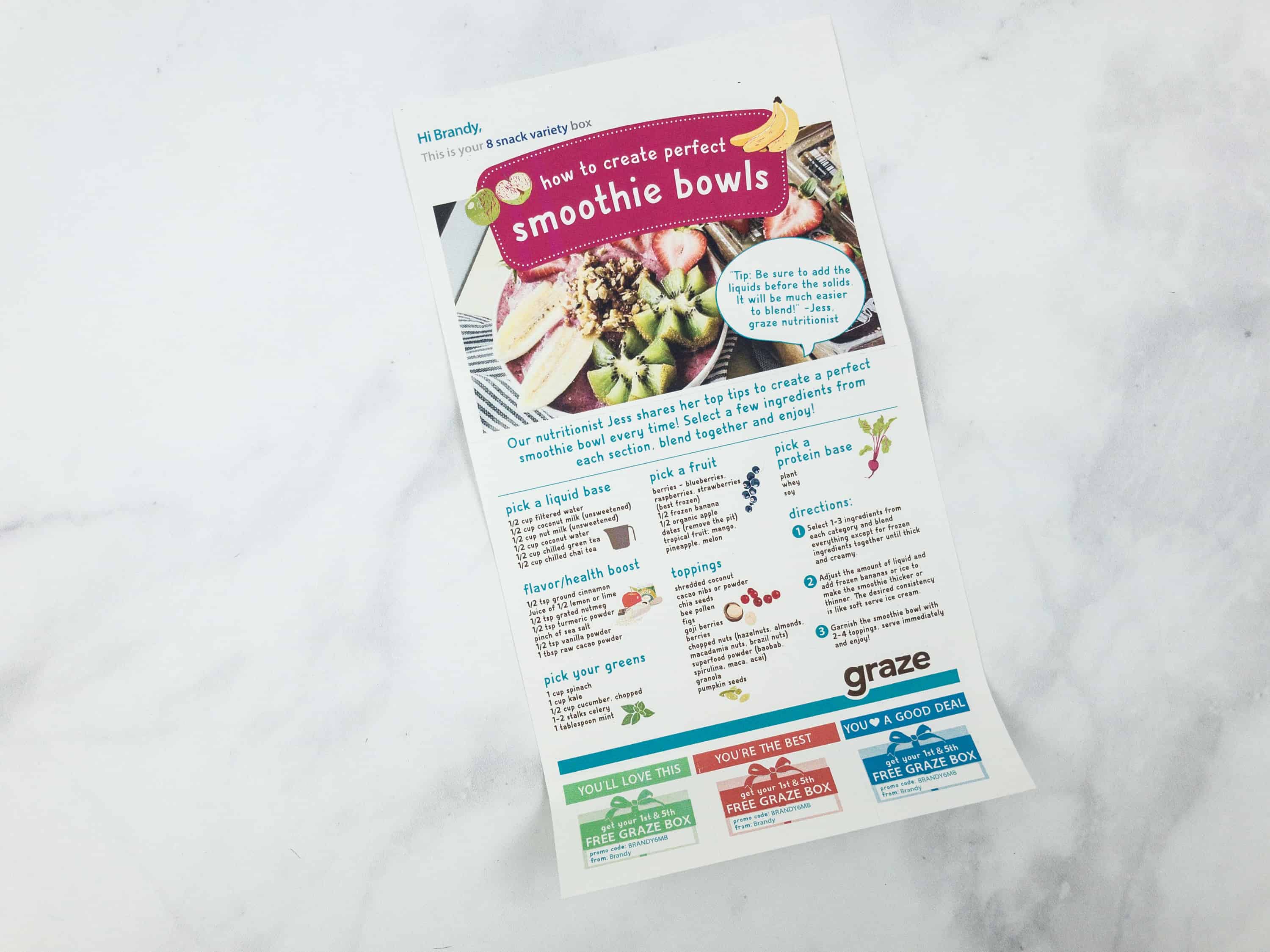 Every box includes an info sheet. It has coupons to share with friends and some other item of interest. Sometimes it's a recipe incorporating a graze snack; other times it is an announcement of new offerings from the Graze snack lab.
Previously, Graze had 8-11 different varieties of snack boxes. Those have been compressed into 3 varieties. I liked being able to subscribe to that many particularly treat types, and I kinda miss the old system. You can still filter their online shop by all the categories, though.
Graze recently introduced a rewards program with more incentives to buy from the shop, and we've been picking up multi-packs of our very favorite treats to have on hand or tuck into a bag for a snack on the go! They have flavors that I haven't seen in the subscription yet, which is a little odd. Maybe they'll show up there, perhaps they'll be store-exclusive. While they've reduced the number of categories (e.g. variety) for subscription purposes, the Graze store can still be sorted, searched, and refined by all manner of categories.
The other side of the info sheet side has the nutrition stats for each of our selections. There's lots of healthy ingredients and no weird stuff. The expiration dates for the snacks are printed on this sheet, too. Many of the snacks have relatively short expiration dates – these aren't for stockpiling.
A gift card from Graze is also included for $50 off your first Hello Fresh box.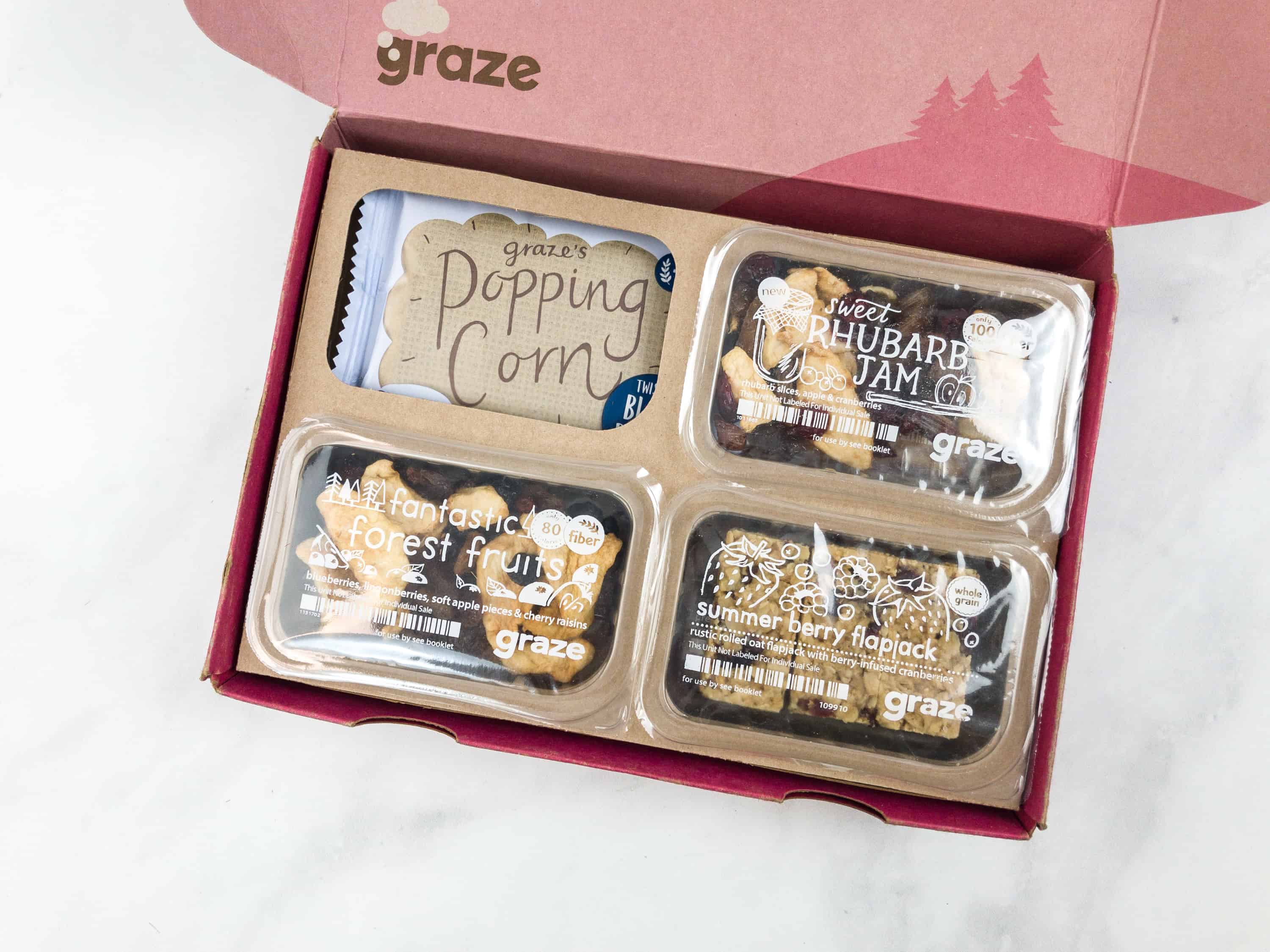 Everything is packed in neatly, and all the snacks are perfectly portable. Our family divvies them up for emergency breakfasts, special snacks, and desk snacks, depending on the family member!
Everything in my box!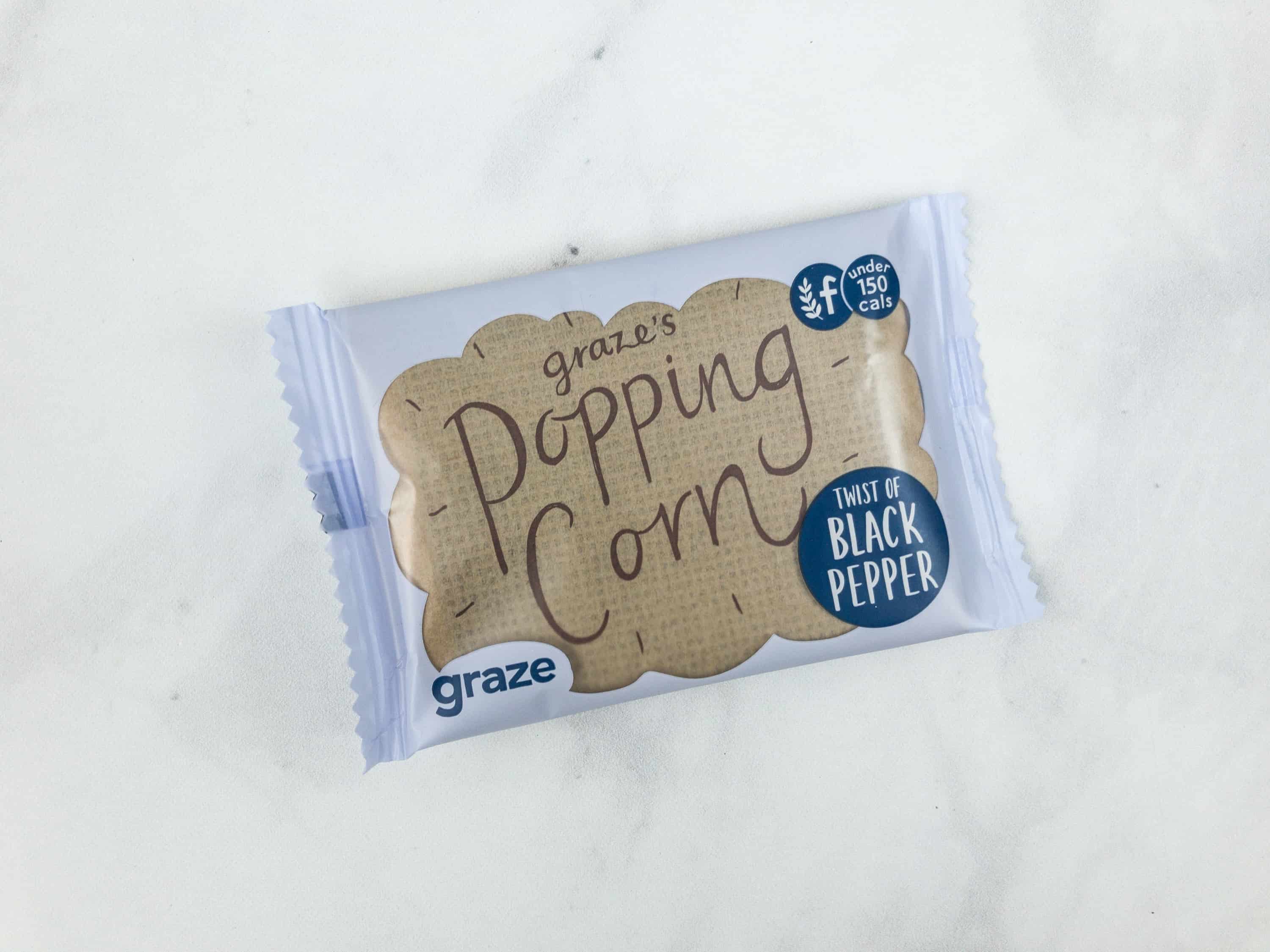 Graze's Popping Corn. The famous pop-it-yourself popcorn from Graze now has a twist of black pepper.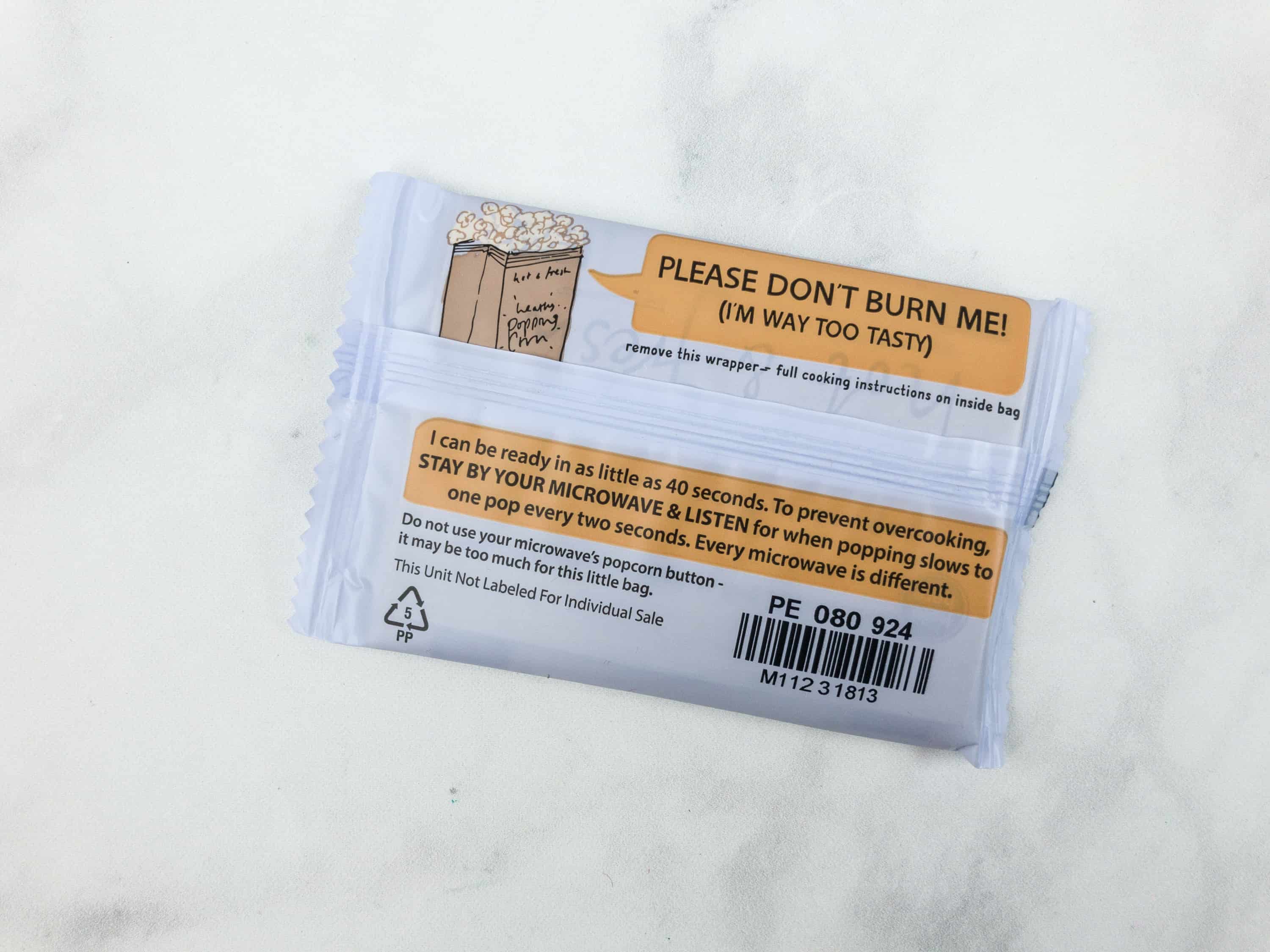 This popping corn is a great source of fiber and only contains 127 calories, making it a perfect light snack to enjoy while watching movies!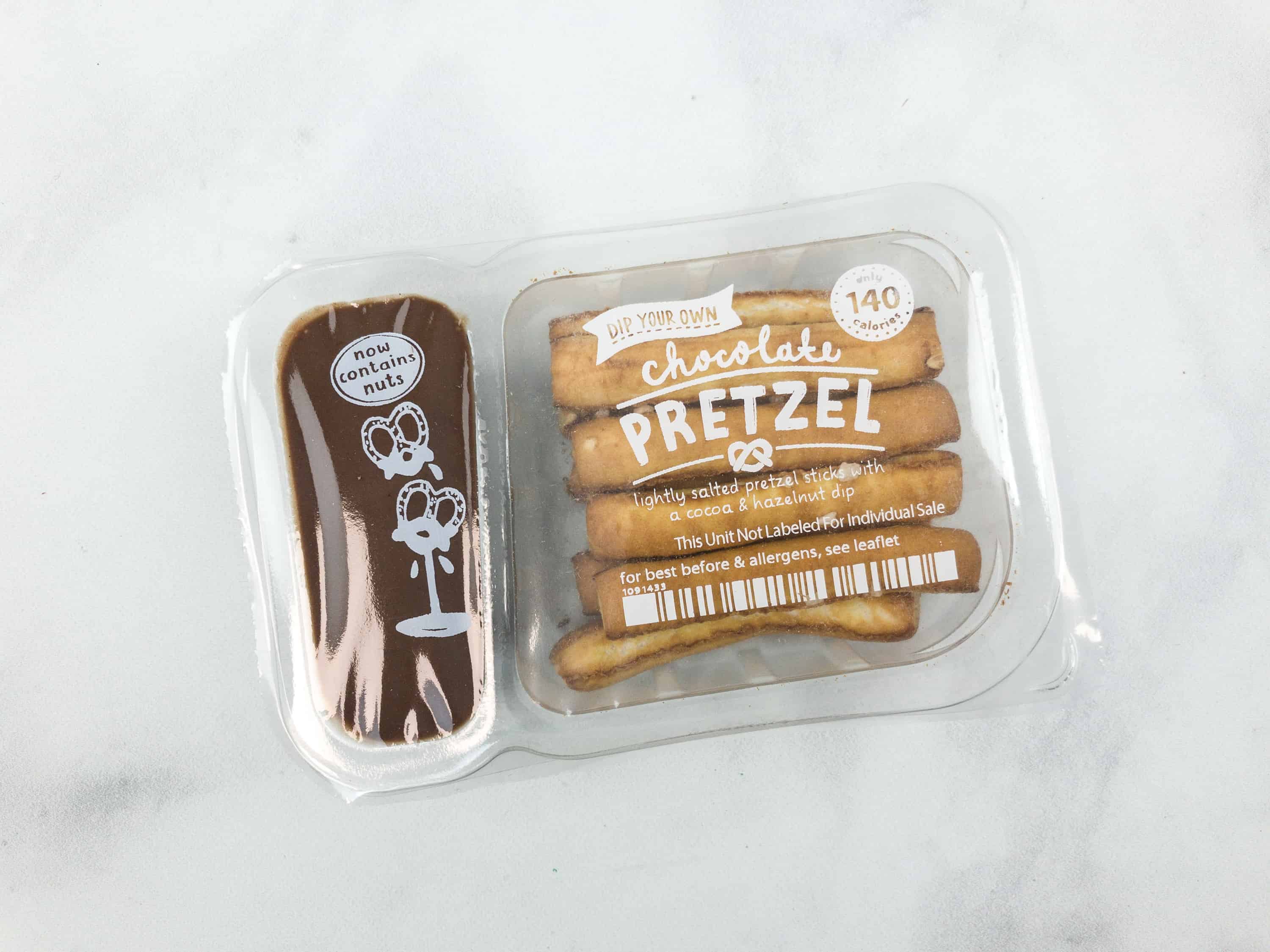 Chocolate Pretzel. These slightly salted pretzel sticks come with a rich chocolatey dip made from cocoa and hazelnut. Yummy!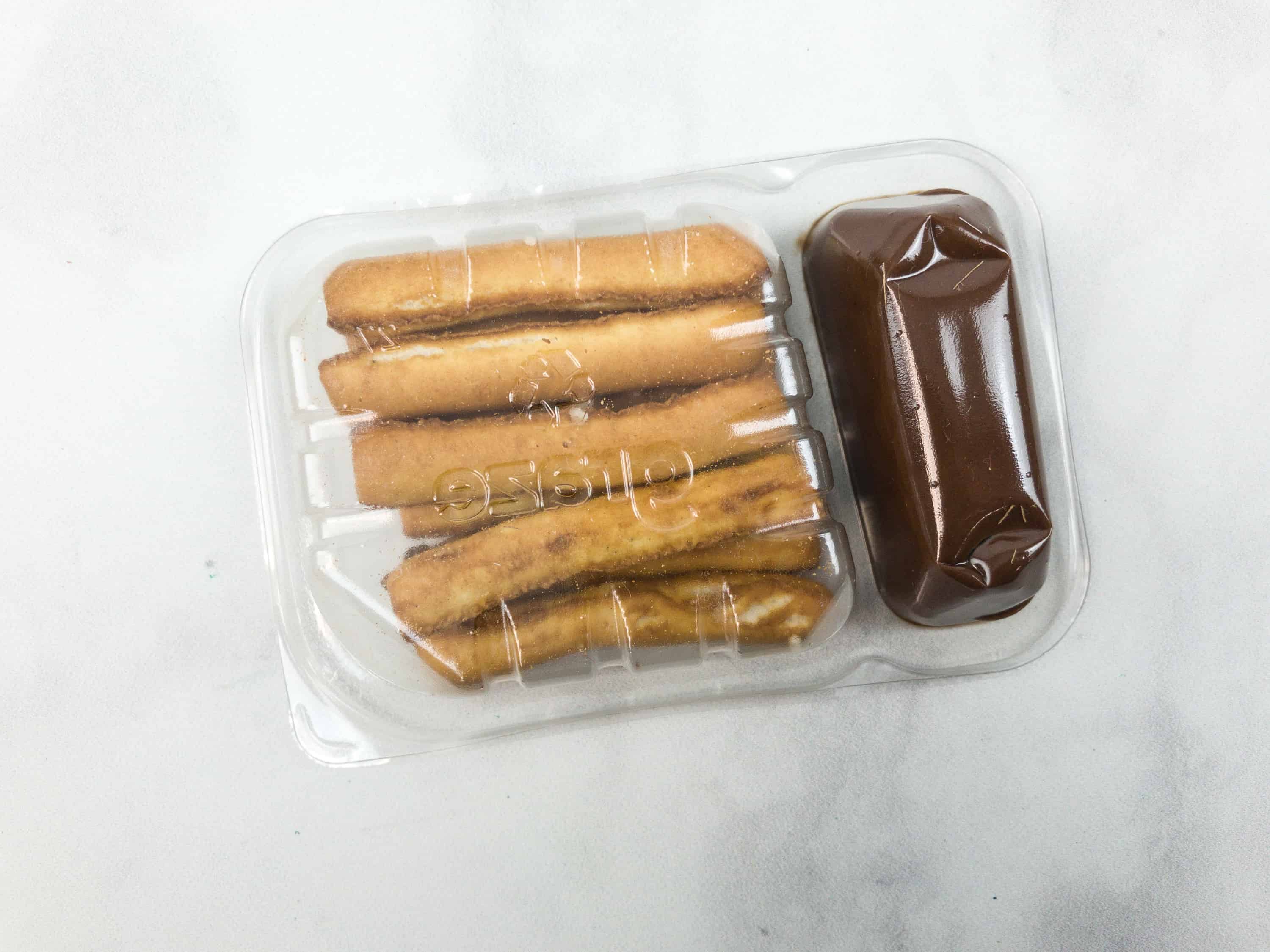 It's such a classic. The dip is smooth and creamy and it tastes perfect with the crunchy pretzel sticks.
Fantastic Forest Fruits. This fruity mix contains blueberries, lingonberries, soft dried apples, and cherry flavored raisins.
Sweet Rhubarb Jam. This one combines rhubarb, apple, and cranberries in one pack. It's sweet and tangy at the same time.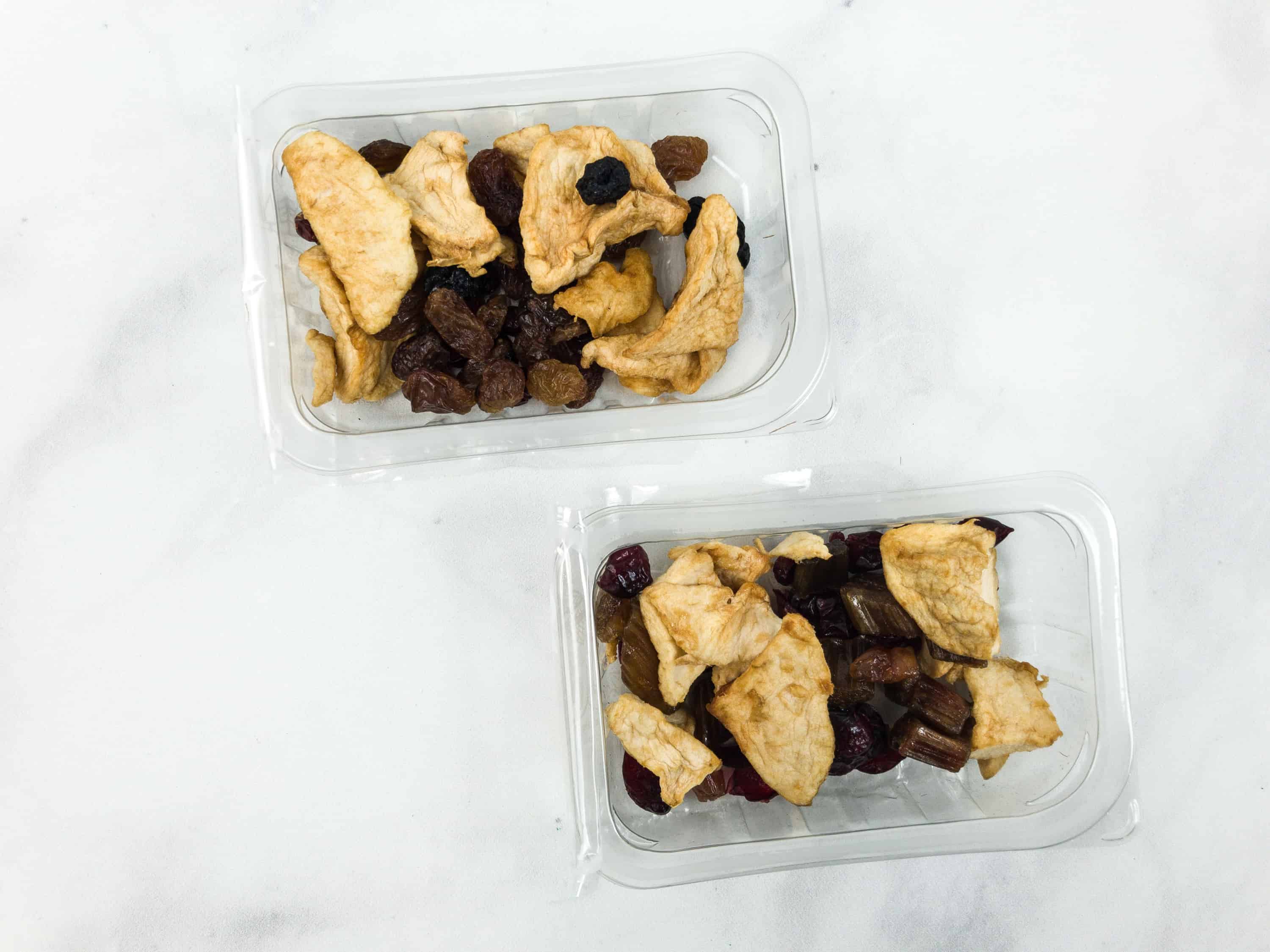 Both are rich in fiber. They're a great alternative snacks to power you up during roadtrips or outdoor adventures.
Cinnamon Pretzel. Crunchy poppyseed pretzels are paired with caramelized honey cinnamon almonds. It's packed with protein and fiber. Also, it only contains less than 150 calories!
Summer Berry Flapjack. This flapjack is hand baked in small batches to retain the rustic rolled oats whole. The strawberry and raspberry-infused cranberries are simply the best!
The cinnamon pretzel is so crunchy while the flapjack is so soft and yummy. Though they have a contrasting texture, both are filling treats to pack for a summer getway or simply for munching at home while watching TV!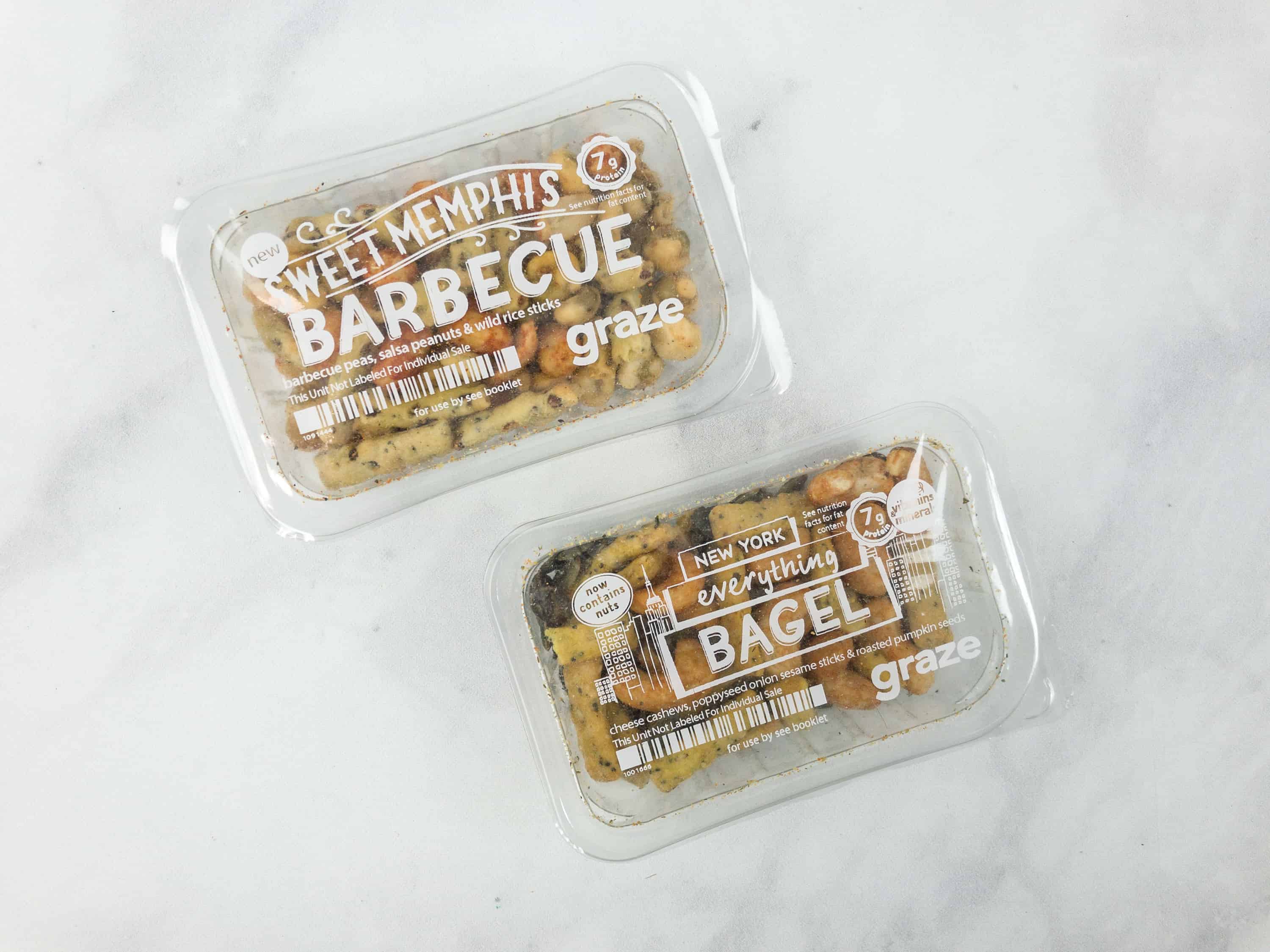 Sweet Memphis Barbecue. BBQ peas, salsa-flavored peanuts, and wild rice sticks all in one pack. I couldn't ask for more.
New York Everything Bagel. I find it so amazing to see how close a motley blend of different nuts, seeds, and grains can approximate the taste of an actual bagel.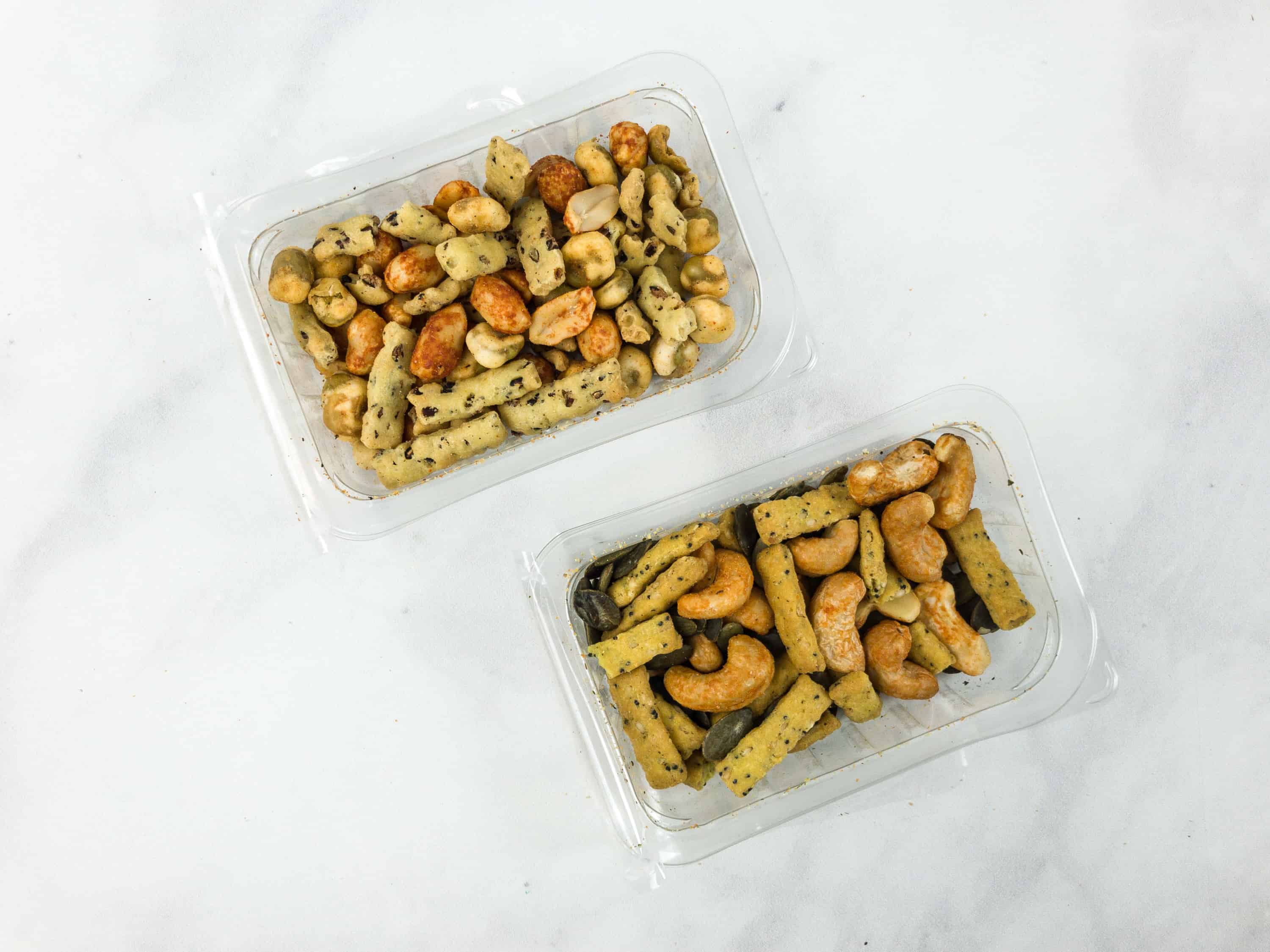 These snacks are a perennial fave. The taste of smoky barbecue and poppy seed onion sesame sticks are just superb. They're so chewy, crunchy, and yummy!
Graze Box is a fun way of getting healthy and yummy snack alternatives. The subscription offers a lot of variety, from spicy munchies, sweets, to fruity ones, and the snacks are portion-controlled making it a great grab-and-go snack. This is definitely the ideal subscription to share with the whole family, or even alone in case you want to have some me-time too!
What's your favorite snack from Graze?
Visit Graze.com to subscribe or find out more and grab your free trial!