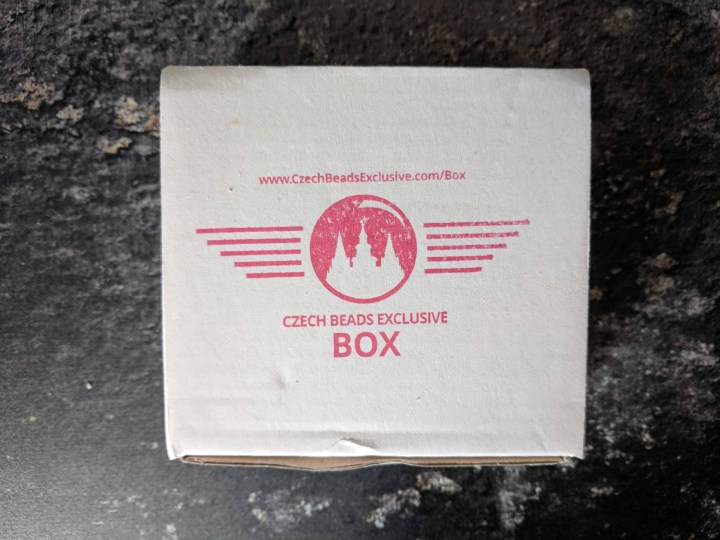 Czech Beads Exclusive Box is a new monthly mystery box filled with beads from Czech Beads Exclusive current collection as well as with some exclusive novelty. The box is $22 a month and shipping is $4.47.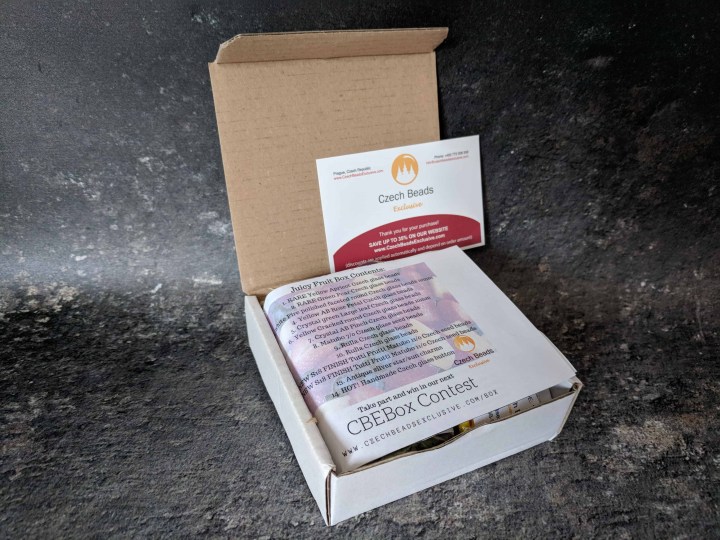 The beads come in a small box with all the information on a piece of paper.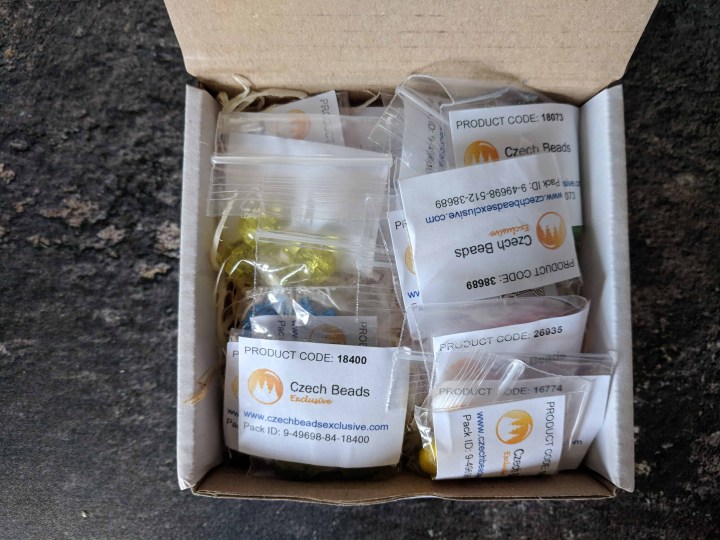 All the beads are packed in a plastic bag labelled with their product code.
So much colors in this box!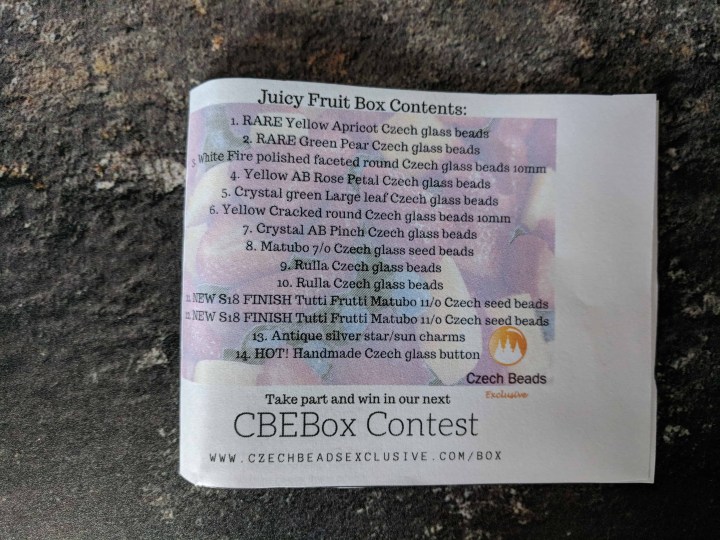 This month's theme is Juicy Fruit! One thing I noticed is that there's no product number on the content list, and when I checked with their website (you can look up beads by their product code), the bags were not all properly labelled.
Silk Matte Rulla Matubo Two Holes 11/0 Czech Seed Beads. They look like little cylinders with holes! They are perfect for any seed bead design or any design with thin threads as the holes will not cut through the threads. These are new to me beads as I'm used to having the two holes beads that are more flat diamond shape.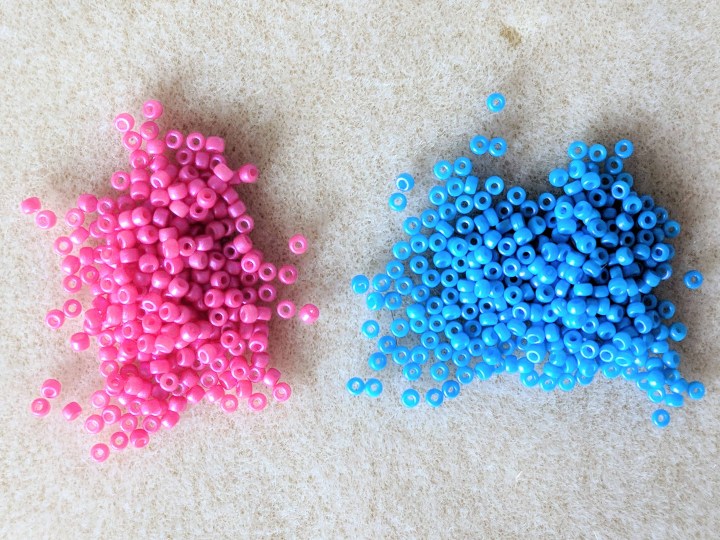 S18 Finish Tutti Frutti Matubo 11/0 Czech seed beads. This month, we received two colors of seed beads, a pink one and a fun turquoise one. The thing with seed beads is that you usually need a good quantity to make a design, and what we received is most likely a sample of their new finish. Together, I'm thinking of making a simple diamond shape earring design.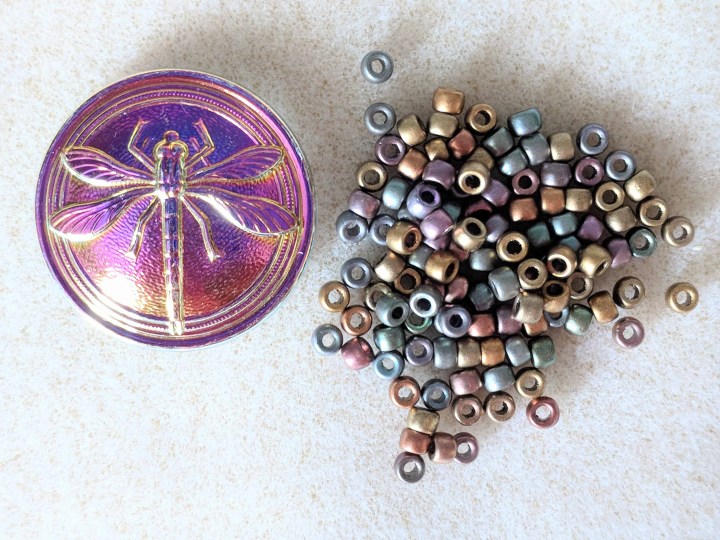 Rainbow Matubo 7/0 Czech Glass Large Hole Seed Beads. I love when I get a mix of seed beads in a metallic color! I like how you can easily use them with any kind of metal findings, or in a bead-only project to add that extra metallic feel without making the whole design heavier.
Handmade Czech Glass Button. I couldn't find this exact bead on their website, so this must be an exclusivity to the subscribers.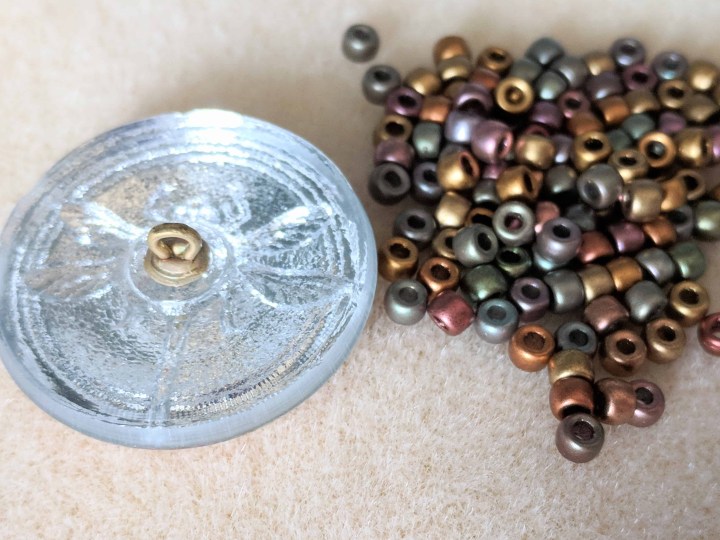 It's a lovely firefly button with a metal loop on the backside. It's a bit bigger than what I would have liked to make a chunsi-style bracelet, but it can easily be turned into a pretty brooch or pendant. I really really like the color and how the Matubo Seed beads complement it.
Green Pear Czech glass Beads.  An opaque fun bead with the hole going from top to bottom. They are small enough to make quirky earrings!
Large Flat Crystal green leaf. I just love these leaves! The hole makes it easy to turn them into a pendant, and they would be lovely with metal leaves charms for a lariat necklace or for a tassel.
Opaque Yellow Apricot Czech glass beads. Another fun bead, I really like how candy like the apricot and the pear look like!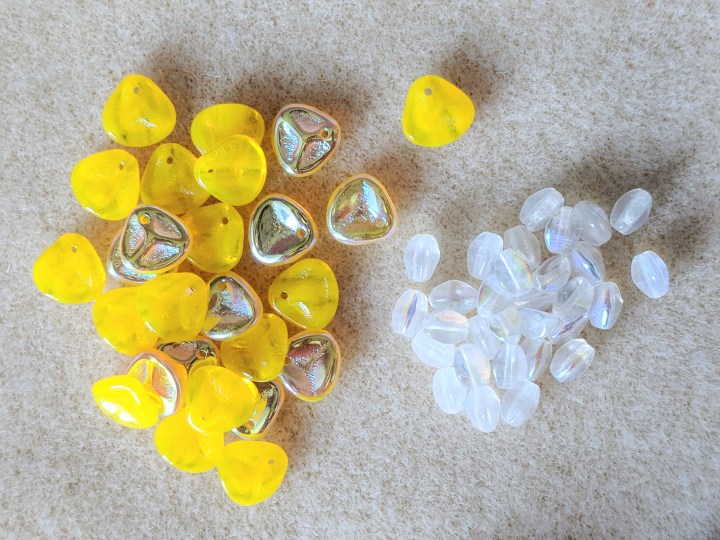 Yellow AB Rose Petal. One side is coated with a metallic finish. The hole is the perfect size for threads, so they can be used as fringe details on a bracelet or necklace, but they are too small for metal wire bigger than 24Ga. I actually broke one in half when I tried to get a jump ring through the hole (my bad!)
Crystal AB Pinch Czech glass beads. Cute translucent beads, the hole was big enough for a thin cord to go through. I like to use them in earrings or in a delicate design.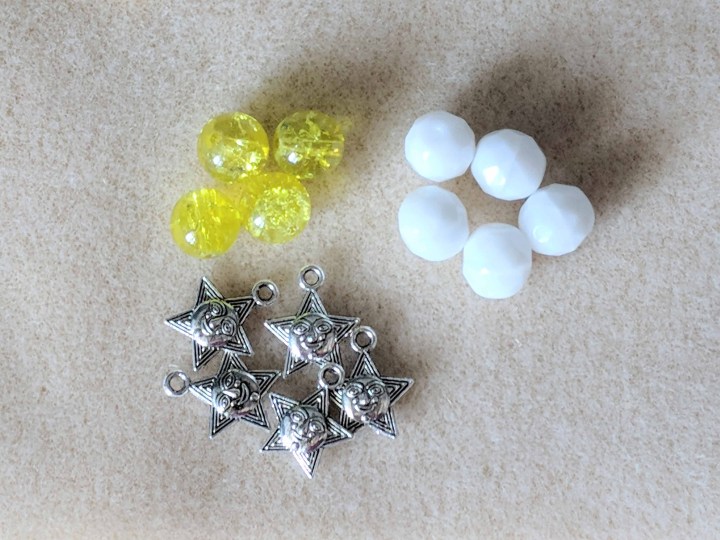 Yellow cracked round Czech glass beads, 10mm. They would look great with some bead caps!
White Firepolished faceted round, 10mm. They are opaque and the holes are the right size for a 7mm elastic cord to make a stretch bracelet. They would also look good with bead caps.
Antique silver star/sun charms. I was surprised to get metal charms among all the lovely seed beads and other glass beads in this box, but I'm fine with that as I usually work with metal components. They can be used on earrings paired with dark-colored seed beads. I used all of them in one of my design to make a cascading effect to a necklace.
I really liked the Matubo color mixed, so I made this simple knotted necklace to wear even at the beach. I wish I had more of the beads to make it fuller though.
I also made a lariat-style necklace with the silver star/sun charms.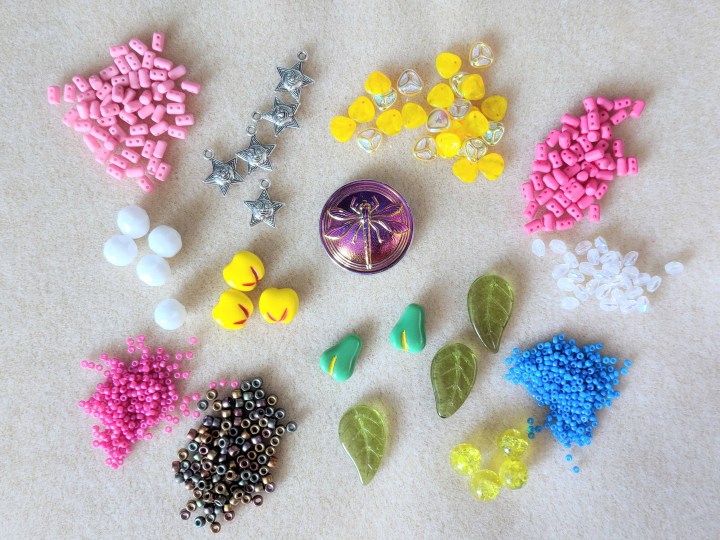 Czech Beads Exclusive Subscription box is a nice box to discover new beads. This was their first box and I found that we didn't receive a lot of each beads considering that a design using seed beads usually needs quite a lot, but with the code product, it's easy to find a favorite and order more from their website. I really like the Juicy Fruit theme as it brought us a lot of yummy looking colors!
What did you think of this brand new bead subscription box?
Visit Czech Beads Exclusive Box to subscribe or find out more!