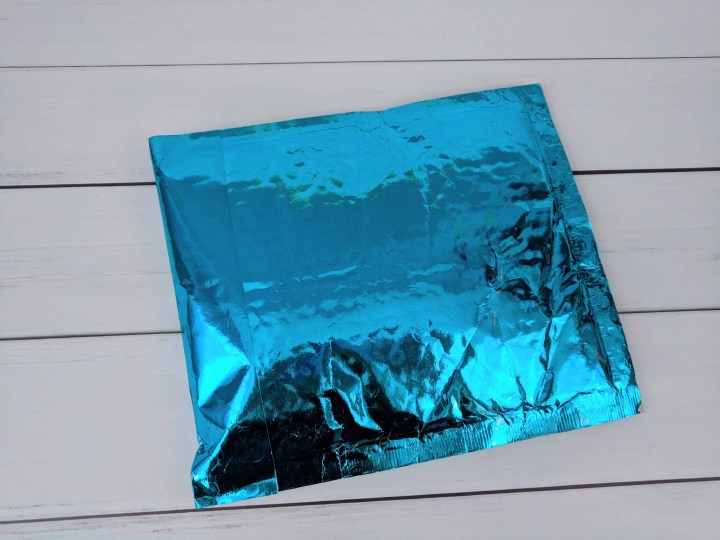 Bargain Bead Box is a monthly bead subscription service. Each month, you'll receive over $40 worth of top-quality jewelry supplies. It can be a mix of loose beads, bead strings, findings, and pendants. You can share your creation on their social media for a chance to win a $25 gift certificate for their sister store Bead Box Bargain. Boxes are $15.95 per month. Shipping is free in the US and $7.50 to Canada. Even if it's technically a subscription box, it comes in a mailer, which is less expensive than a box so they can send more beads! And more beads is more fun!
All the beads are packed in well-labeled plastic bags and tucked inside an organza bag. On the reverse of the introduction letter, we get a description of all the items in this month's box, with some gemstones once again!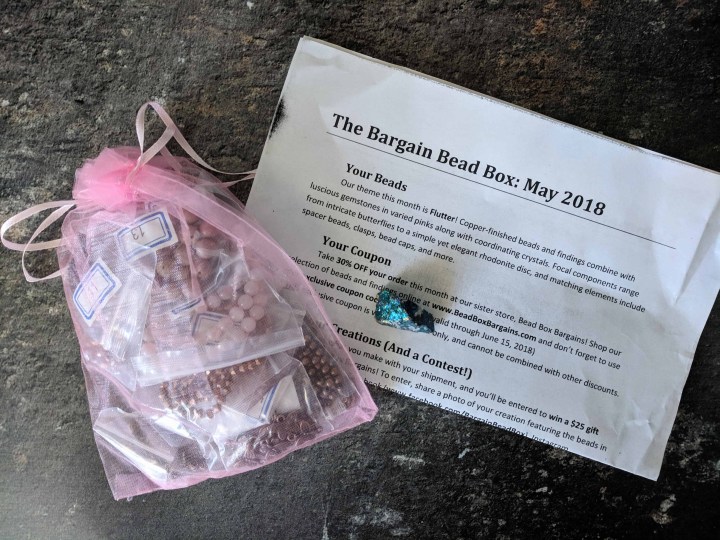 Each month is curated around a different theme and all the beads and findings are coordinated. This month's theme is Flutter and features lots of butterflies and rhodonite beads. The metal this month is copper!
We also have a Shipment Identification Key.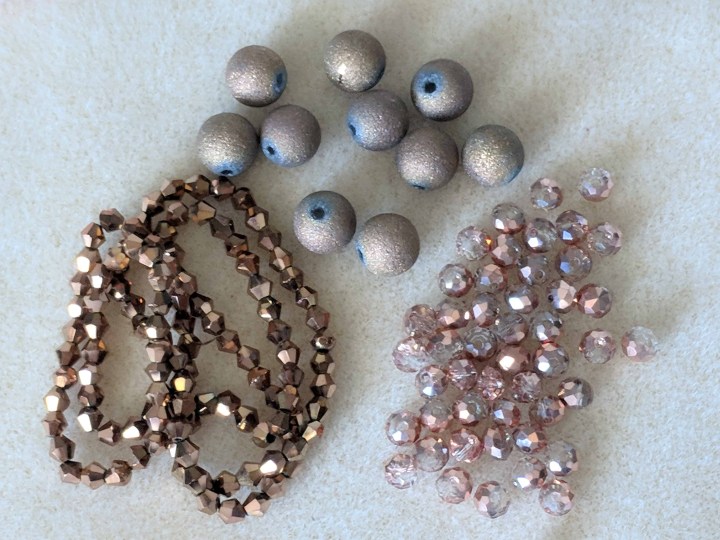 10mm copper-plated glass round beads. They remind me of stardust beads. I like them on a stretch bracelet, or for a simple dangle earring design.
4mm Chinese crystal bicones, copper finish. 4mm crystal bicones is also a staple. You'll always get some in a color that fits the monthly theme. They are perfect for earrings as they are not as heavy as metal beads.
6x4mm Chinese crystal rondelle beads, copper rose. I love rondelles, especially when they have two colors, one of them being metallic. They look great with bead caps, and these ones are light colored and feel.
Butterfly toggle clasps with charms. Every month, we get a type of toggle clasps or other clasps to put a finishing touch on our design without having to run to the store! We usually get enough for two projects, or a necklace and bracelet set. These are lovely! They feature a flower and butterfly closure, with a little butterfly that you can attach anywhere on the design. I'm thinking of doing a necklace with the closure and a stretch bracelet with the little charm.
14mm Butterfly links. More butterflies! This time, they are perfect for earrings, or on either side of a focal bead, or for a bracelet.
12x17mm fancy butterfly beads. The hole goes from the head to the bottom of the butterfly, so small beads can be added at the top in the color of our choice for the "head" of the butterfly. I like them when I use stringing wire to let them move freely.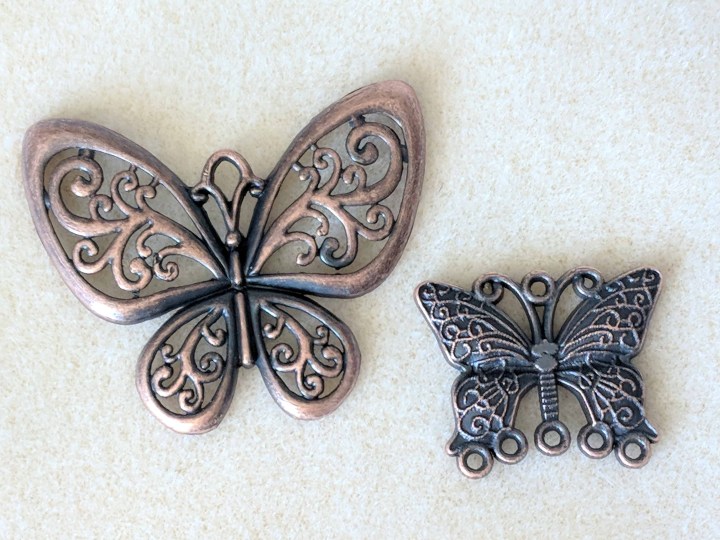 Butterfly chandelier Focal. It features five little loops that you can hang crystals or chain to create a type of tassels, or a bunch of little butterflies and flower charms. The top has three loops, but they are easy to ignore if you want to.
47x57mm filigree butterfly pendant. Lovely statement piece, small crystal beads could be threaded with copper wire around the inside filigree for some bling.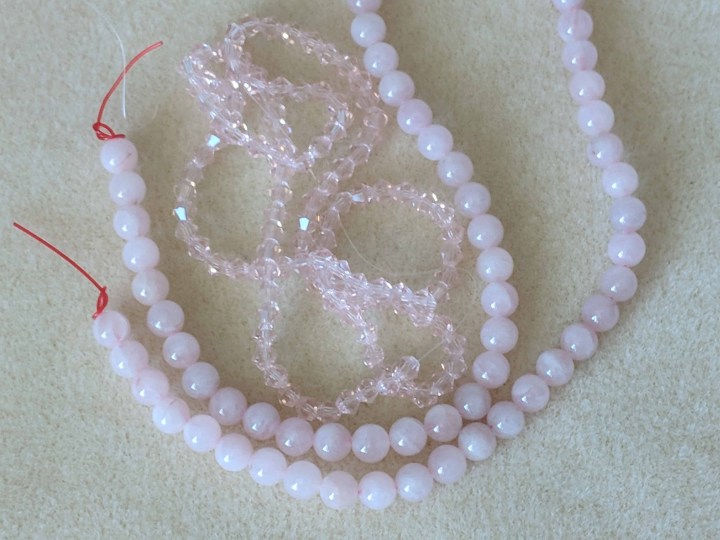 4mm Chinese crystal bicones, light rose. Perfect light color for spring, it reminds me of all the lovely flowers covering the trees at that time of the year! The color is great for a butterfly theme and it looks great with all the copper color.
6mm rose quartz round gemstone beads. A lovely bead that adds some interesting light accent to the rhodonite beads.
4mm copper-finished steel spacer beads. This is another staple in this box. There's always a type of spacer beads to add some metal accent to a string design, or to ground a crystal heavy design. I like to use them on a headpin with bigger bead for a nice finishing touch.
5.5mm textured star bead cap. These are great to add texture to matte or simple beads. The 5.5mm size works well with 6 or 8mm. I like to use them with rondelle beads.
1 meter 5x4mm steel twist jewelry chain. The other staple in this box, we usually get a length of chain for those of us who likes chains! I'm keeping this one for a future chain heavy necklace.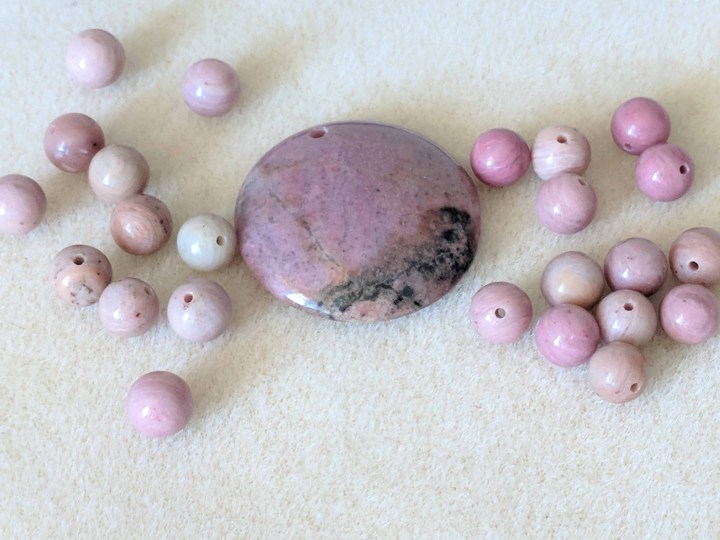 35mm Rhodonite gemstone pendant. This is a lovely round pendant, with the typical pink and black motif. The hole is close to the edge, where it's not as thick, so it's easy to find a bezel, or to create one that will fit. The hole is also thick enough for a thin cord.
8mm rhodonite round gemstone beads. I like when we get beads that match a pendant as it makes it easier to quickly design a pair of simple earrings to wear with a statement pendant. I'm thinking of making a bracelet with them to pair with the pendant.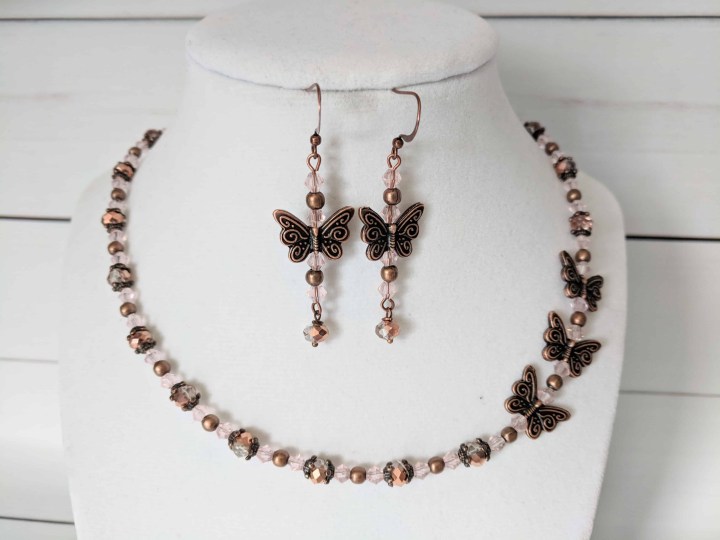 For this month's project, I wanted to play with the butterflies and keep it light with the pink bicones.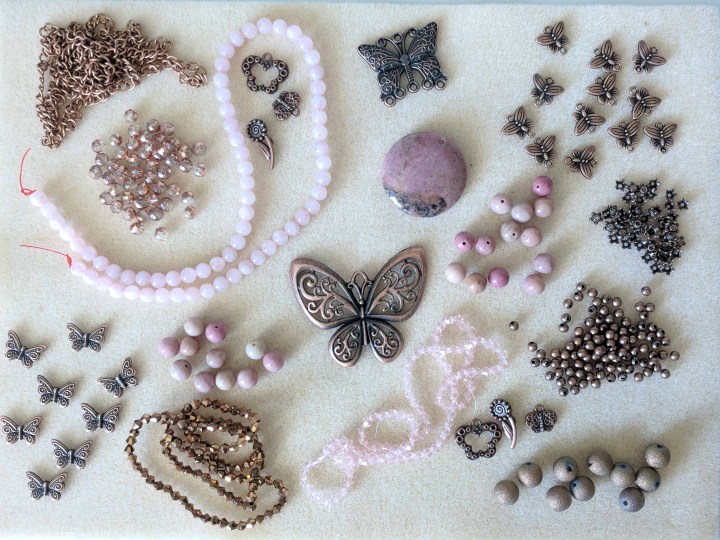 This month's box was perfect for the month of May when all the trees explode with flowers and butterflies are everywhere! I don't think I didn't like any of the beads, but even if I were, there is enough variety to make it worth it. And knowing that my stash of findings in the monthly color will be refilled is a nice bonus!
What did you think of this month's Bargain Bead Box?