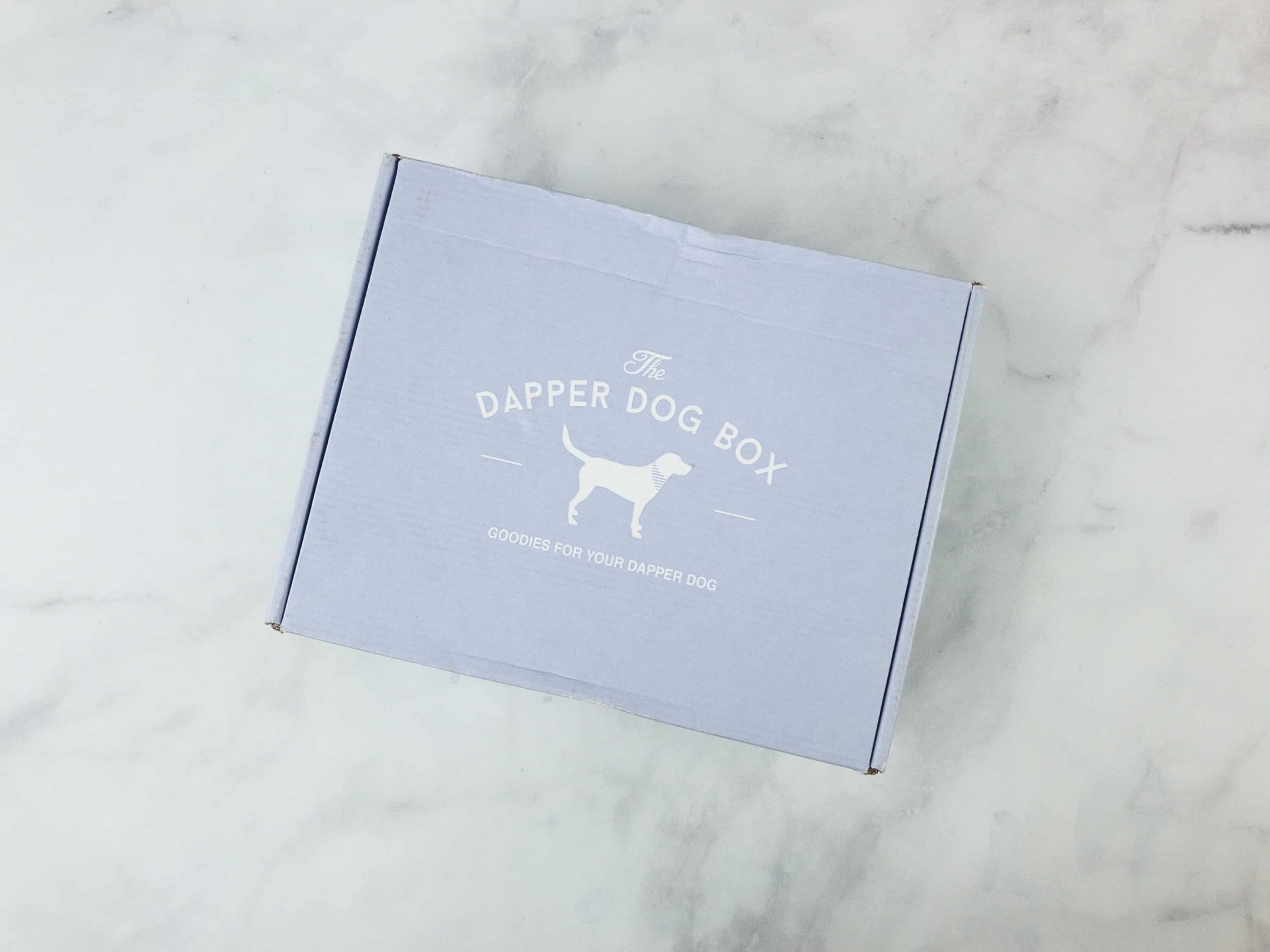 The Dapper Dog Box is a monthly box for your best friend in the world – your dog! They source organic and natural items from passionate small companies that love dogs, hand-picking each item for your dog based on a personalized survey. The survey lets you customize your box for gender, five different dog sizes, and also any allergies. The regular sized box has 4-6 items with an average $50 value.
This month's theme is Pupchella.
DEAL: Save 10% off your first shipment! Use coupon code HELLOSUBSCRIPTION.
The information card contains the items and prices – plus a discount on future orders.
You can also join Dapper Dog's monthly contest to win a free box!
Here are all the items in the April box! You really get a sense of the groovy desert vibe of the music festival.
Dapper Dexter Stylish Bandana ($20) This fancy bandana has an elastic strap that makes it easier to put on than a standard bandana. It is well-made, with hemmed edges for a clean look. Dean seemed to find it sufficiently comfy to wear.
Zippy Paws Taco Plush ($6.99) Can we TACO 'bout this cute plush toy for dogs? ? It's so soft, but most importantly its squeaky!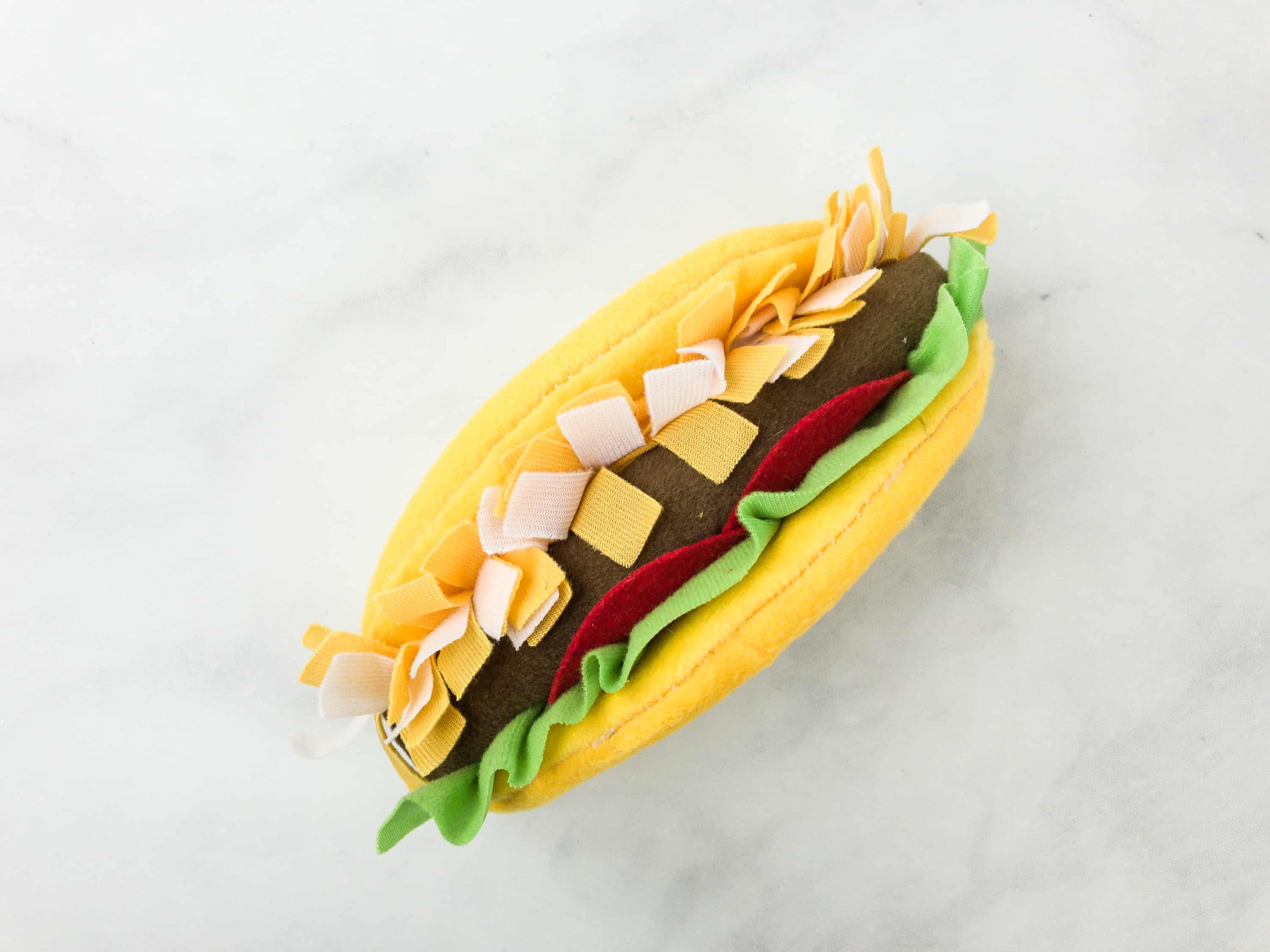 This Taco plush is well detailed, there's even a variety of "ingredients" visible. I think my son may steal this for his play kitchen, since it is so authentic looking.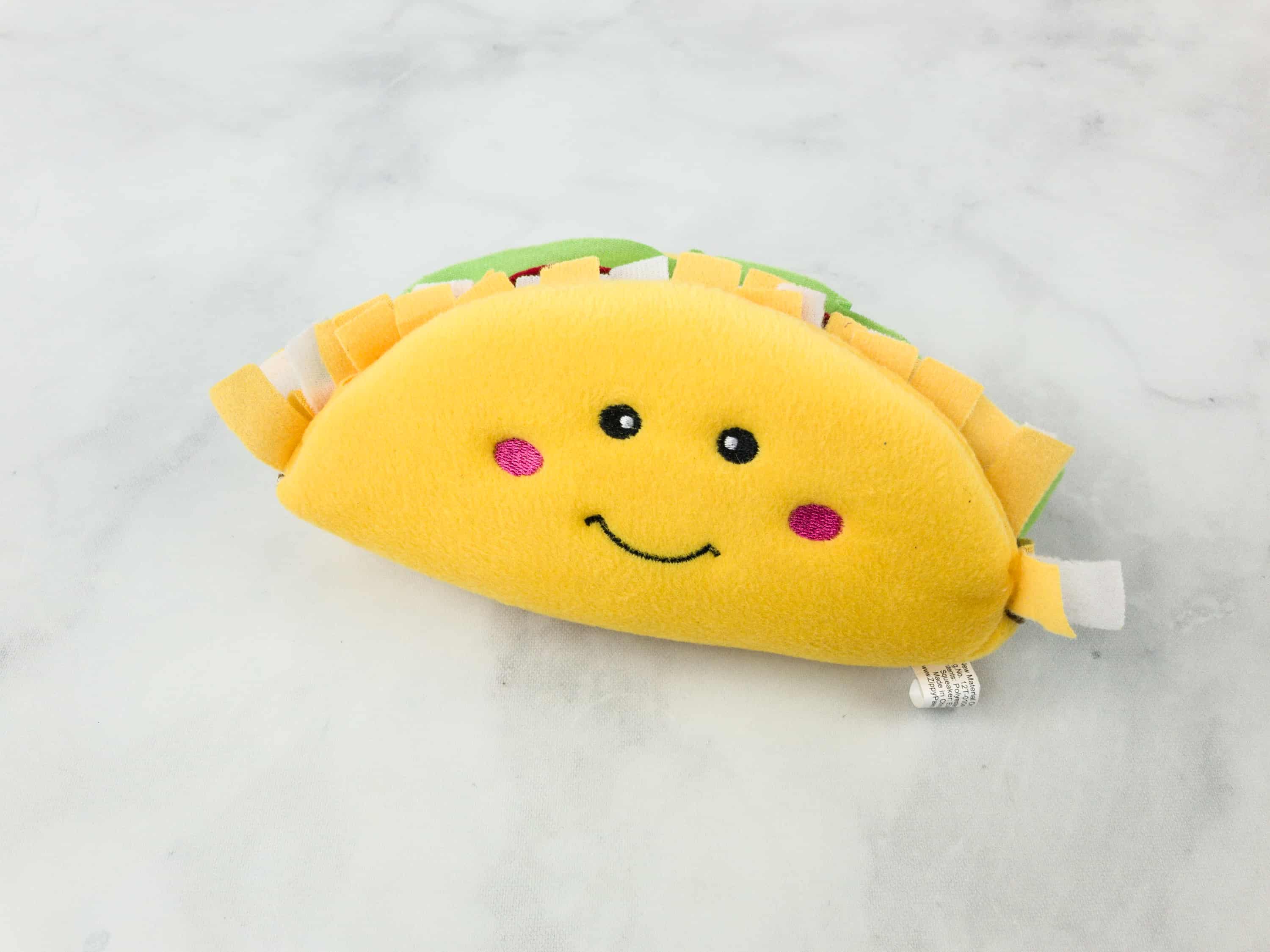 Look at that smiling face! Dean already had fun with it and so far the plush toy has endured the play!
Petlou Cactus Toy ($9.94; $10 on the card) I think this cactus plush toy is succulent… I mean, excellent! ? It measures 8 inches and has a squeaker in the center.
It is double stitched on key seams to ensure long lasting fun for your dog!
Peace Love Jerky Dog Treats ($9.99) These jerky treats are made up of US-sourced all natural beef liver. It has no preservatives, no additives, and no salt.
Some of the pieces are a bit large, so you can choose to break it down to smaller pieces and feed it as a treat or snack. They were a bit dry too, but our pups enjoyed the jerky treats nonetheless. They may look offal, but they taste great!
The jerky treats come in a resealable packaging to ensure freshness!
Down Dog Snacks Banana Bliss Flavor ($9.99) These are plant-based and grain-free. Main ingredients include garbanzo flour, potato starch, organic coconut oil, honey, carob, cinnamon, and banana.
The treats are heart-shaped! We gave some of these to our pups for a snack and they can't get enough of it. These smell absolutely delicious! I'm tempted to try them myself — they are definitely the kind of treat I don't mind handling, and I don't feel compelled to wash my hands after treating my dogs.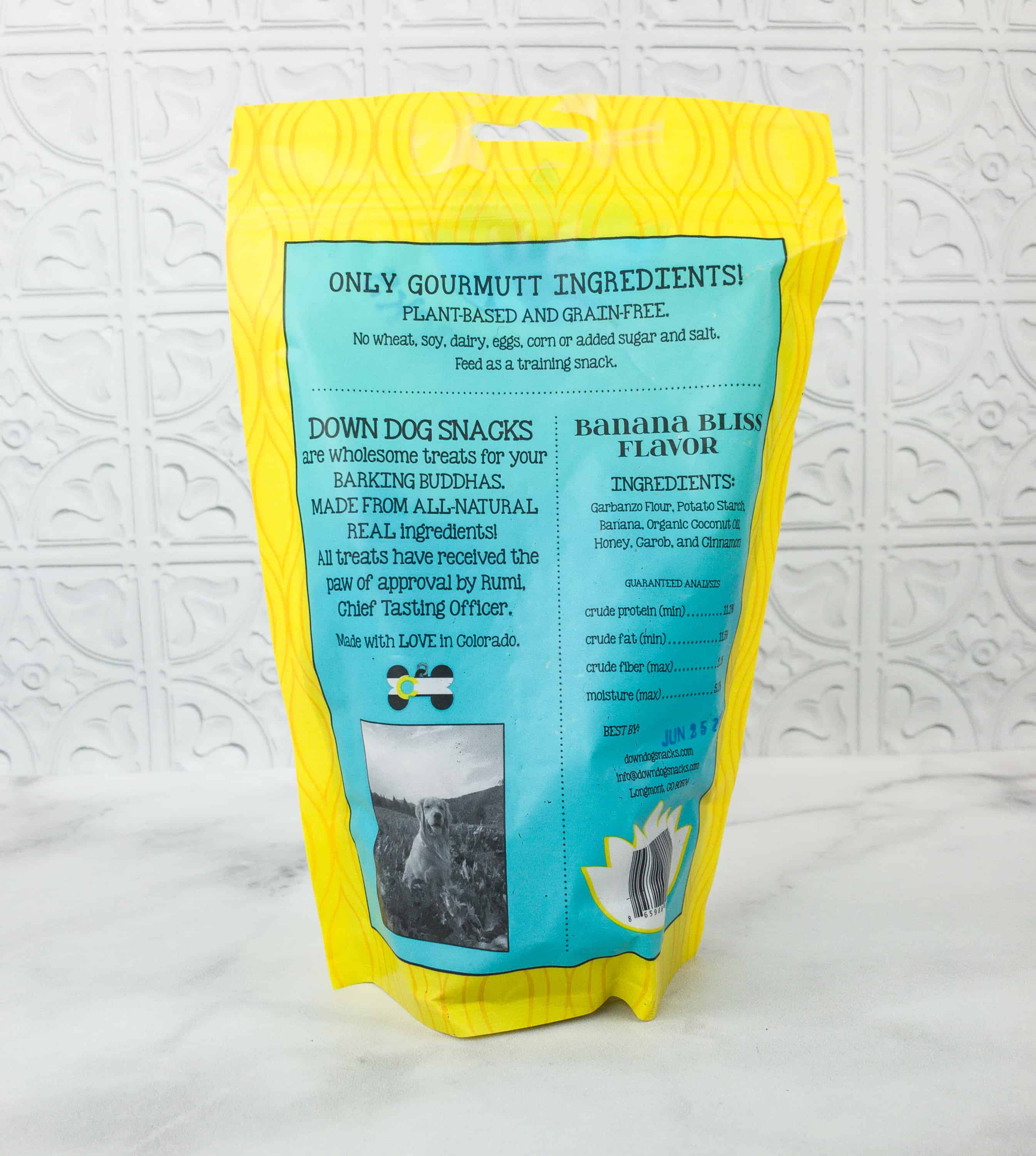 It has no wheat, soy, dairy, eggs, corn, or added sugar and salt. According to the packaging, it's an ideal dog training snack too!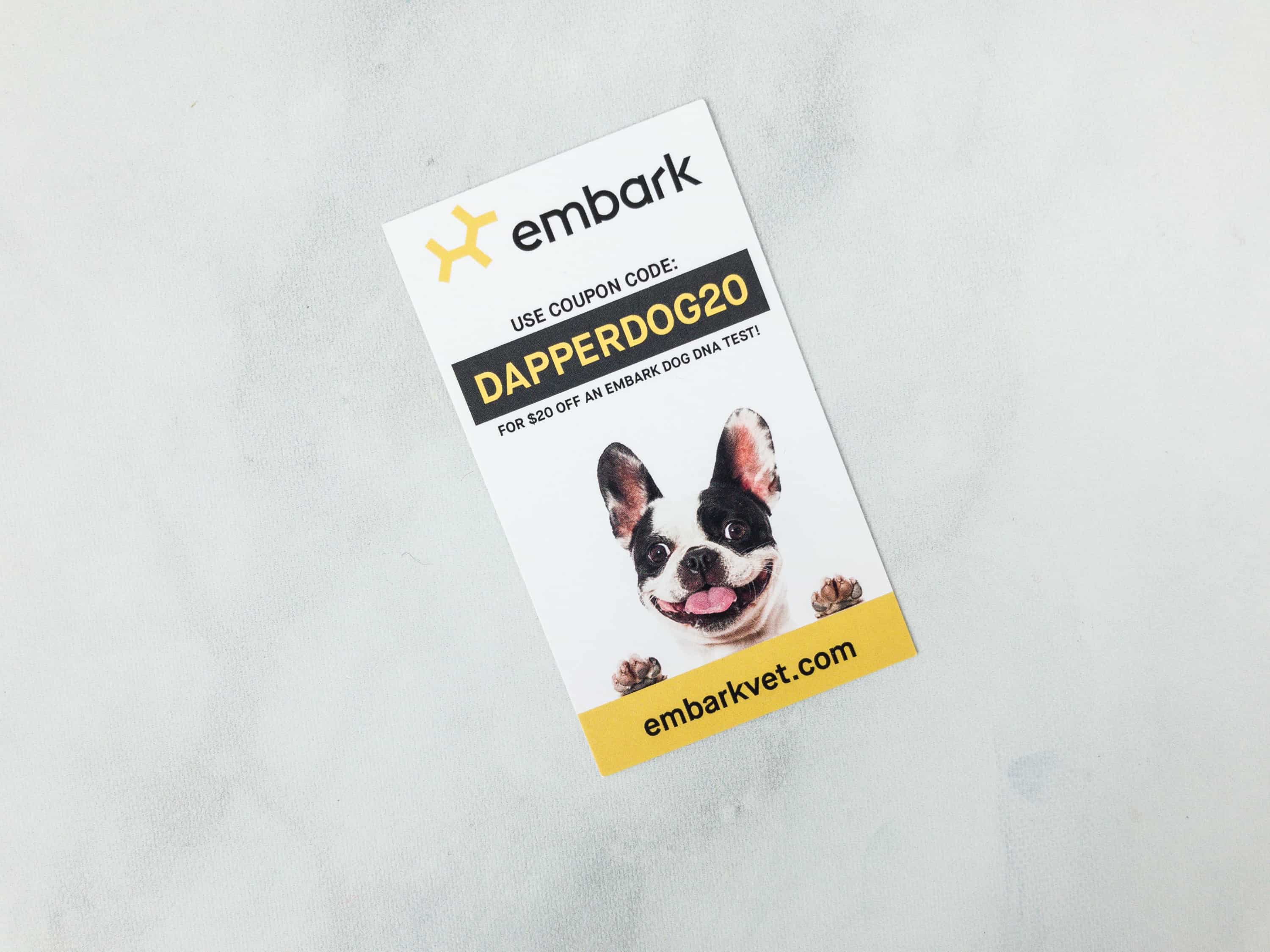 Also included in the box is a $20 off coupon code you can use at embarkvet.com. Perhaps we'll find out our beloved Schnaus are actually Chihuahua and Irish Wolf-hound mix?
Here's Dean, making it clear that this is NACHO taco!
Dapper Dog Box provides a great mix of items for my dog – an awesome bandana, couple of high-quality treats, and cute plush toys. It's an amazing box for dog lovers who want a customized box that focuses on healthy and all natural dog toys and treats. The value exceeds the subscription cost and the quality of items is truly fantastic!
Did you love this month's box as much as we did?