Sweet Oak Craft Care is a Canadian subscription box promising to deliver natural products from Canadian makers! 4-5 full size items will be in each box. Originally, the box was going to be strictly body care, but after listening to feedback they are going to be expanding the selection to include other wellness/care products like snacks and beverages. Right now the box is $40 a month with $10 flat-rate shipping, but that will decrease to $30 a month with the new box plans.
My box arrived on my doorstep, and though it's small in size it smelled AMAZING. Seriously, whatever yummy creation in here smelled so good I could smell it through the protective plastic mailer!
First look!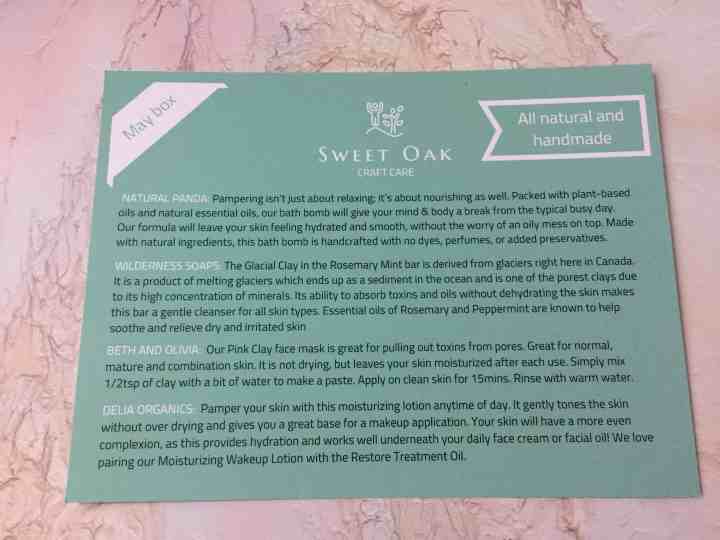 The information card is easy to read and highlights each of the four items. All four products are natural and handmade right here in Canada!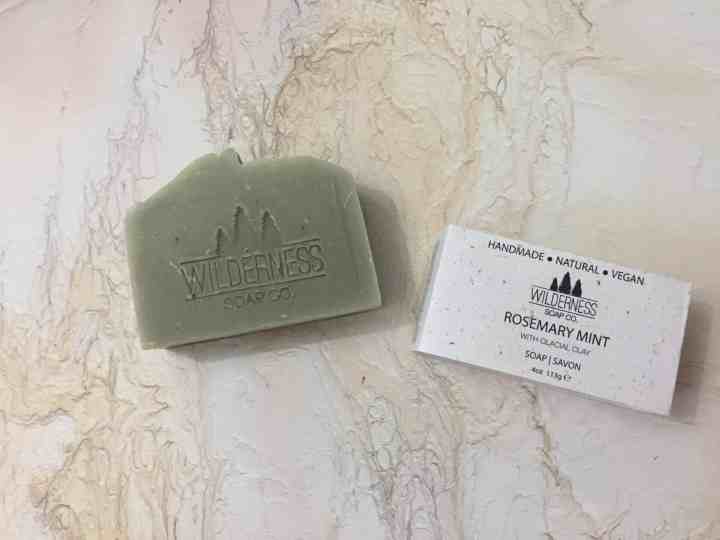 Wilderness Soaps Rosemary Mint Soap ($9 CAD) — This is the source of the AMAZING smell. I love minty soaps — they wake you up in the morning, that's for sure. The rosemary is a bit more subtle and I didn't catch it so much since the mint is so clear and strong, but it's there; kind of an earthy herbal undertone. The soap is made with Canadian glacial clay, which is great for drawing out impurities without drying out the skin. In addition to that, there's loads of healthy oils like coconut and olive, as well as shea butter to seal everything in. The bar is quite large at 4 oz, and will hopefully last a long time. Wilderness Soaps has TONS of other scents available, and I definitely will have to try their other products.
Delia Organics Wake Up Moisturizing Lotion ($16.99 CAD) — I find it hard to describe skincare products to readers accurately, since it can be such a personal thing about how product feels. So instead, I'm gonna first mention how this smells. It smells like a spicy orange creamsicle. This is a very light moisturizer, more like an emulsion. Delia calls it a Toner, and I think that's an accurate description as well if you're familiar with Korean hydrating toners like I am. The ingredients are sweet orange oil, soothing aloe vera, and witch hazel.
Beth and Olivia Pink Clay Face Mask ($10 CAD) — A mix of white and red clays known as Australian pink clay. You need only 1tsp and this tiny bottle will yield 10-15 masks which is a lot! Pink clay is extremely gentle on the skin, absorbing oil but soothing any dryness that might occur. Plus it also increases blood circulation.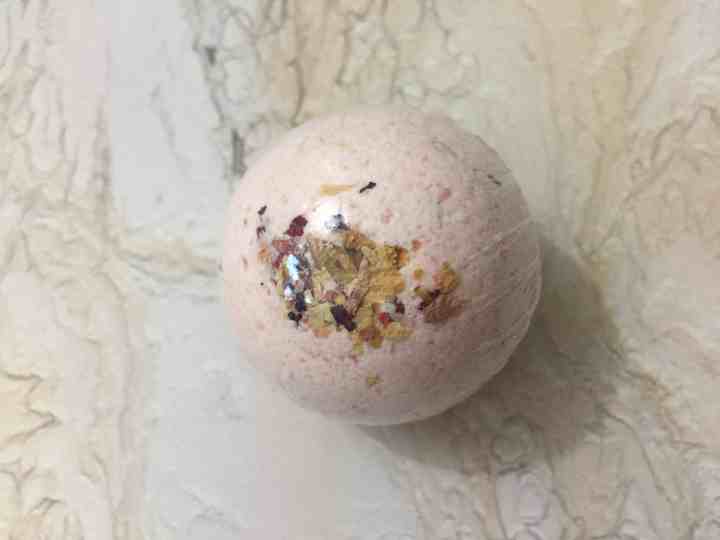 Natural Panda Rose Bath Bomb ($4.52) — I'm pretty sure this is rose scented, but my nose is still full of mint from that lovely soap! This bath bomb only includes 7 ingredients, all of them natural! The pink colour is from beet root powder!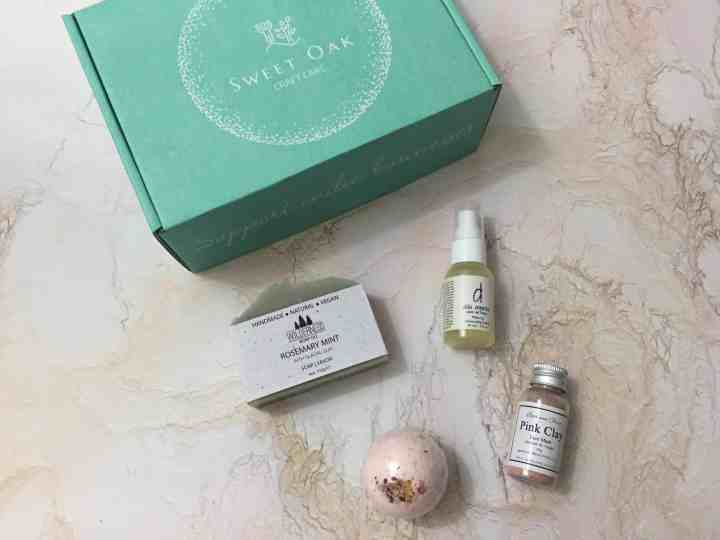 I was really impressed by my first experience with Sweet Oak! The four items included were absolutely lovely and are perfect for pampering head to toe. I might be inclined to share this with my mom for mother's day, but honestly I'm too tempted to keep it all for myself. I absolutely love boxes like this that introduce me to brands and companies I wouldn't have known about. The value of this box is just over $40, which is pretty much the cost of the box before shipping. I'm interested to see how things change with the lower cost and the addition of snacks and other natural care items!
What do you think of this month's box?