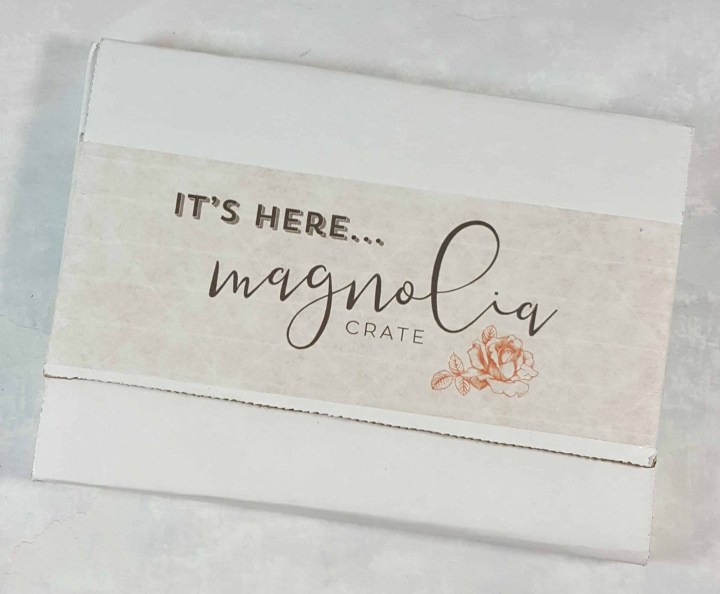 Magnolia Crate is all about the feeling you get when you send and receive mail. There's something about a hand addressed letter, a beautifully colored envelope, or a unique card that you've never seen before. Not only are you provided with gorgeous stationery and cards to send to others, but you also get to be giddy with excitement each month when your new box arrives! Each signature box comes with of 4-6 paper goods, including greeting cards. Additional items may include stickers, gift tags, magnets, and more.
DEAL: Get 1 month free off a 3, 6, or 12 month subscription with coupon code HELLOSUBS OR Get free shipping on the first subscription and not pay for shipping again until your subscription renews (if you get a monthly sub you'll get one month free shipping, but free shipping on all 6 boxes in your first 6 month subscription, etc.). Use coupon code HELLOSUBSFREESHIP.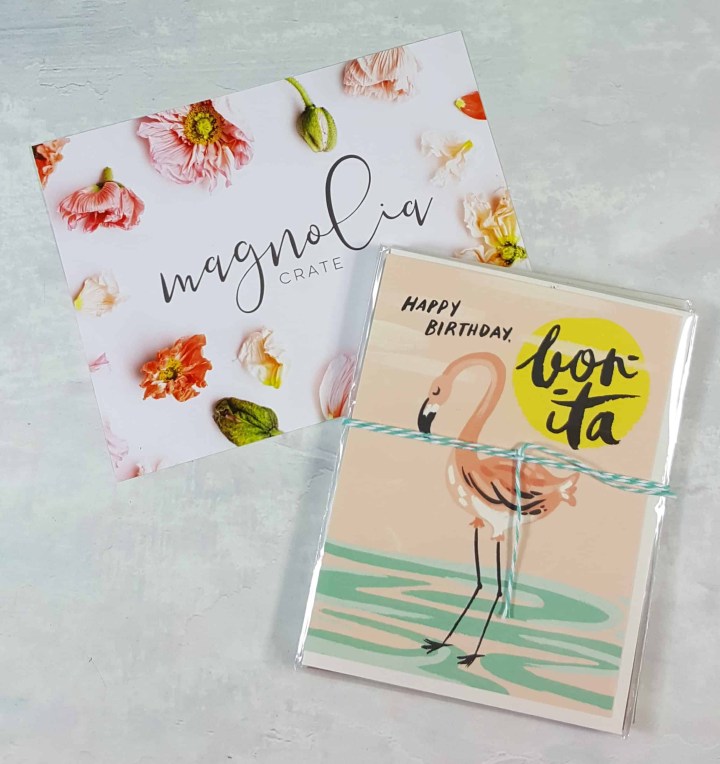 Magnolia Crate always makes me smile when I open the box. Everything is packed so prettily and themed for the major holidays or seasons each month. For a guide to card sizes, click here.
The information card not only lists the cards in the box, but it also provides insight on the inspiration behind the items. This month, the team at Magnolia Crate is dreaming of flamingo clad beaches and sunsets. Sounds like home to me (I live in Florida). If you loved your order, tag @MagnoliaCrate on instagram (or use #magnoliacrate) for a chance to win a free box. Entries must be made before the 20th of each month for a chance to win.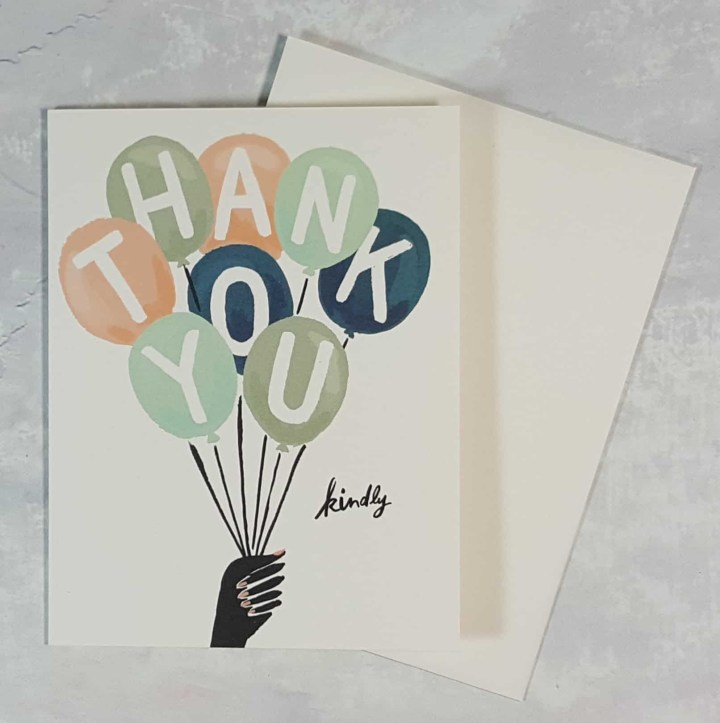 Idlewild Co. | Thank You Balloons ($5.00): A collection of colored balloons spells out your gratitude on this A2 card. The design is printed on heavy, matte eggshell cardstock and comes with a matching envelope. Like the movie "Up", we're thinking of floating away on balloons. This card design is very similar to a Congratulations card in last month's box.
Idlewild Co. | Flamingo Birthday ($5.00): Nothing says tropical like a pink flamingo wishing a pretty girl "happy birthday." This A2 card is also printed on heavy, matte eggshell cardstock and comes with a matching envelope. One of my friends, who moved out of state, is a huge flamingo fan. This will be perfect for her upcoming birthday!
Idlewild Co. | You're a Gem ($5.00): This card is so versatile. The phrase is a great alternative to "thank you" or it can represent how precious someone is to you. Regardless, I know that it will get used. This A2 card comes with a matching envelope.
Lux & Trip | I Forgot to Get You a Gift ($4.50): This card made me laugh. In spite of how well we know each other, there are times when my family and I are at a complete loss when it comes to gift giving. That's usually when cash or a gift card come into play. Now, I'll have the perfect card for one of those moments. This A2 card comes with a matching kraft envelope. Another bonus for me was to find out that the artist/card maker is local to me; Lux & Trip is based out of Orlando! Gotta support my local businesses, so be sure to check out their other card designs too.
Aqua Birch | You're Aging Quite Nicely ($5.99): I didn't know whether to smile or be offended at this card, and that's the intention. A marble background and gold foil lettering give this A2 card a touch of class and sophistication that cloak the snarky statement on the front. It's paired with a teal envelope on the website, but I received a kraft envelope instead. I'm a little disappointed with the change.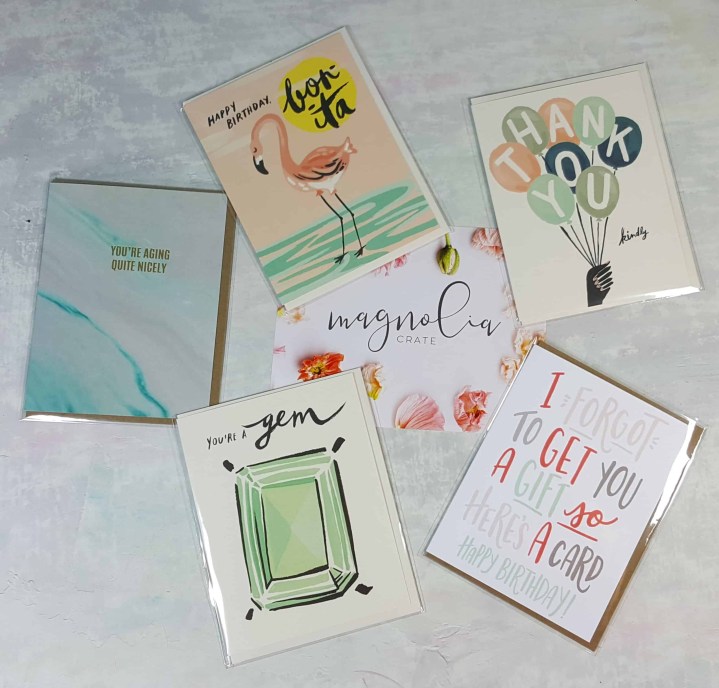 I still love seeing a card come through in the mail or end up on my desk. I think it has to do with knowing that someone took time out of their busy schedule to remember you. With Magnolia Crate, I get to give that same feeling to my friends and family. Plus, Magnolia Crate sources some really pretty cards. Save yourself a trip to the store and let Magnolia Crate help you deliver a little joy to someone's door!
What do you think of this month's cards?