Go Love Yourself is a monthly subscription box to help you live a happier and more fulfilled life. Receive a care package each month just for you, with a personal development book, resources to make the ideas stick, and self-care items to make the reading experience more fun. What can you expect to find in your monthly box?
Each box contains:

a personal development or self help book,
resources to help you put the strategies from the book into action and make it stick,
reading-experience-enhancers, such as tea, candles, and self-care related items,
a complimentary 30-minute coaching session with one of our featured coaches, and
access to additional resources, motivation and support through our exclusive online community!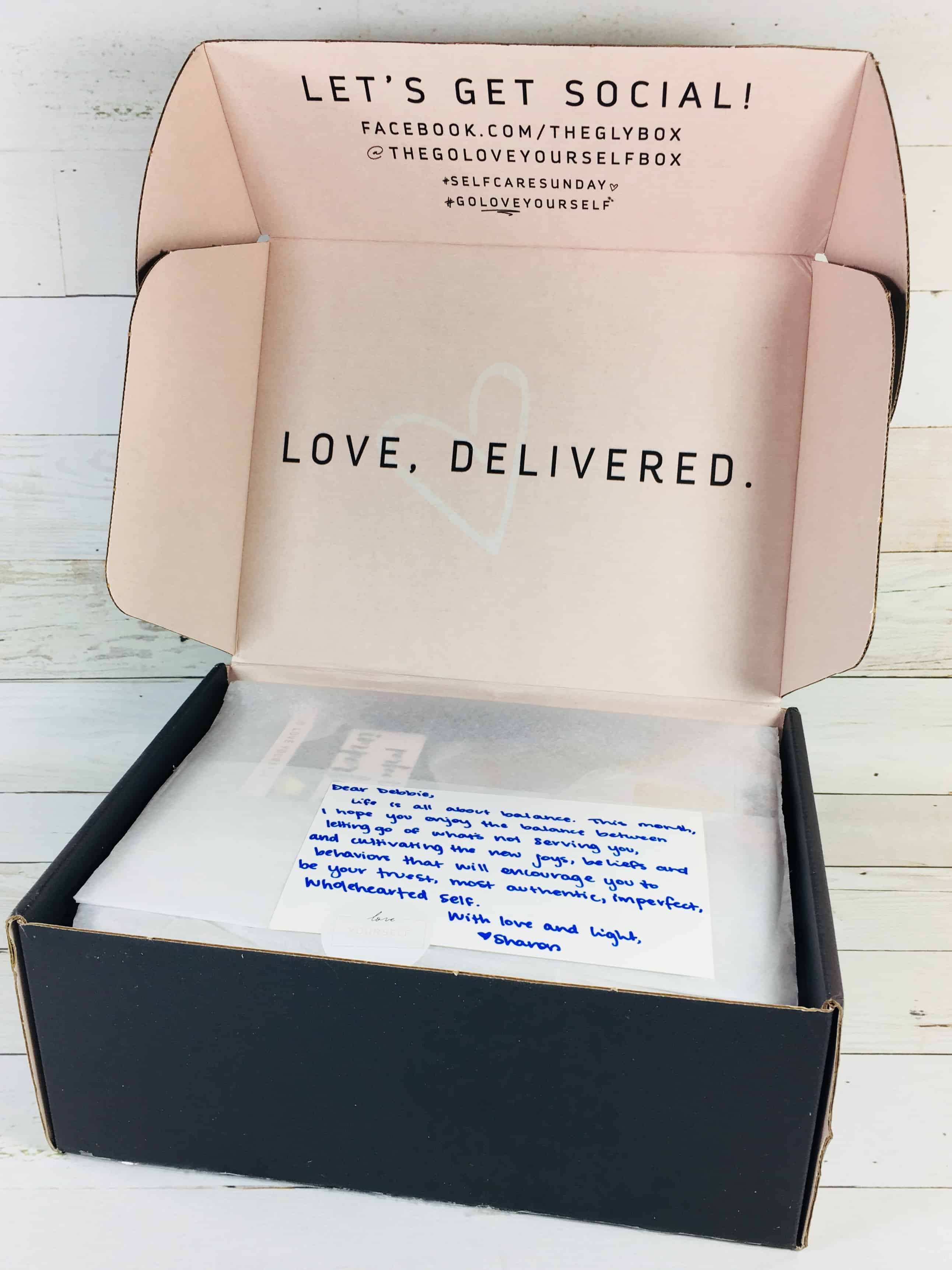 DEAL: Get 10% off your first box! Use coupon code HELLO.
I always appreciate a hand-written note in a subscription box!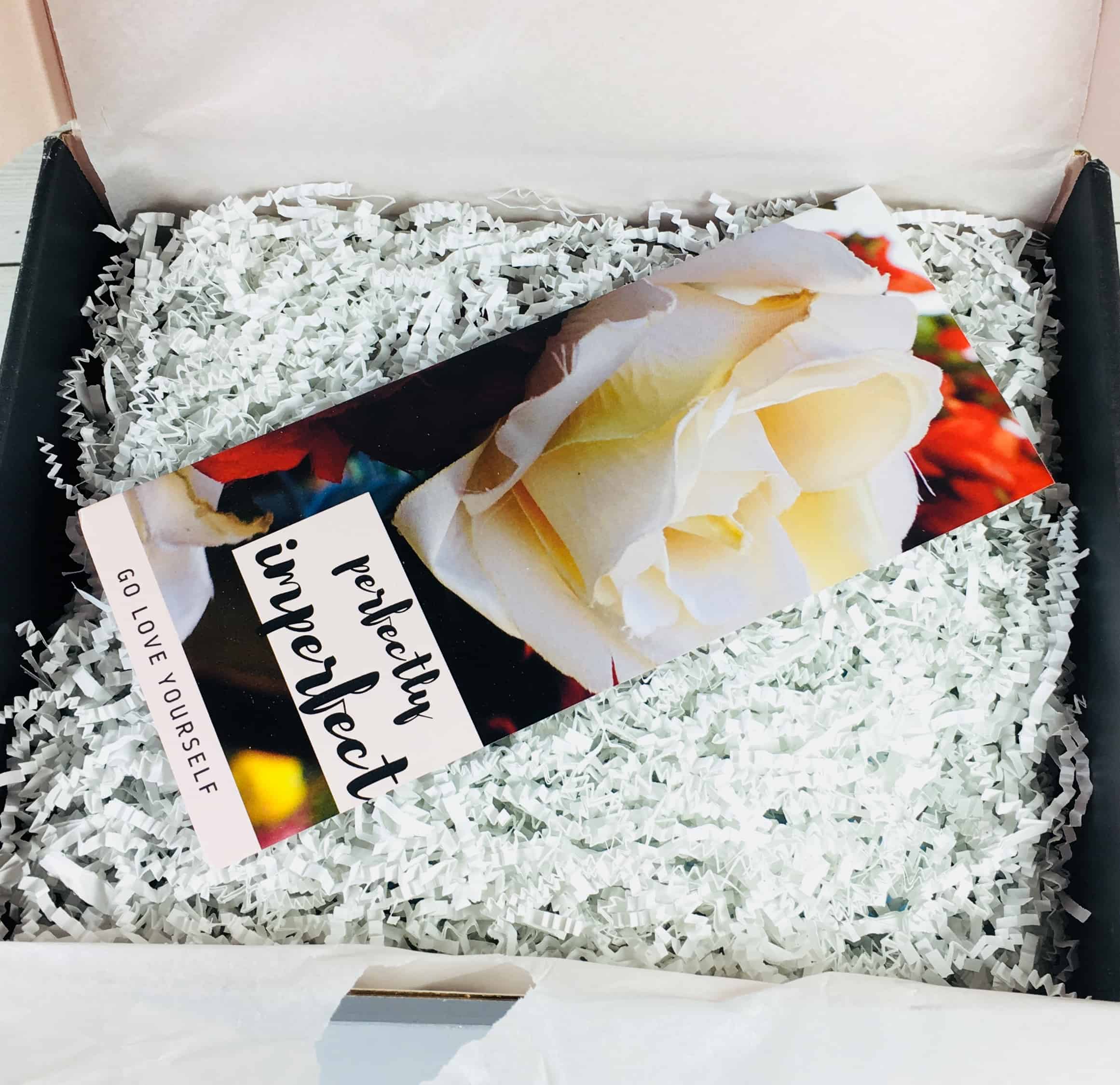 White paper squiggles kept everything safe on their journey.
Everything in my box!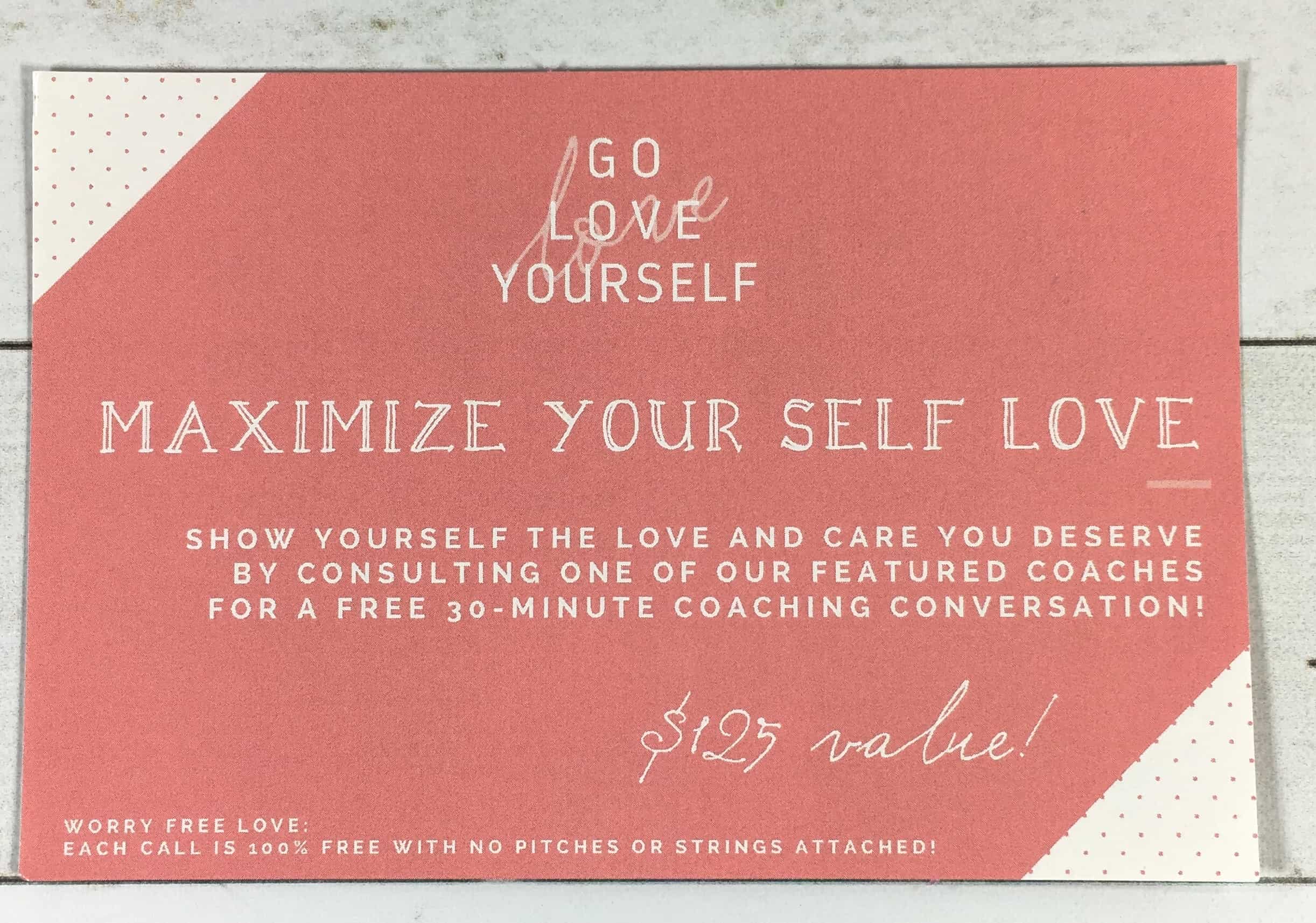 There was a card that stated you could receive a 30-minute complimentary coaching conversation, which is a $125 value.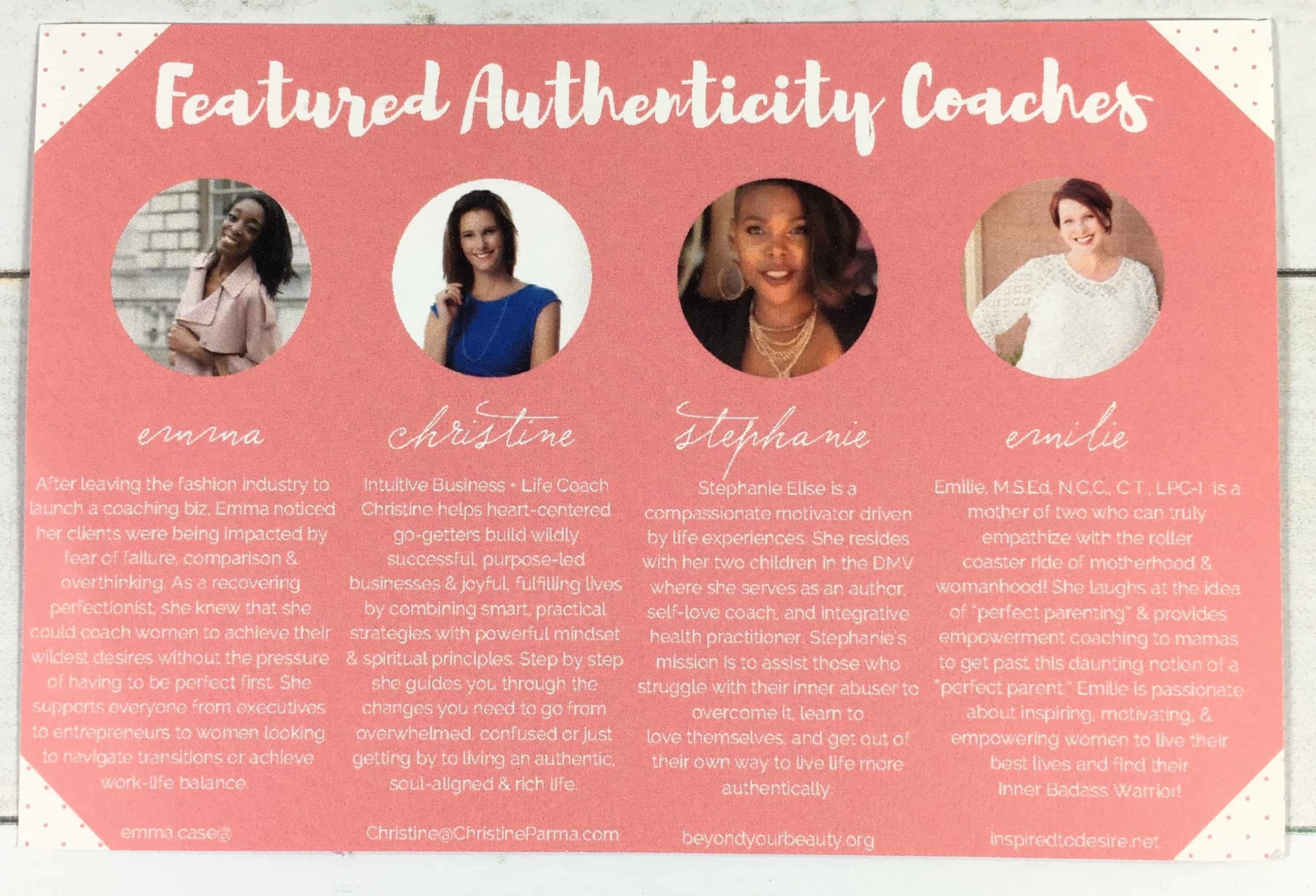 The back of the card listed the four coaches and their websites.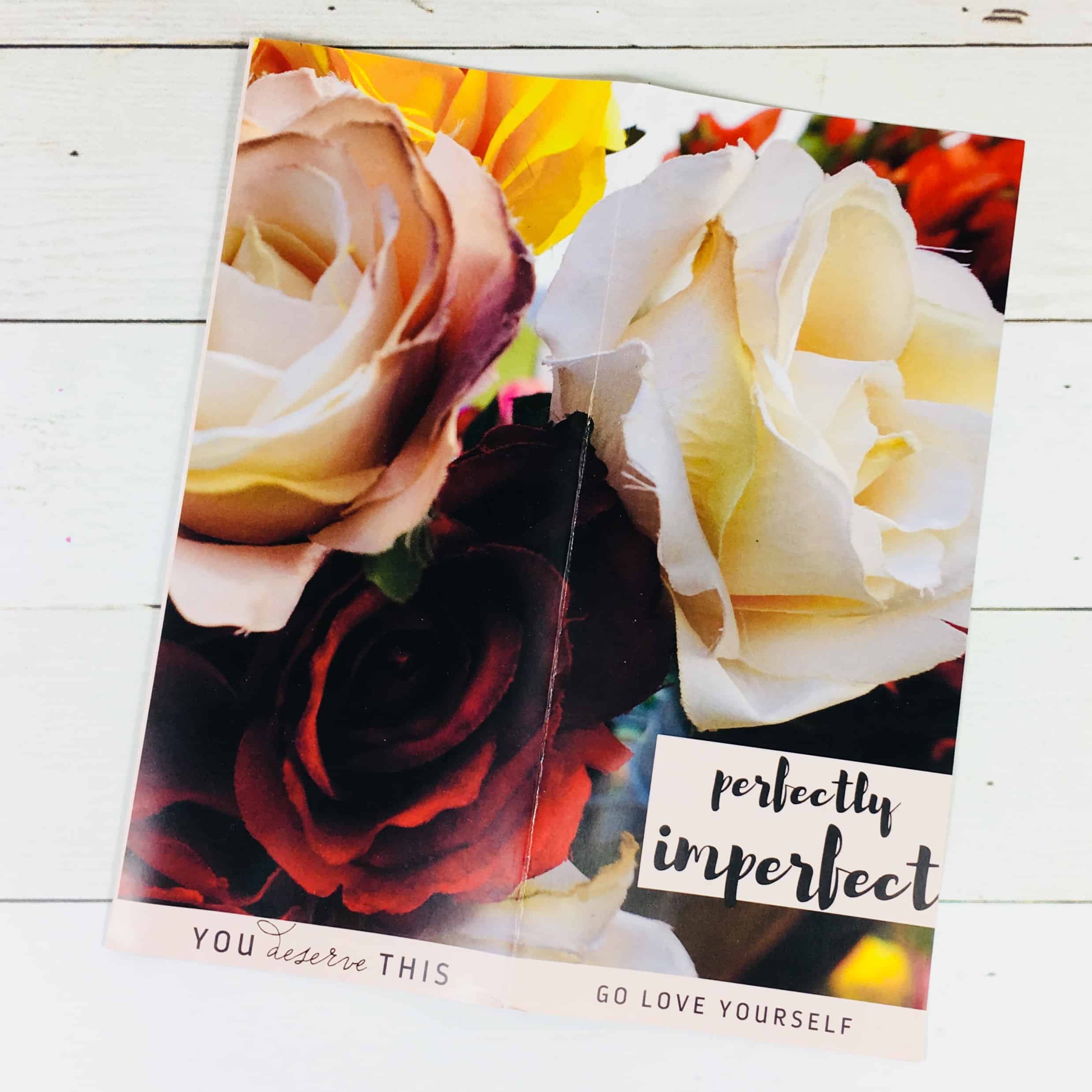 Next, there was a product information brochure. The theme for May is Perfectly Imperfect!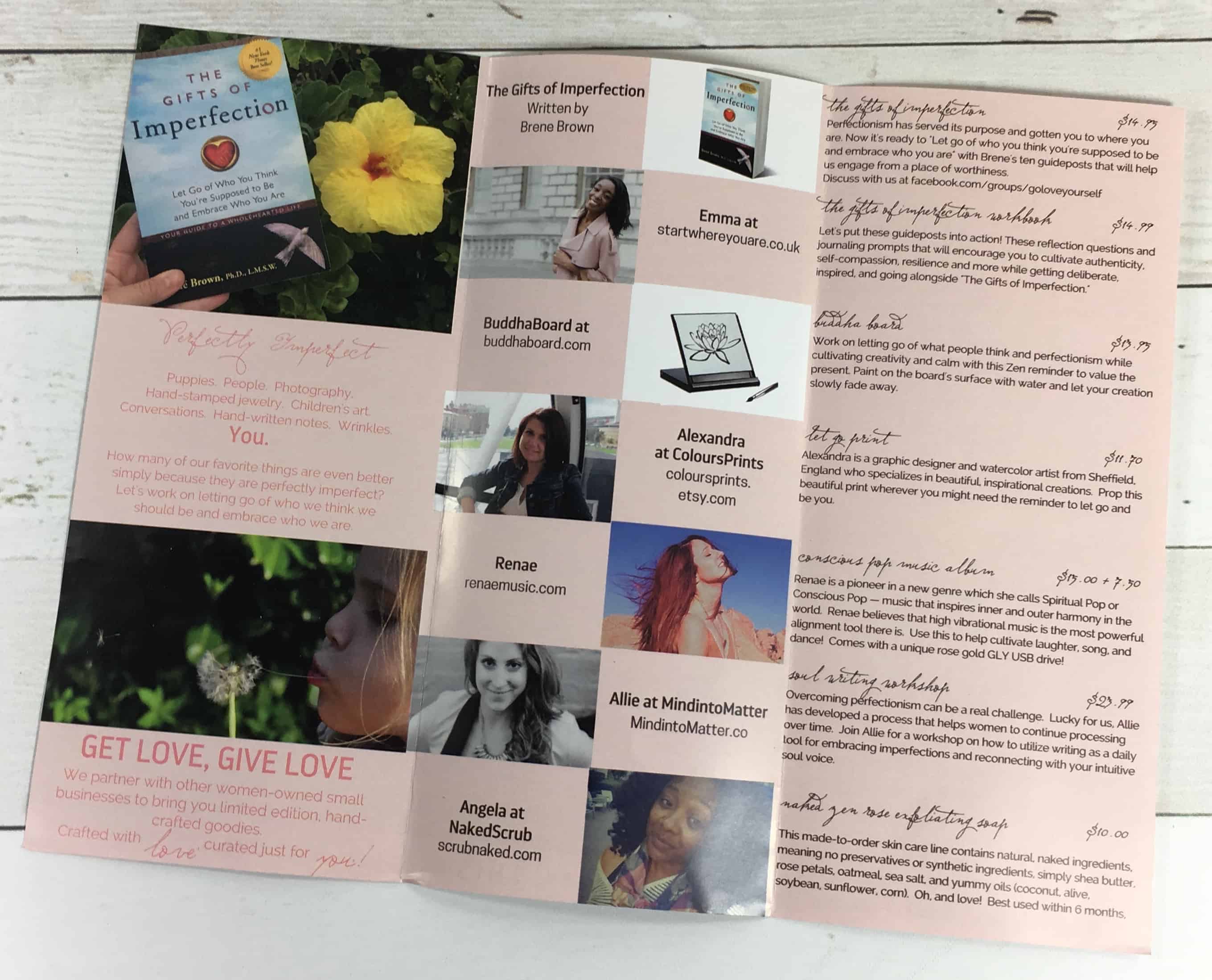 The brochure mentioned the products and services for this month's box, along with the retail value of each item.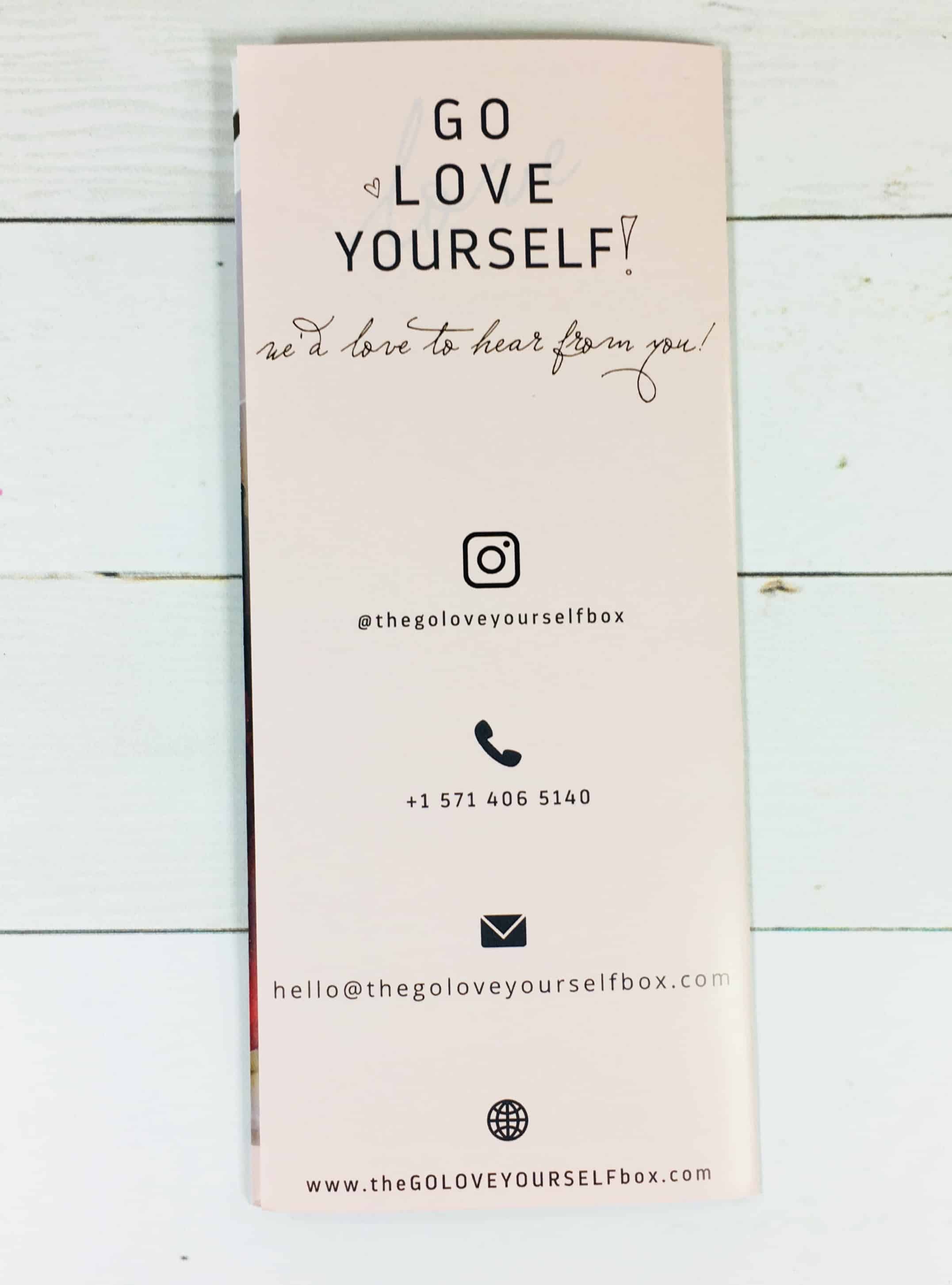 The back of the brochure tells you how to reach out to Go Love Yourself.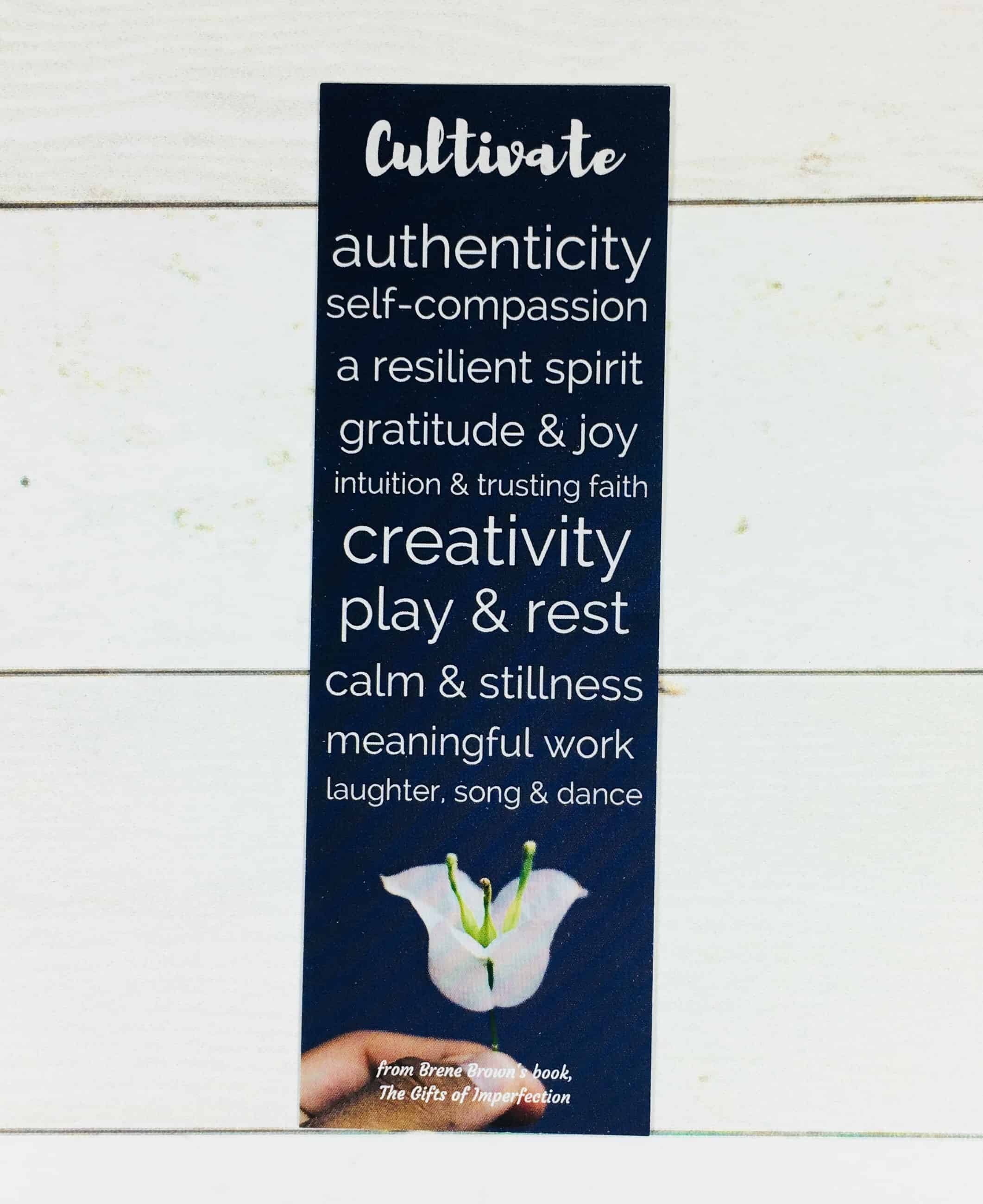 Each month Go Love Yourself features an uplifting book by a featured author. They also enclose a bookmark that goes along with the book.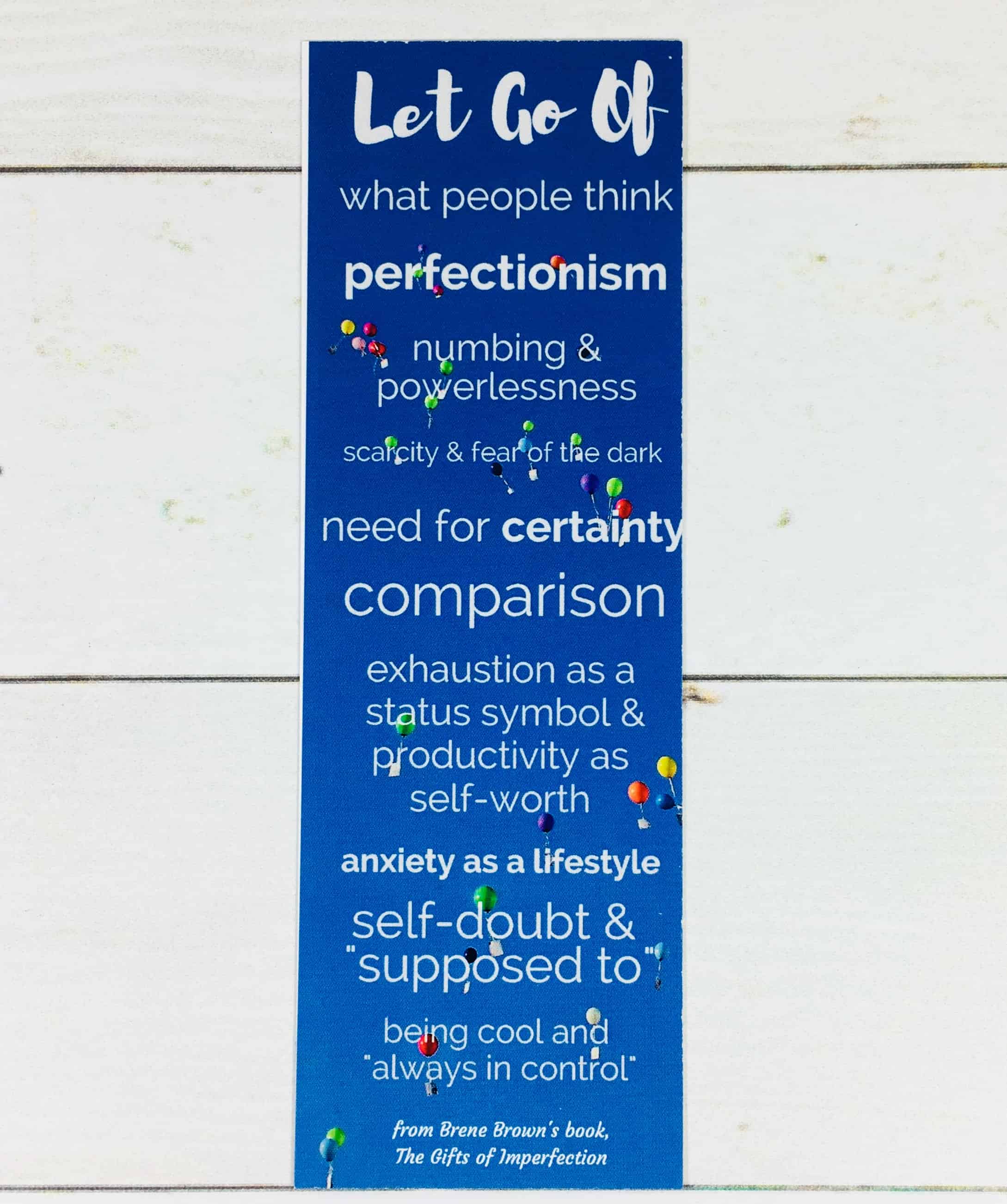 The bookmark has a relevant quote and is a nice touch.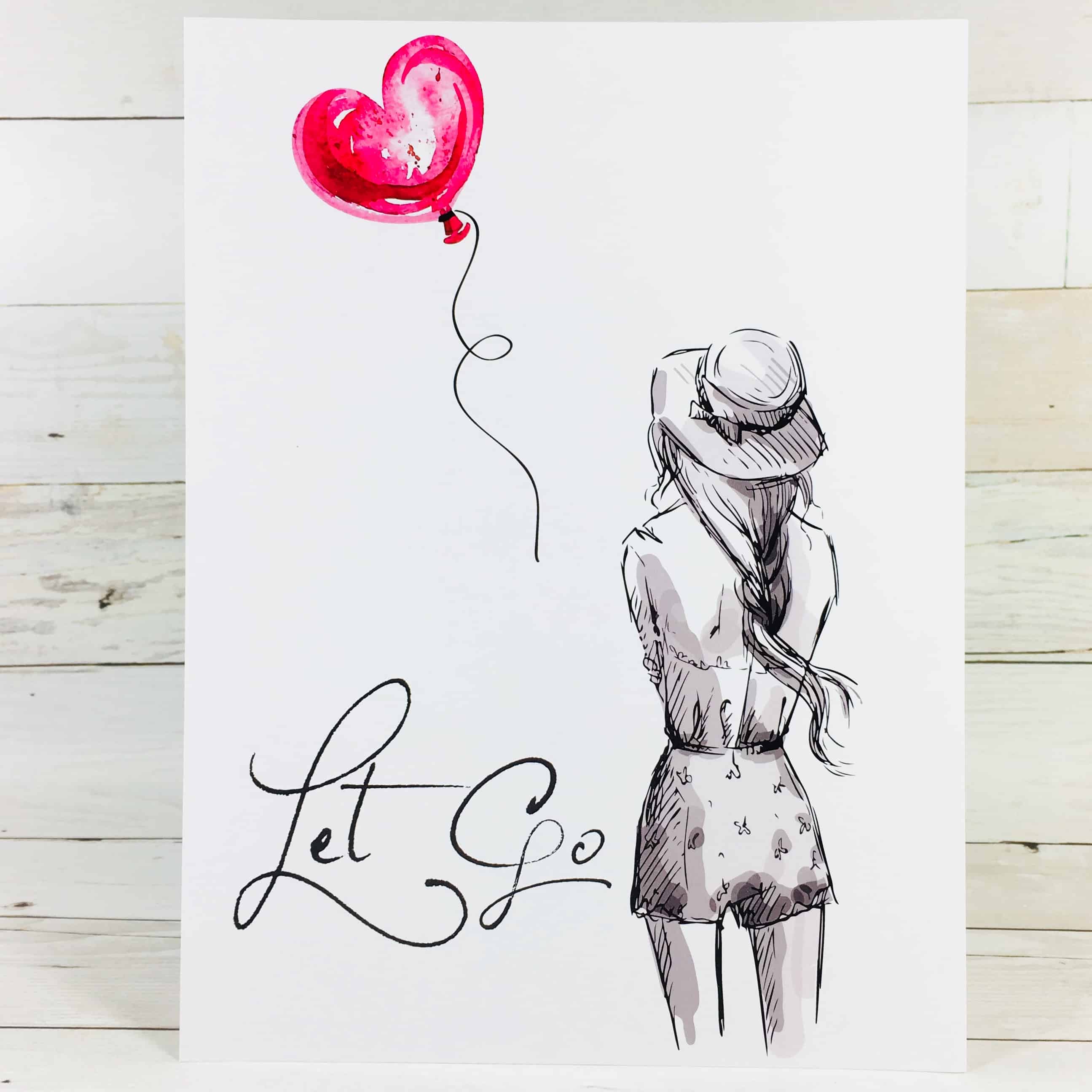 Let Go Print ($11.20) is from an Etsy maker in England! It is 7.5″ x 10″ and can be placed in a frame. It is in shades of grey with a bright pink balloon.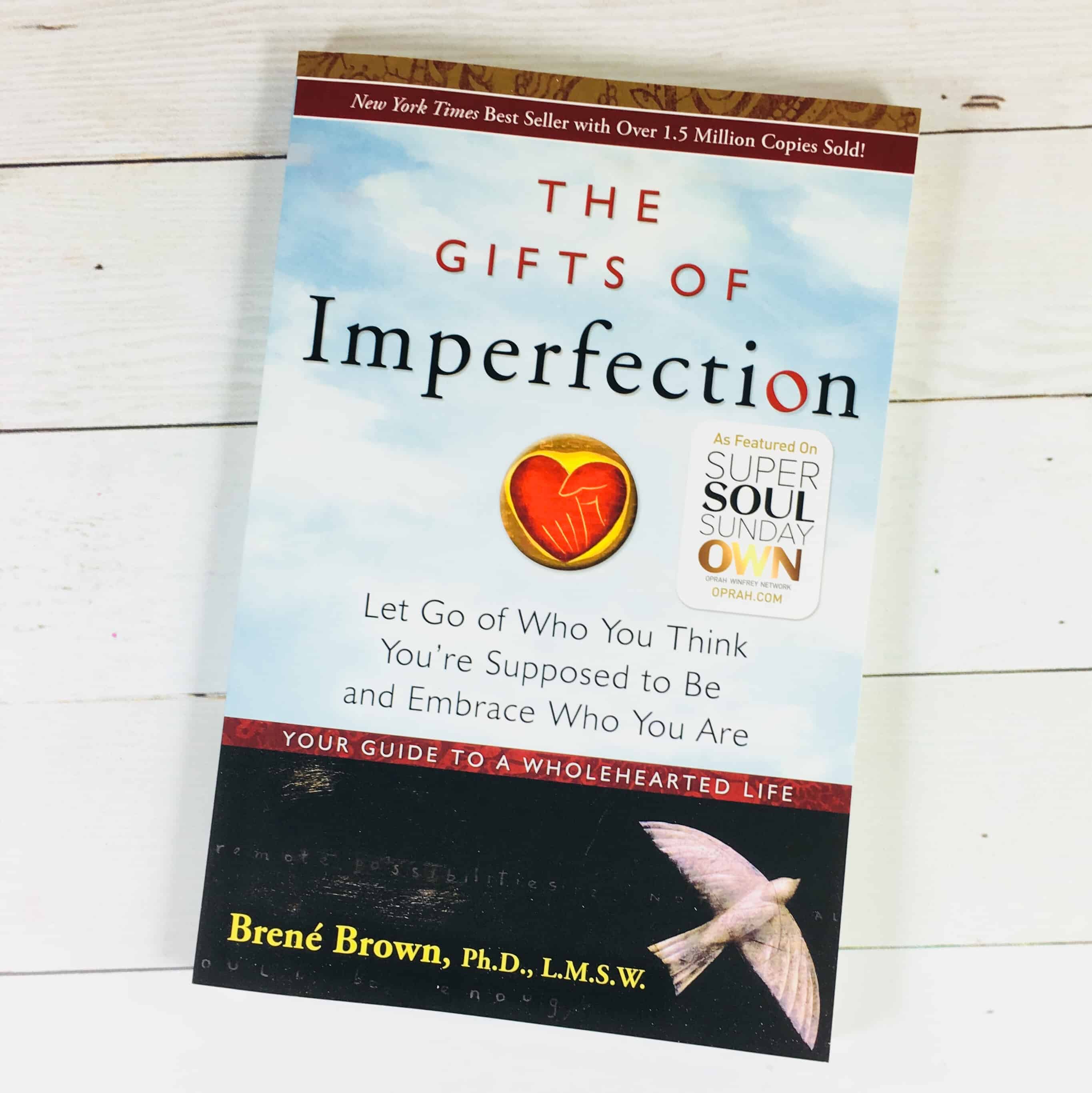 The Gifts Of The Imperfection By Brené Brown (List price $14.95, selling for $8.99) If you look under "creativity" in the books section on Amazon, you will see that this book is currently a #1 bestseller! This book is supposed to help you live your authentic life.
In The Gifts of Imperfection, Brené Brown, a leading expert on shame, authenticity, and belonging, shares ten guideposts on the power of Wholehearted living—a way of engaging with the world from a place of worthiness.

Each day we face a barrage of images and messages from society and the media telling us who, what, and how we should be. We are led to believe that if we could only look perfect and lead perfect lives, we'd no longer feel inadequate. So most of us perform, please, and perfect, all the while thinking, "What if I can't keep all of these balls in the air? Why isn't everyone else working harder and living up to my expectations? What will people think if I fail or give up? When can I stop proving myself?"

In her ten guideposts, Brown engages our minds, hearts, and spirits as she explores how we can cultivate the courage, compassion, and connection to wake up in the morning and think, "No matter what gets done and how much is left undone, I am enough," and to go to bed at night thinking, "Yes, I am sometimes afraid, but I am also brave. And, yes, I am imperfect and vulnerable, but that doesn't change the truth that I am worthy of love and belonging."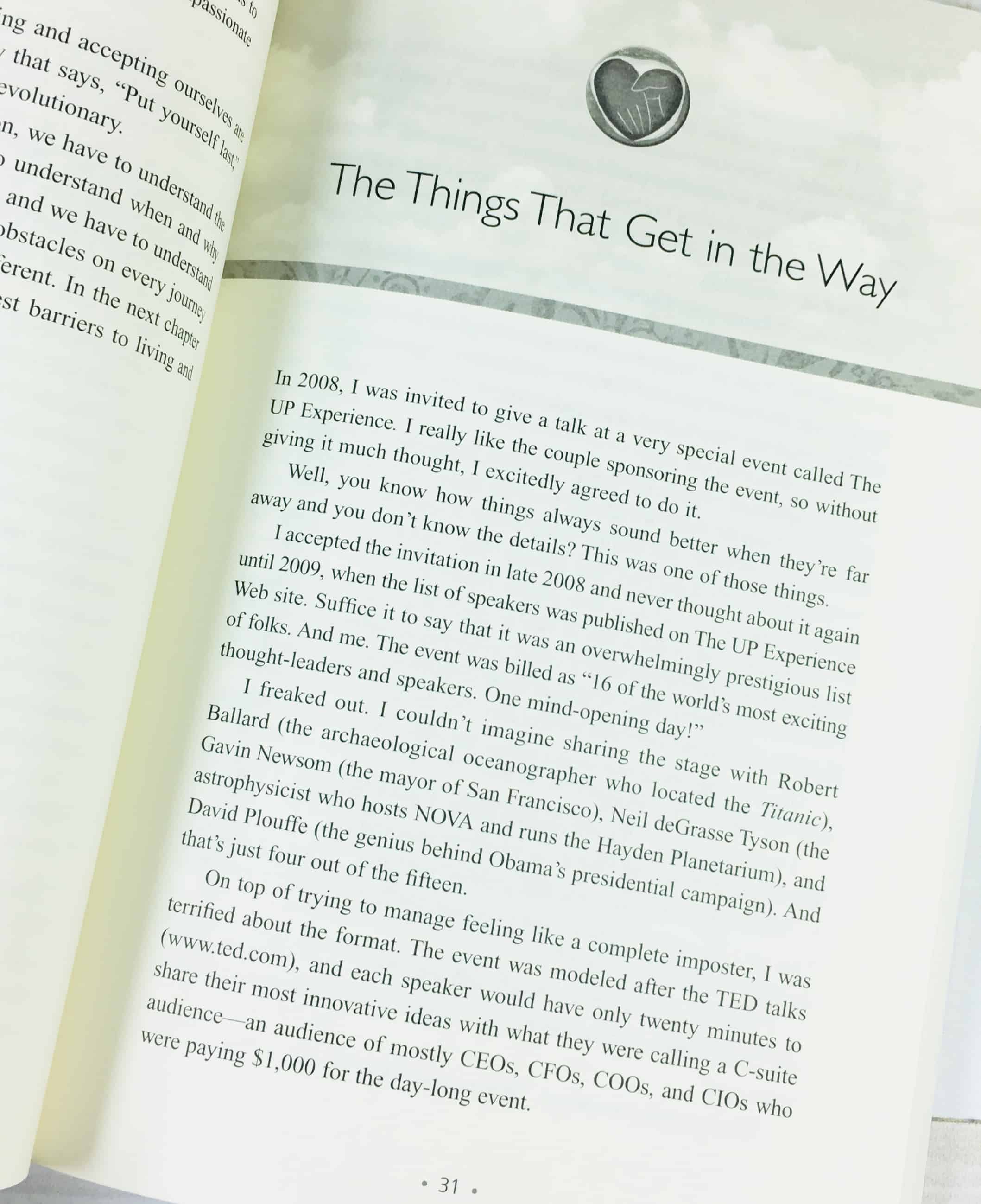 I have lived long enough that I don't really care about being perfect, yet I still have things that I take over the top. I like this daily reminder to check in with yourself to see how things are going.
The Gifts Of Imperfection Workbook ($14.99) The founder of Go Love Yourself Box, Sharon Podobnik Peterson, always comes up with a new workbook, an unofficial companion to the featured book.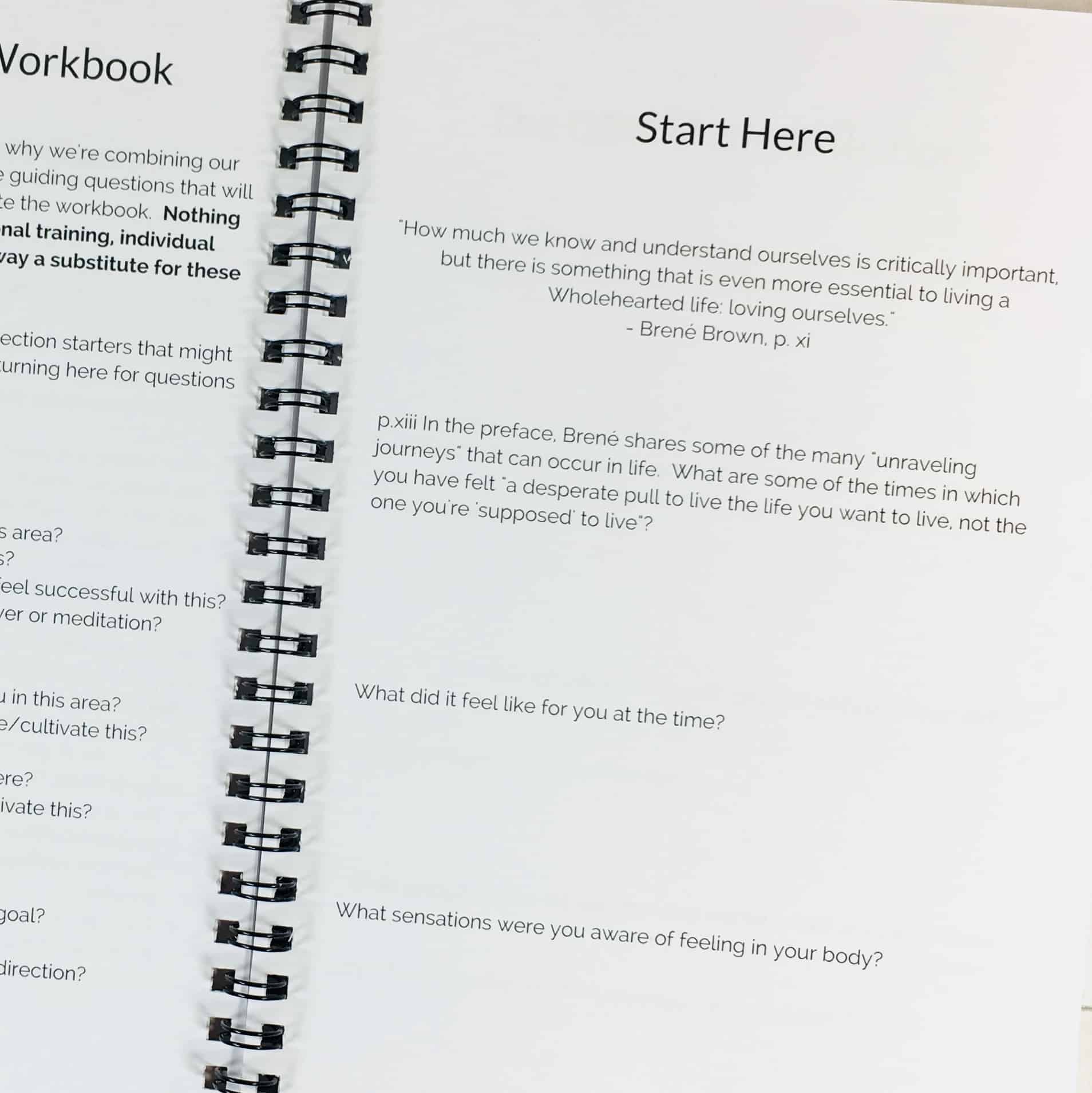 Sometimes the books can be overwhelming so it's nice to have a starting place.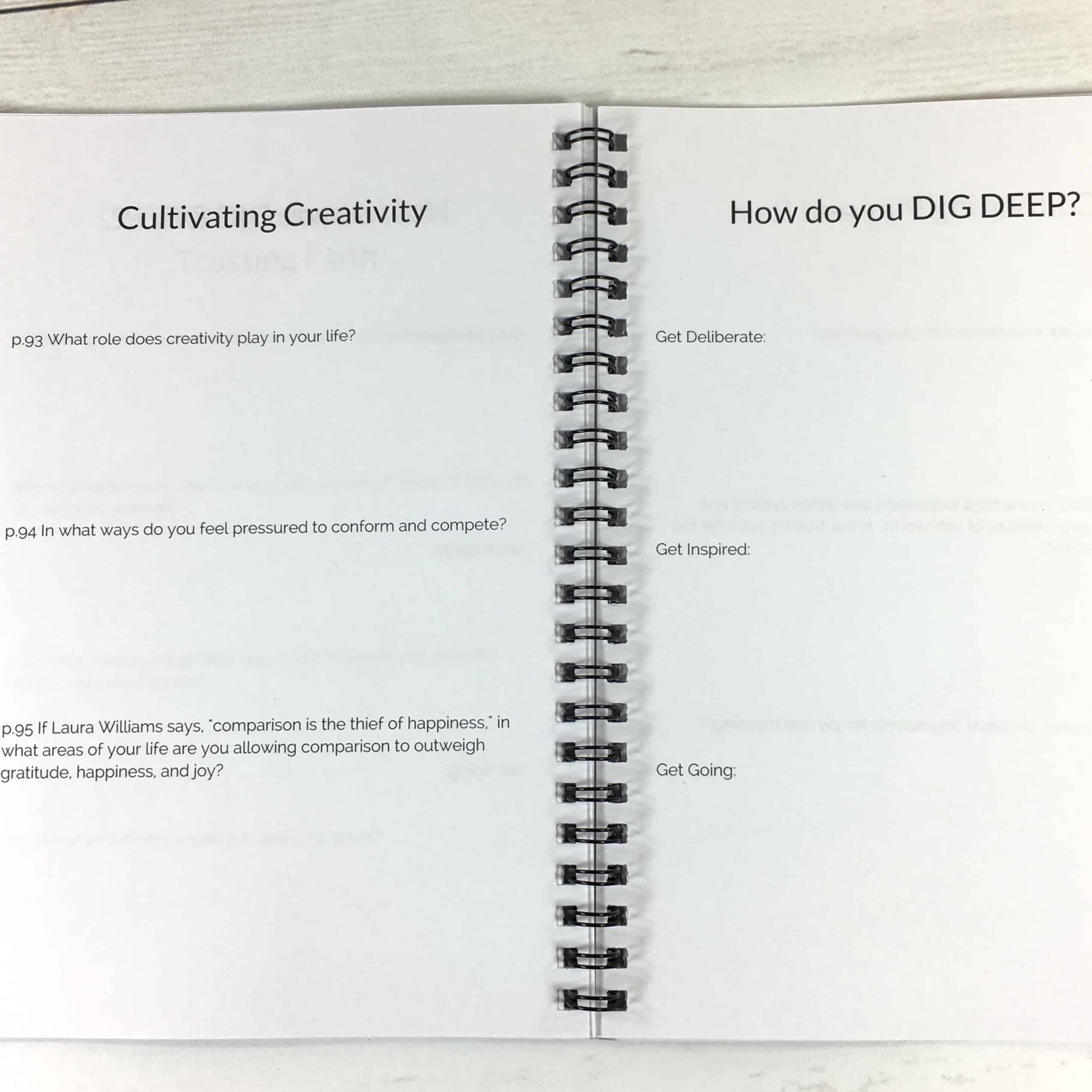 This part spoke to me since I am not a naturally artistic person (my mom is an artist but that gene skipped me and went straight to my brother) so I have to find other ways to be creative. Maybe I can't draw or paint, but I like to arrange pretty things and snap pictures, and I can cook very well. I don't compare myself to my mom, I just enjoy her beautiful pictures and find other ways to express myself.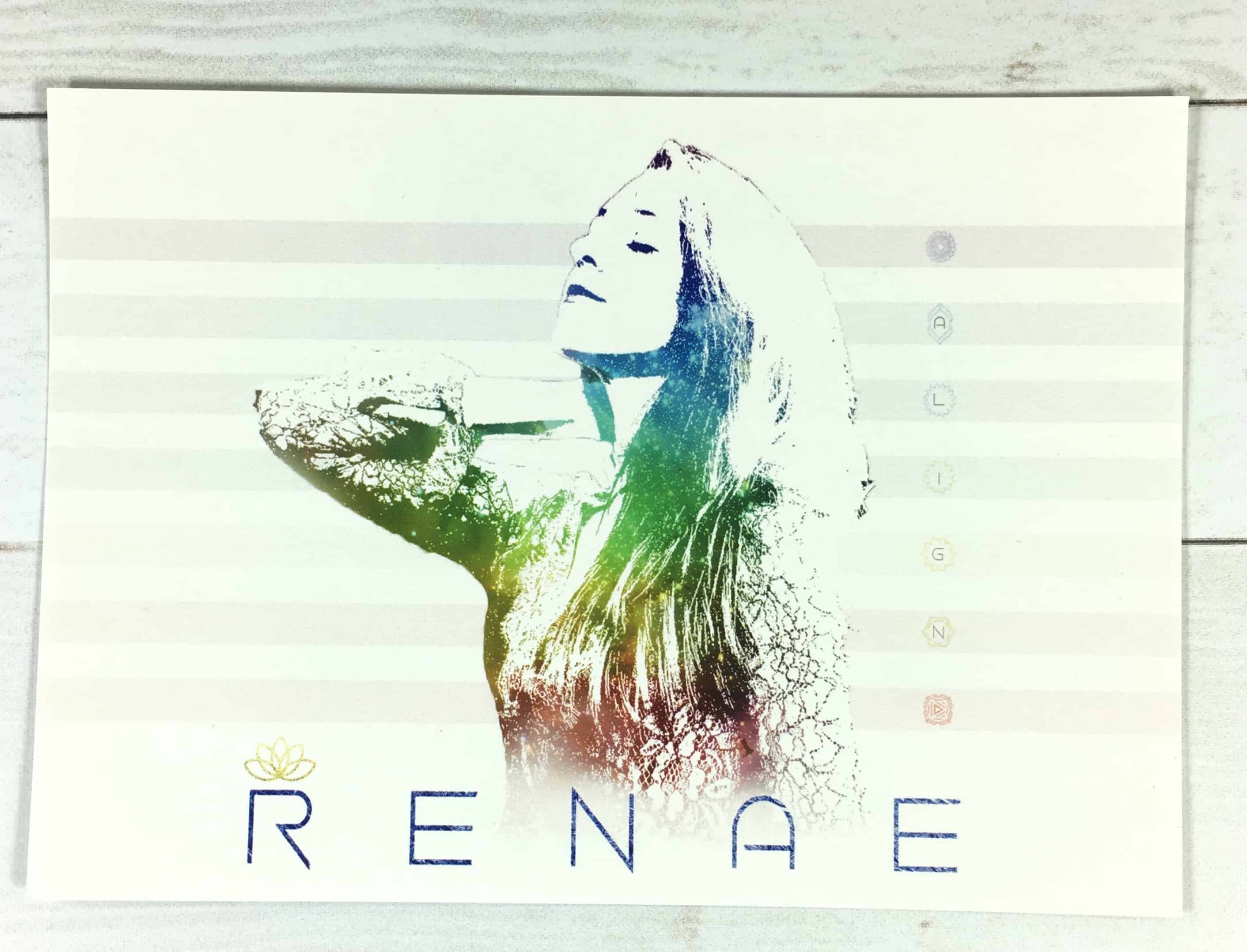 Renae Conscious Pop Music Album ($22.50)
I received a card with info about RENAE, who is a Spiritual pop artist. She sings uplifting songs that are aligned to the 7 chakras, or energy channels, of the body. The album is upbeat and positive and the artist was inspired by transformational music festivals, which the artist describes as "Coachella mixed with wellness". I am almost inspired to go to school now to become a transpersonal psychologist since I have never heard of that before but it kind of fits the life I live in my head.
The album was preloaded onto this beautiful Go Love Yourself Rose Gold and Crystal USB Flash Drive – (find similar here starting at $20).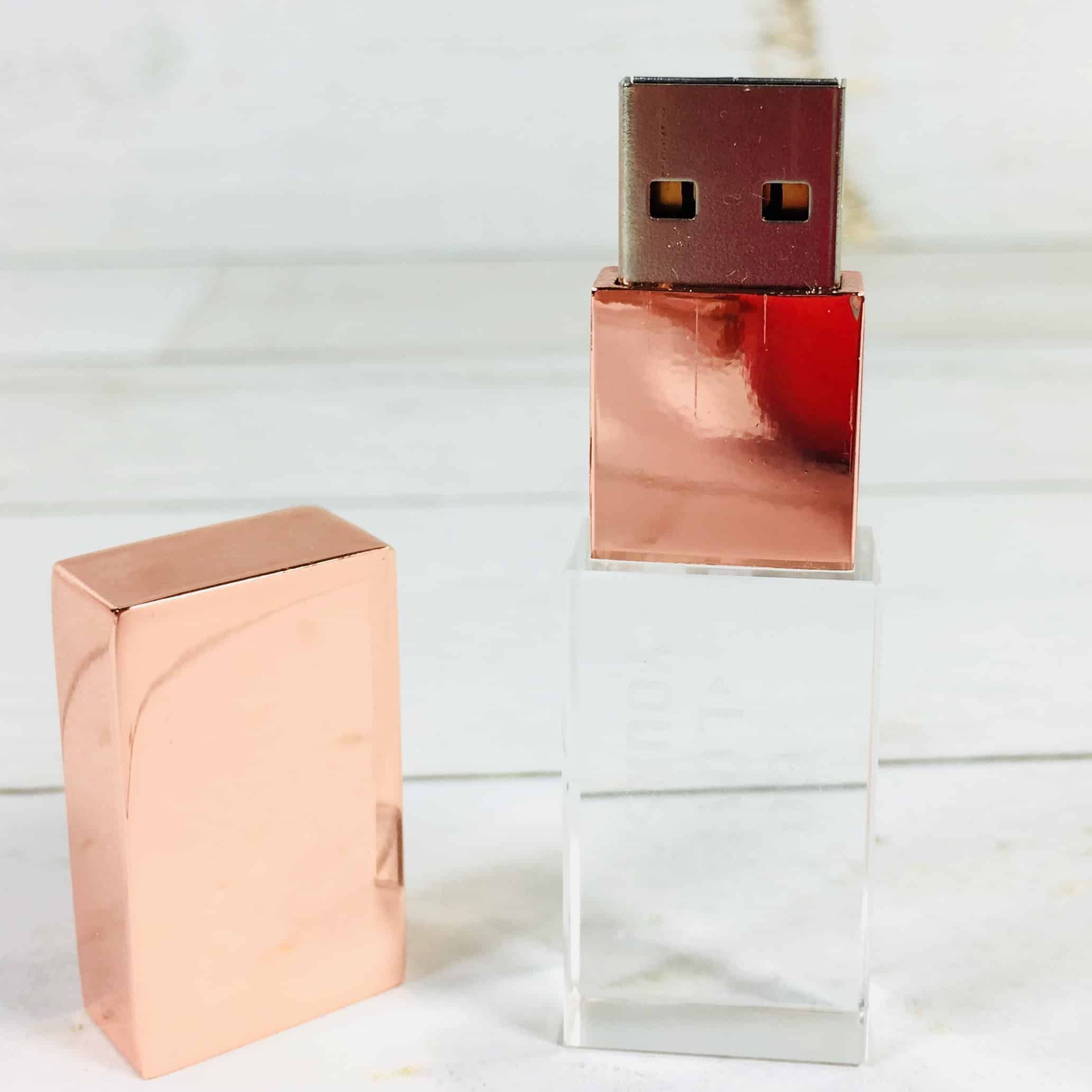 I am smitten with both crystals and rose gold so to have the two together makes me happy.
The crystal was etched with "Go Love Yourself!" but if you decide to order one for yourself you can have your name or maybe a mantra etched on yours!
There was a card for a soul writing workshop. This is the extent of the info on the card, which didn't say how to get access to the workshop.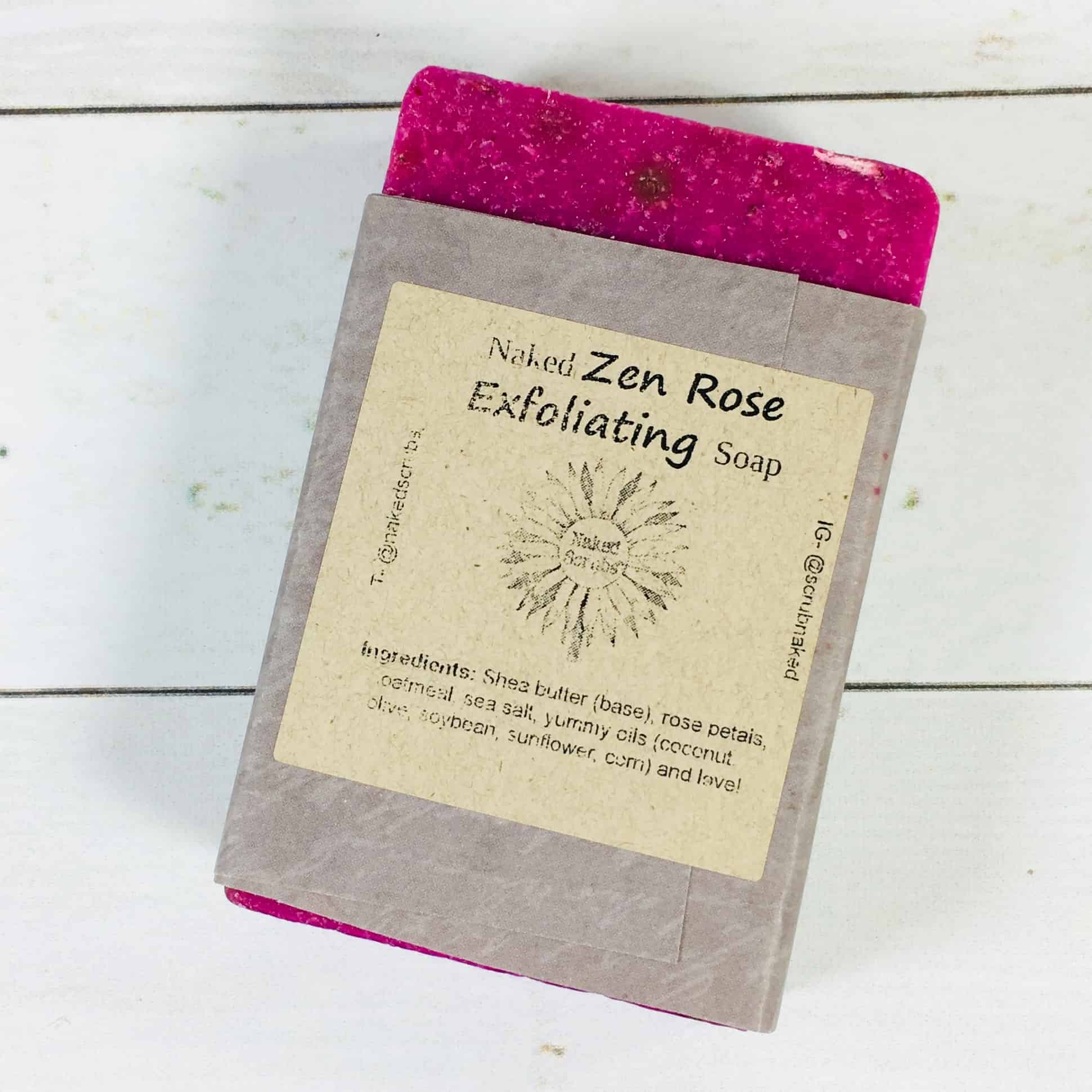 Naked Zen Rose Exfoliating Soap ($10) Wow, this is so pretty, what a bright color!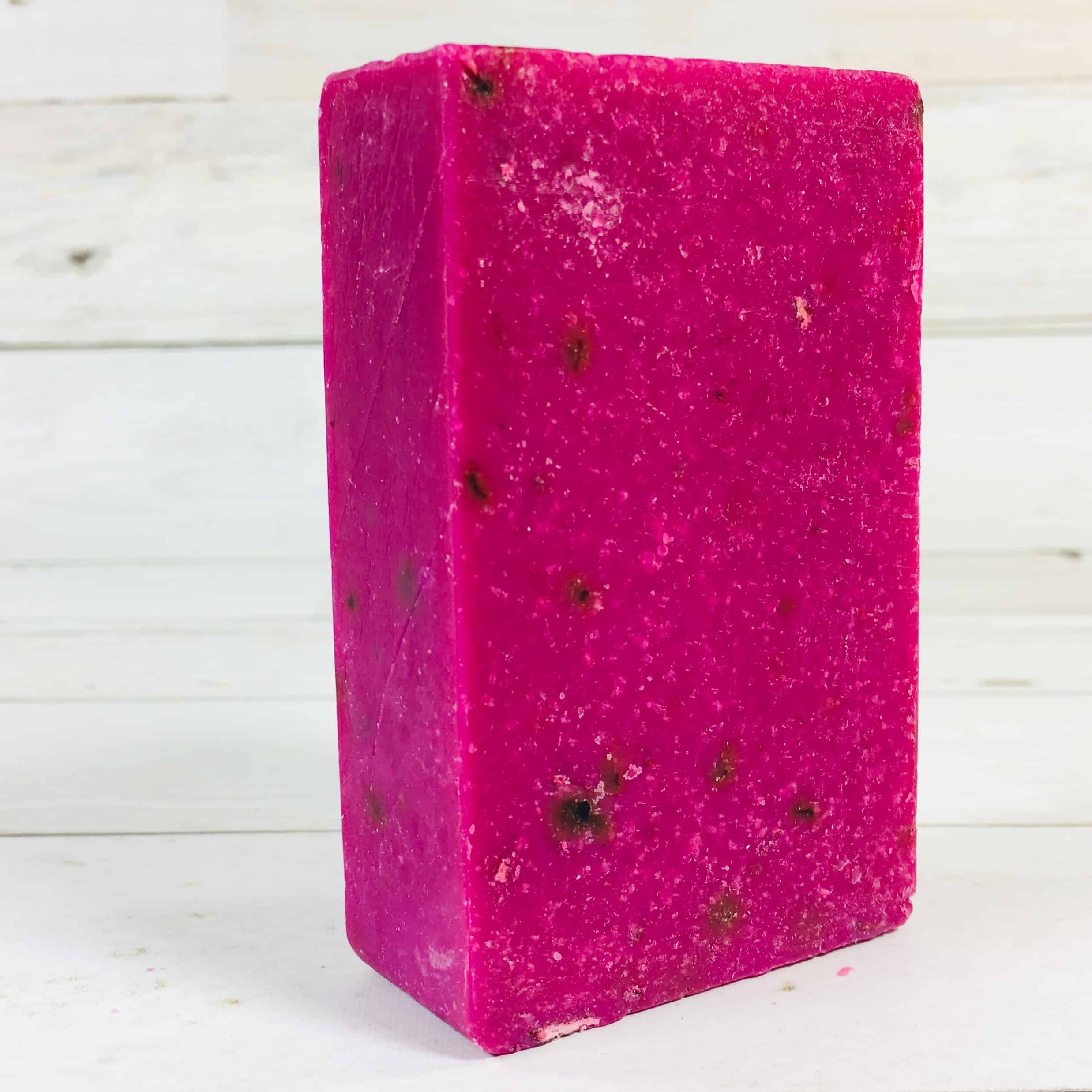 The soap has a base of shea butter plus oats (for exfoliation), rose petals, and natural oils. The only problem I have with it is that it is too expensive for a bar of soap – one bar plus shipping to my house is $14.50!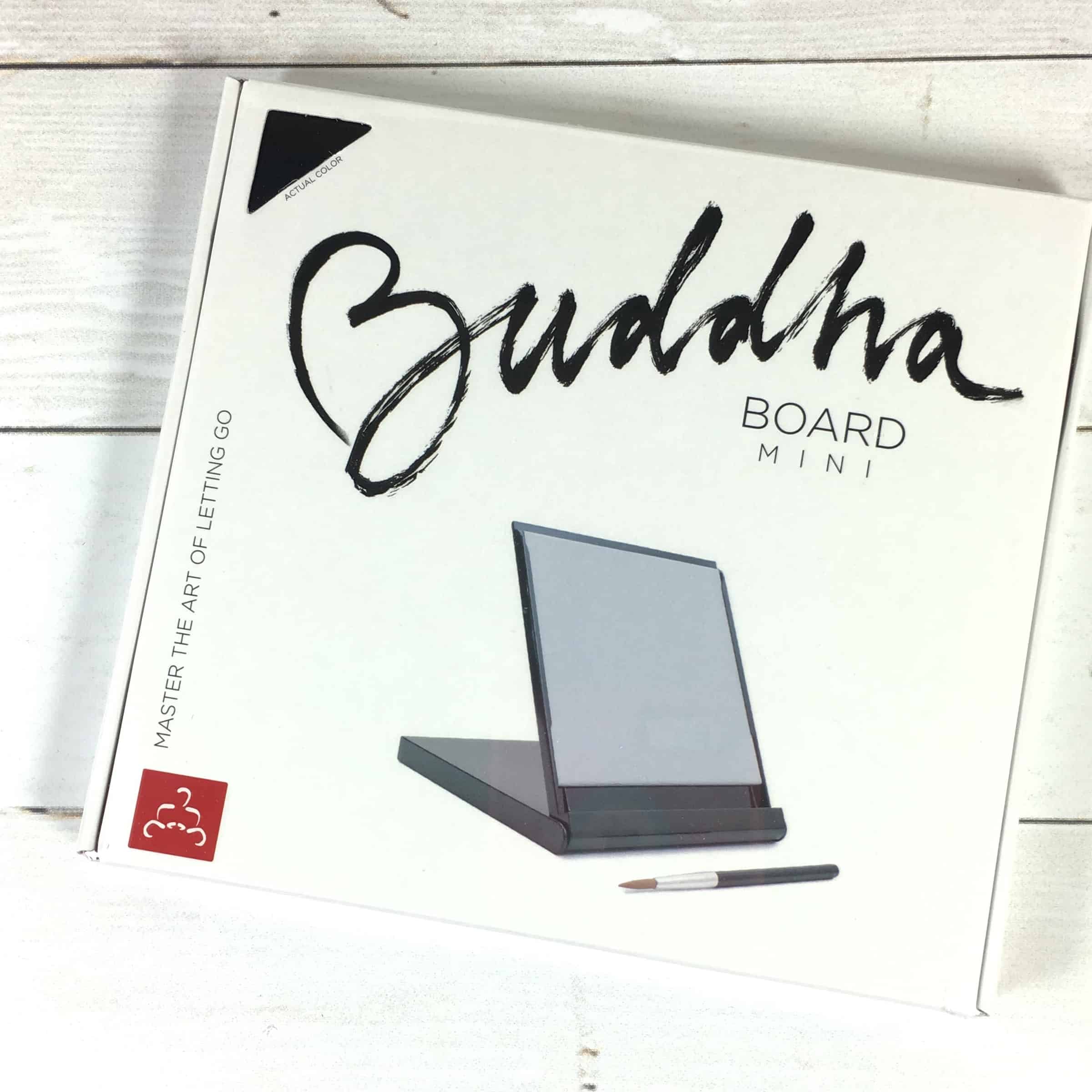 Buddha Board Mini ($13.95)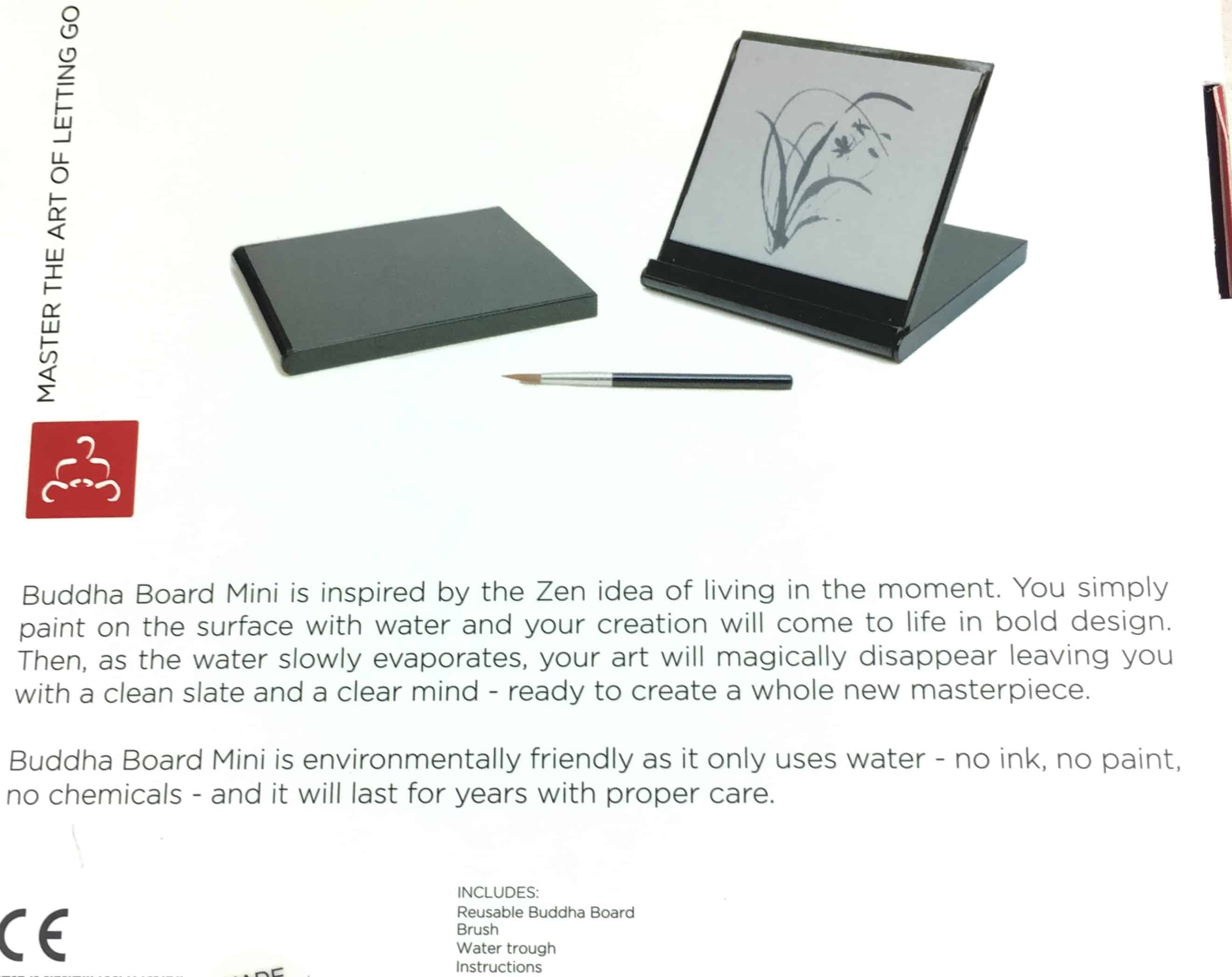 I had never heard of something like this but it is supposed to help ground you to the here and now.
You flip part of the board back and it becomes an easel. Just get a little dish of water and "paint" to your heart's content with the included brush.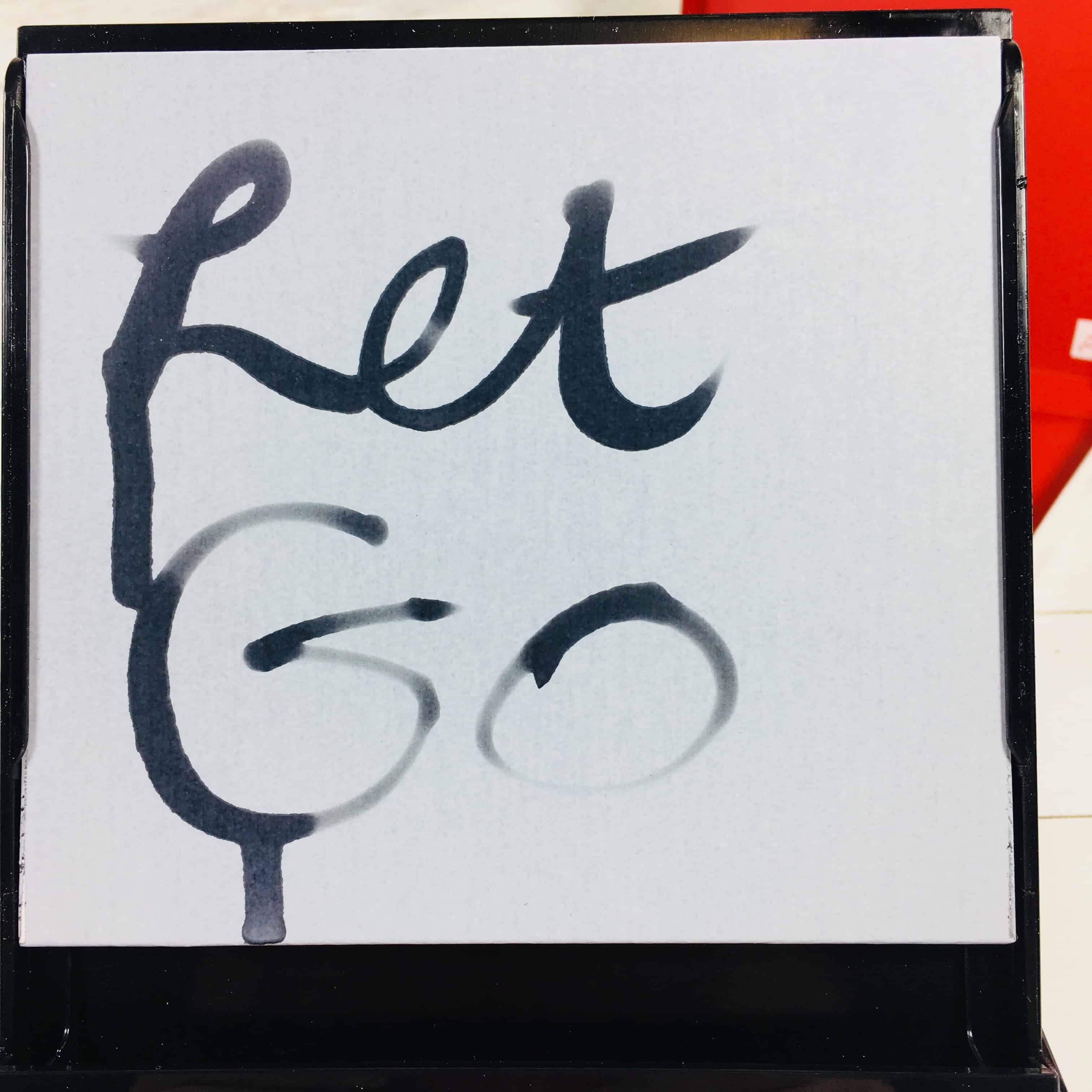 Almost as soon as you apply the water, it starts to evaporate. You don't have to worry about being perfect – it will disappear in a matter of minutes, whether perfect or pathetic.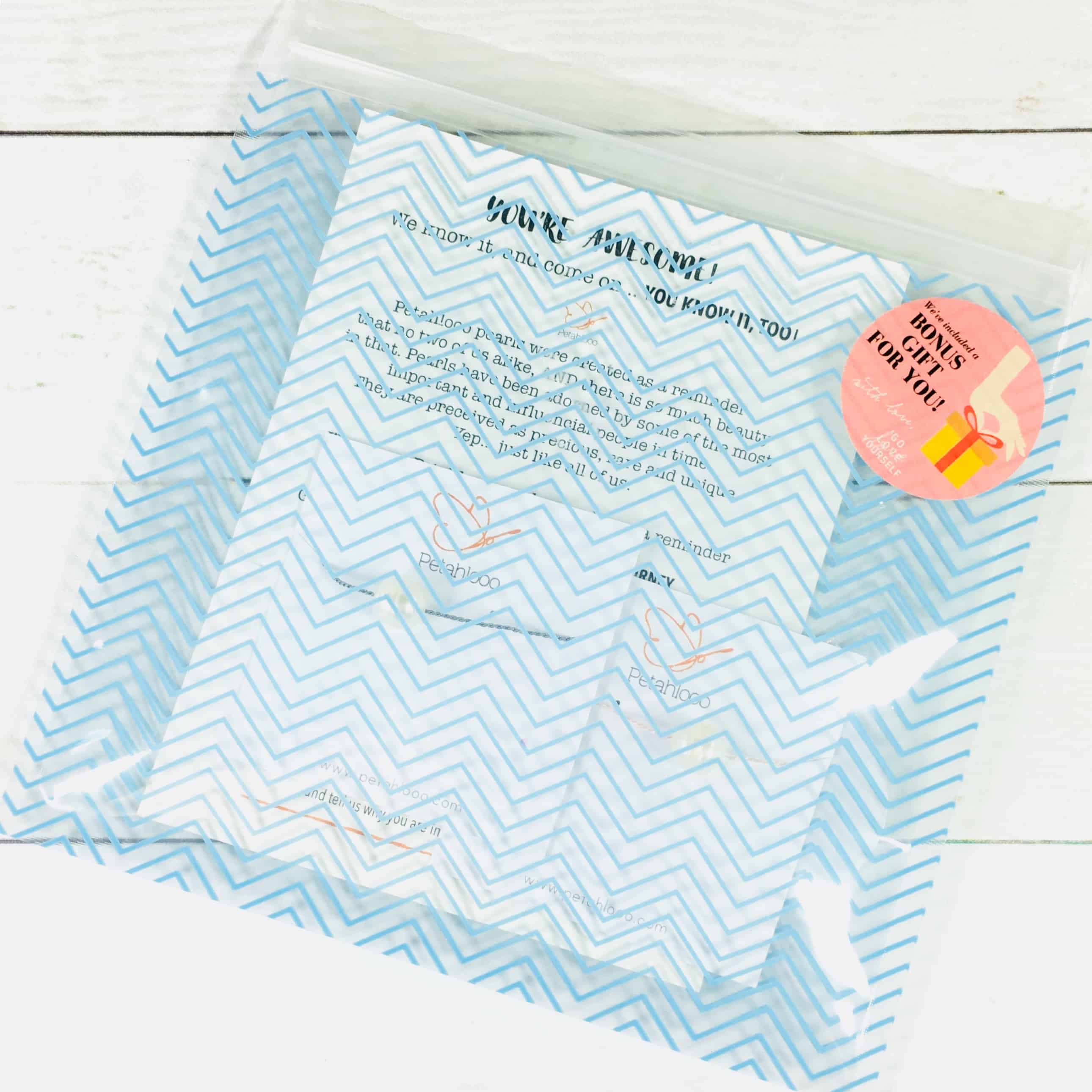 Next was a plastic zipper bag.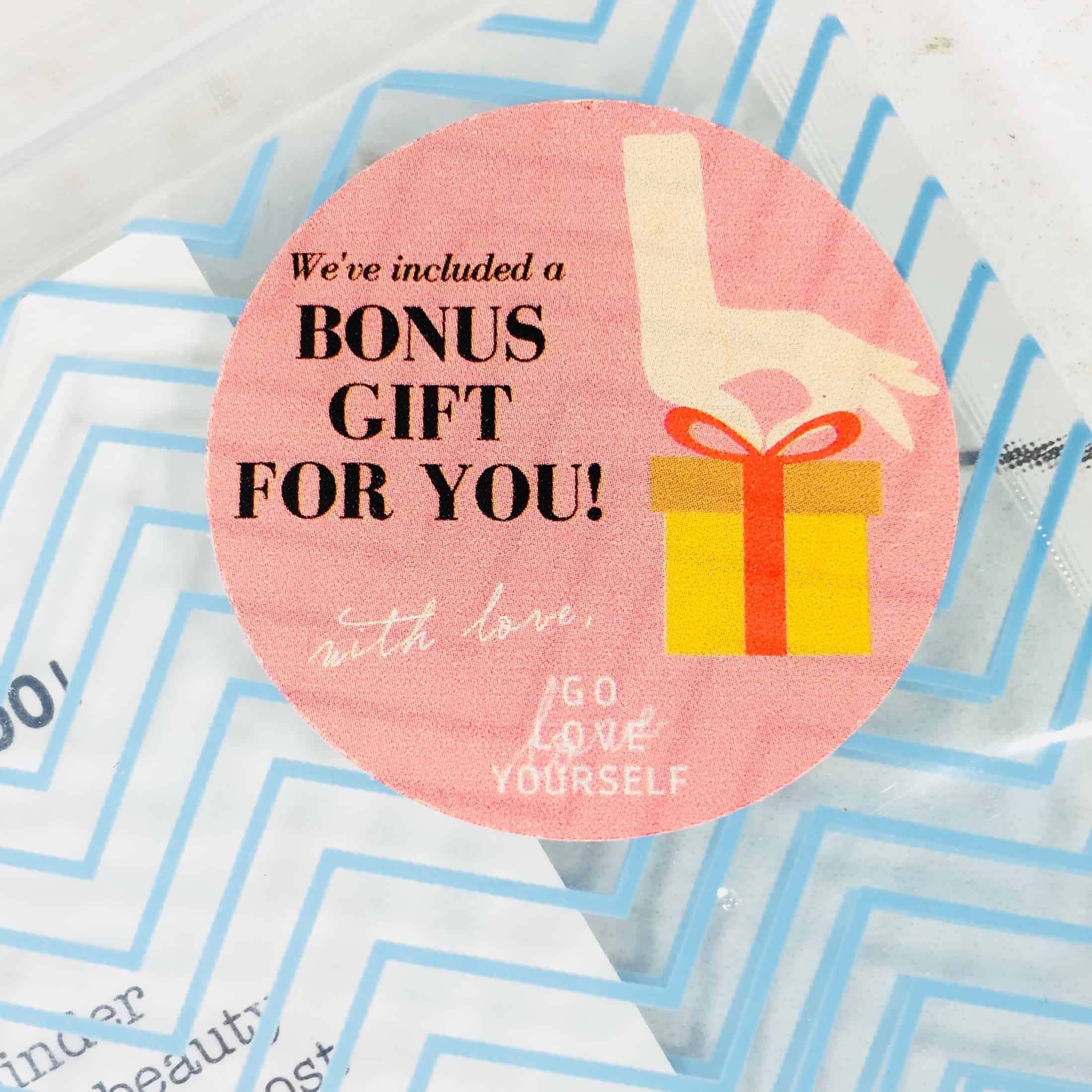 It had a sticker saying it was a bonus gift.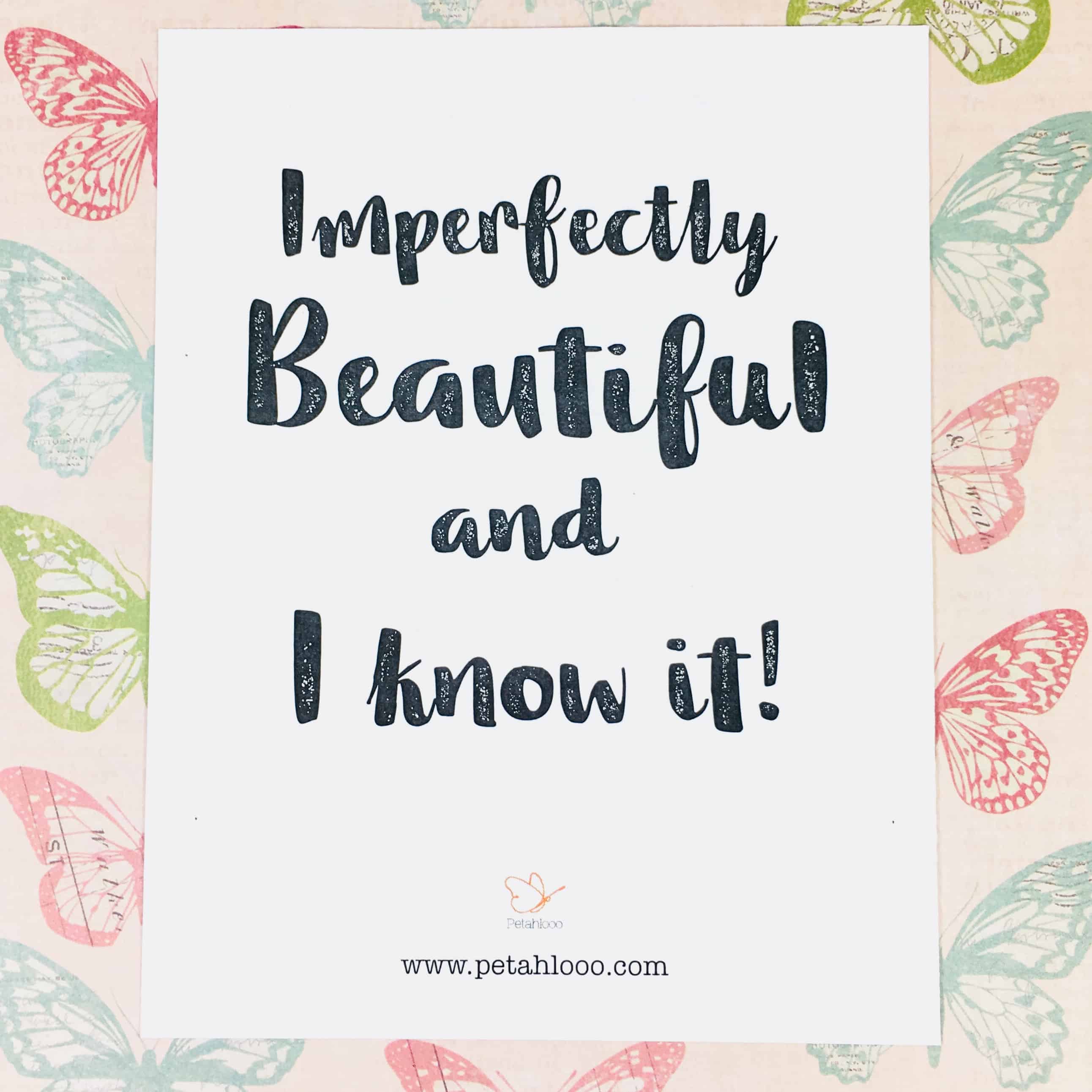 Inside was a card…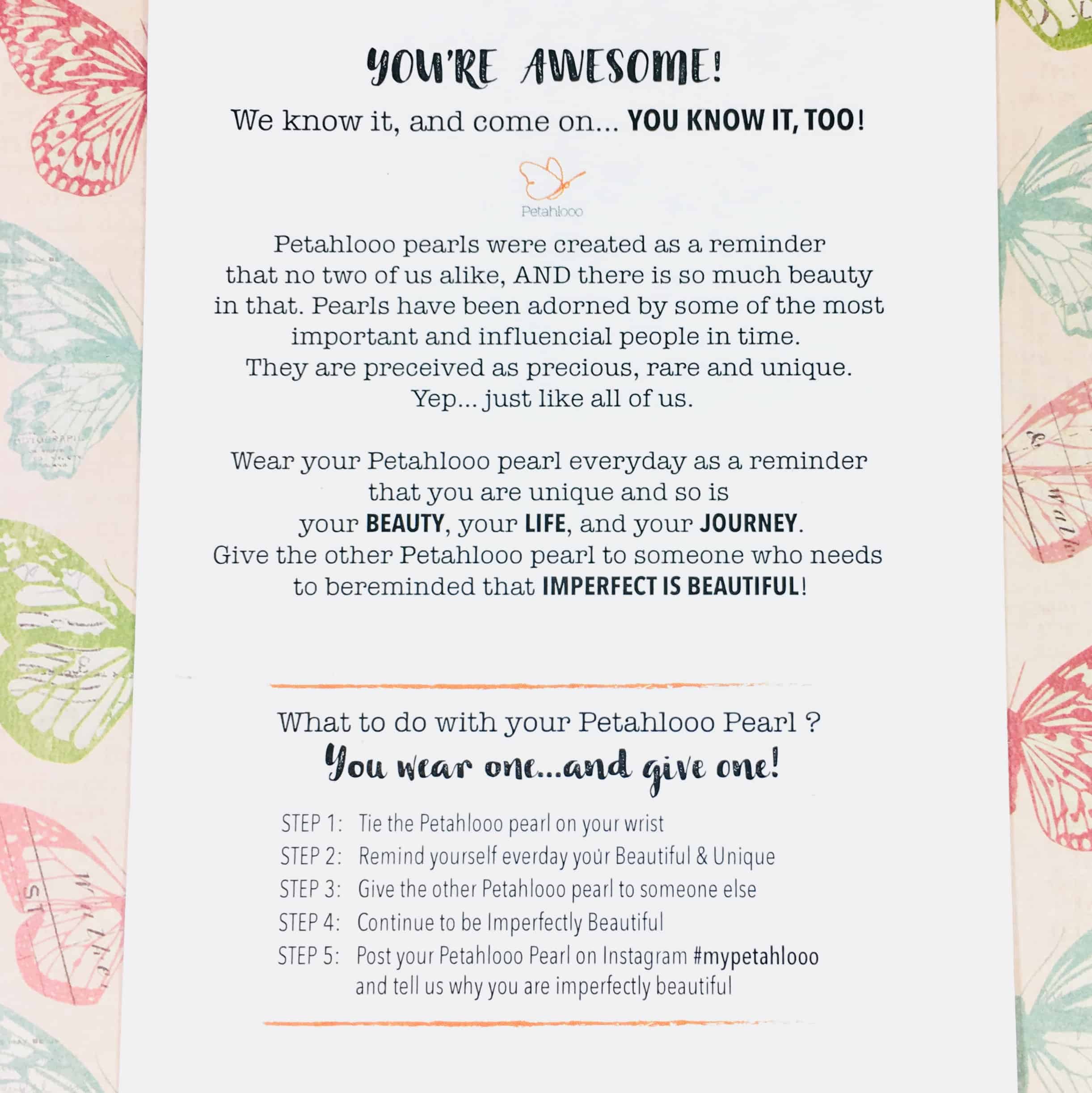 …with instructions for using Petahlooo pearl bracelets.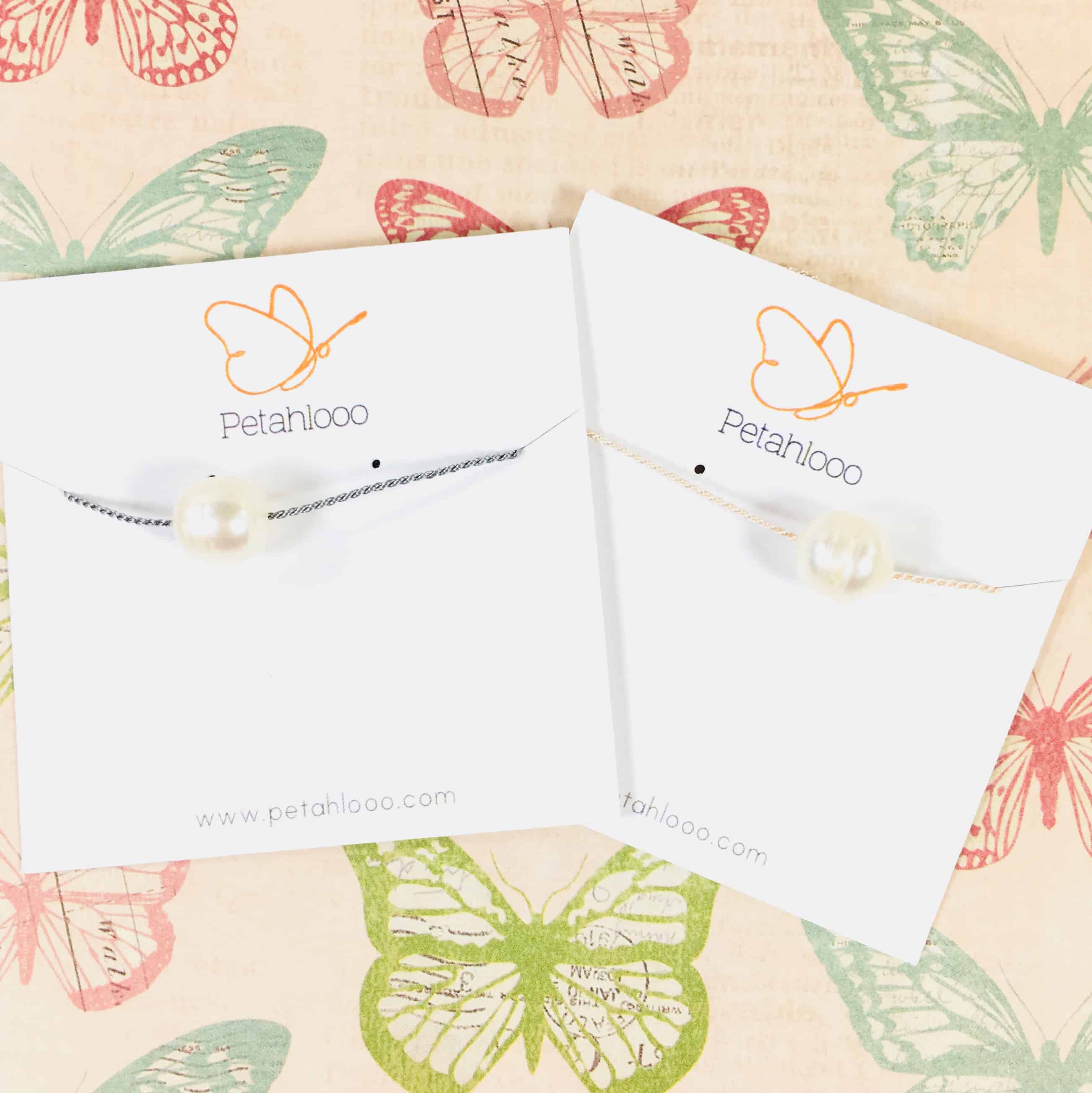 Petahlooo Pearl Bracelets One to keep, one to share. They come on simple cotton thread that you tie to your wrist.
Instructions on how to care for your bracelet were on the back of the card. You will probably need someone to tie it on your wrist.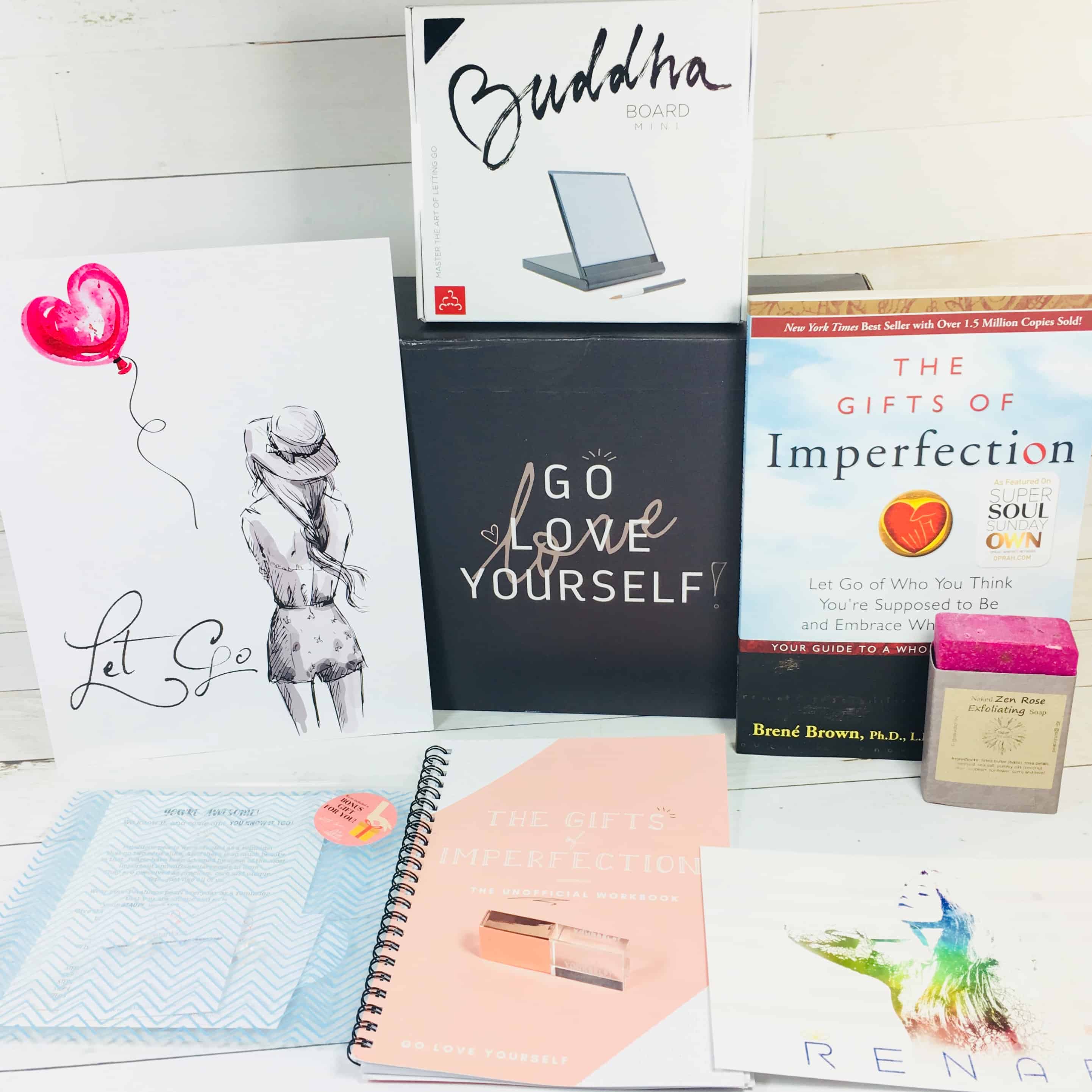 I liked the theme of this month's Go Love Yourself box. Perfectionism can keep one from even beginning something new, and keeps some of us stuck when we are afraid that we might make the wrong choice. This box also included products to help increase creativity, and I thought the Buddha Board was a cute idea, especially since I'm not an artist – I can just watch the picture disappear and not toss it in the trash. The music is good for relaxing and can help develop your spiritual side, while the soap may help you start each day with a rosy outlook. This box is good for anyone who has time to work on improving their life through reading and journaling, webinars, and possibly coaching.
Are you getting the Go Love Yourself Box?