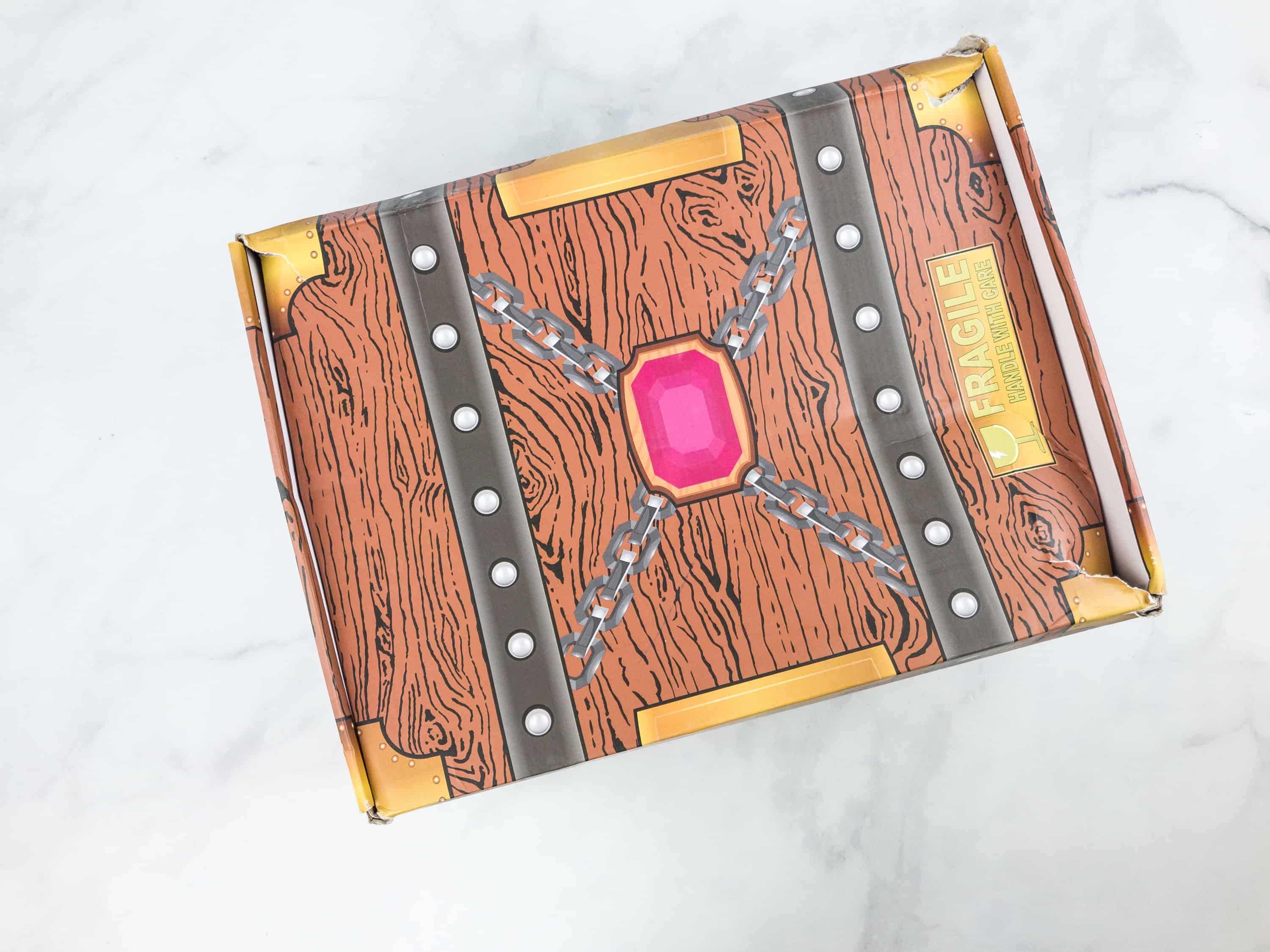 Lootaku is a monthly geek subscription box from Hong Kong packed with high-quality geek and gamer items. The subscription costs $49.00 per month + shipping (currently about $17 to the US), and you'll get 4-6 themed products, like plushies, action figures, memorabilia, etc., to satisfy your geeky cravings monthly – no fillers or promo items!
I like how the outside of the box is designed like a chest!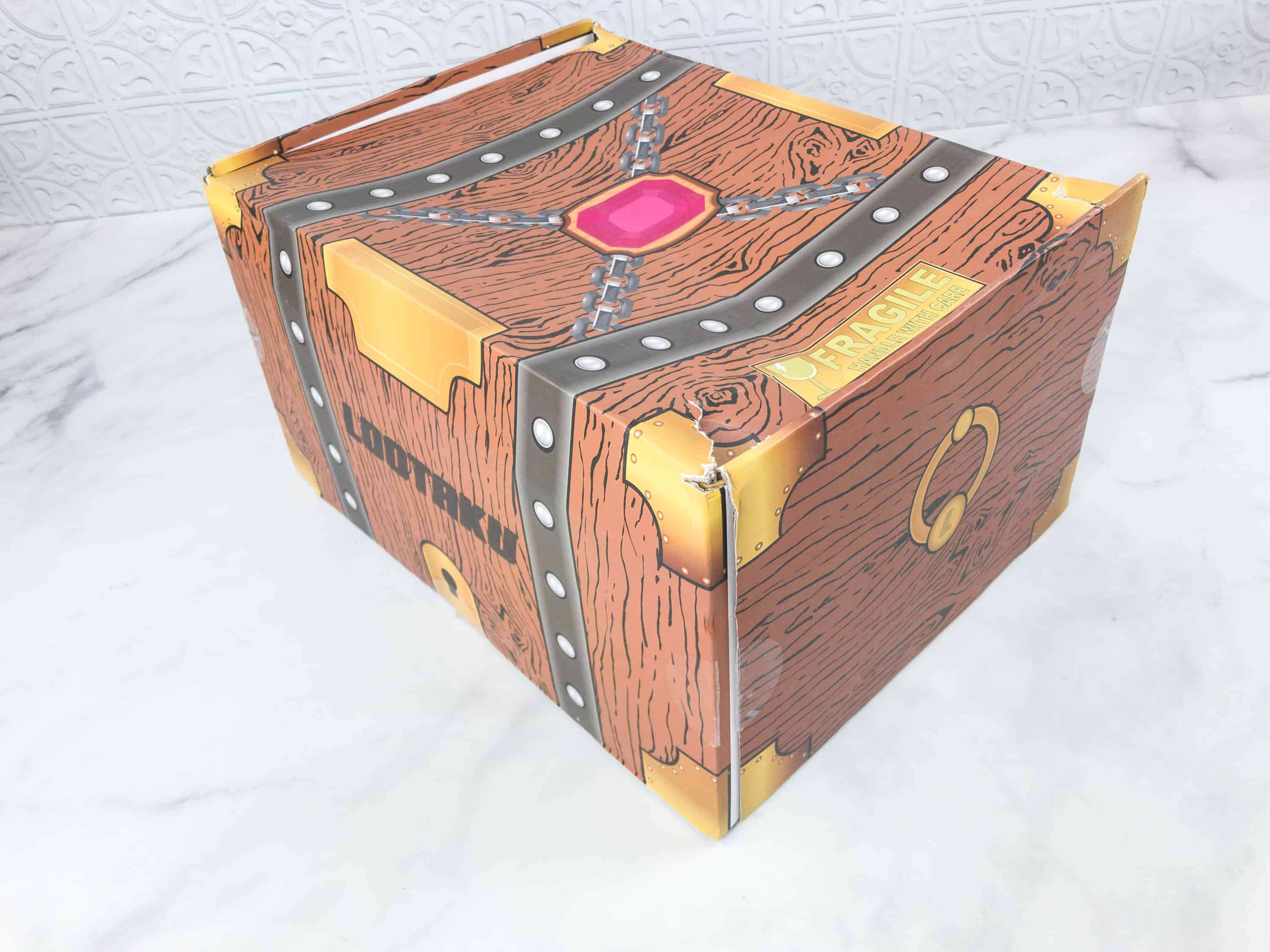 DEAL: Save 5% when you use this link and code DISCOUNT5.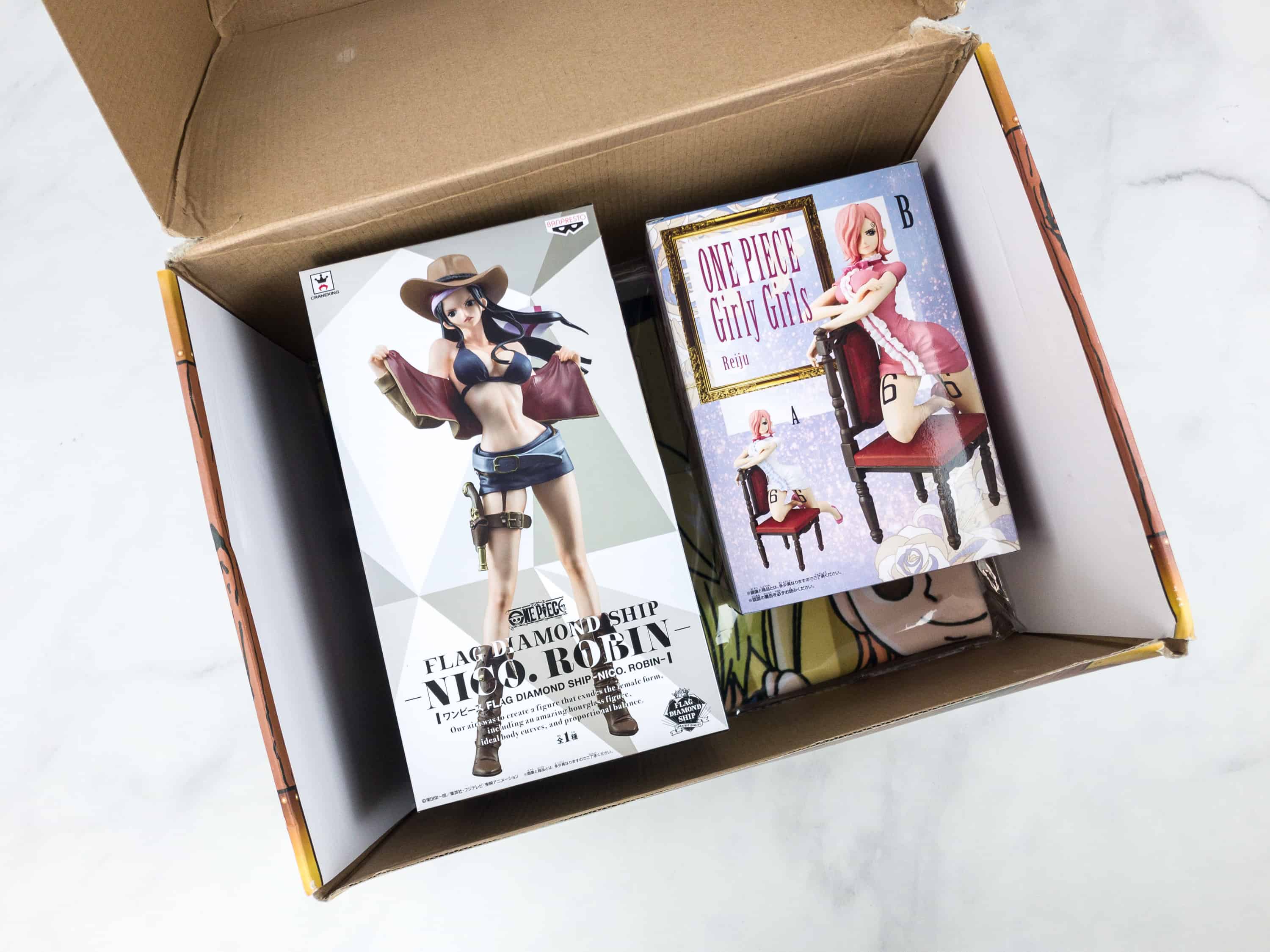 The theme this month is GIRLS OF ONE PIECE.
The item information card, or Loot Table, is thick and glossy. It contains lots of details! When there are variations, it typically lists each possible variation you might receive.
The box also has these words inscribed: "The one who finds this chest shall be granted treasures of unimaginable value."
All the goodies inside my April 2018 Lootaku Box!
Displate Boa Hancock Metal Print ($20) Displates are metal posters which are handcrafted during the manufacturing process and are even signed by the master of production.
It can serve as a decorative piece and can be mounted with a magnet!
The displate features the Pirate Empress, Boa Hancock, who is also known as the Snake Princess. As you can see, she is surrounded by what looks like snakeheads. Considered as one of the most beautiful women in the world, we can also see from this design how well-proportioned she is.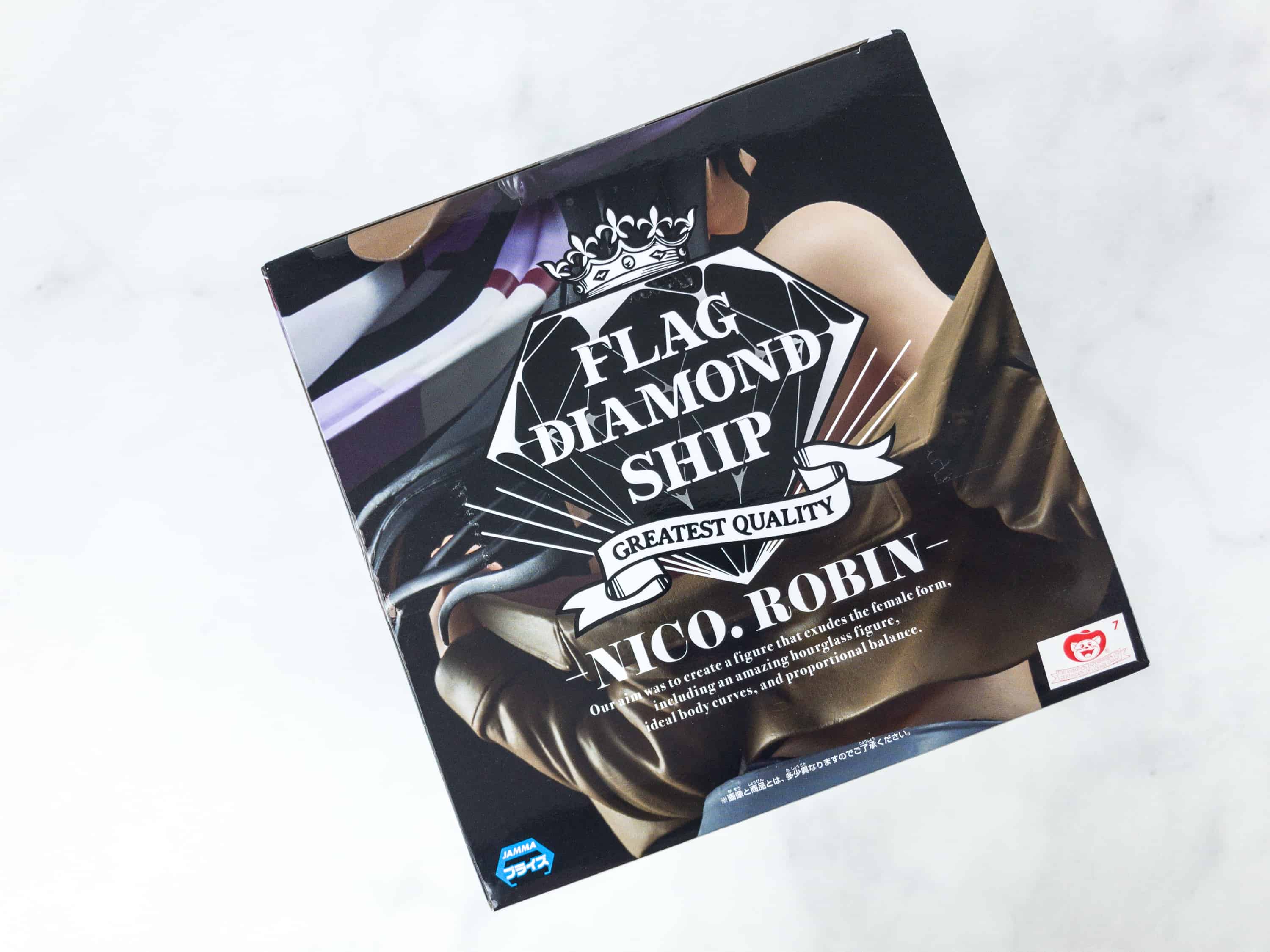 Banpresto One Piece Flag Diamond Ship Nico Robin ($40) Lootaku introduced the Flag Diamond Ship line in their previous One Piece box by giving special upgrades to lucky subscribers with the Boa Hancock figure (I wasn't able to get it, though). This time, they are including this Nico Robin figure in every box, no more special upgrades needed!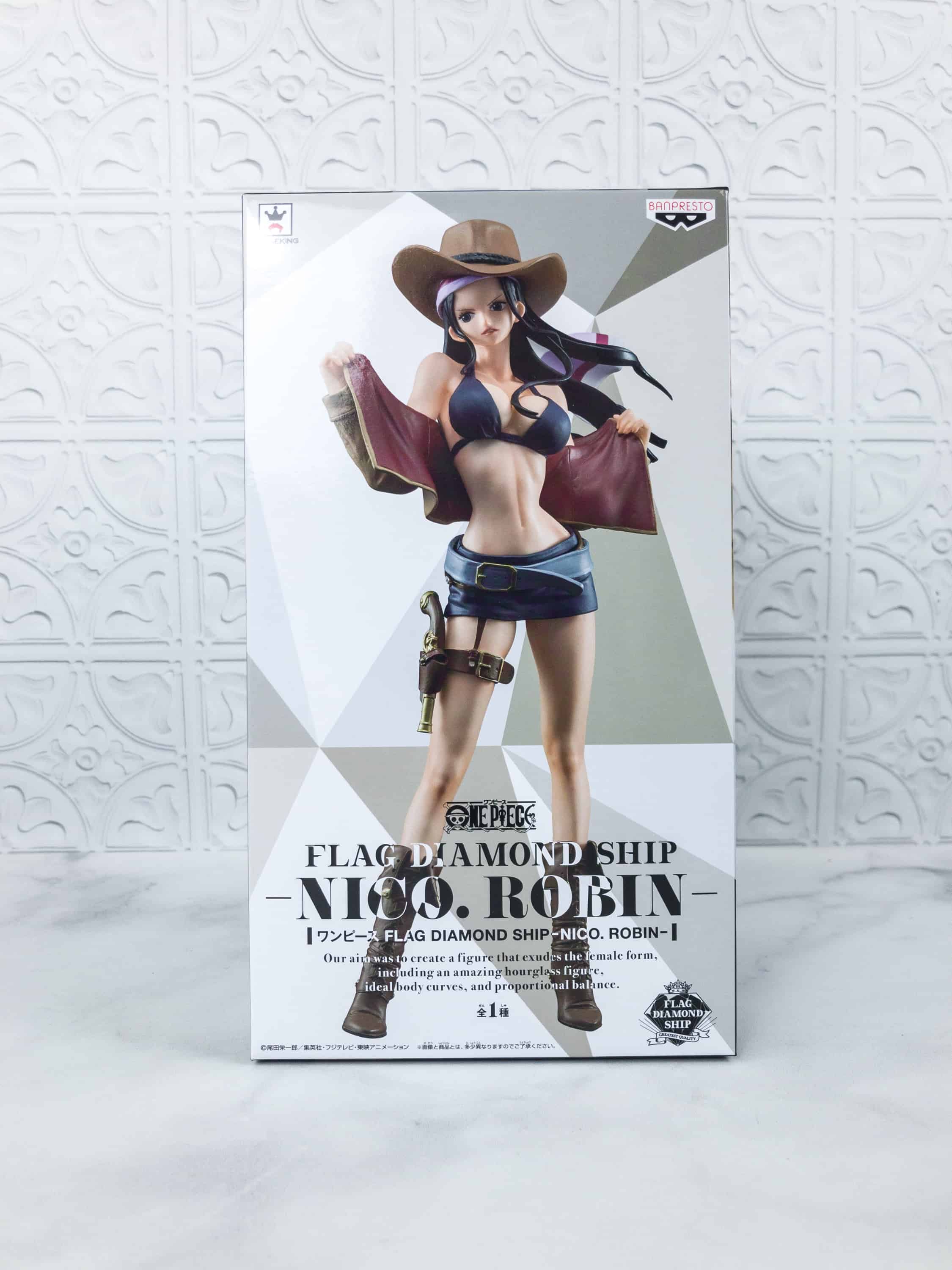 Flag Diamond Ship is a new line of large-scale female figures sporting their original pirate costumes.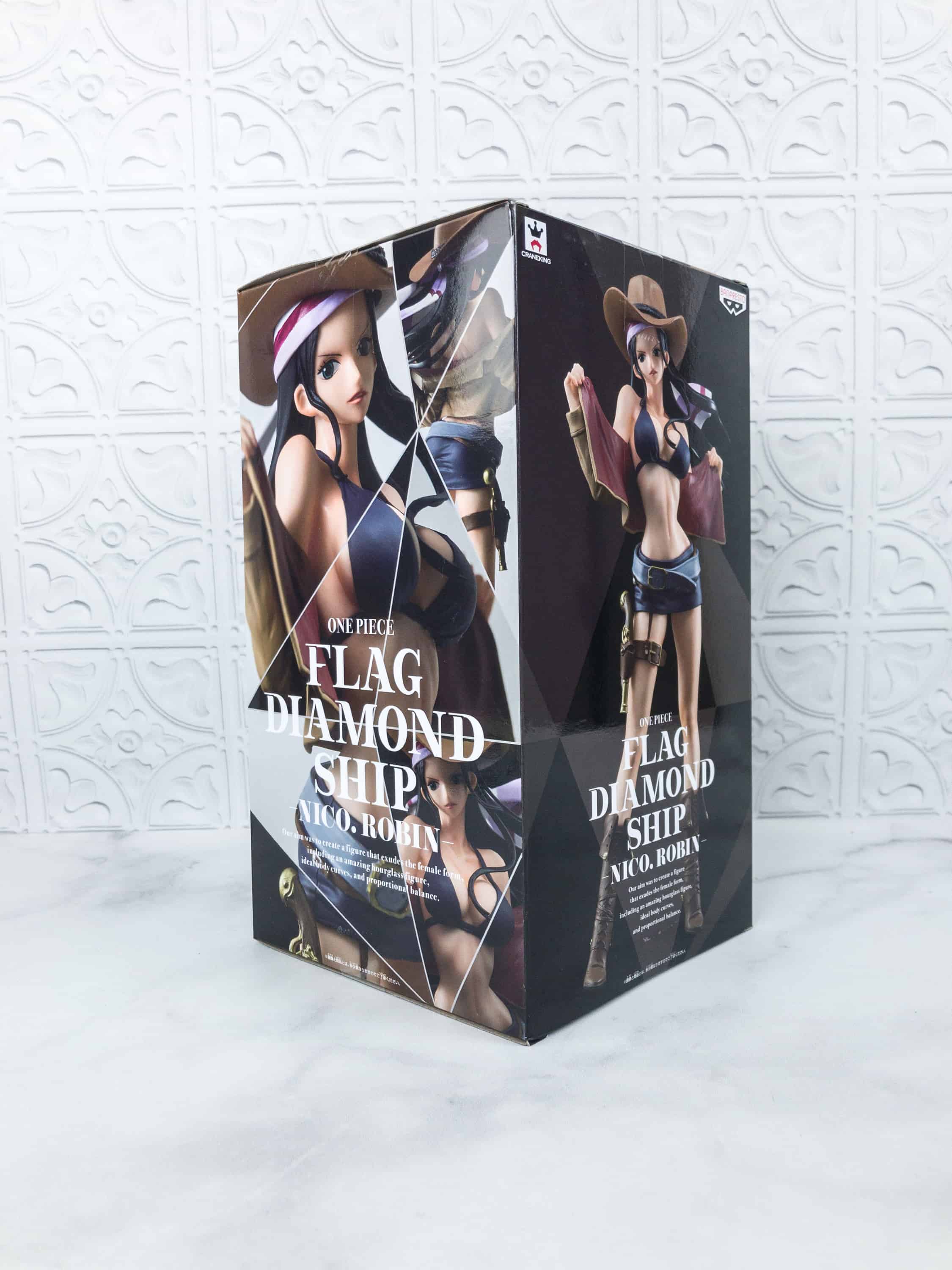 They dedicated their efforts in making the figures include an hourglass figure, to have "ideal" body curves and proportional balance.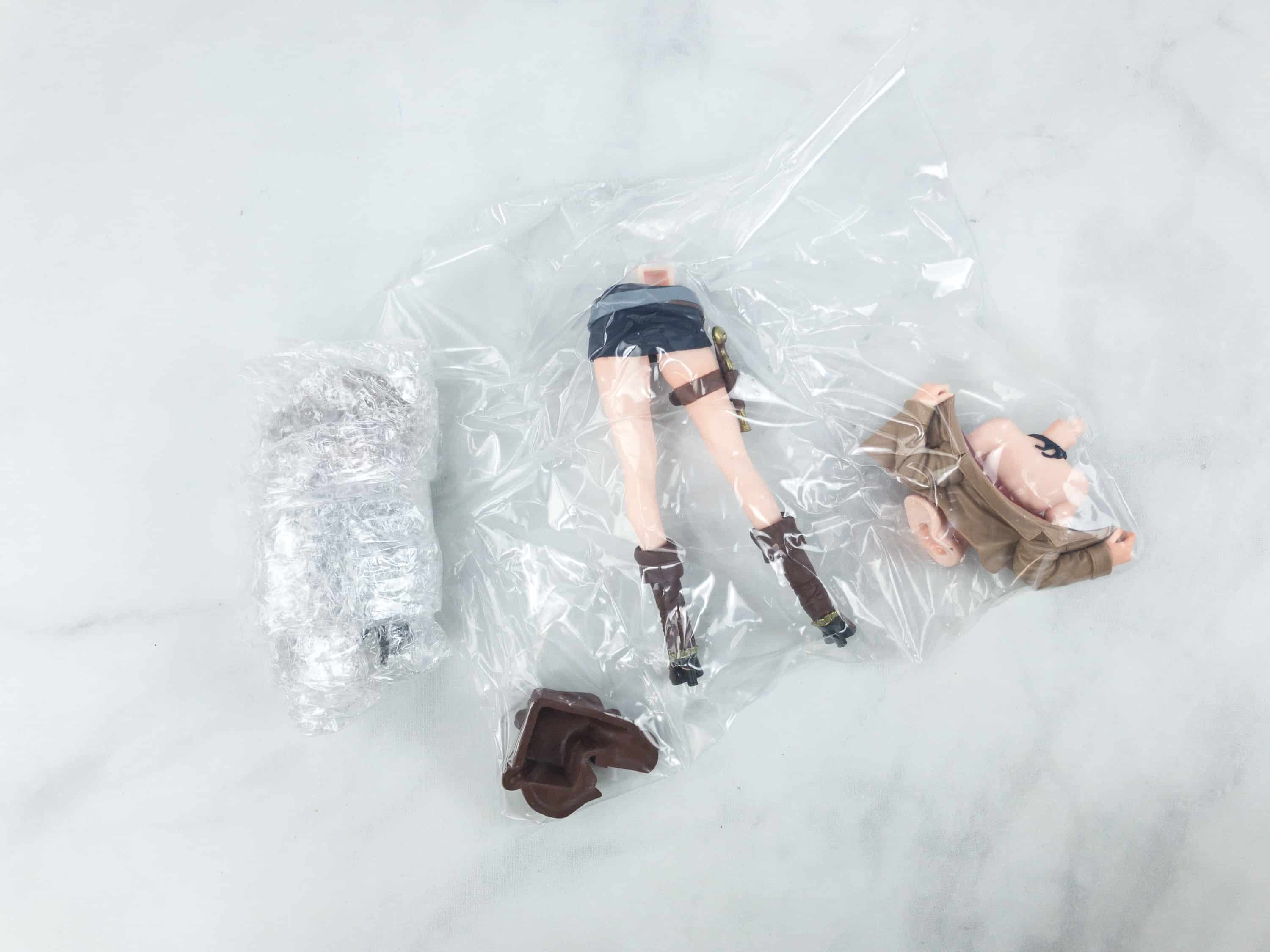 Each part comes protectively wrapped in plastic.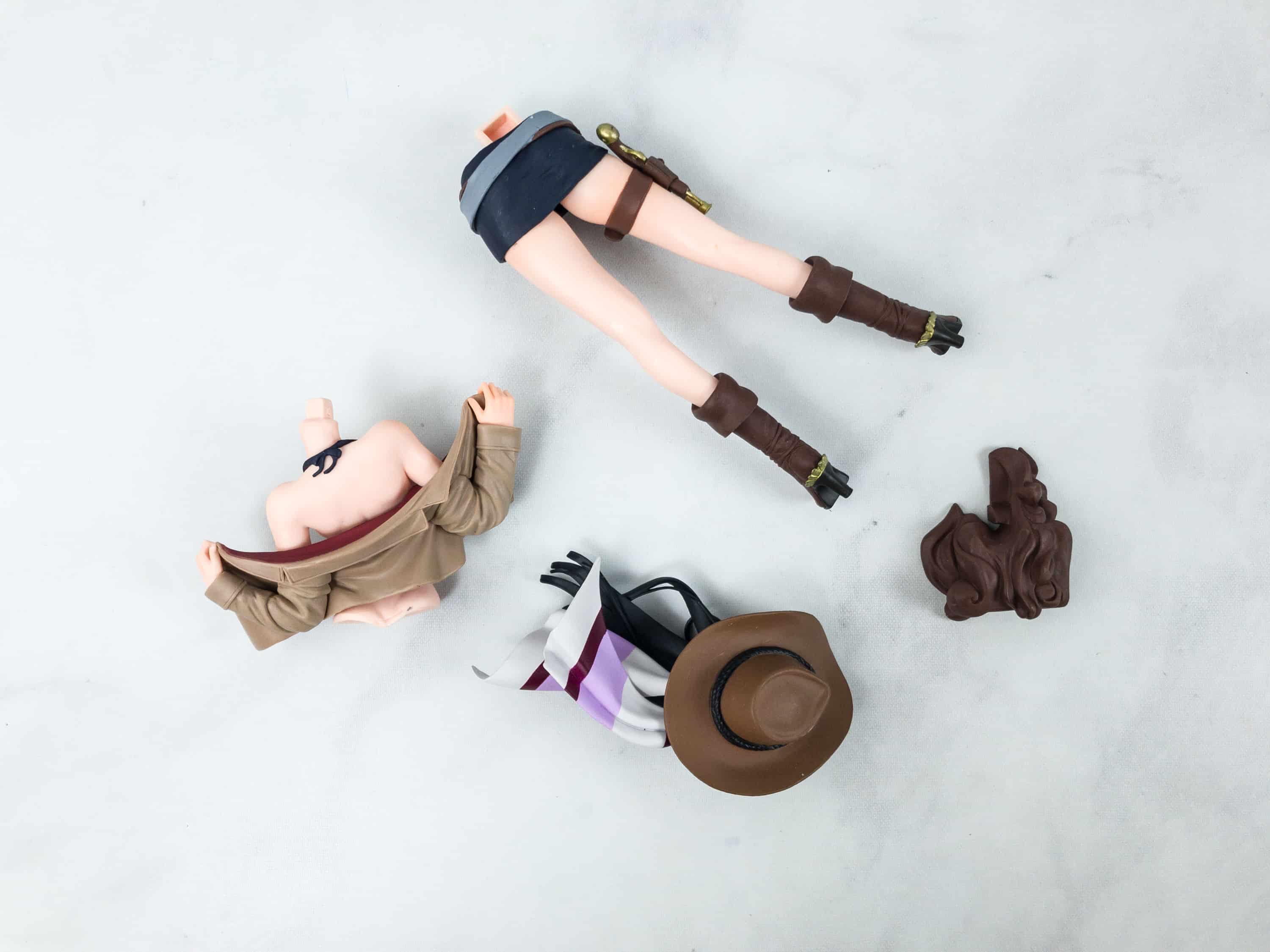 The figure comes in 4 easy to assemble parts.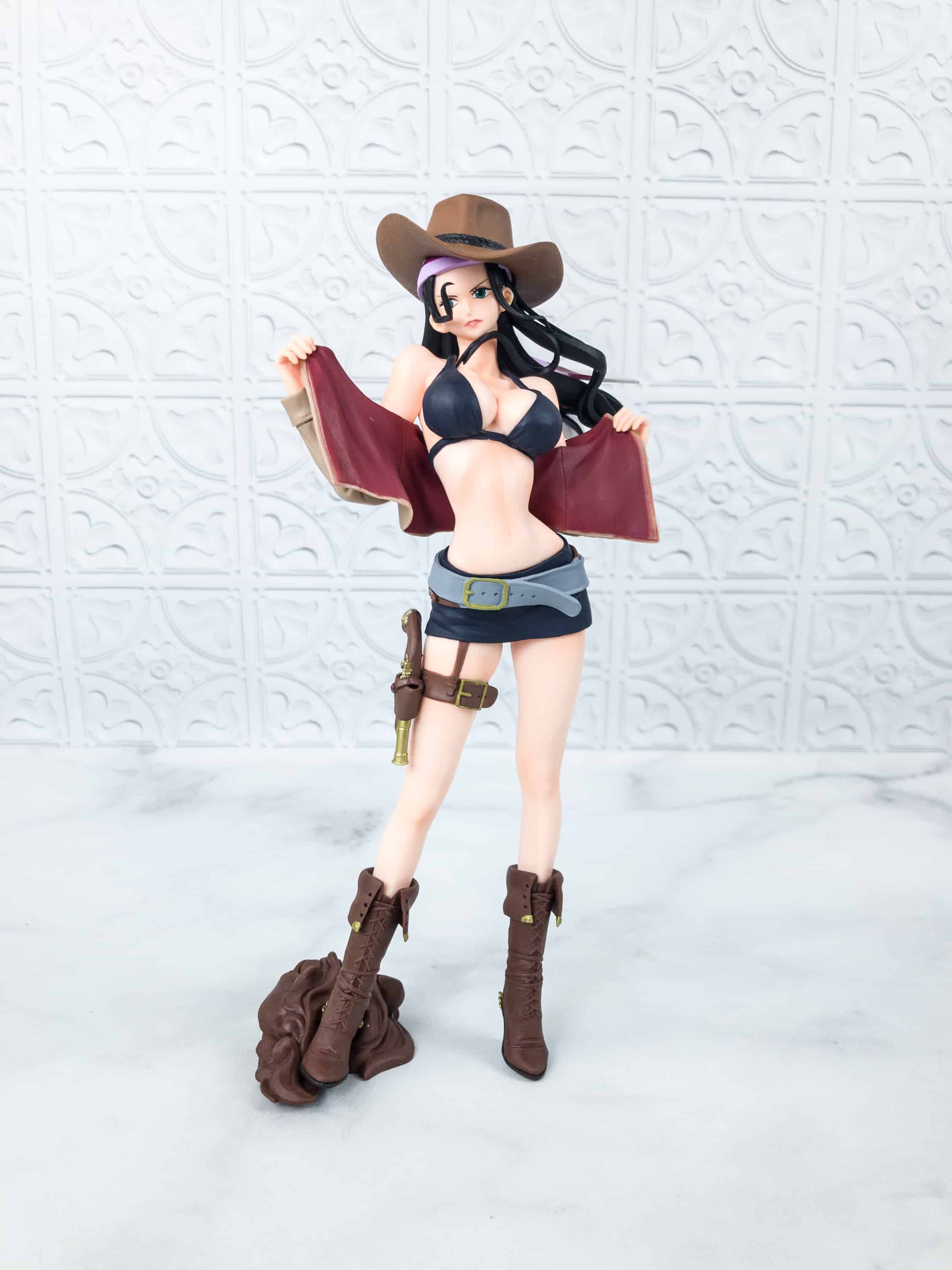 The figure stands a whopping 10 inches! It's really a taller figure than most figures from this subscription. It's also nice that they provided a support for one of the figure's feet as the figure alone cannot stand on its own. Must have something to do with those "proportional" body measurements!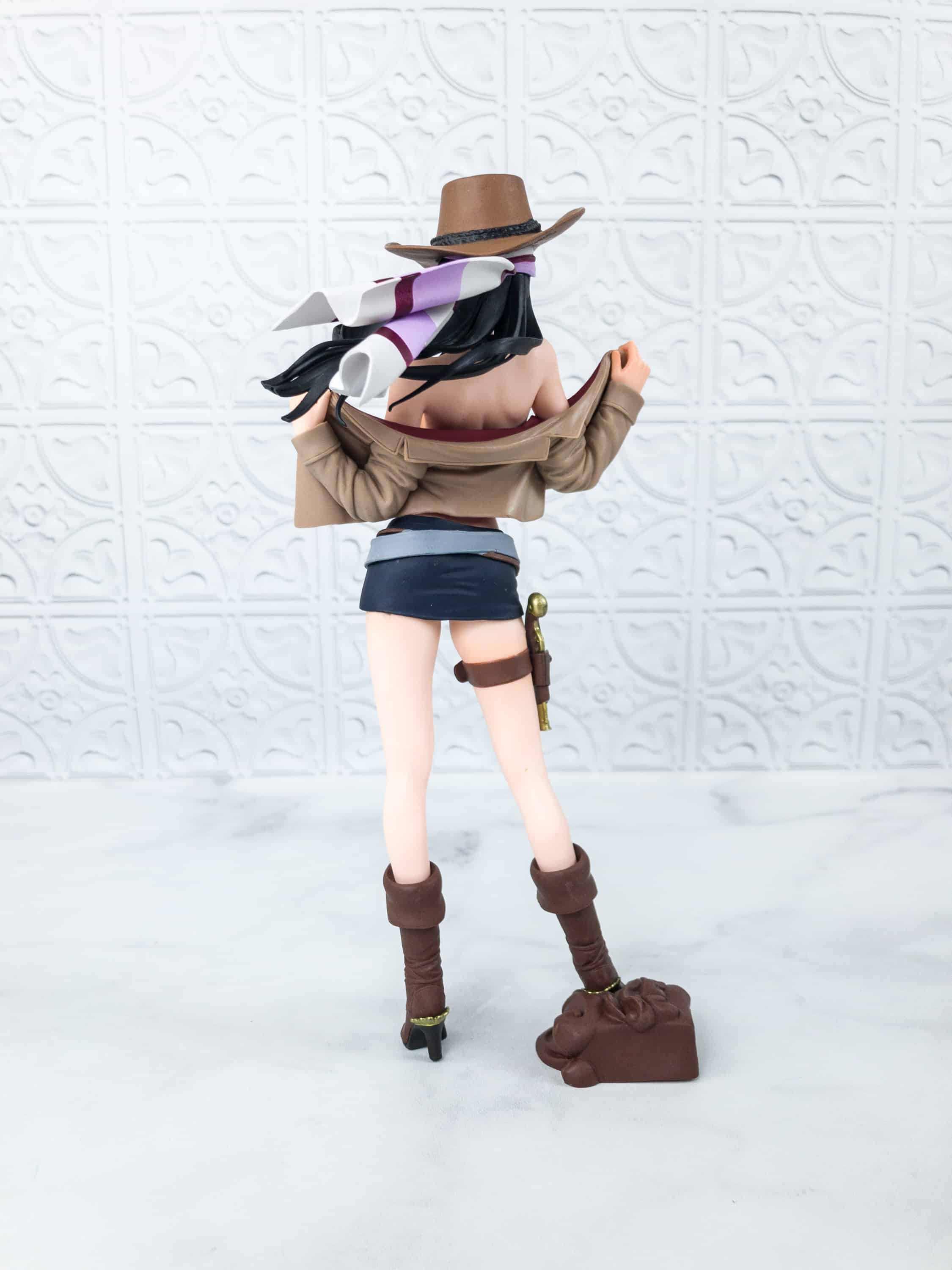 They really captured Nico Robin's physical attributes: tall, slender, and her long black locks that look like they're being blown by the strong wind. She is wearing a skimpy cowgirl outfit consisting of a long-sleeved shirt, a purple corset and matching miniskirt, a cowboy hat, and brown boots.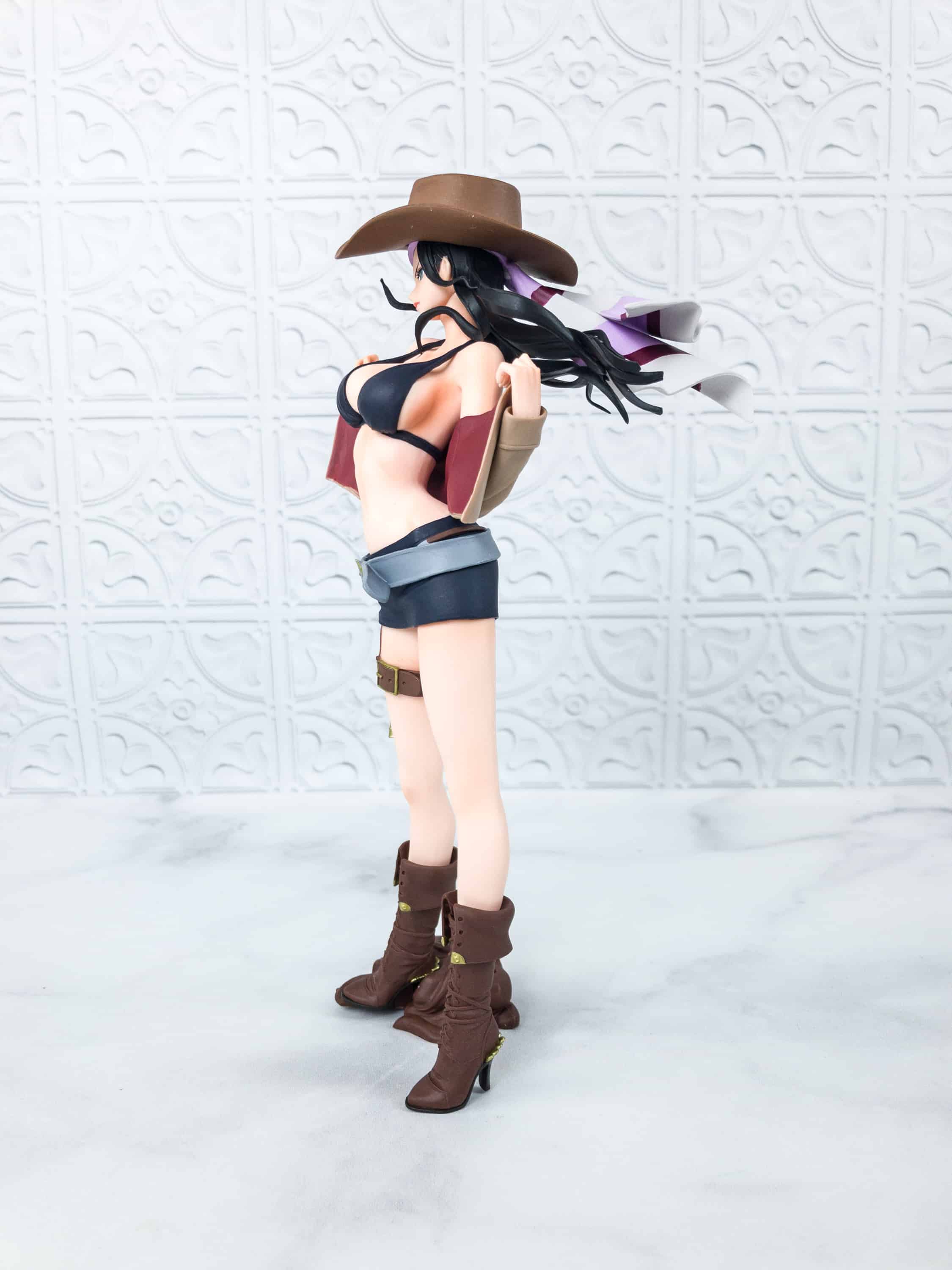 Nico Robin is the Straw Hat Pirates resident archaeologist, whose devil fruit is the Hana Hana no Mi (Hana Hana Fruit).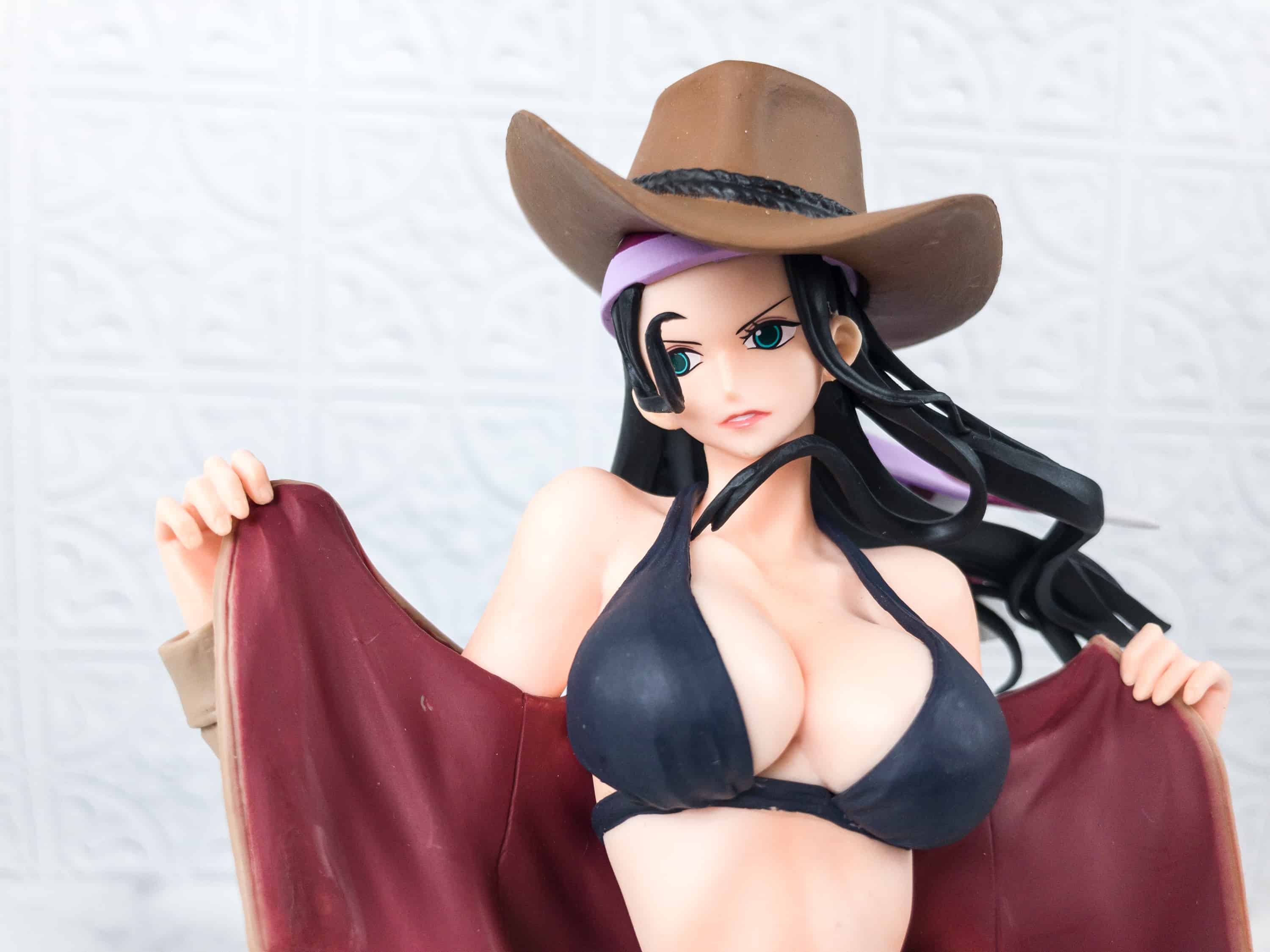 Nico Robin also once played as an antagonist to the Straw Hat Pirates during the Alabasta Saga, where she is the vice president of Baroque Works.
On one of her long legs holds her holster rig where she places her gun.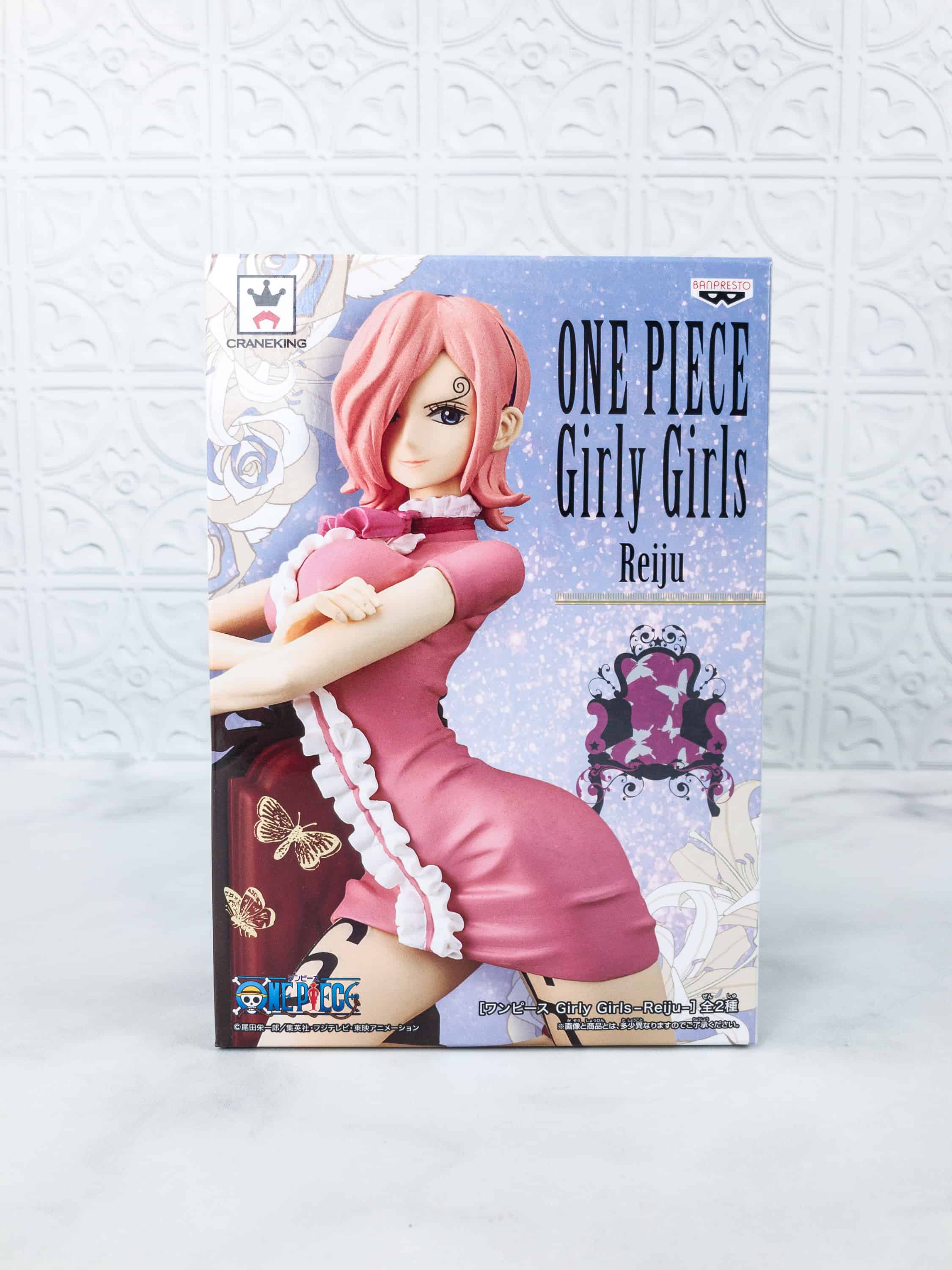 Banpresto Girly Girls Reiju Vinsmoke ($30) The Girly Girls line of figures from Banpresto features characters in their very feminine poses. We got Poison Pink, Reiju Vinsmoke!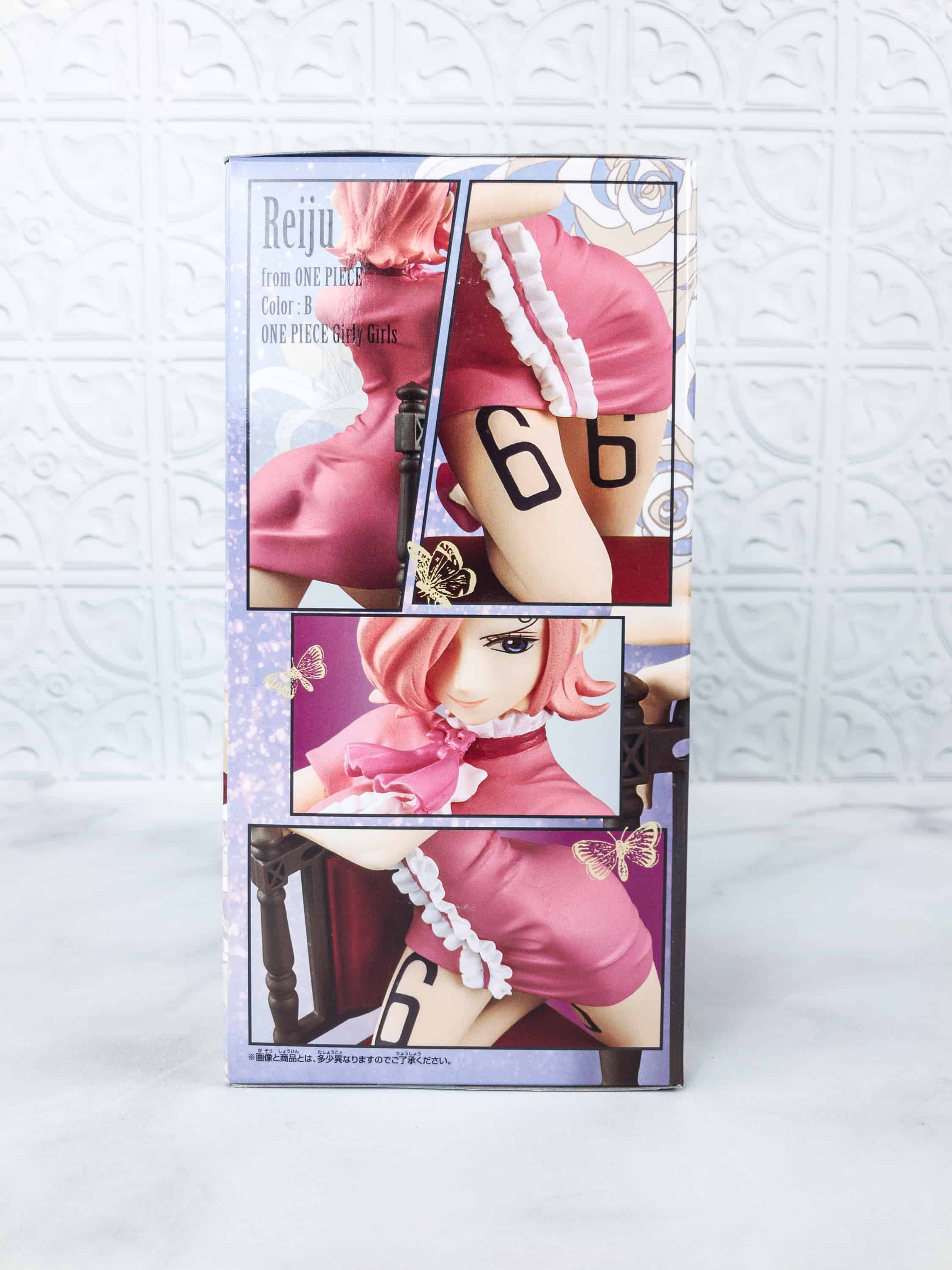 The box shows photos of the figure shot in different angles.
The figure comes in two variants, A and B. Figure A wears the white dress, and Figure B wears a pink one. We got the latter!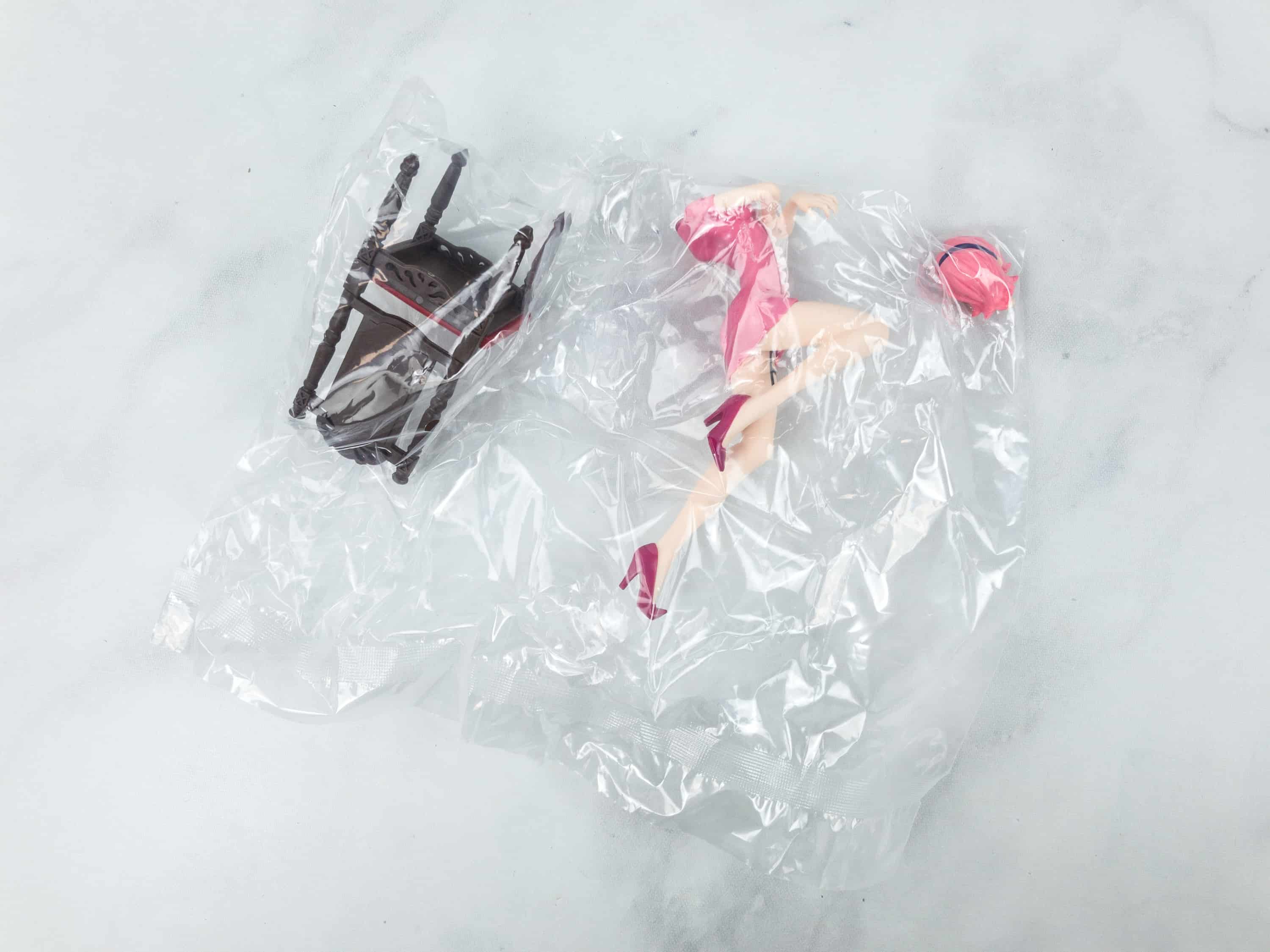 The parts came protected in plastic.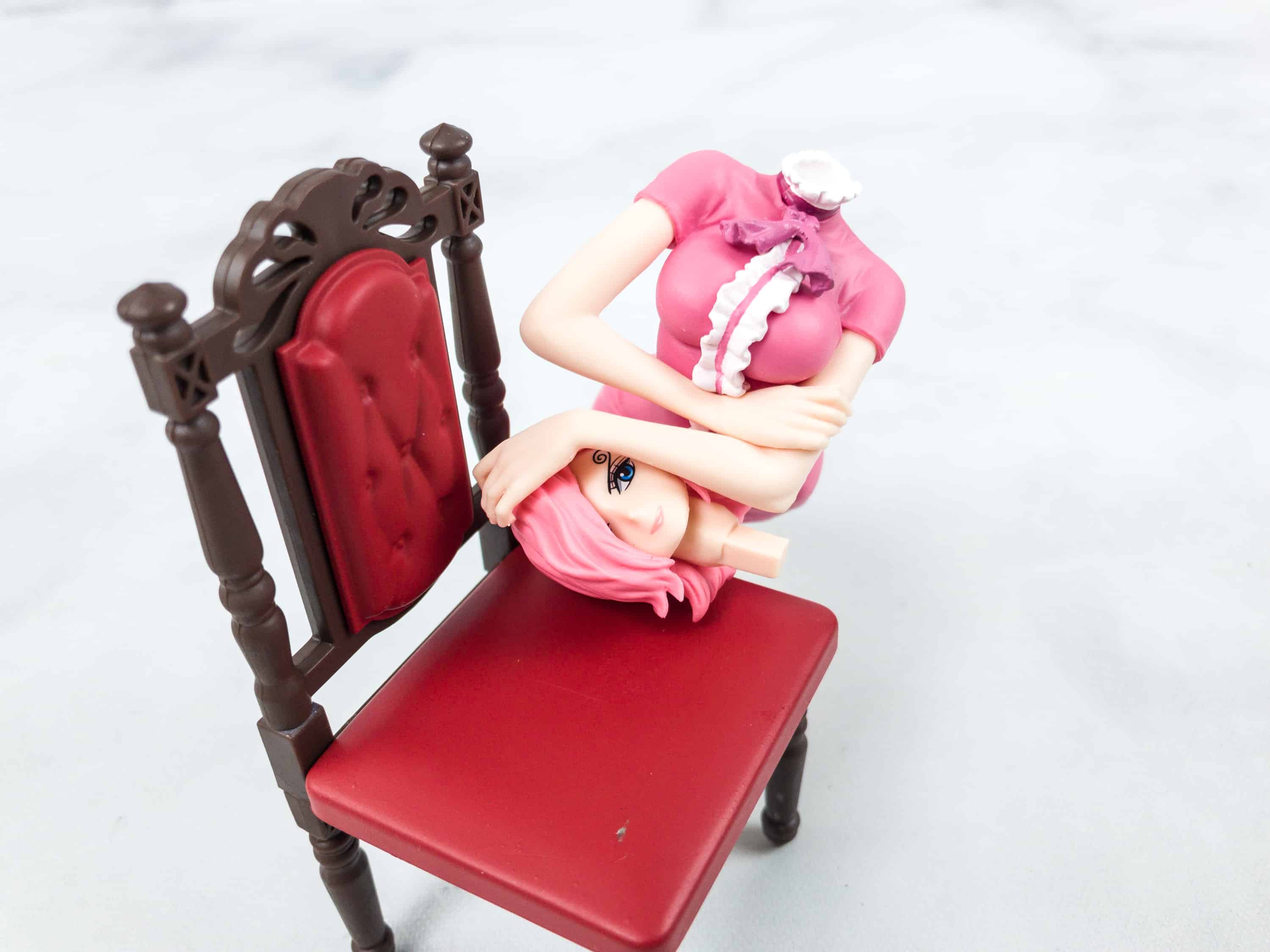 I am really excited to assemble this figure.
The figure is in 3 easy to assemble parts: Reiju's head, body, and a chair.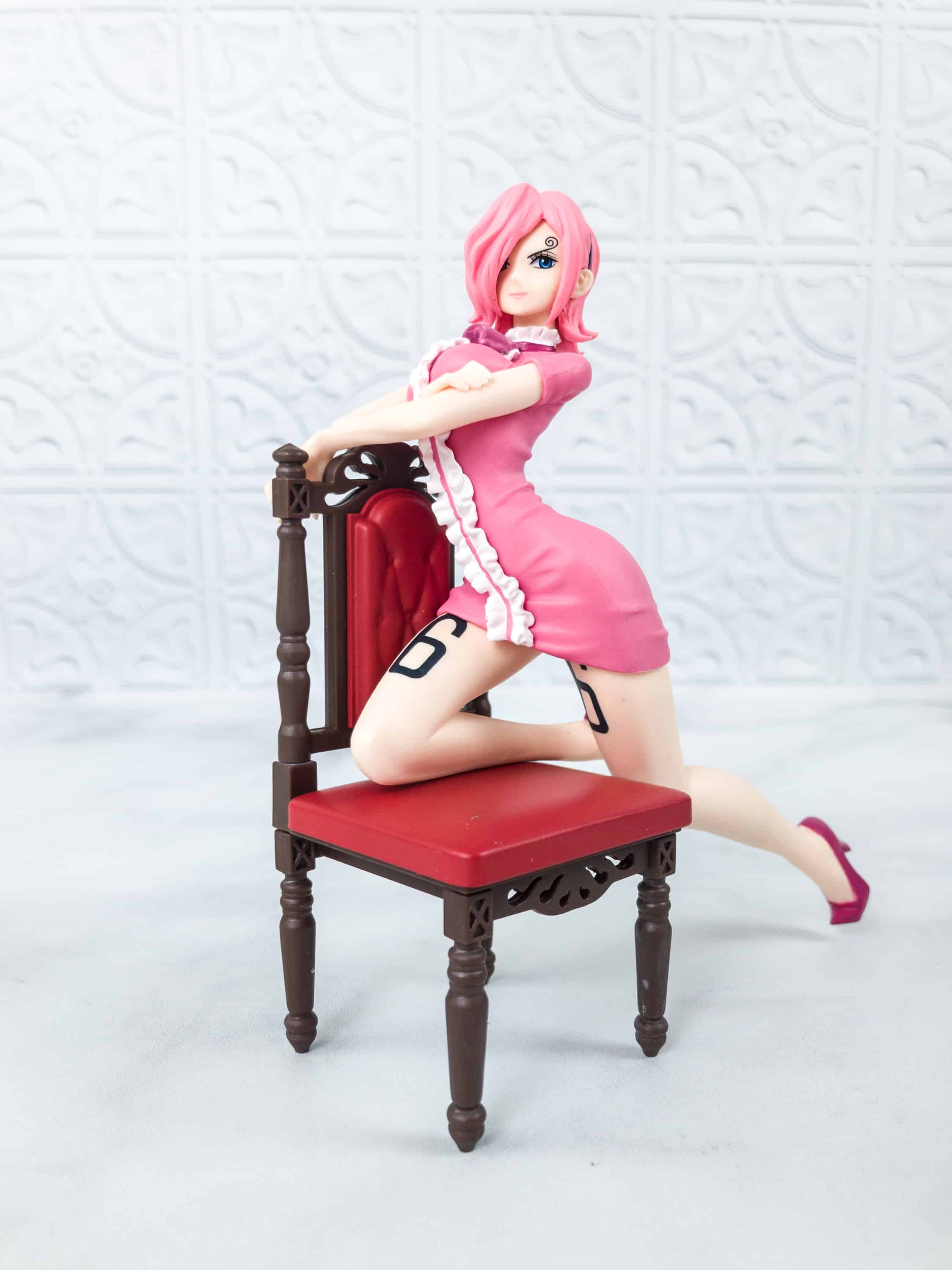 Vinsmoke Reiju is the eldest child and only daughter of the Vinsmoke Family. AShe is a princess of the Germa Kingdom, also known as the Kingdom of Science, and a commander in its military arm, Germa 66.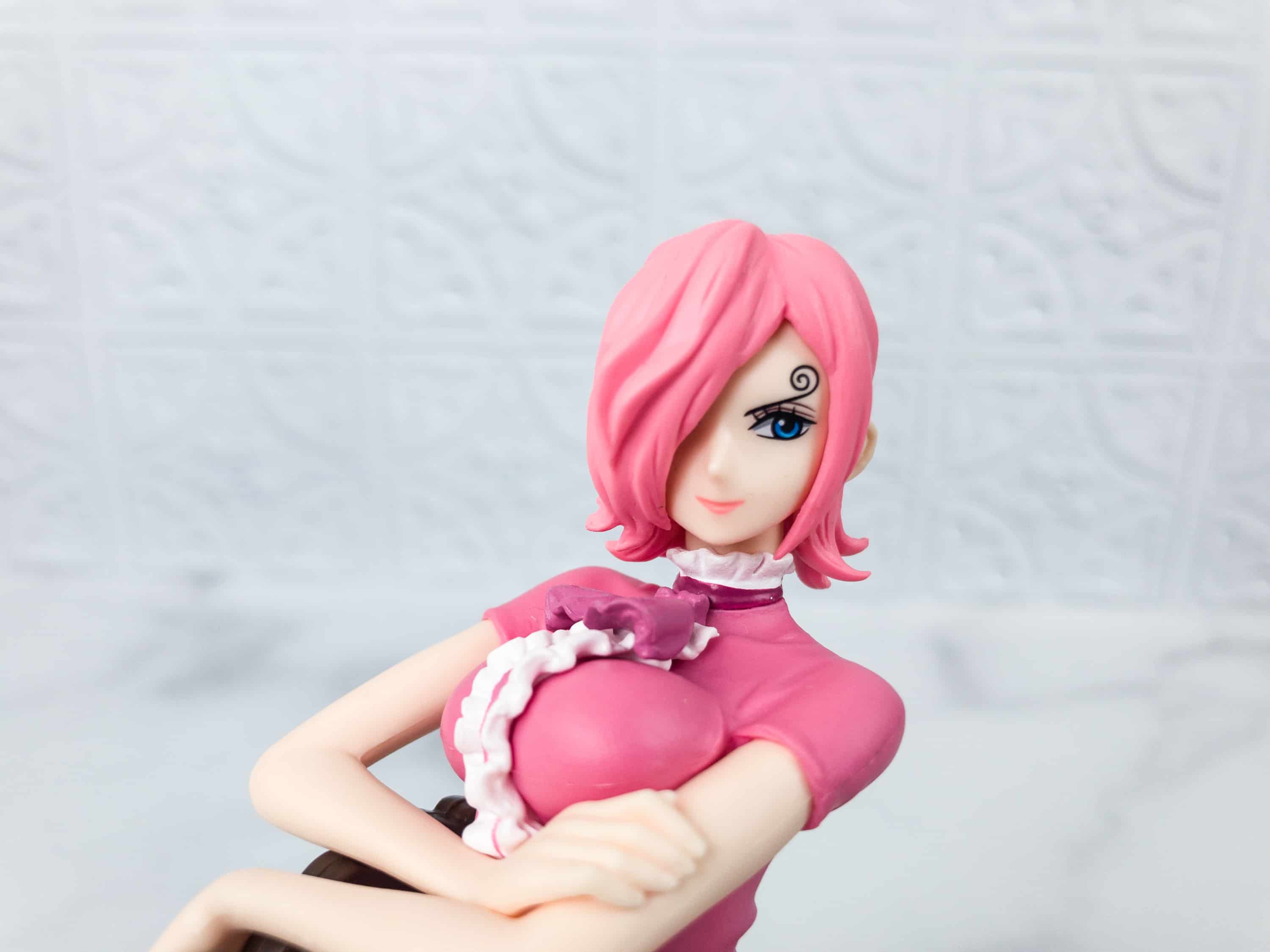 Reiju is a slim young woman with shoulder-length pink hair that covers her right eye and curls upwards at the tips, and she also wears pink lipstick. It's pretty obvious what her favorite color is!
Most girl characters in One Piece have the same hourglass-shaped body and curves.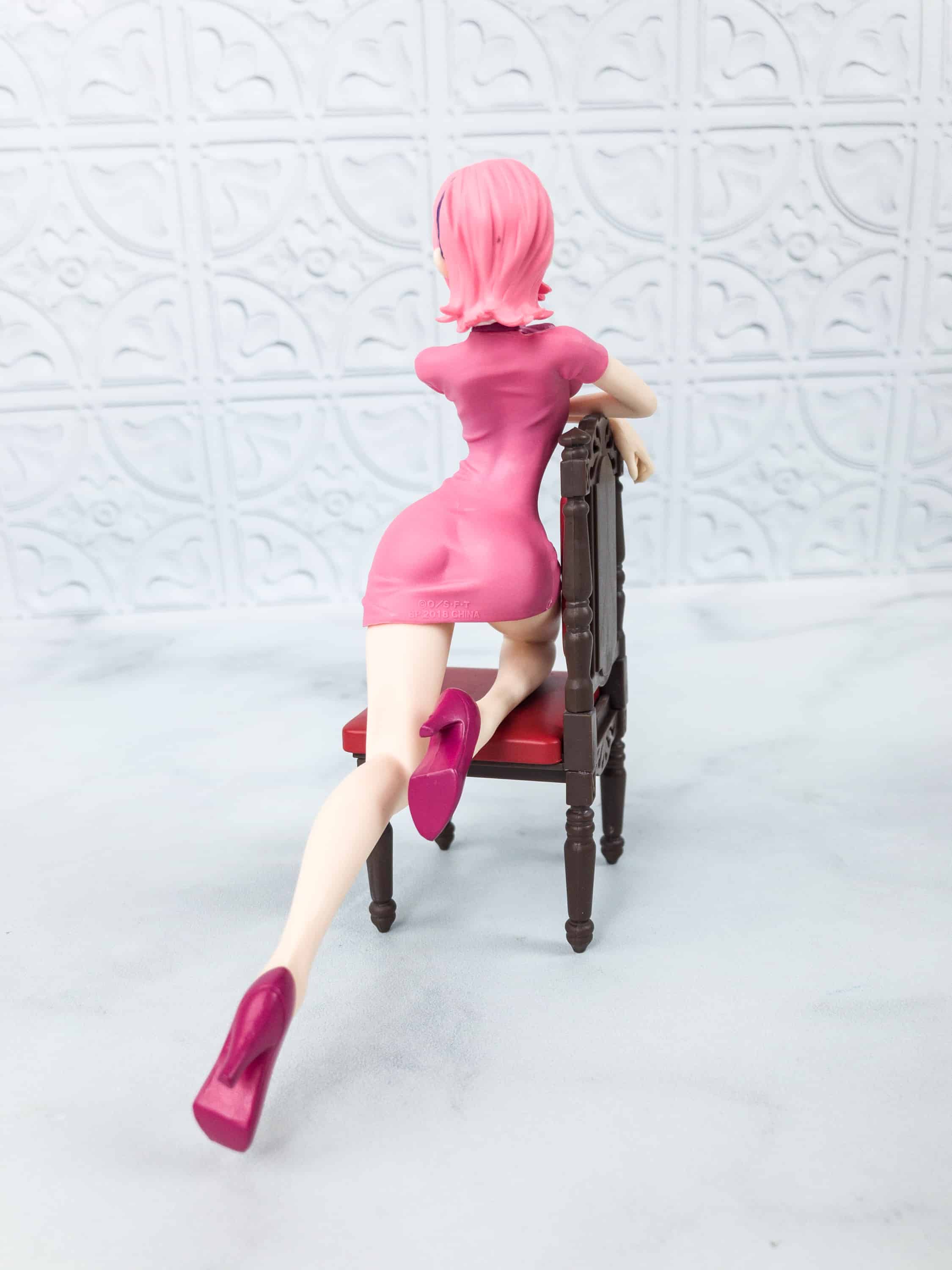 The pose of this figure is feminine indeed!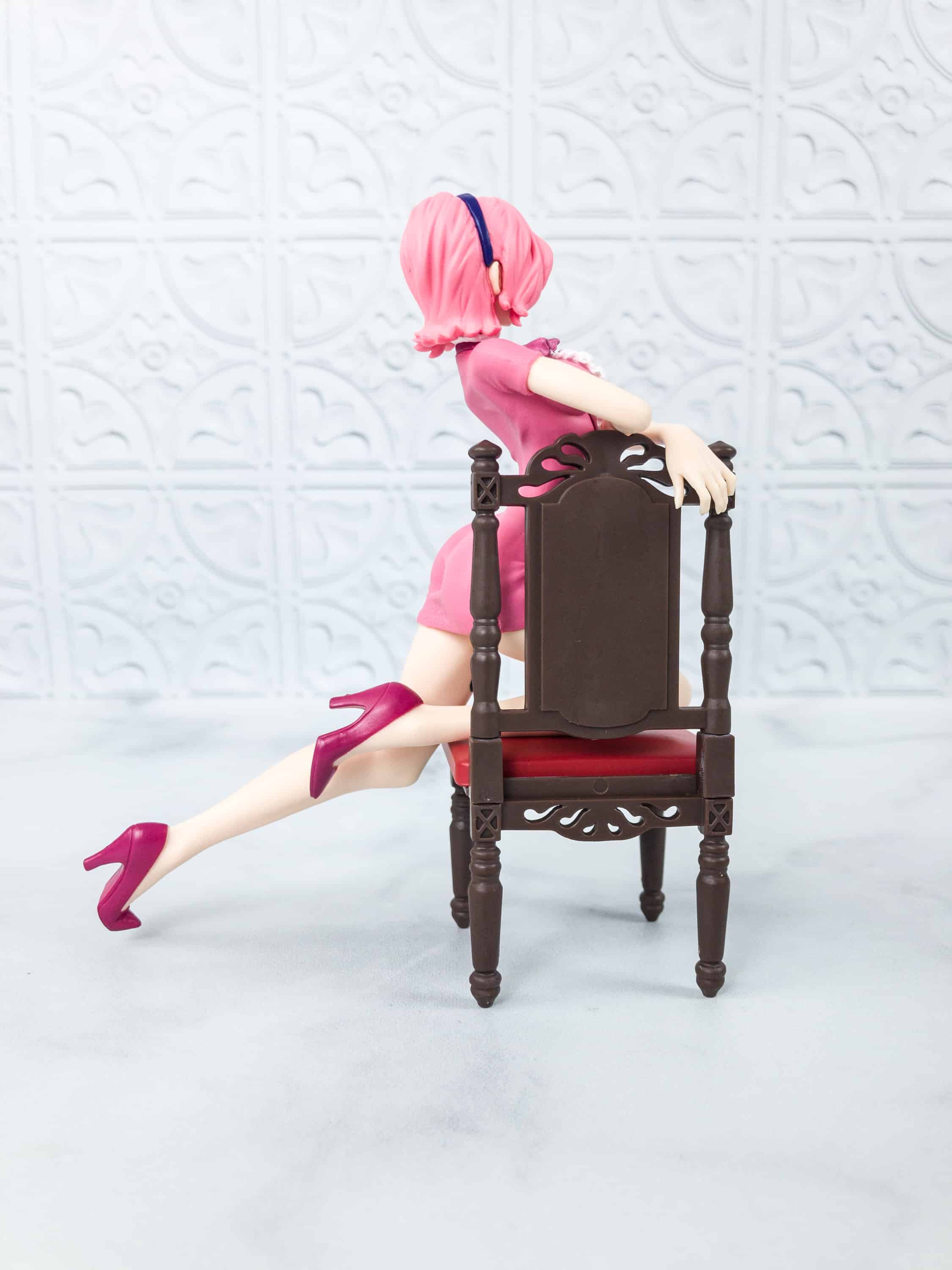 The details and paint job of the figure and her prop is really impressive.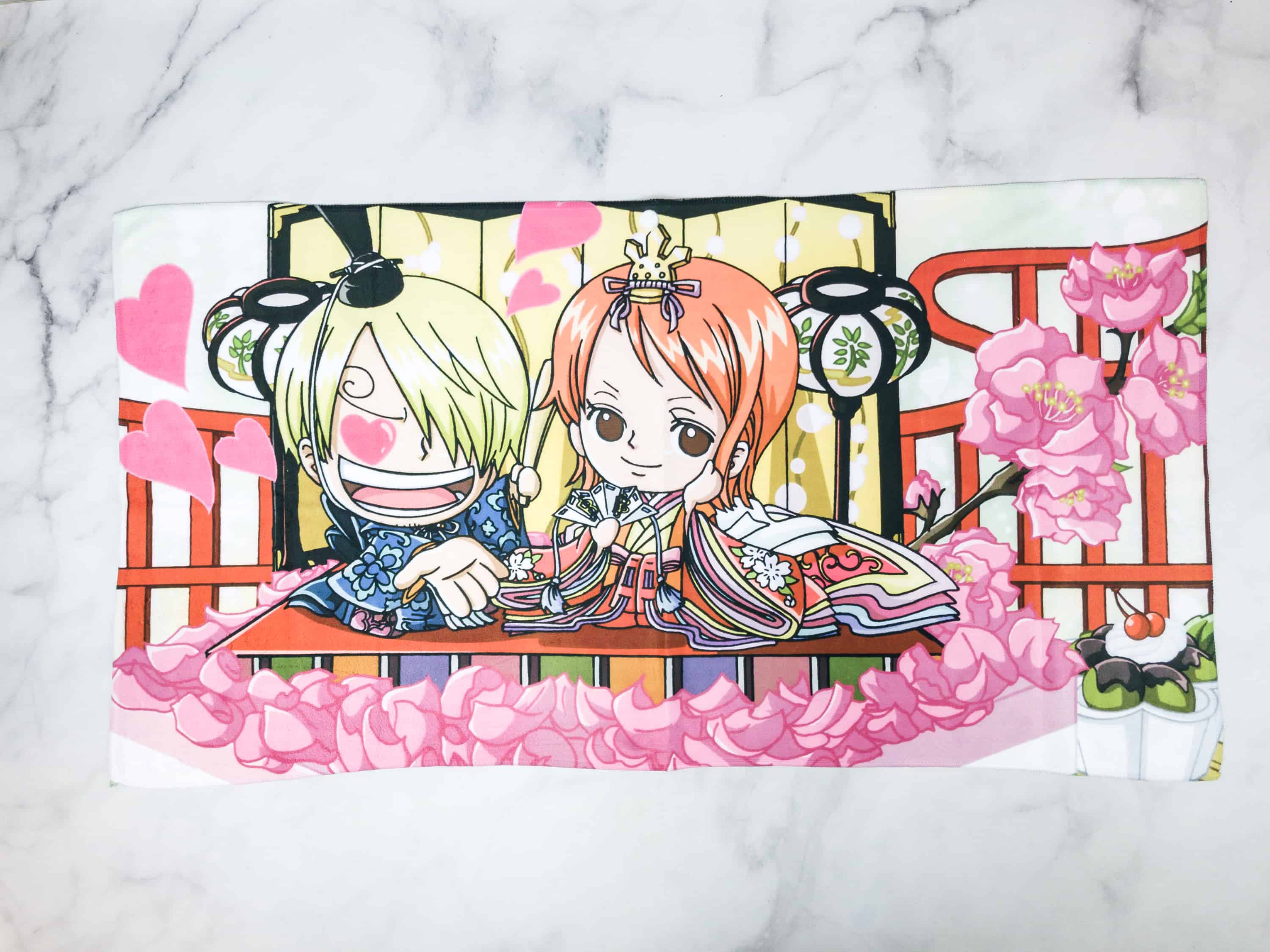 Sanji & Nami Bath Towel ($15) This cute towel is made from soft synthetic fiber. It features the lovable One Piece characters, Sanji and Nami!
The towel measures 50 x 100 cm. It's really soft and the colors are great, with all the Sakura surrounding the two cute characters who are wearing traditional Japanese costumes.
Getting another One Piece themed box from Lootaku is awesome! We're impressed with the new lines of figures they introduced. I really like the towel too, since it's well-made and features a cute version of One Piece characters. Even the displate is nice, and it's also an exclusive item – that size of the art print is only made for Lootaku. This subscription definitely brings in something new every month, so if you're an anime fan who looks forward to amazing figures and a great variety of stuff every month, this one's for you! This is definitely their sauciest edition yet.
What do you think about Lootaku?