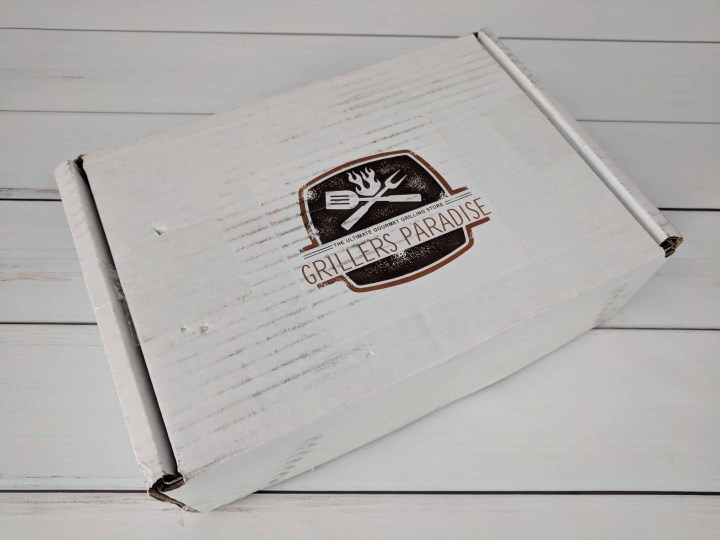 Grillers Monthly is a subscription service from Grillers' Paradise, an online Canadian store that supplies all your gourmet grilling needs! They bring a vast selection of spices, sauces, sea salts and other grilling necessities to their customers, but they also have a monthly subscription box so you can sample a unique assortment (4-6 full size products) of the best quality grilling spices, salts, sauces, rubs, marinades or grilling accessories. If there is a story to tell about the products, they include the story and sample recipes where available. This box is CDN$ 39.95 with free shipping across Canada.
DEAL: Get $4.95 CAD off your purchase of a 1, 3 or 6 month subscription to Grillers Monthly. Use coupon code HS2017.
Everything is neatly packaged in paper tissue and nothing moved during transit, even the glass jar.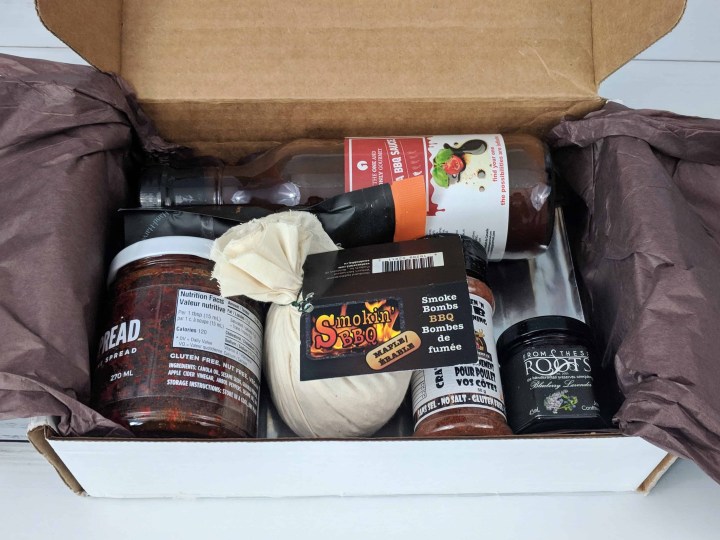 Things are looking good!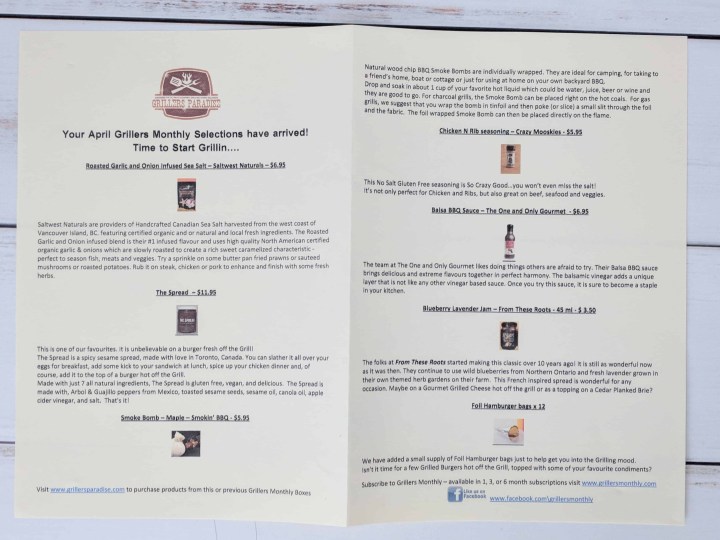 All the items are described on a piece of paper, with ideas of how to use them. This month's selection includes a flavored sea salt, a BBQ sauce and a sesame spicy spread. Most of the products, if not all, can be ordered a-la-carte from Griller's Paradise website.
Saltwest Naturals – Roasted Garlic and Onion Infused sea salt. I like having different type of salts on hand for an easy dry rub, to add some fun flavors to a salad dressing or some sauteed veggies, or just to sprinkle over a hard-boiled egg for a tasty snack.
Chicken N Rib seasoning – Crazy Mooskies. This is a nice no-salt option to flavor your chicken or other piece of meat, as well as your tomato sauce. It has paprika, cumin, black pepper, garlic, chipotle pepper, coriander and it's quite flavorful!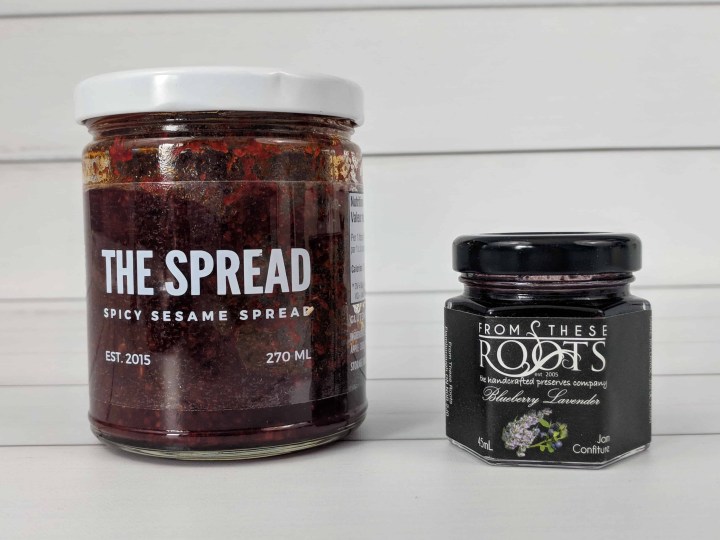 The Spread. This Spicy Sesame spread is gluten-free and vegan. The sesame flavor is quite strong, and the spice level is not overwhelming. It's actually quite sweet (I find sesame sweet), and it would be delicious with grilled meat, or in a wrap.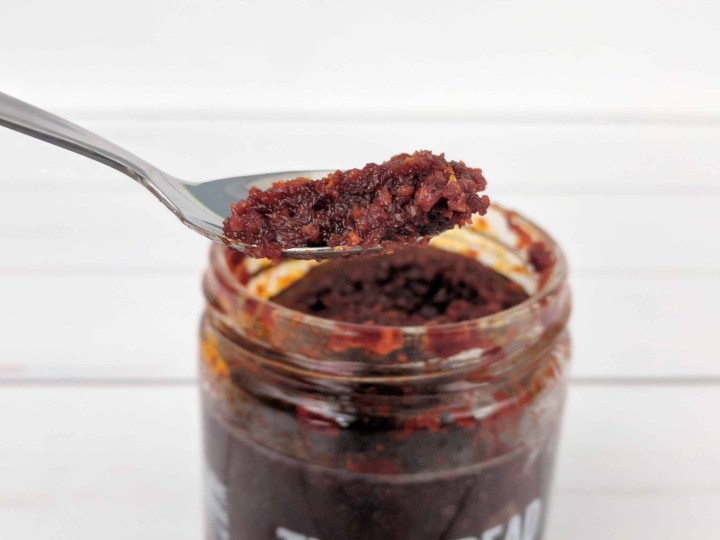 It's easily spreadable, and not too chunky. I really enjoyed it.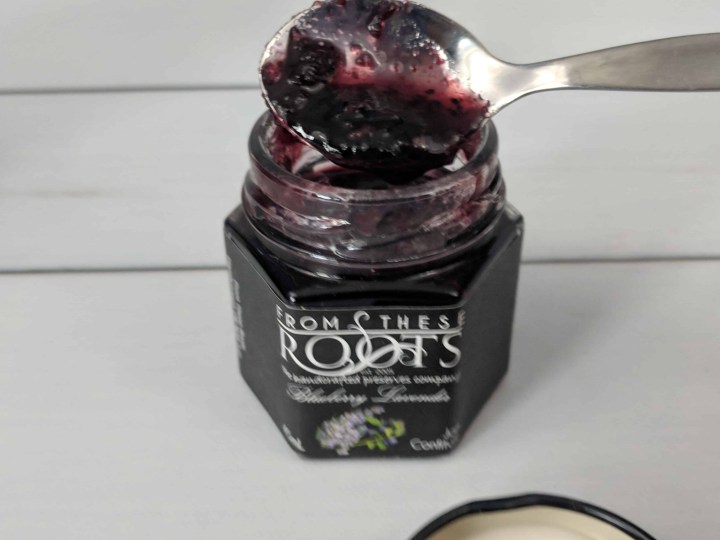 Blueberry Lavender Jam – From These Roots. I'm not a fan of lavender, and this jam has a strong lavender fragrance and taste. The blueberry taste was nice, sweet and smooth. I could see it paired with a nice smoky cheese.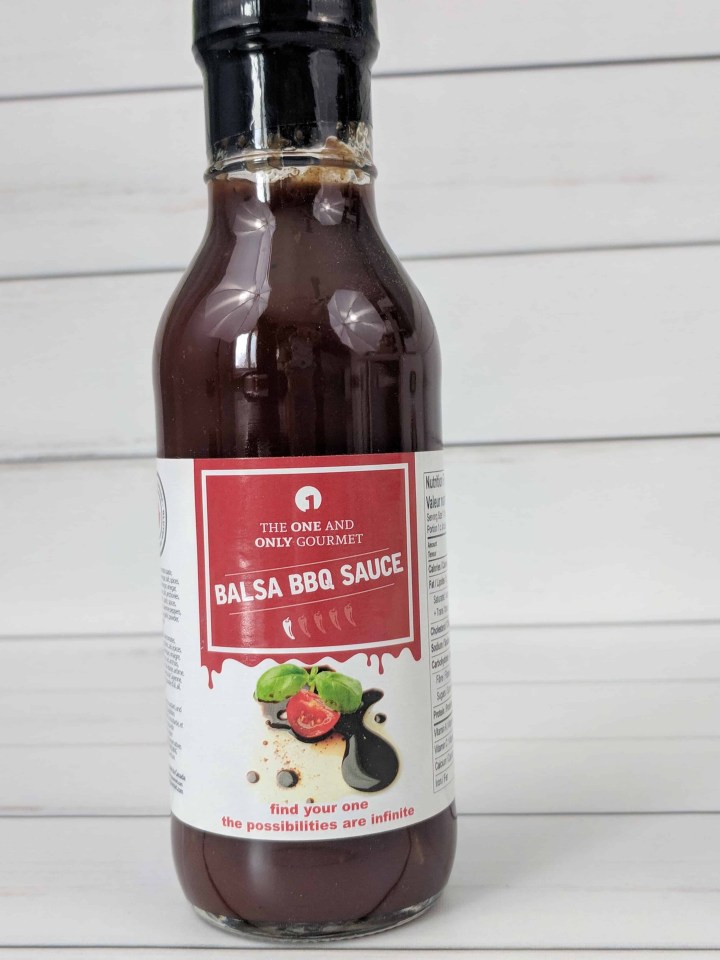 Balsa BBQ Sauce – The One and Only Gourmet. I was pleasantly surprised by the sweetness of this BBQ sauce, thanks to the balsamic vinegar used to make it. It not spicy, but it has a lot of flavor. It's perfect brushed on a burger patty or grilled shrimps.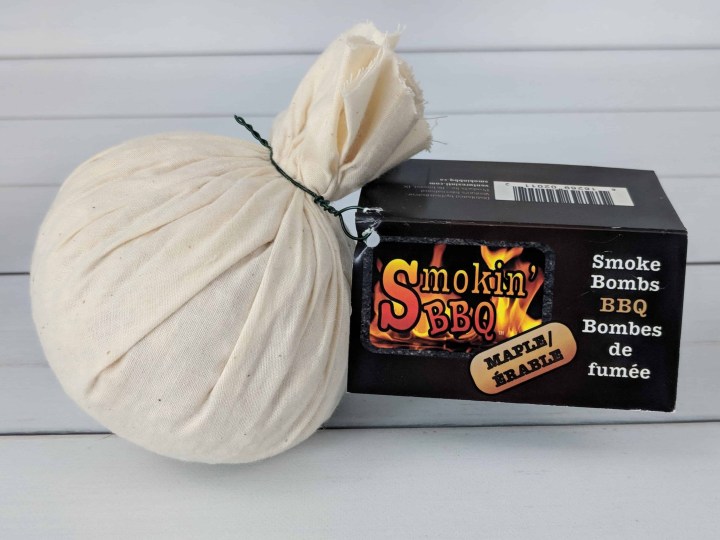 Smoke Bomb – Mape – Smokin' BBQ. I've never used a smoke bomb before and I'm looking forward to it! They are small bags of natural wood chips. The information sheet tells us that we can soak it in the hot liquid of our choice (water, juice, beer, wine), and then place it on the hot coals of a charcoal grills. For gas grills, we only need to wrap it in tinfoil, poke a small slit through both the foil and the fabric and to place it on the flame.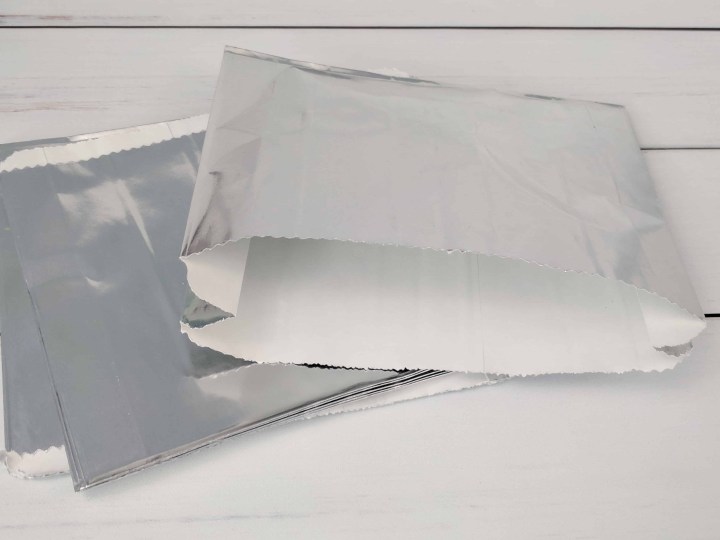 Foil Hamburger Bags (12). Perfect companion of a burger party, just drop your burger overfilled with condiments in these bags and you'l have less of a mess in your hands. No more burnt hands from the melted cheese!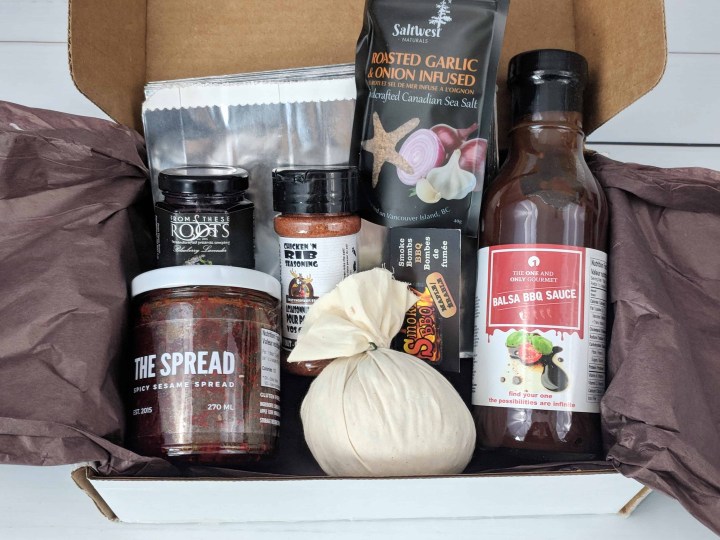 I really enjoyed my April Griller's Monthly Box, especially the roasted garlic and onion infused sea salt and the spread. I'm excited to be using the smoke bomb and the foil bags too. This box really gets me in the grilling mood and it gets me excited about trying different flavoring in my usual grilling recipes!
What did you think of this month's Griller's Monthly?