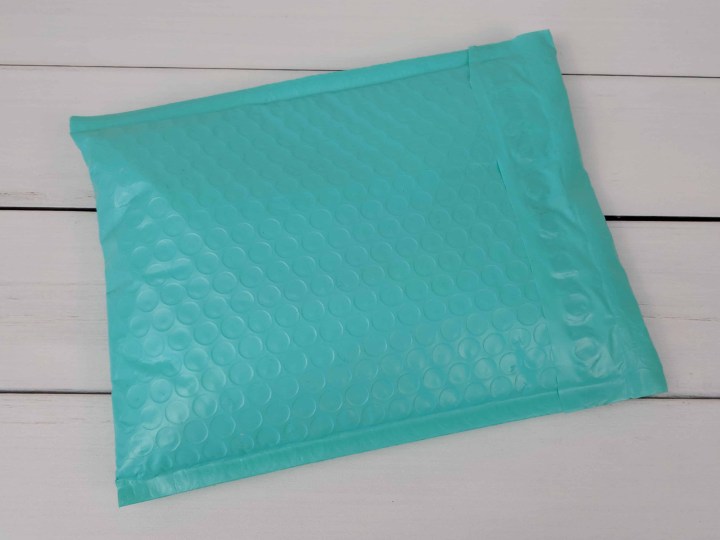 Bargain Bead Box is a monthly bead subscription service. Each month, you'll receive over $40 worth of top-quality jewelry supplies. It can be a mix of loose beads, bead strings, findings, and pendants. You can share your creation on their social media for a chance to win a $25 gift certificate for their sister store Bead Box Bargain. Boxes are $15.95 per month. Shipping is free in the US and $7.50 to Canada. Even if it's technically a subscription box, it comes in a teal bubble mailer, which is less expensive than a box so they can send more beads! And more beads is more fun!
All the beads are packed in well-labeled plastic bags and tucked inside an organza bag. On the reverse of the introduction letter, we get a description of all the items in this month's box, with some gemstones once again!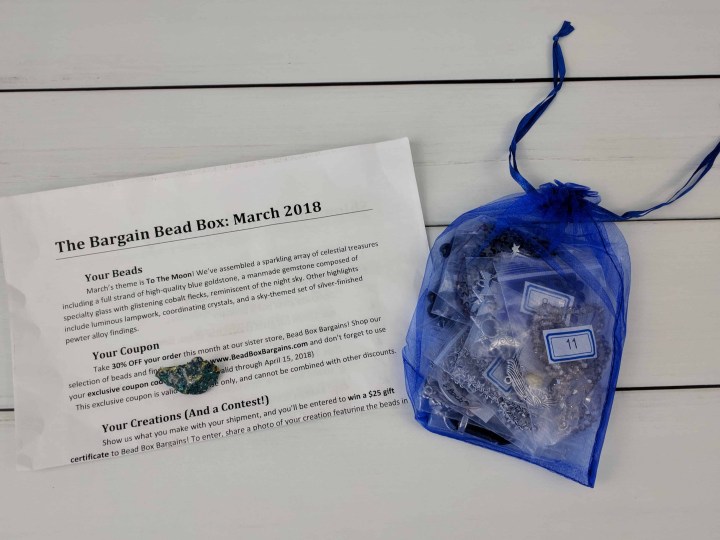 Each month is curated around a different theme and all the beads and findings are coordinated. This month's theme is To The Moon with glue goldstone and silver-finished pewter ally findings! I'm so excited!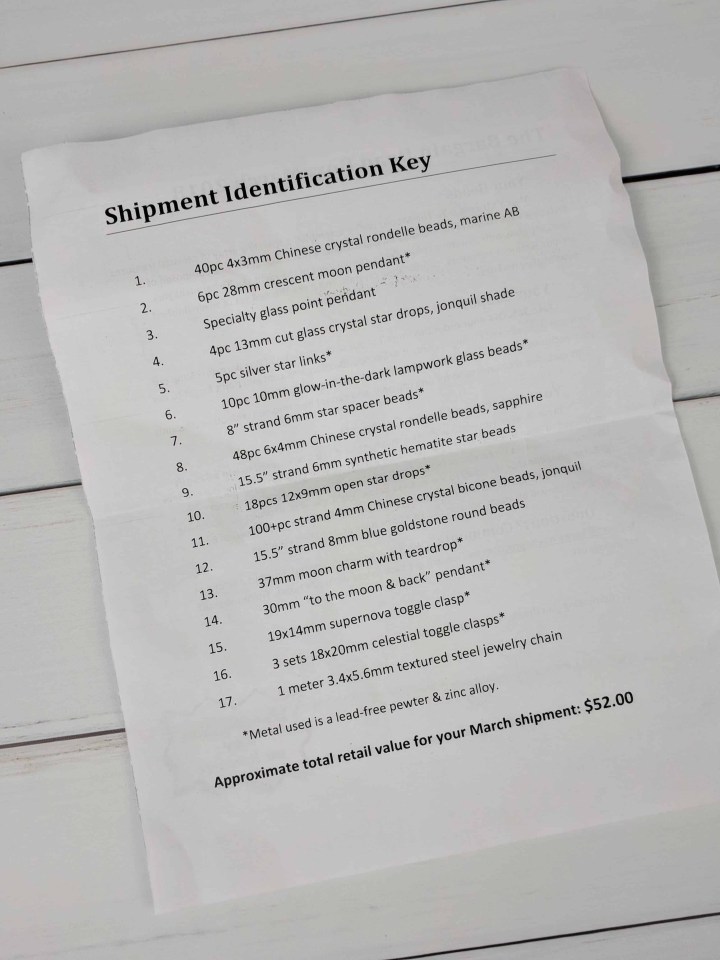 We also have a Shipment Identification Key.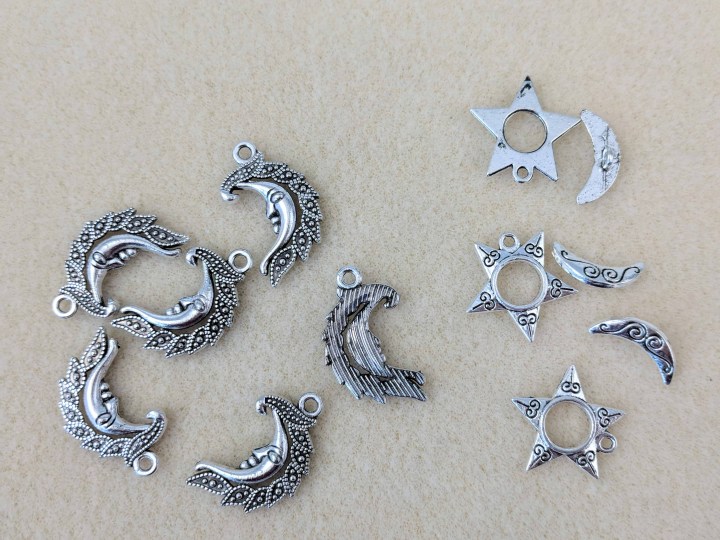 28mm crescent moon pendant. Fun pendants that can be used for big earrings or on a simple chain. I like how detailed they are.
18x20mm celestial toggle clasps. These are so pretty that they need to be part of a design, like a front closure.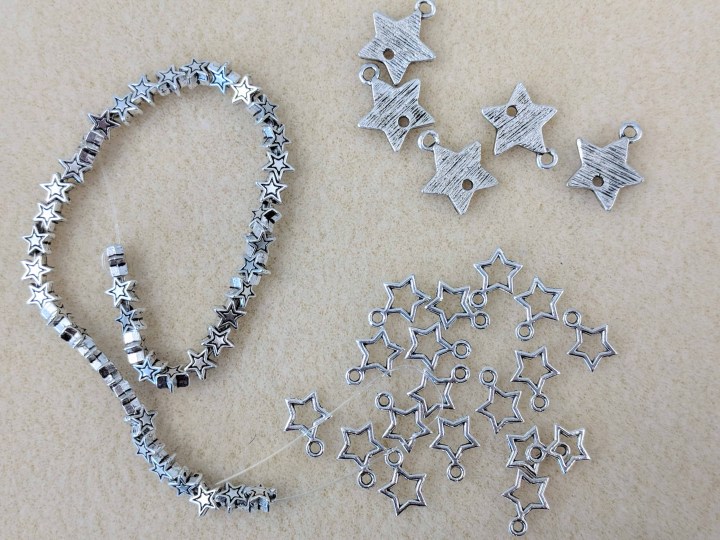 Silver star links. They are links, but they could be used as simple pendant, with or without extra dangles.They are small enough to look great on a bracelet, earrings or necklace.
6mm star spacer beads. One of the staples in this box is some form of spacer beads. These can be used by themselves, they are that cute! I would make little links with them and make a chain out of them.
12x9mm open star drops. Lovely small and delicate stars that can be added to a charm bracelet, or make a row of stars on a necklace.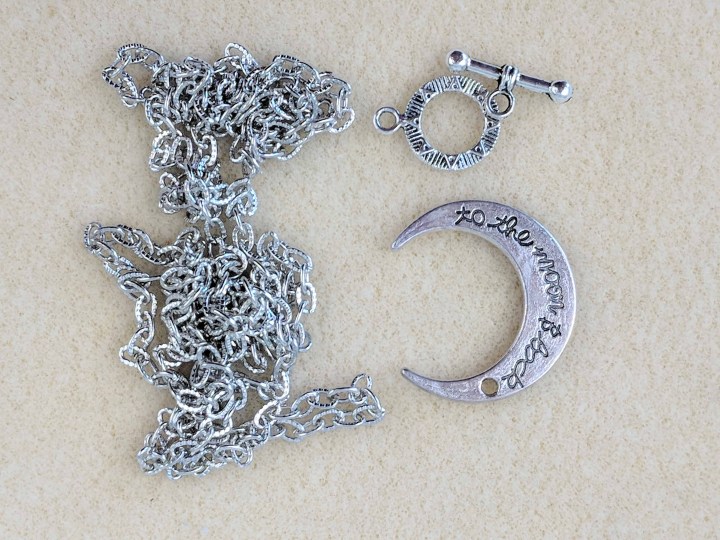 30mm To the Moon & Back pendant. An other fun pendant this month, I might hang it in front of my window or mirror.
19x14mm supernova toggle clasp. I'm not sure what makes it a supernova clasps, but it's pretty and useful. This is staple in the box to help us put the finishing touch to a design.
1 meter textured steel jewelry chain. Chains are an other staple in this box. They are perfect to make an extender chain, to hange a pendant, to add length between beaded links, or to create tassels.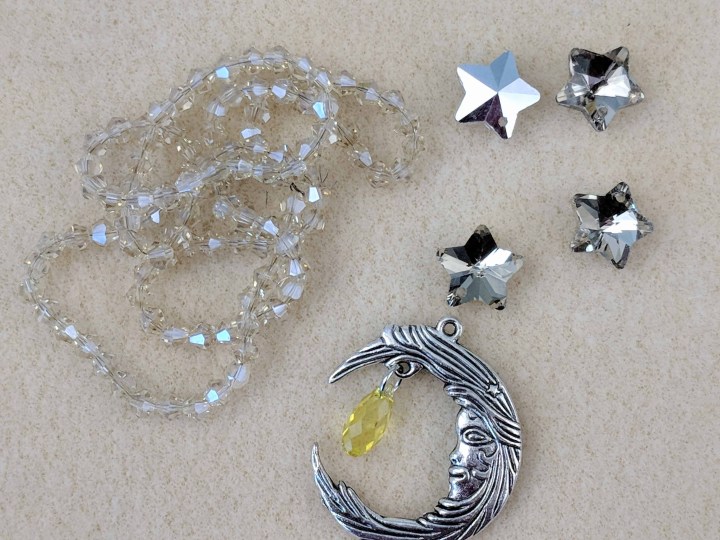 4mm Chinese crystal bicone beads, jonquil. They are a very faintly tinted bicones, but lovely for a night sky! Chinese bicone crystals are a staple in this monthly box, and they always fit nicely with the theme or the colors of the box.
13mm cut glass crystal star drops, jonquil shade. They are translucent on one side with a metallic coating on the other side, giving them a nice depth and a lot of shine! They are lightly yellow tinted, but it's hard to notice it when they are by themselves. I could see them as charms on a bracelet, or as earring dangles.
37mm moon charm with teardrop. I like this charm, I might use it to make myself a metal bookmark. I'm not a fan of the bead, but it's quite easy to remove it and put a different bead.
Specialty Glass Point Pendant. Very dark, almost black pendant (I'm not sure if it's dark blue or pure black). The silver bailed is wide enough to put it on a cord or big chain.
6mm synthetic hematite star beads. I was hoping they were real hematite, but they look great anyway and are way lighter! To fit them with other beads, it's a good idea to find a small round spacer bead to add to the side where the hole is concave (between two star legs) to fill in the gap.
8mm blue goldstone round beads. I love blue goldstone and the 8mm are lovely with silver bead caps, or on a stretch bracelet with other silver and dark beads. I would also see them with a variety of glass pearls. I was suppose to use them in my design, but for some reason, I forgot about them. They will be use in the future. they will.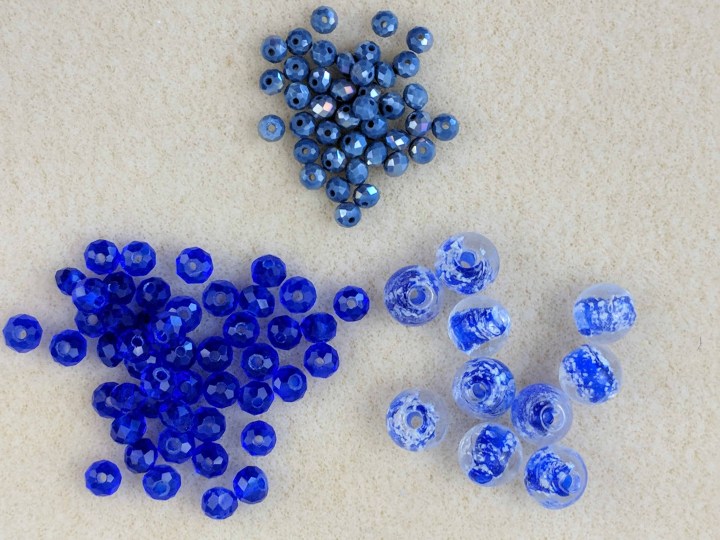 4x3mm Chinese crystal rondelle beads, marine AB. Cute little rondelle, they would be nice with small bead caps (or flat spacer beads), but they shine on their own.
6x4mm Chinese crystal rondelle beads. Compared to the 4x3mm marine AB beads, they look plain, but they have a lovely blue shade and would be awesome with silver bead caps.
10mm glow-in-the-dark lampwork glass beads. Glow-in-the-dark beads are such a good idea for a celestial inspired box! I'm thinking of making a chunky bracelet with black leather cord.
In the dark, the white specks take a lovely shade of neon green. I love them!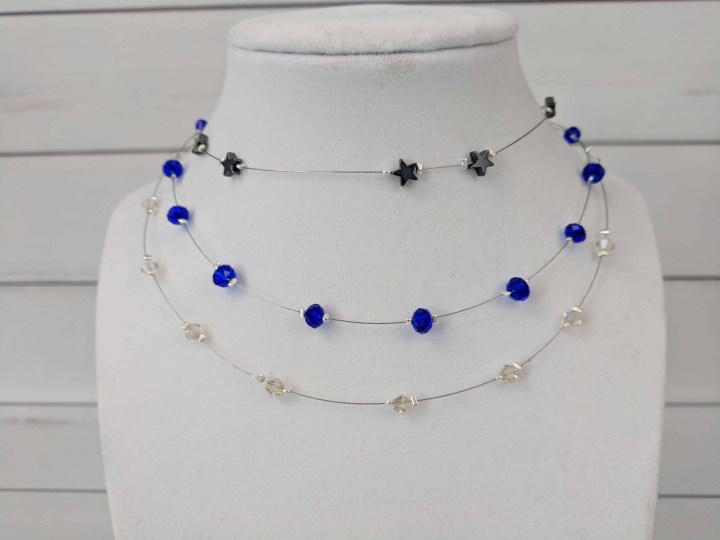 This month, I wanted something that would remind me of the night sky, so I made a floating necklace. Each bead is held in place by two crimped beads so they won't move around. I used the synthetic hematite stars in random places while the other two type of beads are evenly spaced.
I really enjoyed this month's box. To the Moon theme was a theme I was hoping to get for a while now as it's the perfect one to include blue goldstone. I like that even though this box looks monochrome, it's full of interesting items.
What did you think of this month's Bargain Bead Box?