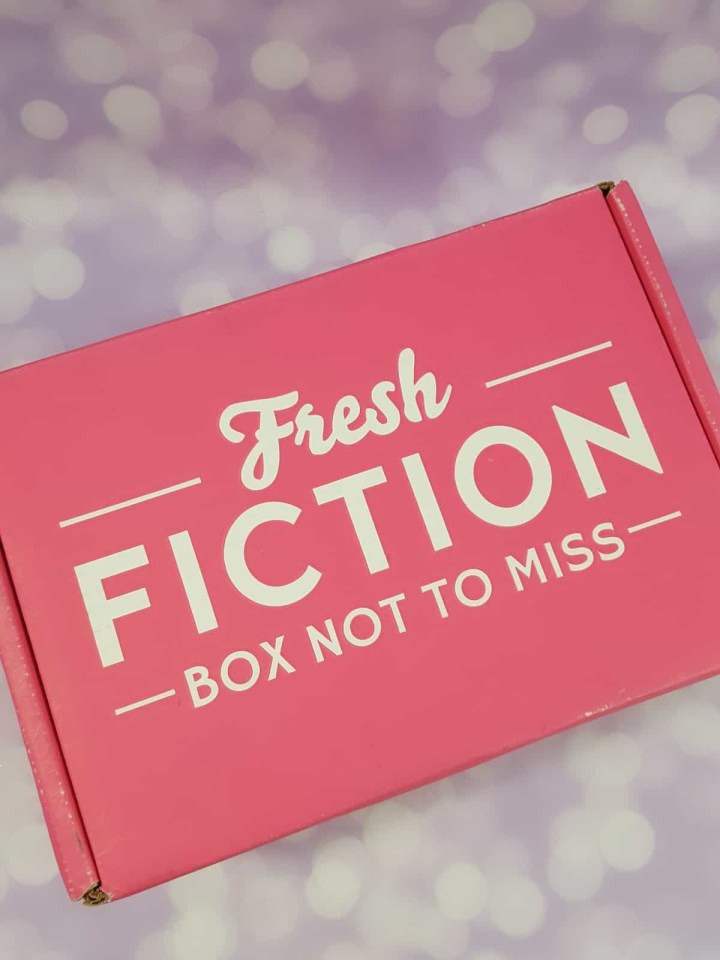 Fresh Fiction Box Not To Miss is a monthly book subscription that sends 5-7 new release books for $25.95. Shipping is free to the U.S. but they also ship worldwide. You can choose from a 1 or 3-month plan and both plans auto renew. Alternatively, you can also buy a one-time box from their online shop. They send 3-5 new release print books and codes for 2-3 downloadable ebooks! Most of the books will be from the romance genre but they may occasionally send mystery, erotica, YA, and paranormal books too.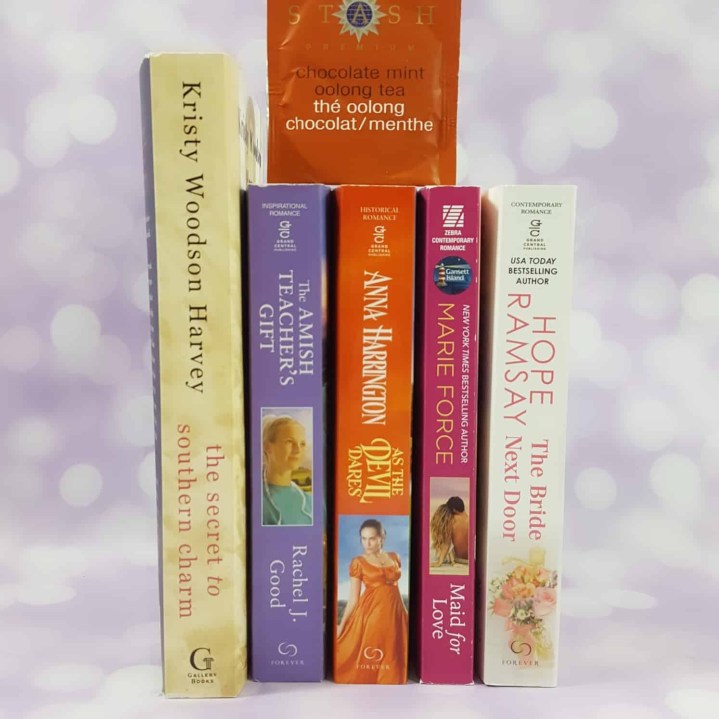 DEAL: Save $3 on your first Fresh Fiction Not To Miss box with coupon code HELLO.
Everything in my April 2018 box! I received 5 paperbacks and codes for 2 e-books. Fresh Fiction sends different box variations each month so keep in mind that your box may vary from mine!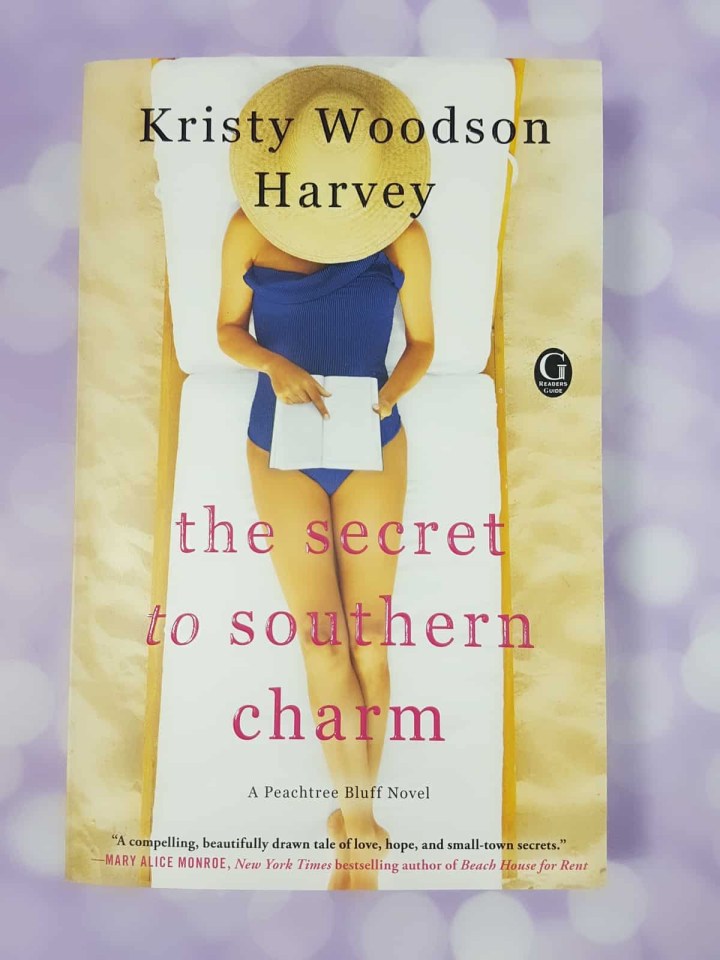 The Secret to Southern Charm by Kristy Woodson Harvey ($12.78) This is the second novel in the Peachtree Bluff series. A fun series about the four generations of the Murphy women who are dealing with a secret from their past and the MIA of Ashley's military husband. All of this takes place in the fictional town of Peachtree Bluff, Georgia. I'm a southern girl myself so I love southern fiction and throw in mystery and military and I'm hooked.
Leaving fans "practically [begging] for a sequel" (Bookpage), critically acclaimed author Kristy Woodson Harvey returns with the second novel in her beloved Peachtree Bluff series, featuring a trio of sisters and their mother who discover a truth that will change not only the way they see themselves, but also how they fit together as a family.

After finding out her military husband is missing in action, middle sister Sloane's world crumbles as her worst nightmare comes true. She can barely climb out of bed, much less summon the strength to be the parent her children deserve.

Her mother, Ansley, provides a much-needed respite as she puts her personal life on hold to help Sloane and her grandchildren wade through their new grief-stricken lives. But between caring for her own aging mother, her daughters, and her grandchildren, Ansley's private worry is that secrets from her past will come to light.

But when Sloane's sisters, Caroline and Emerson, remind Sloane that no matter what, she promised her husband she would carry on for their young sons, Sloane finds the support and courage she needs to chase her biggest dreams—and face her deepest fears. Taking a cue from her middle daughter, Ansley takes her own leap of faith and realizes that, after all this time, she might finally be able to have it all.

Harvey's signature warmth and wit make this a charming and poignant story of first loves, missed opportunities, and second chances and proves that she is "the next major voice in Southern fiction" (Elin Hilderbrand, New York Times bestselling author).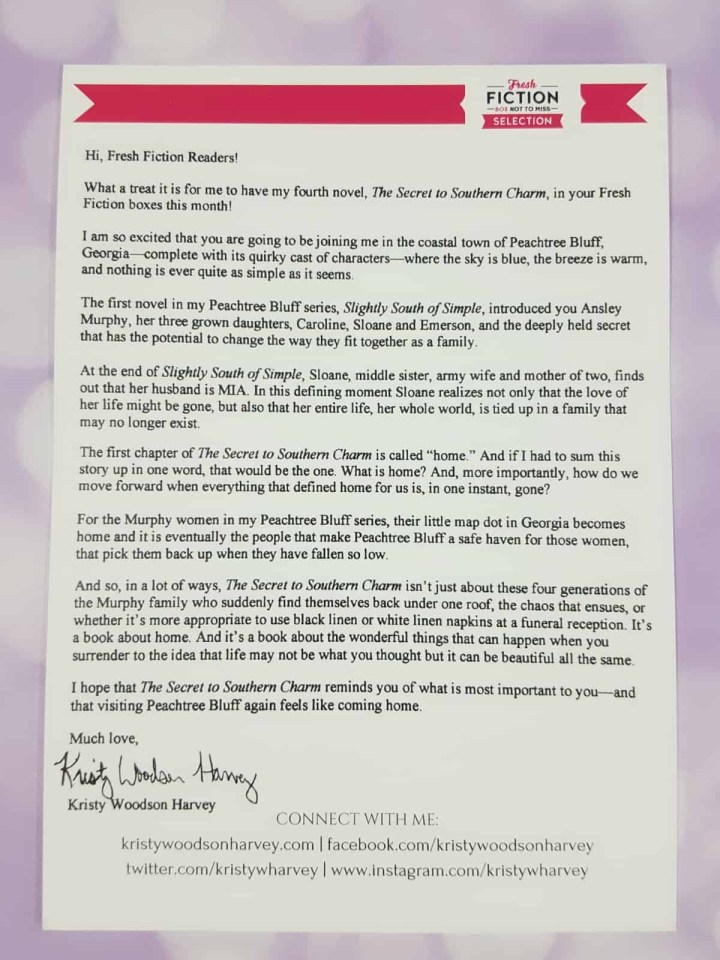 With this being the feature of the month we get a note from the author. Kristy Woodson Harvey tells us a bit about the story and how the first chapter titled "Home" is really the theme throughout the story.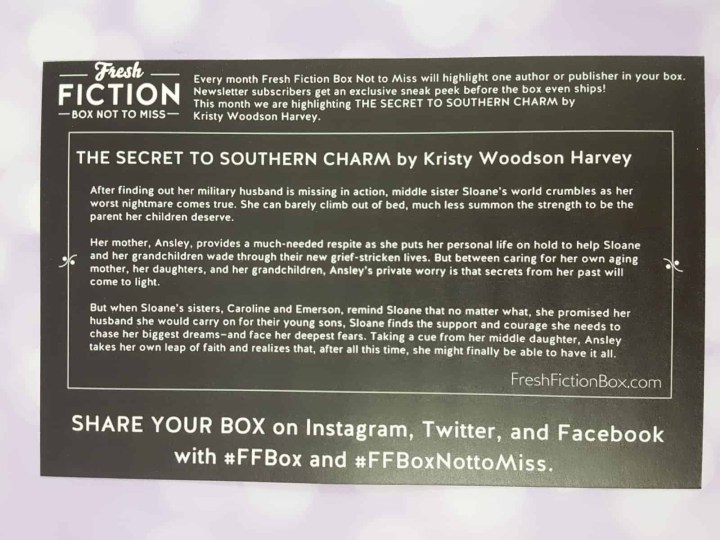 The insert postcard telling us about the feature of the month and why it is not to miss!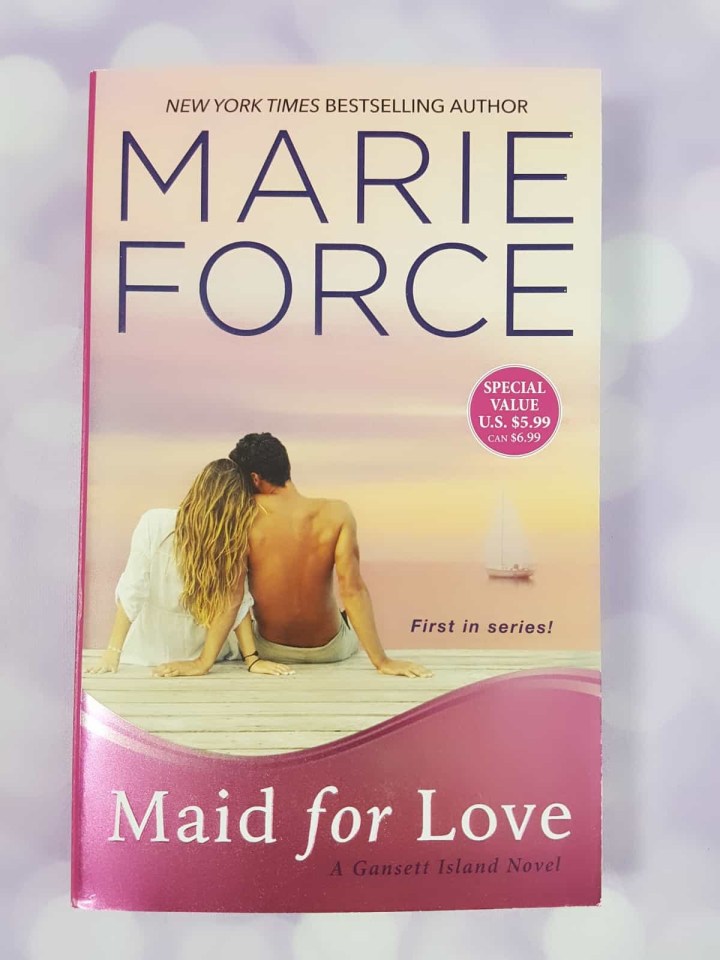 Maid for Love by Marie Force ($5.99) For a small beach town getting out is the main thing that local girls dream of and in this story single mom Maddie can think of nothing else. She is in an accident with a rich local boy who is also ready to go and let's see if they are "maid" for love!
She made her bed, but she doesn't have to sleep in it . . .
 
Single mom Maddie Chester is determined to leave her hometown of Gansett Island. For visitors, it's a place for fun in the sun, but for Maddie it holds only bad memories and ugly rumors. Yet no sooner than she's decided to leave Gansett behind, she's knocked off her bike en route to her housekeeping job at McCarthy's Gansett Island Hotel—by none other than Gansett's "favorite son," Mac McCarthy.

Mac has returned to the Rhode Island beach town to help his father prepare to sell the family marina—and he has no intention of sticking around a minute longer than necessary. But when he realizes he's badly injured Maddie, he knows he has to do the right thing. When Mac decides to help her heal and care for her young son, he discovers he just may be "maid" for love . . .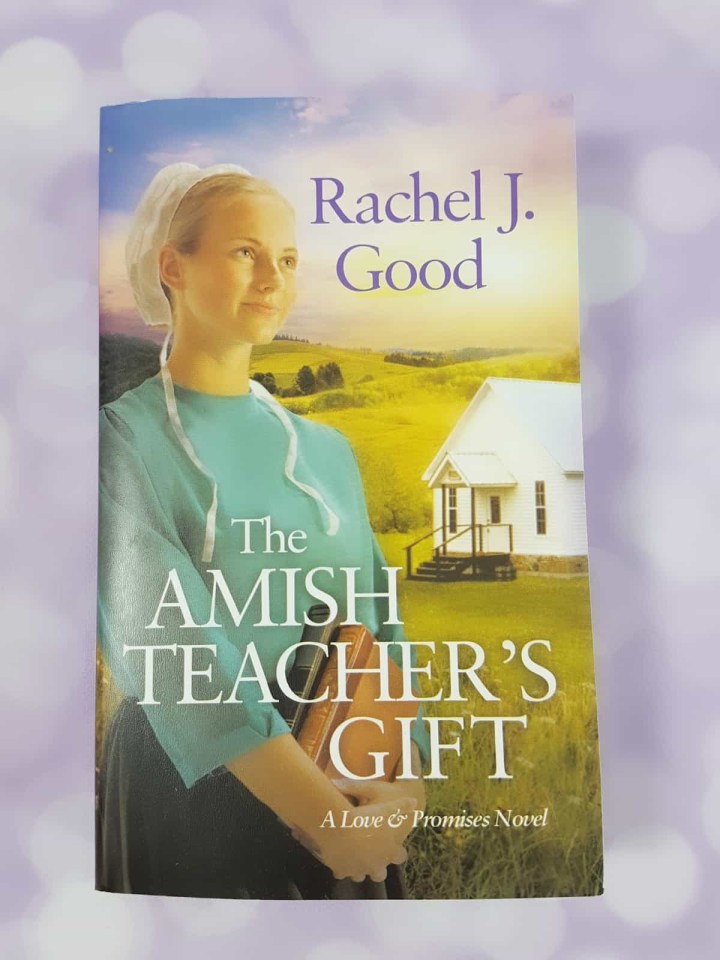 The Amish Teacher's Gift by Rachel J. Good ($7.99) The title of this one got me. While I'm a southern girl now I lived a couple years in PA just down the street from some Amish farms. I've always been interested in their lives and how they make them work in today's society so I'm curious to see how this one plays out.
A Teacher's Love

Widower Josiah Yoder wants to be a good father. But it's not easy with a deaf young son who doesn't understand why his mamm isn't coming home. At a loss, Josiah enrolls Nathan in a special-needs school and is relieved to see his son immediately comforted by his new teacher, a woman whose sweet charm and gentle smile just might be the balm they both need.

With seven siblings to care for, Ada Rupp wasn't sure she wanted to take on teaching, too. But the moment she holds Nathan in her arms, she realizes she'll do all she can to help this lost little boy. Plus, it gives her a chance to spend more time with Josiah. Falling for a man in mourning may be against the rules, but his quiet strength is the support Ada never knew she needed. And, together, they could have the loving family she'd always hoped for.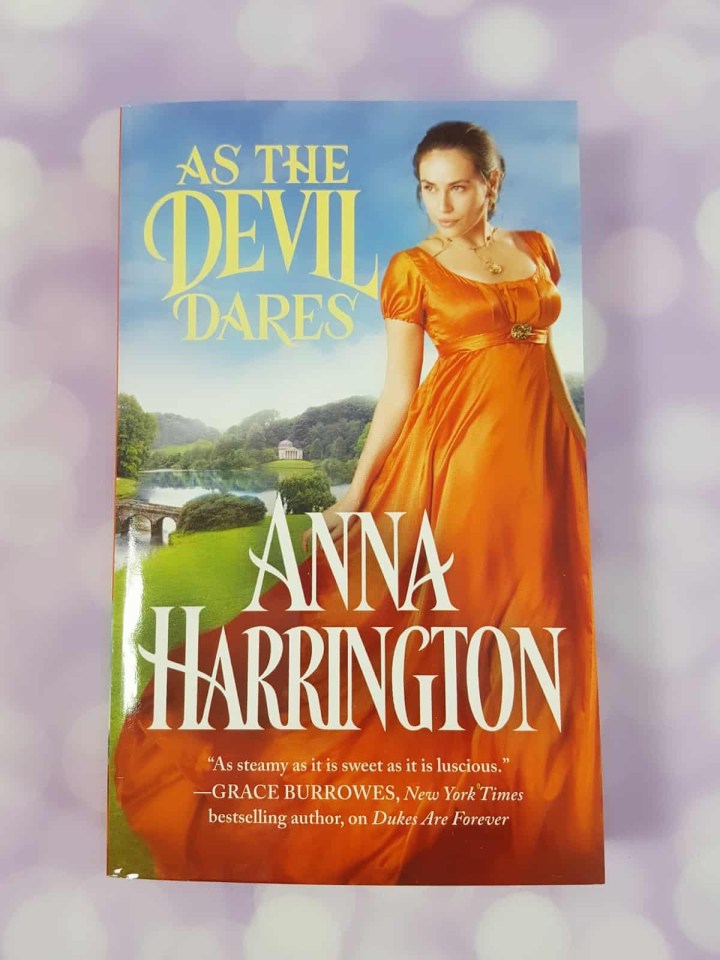 As the Devil Dares by Anna Harrington ($7.99) Ohh a period drama. This one sounds right out of a movie and I can't wait to see how all the gorgeous costumes and designs play out as Lord Carlisle tries to make good on his dare but manages to fall in love with Mariah!
When playing a game of wits, never ever go up against the woman they call the Hellion . . .

 

LOVE IS A BATTLEFIELD…

Whether it's business or pleasure, Lord Robert Carlisle never backs down from a dare. But finding a husband for scandalous Mariah Winslow? It's one challenge he instantly regrets accepting. Even with all his connections—and rakish charms—Robert will have to use every trick in the book to marry off a woman with no dowry and no sense of decorum…no matter how stunningly beautiful she is.

Mariah Winslow has no intention of being a pawn in Lord Robert's game. She knows he agreed to play matchmaker only to secure a partnership in her father's shipping company, a partnership that's rightfully hers. For now, though, she'll dress for the elegant balls he throws and dance with the eligible bachelors he chooses. But she won't be outwitted by the devil himself—no matter how tempting and irresistible she finds him.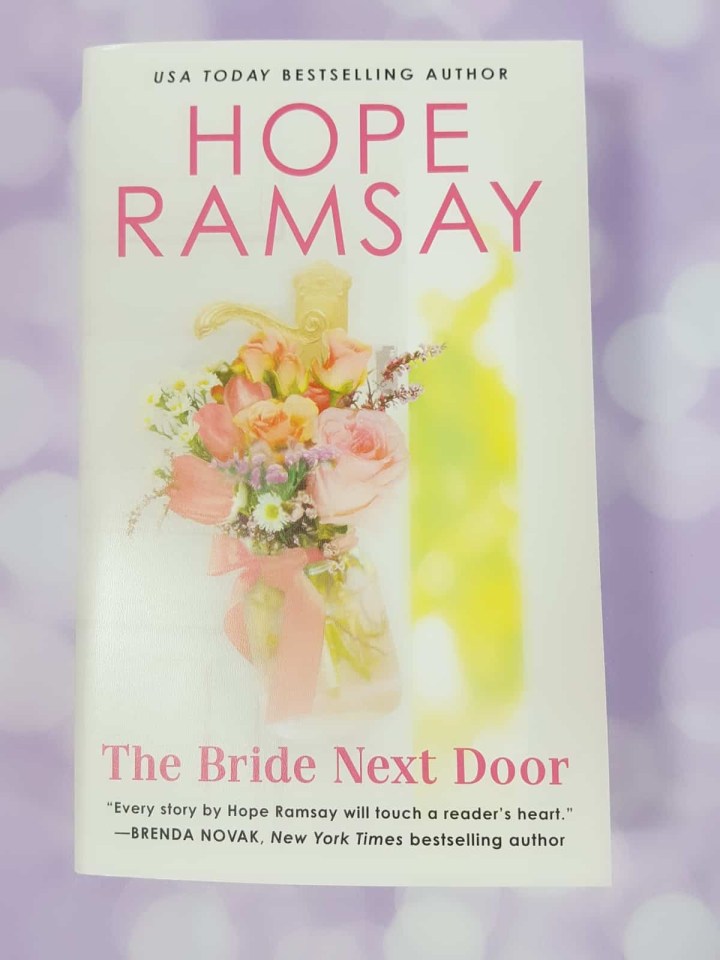 The Bride Next Door by Hope Ramsey ($7.99) – The Wedding Planner is one of my favorite go-to movies and then toss in a bit of How to Lose a Guy in 10 days and this book sounds like a match made in heaven. Both movies are comforts that you can easily watch over and over and I'm betting this book is also a great and easy summer read.
Courtney Wallace loves her job as a wedding planner, but she's almost given up on her own happily-ever-after. She certainly doesn't it expect to find it with Matthew Lyndon, the hotshot lawyer she overhears taking a bet to seduce her. She's not amused by the challenge, but she decides to play along–after all, what better way to beat him at his own game?

Matt never intended to take the bet seriously. And moving next door wasn't part of his strategy to win-it was just a happy coincidence-but the more he gets to know Courtney, the more intrigued he becomes. When fun and games turn into something real, will these two decide they're in it to win it?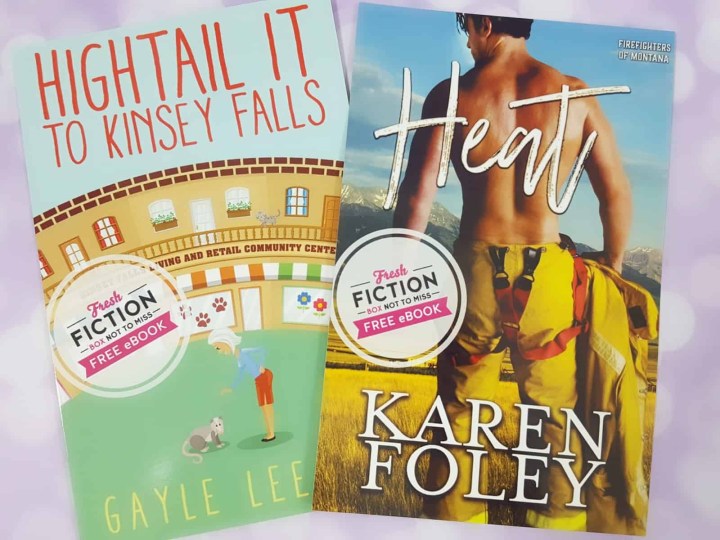 We got two codes for Free e-books this month: HighTail it the Kinsey Falls by Gayle Leeson and Heat by Karen Foley.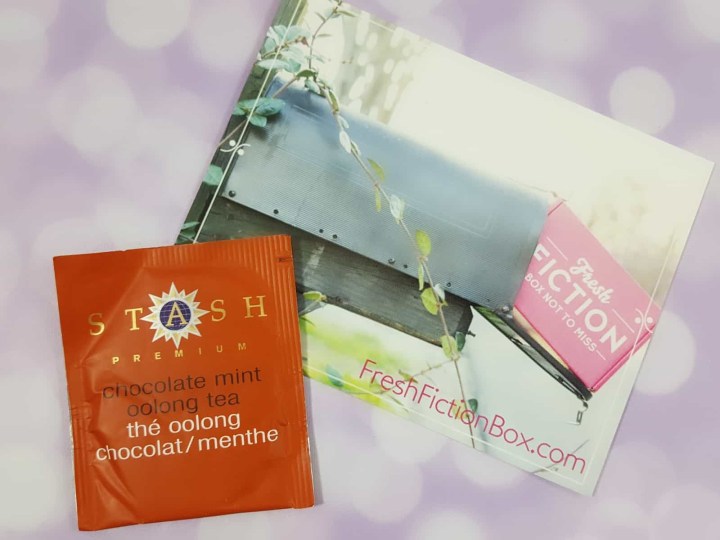 This month we got Chocolate Mint Oolong tea to go along with all of out reading.
Another great box from Fresh Fiction Box Not To Miss this month. Fresh Fiction sends me a ton of new reads for me each month and I can pick any of them up and just start to devour it. This month we got mystery and romance and family drama in all the books. I'm going to have fun pulling these out as I'm sitting poolside with my boys and reading to my little heart's content.
What did you think of this month's book selection?
Visit Fresh Fiction Not To Miss to subscribe or find out more!