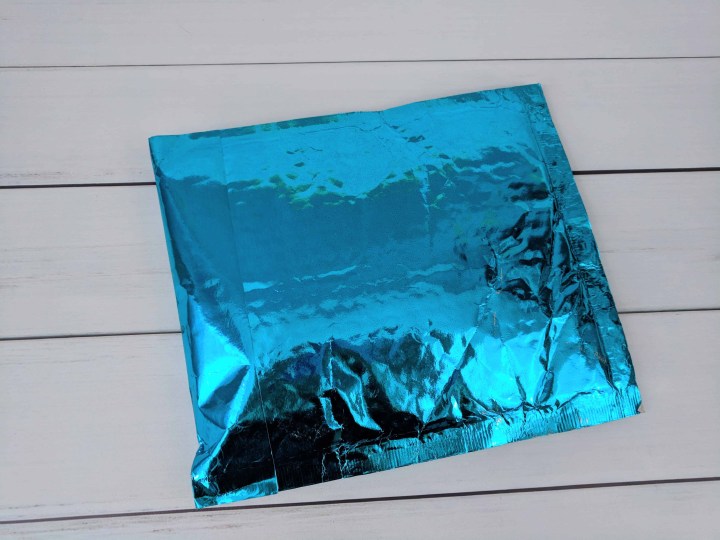 Bargain Bead Box is a monthly bead subscription service. Each month, you'll receive over $40 worth of top-quality jewelry supplies. It can be a mix of loose beads, bead strings, findings, and pendants. You can share your creation on their social media for a chance to win a $25 gift certificate for their sister store Bead Box Bargain. Boxes are $15.95 per month. Shipping is free in the US and $7.50 to Canada. Even if it's technically a subscription box, it comes in a mailer, which is less expensive than a box so they can send more beads! And more beads is more fun!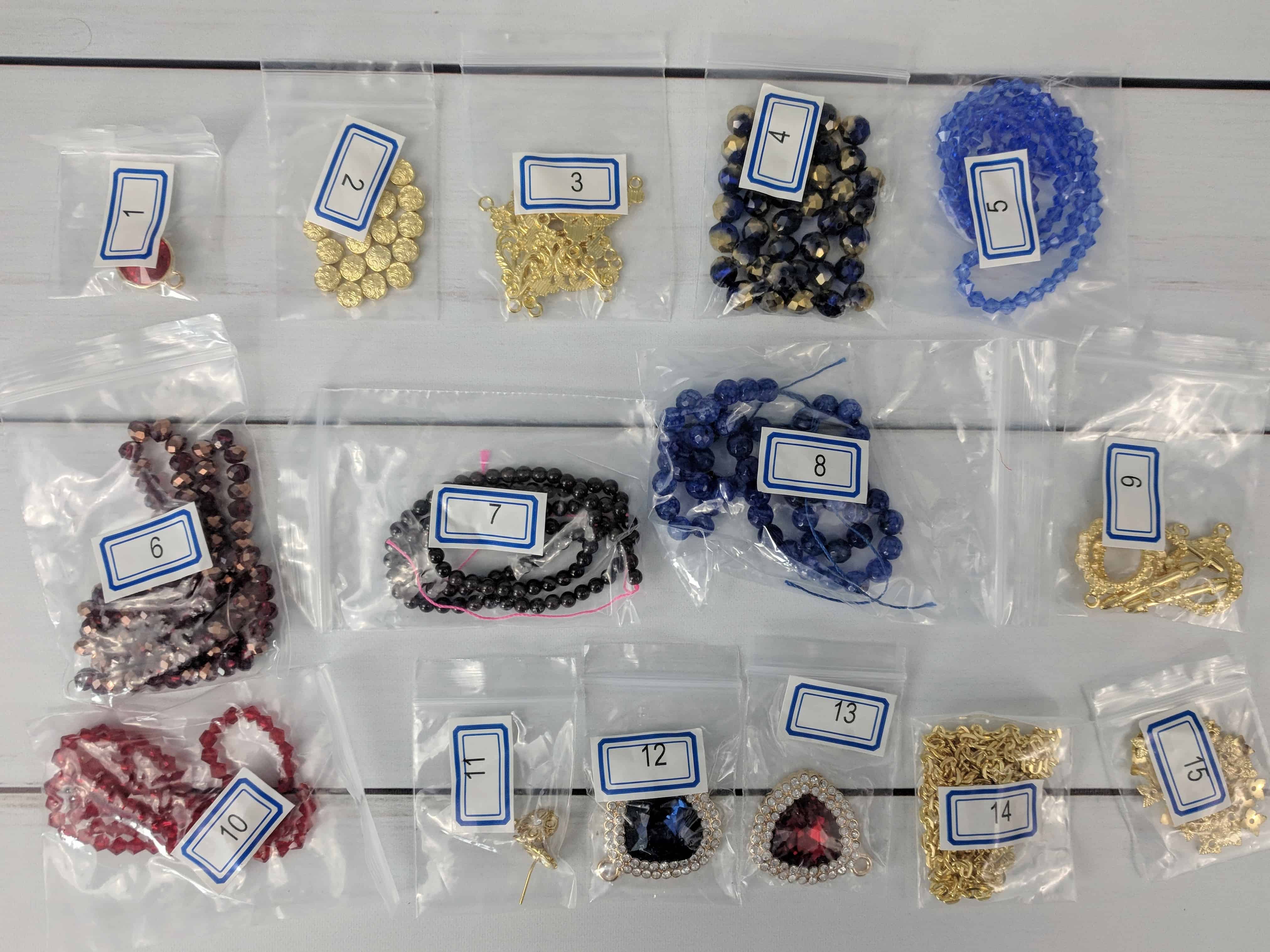 All the beads are packed in well-labeled plastic bags and tucked inside an organza bag. On the reverse of the introduction letter, we get a description of all the items in this month's box, with some gemstones once again!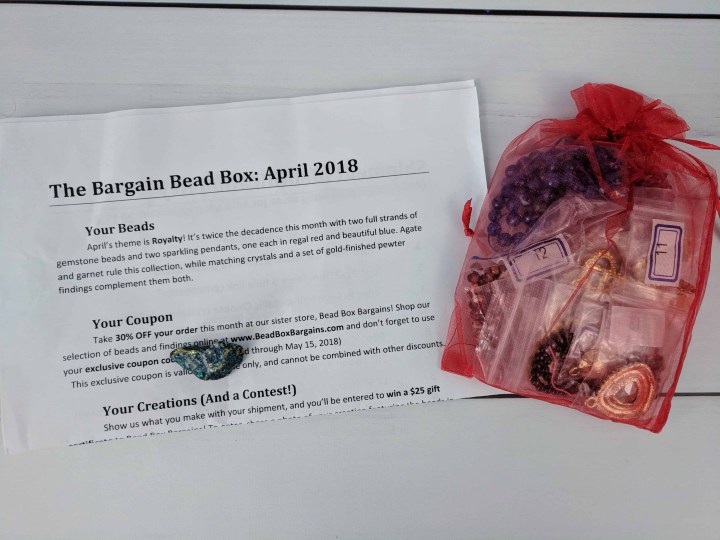 Each month is curated around a different theme and all the beads and findings are coordinated. This month's theme is Royalty and features agate and garnet with gold-finished pewter findings!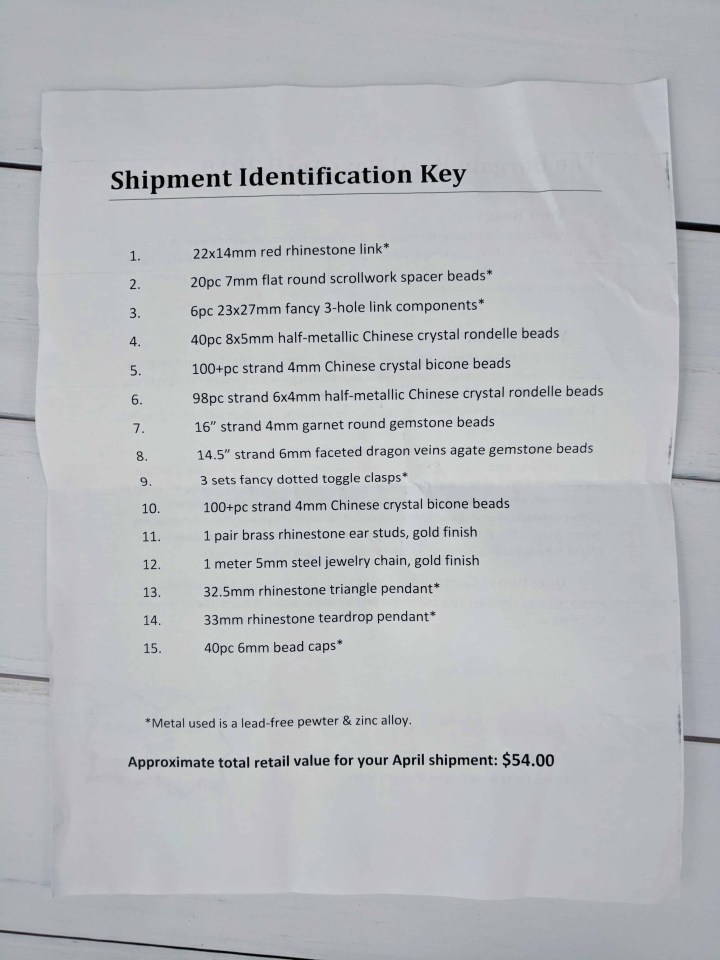 We also have a Shipment Identification Key.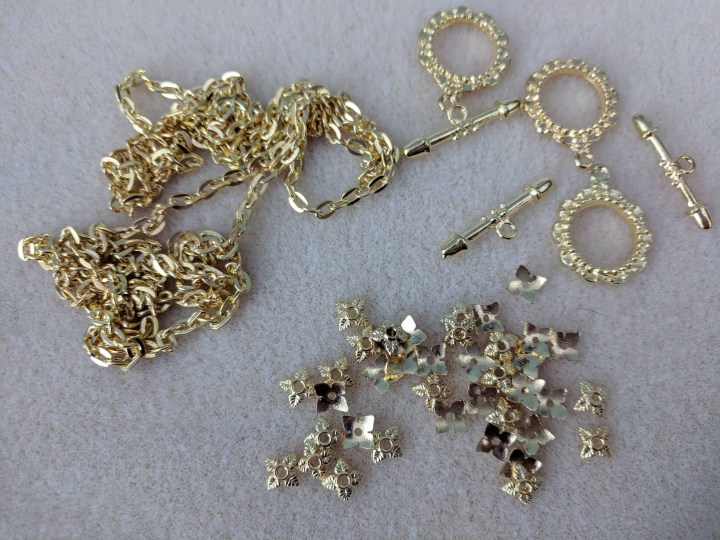 1 meter 5mm steel jewelry chain Chain is a staple in this box, we receive some almost every month. I really like it as it's quite helpful for any metal heavy design, or to be used as an extender chain on a necklace or bracelet.
6mm bead caps. An other staple is some bead caps. These ones look like little leaves and are perfect to add a golden accent to 8mm bead caps. They are flat, so I find them a bit too wide for 6mm round beads, but are great for 6mm rondelles.
Fancy Dotted toggle clasps. We also always get findings to put a finishing touch to our design like clasps. They are great as you don't have to run to the store because you ran out of this essential component! They are really light, and just a bit too big for me to be used for a bracelet, but they are perfect for a necklace. I like to use them also to make a detachable tassel pendant. I also been known to use the round part for earrings…
Brass Rhinestone ear studs. This is a new item, I don't think we've ever received something like that. It's a cute little flower filigree design with a tiny white rhinestone in the middle. There's a link on one side to hang more component to them.
7mm flat round scrollwork spacer beads. I love spacer beads, they look great mixed with round matte beads to add some interesting details. The holes are big enough to get thin cord through them.
23x27mm fancy 3-hole link components. It can be used as the central details on a simple chain-like necklace to hang a fun bead or pendant from it. They are just a bit too big to be used for chandelier earrings, but nothing stops you from using them as they are quite light.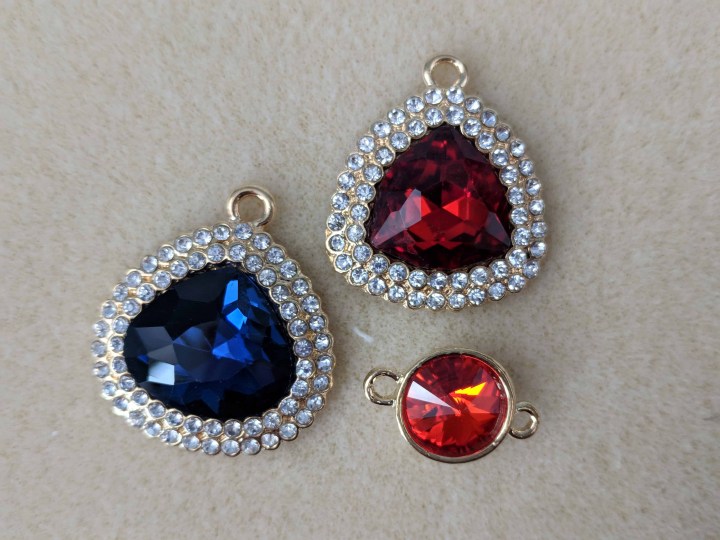 32.5mm rhinestone triangle pendant. Lovely deep royal blue and ruby red colors surrounded by tiny white rhinestones. I feel like the gold is more pink than yellow. They are quite heavy, but certainly royal looking!
22x14mm red rhinestone link. A fun little ruby red link, it can be a simple central piece on a chain necklace, or for a bracelet.
4mm garnet round gemstone beads. I love gemstone beads! Garnet are lovely little dark burgundy beads. I like making stretch bracelets with 4mm beads and gemstones, so they fit the bill! They can also be used with seed beads for a weaved motif.
6mm faceted dragon veins agate gemstone beads. They have a firepolished faceted look, so the edges are not sharp. The motif is lovely! And the color is amazing (blue is my favorite color!!!) They would be nice paired with smaller bead caps, but I think they would look best with silver instead of gold (personal choice). I'm thinking of making a cute stretch bracelet with lava beads.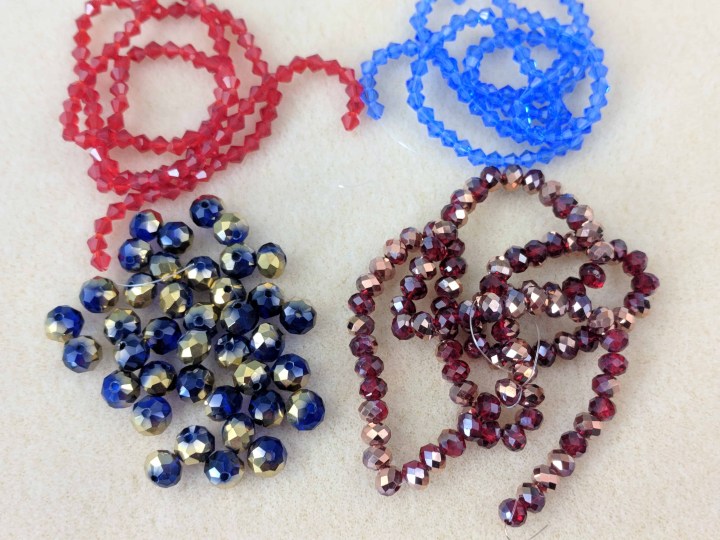 4mm Chinese crystal bicone beads. We always get 4mm chinese bicones in this box, and they always perfectly match the color scheme or feeling of the box. They are perfect to add a bit of sparks to a design without going overboard. I like making tiny links with them.
8x5mm half-metallic Chinese crystal rondelle beads, blue and 6x4mm in red. I love love love these beads! They look great with bead caps or by themselves. They were my main inspiration for this month's project, I really wanted to find a way to use them both.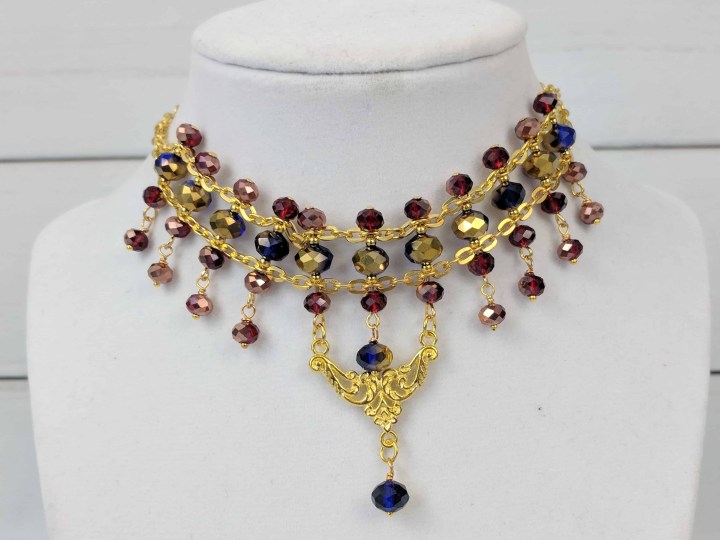 For this month's project, I made a blue and red golden choker. I wanted a statement piece to fit the Royalty theme.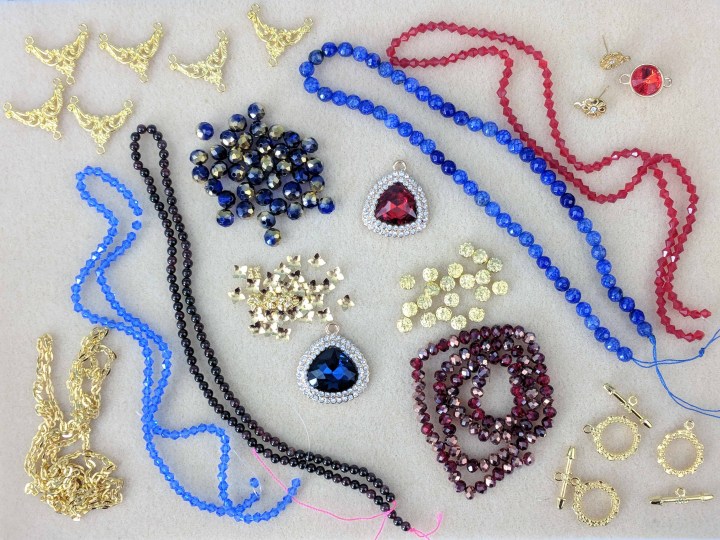 This month's box had amazing colors! I love the mix of blue and red, and the gold findings were a nice accent for them. I like that even when we don't like a certain type of beads, there is enough variety to make it worth it. And knowing that my stash of findings in the monthly color will be refill is a nice bonus!
What did you think of this month's Bargain Bead Box?