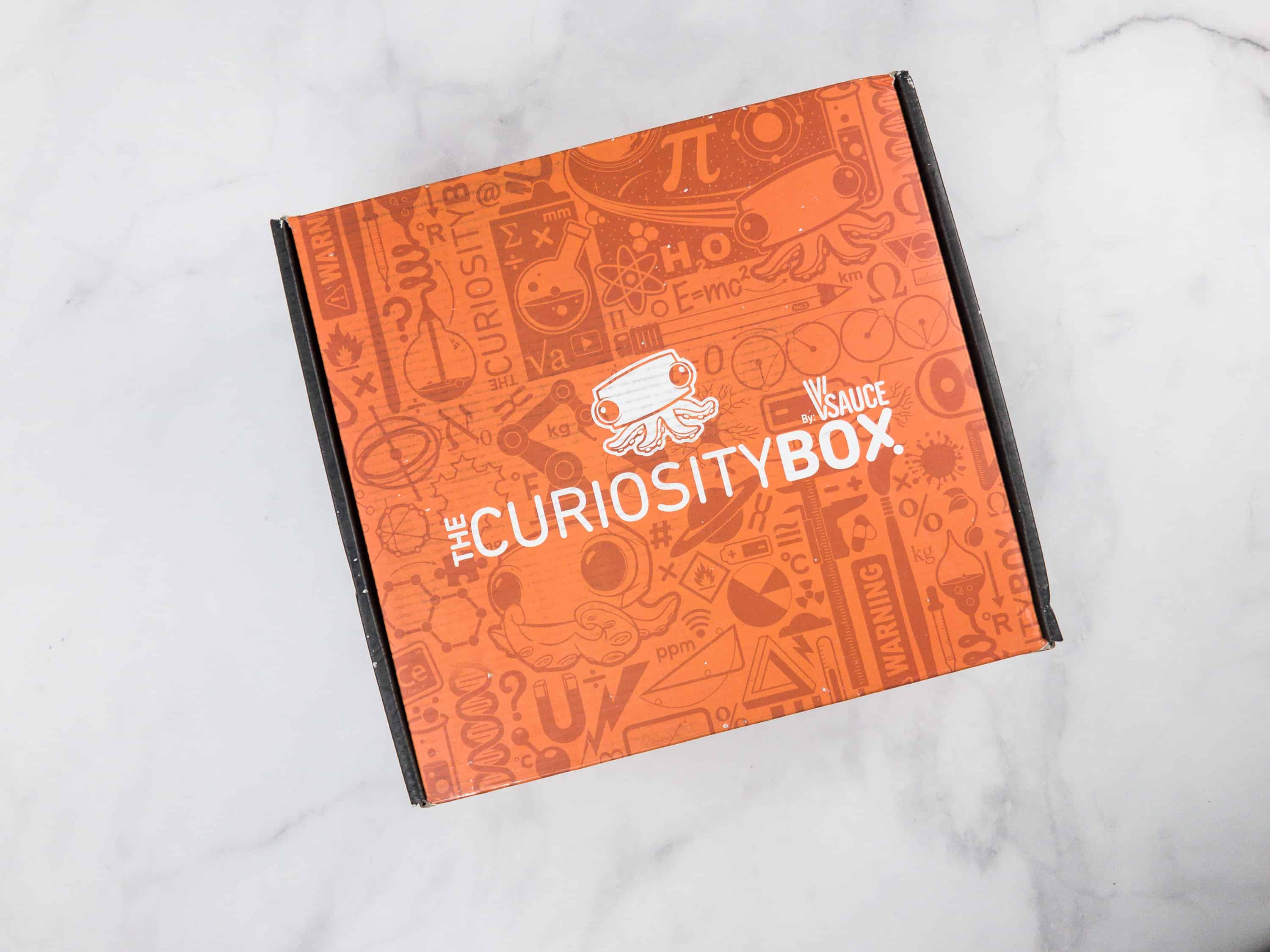 The Curiosity Box is a quarterly subscription box to satisfy your thirst for knowledge. Each box comes with 6-9 items that will not only entertain, but also educate you and your family. The subscription is $49.90 per quarter and a portion of all proceeds are donated to fund Alzheimer's research.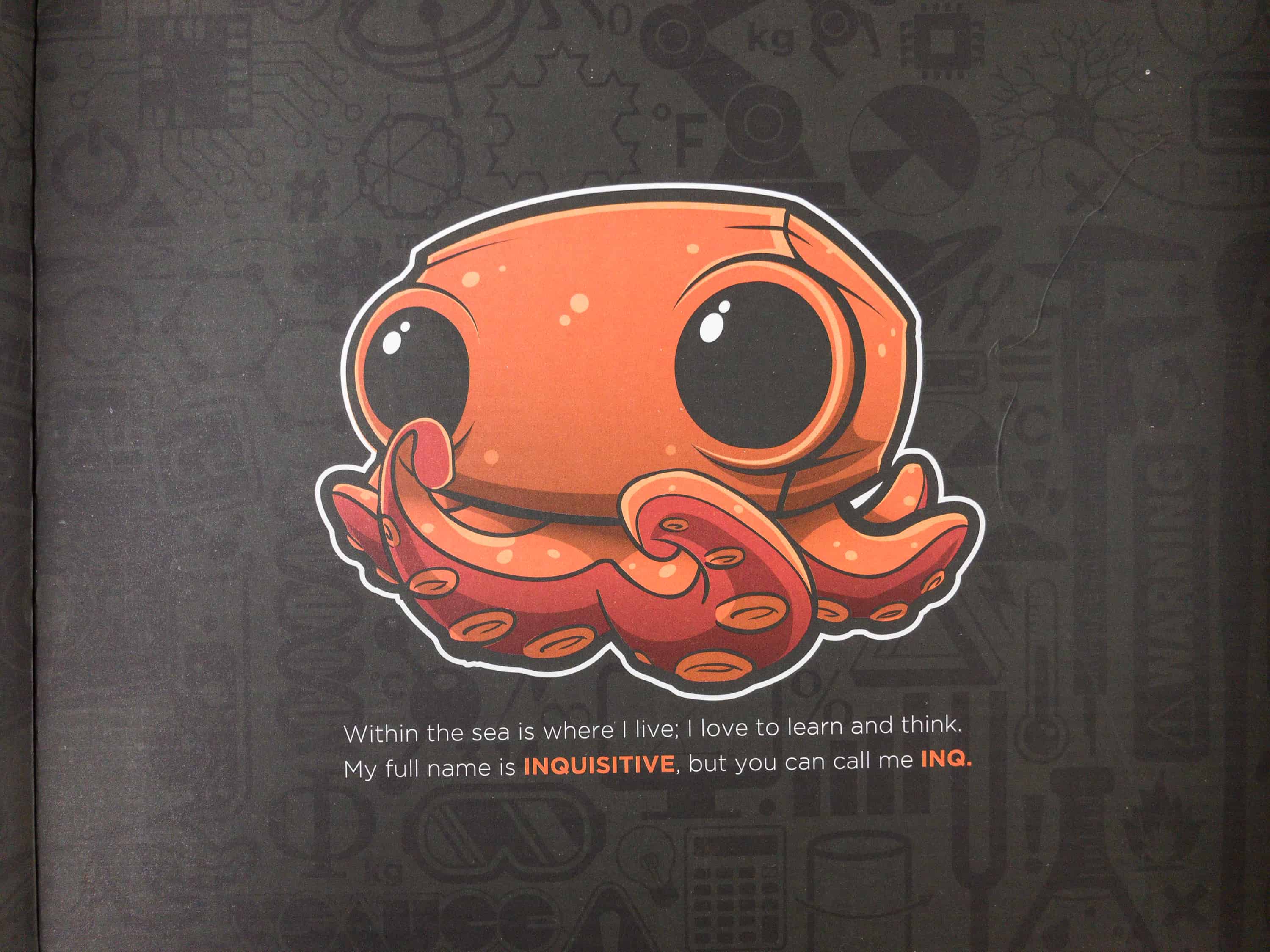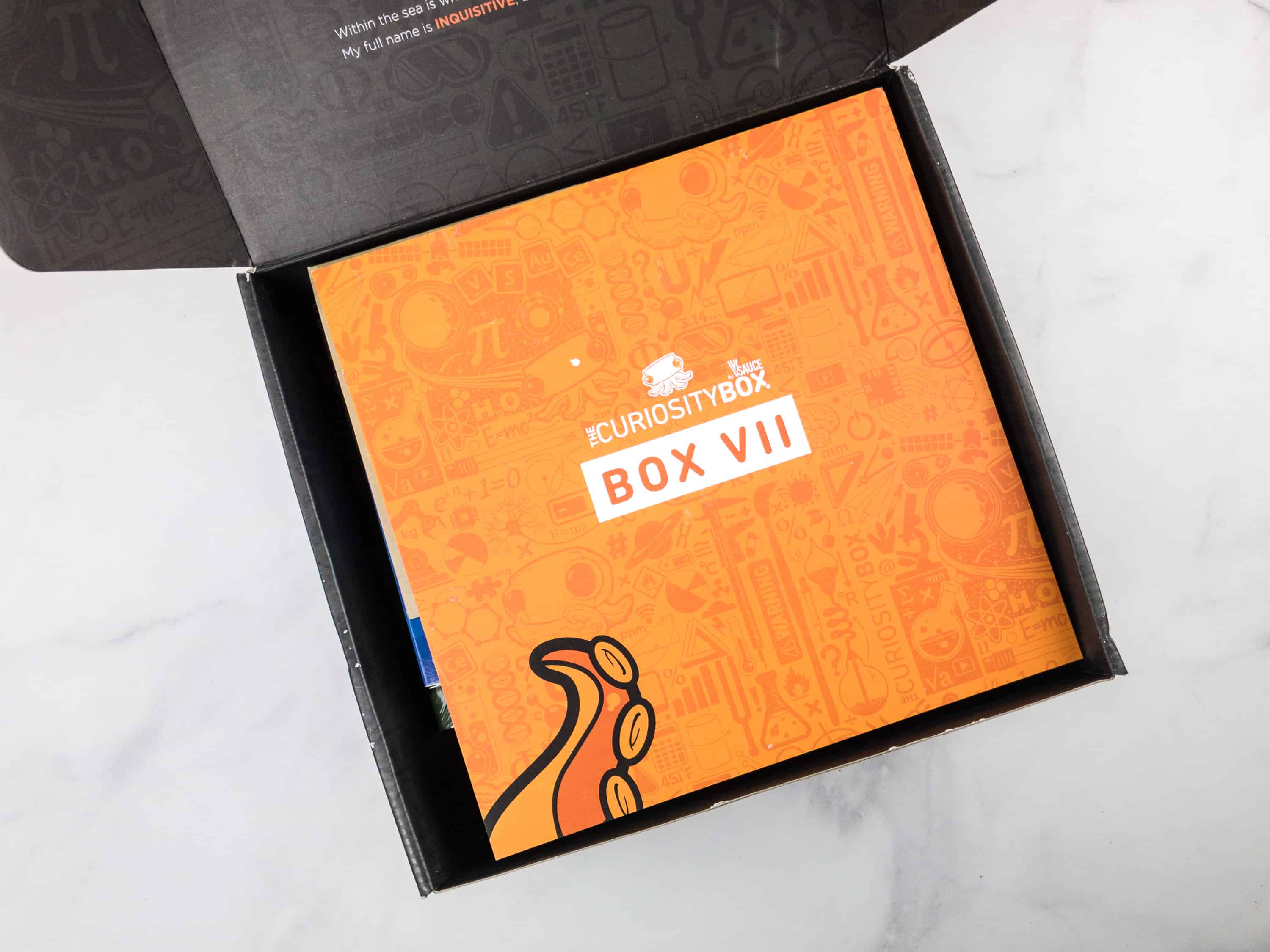 There's no extra packaging, just a box filled with awesome items!

Each box comes with the Curiosity Quarterly by VSauce.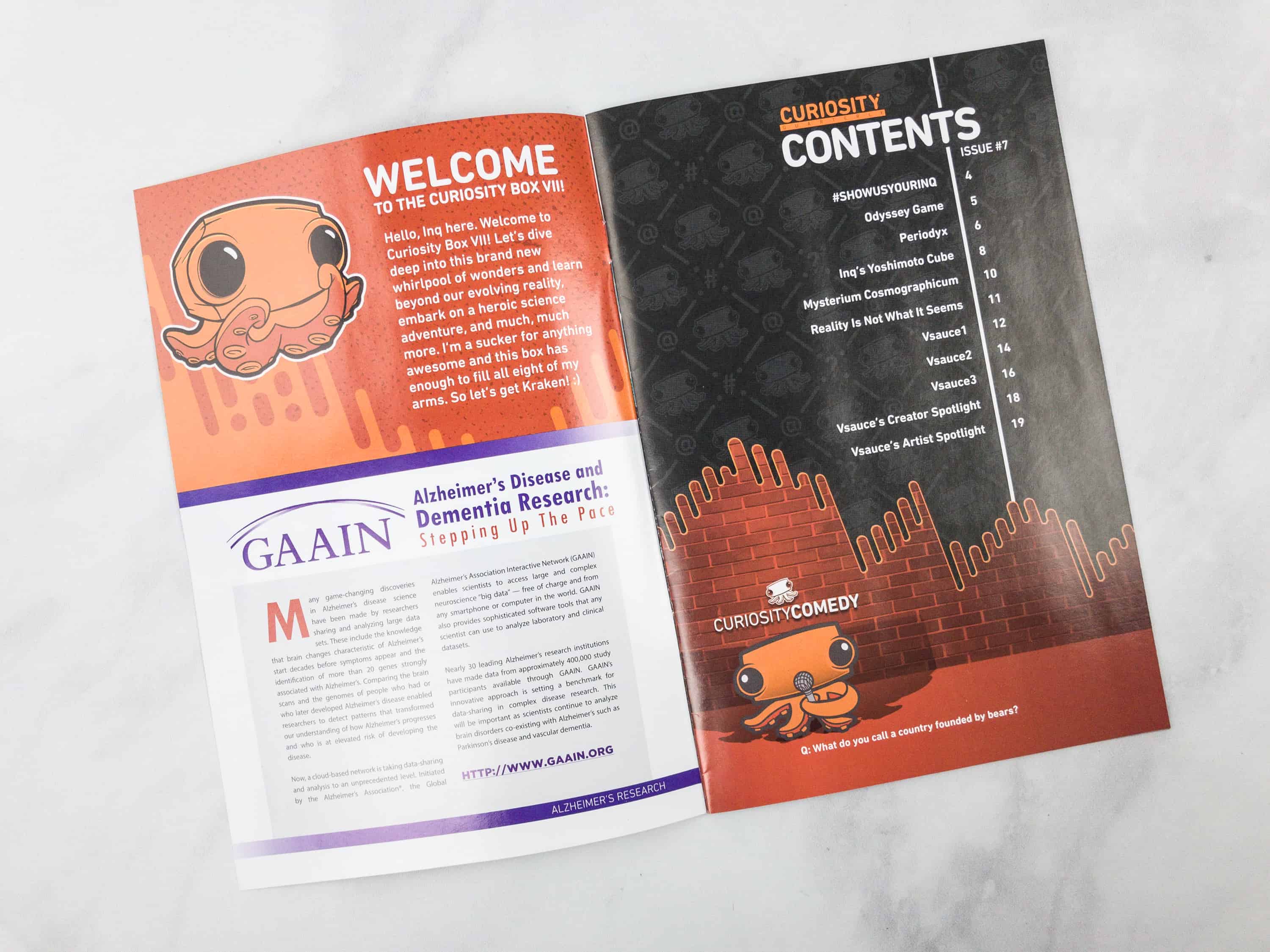 The quarterly is loaded with interesting, short articles for the curious-minded!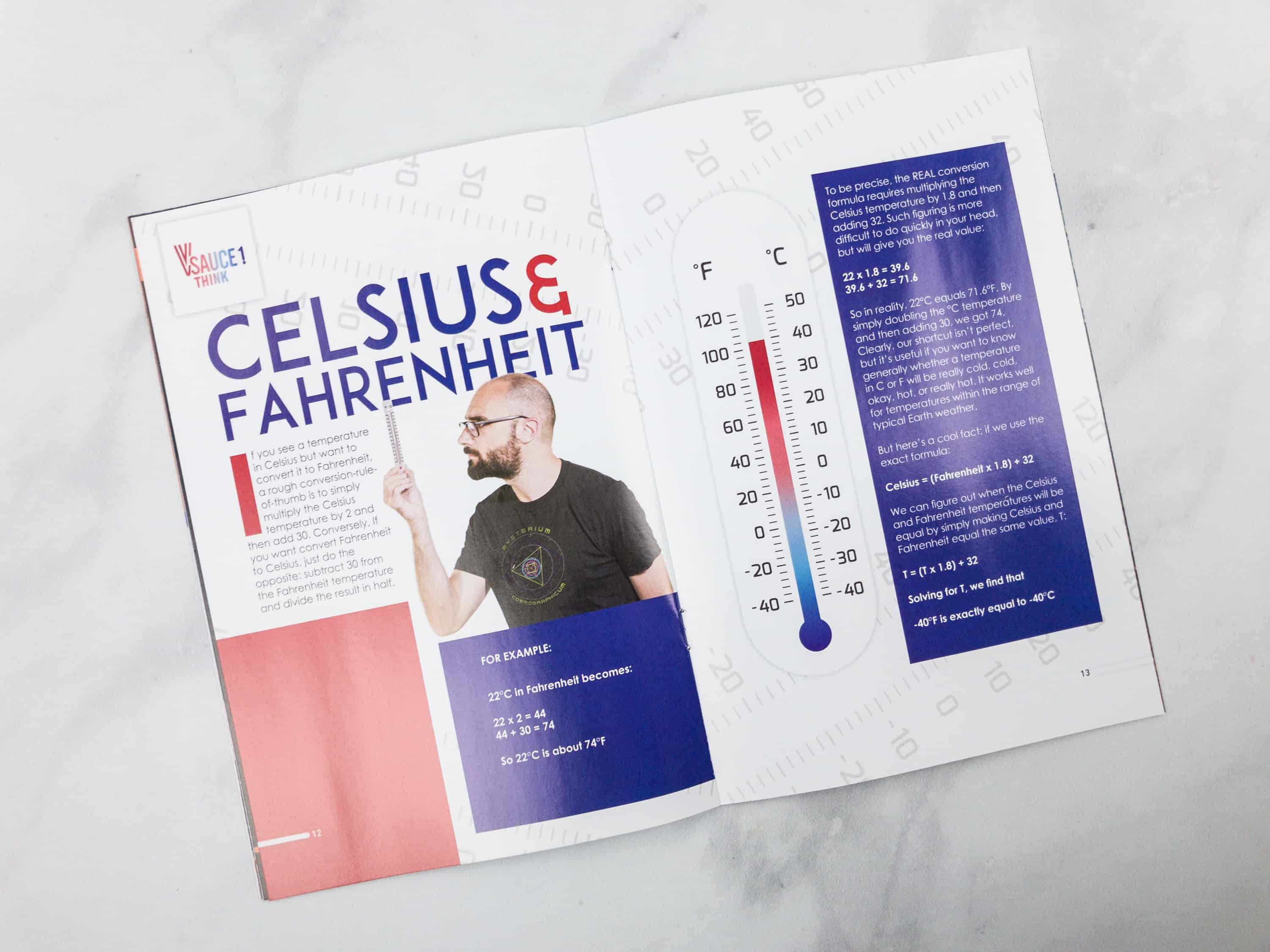 The articles are truly geeky, in a good way. The musings draw from math, science, history, and culture to create fun articles with an inquisitive edge.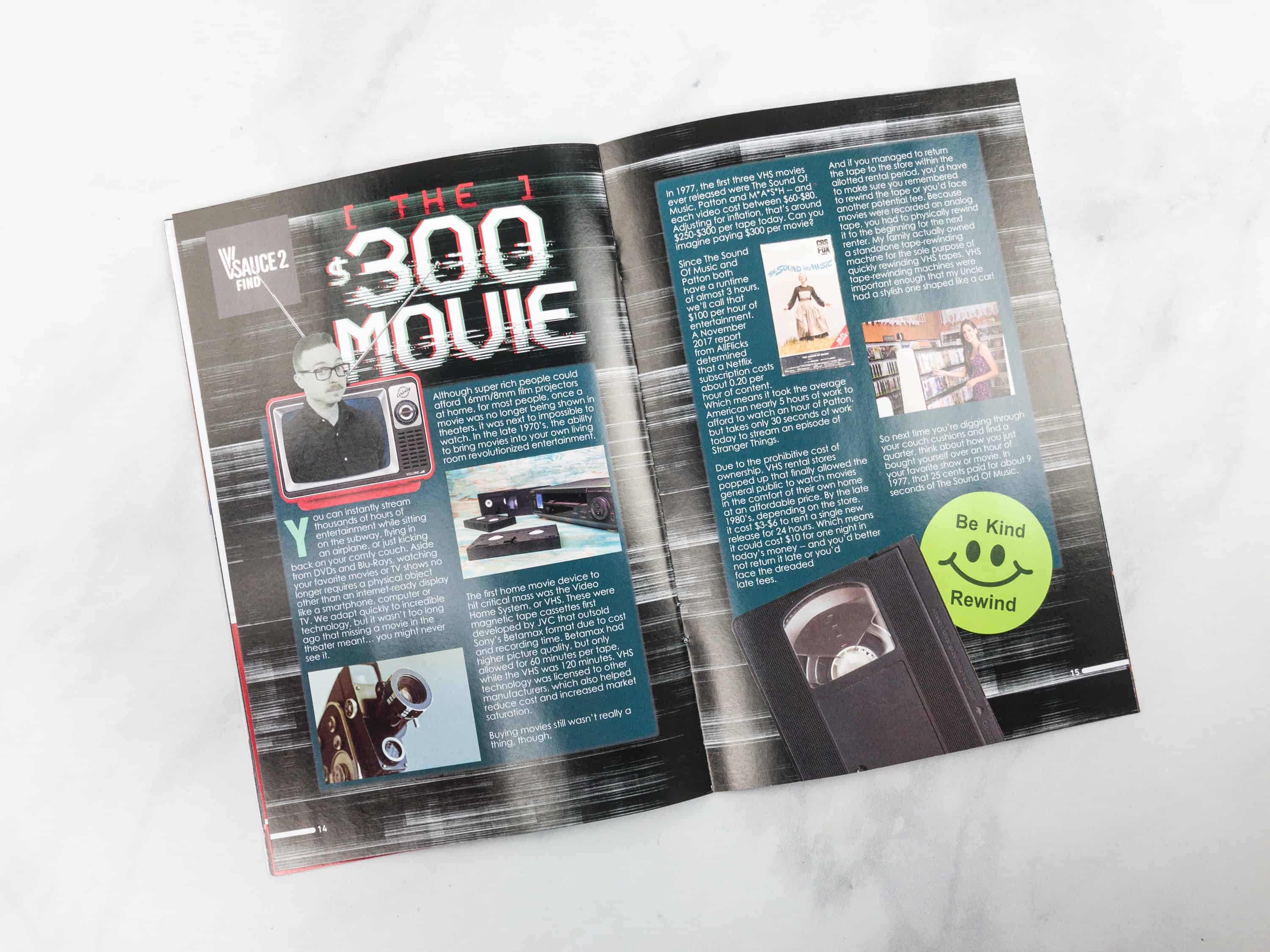 For this edition, they even included a fascinating article about films and VHS tapes!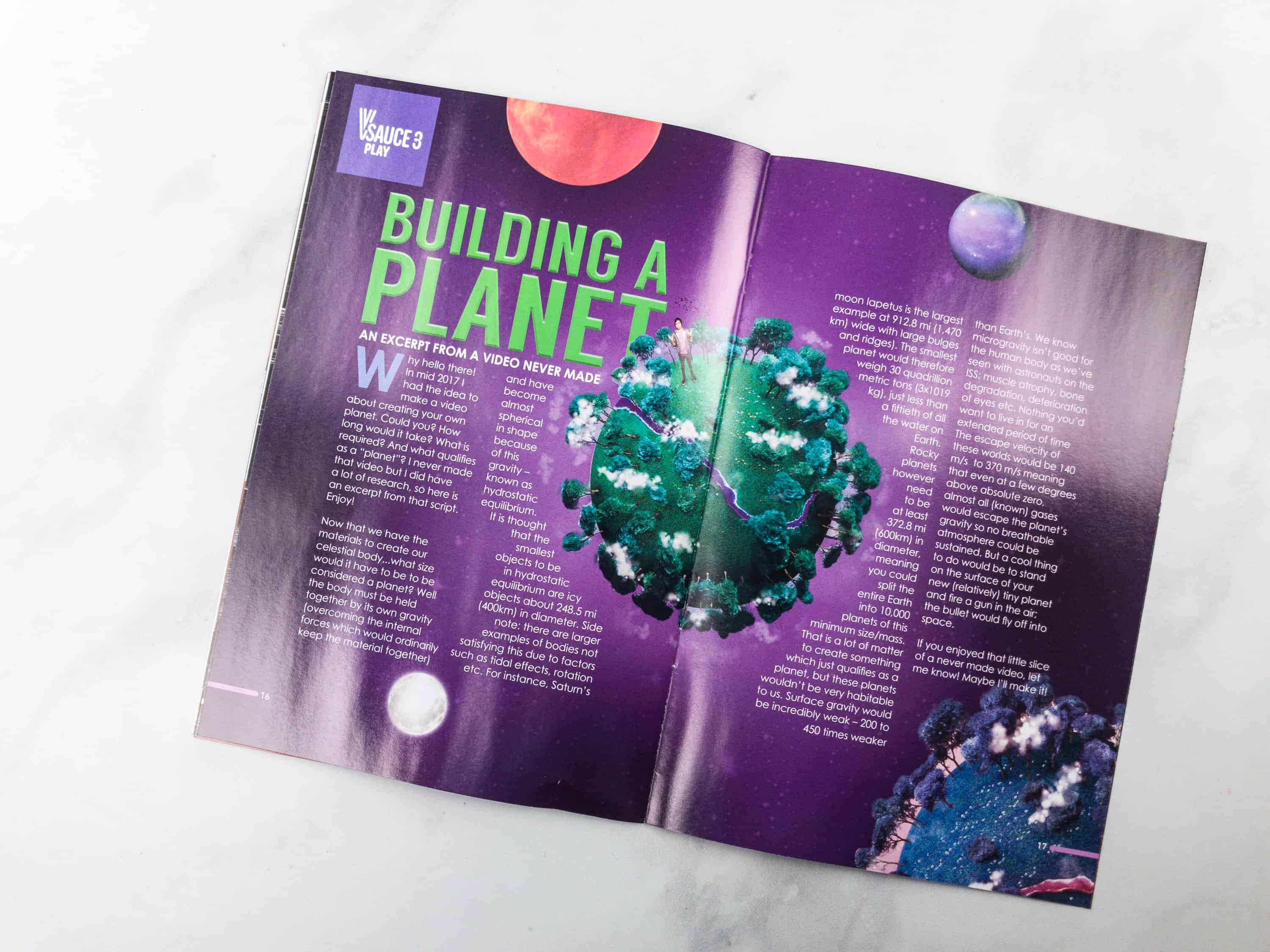 There's also an article about a video that was never made, Building A Planet.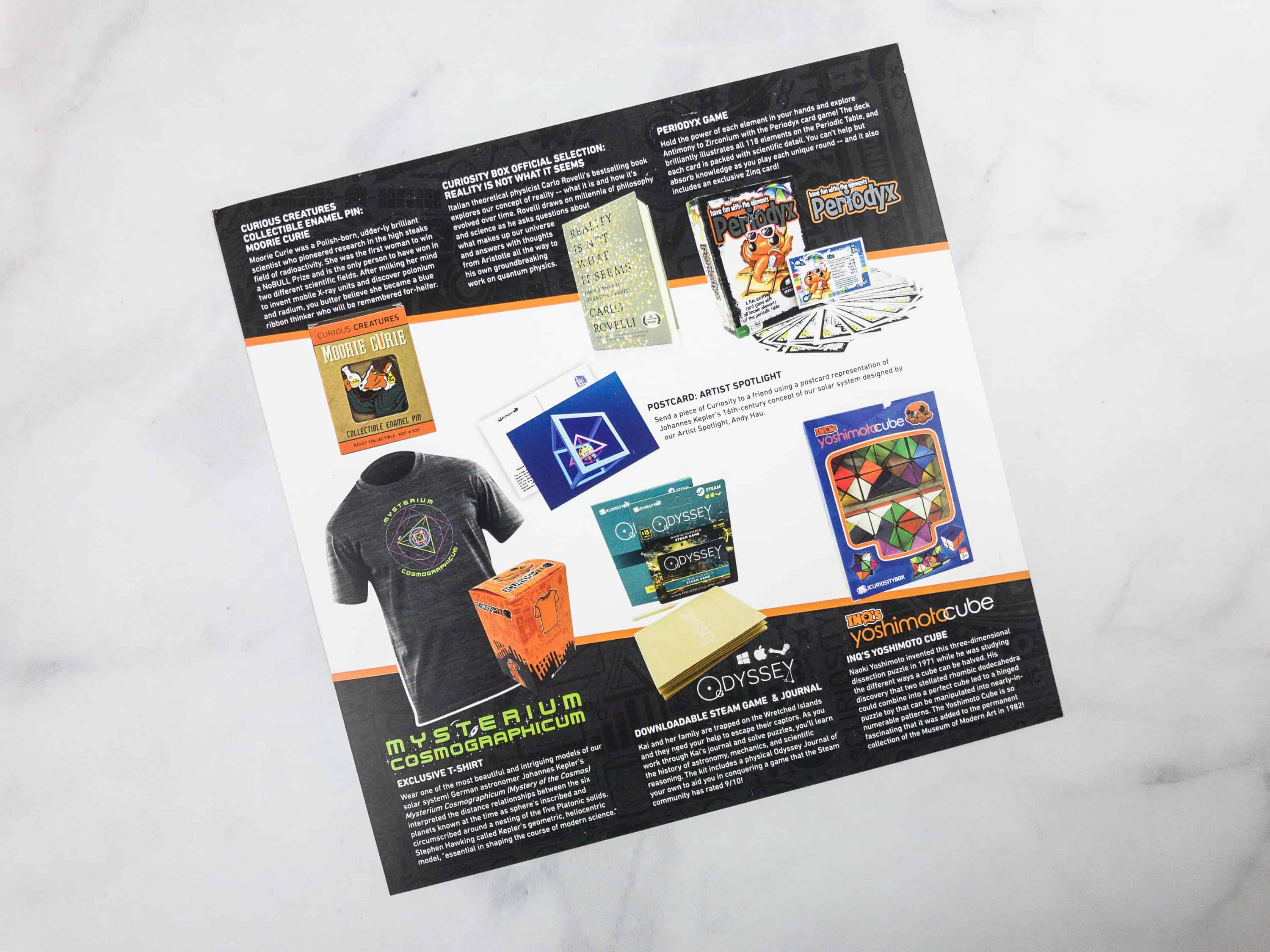 The Curiosity Box now has a separate information card – it's great for quick reference and for when someone steals your Curiosity Quarterly for bathroom reading. It contains a list of all the goodies this quarter!
As always, INQ the octopus is our guide through the box.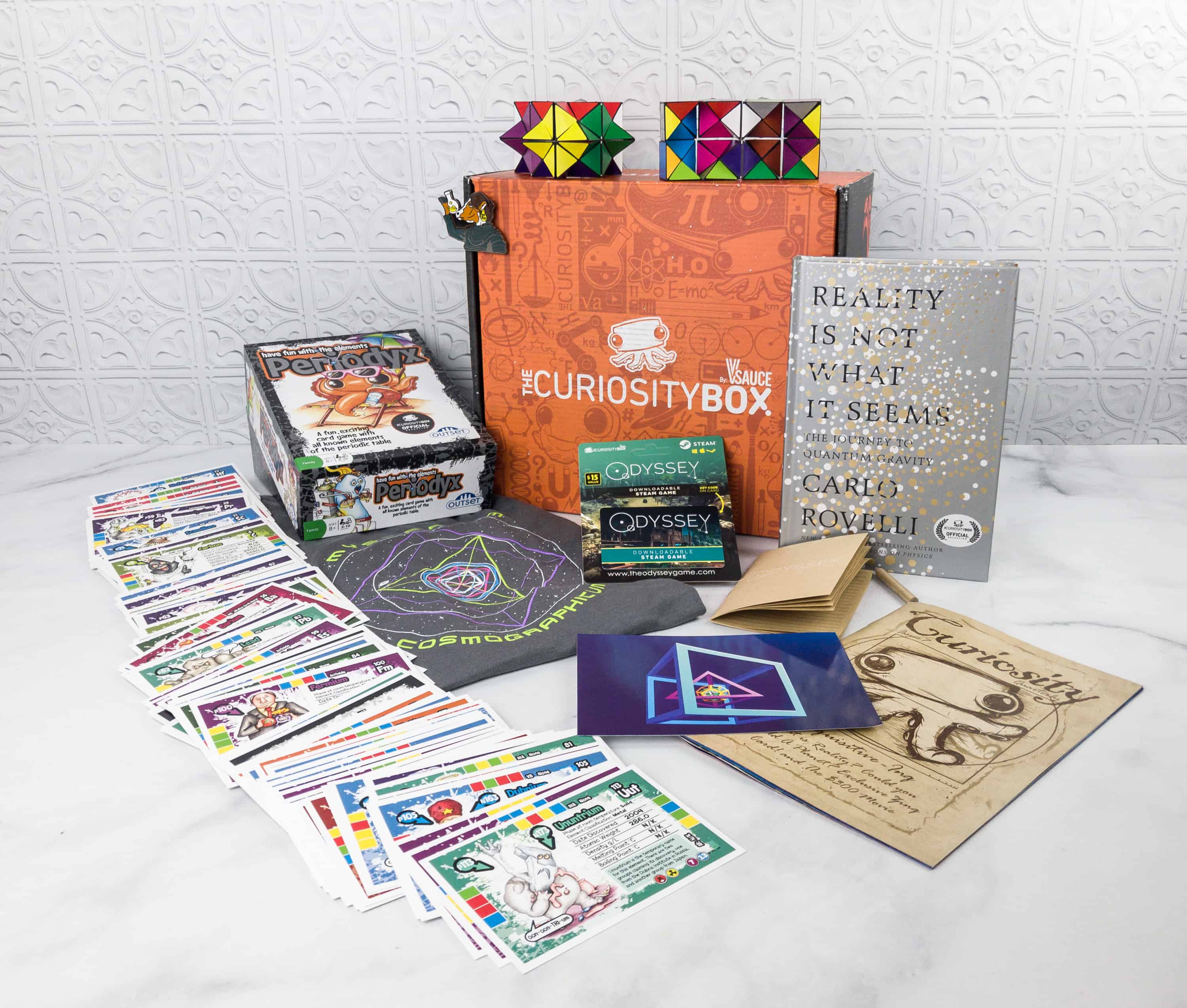 Everything in the box! The packaging for the box is top-notch – the individual items are in giftable packaging. The VSauce crew even goes so far as to call it limited edition collectible packaging!
There's also an article about the amoeba sisters, and a feature about Andy Hau, a known London-based designer.
Artist Spotlight Postcard. To warm everything up, here's a cool postcard with artwork from the featured designer, Andy Hau.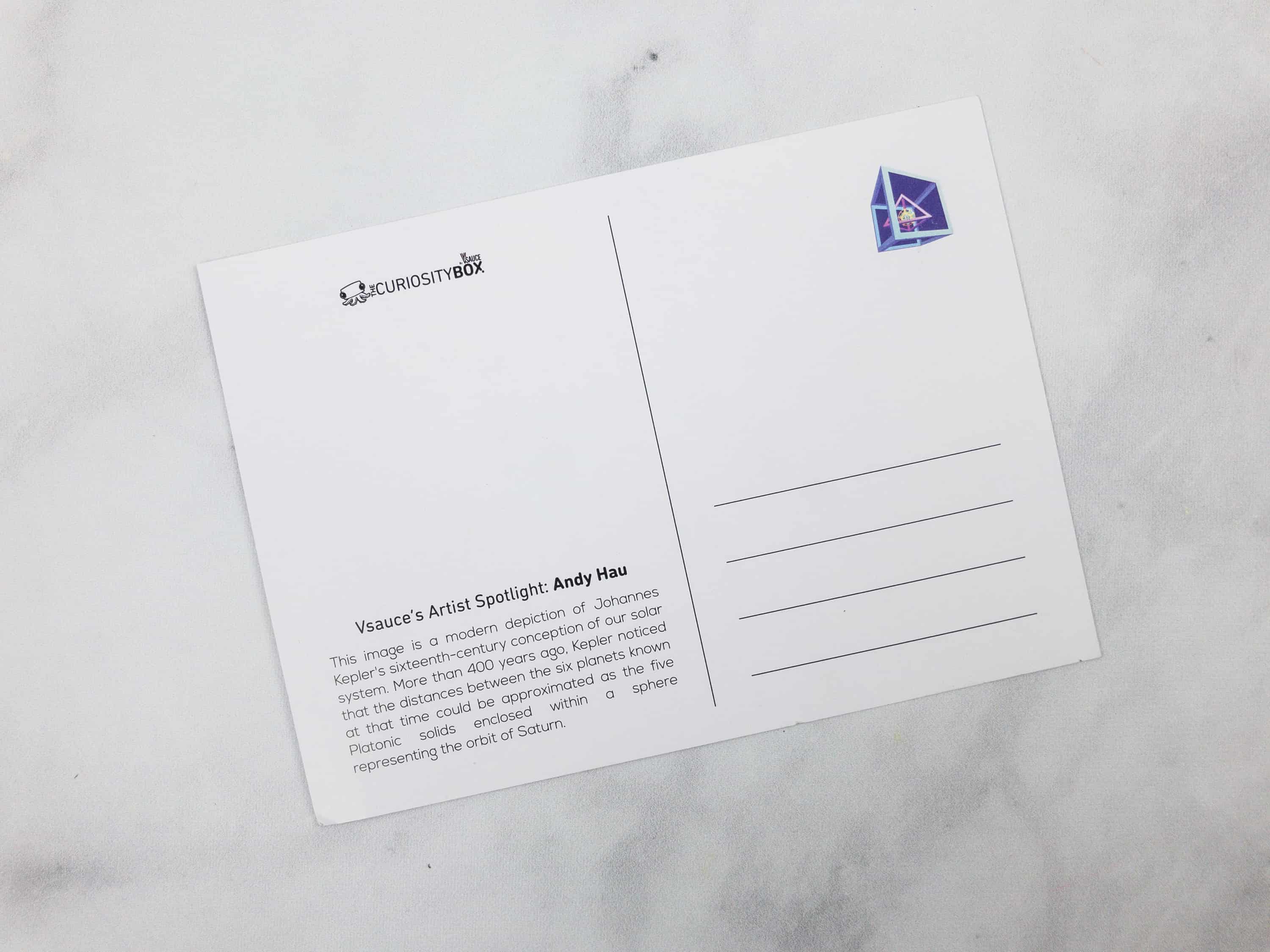 The image is a modern depiction of Johannes Kepler's sixteenth-century conception of the solar system. Modern art and a 400 year-ago concept really make a nice piece of art that will surely make hungry minds explore for more.

Curious Creatures Moorie Curie Collectible Enamel Pin. Every Curiosity Box includes an awesome pin, and for this season, we got a Moorie Curie pin! She's based on the Polish and French-naturalized chemist and physicist, Madame Marie Curie.
Moorie Curie was the first woman to win the NoBULL prize! My daughter really loved this item in the box, not just for the item but for the cool PUNny information!
It is a one post pin. Also, the year, the subscription box name, and character's name are engraved on the back.
The pins are always cool and colorful and they're made of enamel. One of our favorite features of this box now! Moovelous!
Next up is an article about Mysterium Cosmographicum, which is featured on this month's tee.
Here's the beautifully packaged The Curiosi-TEE!
I love how the box for each tee is actually perfect for gifting, that is, if we don't want to keep the shirt. But of course we will keep it! We're one big happy family of geeks!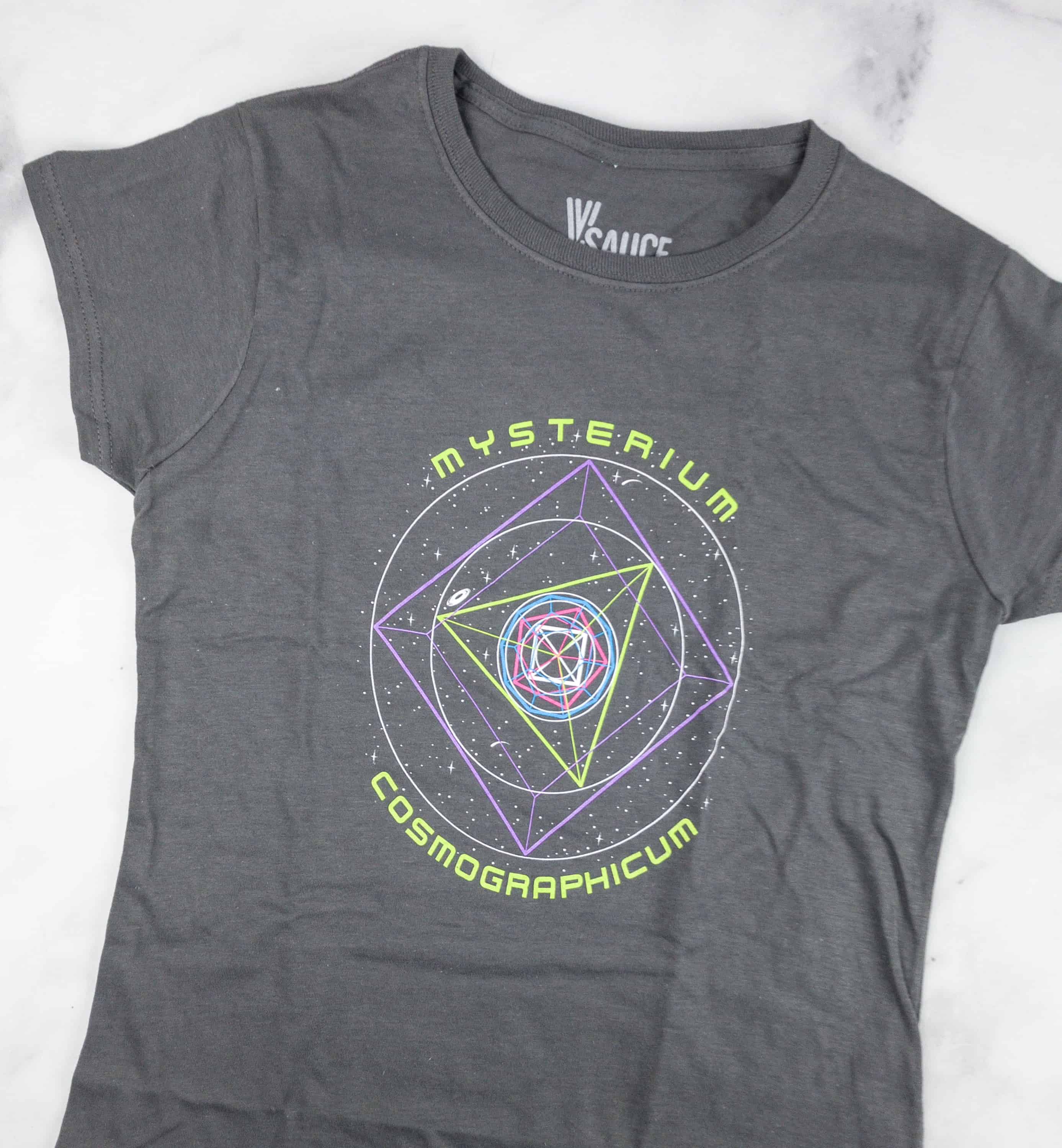 Mysterium Cosmographicum Exclusive T-Shirt. This gray shirt's design is based on Johannes Kepler's geometric theory of planetary orbits and distances published in 1596's Mysterium Cosmographicum. This actually looks like the artwork in the postcard but with a lot more shapes and lines.

Reality Is Not What It Seems By Carlo Rovelli ($15.59)
What are time and space made of? Where does matter come from? And what exactly is reality? Scientist Carlo Rovelli has spent his life exploring these questions and pushing the boundaries of what we know. Here he explains how our image of the world has changed throughout centuries. From Aristotle to Albert Einstein, Michael Faraday to the Higgs boson, he takes us on a wondrous journey to show us that beyond our ever-changing idea of reality is a whole new world that has yet to be discovered.

This hardbound book about modern Physics is written by Italian theoretical physicist and writer, Carlo Rovelli. He is also the head of the Quantum Gravity Group at the Centre de Physique Théorique of Aix-Marseille University. One of thing he is known for is being one of the founders of the loop quantum gravity (LQG) theory:
Loop quantum gravity (LQG) is a theory of quantum gravity, merging quantum mechanics and general relativity. Its goal unifies gravity in a common theoretical framework with the other three fundamental forces of nature, beginning with relativity and adding quantum features. It competes with string theory that begins with quantum field theory and adds gravity.
The book is perfect for those who want to know the basics of quantum mechanics and other physics-related topics.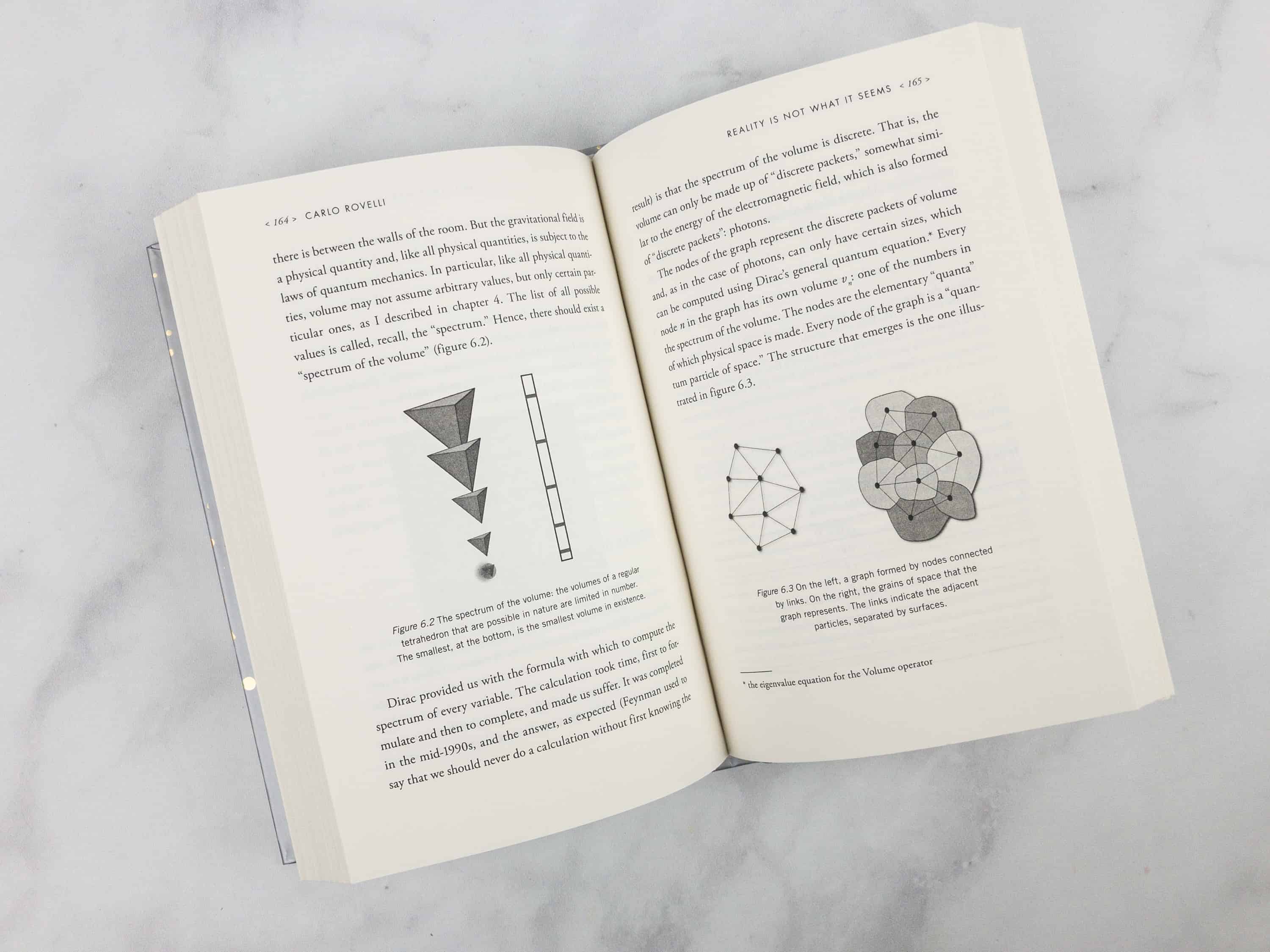 The theories and concepts are accompanied by illustrations for readers to further understand the realm they are looking at.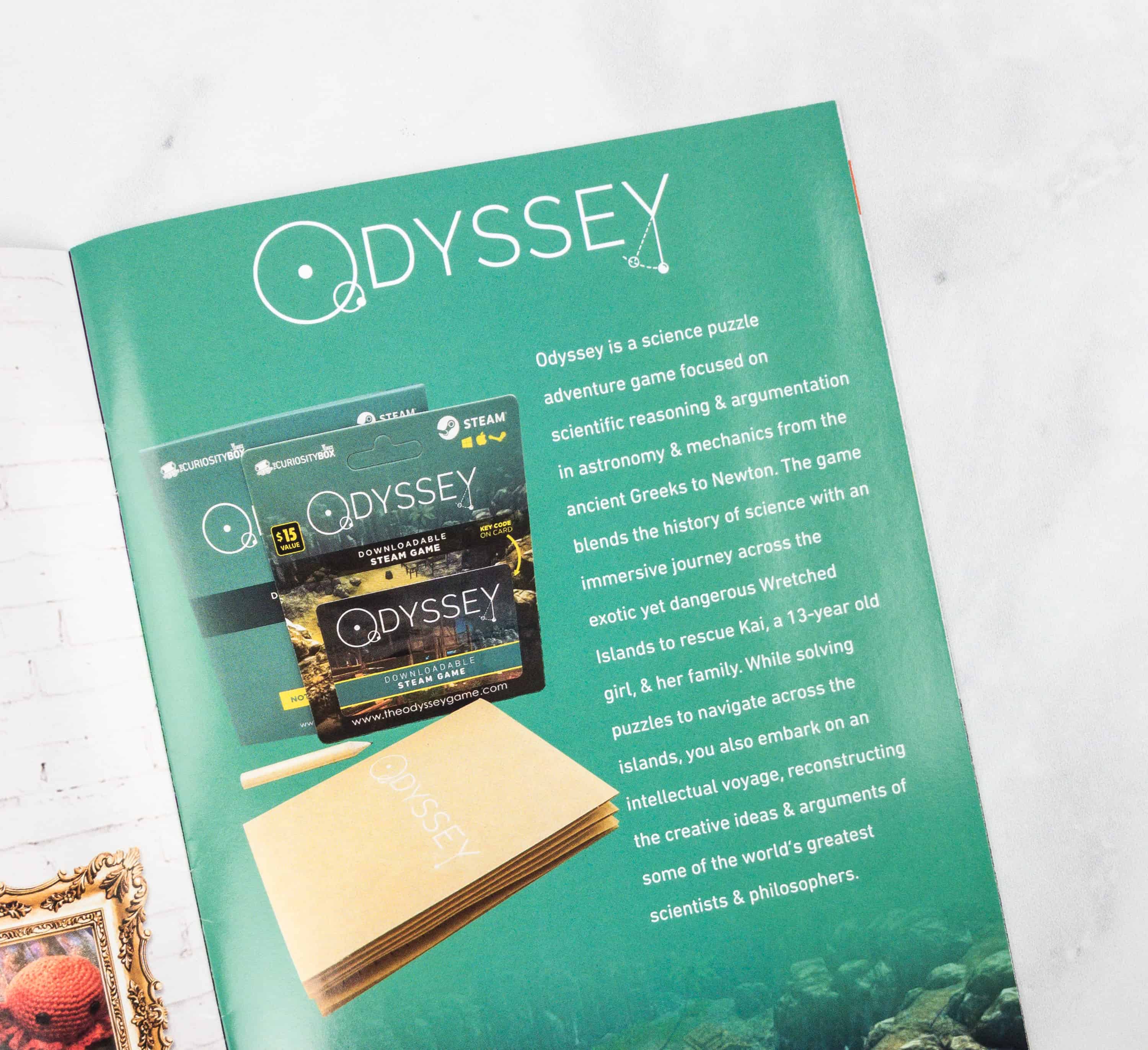 We also received a next generation Science game from Steam…

Odyssey Downloadable Steam Game & Journal ($15)
Odyssey is an enchanting and innovative science adventure game. Help Kai and her family escape their captors on the Wretched Islands – and learn the history of astronomy, mechanics, and scientific reasoning as you read Kai's journal and solve puzzles along the way!

They even included a journal and a pen to keep track of your game!
The game focuses on scientific reasoning and argumentation in astronomy and mechanics from ancient Greeks to Newton, as it blends the history of Science with a journey across the Wretched Island.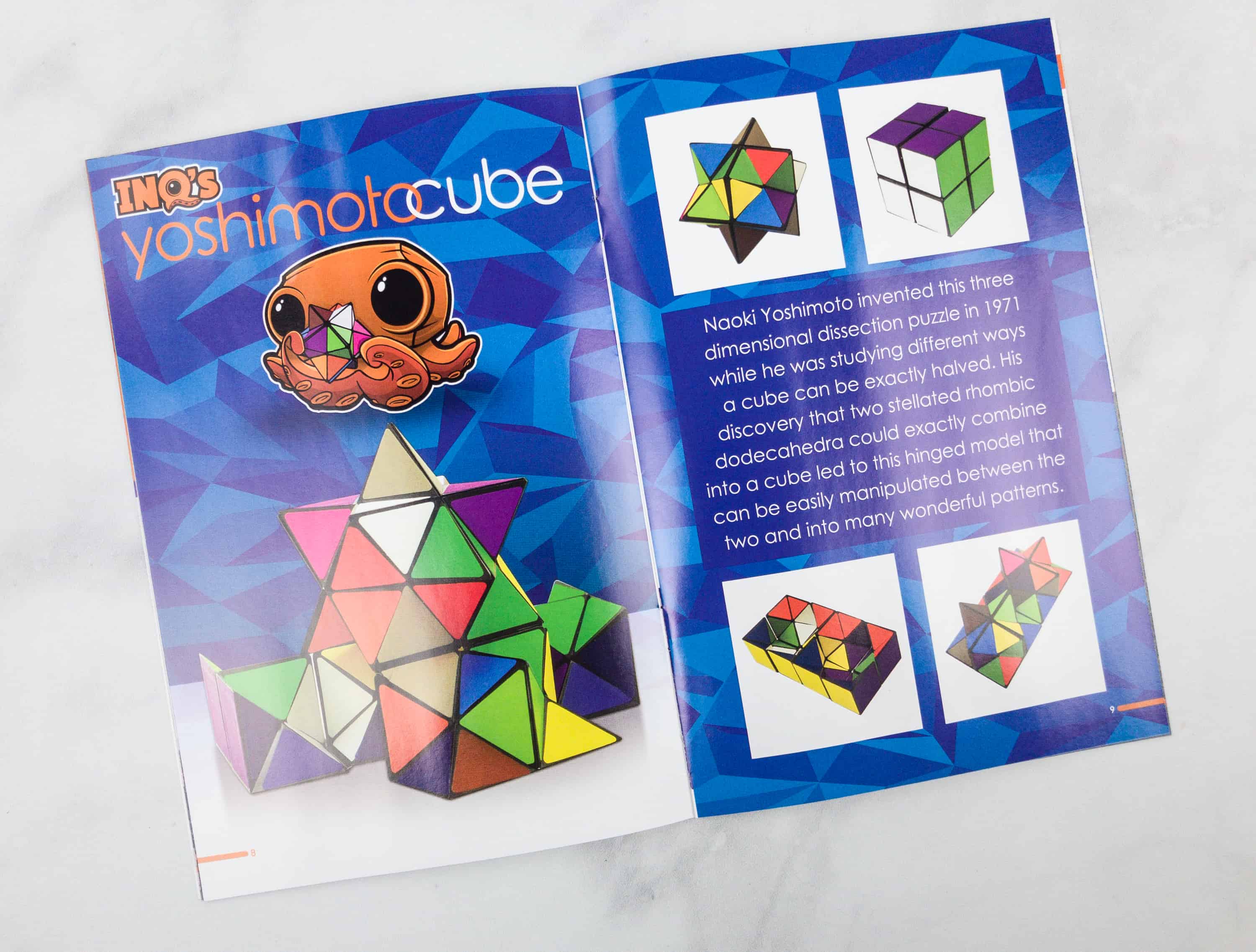 Before getting our hands on the next item, a brief explanation of how it works.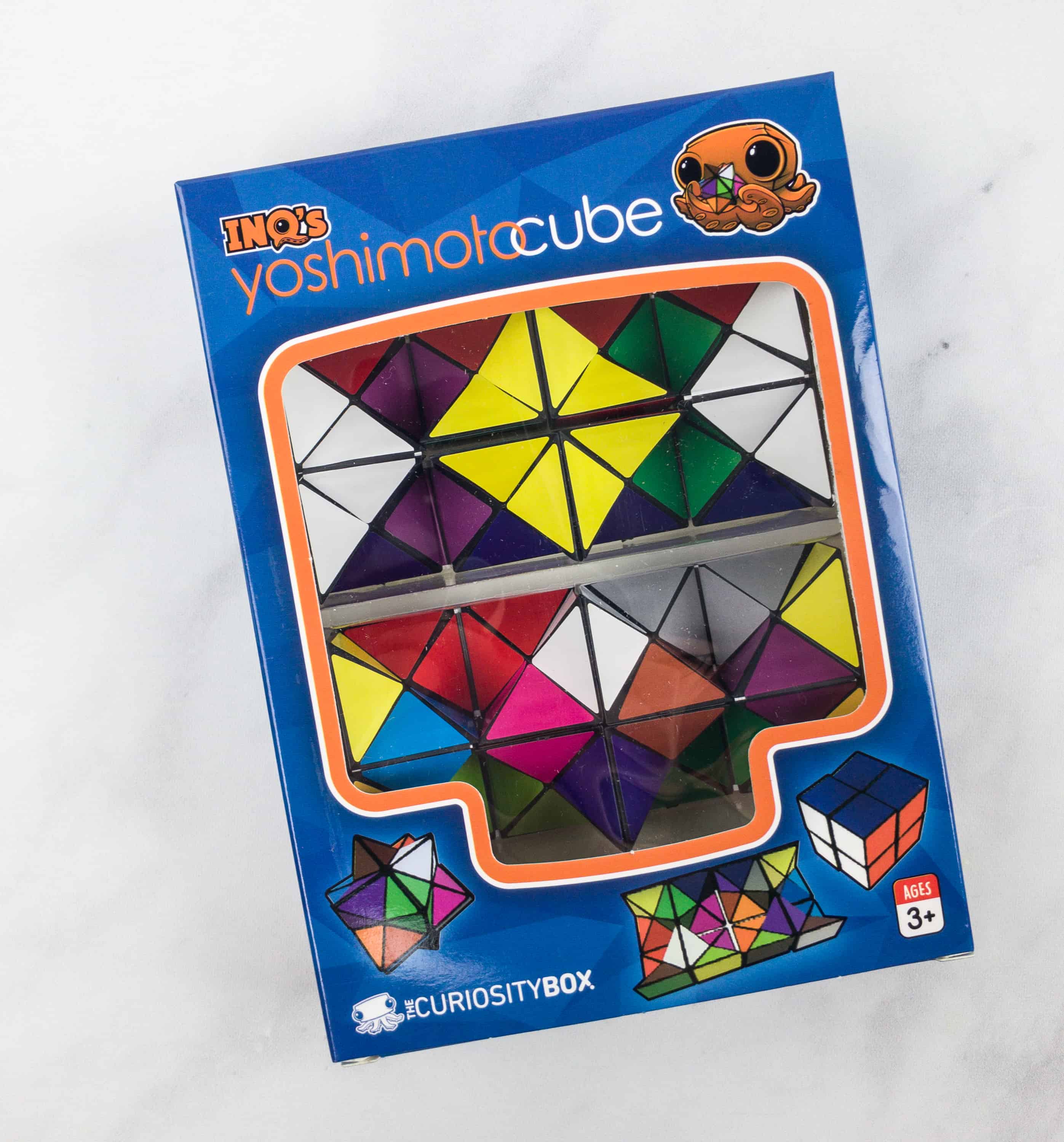 Inq's Yoshimoto Cube. A yoshimoto cube is a polyhedral mech puzzle, which is made up of eight interconnected cubes which can be folded or unfolded indefinitely.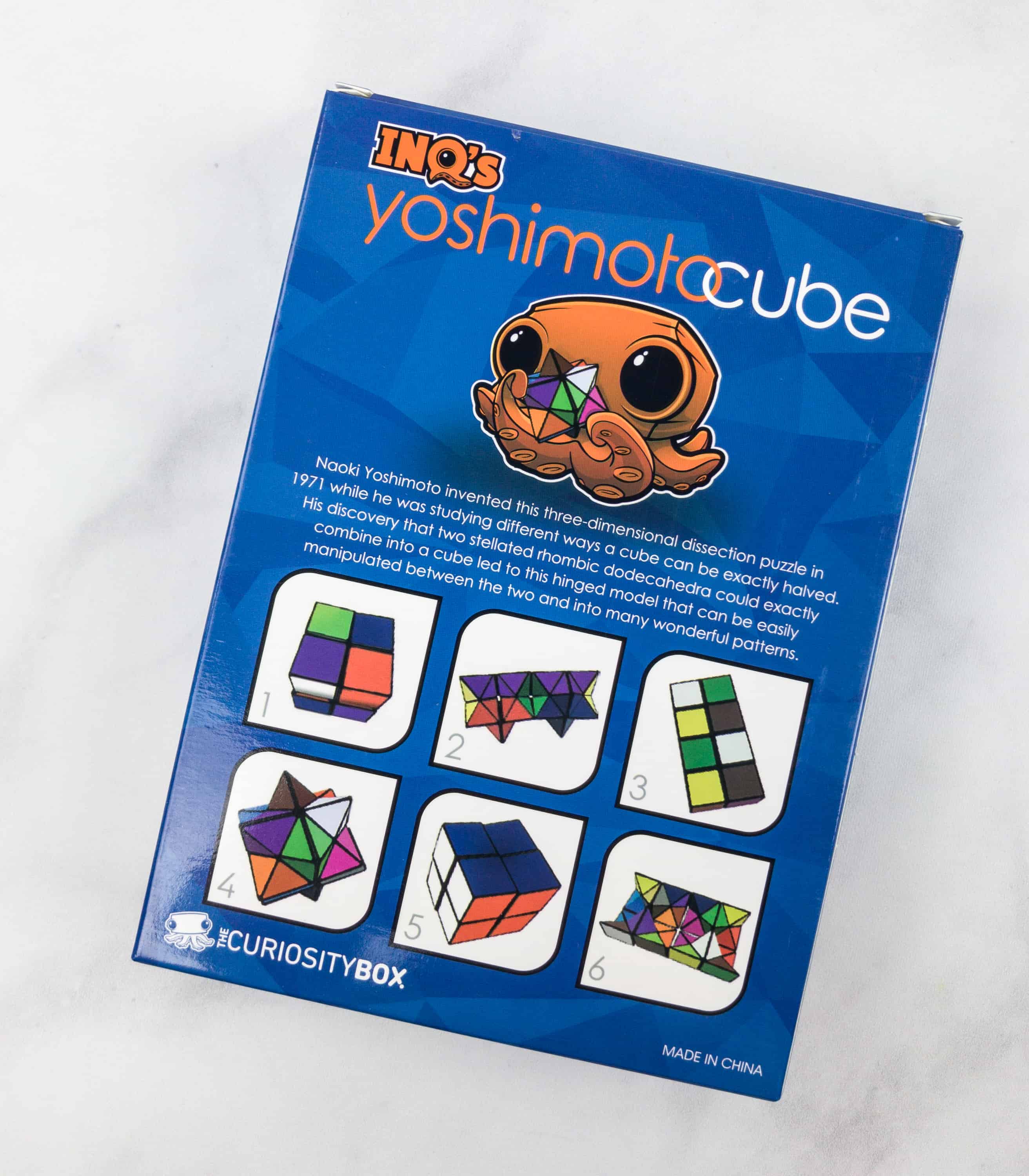 It is invented by Naoki Yoshimoto, who discovered that two stellated rhombic dodecahedra could be pieced together into a cube. He found it out when he was finding different ways where he could split a cube equally in half.
It is a three-dimensional dissection puzzle.
We've read articles and watched videos about this unique puzzle, and people are saying that this item is blowing their minds.

It looks simple and "harmless" folded up in a square…

…and looked really interesting when played with. Setting aside the use of this puzzle, I like how the colors come together when we tried to solve this puzzle.
This next item is for the aspiring chemists!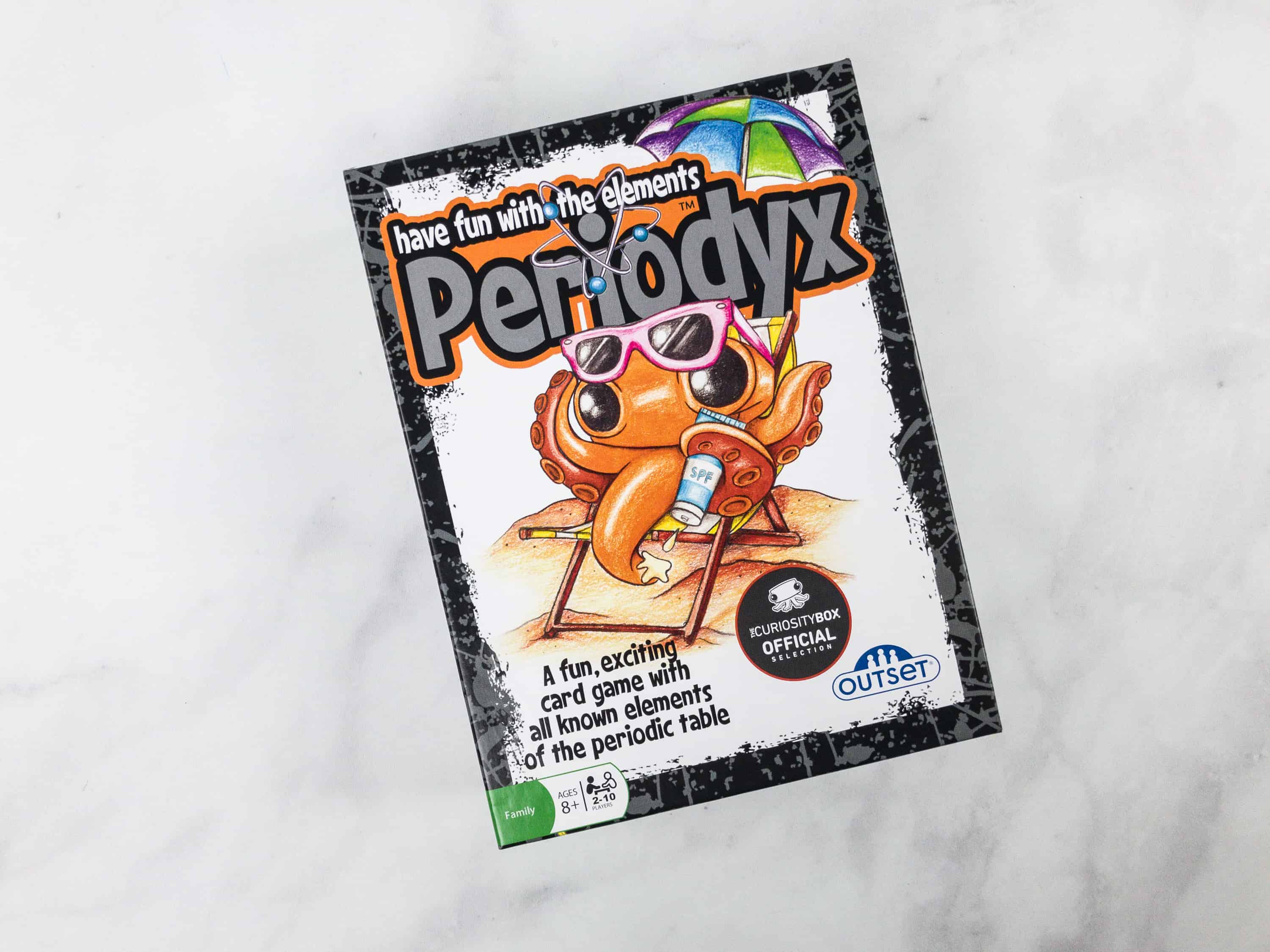 Periodyx Game. We got the Periodyx Game, a card game based on a chemist's favorite item and best friend, The Periodic Table!

It's one surefire way to know more about the 118 elements of the Periodic Table! This is an exclusive version of Periodyx, which is available at Think Geek.
It's colorful and the cards contain essential info regarding each element like atomic number, weight, density, melting point, and boiling point. I wish I had these cards when I was taking my Chemistry class – memorizing all the elements would have been a lot more fun!
The crew at VSauce did a great job once again. The science books are always incredible and they make great study guides for students of all ages. The geeky shirt and punny pin is a hit too! They're high-quality and we love wearing them simply because science is cool and fun! All in all, there is something for everyone to learn, so it's the perfect subscription to get for the whole family! This is one of our favorite boxes, especially for enhancing science education at home.
What do you think of this quarter's box?
Visit The Curiosity Box to subscribe or find out more!