Polliwog Post is a monthly subscription that keeps you connected with a child while helping another in need through the magic of snail mail. Each monthly package includes personalized children's coloring and activity card printed on 100% post-consumer recycled paper, independently designed coordinating stickers, a return postcard for the child to decorate and send to you, and the anonymous gift of the same card and stickers sent to a hospitalized or homeless child.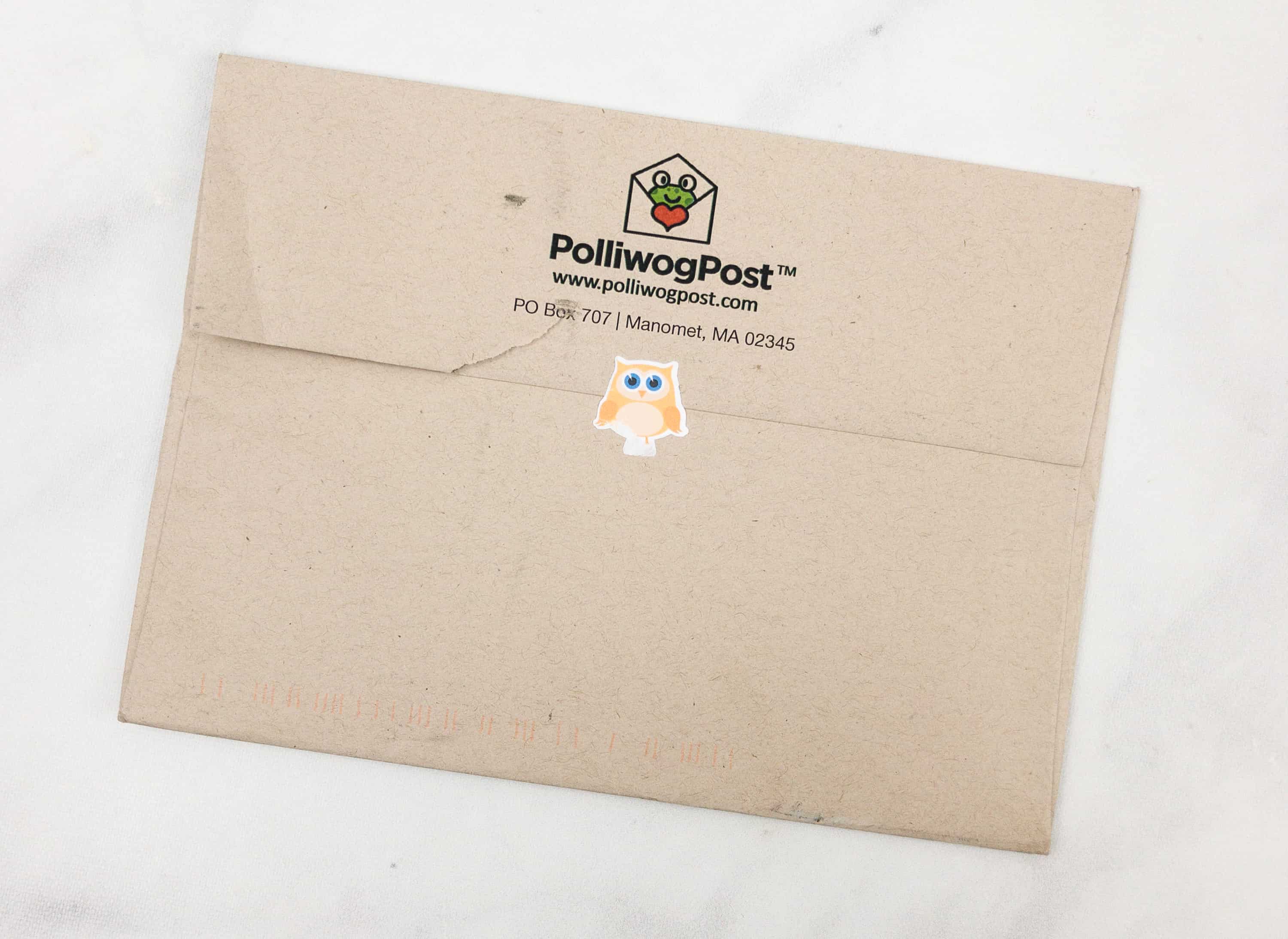 DEAL: Get 10% off your first order. Use coupon code HELLO10.
Everything in my box!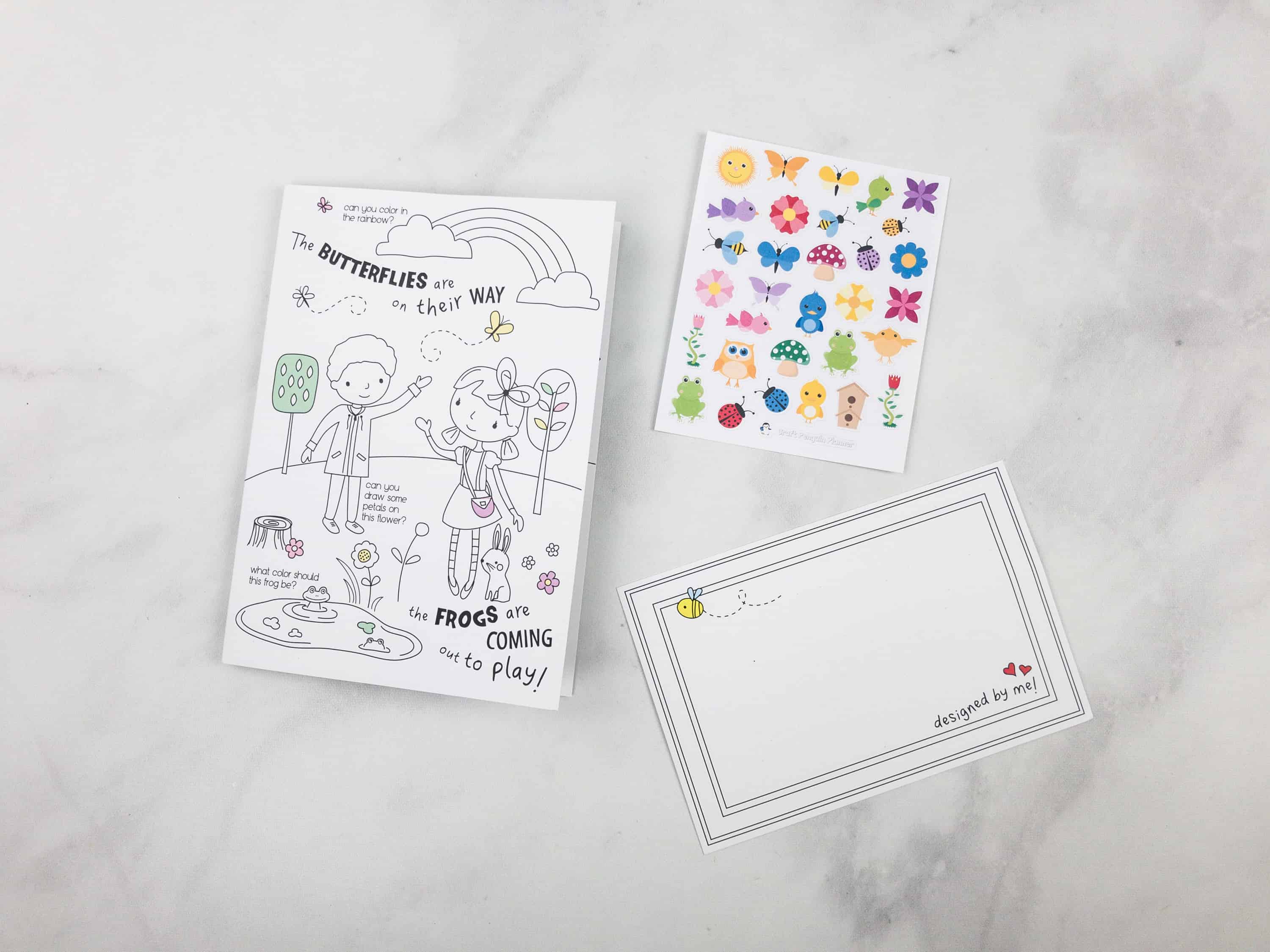 I love that Polliwog is making children the heart of this box. Other than the cute frog envelope, we also got an activity card, a blank stationary, and cute stickers!
The sticker sheet features flowers, and animals like frogs and birds. There are also butterflies and lady bugs! It looks a lot like spring!
The front of the card already has borders and a few details like a bee and a heart, but the rest of the design is really up to you!
I know that this is going be a great experience for my daughter because it teaches her to be well rounded and that it can be fun to do things the old-fashioned way.
The recycled paper is of good quality and it's easy for children to color.
Polliwog personalized the card to make it homey. They already had some colors filled in, so it can serve a guide for children or so that it won't look plain.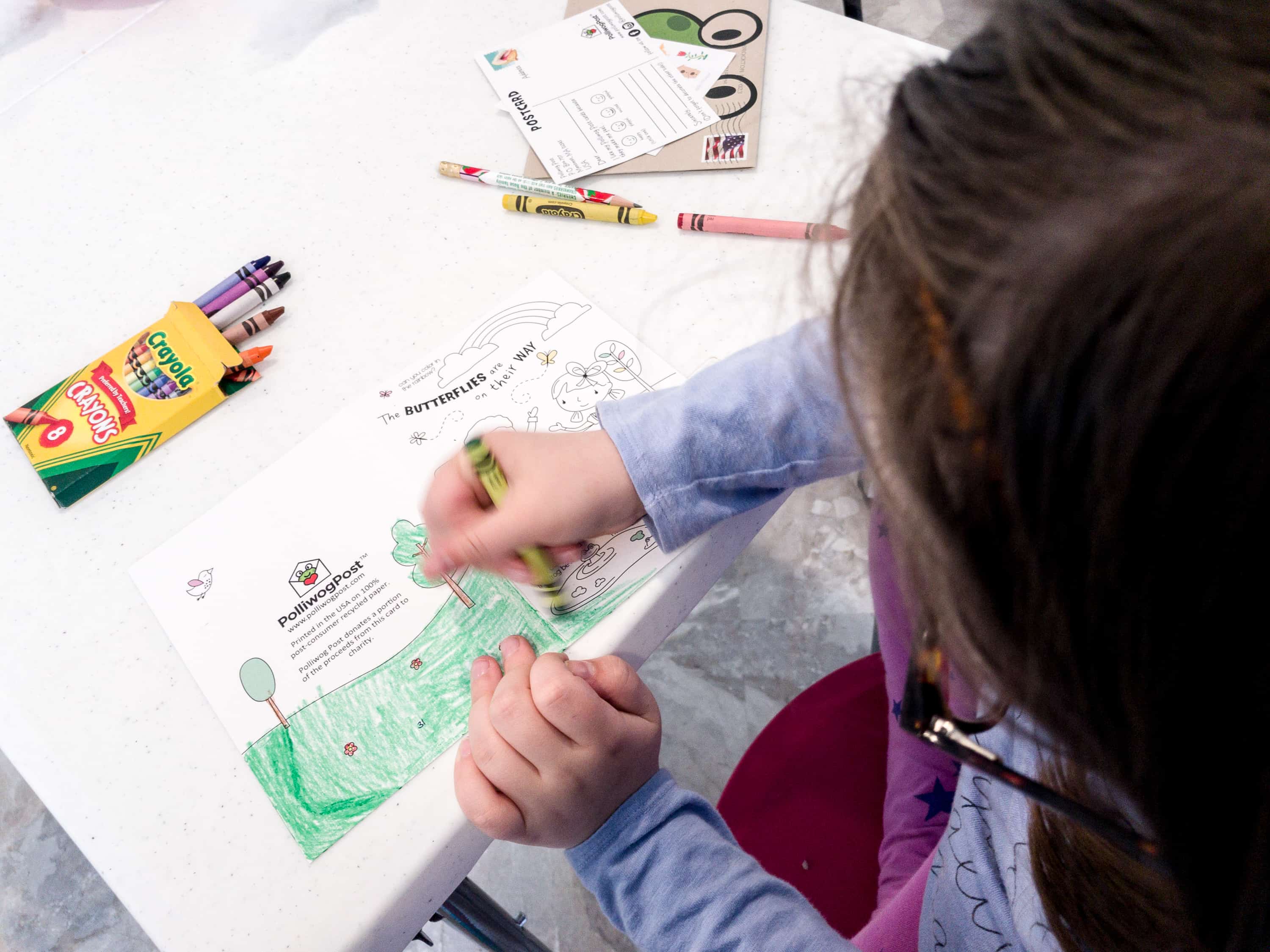 My daughter enjoyed it! My heart is full!
I was happy to see that she enjoyed the stickers and had fun with it. She incorporated them in making her own springtime scenery! We hope the recipient of this card will enjoy it as much as we did coloring it.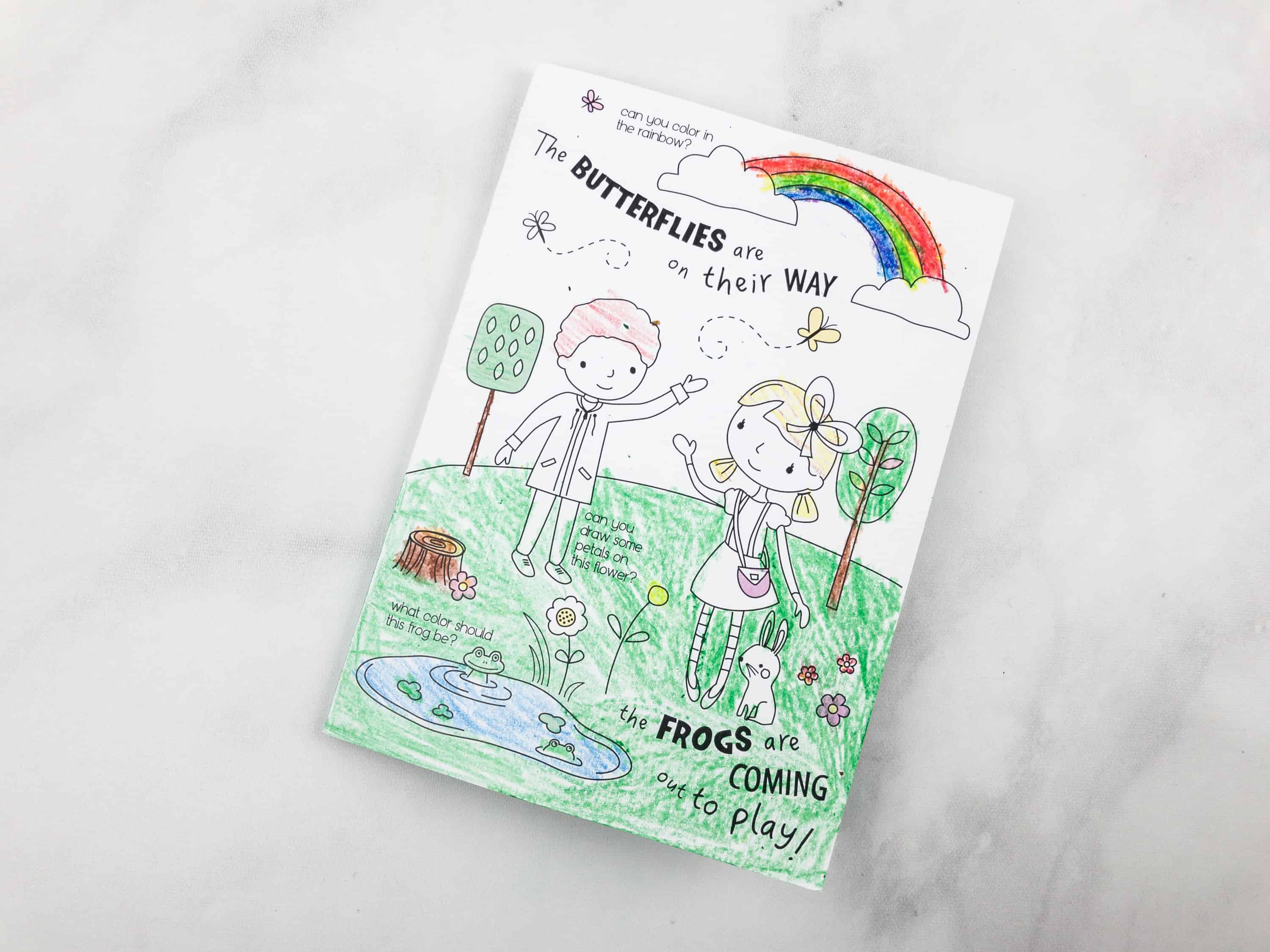 The finished product!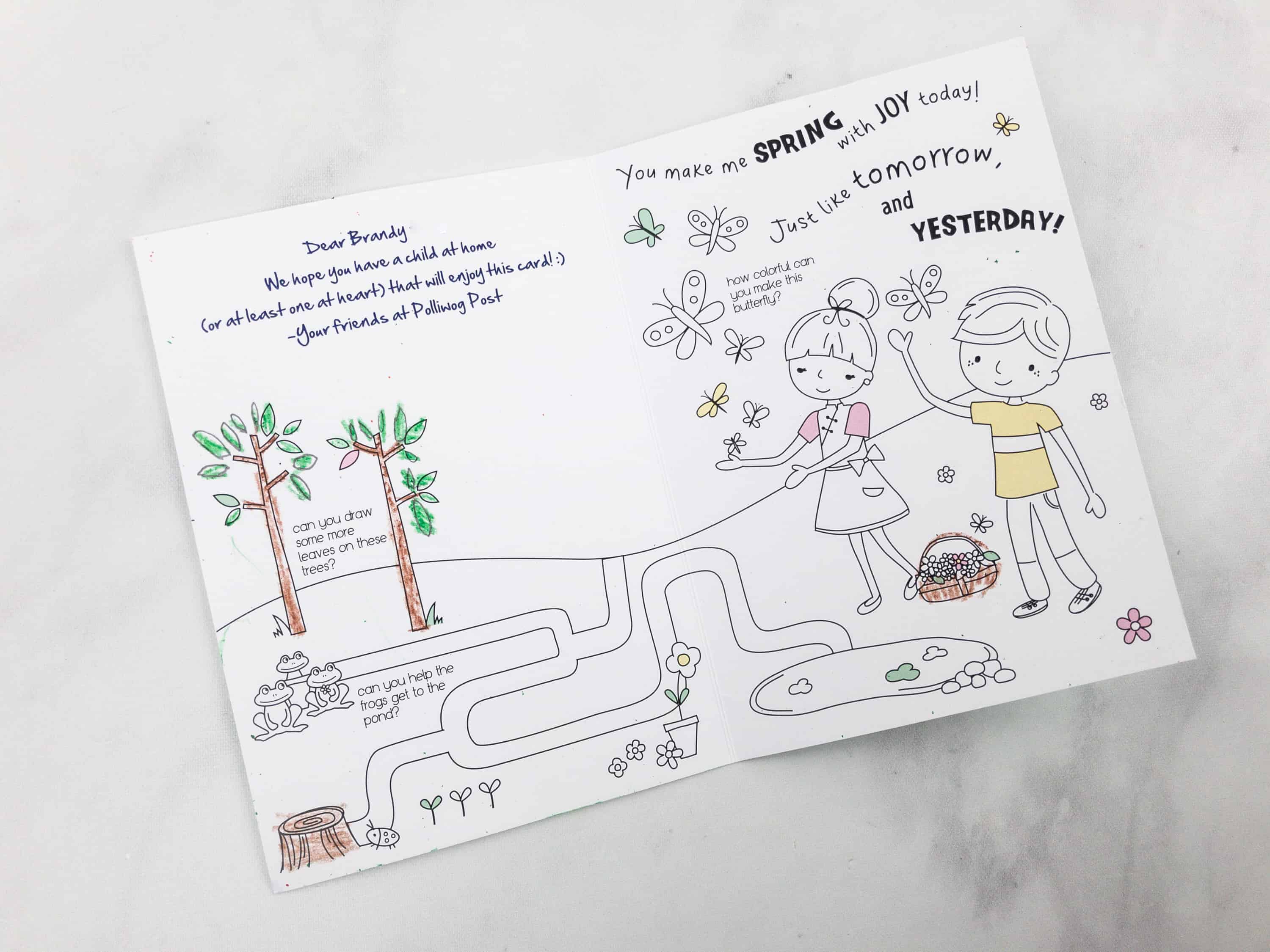 The design goes until the back and the child can color that too. It has a little information about Polliwog. Talk about giving back to people and mother nature!
In this digital age, it is nice to have something like Polliwog Post that aims to augment human connection. The children can learn something new and help other people at the same time through this subscription. It is good for them to understand and not underestimate the importance of a simple card or reaching out because it can make a difference in someone's life. Start 'em young, right?
What do you think of this month's subscription?