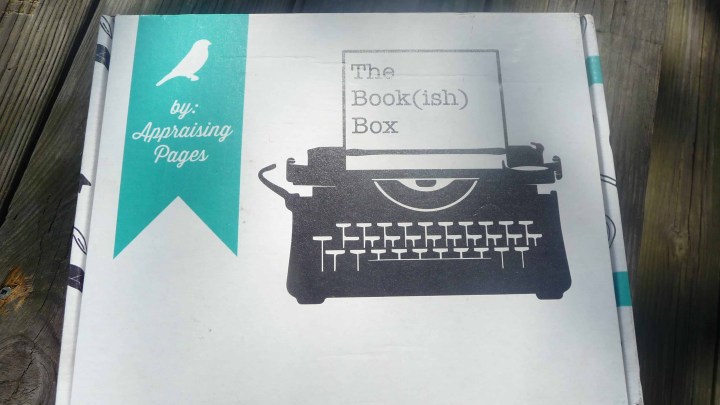 The Book(ish) Box is a monthly subscription of literary inspired items. Every box contains a t-shirt and 3-4 other literary items. The Bookish Box now offers the option to have a YA book included in your box! When you sign up, you'll have the option to select one of multiple box options.
This month's theme is Cover Lust. Each item in this box comes from a story that is friendship themed. I received 7 great items this month.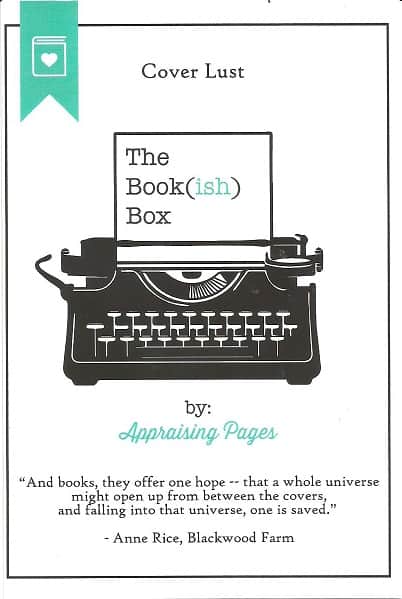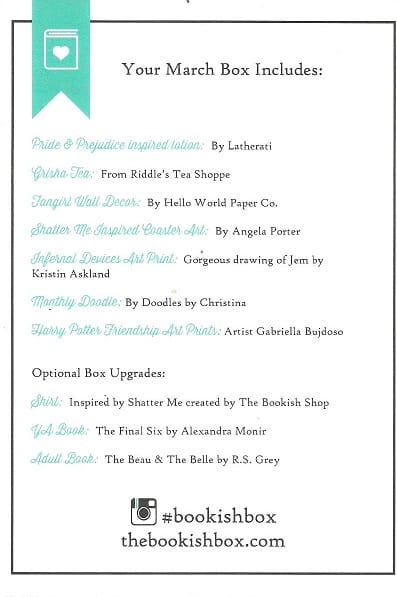 DEAL: You can save $3.50 on your first box with coupon code WELCOME or save 15% on your entire subscription with coupon code HELLO.
The first item in this month's box is a new addition to the monthly box, a calendar set! Each month, the box will include the next month's calendar. This box came with April's calendar and it was designed by Hey Atlas Creative. I found them very useful and I like that each one is uniquely designed. The quote on this month's is very moving, don't you think?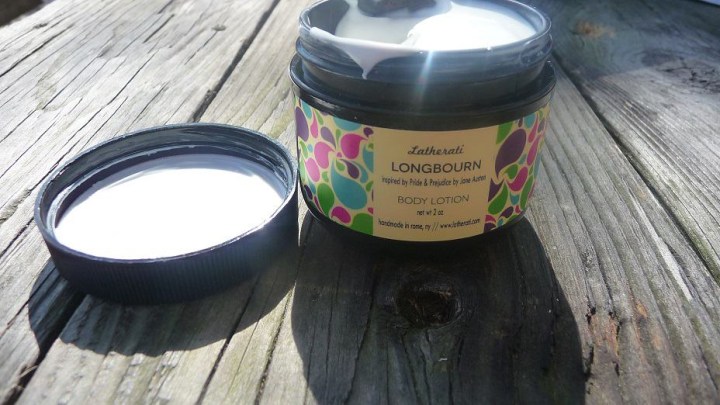 My next item is a little something  by Latherati. It is a jar of lotion inspired by Pride & Prejudice by Jane Austin. I love the smell of this lotion. There is no greasy feel to it which is great. The lotion contains avocado, grapeseed, and jojoba oil. It also contains aloe vera, shea butter and emollient silk amino acids. A little bit of this goes a long way. If you haven't read Pride & Prejudice, I recommend you do. It is my favorite book and the movie wasn't too bad either.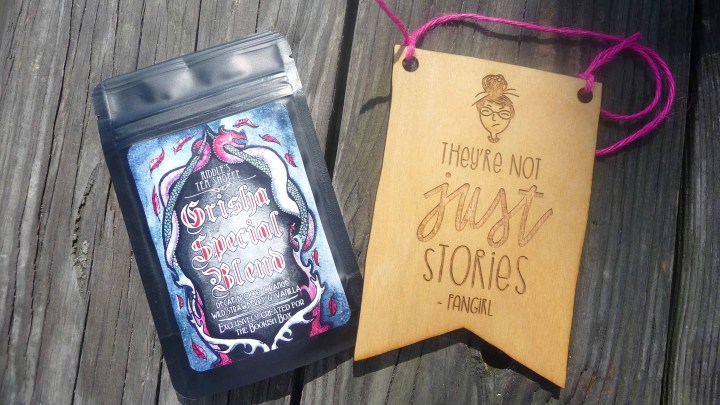 My next items are from Riddle's Tea Shoppe and Hello World Paper Company. They are a Grisha tea and a Fangirl Wall Decor. The tea is a loose leaf tea. Some of the ingredients include, Decaf Ceylon Tea, rose hips, hibiscus, orange peels, apple pieces, vanilla, and strawberry. It smells delicious! It will go great while reading my next book. The Fangirl sign is perfect for my reading nook. The books I read are not just stories. They are a way of a release from the stress of the world.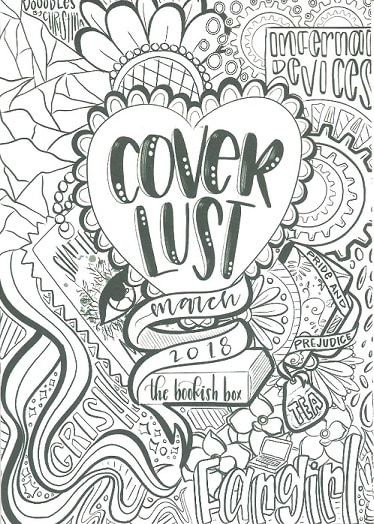 My next item is the monthly doodle from Doodles by Christina. The artwork is awesome and really captures the sense of the theme of the box. You color in the doodle and share it for chance to win a free box.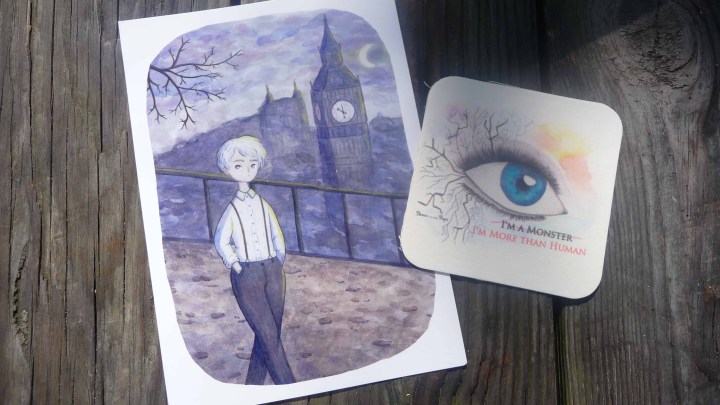 My next items are a Shatter Me Inspired Coaster Art by Angela Porter and art work by Kristin Askland of Infernal Devices Jem. Both artworks are simply eye-catching. I am not even going to use the coaster as a coaster but instead as artwork.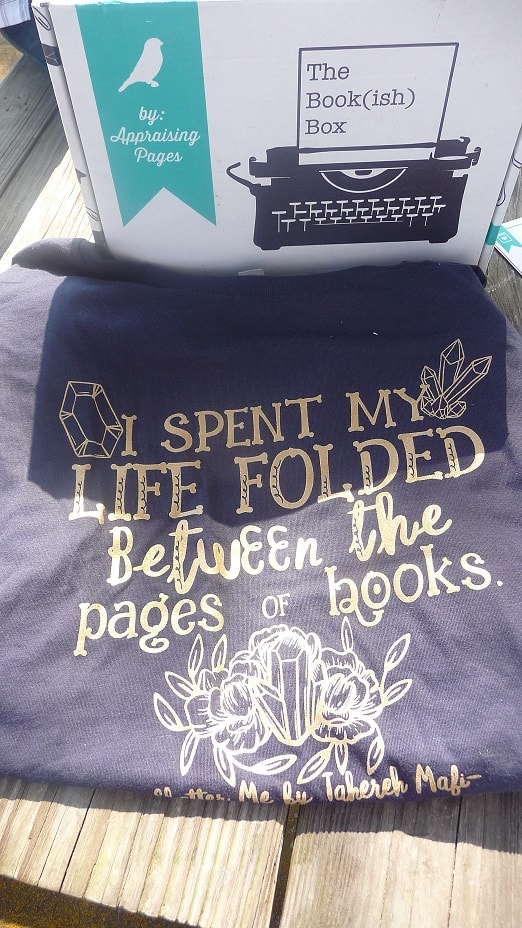 This month's shirt was designed with inspiration from Shatter Me by the Bookish shop.
I spent my life folded between the pages of books

— Tahereh Mafi
If you are a book person then you may have spent half your life immersed in books. I find them a great way to escape reality.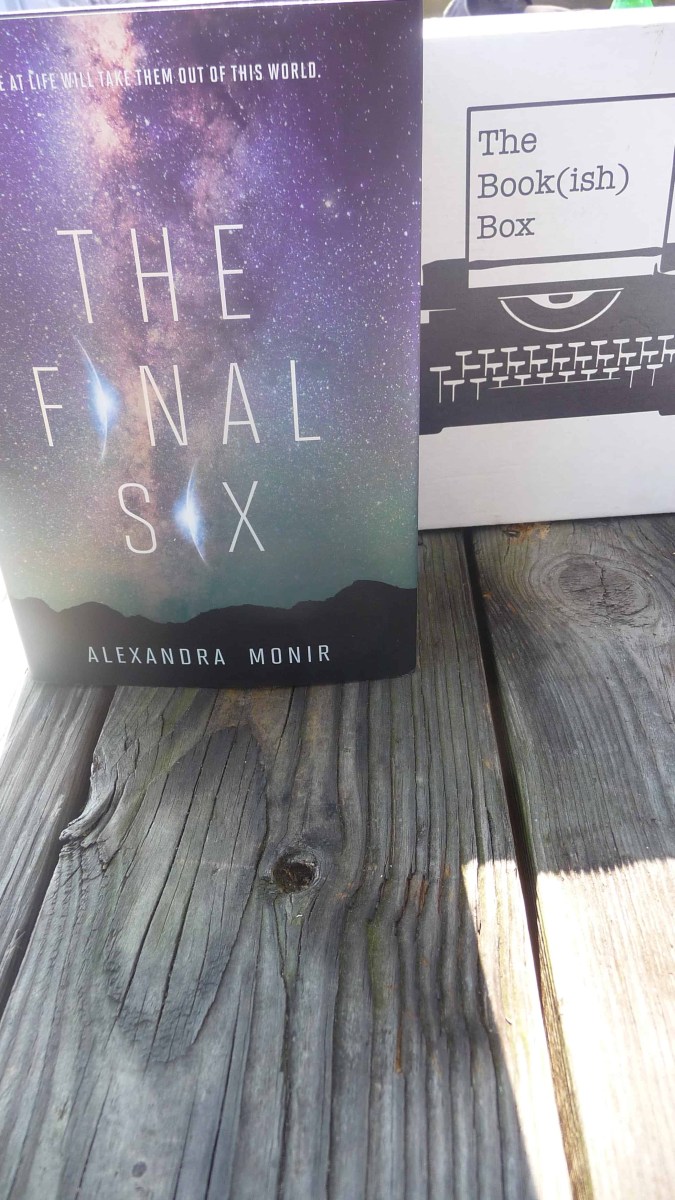 I upgraded my box to include the book! This month's book is The Final Six by Alexandra Monir. The book is about a group of teenagers sent on a mission to one of Jupiter's moons. If you are into space travel stories this is a book for you.
When Leo and Naomi are drafted, along with twenty-two of the world's brightest teenagers, into the International Space Training Camp, their lives are forever changed. Overnight, they become global celebrities in contention for one of the six slots to travel to Europa—Jupiter's moon—and establish a new colony, leaving their planet forever. With Earth irreparably damaged, the future of the human race rests on their shoulders.
Well, thanks for reading my review. I am off to read more books. Keep reading and adding pages (and friends) to the story of your life.
Tell me what you thought about this month's Bookish Box!