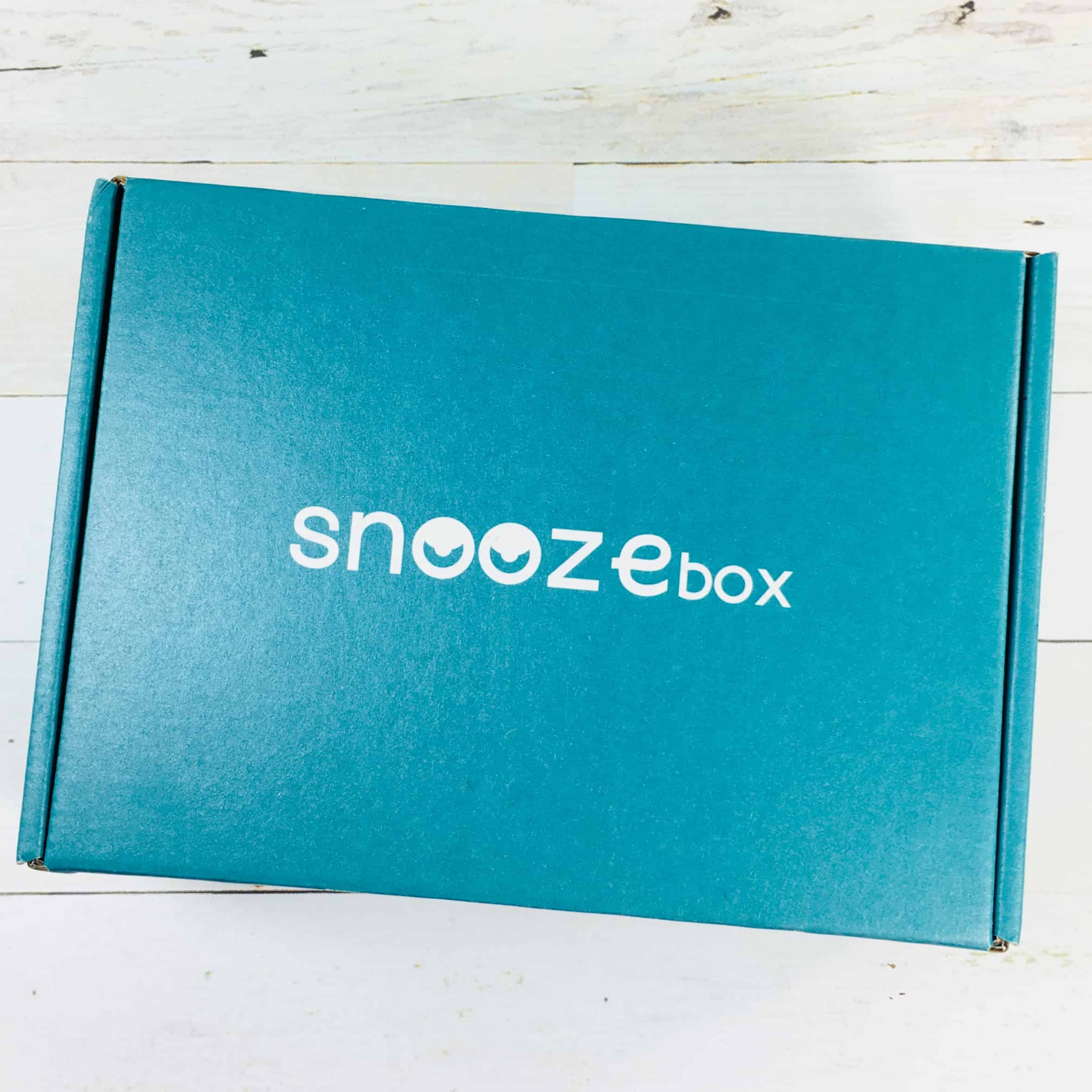 SnoozeBox is a monthly subscription box full of all-natural sleep aids! SnoozeBox will send 3-6 items each month and may send vitamins & minerals; herbs; teas; essential oils & aromatherapy; or bath bombs & salts. These items are specially selected to have no side effects and are non-habit forming.
The science of sleep is always evolving, which is why our team works tirelessly to unearth new and effective ways of getting you that amazing night's sleep you deserve. There's no better feeling that opening a fresh box each month to discover new natural sleep possibilities.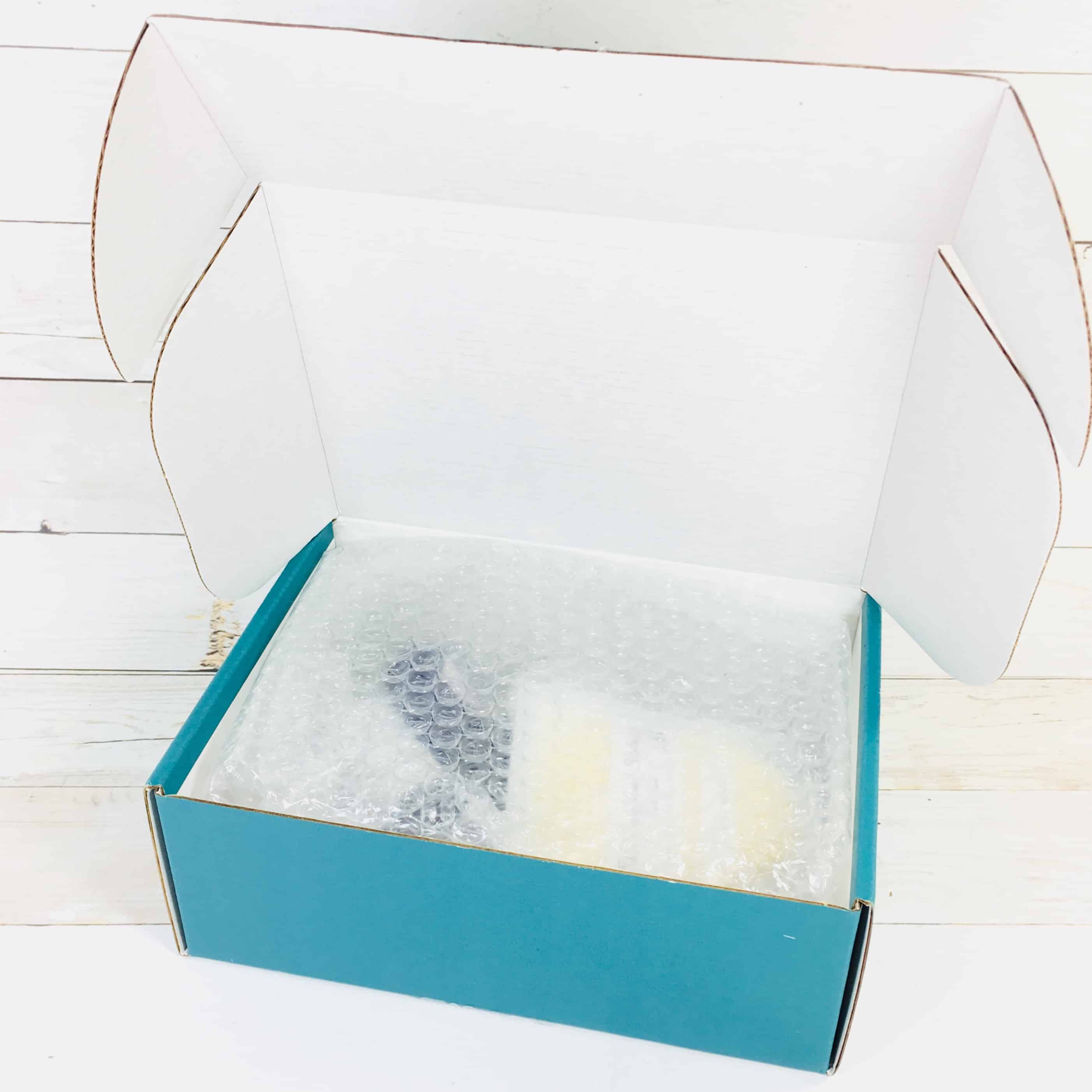 I found my items wrapped in a sheet of bubble wrap. I didn't receive any papers or cards inside. I'm going to go ahead and say this is the March box. This is a new subscription so I would like to suggest that they send a flyer or card in future boxes; I am sure some sleep tips would be welcomed by subscribers!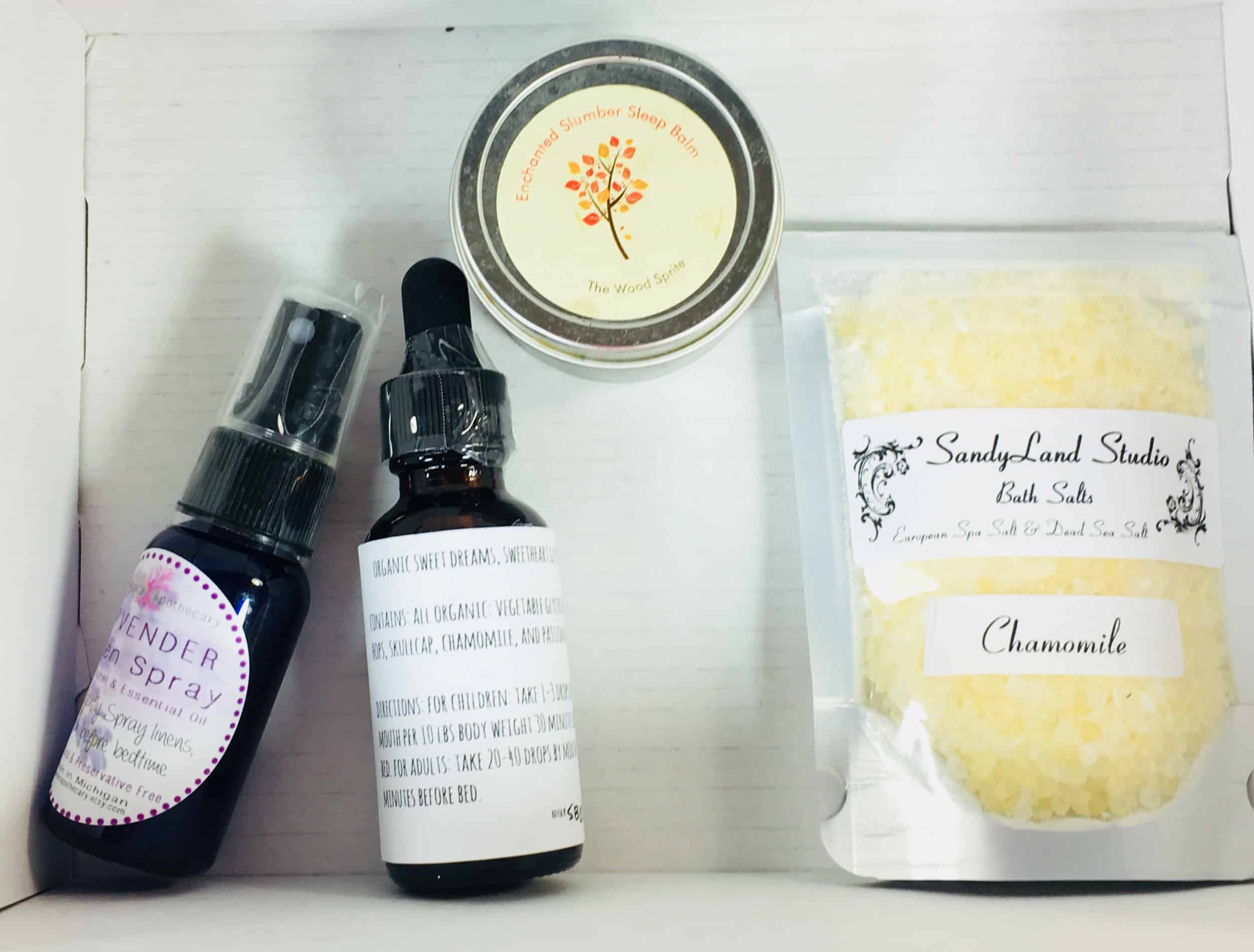 I received 4 items in my box. I would also like to suggest that glass items, such as the drops, be wrapped in their own bubble wrap cushion. There was a lot of wiggle room in this box and I would hate to open a box of glass shards.
Everything in my box!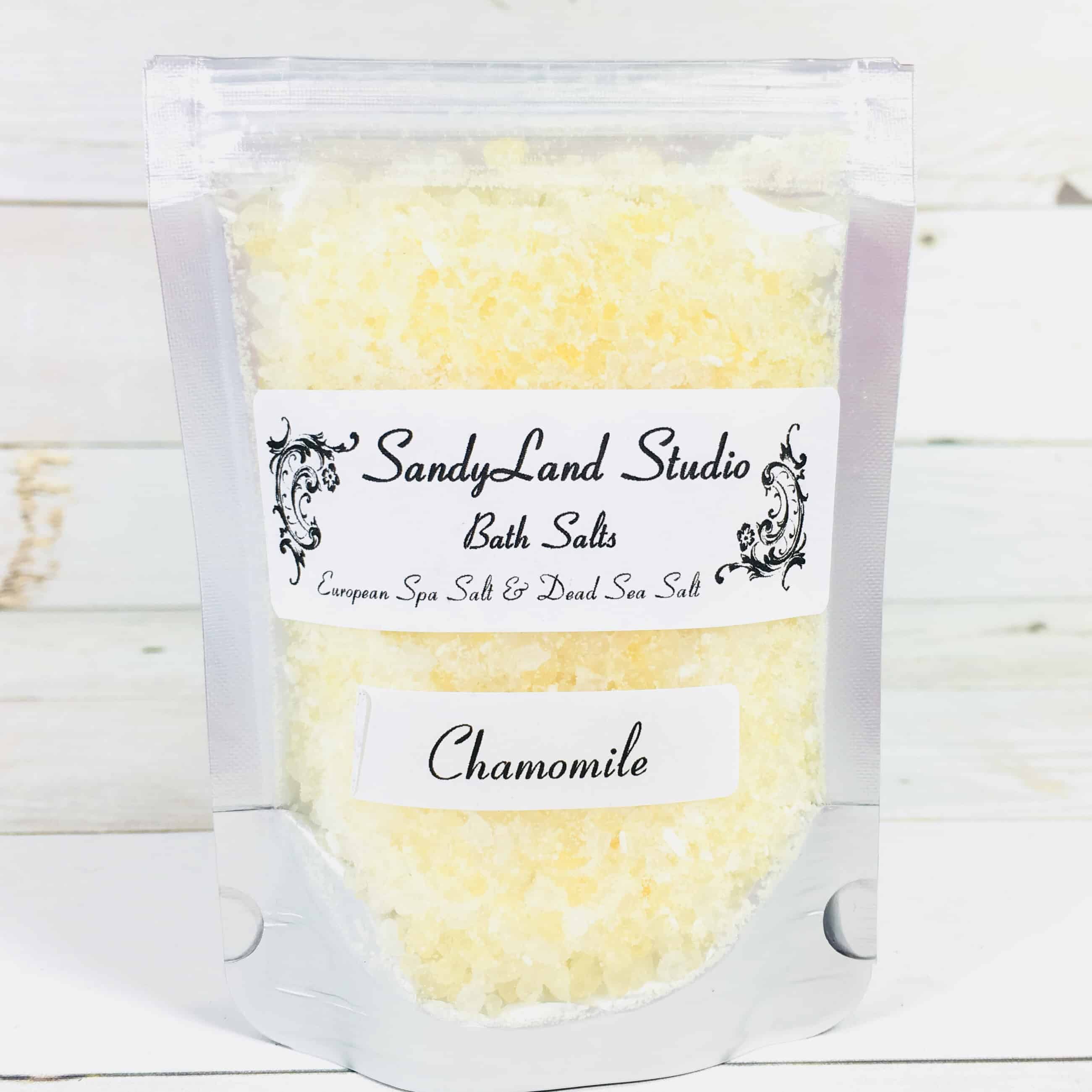 Sandy Land Studio Bath Salts in Chamomile ($3.25) are from an Etsy vendor and are handmade. There are a ton of scents to choose from, and of course, subscribers received the relaxing Chamomile scent.
The ingredients include 4 different types of salt along with fragrance, chamomile oil, and colorant. These bath salts are highly scented and have a floral smell.
The Wood Sprite Enchanted Slumber Sleep Balm ($5) I love to try natural beauty products and I think this one fits the bill. Coconut oil, grapeseed oil, beeswax, lavender, and cedar wood essential oils are the all-natural ingredients.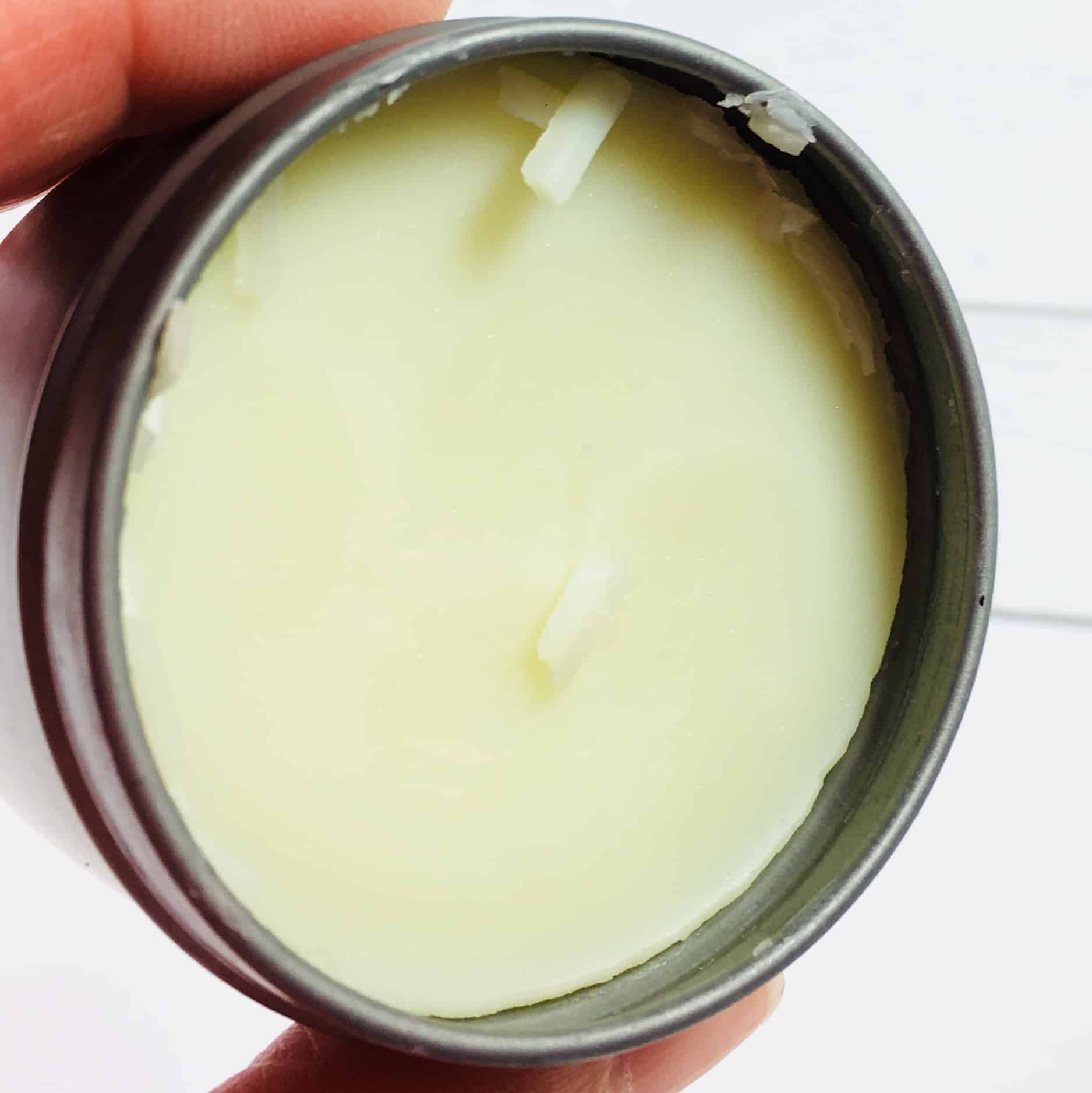 I rubbed some on the pulse point inside my wrists and breathed deeply. I think this would also make a lovely moisturizer for elbows, feet, or hands. It has a pleasant, natural, light herbal-woody scent that I liked. It was very low-key, which is fine by me because strong scents at bedtime are a no-no and can keep me awake.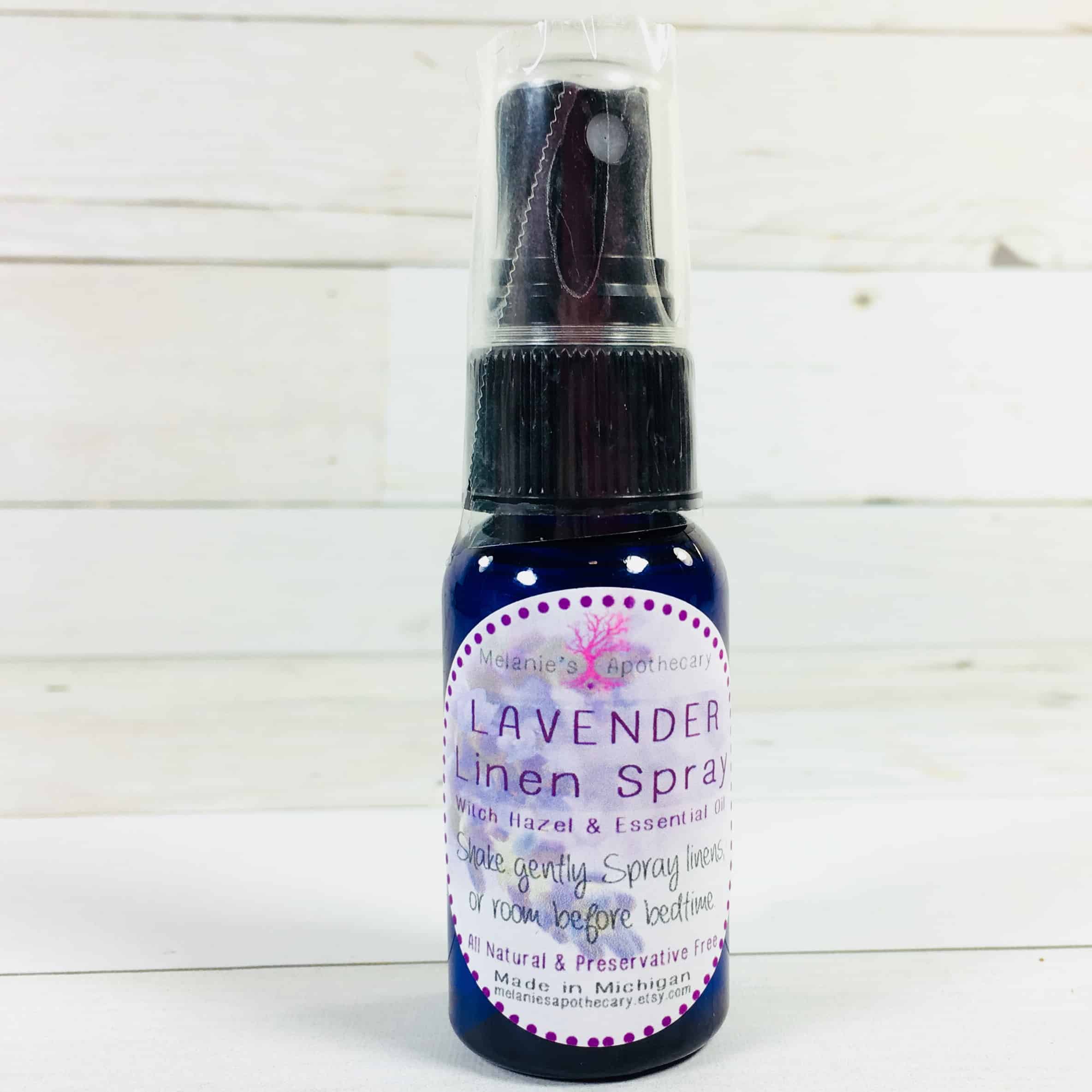 Melanie's Apothecary Lavender Linen Spray ($3.50) This is a multi-purpose product! Only three ingredients are in this bottle – witch hazel, distilled water, and lavender essential oil. It can be used to spray your pillow before bed, or as a room spray, or even as a toner for your face! Lavender is said to have relaxing properties and may improve sleep.
Tree Mama Herbals Organic Sweet Dreams Oil (no size given but 1 ounce is $12) Tree Mama is a nurse and herbalist who has a lovely assortment of all-natural, small batch products on her website.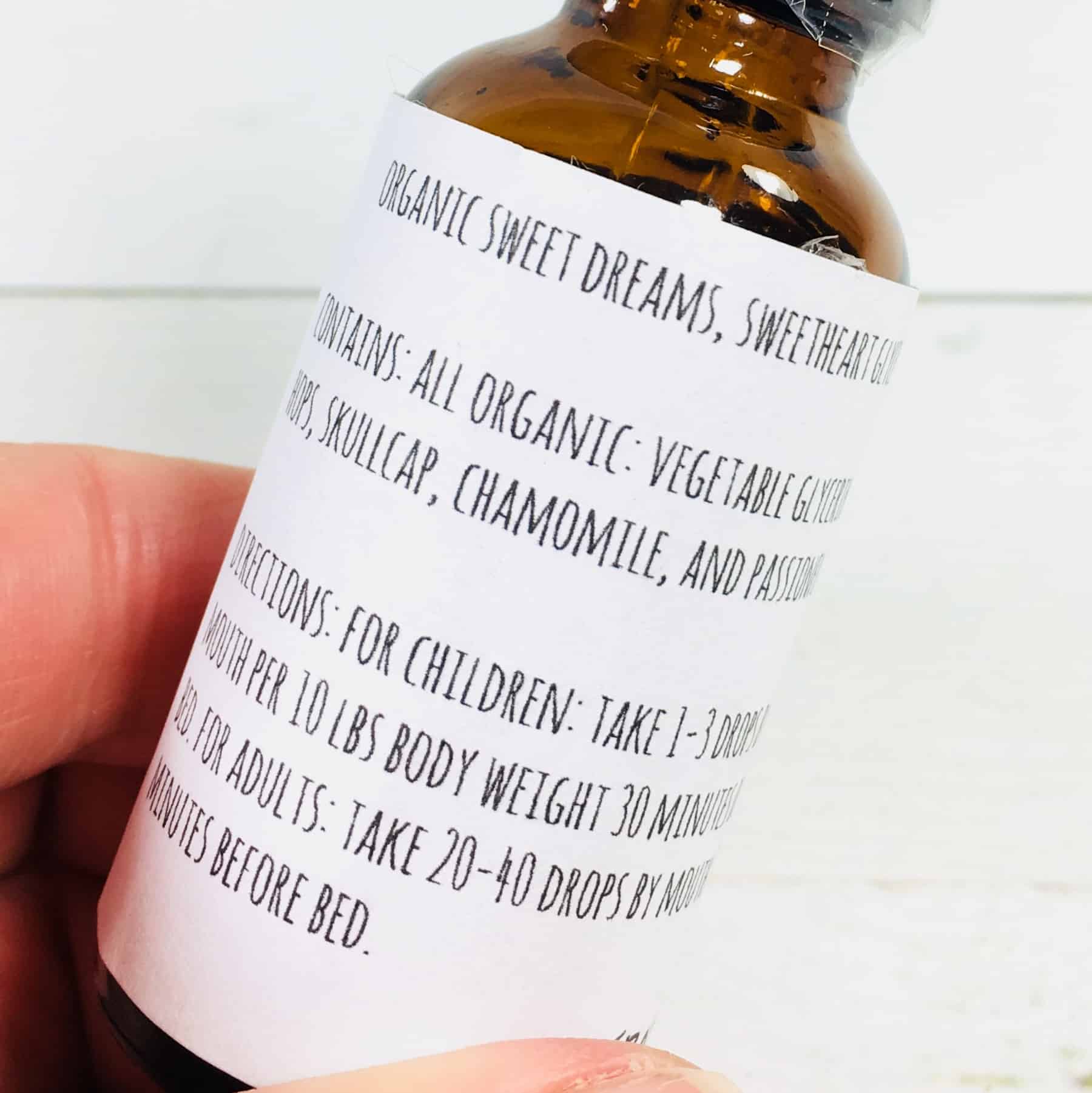 This is a glycerite preparation, which I had never heard of before. A glycerite is an herbal product with a sweet taste. Sometimes alcohol is used to extract the properties of herbs but that's not safe for children or adults who need to avoid alcohol. Instead, vegetable glycerin is used as an alternative. The other ingredients in this product are hops, skullcap, chamomile, and passion-flower.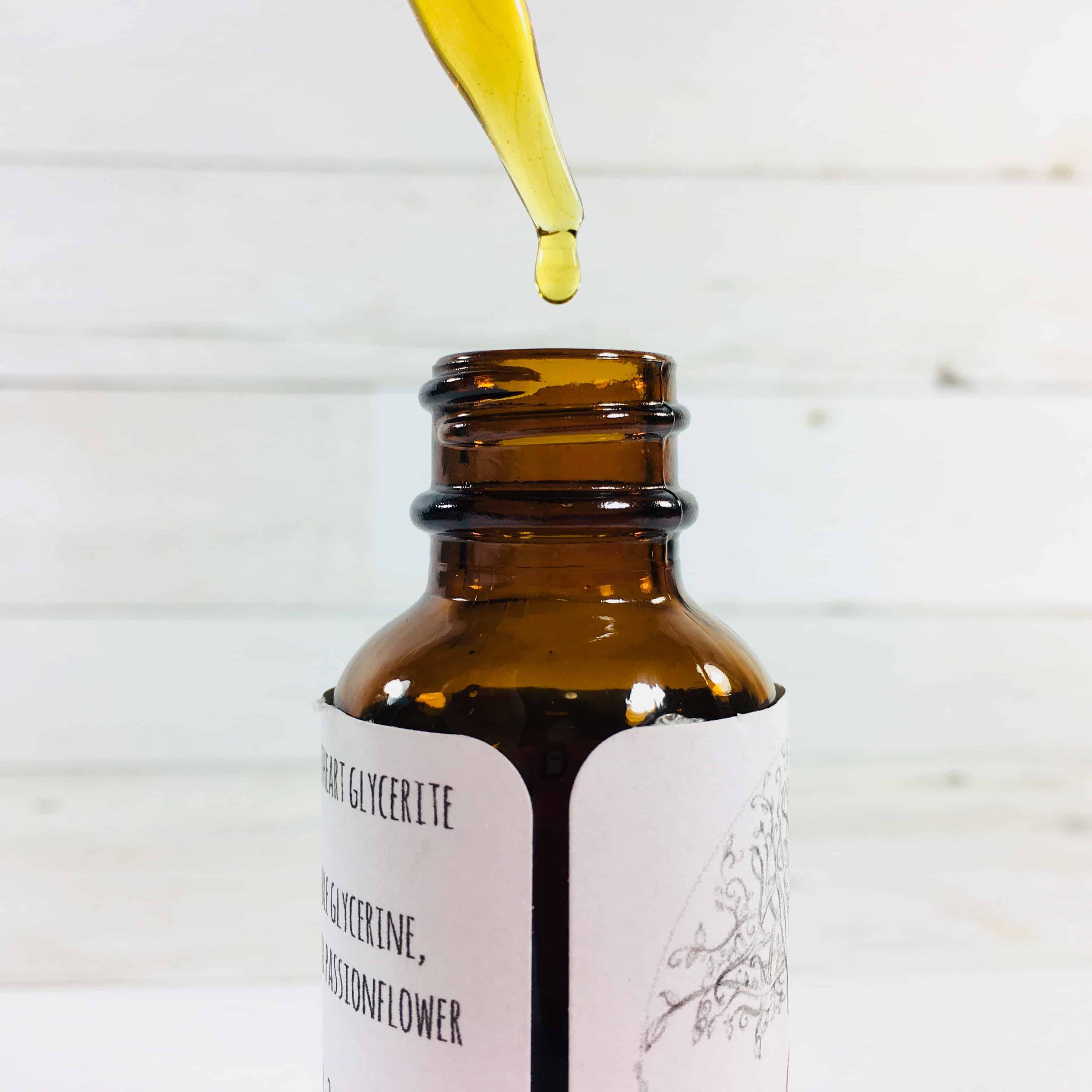 Hops are used for anxiety and insomnia relief, chamomile to reduce stress, skullcap may help with insomnia, and the same with passion-flower. Most of these herbs can help reduce inflammation and ease ADHD. The glycerite was sweet, a bit tangy, and herbal in flavor. A hint of celery with a touch of straw, nothing terrible. Take 20-40 drops around 30 minutes before bed.
I had fun trying my new sleep-inducing/enhancing products from my first Snooze Box! I was very happy to see that for the most part all the items were natural (the bath salts were very perfumey) and I felt safe using the products. The value for the items was around $23.75, which is lower than the price paid for the box. I am happy that I didn't have to pay extra for shipping, but I also think another item would have rounded out the box nicely. Snooze Box is brand new and I do hope they take note of a few of the suggestions I made in this post such as a product info card and added packing for glass items. I am looking forward to seeing what comes in the next box and I would think that anything "relaxing" would be an awesome inclusion for the future!
NOTE: The supplements in this box, just like other natural remedies, have not been proven and if you are having more than an occasional sleepless night and are still having problems falling or staying asleep even though you keep regular bed and wake times and all that jazz, then maybe it's time to seek professional medical help. Also, I would not suggest herbal supplements for a woman who is pregnant or nursing and if you have any medical problems then please check with your doctor before using supplements.
What do you think of this month's box?