Love with Food is a popular snack subscription that also carries a gluten-free option! It is a fun snack discovery subscription available in three versions: classic tasting box, deluxe/family size, and gluten-free. This version is the gluten-free box, but you can see our reviews of the other versions too.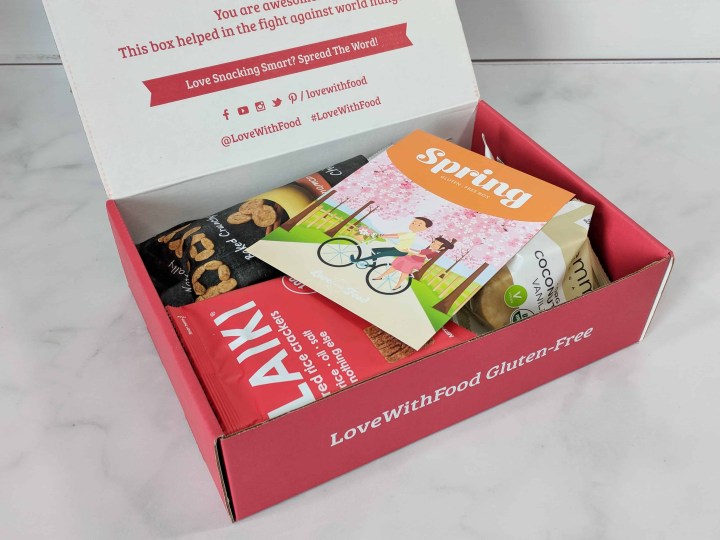 DEAL: You can save 25% on your first Gluten-Free box by using this link, no coupon code required!
FLASH DEAL: Get any 6+ month plan and save $10 with coupon code SPRINGBREAK18!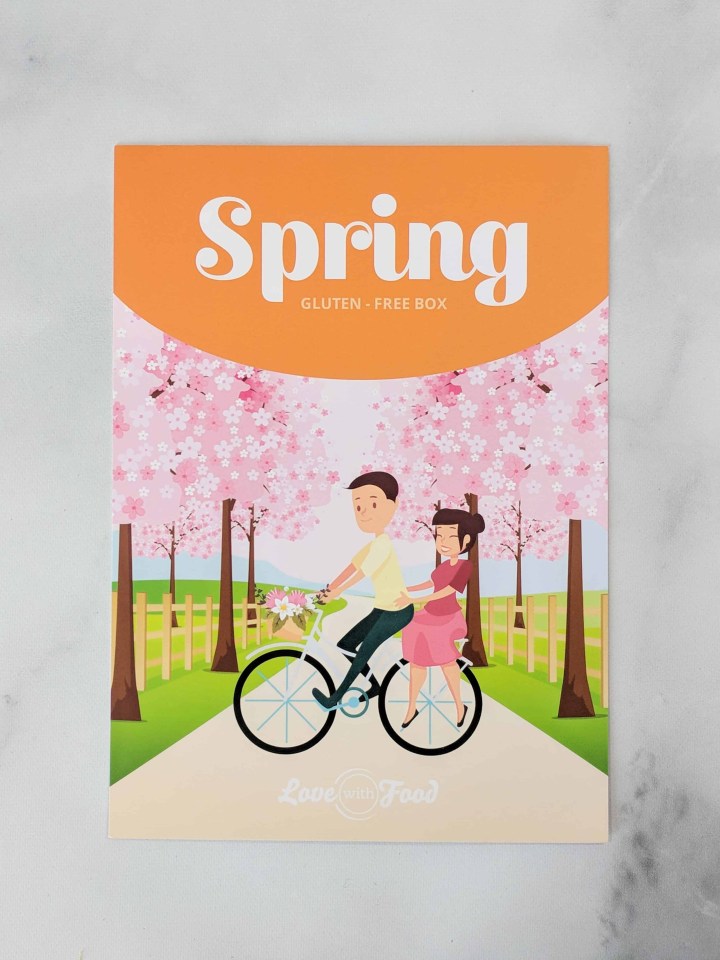 This month's theme is Spring.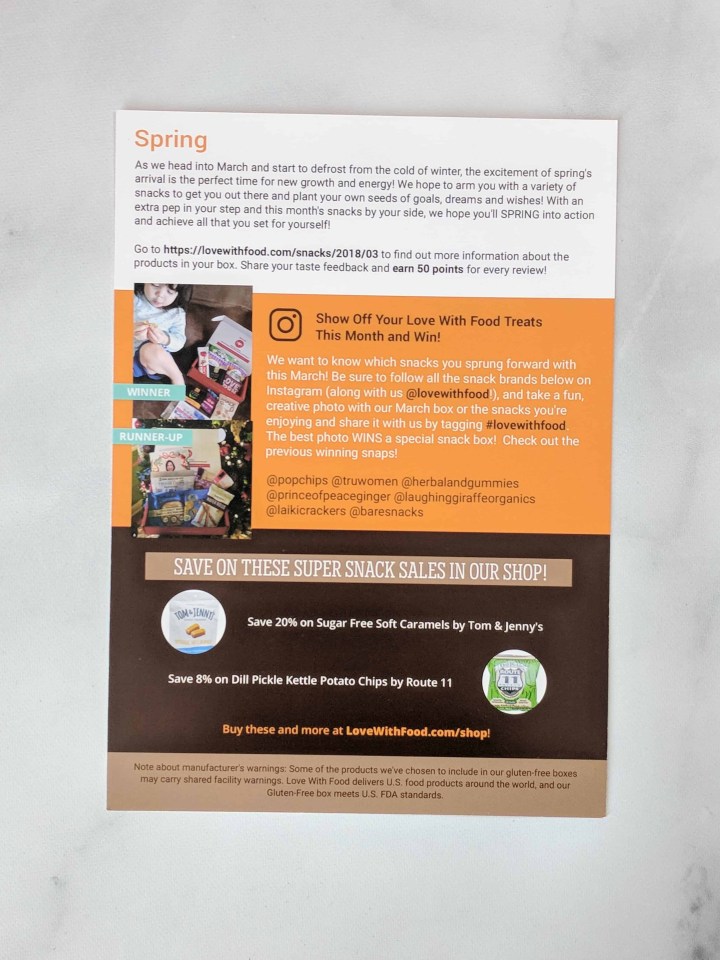 They don't include details on the product card, but the info is available on their website.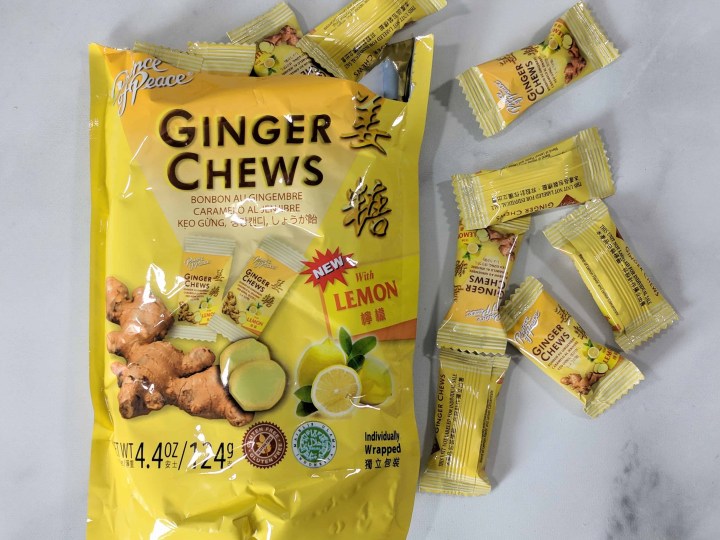 Ginger Chews with lemon. These are so good! We love ginger in this house, I have candied ginger hidden in pretty much every room, so these little guys are welcome with open arms!
They are not "caramel" soft, but once warmed up, they are slightly sticky and a bit hard to chew, but they have the ginger spiciness with a hint of lemon zest. I'm so happy that we get a full bag of these delights!
Popchips – Nutter puffs Peanut Butter. Puffed snacks like you normally grab at the store in some cheesy flavor, but there's no cheese flavor and it's covered with peanut butter.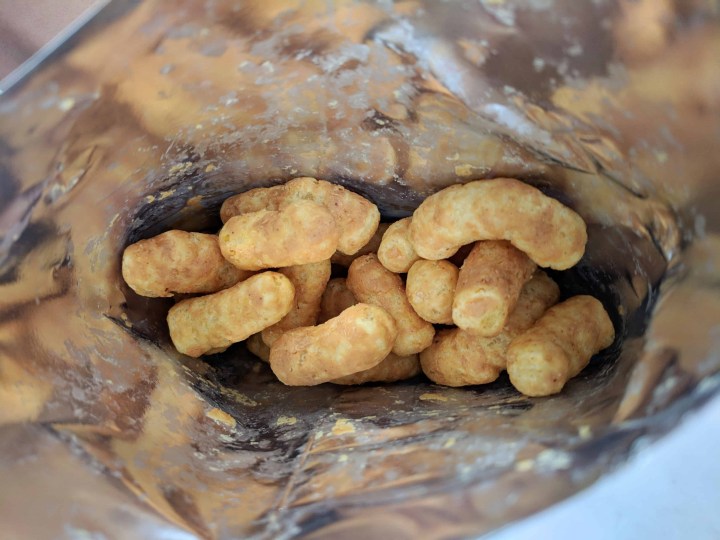 I've been told they had the right feel for puffed snack, and that the peanut butter was nice.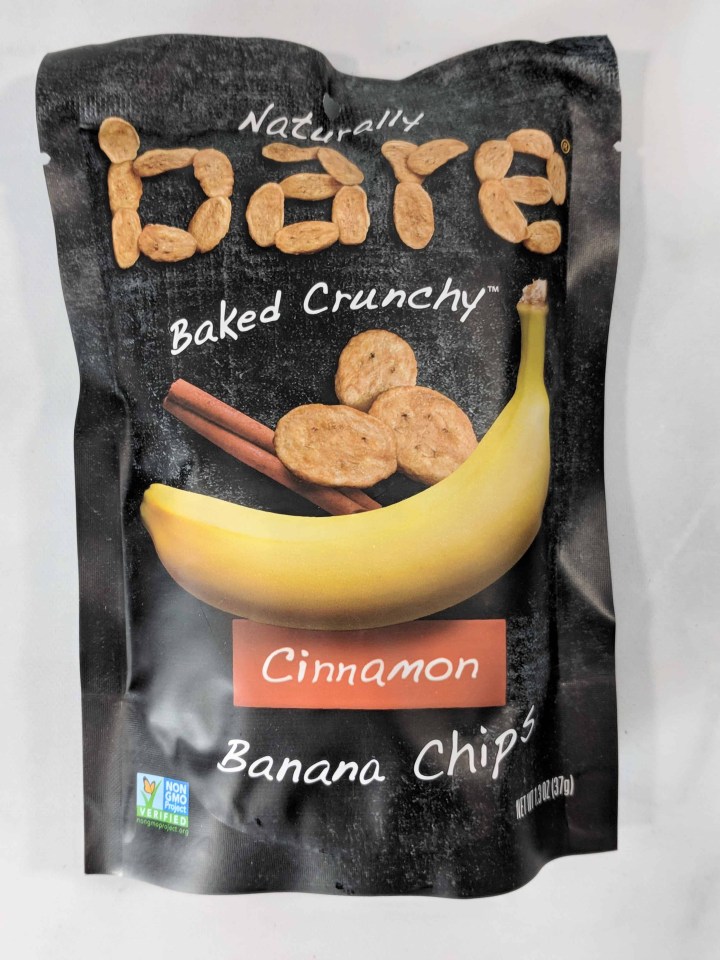 Naturally Bare Baked Crunchy Banana Chips Cinnamon. I like these crisps! They are thick, sweet, crunchy hard (not crunchy flaky, you won't end up with crumbles everywhere).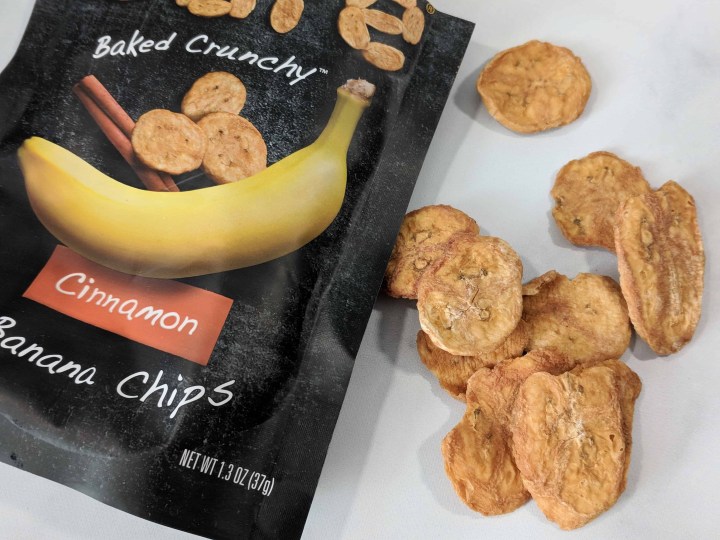 The cinnamon flavor is great, it tastes almost like apple and cinnamon!
Emmy's Organics – Coconut cookies vanilla bean. Crumbly little cookie, soft and moist. They are quite good as the coconut flavor is not overwhelming.
Laiki Red Rice Crackers. Salty and crispy, they are very satisfying!
Tru Women – Zesty Lemon. The smooth almond center was covered with a delicious zesty lemon icing! The perfect balance between a protein bar (and how they can be dry sometimes) and a candy bar (that icing!!!)
Angel Mint. I like them! They are refreshing, not too harsh on the mint flavor, and I can easily chew them. They are life very soft chalky kind of candy, without the chalk taste!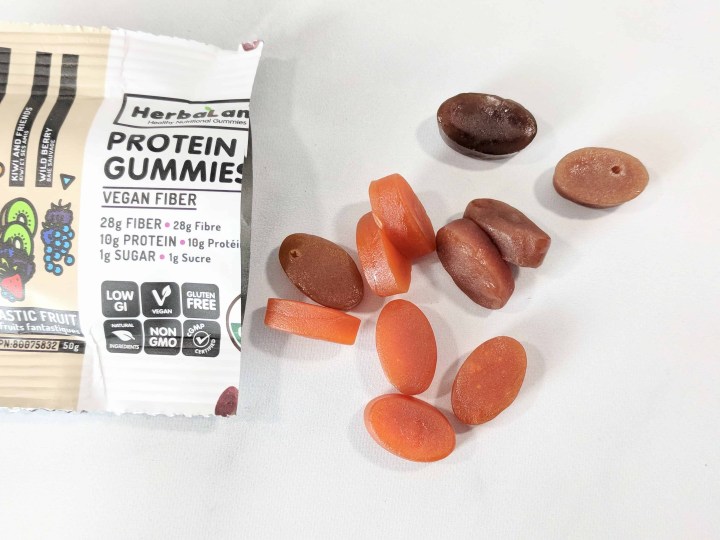 Herbaland – Protein Gummies. They taste like tasty fruity gummies, but they have a weird pasty taste as well. But you get use to it and I could eat them like normal candies. At least, they are packed with a lot of fiber and protein, so you don't feel "too" guilty to enjoy gummies!
March's box didn't disappoint. I like the mix of sweet and salty treats, although this month it was leaning on the sweeter side. I really enjoyed the ginger chews, and the Tru Women Lemon Cake protein bar! I'm always happy with my Love with Food Gluten-Free box as it helps me discover new gluten-free products that taste good, and I'm happy when I see them at the store because I already know about them and I can buy them without worrying!
What is your favorite Love with Food item from this month's box? Share below and let us know!

Visit Love with Food Gluten-Free to subscribe or find out more!