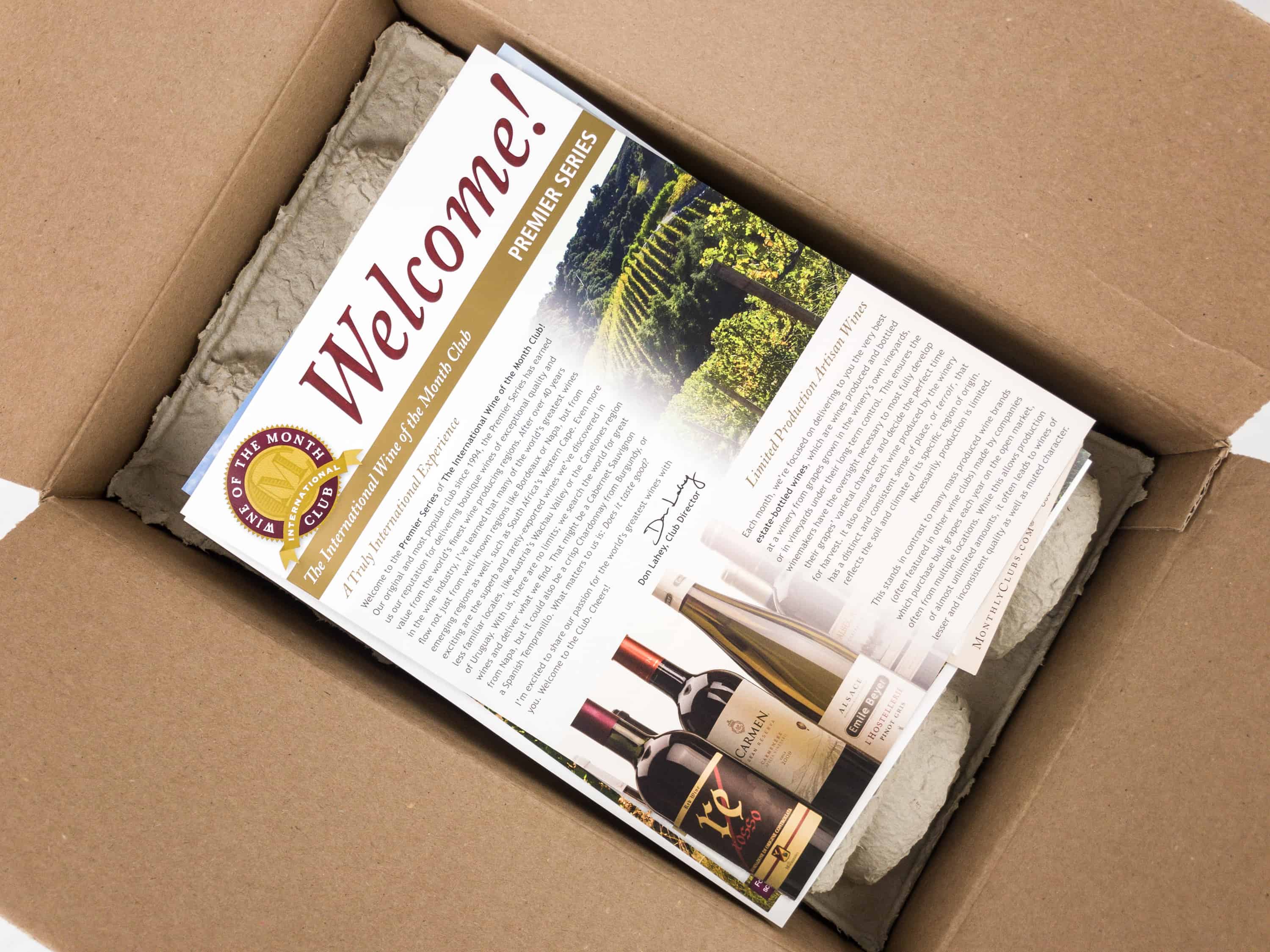 The International Wine of the Month Club sends two wines each month, either two reds, two whites or one of each. Each estate-bottled, limited-production wine selected for shipment is chosen by a large panel of tasters, including both experts and lay wine enthusiasts, to ensure that each bottle will be a crowd pleaser.
When you sign up, you have a choice of three levels of wine: Premier Series, Masters Series or Collectors Series. The Premier Series is the basic limited-production, estate-bottled offering. The Collectors Series is the most expensive, most exclusive offering. The Masters Series ships one bottle from the Premier Series and one bottle from the Collectors Series each month.
The wines included in this review were from the Premier Series.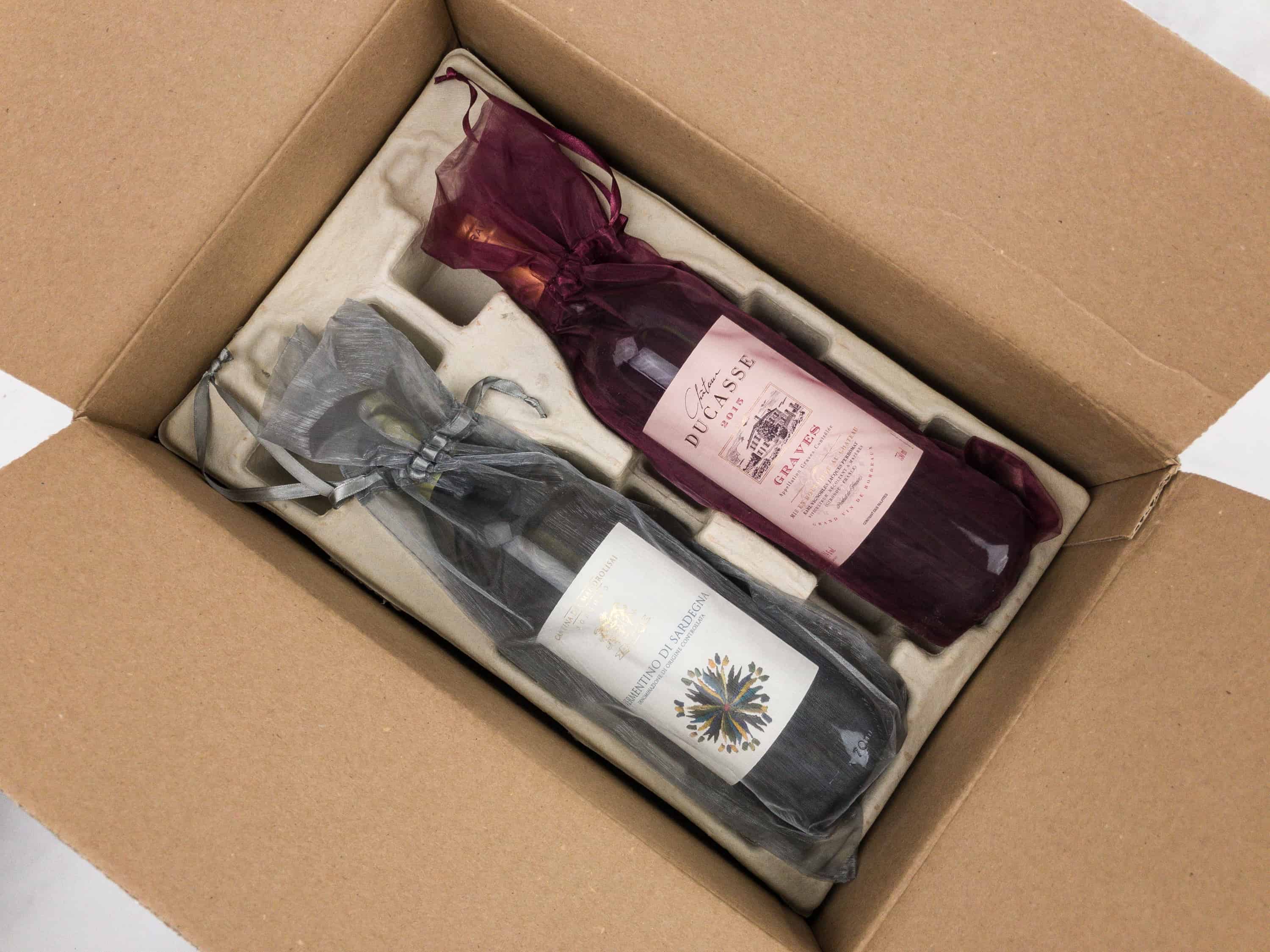 Your first shipment will include not only your wine and cellar notes, but also various welcome letters that explain what the club is and how it works.
DEAL: Save $25 on your first 12 shipment order with coupon code SAVE25. You also save $15 on your first 6 shipment order with coupon code SAVE15, and save $10 on your first 4 shipment order when you use coupon code SAVE10.
The box includes an information sheet stating the details of each wine, how they are made and the story behind it.
It also includes notes on its characteristics and proper serving temp and vessel. Pairings are suggested, as well as notes on aging potential and expected changes, too, since the Club chooses wines that are generally great for cellaring.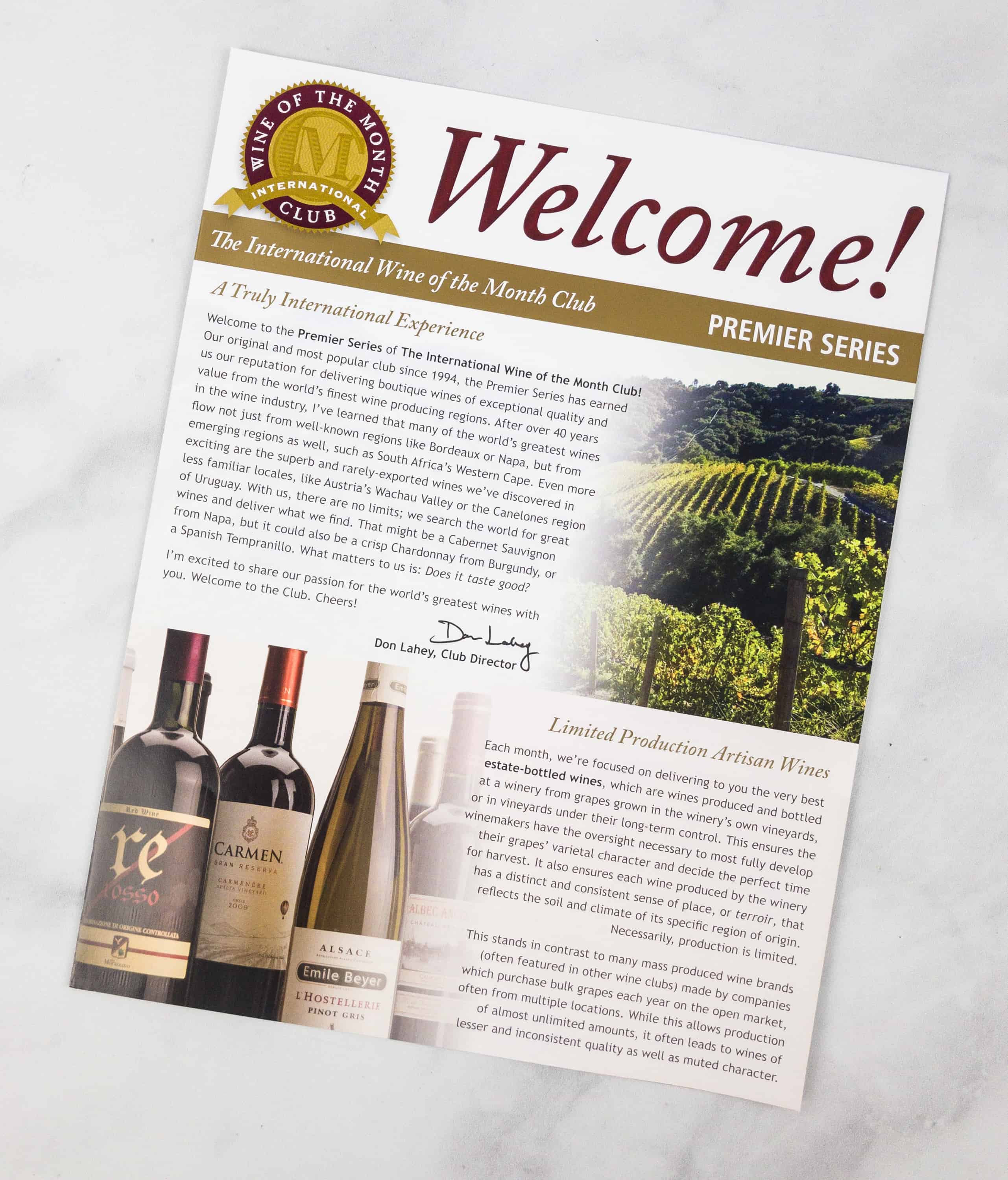 After traveling around the world and scouting out the best wines available, Don Lahey submits his favorite wines to a two-tiered tasting panel for review. After consulting these panels of experts and lay alike, the best-loved wines get included in the club and shipped to people's homes. For those who enjoy the wines and would like to purchase more, the International Wine of the Month club makes it especially easy to order more at a discount (or other wines, for that matter!). Additional discounts are available for those who order in bulk.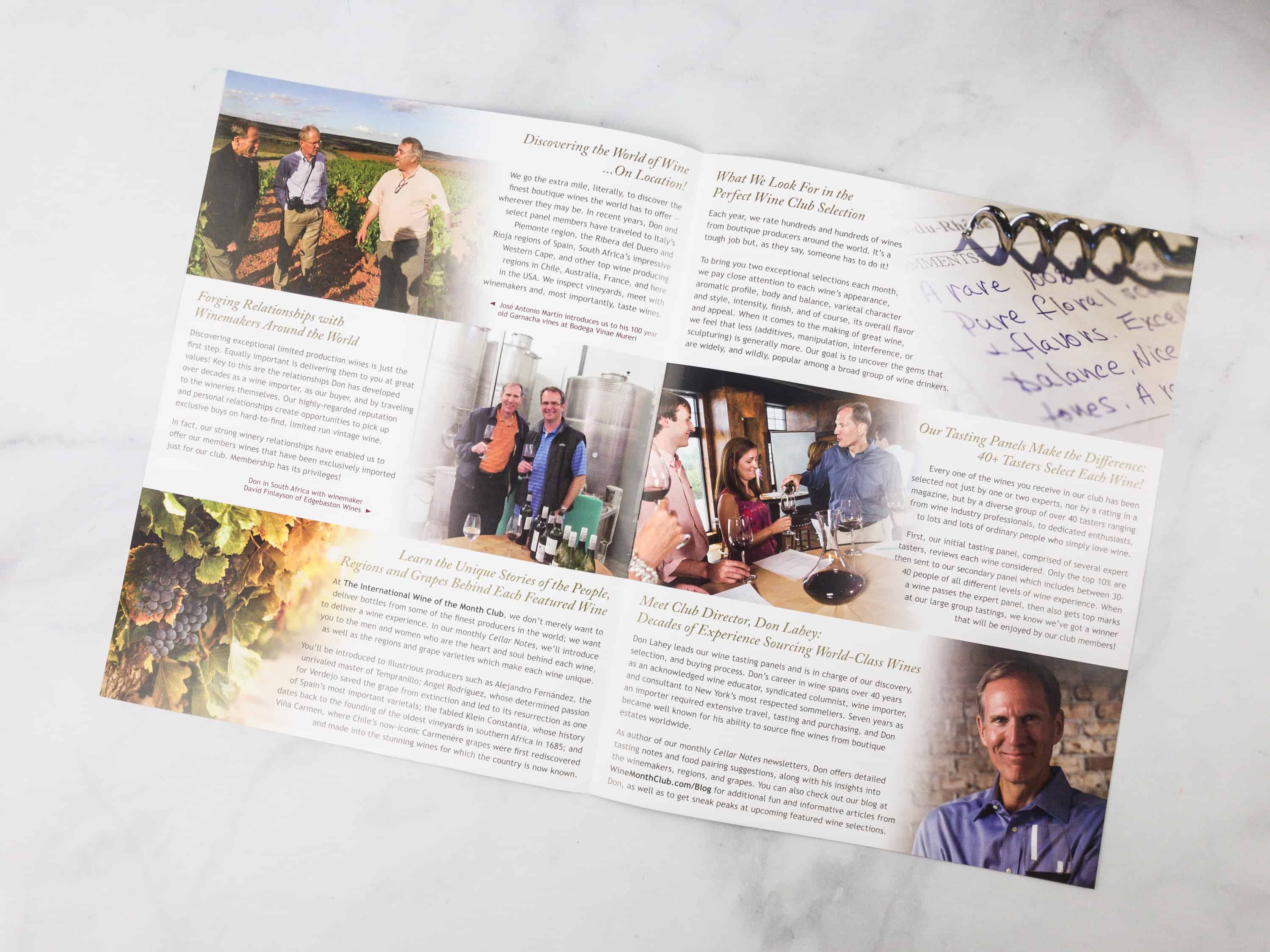 These flyers include additional information about the subscription, as well as details on how to reorder your favorite wine and get a discounted price on all wine stocks.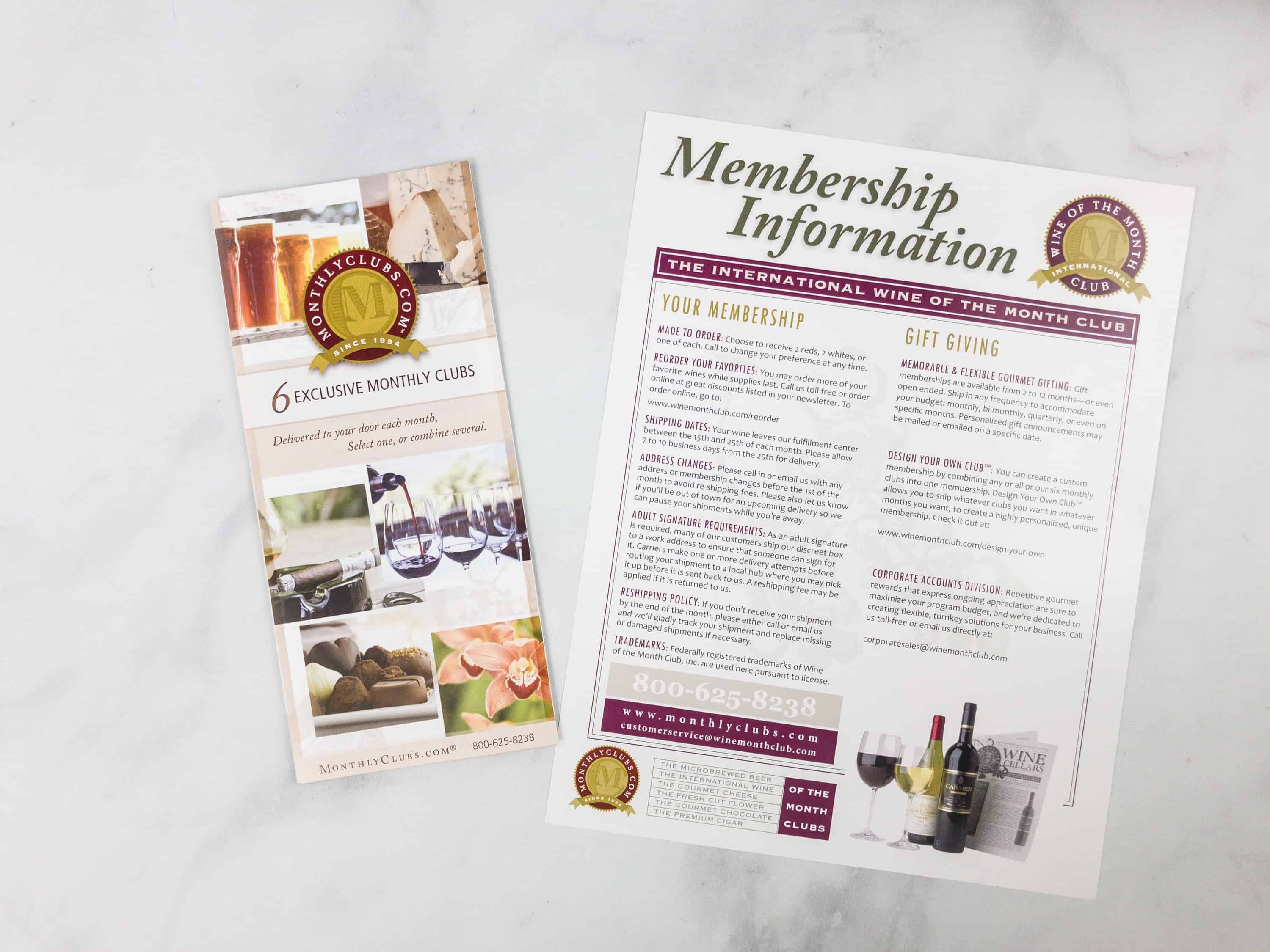 Another information sheet is all about your membership information, while a brochure explains the Monthly Clubs family of subscriptions. I especially love how the International Wine of the Month Club is affiliated with other clubs. As such, you can easily switch your monthly subscription between wine, cheese, flowers, chocolate, beer, and cigar subscriptions. Wine for your birthday, chocolates for Valentine's Day and flowers for Easter are all doable with this one subscription. How cool!
They offer six different clubs, from cigars to flowers, and you can even mix them for a custom Design Your Own Club!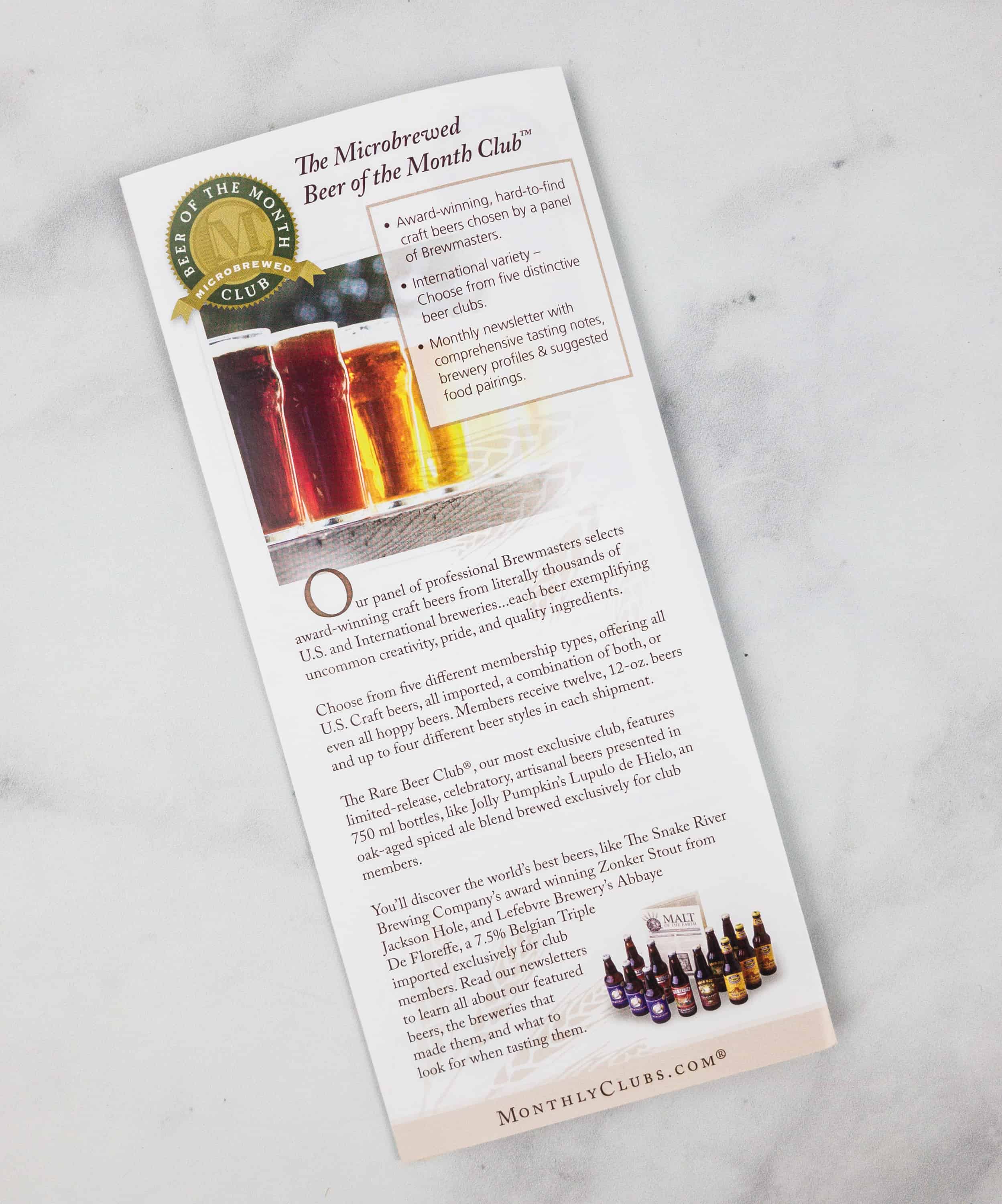 If you're into beers rather than wine, they also have a Microbrewed Beer of the Month Club. You can choose domestic, international, mixed, hop-centric, or rare subscriptions within that club.
We received two wines this month and they arrived with individual organza wine bags. There are also comprehensive tasting notes, including recipes for suggested food pairings. Each set of cellar notes provided a nice introduction to both the winery and the appellation where the grapes were grown (as all bottles in the club are estate grown and bottled, this is usually the location of the estate).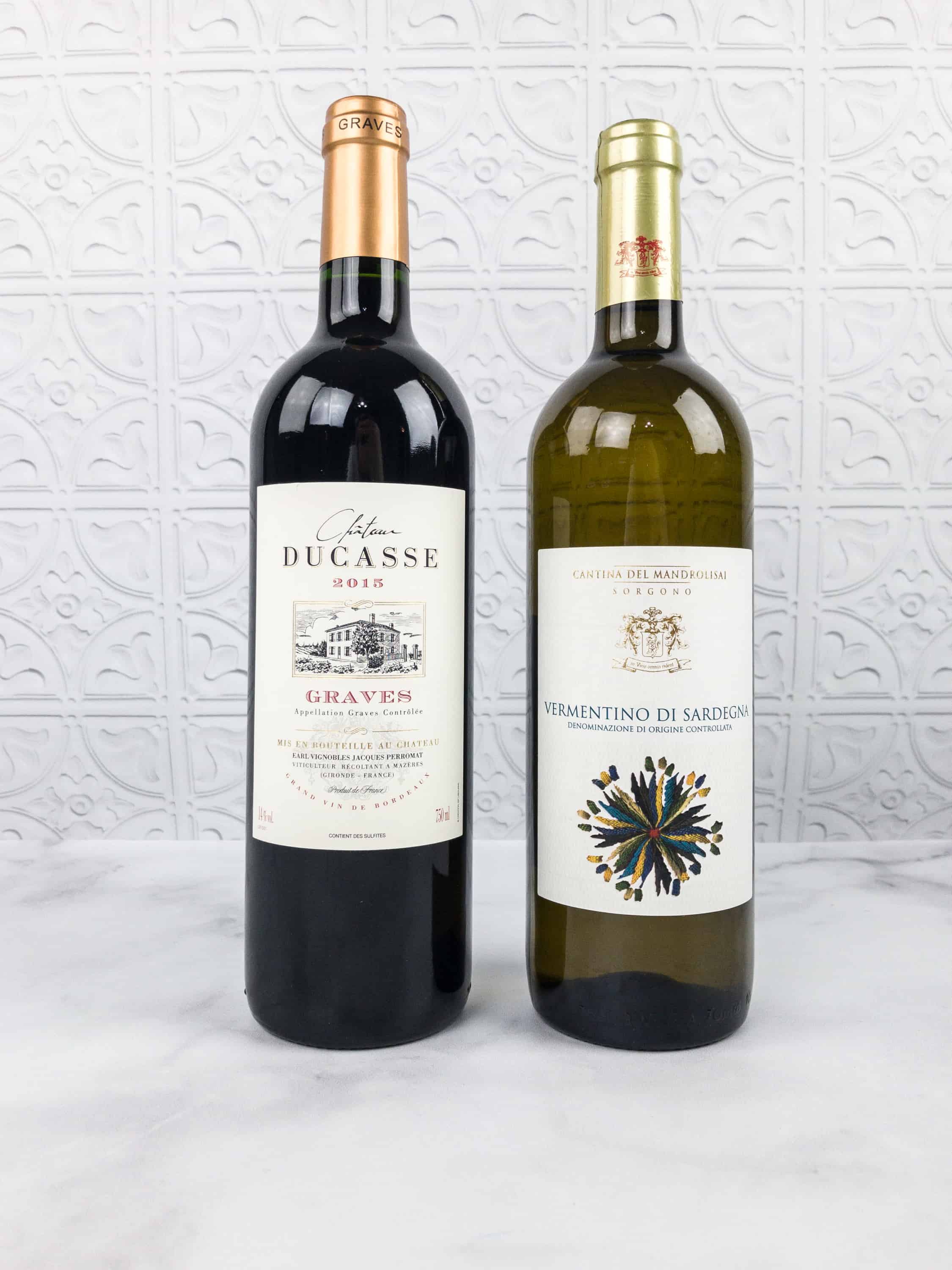 The wines for March 2018!
Chateau Ducasse 2015 Graves ($11.99) This red wine comes is composed of 50% Merlot, 40% Cabernet Sauvignon, and 10% Cabernet Franc. It's a blend by Jacques Perromat, a 5th generation winemaker since 1828.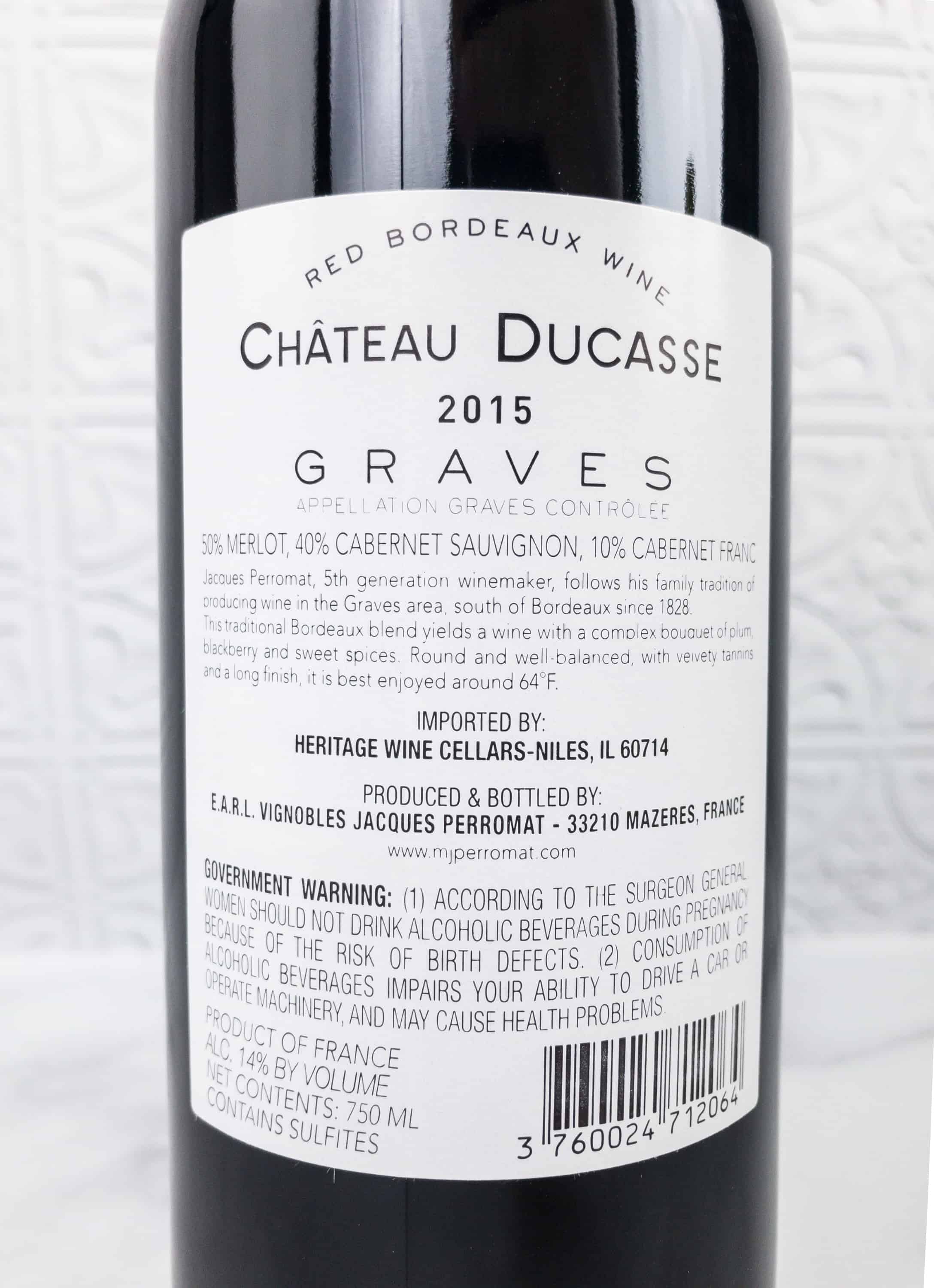 This traditional Bordeaux blend, a hub of the famed wine-growing region, yields a wine with a complicated bouquet of plum, blackberry, and sweet spices. It has a round and well-balanced taste, with velvety tannins and a long finish.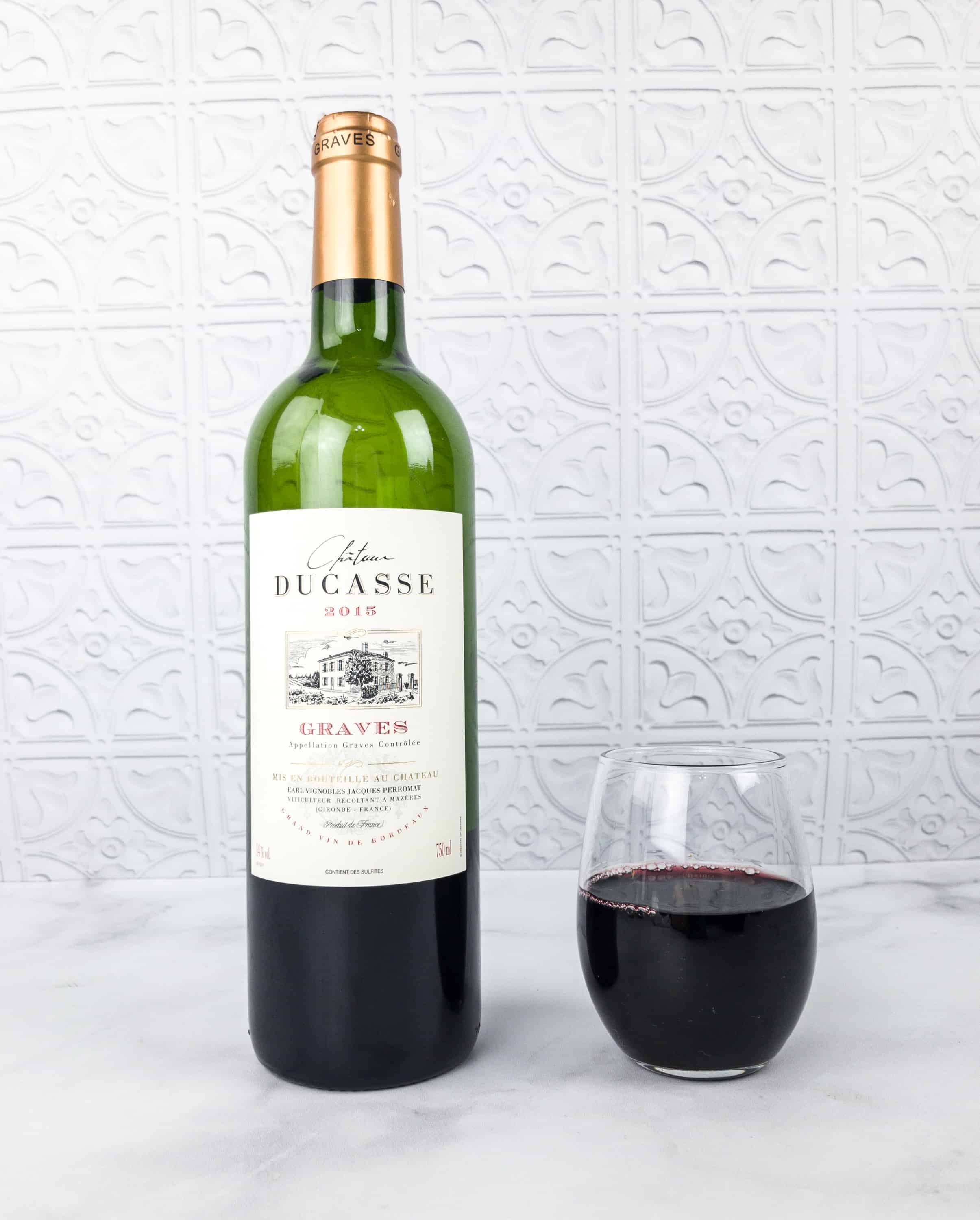 It benefits greatly from some decanting, with a myriad of dark fruit and fresh tobacco notes emerging. I love the nearly opaque, deep purple tone. This wine will go best with salads, shrimp, mild cheese or as a pre-dinner wine.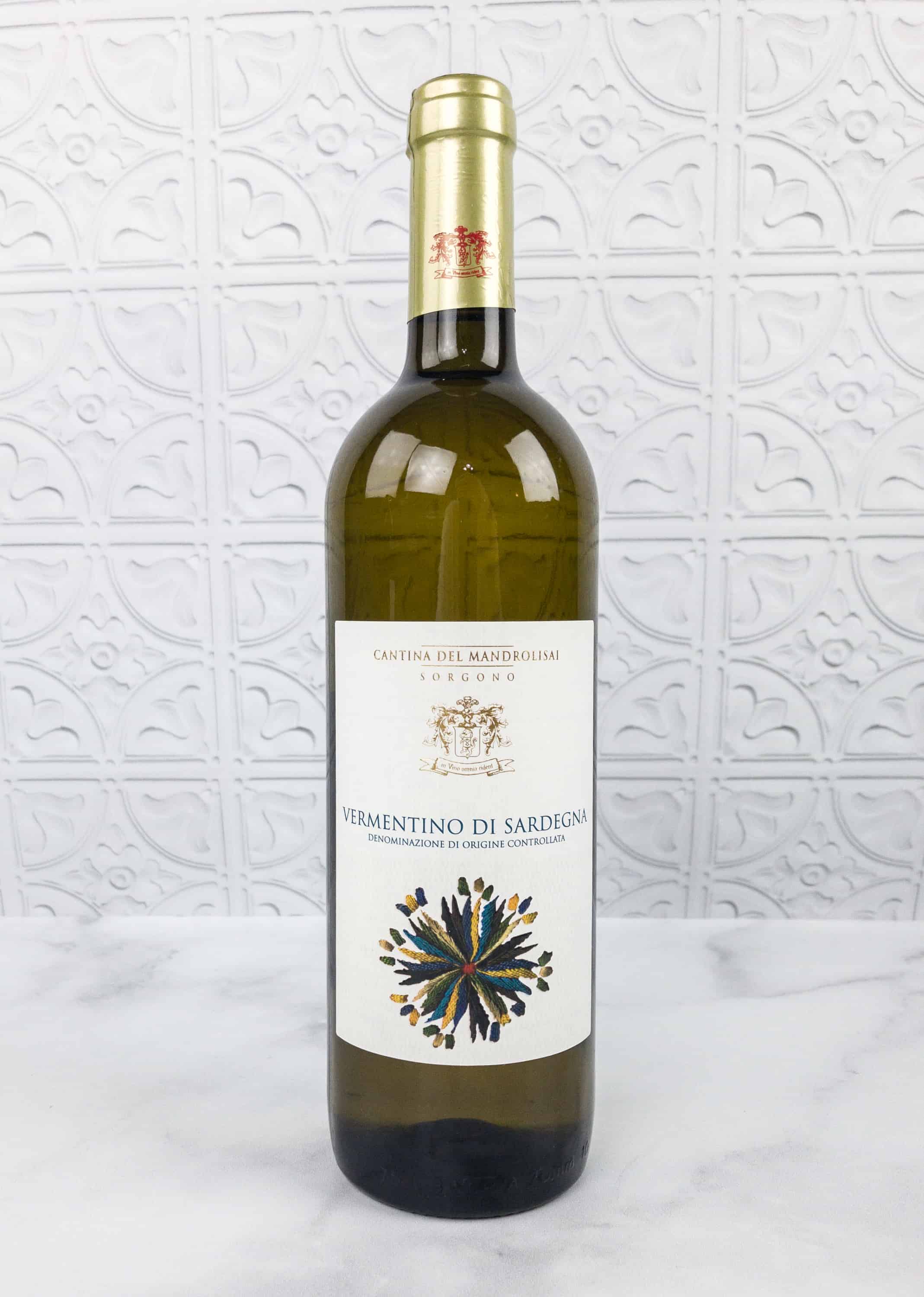 2016 Cantina Del Mandrolisai Vermentino Di Sardegna The second bottle is a white wine with a rich straw color, a clean scented floral bouquet, and pure ripe fruit flavors that fill the mouth.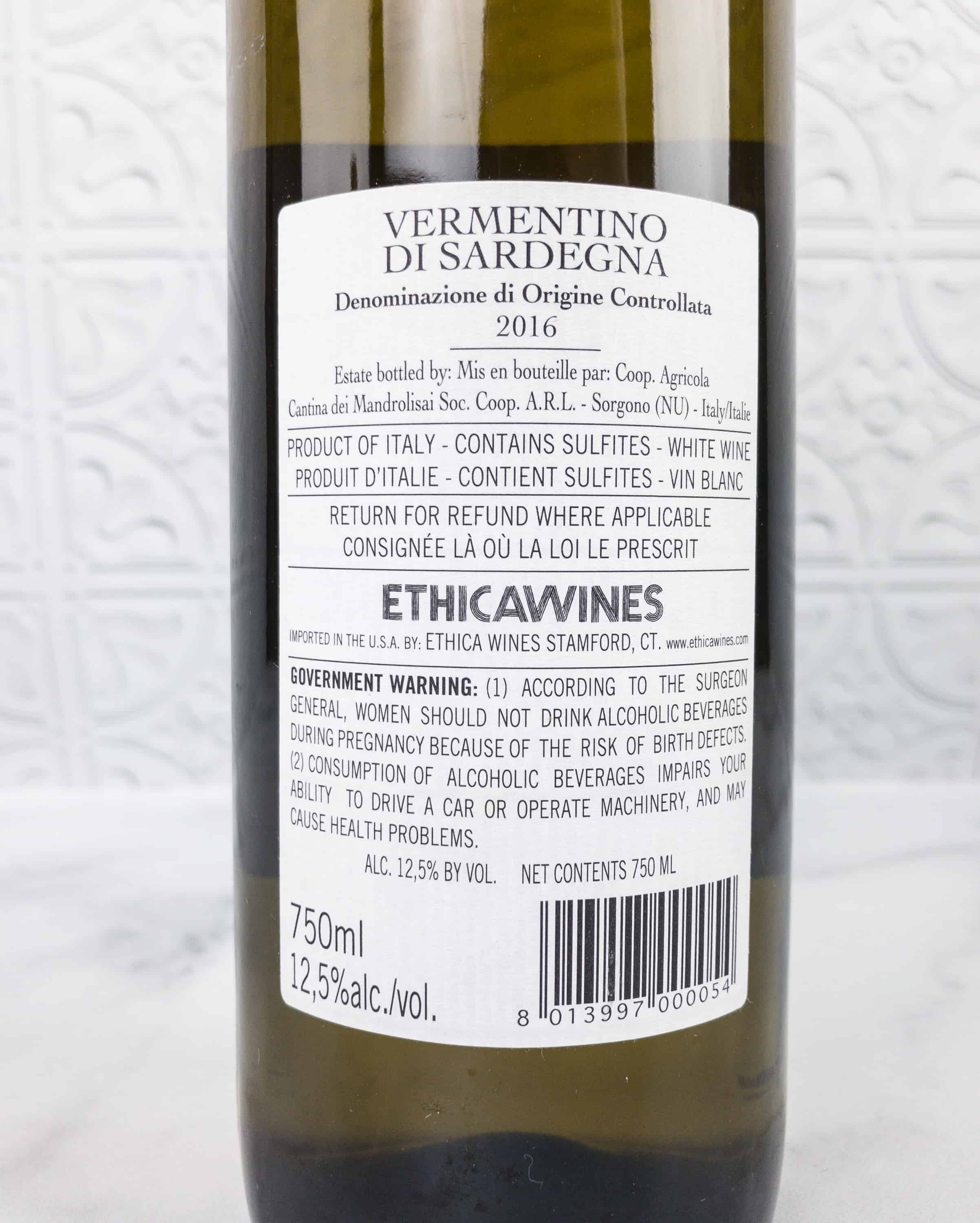 It has a pronounced, crisp acidity with an edge of citrus and a pleasant minerality.
This wine is very clean in both taste and appearance. It's a great pair for seafood dishes, as well as lighter meats.
International Wine Club Premier Series brought us two delightful wines this month. I'm always happy to receive wines that come from all around the world and this subscription makes it even better by introducing me to new varietals. Most of all, they make great wines available for a reasonable cost plus the tasting notes they provide really helps in learning about wines. Both of these bottles were great, and I look forward to what I hope are many more months of discovery ahead!
What is your favorite from this month's wine selection?
Visit International Wine Club of the Month to subscribe or find out more!