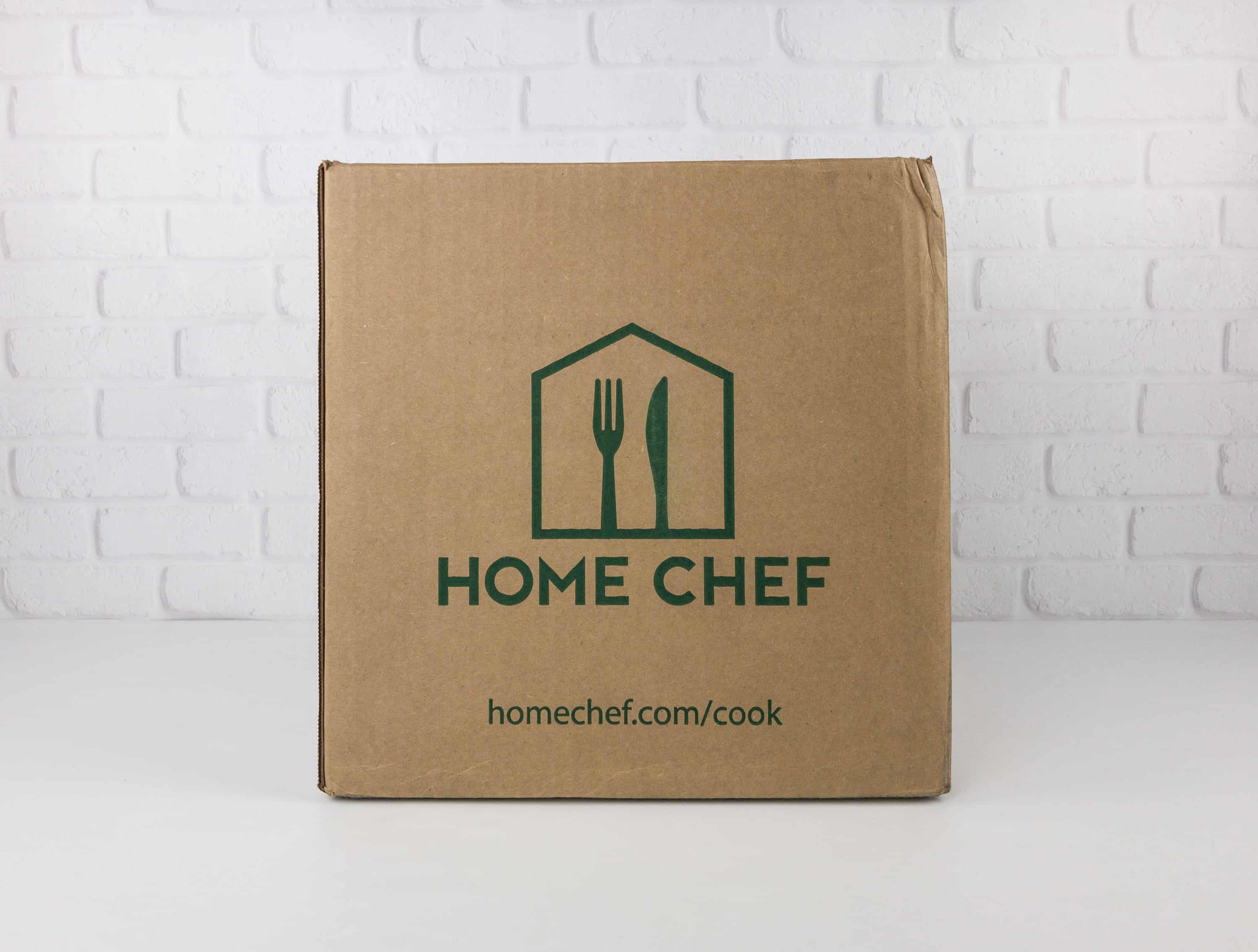 Home Chef is a meal in a box subscription – every week, you choose from a variety of recipes and have all the ingredients and preparation instructions delivered to your door.
Home Chef offers an incredible 10 selections available for 2, 4, or 6 people, a breakfast choice, a smoothie choice, and a fruit basket selection. Meals for your box are suggested based on your preferences, but you can change the selections any time. The portions are large, and this is currently the least expensive and has the most choice out of any similar major subscriptions (for 2 people) – $9.95 per person per selection (they typically have one meal option a week that's a premium meal and costs a little more, though).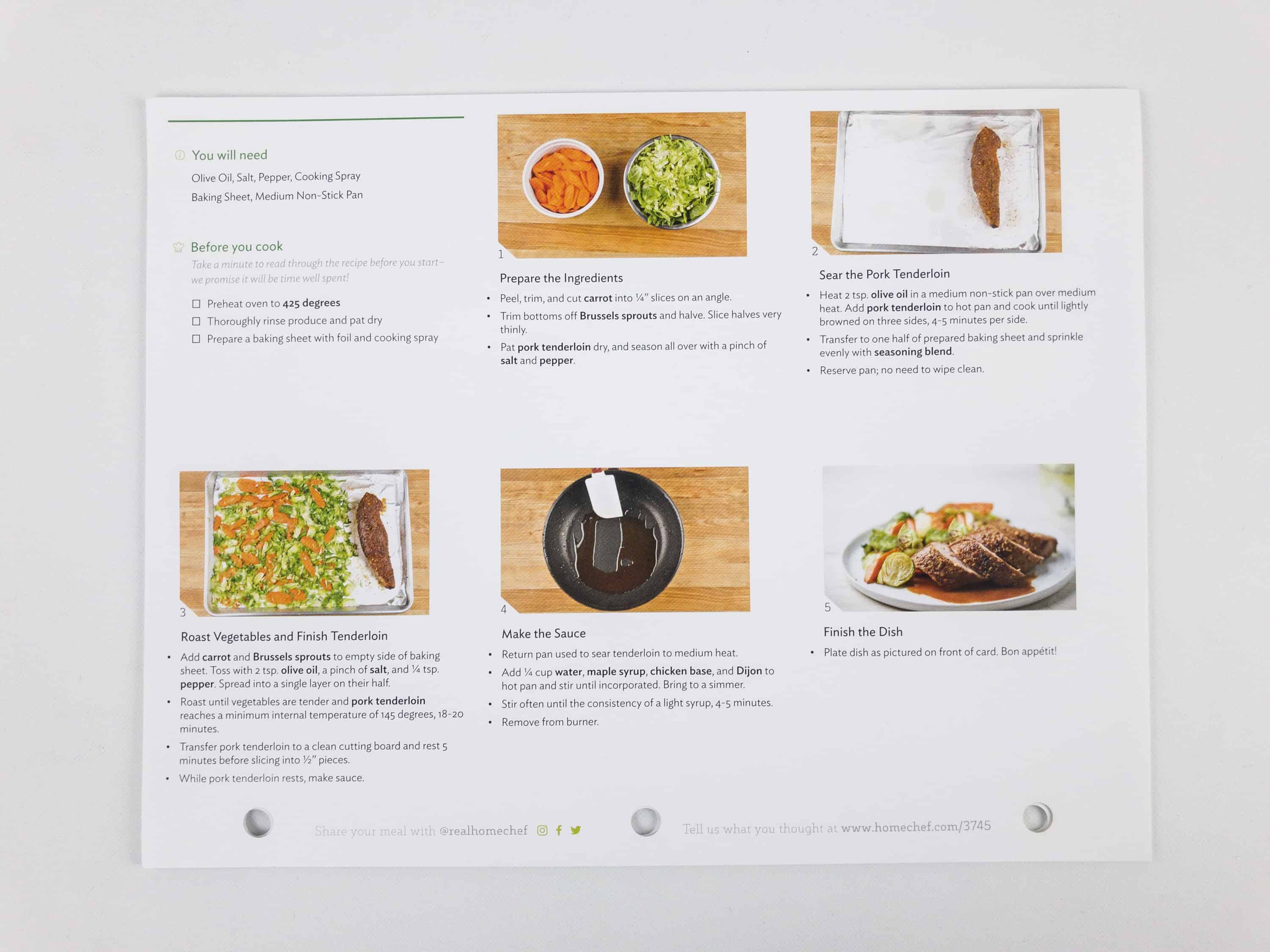 DEAL: Get $30 of free food when you sign up – just use this link to get the deal!
The recipe cards display prep time, difficulty, a "best cooked by" time frame, and even a spice level. There is also a list of stuff you may need from your own kitchen such as cookware and salt and pepper. You have to have a basic kitchen set-up (stove/oven, cookware, etc.), but a couple tablespoons of cooking oil and salt and pepper are usually the only ingredients you have to have at home – they even include liquid egg (instead of expecting you to have eggs on hand), and oil for shallow-frying when a recipe calls for more than a few tablespoons worth.
The back of the card has the actual recipe guidance, complete with pictures and bold-facing of ingredients. The recipes are accompanied by pro-tips and explanations of cooking terminology and techniques. The prep is done is a sensible order – items with long lead times are started first. The recipe cards have pre-punched holes so you can store them in a recipe binder, but we usually prefer to just wait till the recipe is offered again instead of attempting to gather the ingredients to recreate it ourselves.
All of the food is separated by meal into individual bags, all packed in to a big, padded box with several ice packs. The bags used to bundle the food are, of course, recyclable, but they also have a handy resealable zip closure. They stand up in the fridge, keeping everything together, and the clear side and labeling makes it easy to identify which meal is which. each meal packed in a separate bag containing nearly everything needed to make a complete meal. Pics below show the ingredients provided for each meal and, unless otherwise noted, one of two servings made by each recipe.
Maple Glazed Pork Tenderloin, 30-40minutes, Easy, 513 Calories per serving
This picture shows nearly the whole recipe plated family-style — still really good portions. This recipe was very easy to make, and I loved the pairing of the carrots and Brussels sprouts together, mellowing the relative sweet and bitter of each.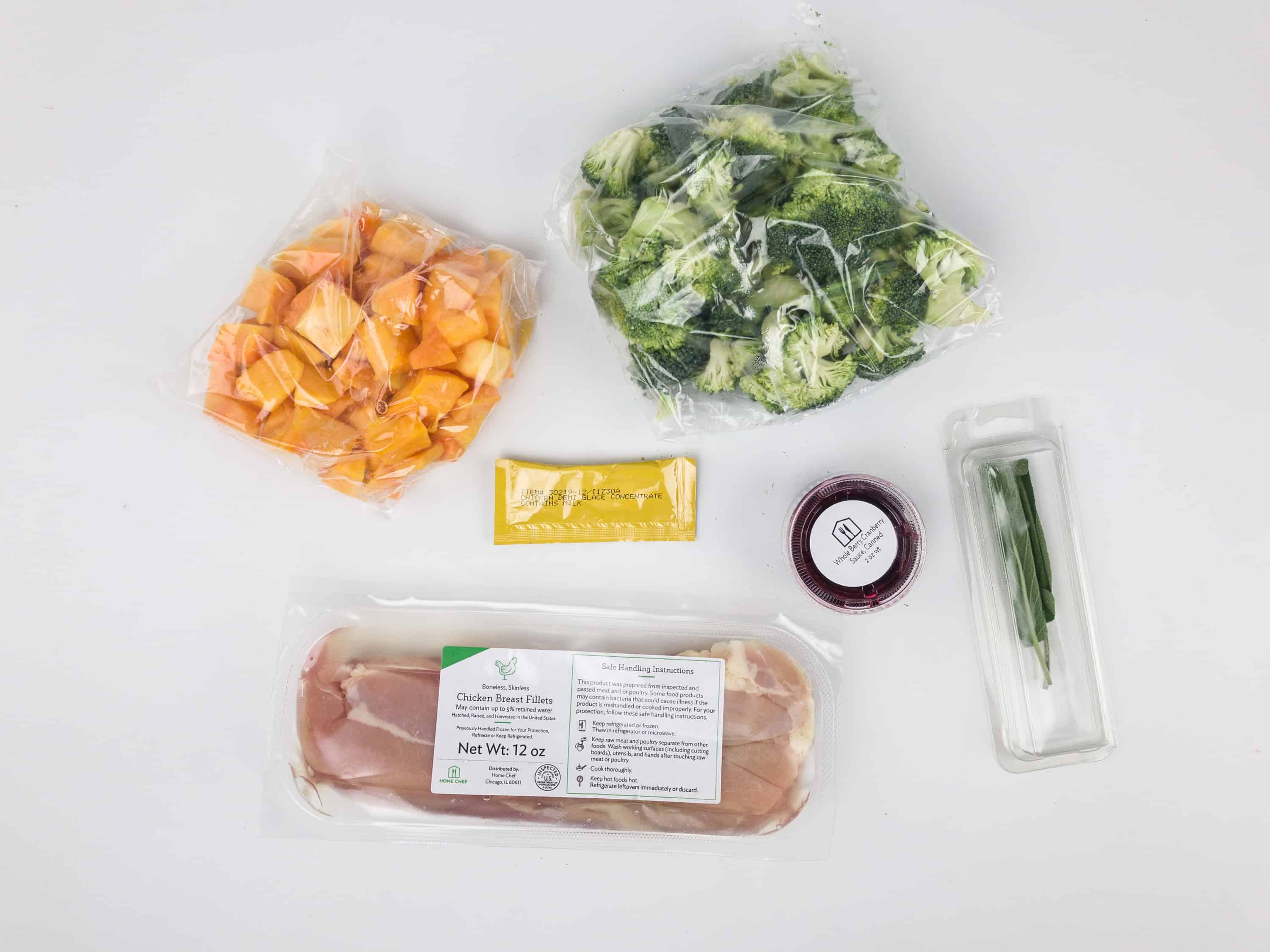 Sage Chicken With Cranberry Demi-Glace, 25-35minutes, Intermediate, 482 Calories per serving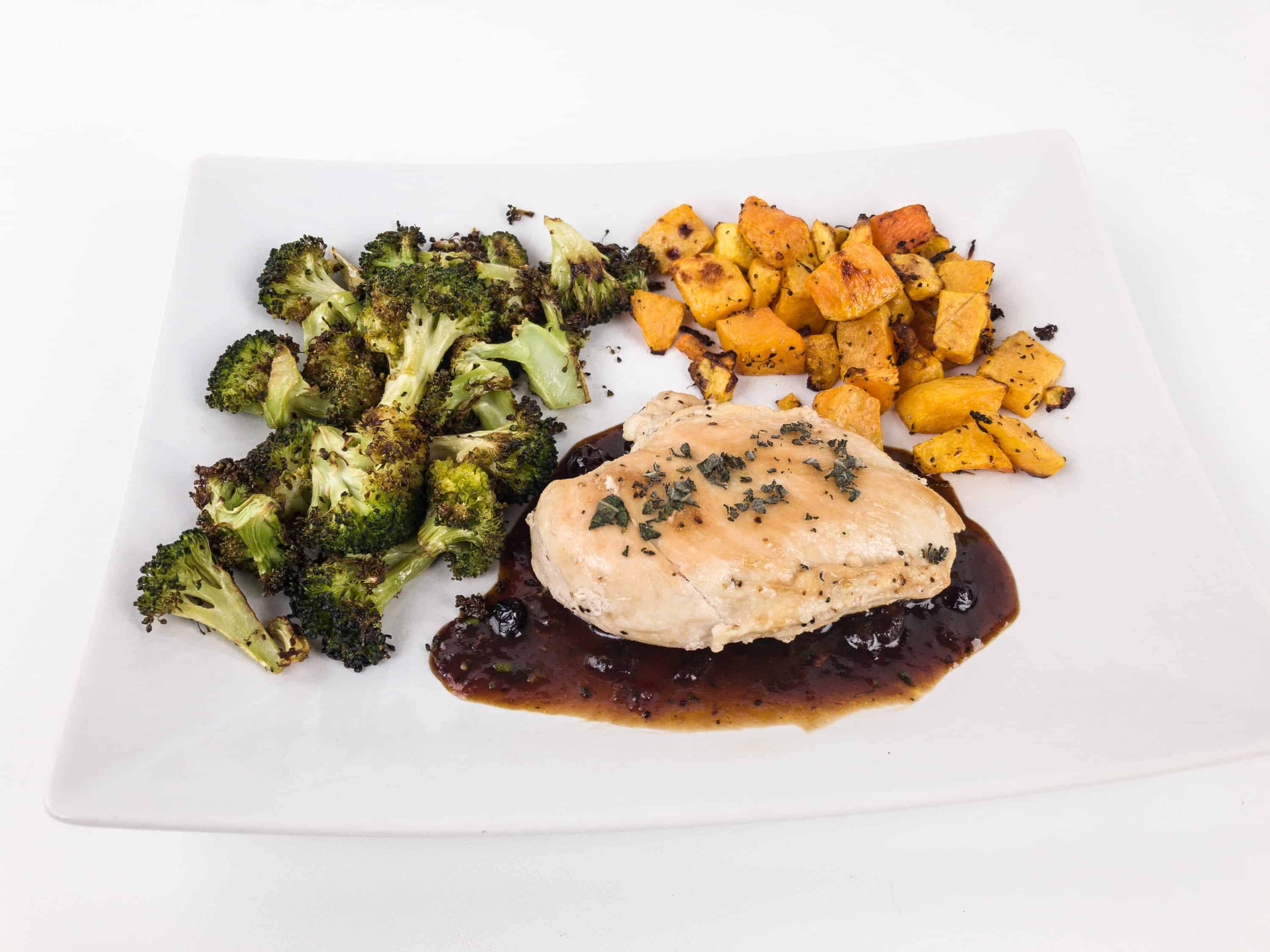 This dish had a similar wintery feel to it, echoing Thanksgiving-favorite flavors. The fresh sage provided nice depth to the roasted flavor profile, and the tasty cranberry sauce was super-simple and added tons of flavor!
Tex-Mex Turkey Taco Salad, 25-35minutes, Easy, 580 Calories per serving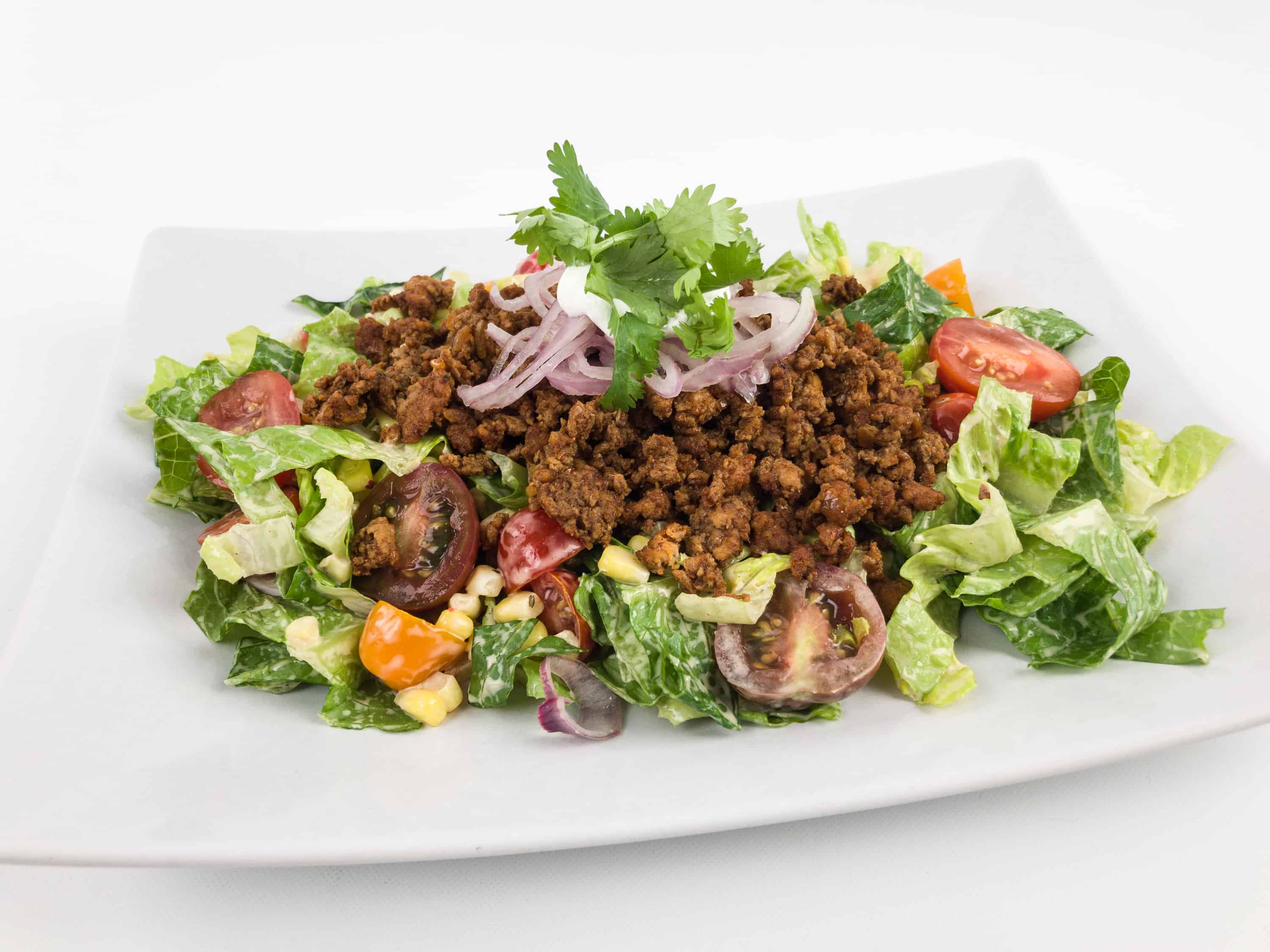 We always love taco salad! This Home Chef favorite combines fresh veggies with pickled green onion and tender canned corn for a combo that is flavorful and satisfying without going overboard. The turkey is great for keeping this dish from getting to heavy and keeping the seasoning in the fore. It is also a very easy dish to prep.
Prosciutto Pasta Carbonara 25-35minutes, Easy, 711 Calories per serving
This dish is a really fancy-feeling version of the classic, rich dish. They use real cream to create an Alfredo-style sauce, skipping the egg and fussiness that usually accompanies carbonara. Tons of deluxe add-ins really make the dish — toasted pine nuts and 3 whole ounces of Prosciutto!
Four great meals this week. Our selections included two great seasonal combos and two all-time favorites great for any time of year. As always, they've managed to match great flavors with good sized portions – Home Chef is typically the heartiest of the meal kit subscriptions we regularly review, both in portion size and composition, though they've toned done the extreme size of the portions for most dishes. With easy preparation and approachable flavors, it is a great subscription for fans of homestyle meals.
Have you tried Home Chef? What did you think of your meals?