The Bouqs is an online flower shop that also offers floral subscriptions. Whether by subscription or one-off orders, choose a bouquet of flowers, which are grown in rich South American soil, and get beautiful flowers delivered to your door step. Ordering is simple and hassle free. If you're interested in a subscription, that will knock 20% off your ongoing deliveries.
I had a coupon code from a recent Birchbox limited edition box for $40 at the Bouqs, so I ordered these flowers. This is a review of the Be Mine Deluxe (Double) Bouquet for $85 + I added on the vase for $12. This exact bouquet is no longer available.
DEAL: You can use code NEWB15 (all caps required!) to get 15% off or WELCOME10 for a 10% discount on your first delivery.
If you prefer a subscription you can easily set your deliveries for every week, every 2 weeks, every month, or every 2 months. When you subscribe you select a Bouqs aesthetic (Farmer's Market, The Classics, Volcano Roses, or Simply the Best) and the size of bouquet you prefer – Original, Deluxe, or Grand ($32, $44, $56). Instead of a subscription you can also pre-schedule deliveries for important occasions.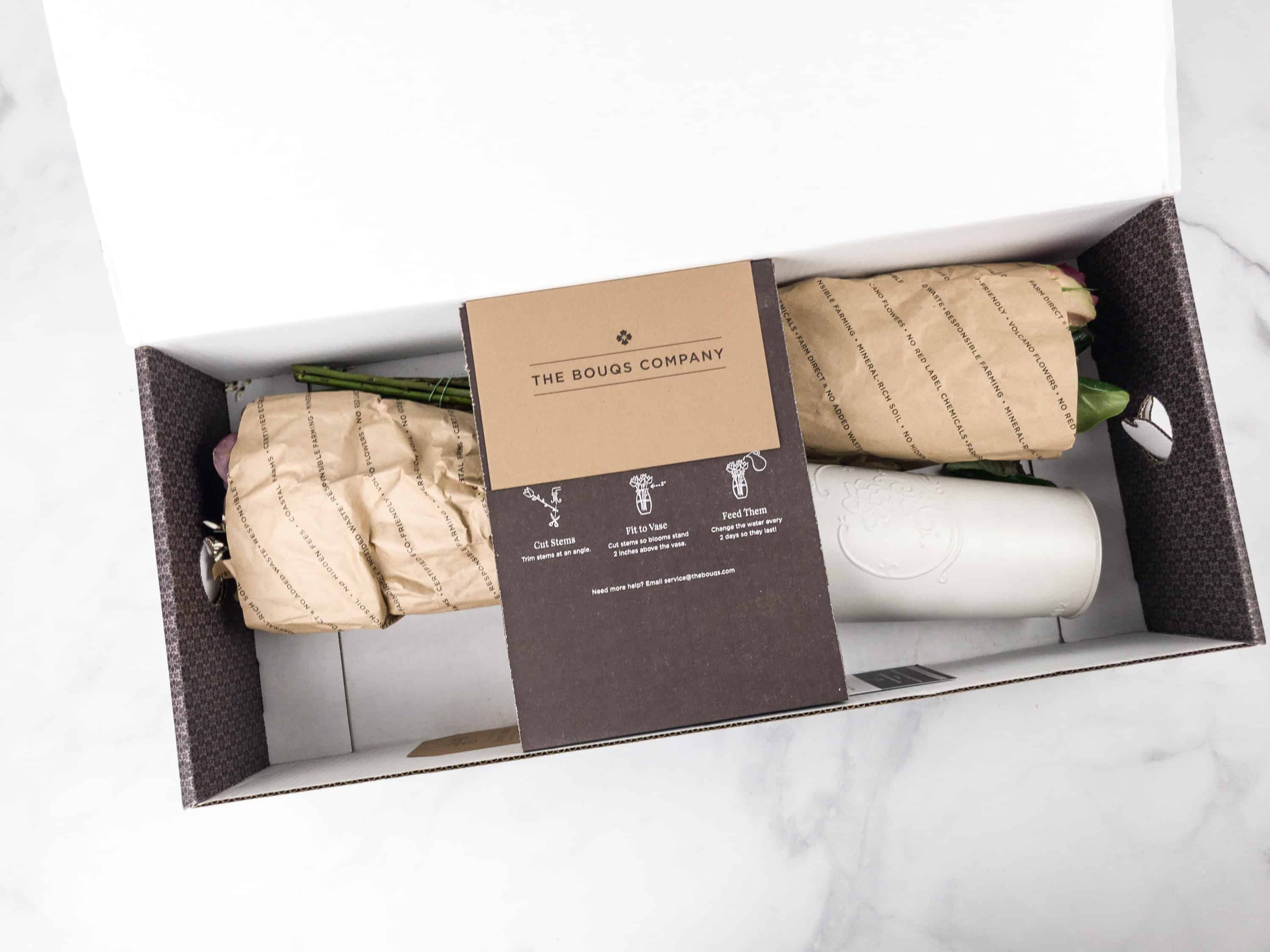 The packaging is simple and straight forward.
The flower care instructions are included with the packaging. I strongly suggest trimming stems and putting them into water straight away.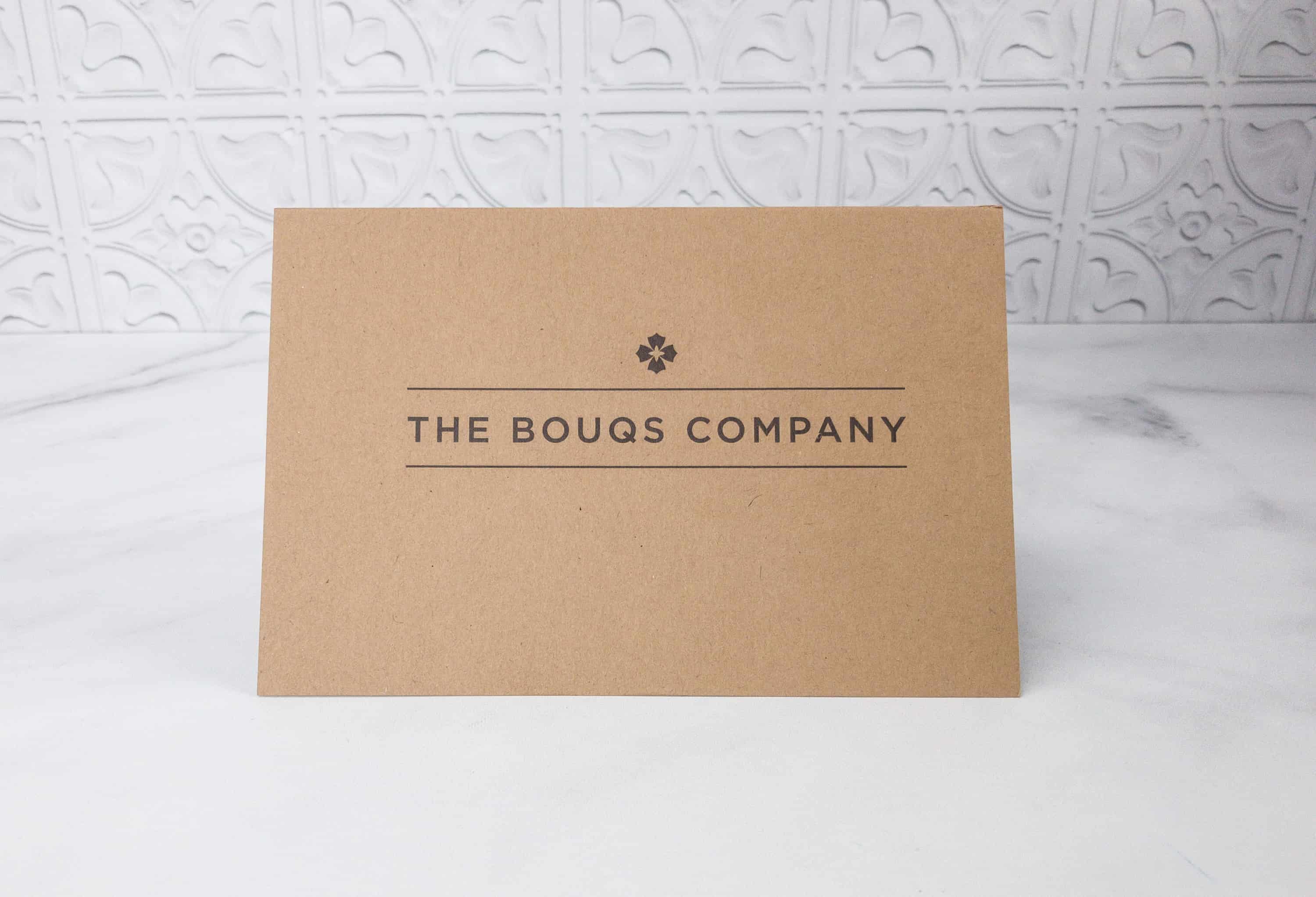 The box comes with it's own gift card in case you will be sending it as a gift for someone.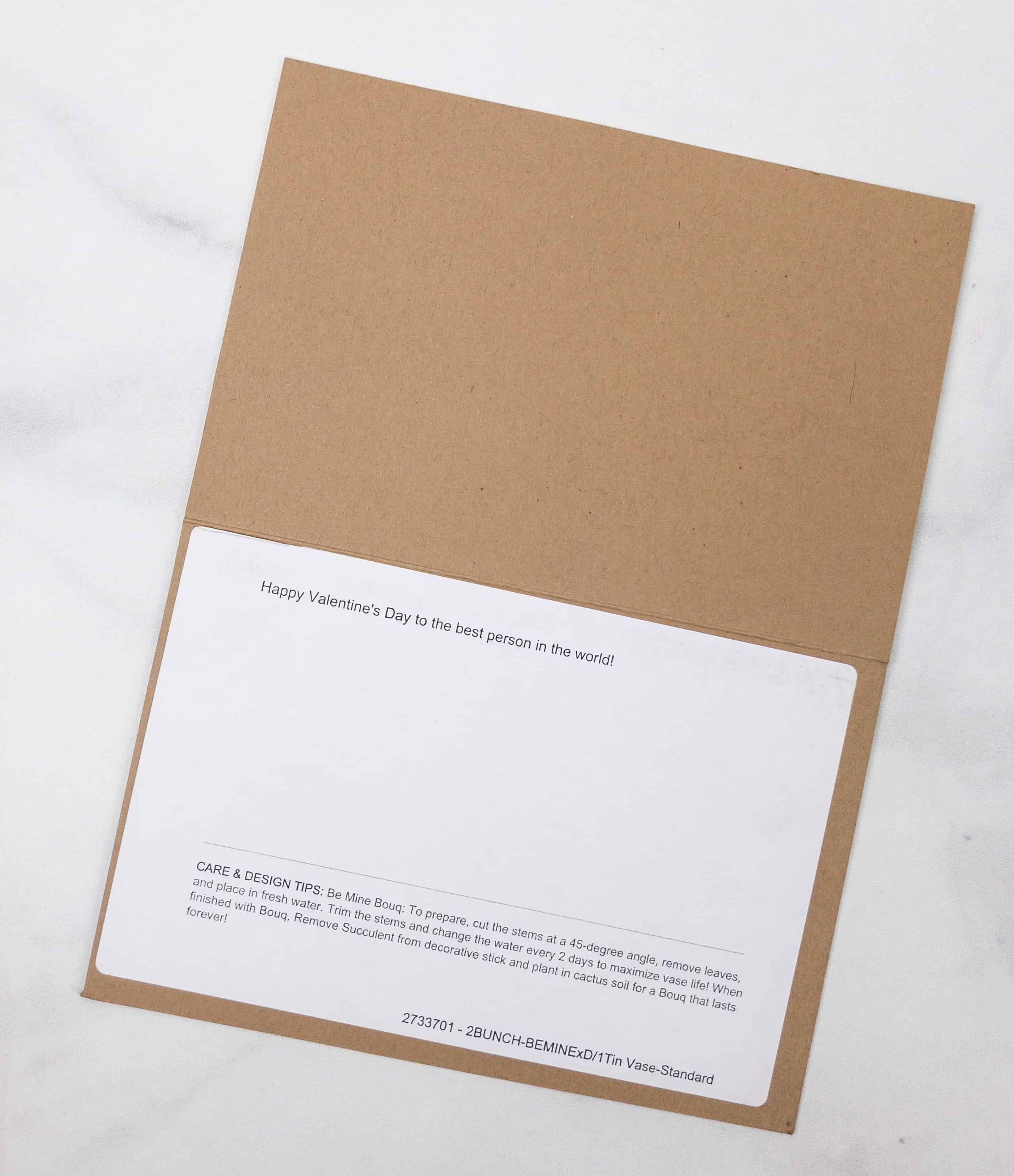 Inside the gift card is your note as well as care & design instructions.

There are a few info card included in case you want to know more about The Bouqs and their flowers.
The coupon code for a discount on your first order can also e found on the info card.
The bouquet of flowers have been carefully packed so that they would last longer but there is any packaging around the stems, which there probably should be.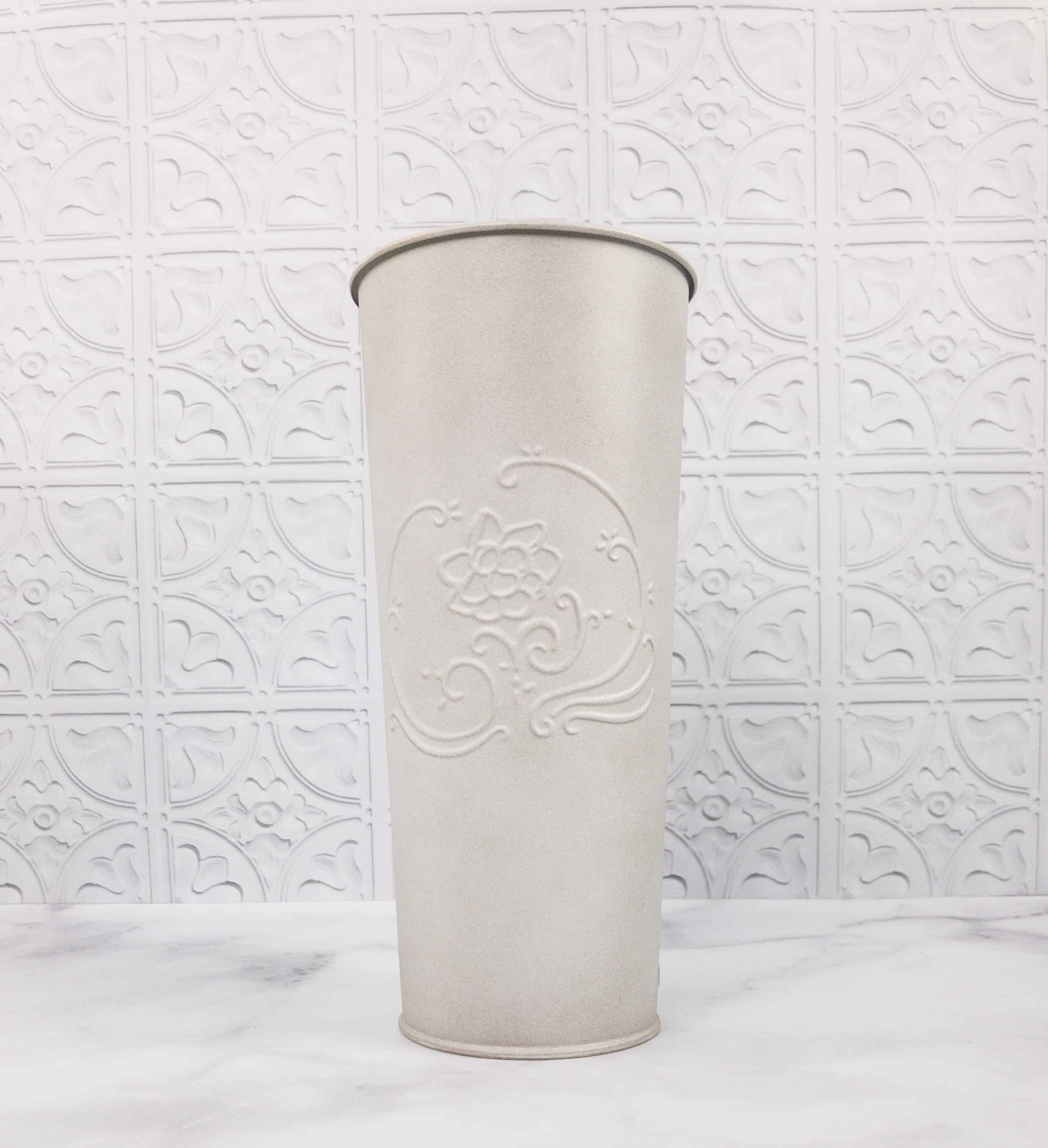 This white metal vase was $12. I purchased it so that I didn't have to worry where to put my blooms.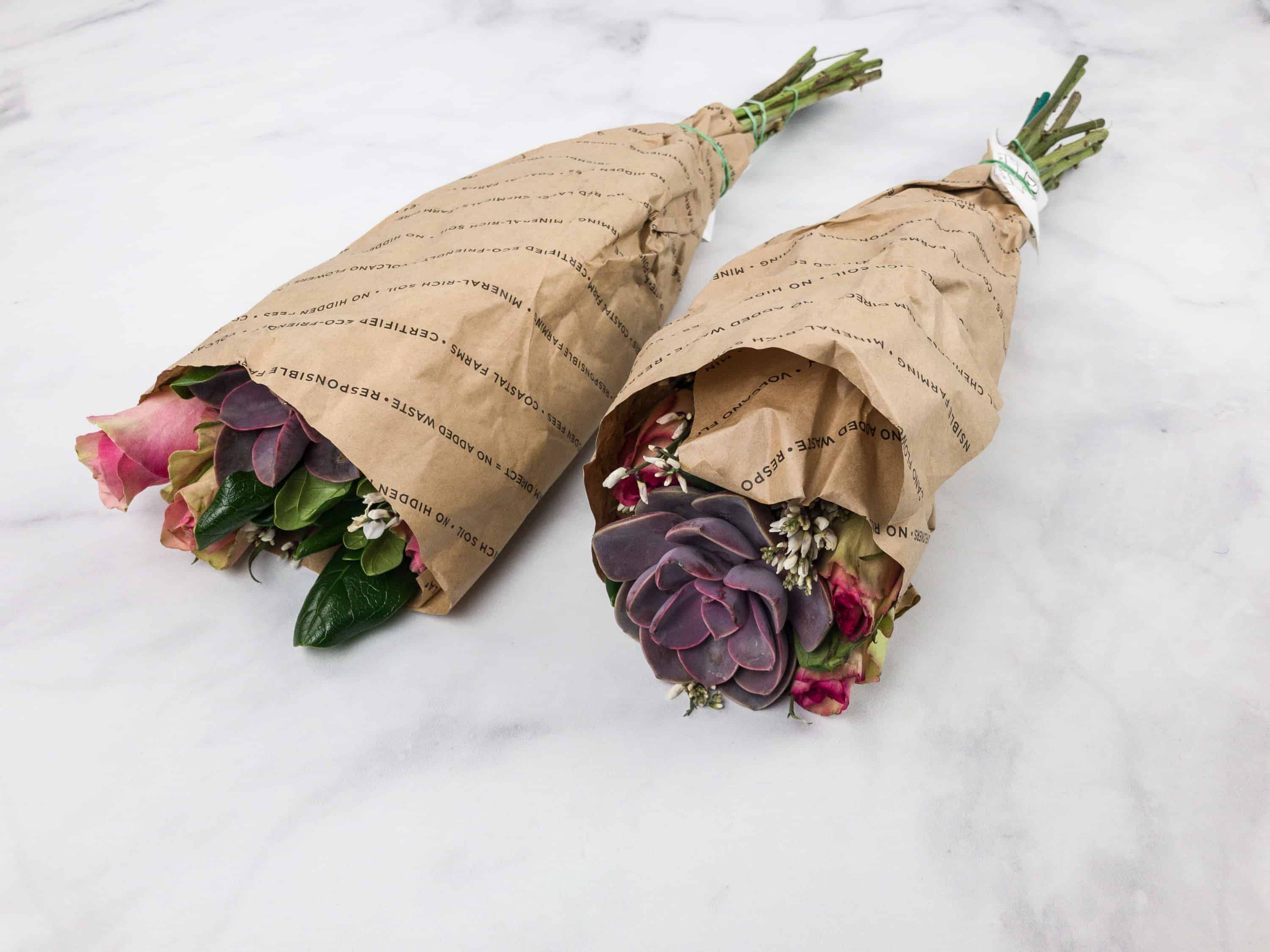 The flowers are wrapped in brown paper to keep them intact.
Even though the flowers were shipped in a box it's super pretty!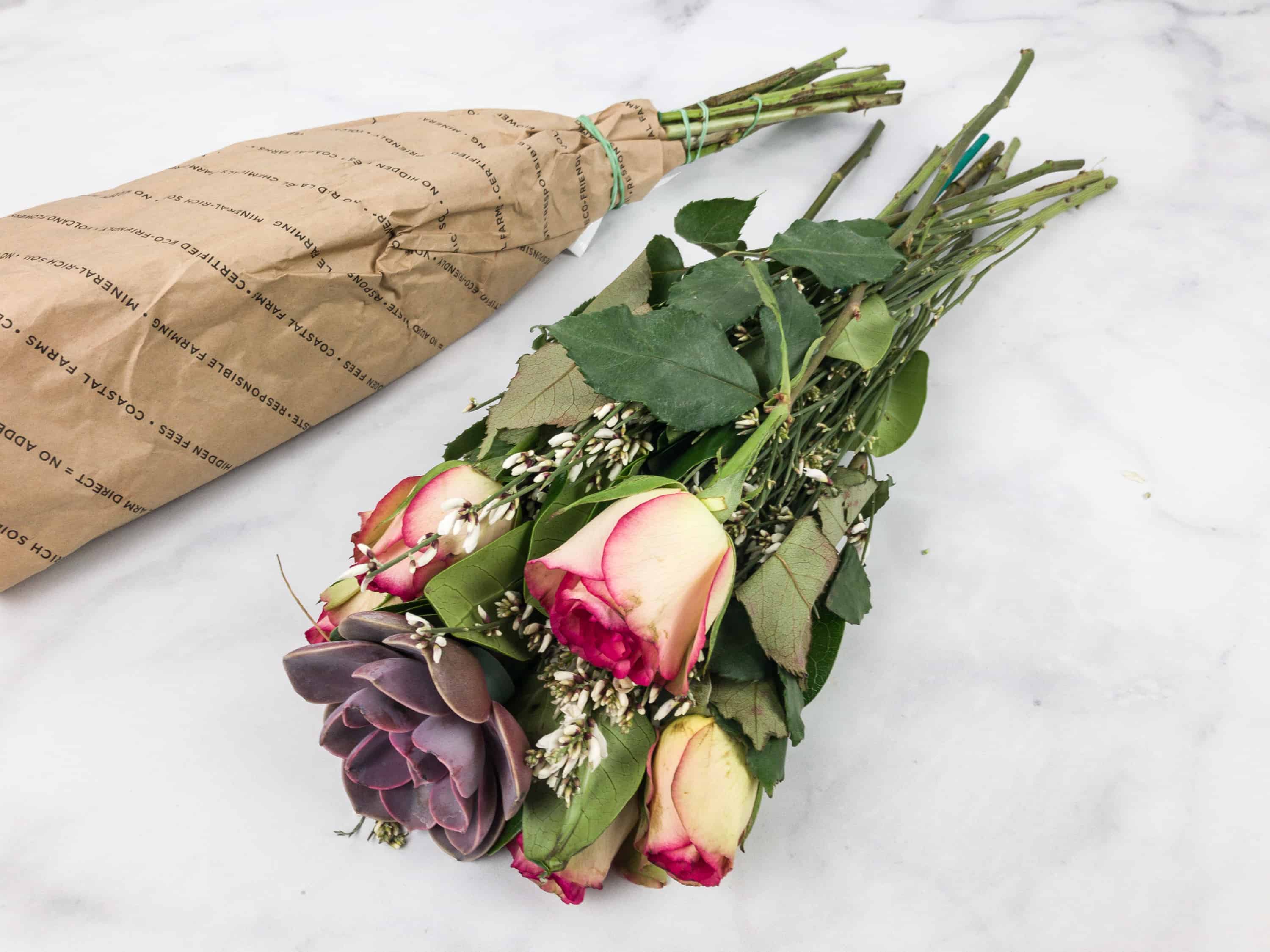 The flowers have been arranged already but it can still be arranged depending on how you would like them to look.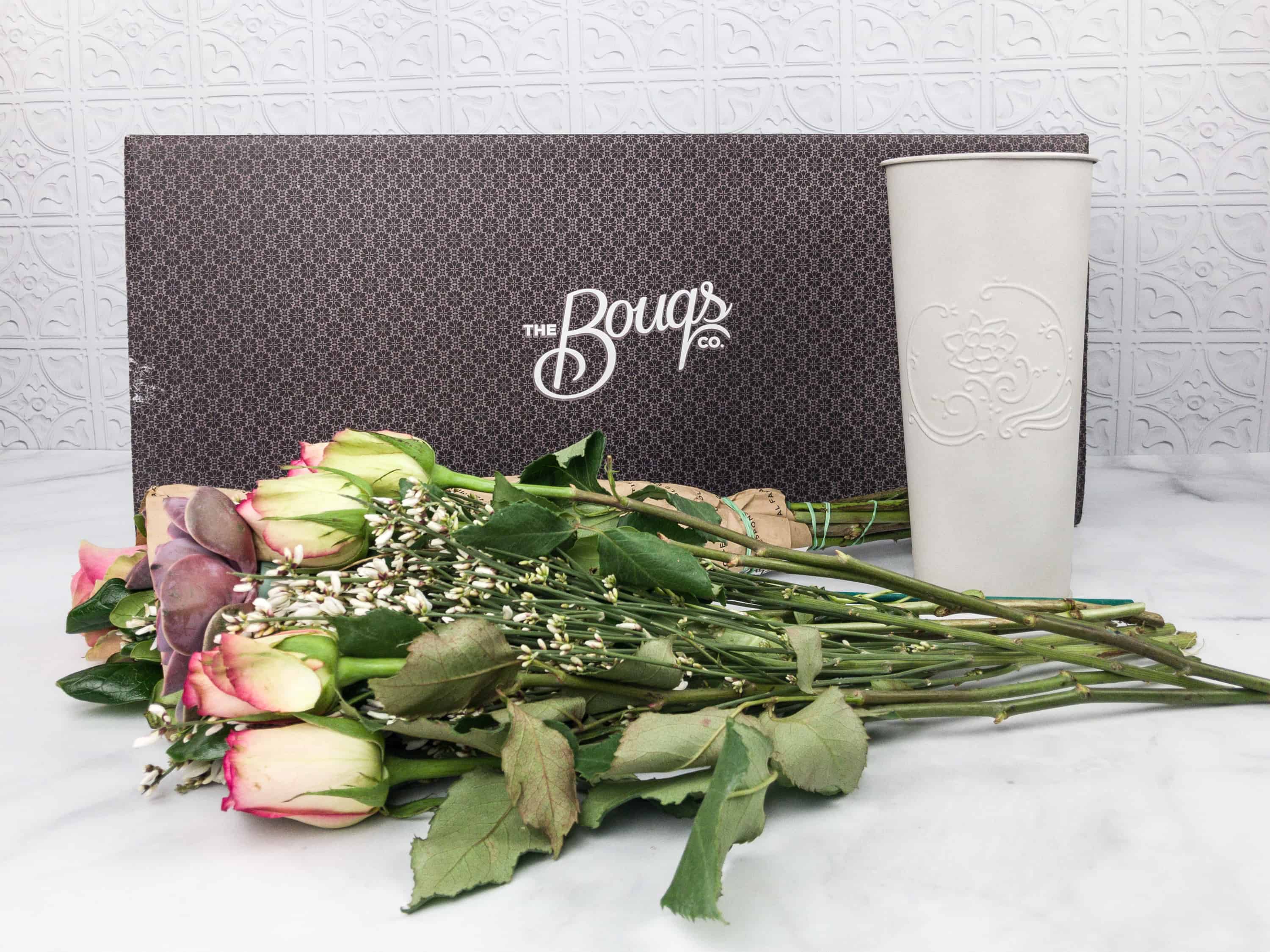 Everything in my box!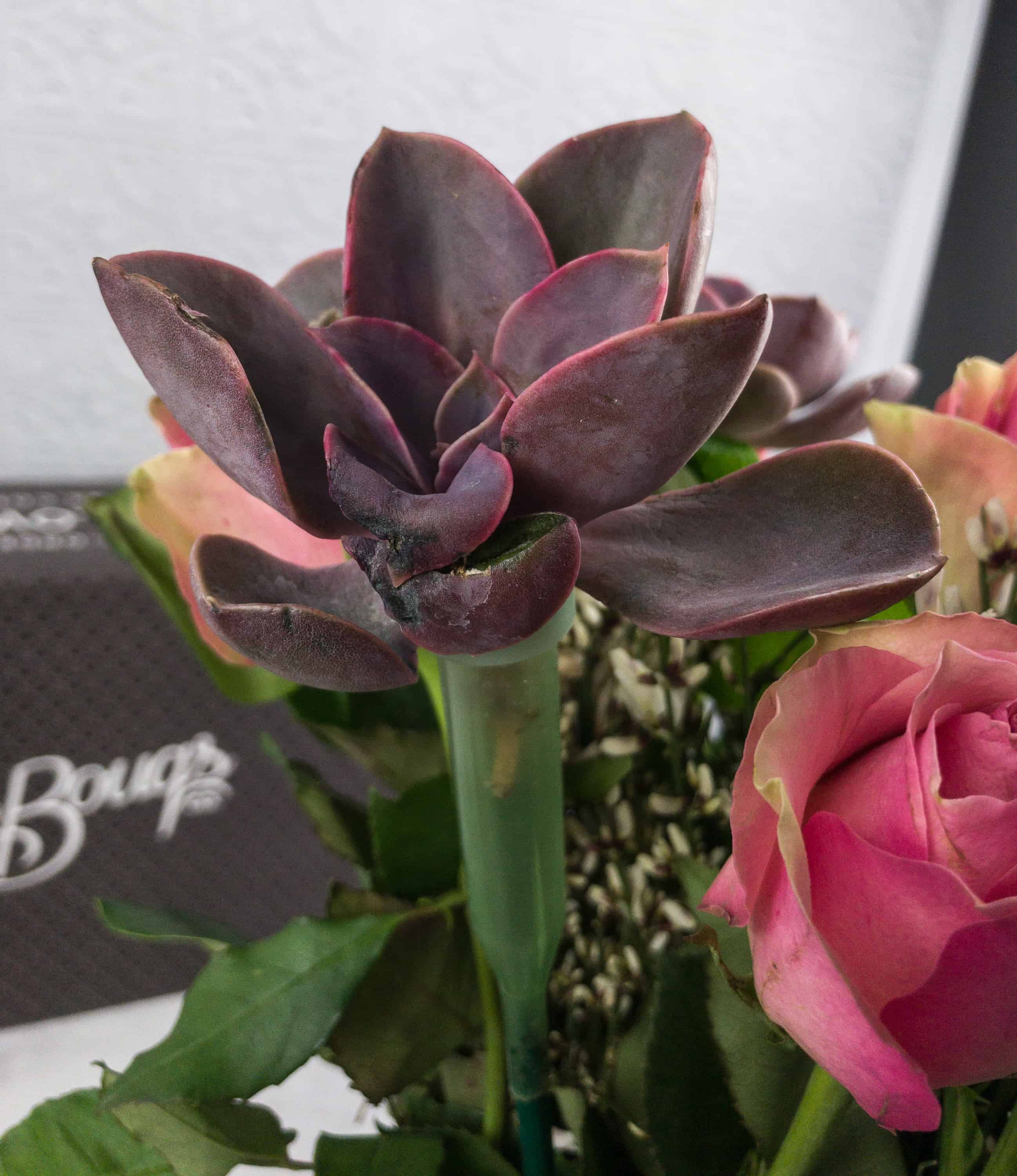 It even has a succulent plan to add a distinct look to the entire bouquet. Unfortunately one of the ones we received were damaged. I contacted the Bouqs and they sent me a $60 gift card. That made up for it for me, and I'll buy myself more flowers soon.
I trimmed the stems, placed them in water with the included plant food and… wait for it… waited 24 hours. That is when your flowers will look the best.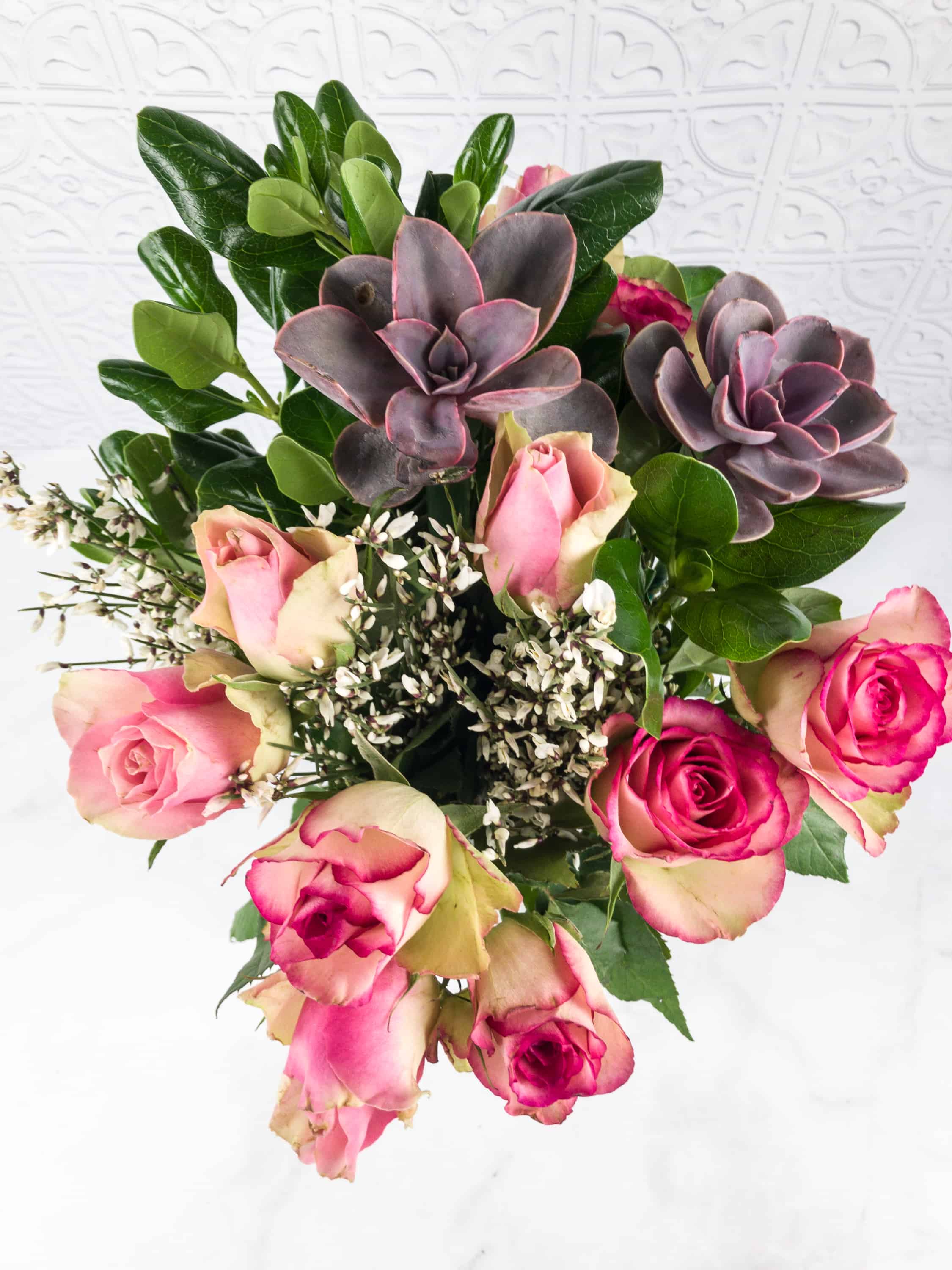 The colors are so vibrant!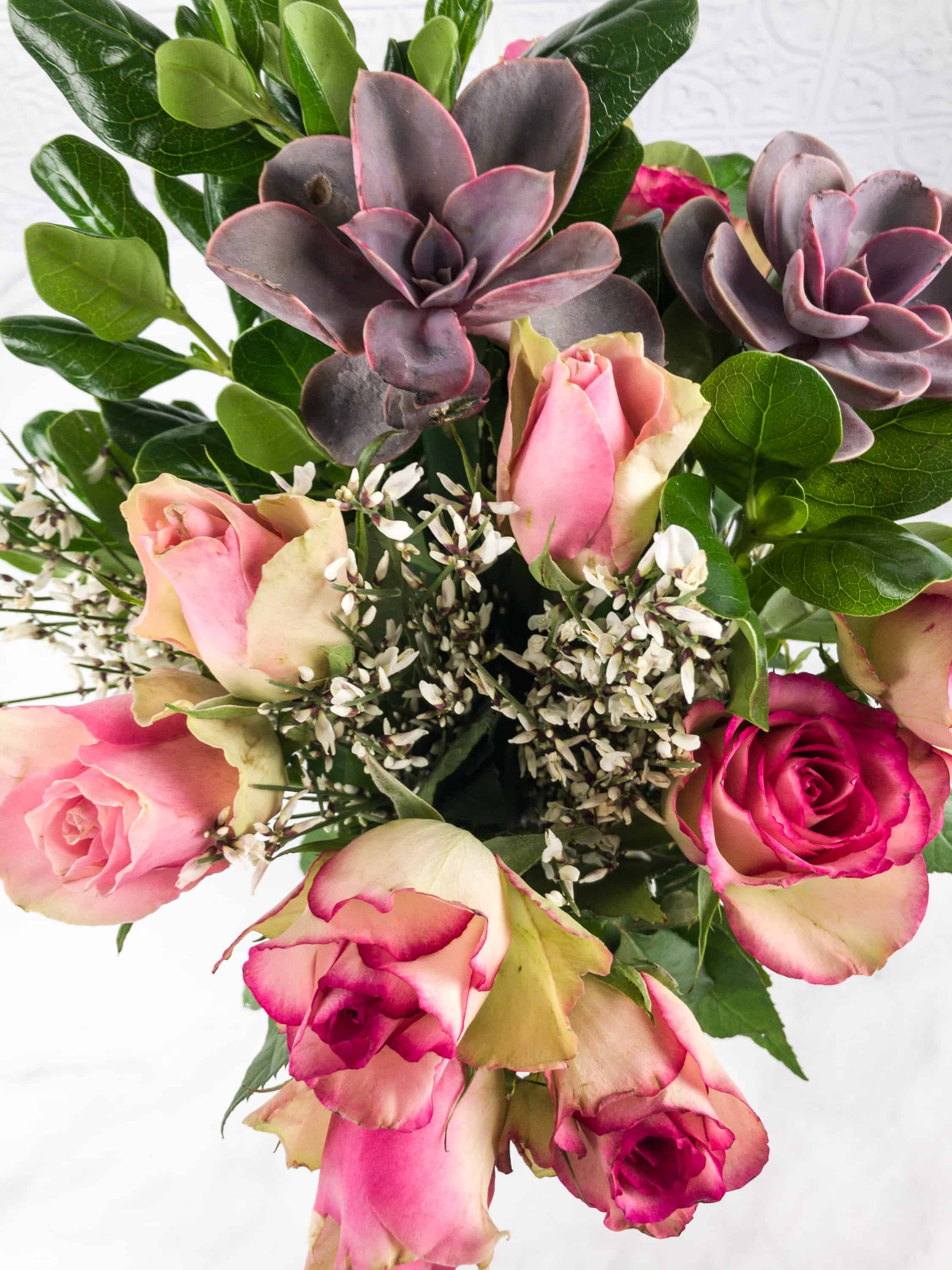 All the elements work well together and even though there are different colors they blend really well. When my roses wilt I'll be reusing my new succulents to replace dead ones. (Yes I unfortunately can kill them.)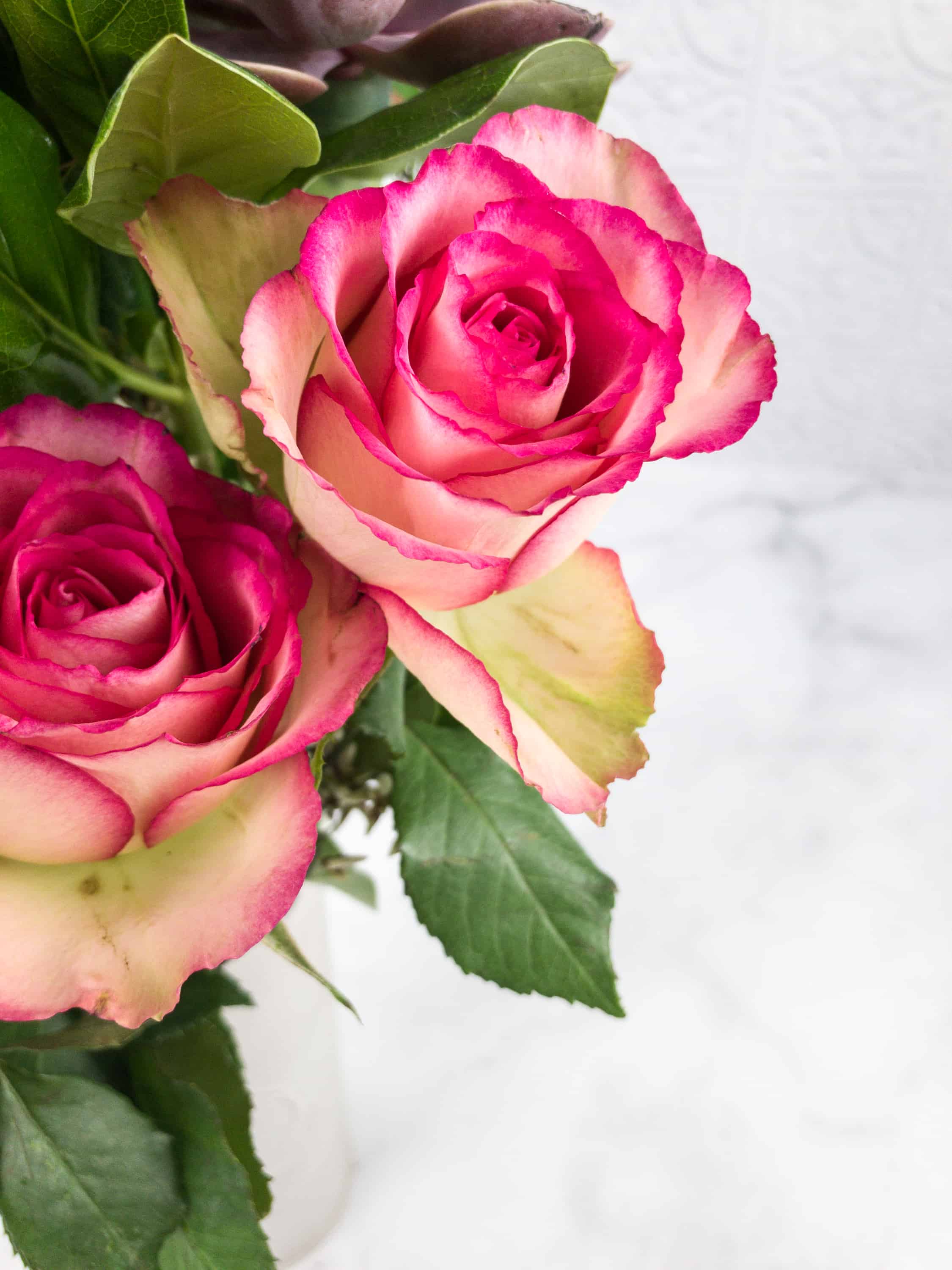 The roses are super pretty.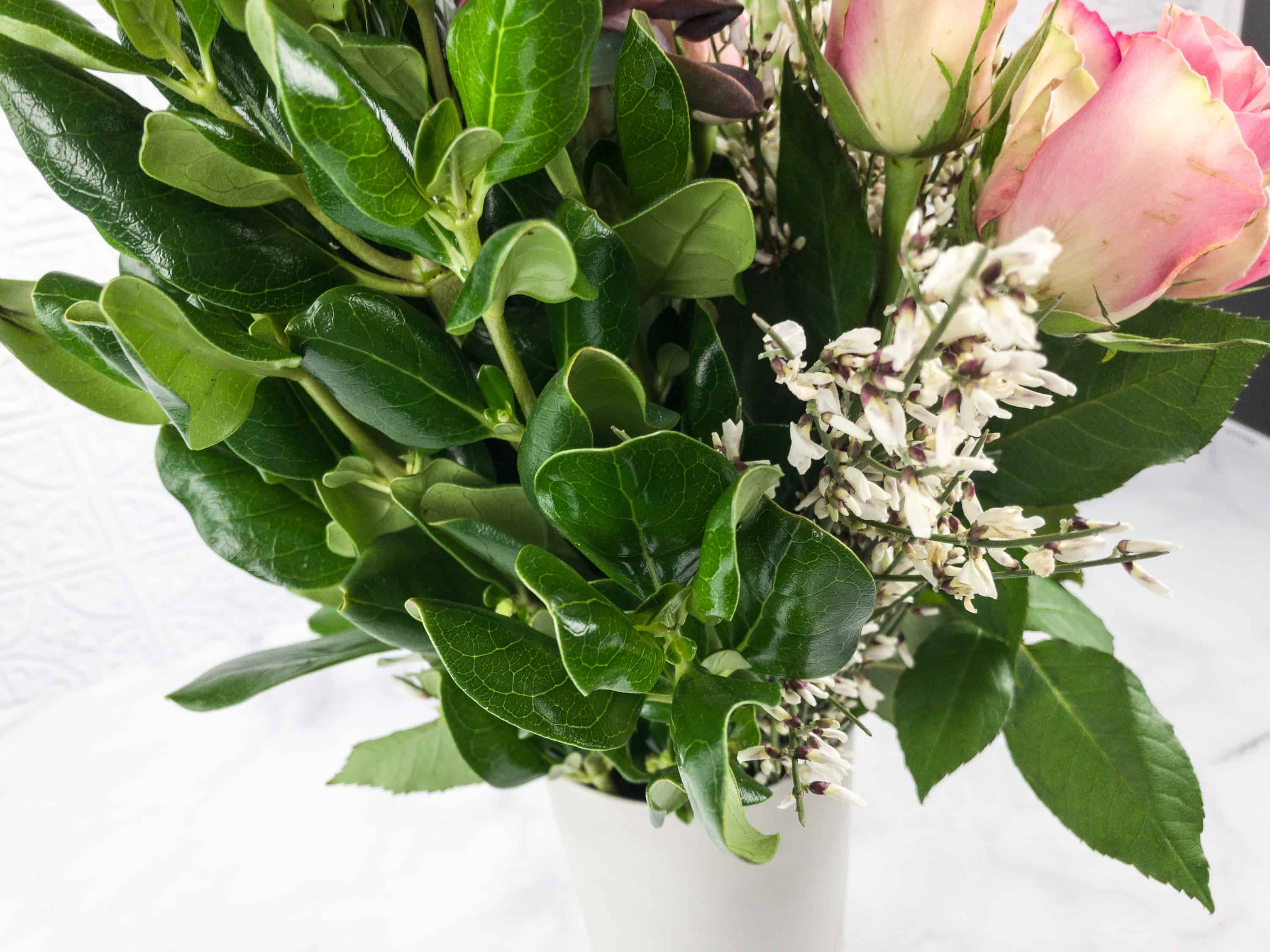 There are also green leaves for added depth and accent.
The entire bouquet fits perfectly in the vase provided. I didn't quite follow the instructions for putting the blooms 2 inches above the vase. You already know that I can't arrange flowers to save my life.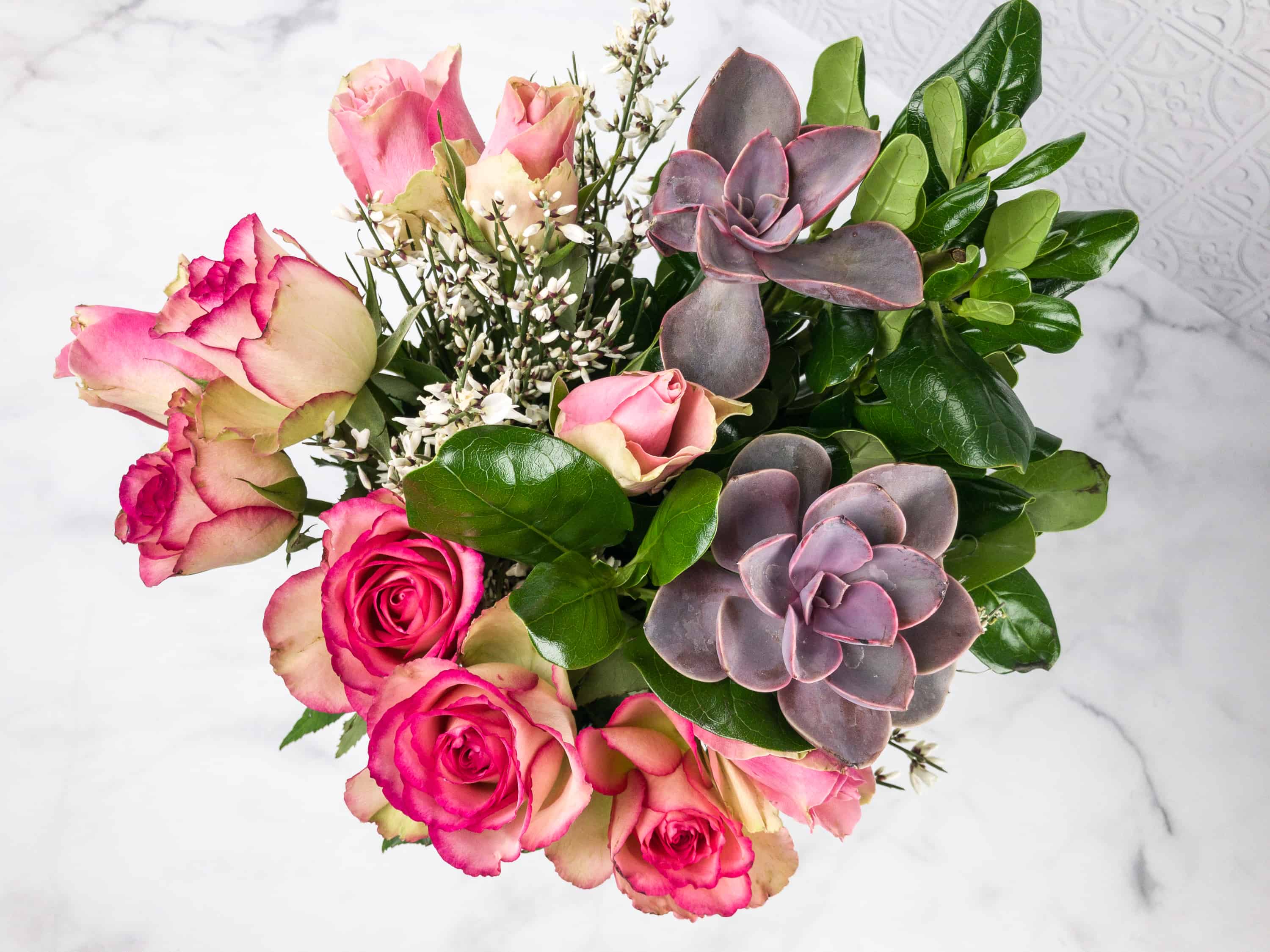 Here's what it looks like from a different angle.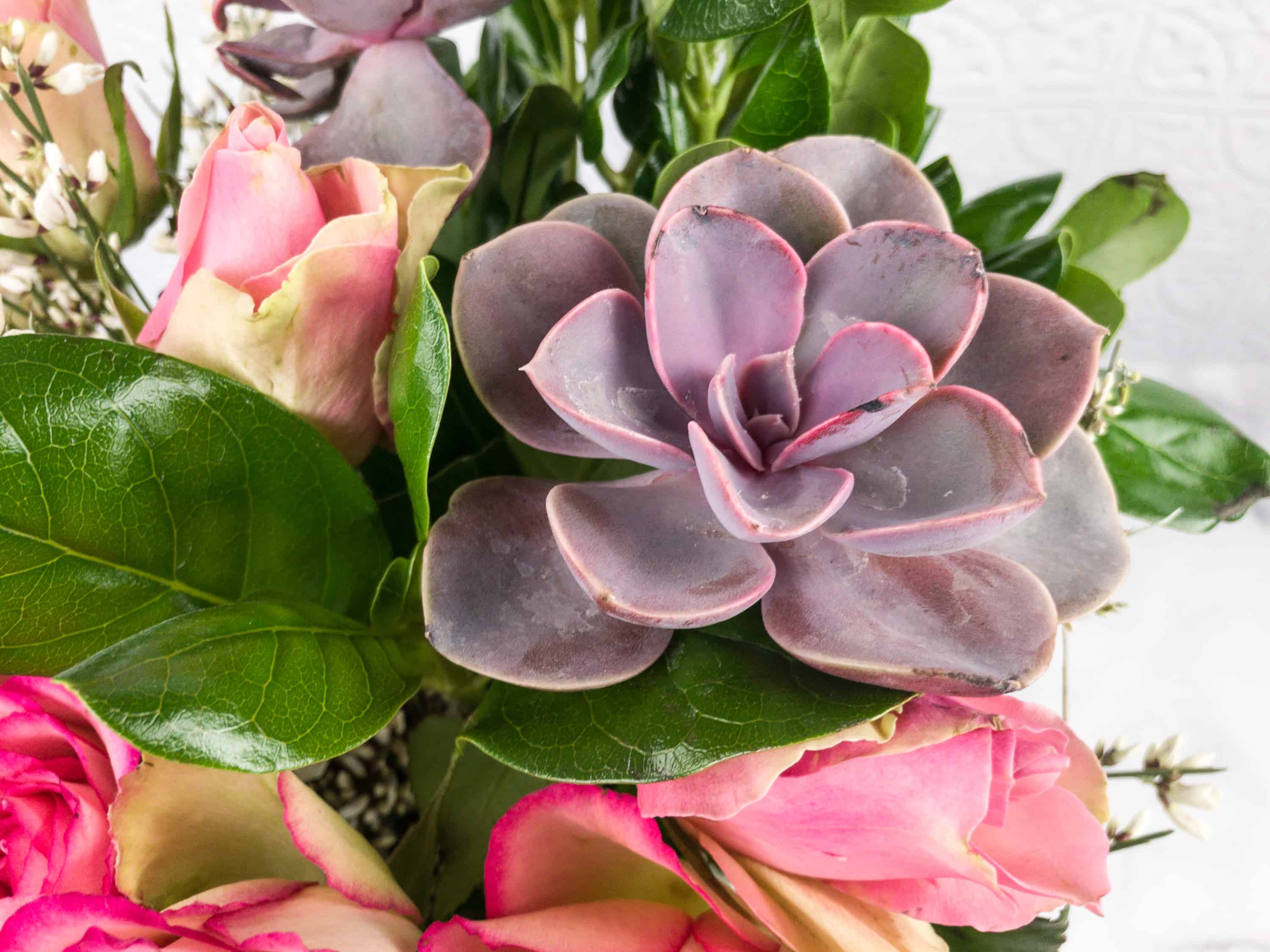 It's very pleasing to the eye and I can't help but just stare at them once it catches my eye.
If you like flowers then this box is definitely worth a try! My delivery wasn't perfect and we have received lots of comments on previous reviews of the Bouqs that we received for review that the purchasers' flowers were terrible. I bought these myself with a discount coupon and I would say they were the same quality. Not everyone has a perfect experience and I didn't either, but I felt adequately compensated for a squashed succulent (and to be fair – I can cut off the squashed part and it will still grow).
The Bouqs is easy, non-gimmicky, with modern non-kitschy designs and I loved that my flowers went further with the addition of succulents. Even though this bouquet is no longer available, take a peek at the designs with succulents on the website if you're looking for something similar!
What do you think of 
The Bouqs?